After a very long day at Doha Airprot exploring many of the airport's lounges, it was time for us to continue our round the world trip, by flying Qatar Airways' Airbus A380 first class from Doha to Perth.
Flying first class is always a treat (well, except on TAAG Angola), but this flight was extra special, as we had the cabin all to ourselves. This was my first time taking a "true" long haul flight in Qatar Airways' first class, so I was curious how the experience would stack up.
Well, all-in-all, it was of course an incredibly pleasant flight, with a comfortable and private cabin, and good amenities, service, and food. However, I feel like Qatar Airways' problem is that the carrier's business class is just too good, and there's not enough differentiation with first class.
If an airline is exceptional in business class, you kind of hope that it will also be exceptional in first class, but I don't find that to be the case on Qatar Airways. I suppose this shouldn't come as a surprise, since the airline plans to eliminate first class in the future.
How I booked our Qatar Airways first class tickets
I booked our Qatar Airways first class tickets using American AAdvantage miles. Specifically, I booked the following for 100,000 American AAdvantage miles plus $104.50 in taxes and fees per person, which is a fantastic value:
5/23 QR900 Doha to Perth departing 2:25AM arriving 6:20PM
I found availability directly on aa.com, and booked about two weeks before departure.
Qatar Airways first class lounge & boarding
In a previous installment, I reviewed Qatar Airways' Al Safwa First Lounge, where we spent much of the day. Qatar Airways offers a top notch ground experience, and we also enjoyed checking out the Qatar Airways Al Mourjan Garden Lounge.
Our flight was departing at the ungodly (but totally standard for the Middle East) time of 2:25AM, with boarding scheduled at 1:40AM, 45 minutes before departure. We were departing from gate C12, about a 10-minute walk from the lounge. There was an extra security screening at the gate (I believe this is standard for flights to Australia), and boarding then started right on-time.
Qatar Airways A380 first class cabin & seats
It's always so fun to board through the A380 upper deck. At the door we were greeted by the friendly crew, and escorted the short distance to the first class cabin. Qatar Airways' A380 first class is located at the front of the upper deck, and consists of eight seats, spread across two rows in a 1-2-1 configuration.
Qatar Airways' A380 first class isn't the most private or cutting edge in the world, but I do find it to be incredibly elegant. For that matter, any cabin is private when you have it to yourself. 😉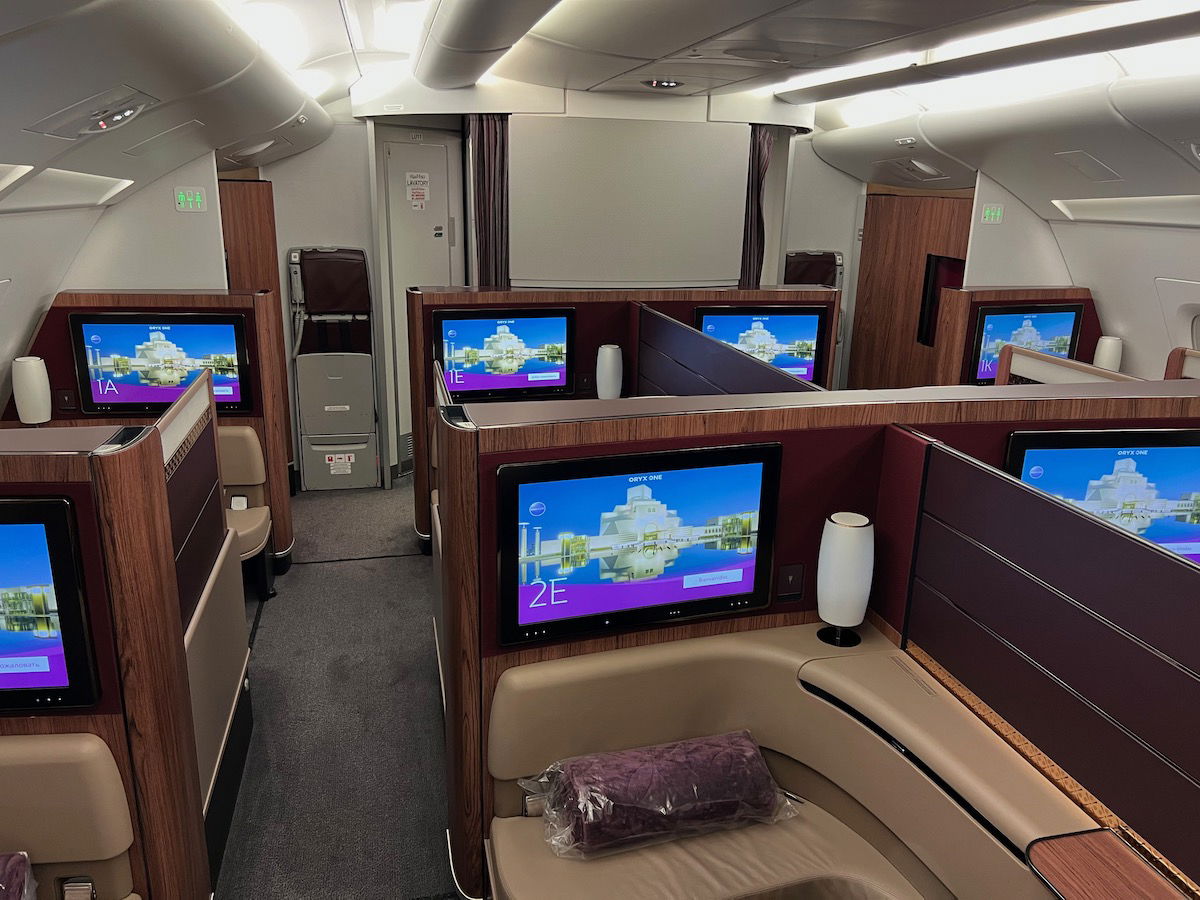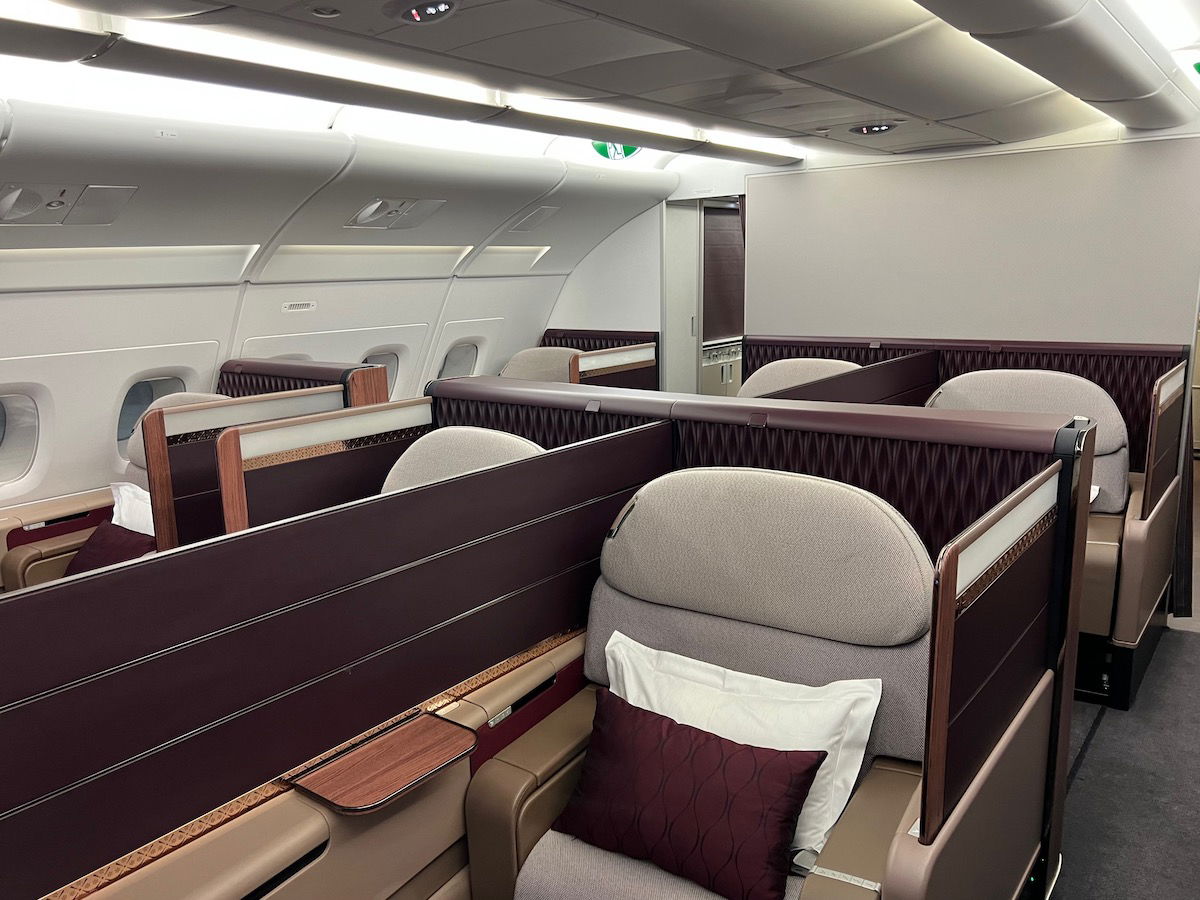 Those traveling together may enjoy sitting in one of the pairs of center seats, which allow you to enjoy the flight together, easily talk, etc.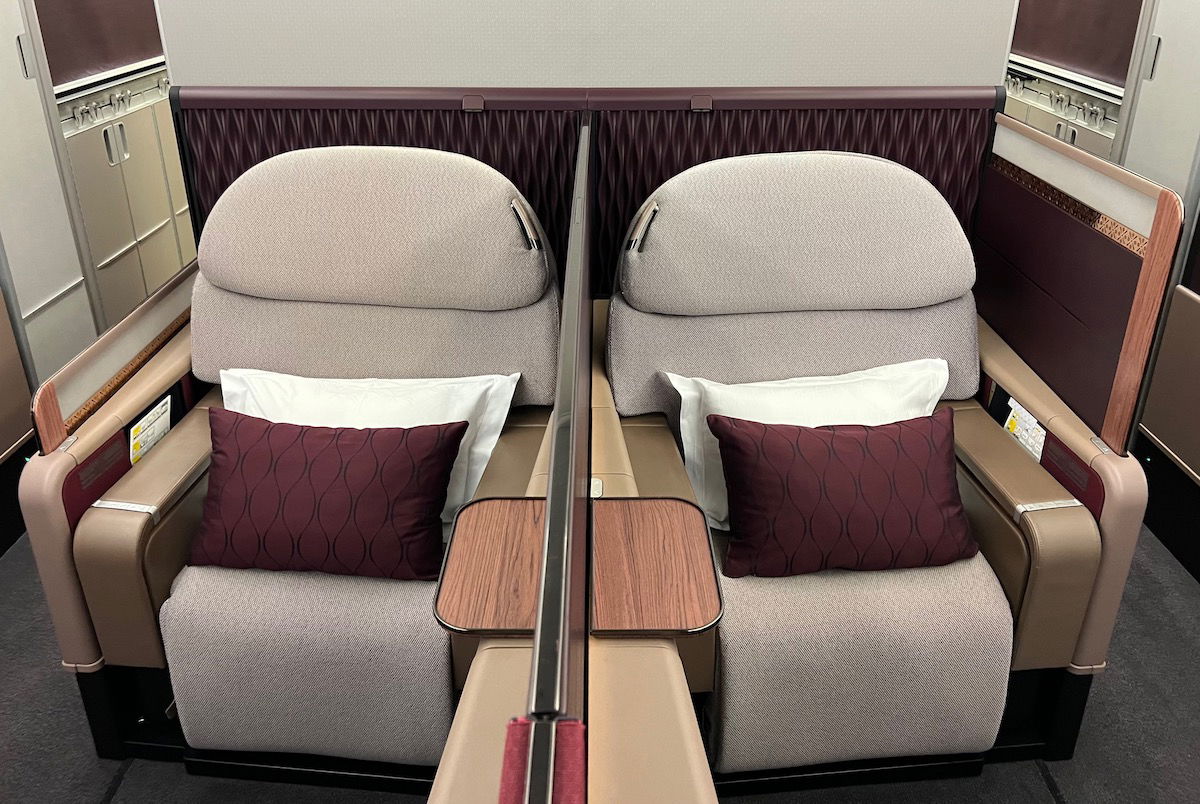 However, if you're traveling alone in one of these center seats, worry not, as there's a partition that can be raised between seats, and it goes pretty high.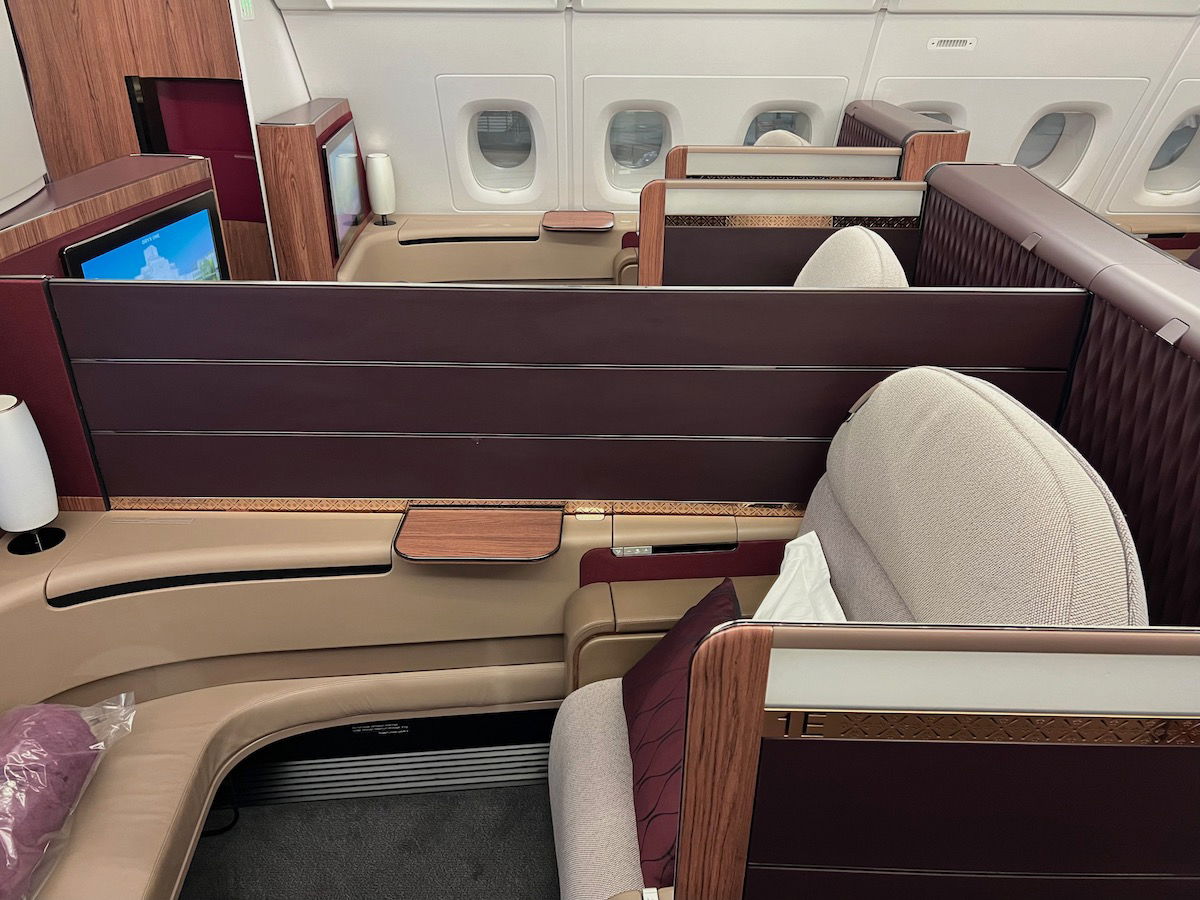 I assigned us seats 1A and 2A, though of course we could move around as we wanted. I offered my dad 1A, and decided to sit in 2A.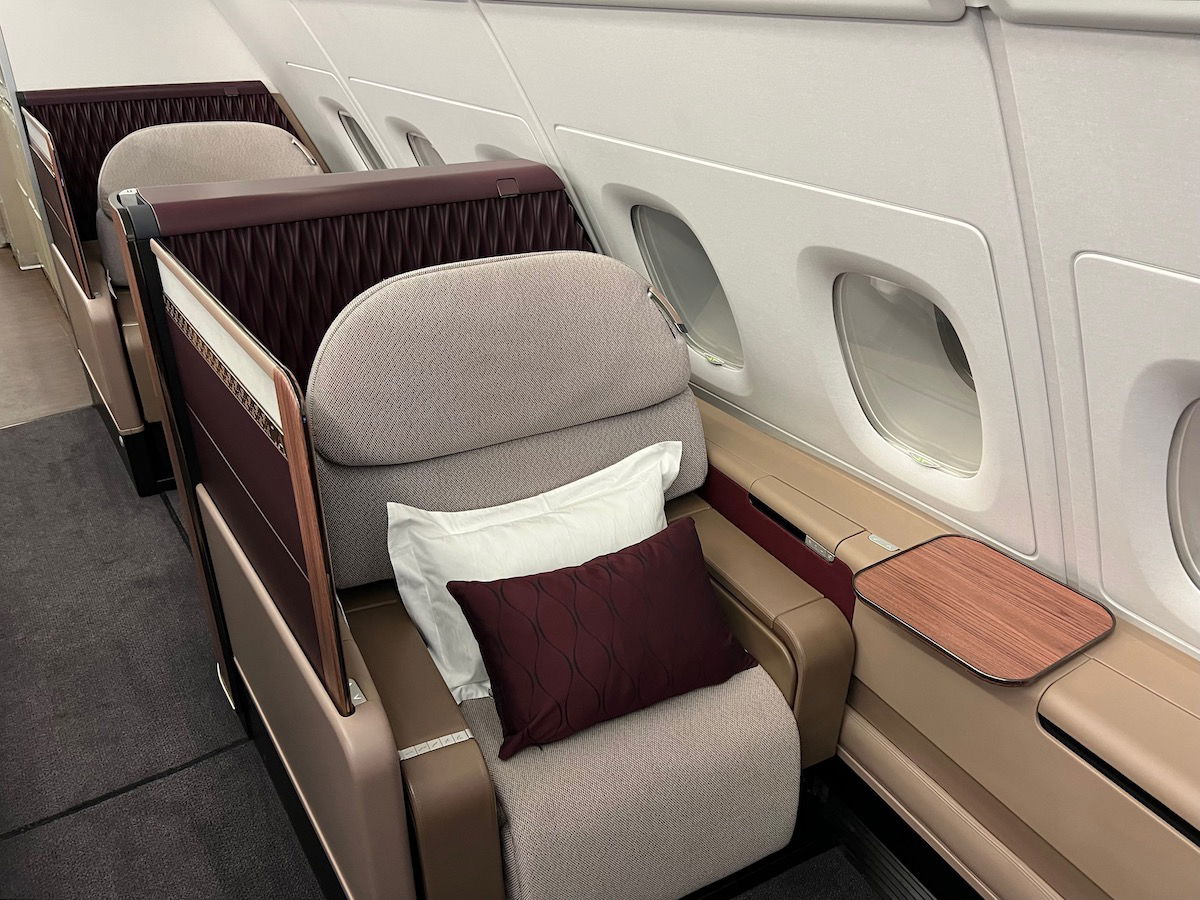 Honestly, compared to some other first class suites nowadays, Qatar Airways' A380 first class is fairly simple, and that's not a bad thing, as I find the seat to be practically designed.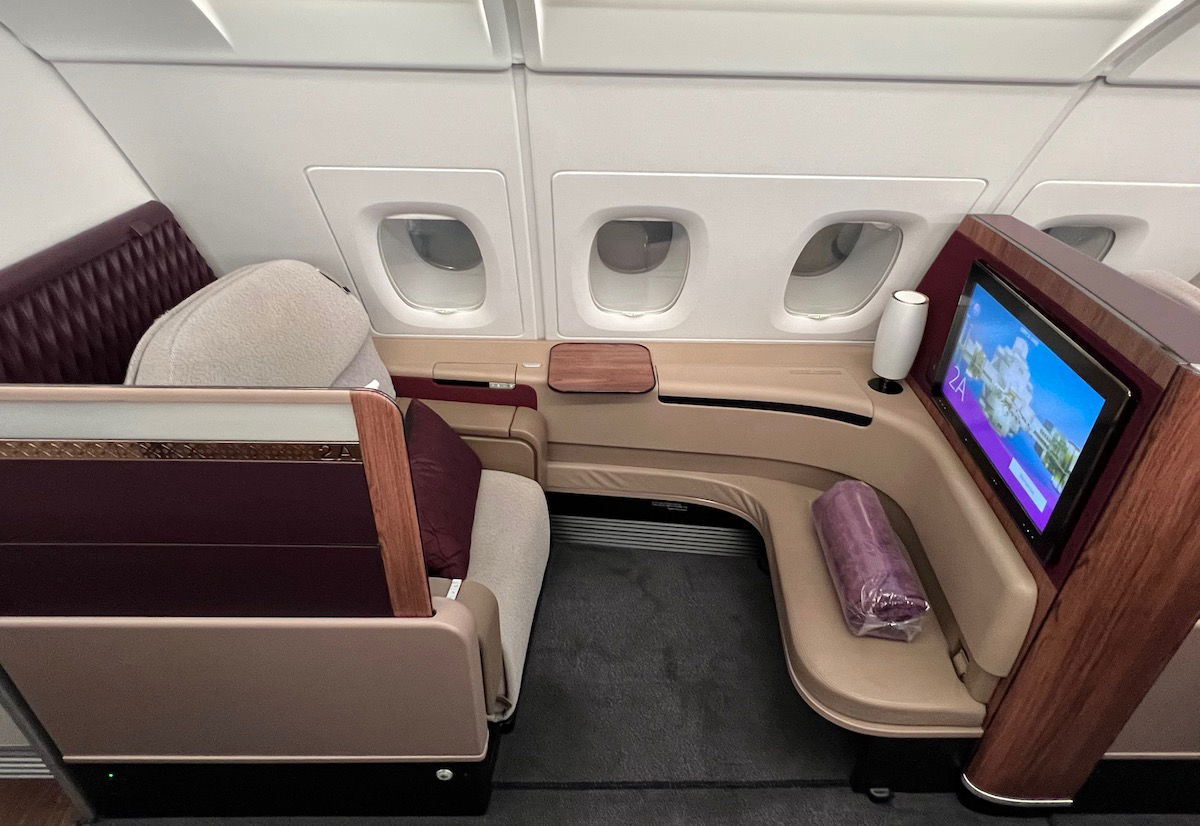 For one, while the seat doesn't have a door, it does have a privacy shield that can be raised or lowered, which means you won't see anyone else in the cabin while seated.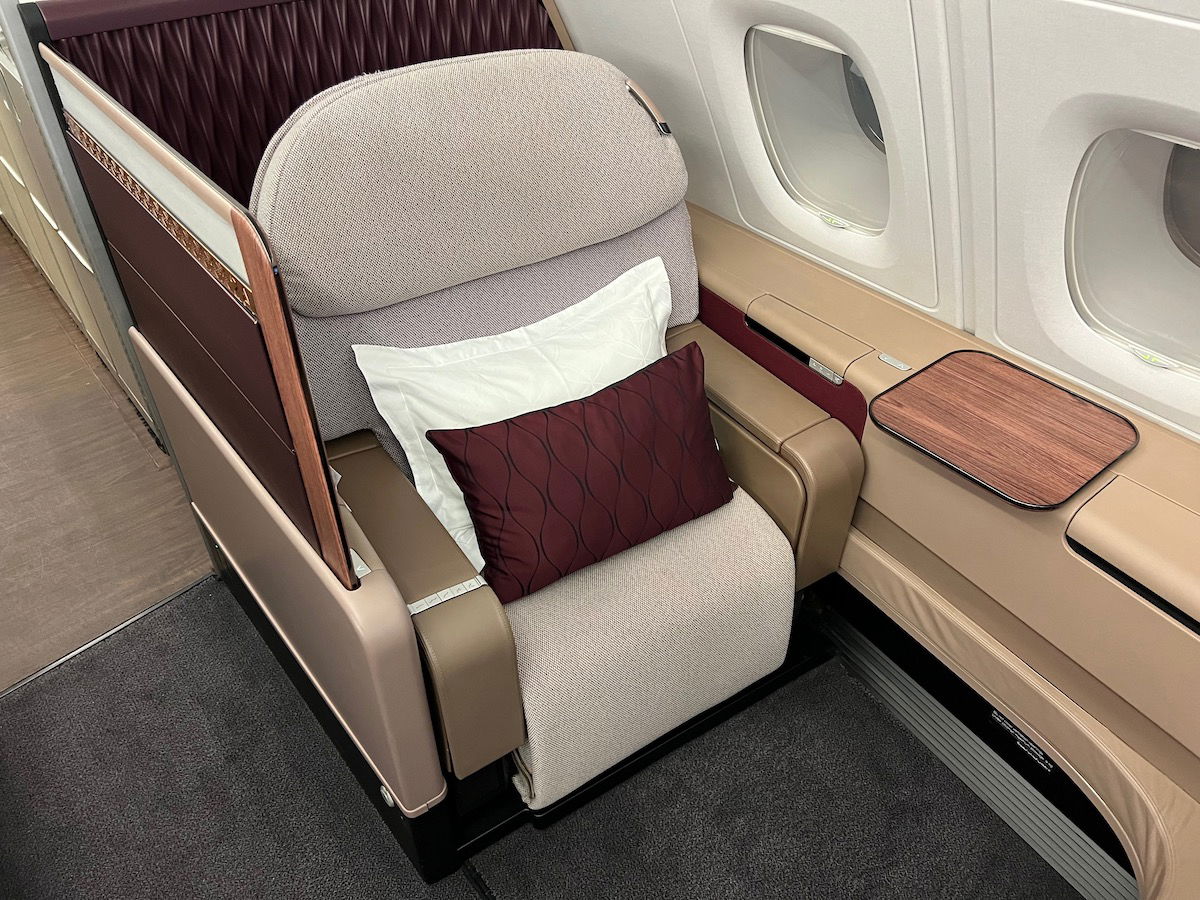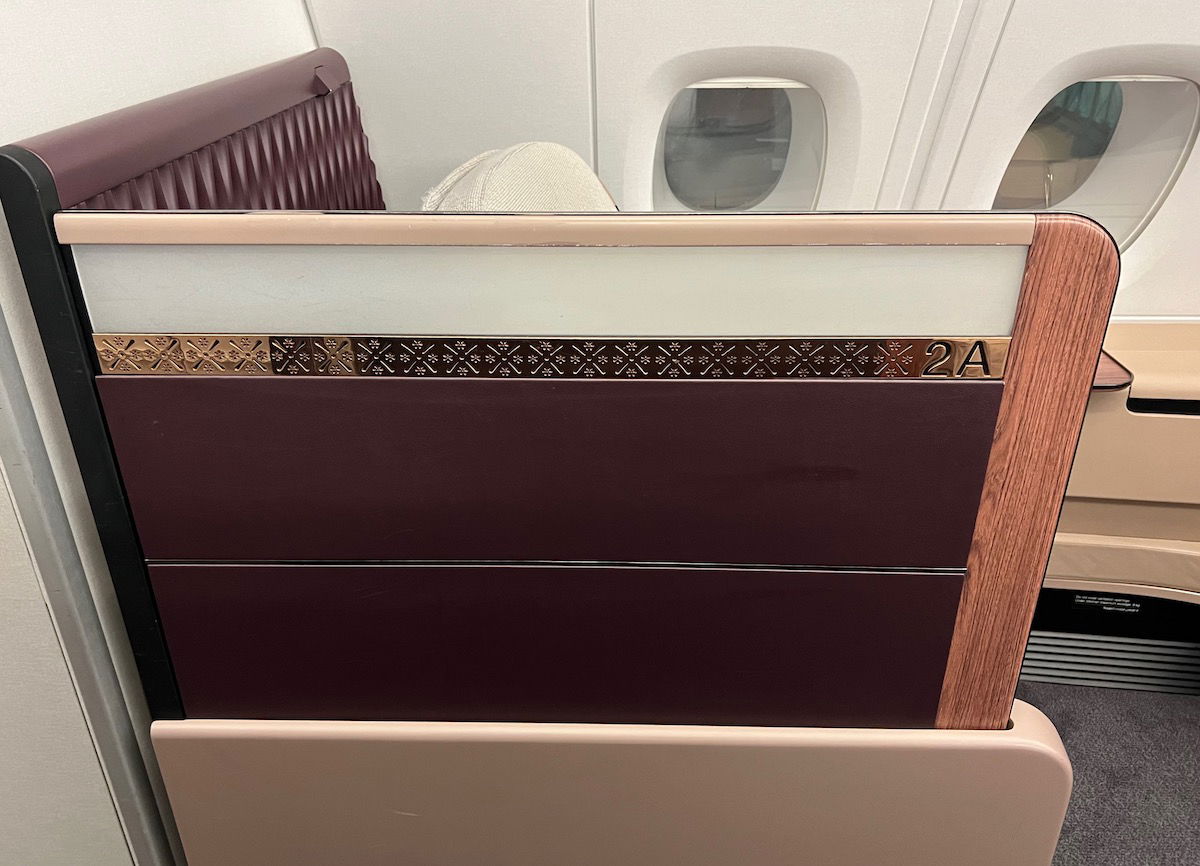 The seat also has a large ottoman that doubles as a buddy seat, should you want to dine face-to-face with someone. Otherwise the ottoman becomes part of the seat. There's also a 26″ television monitor mounted to the back of the seat in front, so it's one of the bigger TVs you'll find in the sky.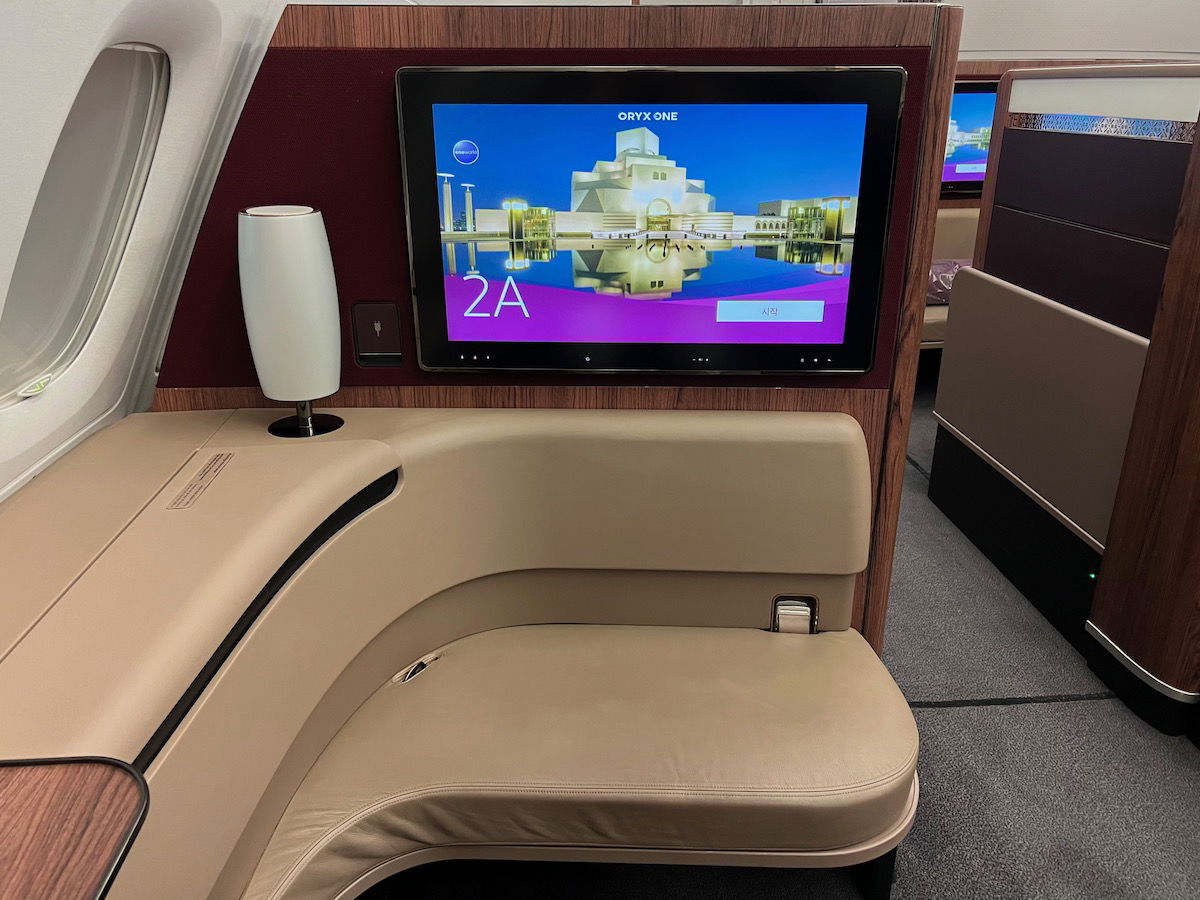 The tray table can be extended from the side of the seat, and is huge, so has plenty of space for enjoying a meal with someone else.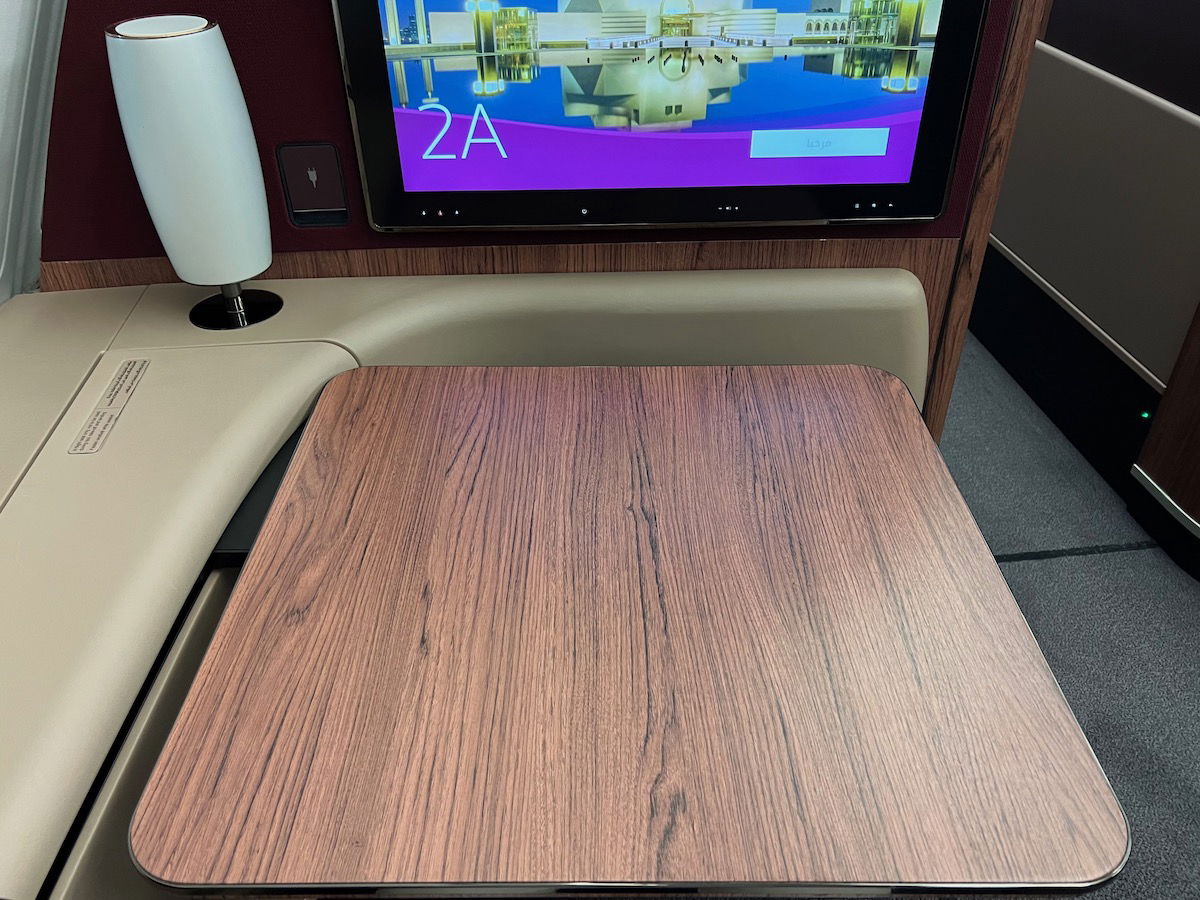 There's a small literature pocket to the side of the seat.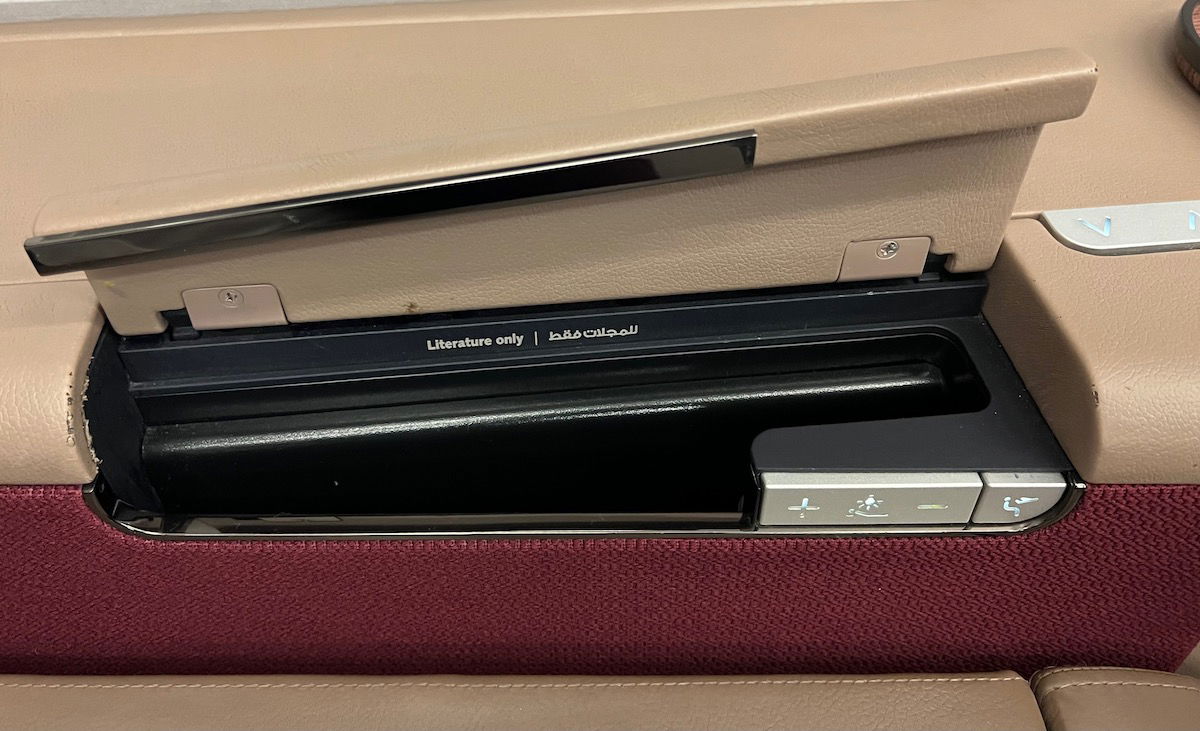 On the aisle-side armrest there's a controller that can be used to adjust the seat, some buttons to control seat functions, and also a storage pocket that's big enough for headphones.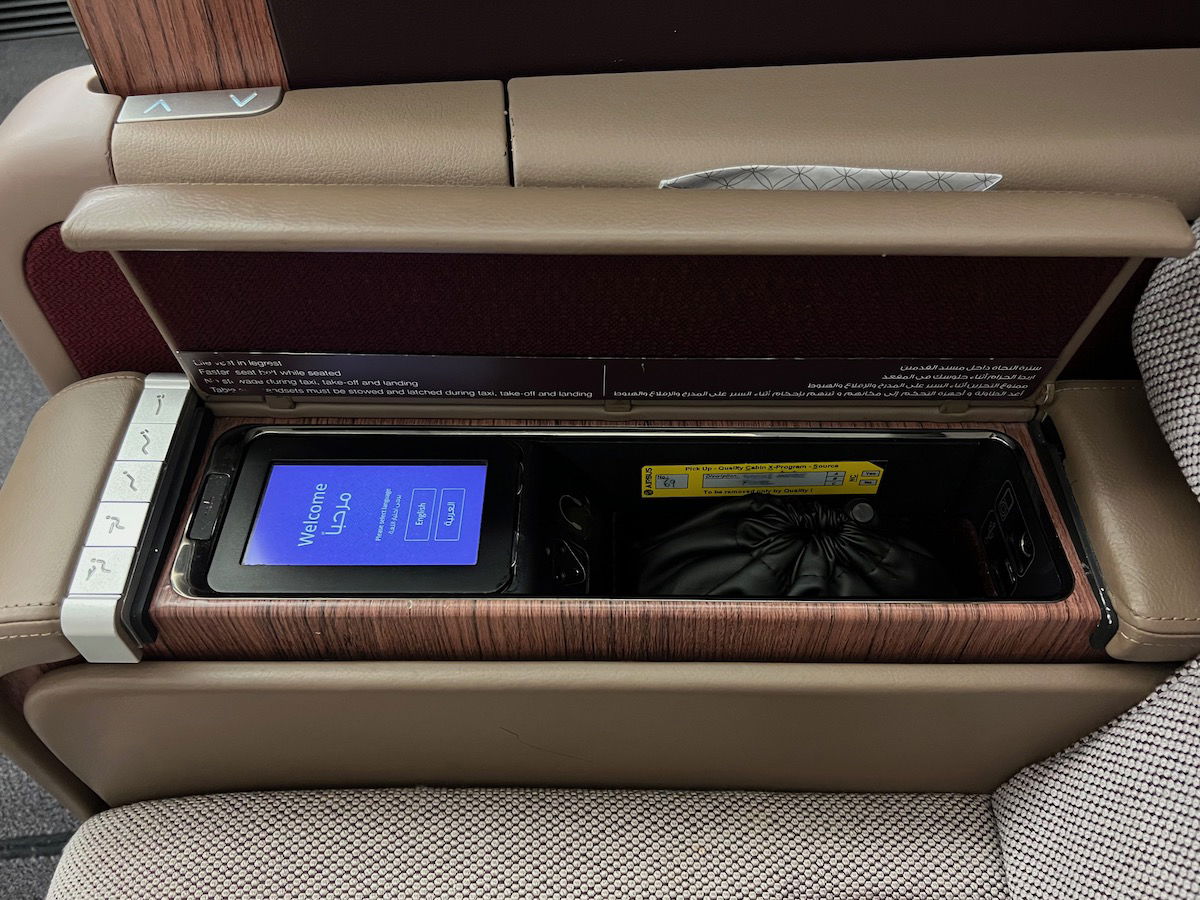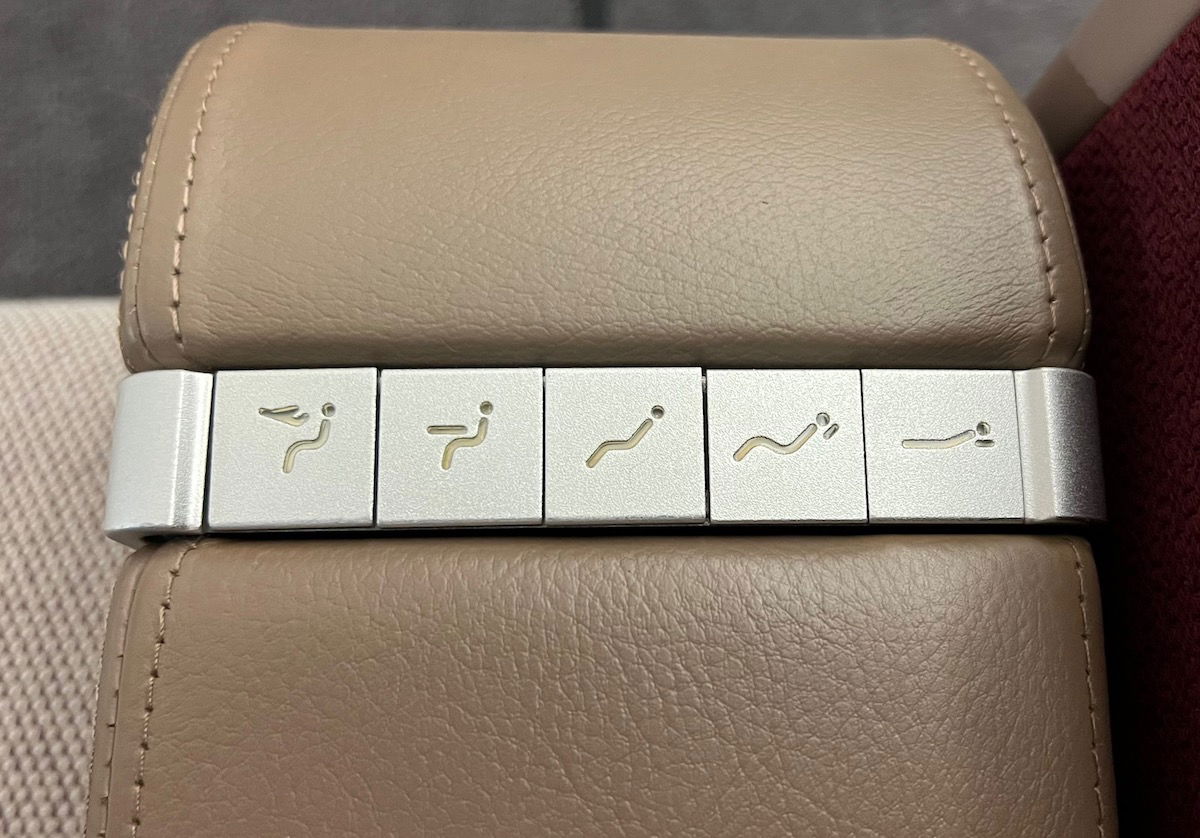 On the window-side armrest there's a controller that can be used to control the entertainment, as well as a storage pocket that's big enough for a bottle of water.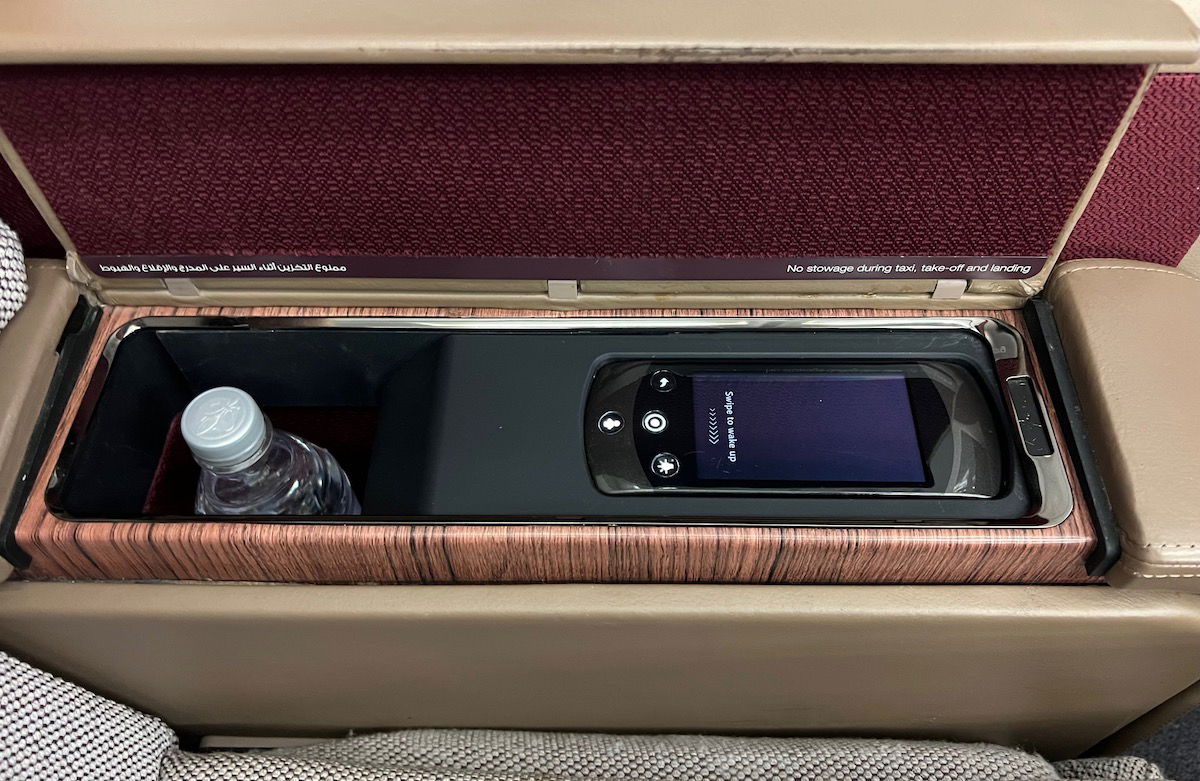 The AC power outlet is located next to the entertainment screen, and isn't very functional, in my opinion:
You have to get out of your seat to plug anything in (unless you have the world's longest arms)
The outlet is maybe a centimeter inside a compartment, so if you're like me and have an Apple charger with a "block," it won't fit in here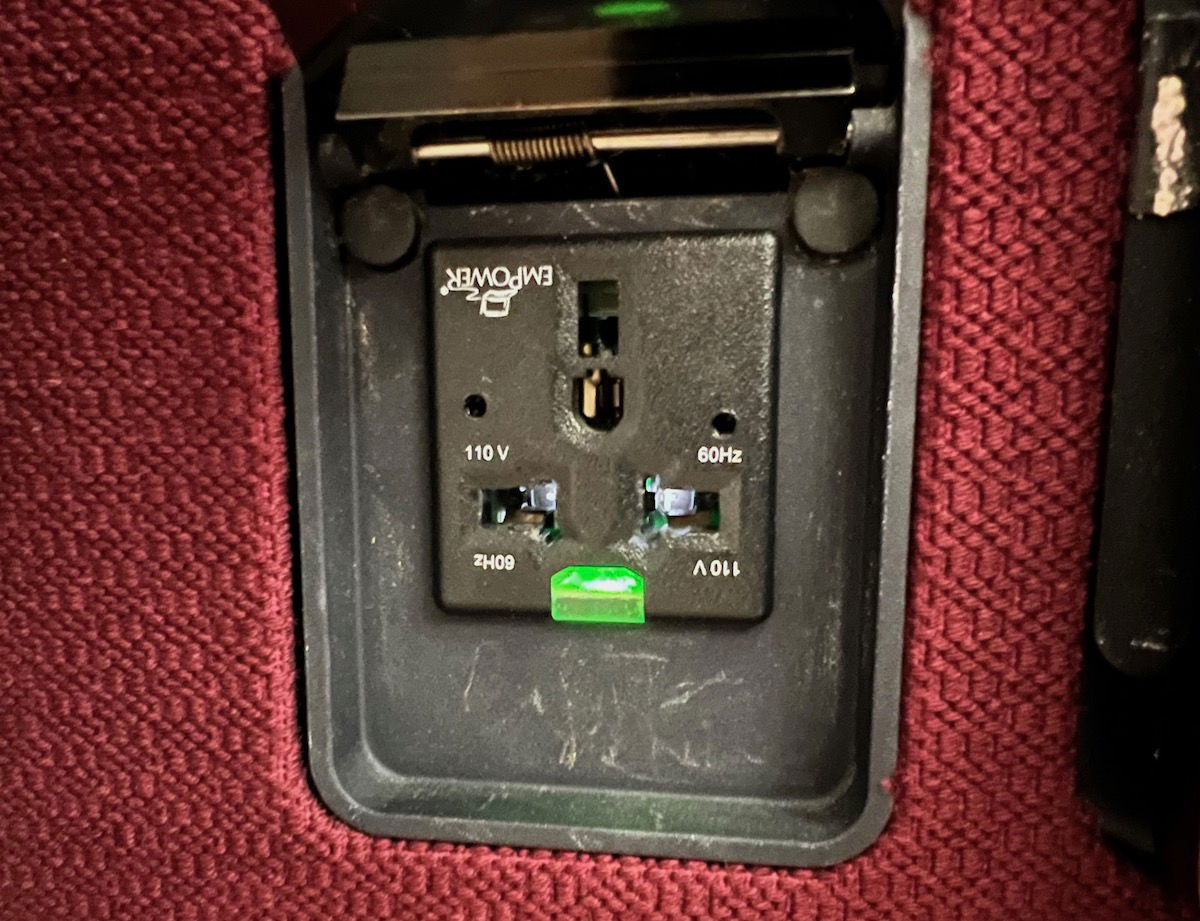 As you might have noticed above, there are no overhead bins in first class. Instead, each passenger has a wardrobe to the side of their seat, where they hang clothes, and can even place something along the lines of a small laptop bag.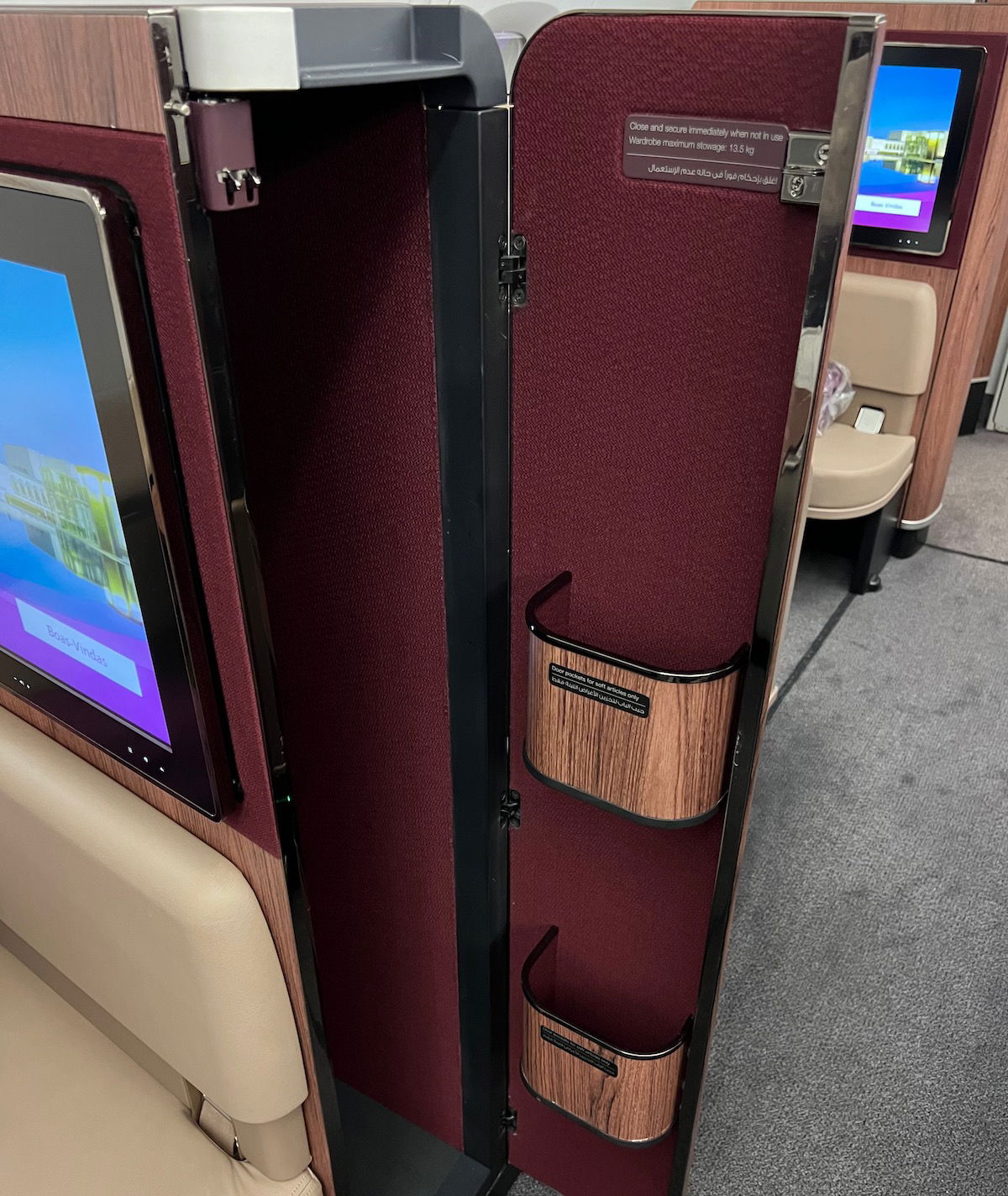 For additional luggage storage, there are some lockers at the front of the cabin, where first class passengers can place full size carry-ons.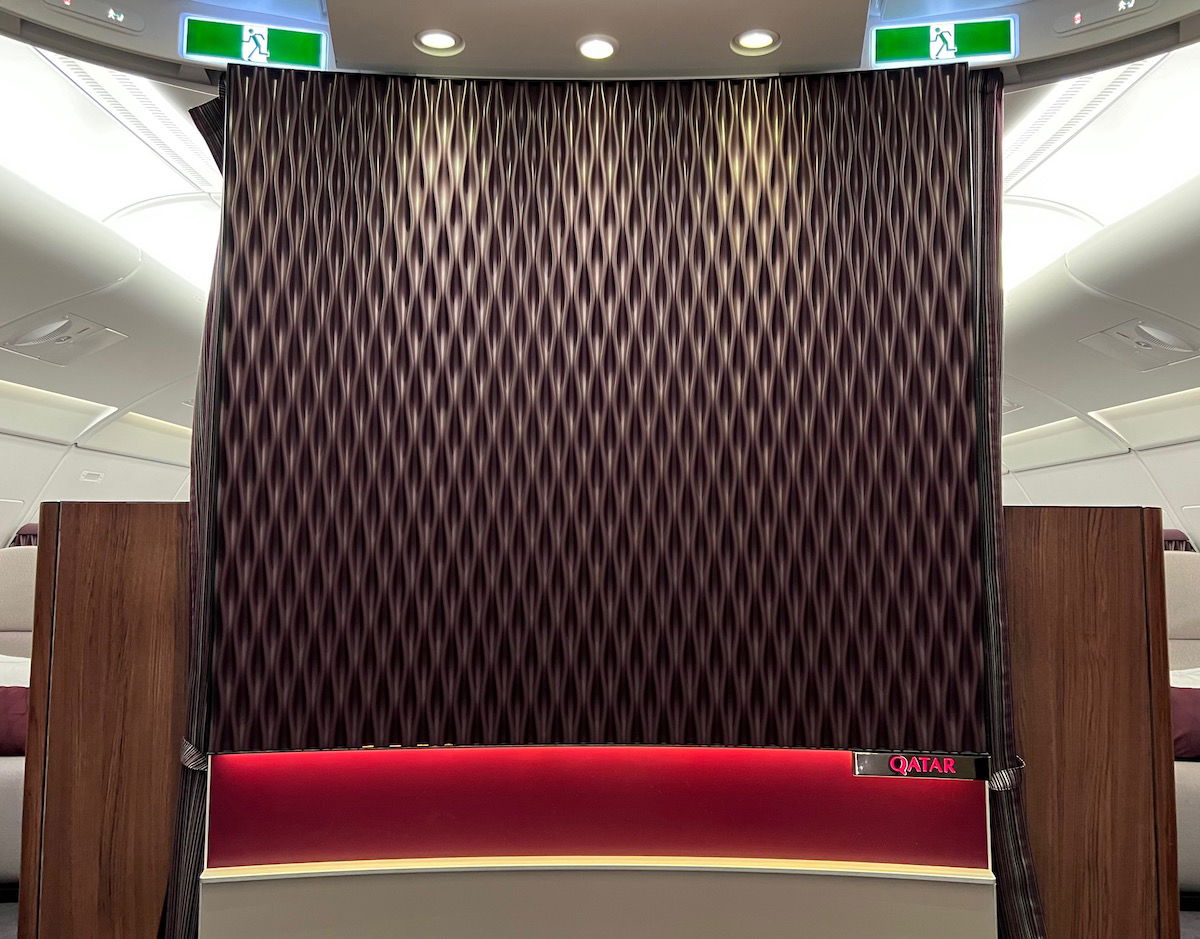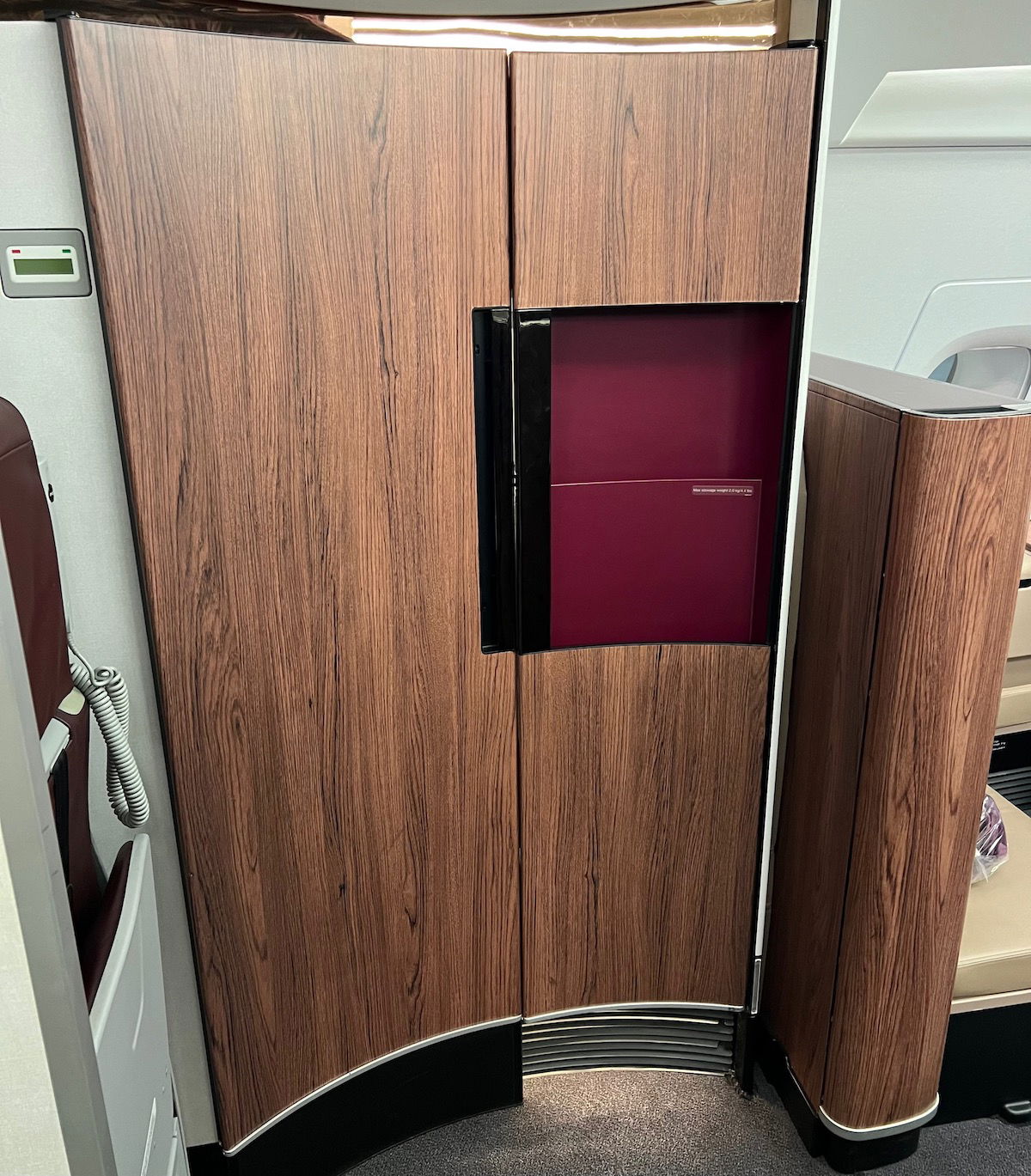 All-in-all, I'd say this is a perfectly nice first class product, but it's not about to win any awards. The cabin is quite spacious, and it's even nicer when you have no other passengers. One thing I didn't love was the lack of any air nozzles, so there wasn't the ability to control airflow around the seat.
Qatar Airways A380 business class cabin & seats
Since I was the first to board (as we were the only ones in first class), I also quickly looked at the business class cabin during boarding, and snapped some pictures, which I figured I'd share. Qatar Airways' A380s have one of the carrier's older generation business class products, which are standard reverse herringbone seats.
These seats are nice, though not as nice as you'd find in the carrier's Qsuites business class (on select Airbus A350s and Boeing 777s), as well as in the carrier's Boeing 787-9 business class.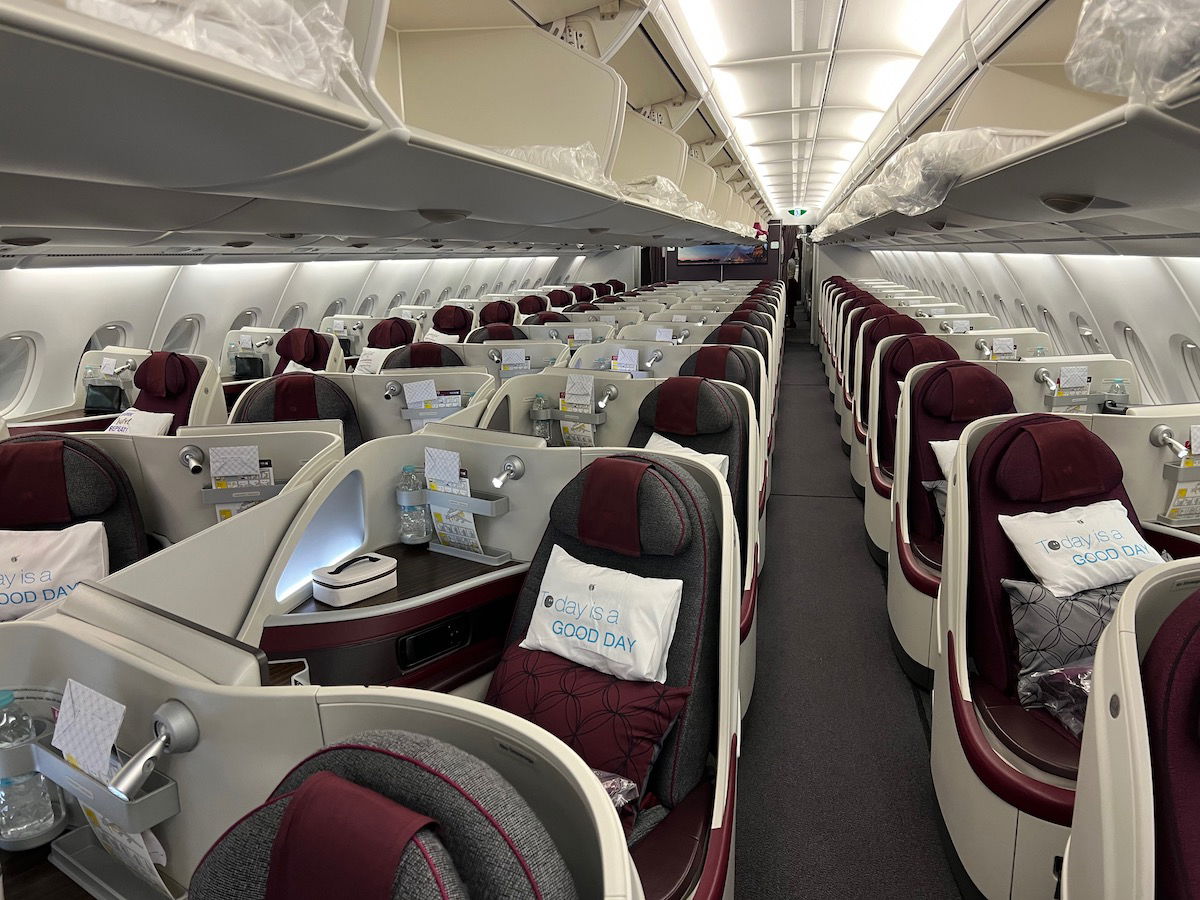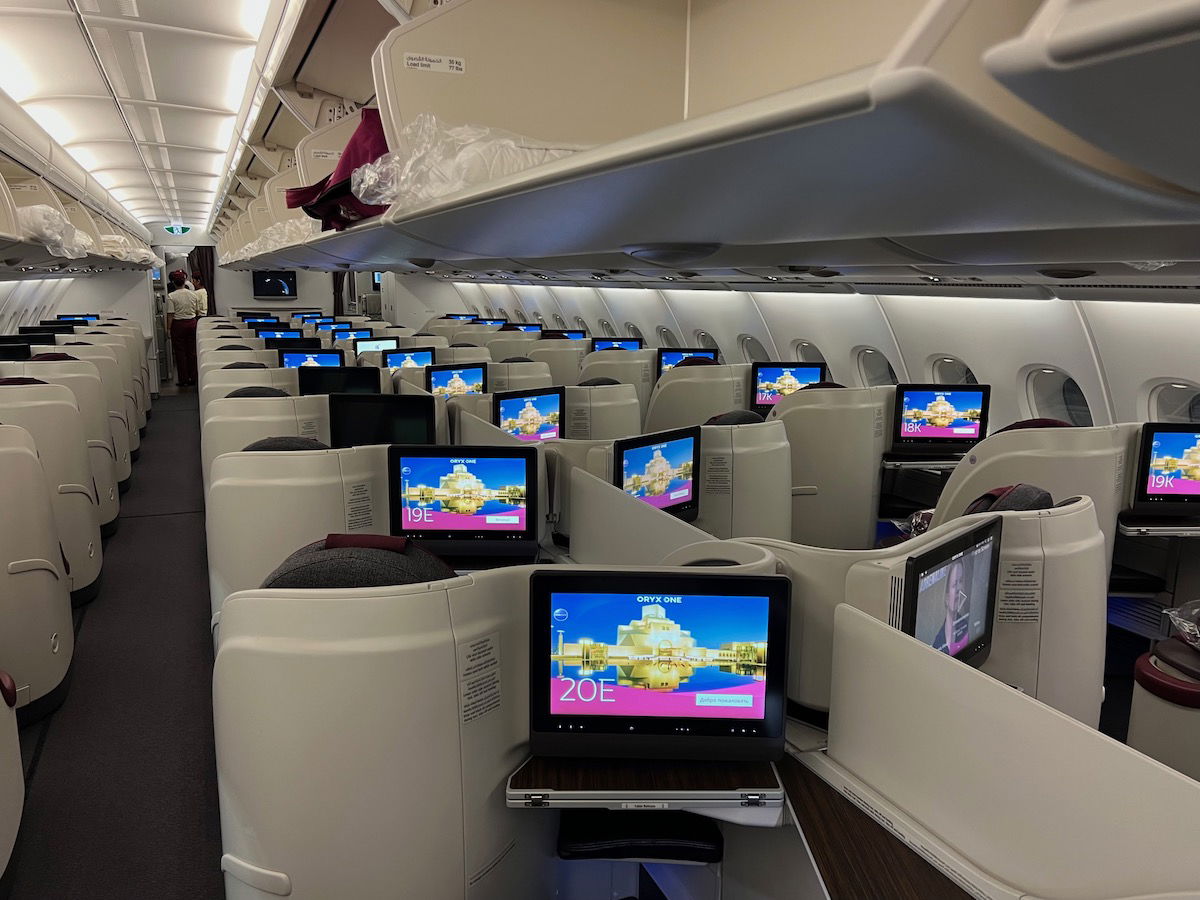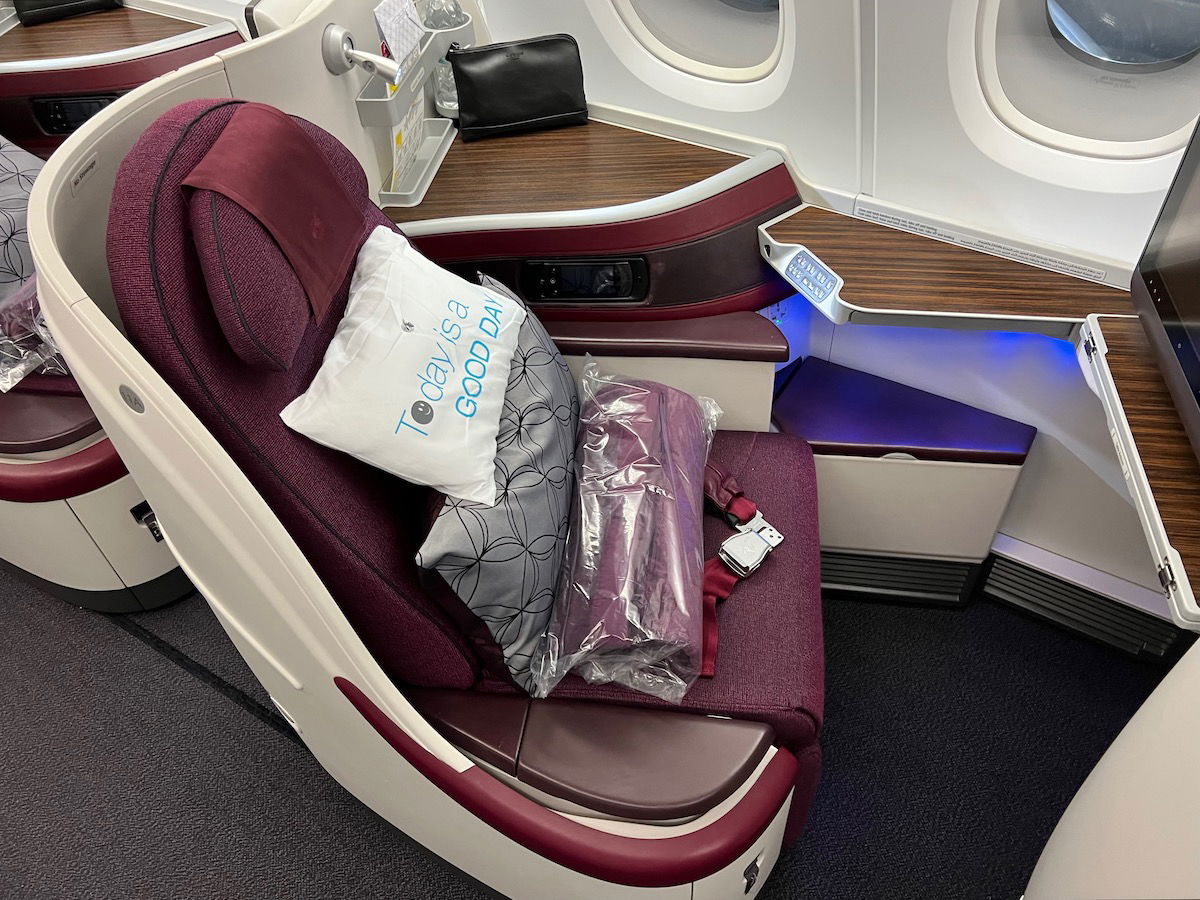 Qatar Airways first class amenities
So, what are Qatar Airways' first class amenities like? If you're used to Qatar Airways business class, they should look familiar. Waiting at each seat upon boarding was a pillow and blanket, both of which were quite comfortable.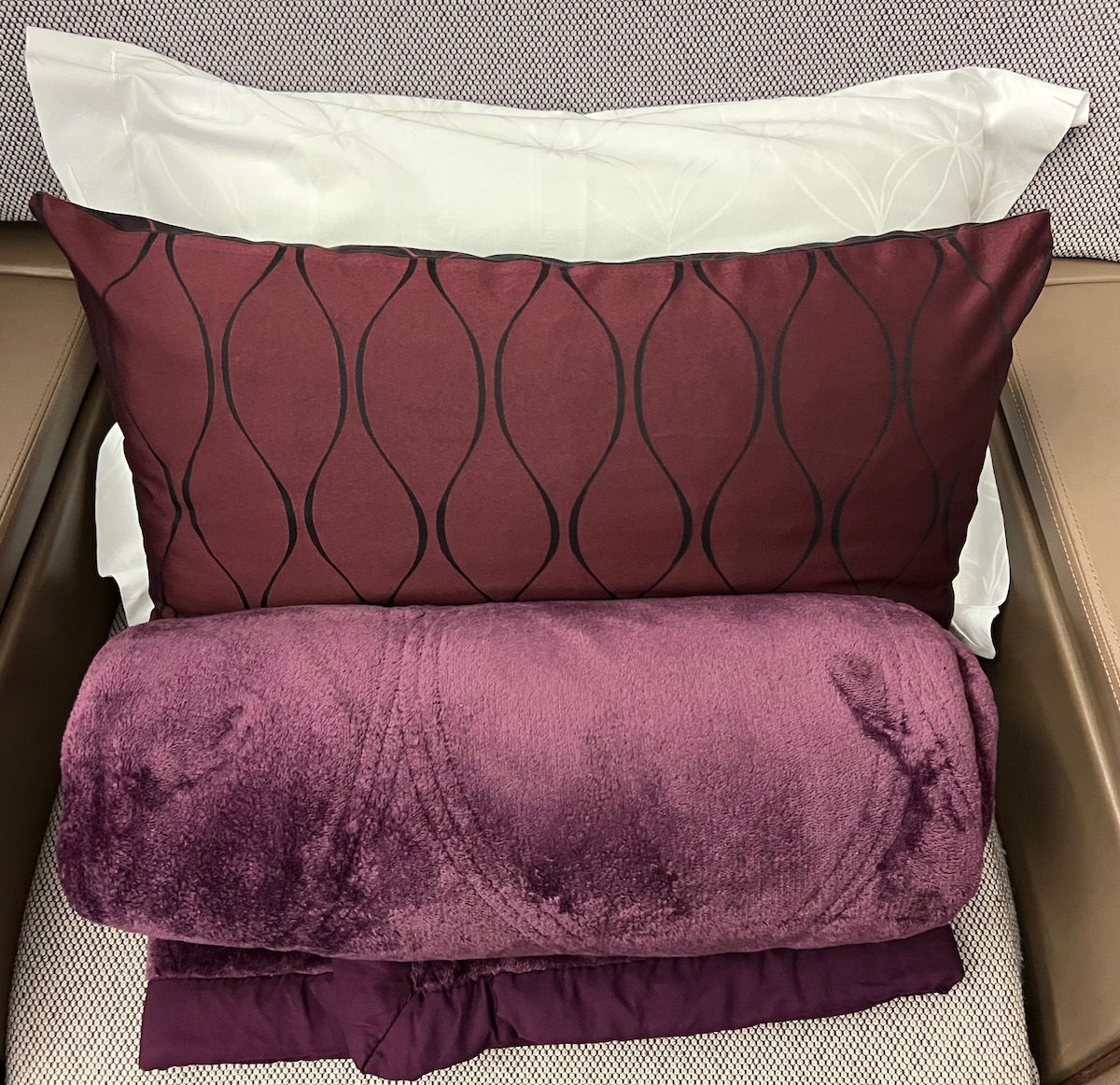 There were also a pair of headphones, which were pretty basic for first class.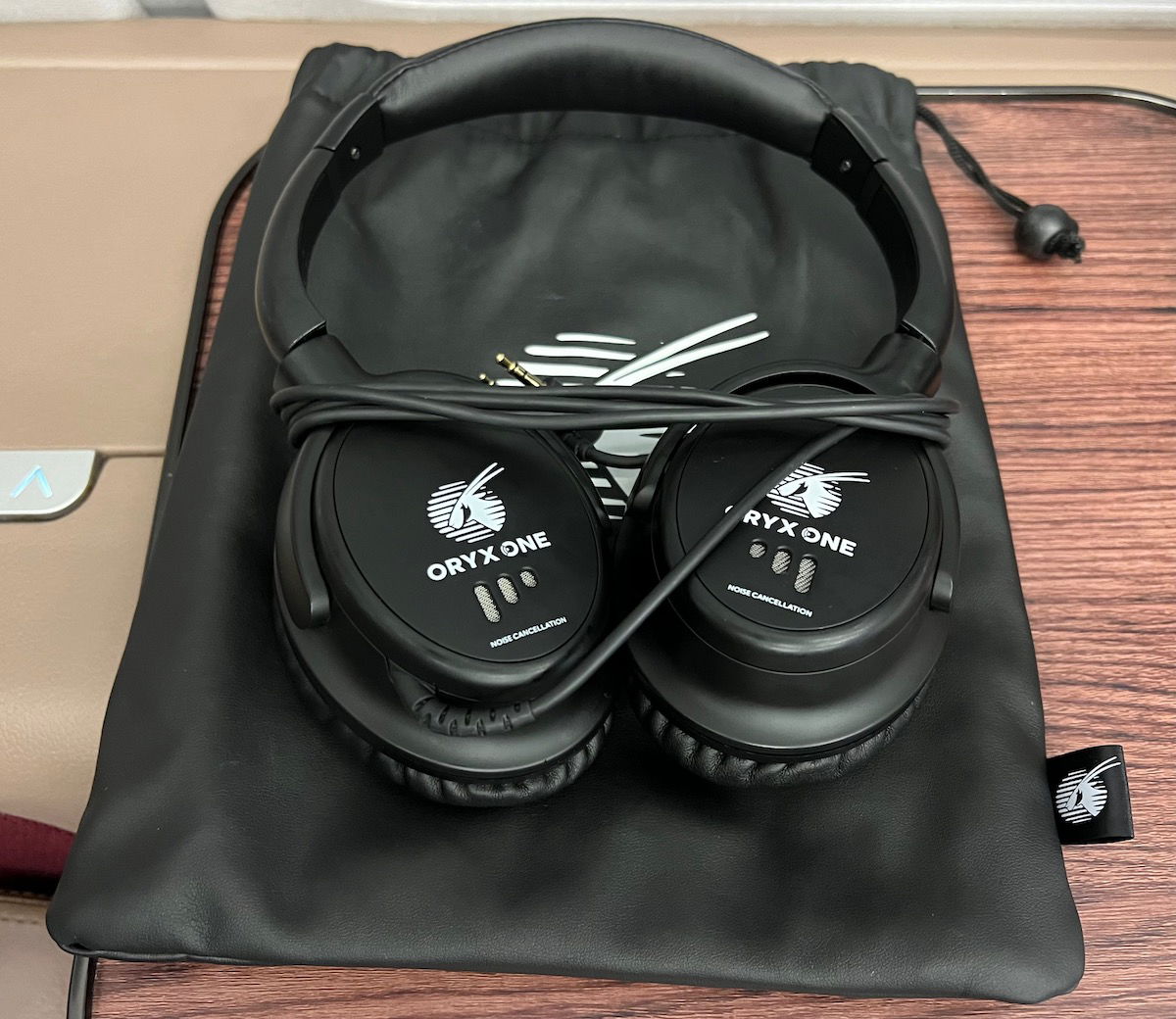 Upon settling in, we were offered our choice of pre-departure beverages. My dad and I both ordered champagne — Qatar Airways currently serves Charles Heidsieck Blanc des Millenaires 2007. While not quite as "big name" as Dom Perignon or Krug, I enjoyed it immensely. It was served with a ramekin of olives and parmesan cheese, as well as a packaged refreshing towel from Diptyque.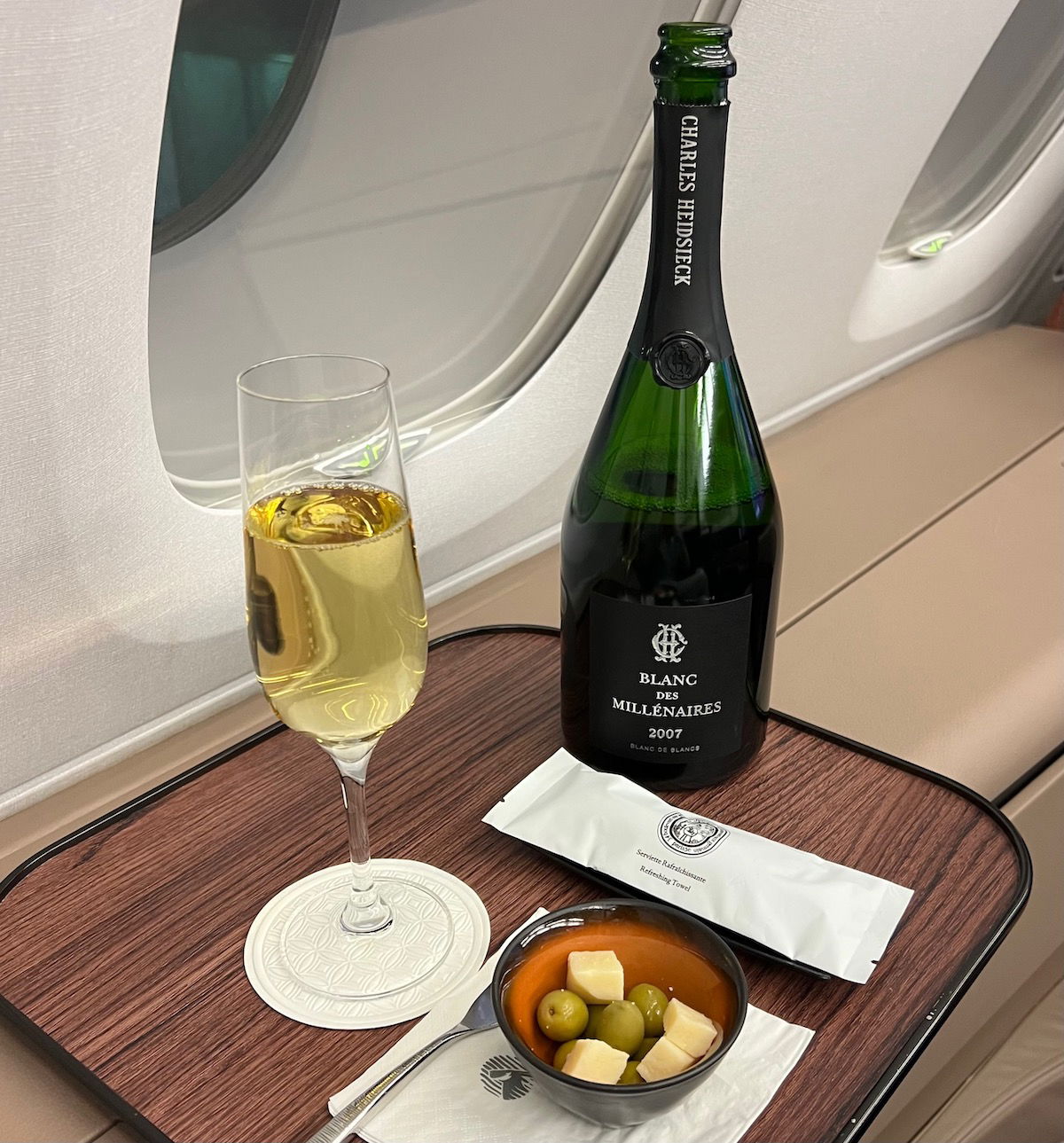 We were then served Arabic coffee and packaged dates.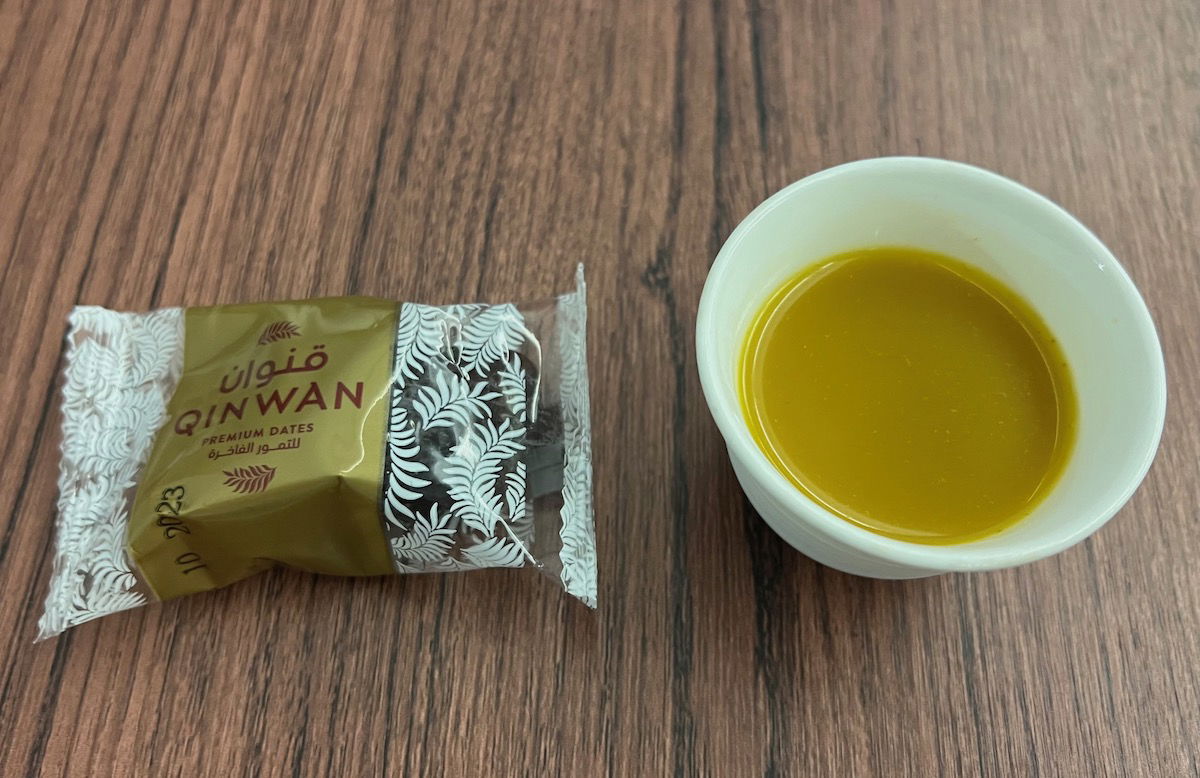 We were also offered pajamas and slippers from The White Company, the same that you'll find in business class.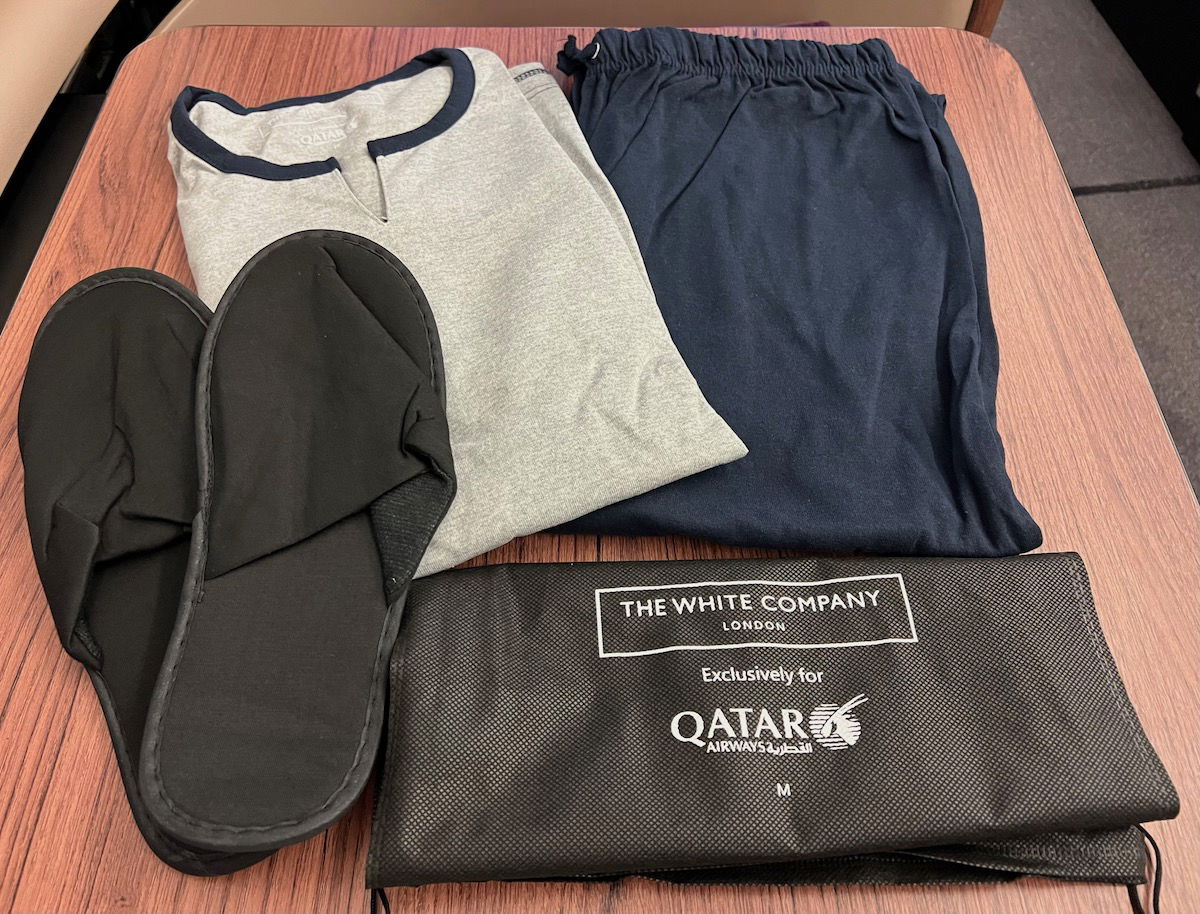 Then there was the Diptyque amenity kit, consisting of socks, body lotion, face cream, lip balm, and a fragrance. Other basic amenities are available in the lavatory.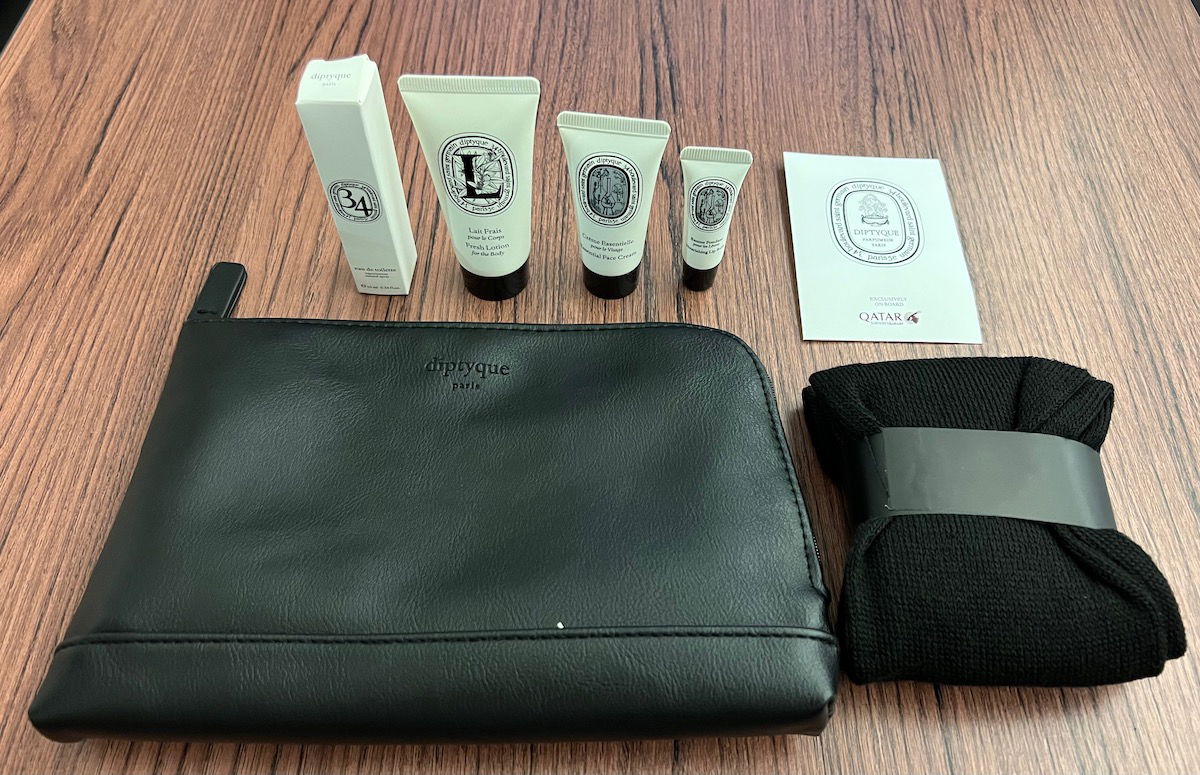 Next up was the menu and wine list for the flight. As the cabin service manager presented these to us, she reminded us that Qatar Airways has a dine on demand concept, so we could have what we wanted, when we wanted.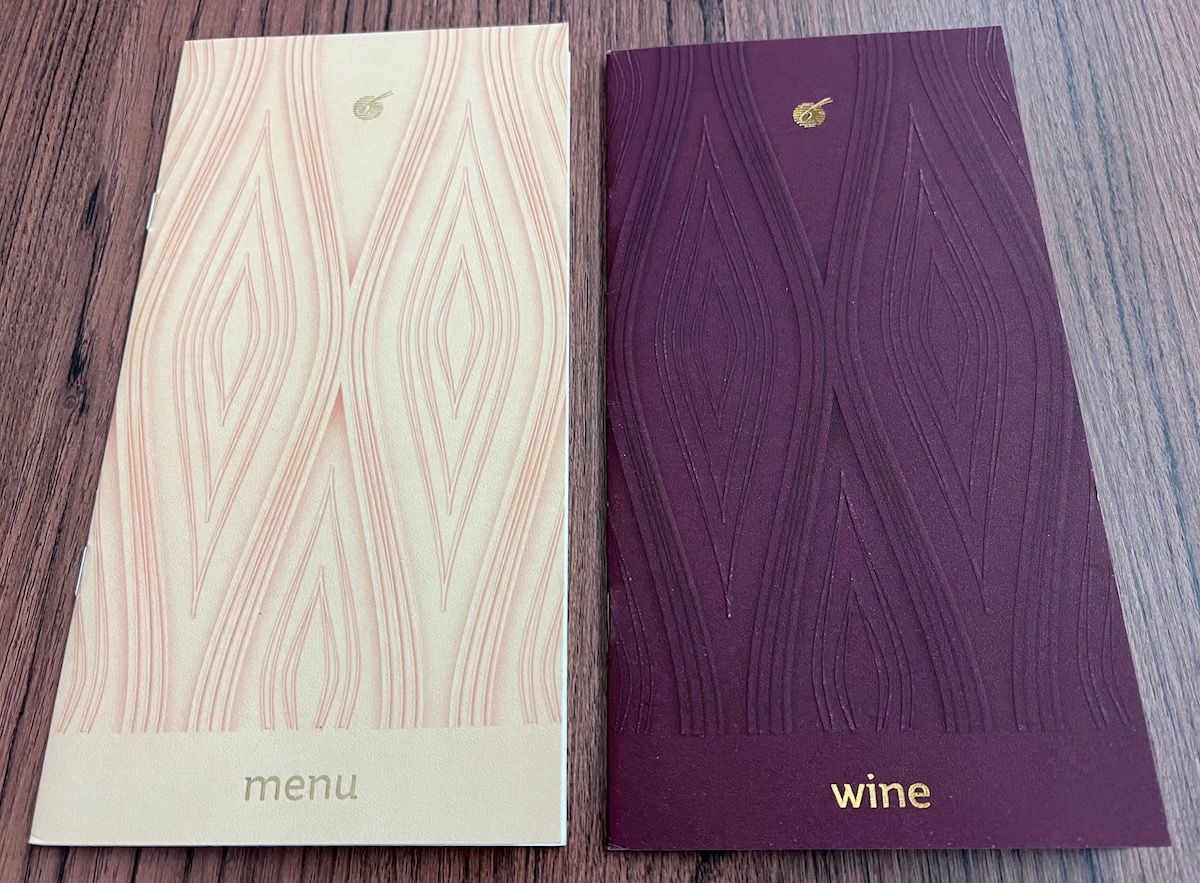 Lastly we were offered the landing card for Australia, plus a voucher for free Wi-Fi.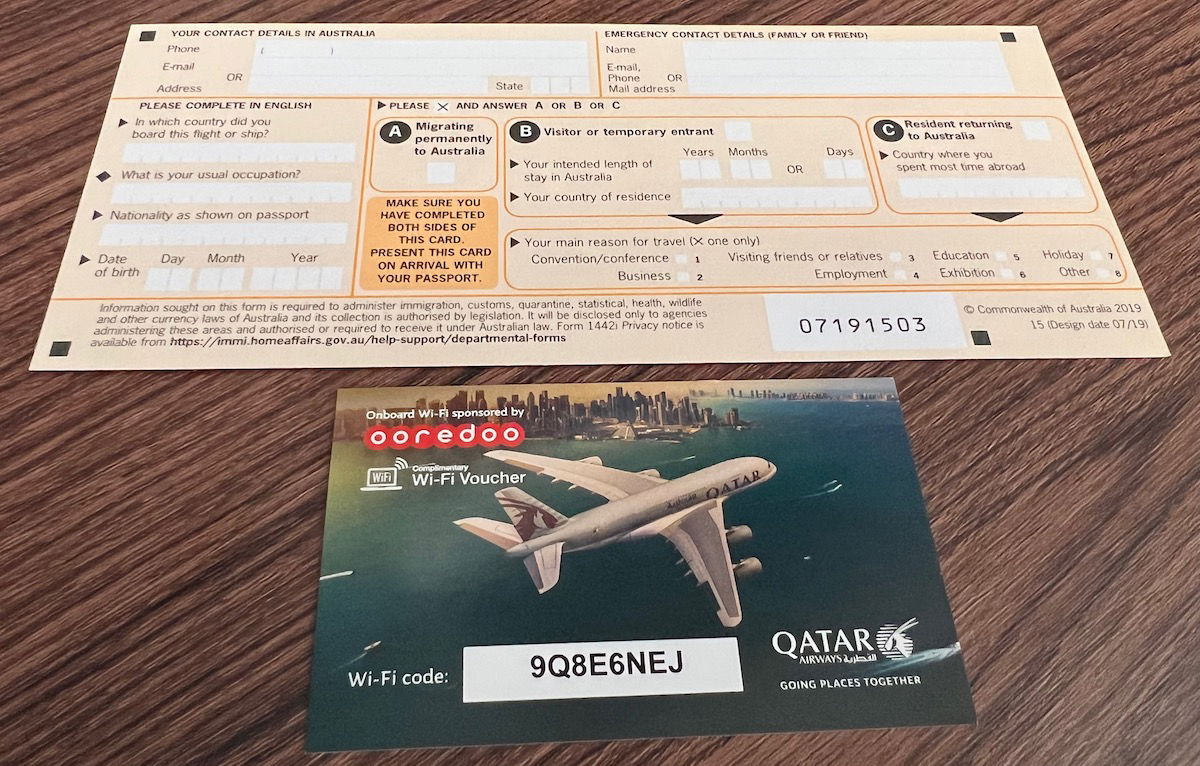 Qatar Airways A380 first class entertainment & Wi-Fi
Qatar Airways' Oryx One entertainment system offers a huge selection of movies and TV shows. One thing I don't love about the A380 is that the first class entertainment screens aren't touchscreen, but instead you have to use the controller.
Somehow I was under the impression that you could only view the entertainment selection on the controller itself, which isn't ideal, since it's kind of hard to browse hundreds of movies on a screen that's so small. However, a reader pointed out that apparently you can view the selection on the main screen using some sort of a remote mode, whereby the screen shows your options. I'm still not sure exactly how that works, though, as it doesn't seem very intuitive.
Despite my challenges with viewing the options, Qatar Airways' entertainment selection is endless.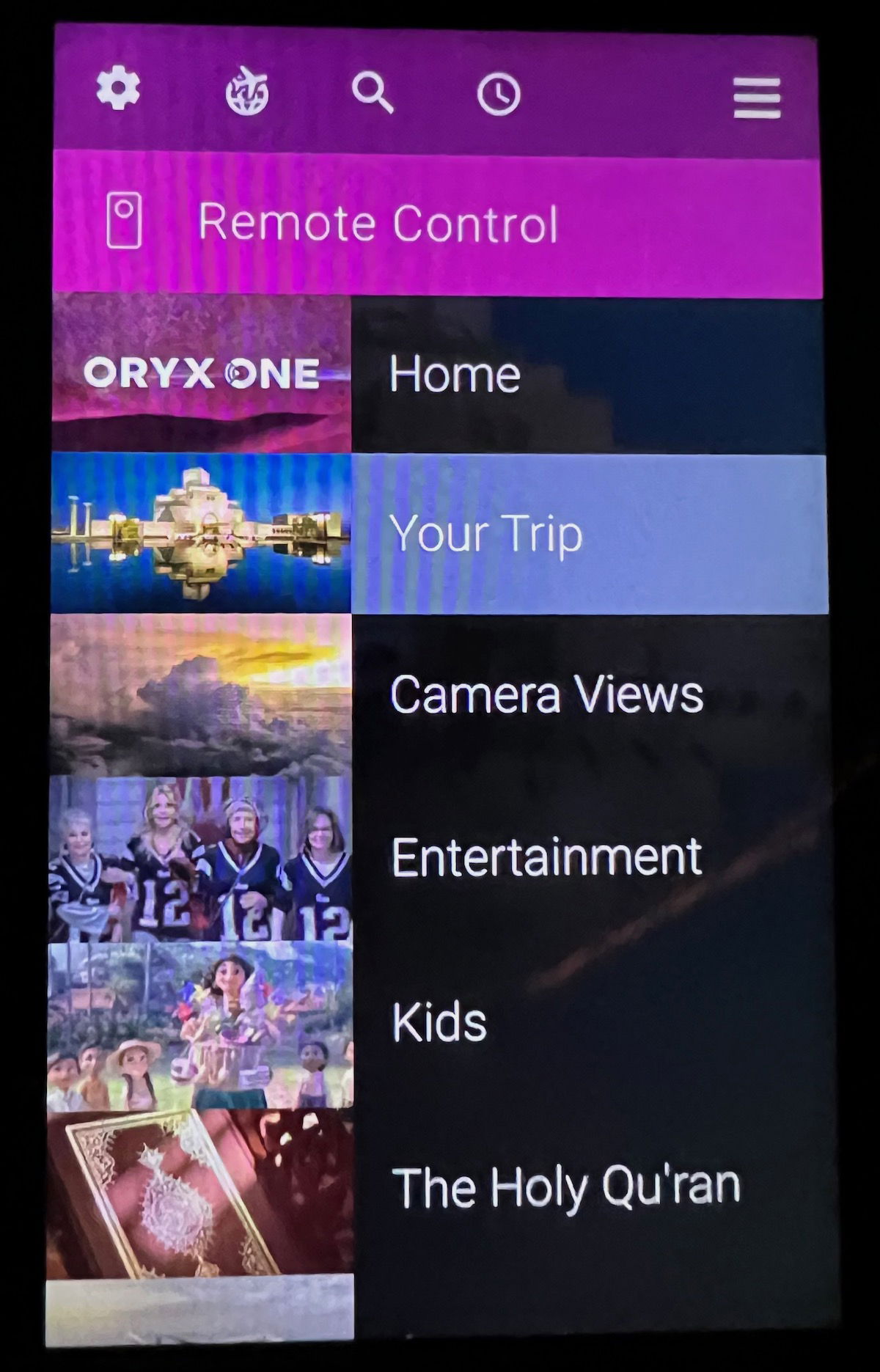 Qatar Airways' A380s also have Wi-Fi, though it's the slowest connection you'll find in the fleet. Under the best of circumstances, Wi-Fi is excruciatingly slow, and pales in comparison to the "Super Wi-Fi" you'll find on Qatar Airways' newer jets.
The pricing isn't cheap either:
You can get a one hour pass with up to 30MB of data for $5
You can get a three hour pass with up to 100MB of data for $10
You can get a full-flight pass with up to 200 MB of data for $20
The pricing isn't terrible on the surface given for how long you can use the Wi-Fi, but rather the issue is the very limited data you can use.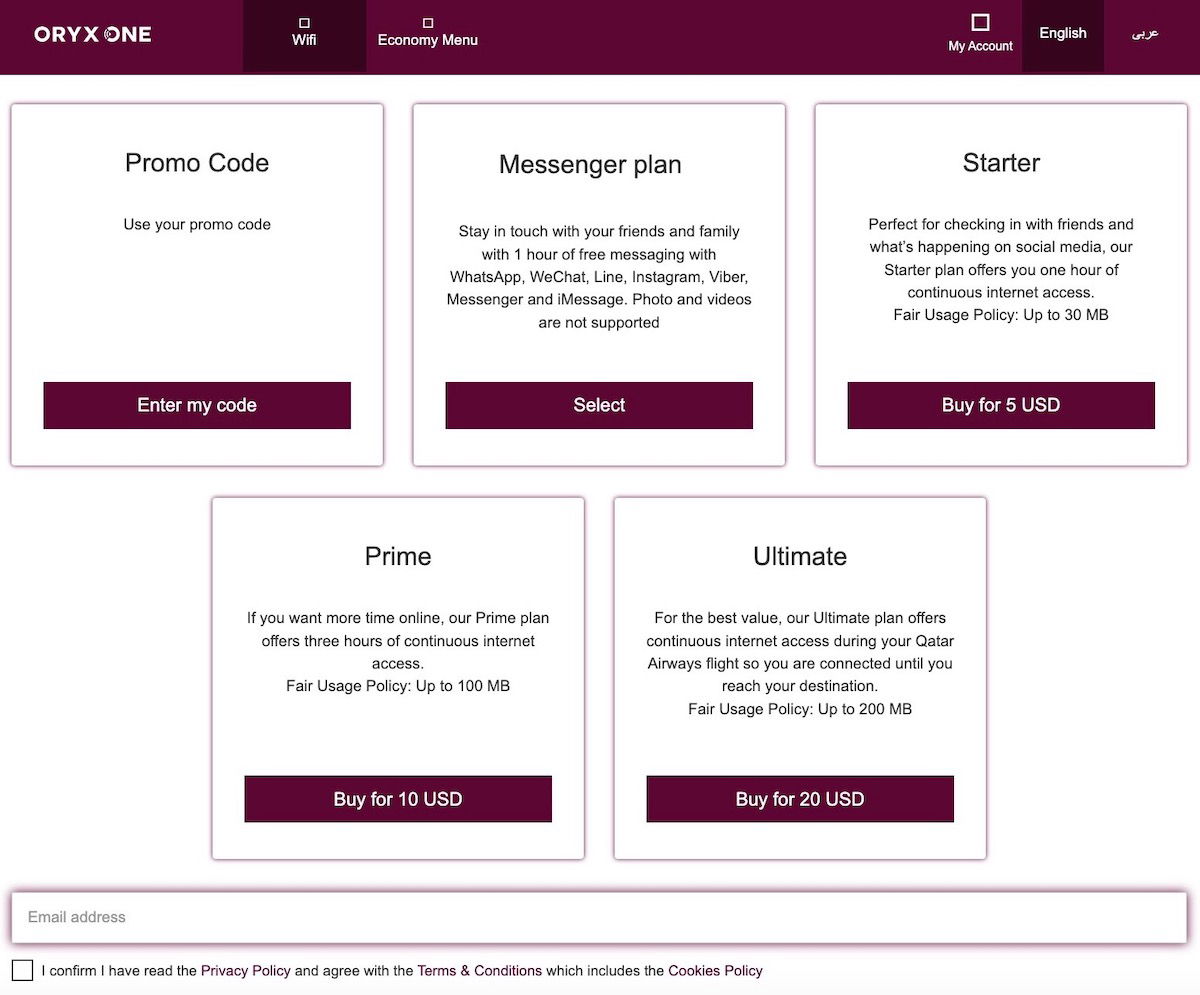 Fortunately as a first class passenger, I received free Wi-Fi for up to 200MB of data.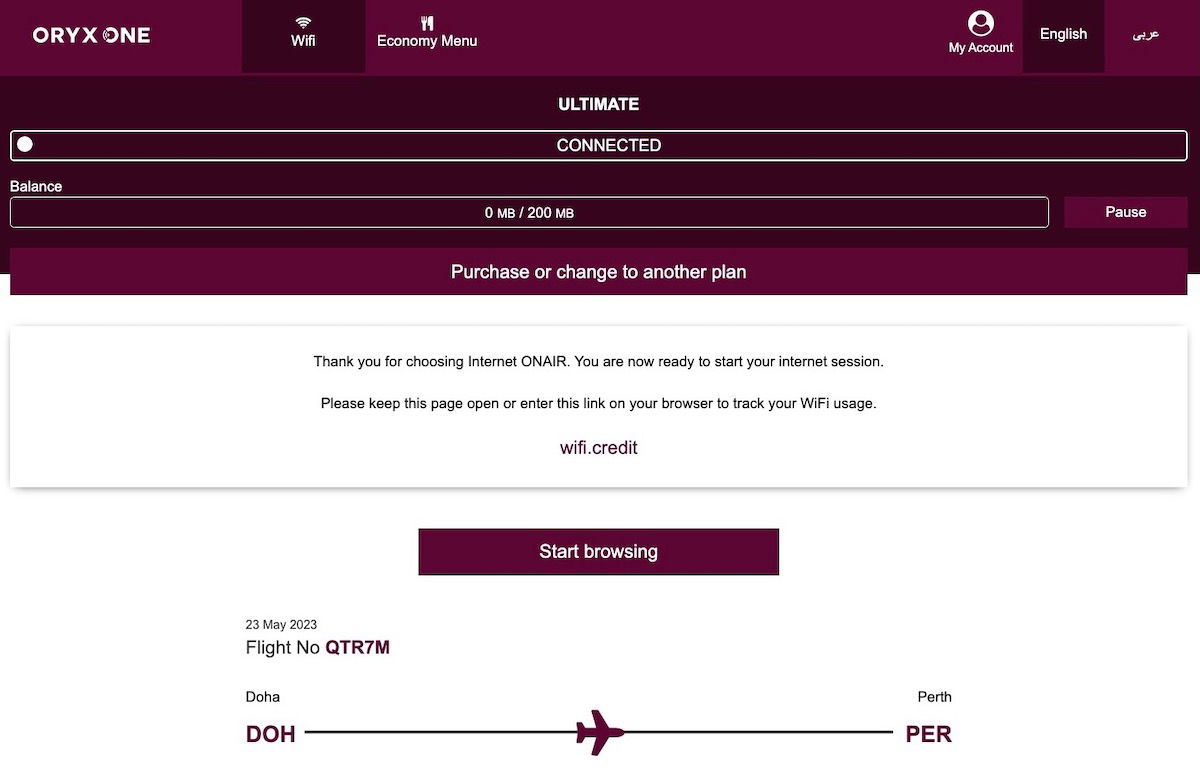 The Wi-Fi worked for roughly the first hour of the flight, and was very slow, as expected. Unfortunately after that, the Wi-Fi broke for the rest of the flight, and the crew wasn't able to fix it, despite trying to reset it. That's pretty disappointing, though admittedly stuff like that happens.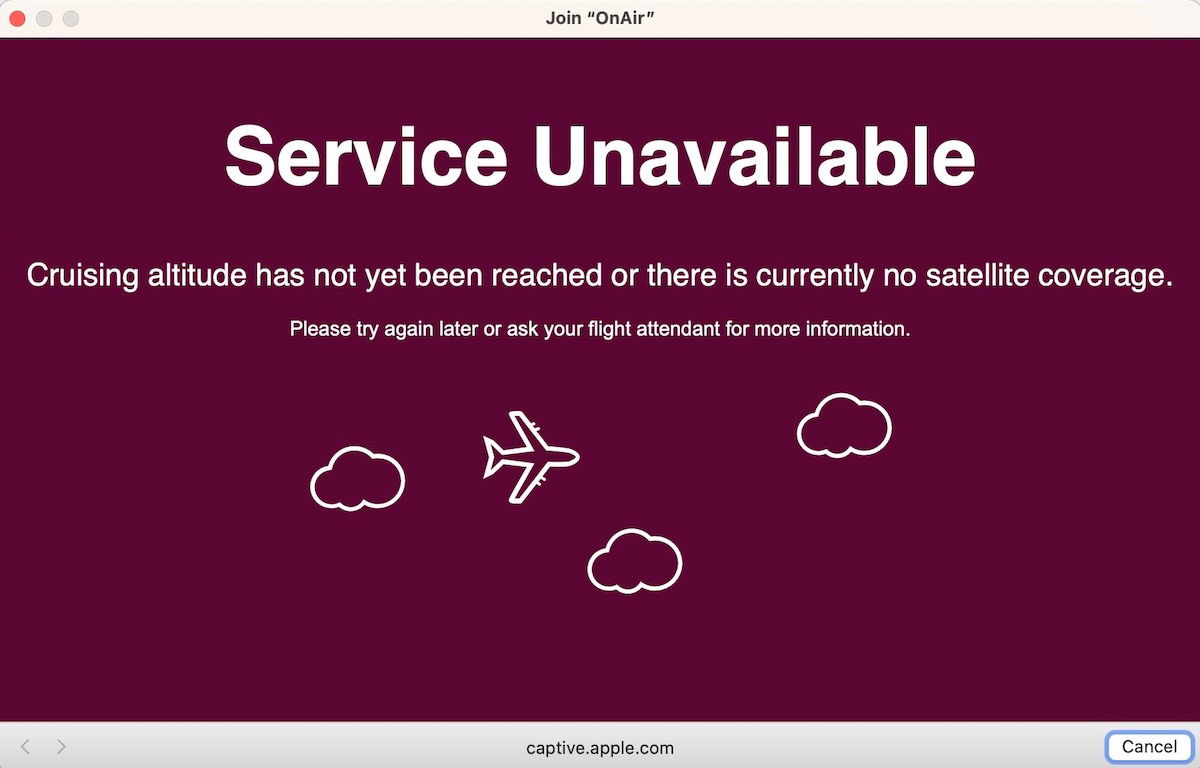 Qatar Airways A380 departure from Doha
Boarding wrapped up at around 2:15AM, 10 minutes ahead of scheduled departure. Around this time the captain made his welcome aboard announcement, informing us of our cruising altitude of 39,000 feet, and our flight time of 10hr30min.
As mentioned above, we were the only ones in first class, while business class had just a few empty seats (I'm not sure how full economy was). The door closed at around 2:20AM, at which point the safety video was screened.
As we taxied out, I enjoyed watching the tail camera, which is one of my favorite features of the A380.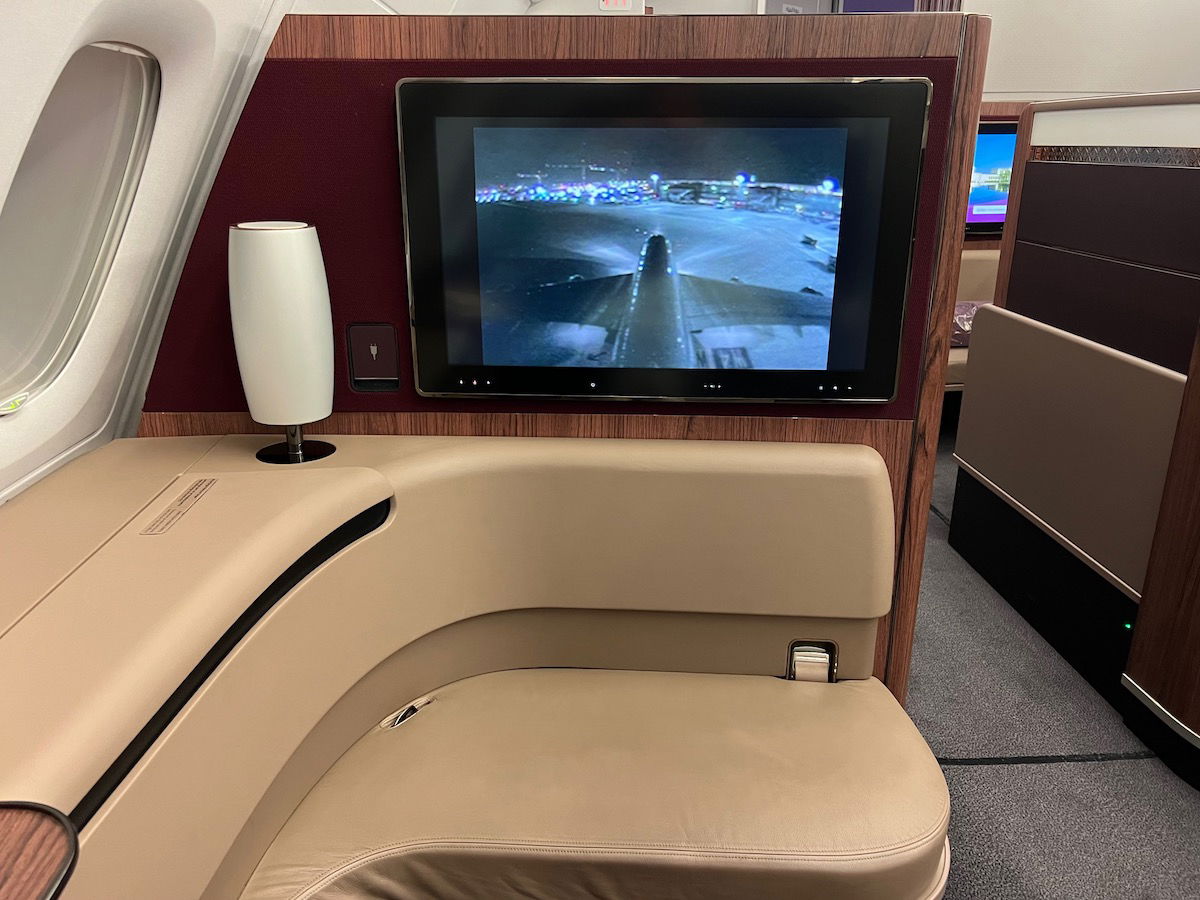 We had quite a long taxi, and at 2:45AM we rocketed down runway 36R for our takeoff. Once airborne, I transitioned from the tail camera to the moving map.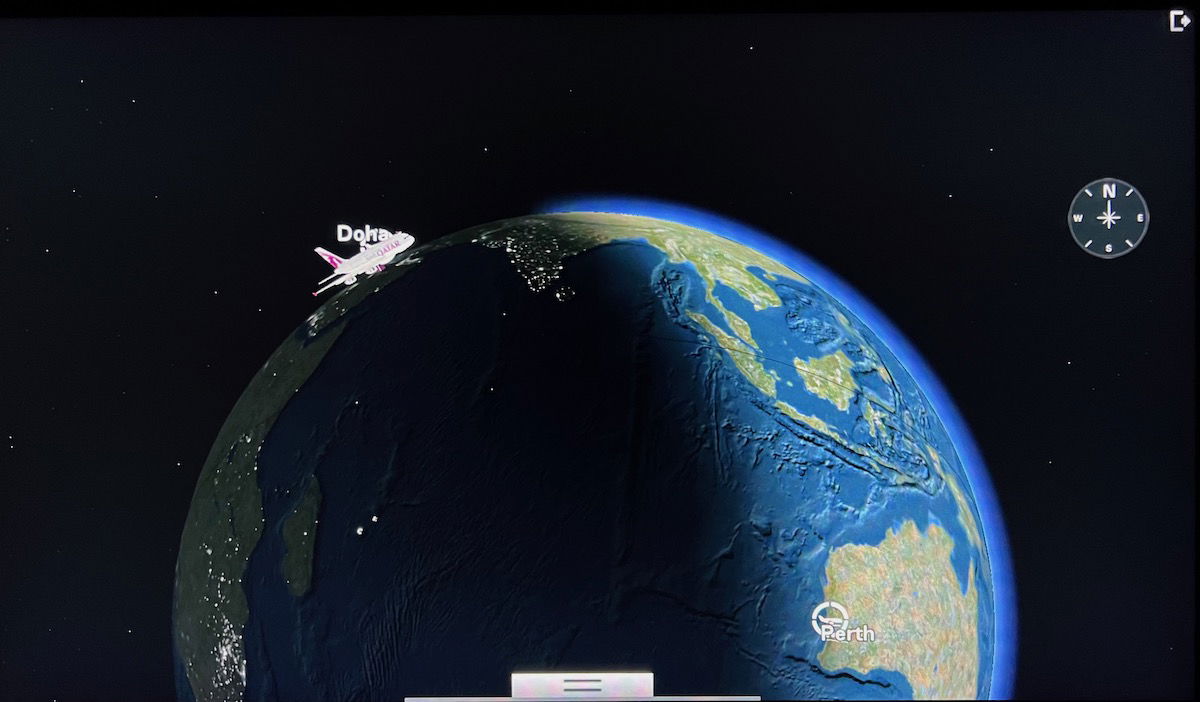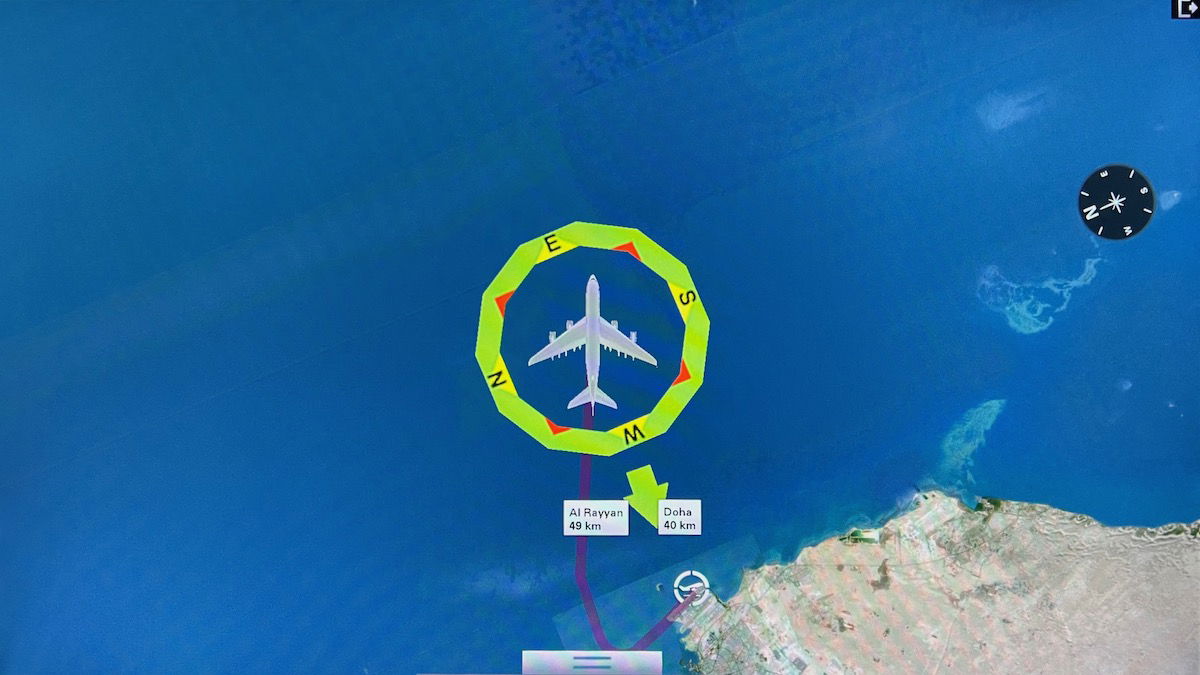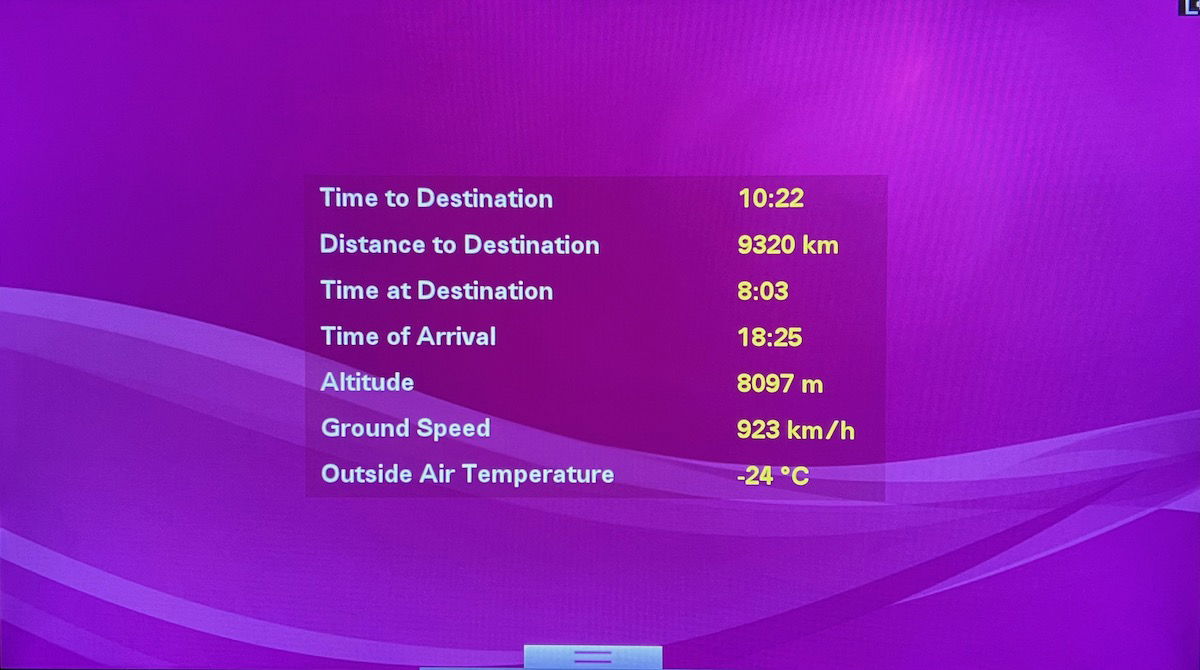 The seatbelt sign was turned off about five minutes after takeoff, at which point the crew began inflight service. One of the nice things about having the cabin to yourself is that you can basically choose whether you want the lights on or off. My dad asked the crew for some nice ambiance, so below is what the cabin looked like during our meal service — fun!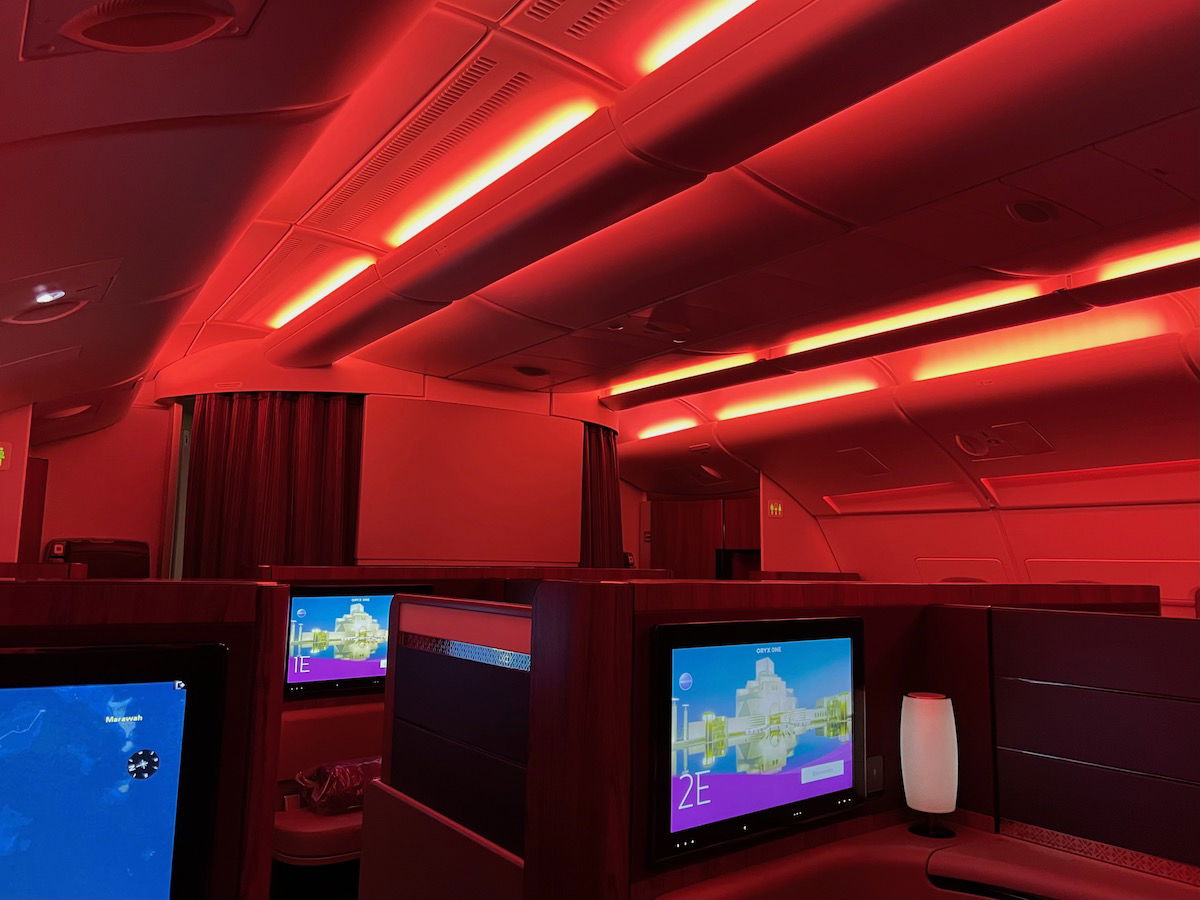 Qatar Airways first class dinner service
Surprisingly enough, my dad and I both sort of had a second wind at around 3AM, so we were ready to enjoy our dinner. Below you can find the first class menu for this flight.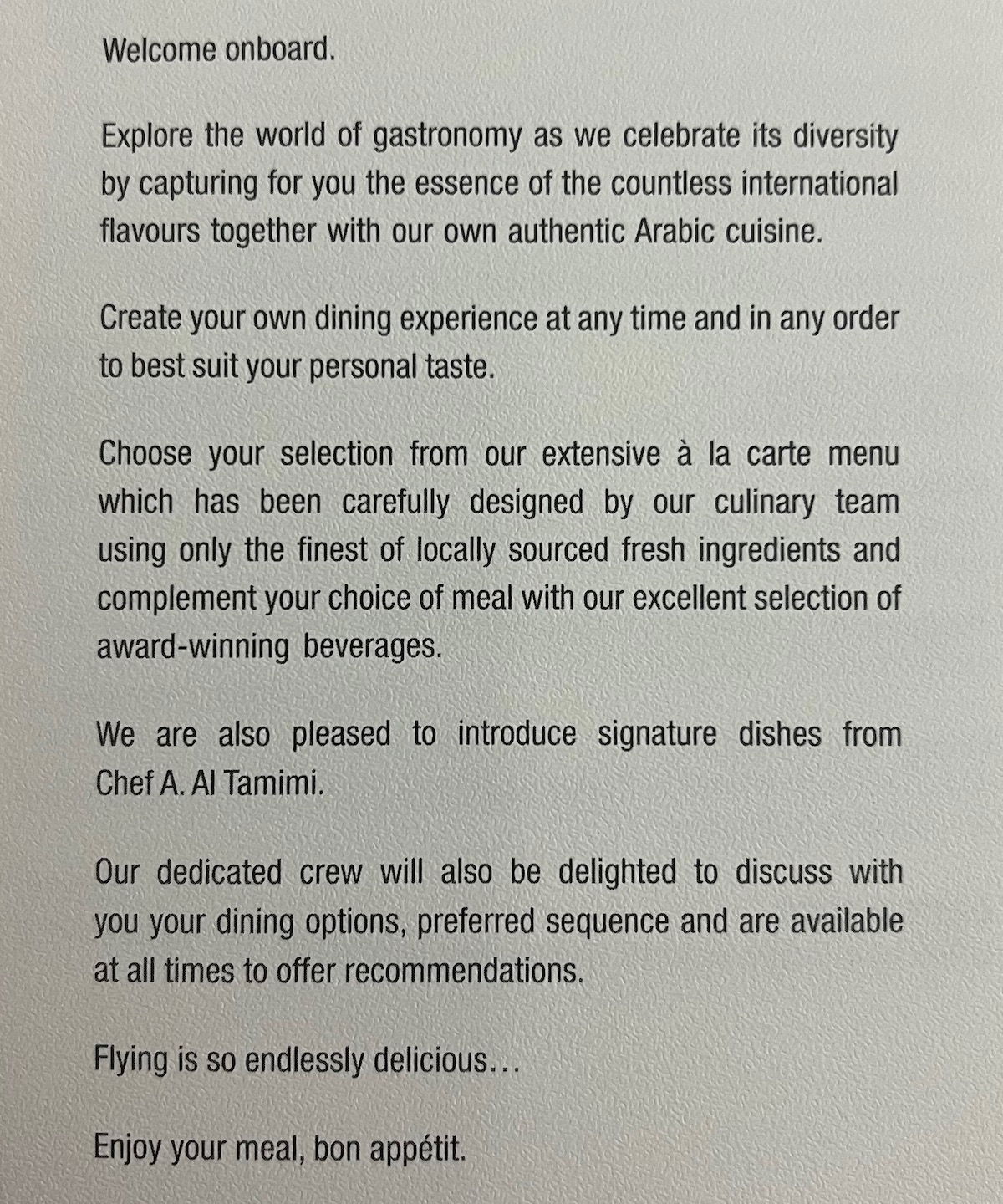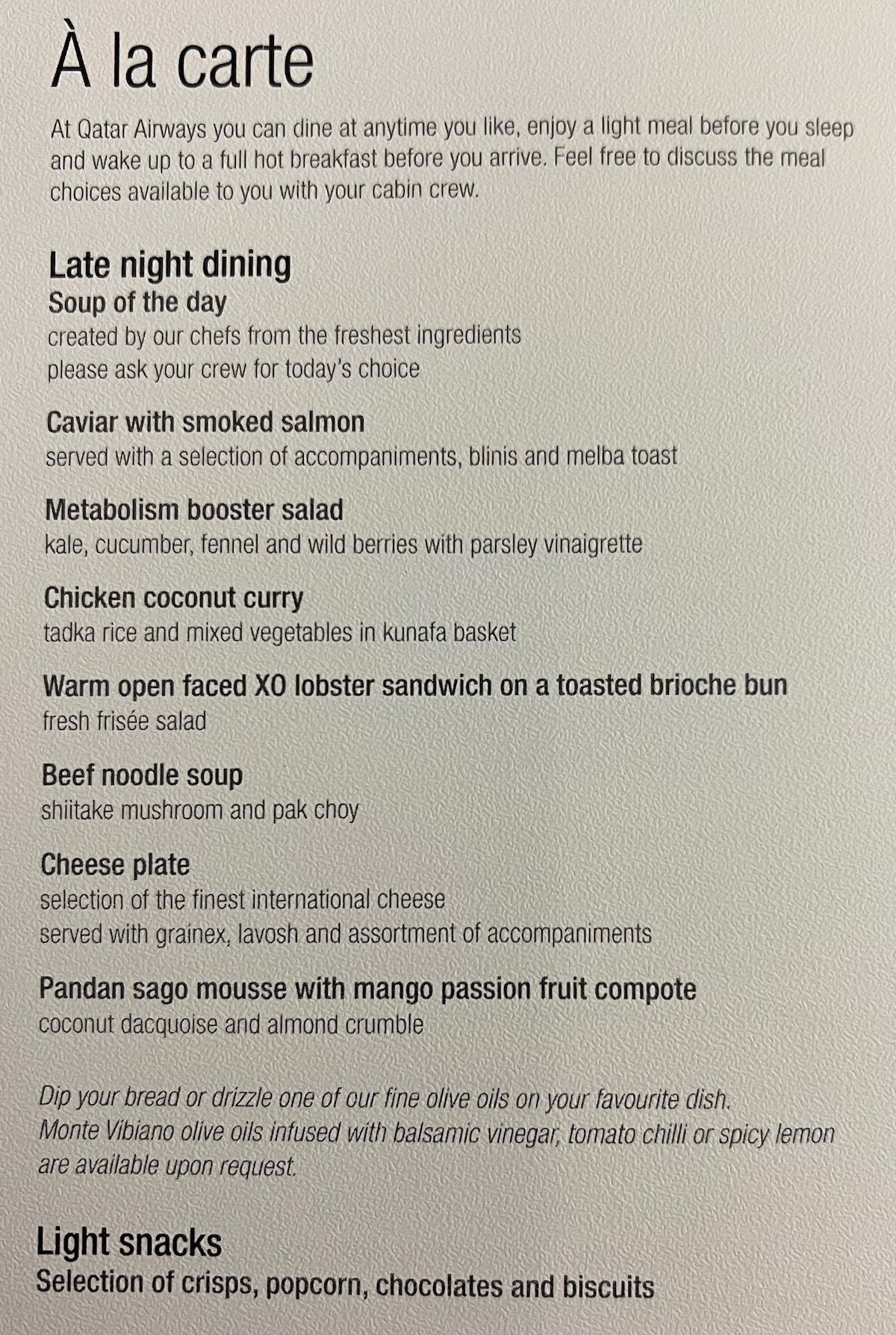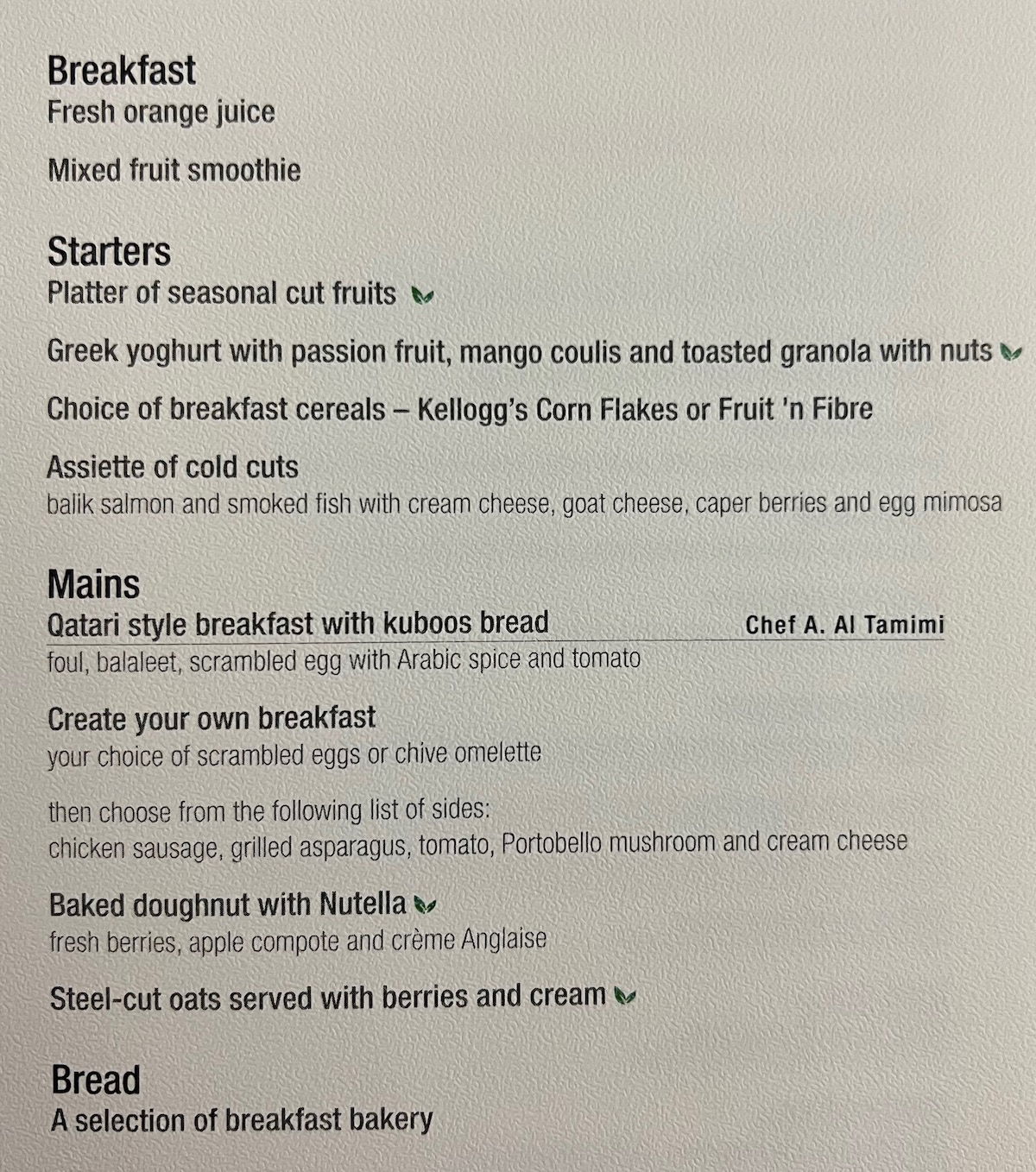 Then below you can find the drink list for this flight.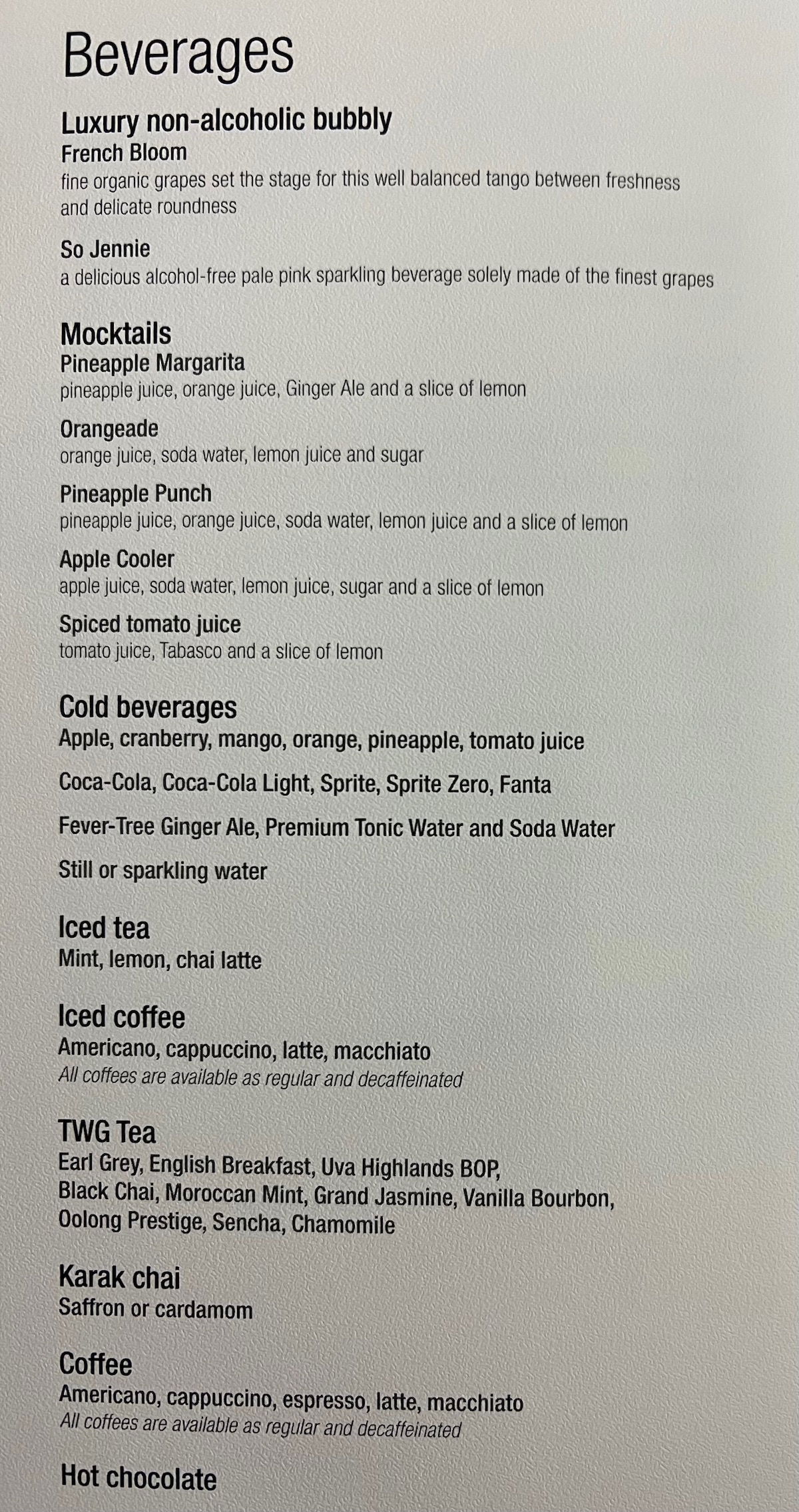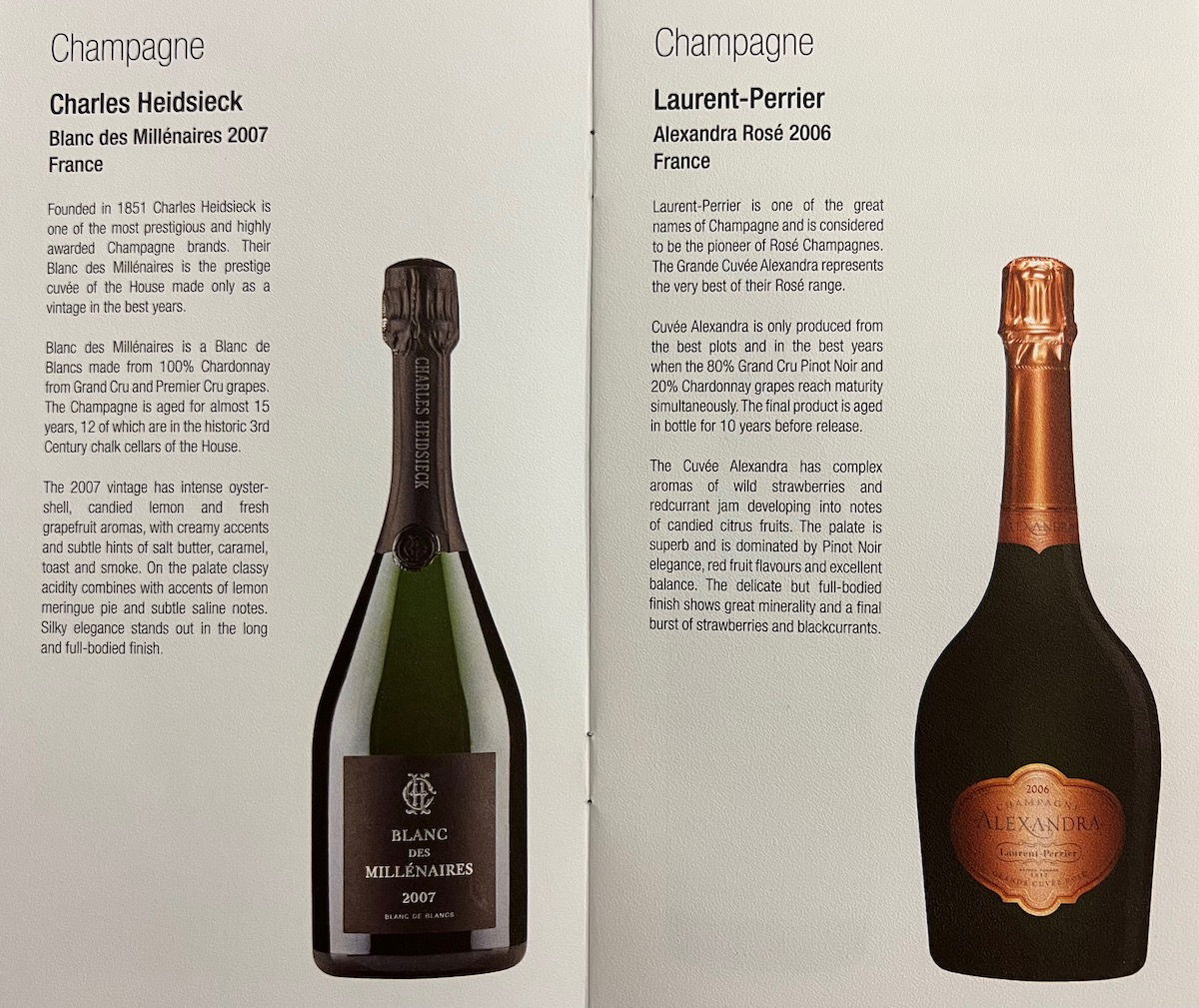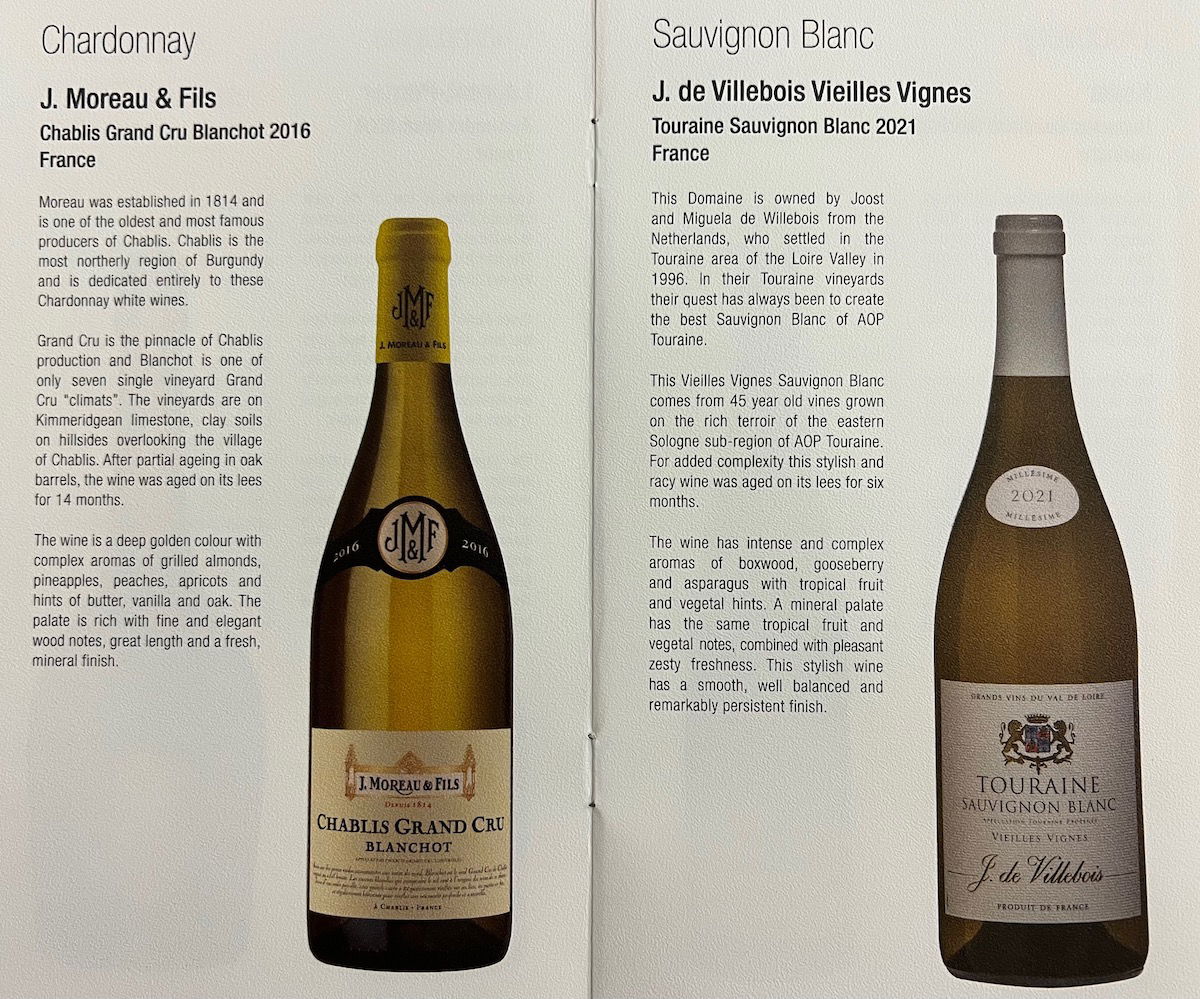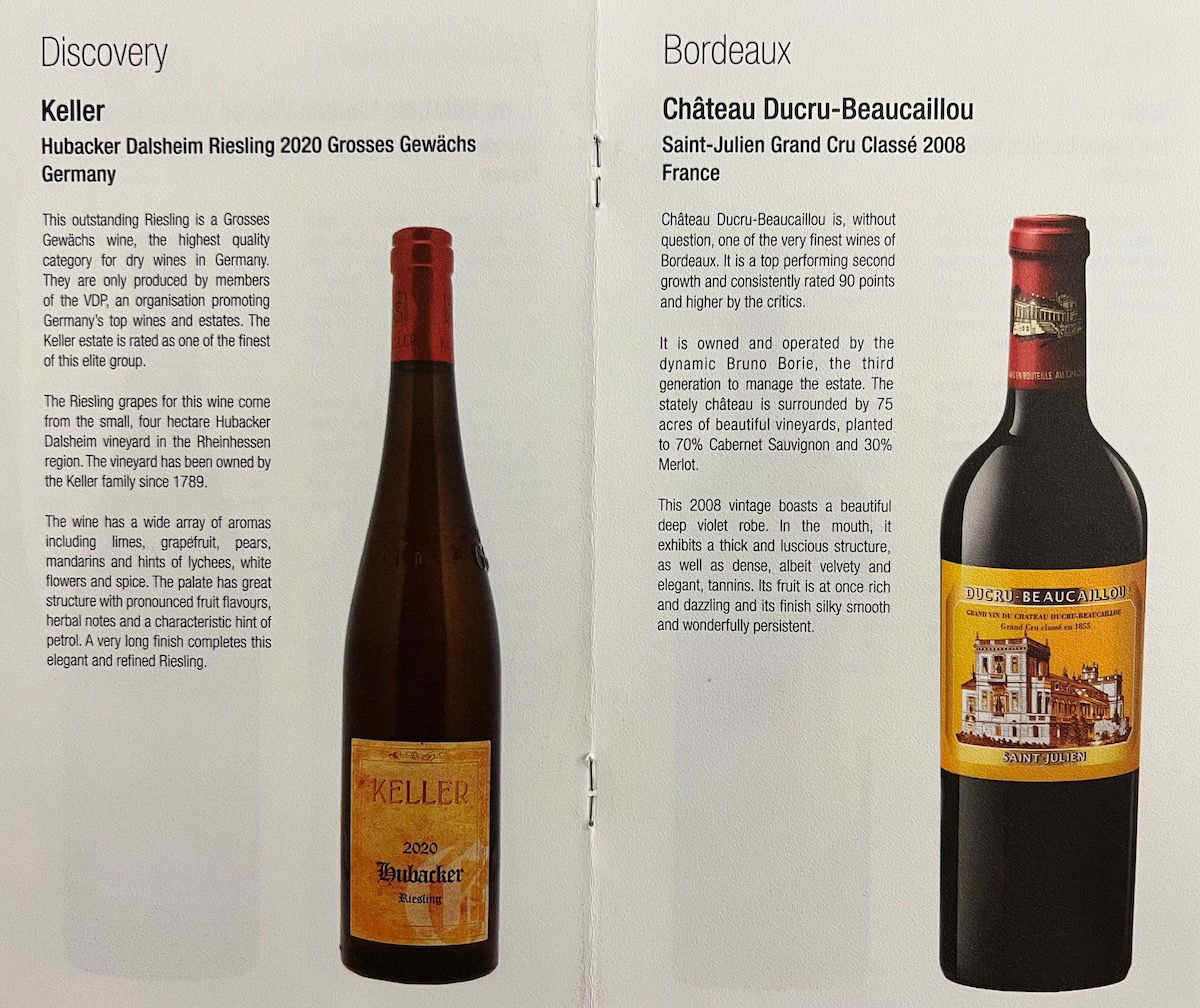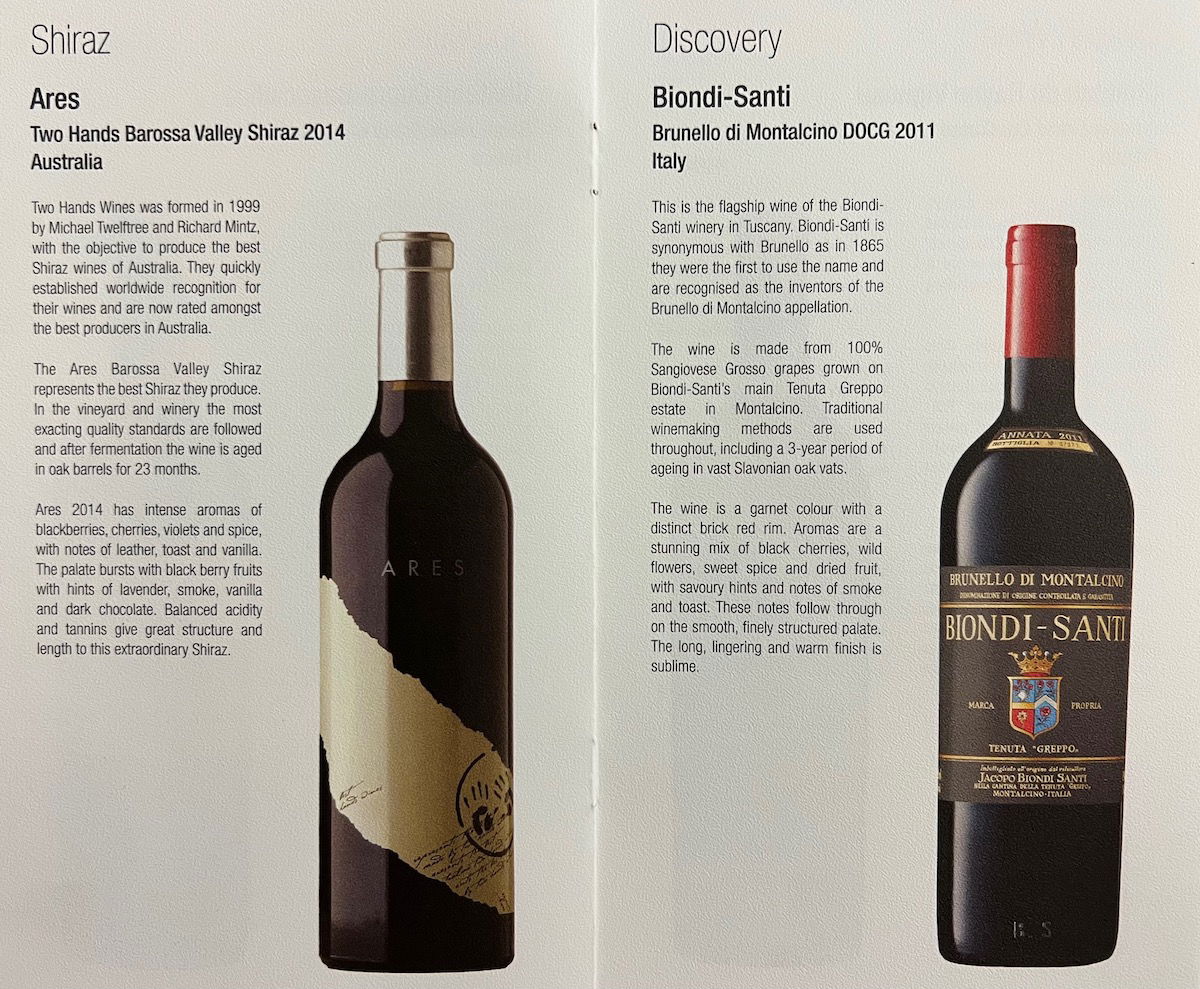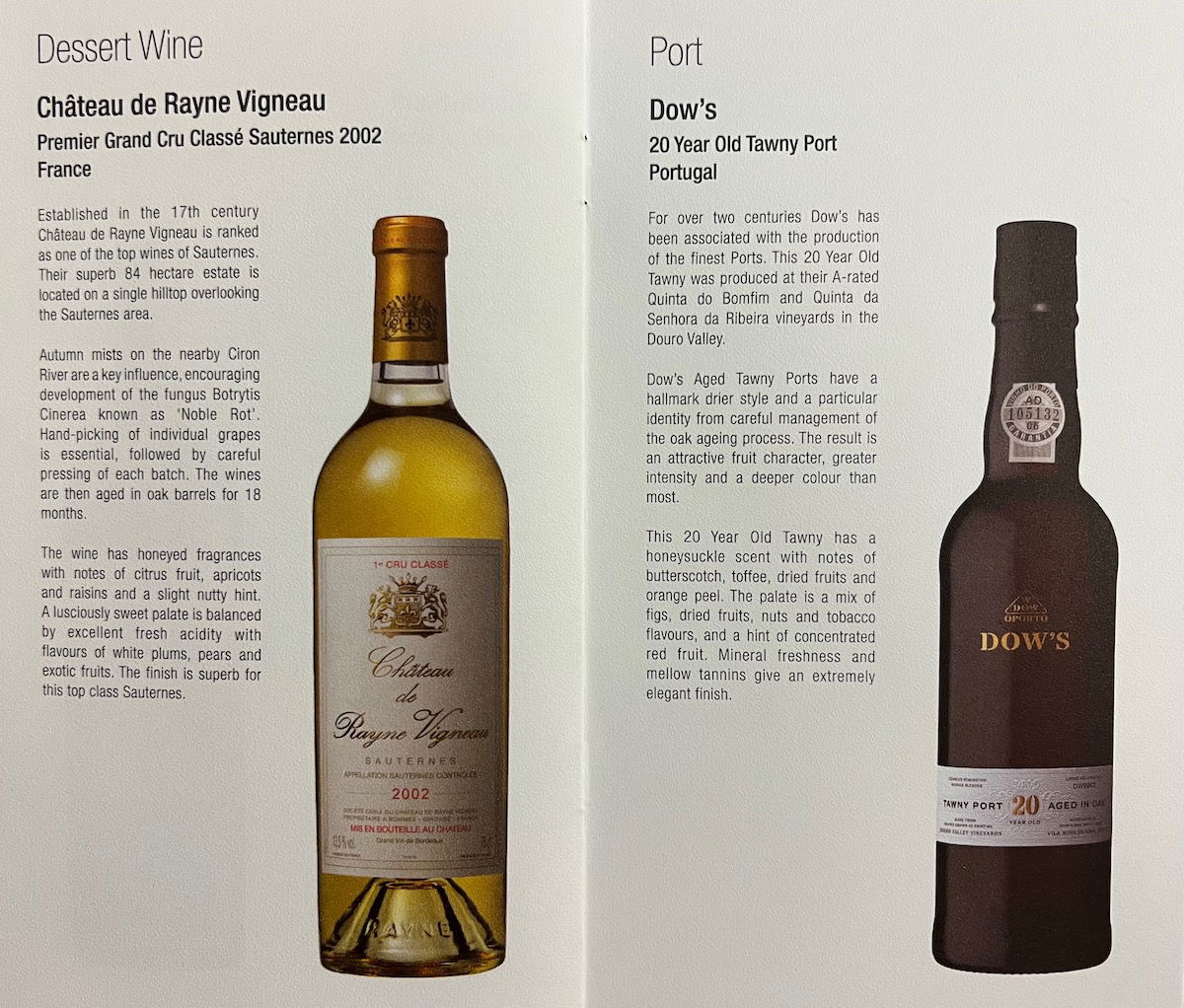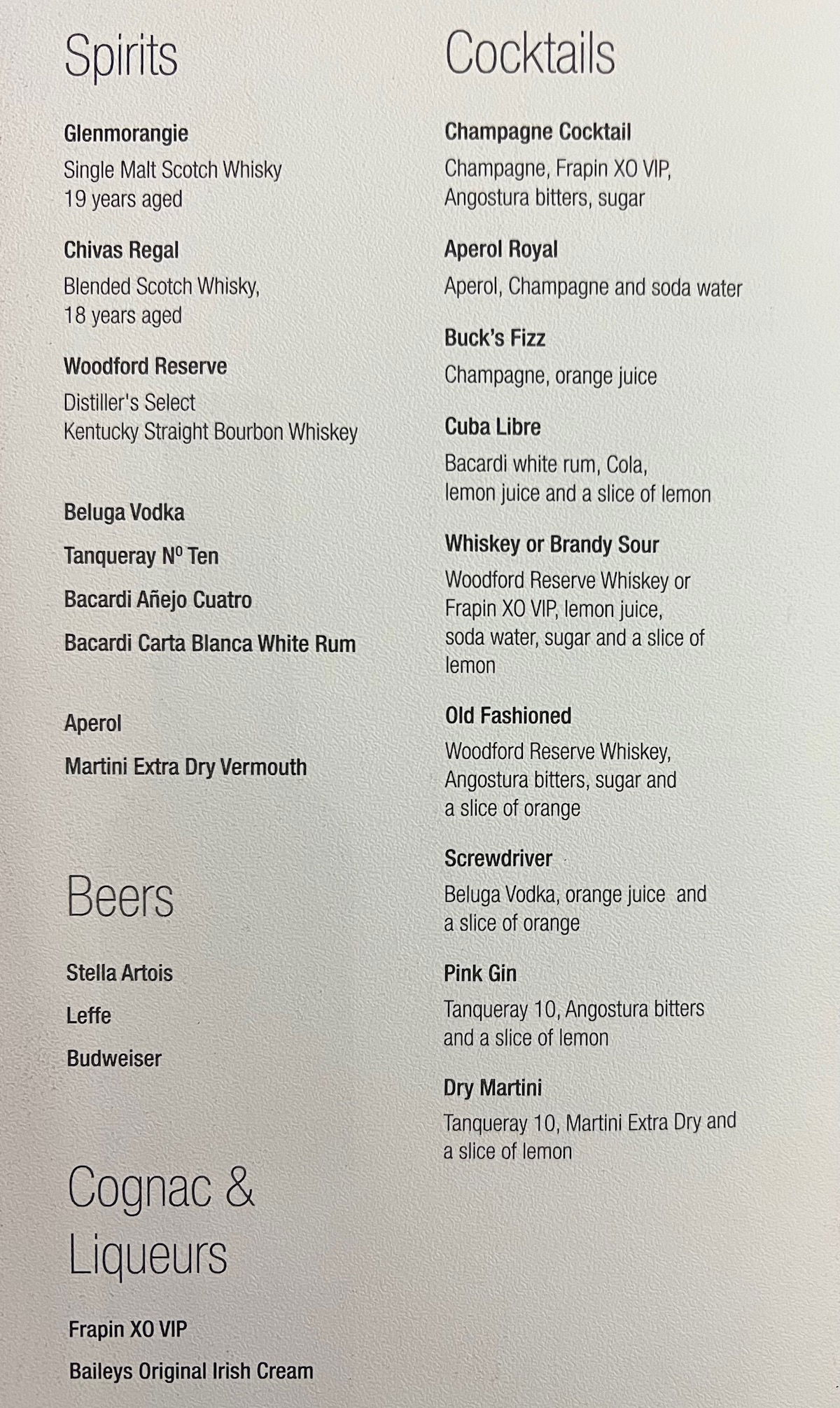 A couple of thoughts on the menu:
With the exception of caviar, the menu looked mighty similar to the Qatar Airways business class menu
The menu was more limited than what you'd find on Emirates' Dubai to Perth route, which departs and arrives around the same time; see for yourself by going to this page and typing in flight EK420, where you can see the selection
After takeoff, I decided to have another glass of champagne. After all, the bottle was already opened, and I didn't want it to go to waste. 😉 I was served some mixed nuts to go along with that. I apologize for the weird photo colors, because in retrospect I realize that the cabin lighting we chose wasn't ideal for pictures.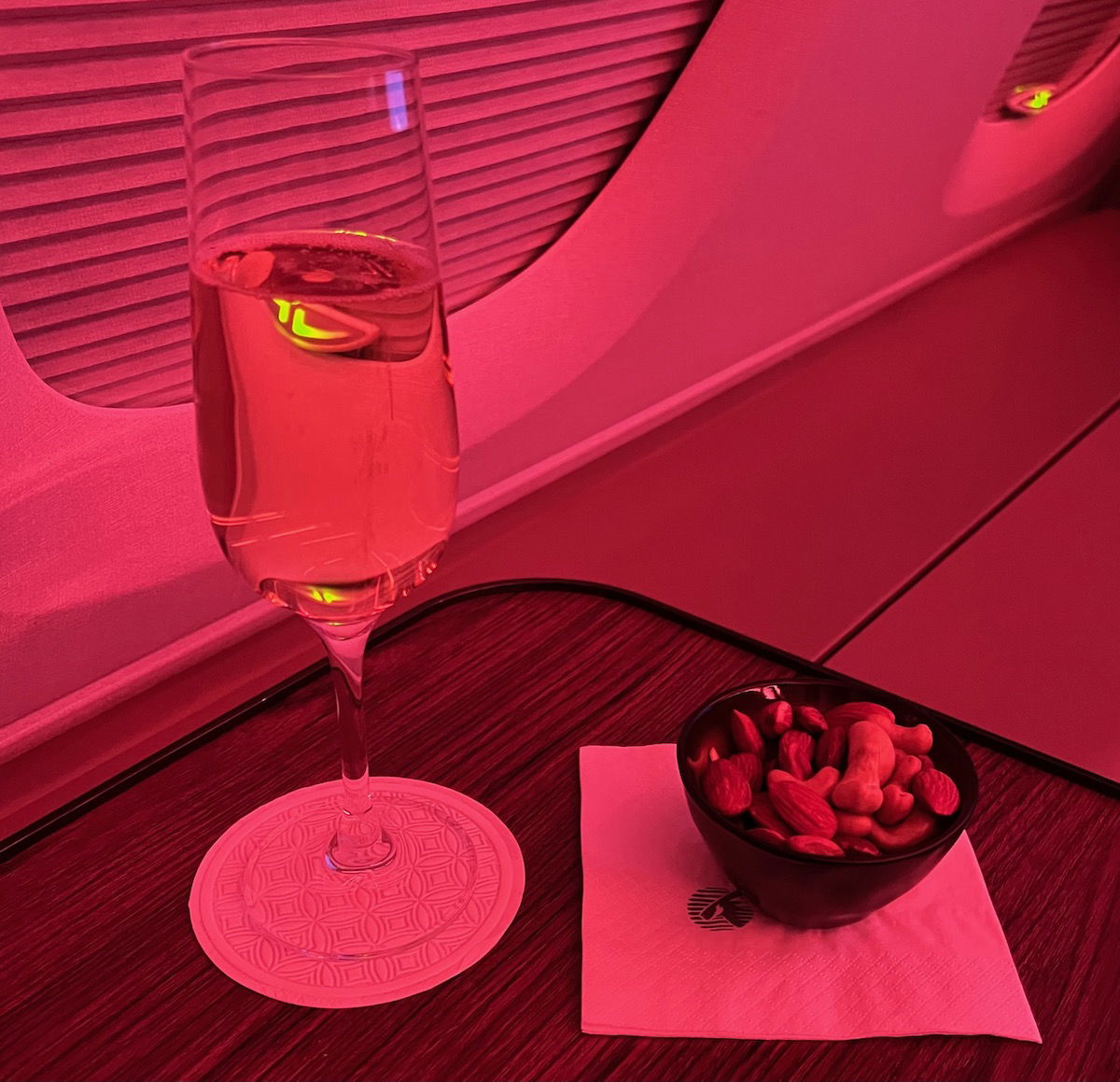 My dad and I both started our meal with caviar, which was nicely presented, though perhaps not as over-the-top as what you'd find on Emirates.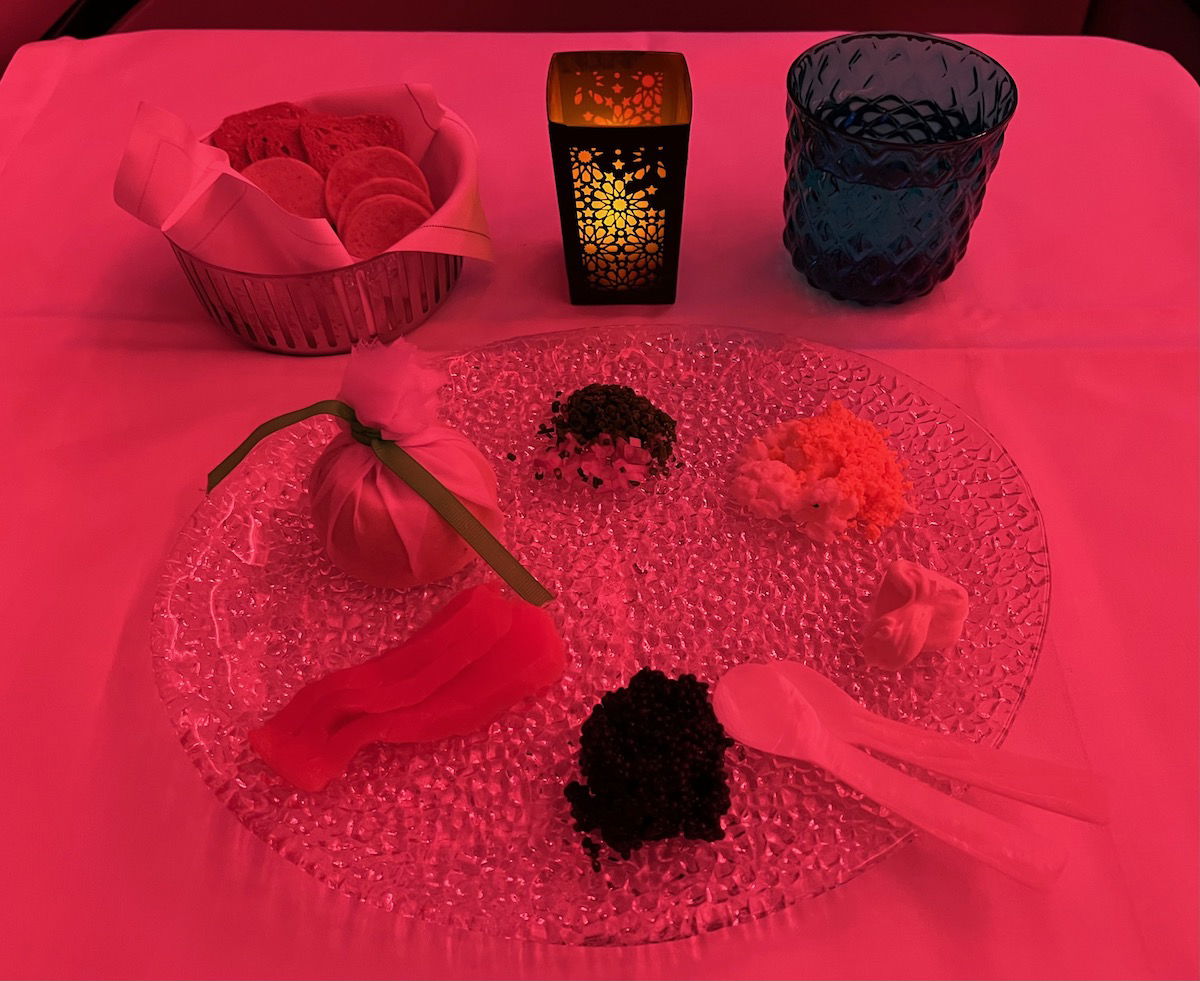 I then went straight to the main course, and had the warm open faced XO lobster sandwich on a toasted brioche bun with frisée salad. The dish was fairly decent, but not memorable. It seems like an odd thing to serve on a plane, since it's hard to execute well given the limitations of inflight catering.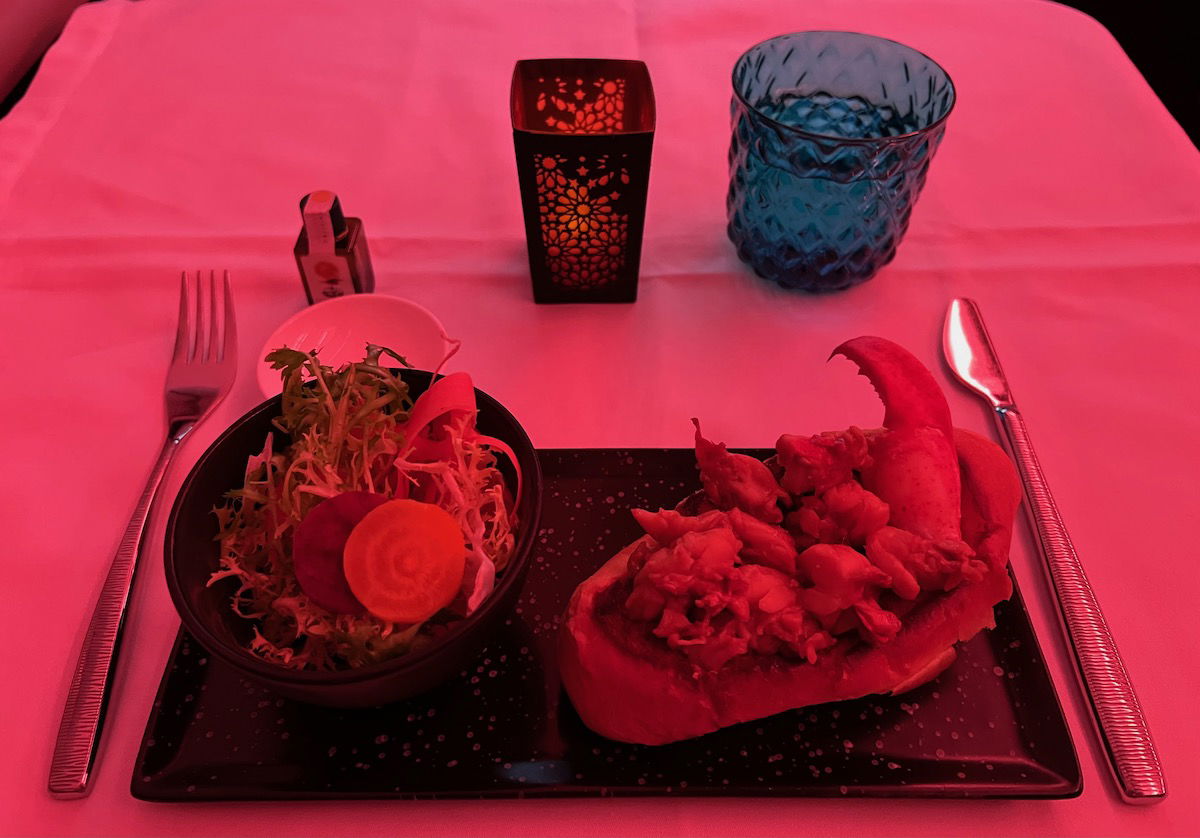 My dad, meanwhile, decided to have a cream of mushroom soup, which was the soup of the day.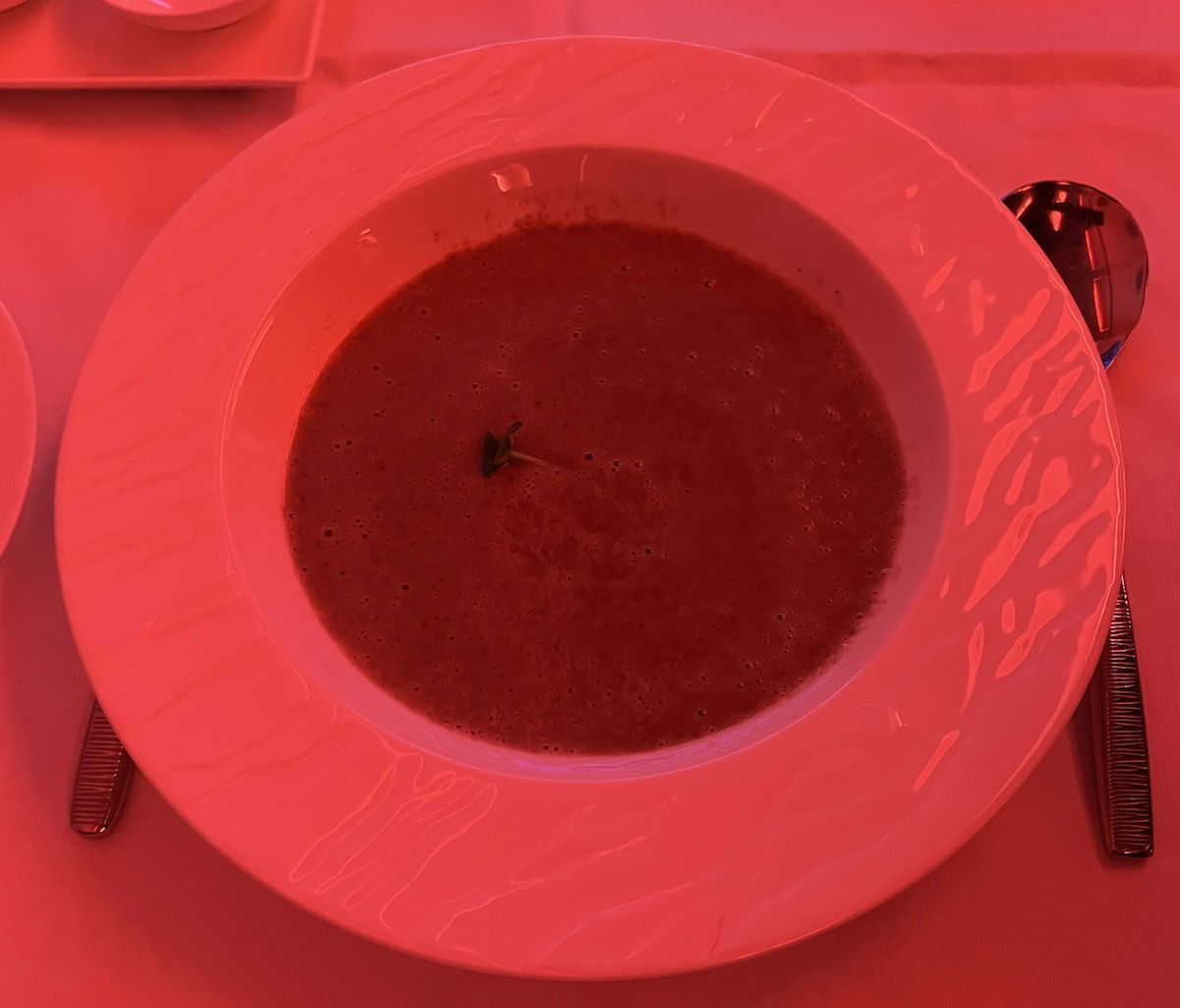 For the main course, my dad selected the beef noodle soup with shiitake mushroom and pak choy.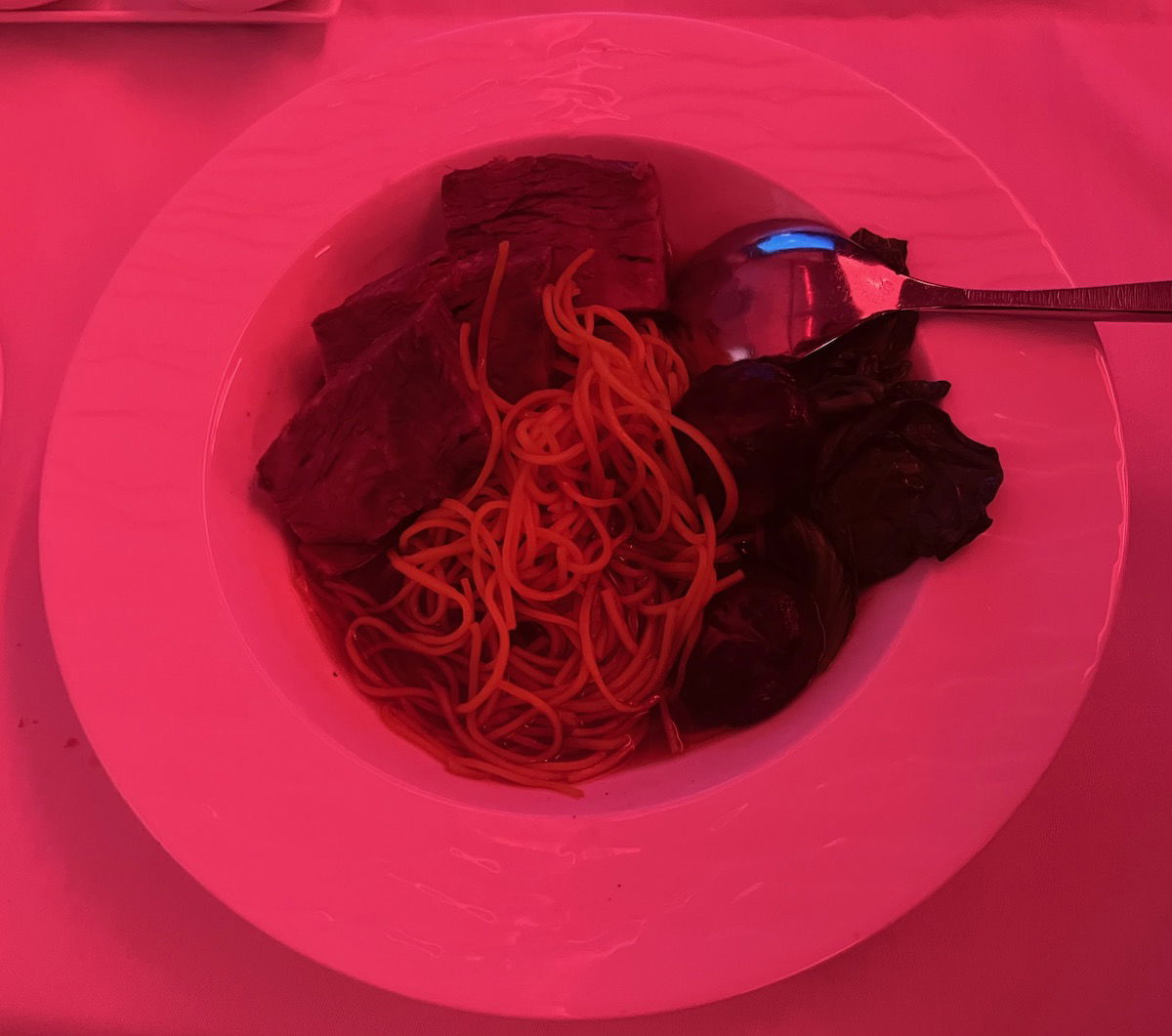 I decided to have a dessert, and went with the only option, which was the pandan sago mousse with mango passion fruit compote. It was good, though personally I'm not a huge fan of sweet, fruity desserts.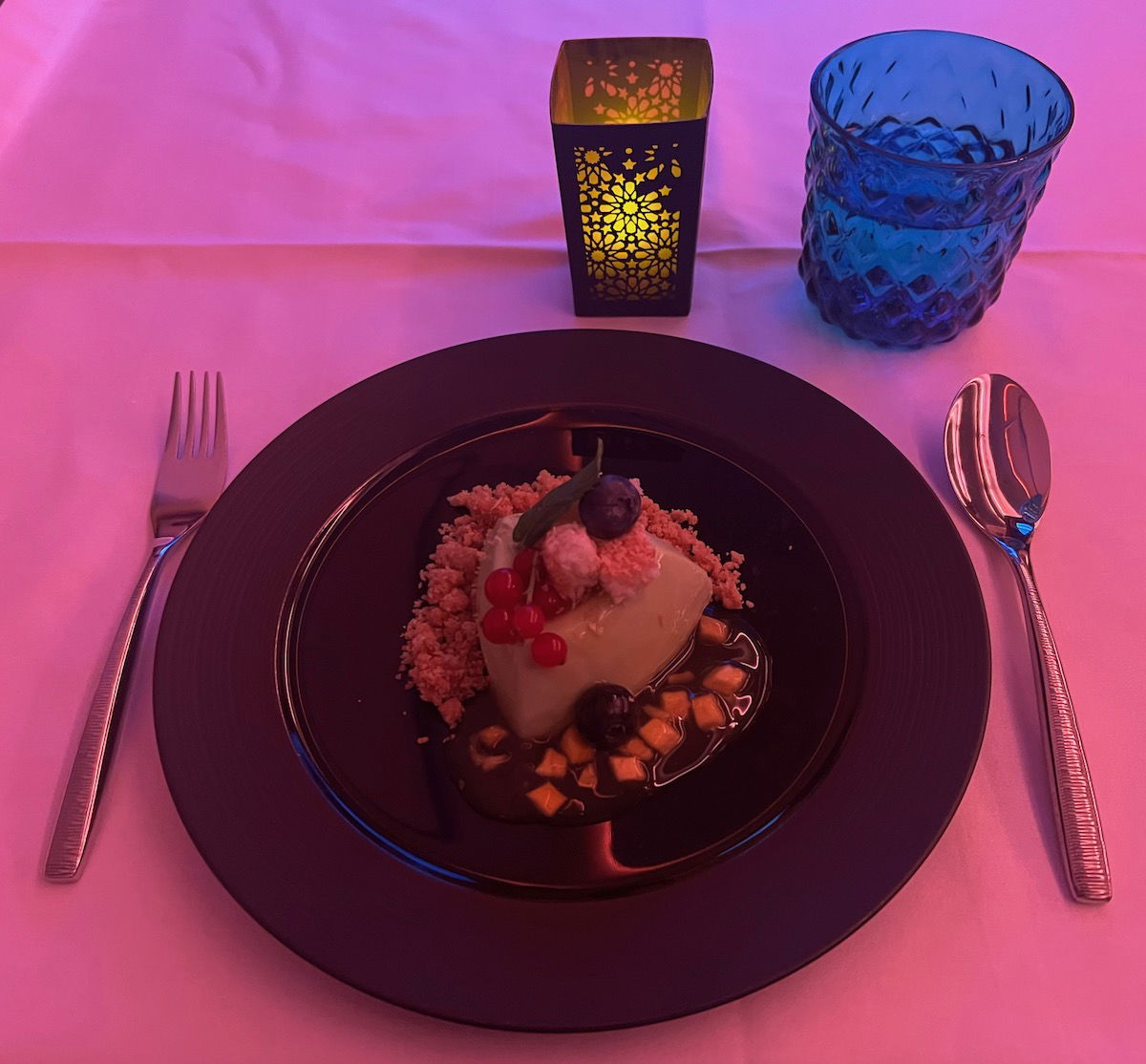 The meal service pace was nicely customized for us, as you'd expect, given that we had two flight attendants exclusively looking after us. Honestly, aside from the caviar, the food selection didn't impress me much, and I've had better food in business class on Qatar Airways.
By the time we finished our meal, the sun had risen… just in time for the window shades to be closed so we could get some shuteye.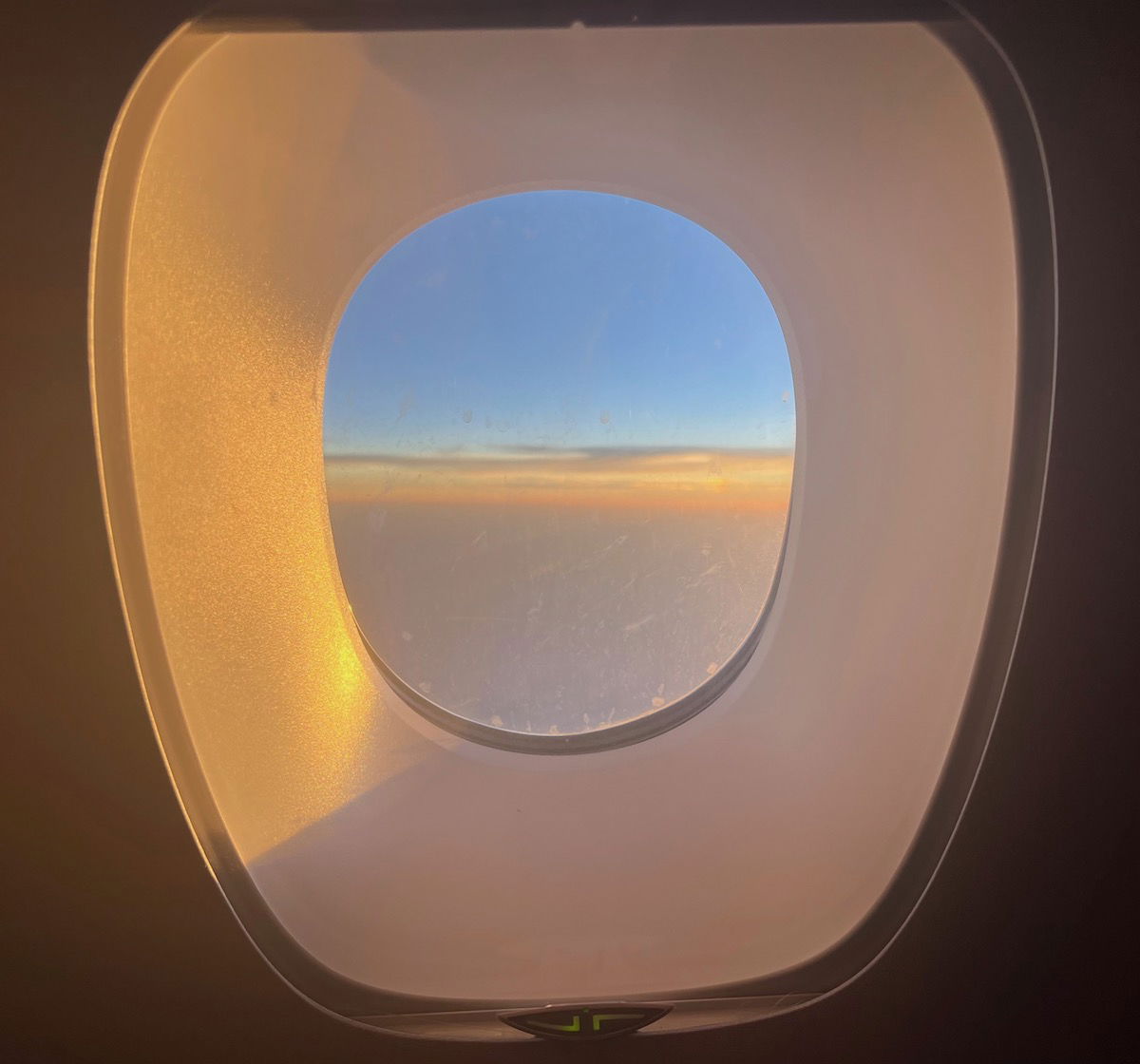 Qatar Airways A380 first class lavatories
At the conclusion of the meal, I checked out the lavatories at the front of the cabin. The A380 has some extra space at the front of the upper deck to the side of the staircase, and Qatar Airways uses that space to have some of the best airplane bathrooms you'll find in the sky (though not to the level of Emirates' A380 shower suites).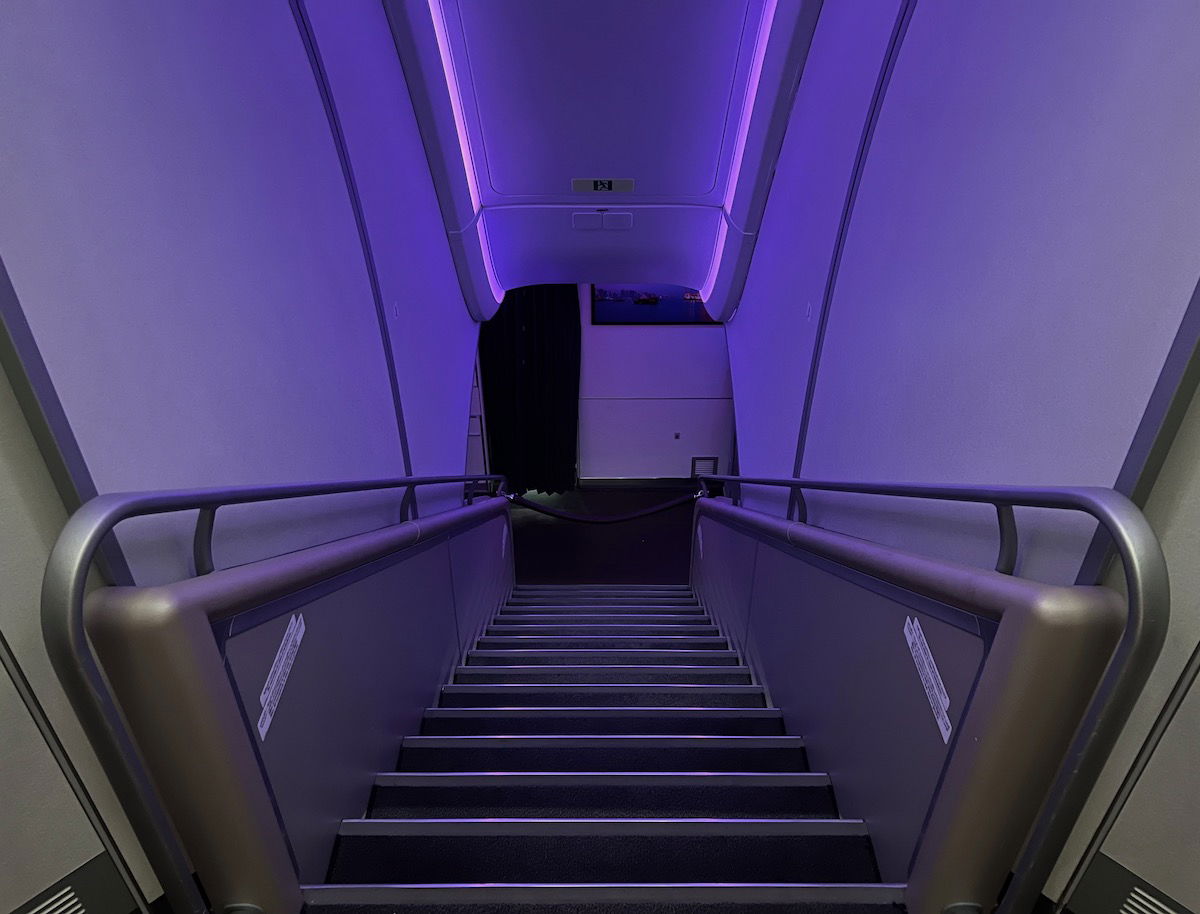 There are two large bathrooms, each with a very long bench, a toilet, and a sink. It's so nice how spacious these are, though the space isn't necessarily utilized in a very exciting way.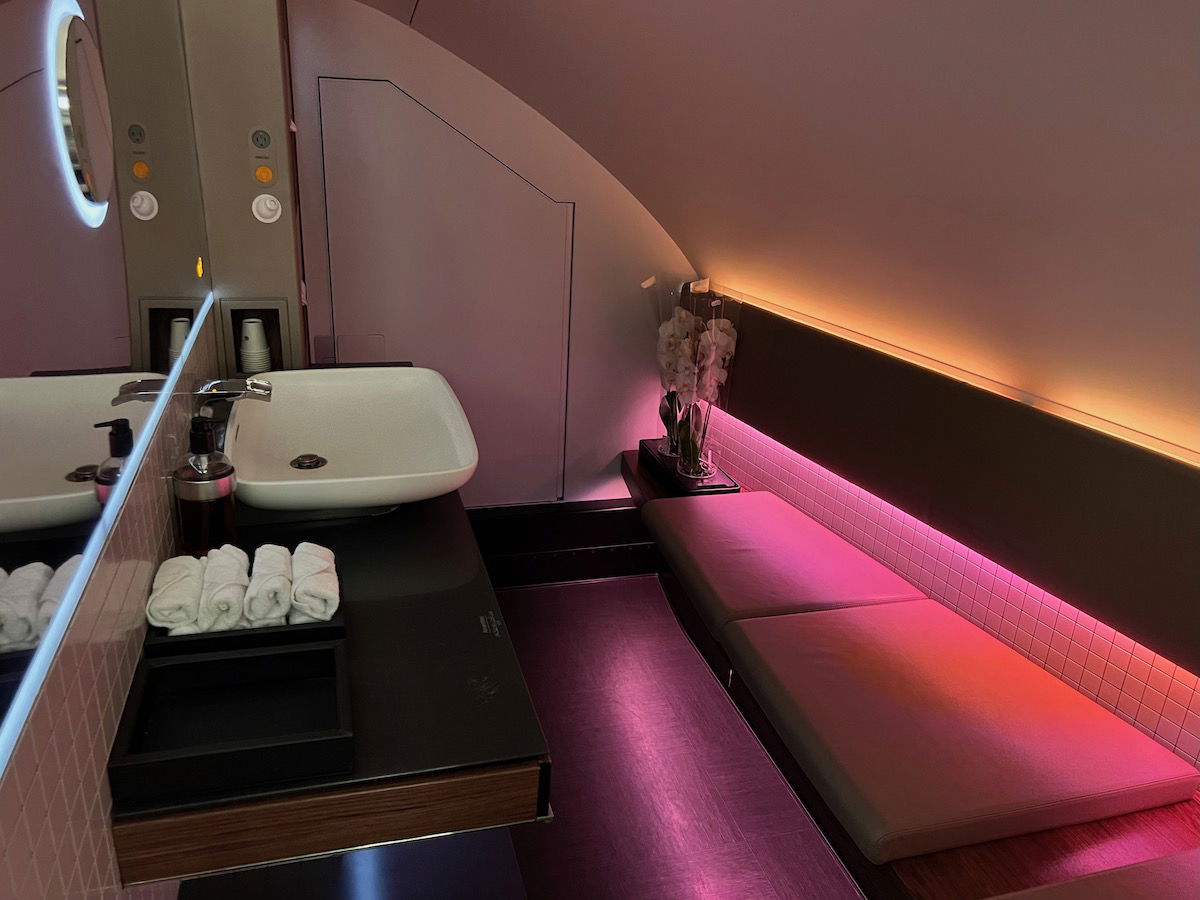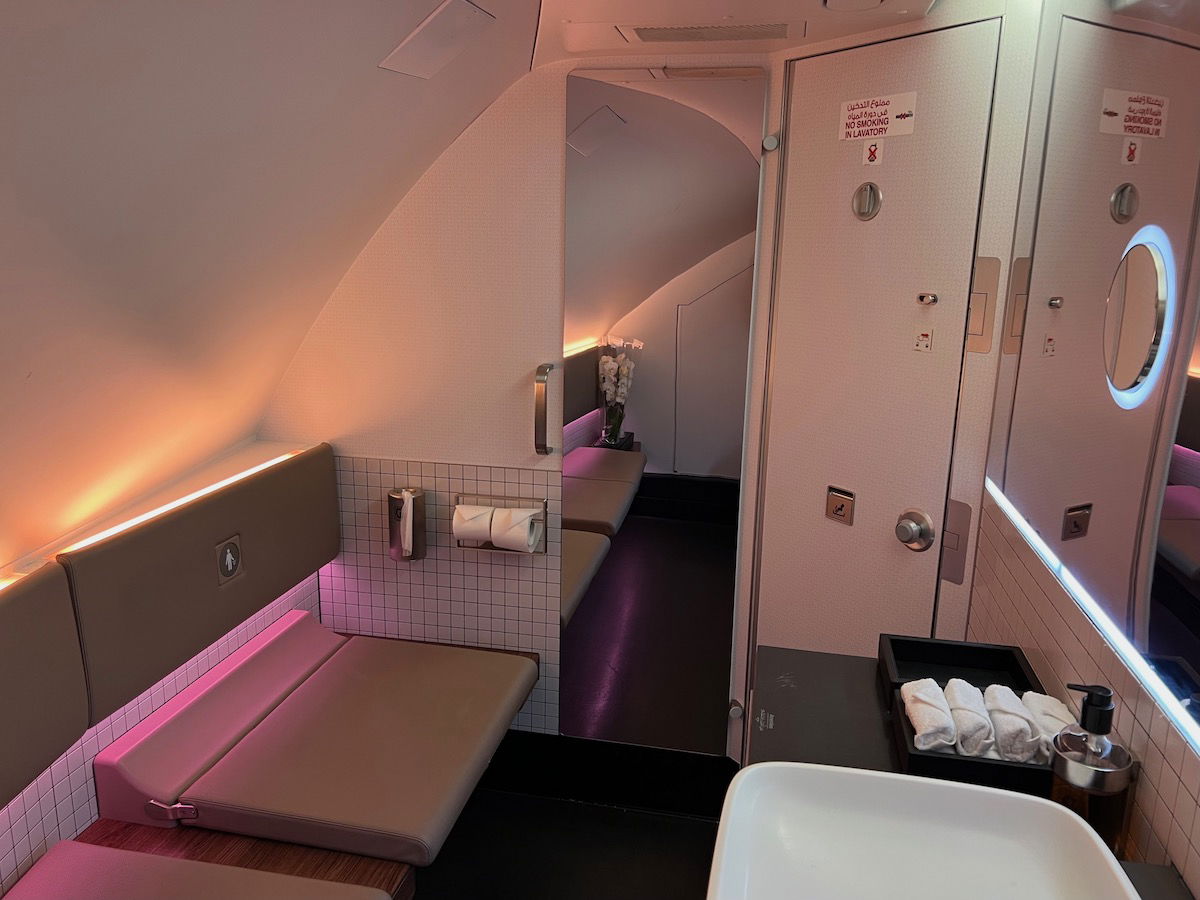 The lavatory had Diptyque amenities, as is standard in Qatar Airways premium cabins.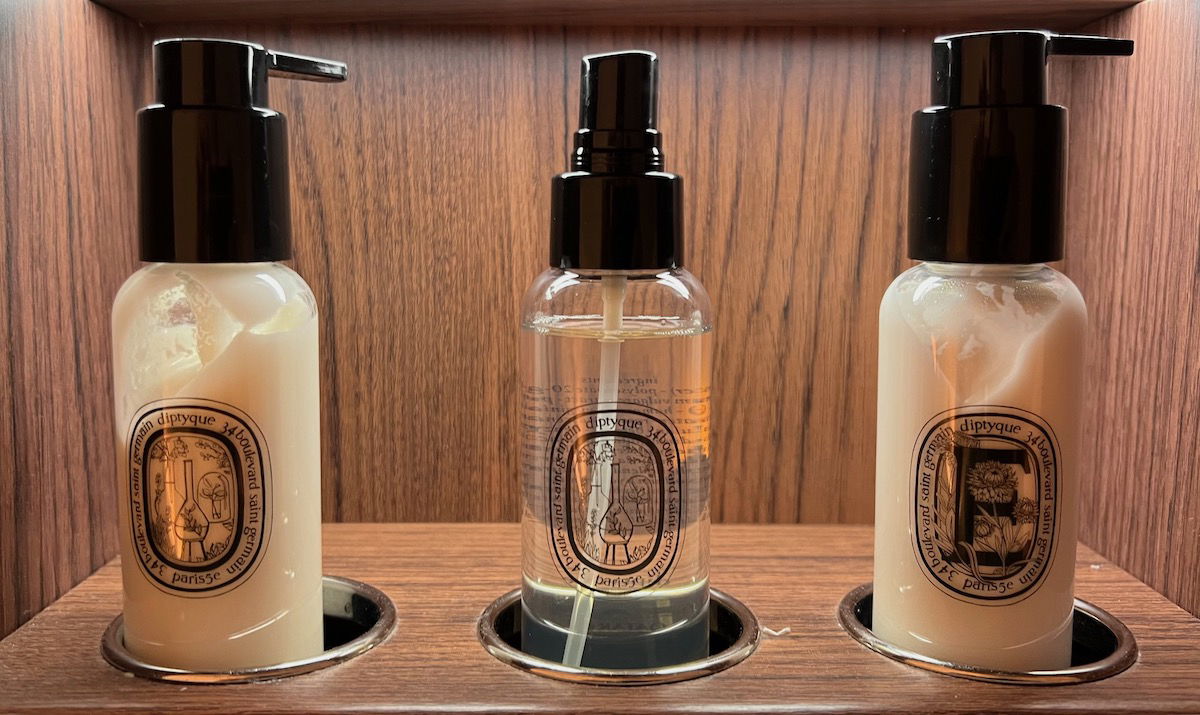 There were also other amenities, including shaving kits, dental kits, mouthwash, floss, and more.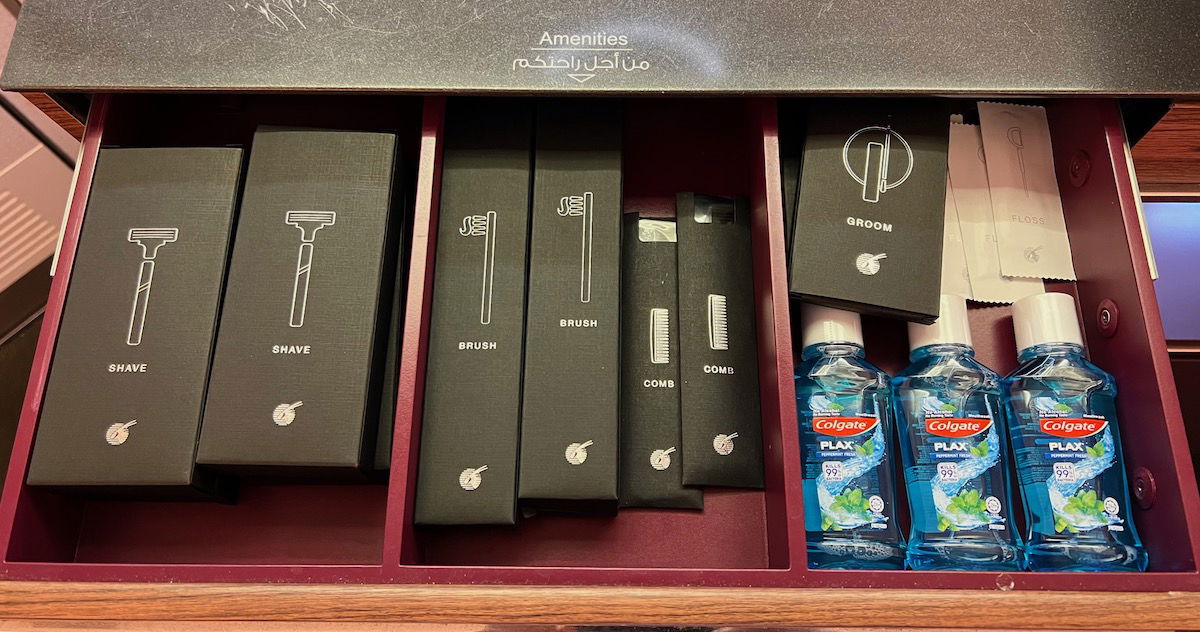 Qatar Airways A380 business class bar
Another awesome feature of the Qatar Airways A380 is the onboard bar. The A380 has a bar behind the business class cabin (in front of a mini economy cabin), and I'd say this is actually more elegant than the Emirates A380 bar. The bar has a cool shape, and then there's seating on each side of the bar.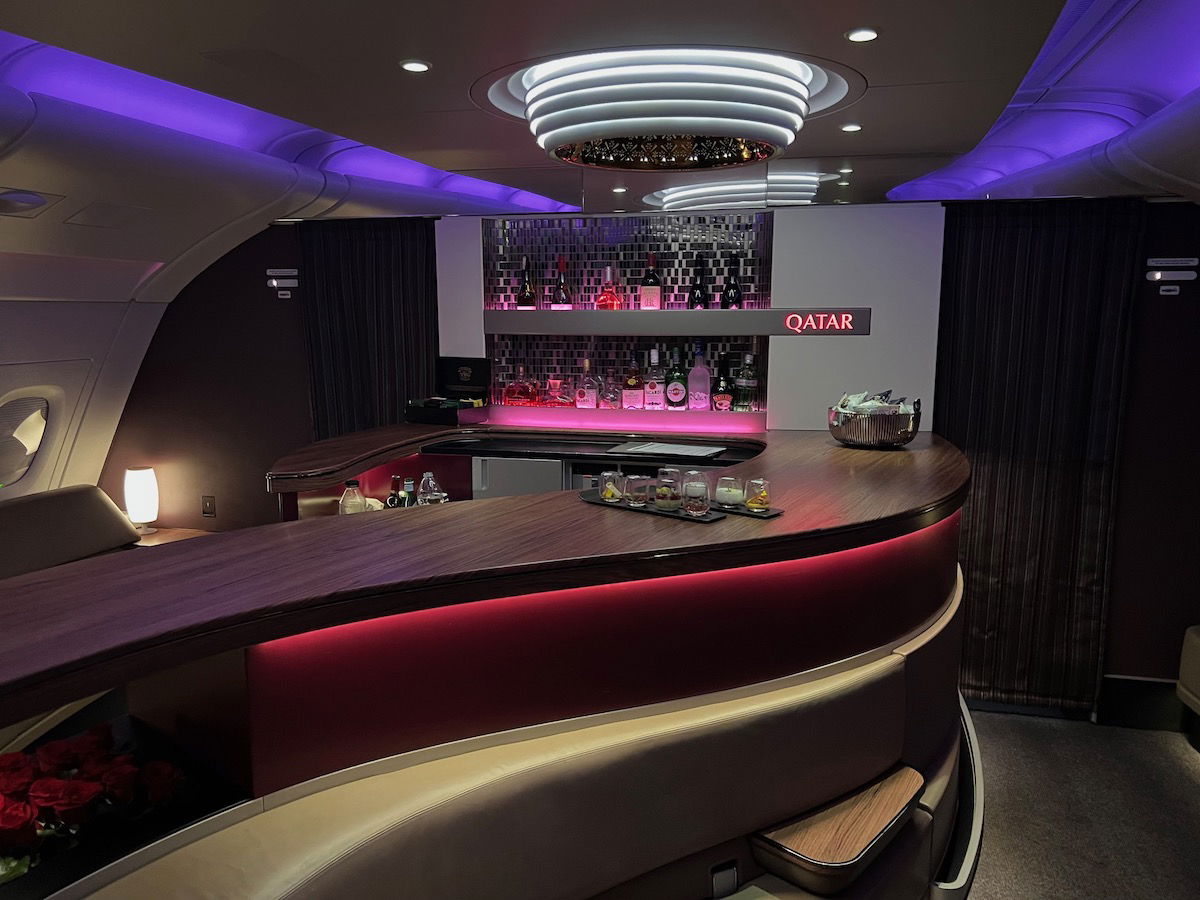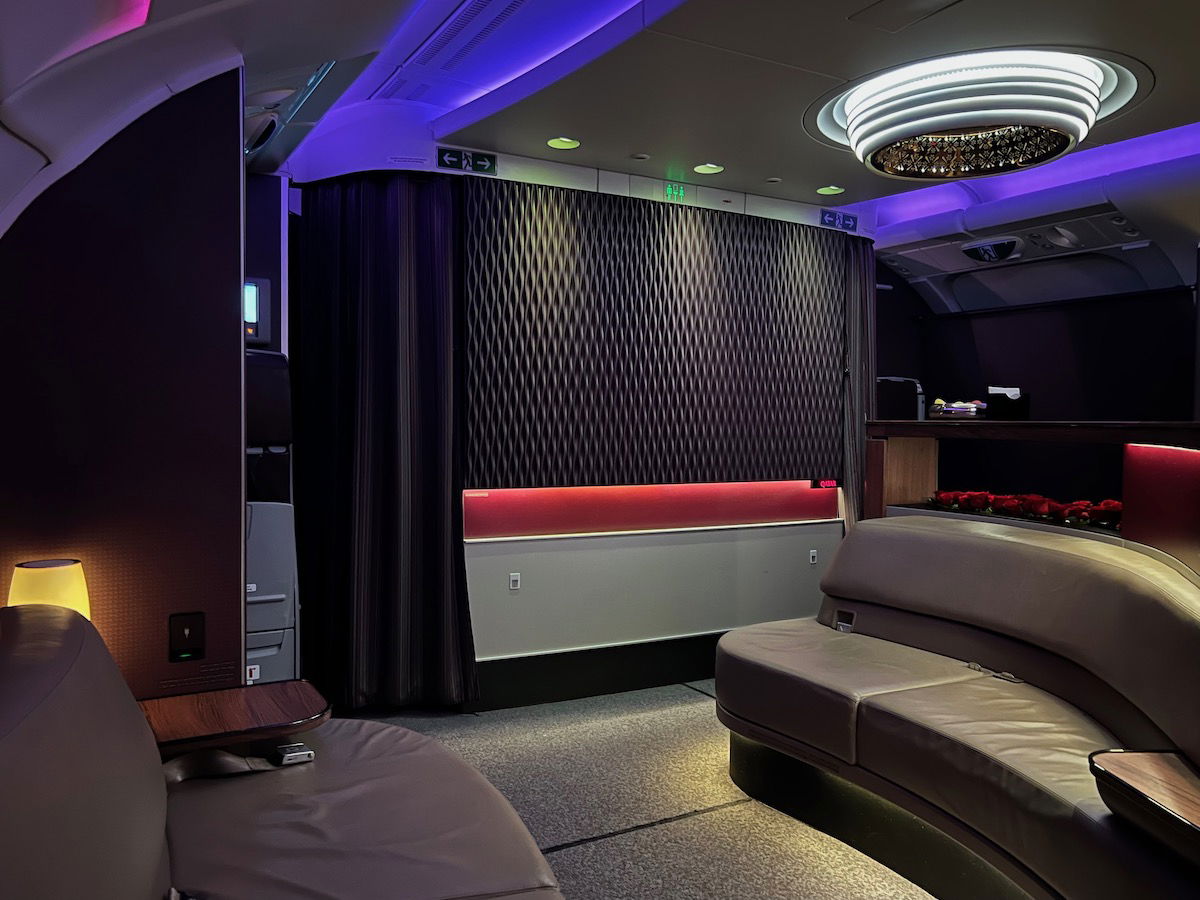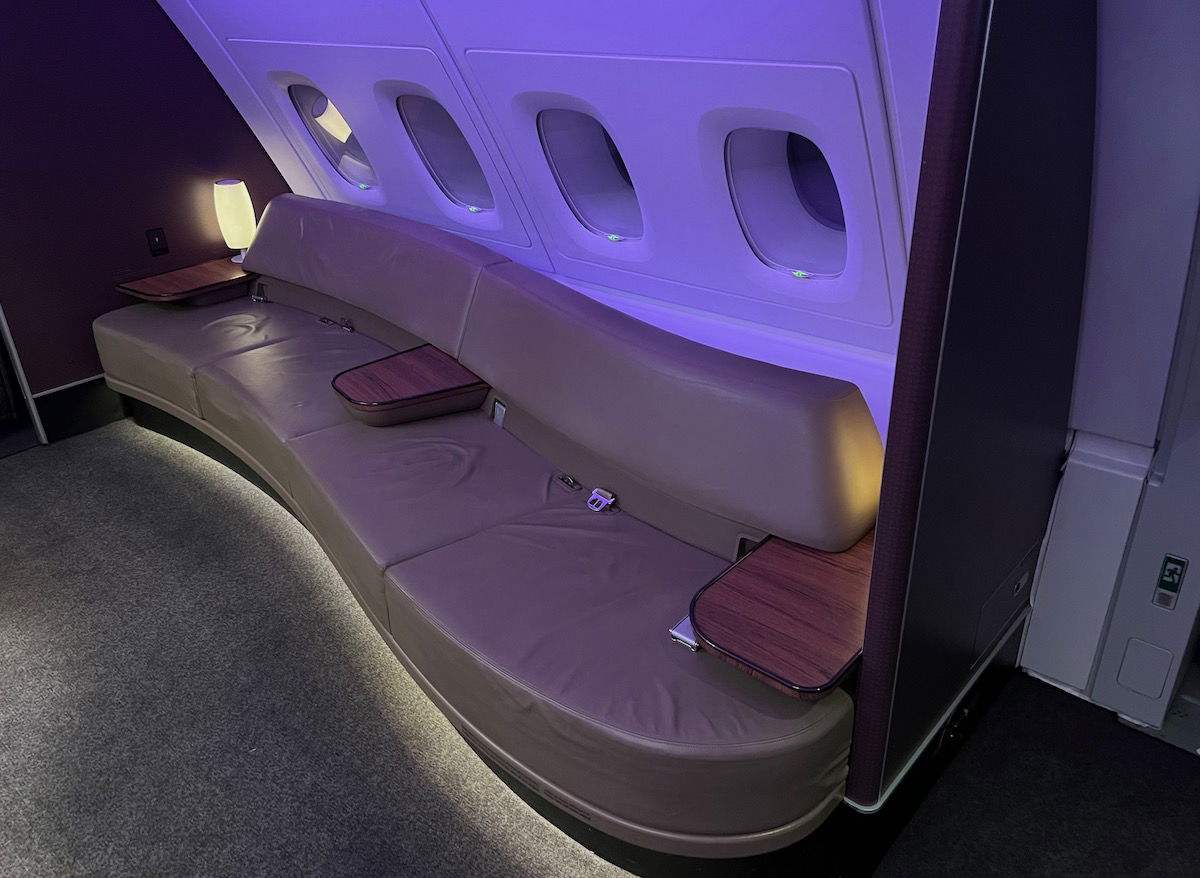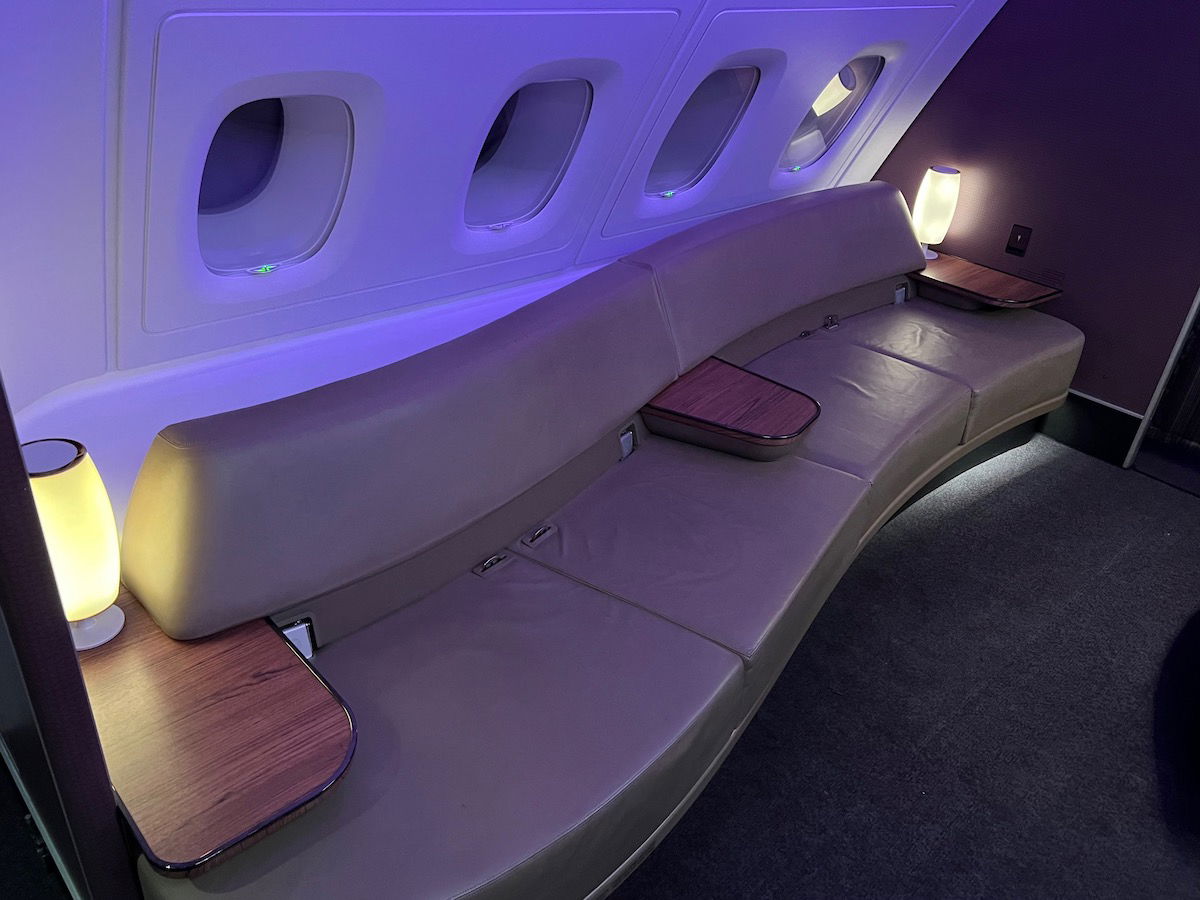 There were some basic snacks at the bar, including packaged snacks, fruit, and some sweets in little jars.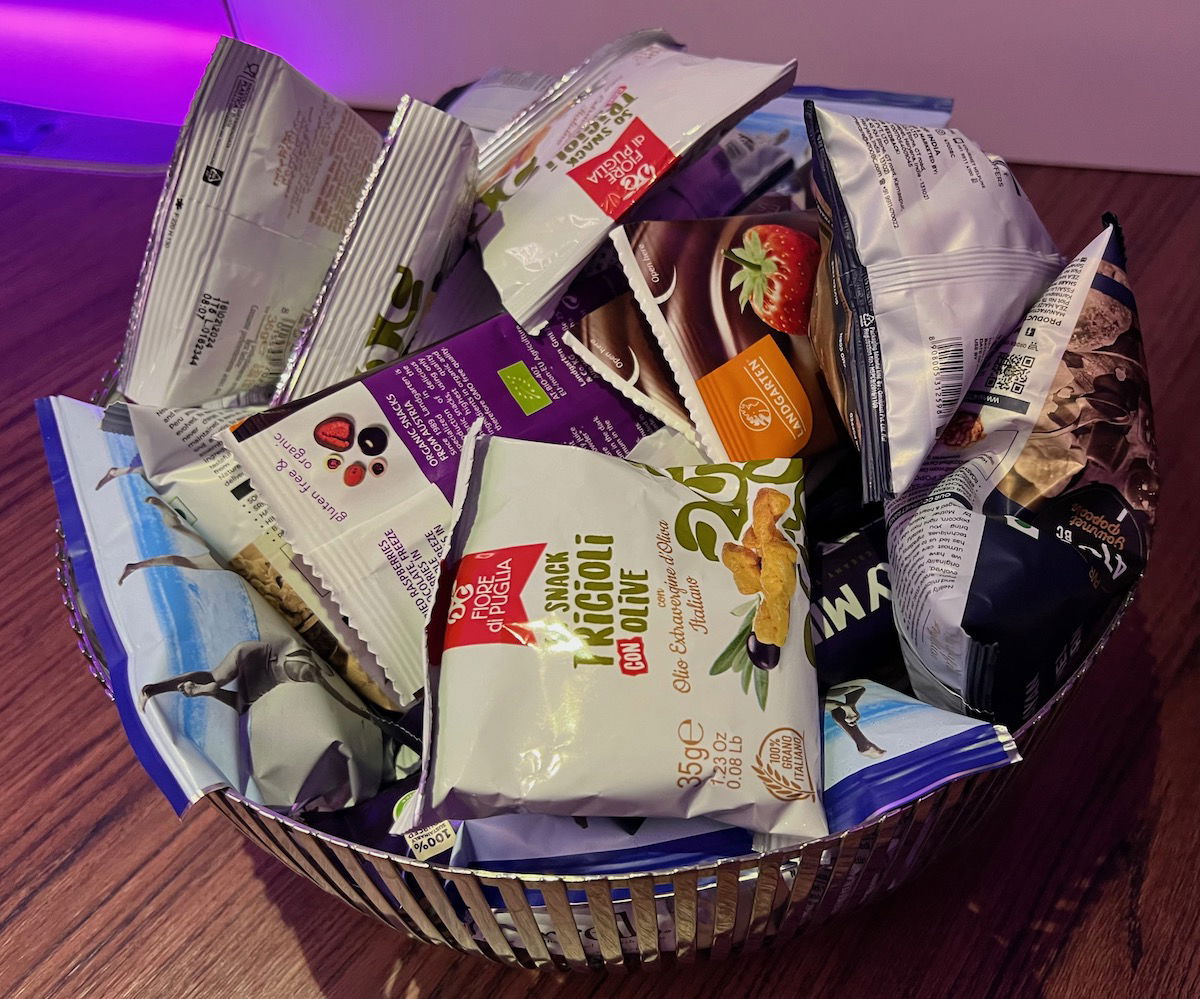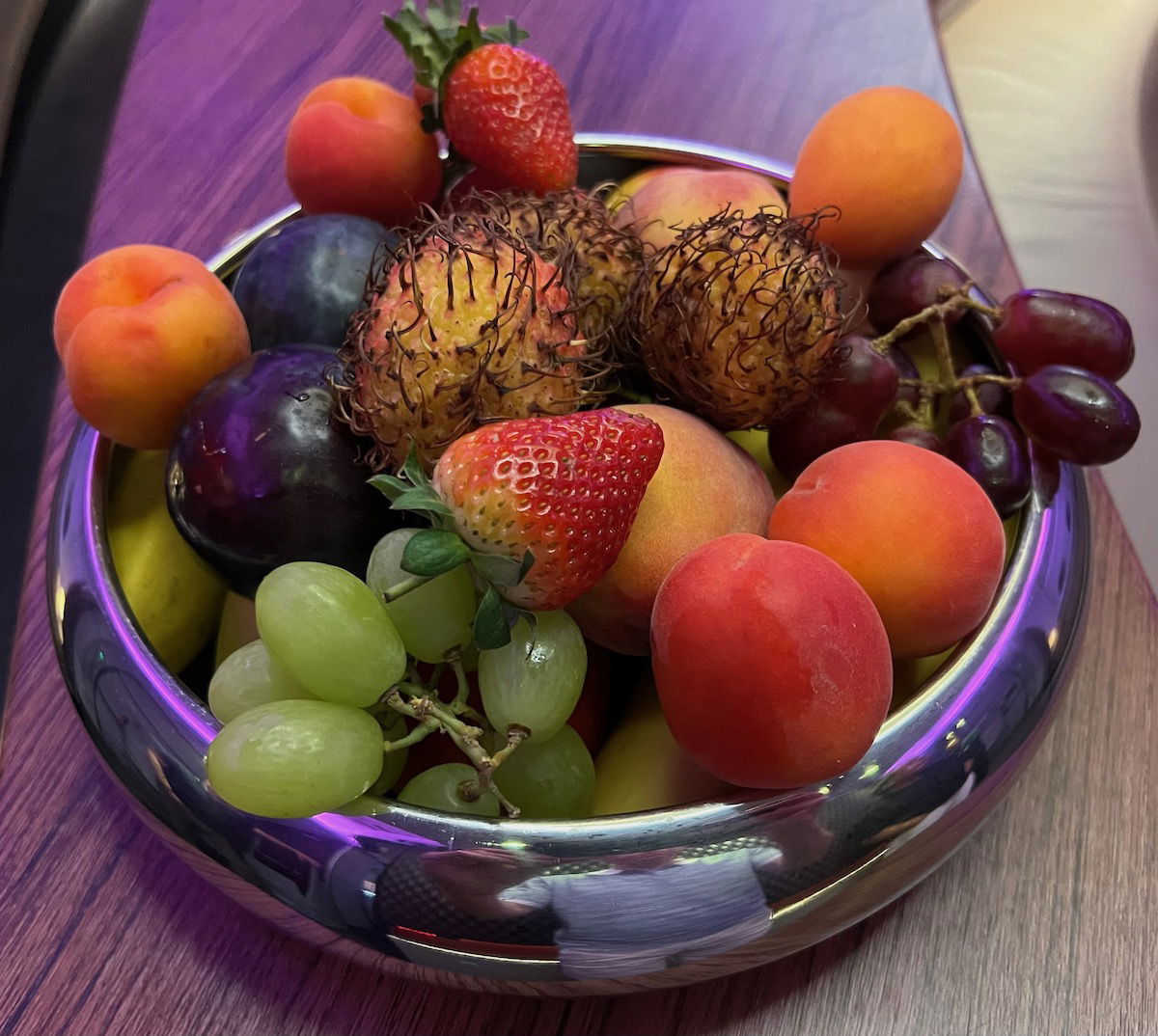 The area where the Qatar Airways bar lags the Emirates bar is when it comes to cocktails. Qatar Airways doesn't have nearly the cocktail selection you'll find on Emirates, which takes away a bit from the fun of leaving your seat to go to the bar. Still, it's a beautiful place to hang out and stretch your lags.
Qatar Airways A380 first class bed
Upon returning to our seats, we found that our beds had been made for the flight. The Qatar Airways A380 first class bed is spacious and comfortable. I just wish that the bedding were a bit better, as there's not a proper mattress pad, but rather it's more like a sheet.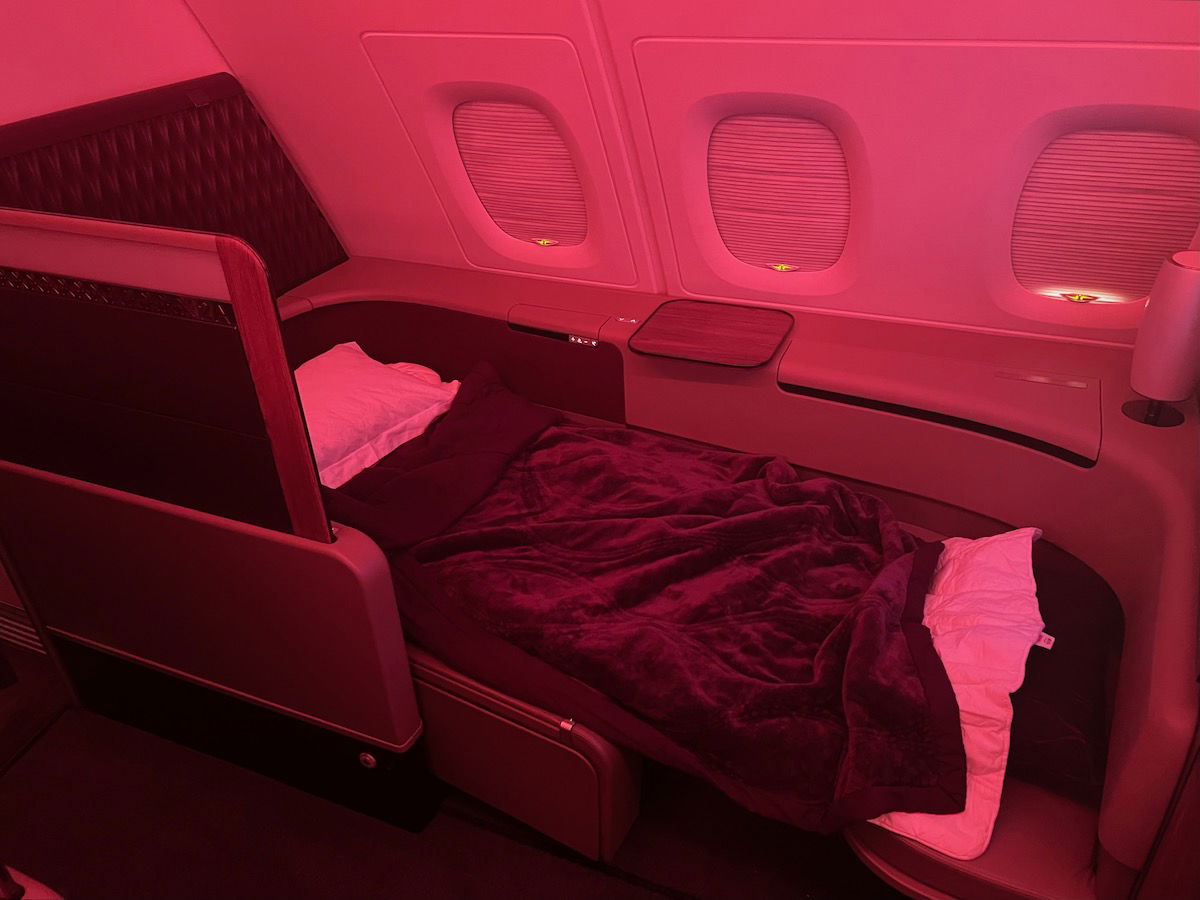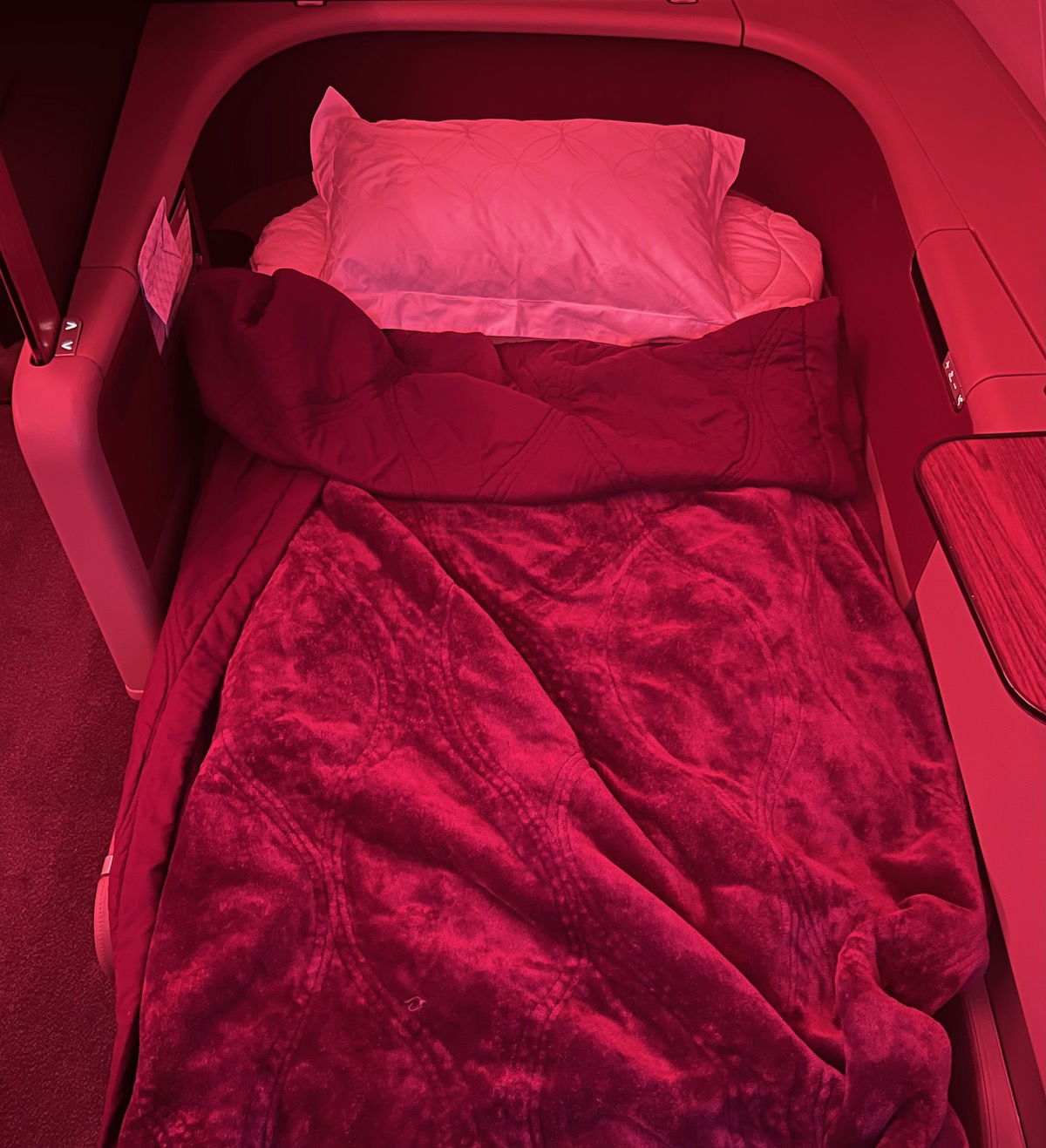 I was really tired at this point, and ended up going to sleep just under nine hours from our arrival in Perth.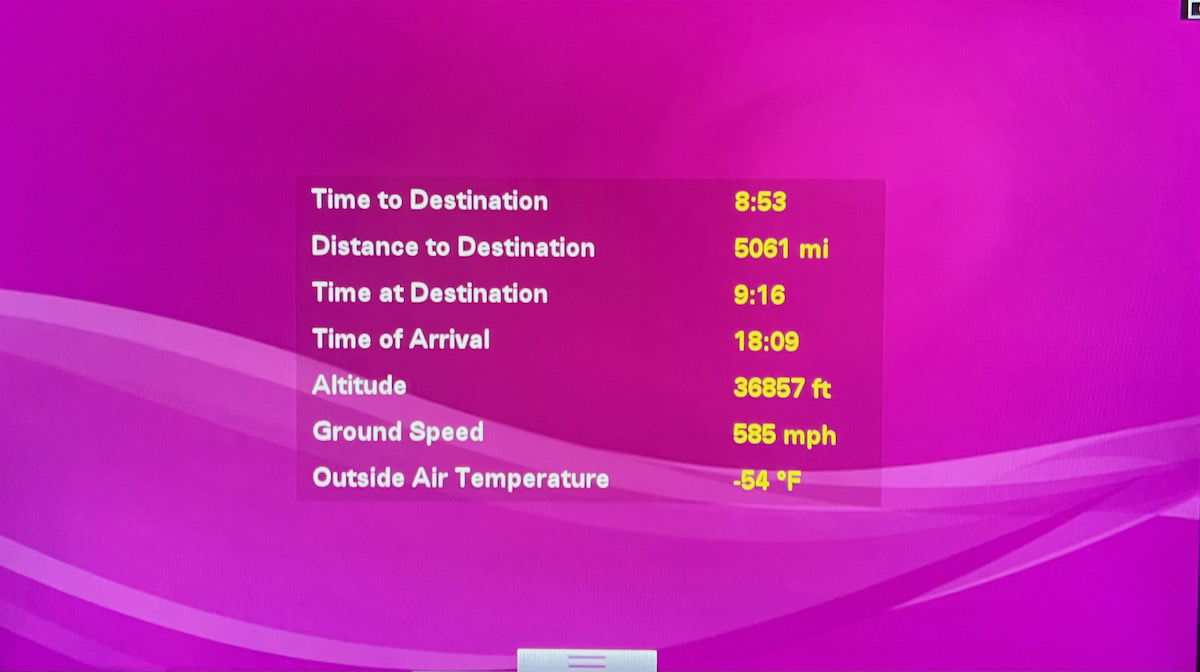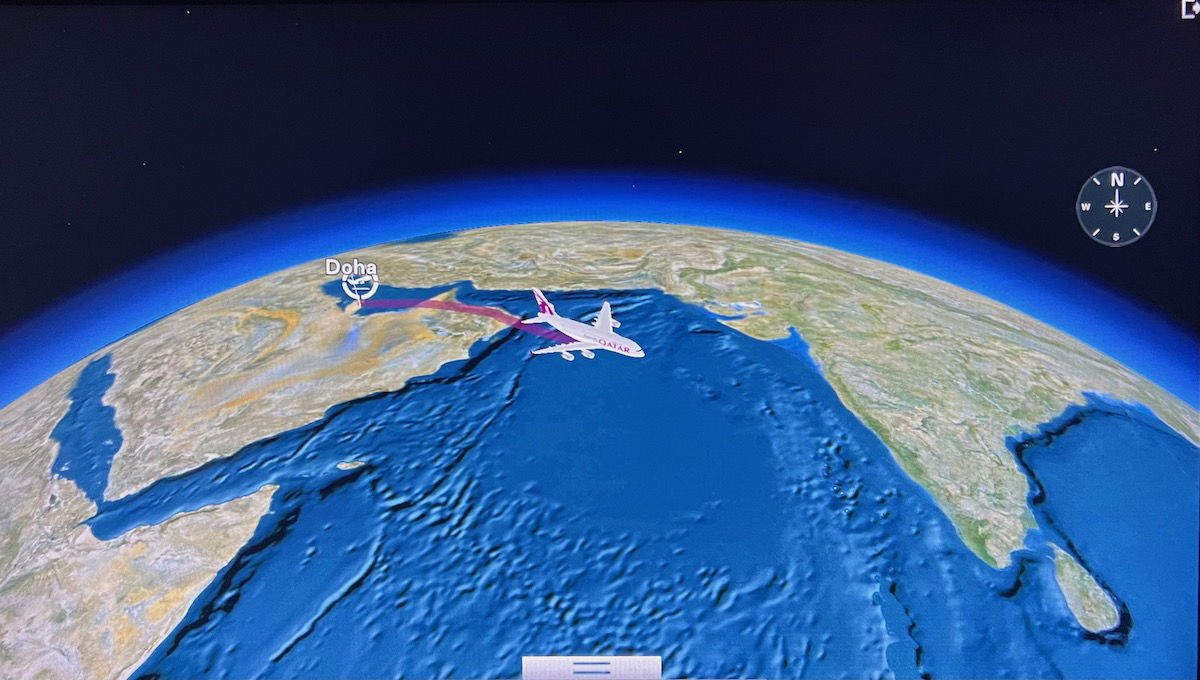 I woke up just over 2hr30min from Perth, so I slept for around six hours. For me that's really good as far as plane sleep goes!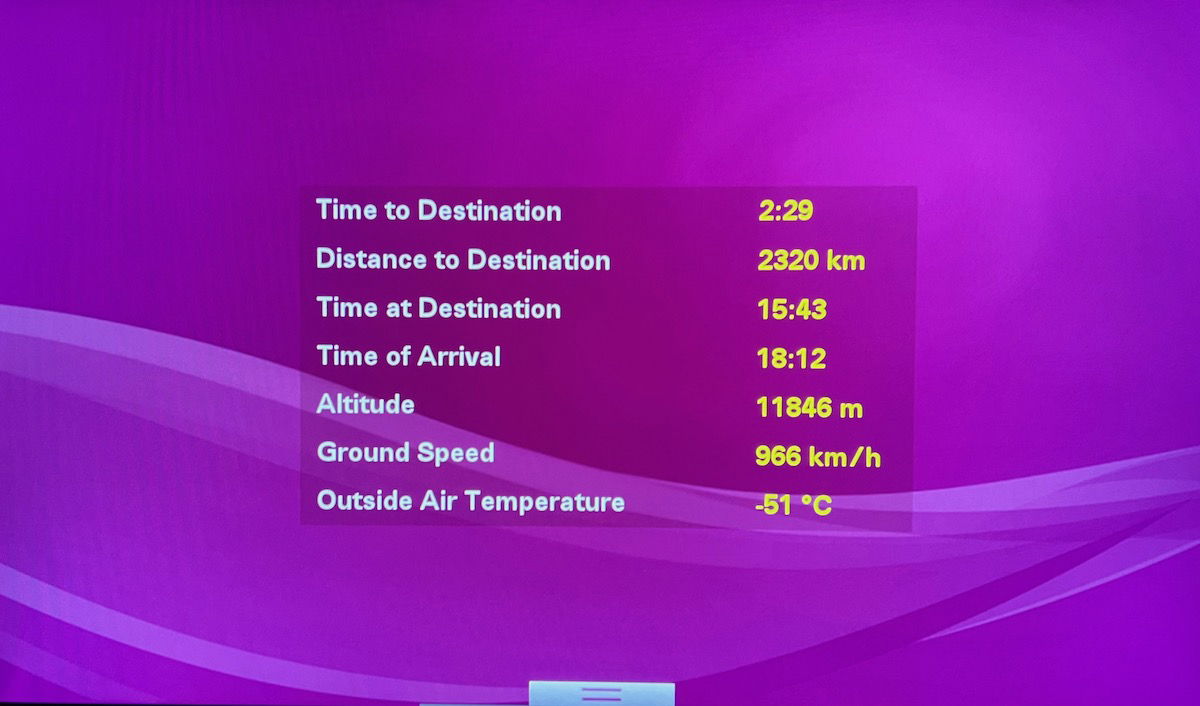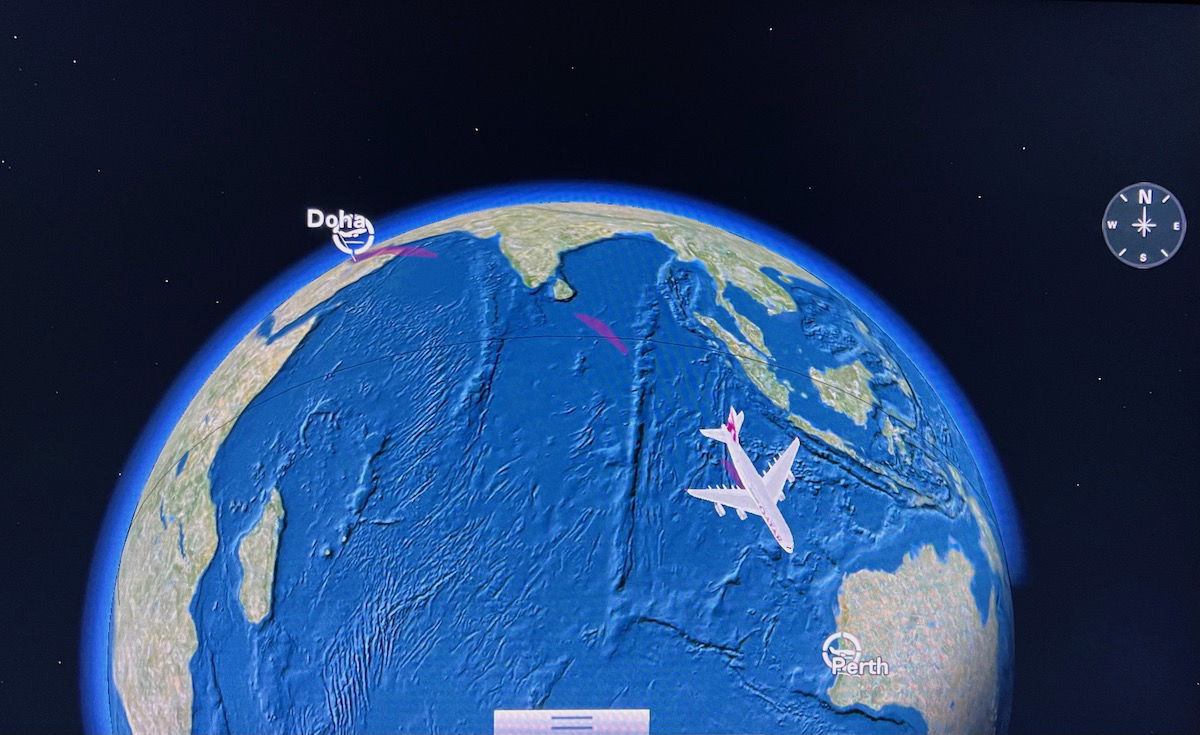 Qatar Airways first class breakfast service
Upon waking up, I ordered a cappuccino, which was served on a tray with a warm towel.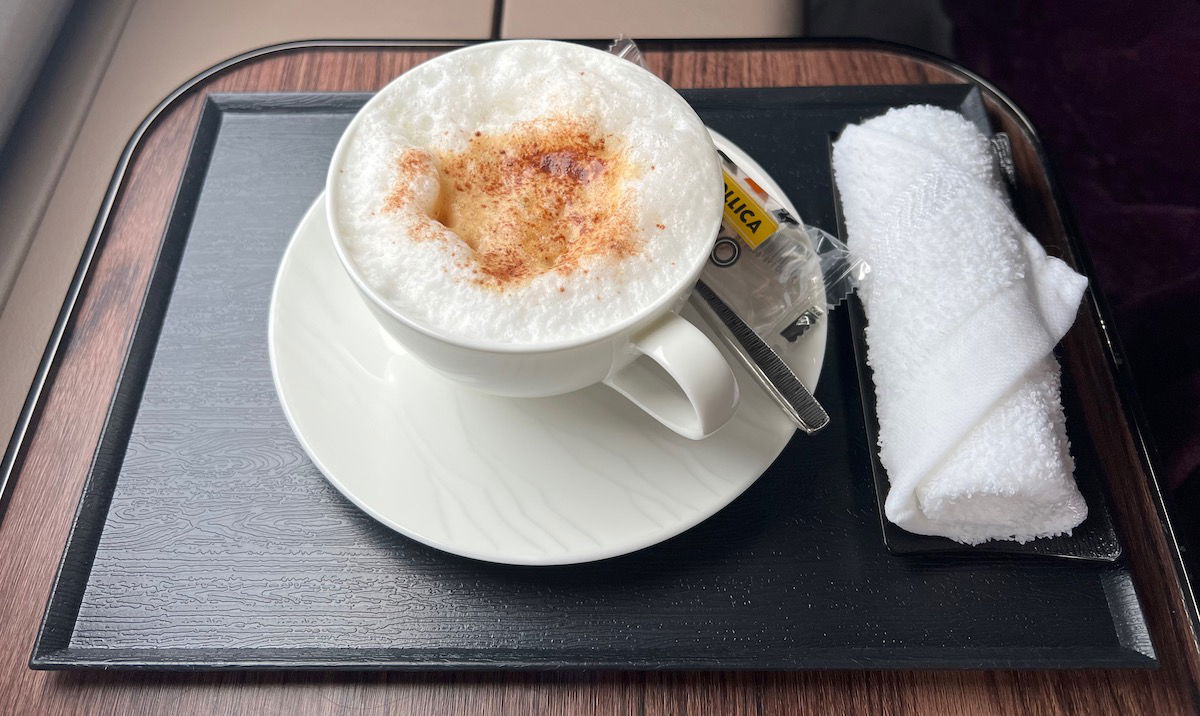 About 30 minutes later I ordered breakfast. My tray table was nicely set, with a bread and pastry basket, as well as a plate with salt & pepper grinders, jam, and butter. My meal started with the greek yogurt with passion fruit, mango coulis, and toasted granola with nuts, which I've had many times before in Qatar Airways business class, and always enjoy.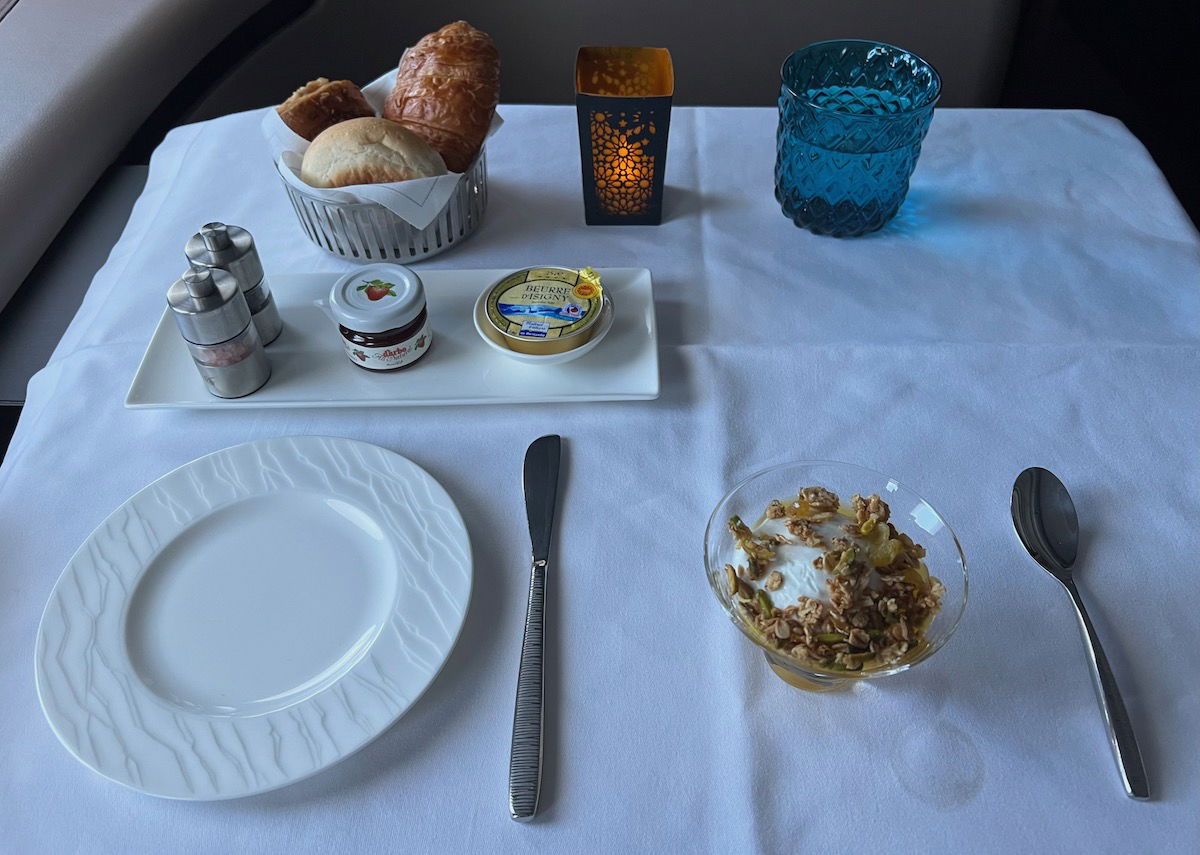 Then for my main course, I had the Qatari style breakfast with kuboos bread, foul, balaleet, and scrambled egg with Arabic spice and tomato. This dish was delicious.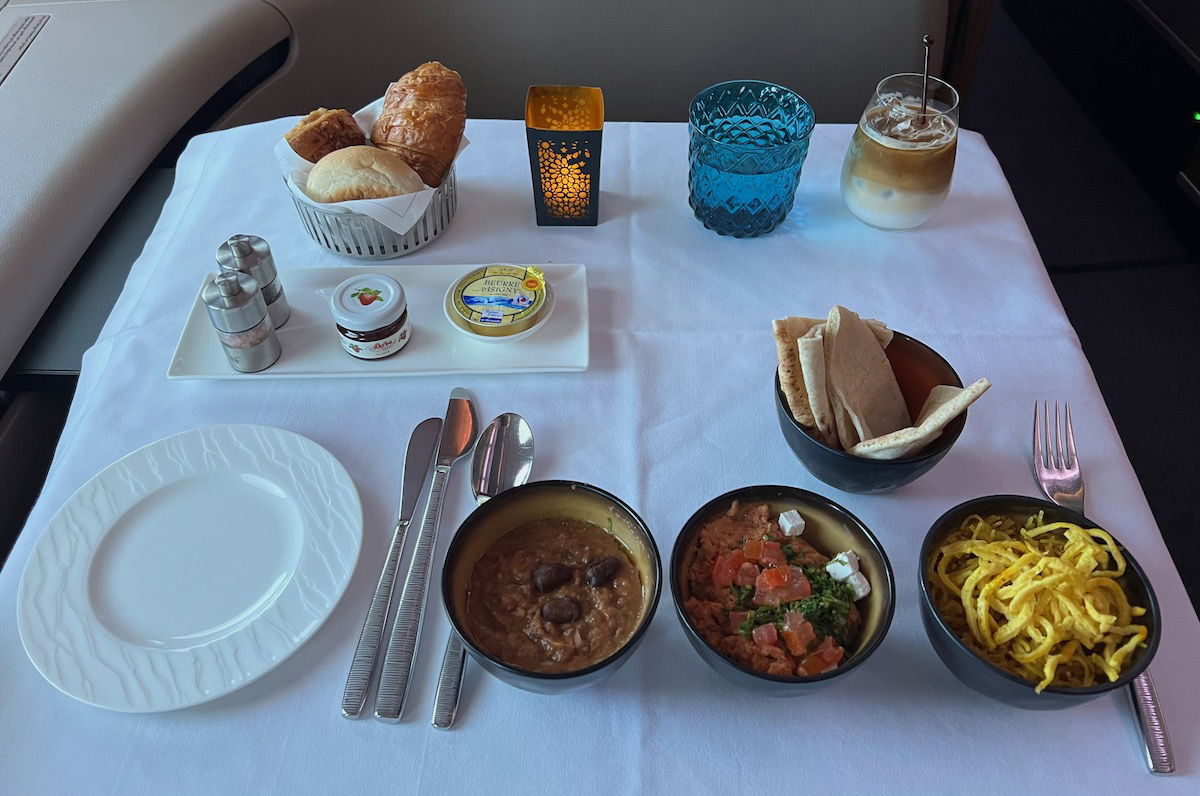 I had an iced latte to go along with this.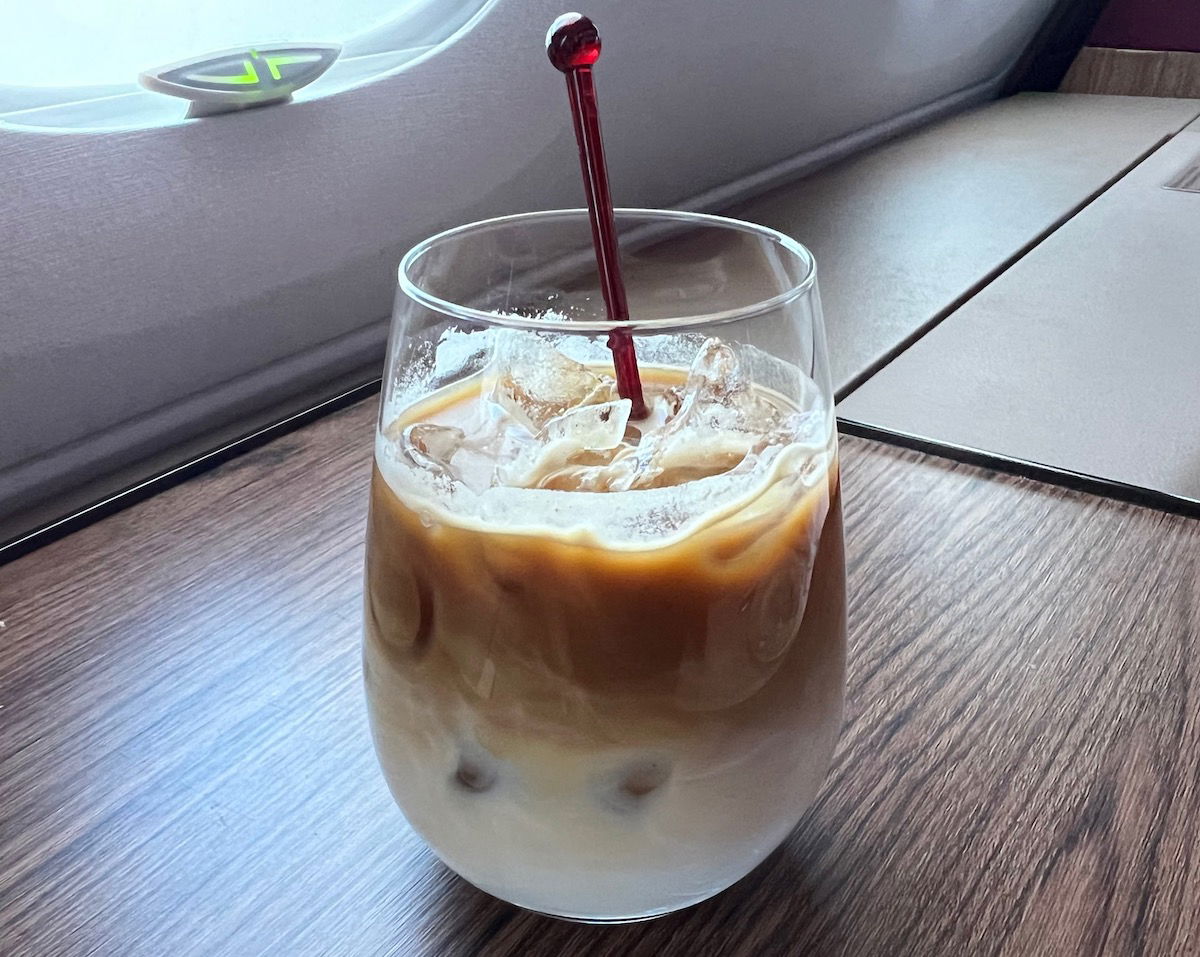 My dad decided to have the baked doughnut with Nutella, with fresh berries, apple compote, and creme anglaise. Lol. He has a sweet tooth for breakfast sometimes, which always cracks me up (in fairness, he walks for hours a day, so he can afford to eat whatever he wants!).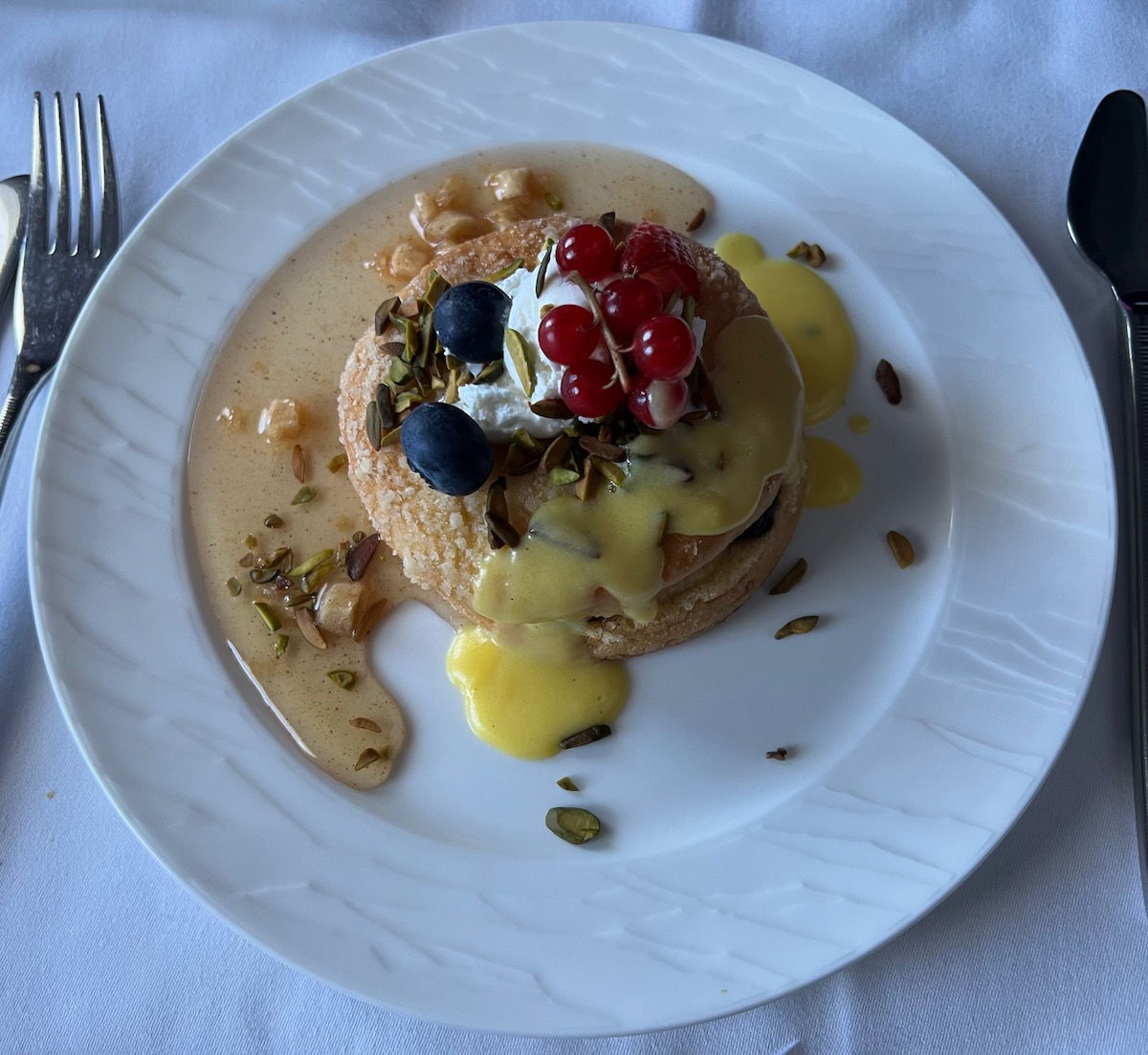 Qatar Airways first class service
The two flight attendants working first class were from Malaysia and Thailand, and the cabin service manager was also Malaysian. All three were friendly and attentive, so I have nothing negative to say there.
Qatar Airways A380 arrival in Perth
Before we knew it, we were already approaching Perth. At 5:35PM local time, the captain announced that we'd be landing in about 40 minutes, and would soon be descending. At this point it was still light outside, but I knew the sun would shortly set, making for a very short day.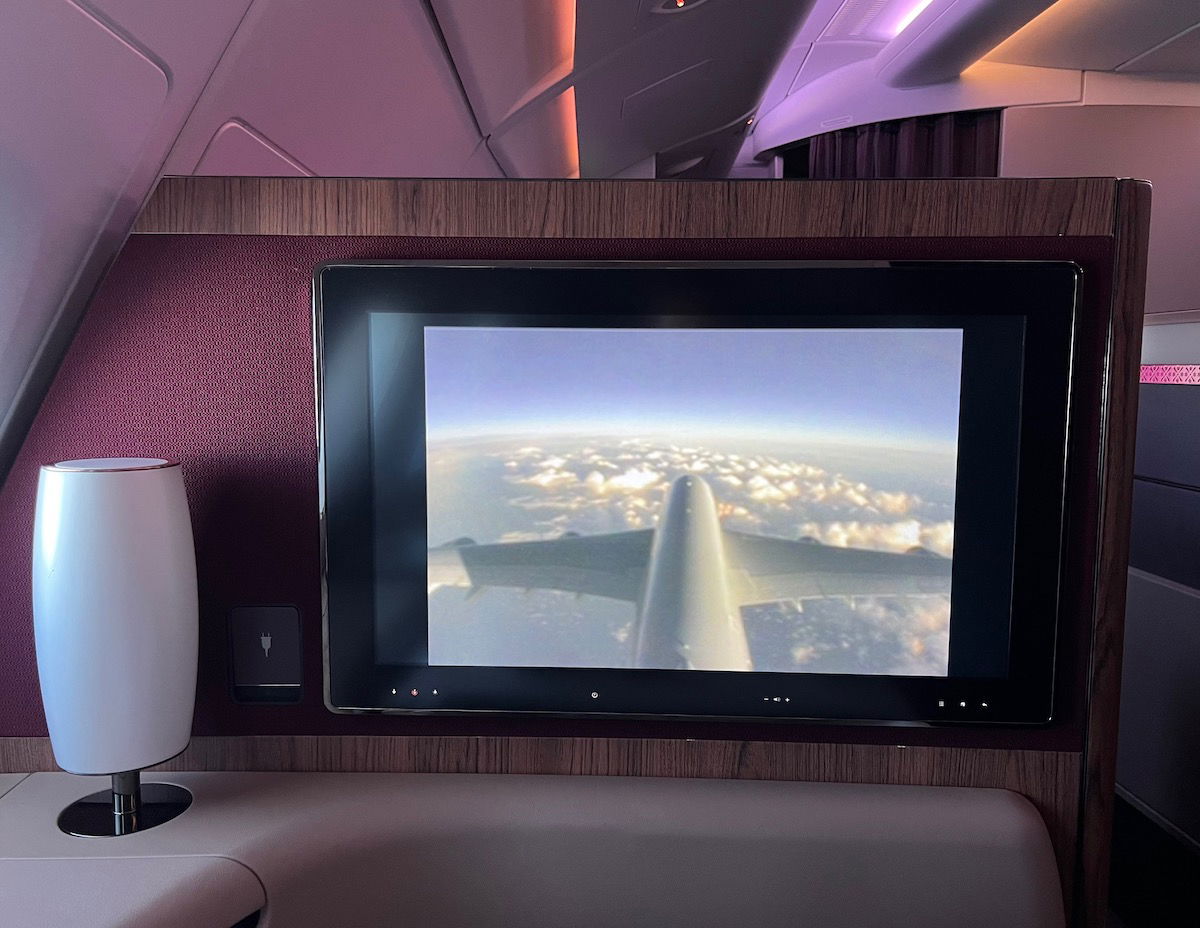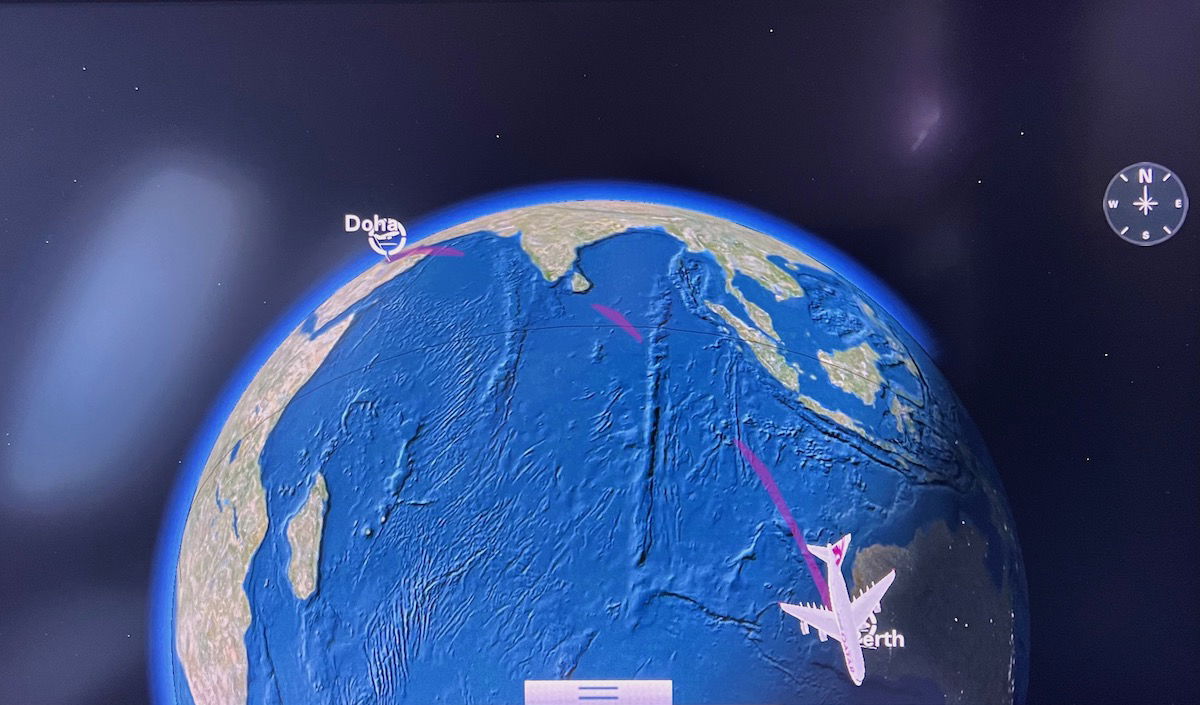 About 15 minutes later the seatbelt sign was turned on.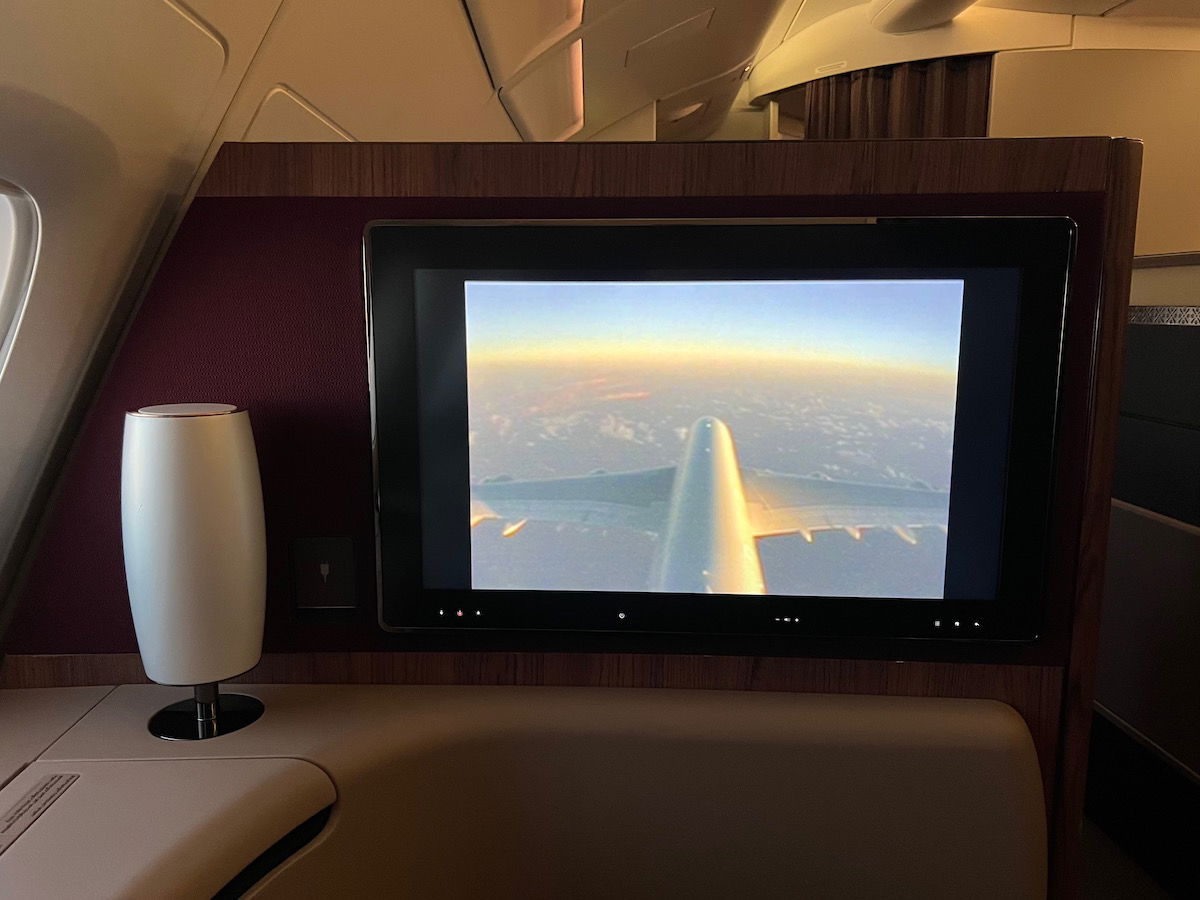 While our descent was initially smooth, we hit a few bumps on the final approach, as it was rainy and windy in Perth. We had a perfectly smooth touchdown there at 6:15PM.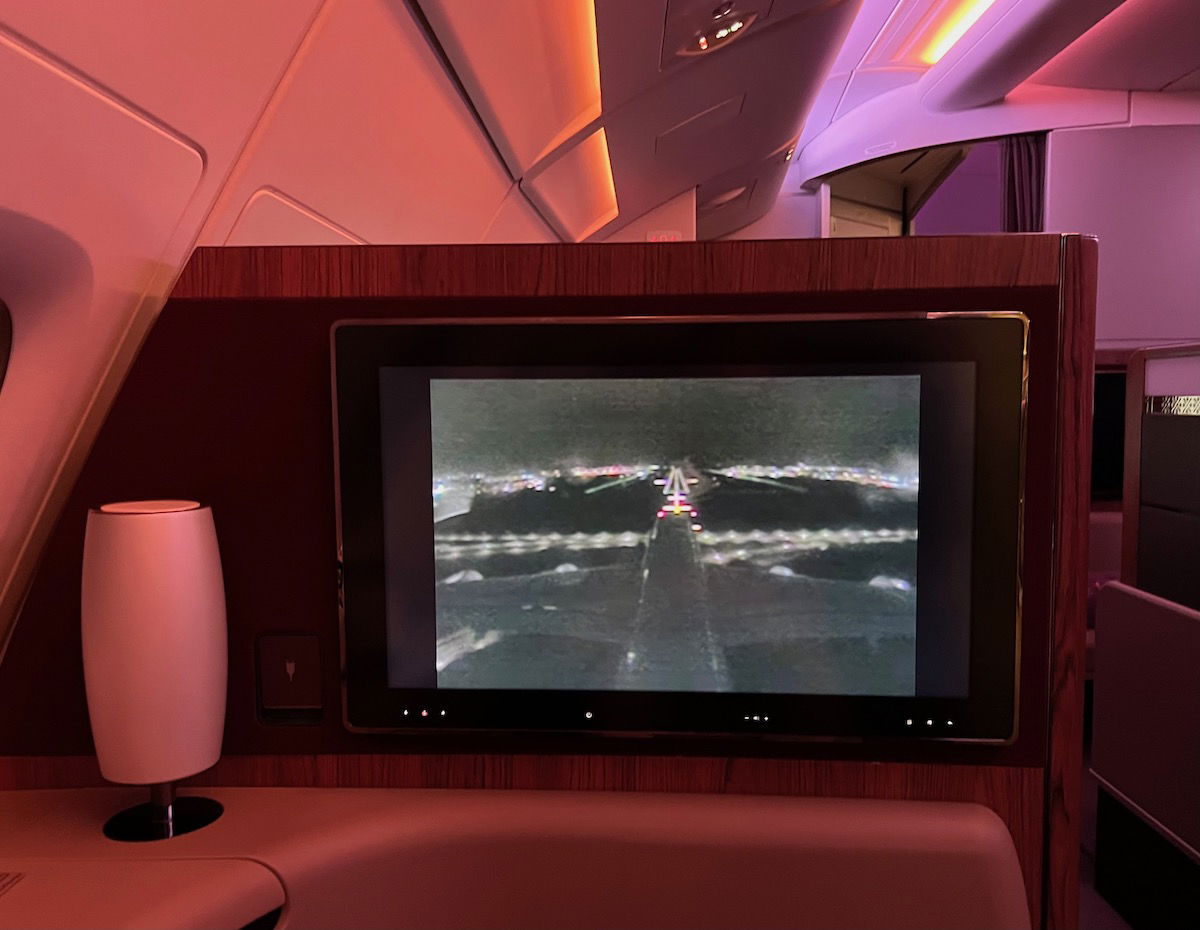 From there it was a roughly five minute taxi to our arrival gate, where we pulled in next to an Emirates A380.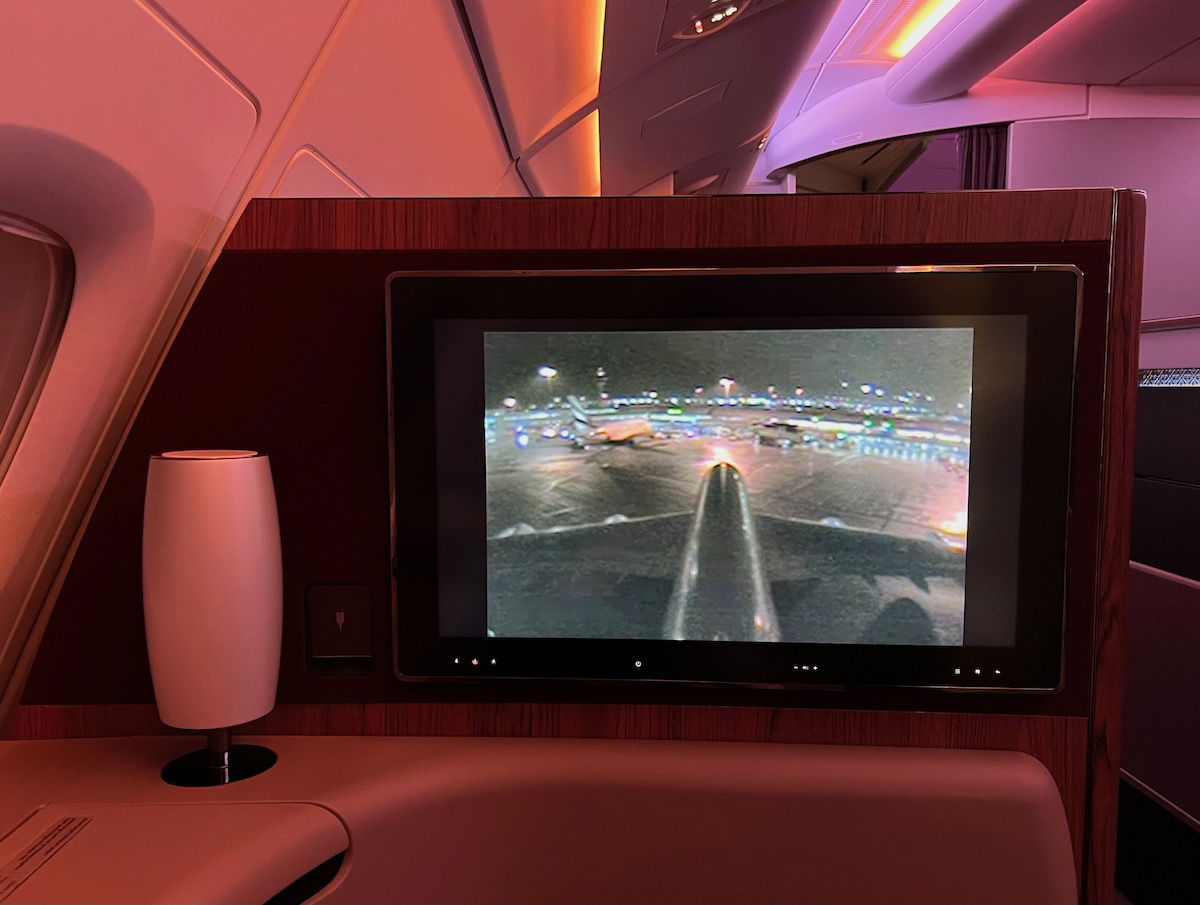 Immigration took quite some time. I know Australia tends to have pretty tight border control. When you go through customs, either you're sent straight through, or have to go through an extra check, and we were selected for the latter in this case (I guess being in Perth for just one night while enroute from Doha to Los Angeles was a bit suspicious to them!).
From there we were chosen for yet another secondary. The whole process took around 30 minutes. Once that was complete, we were on our way to the Ritz-Carlton Perth, where we'd be spending the night.
Bottom line
We had a lovely flight in Qatar Airways' Airbus A380 first class. It's such a treat to have the cabin all to yourself, and there's a lot I loved about this flight, including the elegant cabin, the bathrooms and bar, the friendly service, and the fact that I got a great night of sleep.
However, I can't help but just not be that impressed by Qatar Airways' first class. Qatar Airways puts so much effort into offering the world's best business class, but then does little to differentiate its first class. Add in the downsides compared to Qatar Airways' business class, like the lack of air nozzles, the non-functioning Wi-Fi, and the power outlets that can't accommodate a pretty standard laptop charger, and I'd say there's a lot of room for improvment.
But we won't see that improvement, because Qatar Airways plans to eliminate first class in the future, and instead focus on business class, which is fair enough. Ultimately when redeeming miles I think it's still worth the upgrade, but I don't see much value in paying for Qatar Airways first class, when business class is so good.
What's your take on Qatar Airways' A380 first class?