To kick off our round the world trip, my dad and I flew Etihad Airways' Boeing 787-9 first class from Washington to Abu Dhabi. After an exceptional recent flight in Etihad's Airbus A350 business class, I was curious to see how Etihad's first class product is nowadays.
I have to say, the experience was exactly what I expected, but in a good way. Not a whole lot has changed about Etihad first class compared to years ago, and this flight had tasty food, friendly service, comfortable seats, excellent entertainment, free Wi-Fi, and nice amenities.
However, given some of the amazing first class products out there, I can't help but feel like the product lacks pizzaz. There are no double beds, or showers, or bars, on the Etihad 787 (though you will find some of those amenities on Etihad's A380s, which are making a comeback!).
With that out of the way, let's get into the review…
How I booked our Etihad first class tickets
I booked our Etihad first class tickets using American AAdvantage miles. Specifically, I booked the following for 115,000 American AAdvantage miles plus $18.55 in taxes and fees per person, which is a fantastic value:
5/18 EY130 Washington to Abu Dhabi departing 9:15PM arriving 6:15PM (+1 day)
5/20 QR1055 Abu Dhabi to Doha departing 1:50AM arriving 1:55AM
For what it's worth, my dad was originating in Tampa, while I was originating in Miami. So we were able to include the flights from our home airports to Washington National (DCA) on the same award tickets. We met up there, took an Uber to Washington Dulles, and started our exciting journey together!
Etihad first class lounge & boarding
We arrived at Washington Dulles a little over two hours before departure. The check-in process was efficient, and we were checked in within minutes. We were directed to use the Turkish Airlines Lounge. There is actually an Etihad Airways Lounge at Washington Dulles, but it has been closed since the start of the pandemic.
I've heard rumors that it might reopen later this year, but I haven't seen any firm announcement yet. I won't be reviewing the Turkish Airlines Lounge this time around, as it was packed (since it's also open to Priority Pass, not to mention Turkish's flight leaves around the same time).
Boarding was scheduled for 8:30PM, 45 minutes before departure. While standard boarding was from gate A16, premium boarding was from gate A14, so it's nice how the airline separates boarding out in that way, to make the process more efficient. Boarding started right on time, with first class being invited to board first.
Etihad 787 first class cabin & seats
We boarded through the second set of doors, where we were greeted by the lovely cabin manager, and escorted to our seats in first class. I first quickly glanced at the business class cabin, which looked great. While Etihad's 787s don't yet have the carrier's newest business class, this is still an excellent product.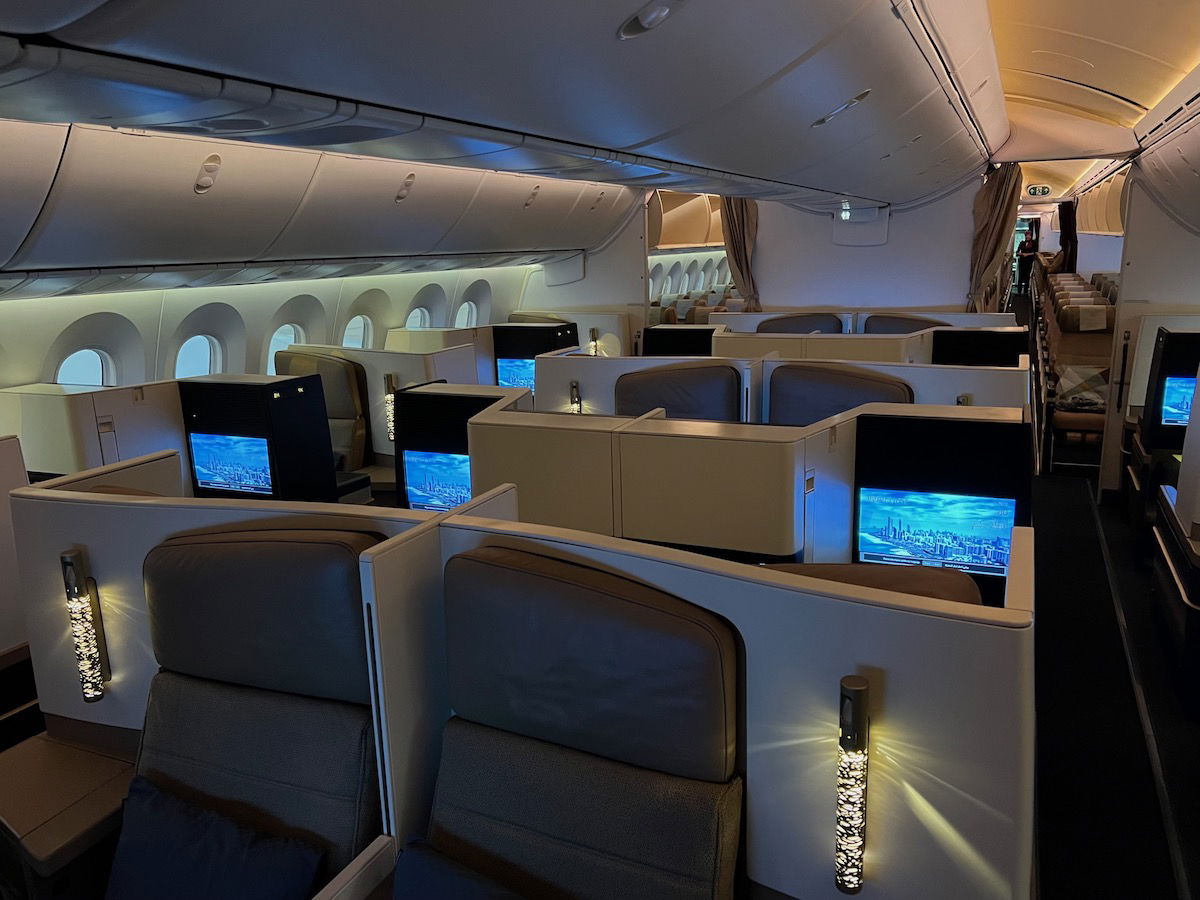 When you walk to first class, you pass two rows of business class, which is a nice private mini-cabin.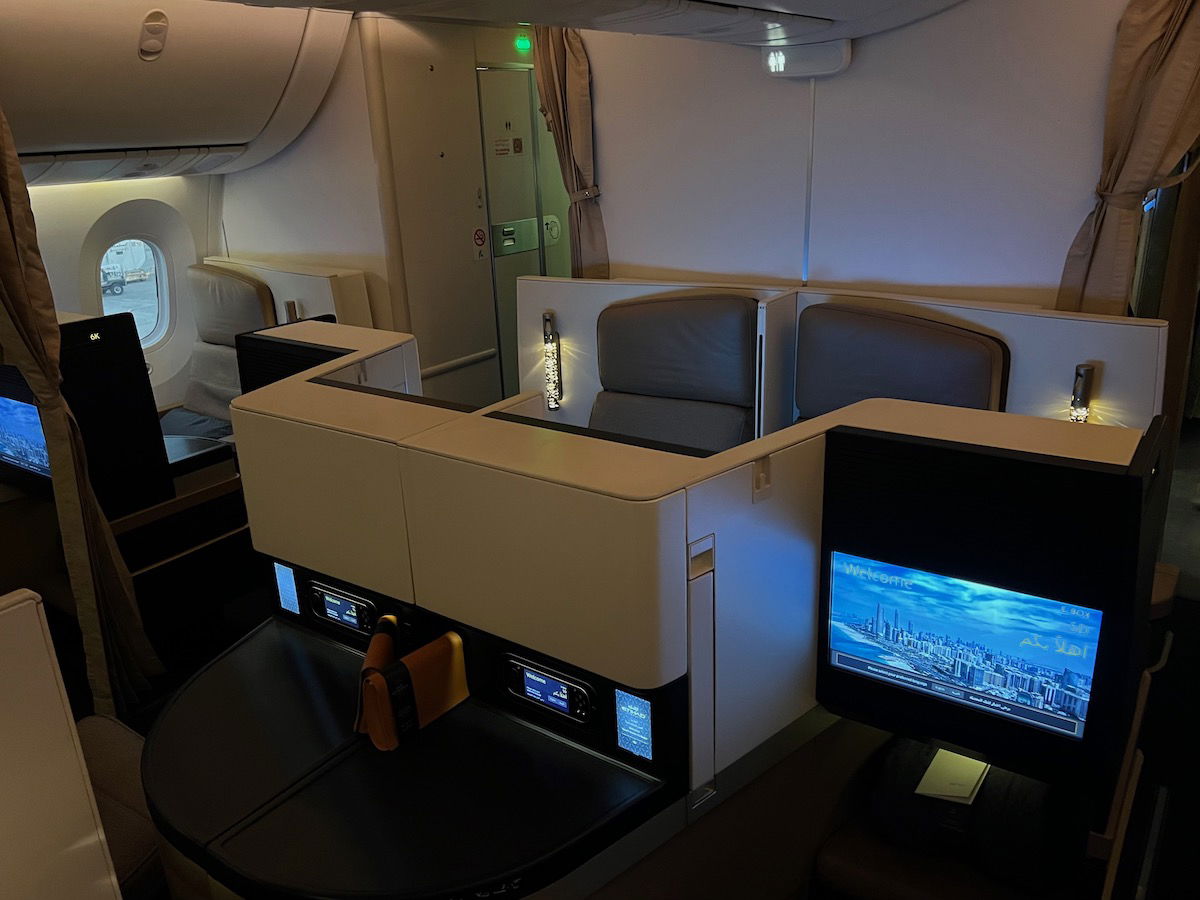 Then we found ourselves in the first class cabin. Etihad's Boeing 787s feature a total of eight first class seats, spread across two rows in a 1-2-1 configuration. While there are first class products with more frills, Etihad's first class seats are comfortable and practically designed.
As you'll see, there are no overhead bins, which gives the cabin a more spacious feeling. There are some closets at the front of the cabin where you can store any carry-on bags, in addition to a personal wardrobe. I know some people don't like the lack of overhead bins, though I find it makes a big difference in terms of the feel of the cabin.
Etihad's first class seats alternate between being forward and rear facing. I'm not sure I understand the logic for this, as it doesn't seem like this saves any space?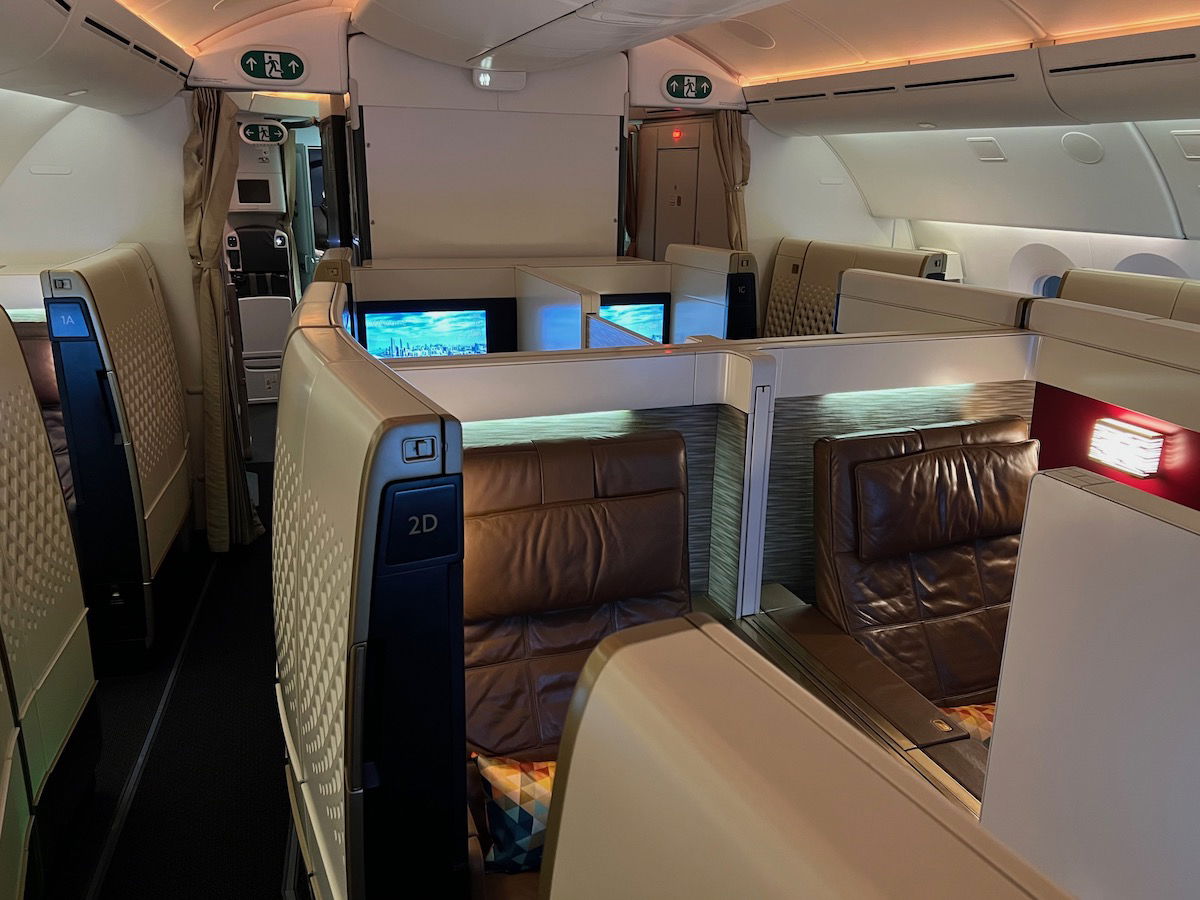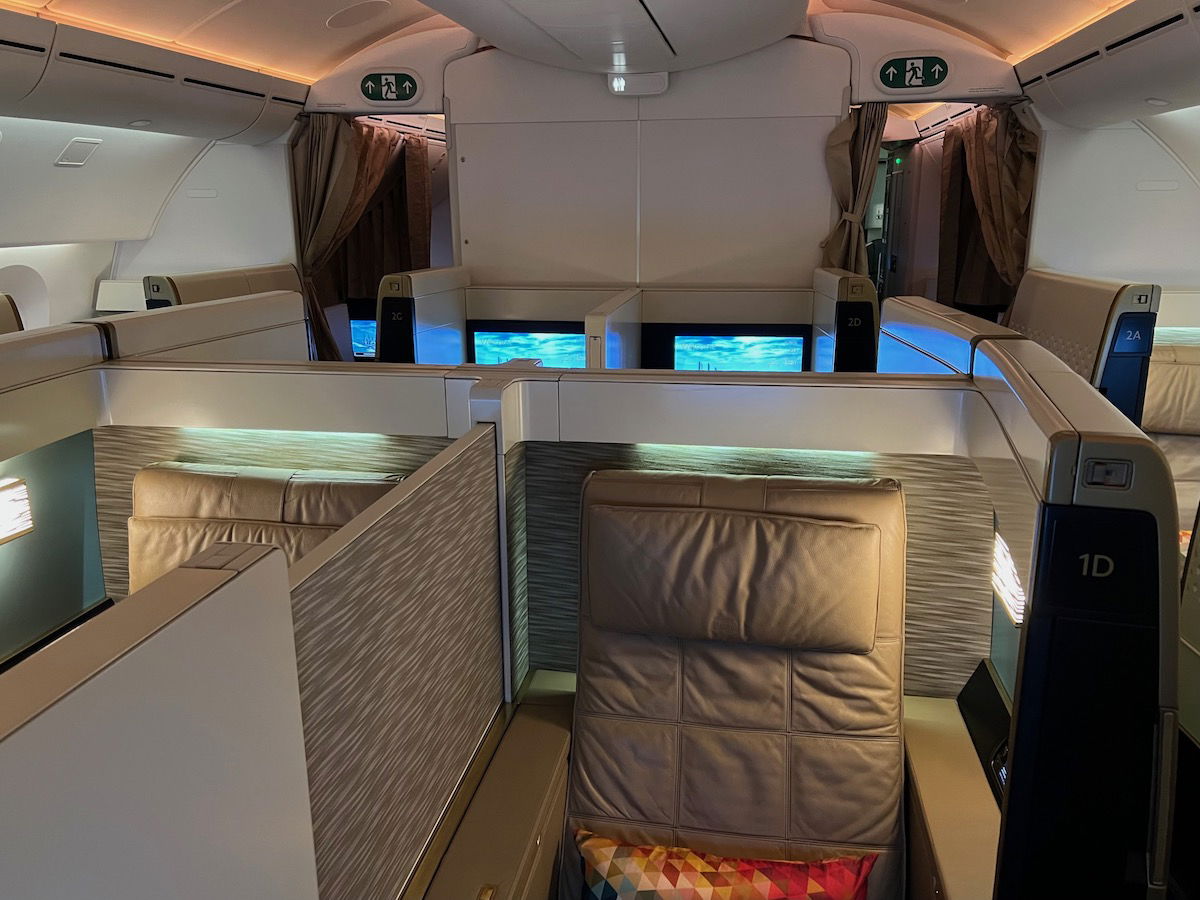 If you're traveling alone, I'd recommend picking one of the window seats. The window seats in row one are rear facing, while the window seats in row two are forward facing. I kind of like rear facing seats, but I'd recommend the seats in row two, as they have more spacing from the galley and bathrooms. Below are some pictures of seat 2A, both with the door open and closed.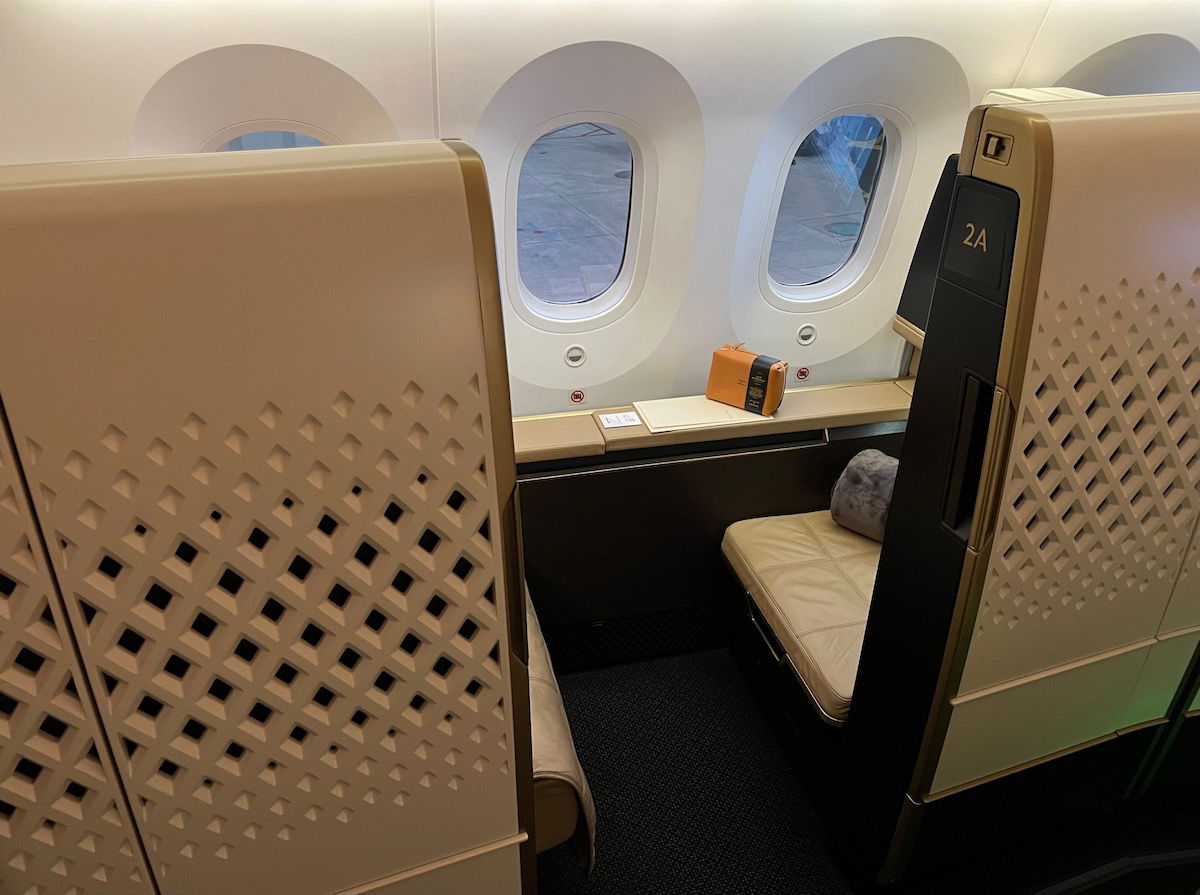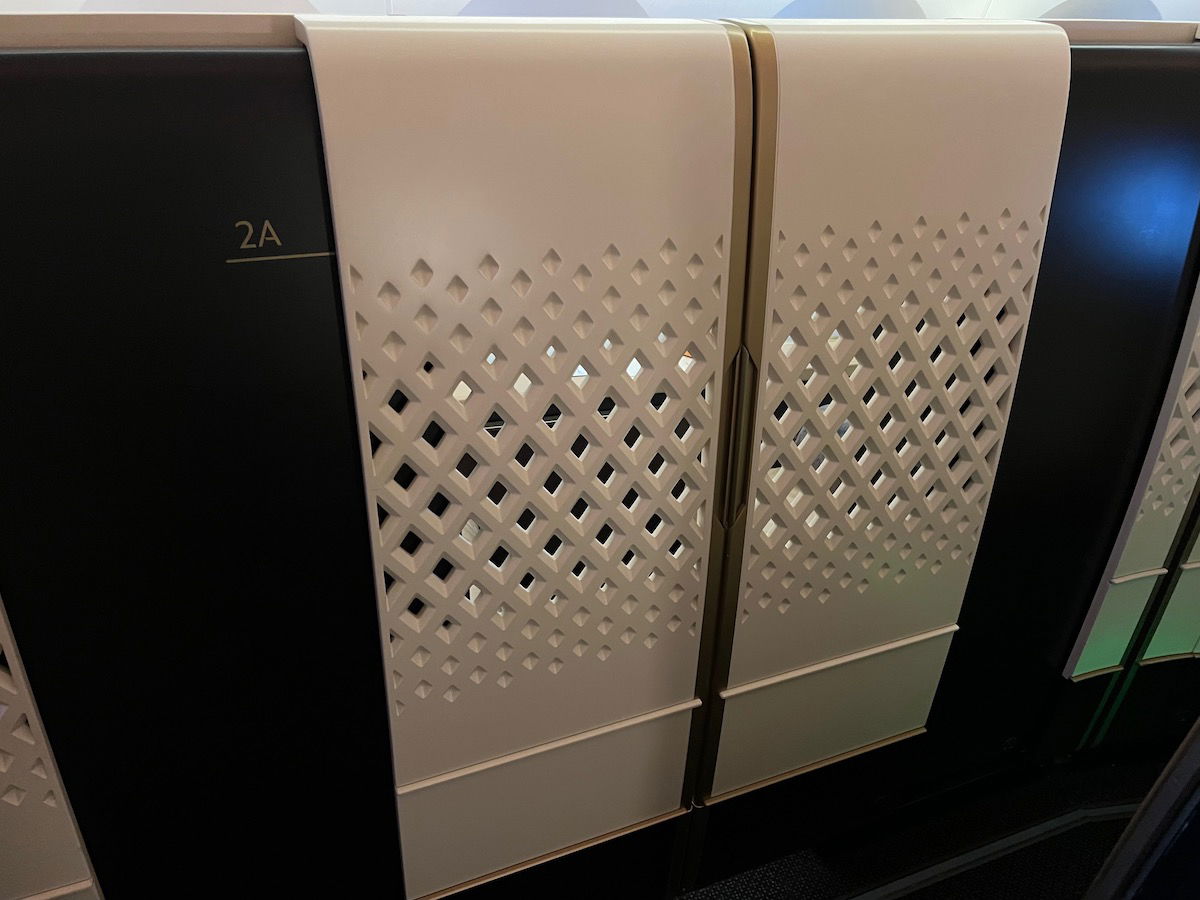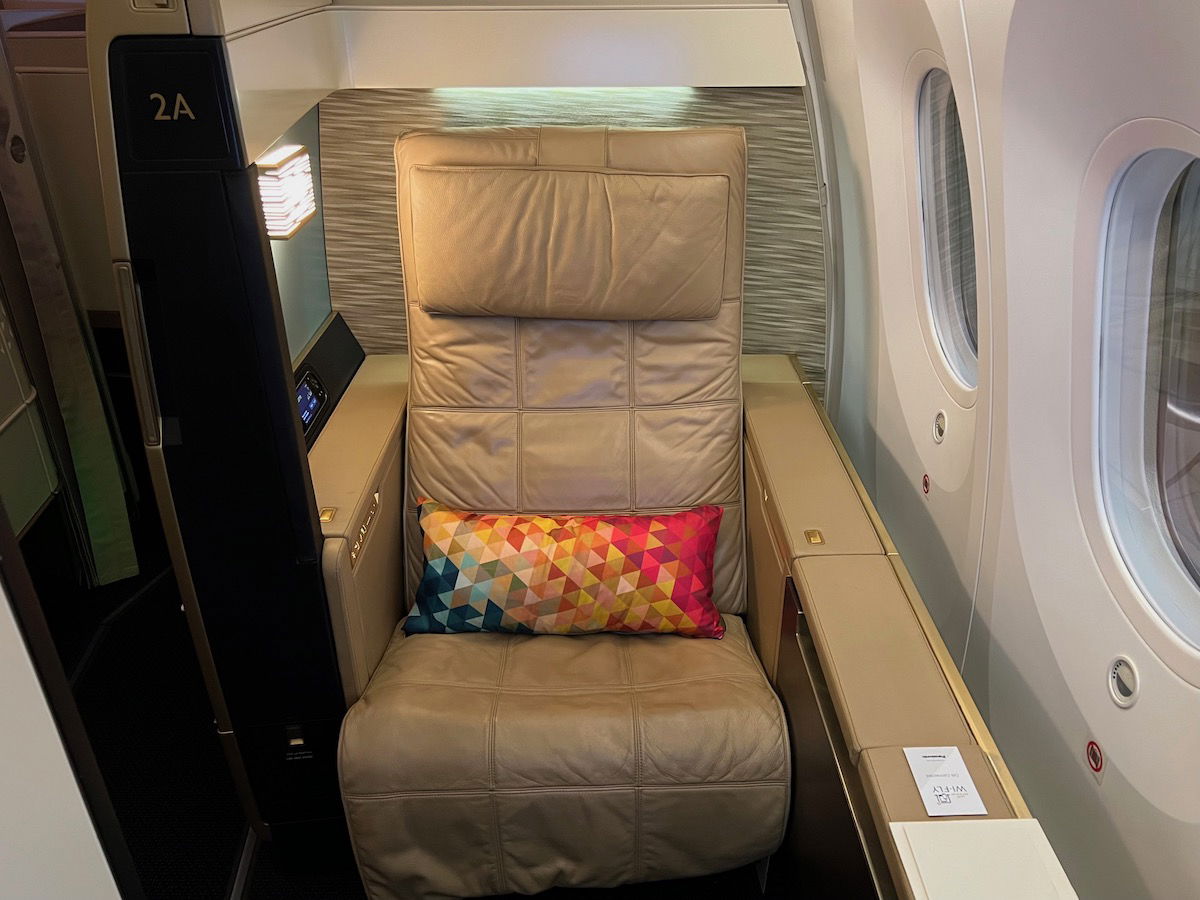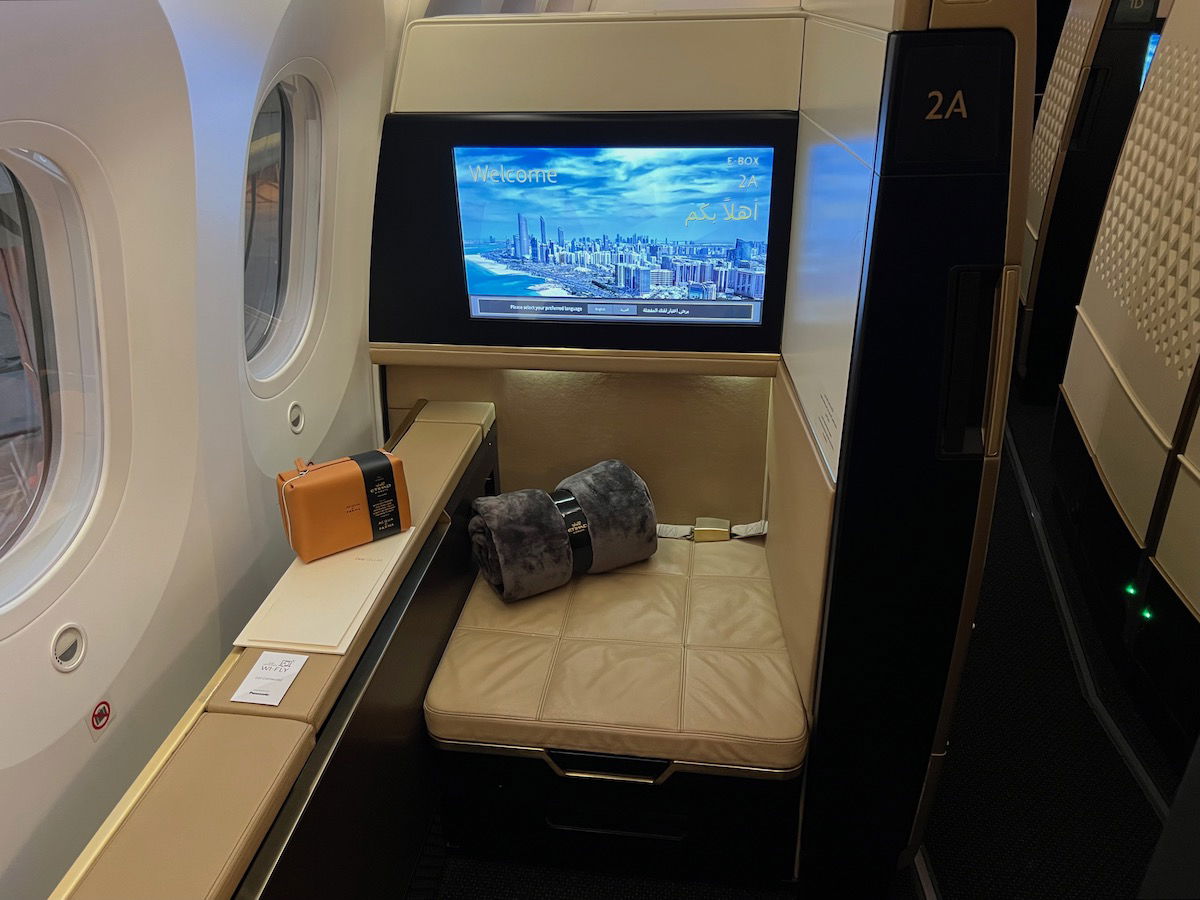 And then below is a picture of seat 1A. As you can see, the seats have different color patterns.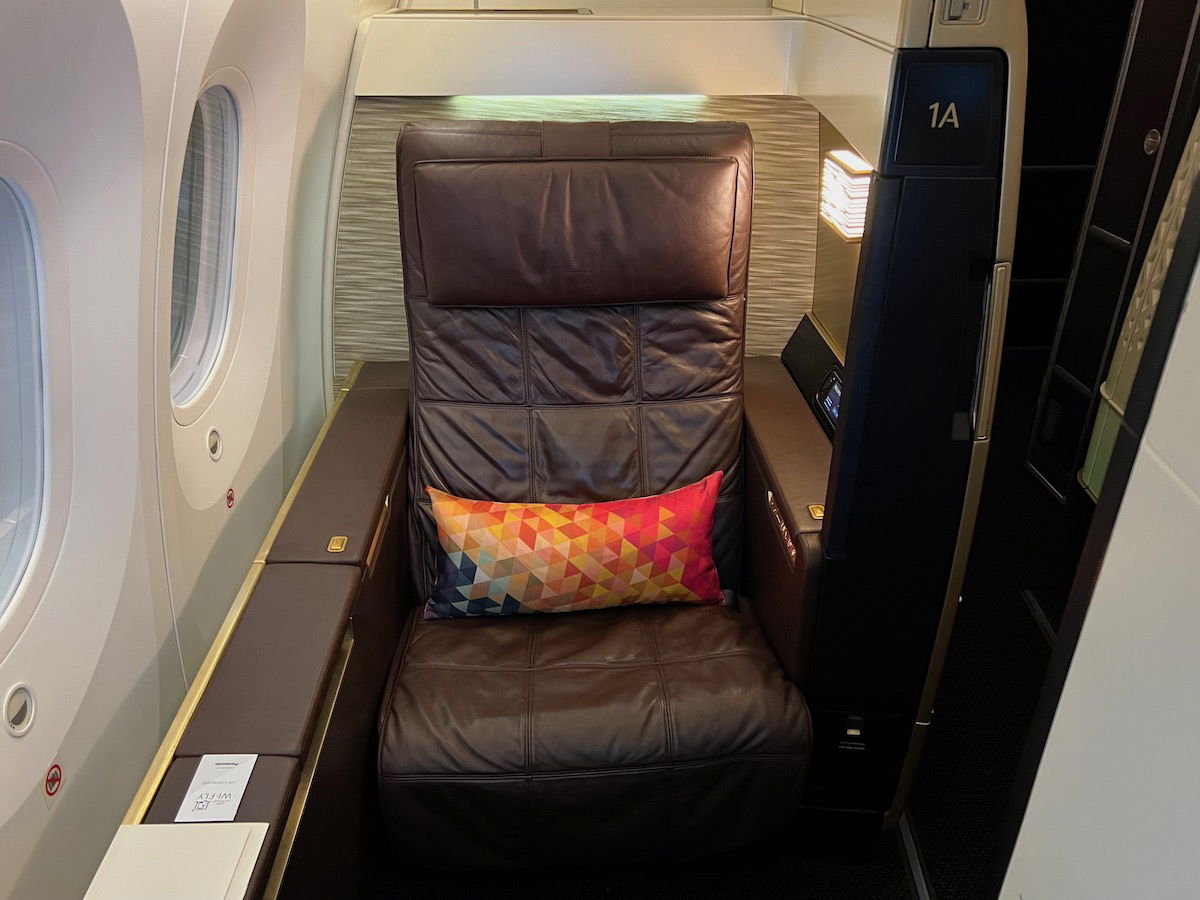 If you're traveling with someone, I'd recommend picking the pair of seats in the center. The forward and rear pattern is different from what you'll find at the window seats. The center seats in row one are forward facing, while the center seats in row two are rear facing. I assigned us seats 2D and 2G, the two center seats in the second row. These would be my preferred seats, as you have a ton of privacy facing the bulkhead, and you're away from the galley and lavatories.
If you do happen to be traveling alone and are seated in the center section, don't worry, as there's a privacy partition that can be extended to basically give you full privacy.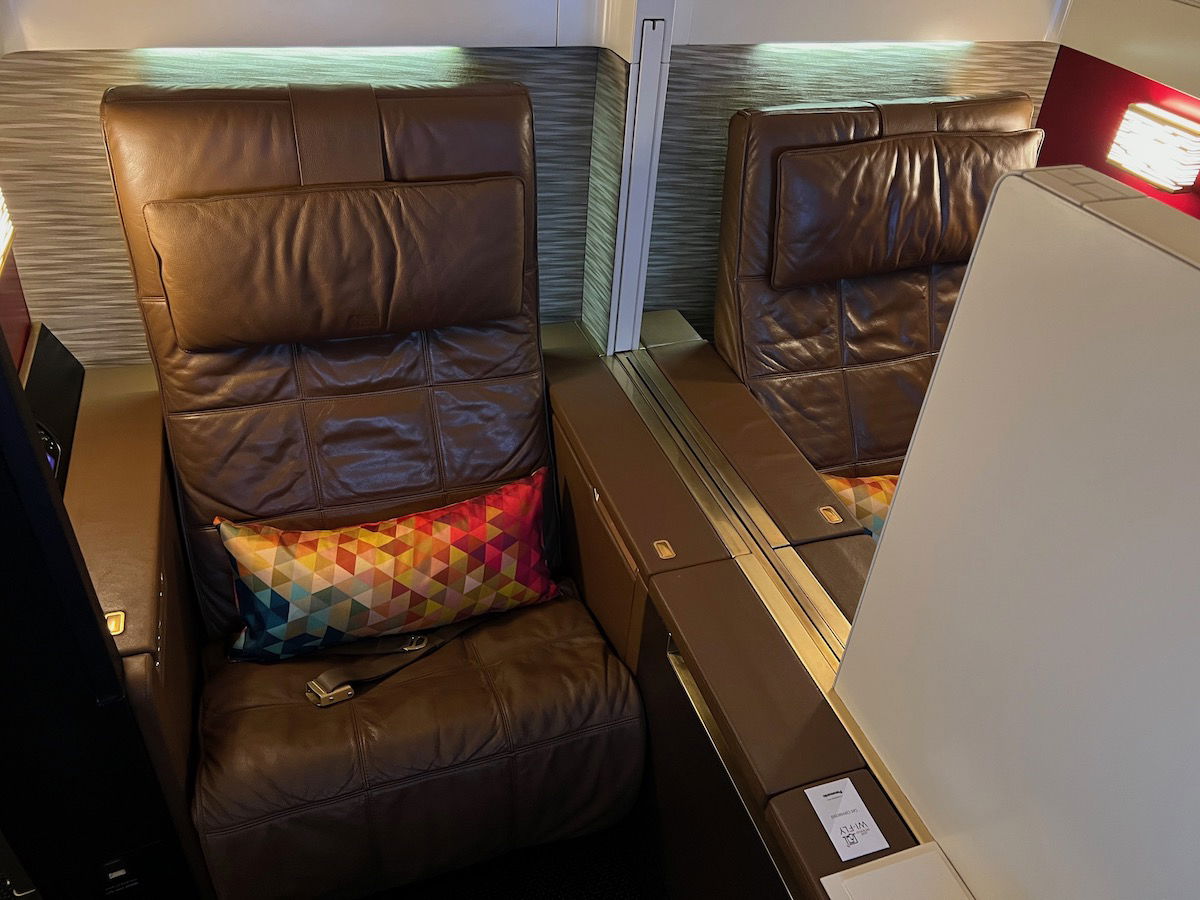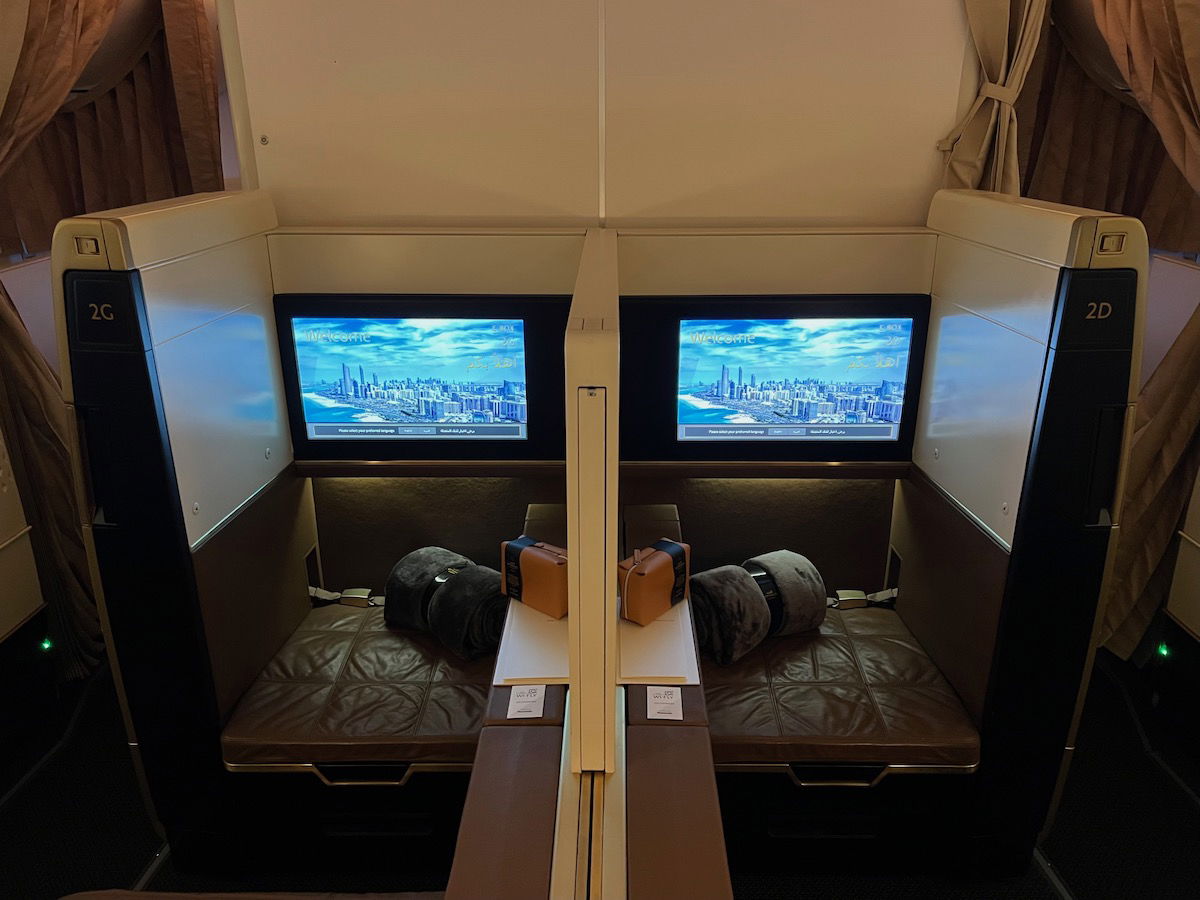 Etihad's first class seats are super comfortable — they're well padded and also pretty elegant, in my opinion. I like both the reading light and individual air nozzle to the side of the seat.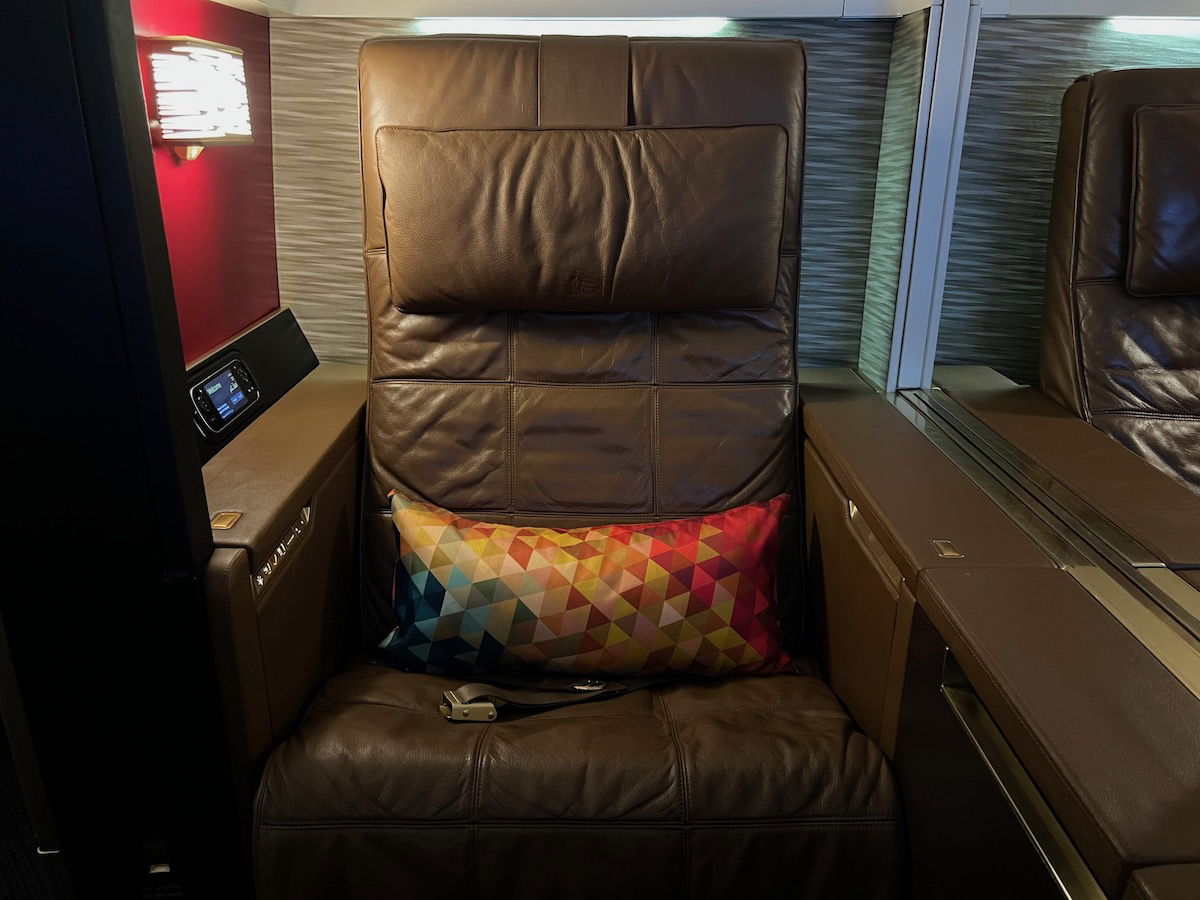 Each seat then has a large ottoman (which can double as a buddy seat, if you want to dine face-to-face), as well as a large wall-mounted television.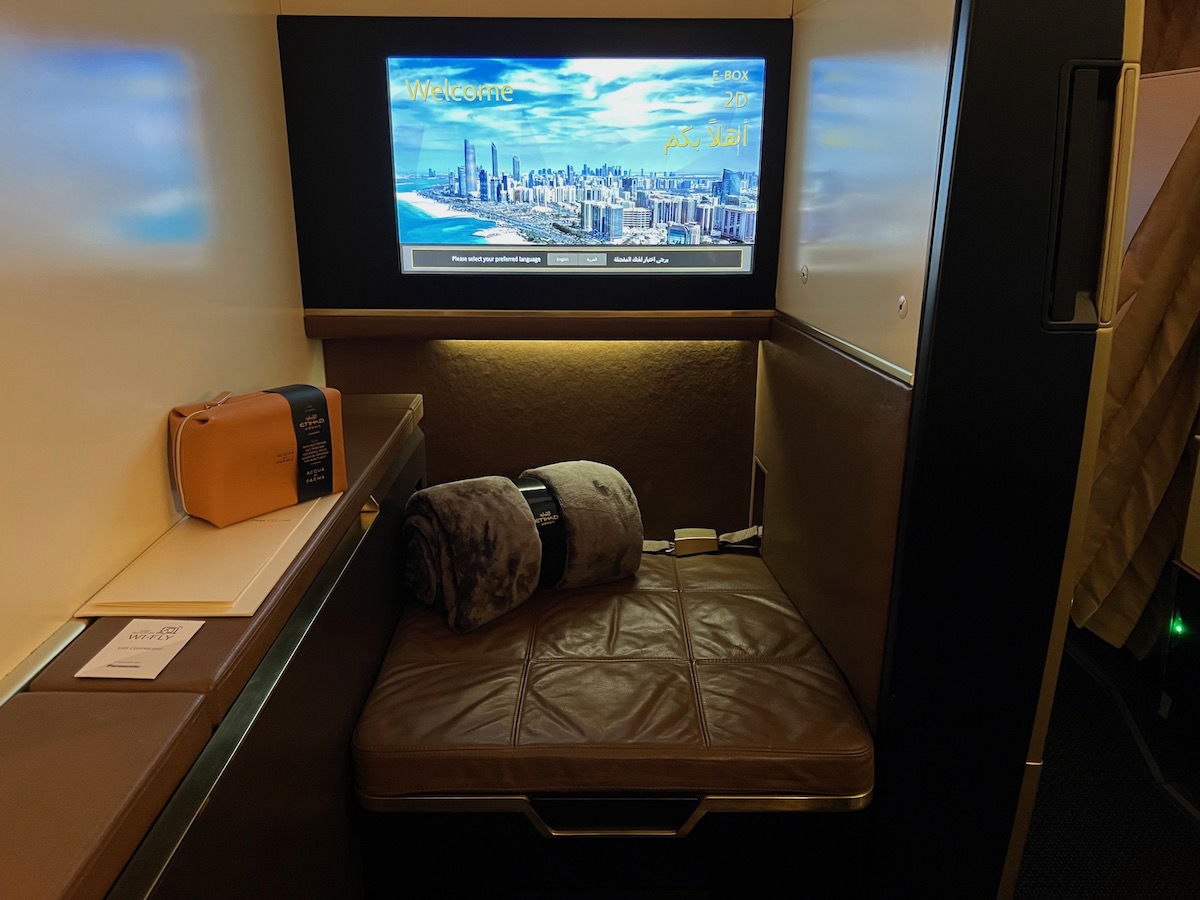 There's also a small wardrobe compartment to the side of the seat, where you can hang any clothes, or even store shoes.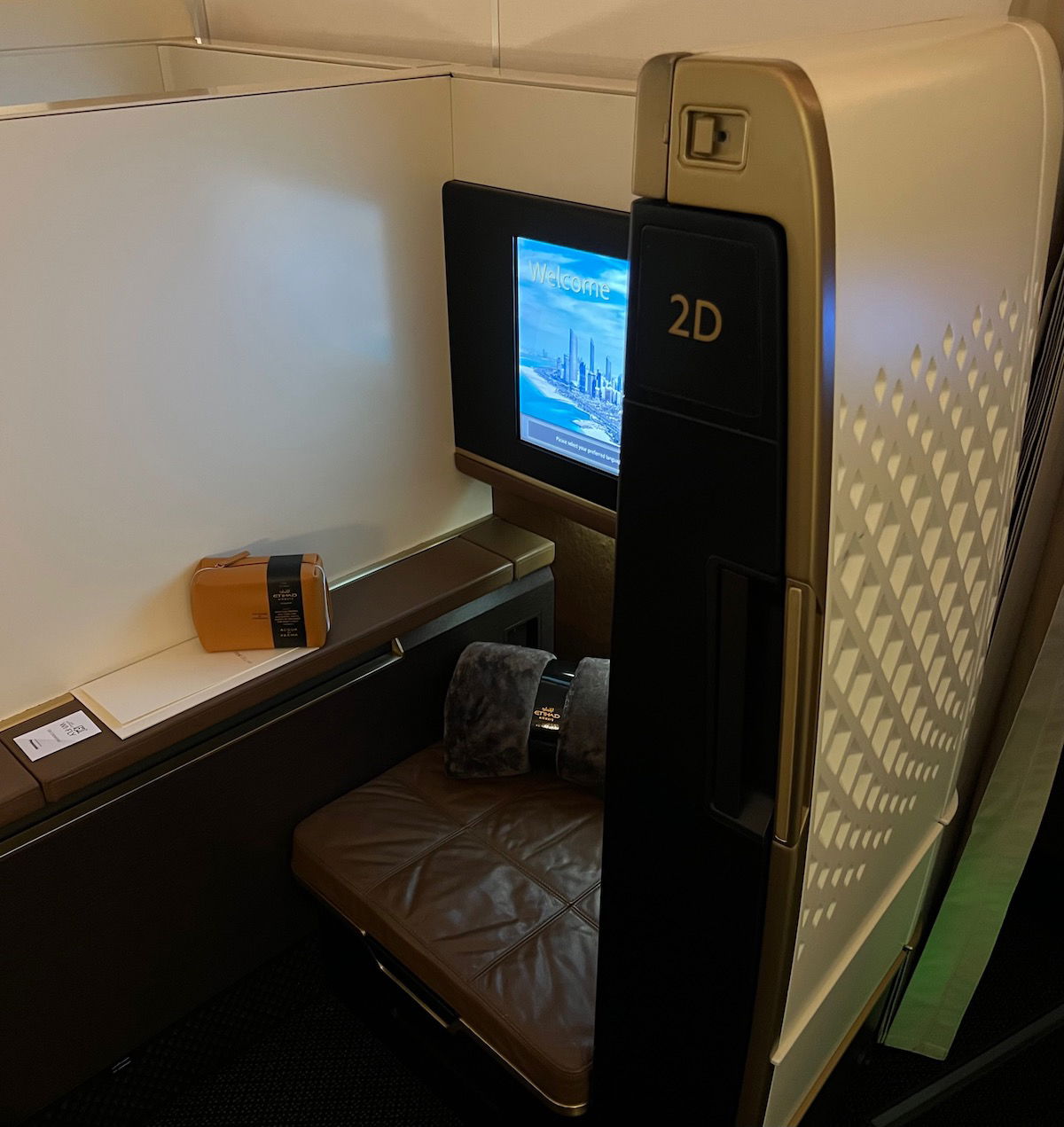 Along the center armrest of the seat is a shallow storage compartment, as well as a small minibar, which had a couple of soda cans, as well as a couple of packaged snacks.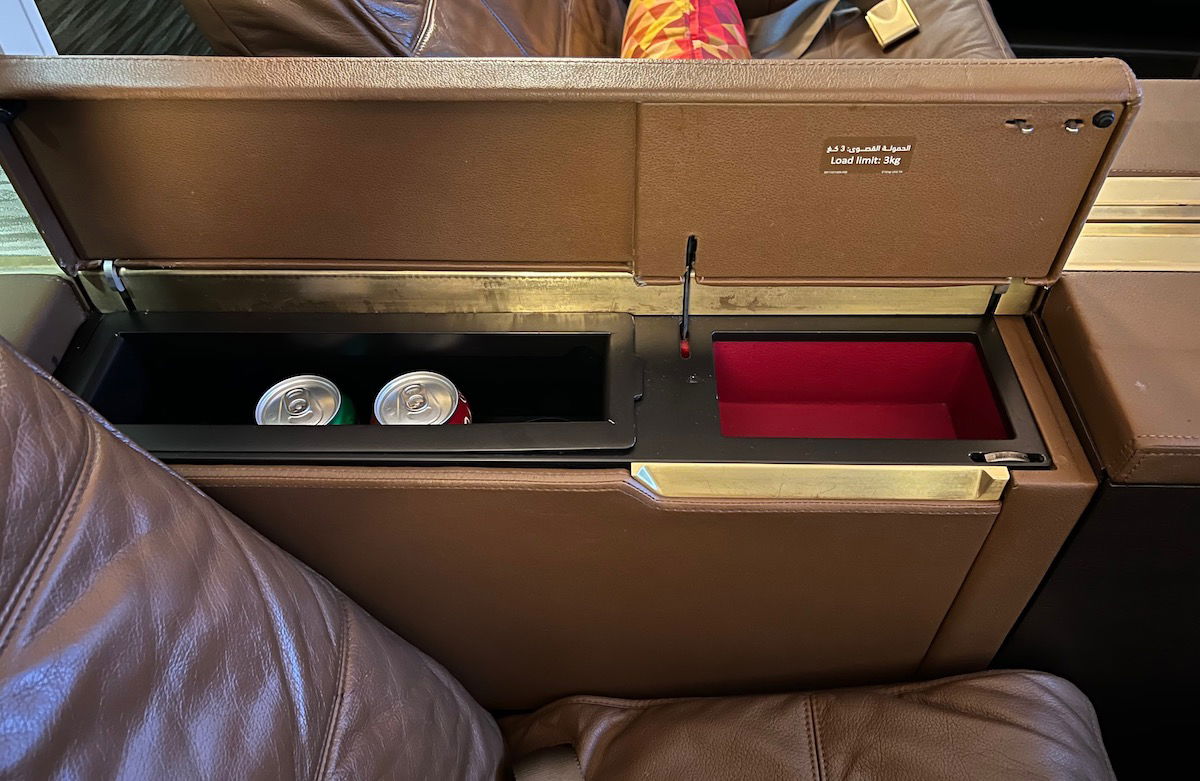 The opposite armrest then has the entertainment controller, the seat controls, the headphone jack, and two USB outlets.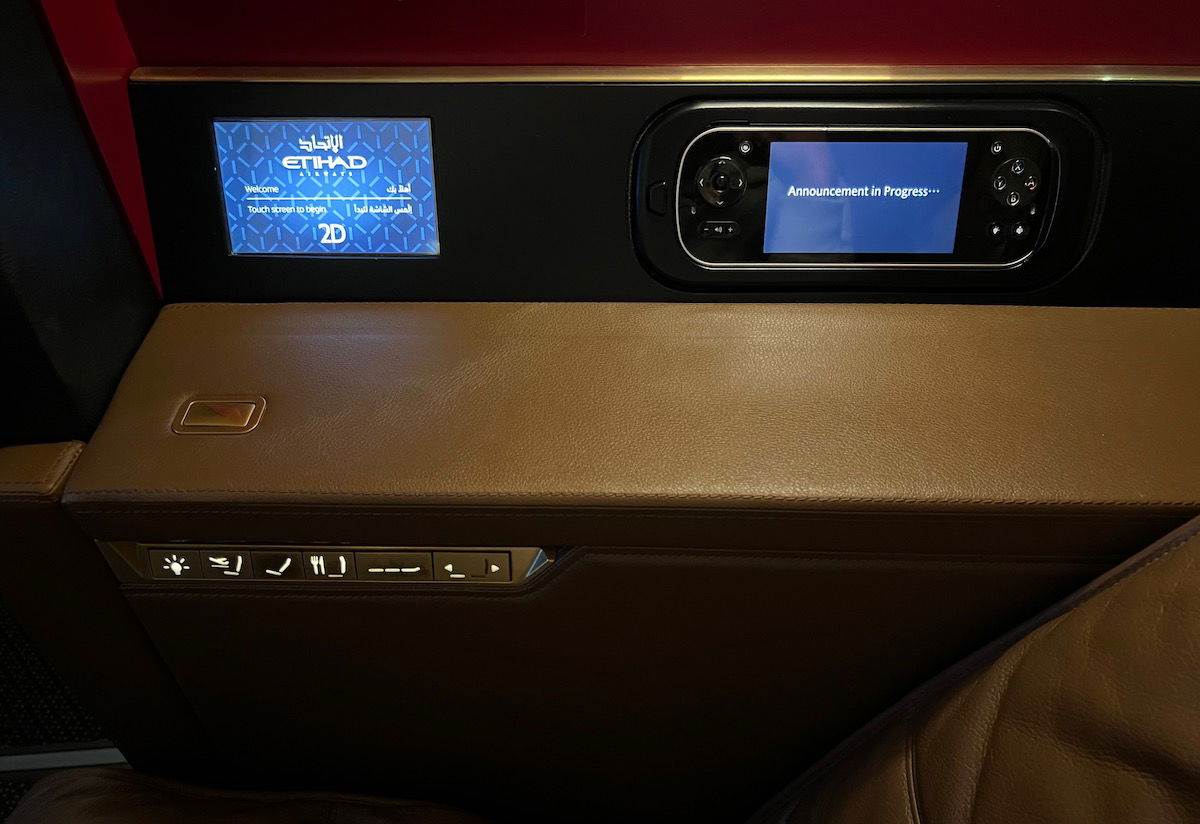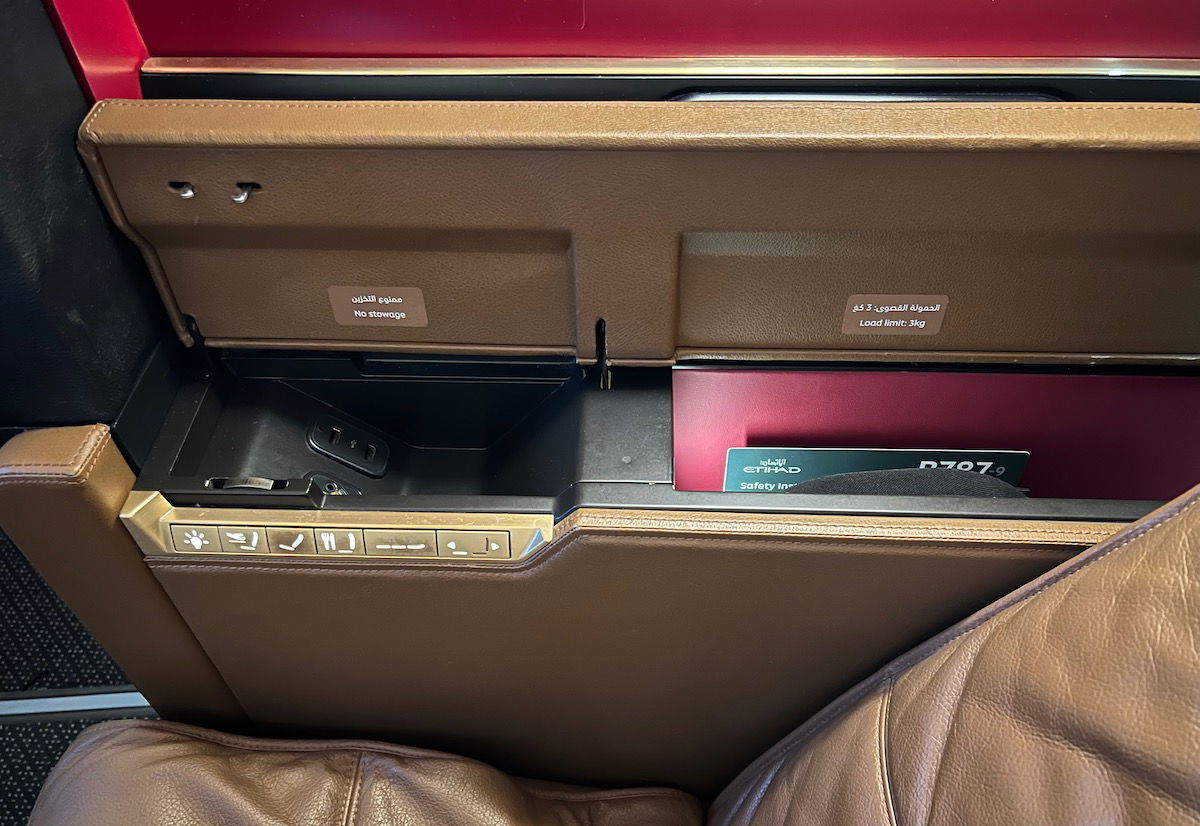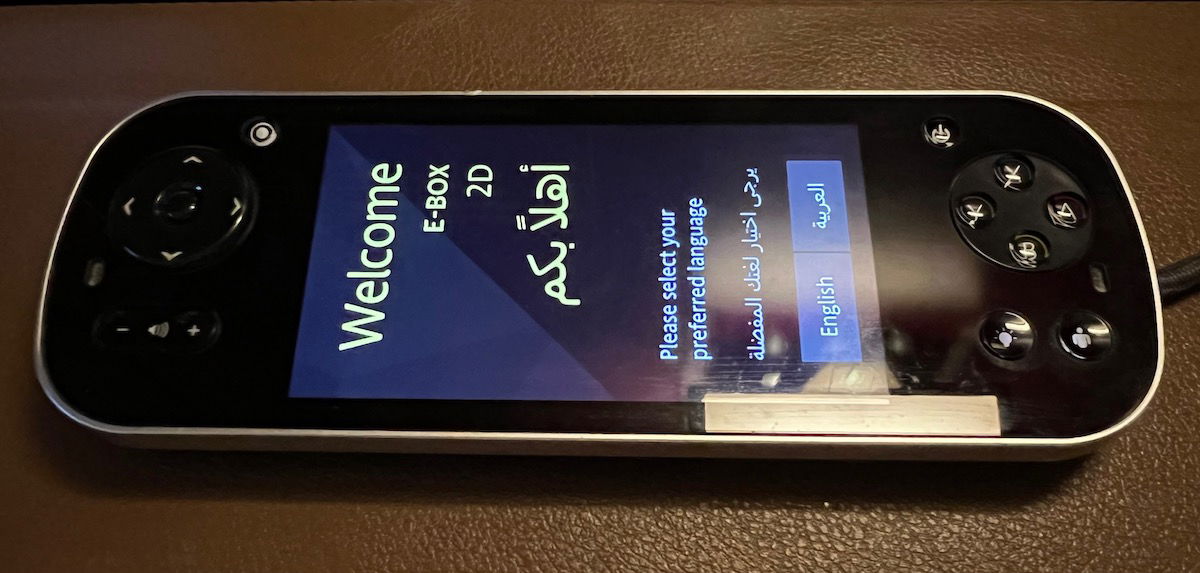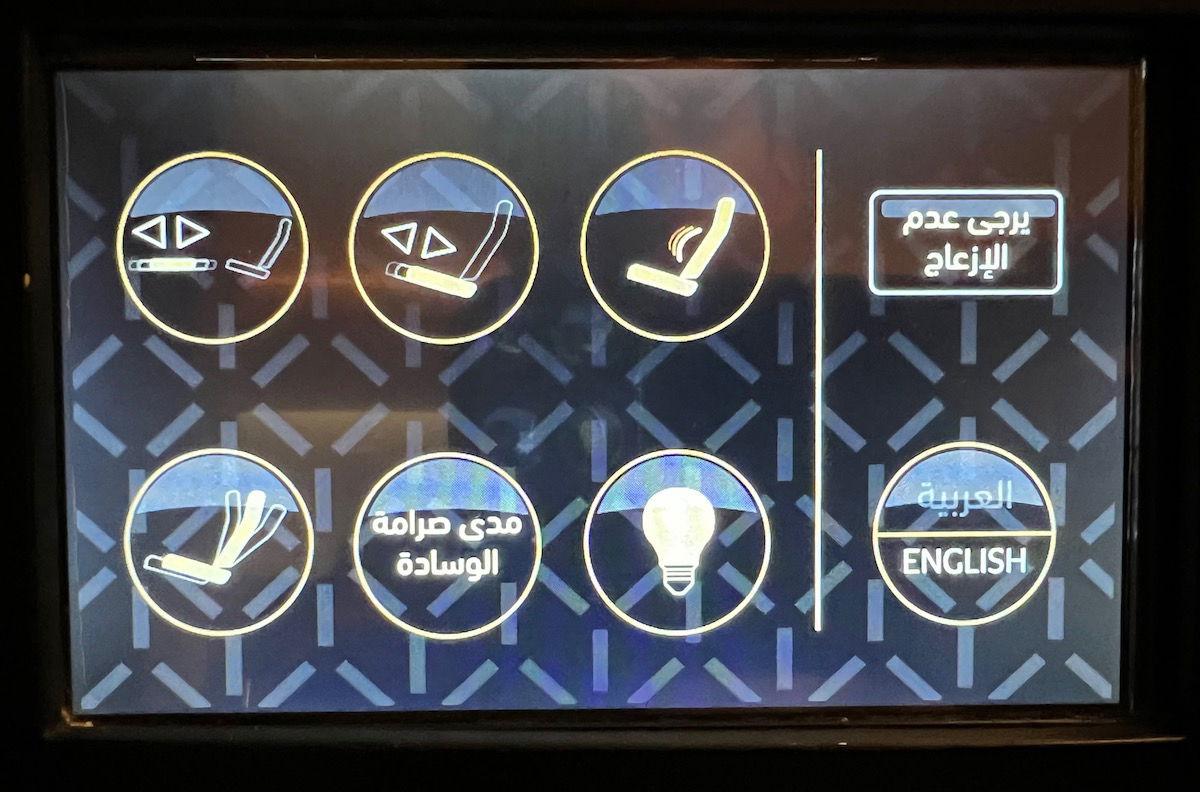 The seat's tray table extends from the center section, and is both massive and heavy.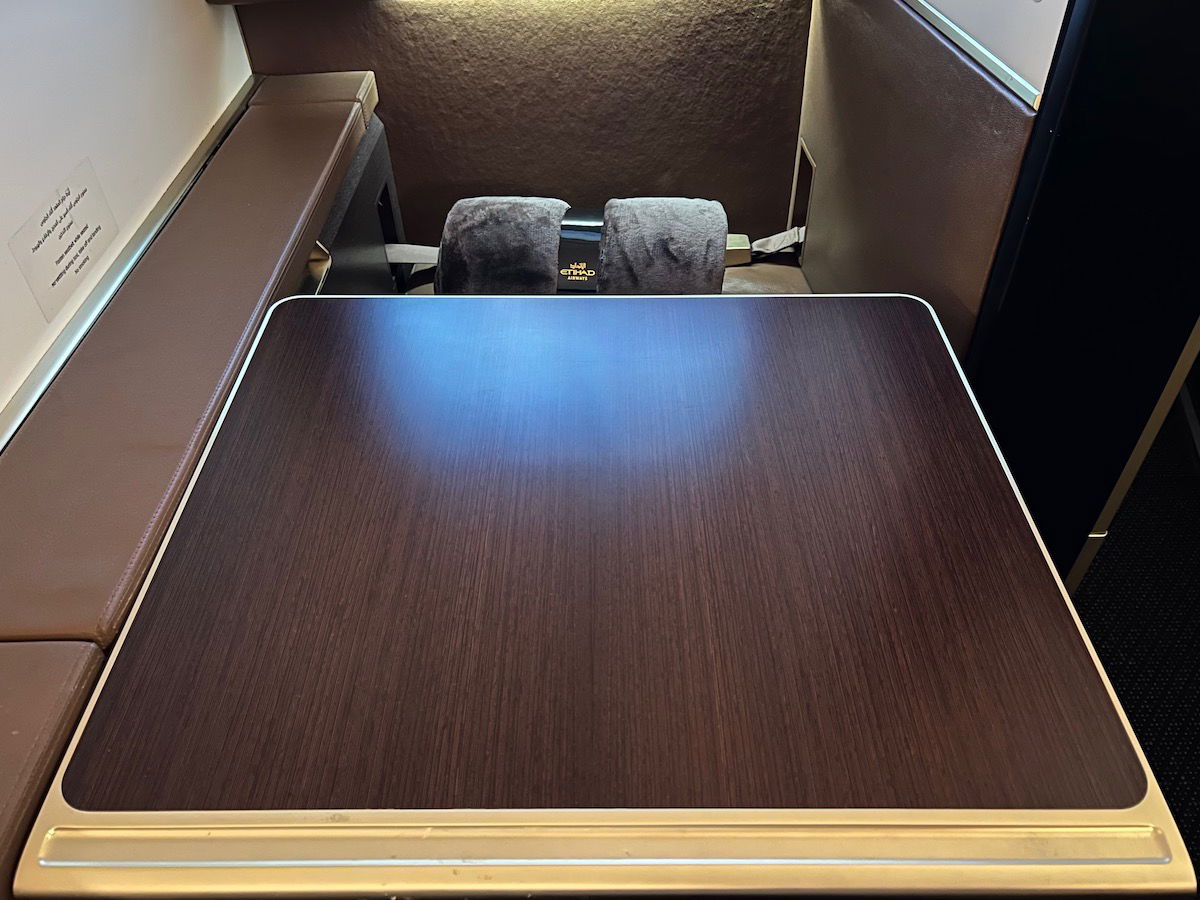 The AC power outlet and an additional USB outlet are located past the tray table storage area. Personally I find this area to be hard to reach when seated, so I think that could have been better located, but it's hardly a big deal.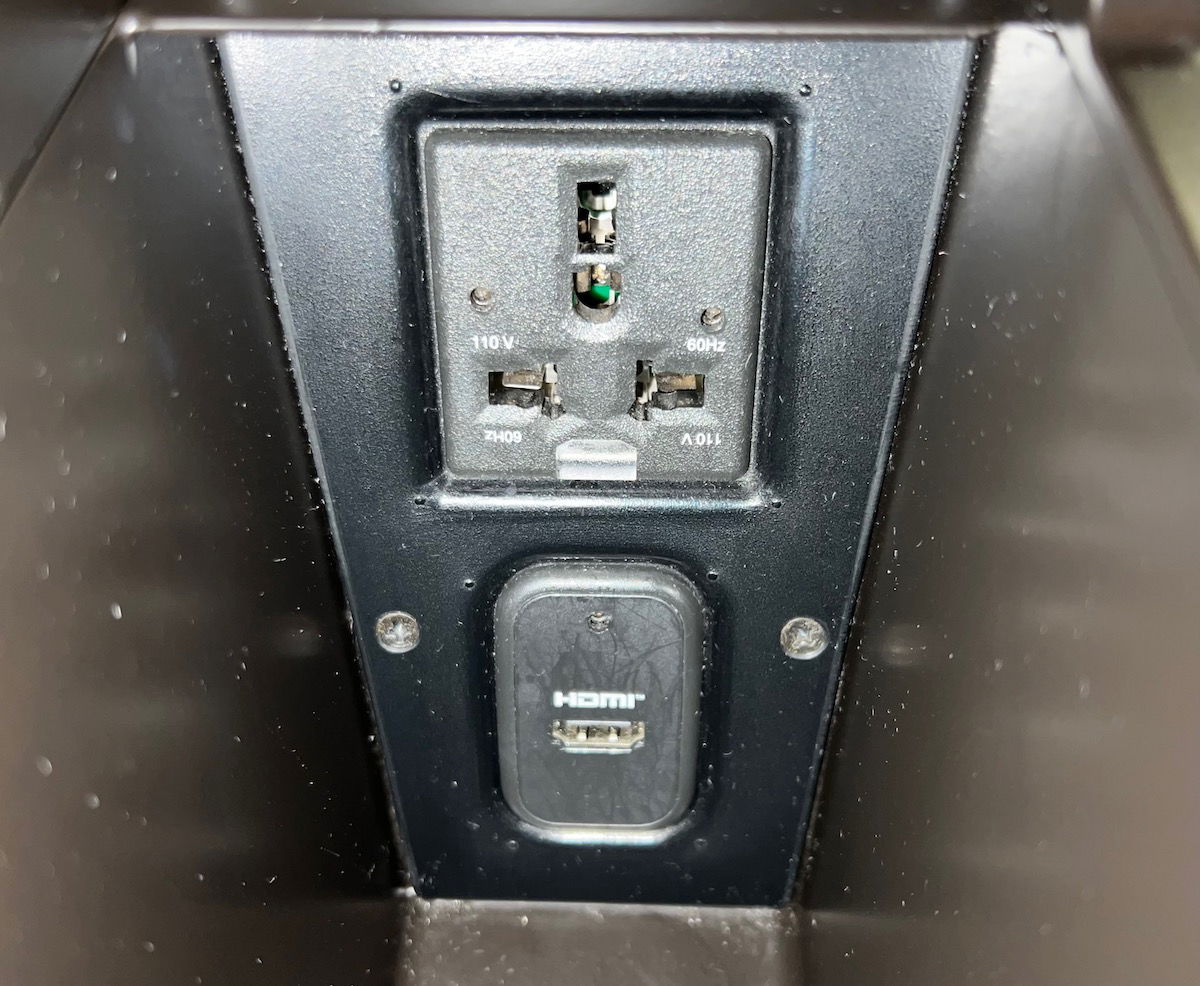 All-in-all, I found Etihad's first class cabin to be super comfortable, even more than I remember. There are more exciting first class seats out there, but you'll have absolutely no issues getting cozy here.
Etihad first class amenities
As far as amenities go, waiting at each seat upon boarding was an Acqua Di Parma amenity kit. This featured a dental kit, socks, eyeshades, sanitizing wipes, lotion. lip balm, body lotion, perfume, and hand sanitizer.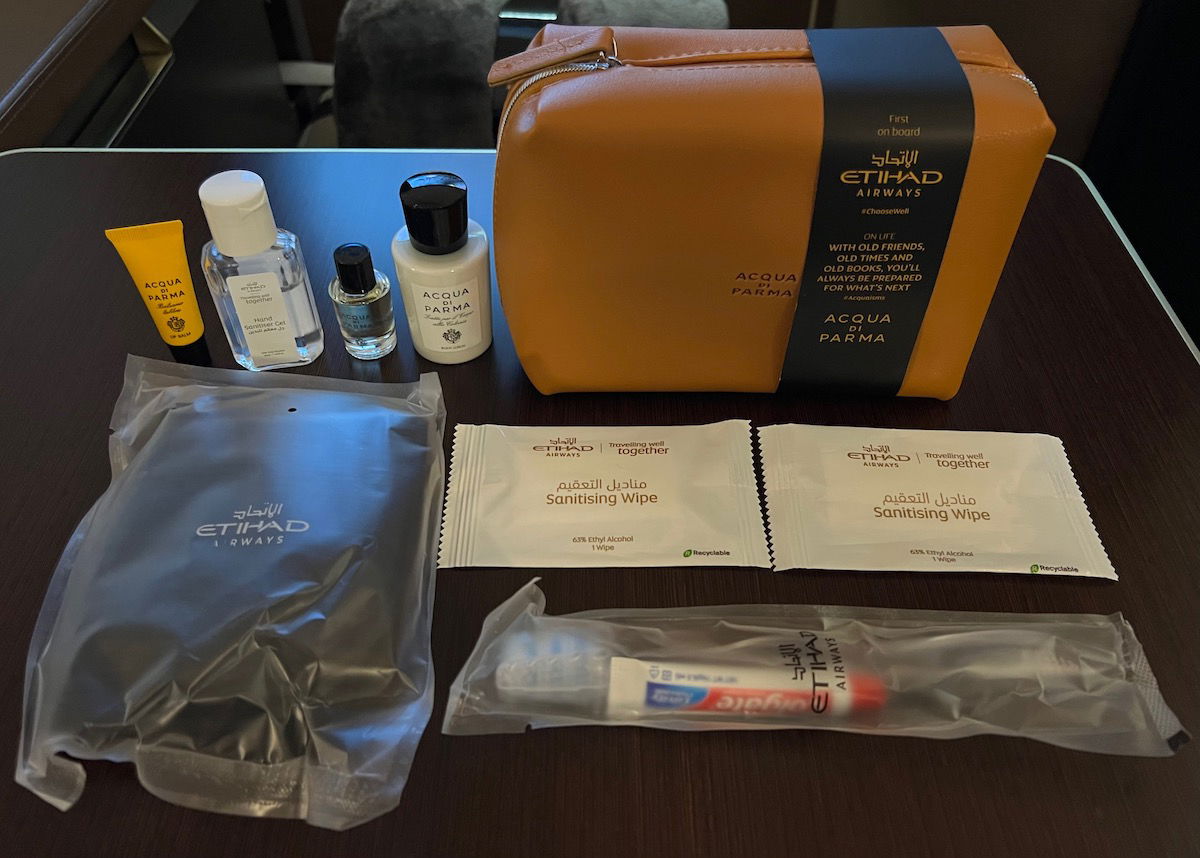 There were also a pillow and blanket waiting at my seat. Both the pillow and blanket were great, though I was surprised that these hadn't been updated. Etihad recently introduced a partnership with Armani / Casa, though it seems that this only covers business class amenities, and not first class amenities.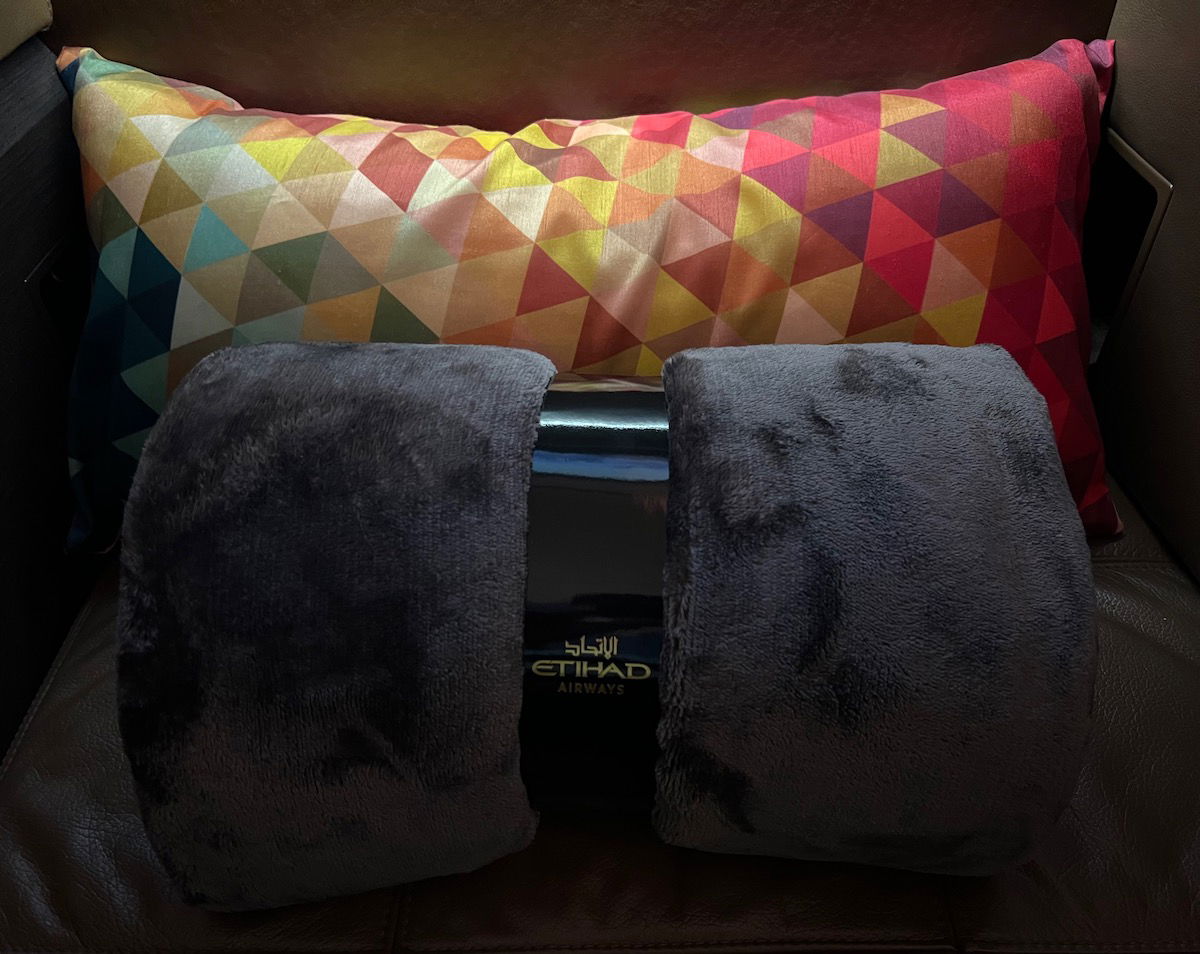 There were also a pair of noise canceling headphones at my seat, which were pretty good quality. Unfortunately unlike Etihad's newer A350s, there's no bluetooth audio in first class, so you can't use your own headphones with the entertainment.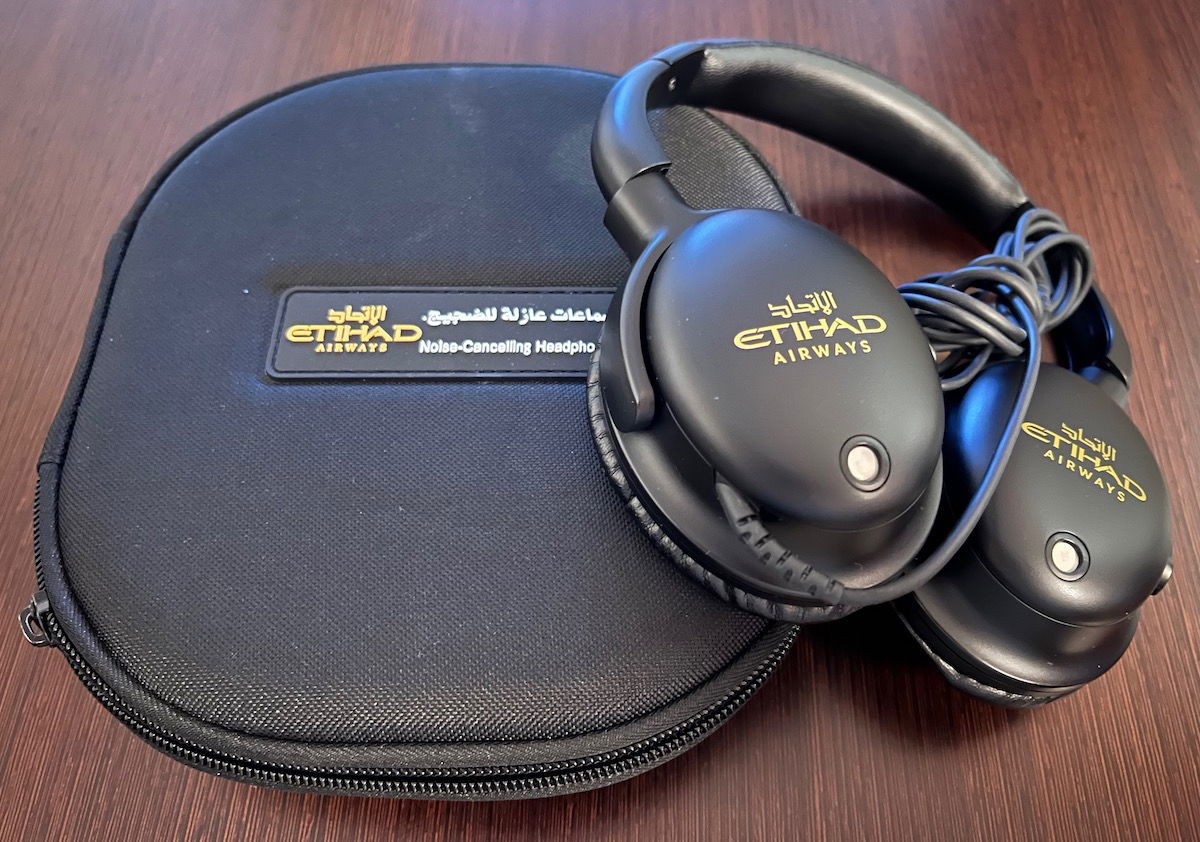 Upon settling in, the two fabulous flight attendant, Julianna and Florentina, introduced themselves, and offered us pre-departure drinks. My dad and I both ordered champagne, and in this case it was the 2002 Duval-Leroy Femme de Champagne Grand Cru on offer, which was lovely. While perhaps not as well known as Dom Perignon or Krug, it isn't cheap!
I've long been a fan of the trays on which Etihad serves pre-departure drinks, as we were also offered Arabic coffee, dates, and a warm towel. We were offered a couple of drink refills throughout the (extended) boarding process.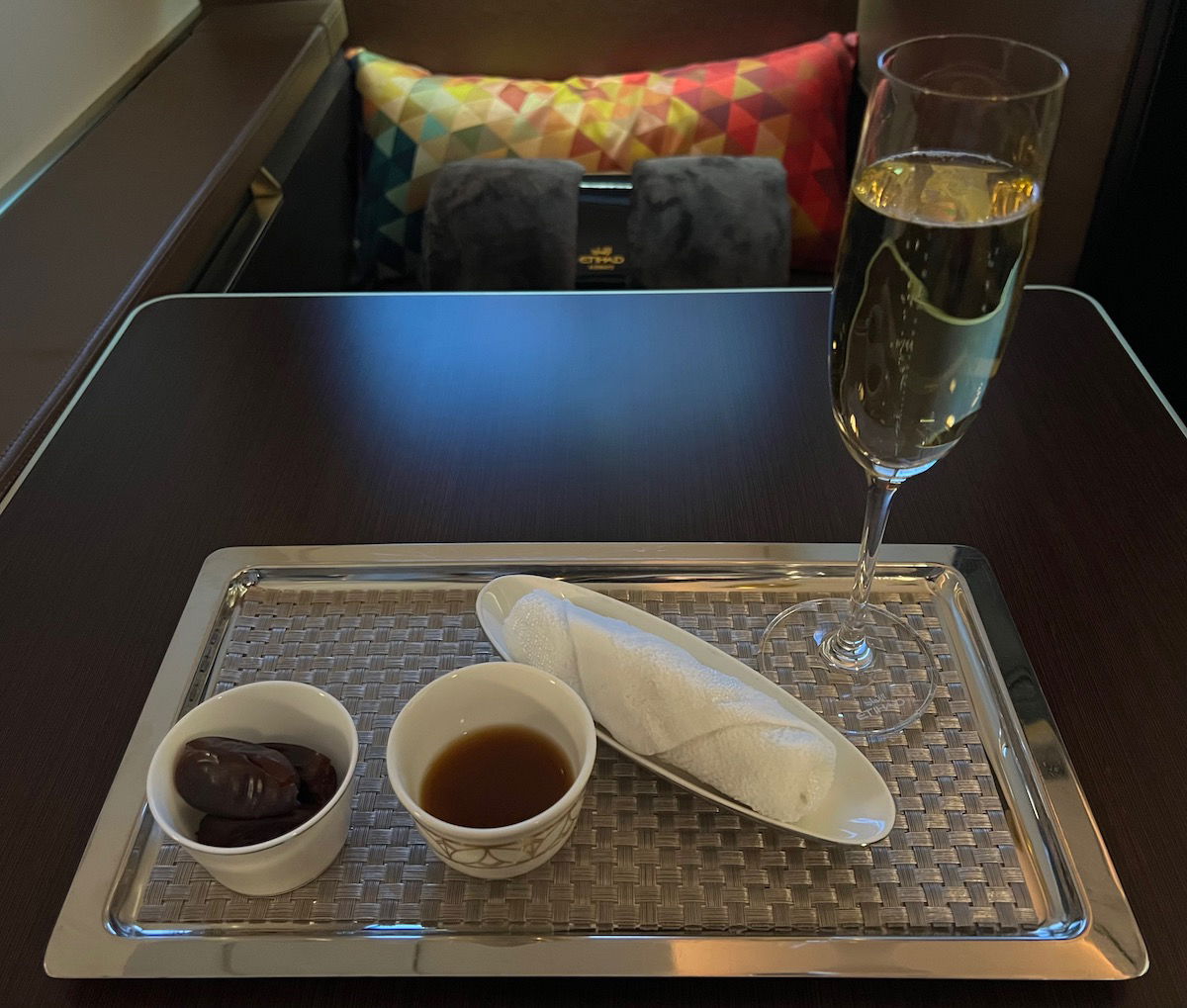 The crew then distributed pajamas and slippers. Etihad's first class pajamas are from "A Friend Of Mine," an Emirati fashion brand. The sleepwear is breathable and soft, and I appreciate how Etihad highlights a local brand.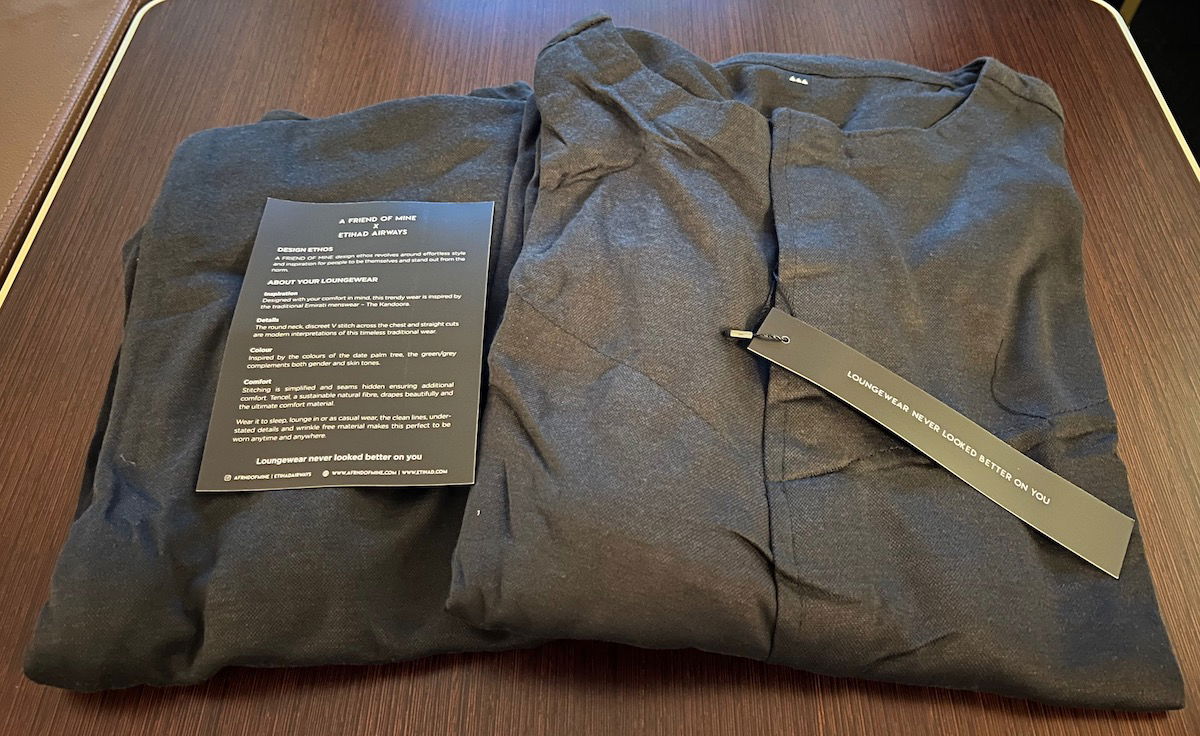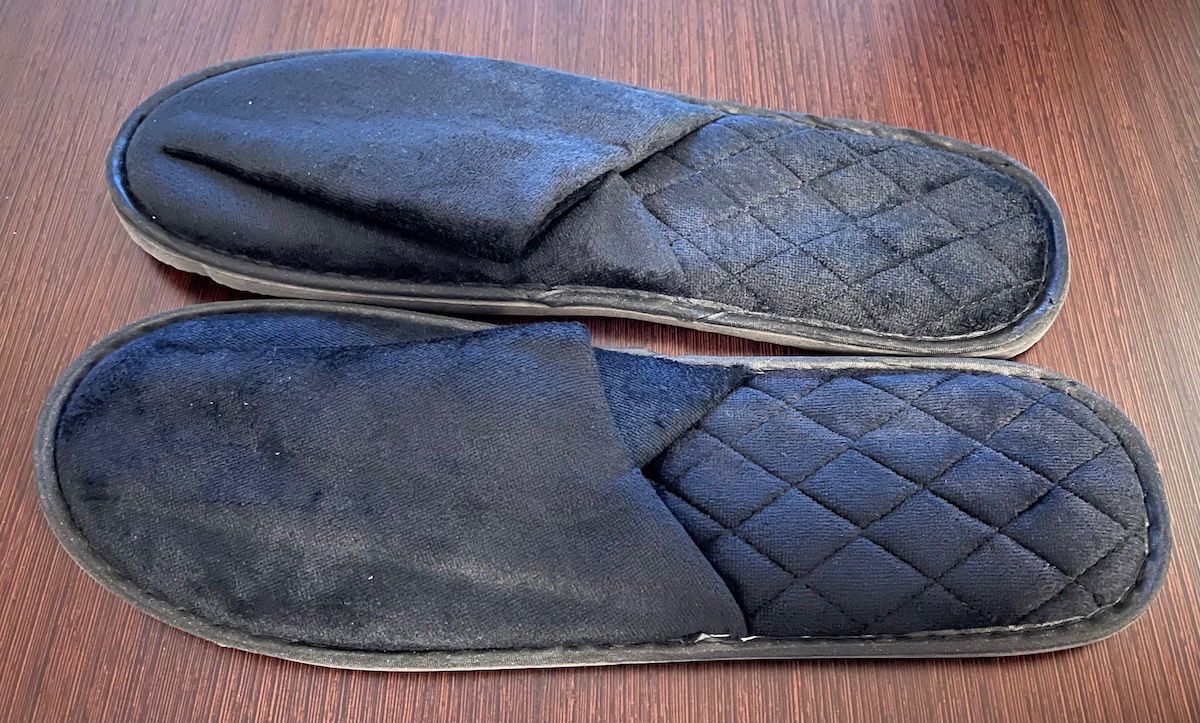 The crew also passed out vouchers for complimentary Wi-Fi — it's always nice when airlines offer free Wi-Fi in first class!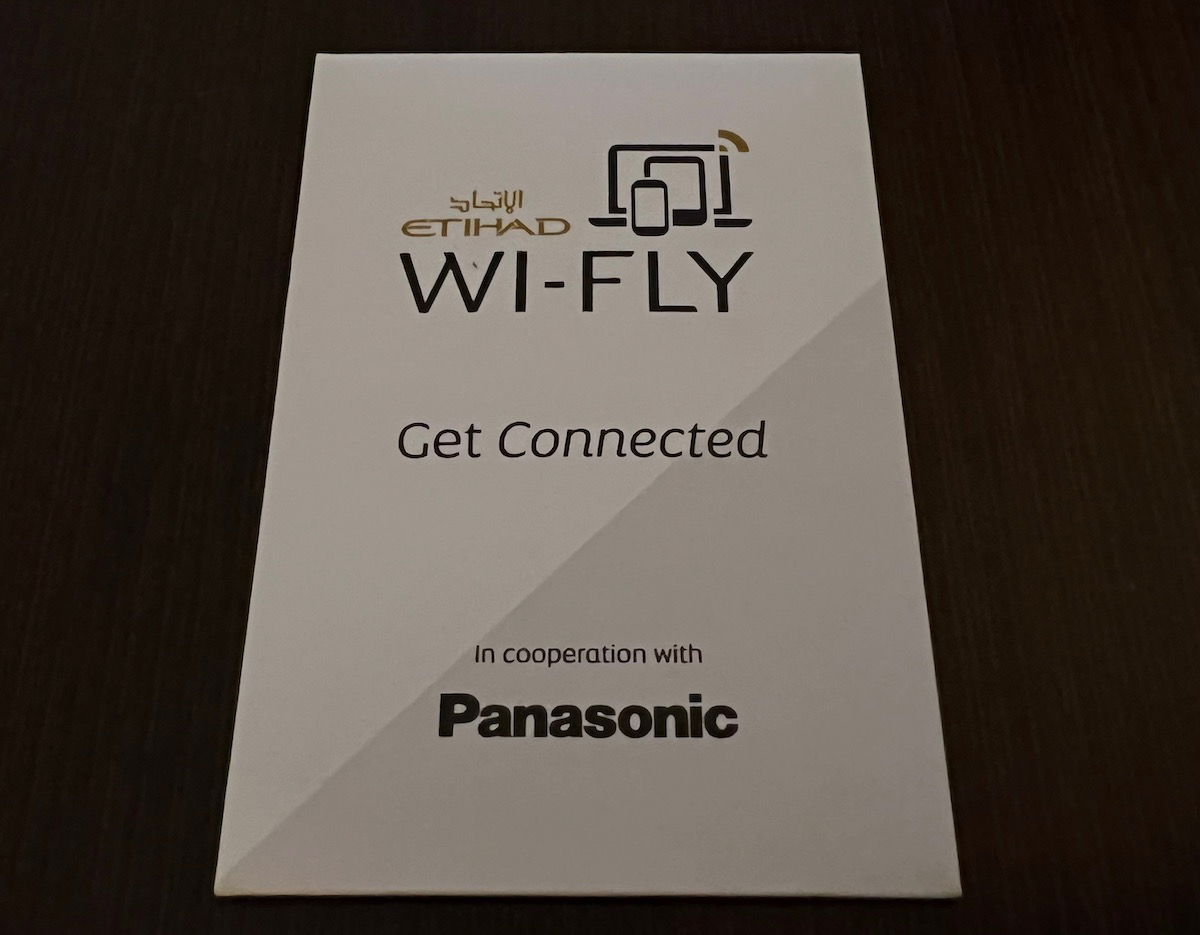 We were also brought the menu and wine list for the flight, with a reminder that Etihad has a dine on demand concept, so we could eat and drink whenever we wanted.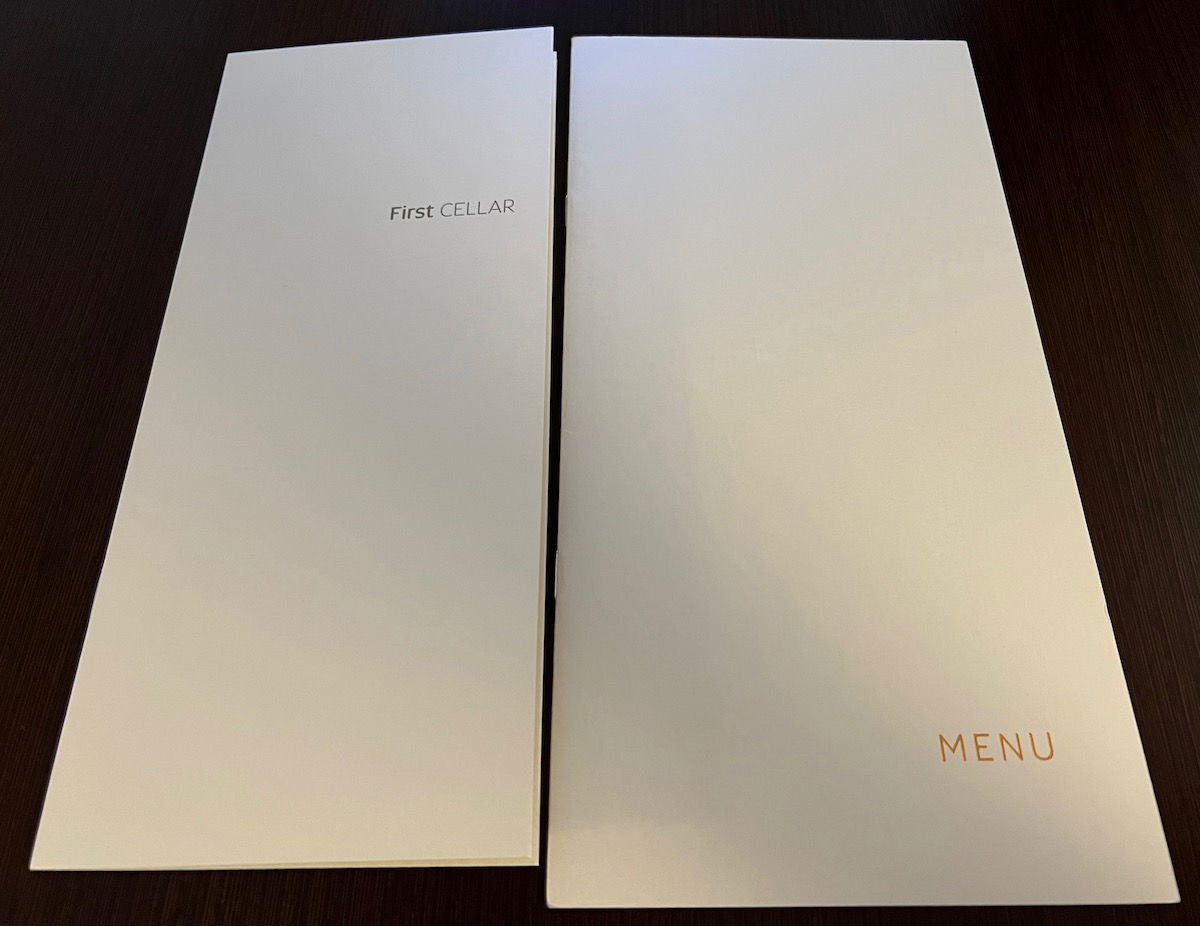 Etihad 787 first class entertainment & Wi-Fi
Etihad has a top notch entertainment selection on its Boeing 787s. This includes seemingly endless movies, TV shows (including live TV), music, games, and more. No matter how long a flight is, you definitely won't be bored with the number of entertainment options you have access to.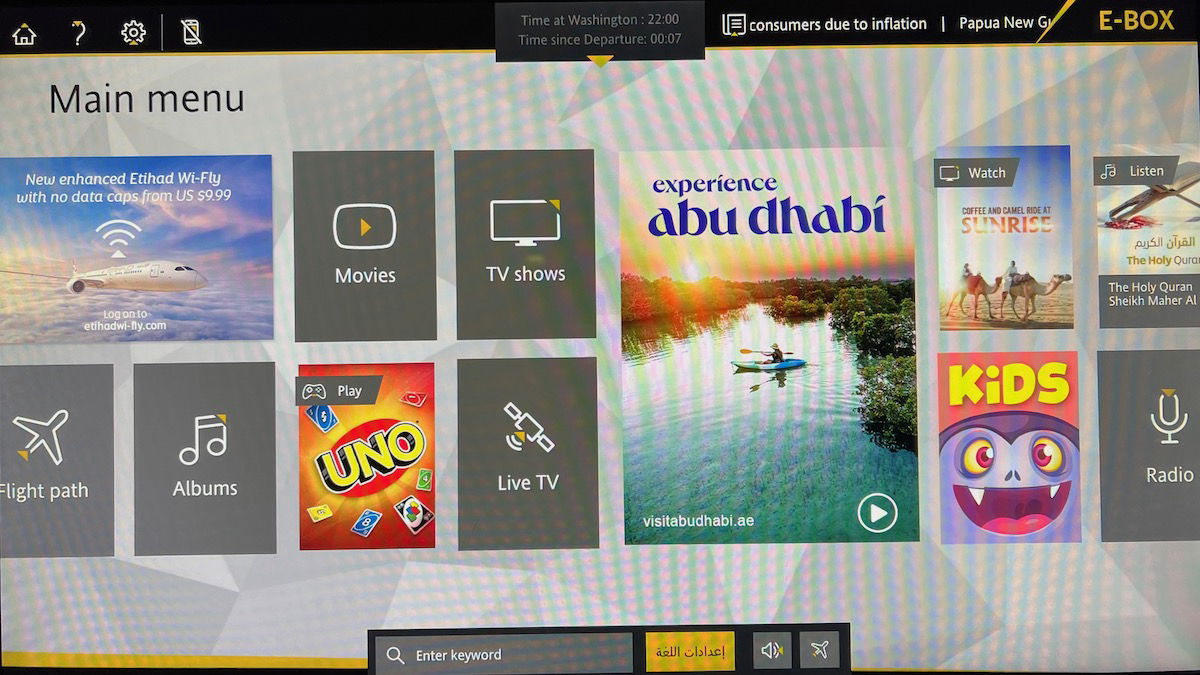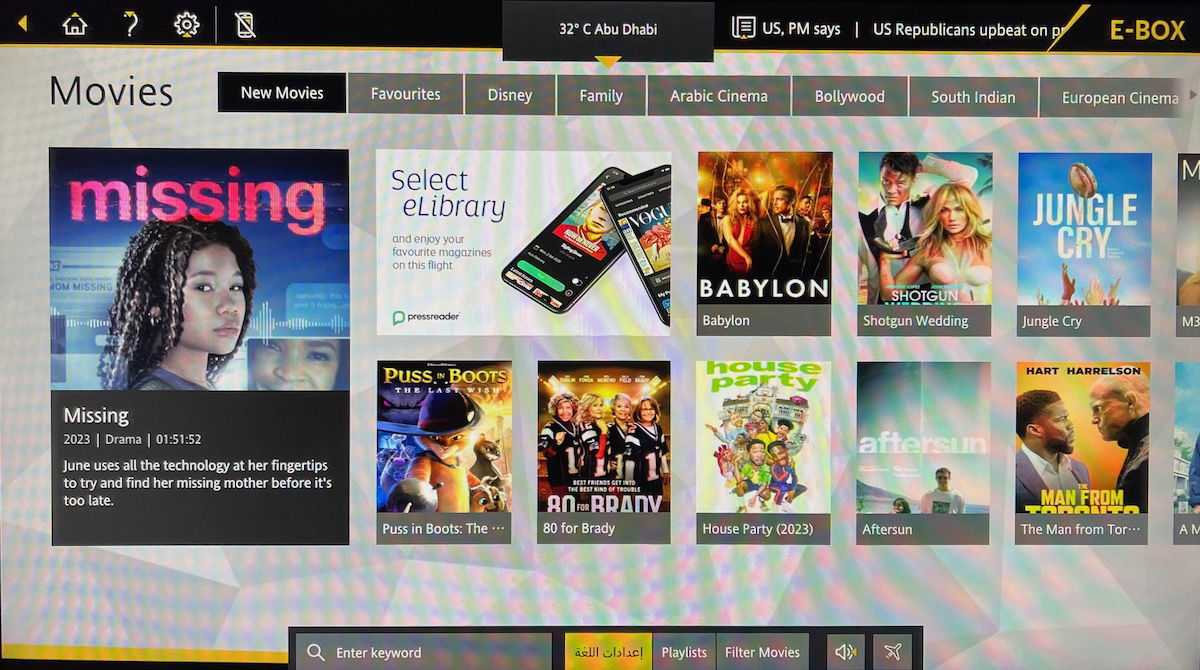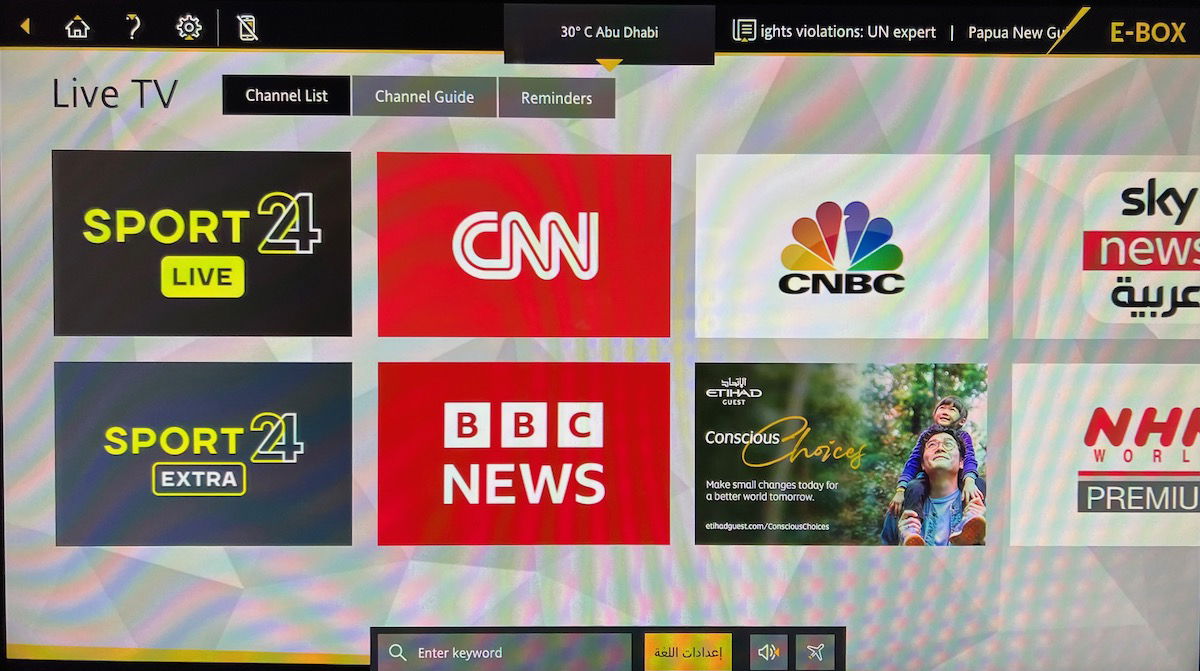 As an aviation geek, my favorite thing to do is to simply watch the map, as that never gets old. Etihad has an excellent map feature that's highly customizable and easy to use, so I liked how you could zoom in and out as you wanted.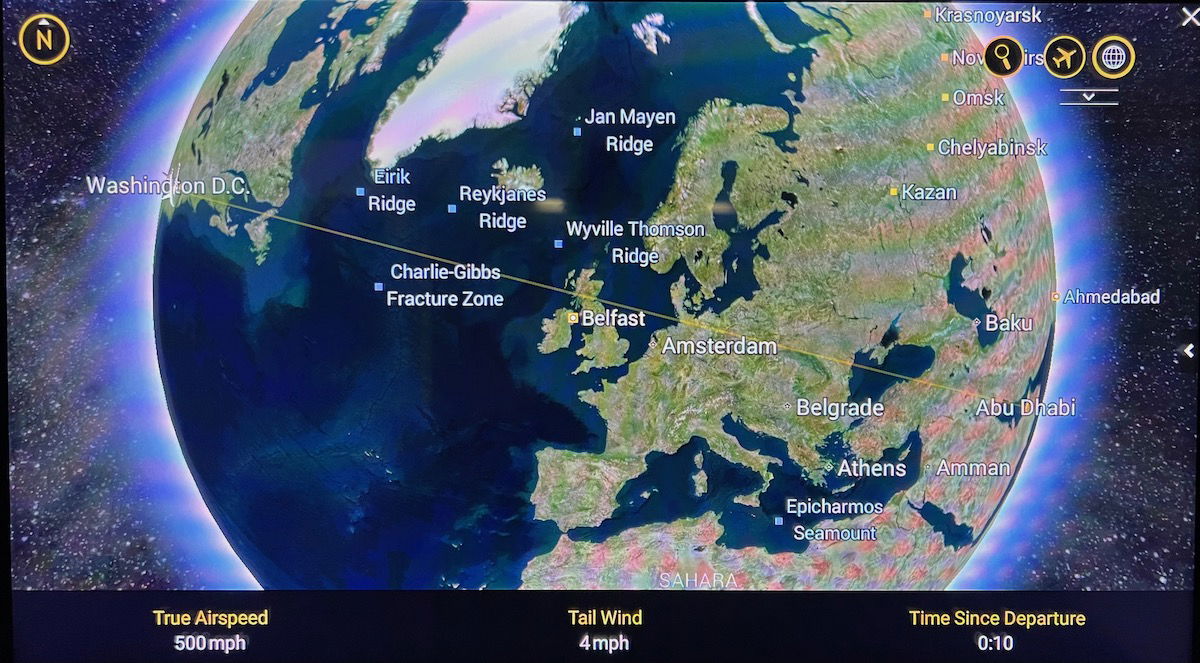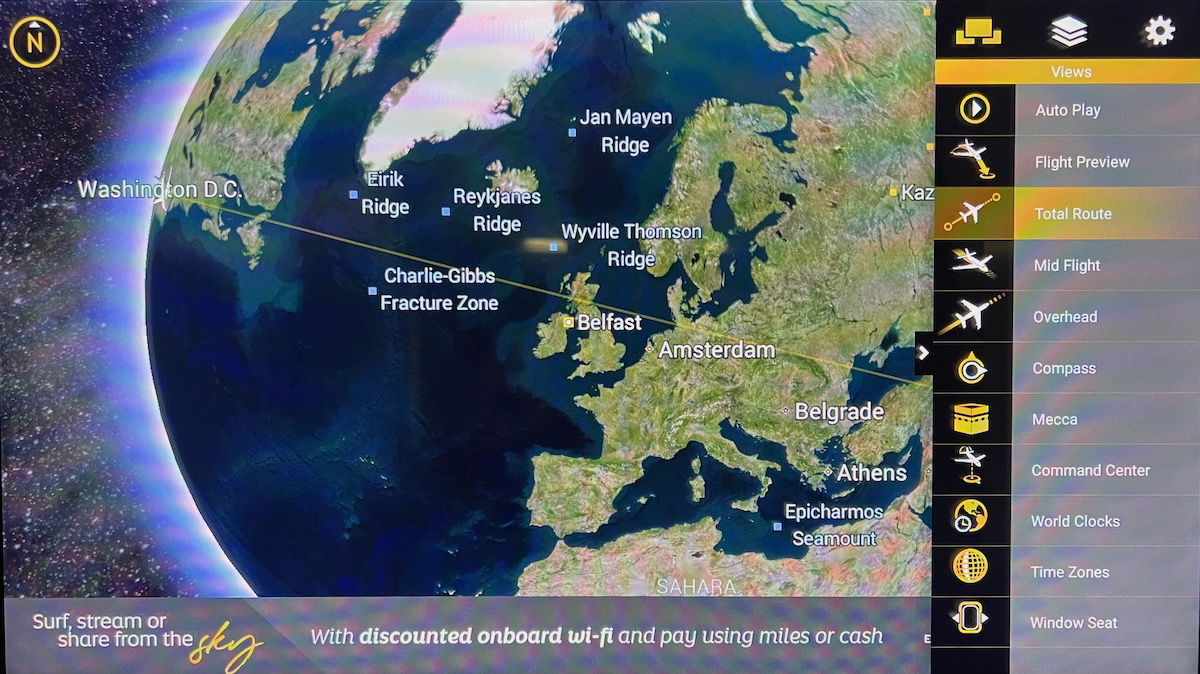 Etihad's Boeing 787s feature reasonably priced Wi-Fi. With Etihad's new Wi-Fi pricing, you can buy a texting plan for the entire flight for $4.99, and can buy a surf plan (with no data limits) for $19.99. Furthermore, all Etihad Guest members receive free messaging.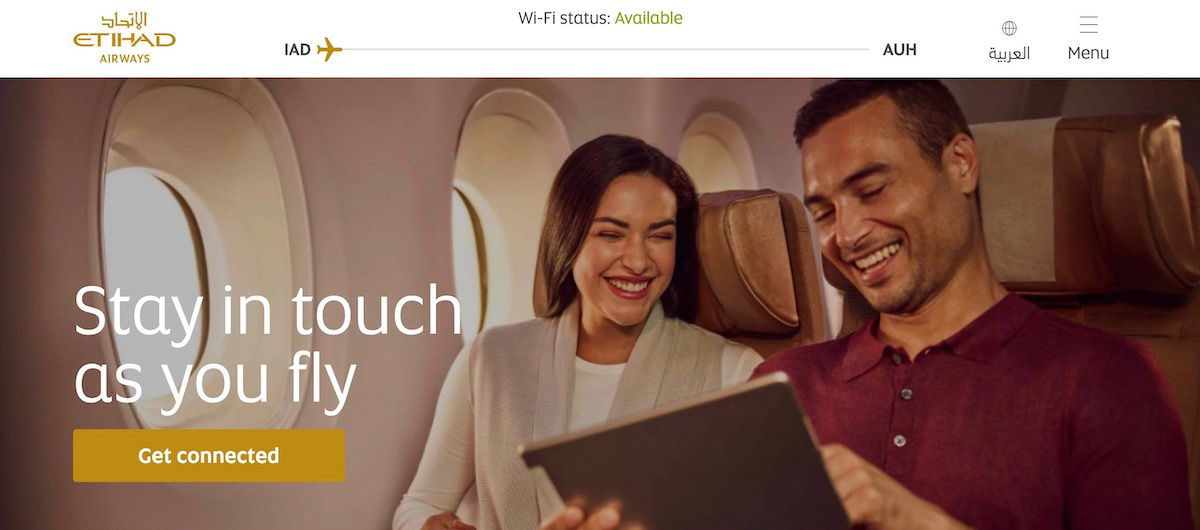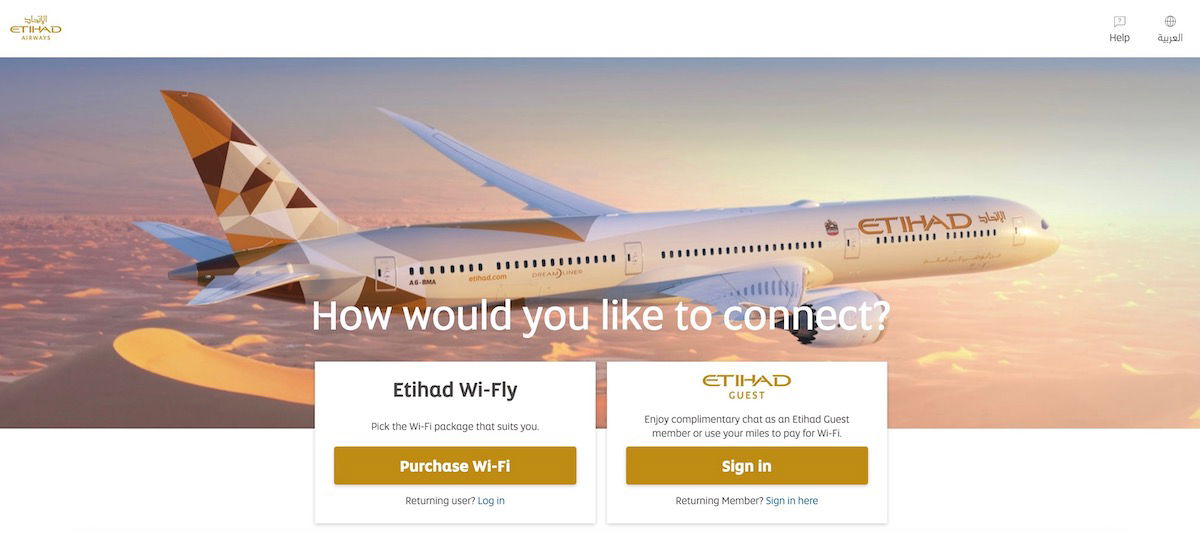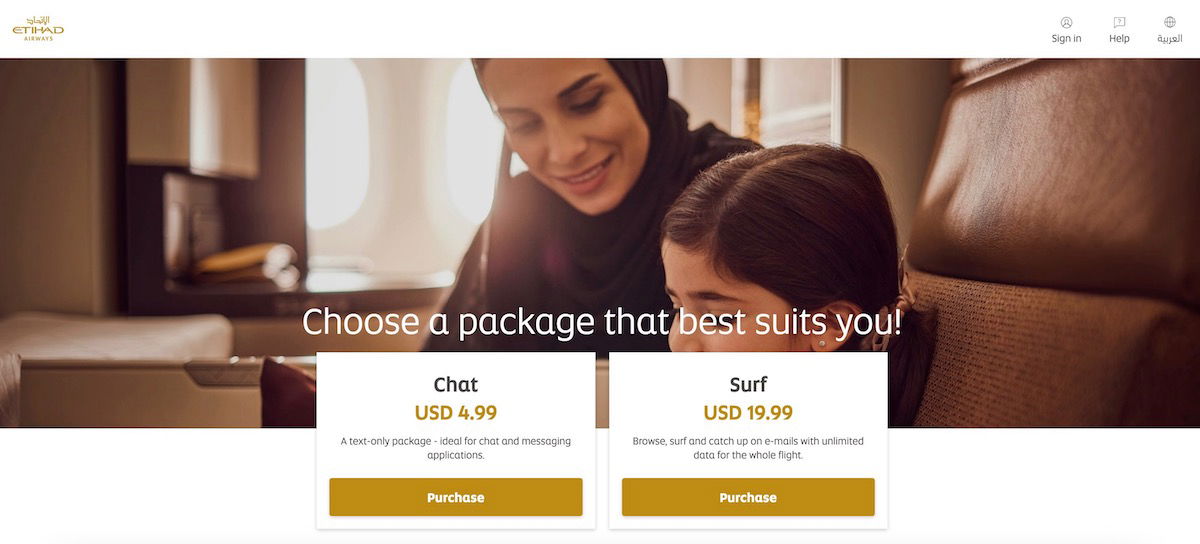 As a first class passenger, I could take advantage of free Wi-Fi for the entire flight by entering the voucher code I was given. I found the Wi-Fi speeds to be very good, and it worked consistently throughout the flight.

Etihad 787 departure from Washington
At first boarding was pretty efficient, and we seemed to mostly be boarded within around 30 minutes or so. During boarding I loved listening to Etihad's boarding music.
At 9:10PM, five minutes before the scheduled departure time, the captain made his welcome aboard announcement (or more accurately, one of the three captains — there were three captains and one first officer, which is odd rostering). He informed us of our flight time of 13 hours, and our expected cruising altitude of 33,000 to 39,000 feet.
While it seemed like we'd be ready to go, the captain finished his announcement by explaining that we were waiting for a few more passengers, and it would be around 30 minutes. As I wrote about in a separate post, we had some VIP guests who ended up filling up the first class cabin, which made for an interesting flight.
By 9:30PM boarding was complete, at which point the safety video was screened. I quite like Etihad's Abu Dhabi-themed safety video.
We started our pushback at 9:35PM, and our taxi at 9:40PM. It took us about 15 minutes to taxi to our departure runway, and we were cleared for takeoff at 9:55PM.
The sensation of having a rear facing seat is always fun during takeoff and landing, and it was my dad's first time being in such a seat. He got quite a kick out of it.
We had a smooth climb out, and then the seatbelt sign was turned off about five minutes after takeoff.
Etihad first class dinner service
After takeoff, the crew quickly began their inflight service, recognizing that many people wanted to sleep ASAP. You can find the full dine on demand menu below. I'm impressed that even though Etihad eliminated its inflight chefs, the first class menu remains unchanged, including the "lounge and grill" concept (where you can combine your choice of proteins, sides, and sauces).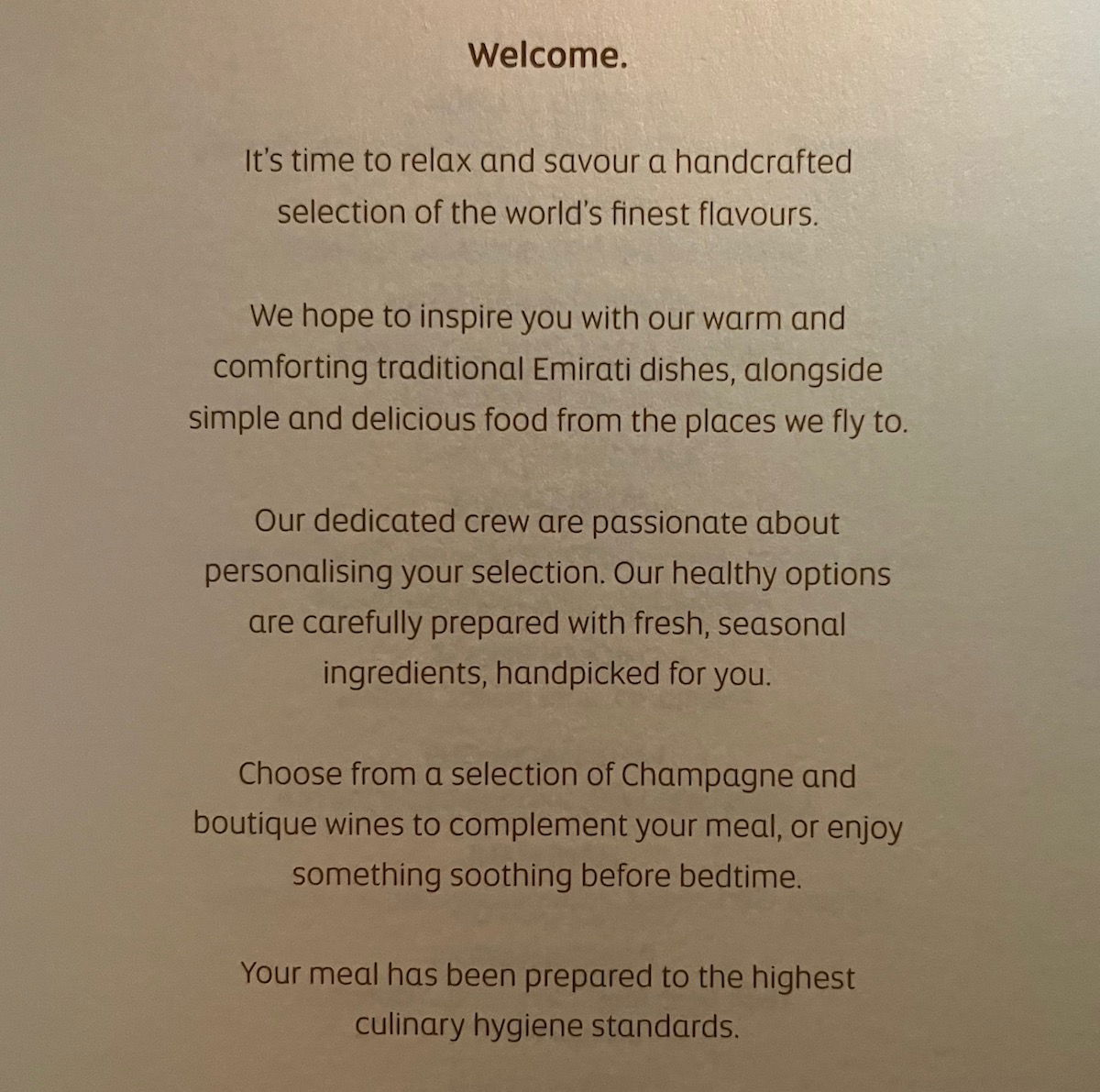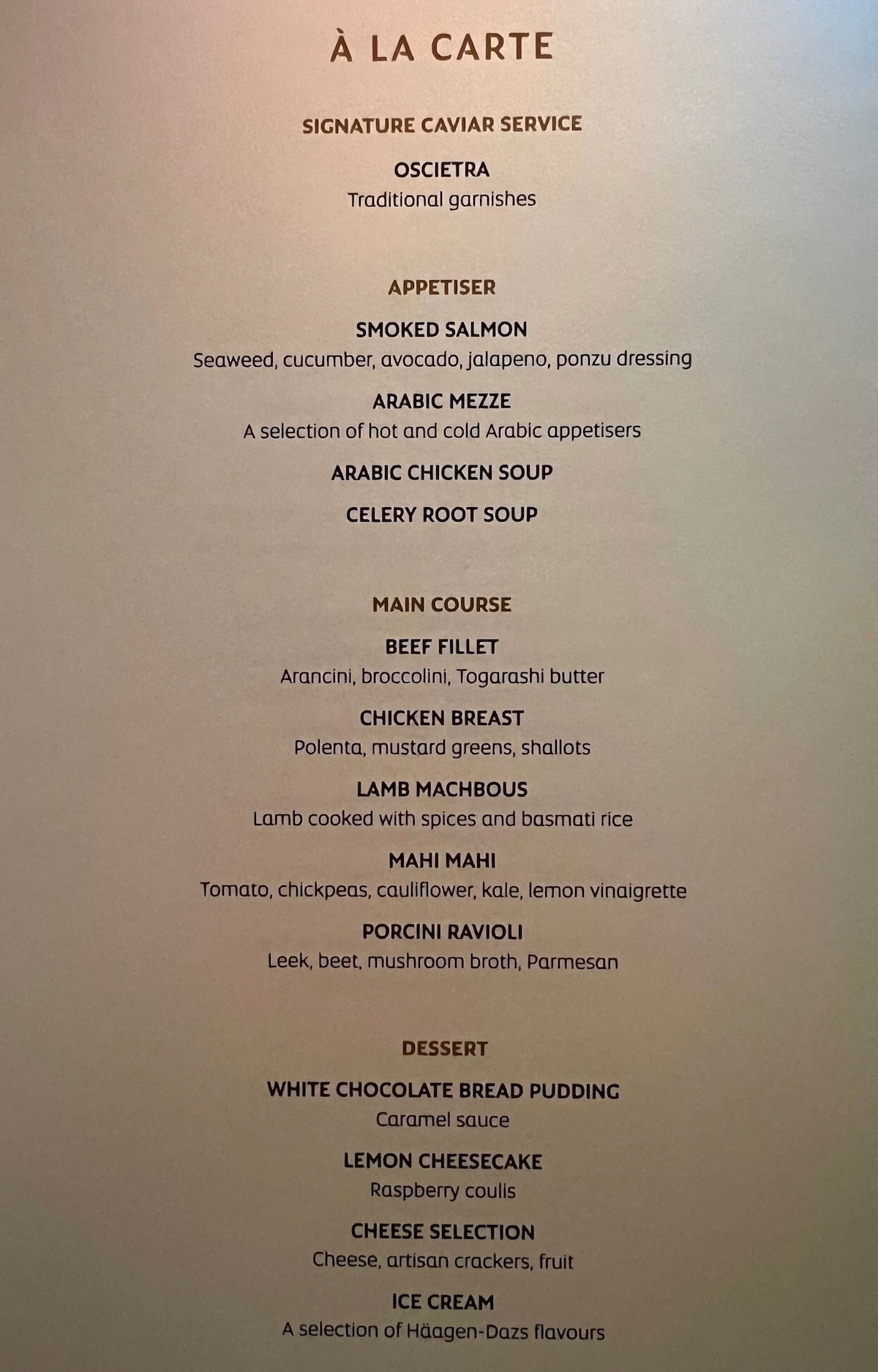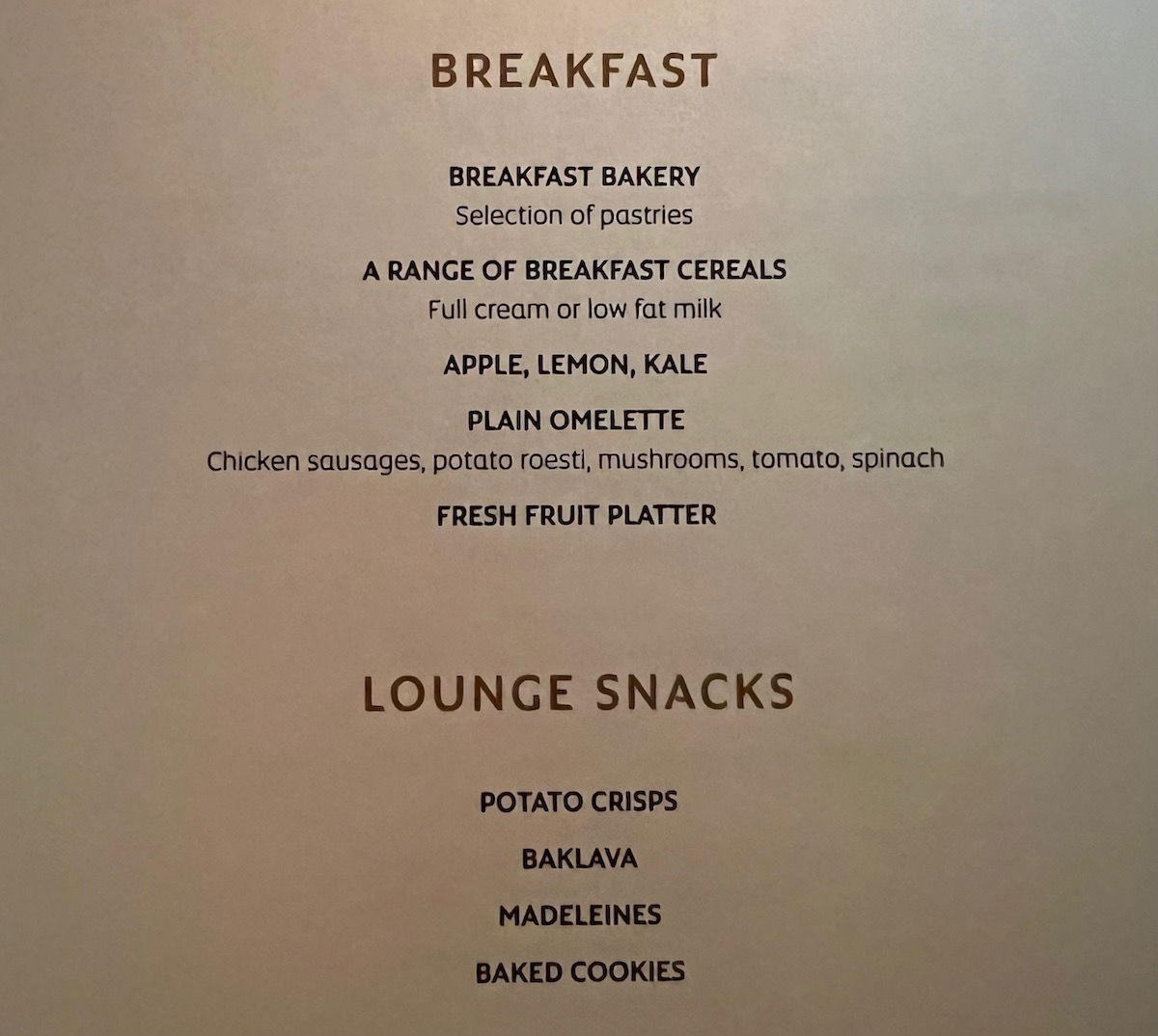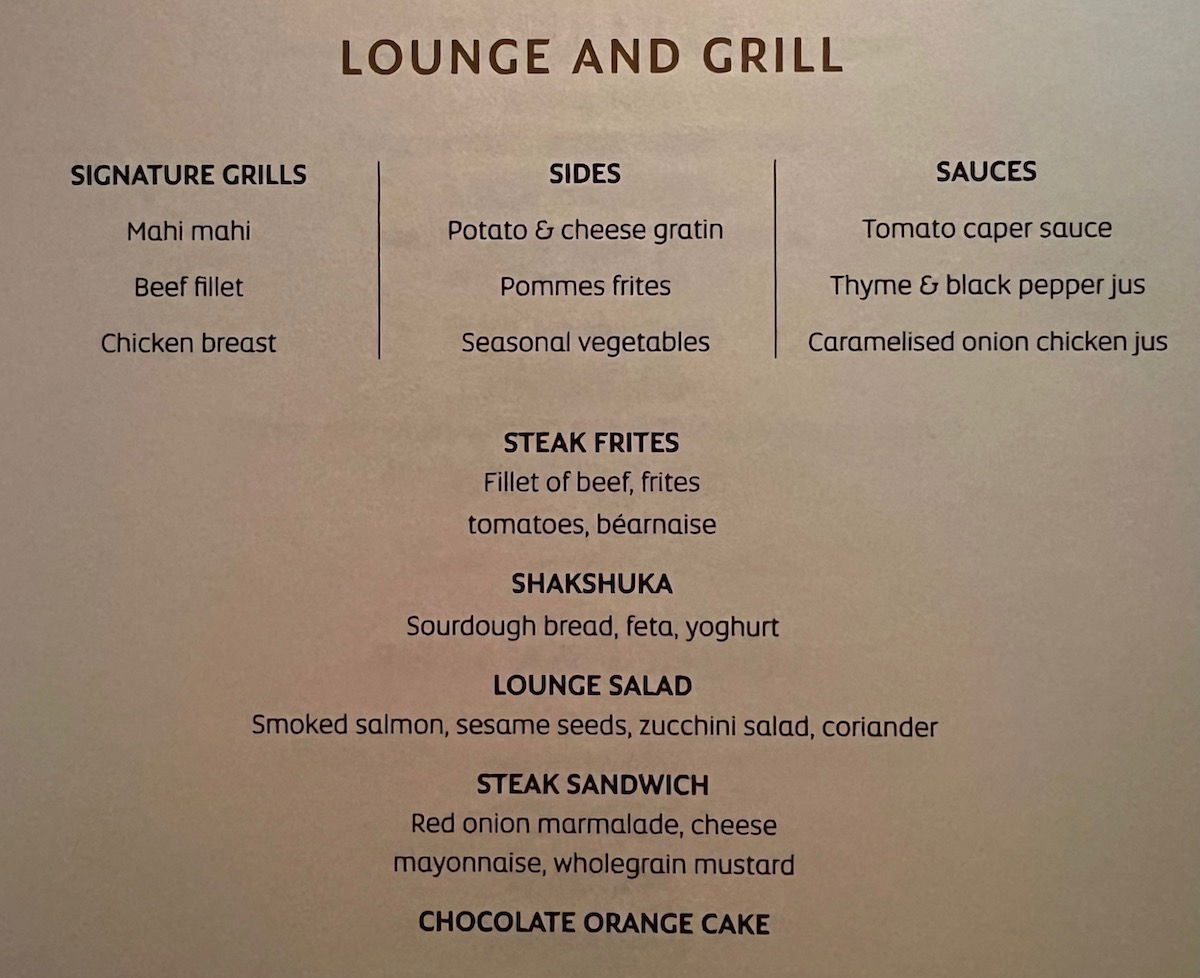 Below you can find the drink menu for the flight, including wine, liquor, soft drinks, coffee, and more.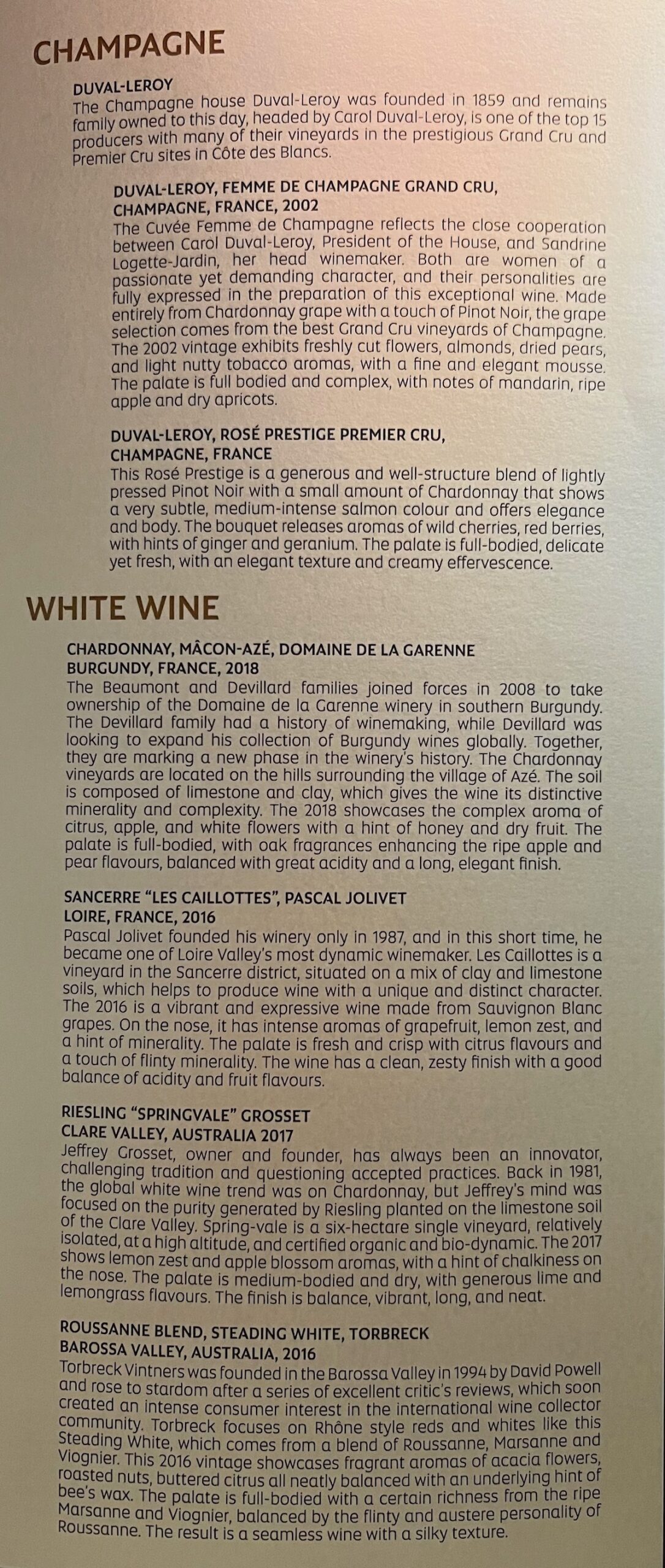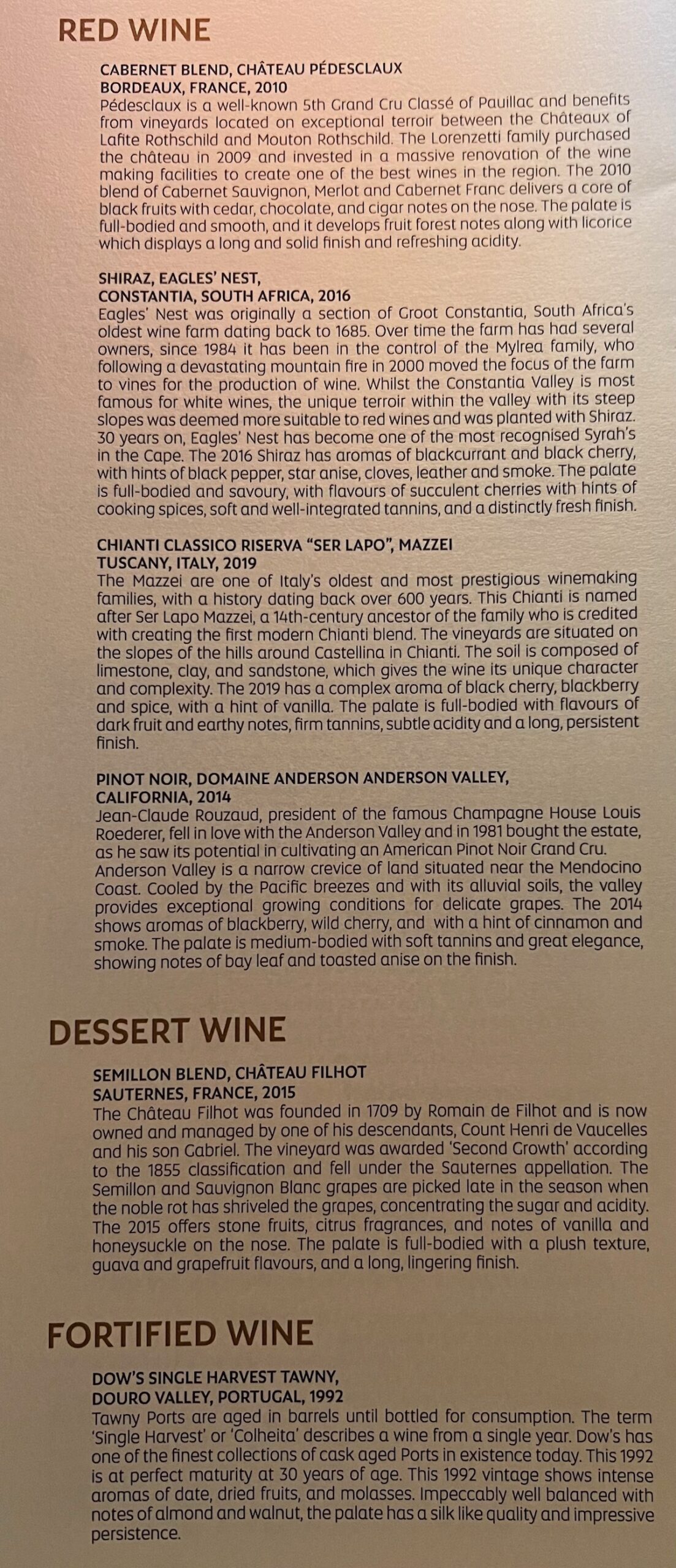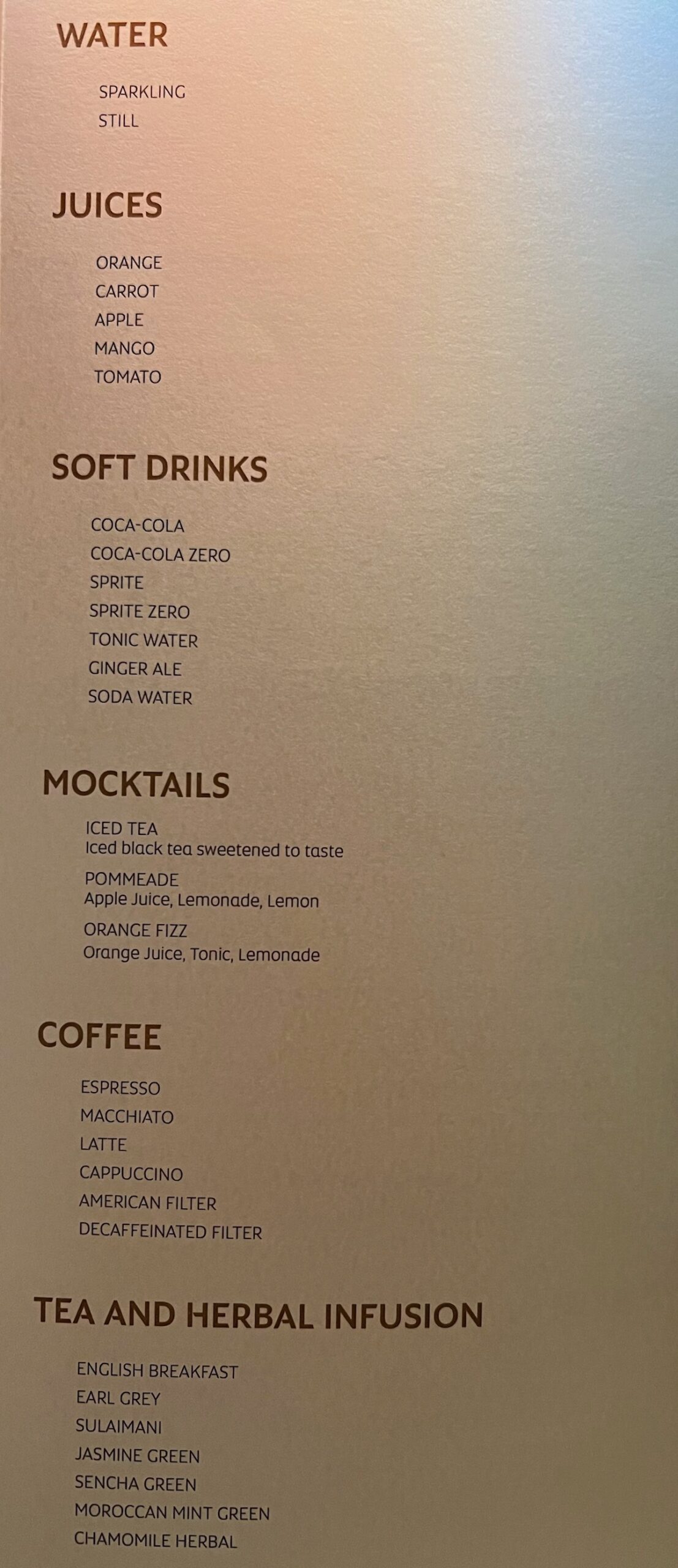 My dad and I both decided to stick to champagne after takeoff, so we had another glass of that. This was served with a trio of snacks, including smoked almonds, olives, and wasabi peas. Yum. I appreciate the speed at which this was brought out, as the drinks were served within 15 minutes of takeoff.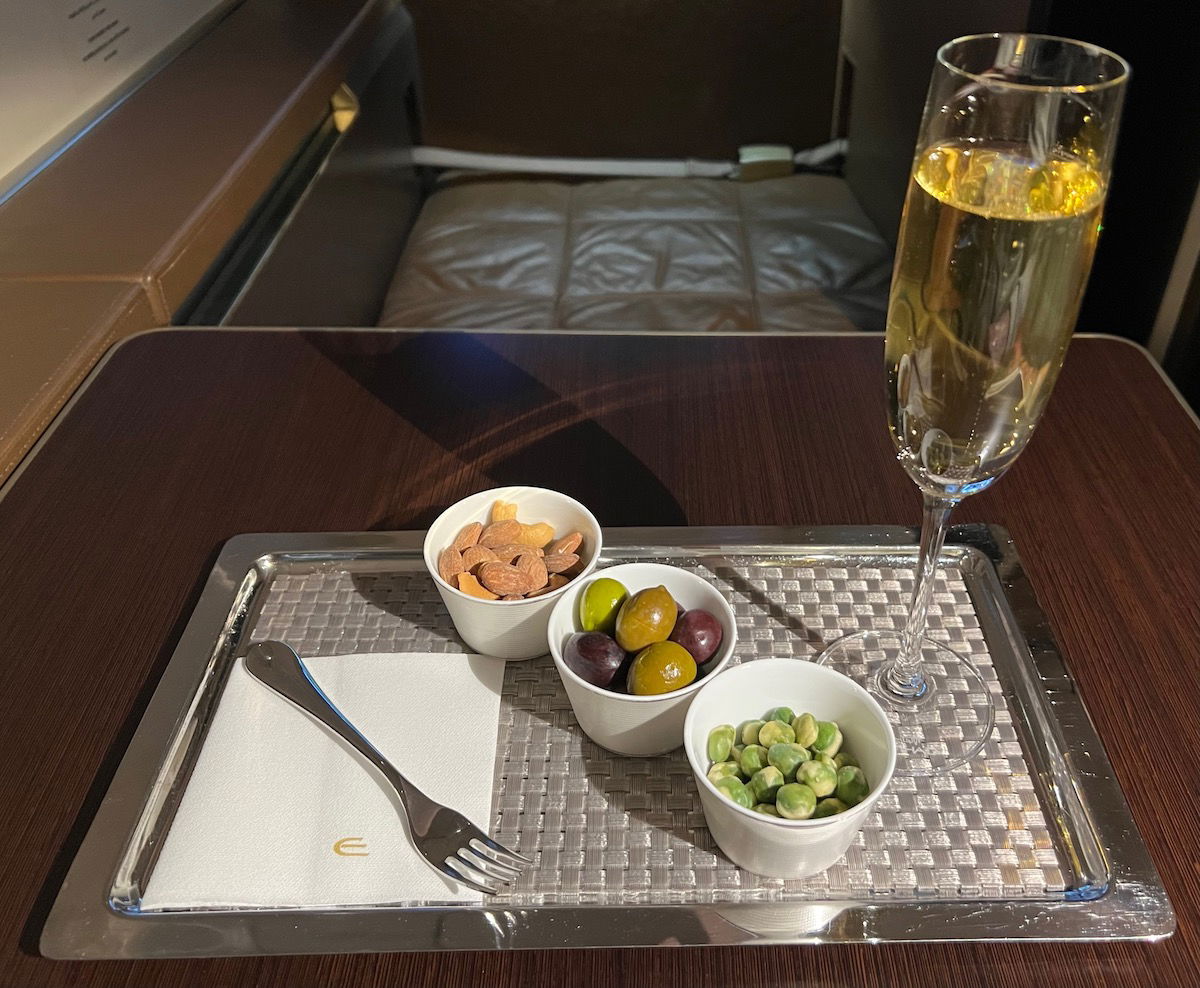 After that, dinner was served at a leisurely pace, with the table being set about 50 minutes after takeoff. We were offered a selection of bread, and I chose pretzel bread and a white roll.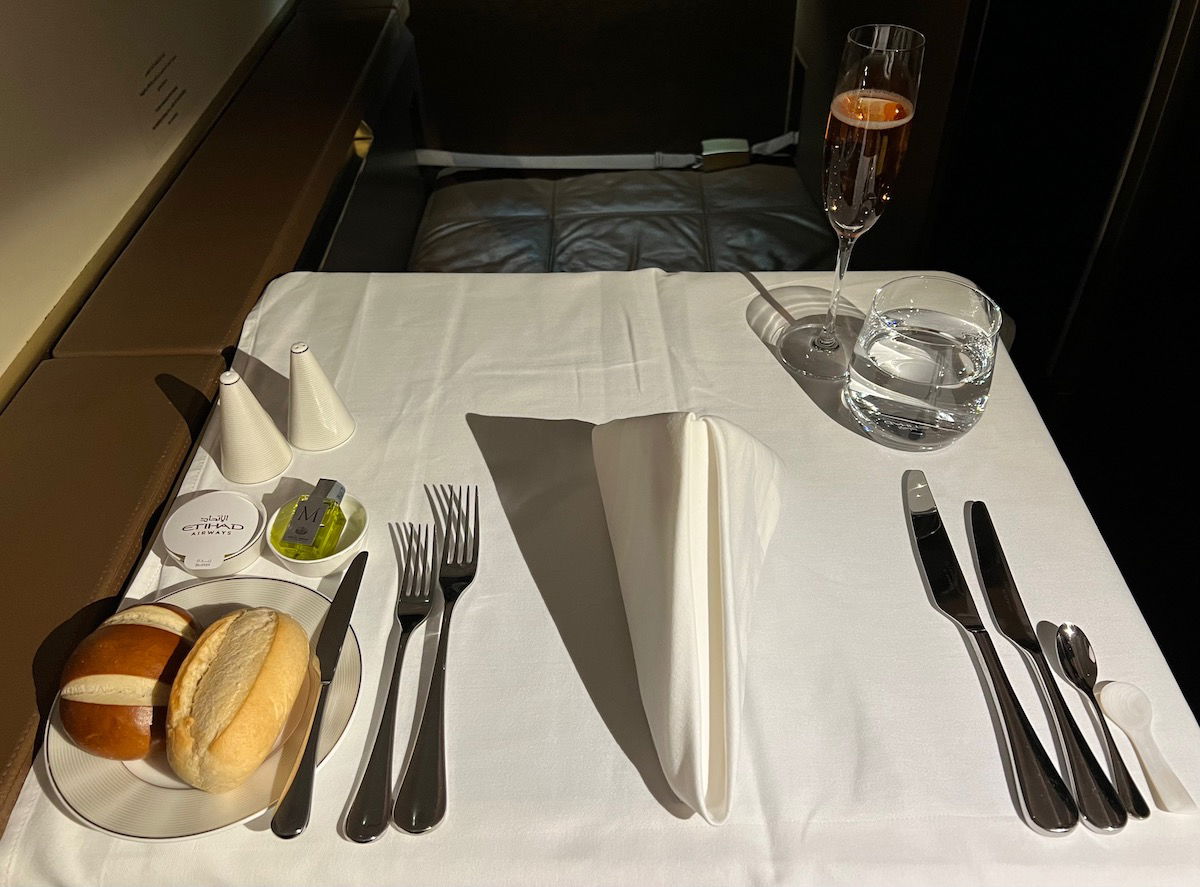 To start, my dad and I both had the Oscietra caviar with the traditional garnishes.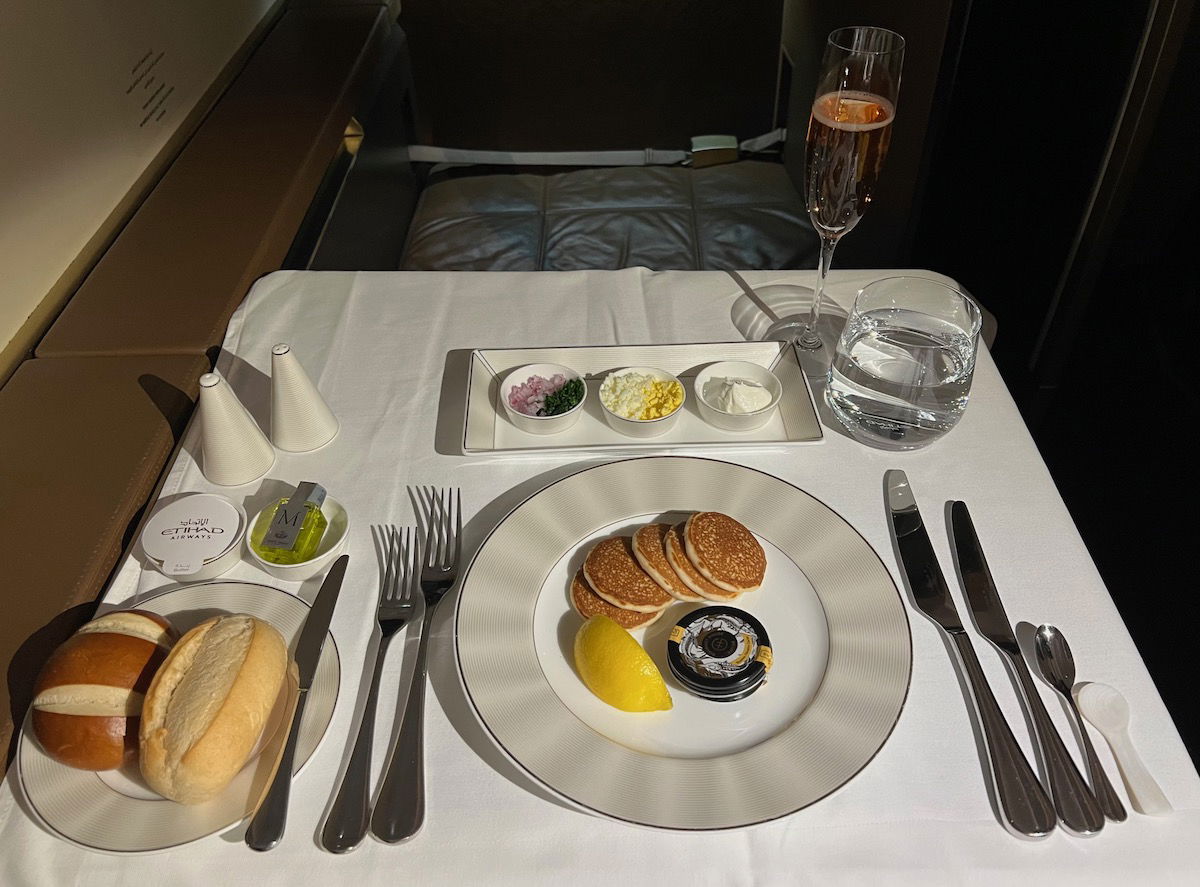 Next up, I ordered the Arabic mezze, consisting of three dips, two hot options, and two pieces of pita. My dad skipped ordering an appetizer.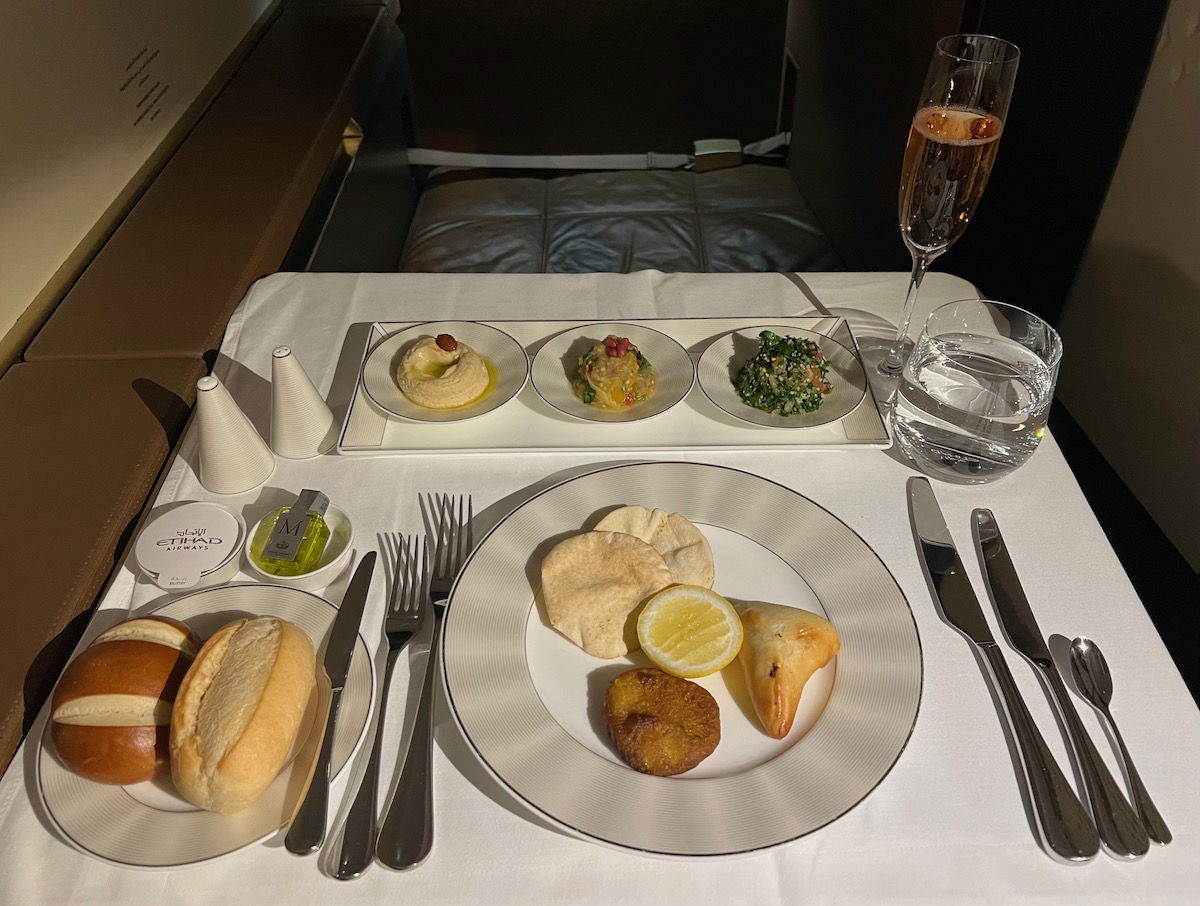 For the main course, I had the mahi mahi, described as being served with tomato, chickpeas, cauliflower, kale, and lemon vinaigrette. I'm pretty sure I was served the potato and cheese gratin rather than the chickpeas, but I sure didn't mind, as they were tasty.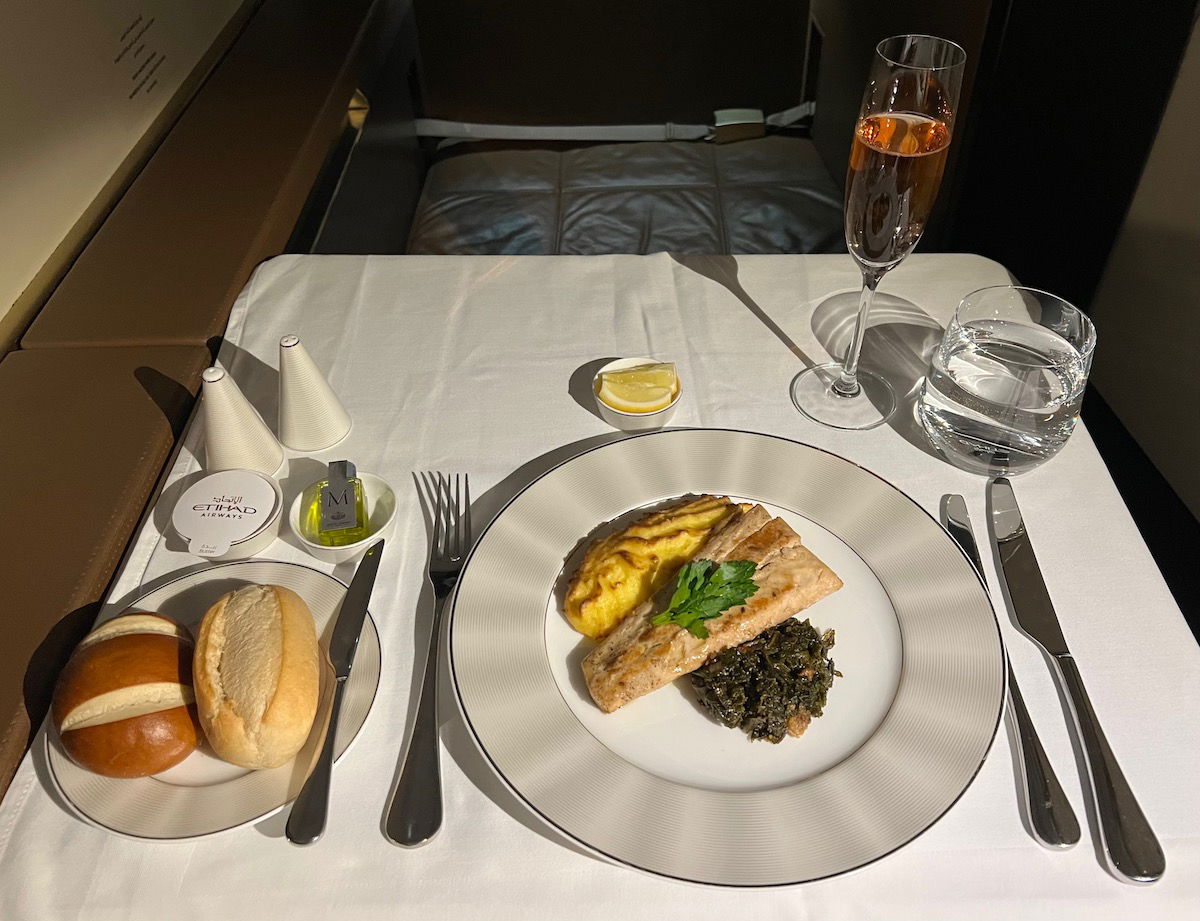 My dad went with the lounge and grill option, allowing him to select his own main course. He chose the beef fillet with pommes frites.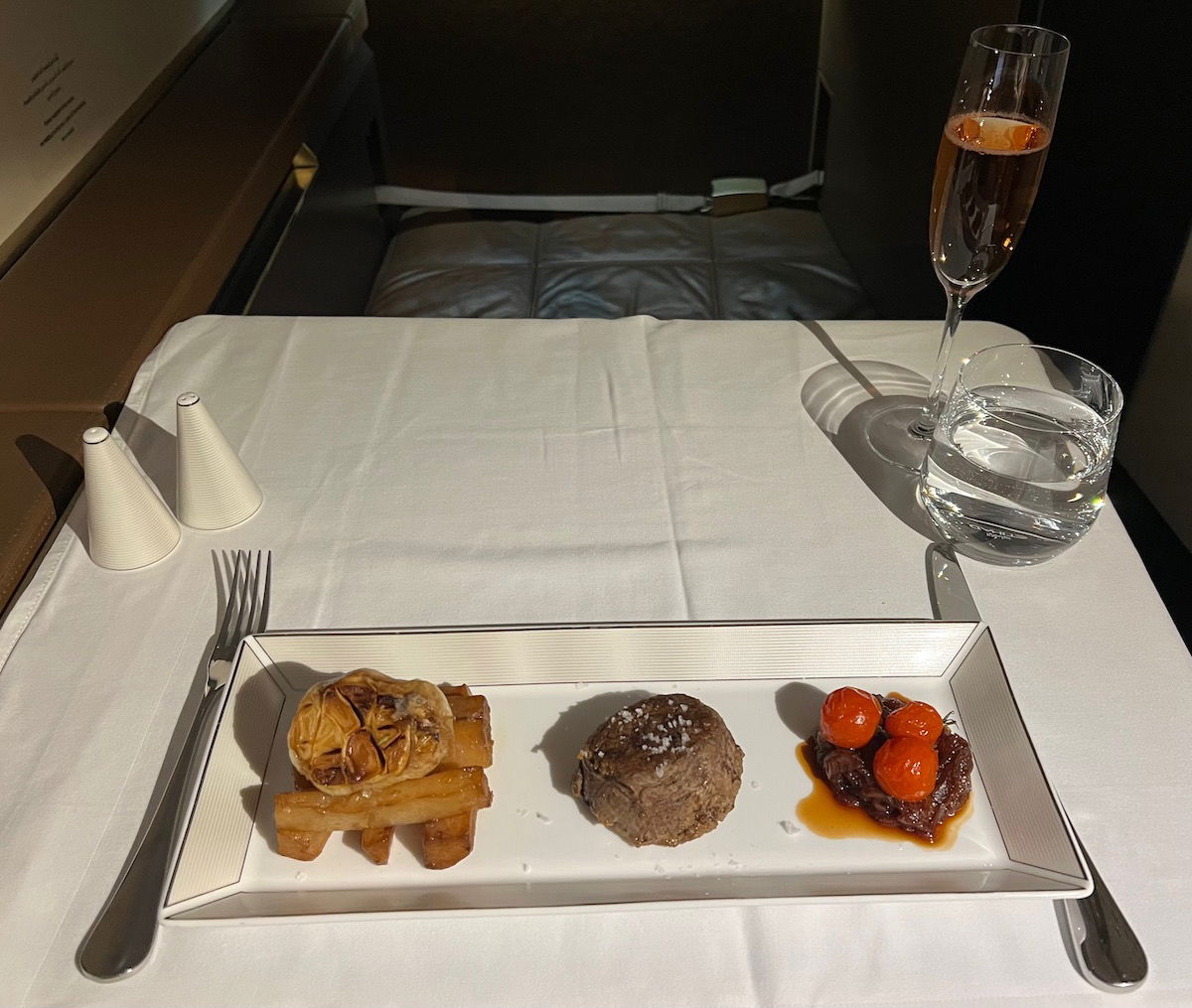 After the main course, we were served a lemon sorbet palate cleanser.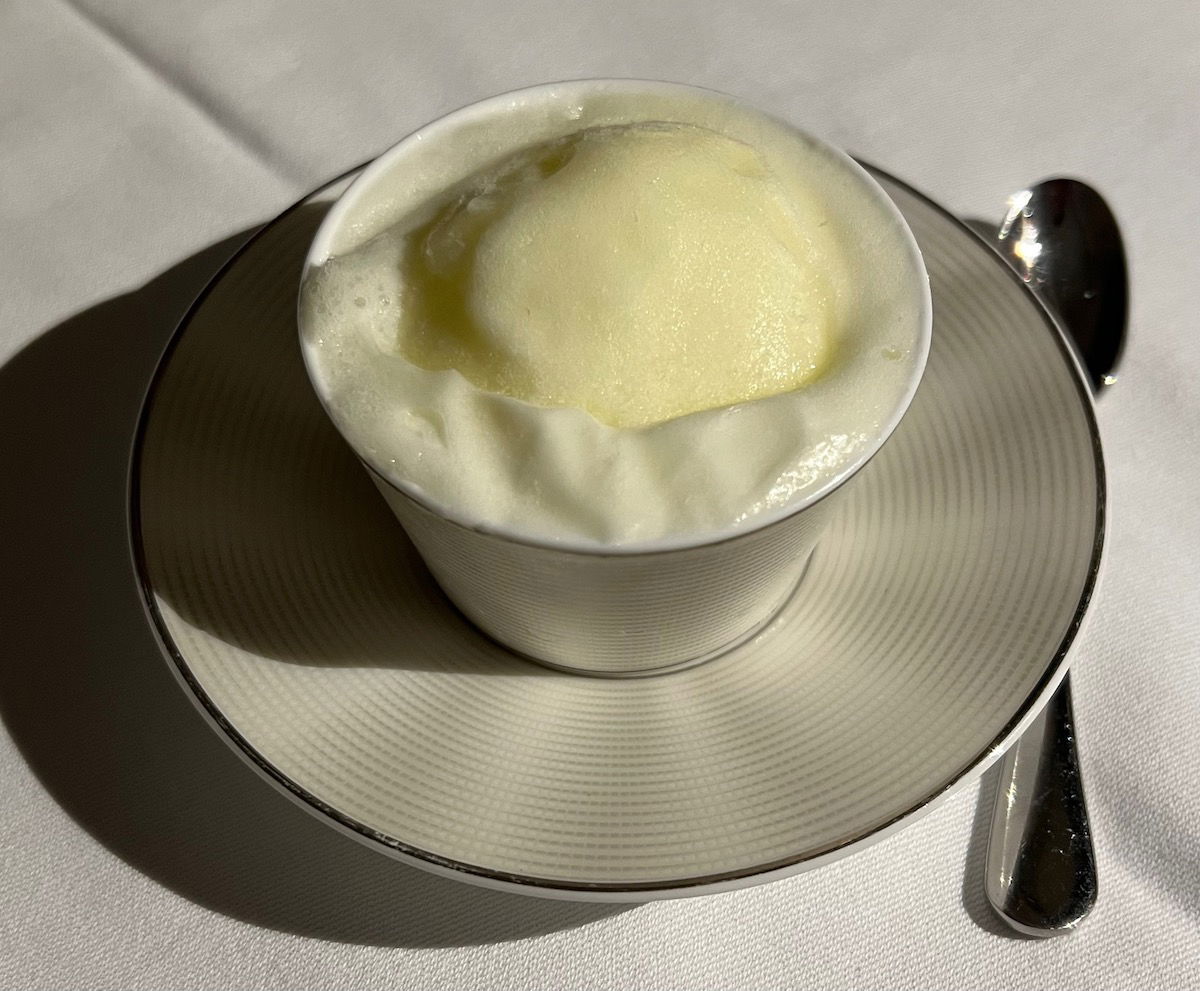 To finish off the meal, I ordered the lemon cheesecake, while my dad ordered the cheese selection.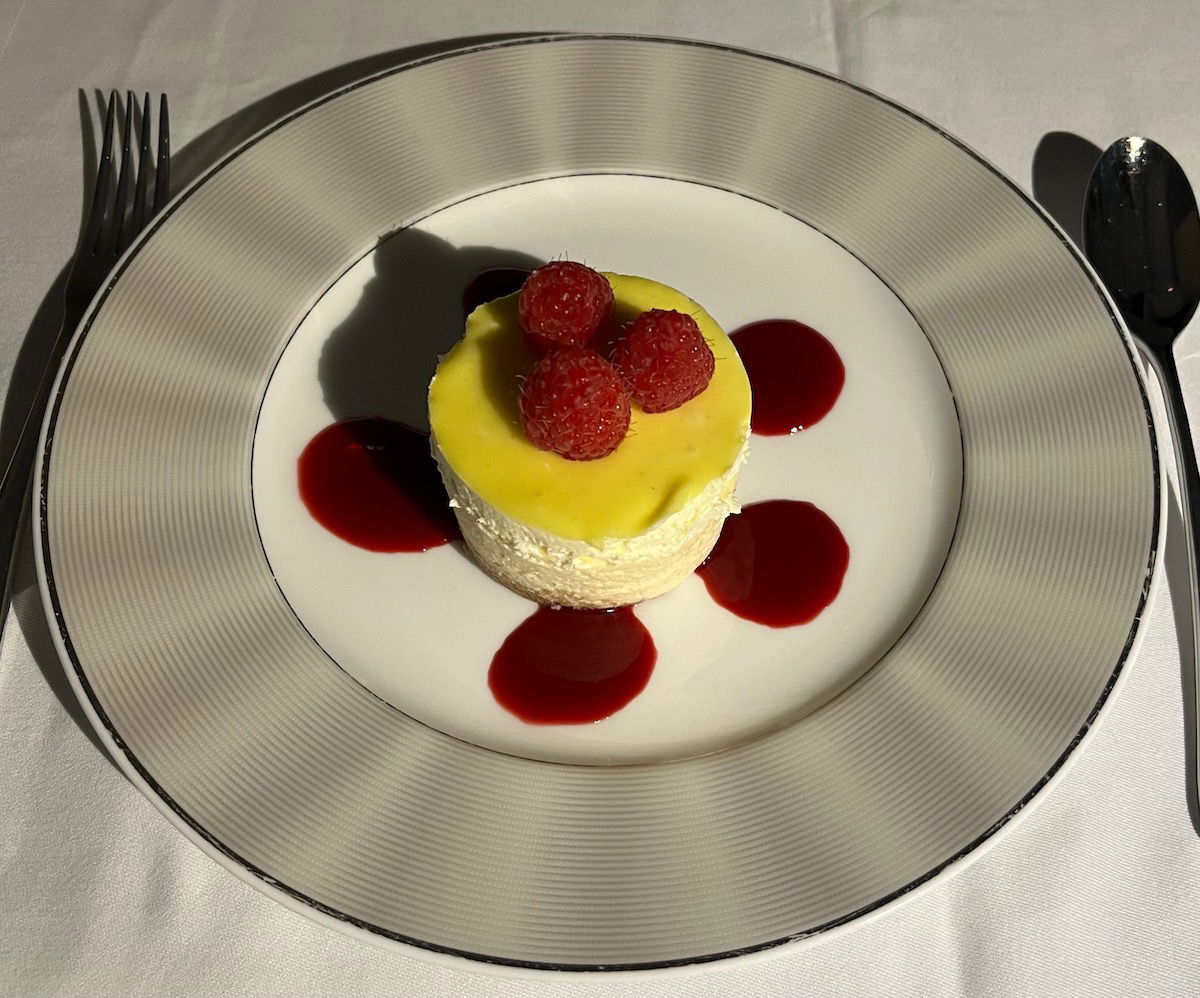 Our entire meal service was done around 2.5 hours after takeoff. The food quality was very good, and I'm happy to see that Etihad still lets you customize your meals in first class, just like back in the day.
While the food was delicious, I do have a couple of thoughts:
I'm surprised Etihad doesn't have the Armani / Casa service items that you'll find in business class; I'd argue that the business class plates, glasses, and cutlery, are now nicer than what you'll find in first class
There's simply no denying that Etihad's first class food is a bit dialed back compared to what you'd find on airlines like Emirates; for example, Emirates has a much more impressive caviar presentation (never mind that Emirates offers unlimited caviar), and Emirates also has a much more substantial Arabic mezze
Etihad 787 first class lavatories
At the conclusion of the meal I asked the crew to make my bed, and in the meantime checked out the lavatories. Etihad has a fantastic lavatory setup on the 787, as there are two large first class lavatories. Best of all, they're between the galley and cabin, so you don't even have to pass through the galley. There's even a nice area where you can wait, without getting in the way of the crew.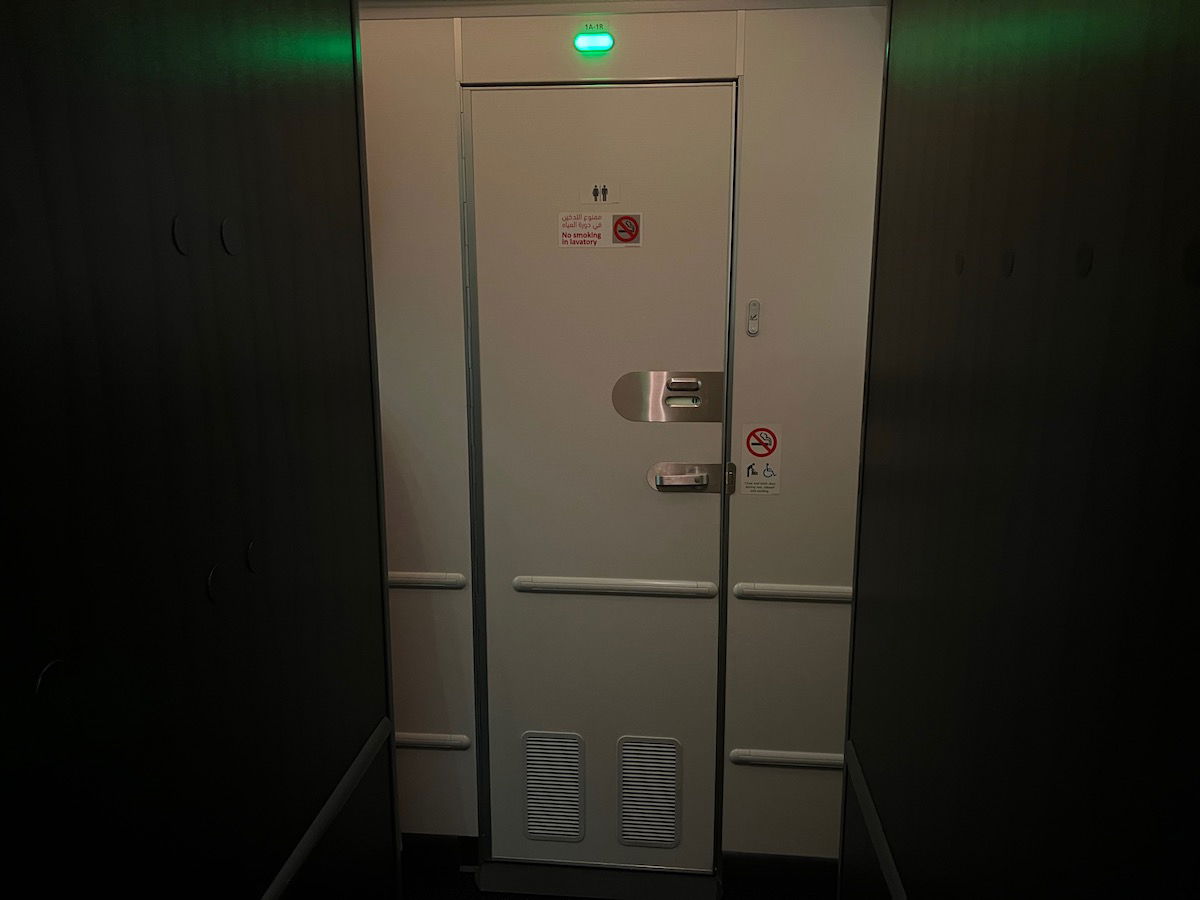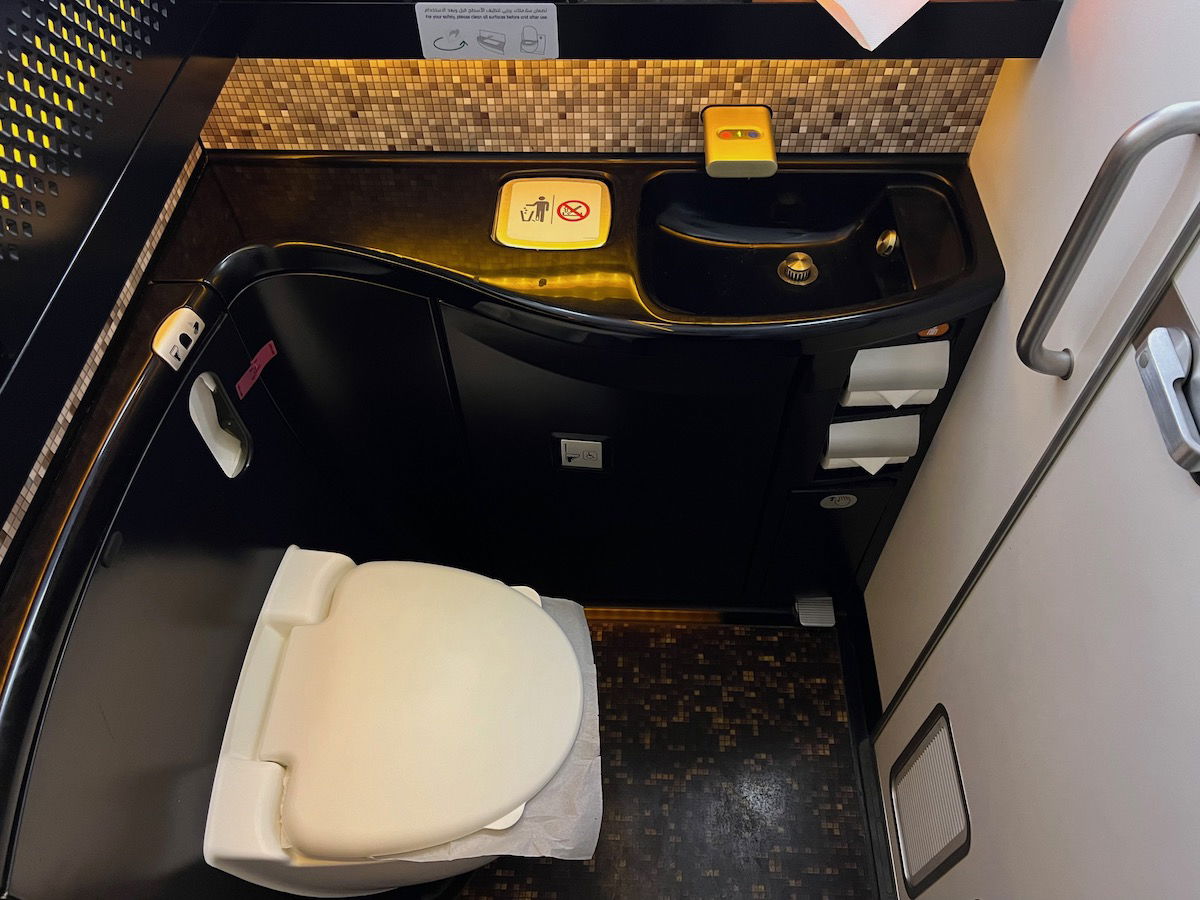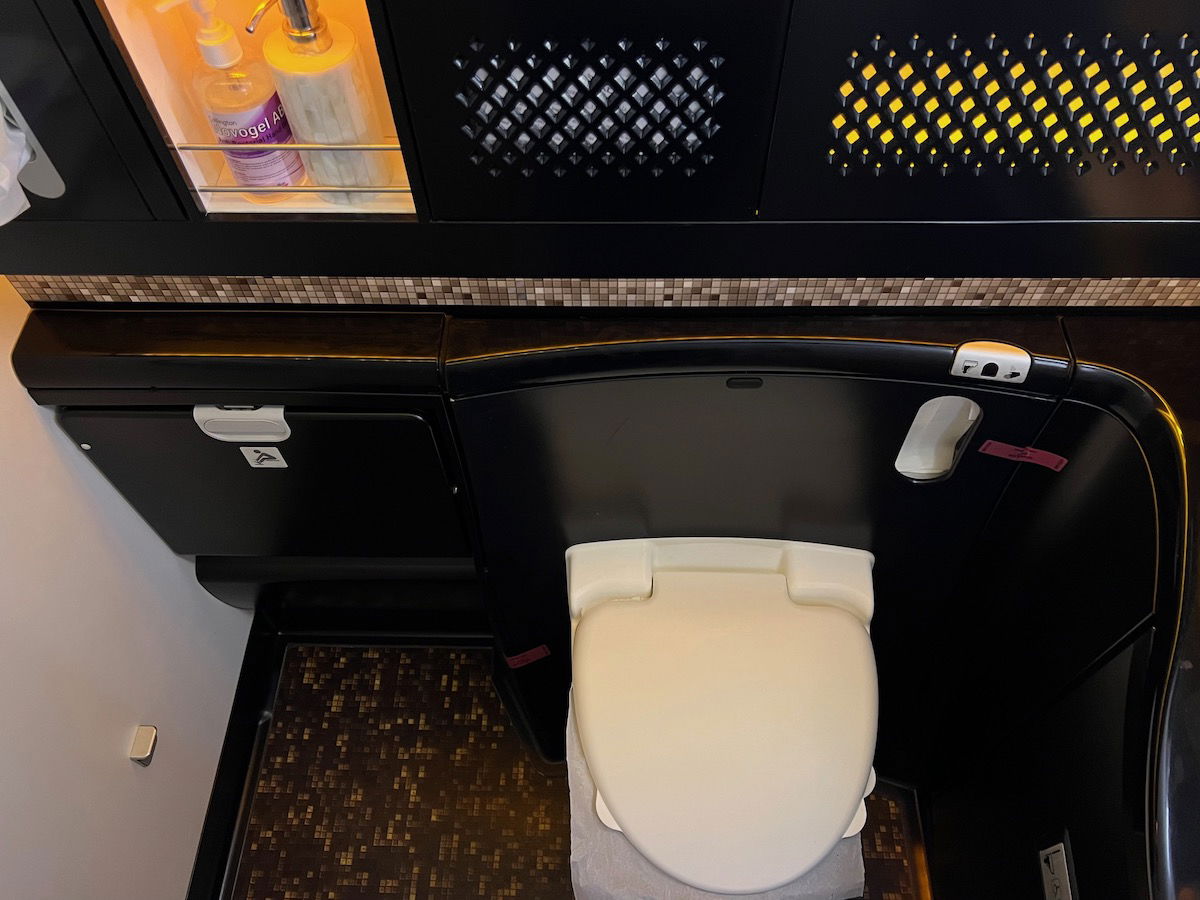 The lavatories were elegant, and spotlessly clean throughout the journey. Even 12 hours after takeoff, you'd find that a sheet was placed on the toilet seat after each use, and that the toilet paper would be folded into a perfect triangle. This crew was on top of things.
Etihad 787 first class bed
At this point it was well after 12AM on the East Coast, over four hours after my normal bedtime, so I was exhausted. I found the Etihad 787 first class bed to be extremely comfortable — I love how there are three pillows, and the seat feels quite spacious and private.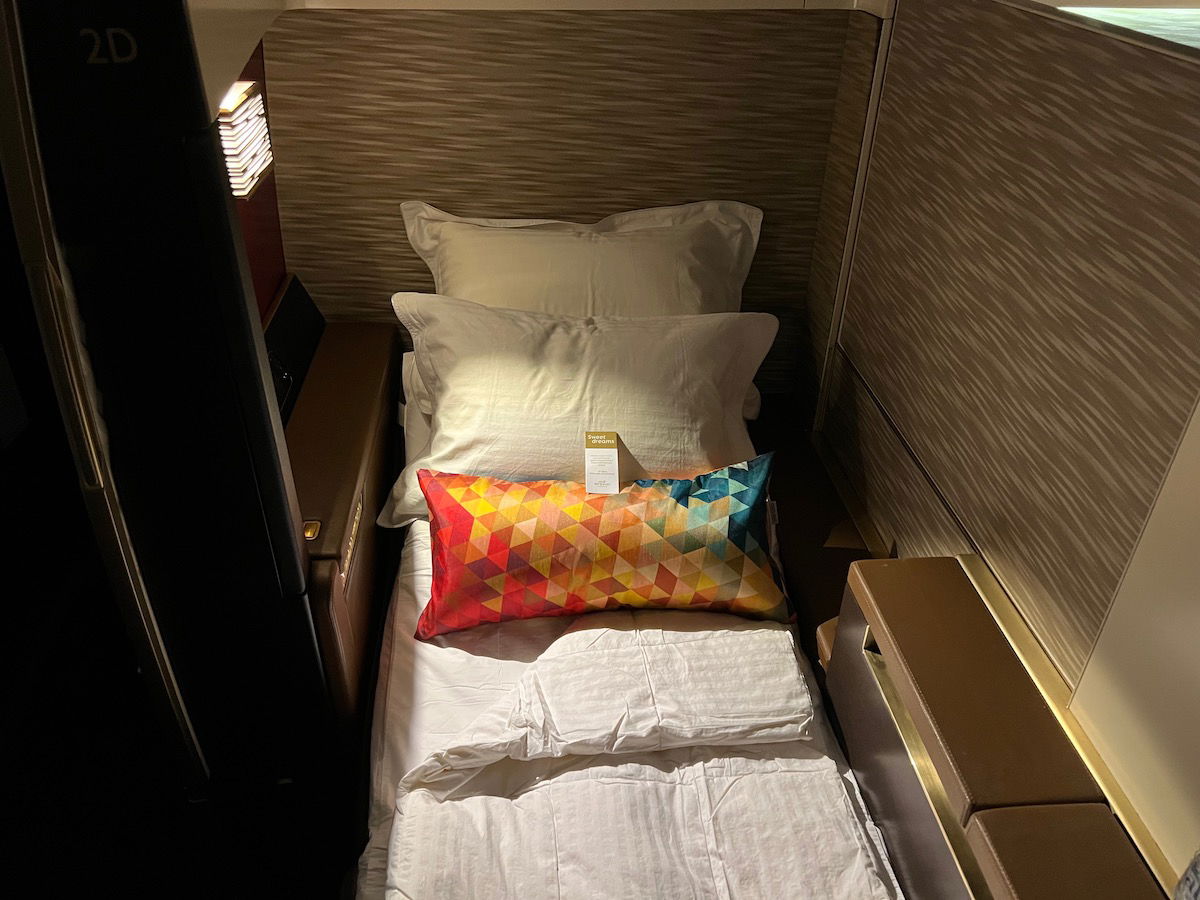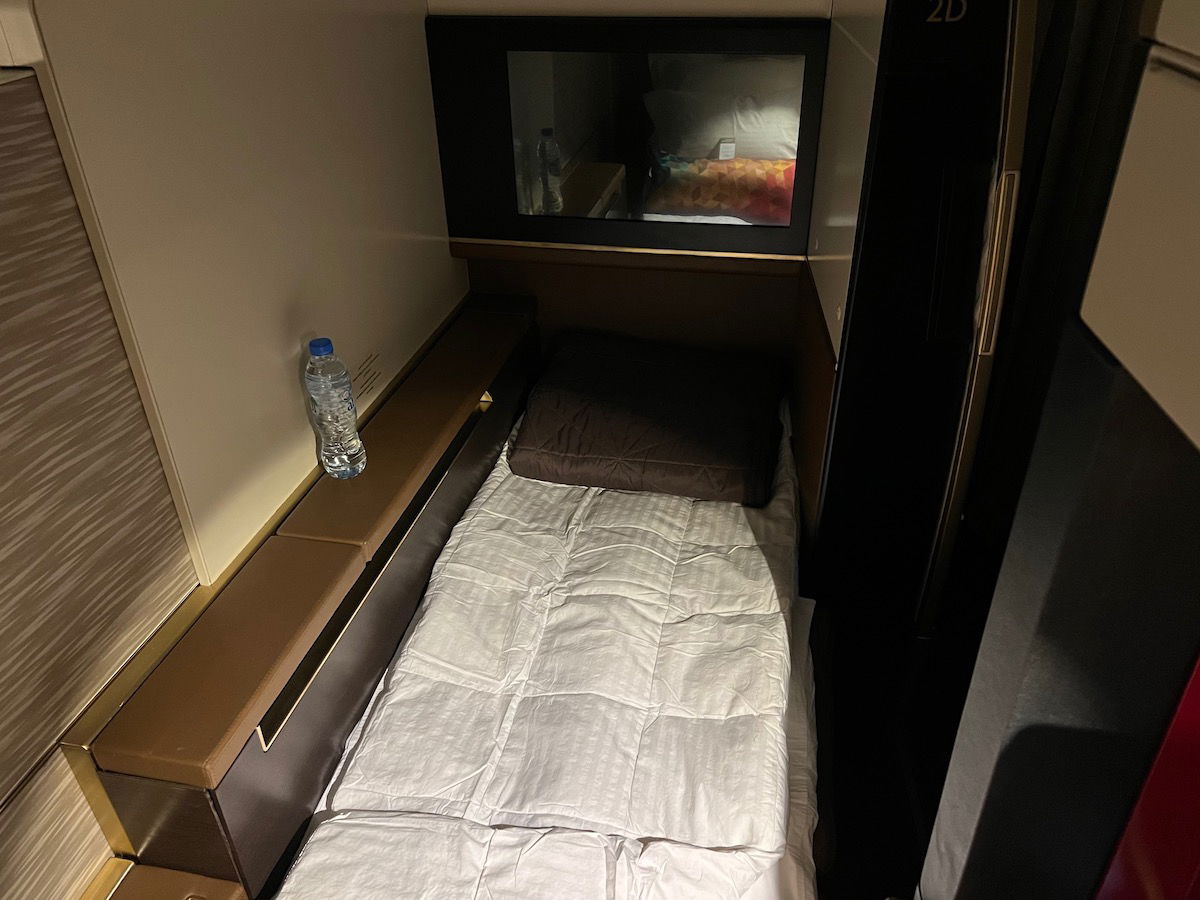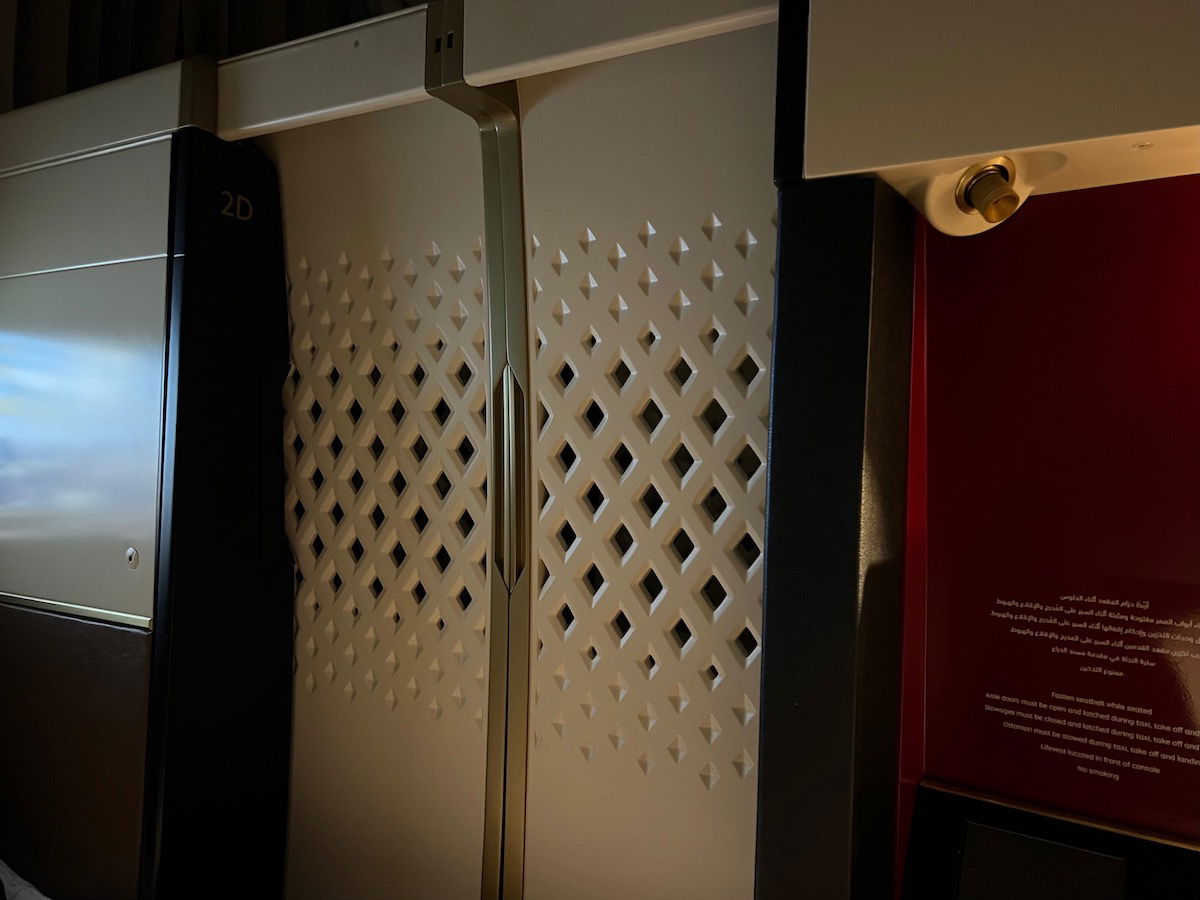 It's also cute how Etihad puts a "sweet dreams" bookmark (or something) on the pillow with turndown service, with a quote from Dr. Seuss that reads "you know you're in love when you can't fall asleep because reality is finally better than your dreams." Super adorable sentiment, but I must not be in love, because I fall asleep exceedingly easily every night, at least at home. 😉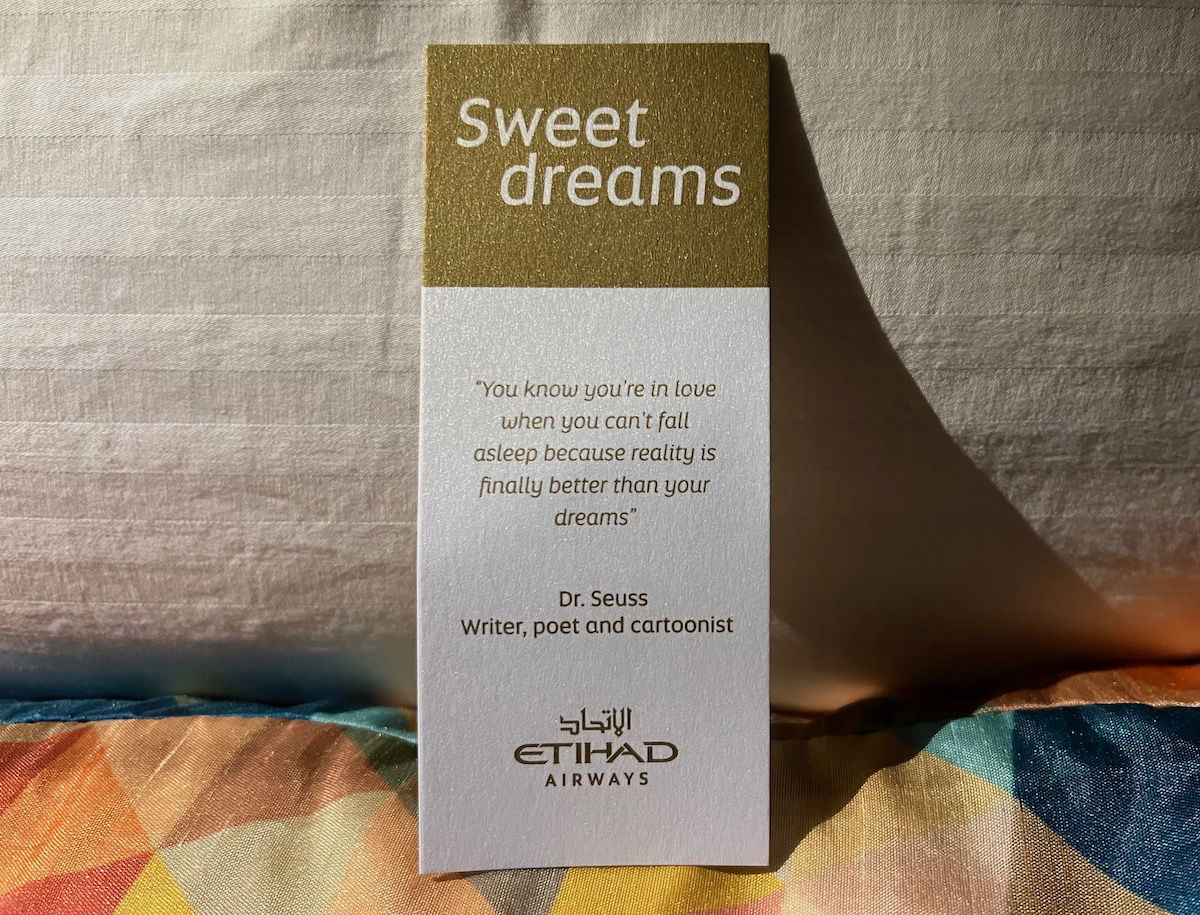 I'm usually a horrible airplane sleeper, but I got some amazing rest on this flight. I slept for over six hours, and woke up as we were just past Italy, with around 4.5 hours remaining to Abu Dhabi.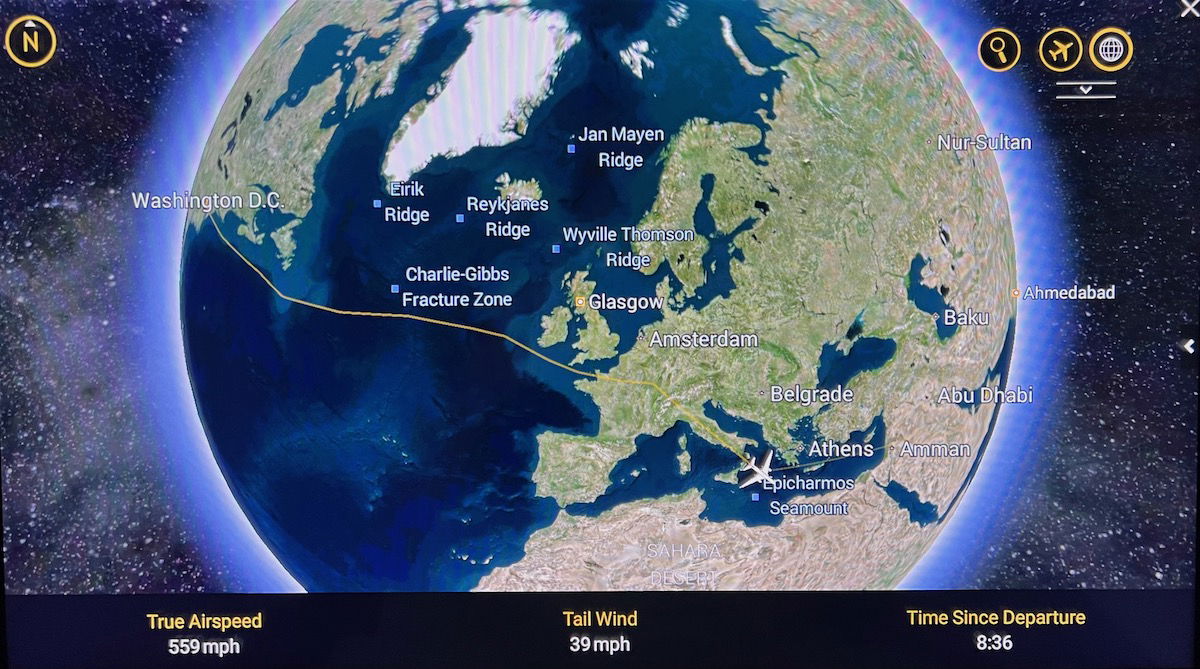 For what it's worth, my dad slept for a similar amount of time. However, he absolutely refuses to recline his seat when flying, and claims to sleep better sitting up. He did that that on every segment of this trip, and I feel like the crews were in constant shock. "You don't want to sleep in… a bed? You'd rather sleep sitting up? Are you sure?"
Etihad first class breakfast service
Upon waking up, it was morning on the East Coast of the US, so it was time to get some work done. I opened up my laptop and ordered a cappuccino. Why yes, I would like 800 calories worth of sweets to go along with my morning cappuccino. 😉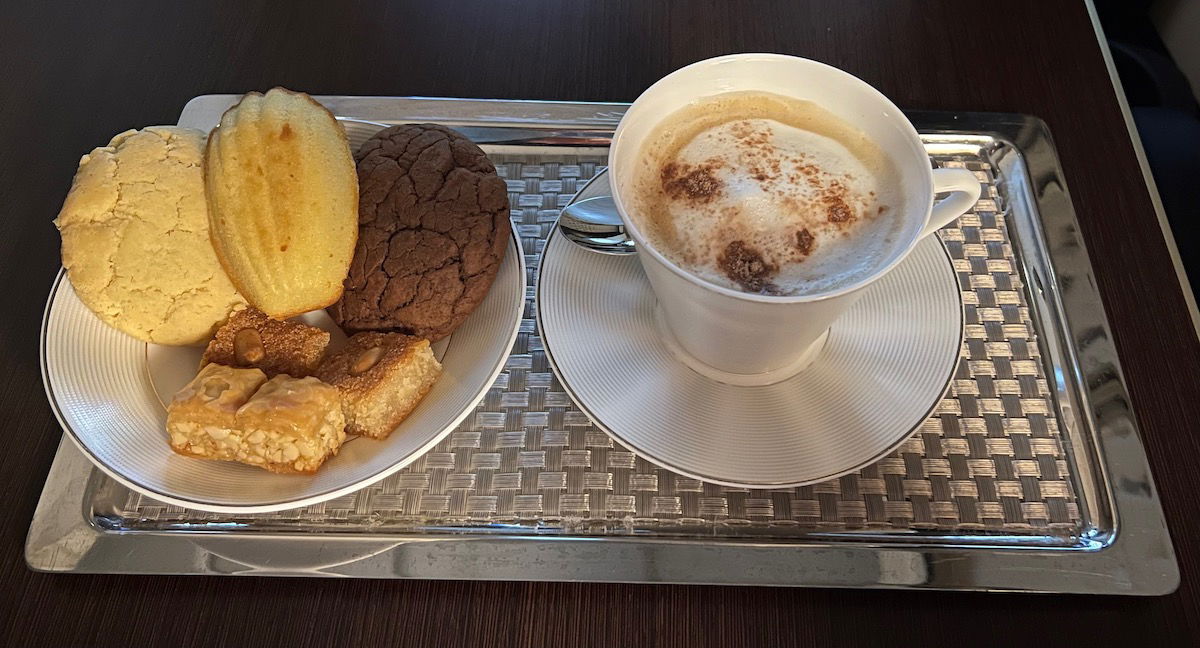 I worked for a couple of hours, and then just around two hours before arrival, while starting our journey across Saudi Arabia, I decided to order breakfast.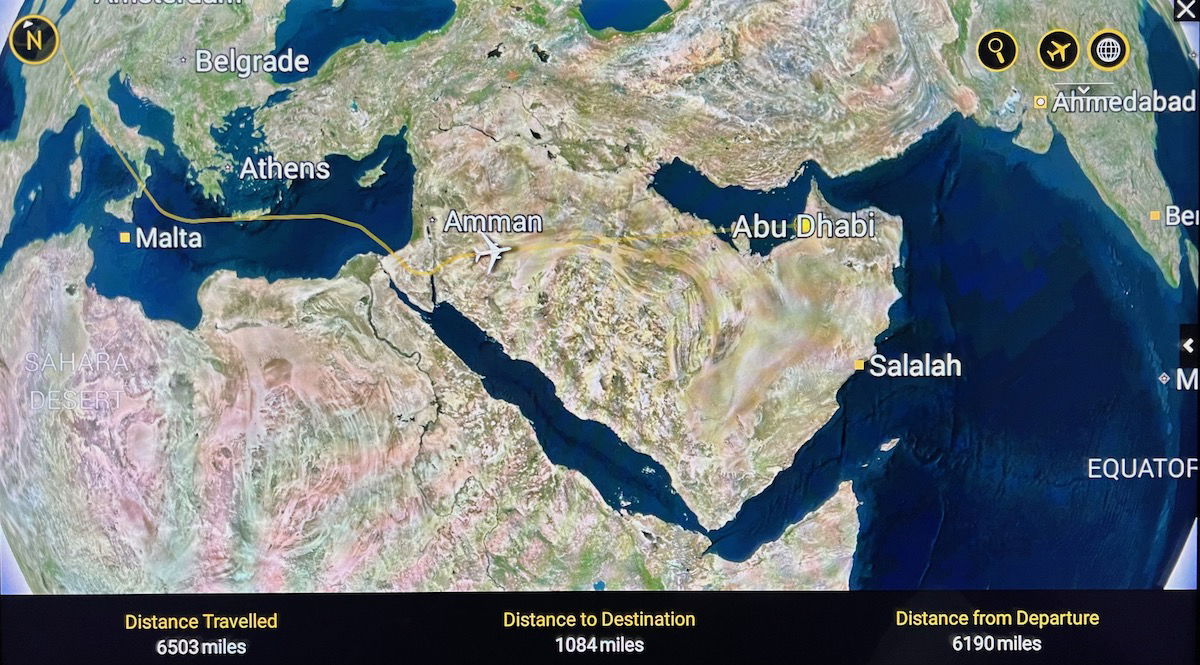 For breakfast, I ordered an iced latte, a fruit plate, and the shakshuka. The shakshuka was untraditional but tasty.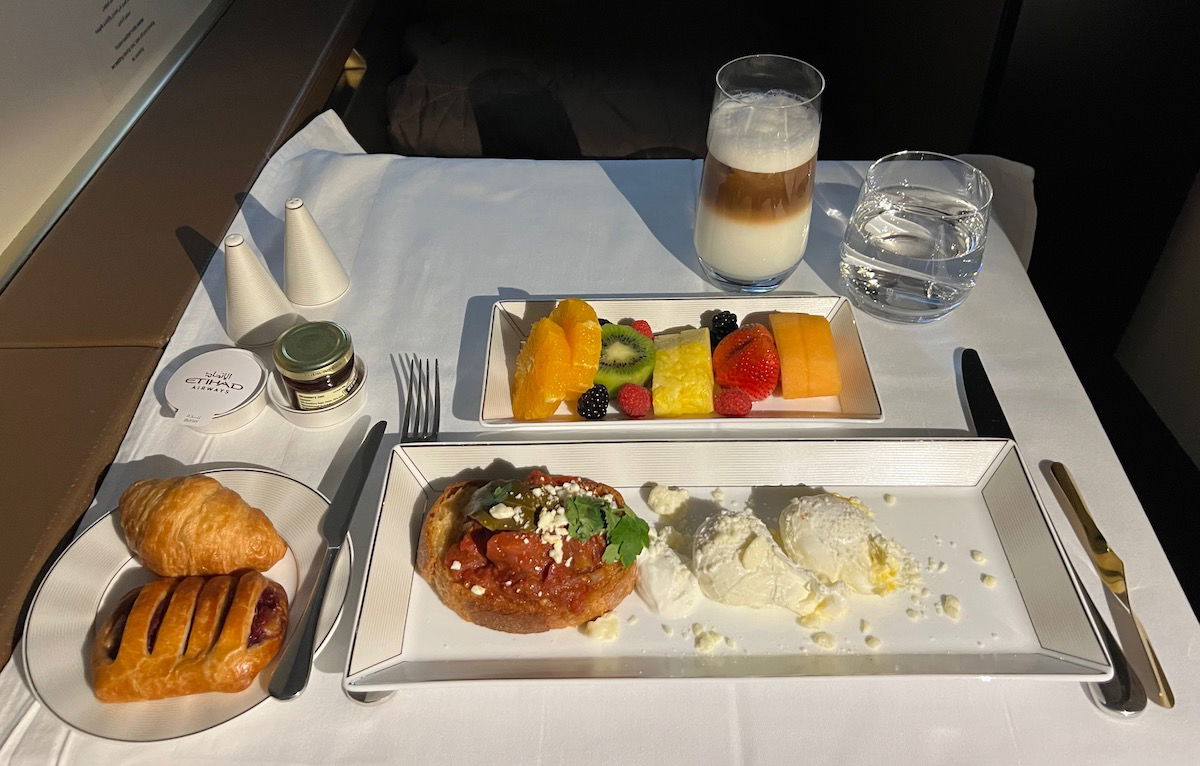 At the conclusion of the meal, the crew distributed warm towels and little boxes of chocolate.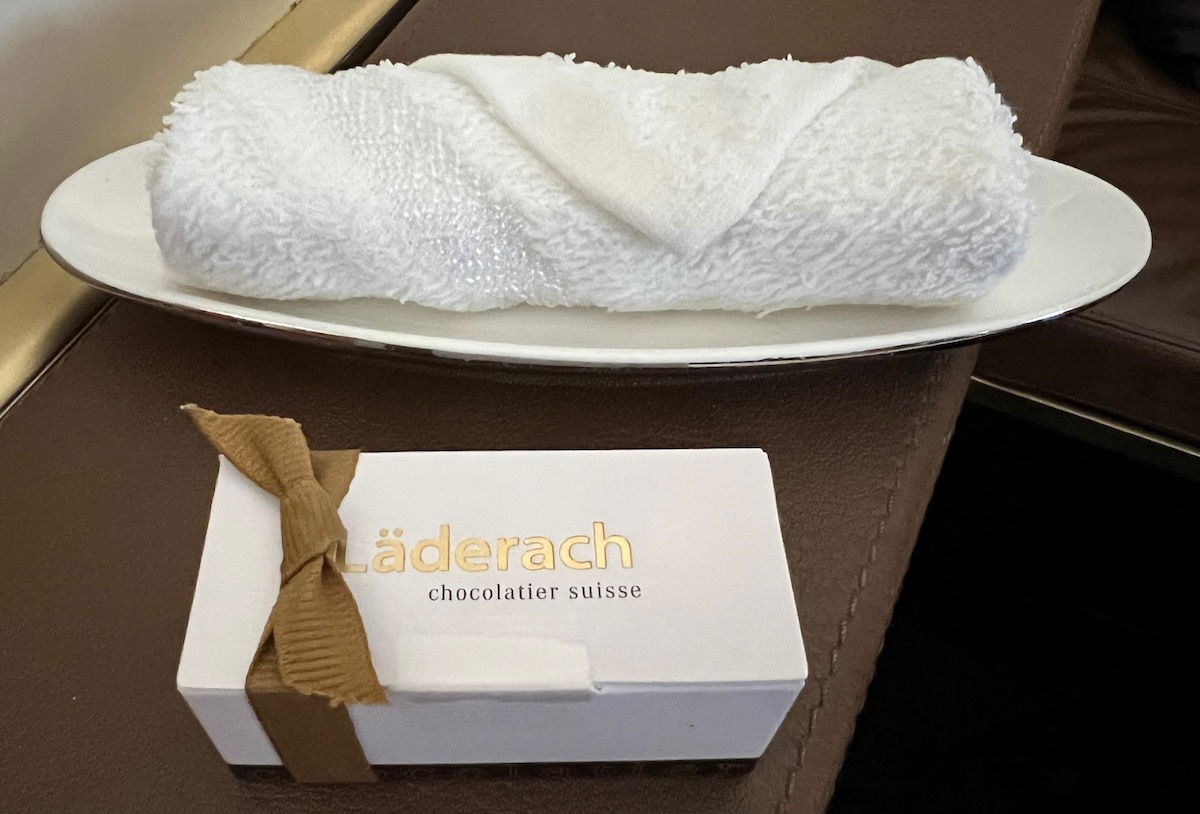 Breakfast fully wrapped up with around an hour remaining to Abu Dhabi.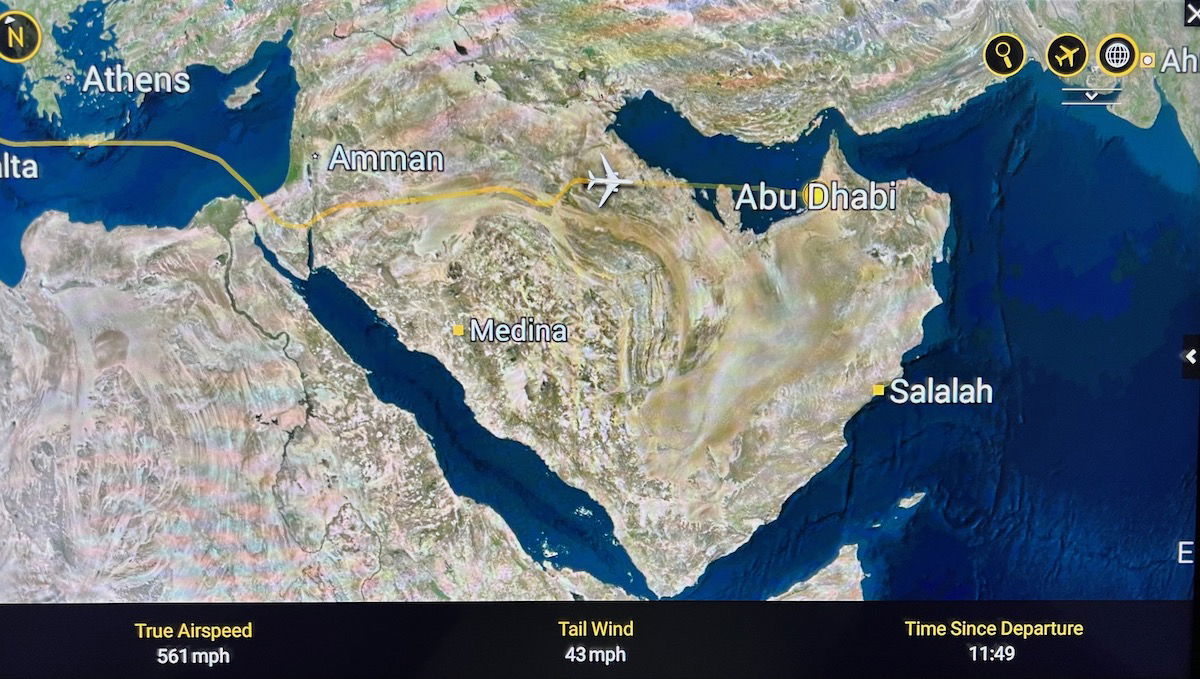 Etihad first class service
The crew on this Etihad flight couldn't have been better. The cabin manager (from Romania) and the two first class flight attendants were stellar (from Colombia and Romania). They were charming, attentive, and even proactive.
From keeping the lavatories spotlessly clean, to proactively offering refills, to somehow making my bed while I briefly got up in the middle of the night to go to the bathroom for a minute, the crew was simply flawless.
Their performance was especially impressive when you consider that all eight first class seats were taken, so the crew had to hustle.
Etihad 787 arrival in Abu Dhabi
At 6:05PM Abu Dhabi time, the captain announced that we were at 41,000 feet, and would be landing in about 40 minutes. Moments later, we began our descent toward the UAE. About 20 minutes into our descent, the seatbelt sign was turned on.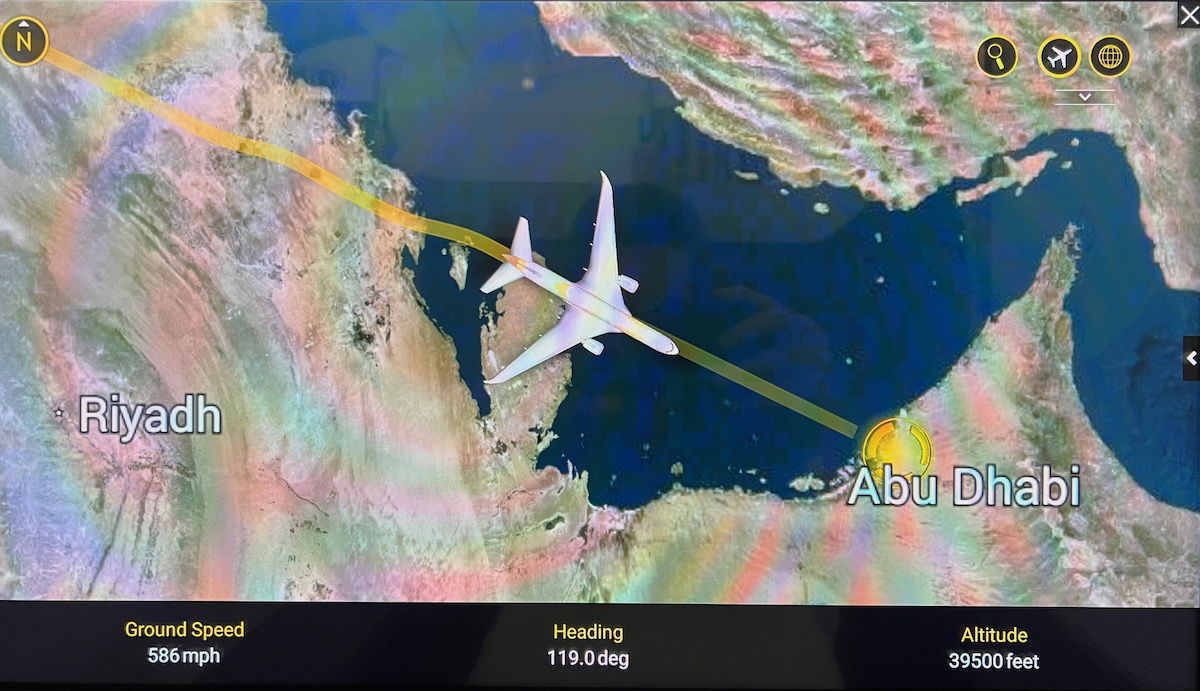 We had a smooth approach to Abu Dhabi. Unfortunately due to my lack of a window seat plus the 787 not having a tail camera, I didn't have much of a view of the approach, as I do always enjoy the views of Abu Dhabi.
We touched down in Abu Dhabi at 6:45PM, and then had a roughly 15 minute taxi to our arrival stand, where we pulled in at around 7PM. Unfortunately we were around 45 minutes late, due to a combination of the longer than usual flight time, plus our VIP guests, who arrived late. Fortunately we had a long connection, so that wasn't an issue for us. Upon deplaning we headed straight for the Etihad First Class Lounge Abu Dhabi.
Bottom line
I had an excellent flight in Etihad's Boeing 787 first class, with very friendly service, good food, comfortable seats, nice amenities, and impressive entertainment and Wi-Fi. I even managed to sleep for roughly half the flight, which is as good as it gets for me.
Honestly, this flight was as good as it possibly could have been, and Etihad first class is even better than I remember it. My only real feedback is that there are more over-the-top first class products out there, both in terms of hard and soft product.
In terms of the competitive landscape in their respective classes, I'd say Etihad's A350 business class is better than Etihad's 787 first class (which is to say that the A350 has one of the best business class products in the world, while the 787 offers a solid but perhaps unmemorable first class experience).
What's your take on Etihad's Boeing 787 first class?