---
Oman Air 101
Muscat (MCT) – London (LHR)
Sunday, July 1
Depart: 2:30PM
Arrive: 7:10PM
Duration: 7hr40min
Aircraft: Boeing 787-9
Seat: 2A (First Class)
I boarded through door L2, where I was greeted by the cabin manager and one flight attendant, and pointed left towards the first class cabin. The first thing I noticed was the new plane smell. This was the plane's first commercial flight, as it had just flown from the US to Muscat a couple of days prior, and had sat on the ground since.
This was Oman Air's first 787 featuring a first class cabin. Oman Air's other 787-9s have 30 business class seats, including four rows between doors one and two, and one row behind door two.
This version of Oman Air's 787-9 had a total of eight first class seats and 24 business class seats — between doors one and two are two rows of first class and two rows of business class, and then there are two further rows of business class behind door two.
Business class on the 787-9 is Oman Air's spectacular Apex Suites, which are among my favorite business class seats out there. Oman Air also has beautiful cabin finishes.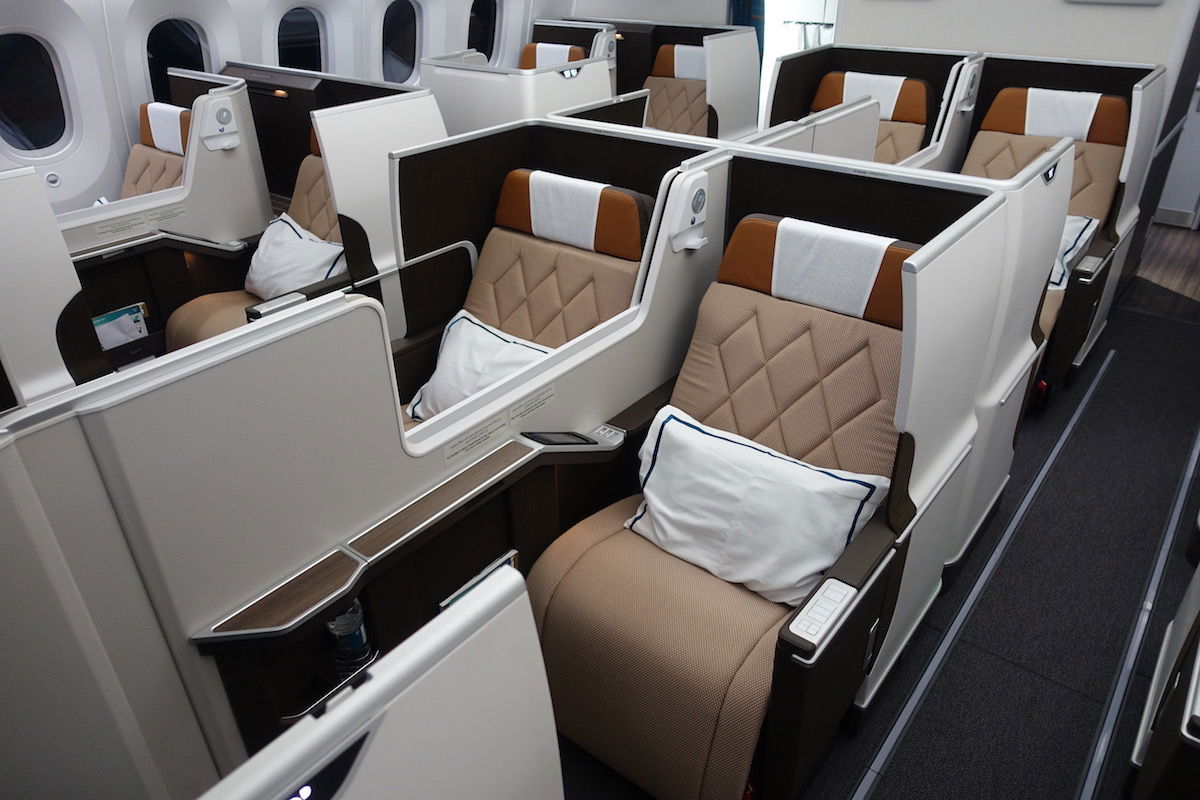 Oman Air 787 business class cabin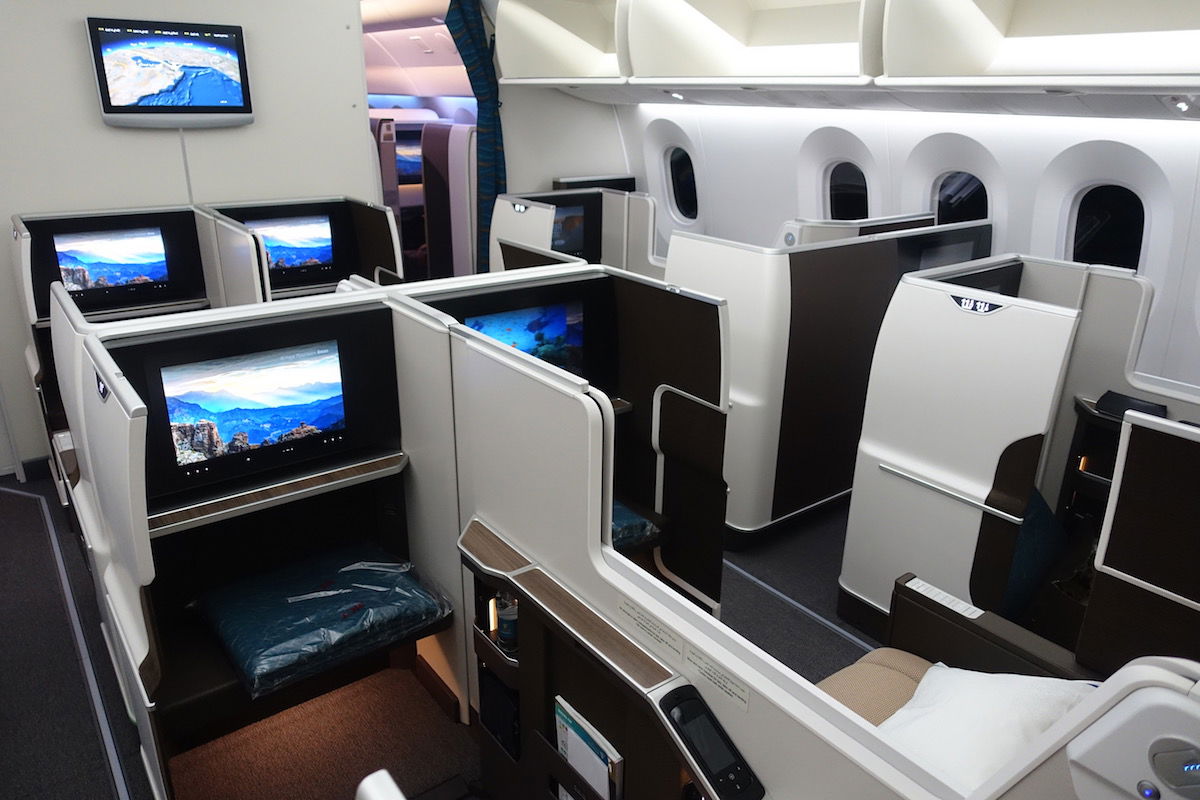 Oman Air 787 business class cabin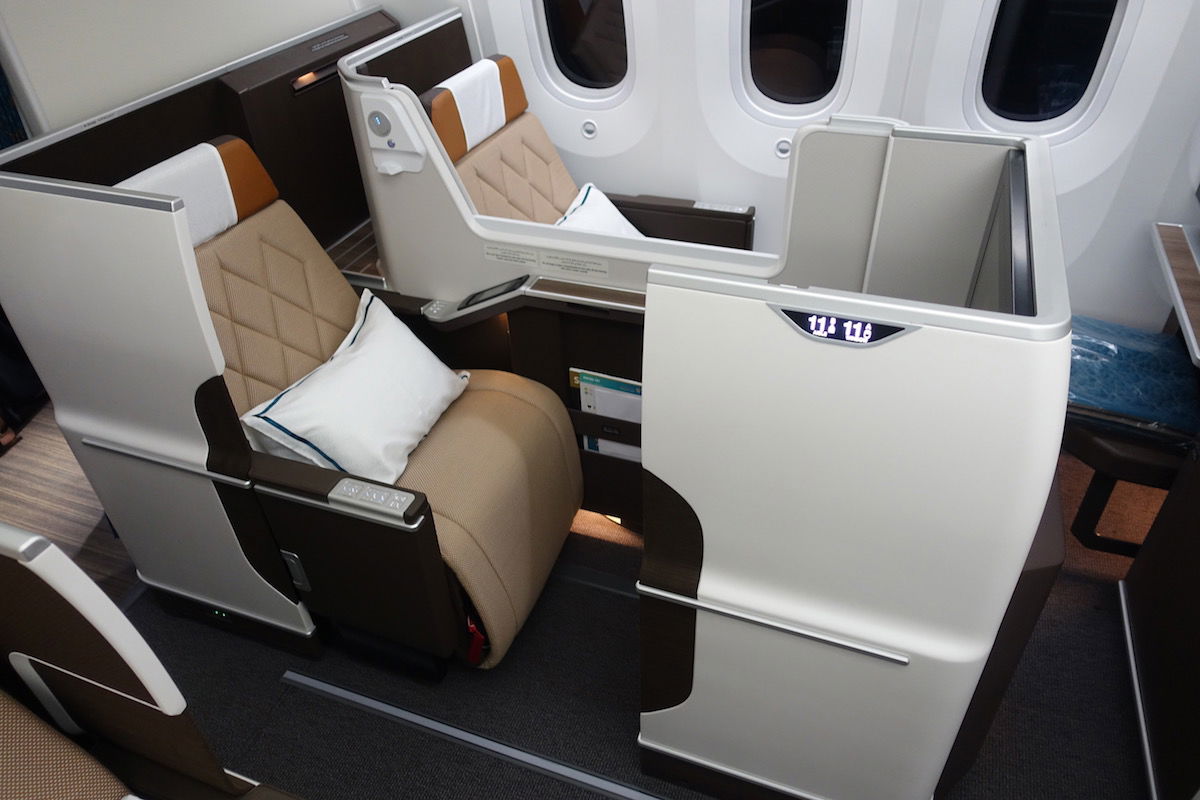 Oman Air business class seats
What I was much more interested in on this flight was their brand new first class cabin. Select Oman Air A330s have first class, though it's a much older product, and they're in the process of removing the cabins from those planes.
Keep in mind the 787 is narrower than the 777, so they are somewhat limited in terms of the product they can install, at least while maintaining a 1-2-1 configuration. With that in mind, Oman Air really impressed me.
Among 787 operators, I'd say this is the best first class any airline has installed on the plane, with Etihad maybe being a close second.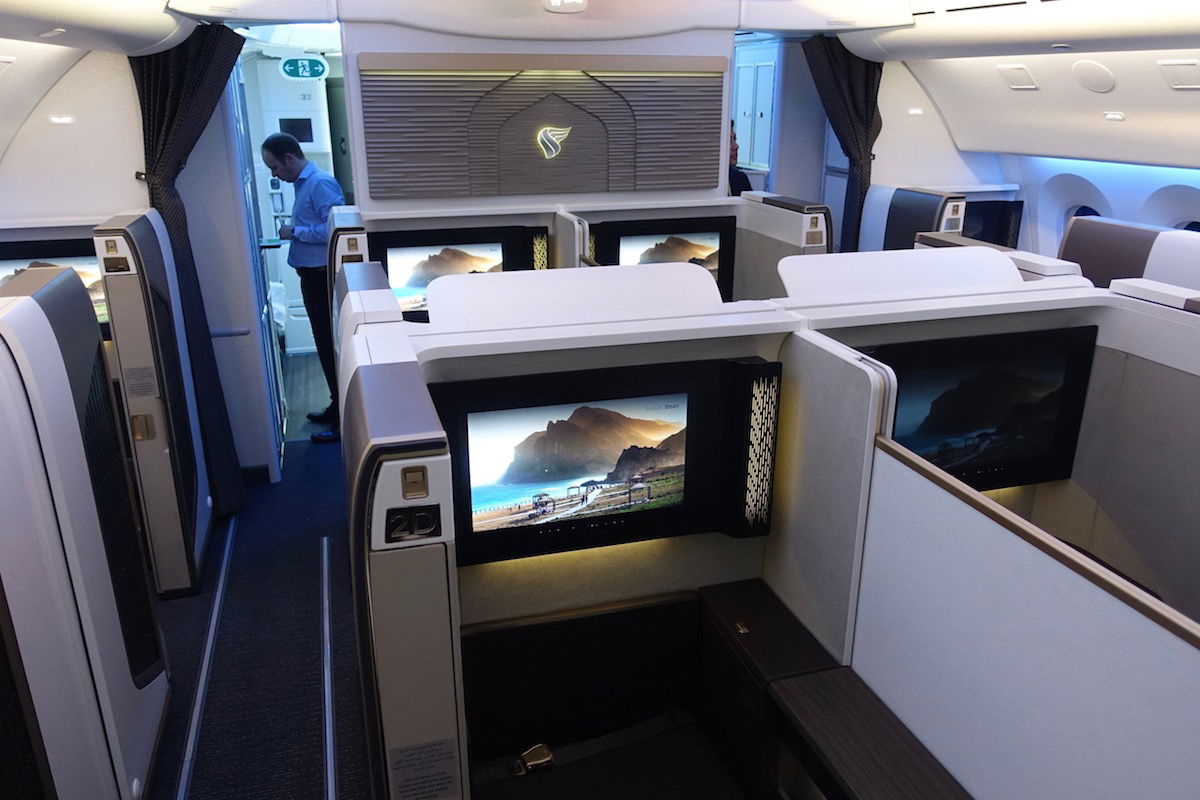 Oman Air 787 first class cabin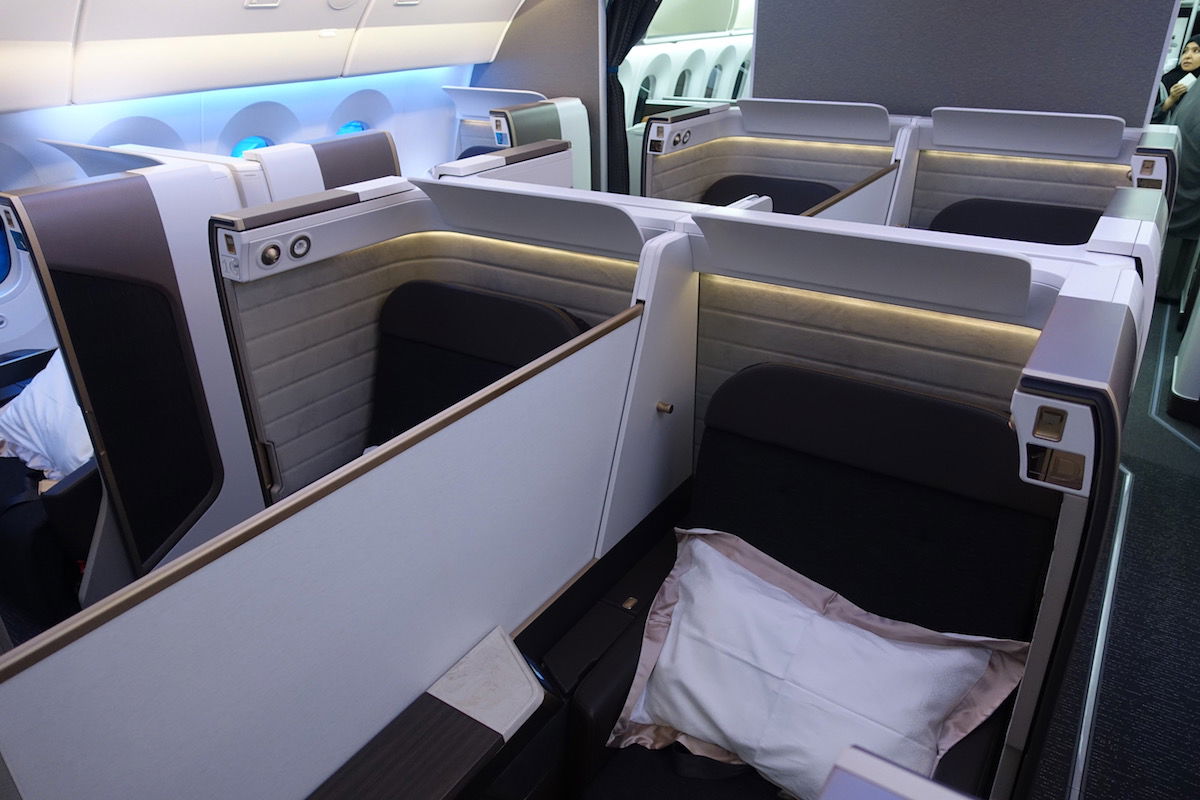 Oman Air 787 first class cabin
I also think Oman Air did an incredible job with their cabin finishes, as I loved the colors and materials they use, like the velvet walls in suites. What a refreshing change compared to even the Emirates or Etihad finishes.
Here's a picture of the suite with the door opened and closed. The doors had to be opened and closed manually, rather than by the push of a button. Personally I prefer that, since sometimes the electric doors make things more complicated than they need to be.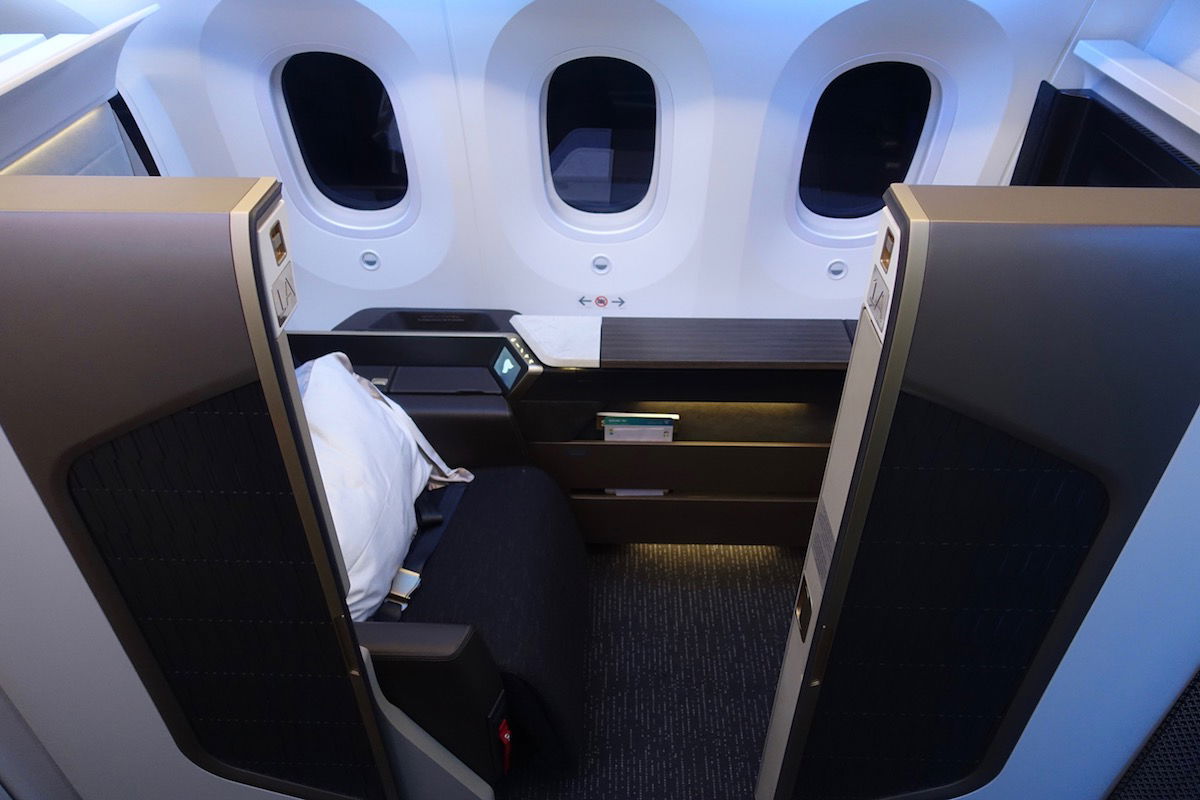 Oman Air first class suite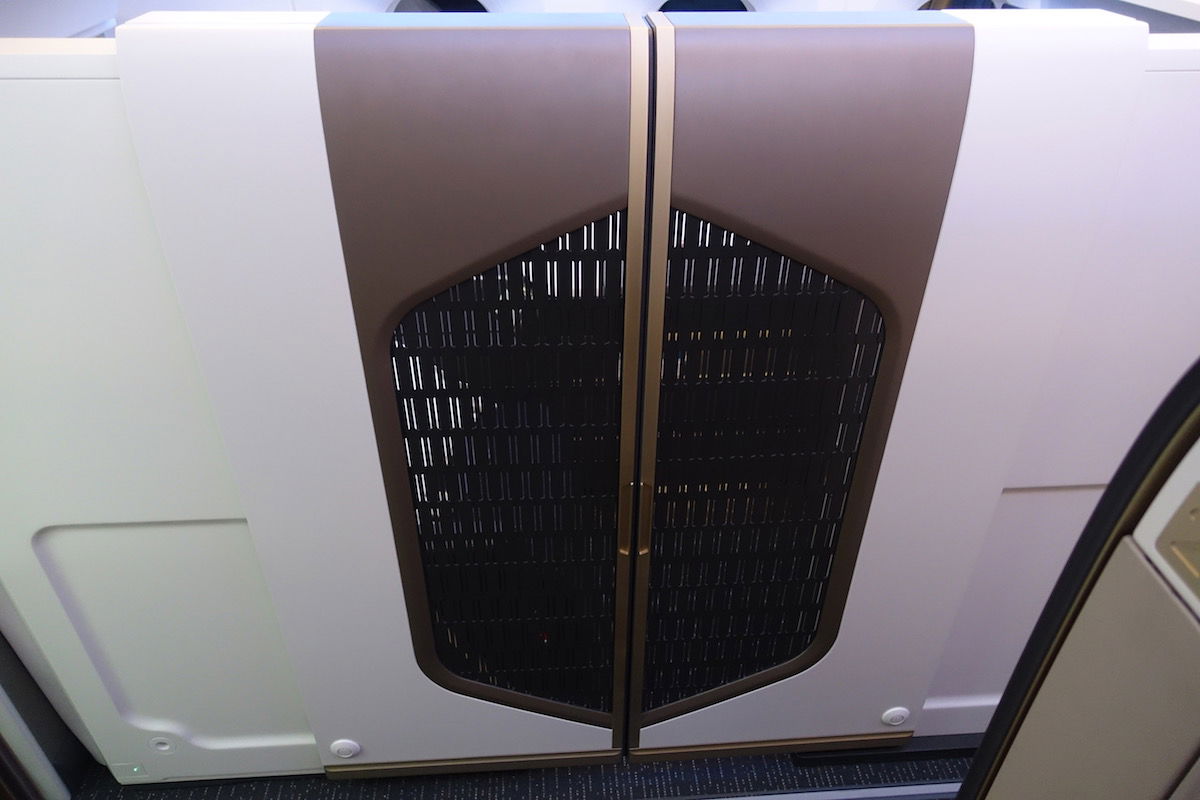 Oman Air first class suite
I had selected seat 2A, the suite in the second row on the left side. You definitely do notice that the suite is a bit narrower than you may find on a 777, given the reduced cabin width.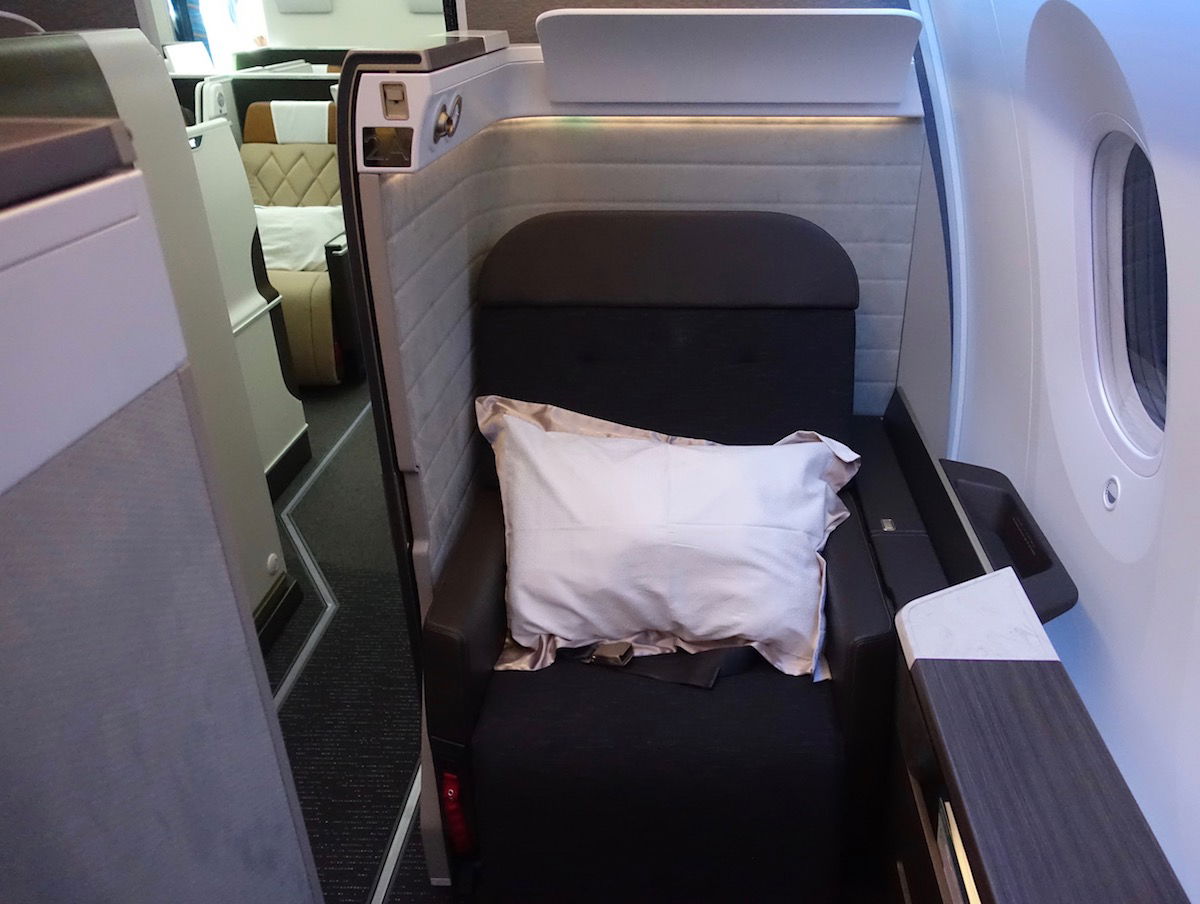 Oman Air first class seat 787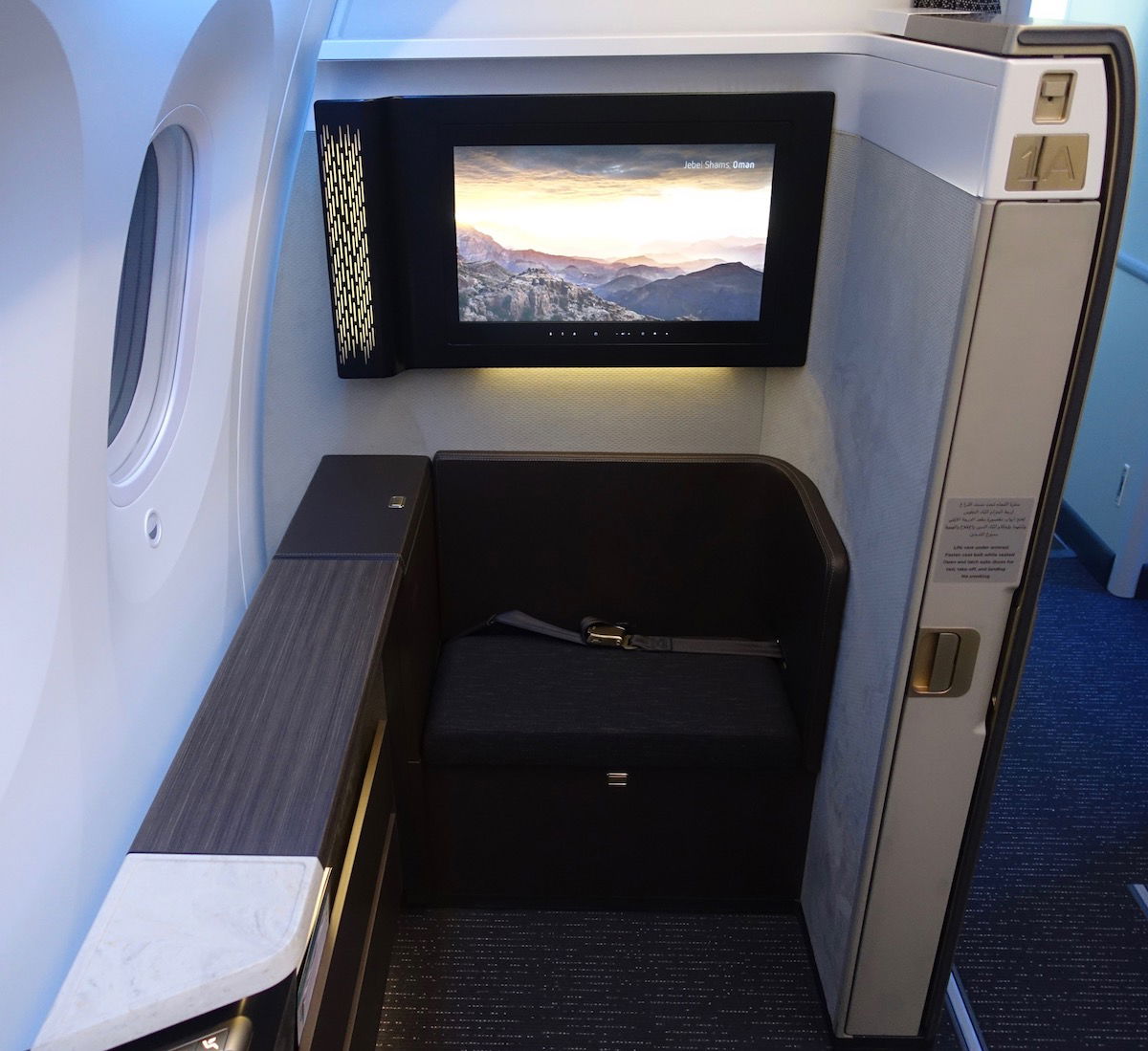 Oman Air first class seat 787
For those traveling with someone, the center suites are a great option. You can sit next to one another, though if you are seated in one of these and aren't traveling with the person next to you, the privacy partition goes high up.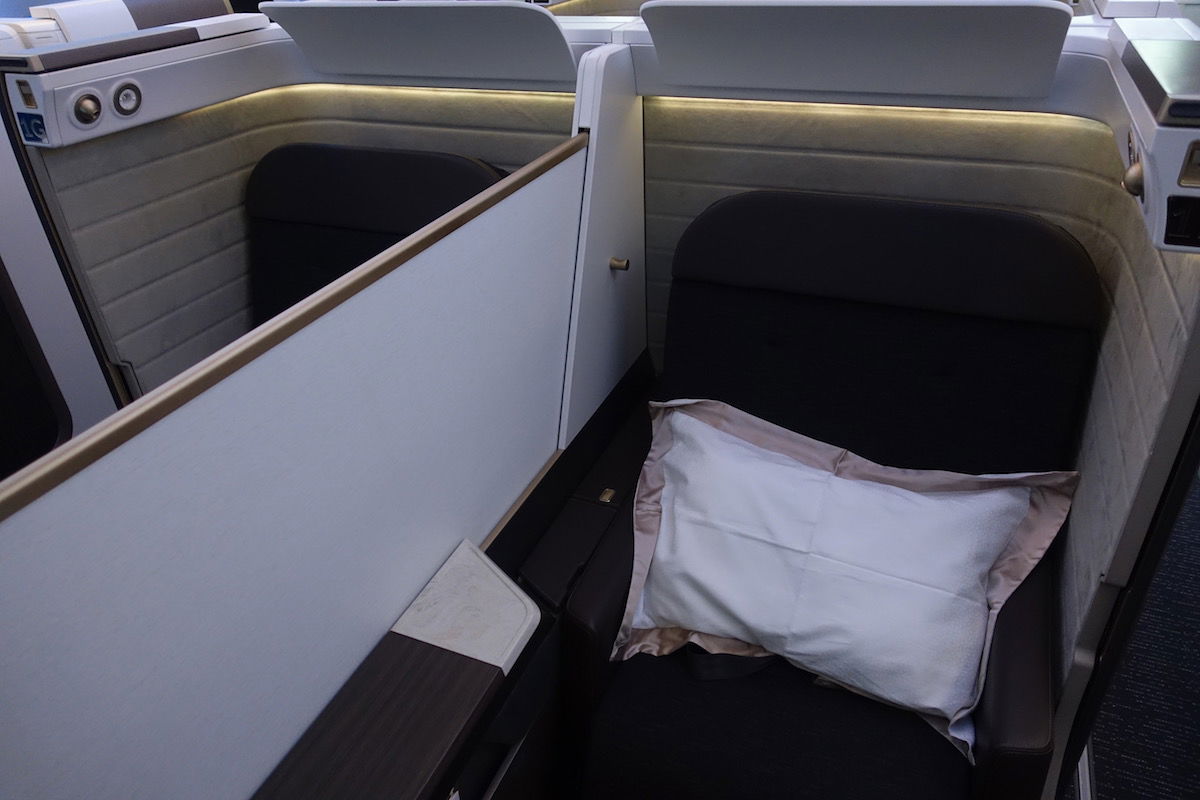 Oman Air first class suites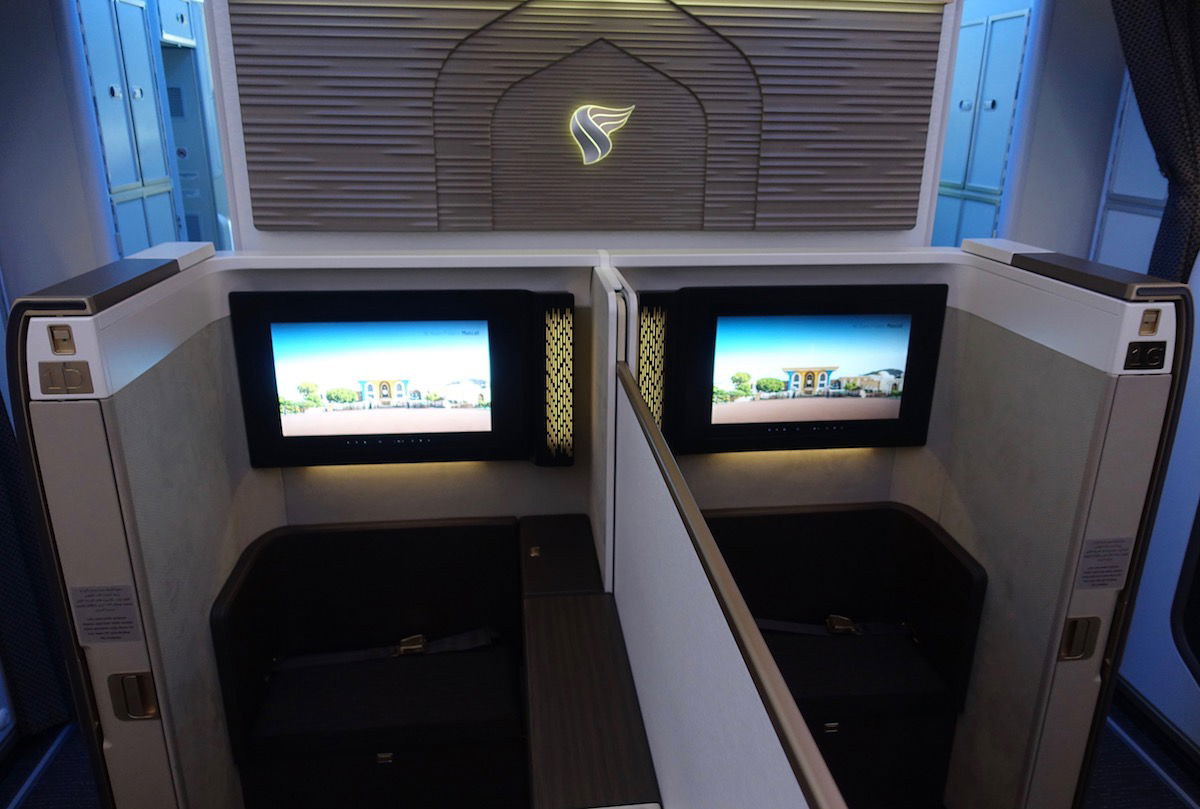 Oman Air first class suites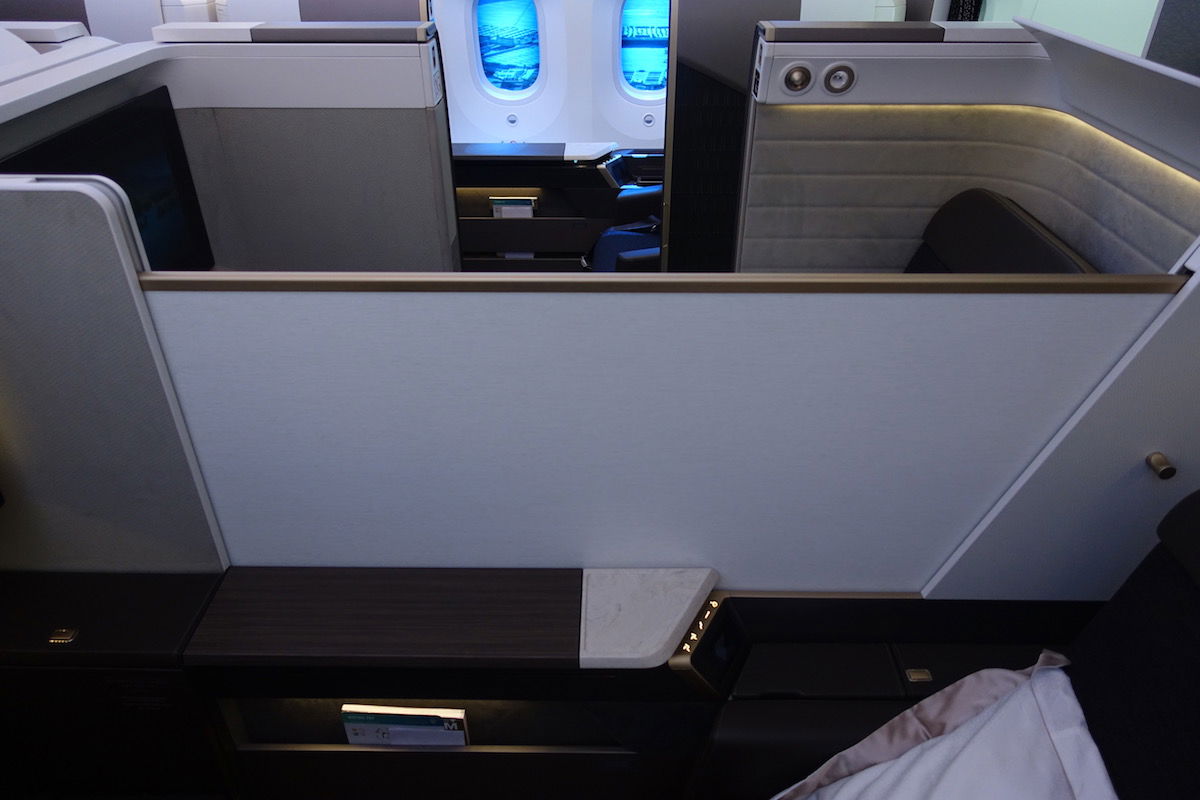 Oman Air first class suites privacy
Anyway, back to my suite, 2A. The seat had a large ottoman that could double as a buddy seat, based on the fact that it had a seatbelt.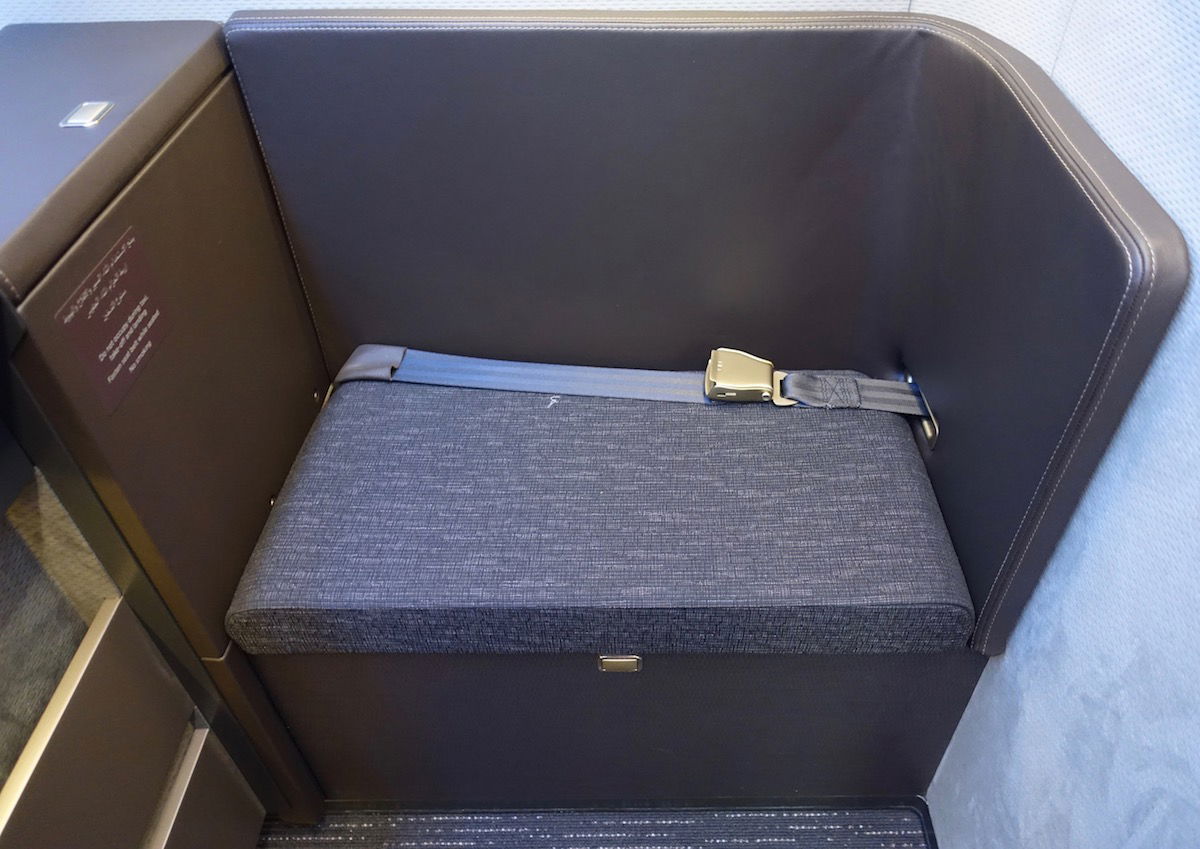 Oman Air first class seat ottoman
The suite didn't have much storage (again, due to the suites being fairly narrow), so the inside of the ottoman was one of the few places you could store things in the suite.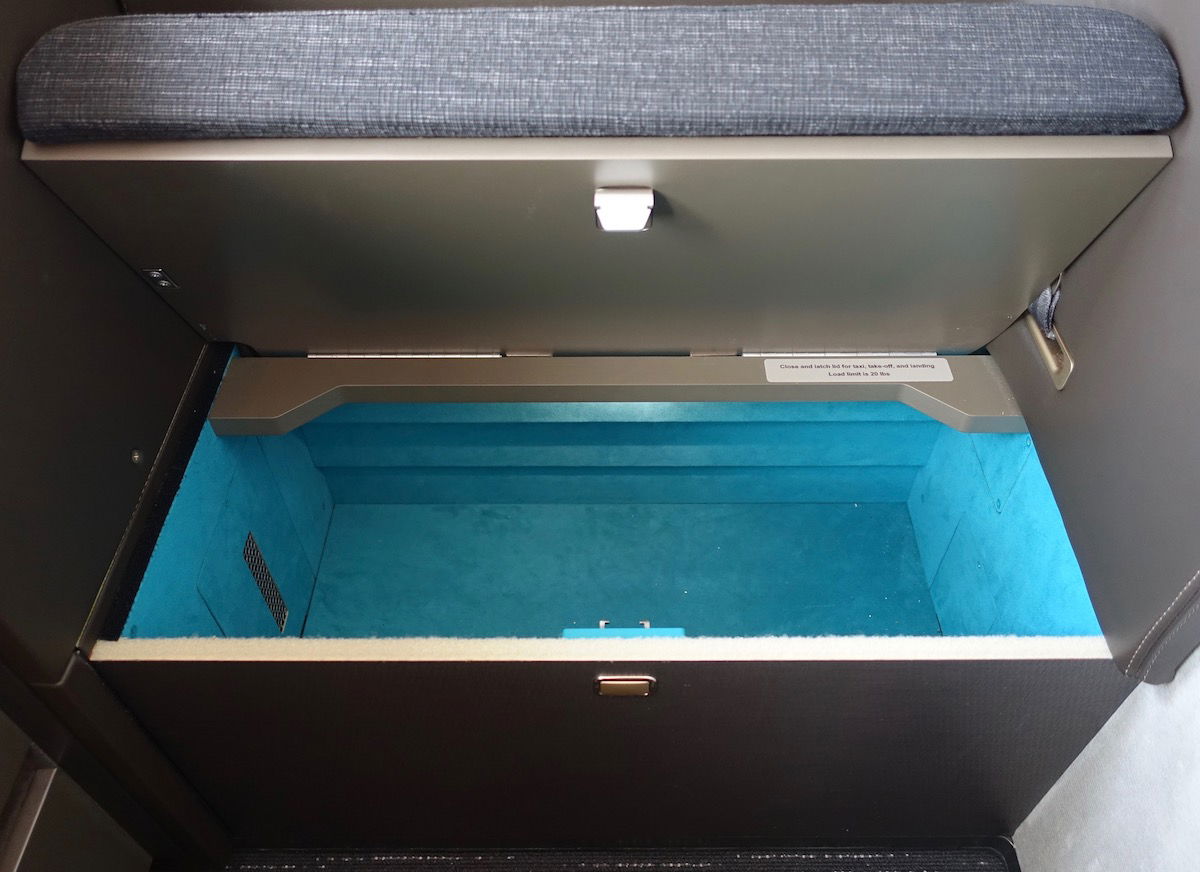 Oman Air first class suite ottoman
The cabin also didn't have any overhead bins, so really the only place to store carry-ons was in the closets at the front of the cabin, which isn't ideal — it's not that each passenger gets their own closet, but rather it's just a shared space.
To the right of the seat was a narrow closet. This was wide enough to hang a jacket, but nothing beyond that, really.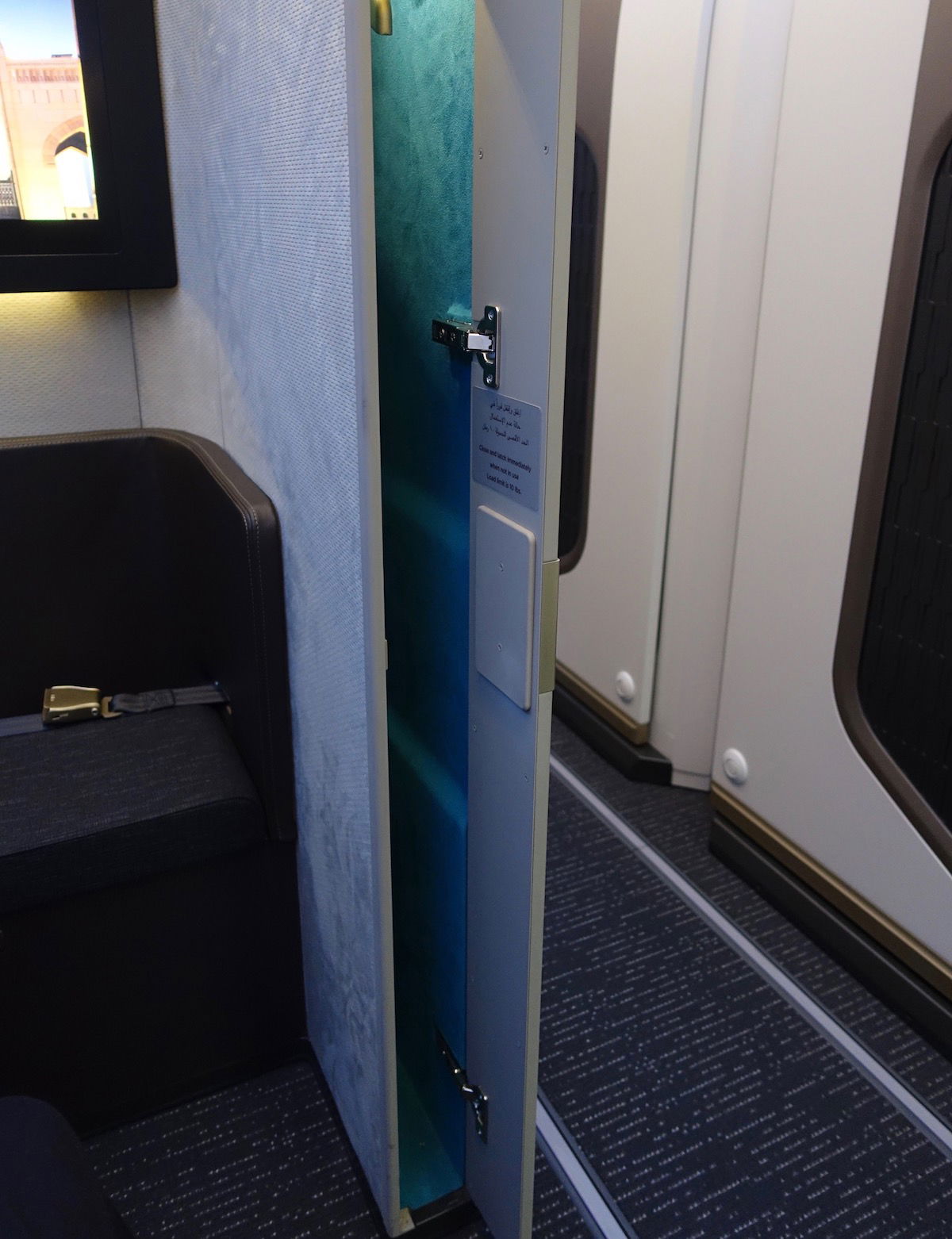 Oman Air first class suite closet
To the left of the seat was a small enclosed storage compartment, an open storage compartment, an entertainment controller, and a screen that could control the seat functions.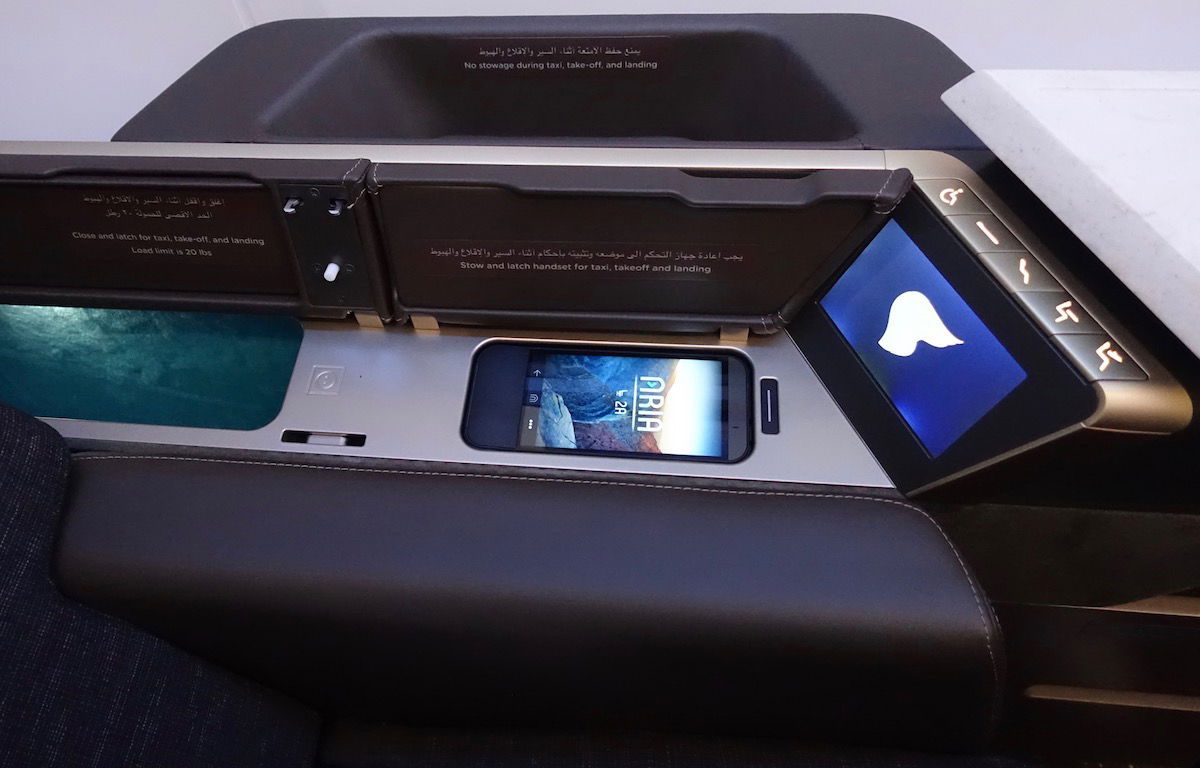 Oman Air first class seat controls
There was both a screen to control the seat functions, and some basic pre-sets above that. Then there was a small marble side table.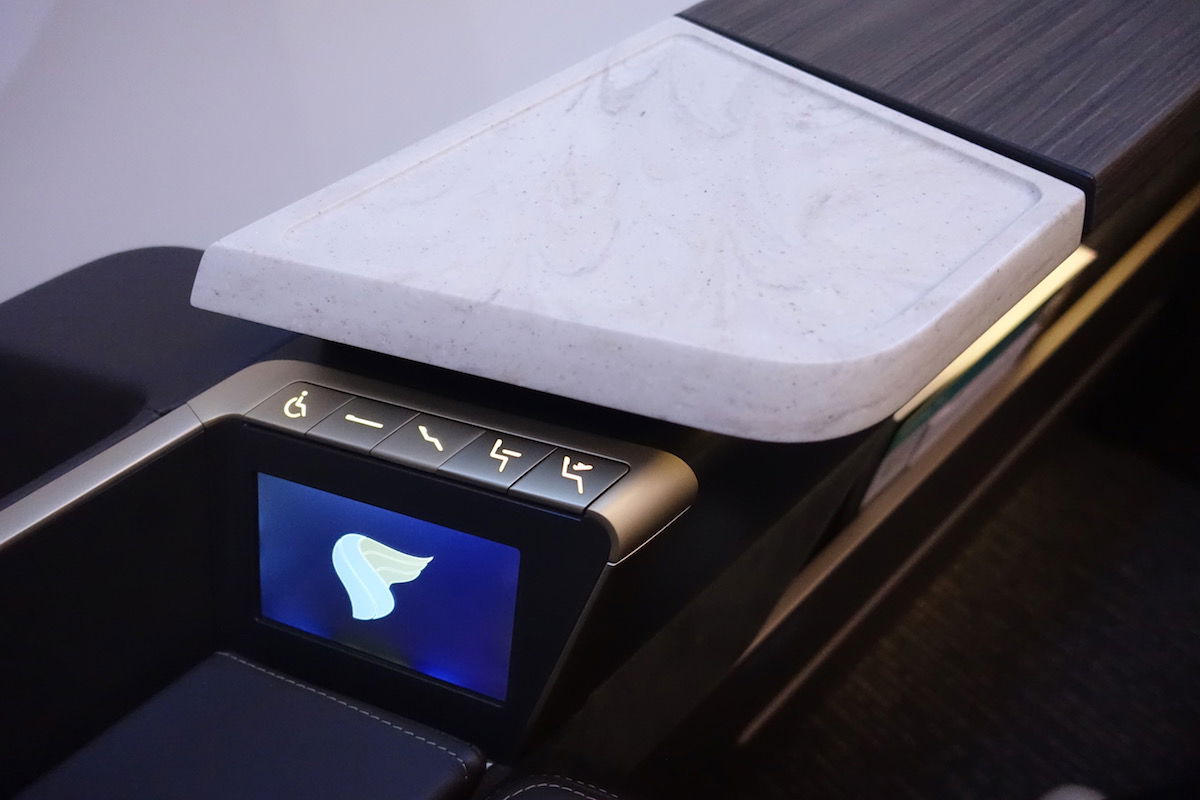 Oman Air first class seat controls
Past that was a compartment that housed the huge tray table.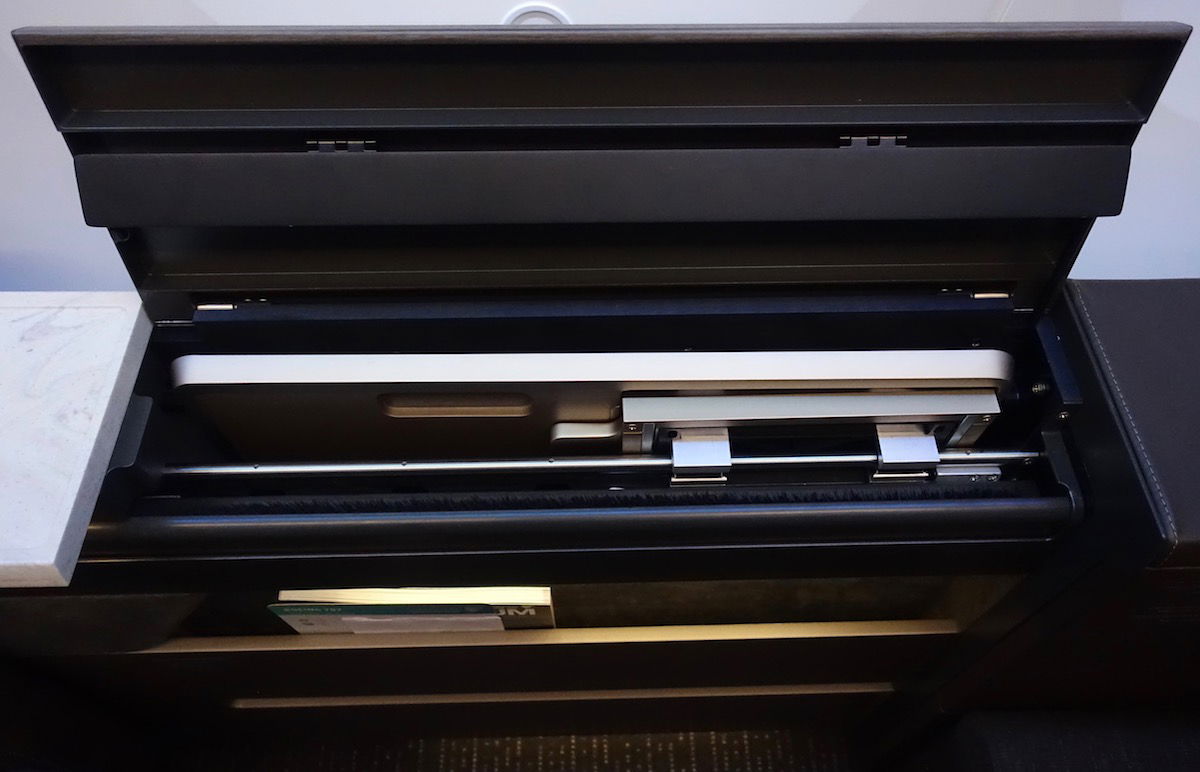 Oman Air first class seat tray table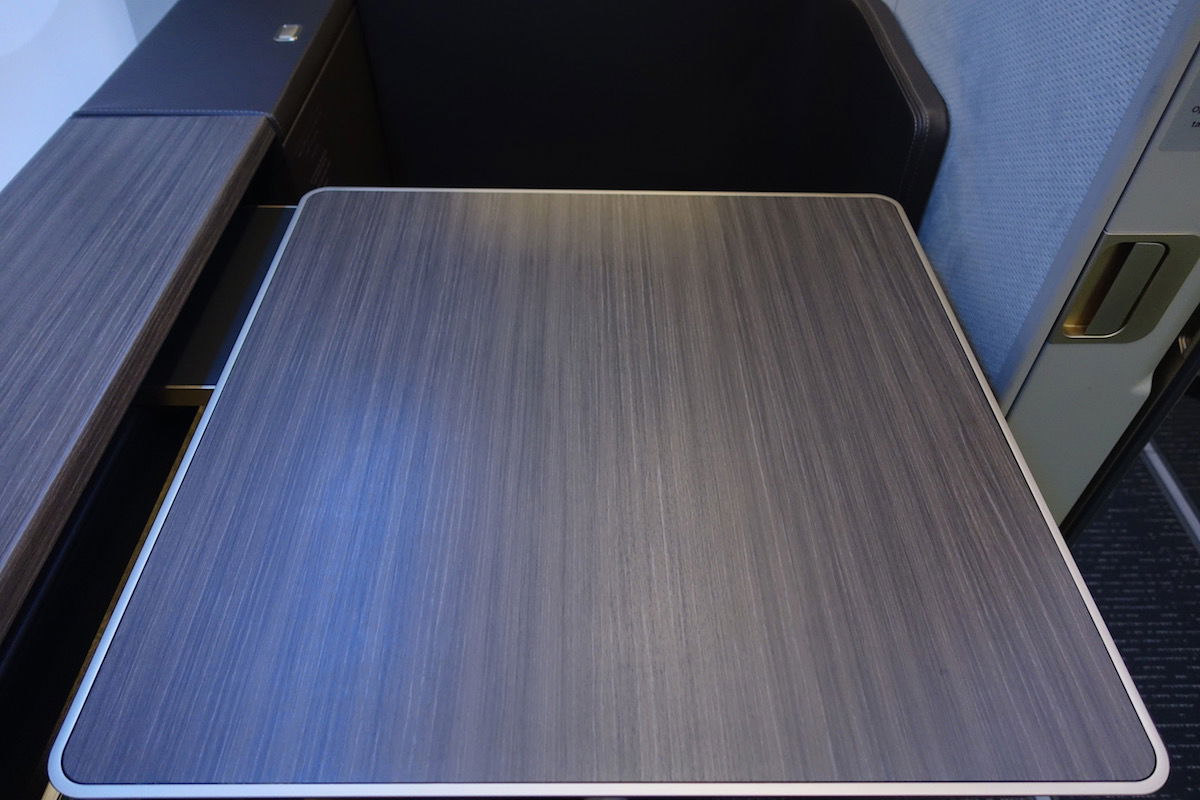 Oman Air first class seat tray table
Then at the front left of the seat was a small minibar, which was a cute (though unnecessary) feature.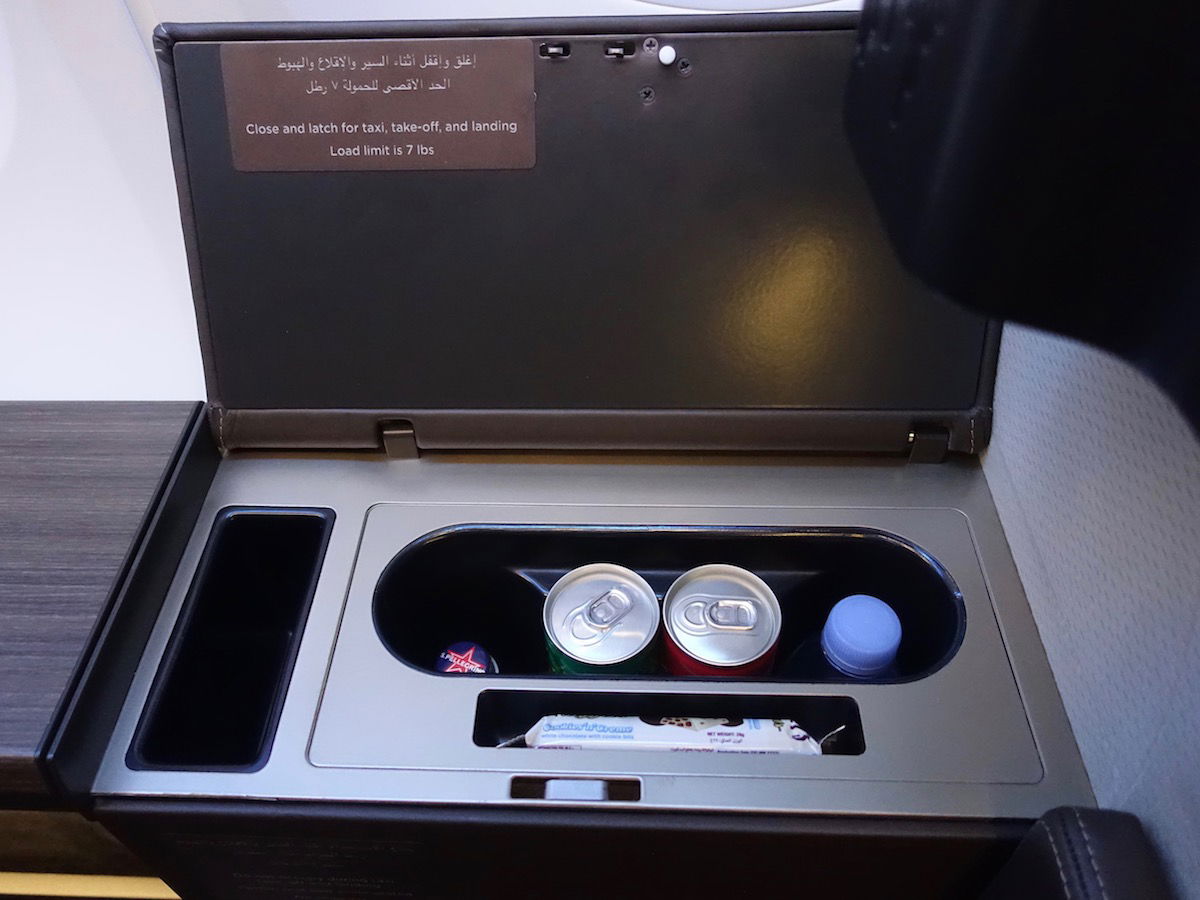 Oman Air first class minibar
The minibar had four drinks, including still and sparkling water, two sodas, and some chocolate. This is minor since this is unnecessary to begin with, but you'd think that if you bother to stock a minibar with chocolate, you'd choose something higher quality than Hershey's nuggets.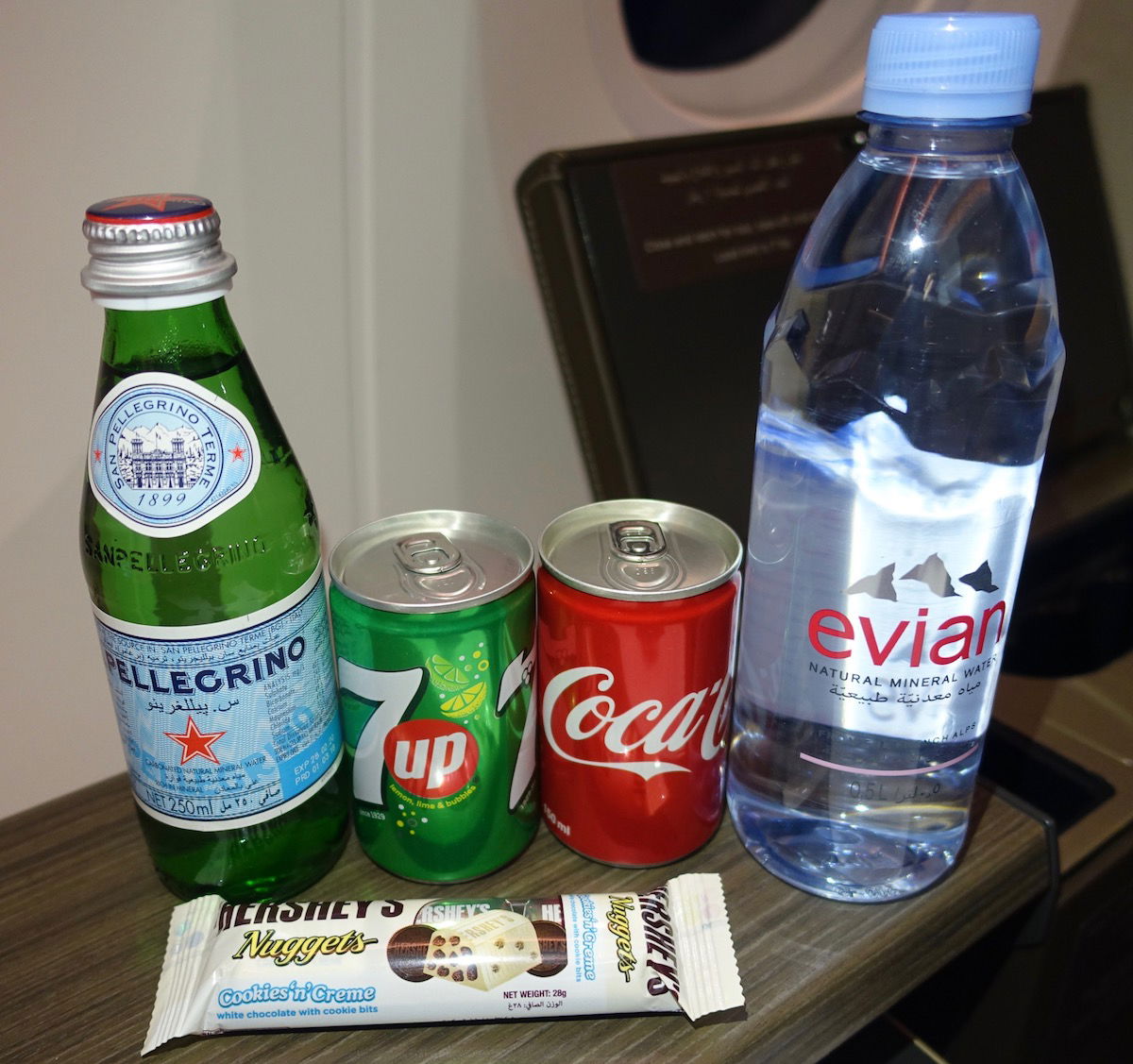 Oman Air first class minibar contents
To the right of the seat was an individual air nozzle (which is a feature I greatly value), as well as a reading light.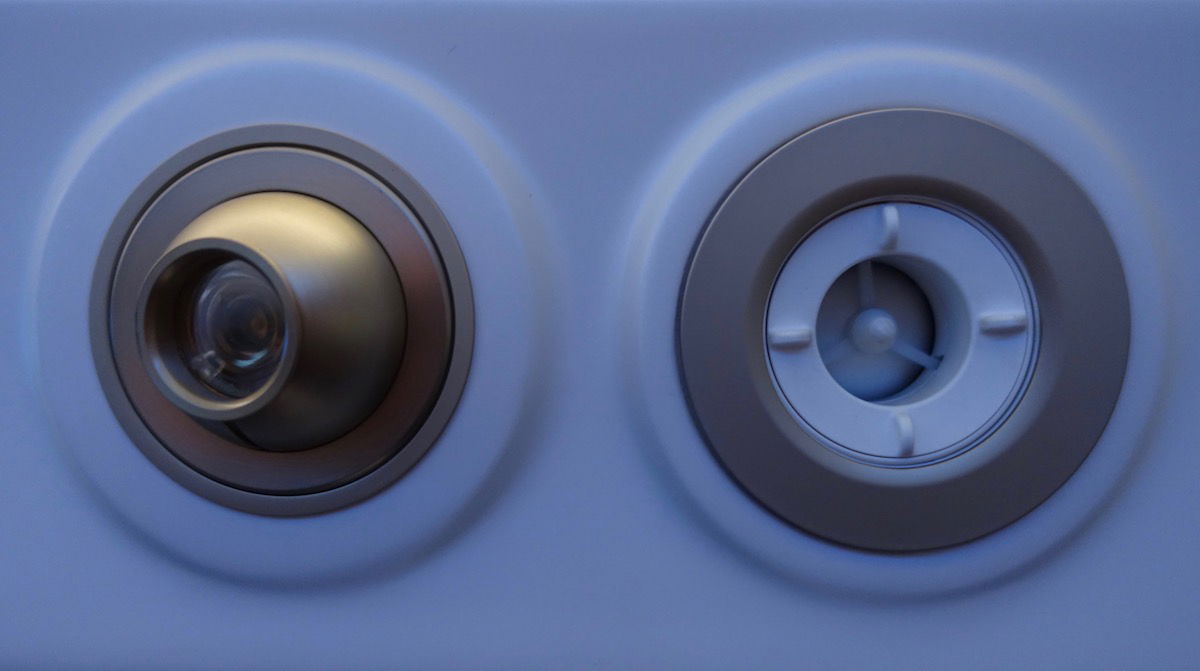 Oman Air first class reading light and air nozzles
My suite alone had three full windows. Since this was a 787, there weren't any window shades, but rather there were dimmers.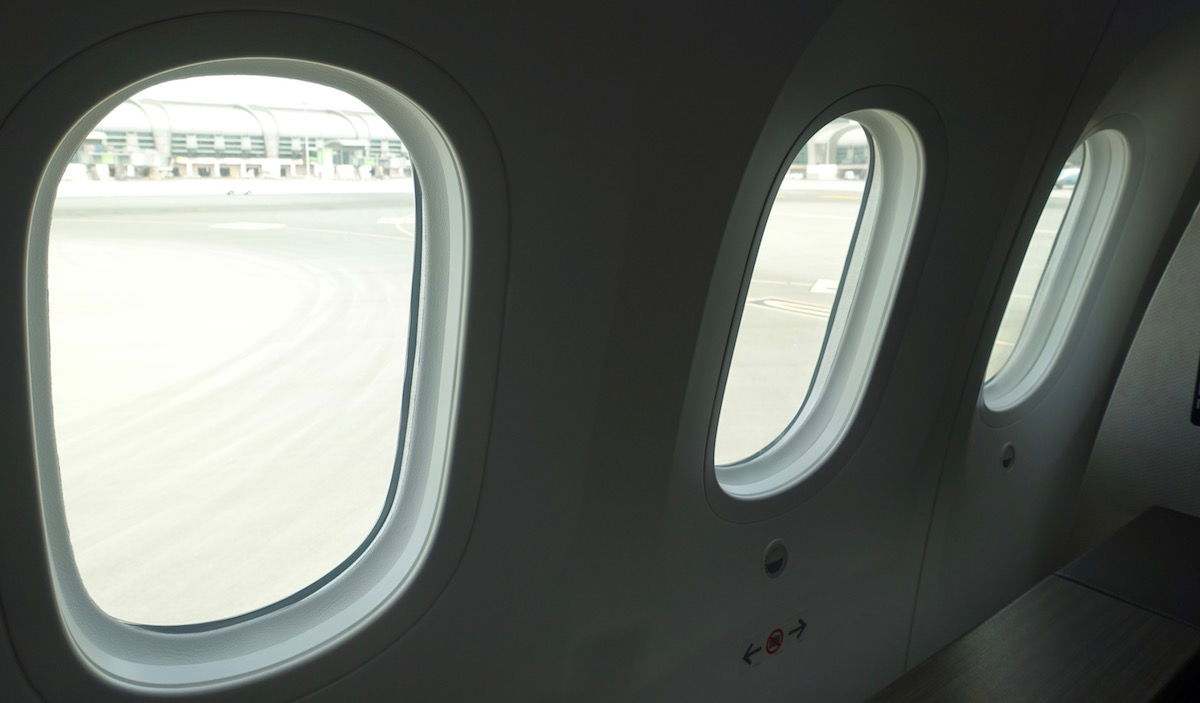 Oman Air first class three full windows
Waiting at each seat were two pillows and a blanket. One pillow was on the seat, while the rest of the bedding was inside the ottoman.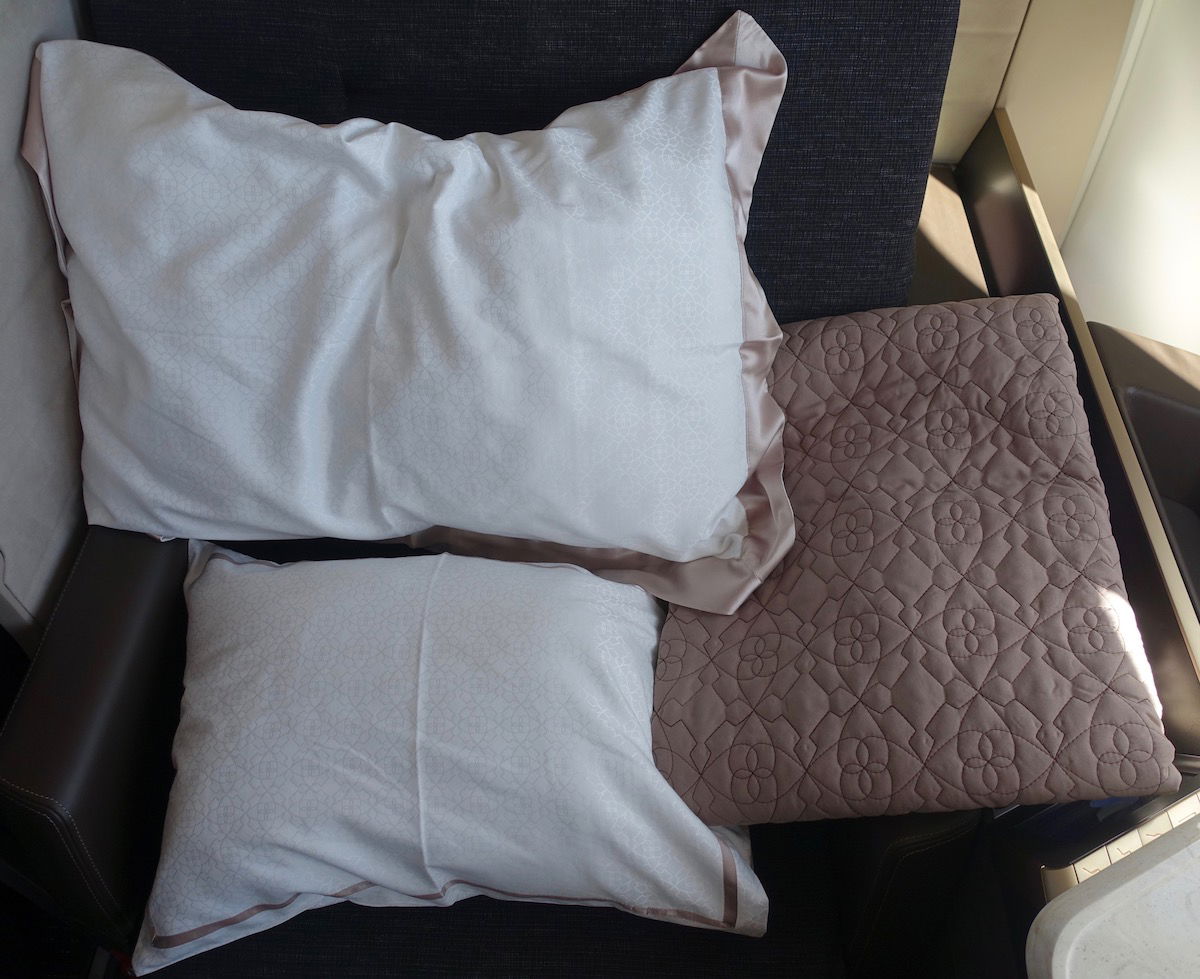 Oman Air first class pillows & blanket
This is probably a good time to mention that upon boarding the plane, every passenger (not just first class, but everyone) received a gift bag to commemorate the brand new 787-9. This included a collared Oman Air shirt, a package of dates, and a cute card.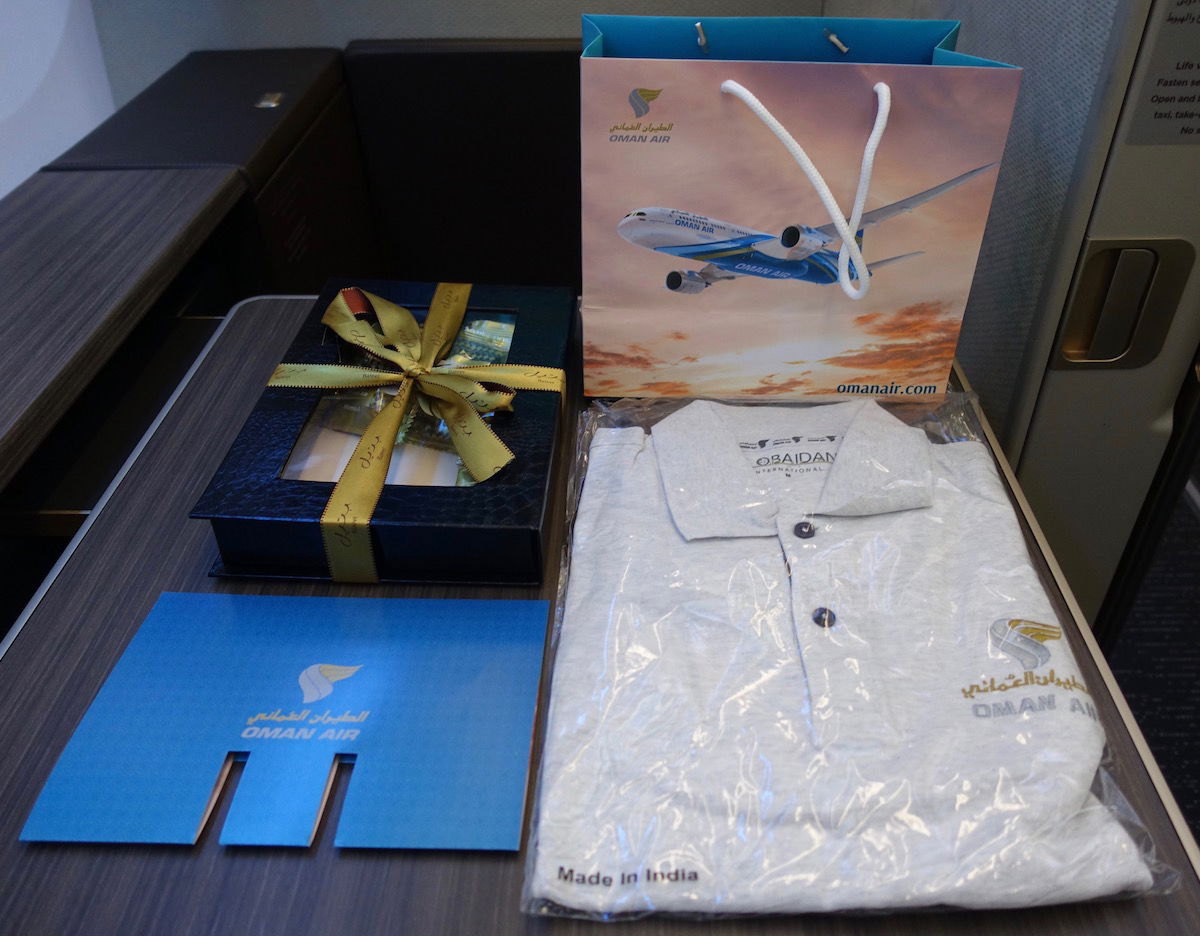 Oman Air first class goodie bag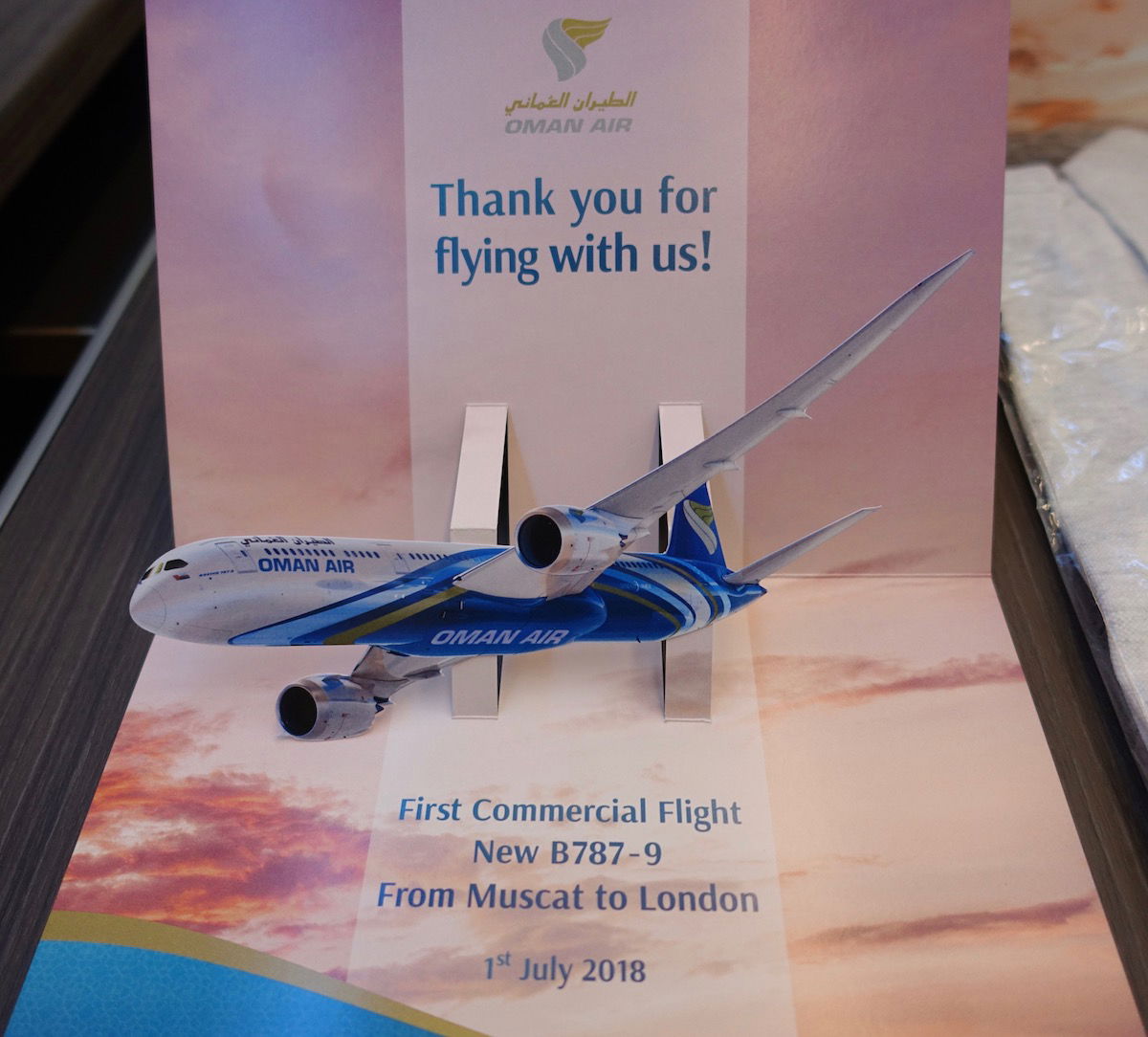 Oman Air first class goodie bag
Given that this was in inaugural flight, it was a bit chaotic for a variety of reasons:
This was a brand new first class product, so the crew was still getting used to the service flow
The CEO was onboard the flight and seated across from me
There were several other Oman Air executives onboard, including the SVP of guest experience
There were also a couple of employees from other companies, including one from Thales, who was apparently flying back and forth on the flight several times to work out any kinks with the new system
My point is that service was a bit of an opportunity, though the crew was very well intentioned, and I'm sure many of these are kinks that will work themselves out.
About 10 minutes after settling in I was welcomed aboard by one of the first class flight attendants, and offered a pre-departure drink. I could have whatever I wanted, though the flight attendant recommended some champagne, a lime mint juice, and a ginger orange smoothie.
I was also asked if I wanted a warm or cold towel.
I decided to order the smoothie (not something I'd usually order as a pre-departure drink, but it sounded good) and a warm towel, which was served with some mixed nuts.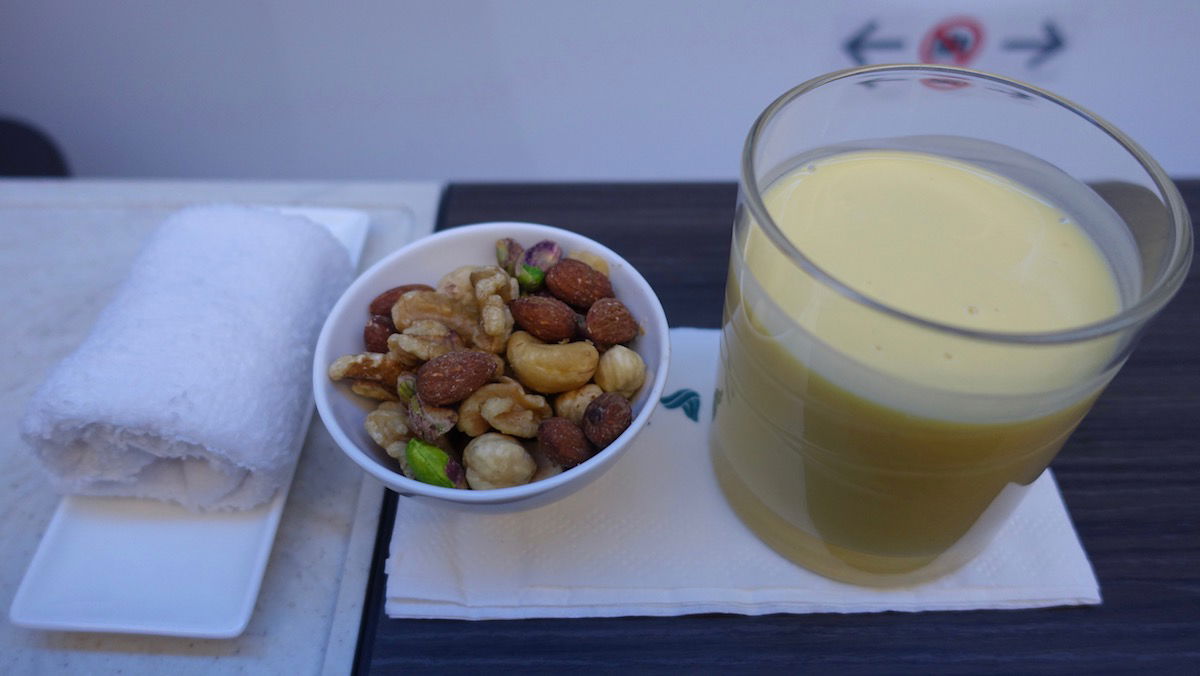 Oman Air first class pre-departure drink
At around 2:30PM the Omani captain added his welcome aboard, informing us of our flight time of seven hours, and our cruising altitude of 40,000 feet.
A few minutes later the cabin manager, Mahmud, added his welcome aboard, and informed us that the crew spoke English, Arabic, Filipino, Thai, Polish, Czech, and Serbian (which makes sense, since in my experience most Oman Air flight attendants are either local, Filipino, Thai, or Eastern European).
The captain apologized for the delayed start, but assured us we'd arrive in London on-time. At this point Oman Air's CEO boarded, who couldn't have been a kinder and more gracious guy. Unlike previous CEOs, this guy is a local, and has worked at the airline for decades. It was so refreshing to see how kindly he treated the crew and his fellow passengers.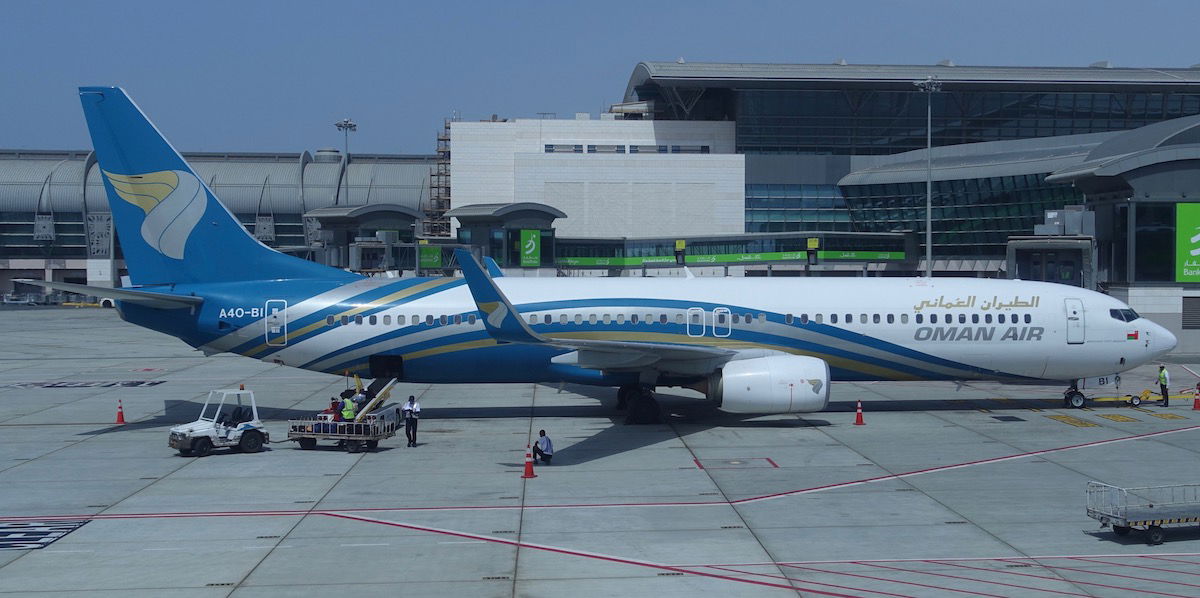 Oman Air 737 Muscat Airport
By 2:50PM we began our taxi, and we followed an Oman Air A330 to the runway. Our taxi was pretty quick, and by 3PM we were cleared for takeoff on runway 8L.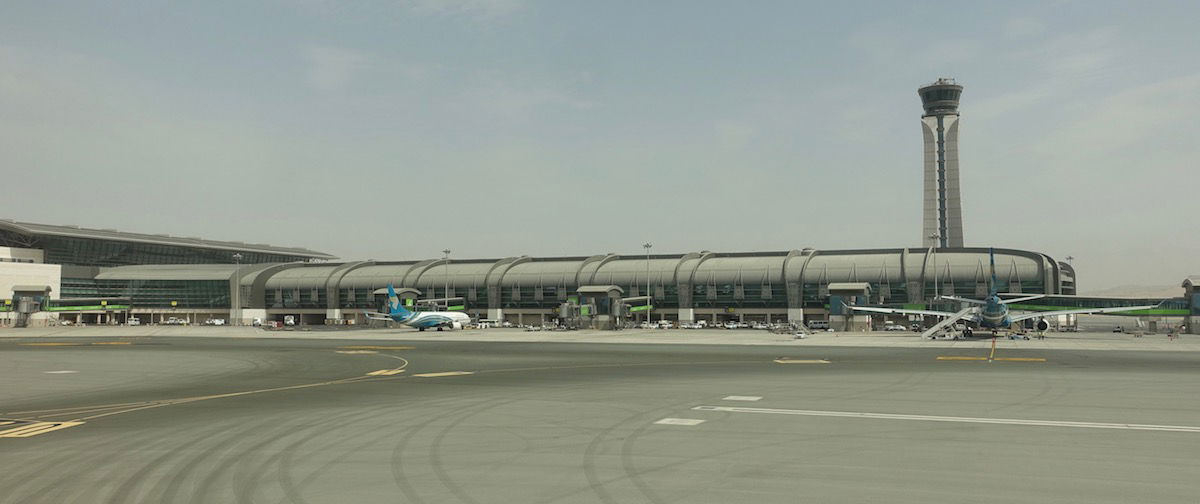 Muscat Airport new terminal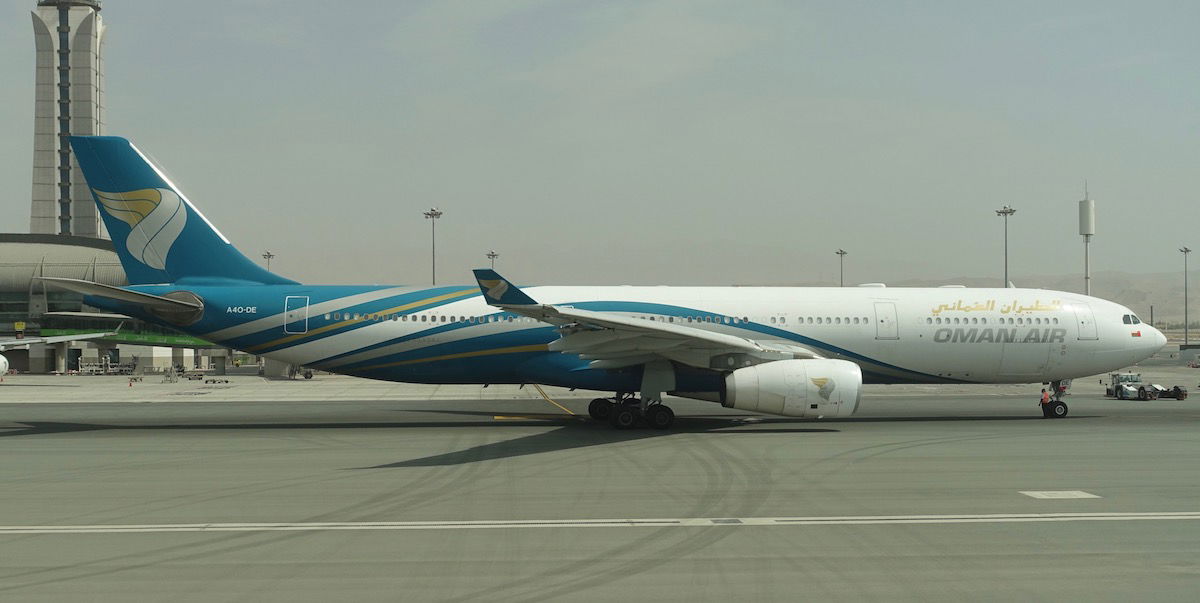 Oman Air A330 Muscat Airport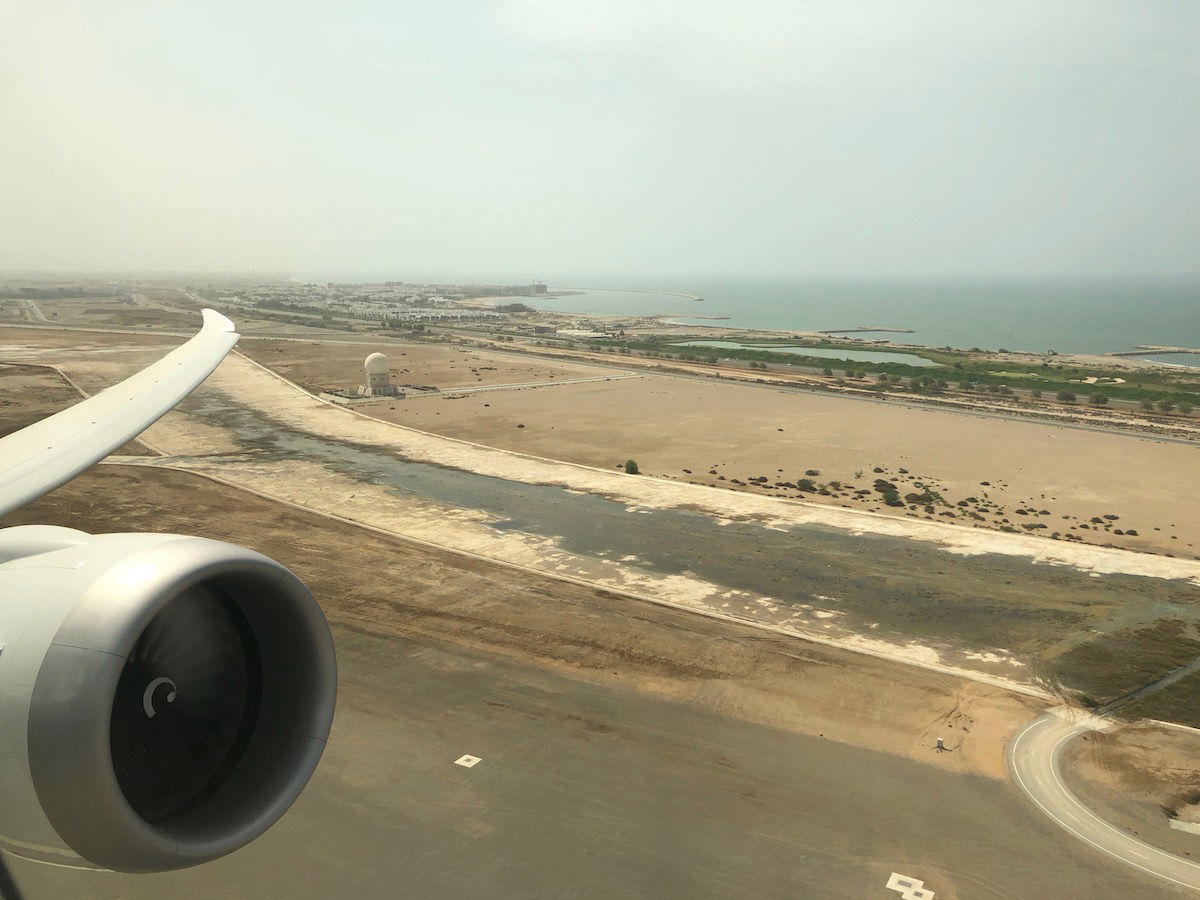 View after takeoff from Muscat
The views on the climb out were beautiful, and eventually we made a sharp turn over the Gulf and began flying towards London.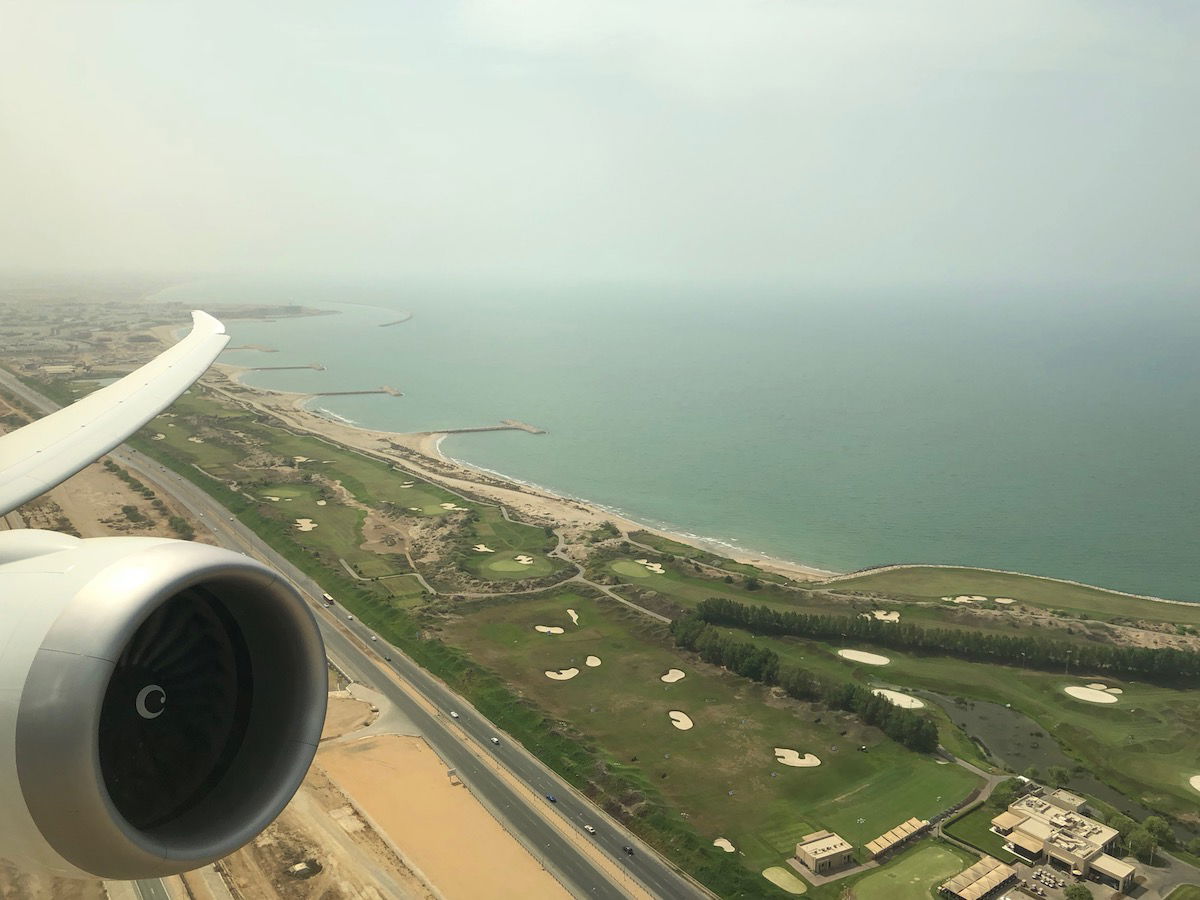 View after takeoff from Muscat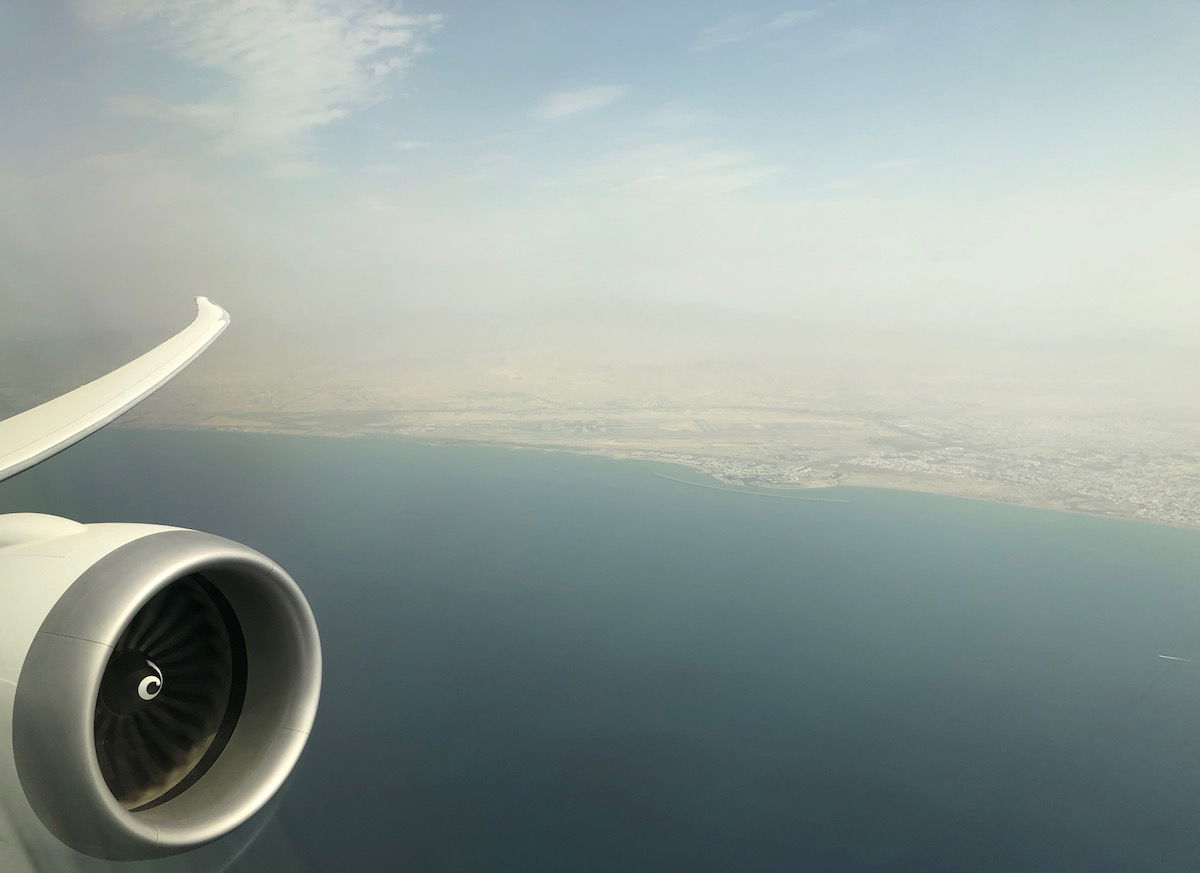 View after takeoff from Muscat
As we climbed out I turned on the airshow.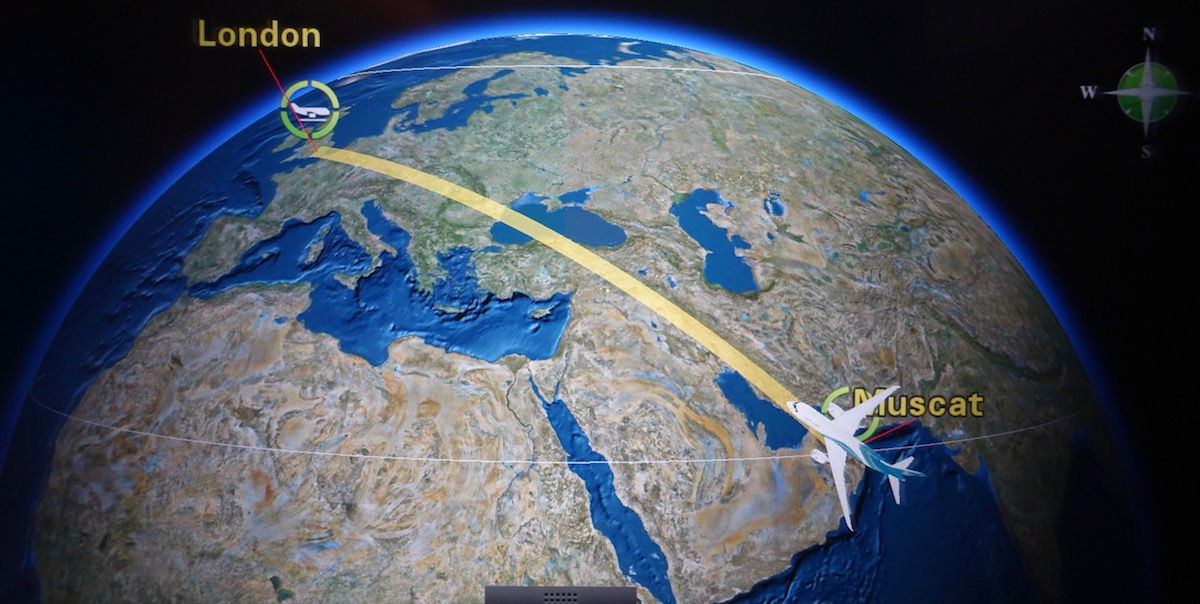 Airshow to London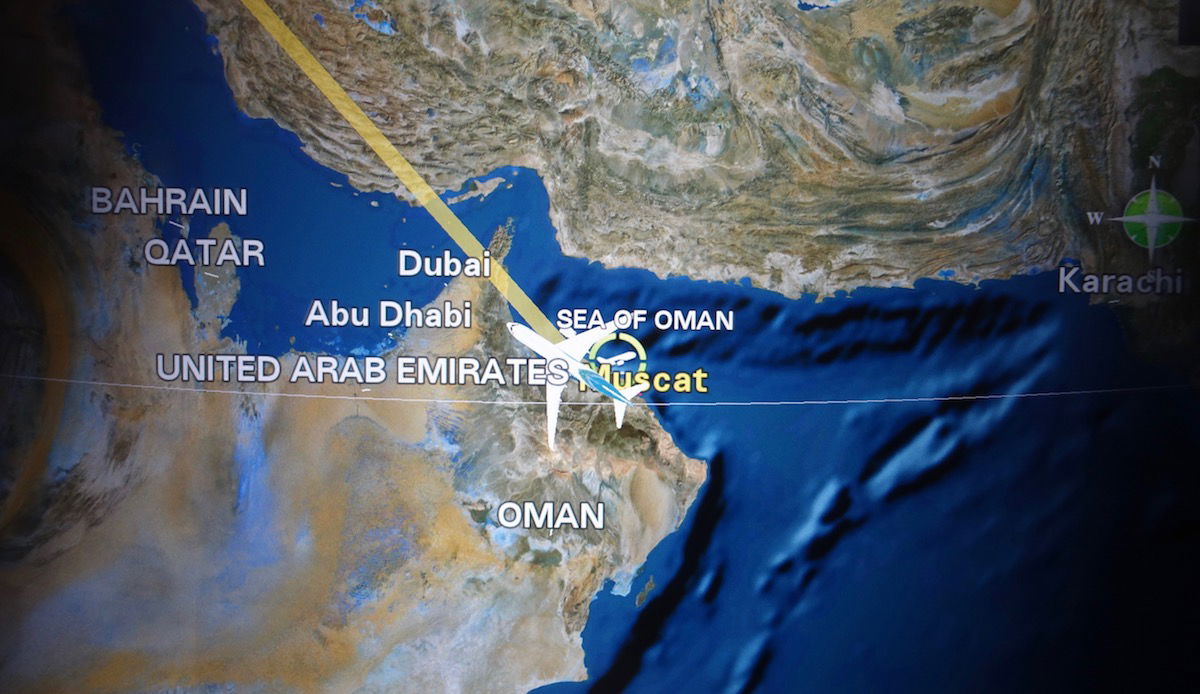 Airshow to London
I then browsed the entertainment selection. Oman Air has a brand new entertainment system on this 787-9, which they call Aria. The movie selection was quite good, and system was easy to use. I appreciated that the screen itself could also be used to browse the selection, which isn't possible on other Oman Air planes, in my experience.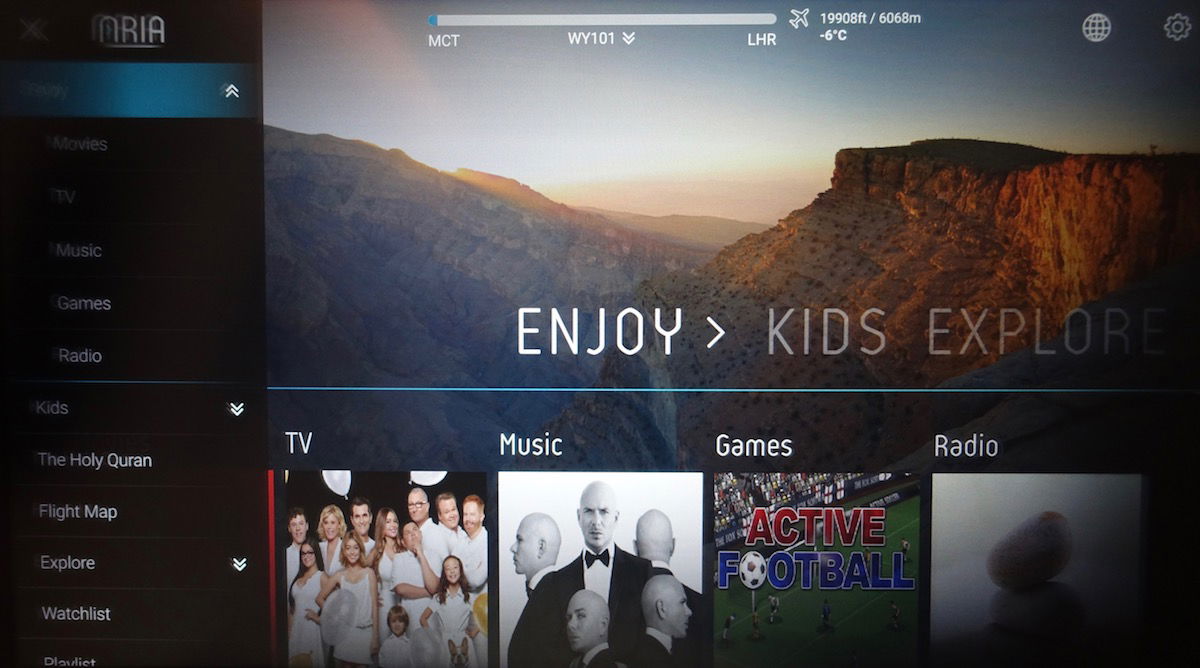 Oman Air first class entertainment selection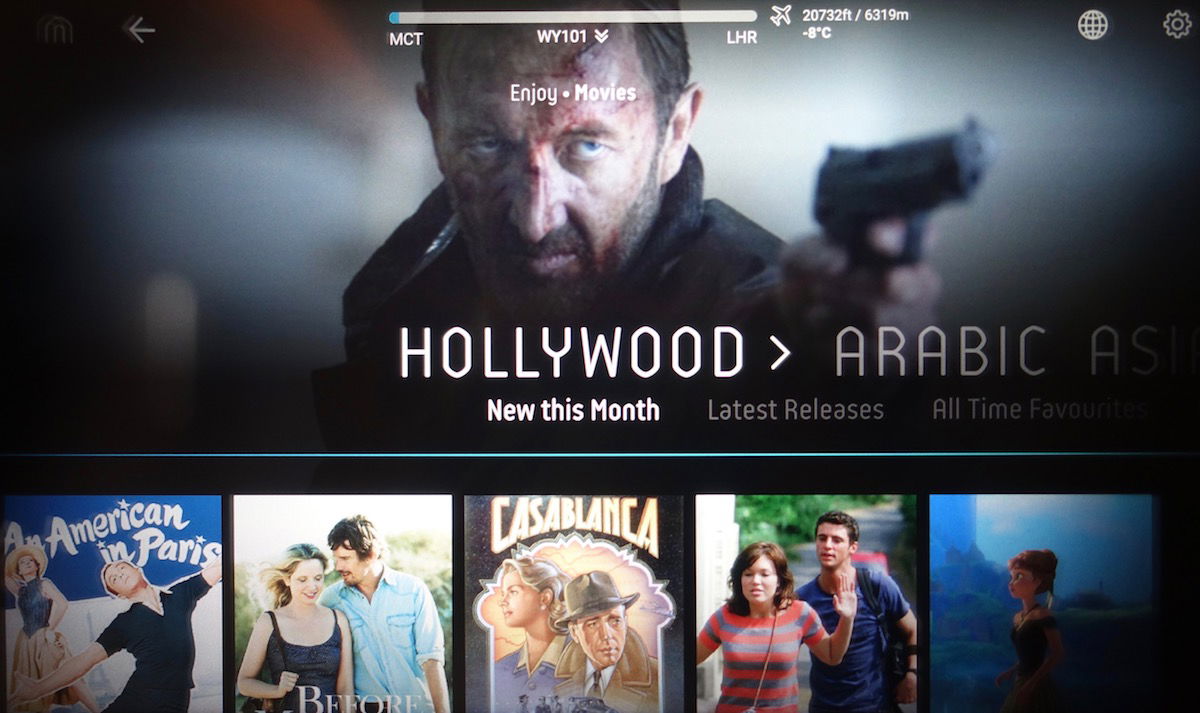 Oman Air first class entertainment selection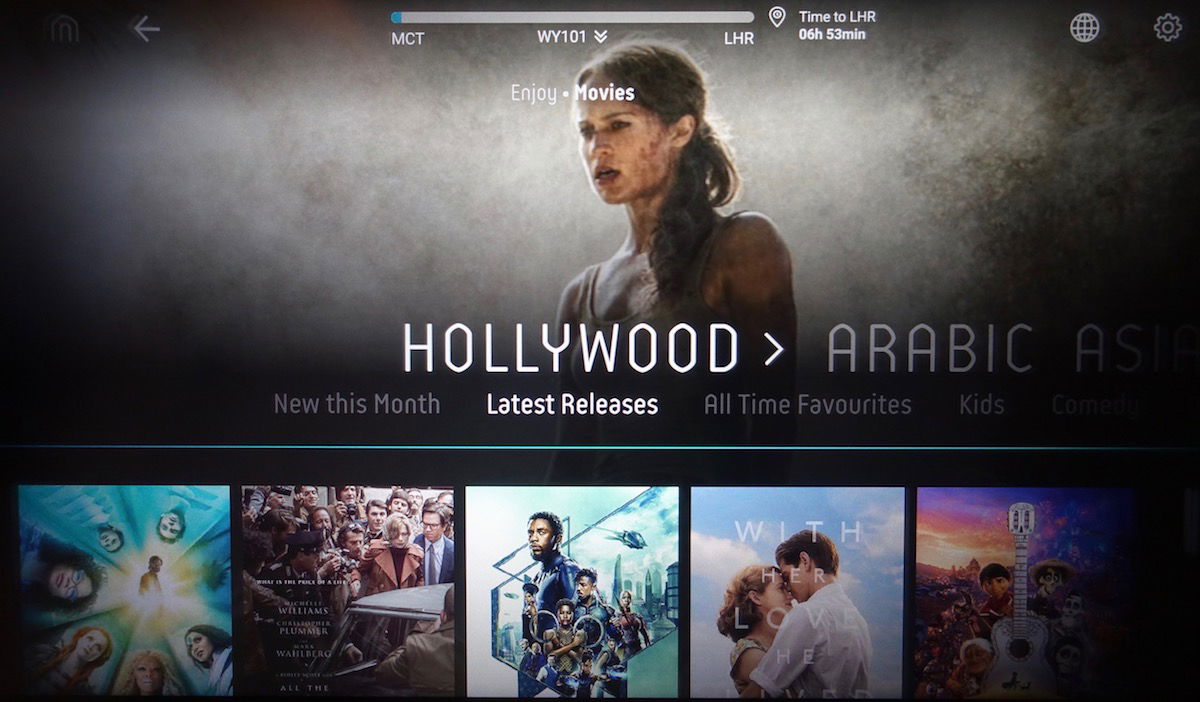 Oman Air first class entertainment selection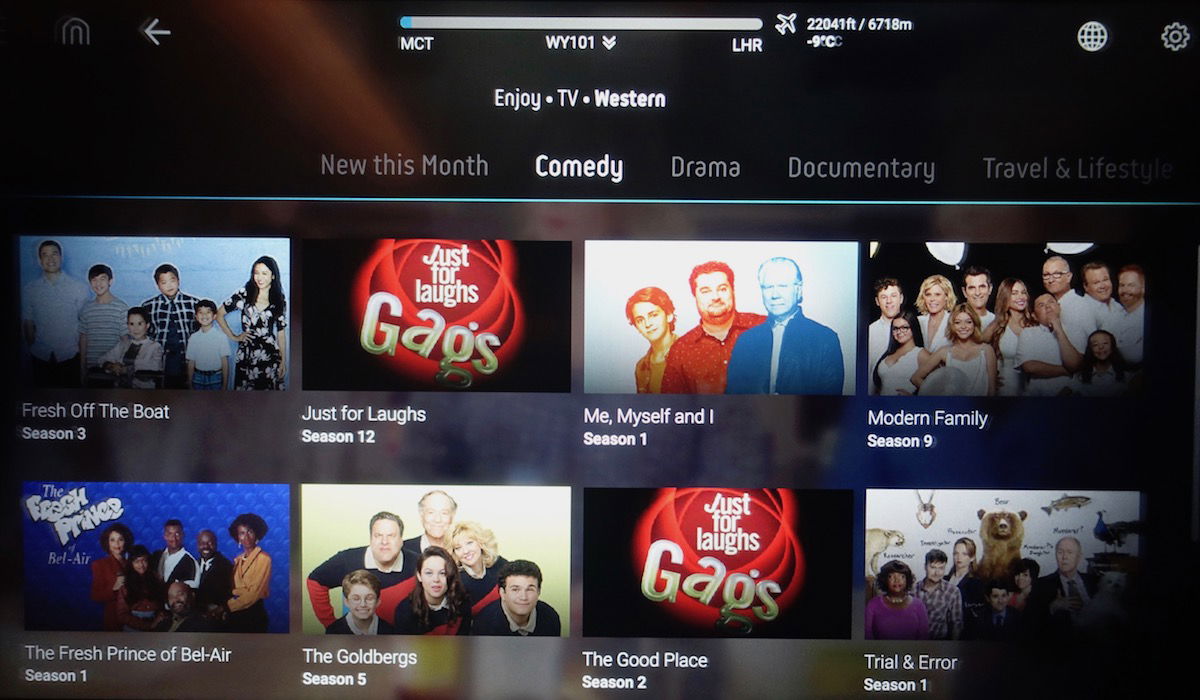 Oman Air first class entertainment selection
Oman Air's 787s also have Wi-Fi, with the following pricing: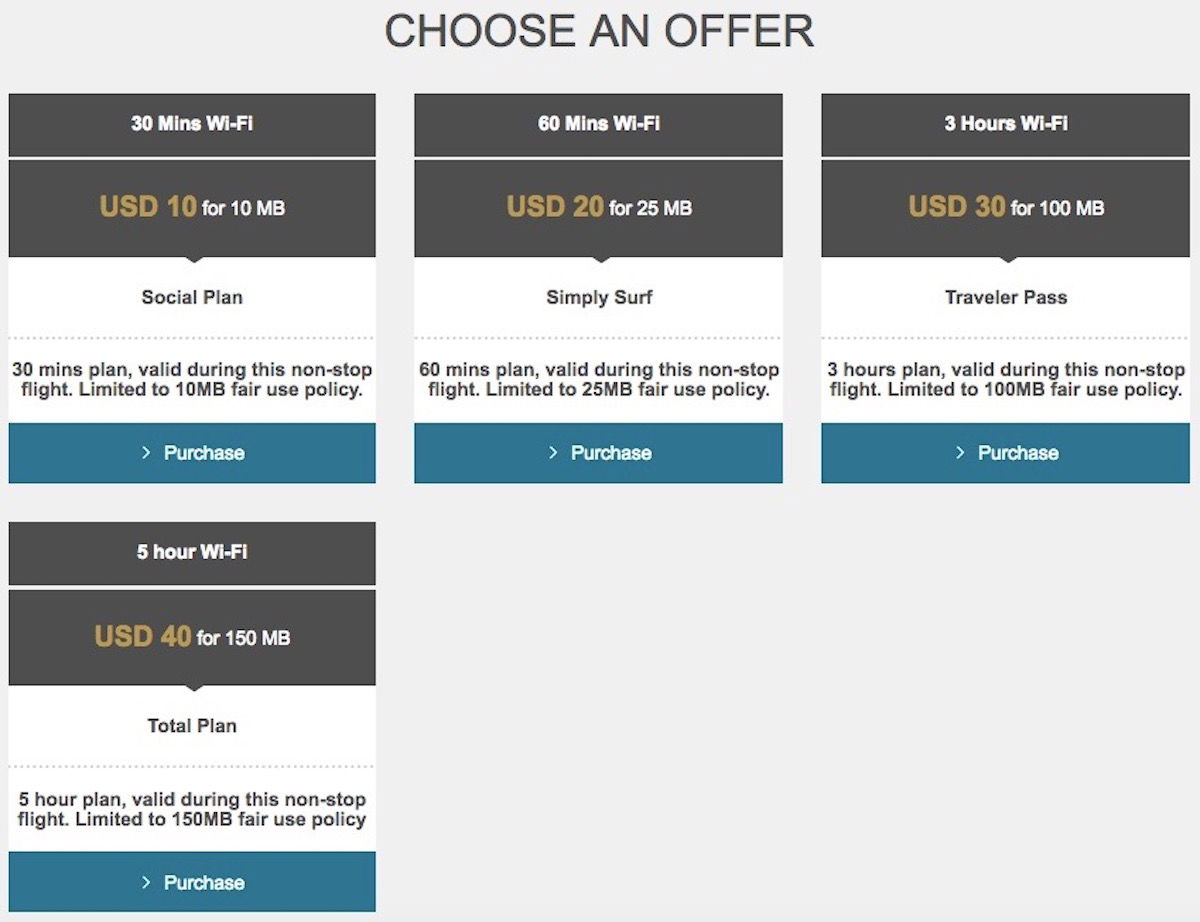 Oman Air 787 Wi-Fi pricing
Annoyingly, Oman Air uses OnAir for their Wi-Fi, which is probably the worst service out there. It's almost unusably slow. I don't get why they wouldn't go with one of the better options out there.
After browsing the entertainment I decided to check out the first class lavatory. Oman Air did something interesting with the lavatory, and the CEO later explained to me that this was intentional.
The lavatory is located in front of the cabin but behind the galley, and he explained that this is something they specifically requested from Boeing. As he explained it, it's because in Arabic culture you don't want to see people going in and out of the toilet, so this is intended to add privacy in that regard. There's another lavatory right by the cockpit for the crew.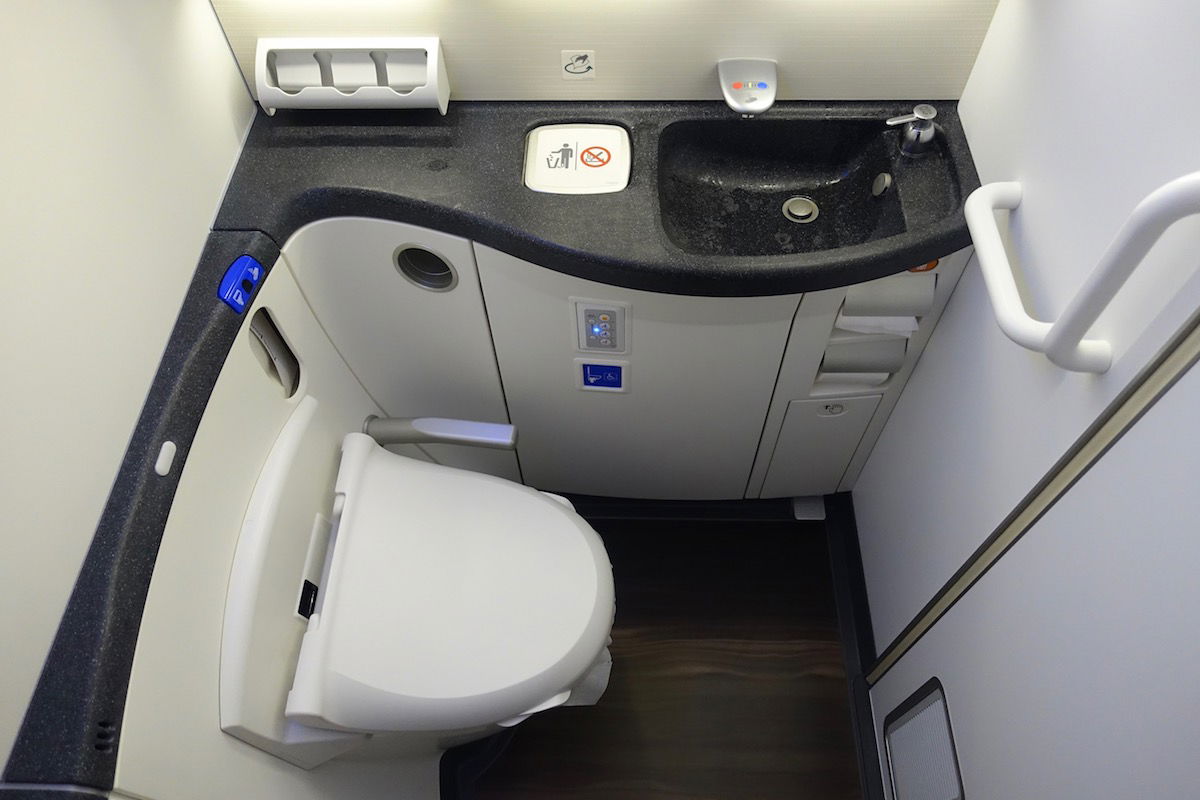 Oman Air first class lavatory
This lavatory also had a bidet.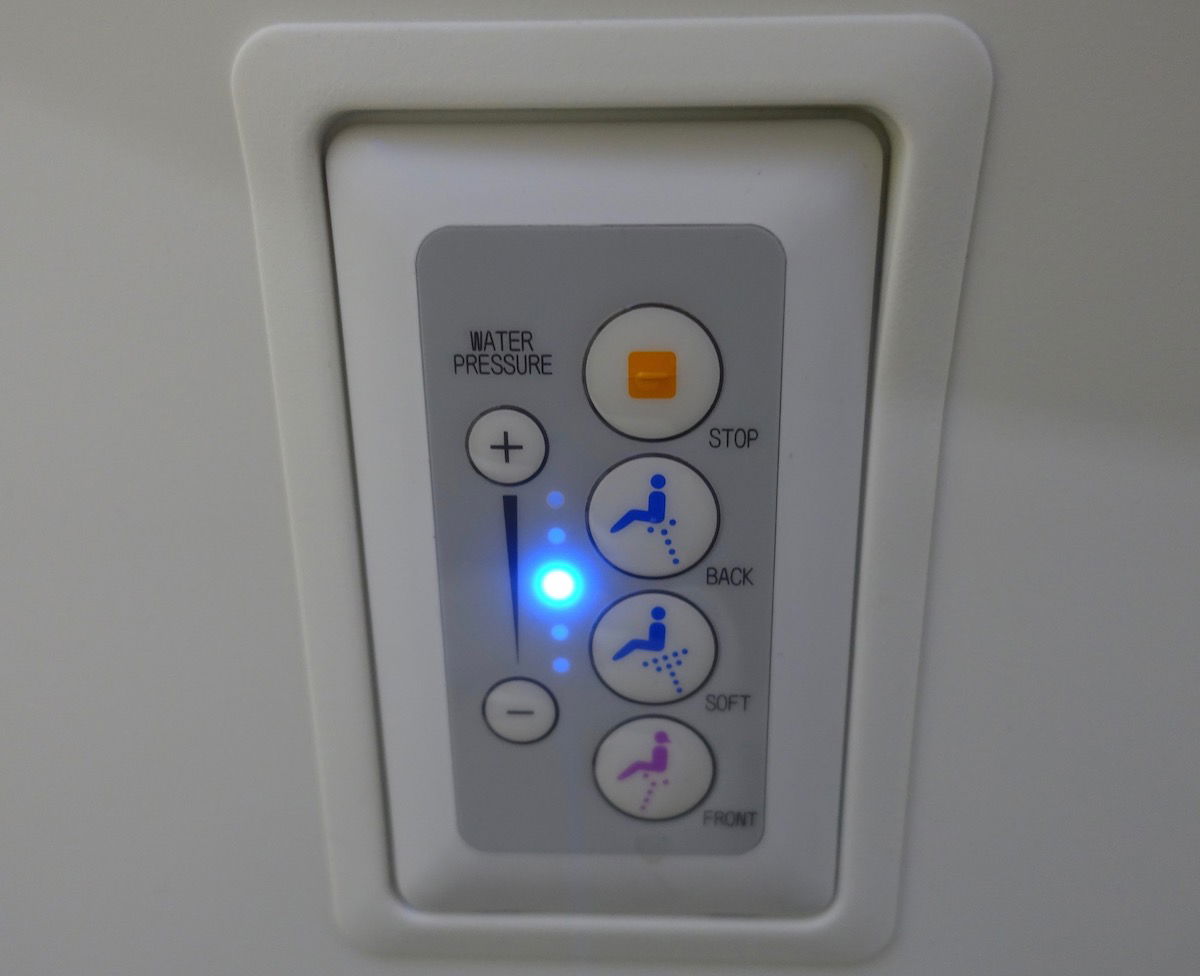 Oman Air first class lavatory bidet
Speaking of the CEO, I had the chance to talk to him briefly, and it was clear he was very proud of the plane, but open to feedback. He explained he was flying to London for the inaugural, and was then going to Casablanca, because the airline had just launched service there.
Also onboard was Oman Air's SVP of guest experience, who was an awesome Australian woman who used to work for Qatar Airways. She was extremely interested in getting feedback, and explained she was onboard because they were testing out their new soft product on this flight, which was expected to roll out on other routes within the next few months.
She explained that all the tableware is new, with the exception of the glasses, which they haven't changed out yet.
Lastly, she said that all A330s will eventually be reconfigured to feature Apex Suites, meaning that first class, as well as Oman Air's awesome retro business class, will be removed from these planes. Eventually London will be the only destination to have first class, using their two 787-9s with the cabin.
About 45 minutes after takeoff the amenities for the flight were distributed, including headphones, an amenity kit, pajamas, the menu and wine list, and a Wi-Fi card.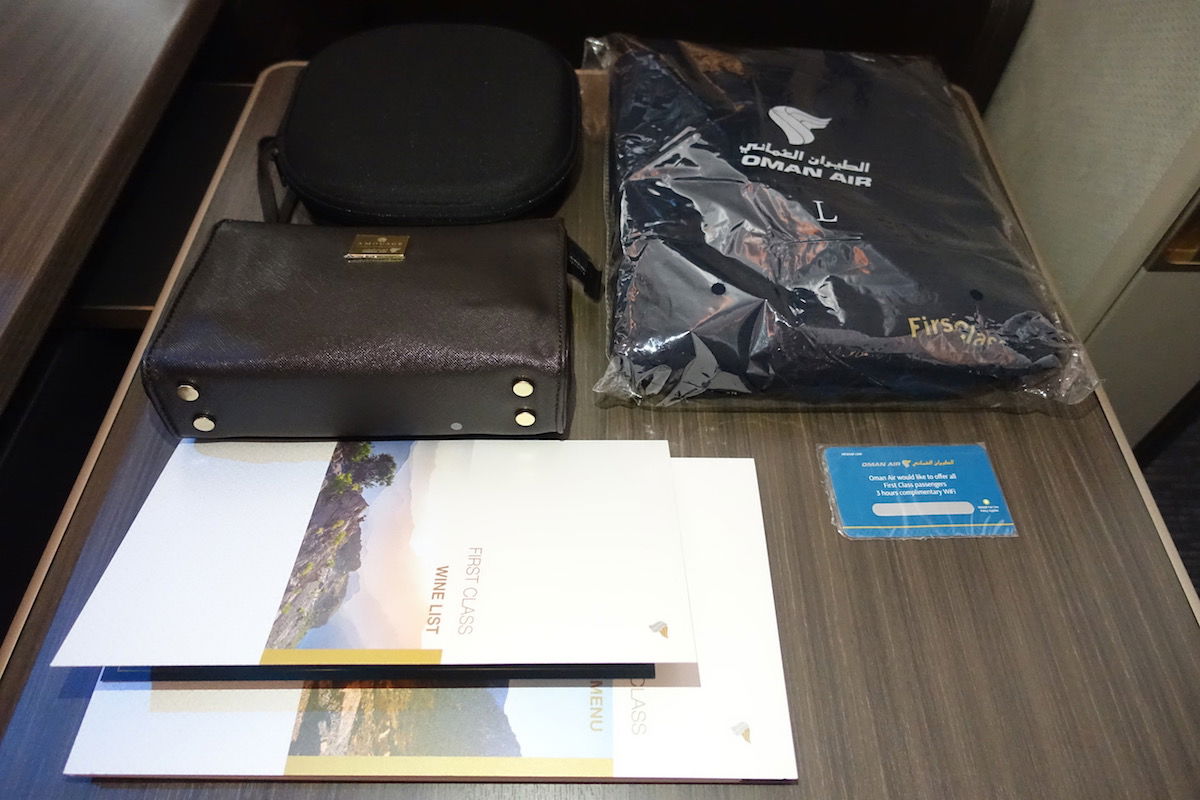 Oman Air first class amenity kit, pajamas, headphones, menu, and Wi-Fi code
I found the headphones to be low quality. Especially with only 16 first class seats in their entire fleet, I feel like they should at a minimum be investing in Bose headphones.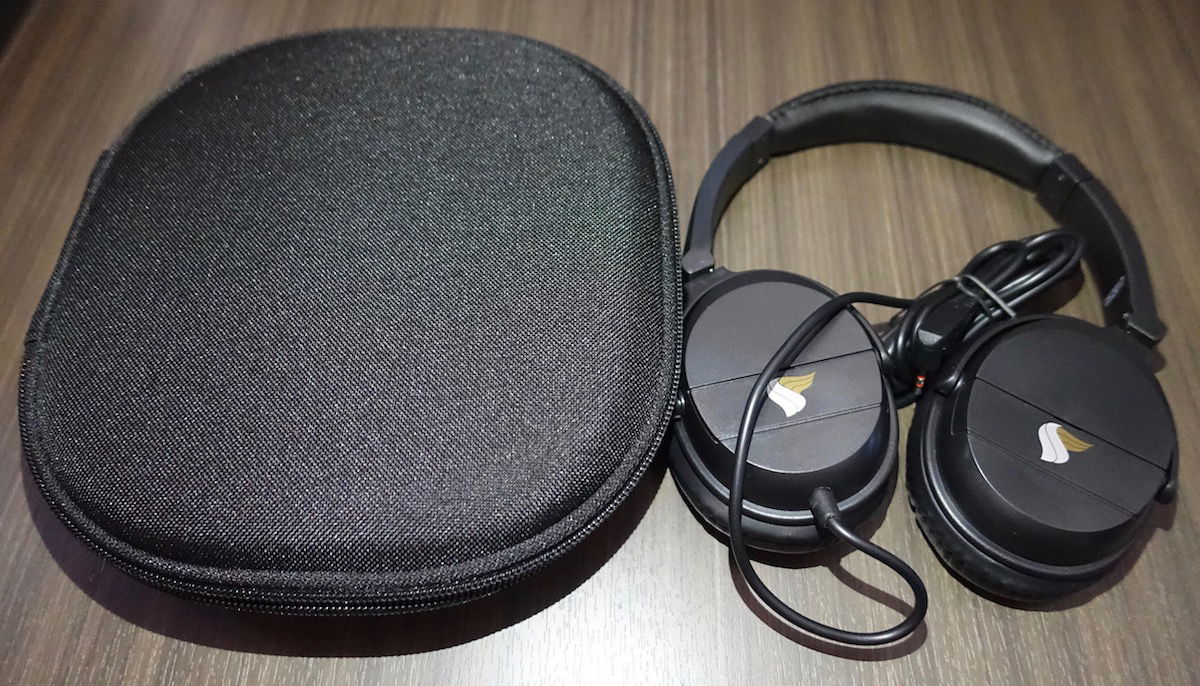 Oman Air first class headphones
The amenity kit was quite nice, and had socks, eyeshades, earplugs, a toothbrush and toothpaste, mouthwash, a brush, hand and body lotion, moisturizer, and lip balm.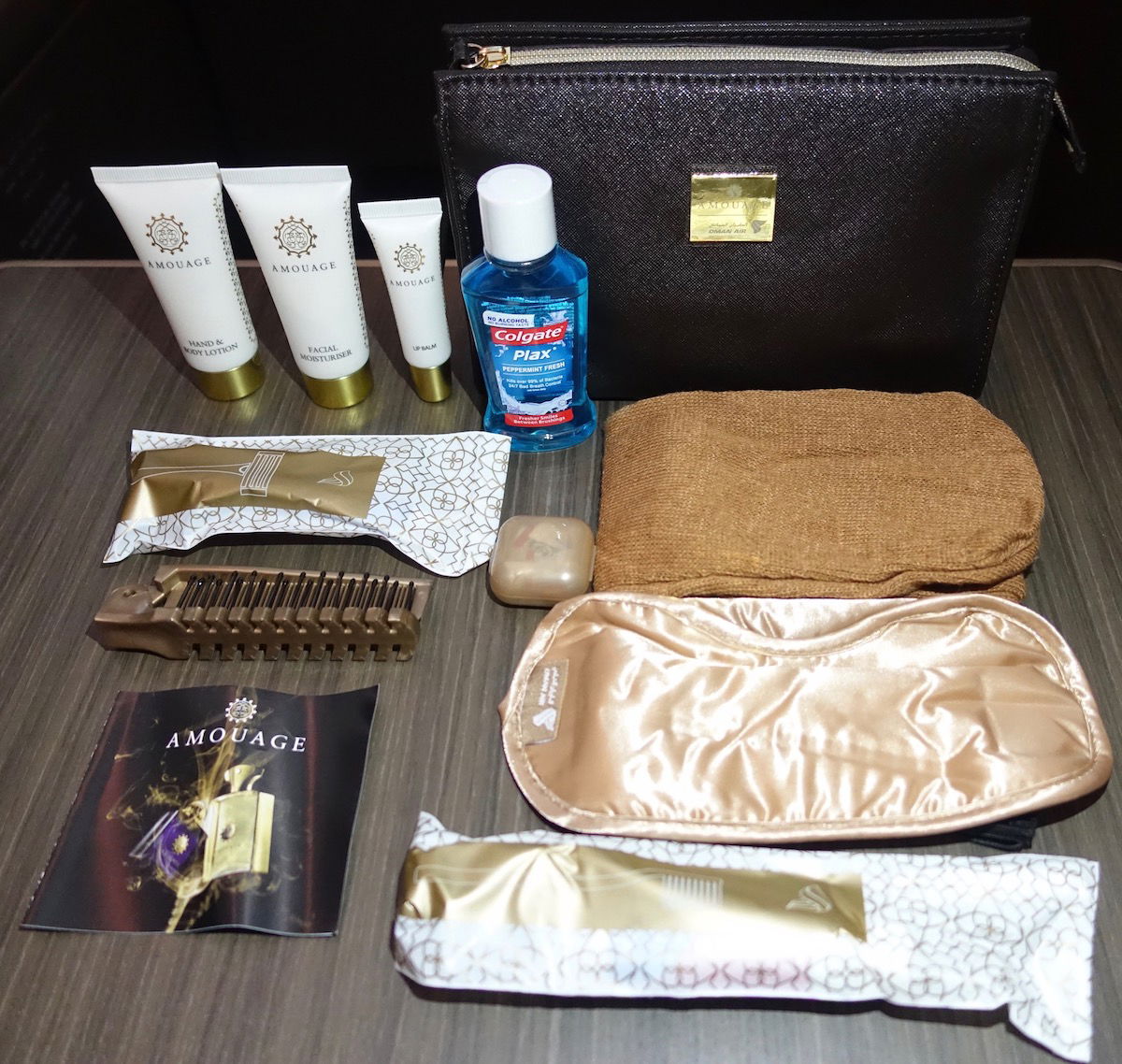 Oman Air first class amenity kit
There were also some nice pajamas and slippers.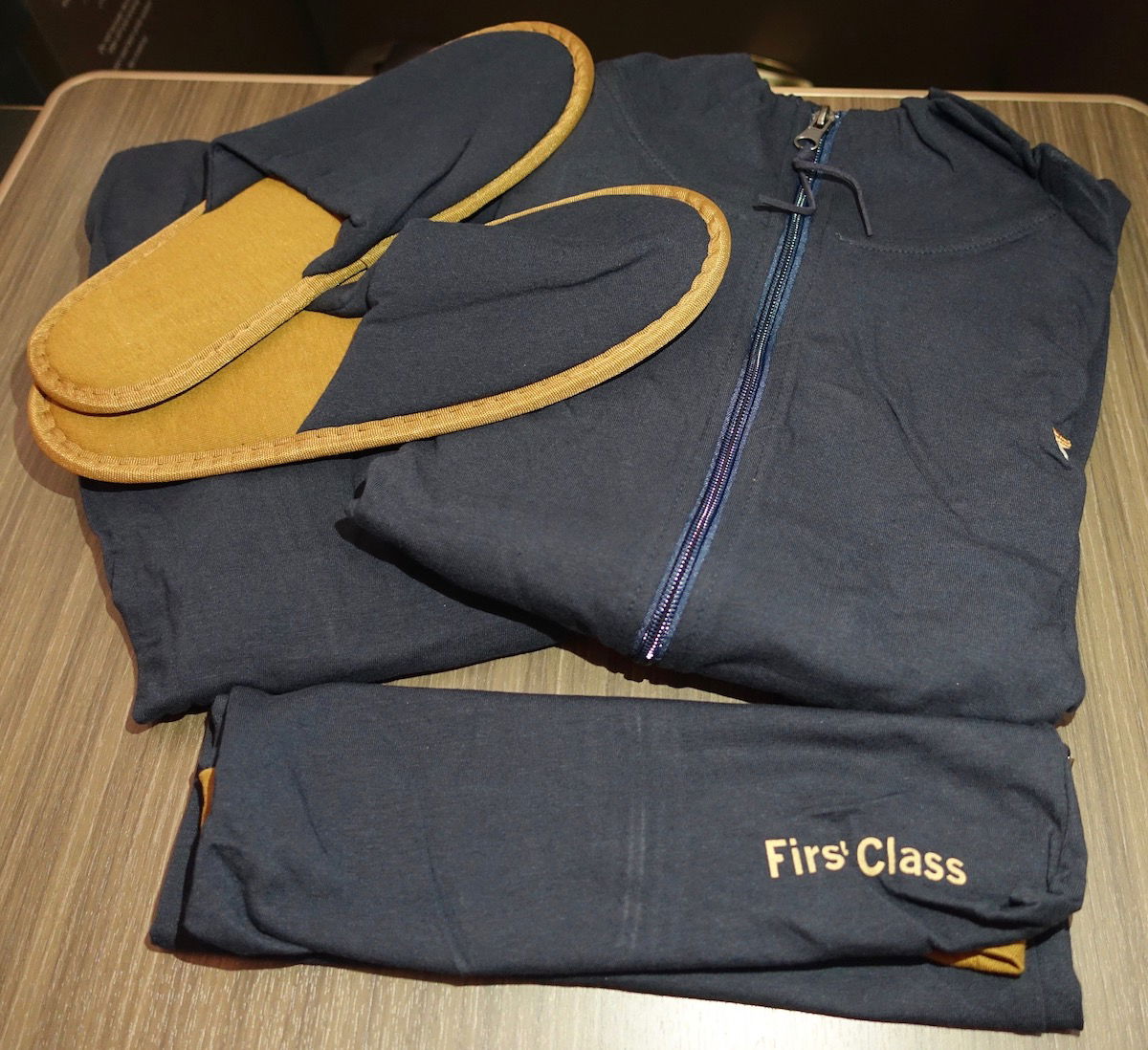 Oman Air first class pajamas
There was a card for three hours of complimentary Wi-Fi — it's always nice when airlines offer free Wi-Fi to premium guests.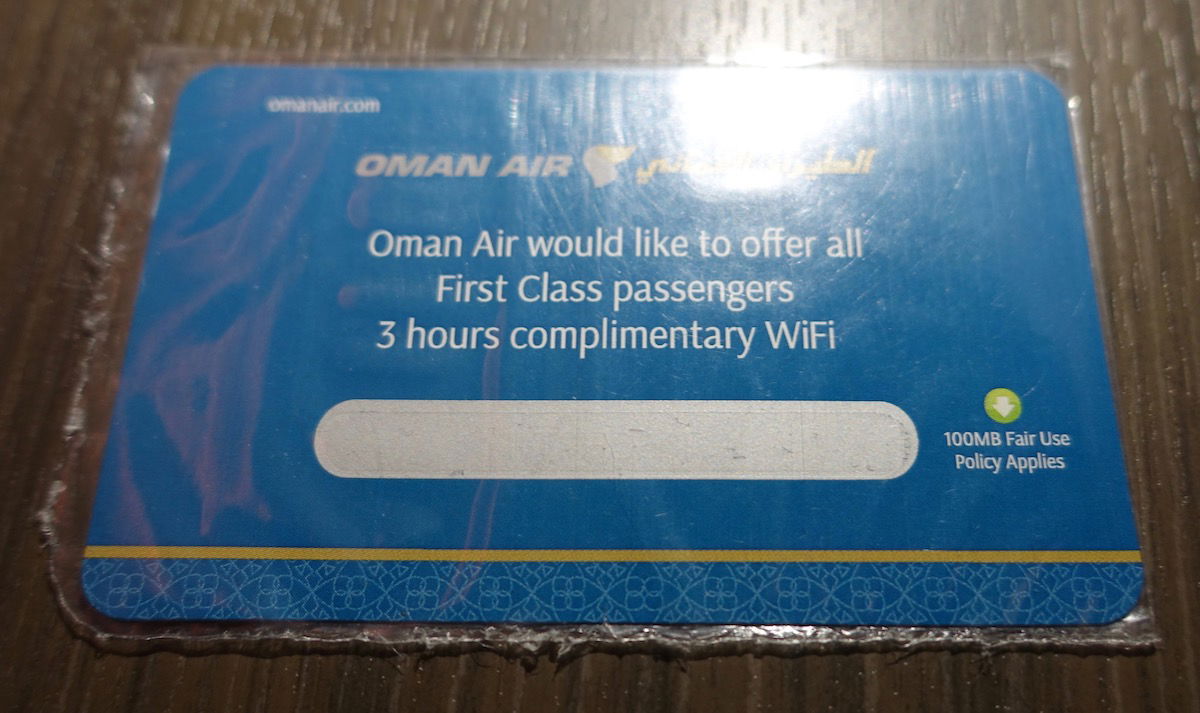 Oman Air first class free Wi-Fi
Then there was the menu, wine list, and a special duty free offering for first and business class passengers. That special item was a $524 cologne from Roja — I'm not sure what exactly makes it worth that amount, though I did find the pricing to be funny.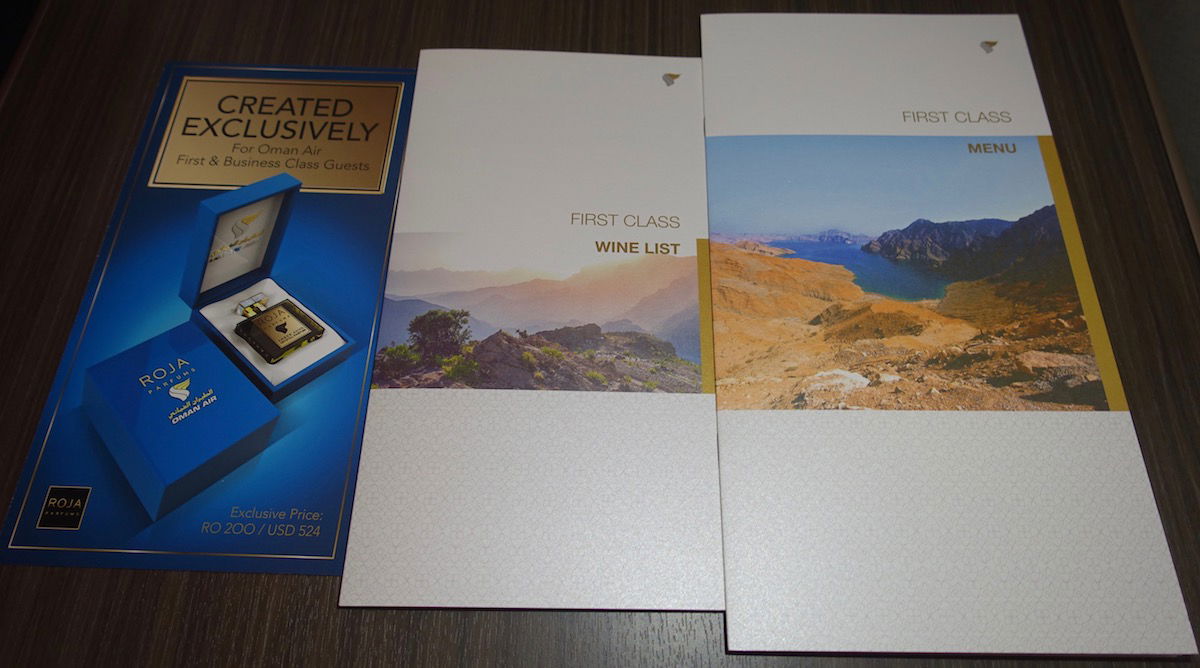 Oman Air first class menu & wine list
Meal orders were taken about 75 minutes after takeoff, with the explanation that it was a dine on demand concept, so I could eat whenever. The menu read as follows: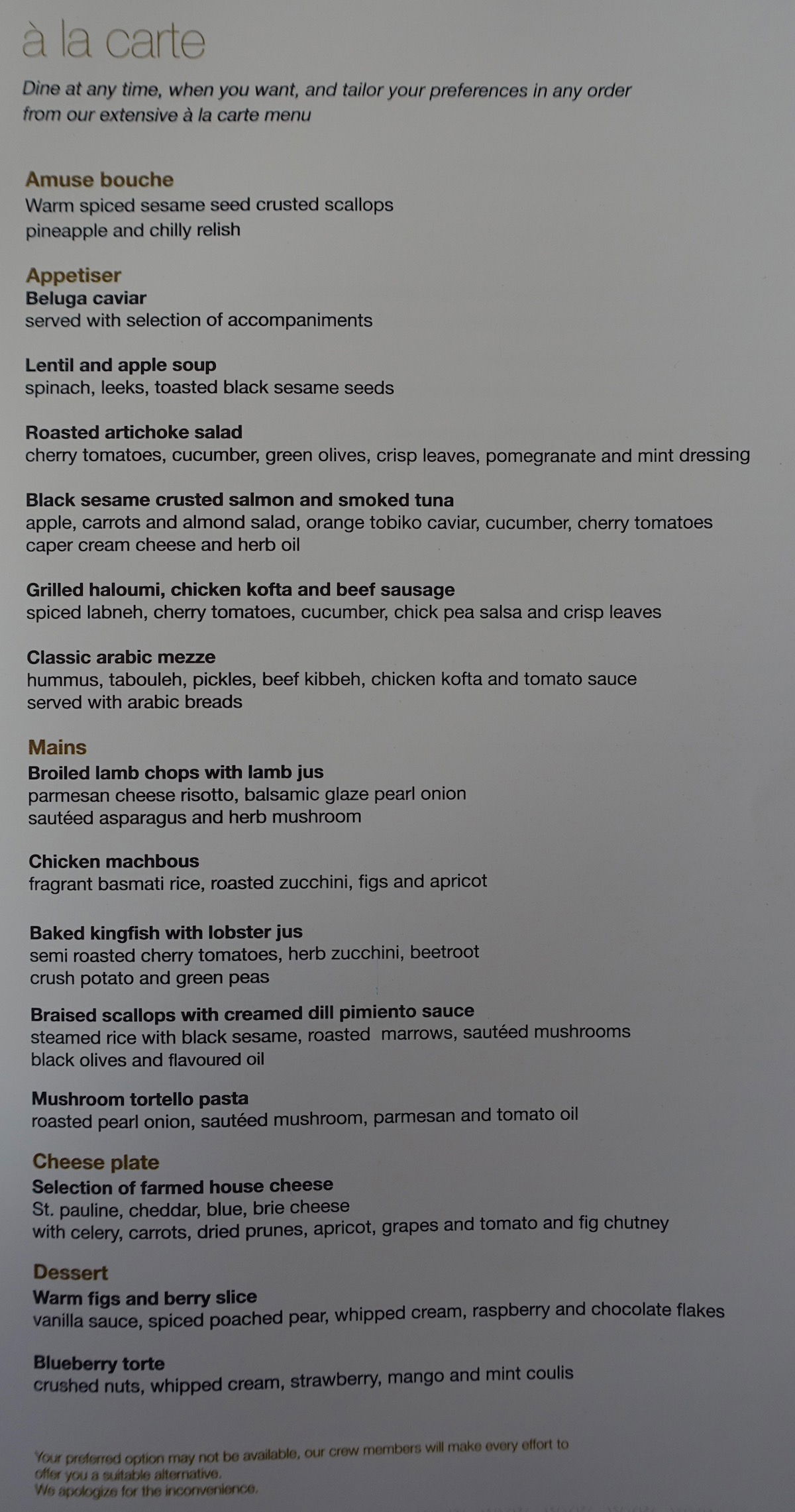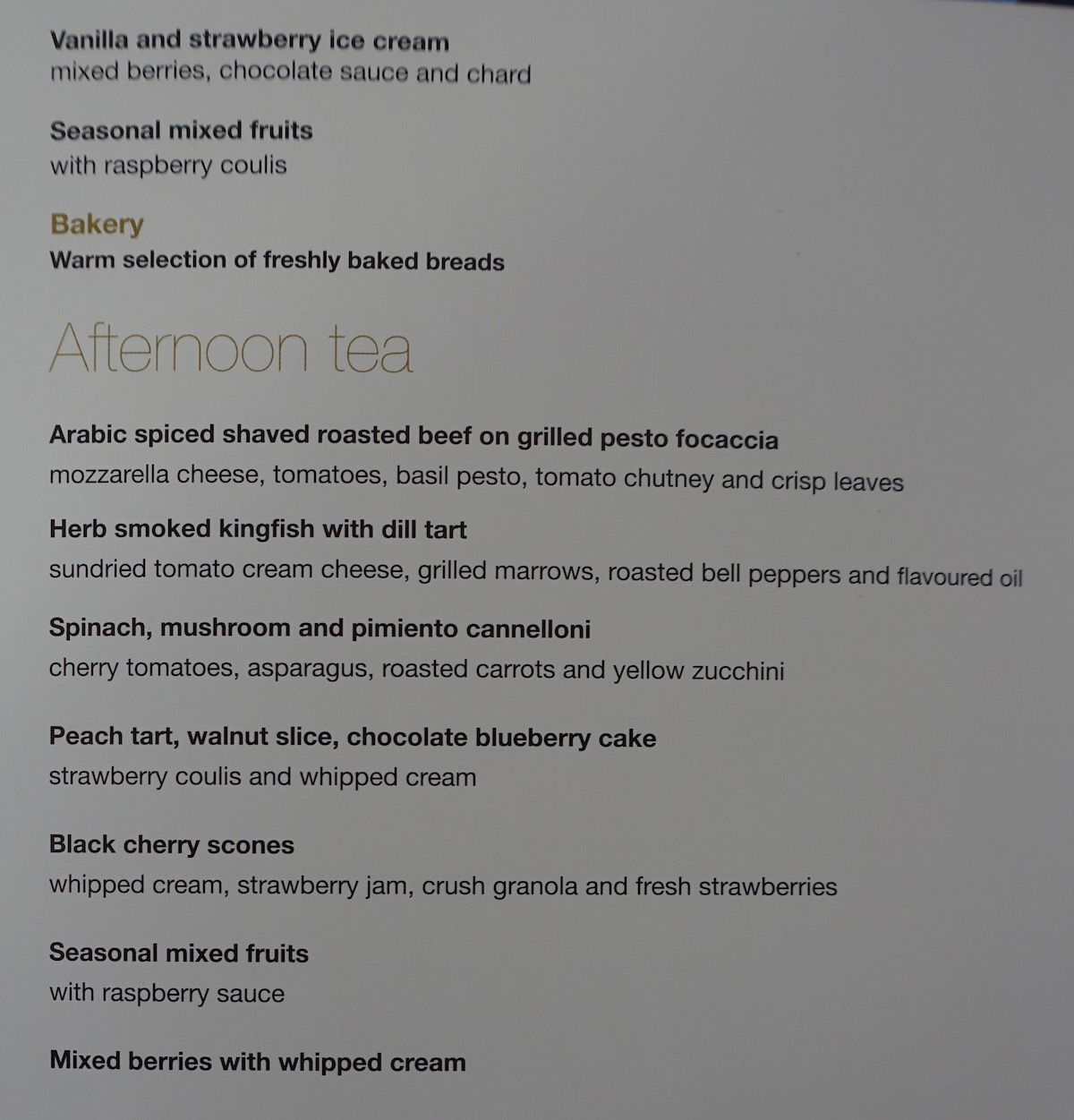 The drink list read as follows: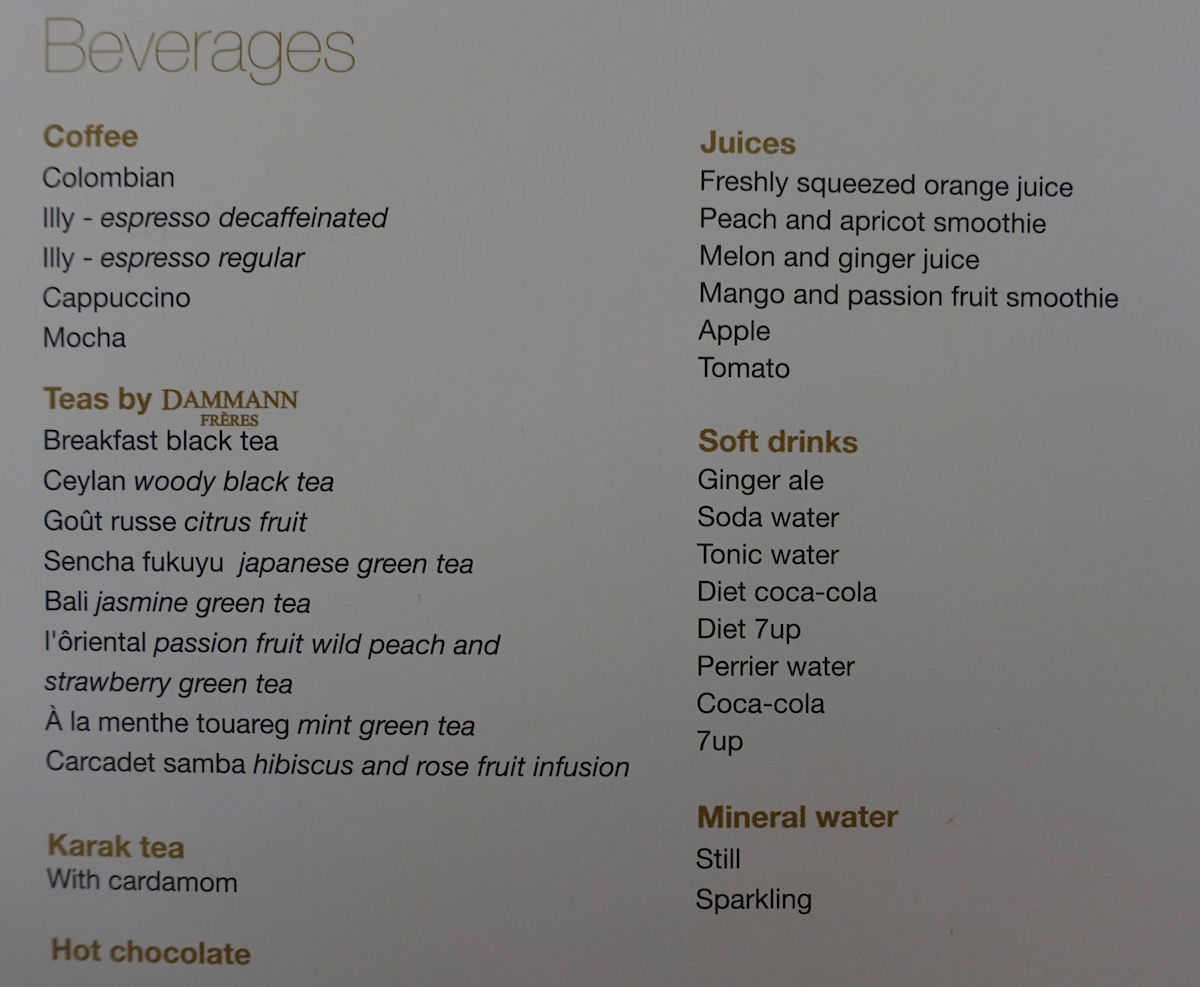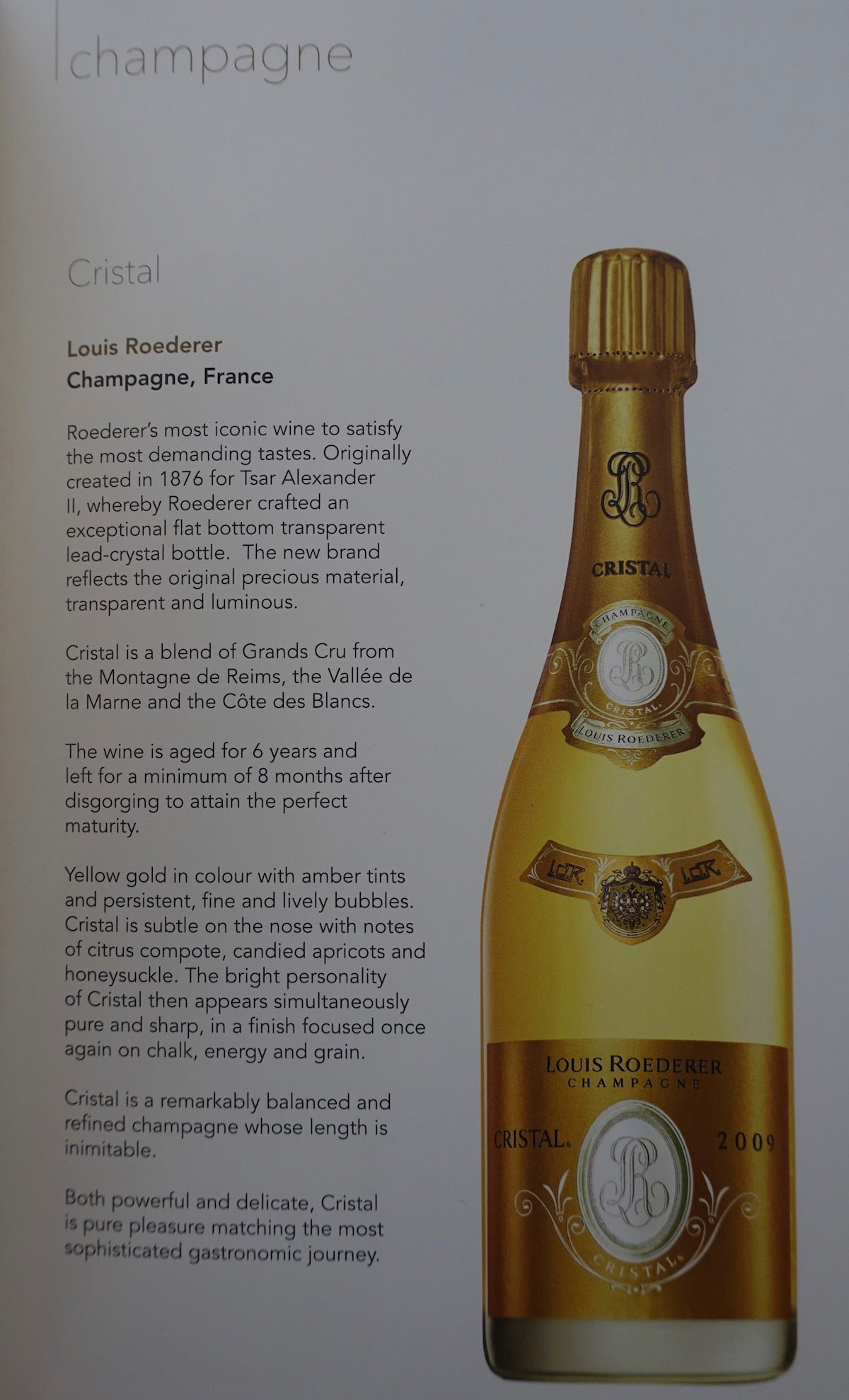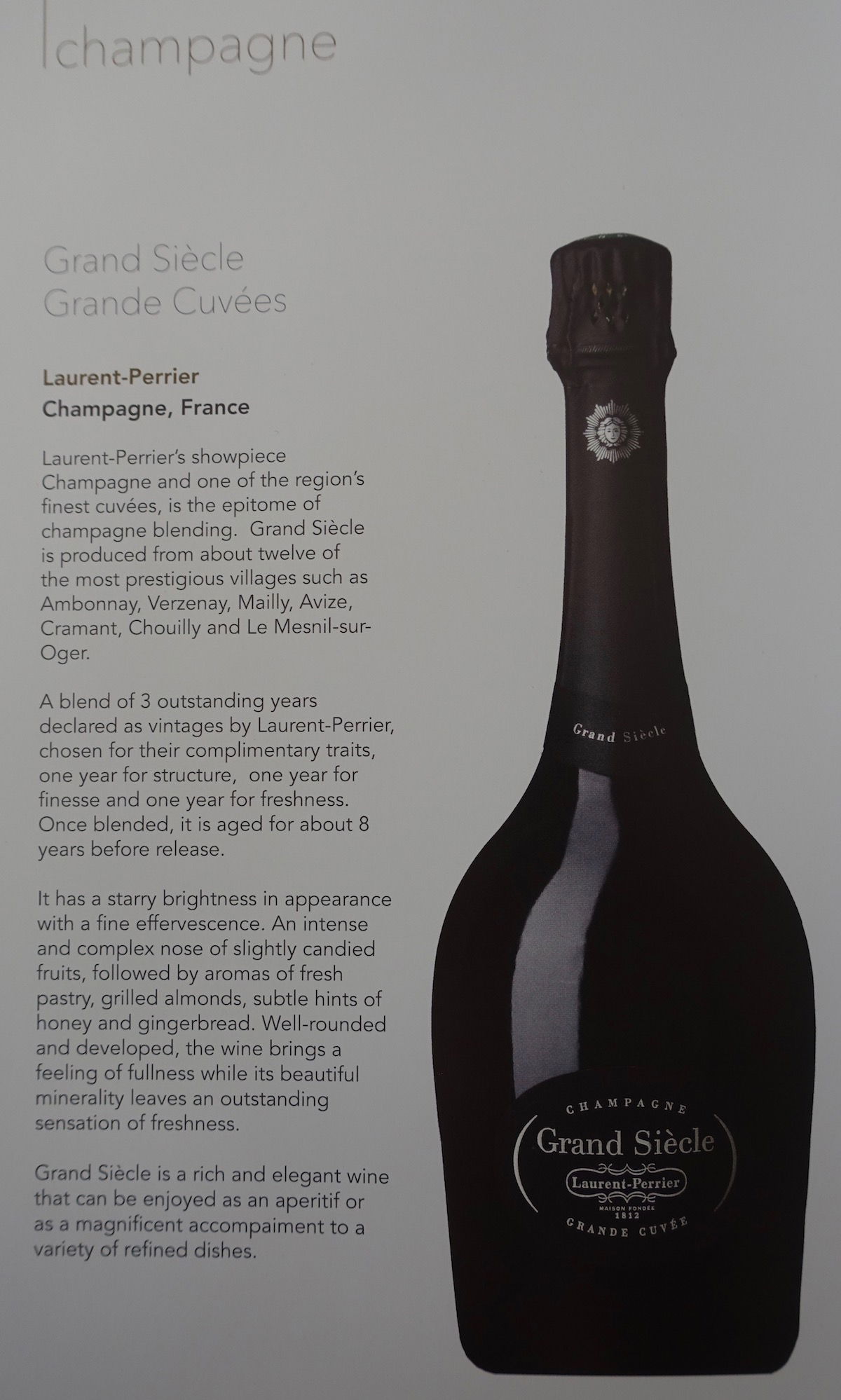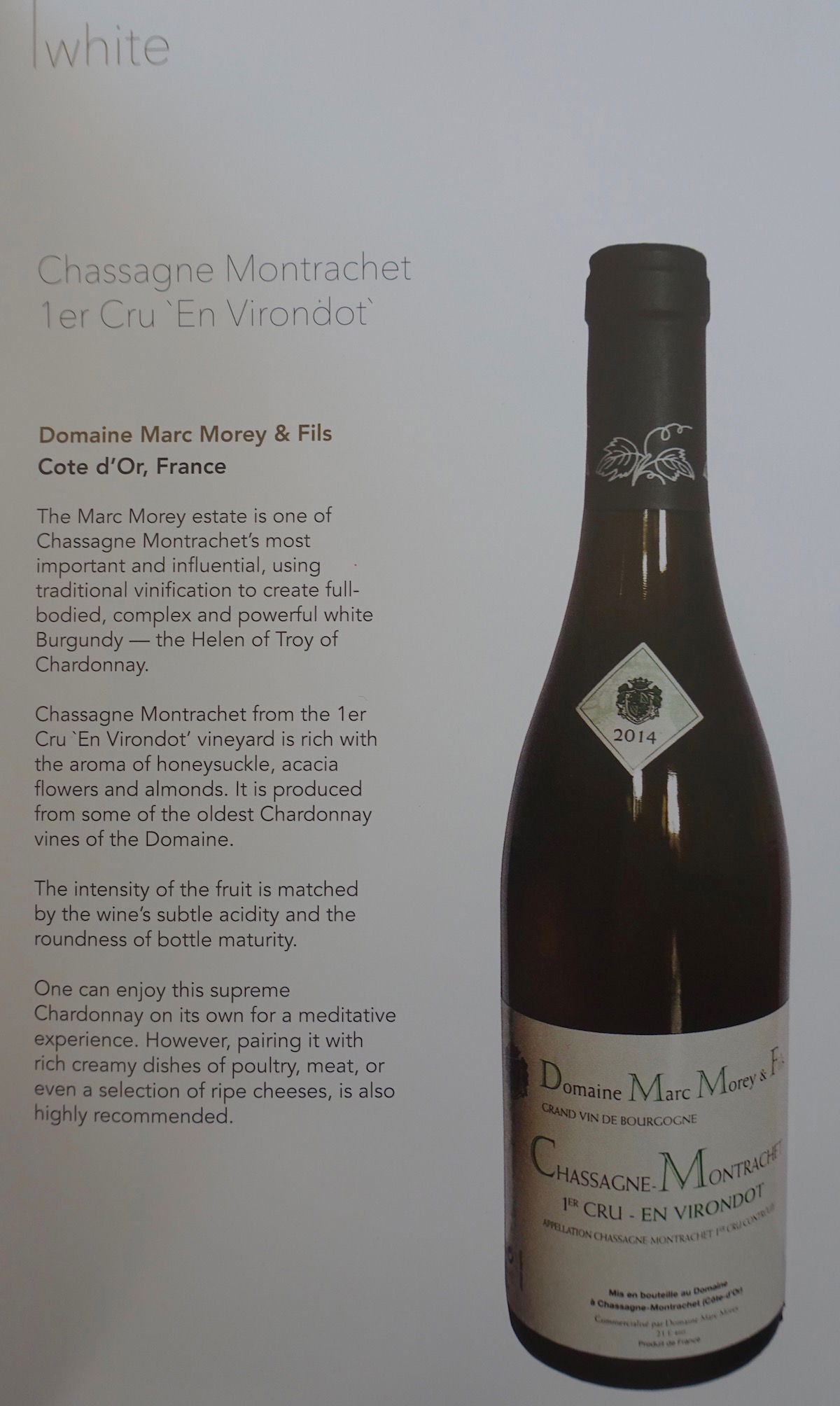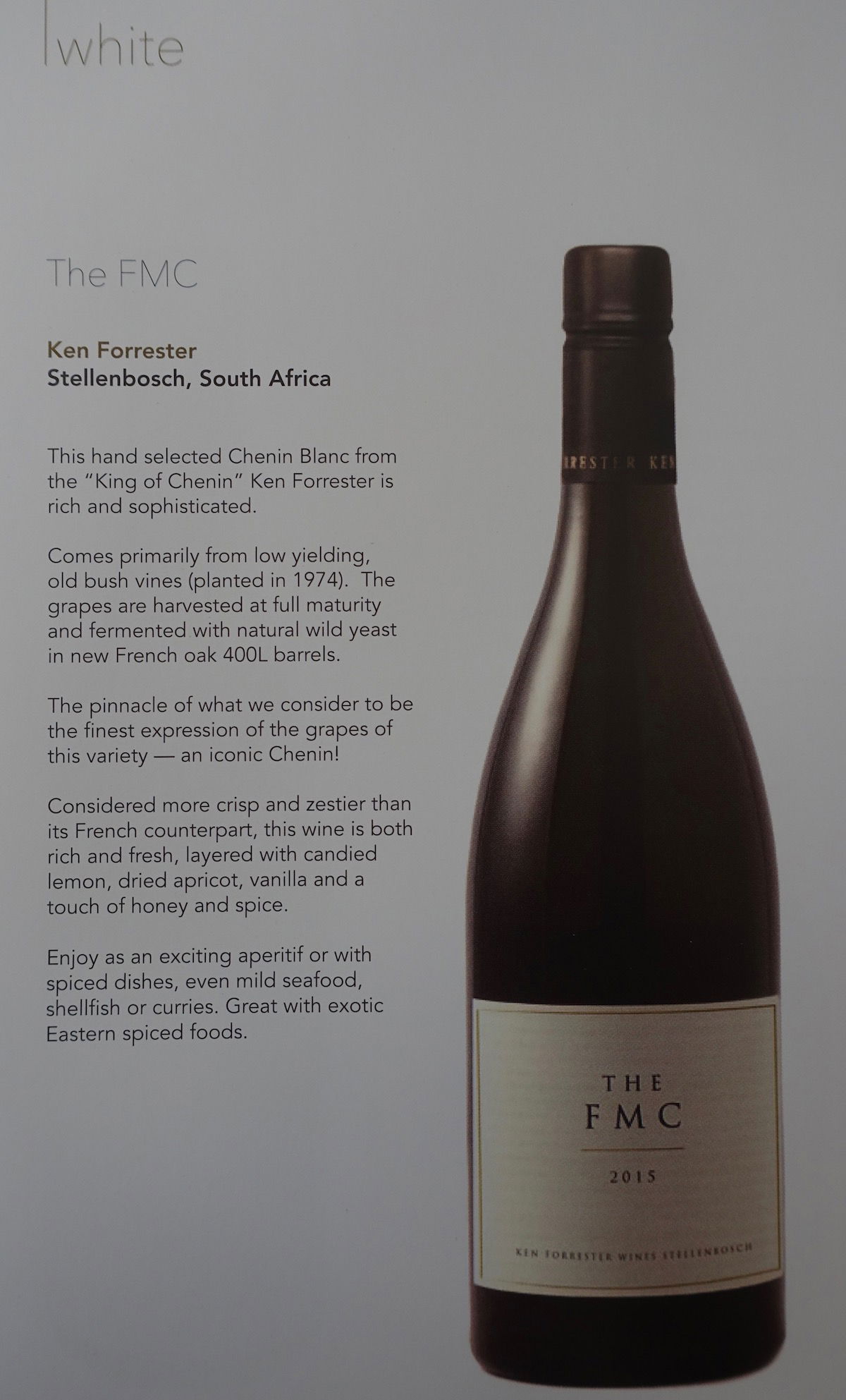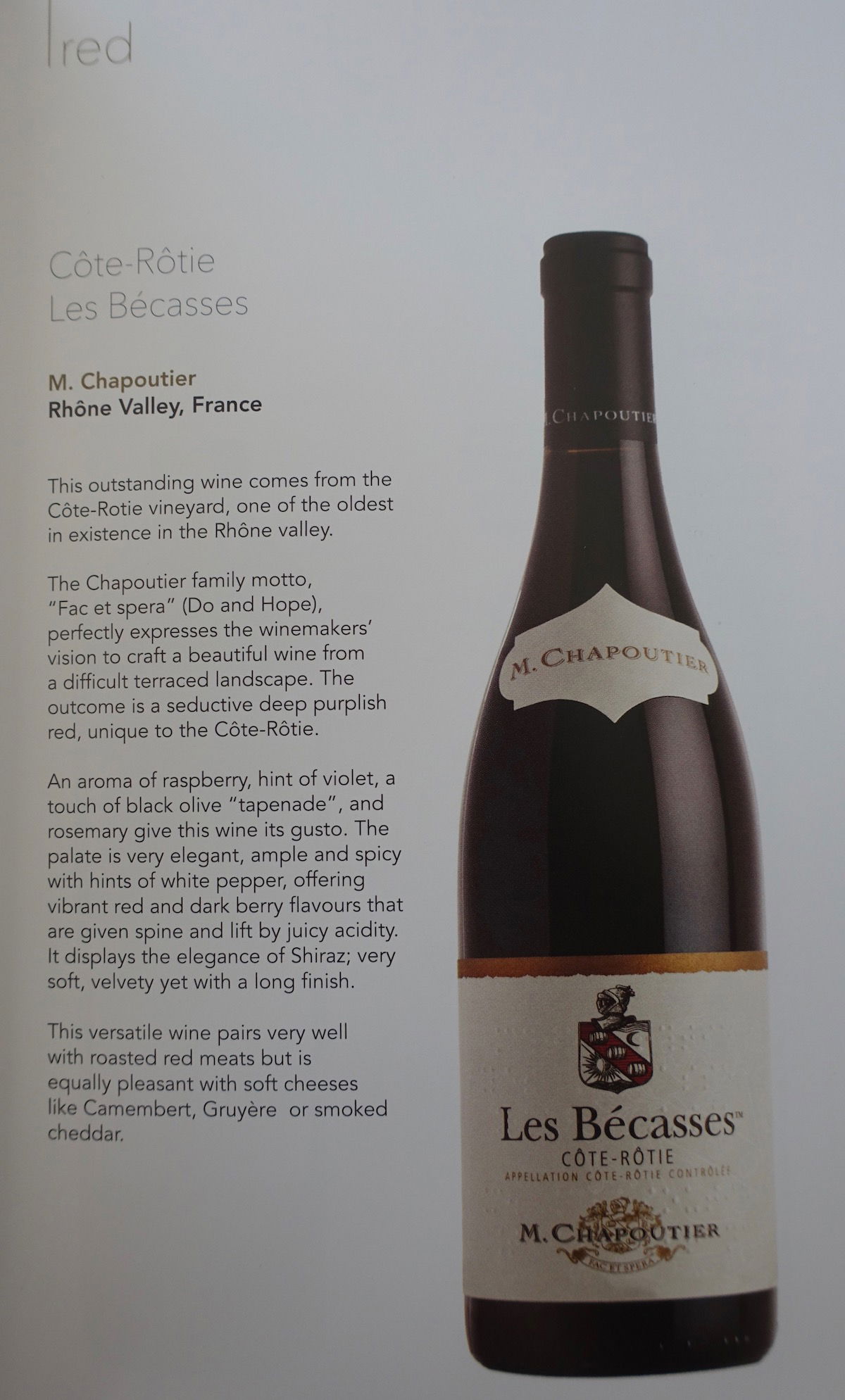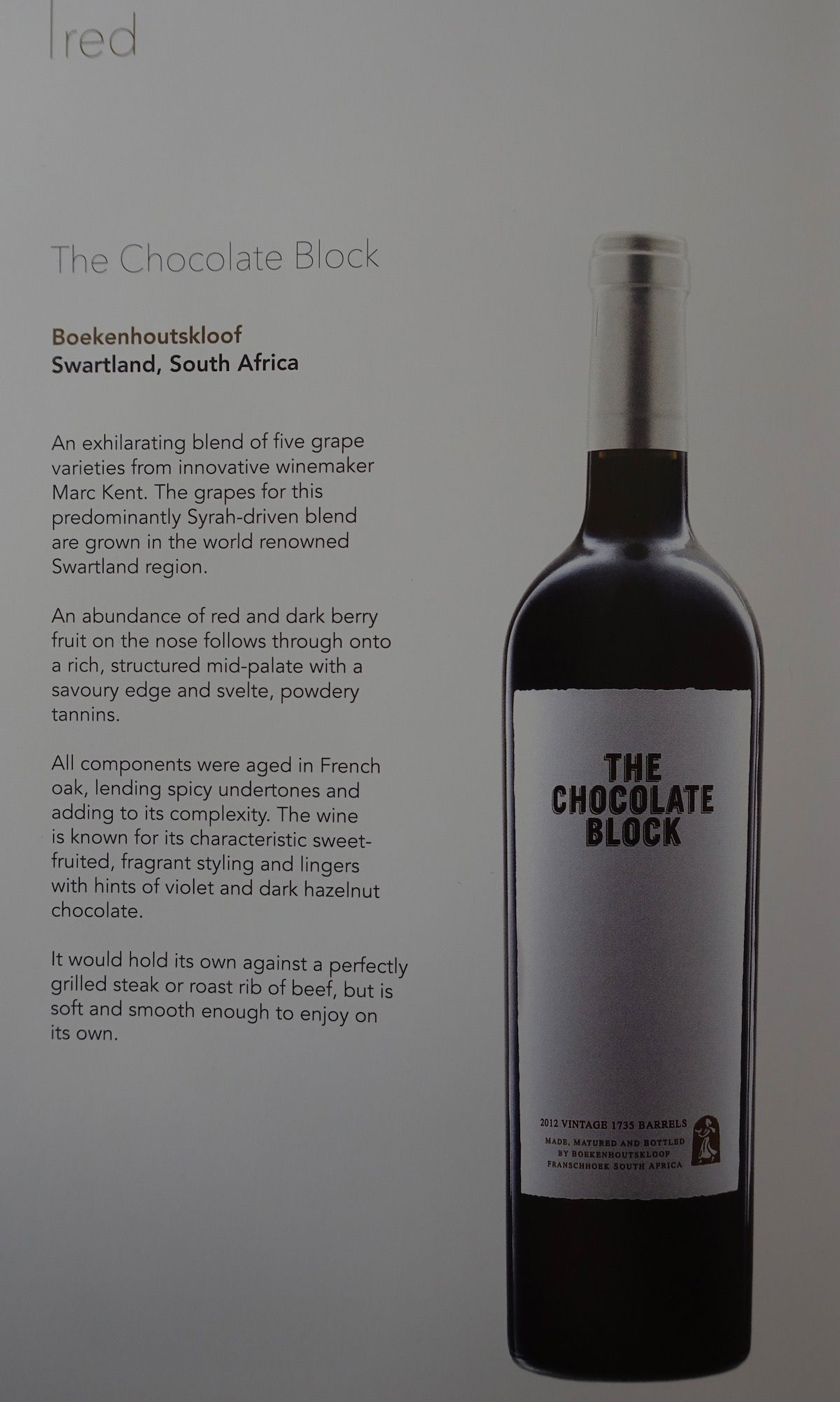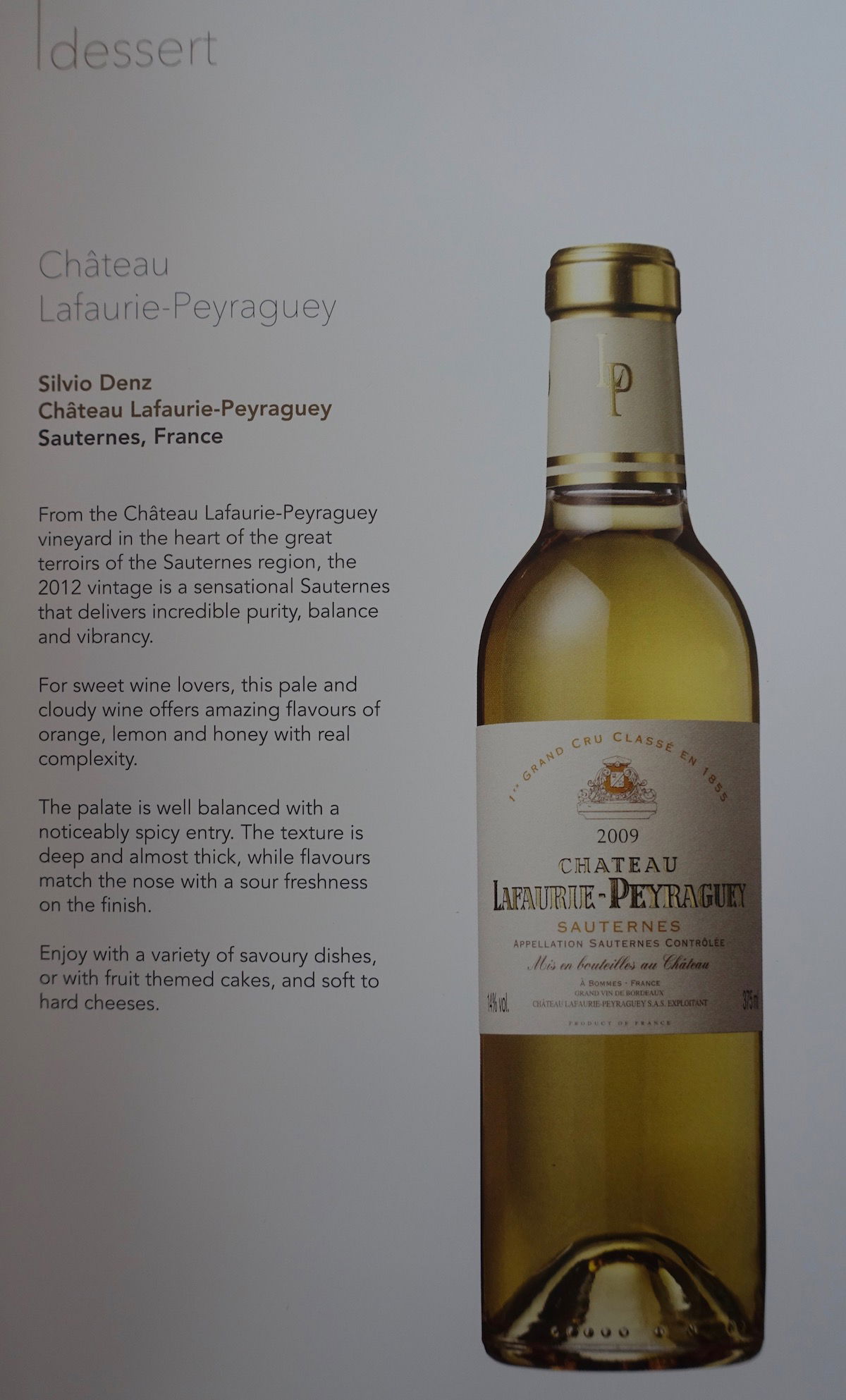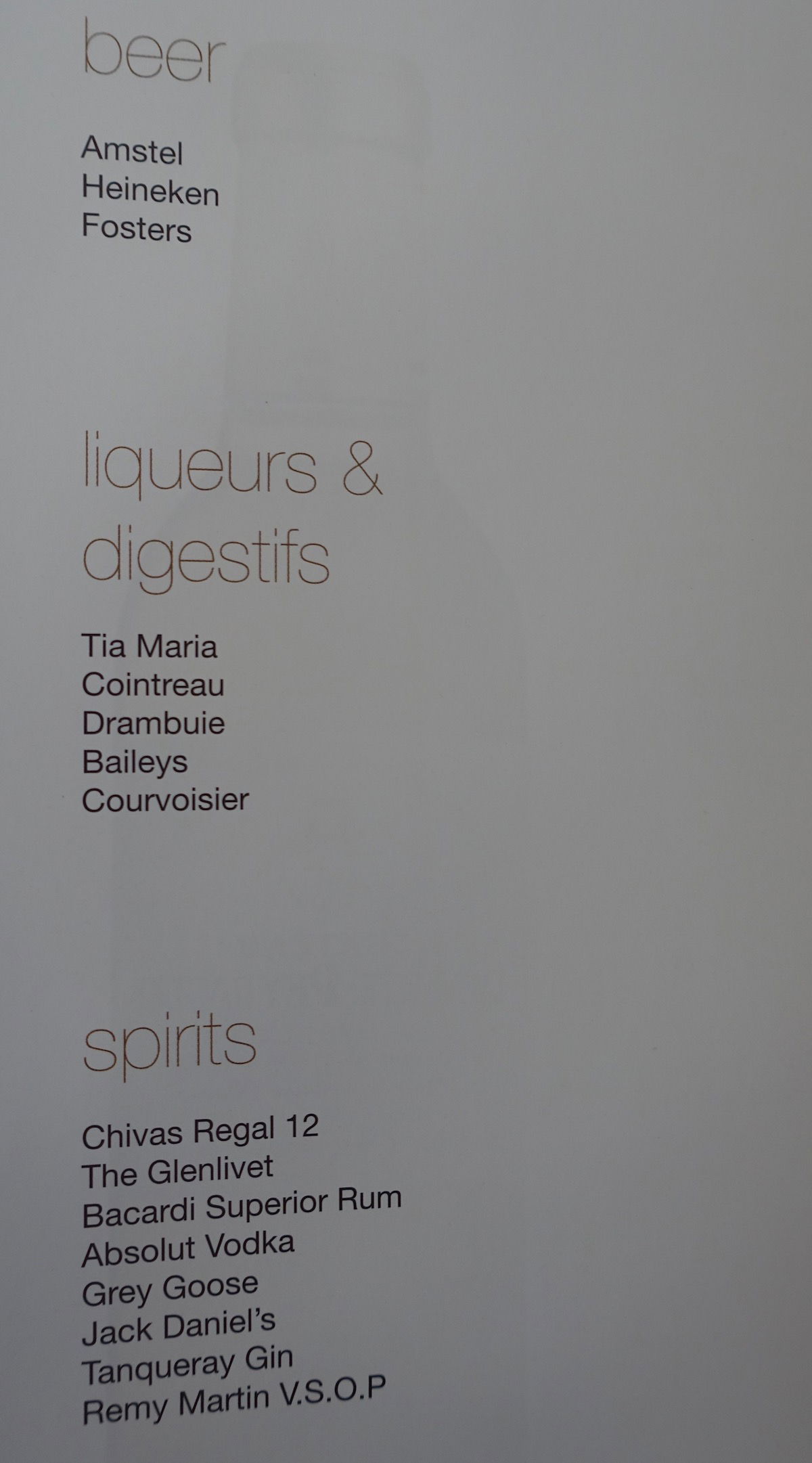 In the last post I had outlined the "Service by Design" concept, where Oman Air lets you pre-order your first class meal in advance. I had done that, but at first the crew seemed to have no clue what I was talking about when I referred to having ordered through "Service by Design."
Then once they understood, they seemed to have no record of my order. They asked if I could remind them of my choices. Good thing I had a copy of it, because of course I'm not going to remember off the top of my head the seven course meal I ordered.
Reader John (who had previously written a guest review of Oman Air's A330 first class) was also on the flight, and had the exact same problem. So I'm not sure if this is just a continued problem with the airline (since John had this issue on his previous Oman Air flight), if it had to do with the general inaugural issues, or what. In the end they did have everything, but it was a bit complicated.
Anyway, I ordered a glass of champagne, which was served to me about 80 minutes after takeoff. Oman Air has two choices for champagne in first class — 2009 Louis Roederer Cristal and Laurent-Perrier Grand Siecle. Talk about an incredible selection.
While I generally prefer Grand Siecle, I had to try the Cristal, since it's much rarer. It's a bit sweet for my liking, but for those who feel that way, the Grand Siecle is a great alternative. One thing I'd mention is that the champagne was only slightly colder than room temperature, which sure is a shame for a $200+ bottle of champagne.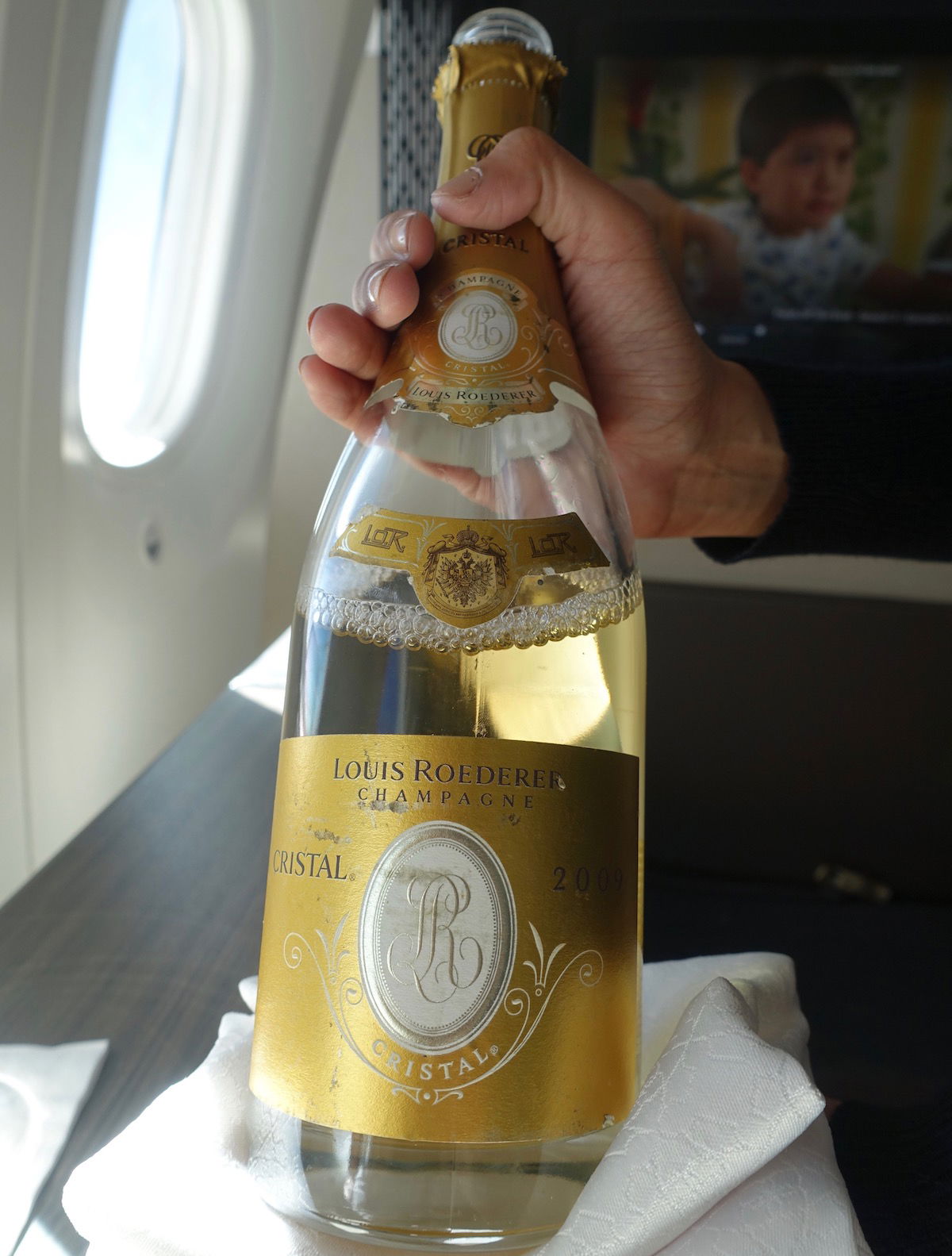 Oman Air first class Cristal champagne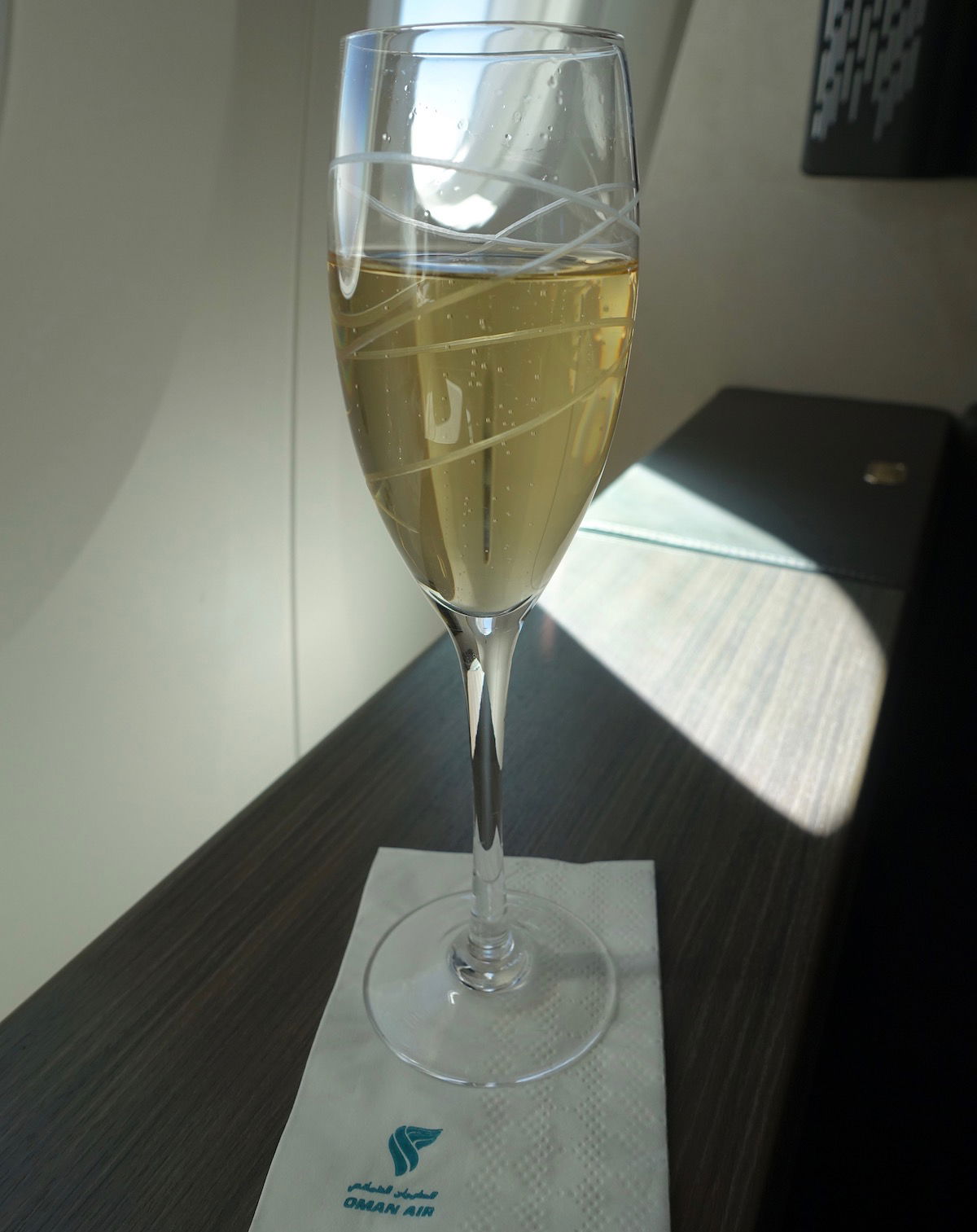 Oman Air first class champagne
Finally 1hr45min into the flight my table was set, and I was offered an amuse bouche. I'm not sure exactly what it was, but it was good.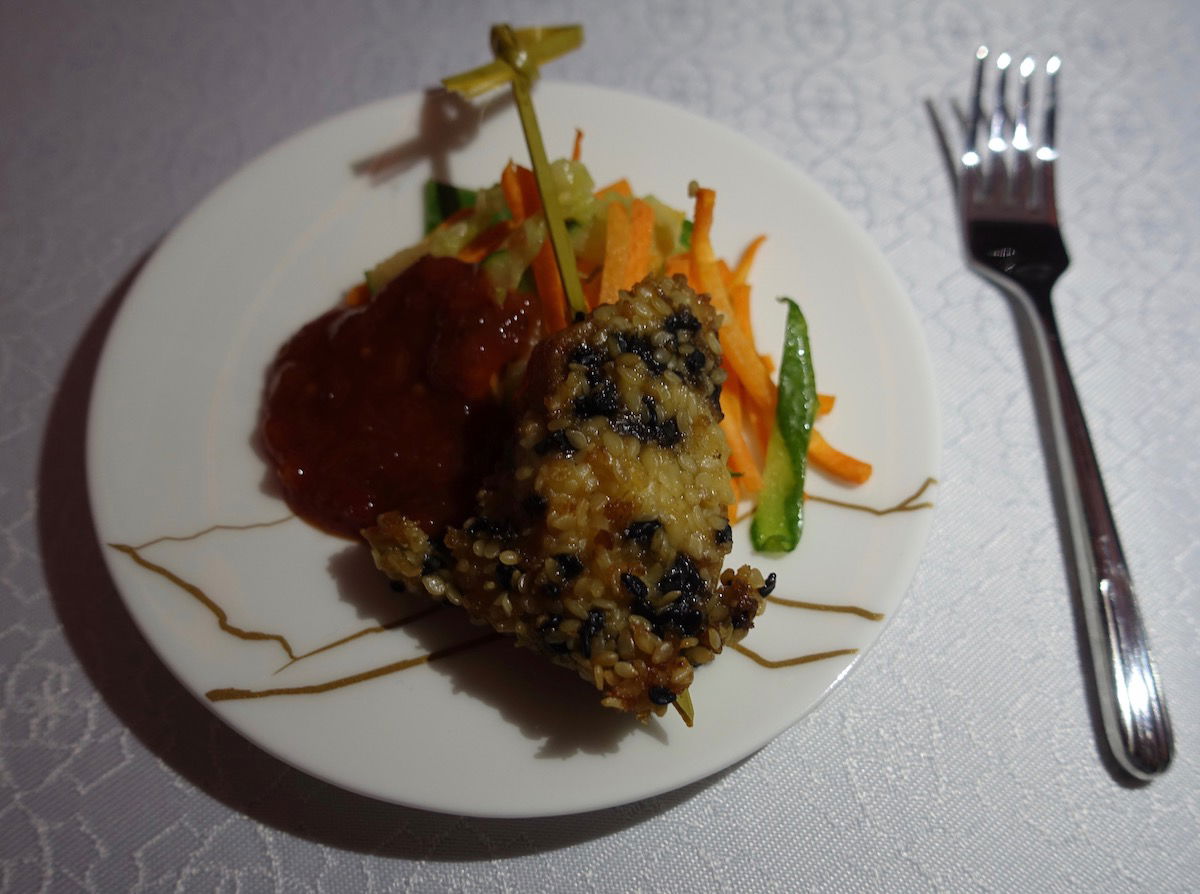 Oman Air first class amuse bouche
The table setting was beautiful. While this is minor, they just automatically poured still water, while on virtually any other world class airline they'd ask if you want still or sparkling water to drink.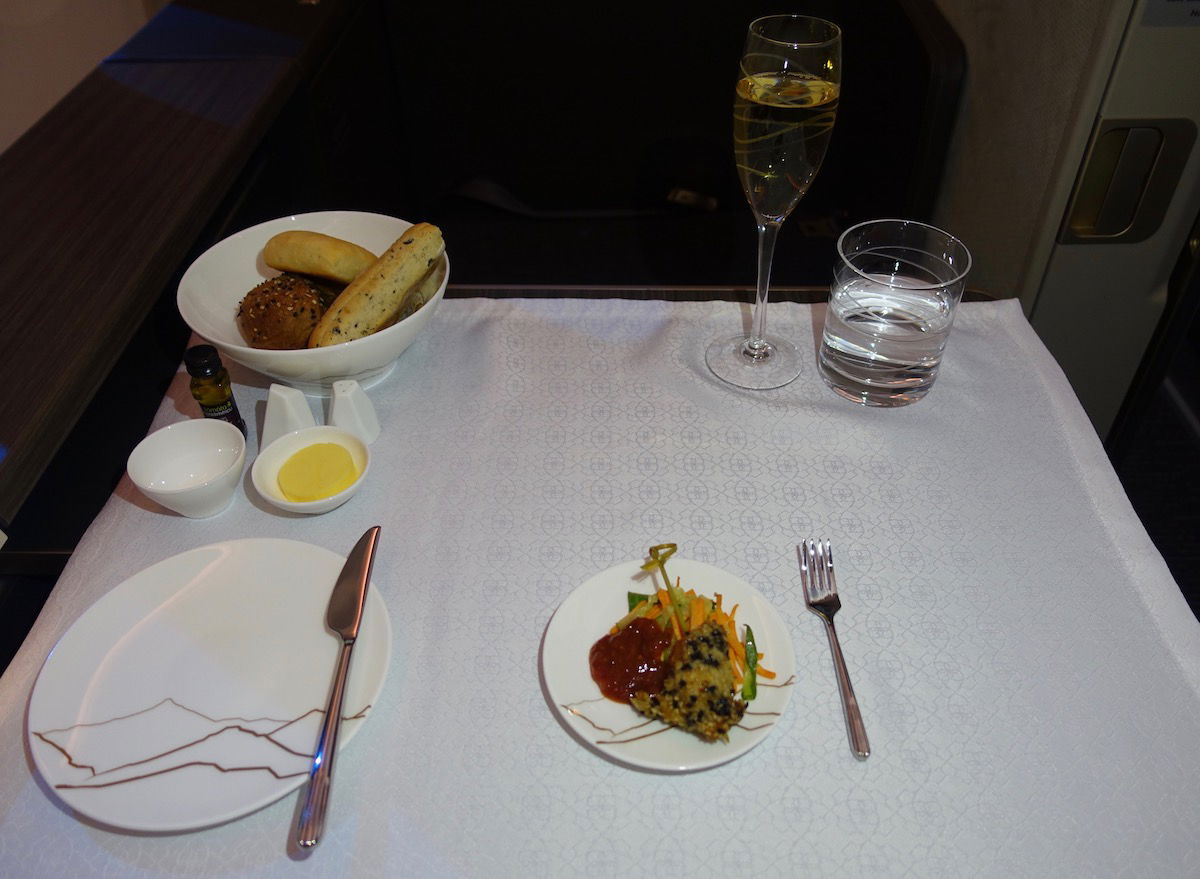 Oman Air first class table setting
I do think they could get a bit more creative with their bread options, if they are going to offer an individual bread basket.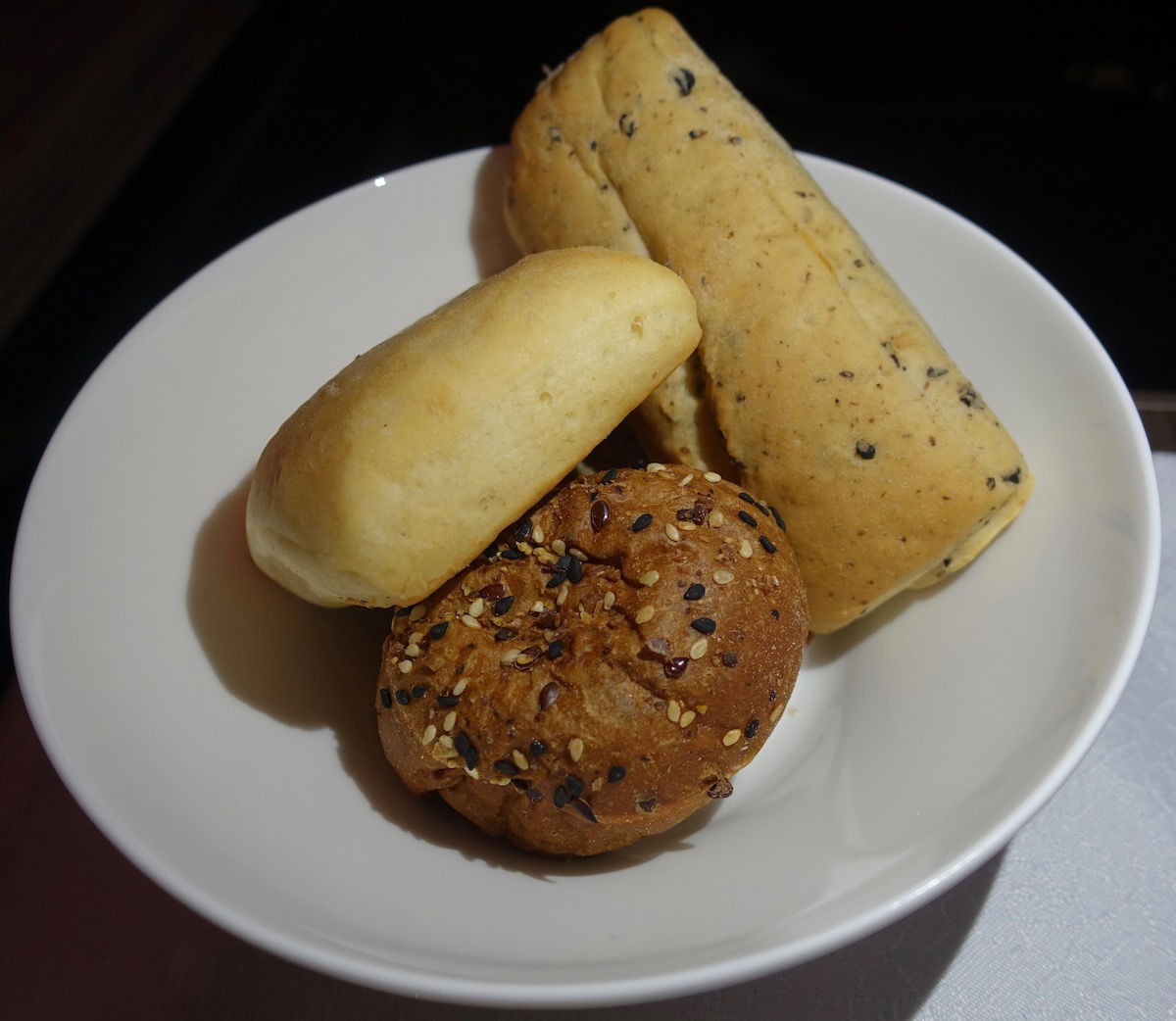 Oman Air first class table setting
About two hours after takeoff my first course was served, which was caviar. My gosh, what beautiful presentation. This is easily one of the nicest caviar presentations I've had on any airline, in particular with the six small ramekins around the plate.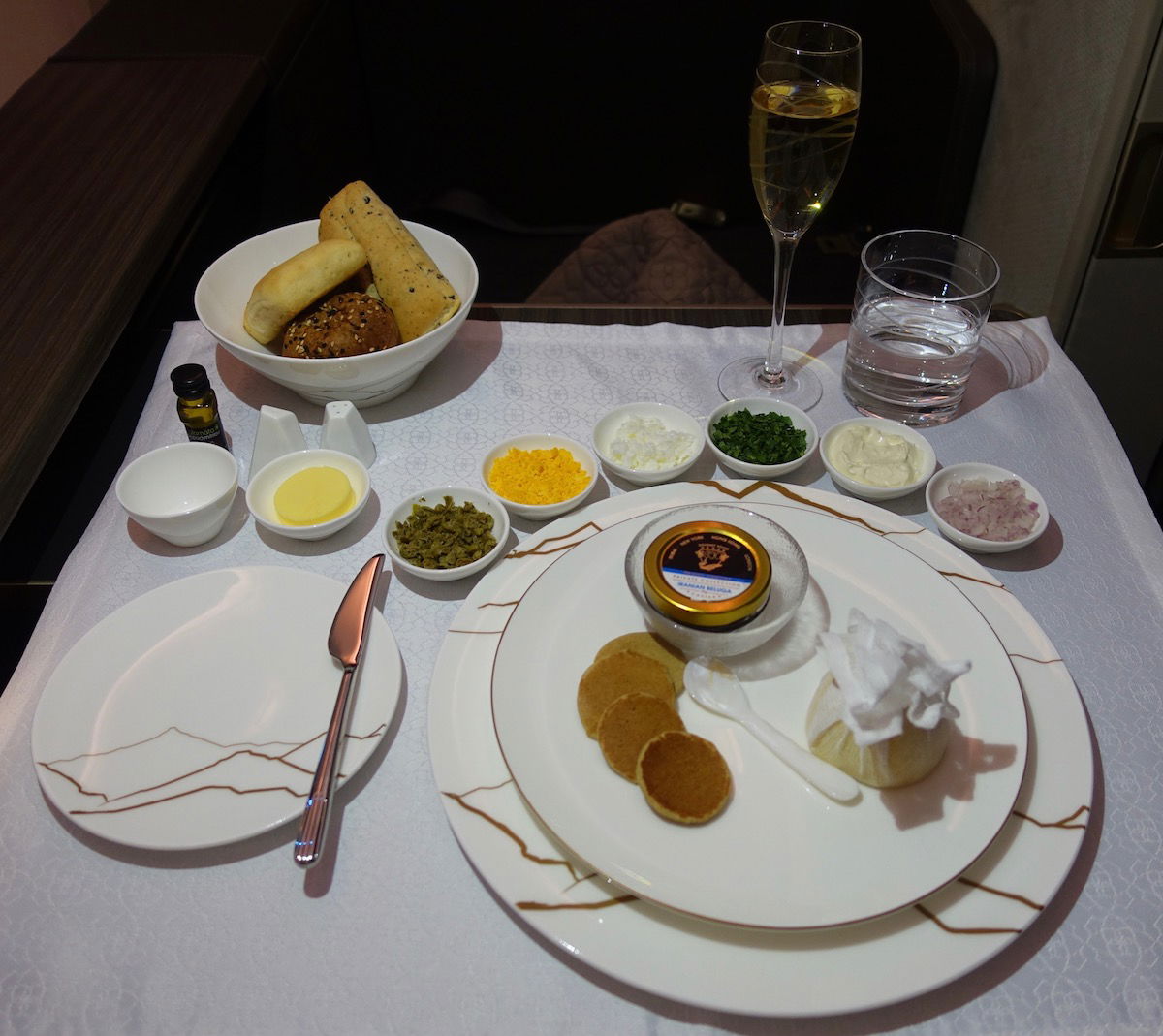 Oman Air first class caviar service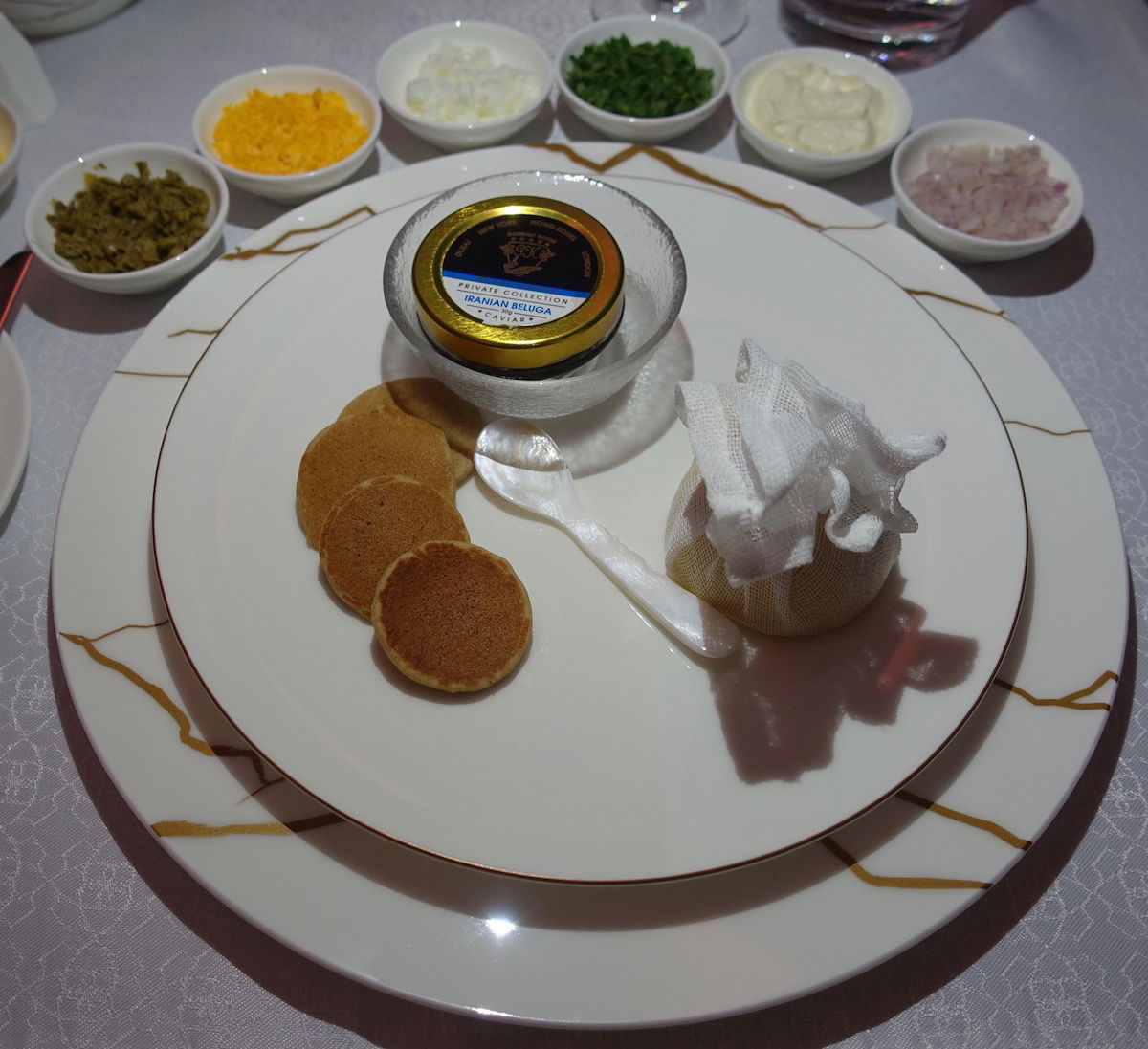 Oman Air first class caviar service
There was even a mother of pearl spoon, and for anyone curious, they were serving Iranian beluga caviar.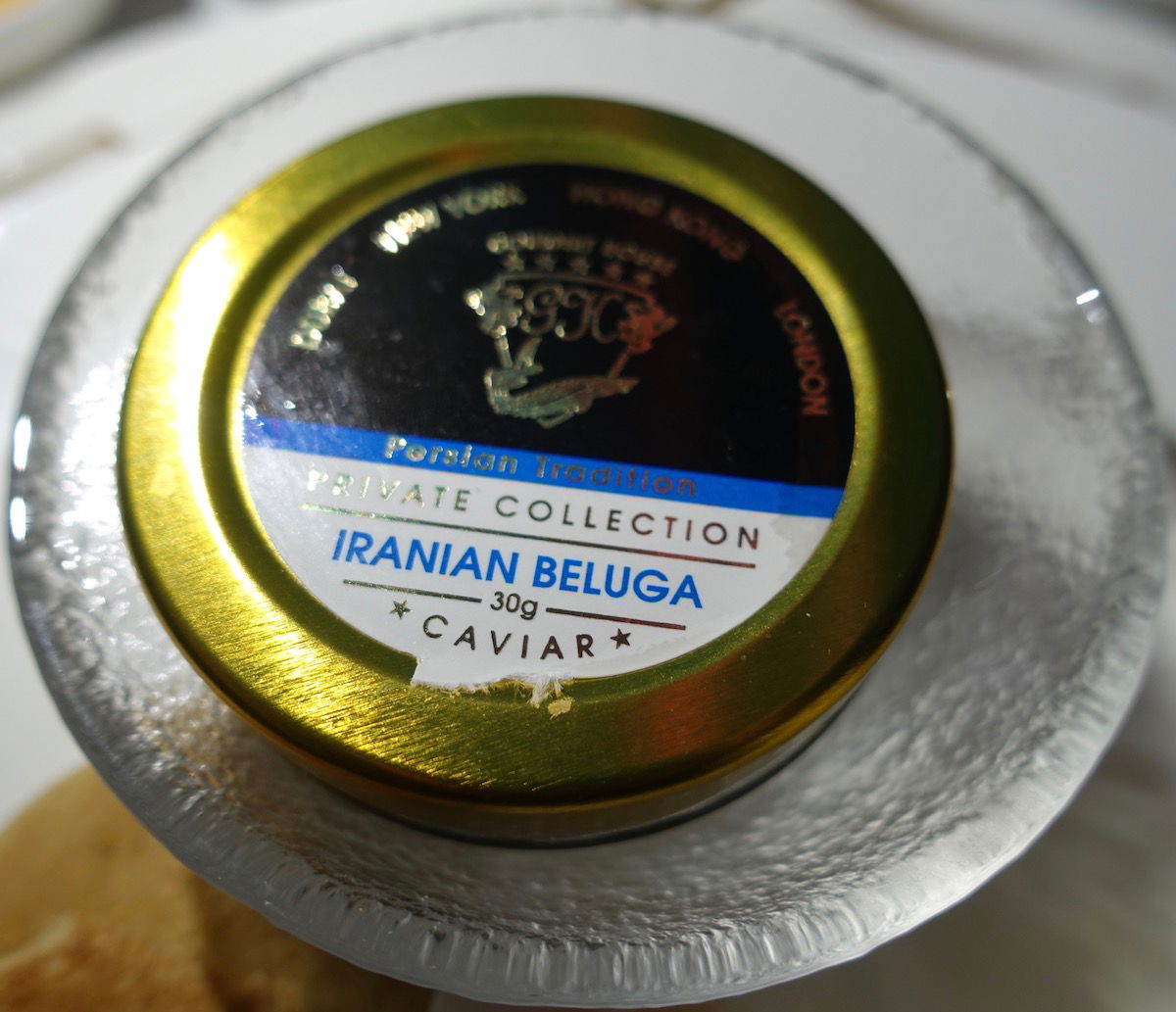 Oman Air first class caviar service
Next up was the soup course, which was presented with a lid. Truly spot on presentation.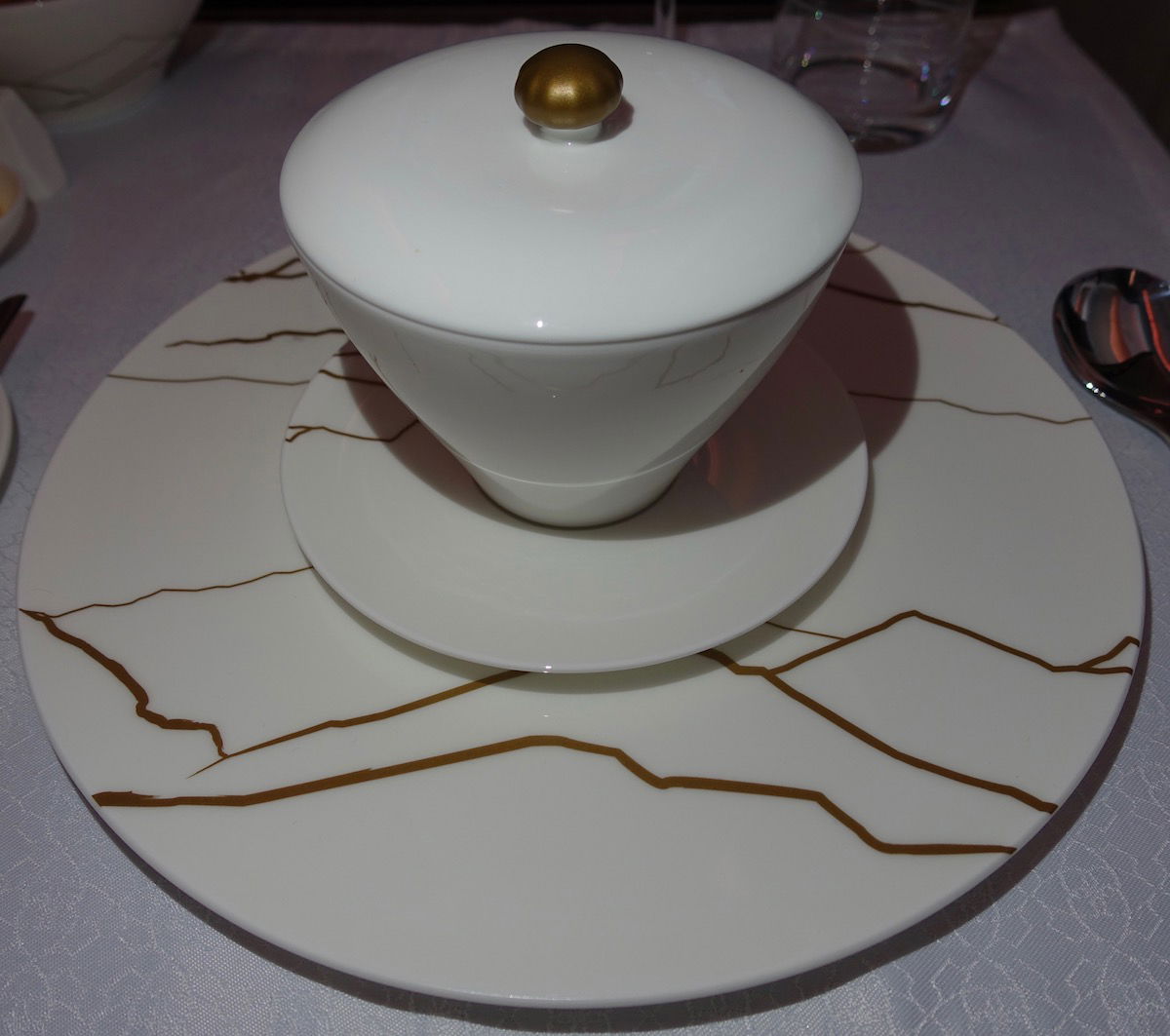 Oman Air first class soup
The soup was the one I had pre-ordered, which was an excellent lentil soup with lemon and pita bread croutons.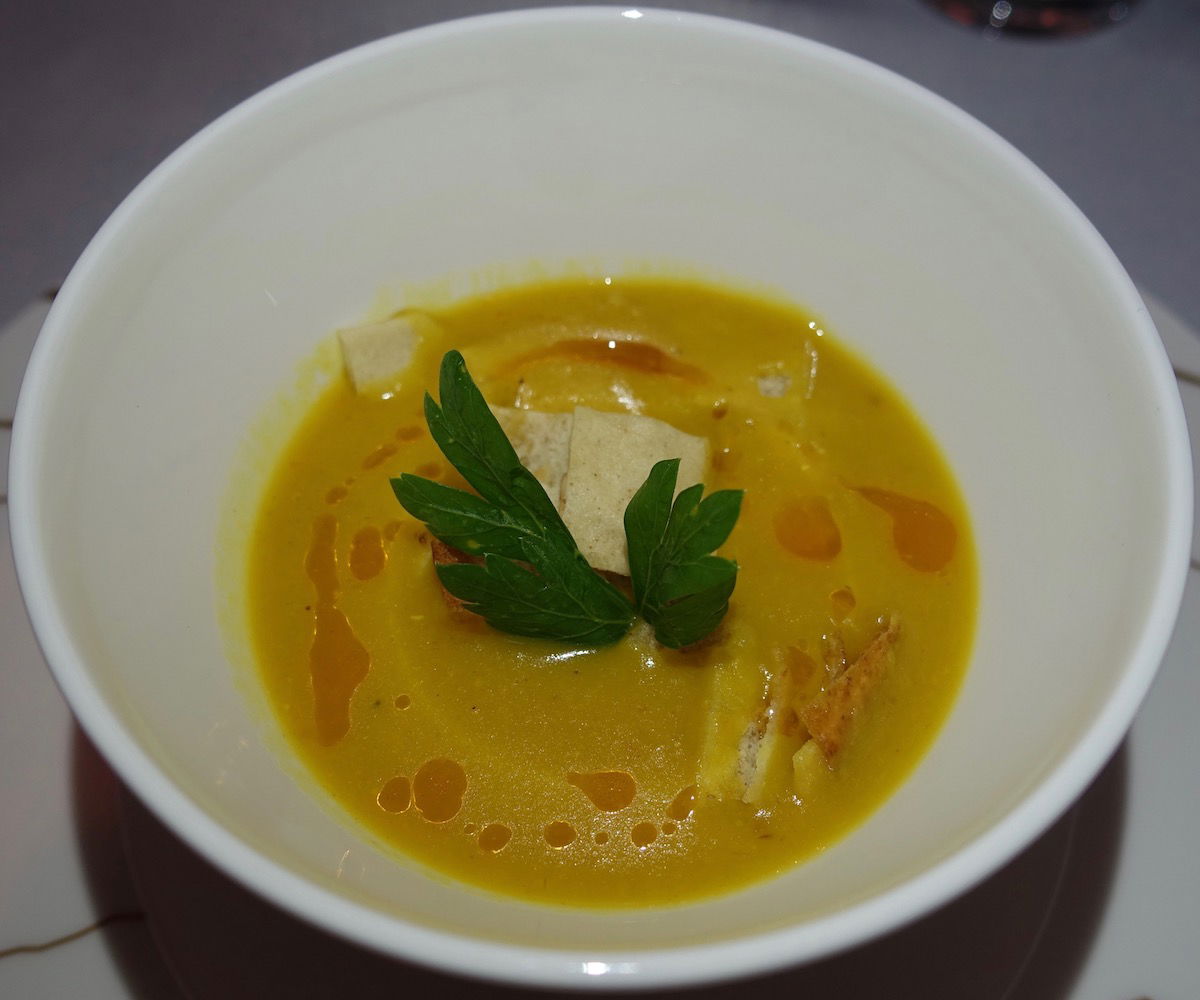 Oman Air first class soup
Next up was the main course. I had pre-ordered the jumbo prawns in red curry sauce with grilled pineapple, Asian greens, and coconut rice. I was presented the below. I asked if this was the seafood dish I had ordered (I had forgotten the exact details of what I ordered), and she said yes.
After consulting the menu it became clear to me that this was in fact the baked kingfish with lobster jus from the menu. I didn't send it back because it looked good as well.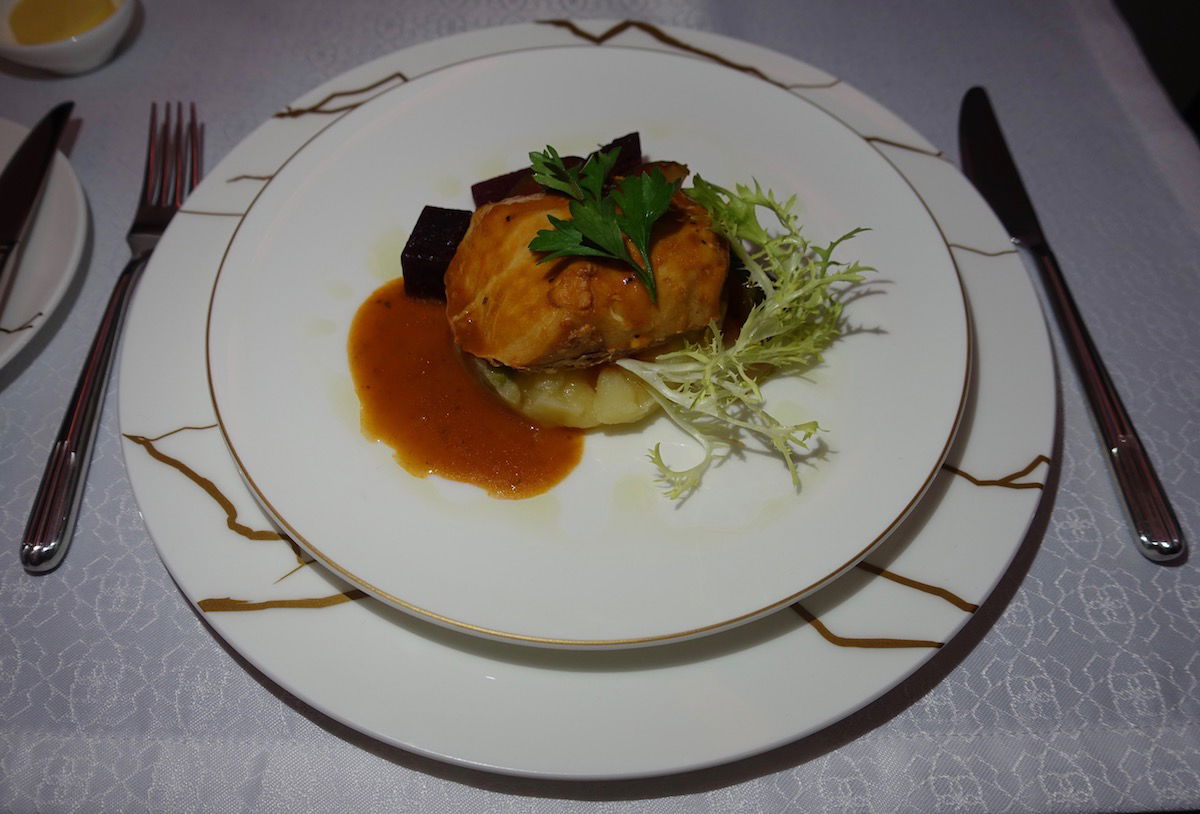 Oman Air first class main course
After that tray was cleared I was told that I'd be presented with another main course, consisting of prawns. Presumably that was actually what I had ordered. I was so full at this point that I declined, and just asked to have dessert next.
I was presented with a delicious selection of desserts, and had a cappuccino to drink.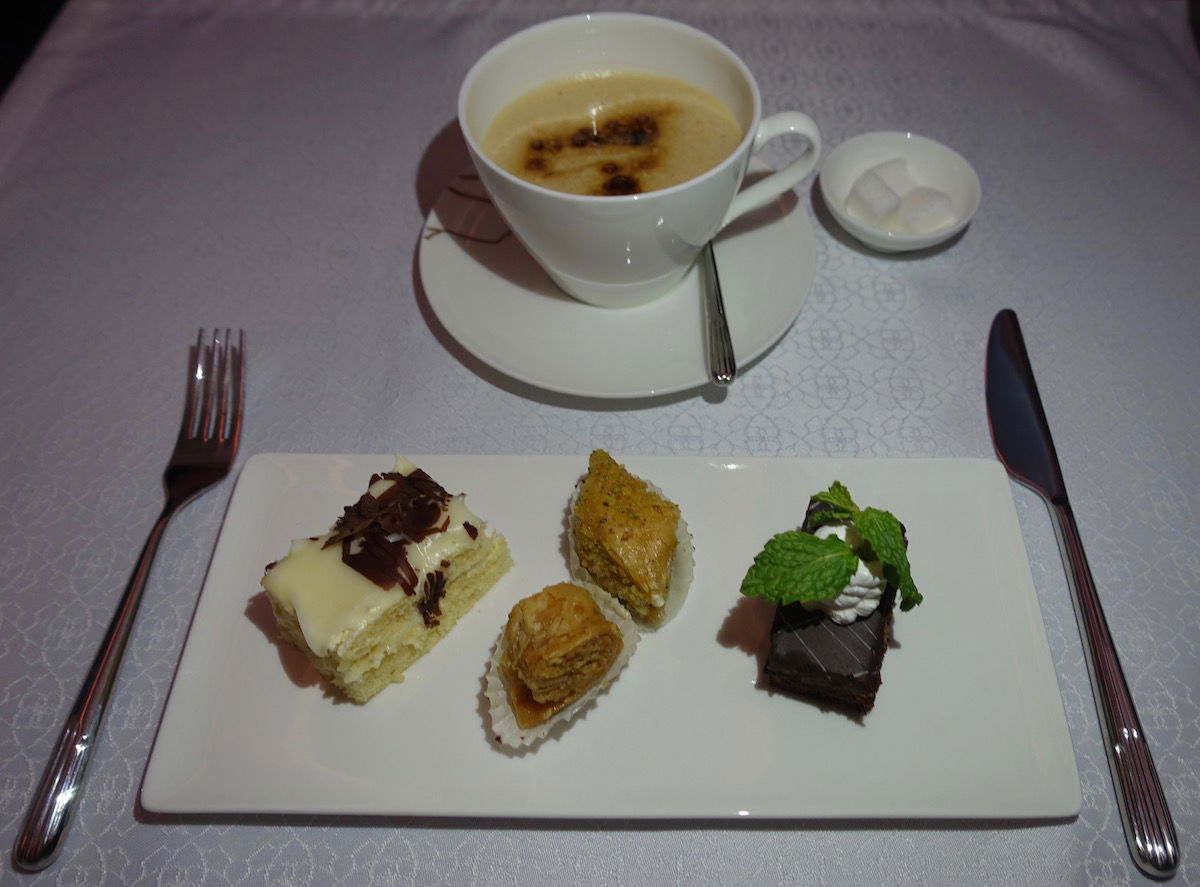 Oman Air first class dessert
I was stuffed at this point, but was then brought out another dessert by the crew. "You have to try the profiteroles, it's fine if you have just one." I did indeed try one, and they were excellent.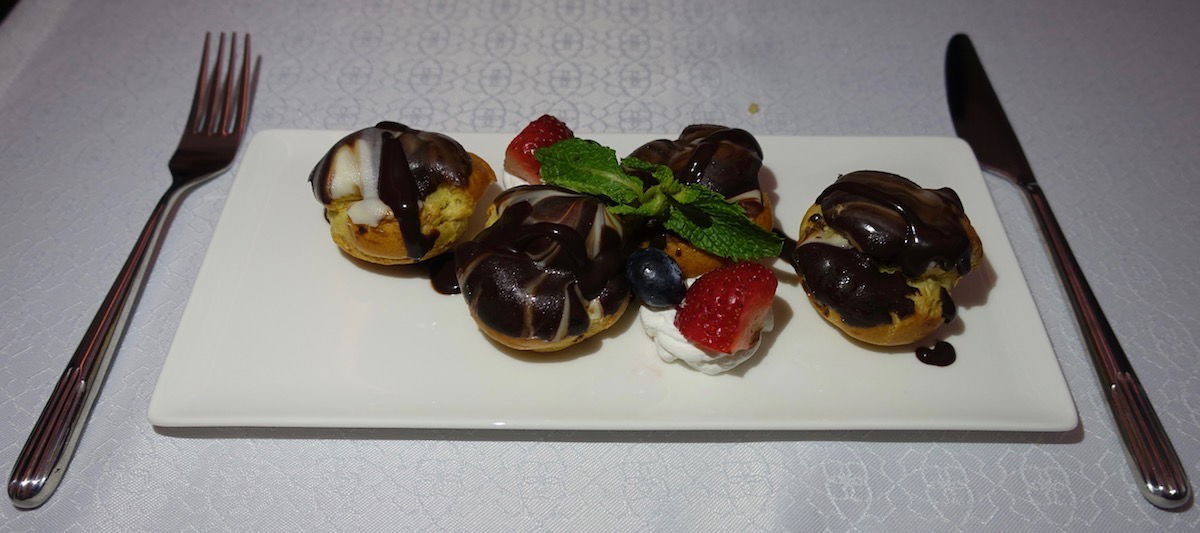 Oman Air first class dessert
So on the plus side, the food quality was exceptional. Oman Air's first class catering is really, really excellent. The service was also well intentioned, and I love their new plates.
However, service was disorganized and slow, and clearly Oman Air is struggling with delivering on their "Service by Design" concept. I'll give the crew the benefit of the doubt here, as it's likely they were nervous to have the CEO onboard, they were probably getting used to the new style of galley, and I have no doubts they were working as hard as they could. I'm sure these things will be fixed over time.
At this point it was three hours into the flight. I checked in with John, and to my surprise he hadn't even been served his main course yet, and he had asked to eat as soon after takeoff as possible. Ouch!
At this point we had just 3hr20min remaining into the flight, meaning we were just over halfway to London. I asked to have my bed made.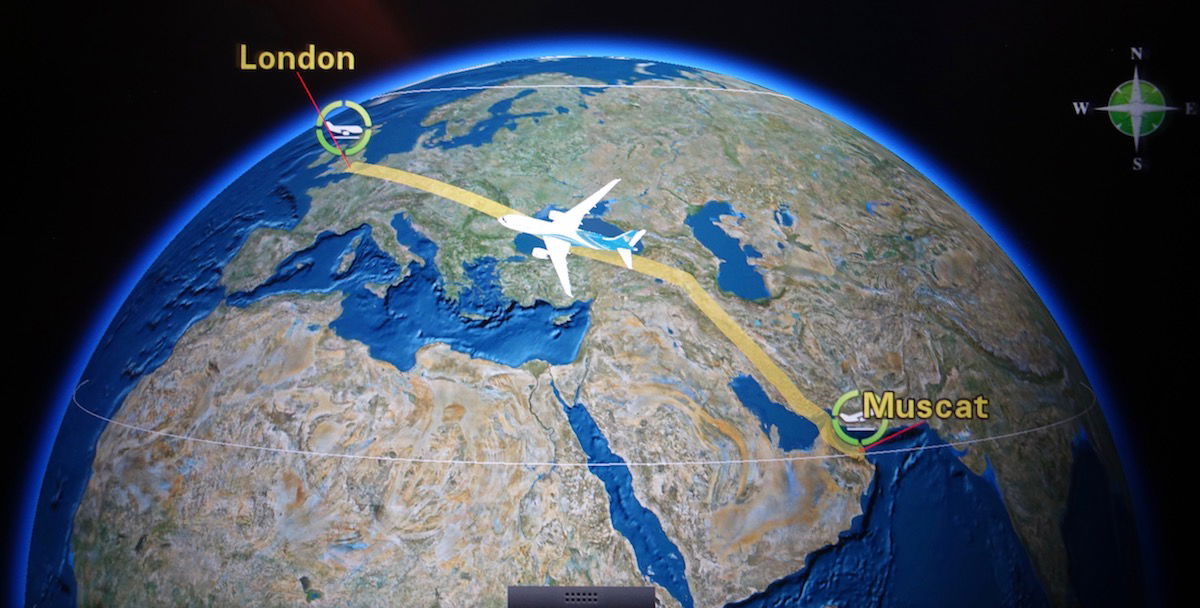 Airshow enroute to London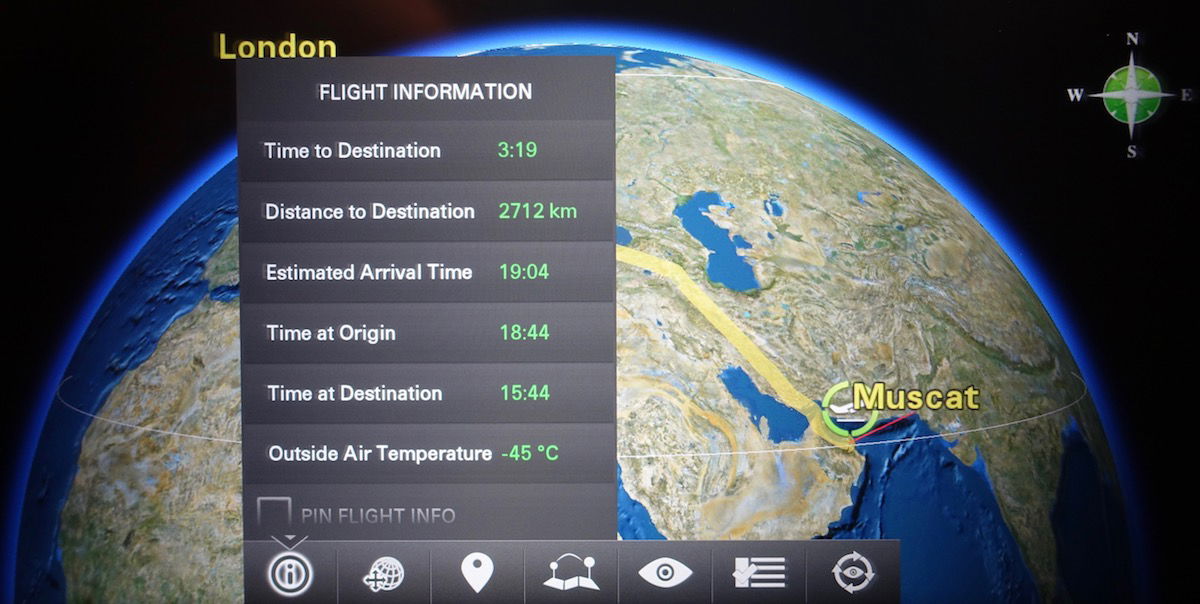 Airshow to London
I really do like Oman Air's pillows, though the rest of the bedding could use some help. I think they're probably reusing the bedding from their old A330s, so the problem is that the mattress pad isn't actually long enough, as you can see in the second picture below. I also think they could invest in some bedding that's more plush.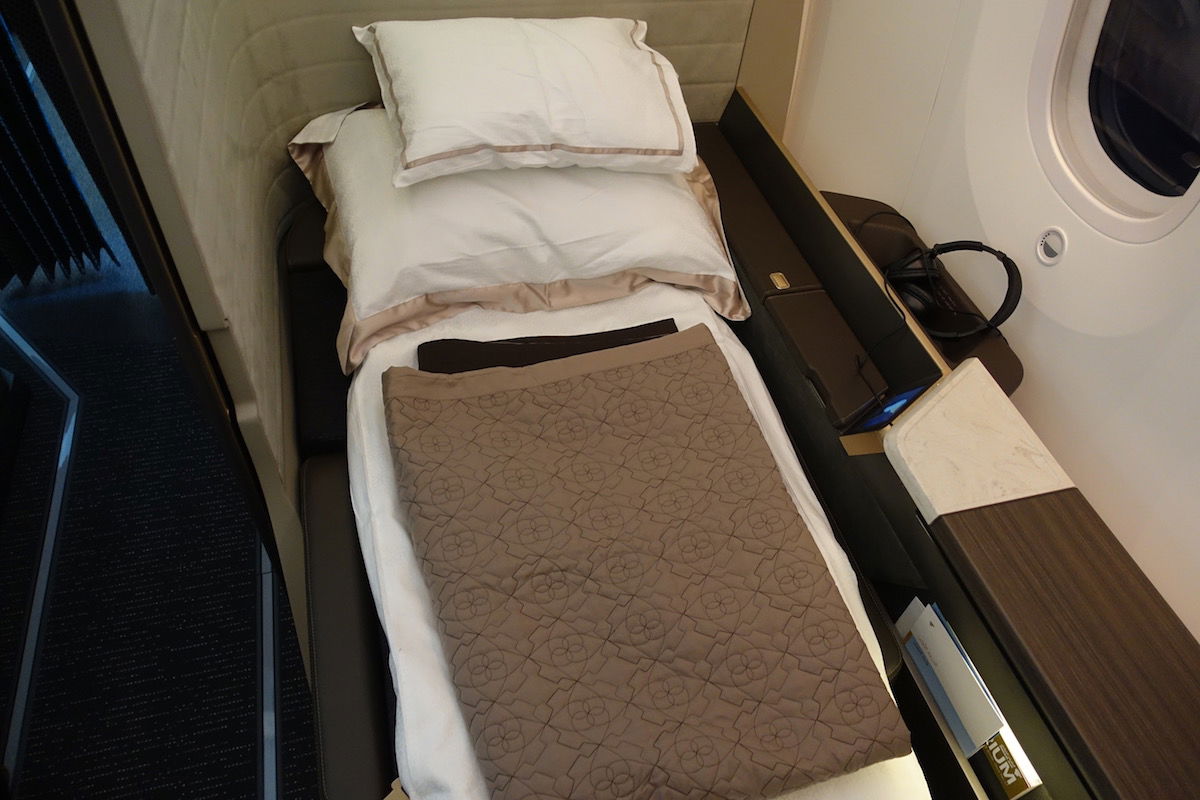 Oman Air first class bed 787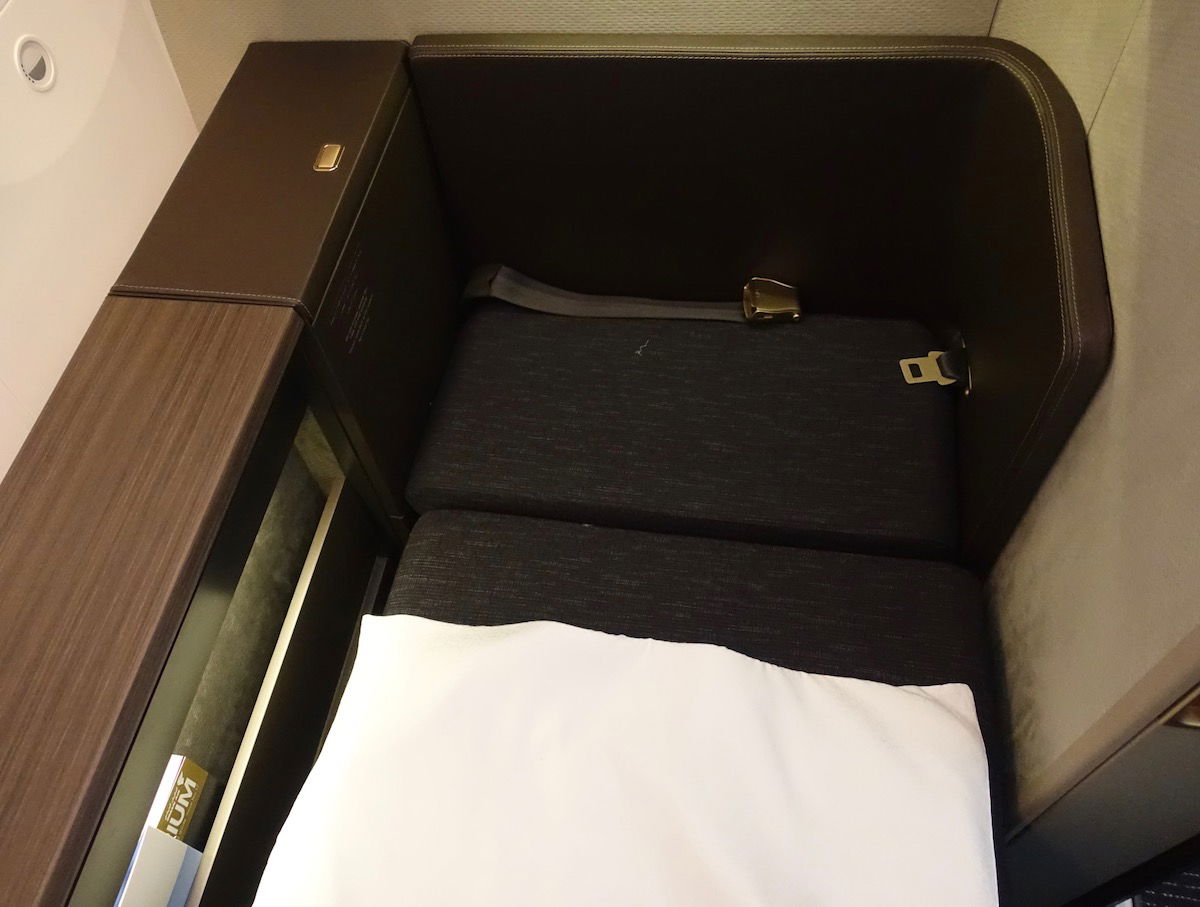 Oman Air first class bed 787
I fell asleep pretty quickly and then was woken up about 2.5 hours out, because they were doing a raffle with prizes. Fortunately I managed to fall asleep again pretty quickly, and woke up 90 minutes out of London.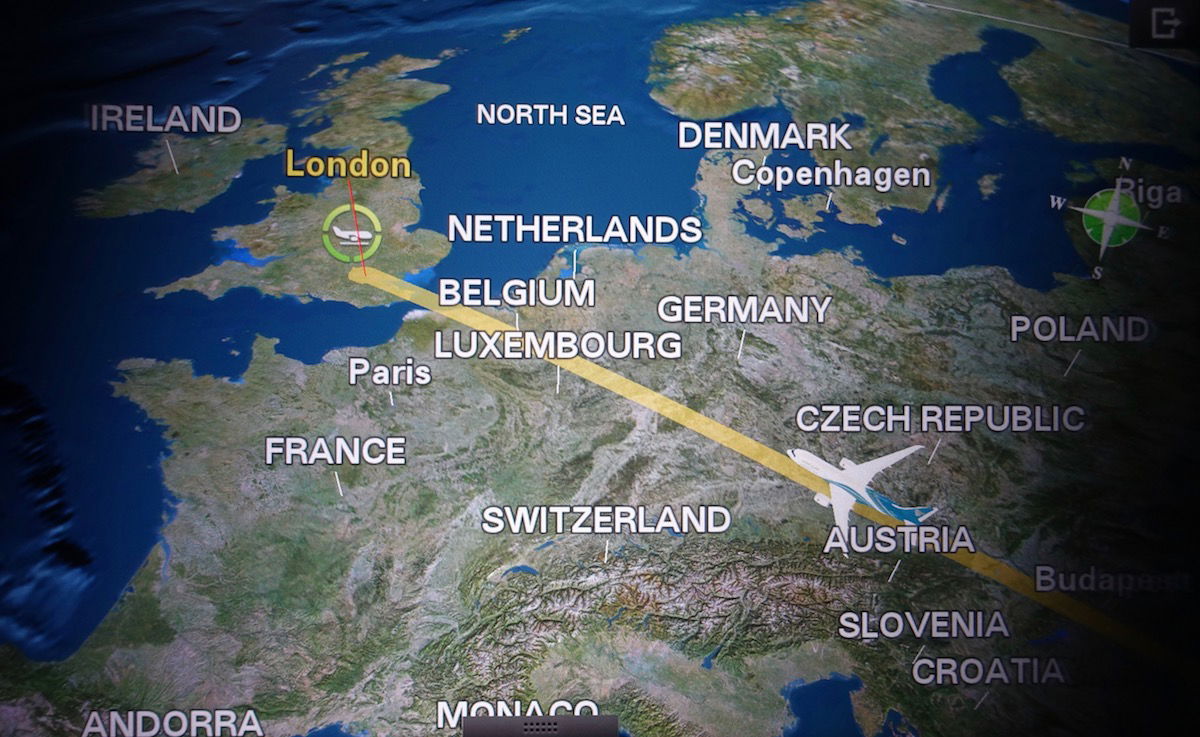 Airshow to London
I was still stuffed from the previous meal, though figured I should sample the afternoon tea. The crew stopped by my seat and asked what I'd like, and I told them to surprise me.
Great, more sweets, just what I needed. 😉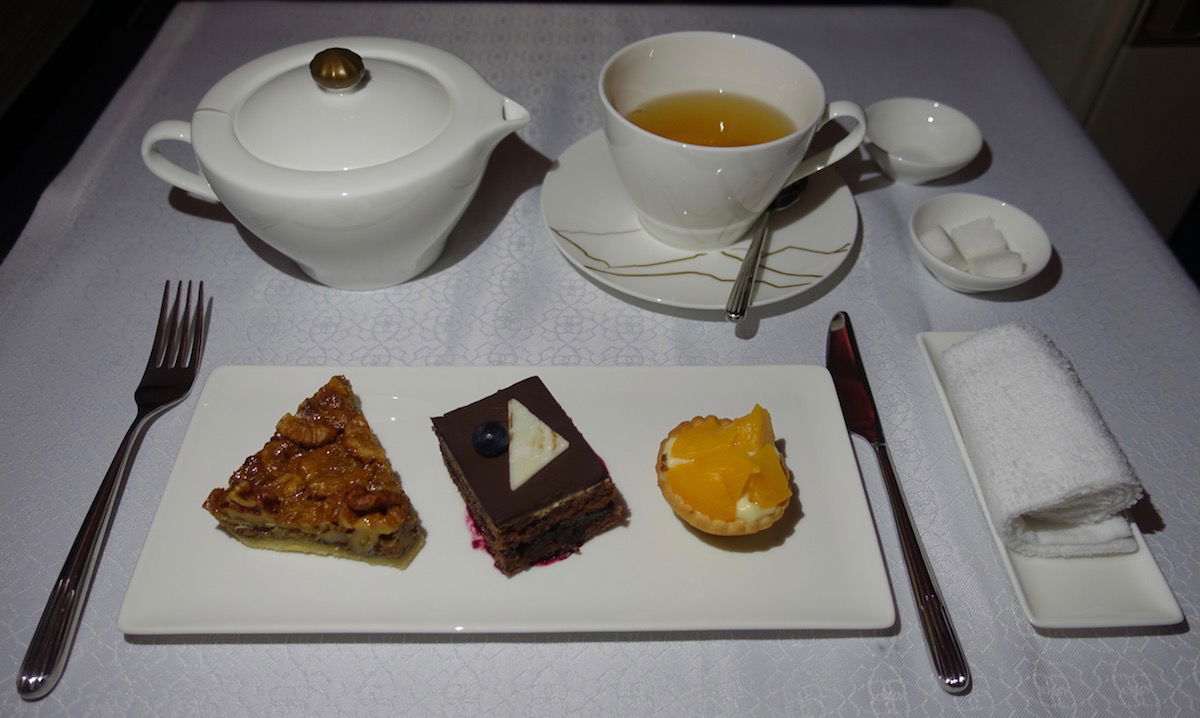 Oman Air first class pre-landing snack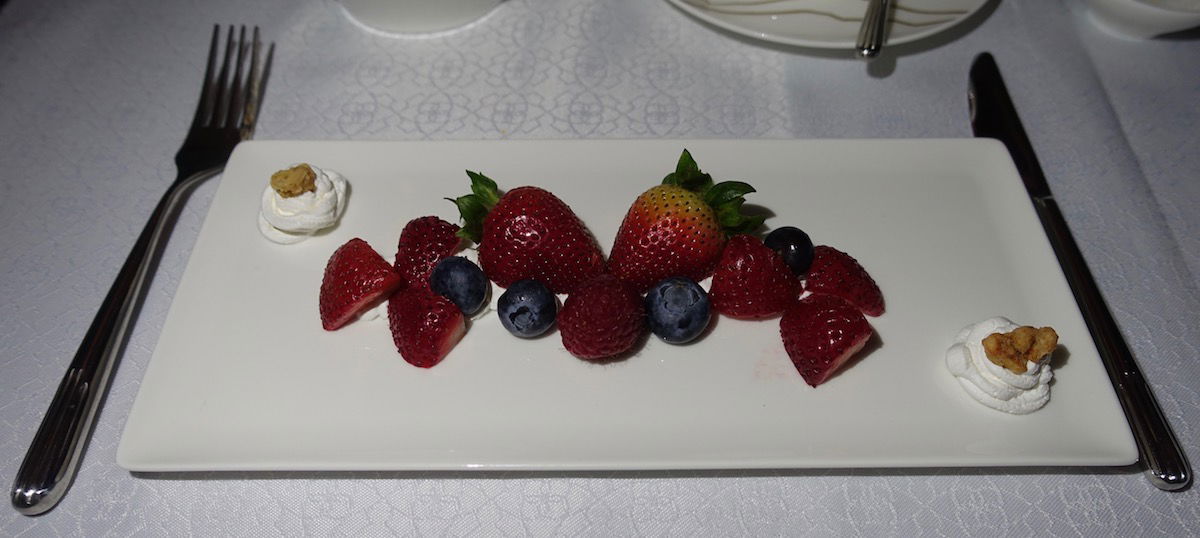 Oman Air first class pre-landing snack
About an hour before landing the crew distributed landing and fast track cards for the UK.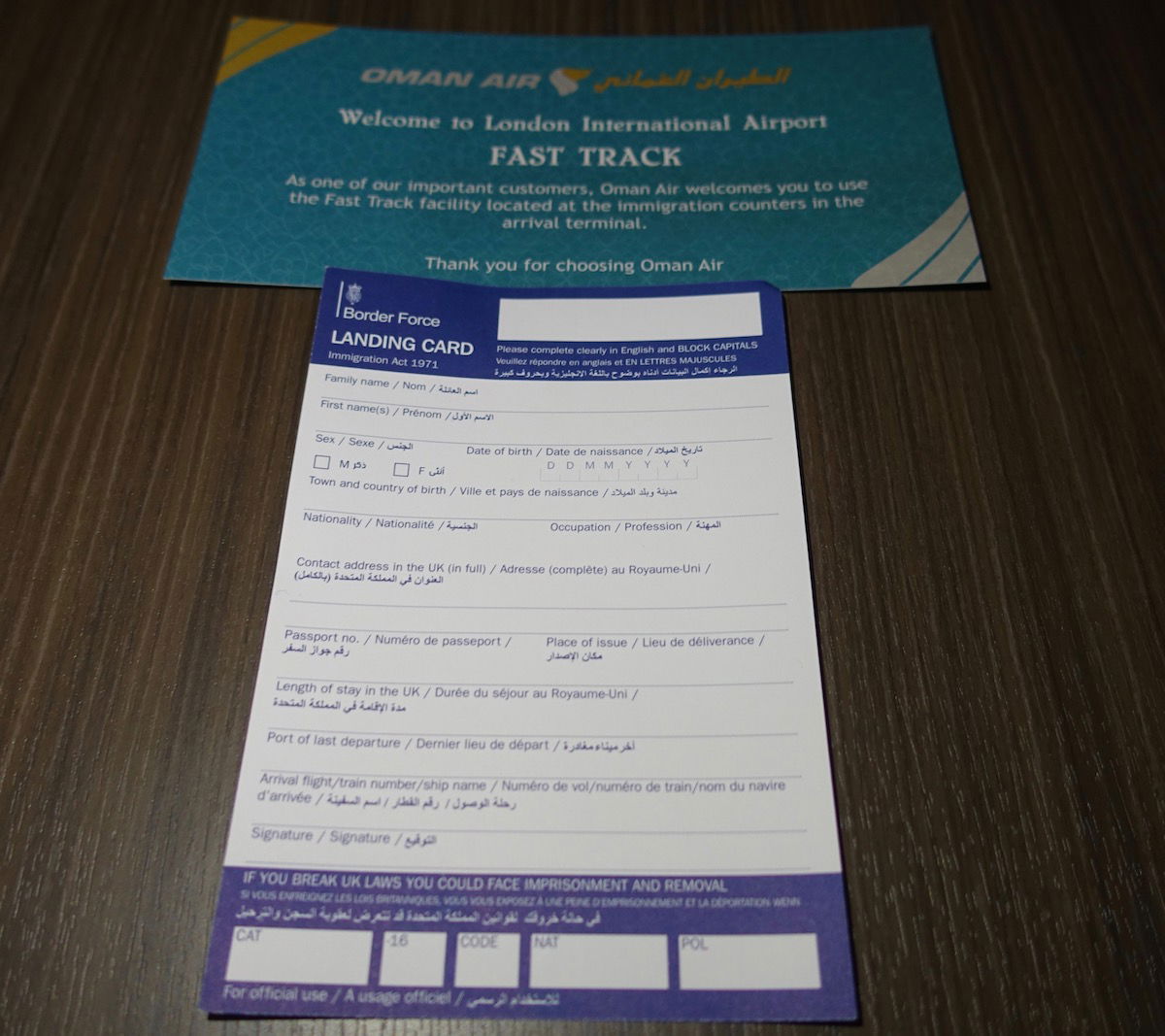 Oman Air first class fast track card
At 6:25PM local time the captain announced that we'd be starting our descent in about 15 minutes, and that we'd be on the ground at around 7:10PM. Around this time I went to the lavatory again, and while looking into the galley I noticed that it basically looked like a war zone. I've never seen a galley that looked so messy. This further supported my theory that the crew is struggling with the new service, and I'm guessing they had a lot of pressure on them.
The seatbelt sign was turned on about 30 minutes out, and it was a beautiful evening in London.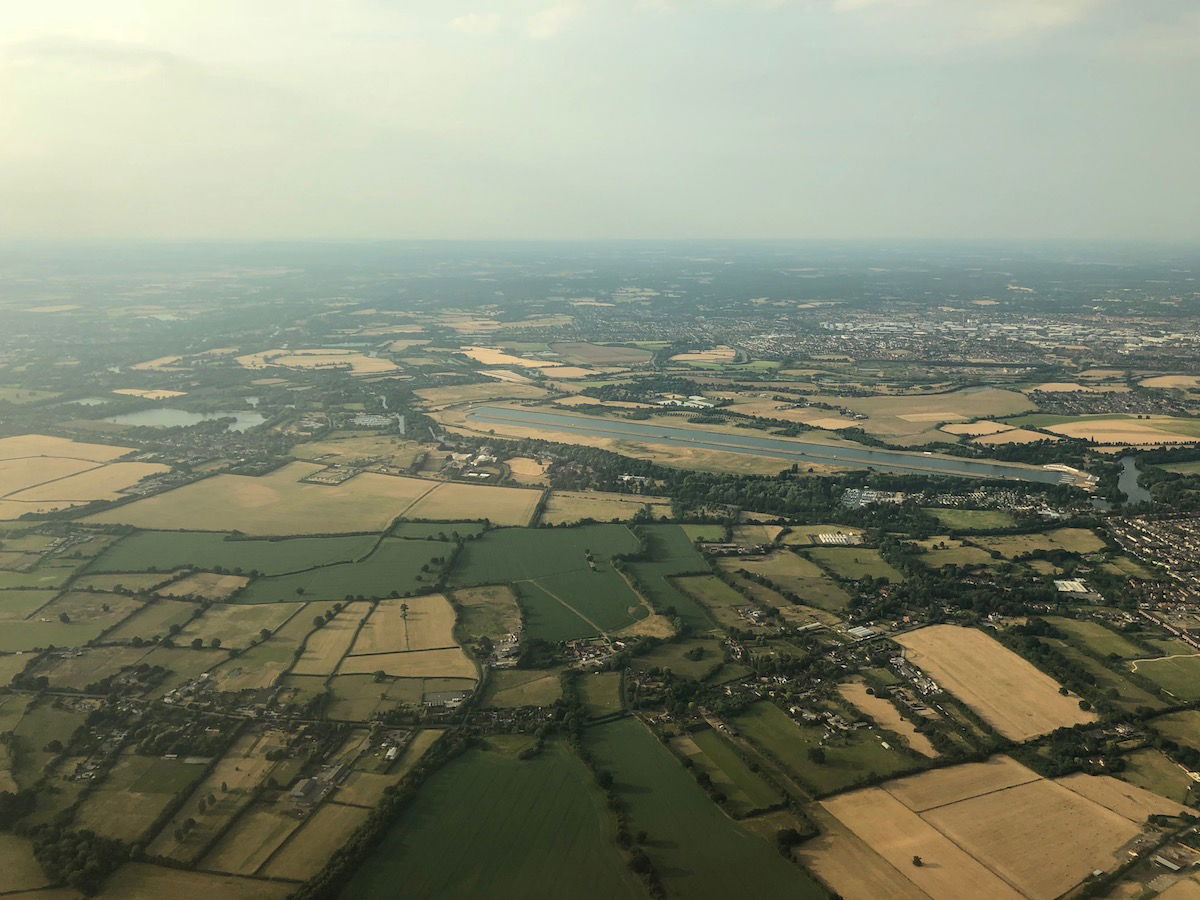 View approaching London
We ended up touching down in London at 7:10PM.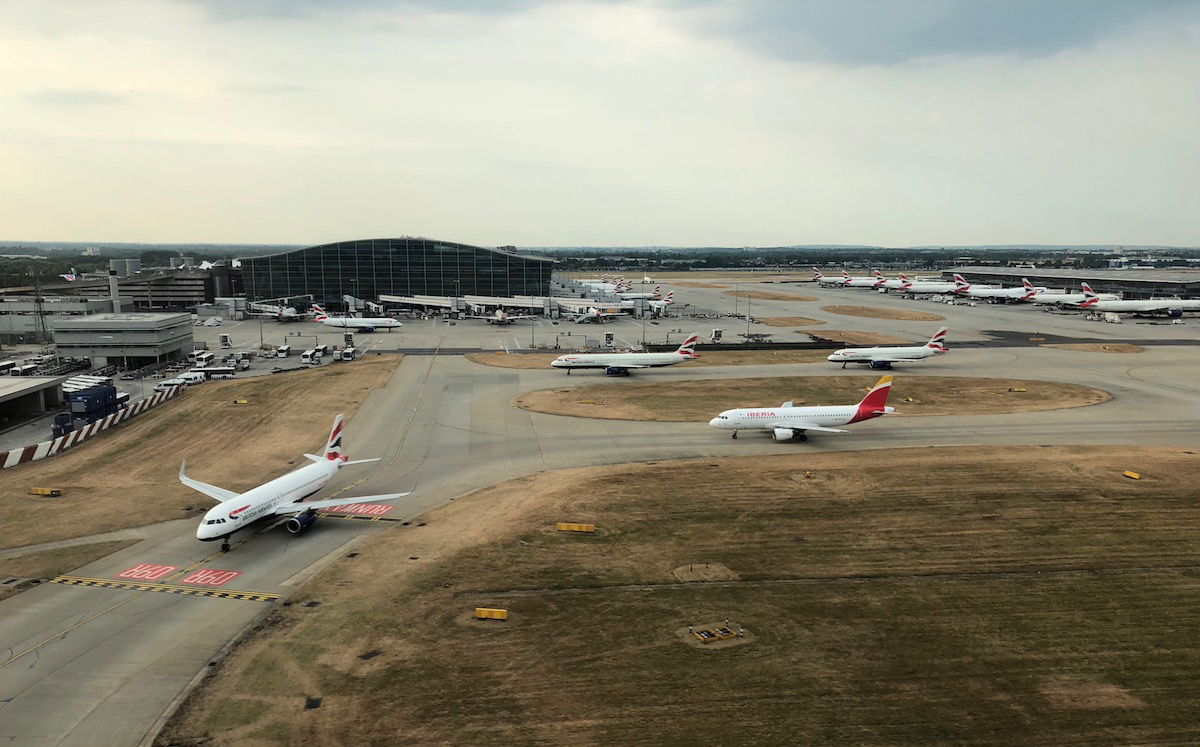 Final approach to London Heathrow
From there we had a very short taxi to Terminal 4, where we passed a Kenya Airways 787, and eventually parked next to an Etihad A380 in the special "Year of Zayed" livery.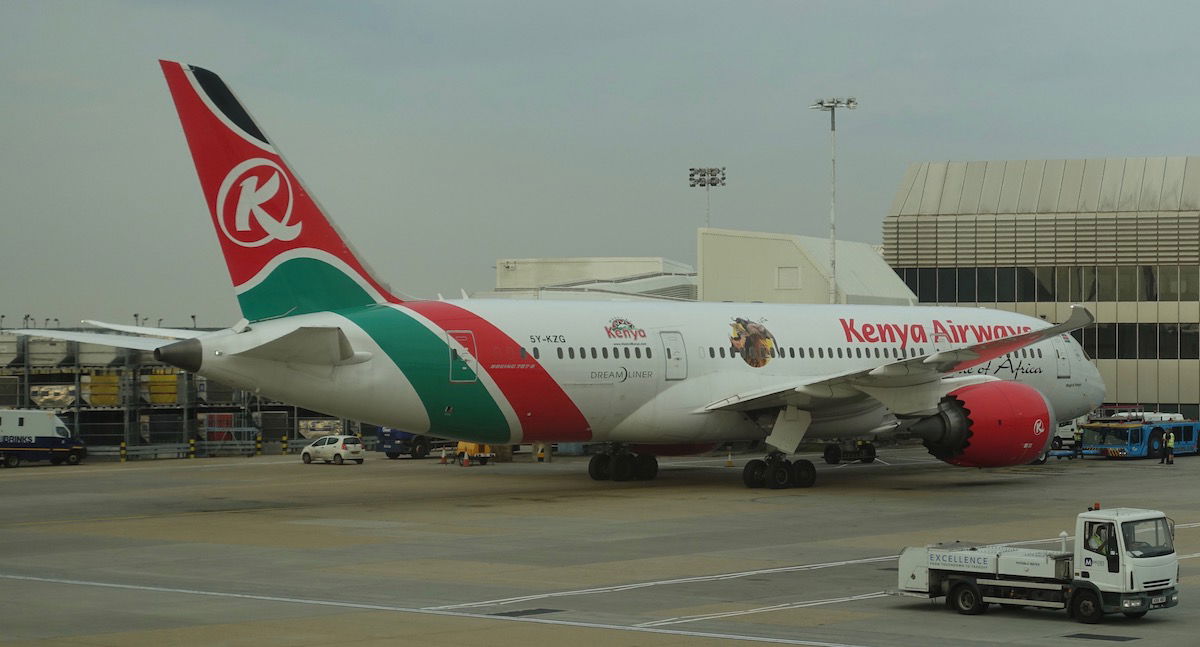 Kenya Airways 787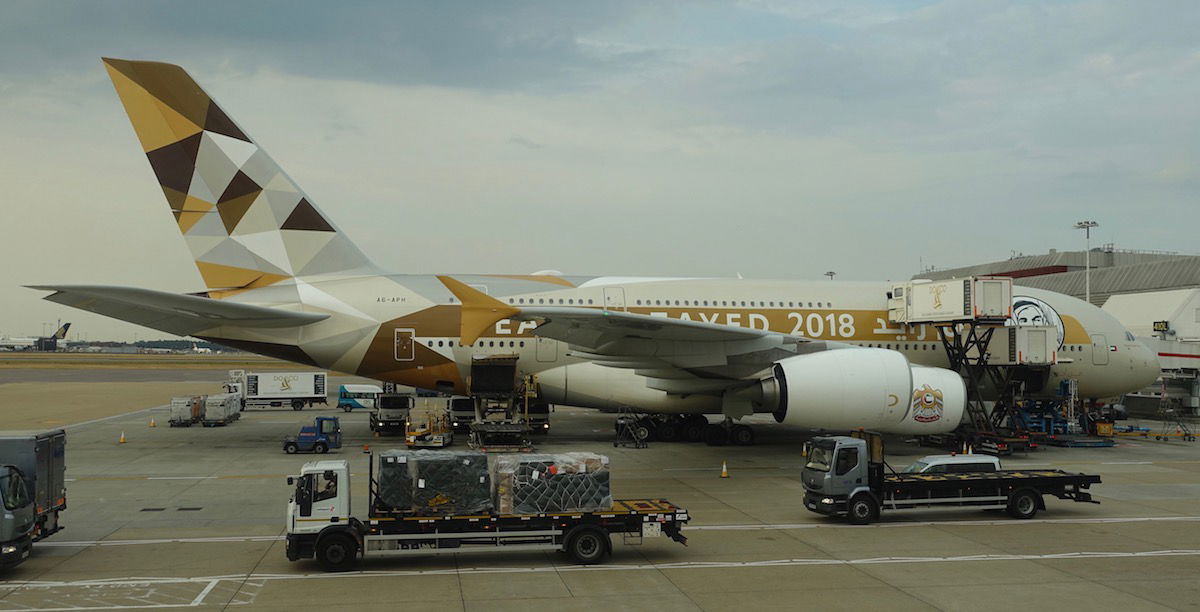 Etihad A380
Oman Air first class bottom line
Let me start with the positives. Oman Air is one of my favorite airlines out there, and probably my favorite boutique airline. They're such a cute airline with an incredible business class hard product, generally friendly service (from a mix of locals and foreigners), and now a great hub airport in Muscat.
The Oman Air first class lounge was exceptional, the quality of the food was excellent, and I love the finishes they used for their new first class cabin.
Flying an inaugural flight can be fun, though sometimes it also doesn't give you a chance to experience the real service, for better or worse. Often the cabin is full, there are executives onboard, and the crew is still learning the seats, galleys, etc.
The service on this flight was well intentioned, but there were a lot of small issues. The service was very slow, and Oman Air seems to have issues with delivering on their "Service by Design" concept, which there's just no excuse for, since this is a recurring problem.
Furthermore, I think there are some areas where Oman Air could invest and it would make a big difference. For example, better bedding, better headphones, and ideally, something better than OnAir Wi-Fi (that last point would require a bigger investment)
Overall this is a great product, though, and I'd fly it again in a heartbeat, as I'm curious what it would be like on a "regular" day. Maybe part of the problem is that Oman Air's business class product is so excellent, and when we're talking about the short flights they're using these planes for, it can be tough to actually fully maximize the experience.
What do you make of Oman Air's new first class?