I'm often asked what I think the world's best first class product is. As much as I try to put thought into it, I can never come up with a good answer. Heck, I have a hard time narrowing it down to just a few best products.
The truth is that which airline offers the world's best first class product really does vary flight-by-flight, because there are so many moving parts. Just to give a few examples:
With the above in mind, what do I consider to be the all around best first class products, in no particular order?
Some would argue that Emirates first class is largely style over substance. I'd agree. But it's so much style that it almost makes up for the lack of substance, at times. Yes, it's very blingy, and I don't think the person who designed the suites has the word "understated" in his/her vocabulary.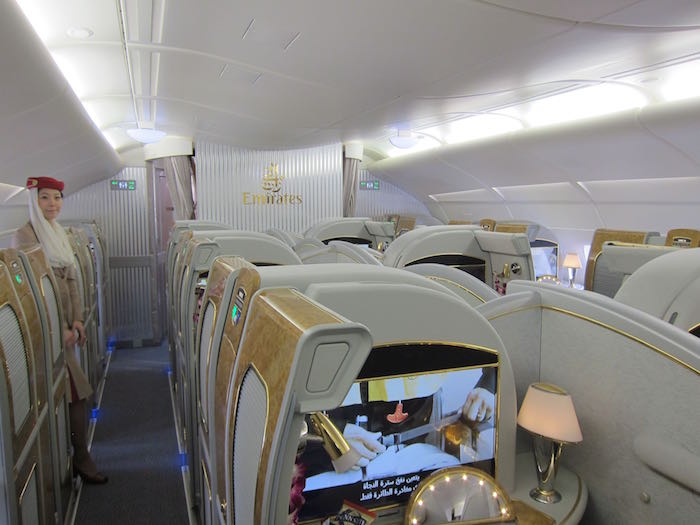 The funny thing is that Emirates' A380 first class cabin is actually sort of tight, as far as first class products go. There are 14 first class suites at the front of the upper deck, and they're not that spacious.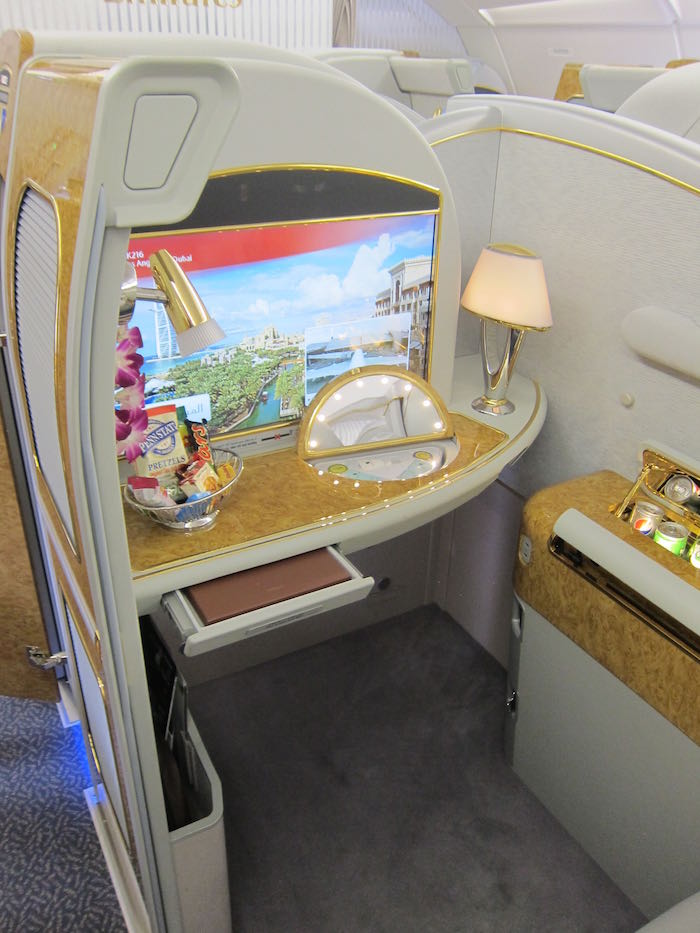 That being said, every other aspect of the experience more than makes up for it, from the top notch dine on demand menu (Emirates food is consistently excellent, in my experience)…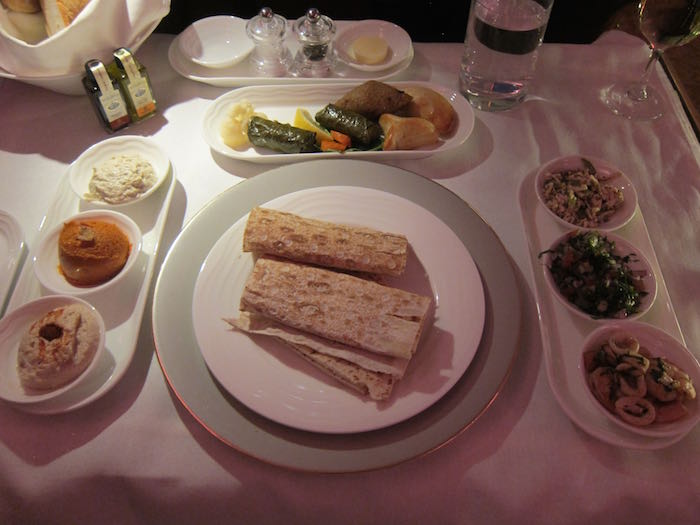 …to the onboard bar at the back of business class…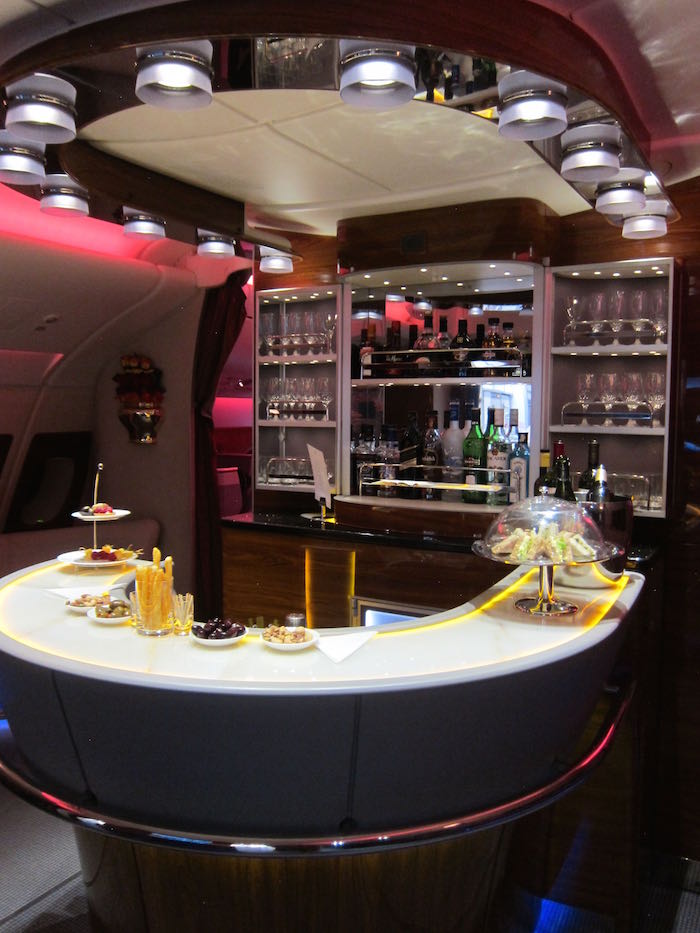 …to the onboard shower. Yeah, showering on a plane is sort of the coolest thing ever. Like, really. Even though I've done it about a dozen times now, I still giggle every time I shower miles above the earth's surface.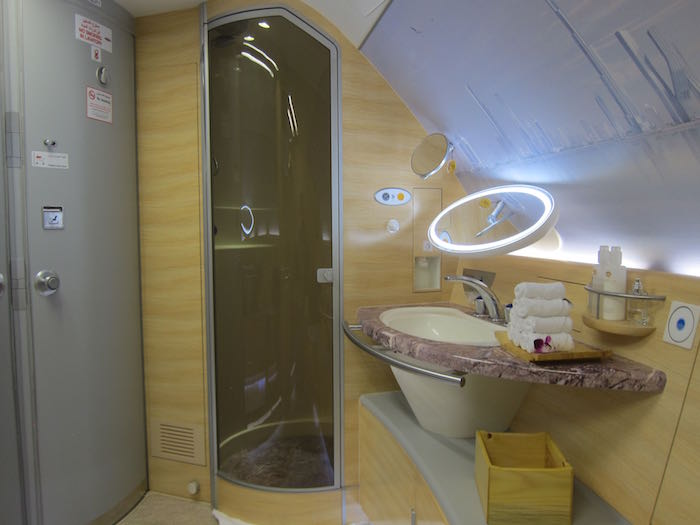 One other thing worth noting is that service on Emirates can be hit or miss, and ranges from incredible to underwhelming. Emirates crews are very diverse and come from all over the world, so sometimes they work great together, while other times they seem really uncoordinated.
I guess what it comes down to is that Emirates A380 first class is simply the most fun way to fly. Between the incredible entertainment system, blingy suite, onboard bar, and shower, even a 16 hour flight will feel way too short.
Reviews of Emirates First Class:
I had the good fortune to be on the inaugural Etihad A380 flight between Abu Dhabi and London late last year. While I've long been a fan of Etihad, they've truly revolutionized first class with the introduction of their A380 First Class Apartment. They're the first airline to have a single aisle configuration on an A380, meaning there's just one seat on each side of the aisle in first class.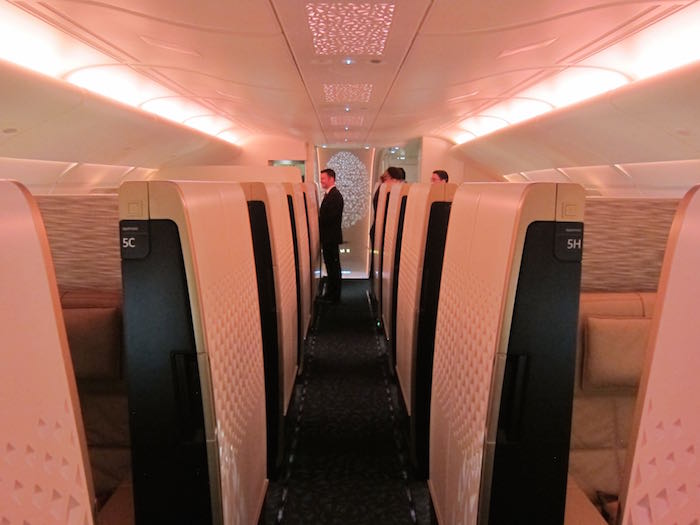 The Apartments are massive — you can actually close your door and walk around in each Apartment. Heck, I'm pretty sure you could host the whole first class cabin in your Apartment if you wanted to.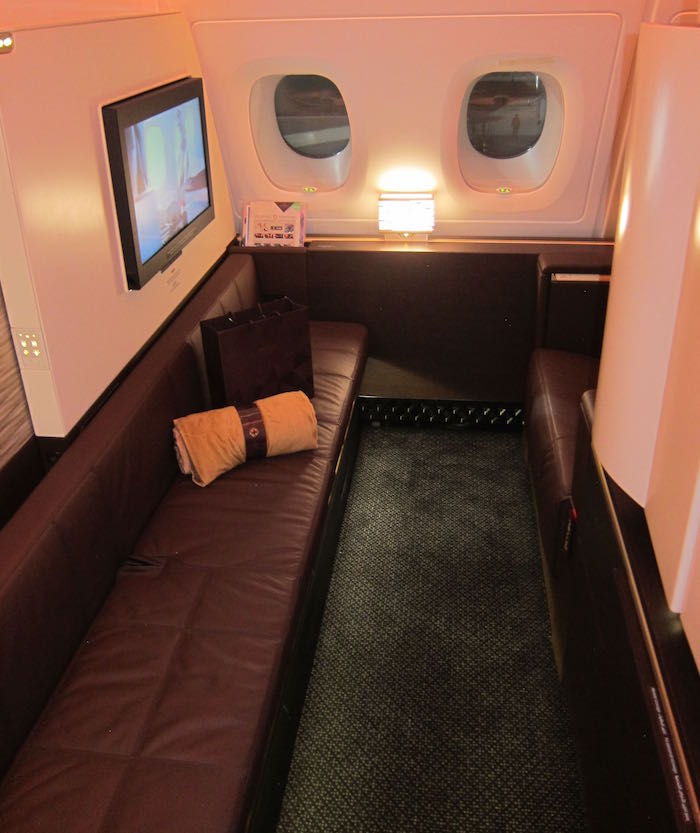 Etihad also has fantastic catering (at least when they load enough food), with an onboard chef. The onboard chef even has a "pantry" of sorts, so if you get a great chef they'll prepare you just about anything you could want. It doesn't get much better than that in the air!
Etihad is also the only other airline to have a shower onboard for first class passengers. While I slightly prefer the Emirates shower suite, Etihad's isn't half bad either. 😉
Lastly, Etihad has a lounge area between first & business class, which is a nice place to go and stretch your legs.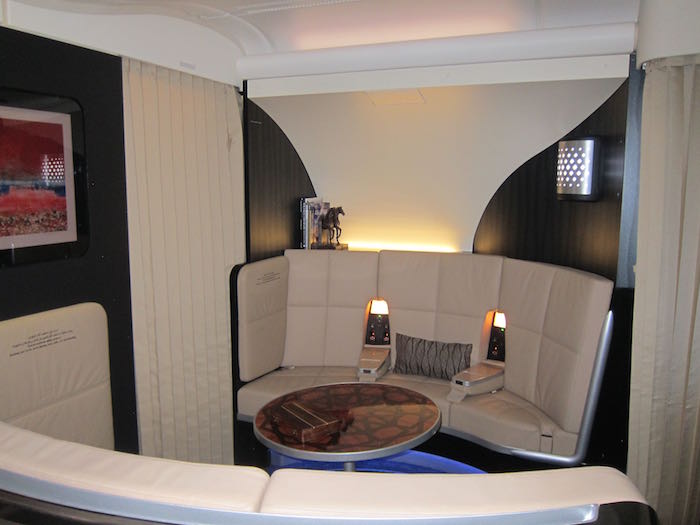 For me, Etihad's A380 has the single best first class hard product of any airline out there. Their First Class Apartments are revolutionary.
Reviews of Etihad First Class:
Cathay Pacific first class is one of the two first class products I've flown most over the years (I'll let you guess the other one). And it's fantastically consistent, overall.
Their 777-300ERs feature just six first class seats per cabin, so it's an extremely personalized experience.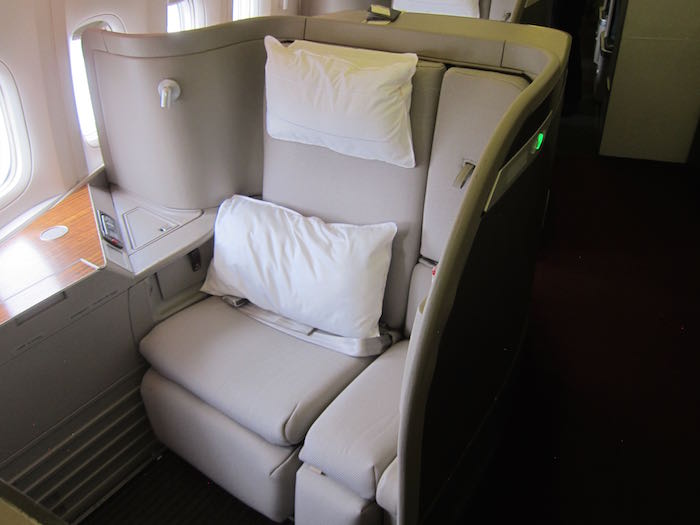 While Cathay Pacific doesn't have cutting edge, fully enclosed suites, they still have what I think is one of the most comfortable beds in the sky. The bedding is fantastic and the sleeping surface is so spacious.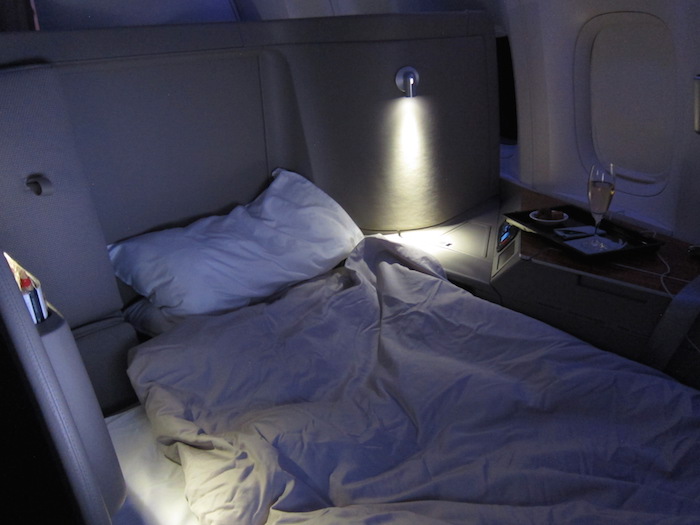 I try not to overeat as much as I used to on planes, so I love Cathay Pacific first class catering if for nothing than the Krug and caviar that they serve.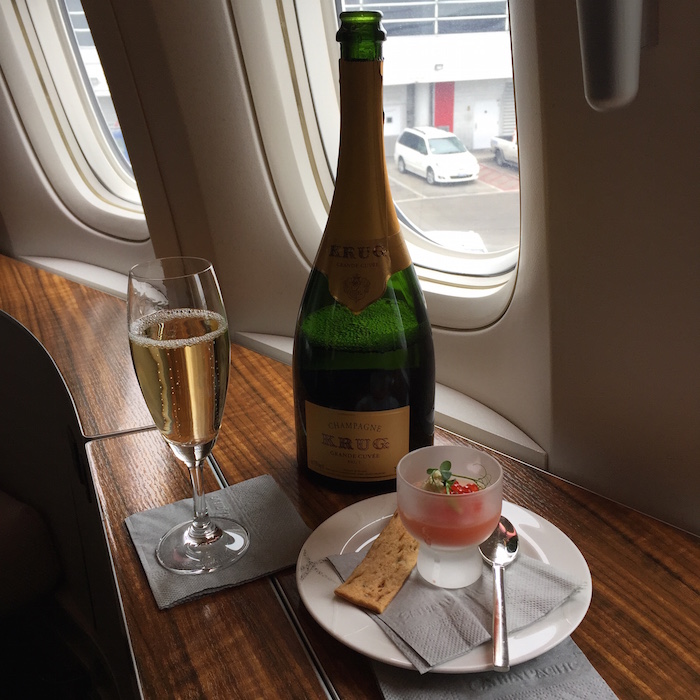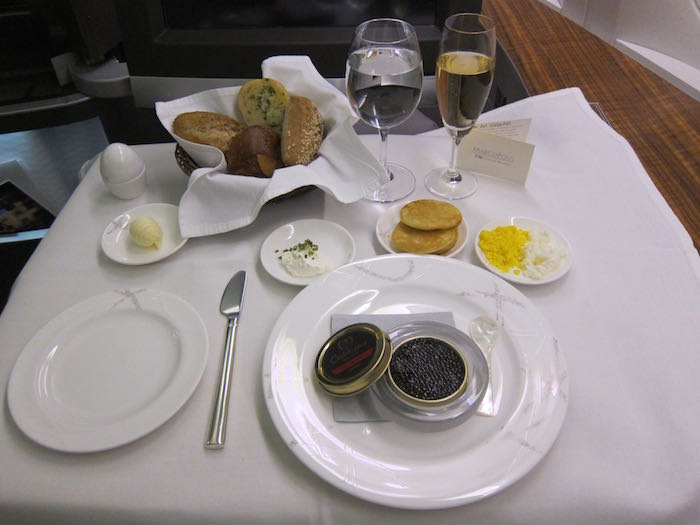 Service in Cathay Pacific first class is generally top notch, though more reactive than proactive, compared to airlines like Singapore, for example.
Reviews of Cathay Pacific First Class:
Here's an airline which really grew on me this year. I love almost everything about Japan, and in particular the over the top service. And JAL first class perfectly embodies the Japanese spirit, in my opinion. The seats themselves aren't cutting edge, though are very comfortable.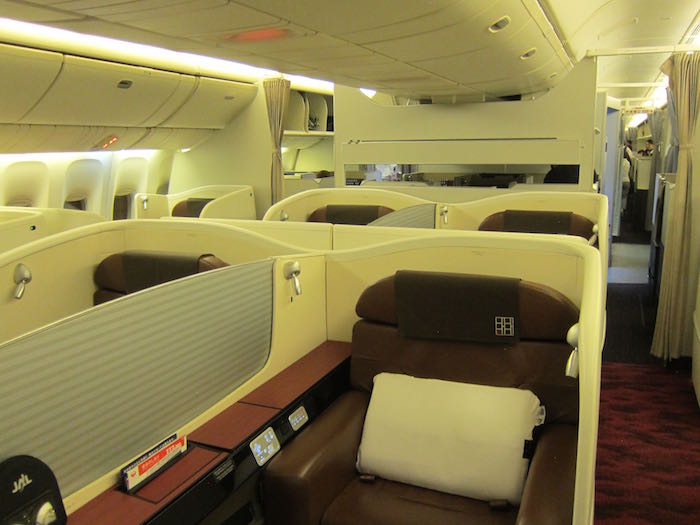 JAL has fantastic mattress pads, and you can even choose whether you prefer a soft or firm one.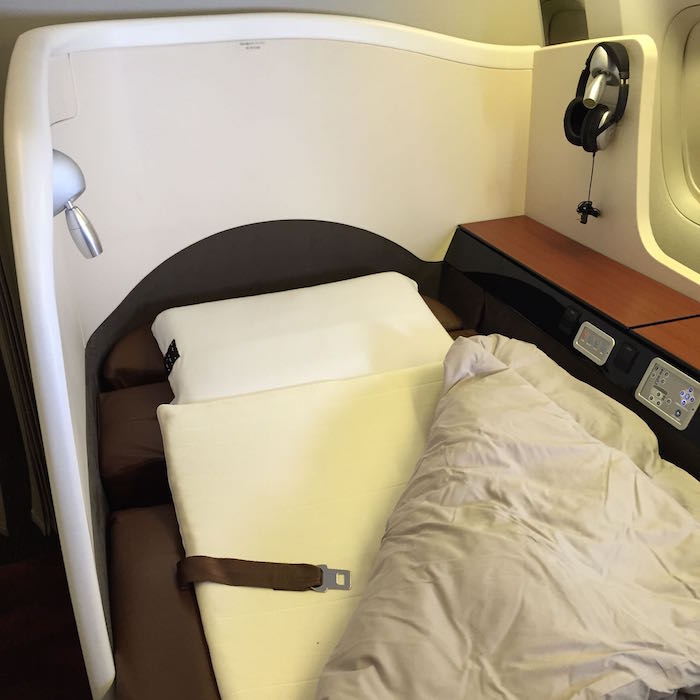 The catering is excellent, regardless of whether you prefer the Japanese or western selection.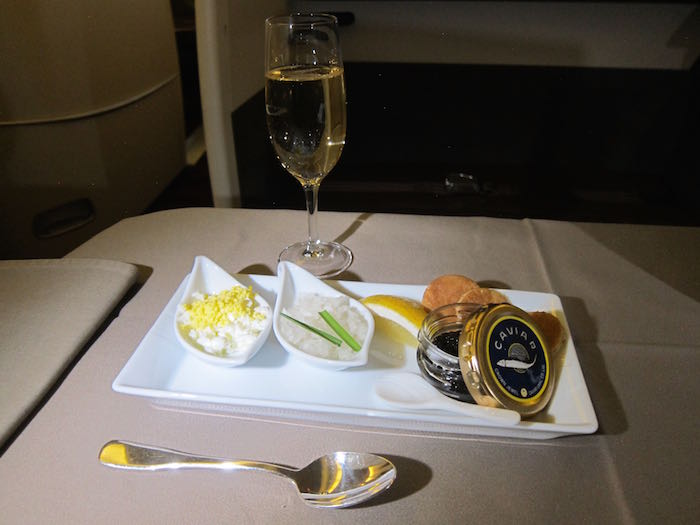 And maybe I'm the only one excited by this, but JAL also has a Japanese toilet. That's my second favorite way of being sprayed in the sky, after the Emirates/Etihad A380 showers!
Reviews of JAL First Class:
At least in terms of naming, Singapore Airlines really took things to a whole new level with their introduction of Suites Class, available exclusively on the A380. The product is visually stunning, if not a bit train-compartment-esque.
It was the first ever airline to offer a double bed in the sky (now China Eastern also offers one double bed on their 777s).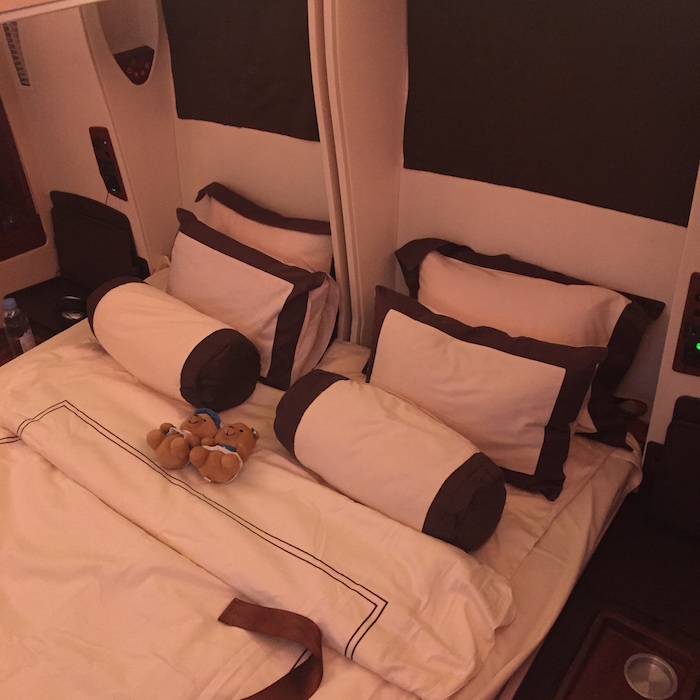 As a matter of fact, the toughest decision you might have to make on a Singapore flight is whether you'd prefer Dom, Krug, or both.
The food is also excellent, in particular if catered out of Singapore. Between their caviar and lobster thermidor, there's not room for much else!
Service on Singapore ranges from the best in the sky to above average. So if you have a top Singapore crew then you might just be in for the flight of your life.
Reviews of Singapore Airlines Suites Class/First Class:
It's no secret that I'm a Lufthansa fanboy. As you can see above, all my top airlines above are Asian/Middle Eastern.
So to mix things up, I think we need to include a western airline as well, and I do think that honor should go to Lufthansa. I'm not a huge fan of the airline's business class, but I do love their first class.
And while I also love their A380 first class, I think their 747-400 first class deserves a special mention, given that it offers a separate seat and bed for each passenger.
Furthermore, there's something that feels so private about having the entire upper deck for just eight seats, which really almost makes it feel like a private jet.
As far as service on Lufthansa goes, I find it to generally be the perfect balance between personable and reserved. The first part can be a struggle for Germans, so I do think Lufthansa finds good middle ground there.
Catering on Lufthansa can be hit or miss, though I find their caviar and appetizers to be consistently excellent, which is more than enough to fill me up.
Reviews of Lufthansa First Class:
Bottom line
Are the above the world's six best first class products? Not necessarily. I'd say Garuda Indonesia, Asiana, Korean Air, Qatar Airways, All Nippon Airways, and Swiss are top notch as well.
But I haven't flown Garuda Indonesia, I don't think Qatar Airways A380 is quite to the level of their Middle Eastern counterparts, Asiana and Korean Air have great service and food but less-than-awesome cabins and entertainment, I slightly prefer JAL to ANA, and I don't love Swiss' ground services.
Which products are "best" is highly subjective, though without hesitation I'd recommend the above airlines, keeping in mind that quality can still vary on a flight-by-flight basis.
What do you consider to be the world's top first class products?