---
Lufthansa 491
Seattle (SEA) – Frankfurt (FRA)
Thursday, June 27
Depart: 1:35PM
Arrive: 8:35AM (+1 day)
Duration: 10hr
Aircraft: Airbus A330-300
Seat: 12G (Business Class)
Okay, so upfront I should say that Lufthansa has one of my all around favorite first class products in the world. My last few dozen longhaul segments on them have been in first class (like this one, this one, this one, this one, this one, this one, this one, this one, this one, this one, this one, this one, this one, this one, this one, and this one just to name a few), so I really forgot what business class on them is like. I did fly it quite a bit back in the day and remember it being pleasant though unmemorable, but that was years ago.
Anyway, we boarded through door 2L and turned right into the business class cabin. While there's a business class mini-cabin in front of the entry door, we were in the third row of the main business class cabin, in the center section.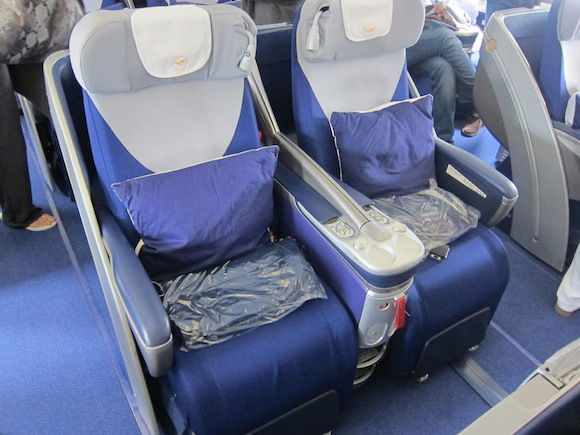 Our seats, 12D & 12G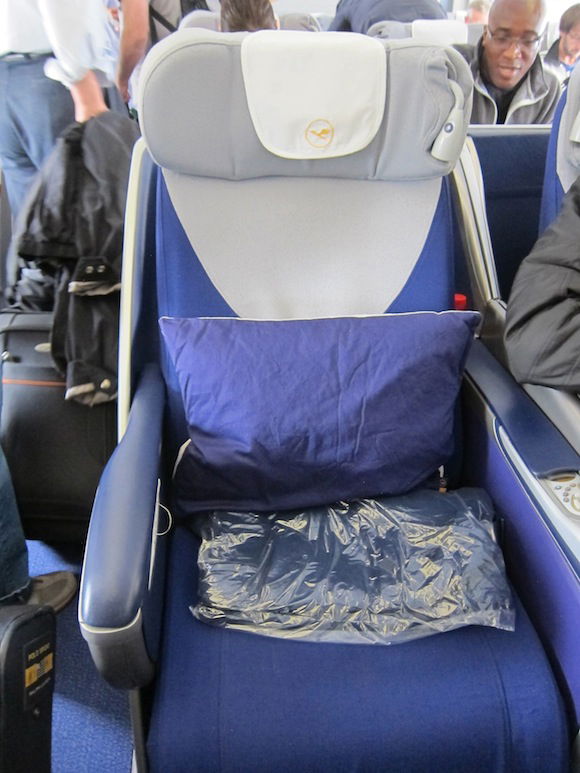 My seat, 12G
Okay, the first thing I noticed that I had kind of forgotten about is how much these seats lack privacy and are "exposed." While American, for example, also has angled flat seats, their "shells" are much bigger, so you don't really see most other passengers. In this cabin, on the other hand, the seats extended about a foot above the "shell," so you really saw everyone.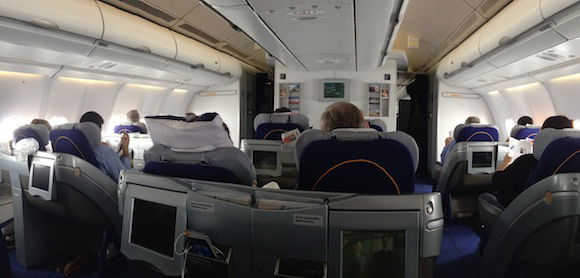 View from 12G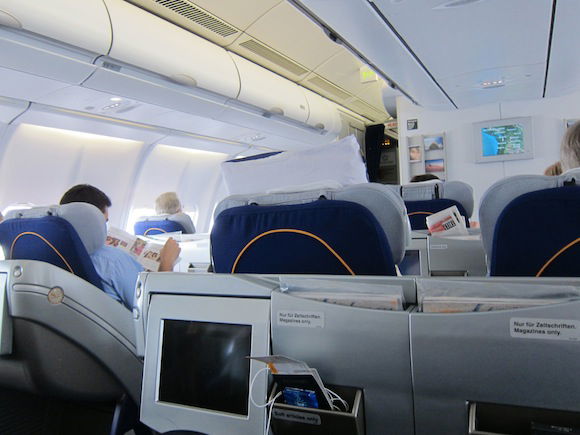 View from 12G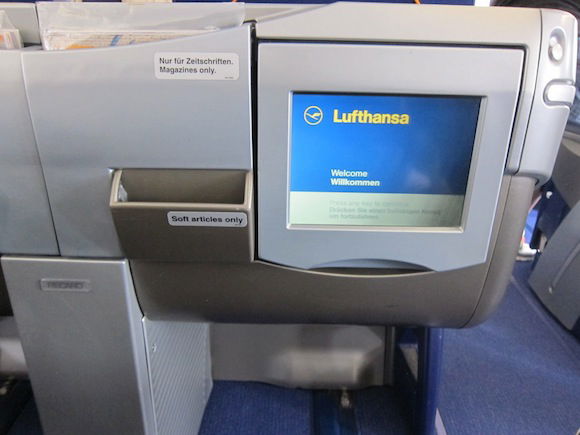 Entertainment console in my seat
The seat and entertainment controls were on a single remote, which was located in a compartment to the left of the seat.


Entertainment and seat controls
Also to the left of the seat were a pair of headphones.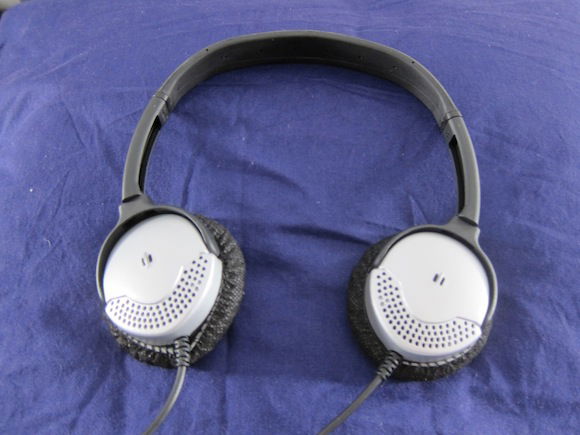 Headphones
Waiting at my seat were a pillow and blanket. Both were rather disappointing — the pillow wasn't very big, while the blanket was more like a sheet than anything else.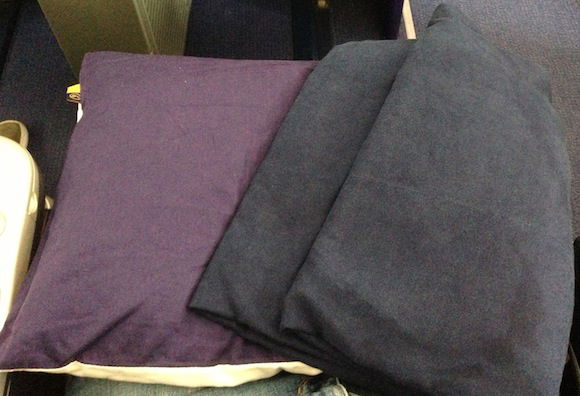 Pillow and blanket
Also waiting at my seat was an amenity kit, which was in a hard, cheap feeling case.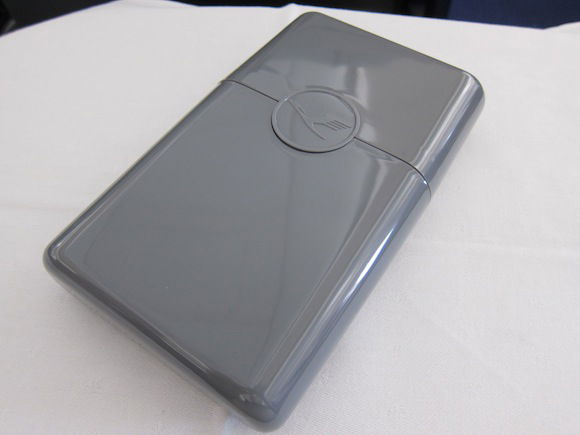 Amenity kit
The kit consisted of socks, eye shades, toothpaste, a toothbrush, Nivea cream, and a new pair of covers for the headphones.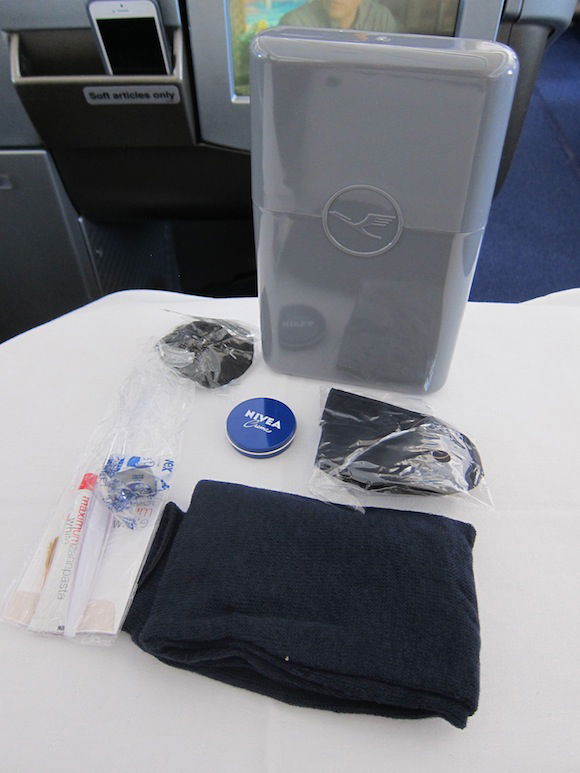 Amenity kit contents
Within about 10 minutes of settling in were offered pre-departure beverages. I just had some water.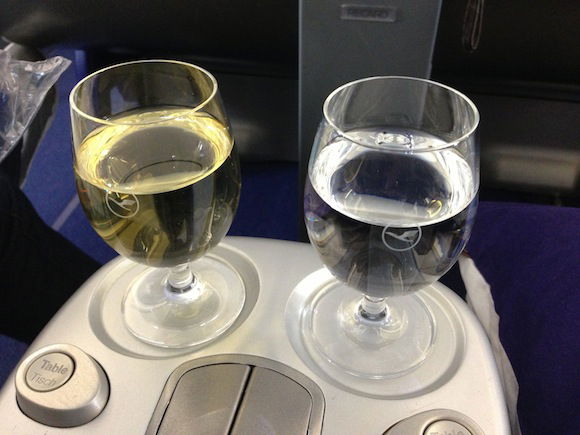 Pre-departure drinks
After the pre-departure drink service the crew came around with newspapers and magazines, and then with hot towels.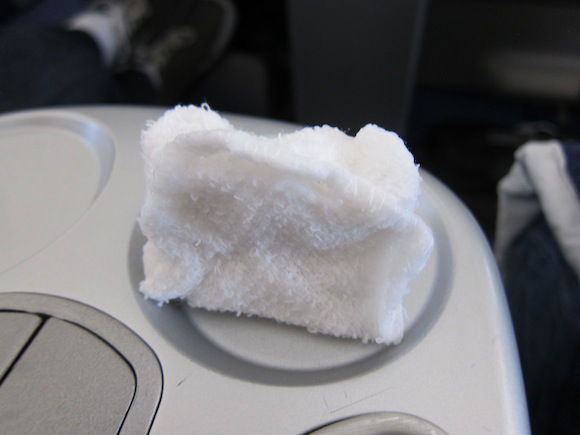 Hot towel
After that they distributed menus.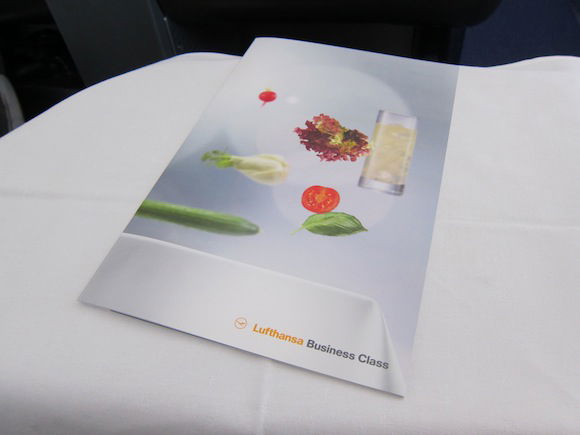 Menu
Shortly before our scheduled departure time the captain came on the PA to inform us of our flight time of 9hr15min, which was 45 minutes under our block time, and would put us into Frankfurt a bit early. As the cabin door closed every seat was taken in business class, and coach seemed full as well.
We pushed back on schedule and the cheesy safety video began to play as we taxied to runway 16L, which took about 10 minutes. Once there we were number one for takeoff, where after a long takeoff roll we began a smooth and gradual climb to our cruise altitude.
On the climb out I browsed Lufthansa's entertainment selection, which was pitiful as always. Not only is the selection ridiculously limited, but the quality of the programming is ridiculous as well. I'm pretty sure they get their inspiration for movies from the $5 DVD bin at Wal-Mart.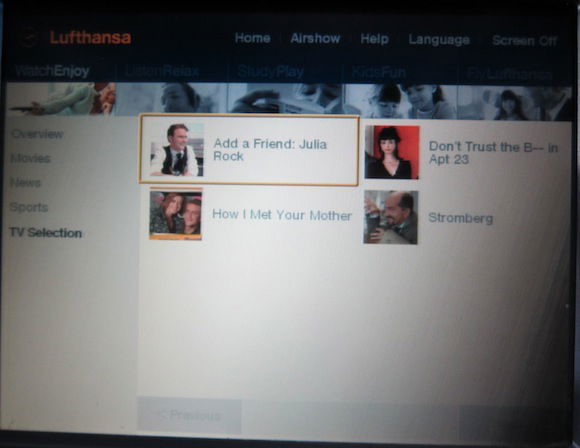 Entertainment selection
The only decent movie in the selection was "A Good Year," a movie I've probably seen a dozen times but love so much that I don't ever mind seeing it again. And that movie even has one of my favorite songs:
Anyone else love that song?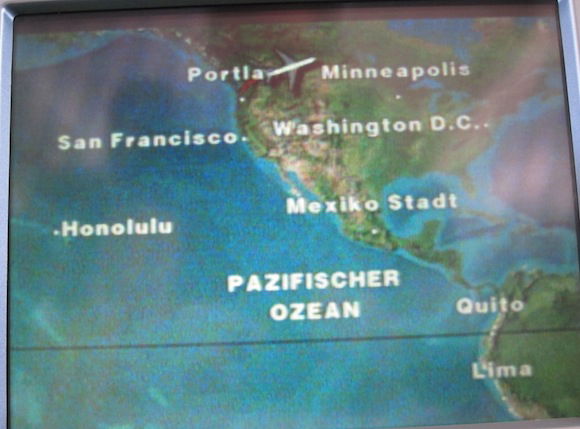 Airshow on departure
At that point the meal service began. The menu read as follows: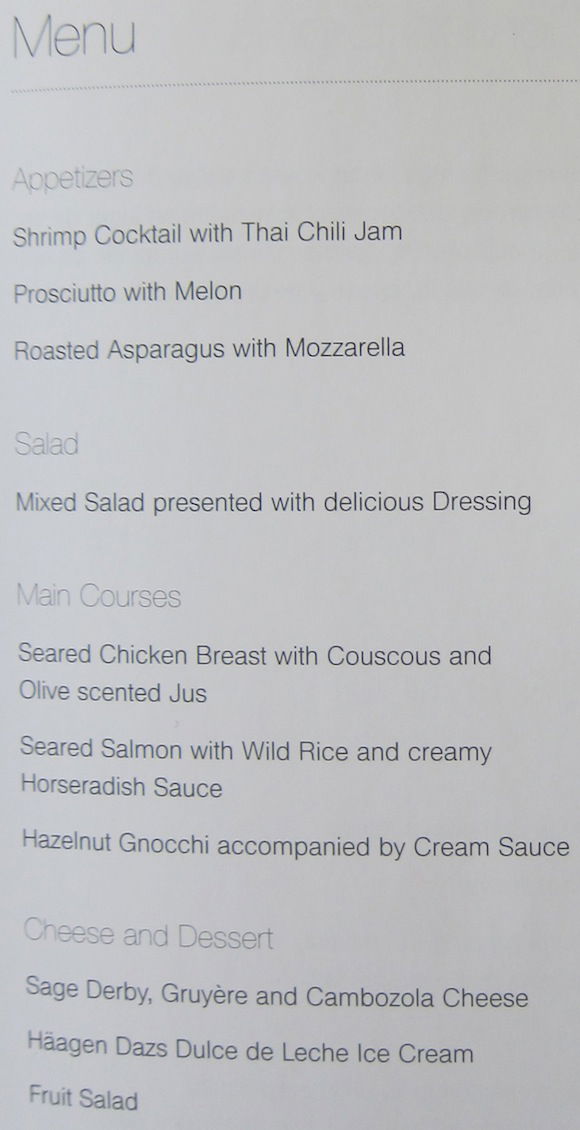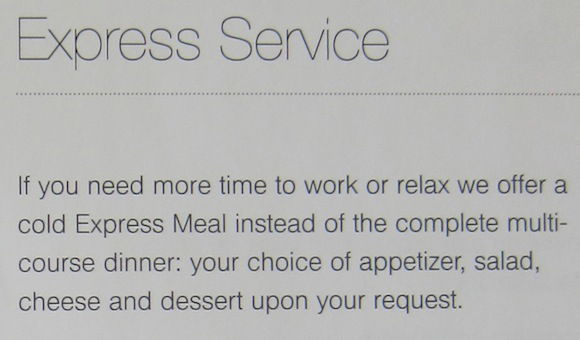 And the wine list read as follows: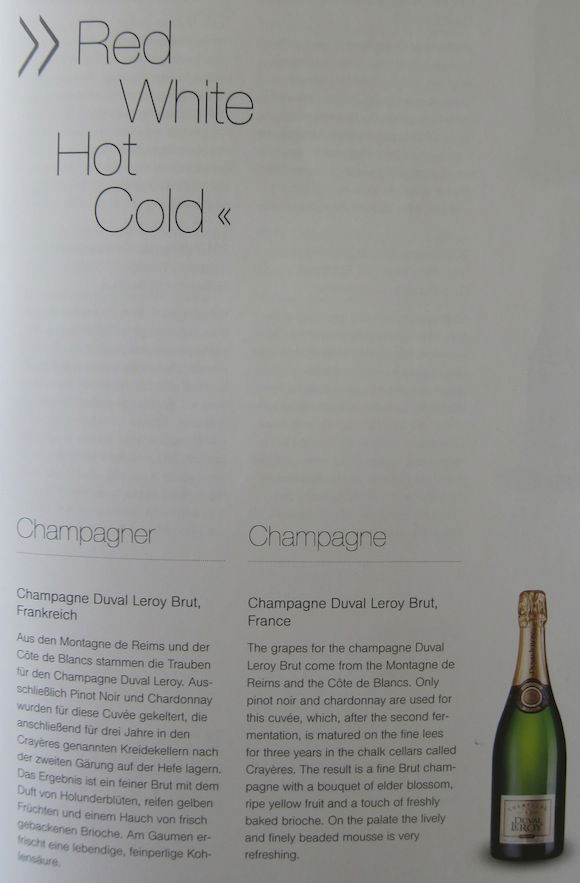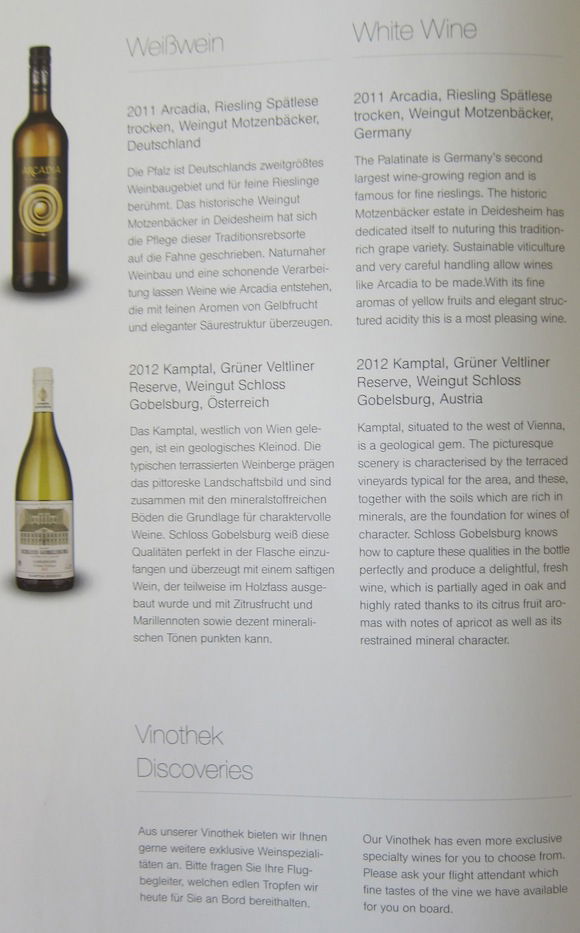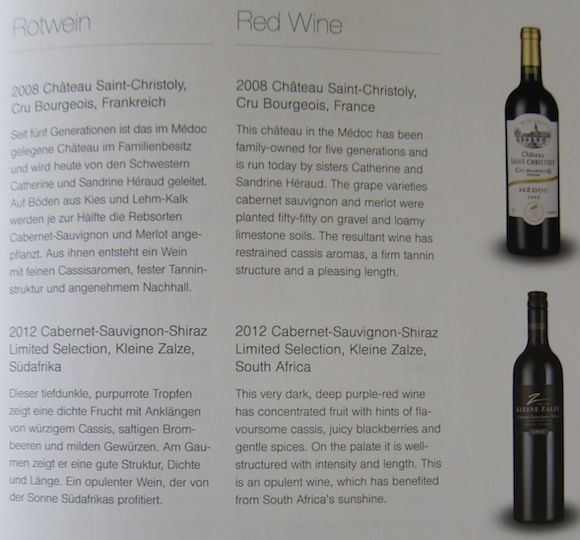 As soon as the seatbelt sign turned off the flight attendants closed the curtains between the galley and cabin, and 30 minutes later all emerged in a synchronized fashion with drink carts. The service was… efficient.
The highlight of the meal had to be that Lufthansa now serves Fanta, which in theory is huge news to me, except the Fanta on this flight tasted a bit off. It wasn't as good as the Fanta you get in Germany, but also wasn't the orange sugary crap they serve in the US. Drinks were served with packaged cashews.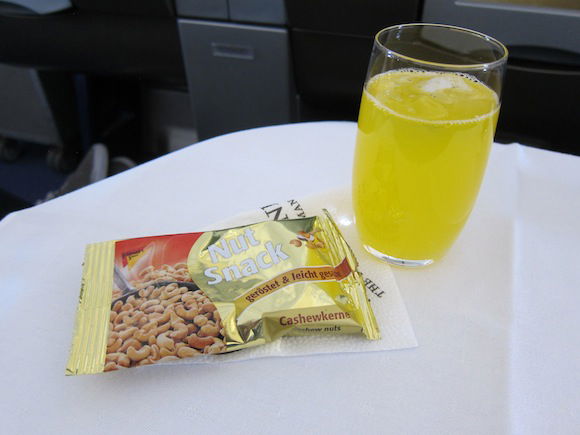 Drinks after takeoff
The whole service was conducted as if the crew was working an assembly line. Don't get me wrong, the crew was actually quite friendly but I feel like they were literally reading right out of the manual with how they did their service. After the initial drink service it was another 45 minutes till the starter was served, which consisted of a choice of appetizers and a salad.
For the appetizer I selected the shrimp cocktail with Thai chili jam. I wish the salad would have had a bit more than just greens, though at least it had the infamous Lufthansa "delicious Dressing," whatever that is.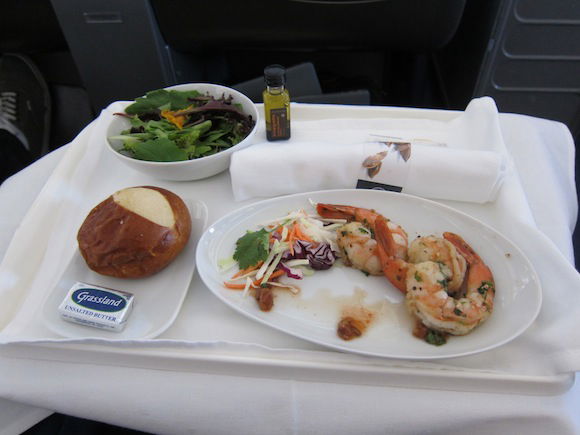 Appetizer and salad
Then it was another 45 minutes before we saw the crew again, at which point appetizers were cleared and then main courses were served.
For the main course I wanted the salmon, though they were already out of it by the time they got to my seat, which is pretty odd since I was seated mid-cabin. Instead I had the gnocchi, which was chewy, overcooked, and not presented nicely.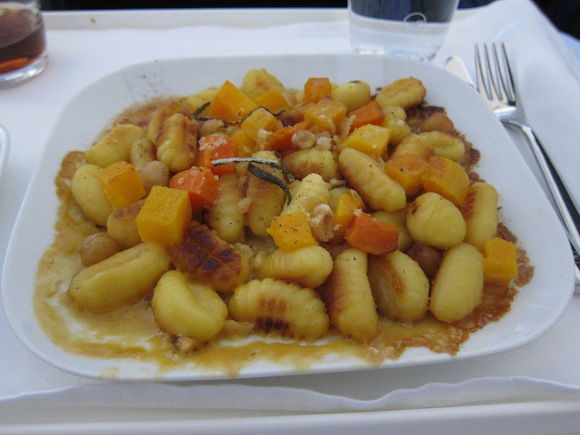 Hazelnutgnocchi accompanied by cream sauce
Meanwhile my friend had the chicken, which he didn't think was very good either.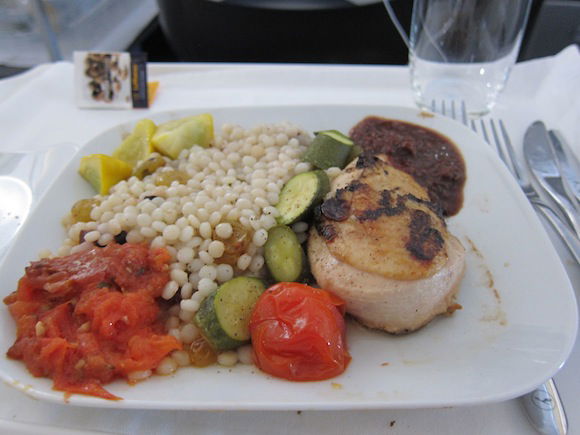 Seared chicken breast with couscous
After the main course it was another 30 minutes till plates were cleared and dessert was served. For dessert the only sweet option was ice cream in a container, which I find rather disappointing.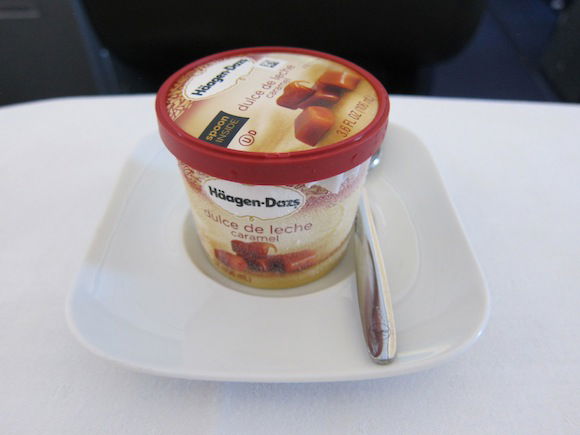 Dulce de leche ice cream
My friend had some cheese as well.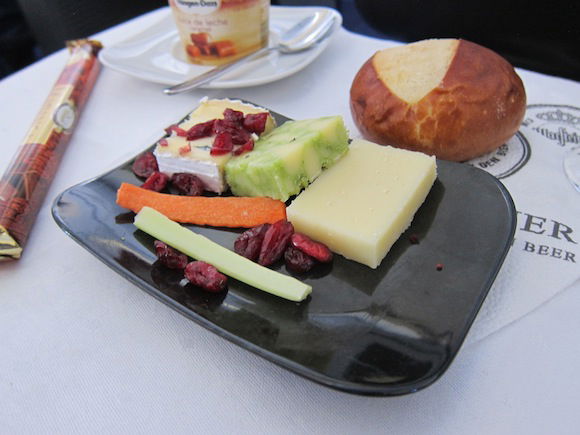 Cheese course
To finish off the meal they distributed some chocolate bars.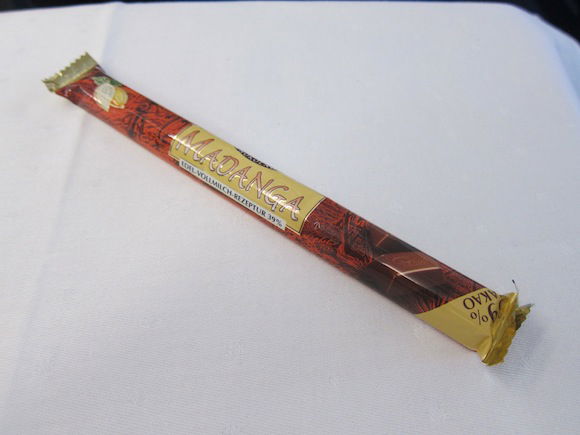 Chocolate
The whole meal experience really made my shake my head and be a bit ashamed of all the Lufthansa cheerleading I do. And the worst part is that I feel this way in spite of the crew actually being quite friendly.
It literally took three hours to serve what was one of the most disappointing business class meals I've had. On a redeye transatlantic flight that's just ridiculous. But the worst part of the experience was just the way the service was conducted. I literally felt like I was part of an assembly line. At no point did a single flight attendant ever come into the cabin to clear plates or offer refills. Instead all four would come into the cabin at once to do whatever needed to be done, and then you wouldn't see them for 30 minutes as they "prepped" things. Anyway…
In theory I hate the Seattle to Frankfurt flight given how early it leaves Seattle. There's nothing I love more than a transatlantic flight where you leave late at night and are actually tired when you board. This flight lands in Frankfurt before midnight Seattle time, so there was no way I was going to get a lick of sleep, especially without a fully flat sleep. At the same time I love the flight for being able to leave home less than two hours before departure and cross the pond without connecting.
Fortunately there was Wi-Fi, which was actually pretty fast and reasonably priced at 20EUR for the entire flight (and you can log-in from multiple devices, but it has to be one at a time since they make you log in and log out). So I spent the entire flight online, which was a nice way to pass the flight. Sadly the power ports weren't working, so when my laptop died after a few hours I had to switch to my iPad and then later to my iPhone.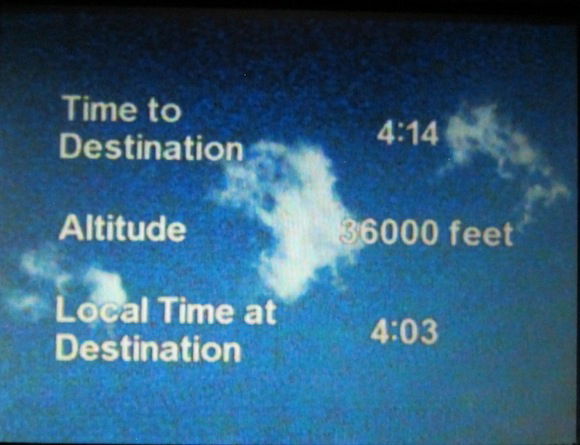 Airshow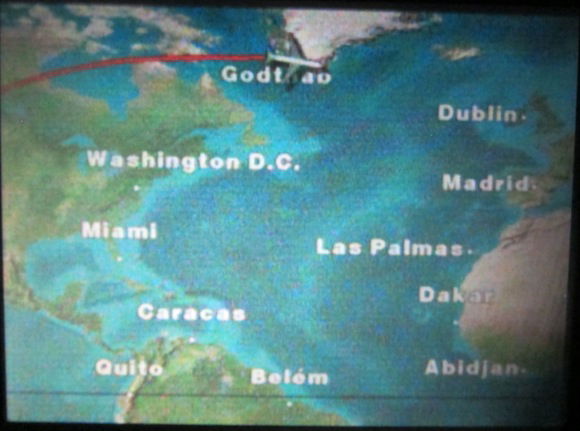 Airshow
Anyway, to continue with the assembly line feel, every so often the flight attendants came through the cabin with a tray consisting of water, apple juice, and orange juice. After a while I decided to time it, and realized that it was every 20 minutes to the minute, which I found hilarious. I think it kind of summed up the experience perfectly — rather than ever coming through the cabin to see if anyone might want anything, they worked their way through the cabin with what was on offer, and if you don't like it, so be it (though you can ask for anything else if you'd like, they just weren't at all proactive about it).
90 minutes before landing the breakfast service began. The menu read as follows: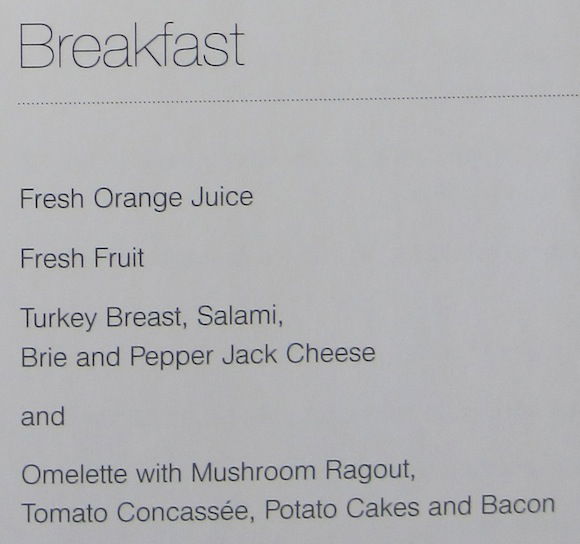 The entire service was on one tray, and consisted of some fruit as well as an "omelet" and deli plate.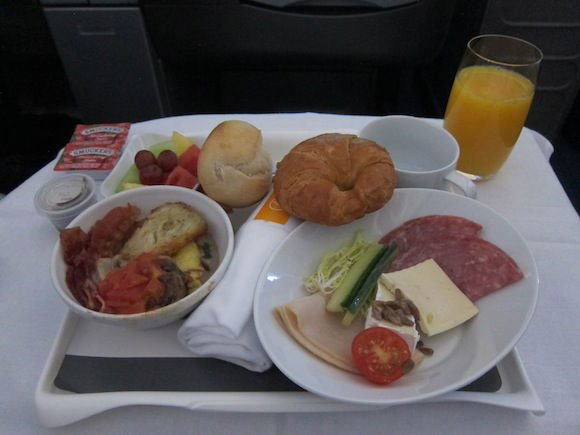 Breakfast
And just to be clear, I say "omelet" because, well…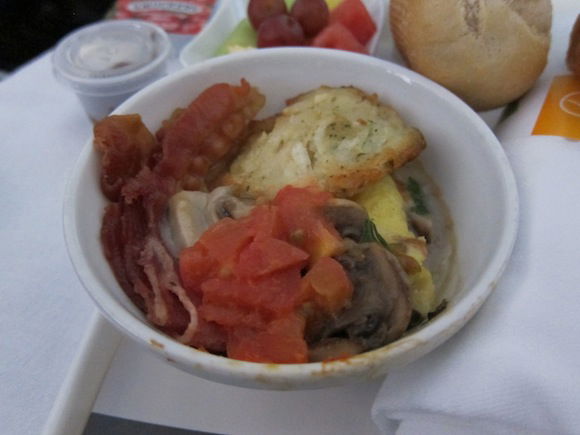 "Omelet"
I was thrilled to see that they had Nutella, though the presentation on that was less than stellar.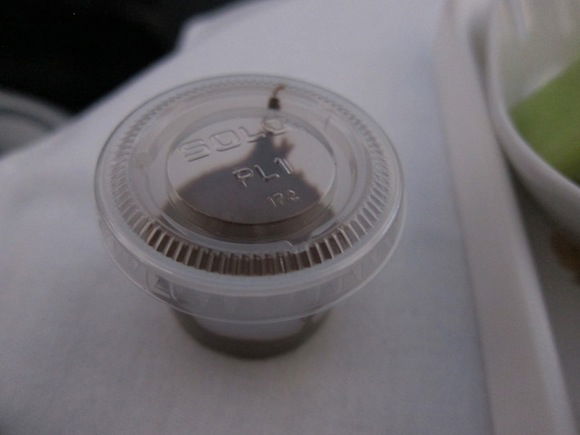 Nutella
About 30 minutes prior to landing we began our descent, just before passing over Dusseldorf.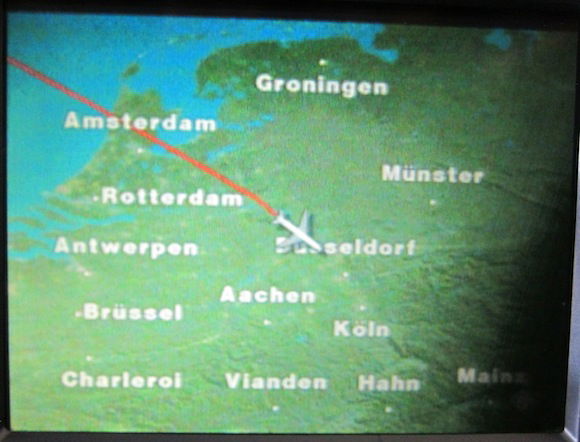 Our descent into Frankfurt was smooth and boasted nice views of the skyline, and we touched down a bit over 15 minutes early. We had a fairly long taxi to the gate, though I was thrilled to find we would be arriving at a gate and not a remote stand.
On the whole this flight was eye opening. Don't get me wrong, business class is always more comfortable than coach, and I'm incredibly appreciative to be able to fly business class on miles. But one of my goals with this blog is to compare products because I realize not everyone has as much "vacation time" as I do, and I want to be sure you're making the most of your time traveling. I think the assumption is always that business class on foreign carriers is better than business class on US carriers, and I kind of assumed that as well. In this case, however, I think business class on most US carriers beats Lufthansa business class in just about every manner from seat comfort to food to entertainment.