---
Since my friend was returning on the Lufthansa flight to Seattle and I was returning to Orlando, we got to the airport at around 9AM (even though my flight was only at 1PM). Since we had stayed at the Westin we took a taxi to the First Class Terminal, given that it's a bit further from the train station than the InterContinental.
The First Class Terminal experience was as it always is – awesome. We were immediately greeted by our personal assistant, who actually recognized me from a previous trip, which I thought was impressive given how many guests they have. Of course I immediately asked her whether my flight would feature the new first class, and after researching it she informed me it wasn't. Booo!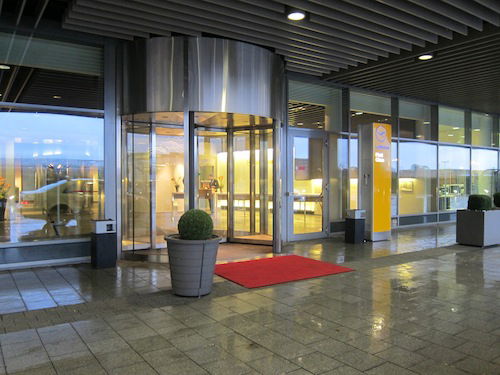 First Class Terminal exterior
Upon arrival we headed straight to the restaurant for lunch, since we had skipped breakfast at the Westin. As usual I selected a few things from the buffet, along with a pretzel and Fanta – my last one for a while, unfortunately.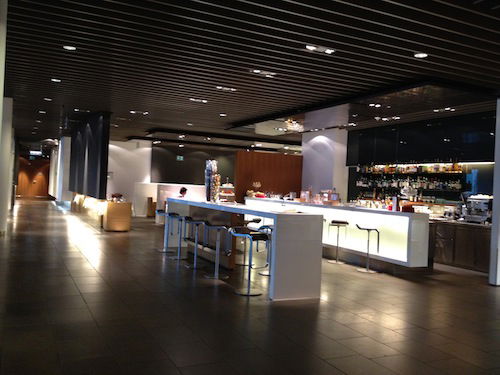 First Class Terminal bar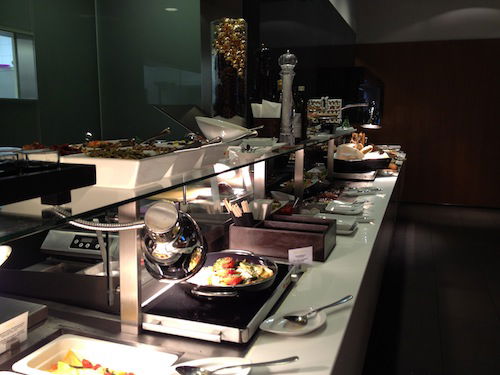 Buffet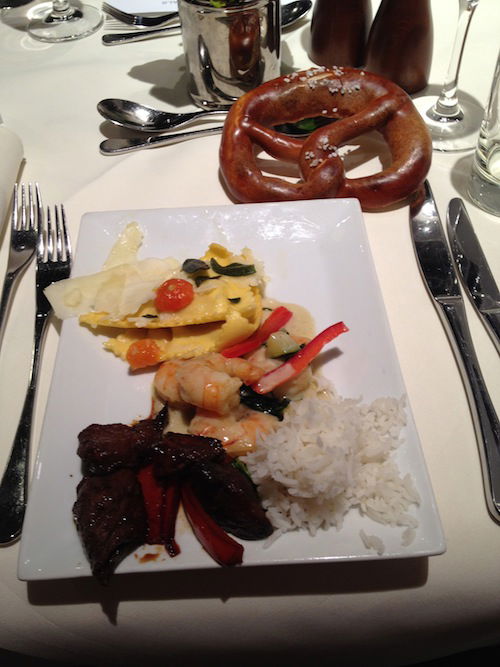 Lunch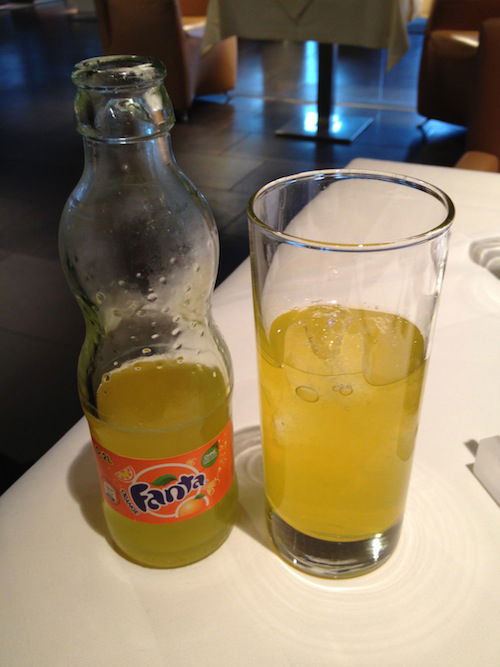 Holy Fanta
After lunch I got caught up on email for a couple of hours, until my personal assistant advised me it was time for boarding. She brought me down to the lower level where I cleared passport control and was introduced to the driver.
Once again I was driven in one of the Mercedes vans, given that there were three other people in the First Class Terminal on my flight – one first class passenger from Tampa (a blog reader, no less), and a HON Circle member and his son traveling in business class.
The ride to the plane was pretty quick, and at the door the driver handed us over to the crew, who directed us to the upper deck.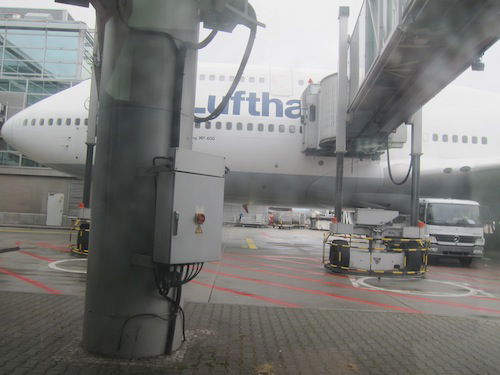 Our 747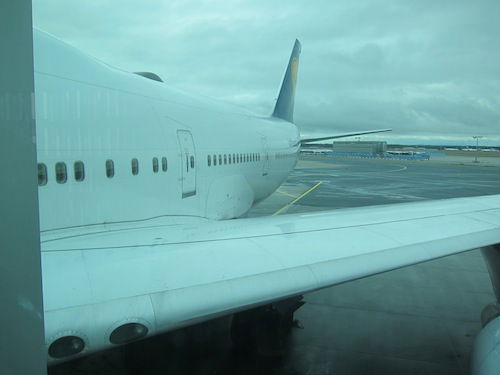 Our 747
Lufthansa 464
Frankfurt (FRA) – Orlando (MCO)
Sunday, January 1
Depart: 1:35PM
Arrive: 5:55PM
Duration: 10hr20min
Aircraft: Boeing 747
Seat: 82C (First Class)
Within moments of settling in the very friendly flight attendant offered me something to drink. I just ordered a glass of still water, which was served with macadamia nuts and refilled at least three or four times before our departure.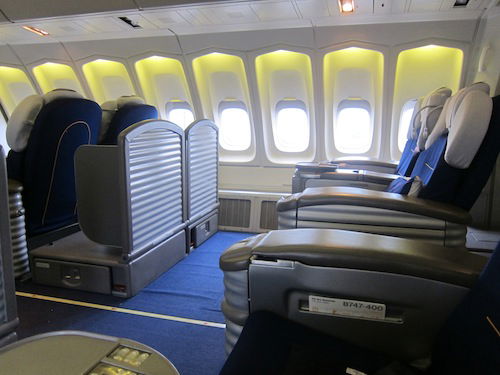 Row 82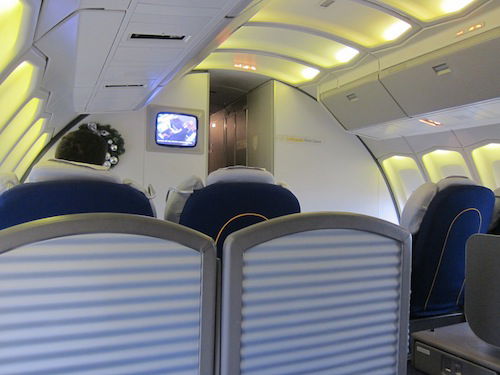 View from row 82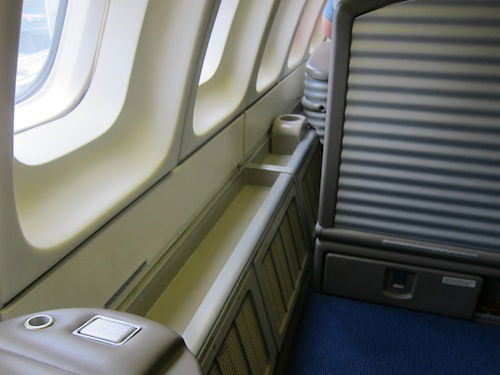 Small bins on the side of the seat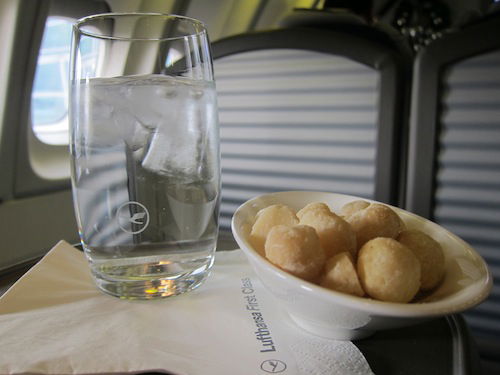 Pre-departure drink and nuts
He also offered me the Lufthansa amenity kit and polo shirt, which is their standard daytime amenity. I almost immediately changed into the pajamas from my previous flight, since I was planning on getting some sleep.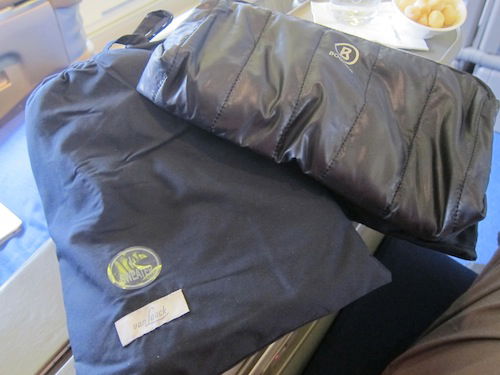 Amenities
Before pushback the captain came on the PA to advise us of a slight delay as they needed to unload some checked bags from no show passengers, which caused about a 20-minute delay. He informed us of our flight time of ten hours, anticipating just a slightly delayed arrival in Orlando.
The captain provided multiple updates, and sure enough within 20 or so minutes we pushed back (with four of the eight first class seats taken) and began a quick taxi to the runway, where we were cleared for takeoff almost immediately.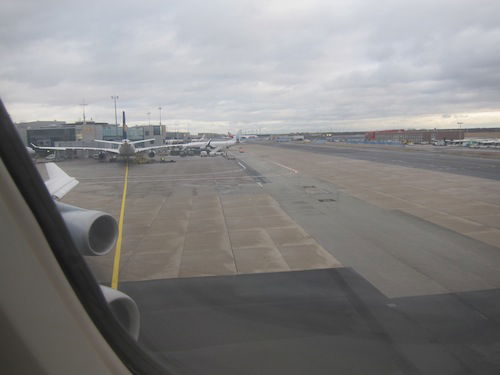 Taxiing out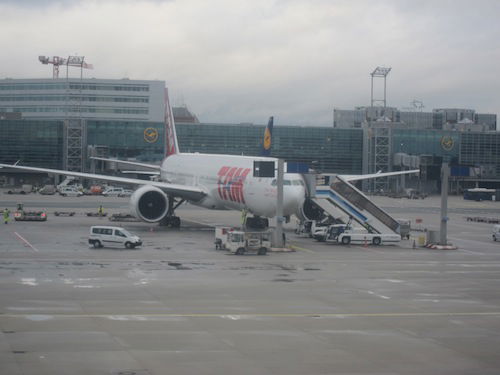 TAM 777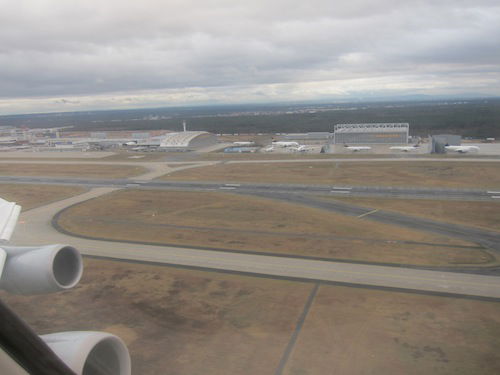 Shortly after takeoff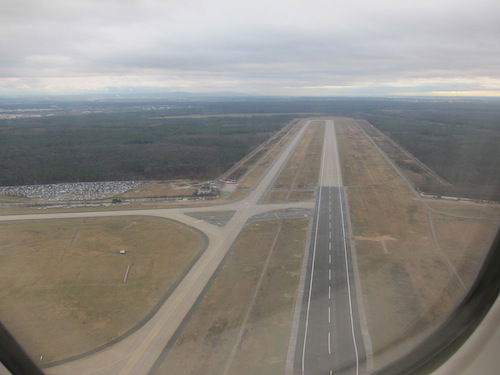 After takeoff
Now this is where the flight gets interesting, at least for me, and why this flight was different than any other international first class trip I've taken. When flying first class I always try to "maximize." Previously I defined that as stuffing myself with as much food as possible and staying awake the whole time so I didn't miss anything. In a way, it's almost why I prefer flying business class, because in business class I don't quite feel the need to "maximize" as much. Instead, I'm happy to just get as much sleep as I can.
But let's face it, after flying Airbus 380 first class for 20+ hours, Lufthansa's old first class product wasn't all that exciting. So I decided to go straight to sleep and instead eat my main meal prior to landing. If nothing else it would be a good comparison not only in how well rested I arrive, but also in regards to how the crew handles such a situation.
And sure enough this was one of my most enjoyable, relaxing flights ever. I don't think I've ever arrived as refreshed.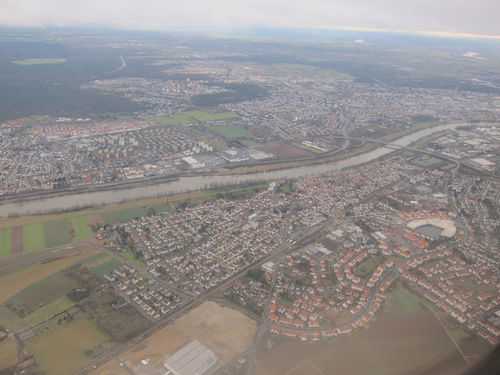 View on climb out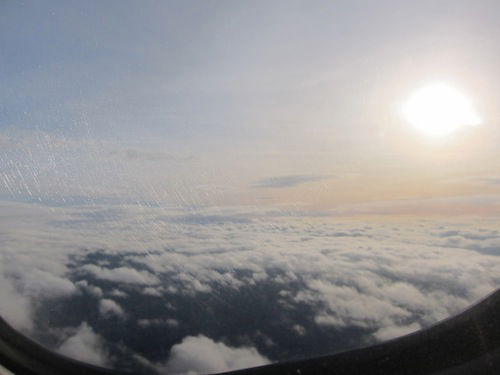 Beautiful day

As soon as the seatbelt sign was turned off I informed the flight attendant of my intent to sleep and eat later. To say this guy was professional is the understatement of the year. Hell, the one part I regret about sleeping is not being able to interact with him more.
With each interaction he addressed me by name, and he immediately made my bed and brought me a bottle of water. He also brought me the menu and asked me to make my selection for later, so that he could ensure that my first choice is still available.
He then asked when I wanted to be woken up. I was serious about my plan of sleeping the whole way, so asked him to wake me up in eight hours if I don't otherwise wake up earlier on my own. He wished me a pleasant rest, closed all the window shades in my vicinity, and even promised to keep the noise level down so that I can get uninterrupted sleep. He ended by saying that the purser really quickly wanted to welcome me aboard, if that's alright, so she quickly appeared to wish me a pleasant sleep.
Half of the battle of trying to sleep on an airplane is telling yourself that you want to sleep. Typically part of the reason I can't sleep when flying is because I'm asking myself whether I should be watching a movie, working, or something else. This time around I literally said to myself "you're sleeping for the next eight hours, so make it happen." And sure enough I did. I woke up about two hours out of Orlando, and within moments of waking up the flight attendant appeared unsolicited and asked if I had a good sleep and was ready to eat.
I was, and so the meal service commenced. Before starting the meal I decided on a movie to watch, and chose "I Don't Know How She Does It." And I don't know how I watched it!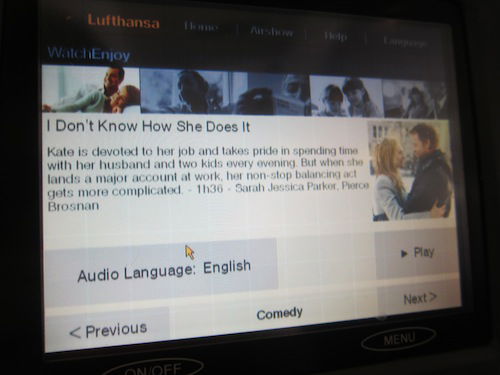 Movie
The lunch menu read as follows: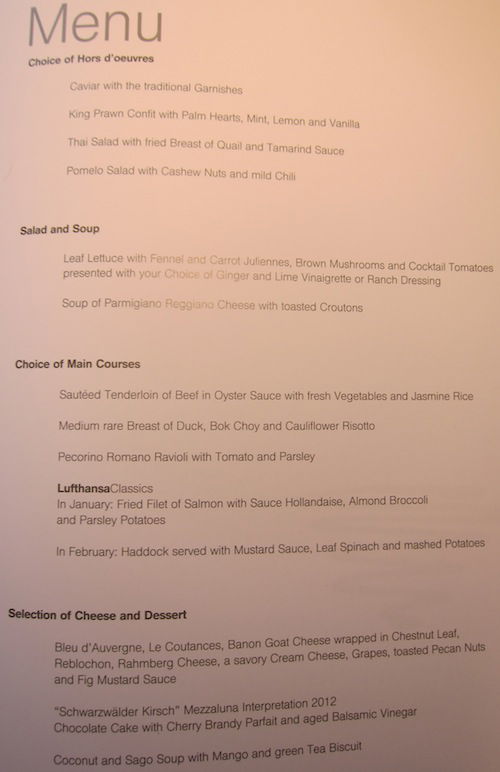 I was curious to see if my choice to dine later would translate into a watered down experience, but sure enough it didn't. He did everything exactly the same way as they'd do during the normal service, and the food tasted equally fresh. He even brought me the signature Lufthansa rose as the meal service began.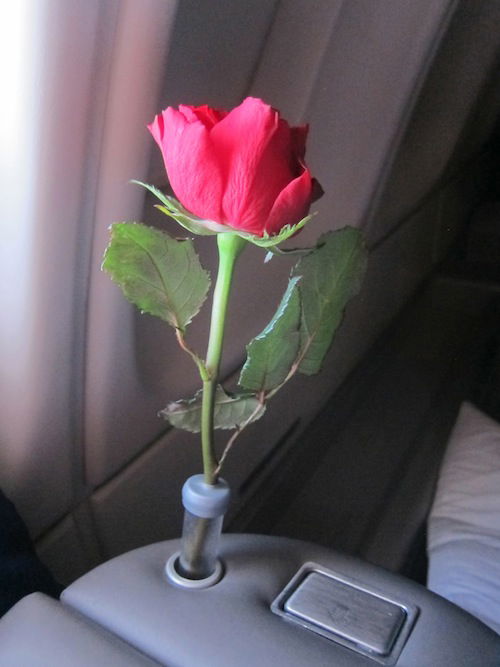 Rose
Instead of having a starter I decided on both soup and salad, starting with the soup, which was delicious.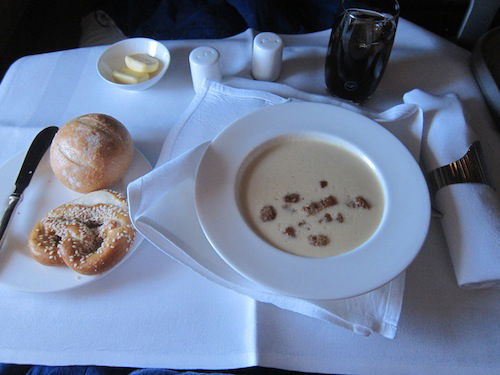 Soup
Following that the salad was served with a honey mustard type dressing, which was also delicious.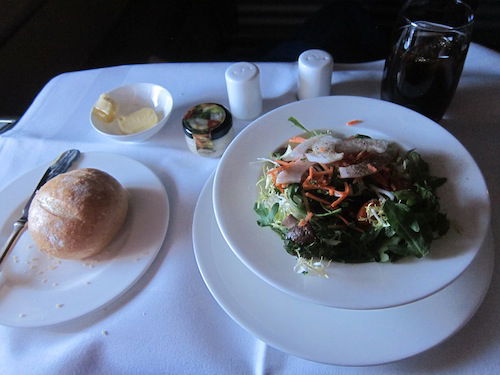 Salad
For the main course I ordered the ravioli, which was surprisingly tasty. I know it's a "safe" option, but on Lufthansa I tend to err on the side of caution because I feel like they try to hard with their entrees.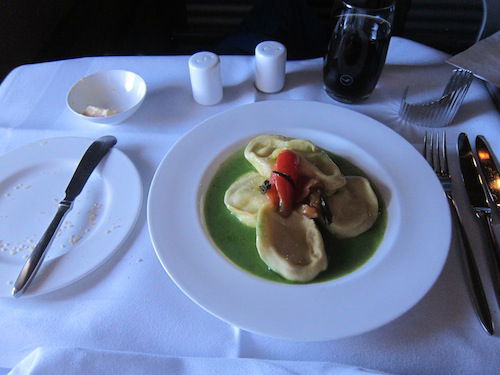 Ravioli
For dessert I had the chocolate cake, which was also good.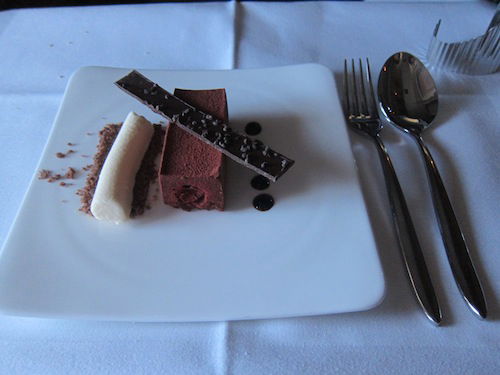 Dessert
As the meal finished up I was offered pralines, and ordered a White Russian to go along with it.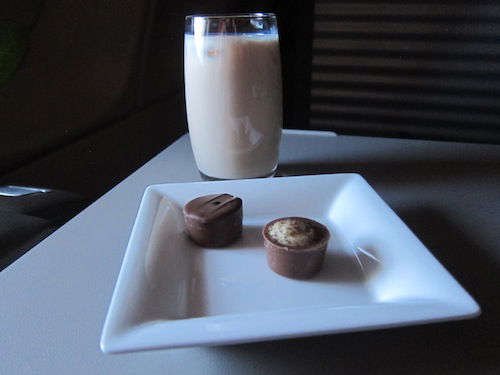 Pralines
As my meal finished up the pre-arrival meal service was well underway. Obviously I didn't partake in that, though for those of you that are interested, the menu read as follows: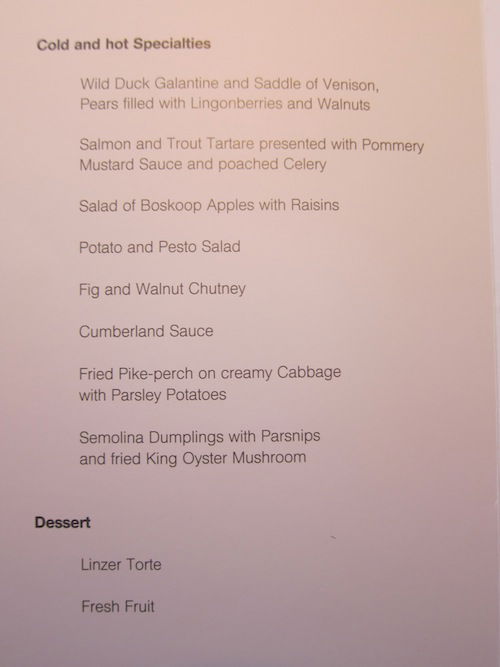 About 30 minutes out the sun began to set and we began our descent into Orlando. The purser once again came by to bid all first class passengers farewell.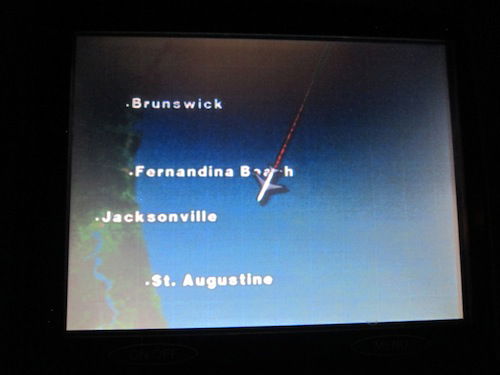 Approaching Florida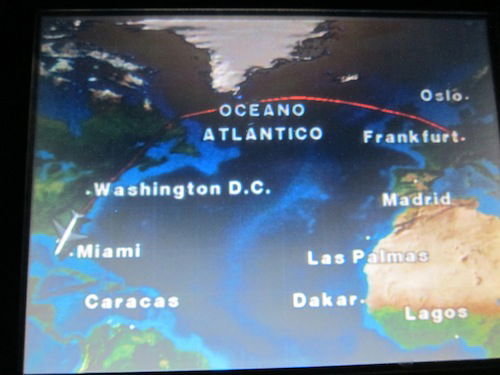 Almost home!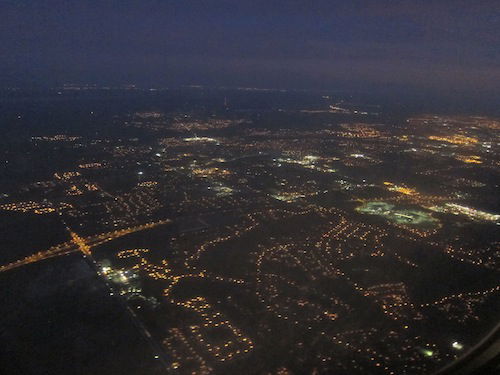 On approach
Immigration was quick (thanks Global Entry!), so despite a slightly delayed arrival I was on the curb within 10 minutes.
And so wrapped up another great trip on my favorite airline. I can't say enough positive things about Lufthansa flight attendants, especially on this trip. I guess part of the reason I like to stay up on international first class flights is because I love to experience the small touches that make the difference between a pleasant flight and a memorable one. I don't think there's an airline that on the whole delivers more genuine, professional, and personable service than Lufthansa.
My perception is that the first class flight attendants aren't nice because they have to be, but are genuinely engaging and love what they do. It's those service experiences you have where you can't help but say to yourself "how on earth is this person so friendly despite having no direct incentive to be?" And I guess it comes down to actually having pride in one's job.
Oh, and as far as sleeping for eight hours goes, it was awesome. I arrived so well rested, and don't feel like I missed out on any part of the experience. As a matter of fact, whenever possible I plan on having my "main" meal before landing from now on. It's tough to sleep on a full stomach, so it was awesome to be able to have lunch on the ground in the First Class Terminal, get a good night of sleep, have a nice meal aboard, and arrive well rested.
In the end, I'd say I did a damn good job "maximizing."