---
We took the 6:30AM "Friendly Airport Limousine" to Narita Airport, arriving at around 8AM. We were dropped off at terminal 1, which is the Star Alliance terminal.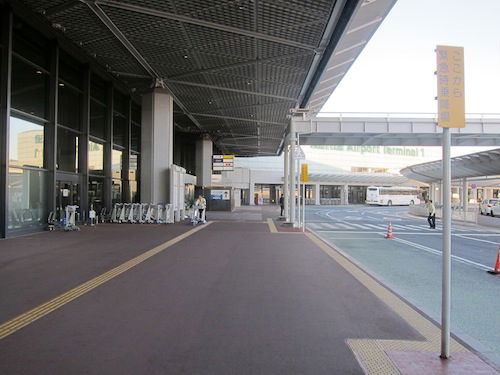 Terminal 1
The terminal really is a brilliant example of how alliances can improve the customer experience. Instead of segregating check-in by airline, all airlines share ground staff. There are separate counters for coach, business class, first class, and Star Gold members.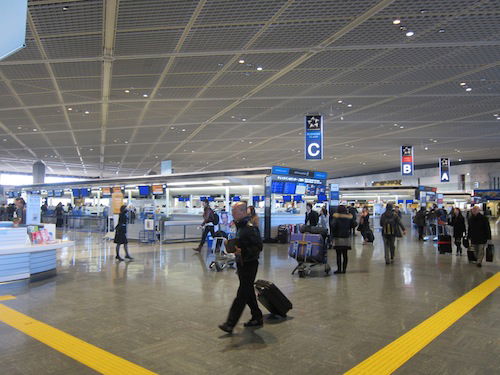 Star Alliance terminal
We headed to the "B" counter, which is for first class, though once the agent verified that we were actually in first class, she escorted us over to the private first class check-in area. It's a pretty sleek separate room that's well staffed and has a shortcut to immigration and security.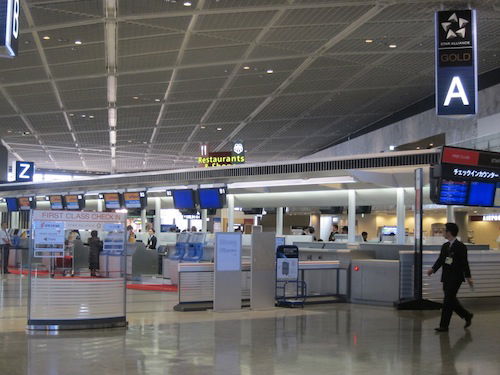 First class check-in counters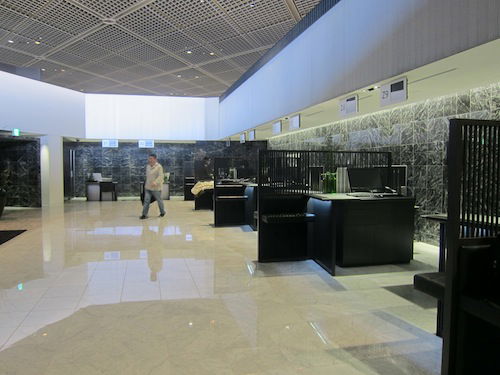 First class check-in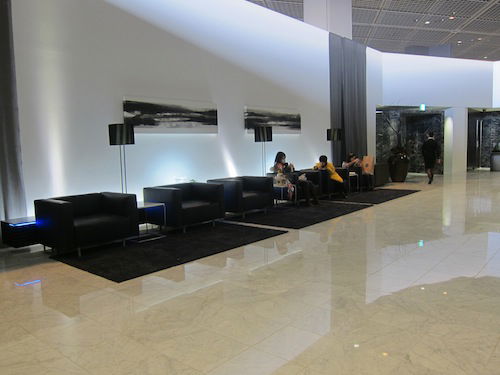 First class check-in seating area
Check-in was friendly and efficient, and within a few minutes we were issued our boarding passes for seats 2D & 2G.
We cleared security in no-time, and headed straight for the ANA first class lounge.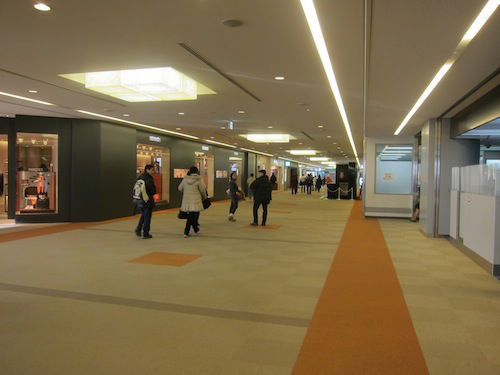 Terminal
ANA's lounges are by no means the best in the world, though the first class lounge is usually pretty quiet, and I like the way it's decorated.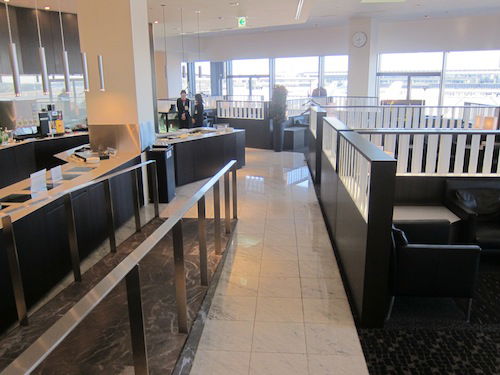 First class lounge
What I always find bizarre about the service in the lounge is that the moment you settle in one of the staff comes by to offer you a cold towel and drink, though that's the last you'll see of them. They don't do refills. I don't understand why, but as with many things in Japan, they have a procedure and follow it without exception.
The food in the lounge is somewhat lacking, though they do have a noodle bar, so I ordered something from there.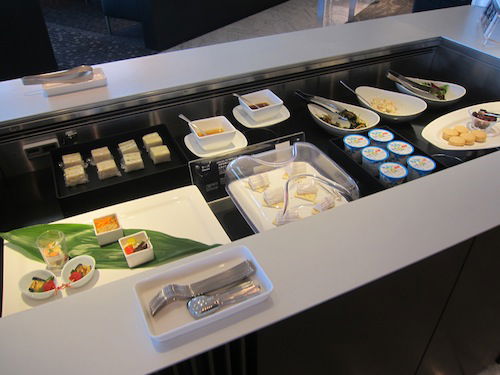 Snack selection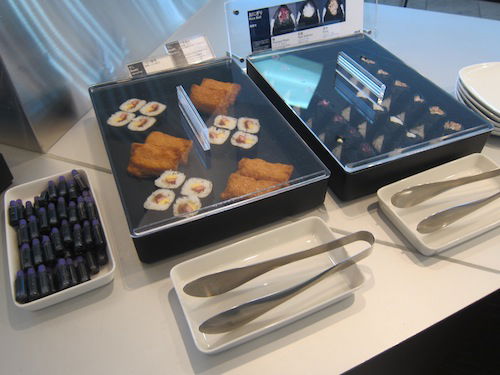 Snack selection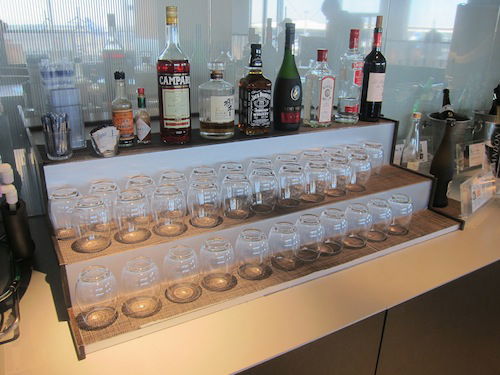 Booze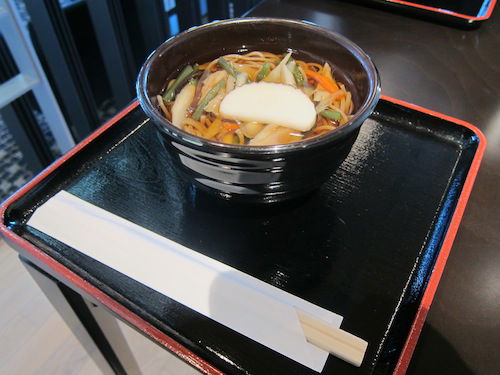 Noodles
At around 10AM we headed down to gate 45, where our flight was departing from. Boarding was well under way, though the dedicated priority boarding lane meant we didn't have to wait.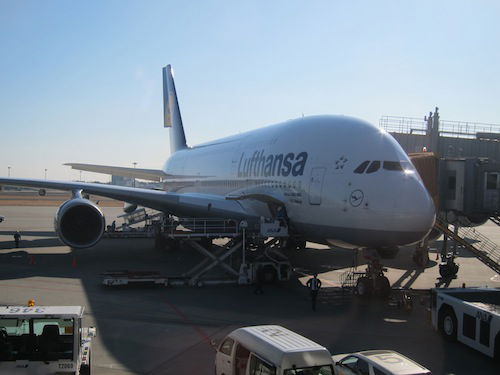 A380 taking us to Frankfurt
Lufthansa 711
Tokyo Narita (NRT) – Frankfurt (FRA)
Saturday, December 31
Depart: 10:25AM
Arrive: 2:15PM
Duration: 11hr50min
Aircraft: Airbus A380
Seat: 2D (First Class)
Once on board we were greeted by the same spectacular crew we had on the way out. It was pretty funny because as soon as I settled in the flight attendant said to me "it's a pleasure to see you again, Mr. Lucky," which got some weird looks from the guy seated across from me.
Service started with champagne and macadamia nuts.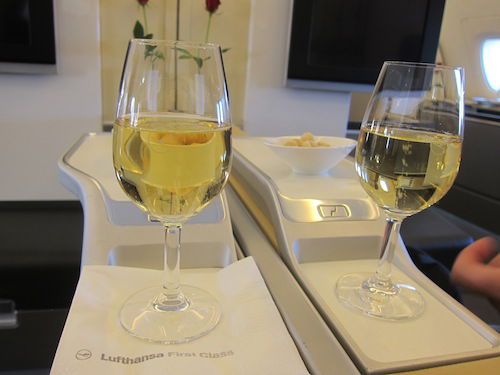 Champagne and macadamia nuts
We were also offered pajamas and amenity kits. Interestingly, Lufthansa only offers a polo shirt on daytime flights from Germany to the US, though they offer full pajamas on flights from Japan to Germany. I'm not sure if it's because of the length of the flight or because of competition in the market, but it's just something interesting to note.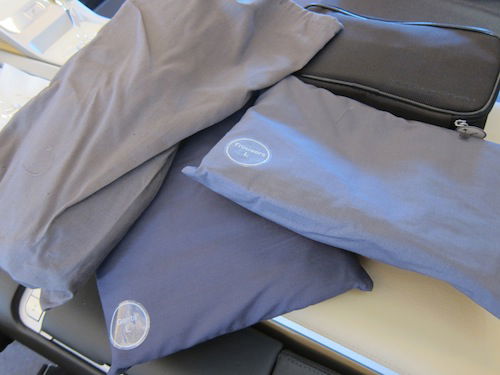 Pajamas and amenity kits
By the time boarding was complete, six of the eight first class seats were taken.
The captain came on the PA to announce the flight time of 11hr10min, and within a few minutes we pushed back and began a long taxi to the runway.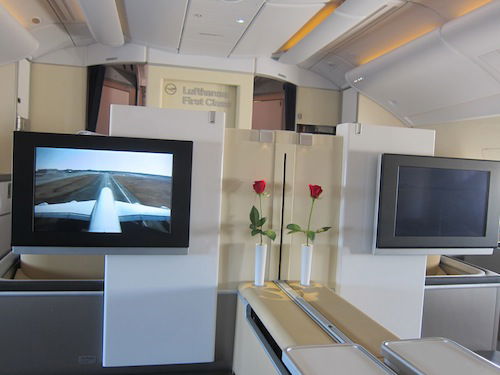 Taxiing to the runway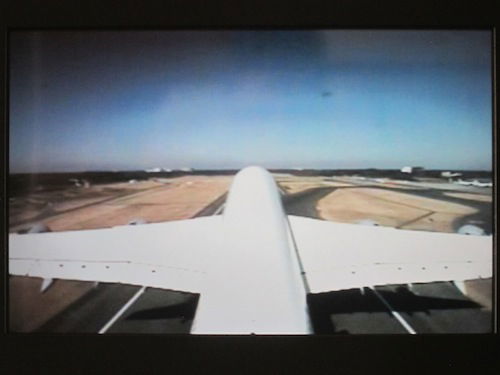 Airborne!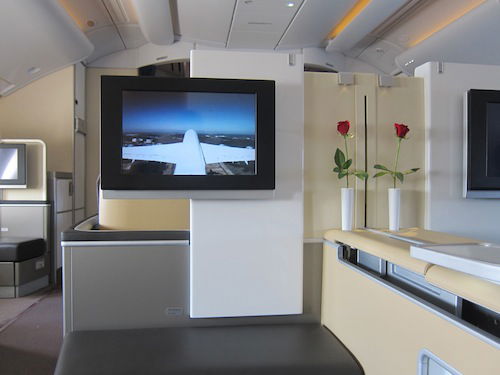 Shortly after takeoff
Within about ten minutes of being airborne the seatbelt sign was turned off and service commenced, starting once again with the purser passing through the cabin to welcome us aboard and distribute menus.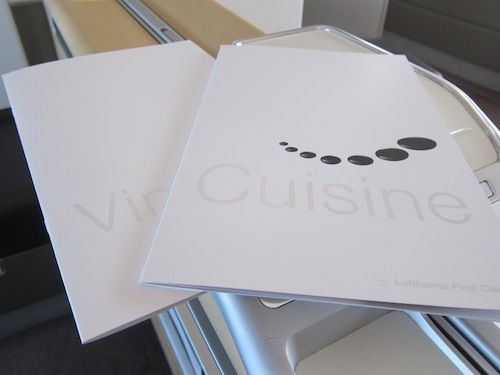 Menu and wine list
The service in first class today was a bit different than on the outbound. The couple seated in row one was Japanese, so as a result they had a Japanese flight attendant working first class, along with the same excellent male flight attendant that also happens to be a trainer.
While I only talked to the male flight attendant about this later in the flight, it would probably be most useful to mention it now for context. I had no clue that Lufthansa actually has flight attendants based at many of their destinations, including Delhi, Shanghai, and Tokyo. The issue, as he explained, is that they don't speak a word of German. So if there's one passenger in first class that prefers to communicate in Japanese, then a German-speaking passenger is often forced to communicate in English with that flight attendant.
Obviously the guy wasn't a huge fan of the program, explaining that Lufthansa is first and foremost a German airline, and a German passenger shouldn't be forced to communicate in a language other than German (which I agree with).
But what's interesting is that the Japanese flight attendant working first class recently moved to Germany to work for Lufthansa, though didn't speak German yet. She was taking German classes, but obviously it takes a while to learn a third language. It was her first time working first class, so the trainer did everything he could to teach her.
Both of these flight attendants were spectacularly amazingly phenomenal. The male flight attendant was awesome for the reasons I discussed in the review of the outbound – he was personable, professional, sincere, and had a great sense of humor.
The Japanese flight attendant, while not nearly as experienced or polished as the trainer, had one of those smiles that just can't help but put you in a great mood. Her friendliness and sincerity had me sitting there throughout the entire meal service with a huge smile on my face. I had the chance to talk to her for a while, and it was clear that she loved what she was doing and wanted to give 110% to prove it.
I ordered a Diet Coke with lemon to start, which was served with a hot towel. That was followed by the amuse bouche, which, as usual, looked a lot better than it tasted.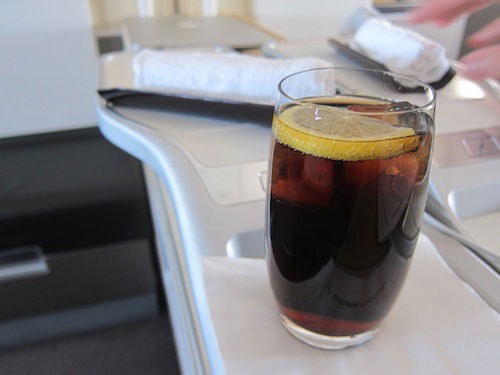 Diet Coke with lemon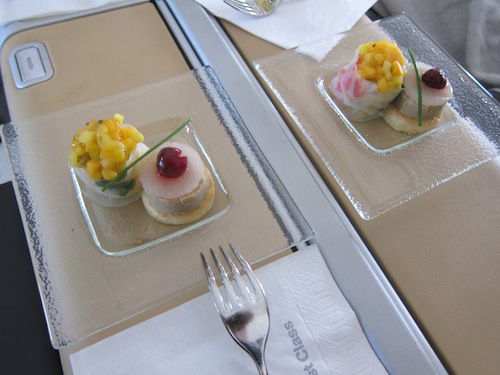 Amuse bouche
The lunch menu read as follows: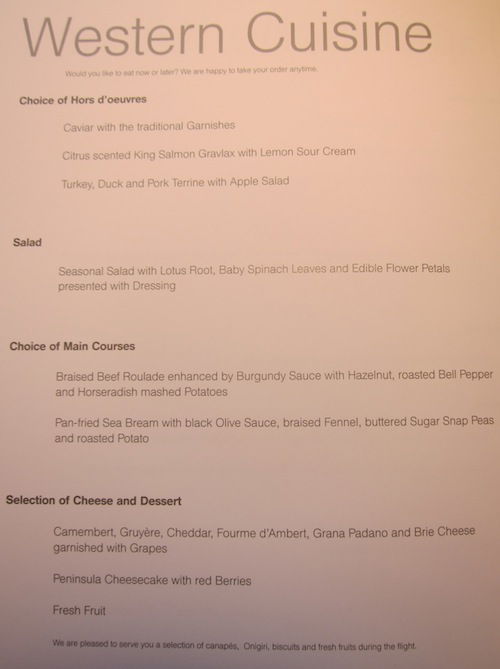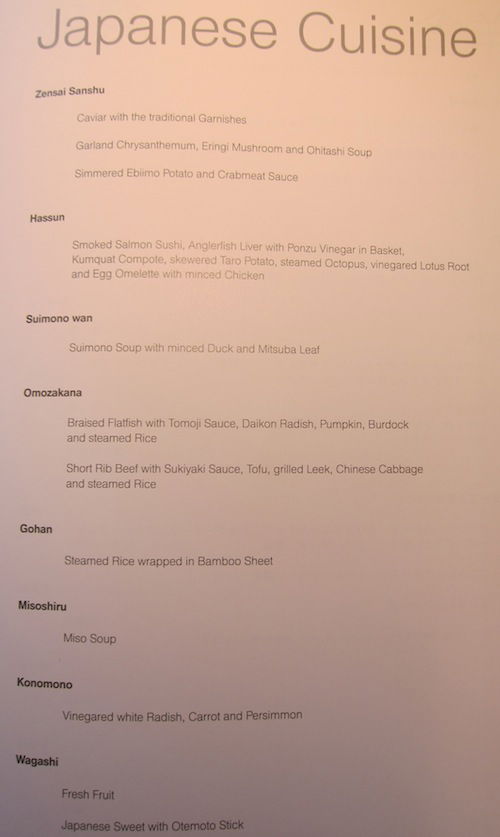 After that the table was setup, again with such precision and care that it couldn't help but make me smile.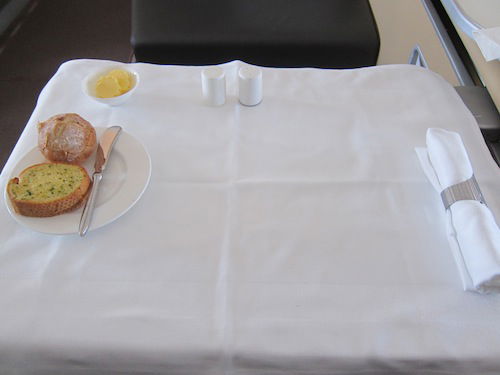 Table setup
The meal started with the appetizer cart being rolled around. Usually they'll let you choose as many as you'd like, but the senior guy working the cabin insisted on us choosing as many as we wanted but him serving them to us one at a time so we could enjoy each one.
My first starter was caviar, followed by salmon. Both were great.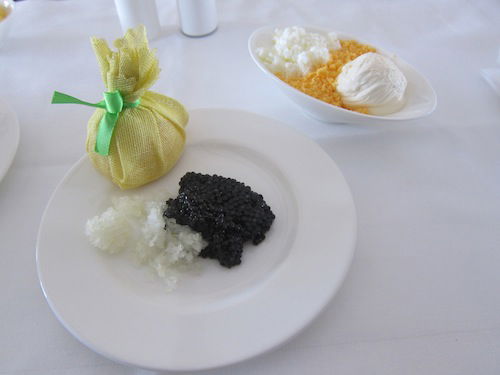 Caviar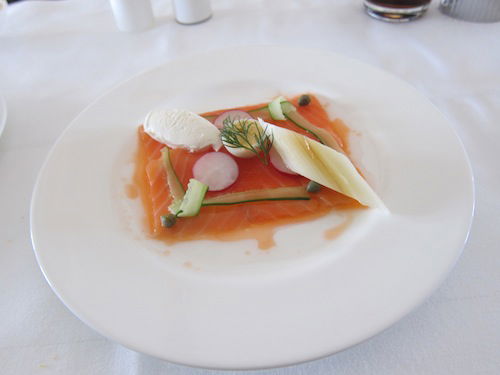 Salmon
That was followed by a salad, which was also tasty.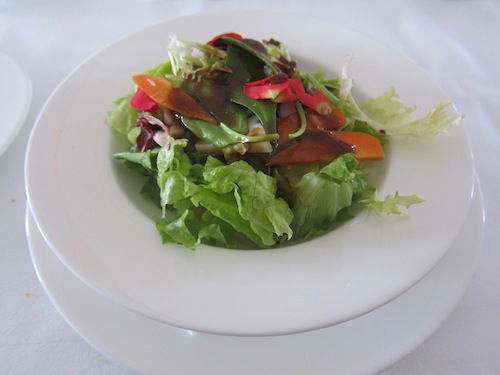 Salad
Neither of the main courses interested me much, though I went with the beef option. The meat was so tough that I couldn't even cut it with a knife, so I didn't even touch the entree. The flight attendant felt awful about it, and my friend tried the other entree.
I was full, so just sent it back.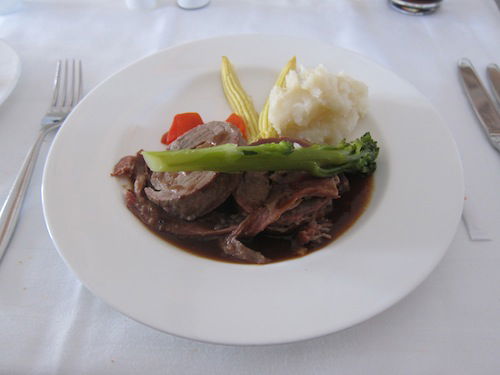 Braised beef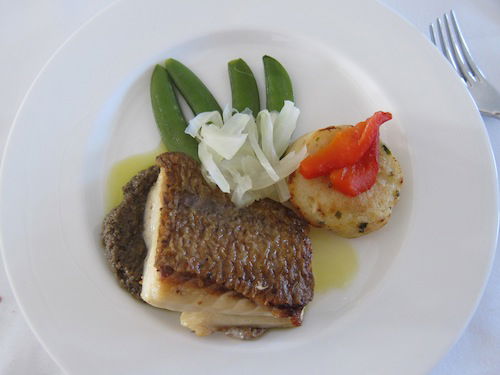 Sea bream
Instead I had both the cheese plate and cheesecake, both of which were delicious.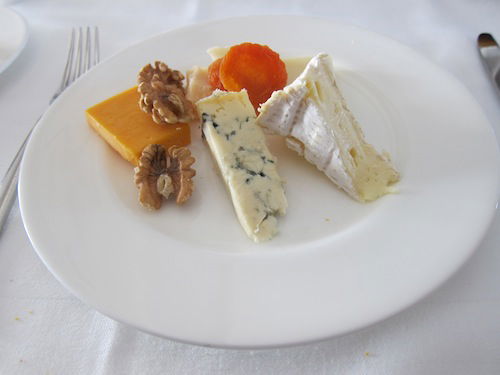 Cheese plate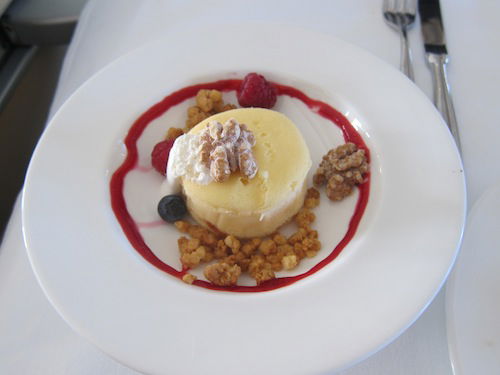 Cheesecake
The meal service finished off with a box of pralines being passed around.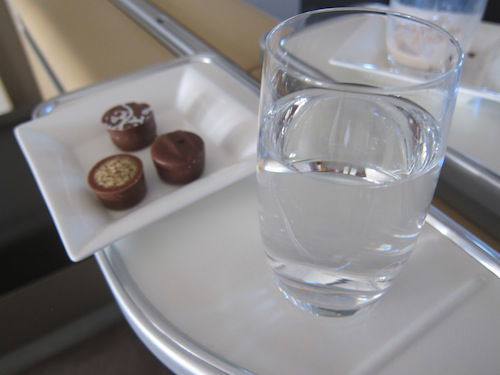 Pralines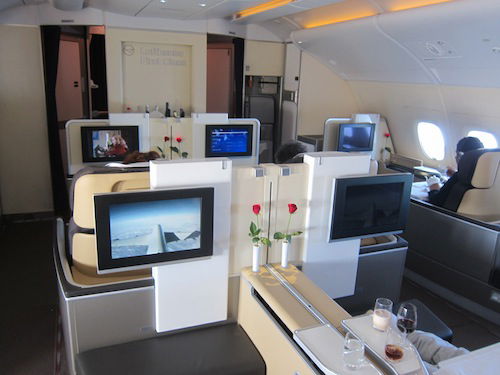 Cabin after meal service
Our flight path took us far North (apparently more so than usual), and the views were pretty spectacular most of the way. You've gotta love the tail camera. As a result it was actually dark for most of the flight.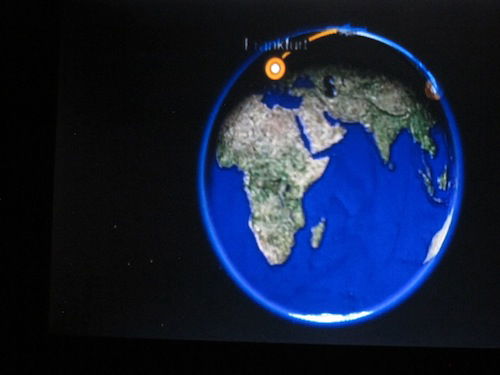 Our route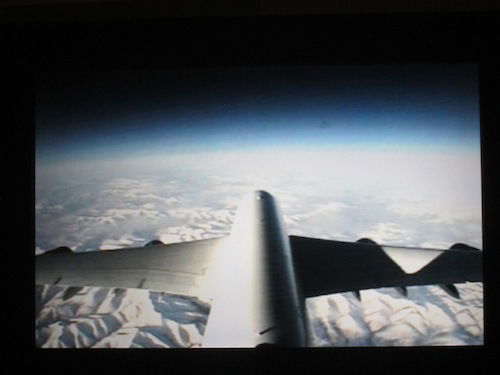 Awesome views
I spent some time talking to the rest of the crew in business class (the flight was again fairly empty, with no more than 30 of the 98 business class seats taken).
The crew was very junior, and I'd guess that not a single flight attendant in business class was over 30. Later I found out why. Apparently Lufthansa separates their crews not based on trip distance or regions, but rather based on aircraft type. You can either work their Boeing fleet (737 and 747) or their Airbus fleet (A320/330/340/380). Beyond that, flying the A380 takes a special certification.
As the senior male trainer explained to me, "the senior flight attendants didn't want to have to get used to something new, and weren't convinced the plane could get off the ground, while the young people jumped on it immediately." He explained that he and the purser were the most senior on the flight by about 15 years, and that it went way down from there.
With about six hours to go to Frankfurt it was time for a nap, so I requested my bed be made. I got a solid two hours of sleep (it was a daytime flight, after all), at which point the flight attendants came around with a cart containing finger sandwiches and cakes. I always find it interesting that Lufthansa doesn't really have a mid-flight snack menu, even in first class on longhaul flights. So while I wasn't really hungry, I picked out a couple of things to snack on.

View from reclined seat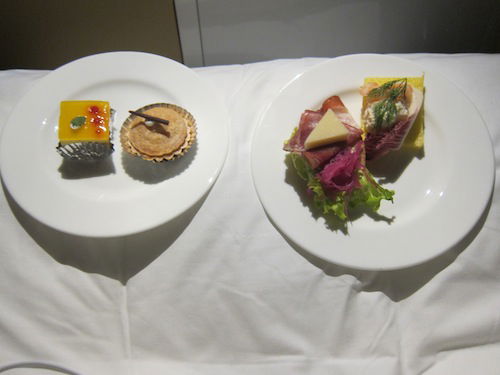 Mid-flight snack
I then decided to watch a movie, and went with "Horrible Bosses," which was hilarious. After that I napped for another hour or so, at which point dinner was served.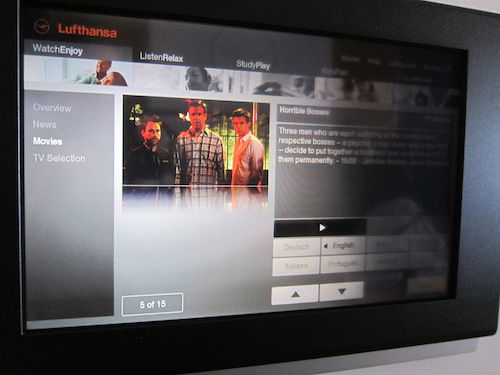 Entertainment system
The menu read as follows:
Once again my table was set with great precision, and the flight attendant was a quick learner, as he immediately loaded my bread plate with pretzel bread.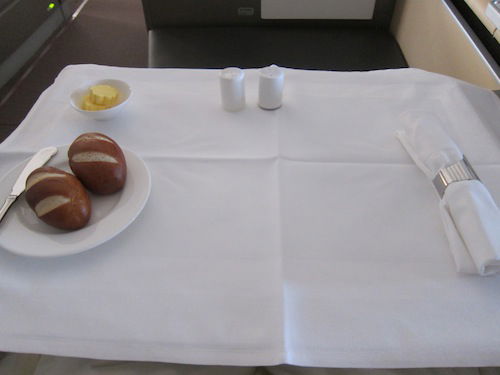 Table setup
The roast beef starter was delicious, as was the pasta entree. If only they would have served that with the first meal.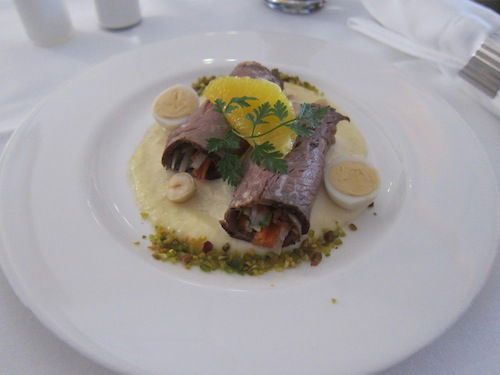 Roast beef rolls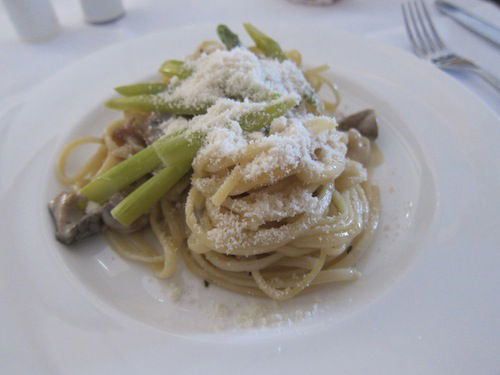 Linguine
The dessert wasn't all that great, though.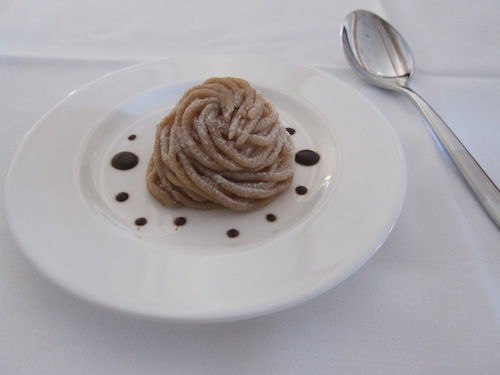 Dessert
After dessert I had an espresso.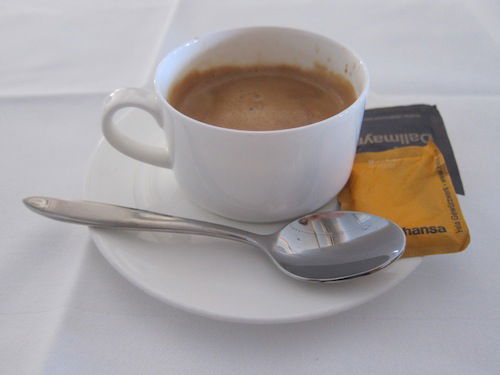 Espresso
About 30 minutes out of Frankfurt the captain came on the PA, and it slowly dawned on me that our awesome A380 experience was coming to an end. This time around the weather in Frankfurt was rather nasty, so we hit a few bumps on the way down.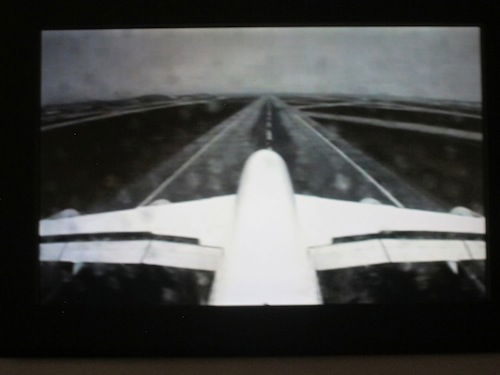 Tail camera
After a five minute taxi we made it to our gate, where I had to grab one last picture of our bird.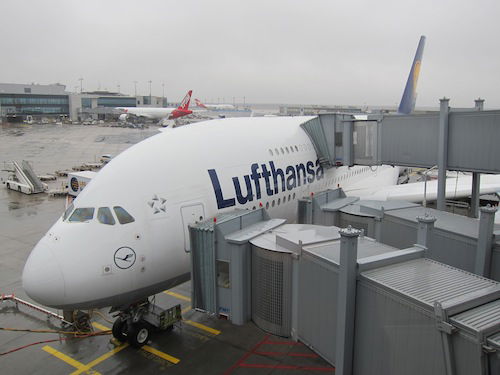 Upon arrival in Frankfurt
Immigration queues were rather long, and I nearly got in a fight with a teenage Brit waiting in line that was trying to mock me for being an American (I shut him up pretty quickly when I pointed to my EU passport). Once through immigration we hopped in a cab to the Westin Grand Frankfurt, where we would be spending the night.