---
I left my apartment and picked up my friend at around 12:20PM for our 2PM departure. The drive took about 20 minutes, so we made it to check-in at about 12:55PM after parking at an off-site lot.
Check-in was more or less deserted since we were there just before the cutoff. The agent working check-in was friendly and efficient and printed out our boarding passes in no time. She had her colleague escort us to the premium security line, though she left us at that point and said she'd see us at the gate.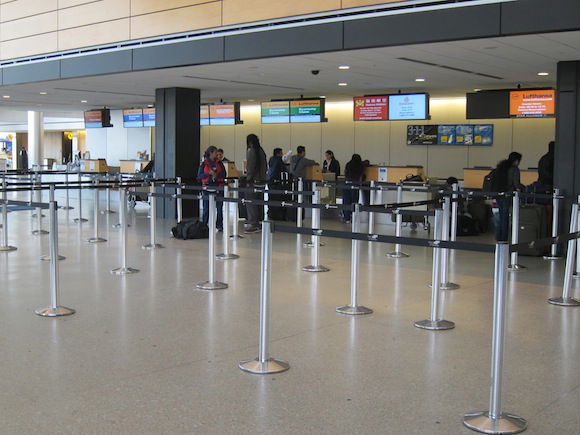 Lufthansa check-in

Lufthansa check-in
The priority security line wasn't very long, though it seemed to take forever for the few people in front of me to clear security. Despite the brief moment where I was confused with someone from Jersey Shore, we were through within a few minutes.
After that we took the underground train to the S-concourse, where our flight would be departing from. The first thing I noticed was the stunningly beautiful Emirates 777, which distracted me for a moment, though we then walked over to the "Club International" lounge, which is used by ANA, Condor, Emirates, and Lufthansa in Seattle.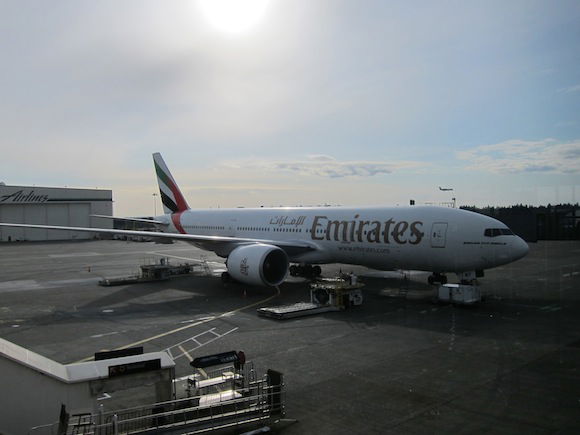 Emirates 777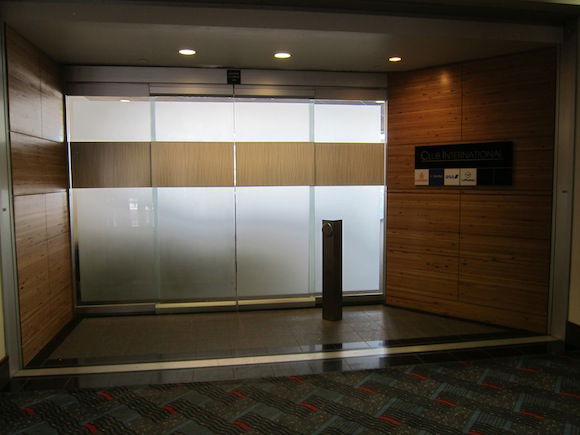 Club International
The agents took our boarding passes, though by the time they had us registered, the ground agent tasked with escorting first class passengers to the plane arrived. I was planning on connecting to the Wi-Fi and walking to the gate by myself a few minutes earlier, though the agent tried to convince me to come along by saying "the lounge is nice, though the plane is nicer, so why don't you come with me?" Fair enough. While there were some emails I was hoping to catch up on, a majority of Lufthansa's Airbus 330s have Wi-Fi, so I was somewhat counting on having that aboard.
There was one other first class passenger, so the agent escorted the three of us to the front of the queue, and we were aboard within minutes.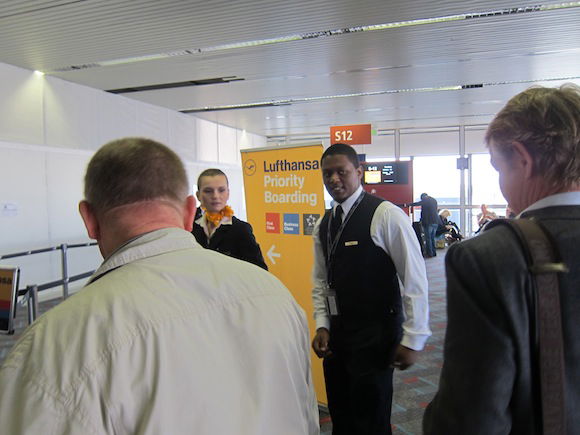 Being escorted aboard
Lufthansa 491
Seattle (SEA) – Frankfurt (FRA)
Thursday, November 8
Depart: 2:00PM
Arrive: 9:10AM (+1 day)
Duration: 10hr10min
Aircraft: Airbus 330
Seat: 2G (First Class)
Once aboard we turned left through the business class mini-cabin and stepped into first class.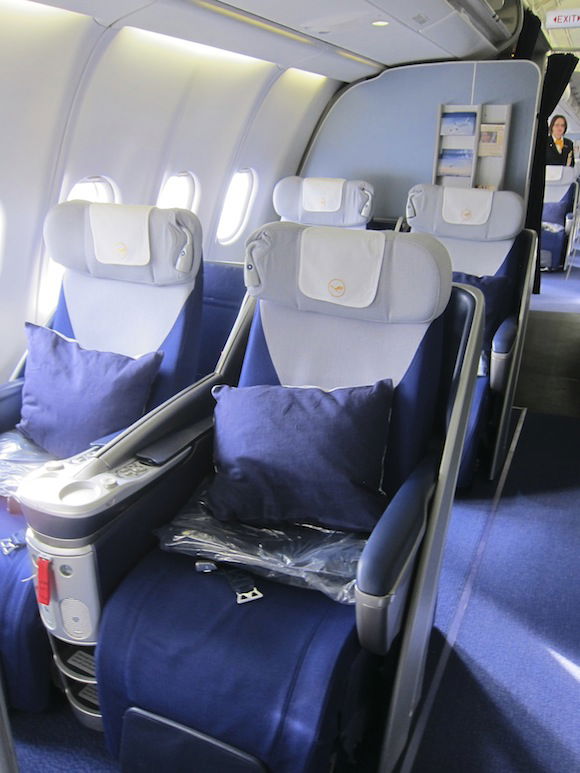 Business class
We were assigned seats 2D & 2G, while the only other passenger was seated in 2K. These seats are the old Lufthansa first class seats, though I knew that going into the flight, since Lufthansa doesn't have any Airbus 330s featuring the new first class based in Frankfurt. This FlyerTalk thread is the best place to track which routes/airports/aircraft are most likely to feature the new first class.
For comparison purposes, here are reports from the new first class on the Airbus 380, Boeing 747-8, and Boeing 747-400.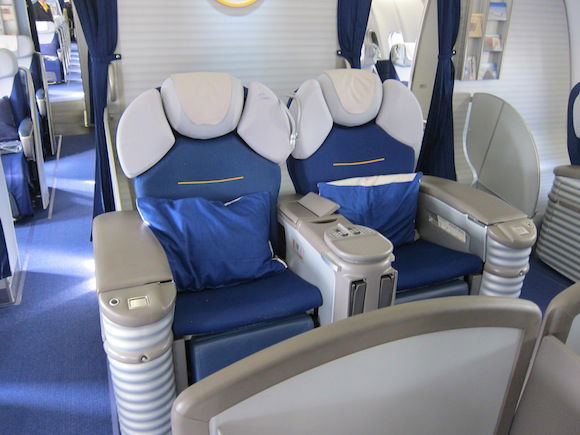 Seats 2D & 2G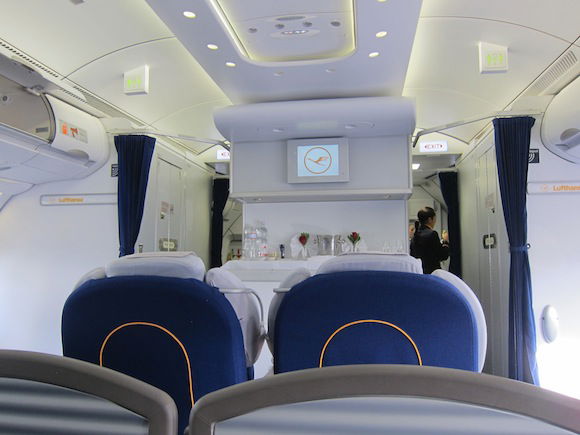 View of the cabin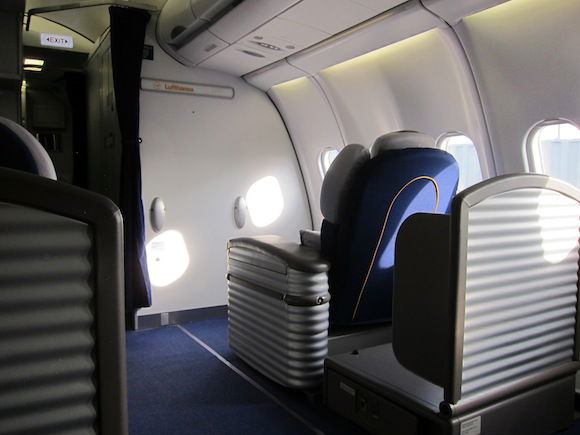 View of the cabin
Sometimes you can tell within a few seconds of settling in that it'll be a great flight, and this was one of those cases. Within moments of settling in the lovely (relatively) young flight attendant working the aisle introduced herself and offered us drinks. I ordered a glass of champagne, which was served with mixed nuts (a change from the last time I flew Lufthansa, as they used to just serve macadamia nuts).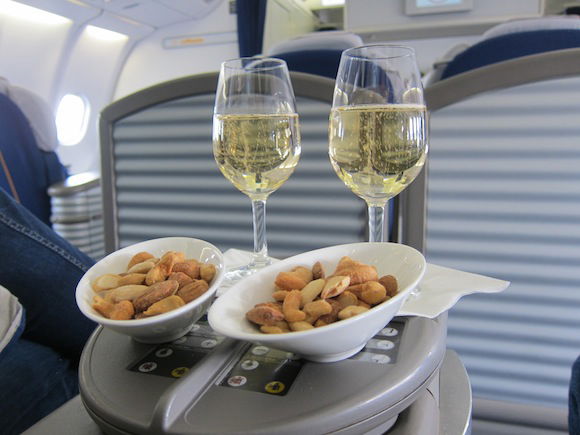 Pre-departure beverage and nuts
She also immediately offered us Rimowa amenity kits, slippers, and pajamas.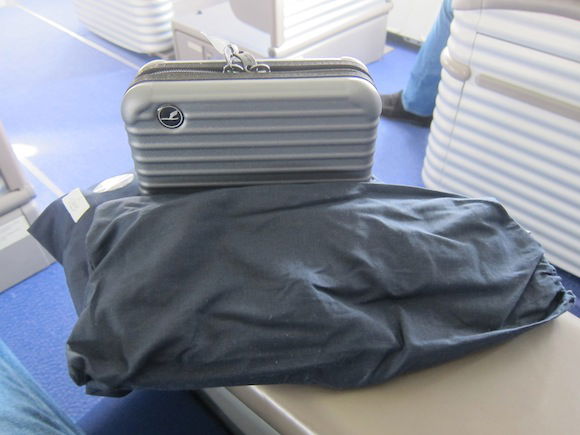 Amenity kit and slippers
While I loved the Rimowa kit itself, the content were pretty basic, as is usually the case on Lufthansa.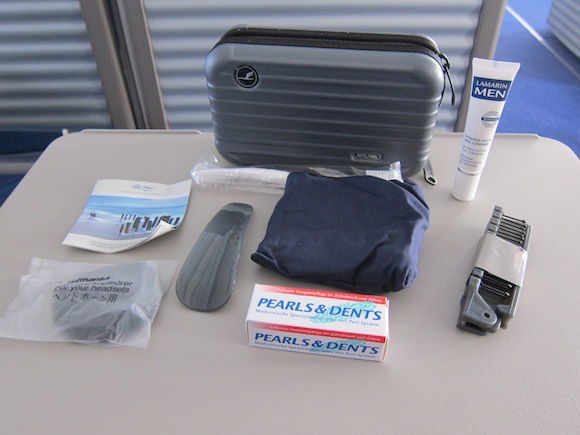 Amenity kit contents
The pajamas were a color I didn't previously have, so I was excited to add them to my collection/wardrobe. As I'd be flying for the next 24 hours and wanted a clean set of clothes upon landing, I immediately changed into the pajamas.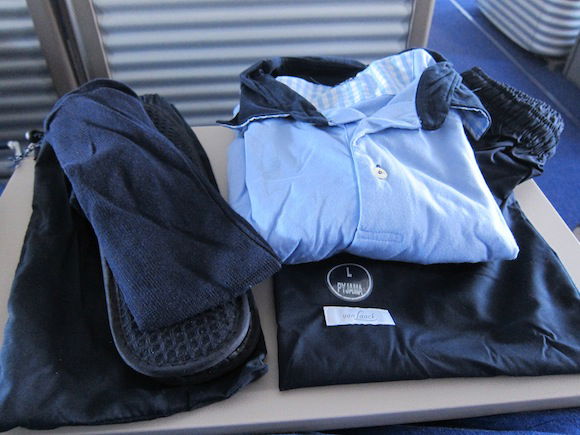 Pajamas
A few minutes ahead of our scheduled departure time the captain came on the PA to make his welcome aboard announcement. I find Lufthansa pilots to be among the proudest and most authoritative when it comes to their announcements, and this guy was no exception.
"I vant to velcum you onboard my 64 meter aircraft. I am your senior captain, and my senior first officer is _____, who vill be taking command of my 64 meter aircraft as captain when I go rest. Za other first officer is also a senior first officer, so you're very lucky to have over 60 years of experience in za flight deck today." Aside from that fun stuff he also informed us the flight time was 9hr25min, which along with an early departure and short taxi to the takeoff runway would translate to an early arrival.
The safety video started as we pushed back, and by 2:05PM we were taking off on runway 34R.
Our climb out was smooth, and as we took off I reclined my seat and started playing around with the entertainment system. The selection is very limited and the screen tiny, though I was at least happy to see that "Ted" was in the video library, which I've been meaning to watch. A movie about a guy who's best friend is a teddy bear seems right up my alley.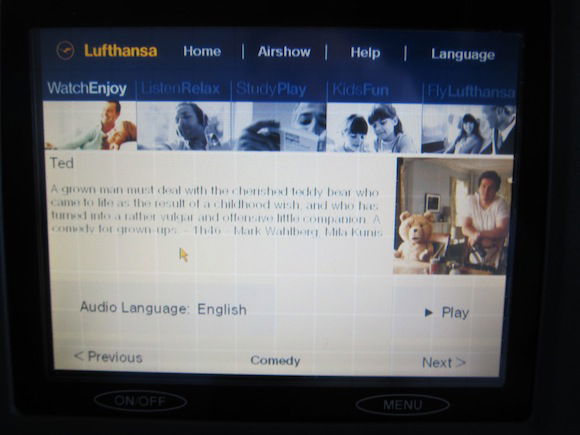 My movie choice
About 10 minutes after takeoff the captain turned off the seatbelt sign, and the flight attendants sprung into action. Sonja, the aisle flight attendant working first class, closed the curtains and set up the bar in the front of the cabin.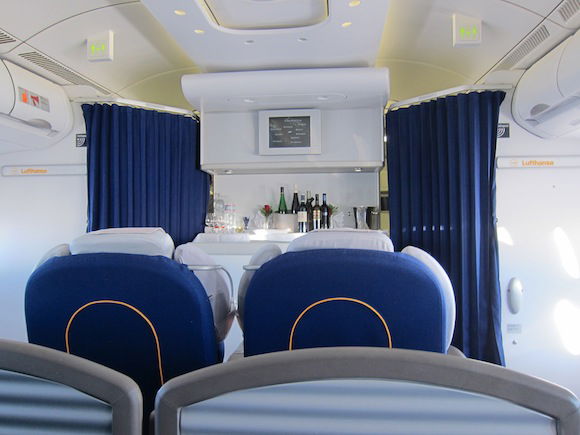 View from my seat
Meanwhile the male purser, who I didn't find to be especially engaging, distributed menus and wished us a pleasant flight.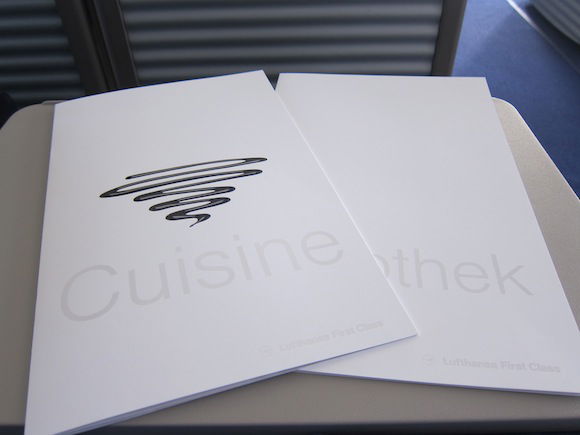 Menus
The dinner menu read as follows: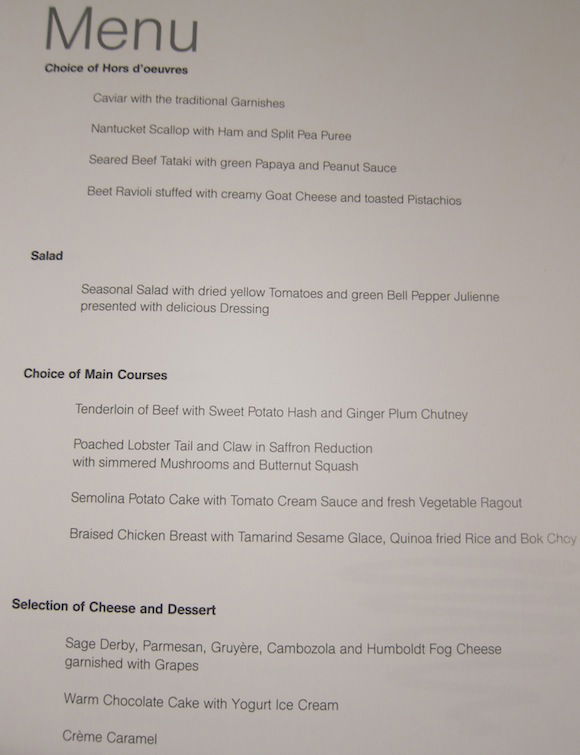 And the wine list read as follows: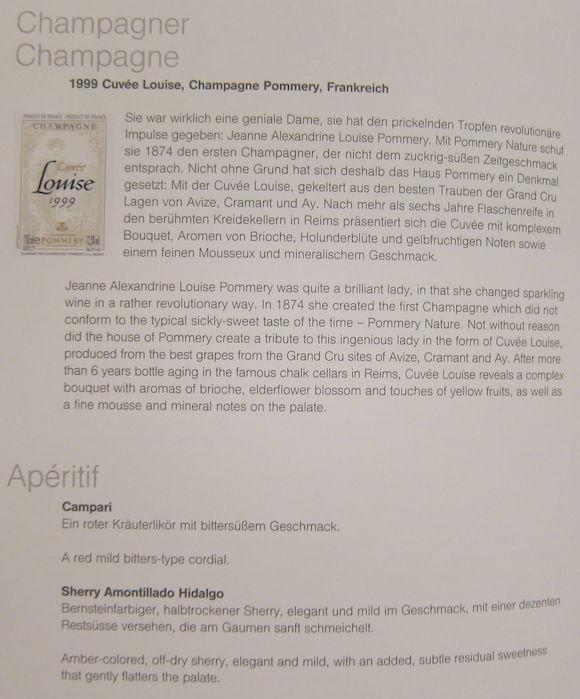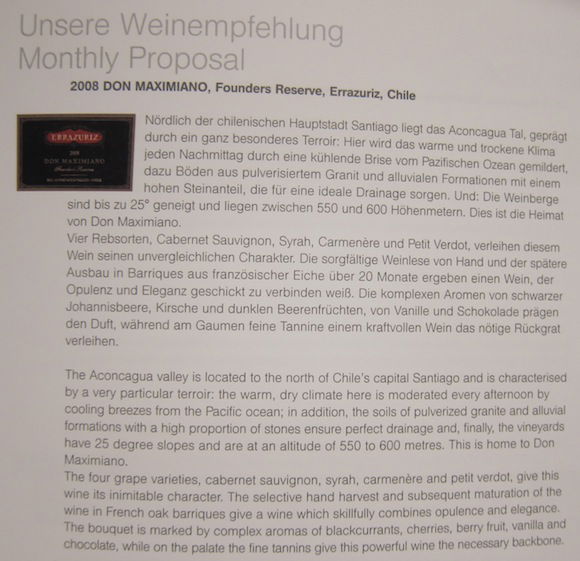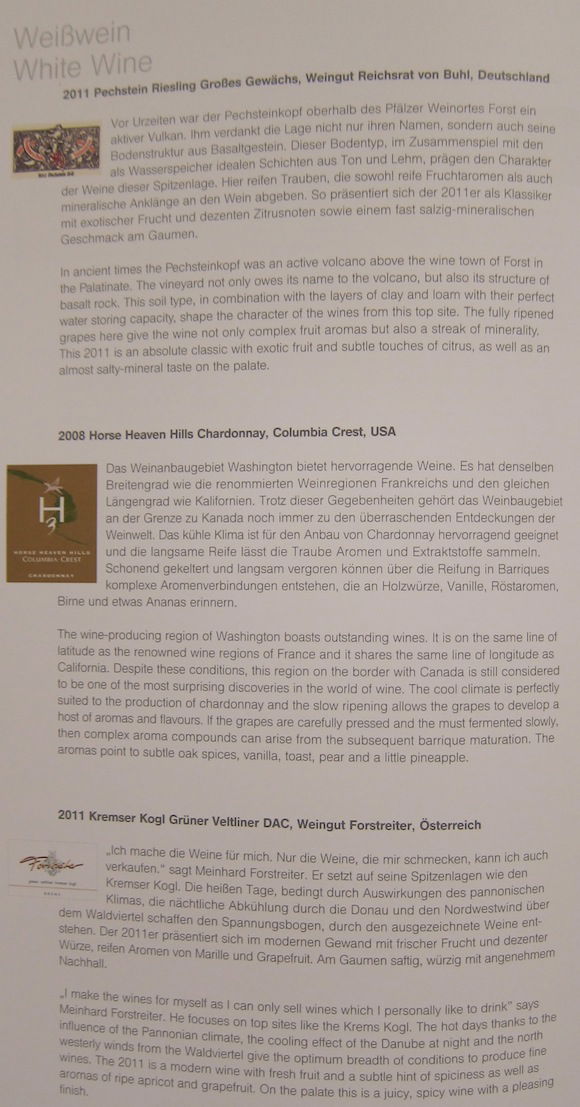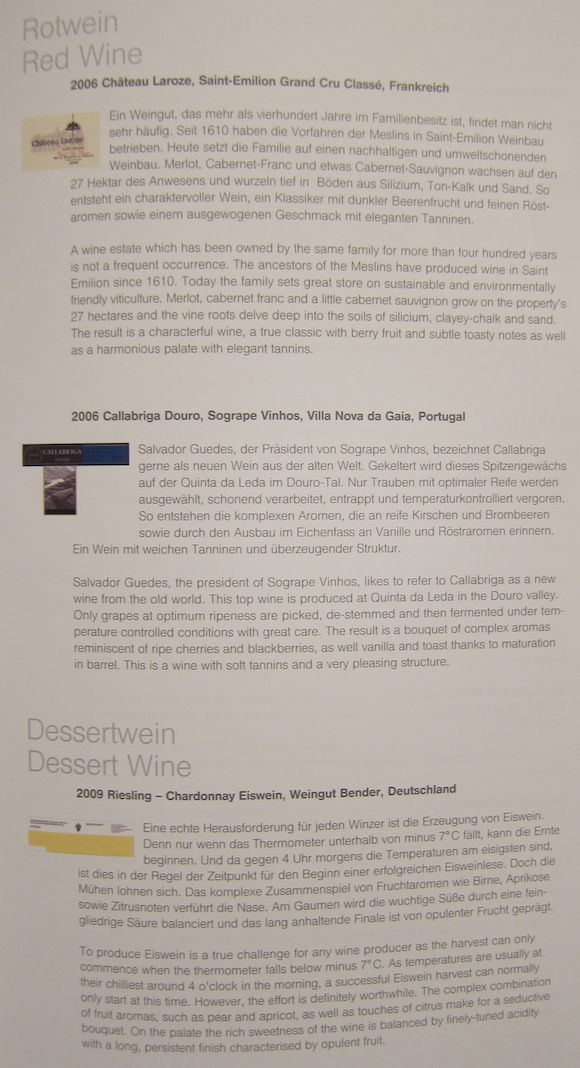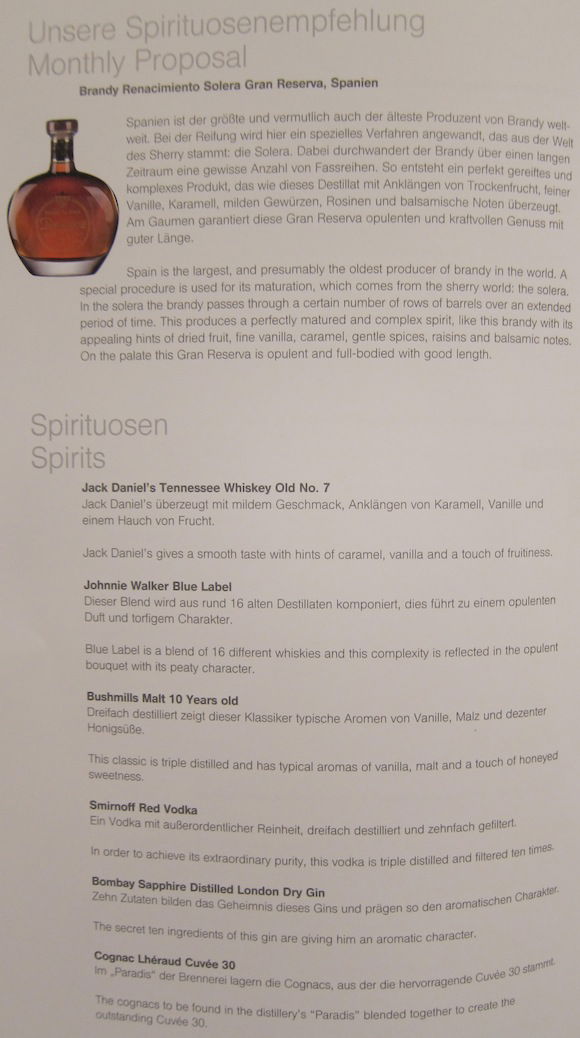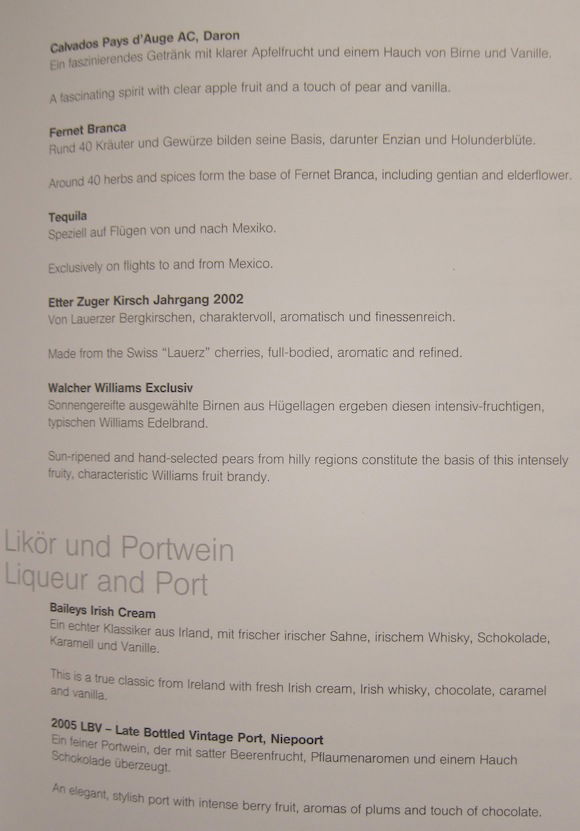 Let me just say up front that Sonja was amazing. Some will say I'm a bit biased as a German, though I find that a good Lufthansa crew strikes such a great balance between being efficient/professional and personable. And Sonja embodied that in every way. She was completely formal and professional, yet couldn't have been more attentive, friendly, and approachable. Her service was flawless in every way, from the way she set the tables to the way she served everything. Simply fantastic.
Anyway, back to the actual flight. Sonja started the service by offering us hot towels. Lufthansa no doubt has the most pleasantly scented ones in the sky.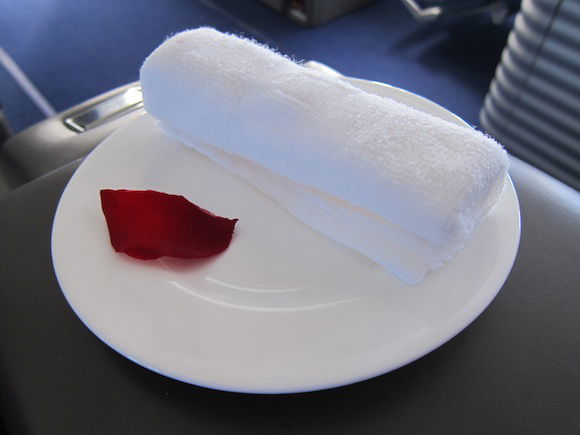 Hot towel
We were then offered drinks along with the amuse bouche. The amuse bouche consisted of cucumber and salmon, and was actually quite good (by my tastes) compared to what they usually serve.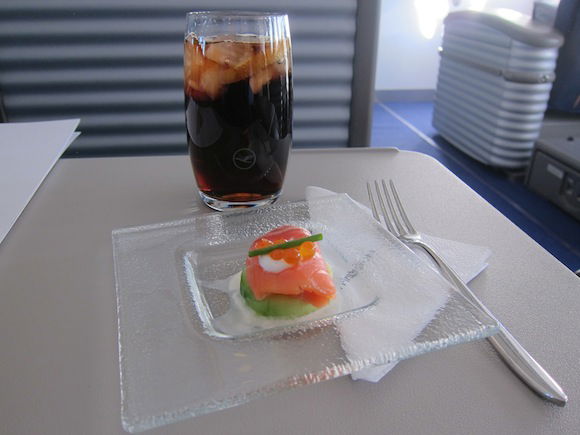 Amuse bouche and Diet Coke
Shortly thereafter Sonja rolled out the appetizer cart, and encouraged us to take as much as we wanted. I wasn't that hungry, so just had the caviar and seared beef with peanut sauce, both of which were delicious. I was most excited to find they had pretzel bread in the bread basket, which is a favorite of mine.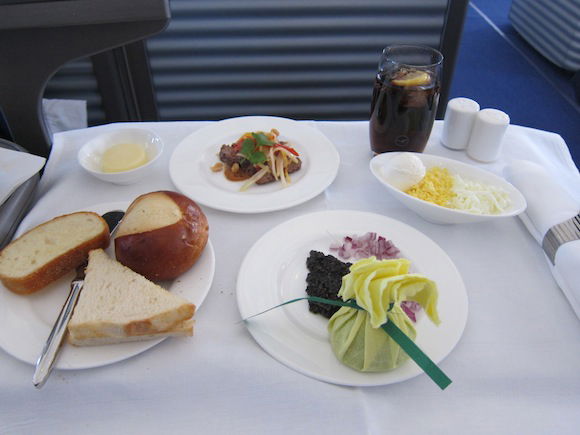 Caviar and seared beef
The next course was a pretty simple salad with balsamic vinaigrette (contrary to the menu, which lists it as being "delicious Dressing," which I can assure you it was not).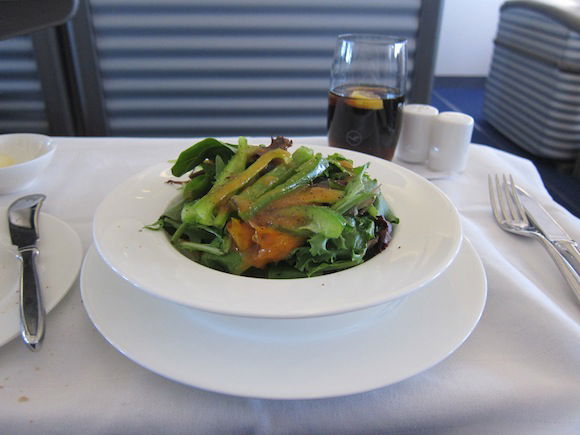 Seasonal salad with dried yellow Tomatoes and green Bell Pepper Julienne presented with delicious Dressing
By the time the main course was served I wasn't especially hungry, so I just had the potato cake, which was simple and tasty.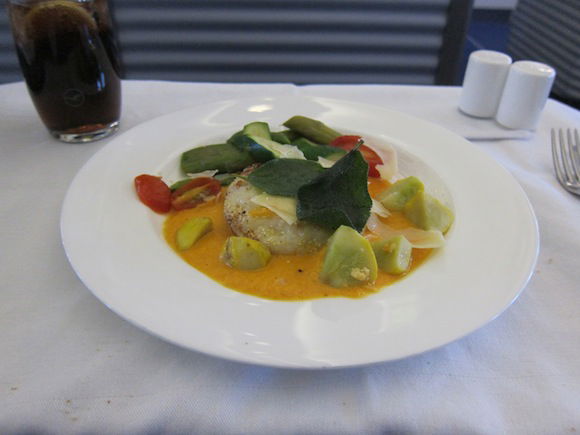 Semolina Potato Cake with Tomato Cream Sauce and fresh Vegetable Ragout
My friend chose the lobster as his entree, which he didn't especially care for.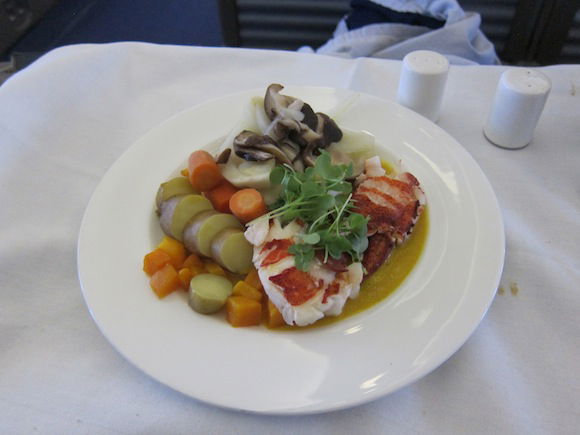 Poached Lobster Tail and Claw in Saffron Reduction with simmered Mushrooms and Butternut Squash
For dessert I ordered the chocolate cake with ice cream, which was delicious. I ordered a glass of Baileys to accompany it.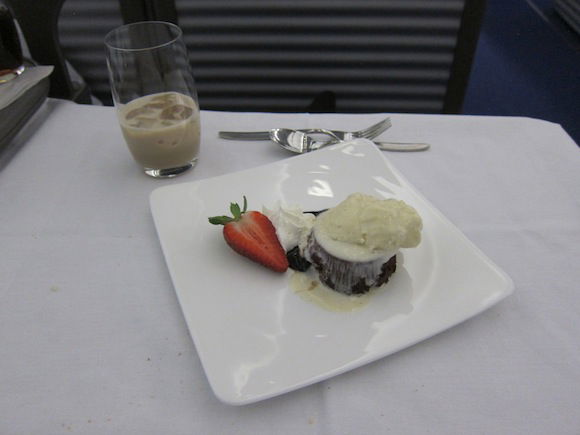 Warm Chocolate Cake with Yogurt Ice Cream
To finish off the meal I was offered little chocolatey things (I'm referring to them as that so that we don't all get into a blog fight over pralines vs. truffles vs. bon bons, which inevitably happens when I use the "p" word).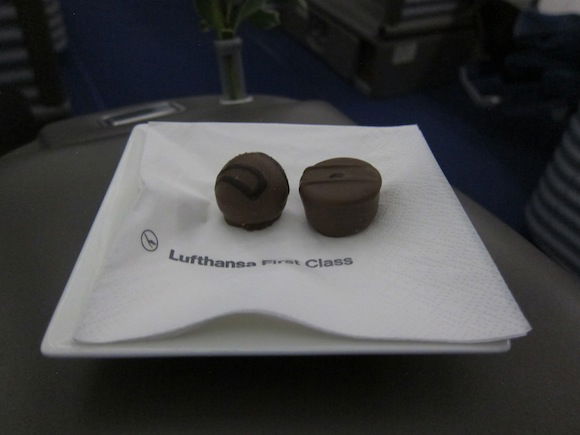 Little chocolatey things
The pace at which dinner was served was perfect, and I finished dinner right at the end of the movie. I was hoping to use the in-flight Wi-Fi and while the aircraft was equipped with it, they were having technical issues, so it wasn't working.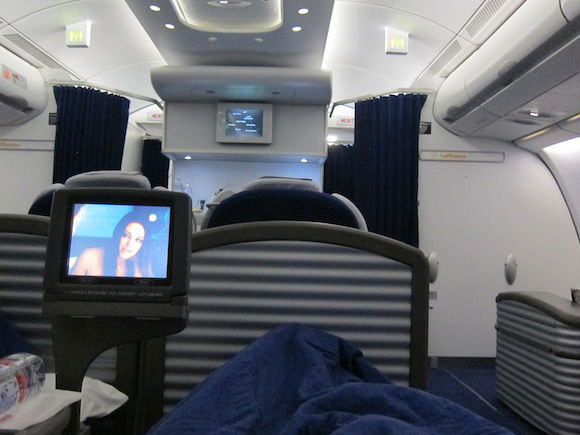 Movie finishing
I briefly spoke to the flight attendant, Sonja, and learned that she just transferred from Munich to Frankfurt. I jokingly commented "no wonder you're so nice," given that Frankfurt based crews tend to have a pretty bad reputation (though I find it to be baseless). I also learned something interesting. She mentioned that she only works first class, and given that she was only in her early 30s I asked how that was possible.
She explained that first class is actually typically the least desirable place to work, not because of actually having to deal with the passengers, but because you're isolated from the rest of the crew. Two flight attendants work first class and between meals only one is on "duty," so you're literally all alone, which I imagine is pretty boring. If you're working in business or coach, on the other hand, you have other crew members to talk to. Makes perfect sense!
At that point I requested turndown service, which was promptly taken care of. I was excited to see that Lufthansa finally added mattress pads to their old first class. Previously they only had them on planes featuring the new first class, which seems like a double whammy for old first class — not only do you get the old seat, but you end up with worse bedding as well.
While Lufthansa's first class seats on this aircraft are ancient and aren't private, they're extremely comfortable for lounging, and also make a pretty comfortable bed.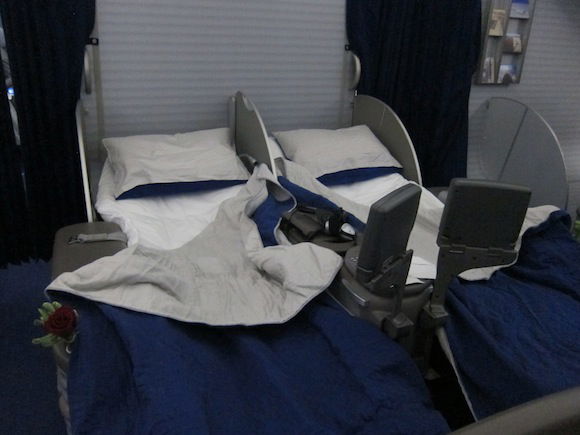 Turndown service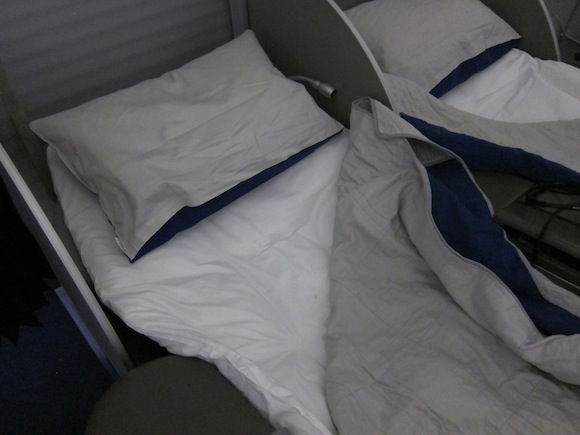 New mattress pad
In general the departure time of the Seattle flight sucks, given that it leaves at 2PM. There's no way I'm getting any decent amount of sleep with a 2PM departure, given that it lands in Frankfurt around midnight Pacific, a time I'm usually still up. Still, I somehow managed to snooze for about three hours right after dinner, which was more than I expected.
I woke up about five hours into our flight as we were well into our Atlantic crossing, and decided to watch another movie. I decided on "2 Days in New York," which was hilariously stupid.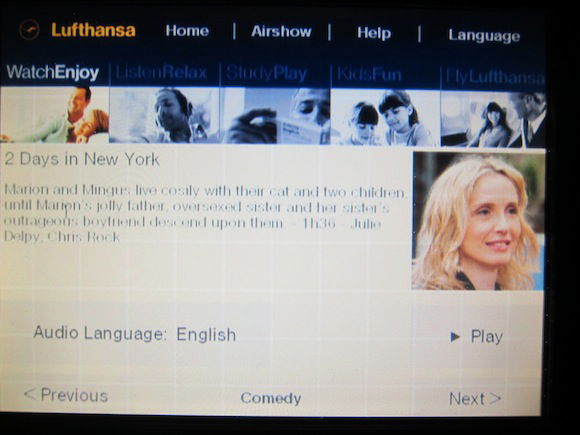 My second movie
I was still getting over a cold and had a bit of a cough, so I ordered some peppermint tea during the movie.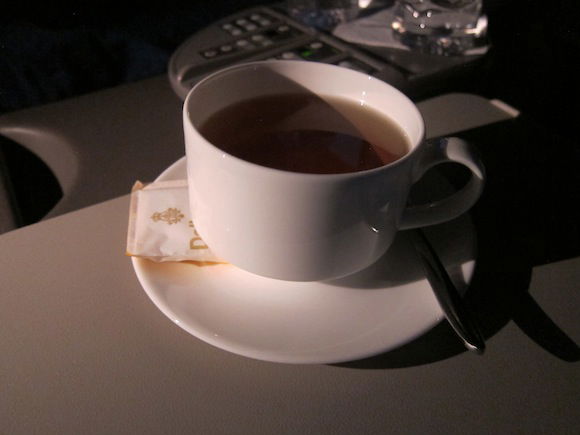 Peppermint tea
As the movie finished up it was almost time for the breakfast service, starting with hot towels, the menus, and freshly squeezed orange juice being distributed.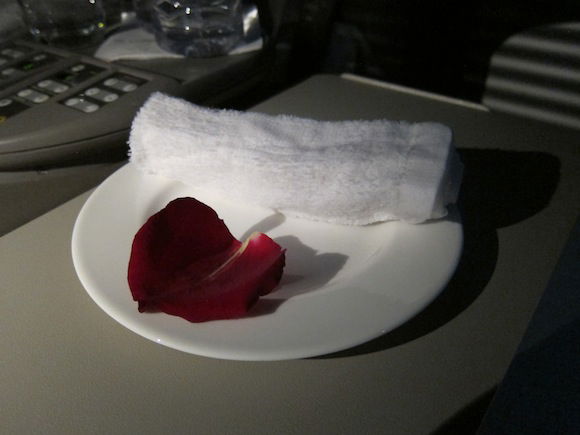 Hot towel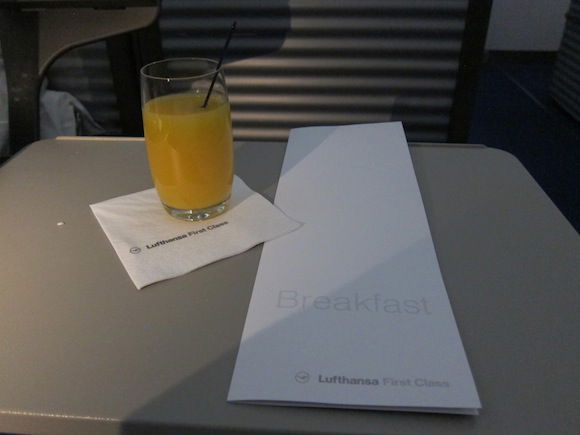 Orange juice and menu
The breakfast menu read as follows: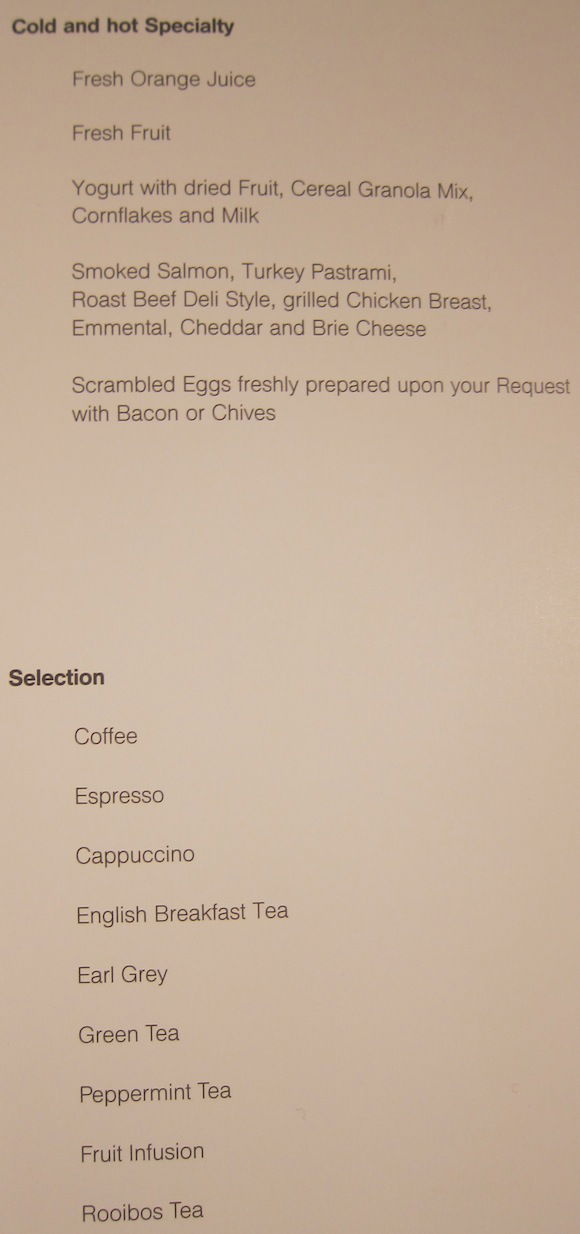 Maybe I'm crazy, but I actually find that the area where premium airlines shine the most on the meal front is with breakfast. Lufthansa is one of my favorite airlines when it comes to their breakfasts, especially their freshly prepared scrambled eggs.
For breakfast I had some fruit and muesli to start.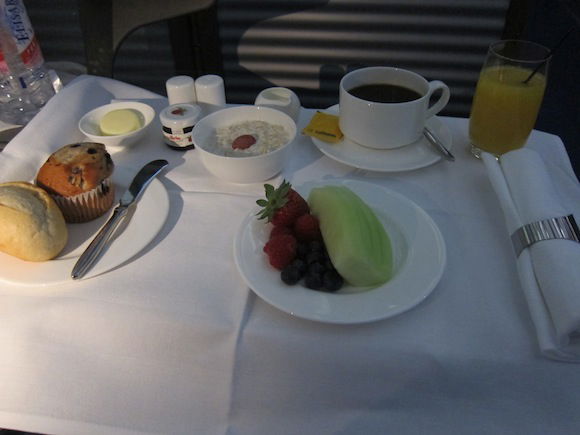 Fruit and muesli
And then I had scrambled eggs with chives.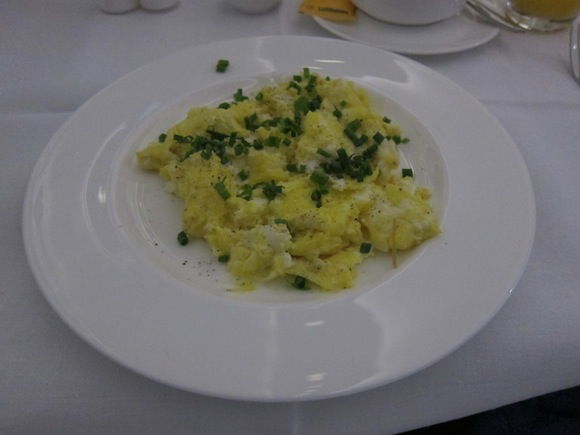 Scrambled eggs with chives
Both were great, though Lufthansa's breakfasts never disappoint.
With about 30 minutes to go, the captain came on the PA to advise us that we'd be landing about 20 minutes early. We began our descent about 20 minutes out, and I changed back into my jeans and t-shirt.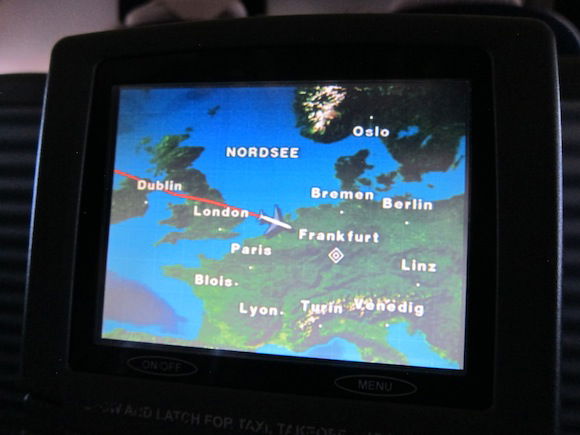 Approaching Frankfurt
I moved to seat 1A for landing, since in Frankfurt I enjoy both the views on approach and on the ground.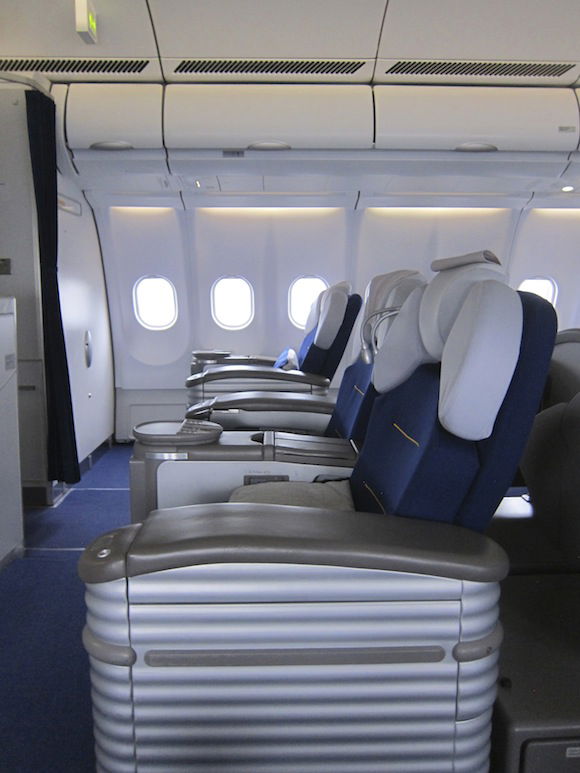 View of the cabin from 1A
It was a stunning day outside, and I was glued to the window.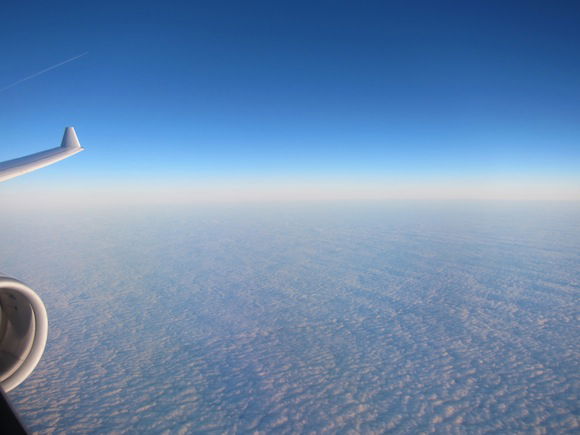 View on approach
We made a parallel approach into Frankfurt next to an Airbus 320, and must have been next to them for a good 20 miles. We were landing on runway 25R, which is way past the rest of the airport, so it's almost like overflying it thanks to the amazing views.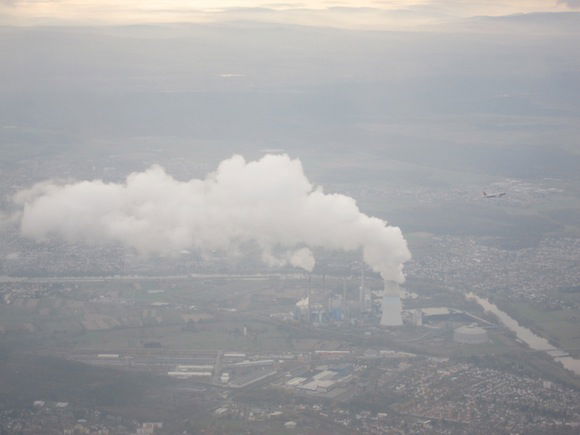 View on approach
As we were on our final approach I saw the Singapore Airlines Airbus 380 taking off on the parallel runway, and also all the beautiful Lufthansa planes parked at the terminal.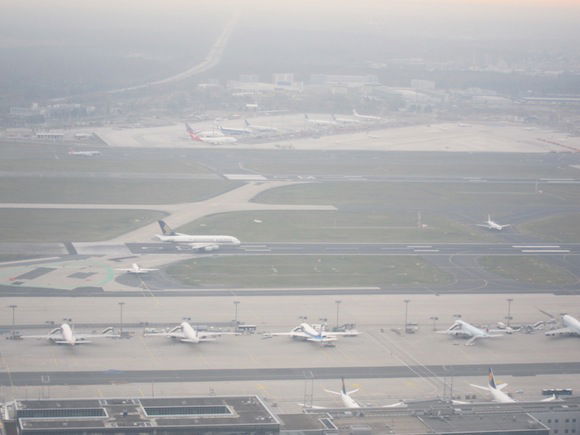 Airbus 380 taking off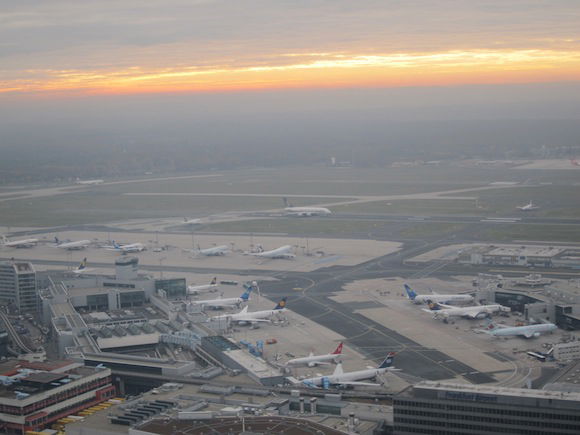 Terminal view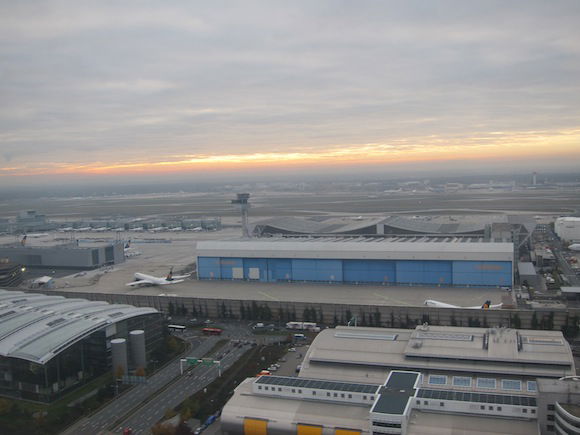 Terminal view
Our touchdown on runway 25R was extremely smooth. Now, the lovely thing about runway 25R is that it might as well be in Dusseldorf, because it's a good 20 minute taxi from the end of it to the terminal, so we passed by more Lufthansa heavy aircraft than I could count enroute to our remote stand.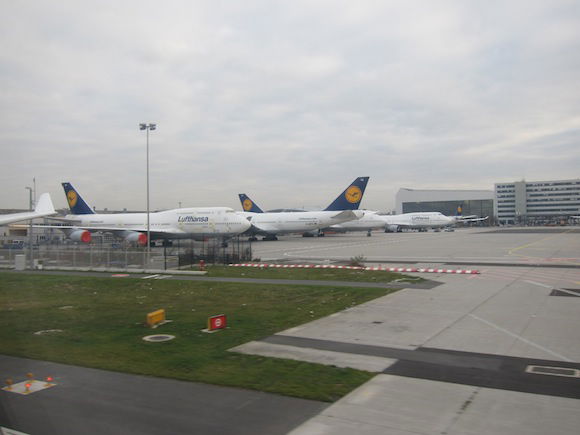 Lufthansa planes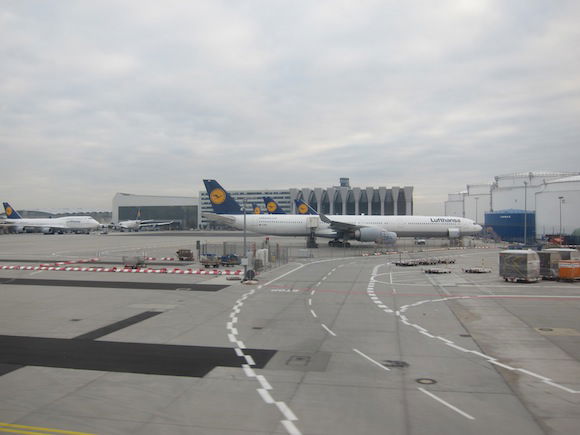 Lufthansa planes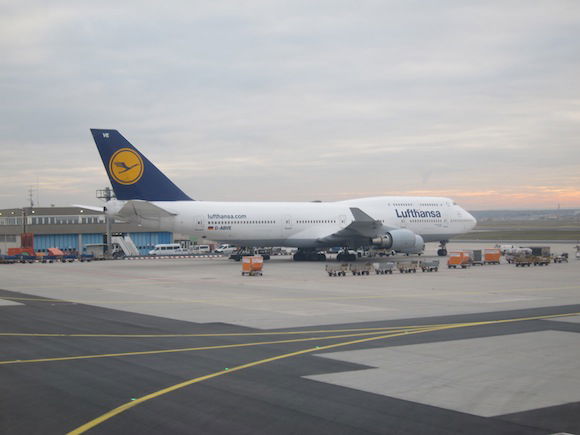 Lufthansa plane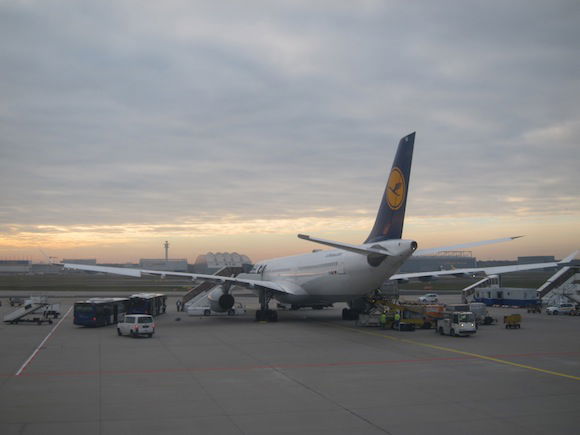 Lufthansa plane
The bad news, in theory, is that we were arriving at a remote stand. No wonder everyone hates Frankfurt Airport so much. Well, unless you're flying first class, because as you can see in the picture below, we had a special mode of transportation waiting for us.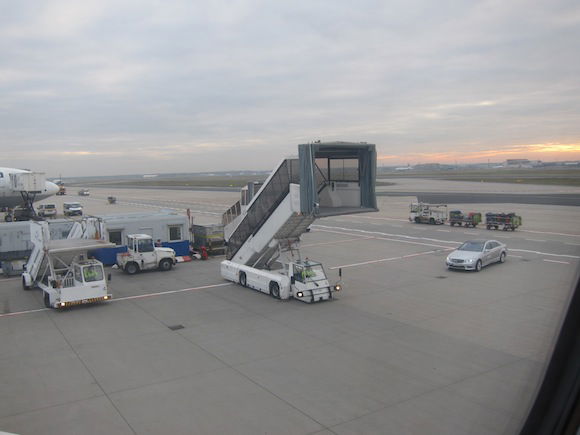 Pulling into our remote stand
Lufthansa's old first class might not be the most modern product in the sky, though there's something about it I love. The service and food on this flight were spectacular, and it's an experience I'd repeat in a heartbeat given that I can leave for the airport 90 minutes before my departure and still make a nonstop international flight.
Lufthansa, you'll always be my airline…
https://www.youtube.com/watch?v=rrLCob4ch60