Introduction
Club International Seattle
Lufthansa Business Class Seattle to Frankfurt
Lufthansa Senator Lounge Frankfurt
Lufthansa Business Class Frankfurt to Nice
Hyatt Regency Nice Palais de la Mediterranee
Grand Hyatt Cannes Hotel Martinez
Park Hyatt Zurich
Swiss Senator Lounge Zurich
Austrian Business Class Zurich to Vienna
Austrian Business Class Vienna to Tokyo Narita
EVA Air Business Class Tokyo Narita to Taipei
Le Meridien Taipei
W Taipei
EVA Air Infinity Lounge Taipei
EVA Air Royal Laurel Class Taipei to San Francisco
Thoughts on Nice, Monte Carlo, Cannes, Zurich, and Taipei
---
I flew this exact routing back in January of this year, and wrote a review of my experience here. I was pretty blown away by Austrian, especially in terms of the food and service, both of which were top notch. So while I try to review new airlines, when I saw award space on this route I couldn't help but book it again, partly to see if the experience would be consistent with my last flight on them.
Austrian 51
Vienna (VIE) – Tokyo (NRT)
Thursday, July 4
Depart: 1:30PM
Arrive: 7:40AM (+1 day)
Duration: 11hr10min
Aircraft: Boeing 777-200
Seat: 2C (Business Class)
Boarding was done through door 2L, and we were welcomed aboard by the purser at the door and pointed left towards our seats in row two.
All of Austrian's longhaul aircraft now feature their new business class product, much like I had on my last flight. Waiting at each seat was a comfortable pillow and blanket.
In the pouch behind the seats were a pair of headphones.
Moments after settling in we were offered pre-departure beverages by one of the friendly Japanese flight attendants. Three of the flight attendants working business class on this flight were Japanese.
Shortly thereafter we were offered bottled water.
And then we were offered menus. The chef on this flight seemed much more hands off (or perhaps just more hands on in the galley), as he didn't distribute menus, take orders, or serve the food, all of which the chef did on the last flight.
We were then offered amenity kits, which were identical to the ones I received on my last Austrian flight.
At around 1:25PM the captain came on the PA to welcome everyone aboard and inform us of our flight time of 11 hours, which would put us into Tokyo Narita on-time.
By the time the door closed the business class cabin was maybe 80% full. The most interesting part had to be that literally every other passenger in the cabin was Japanese. Not only were they Japanese, but we were the youngest by about 50 years, as they were all wearing fanny packs, visors, etc. I later found out that apparently they were all on some organized vacation package.
We pushed back right on schedule and shortly thereafter the safety video began to play.
We taxied to runway 34, which is maybe a two minute taxi. The gate is literally right by the runway, so as we held short of the runway the safety video was still playing. I think the pilots were actually ready for takeoff as they kept calling the cabin, and while the crew rushed, it looked like we didn't "beat" a series of planes coming in for landing.
We then had to wait for about five minutes as an Emirates 777, Air Berlin A320, and TAP A320 landed.
After those landings it was our turn to takeoff, and we rocketed off and began a fairly steep climb to our cruising altitude.
As we climbed out I browsed the entertainment selection, which is fairly intuitive.
I decided to first watch some sitcoms.
About 20 minutes after takeoff the seatbelt sign was turned off and service began, starting with hot towels.
After that the meal orders were taken. The lunch menu read as follows: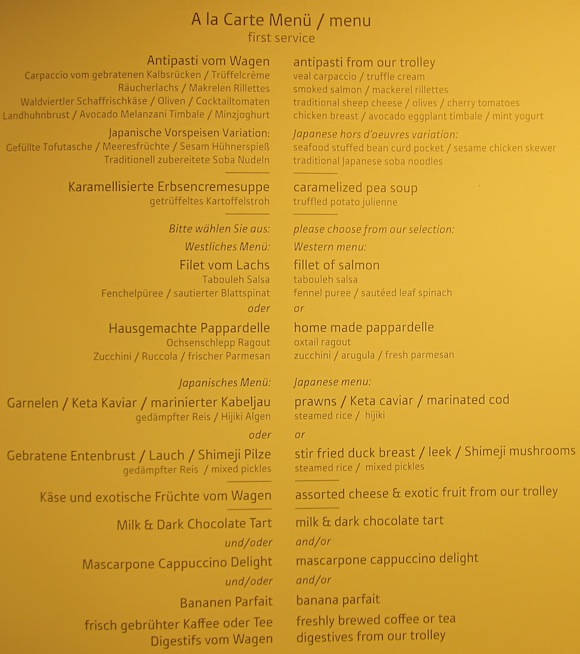 And the wine list read as follows:
Service began with tables being set and drinks being served with peanuts. Austrian's service really is first class in every way, given that they don't use trays but instead set up the meal directly on your tray table.
After that the flight attendants rolled a selection of appetizers through the cabin. The presentation and the fact that you get to pick and choose what you want is similar to what you'd get in first class on top airlines.
I selected the smoked salmon, chicken breast, and sheep cheese with olives, all of which were great.
After that the crew came around with a trolly of caramelized pea soup, which was also good.
The main courses was the only course not served by trolly, and I selected the fillet of salmon, which was moist and had a great salsa accompaniment.
My friend had the pappardelle, which was one of the better pasta dishes he has had on a plane.
After the main course was cleared the dessert service began, which is probably my favorite part of flying Austrian. It started with the coffee menu being distributed.
The coffee menu read as follows:
Then the dessert trolly was rolled around, and everything looked amazing. I selected the milk and dark chocolate tart with vanilla ice cream and banana parfait, both of which were great.
I had also ordered an iced coffee, which was served about 15 minutes after the dessert. This is probably my single favorite part of flying Austrian.
The meal service was at a leisurely pace, which is understandable given that they're not just using carts or serving by tray, but rather everything is rolled out by trolly and you hand select what you want. Despite the long service, drink refills were frequent, and the crew couldn't have been friendlier. I tried to nap after lunch, and managed to sleep for about an hour or so.
At that point I walked around the cabin a bit to stretch my legs, and spent about half an hour talking to the purser in the galley, who was a really nice guy.
I wasn't tired, so decided to watch some more TV. This time I watched a documentary entitled "Exterme! — Light and Dark" and it featured Longyearbyen, a place I've wanted to visit for a long time now.
After that I watched "The Incredible Burt Wonderstone," which was entertaining enough… for an airplane movie.
After that I watched a couple of shows on my iPad, and before I knew it we were 90 minutes out of Tokyo Narita, and breakfast service began.
The breakfast menu read as follows:
Service began with juice and smoothies being served, both of which I had.

Orange juice and fruit smoothie
To make the service quick, breakfast is served on a single tray, though it's really good. There's a deli plate, some fresh fruit, and an omelet. Then there's a bread basket that's brought around the cabin, from which I chose a croissant.
Lastly the chef came around with a tray of nougat french toast with marinated pear, which was especially tasty.

Nougat french toast with marinated pear
About 30 minutes out we began a very gradual descent which was mostly smooth initially. Once we descended through about 10,000 feet we picked up some serious chop, and there must have been some real crosswinds on the final approach, because we had one hell of a crab angle.
Despite the rough approach the actual touchdown was smooth, and we quickly taxied to our arrival gate at the Star Alliance terminal.
As we taxied in I even spotted the EVA Air A321 that would be taking us to Taipei.
The most attractive plane was definitely the panda-colored ANA 767 we parked next to, though.
On the whole it was another spectacular flight on Austrian, almost identical to my last experience with them. While I still slightly prefer reverse herringbone seats (like those I flew on American) to the staggered seats, the food and service on Austrian is just about the best of any airline I've experienced in business class, and on par with many first class products.