---
I can't say I'm a huge fan of Lufthansa's Frankfurt to Seattle flight, though because my friend lives there and it's one of the longer transatlantic flights, I don't mind taking it. The reason I'm not a huge fan of the flight is twofold. First, it's one of the earliest transatlantic departures, leaving Frankfurt before 10AM. One of my favorite things about Lufthansa first class is enjoying lunch or dinner in the First Class Terminal prior to the flight, and that's not possible for such an early departure. Second of all, the flight lands in Seattle at around 11AM, which just sucks in terms of getting over jetlag. I far prefer flights that leave Europe in the late afternoon and arrive in the evening, allowing one to get a good night of sleep upon landing and waking up relatively "adjusted" the following morning.
Of course in the world of first class travel I really have no right to complain, but just figured I'd share those two observations if you ever have the choice between a morning and an afternoon flight out of Europe.
We left the Sheraton at around 8:30AM and took the walkway to the terminal. From there we had to walk on the outside roadway to the First Class Terminal, which is maybe a 10 minute walk. It was a beautiful morning, so I quite enjoyed getting some fresh air. I've taken this exact flight before, so feel free to check out my previous report, which can be found here.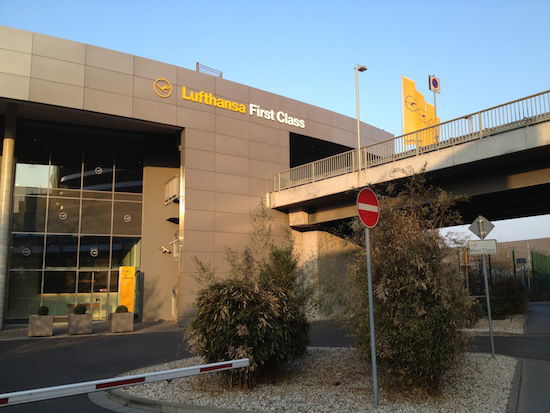 Lufthansa First Class Terminal Frankfurt
Once in the terminal we were welcomed by our personal assistant, who escorted us through security. For me the highlight of the First Class Terminal is that you can go from entering the terminal to sitting in the lounge area in less than a minute, an experience no other airline can provide.
We decided to have breakfast right away, since we hadn't eaten at the hotel.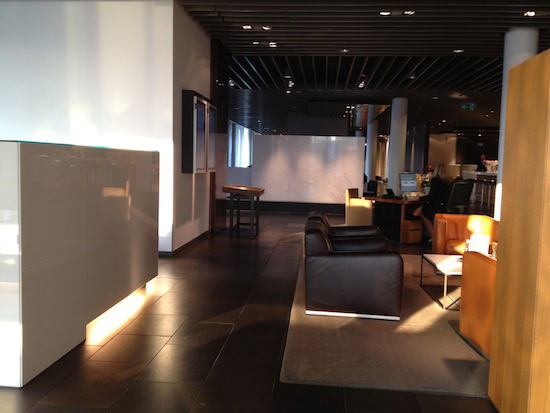 First Class Terminal seating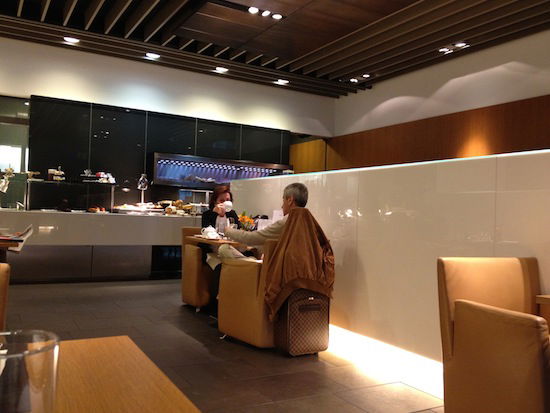 First Class Terminal restaurant
The buffet is pretty extensive and consists of just about anything you could want. I still far prefer their lunch or dinner offerings, but that's probably more of a function of me preferring lunch and dinner over breakfast.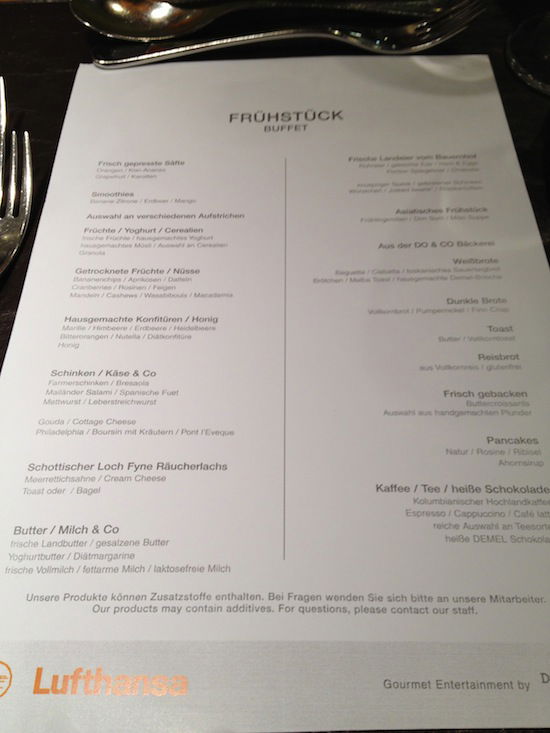 Menu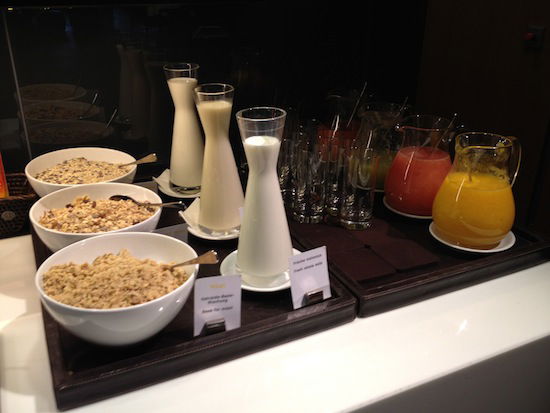 Breakfast spread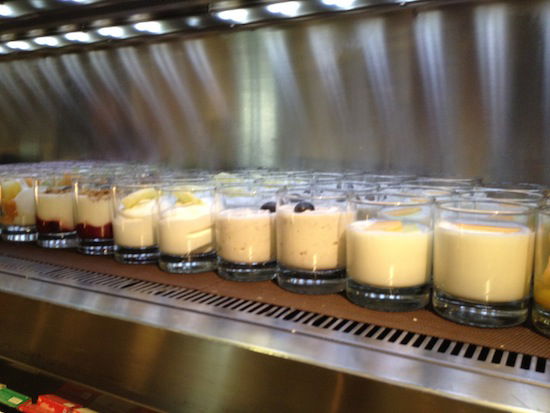 Breakfast spread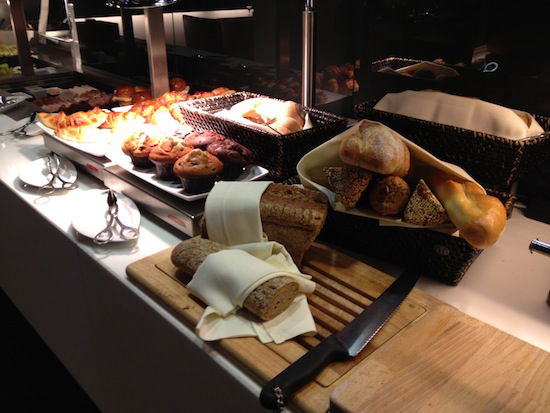 Breakfast spread
When breakfast was done we headed back to the lounge area, where I caught up on email for about 20 minutes. At around 9:30AM our personal assistant approached us to let us know our flight was ready for boarding. We were brought down to the lower level for our departure, where we were introduced to our driver, who drove us to our plane in a Mercedes S class.
Frankfurt Airport is the one place where I hope that the gate is as far from the terminal as possible. Unfortunately in today's case our departure gate was just about the closest to the terminal, so our car ride was less than five minutes. I jokingly asked if the driver could make another round, so he did a little loop on the tarmac for us right next to the plane. Awesome!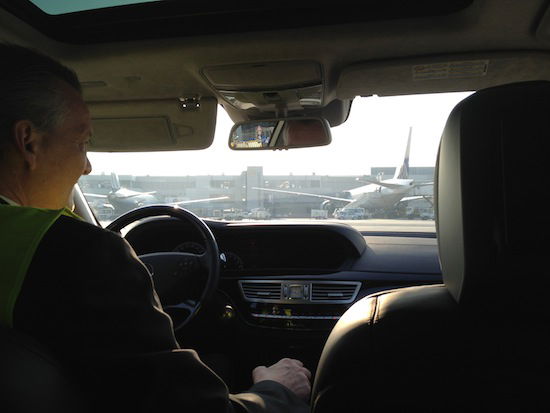 Driving to our plane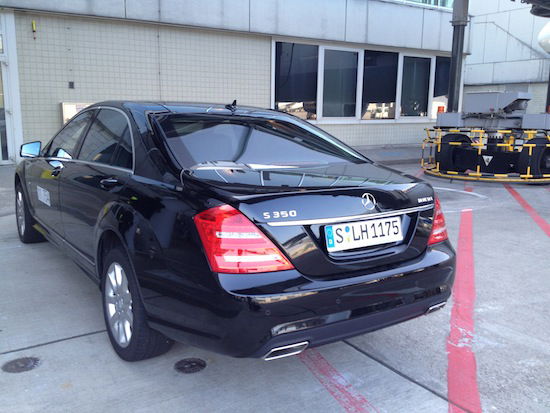 Our ride
The driver took us up the elevator to the jet bridge, where he walked us all the way aboard and introduced us to the crew, who took over from there.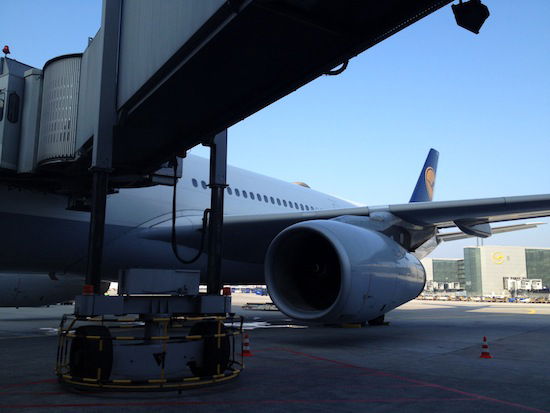 Our plane to Seattle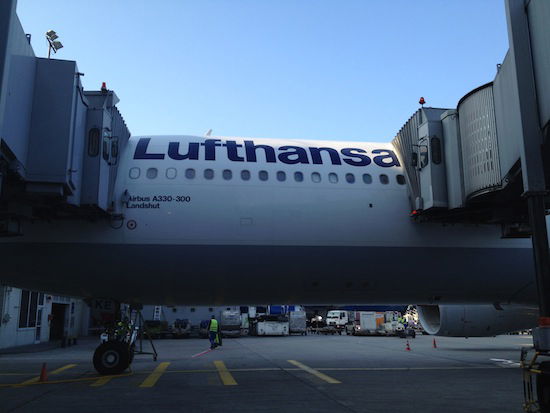 Our plane to Seattle
Lufthansa 490
Frankfurt (FRA) – Seattle (SEA)
Sunday, March 25
Depart: 9:50AM
Arrive: 11:15AM
Duration: 10hr25min
Aircraft: Airbus A330-300
Seat: 2G (First Class)
Once onboard we settled into 2D & 2G. Only one other seat was taken (1A), so it was a fairly empty flight upfront, while business and coach were packed.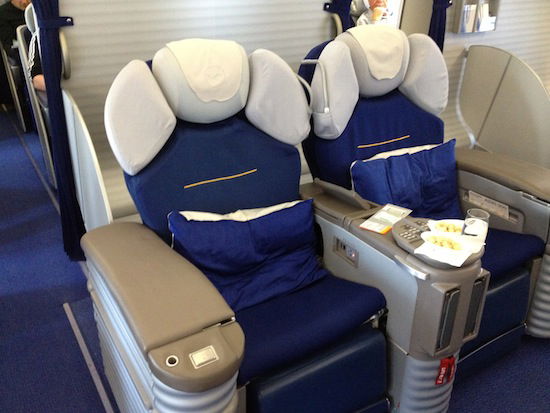 Seats 2D & 2G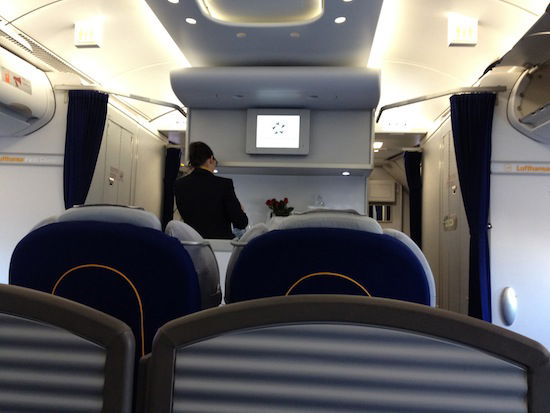 View from seats 2D & 2G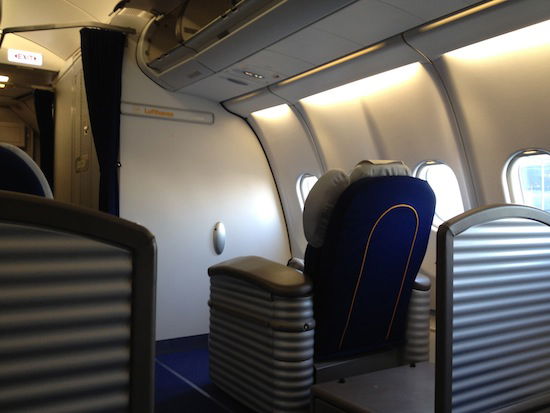 Cabin view from 2G
In this instance we had one senior flight attendant and one junior flight attendant (I assume a trainee) working first class. Lufthansa seems to often have trainees working first class on the Seattle route. While I find just about all Lufthansa flight attendant attendants to be great, I find the trainees to be especially good in first class, since they're usually enthusiastic about having the opportunity.
In this instance the trainee was working the cabin while the senior flight attendant was working the galley. The trainee was friendly and polished, though lacked the excitement and sincere smile that many of Lufthansa's trainees seem to have when they get to work first class.
We were almost immediately offered pre-departure beverages, and I ordered a glass of champagne, which was served with the usual macadamia nuts.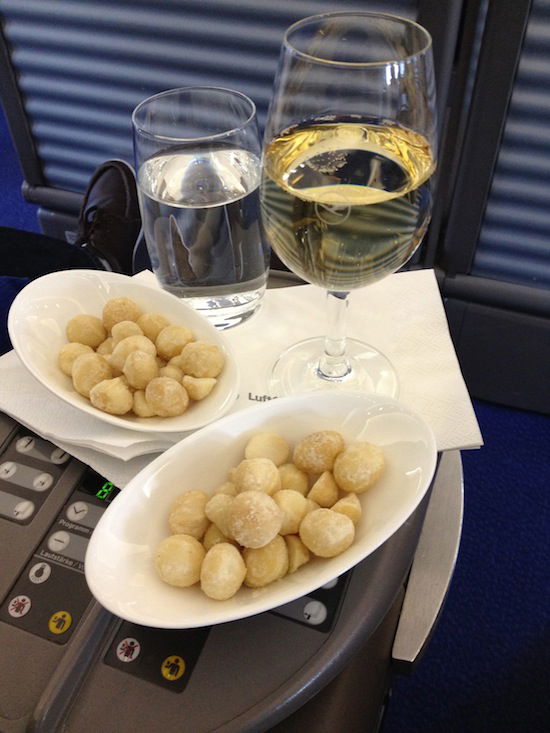 Pre-departure service
Moments later I was offered slippers, an amenity kit, and a long sleeved shirt, which are the usual amenities on a daytime Lufthansa flight. I've never found the shirt to be especially useful, as I far prefer pajamas on such a long flight. So I immediately changed into my Swiss pajamas, which are among my favorite.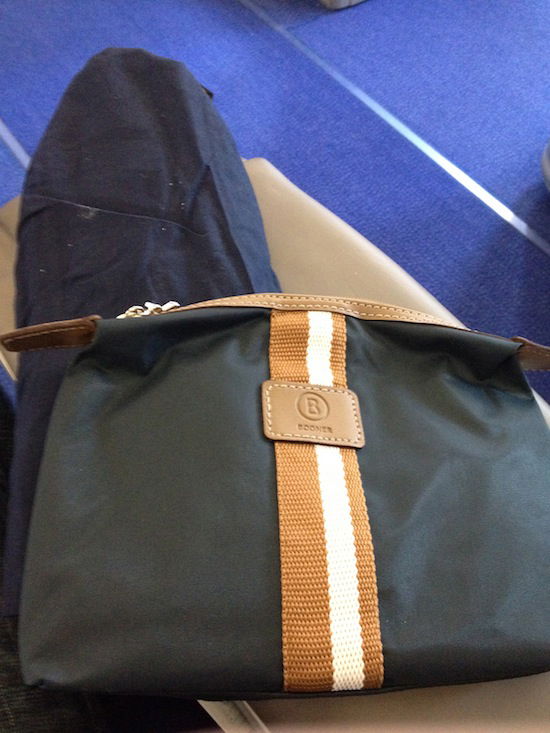 Amenities
Before pushback the captain came on the PA to advise us of our flight time of 10 hours, anticipating an on-time arrival in Seattle.
After a quick pushback and taxi to the runway we were airborne in a matter of minutes.
As we climbed through 10,000 feet the seatbelt sign was turned off and crew began their service, starting with setting up the bar in the front of the first class cabin.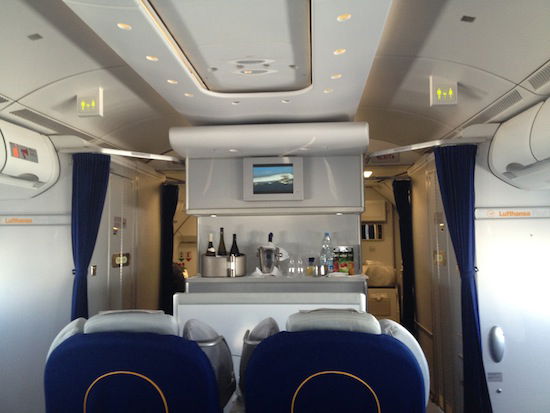 Bar setup
While the first class flight attendants did that, the purser introduced herself and passed out menus for the flight.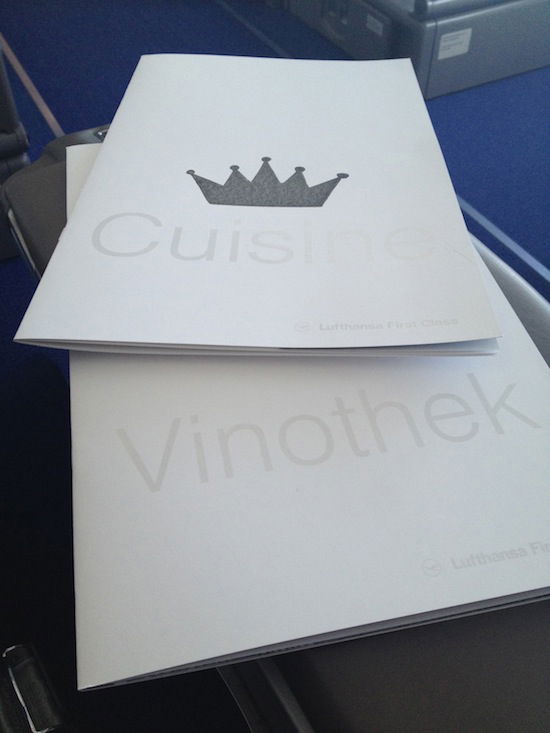 Menus
The lunch menu read as follows: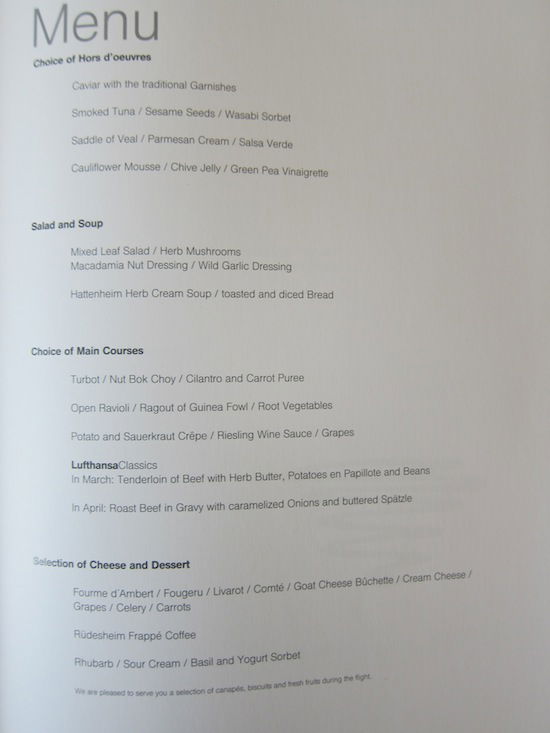 Shortly thereafter the flight attendant passed through the cabin with hot towels, followed by the amuse bouche, which was some sort of feta cheese with fig and sorbet, if I recall correctly.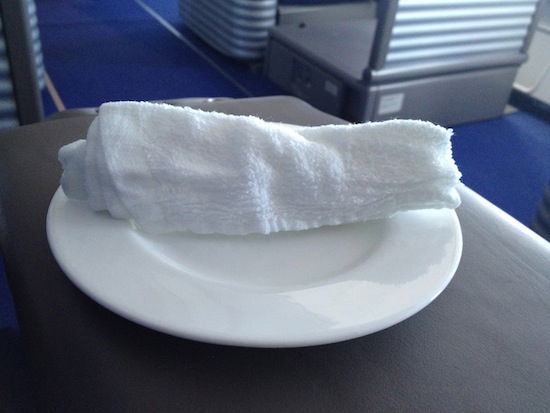 Hot towel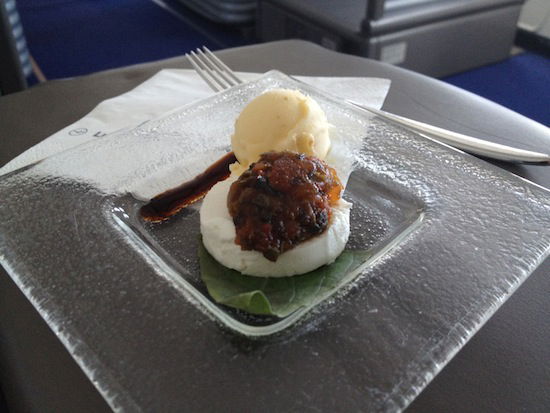 Amuse bouche
After that the tables were set and drinks were offered, which was followed by the appetizer cart.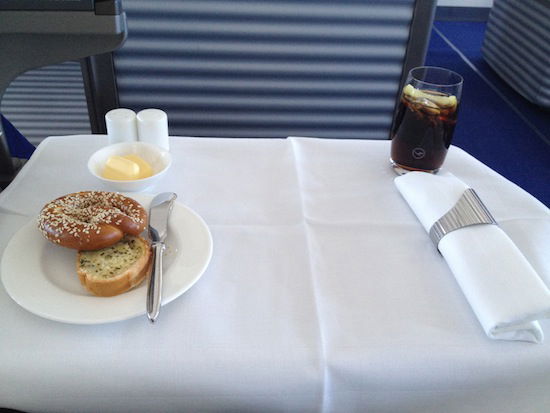 Table setup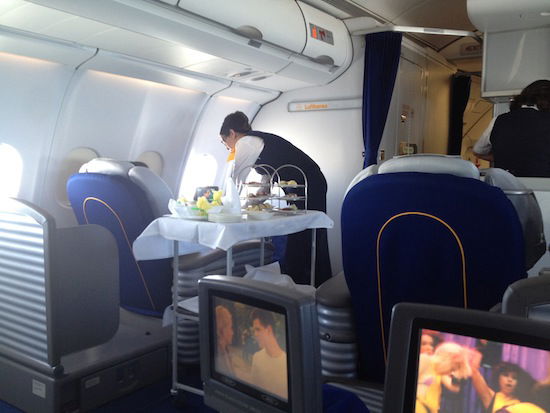 Appetizer cart
I just had the smoked tuna and caviar, as the other options didn't interest me. Both were delicious.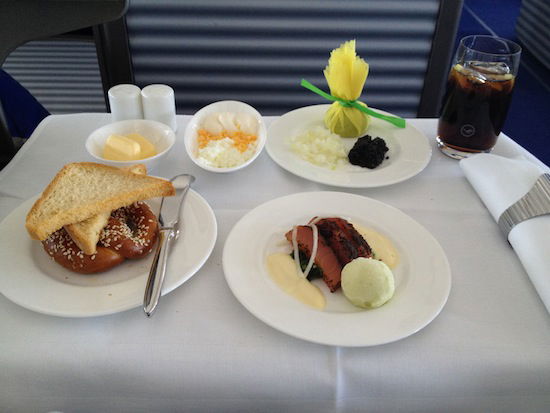 Smoked tuna and caviar
I also love how Lufthansa even has a first class logo on their butter.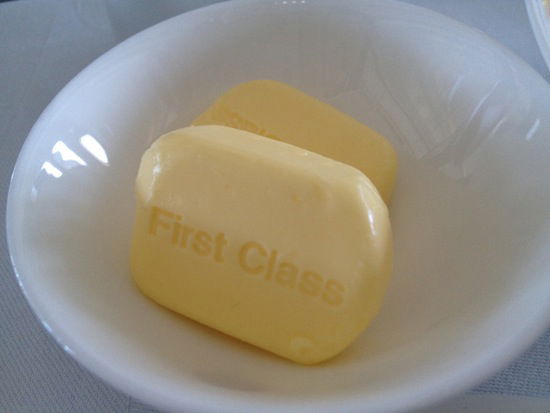 Gotta love the butter!
The next course was a salad with macadamia nut dressing.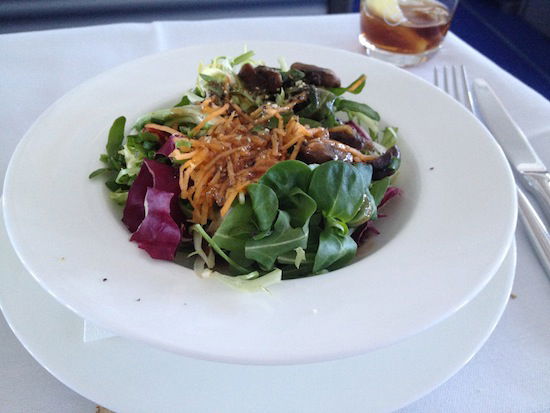 Salad
And then a rather interesting herb cream soup.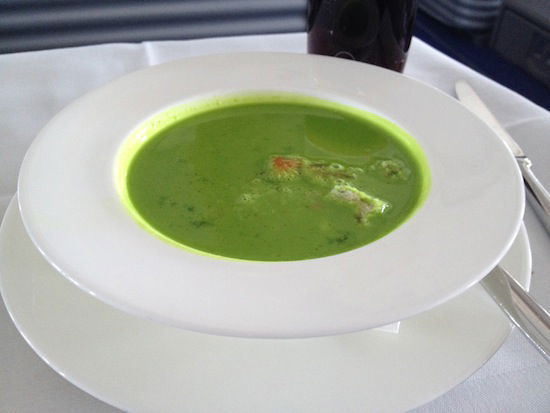 Soup
For the main course I selected the potato and sauerkraut crepe. As far as Lufthansa's catering out of Germany goes, I thought it was quite good.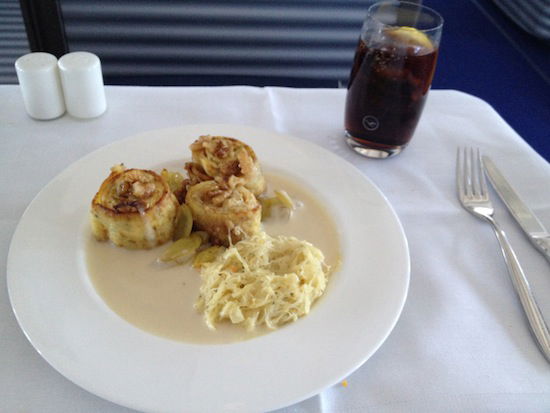 Potato and sauerkraut crepe
Then I had a pretty interesting coffee dessert.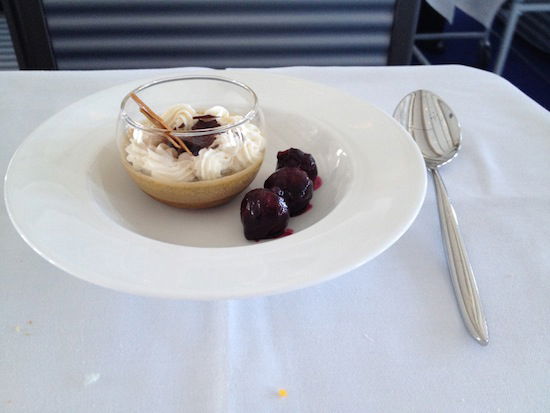 Dessert
Lastly I ordered a glass of Baileys, which was served with a couple of pralines.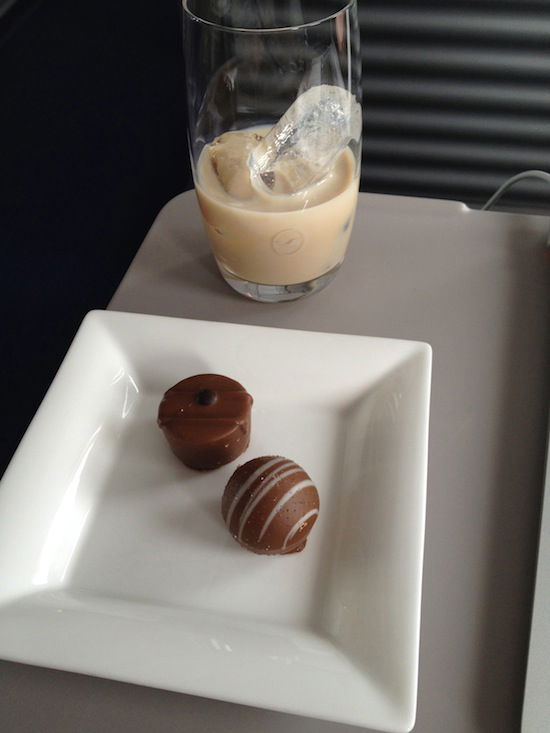 Baileys and pralines
One of the nice things about the flight from Frankfurt to Seattle is how far North it flies, since you fly right over Greenland.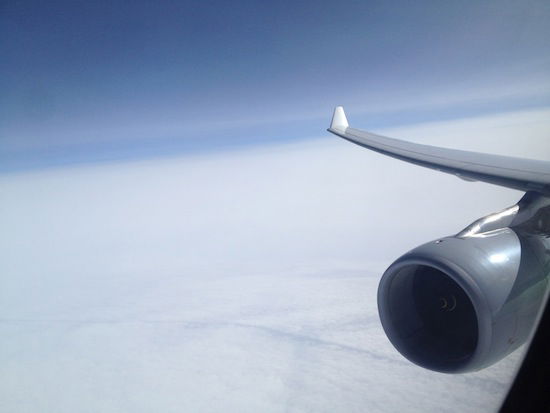 View from the window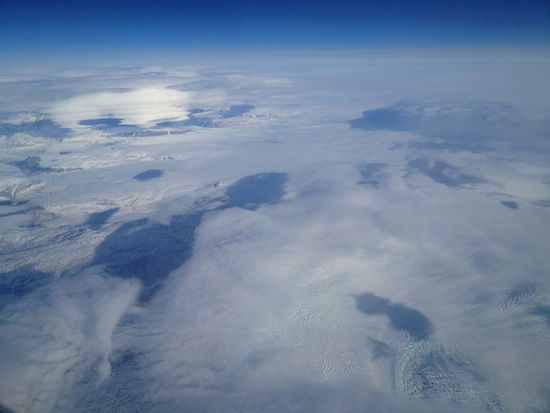 View from the window
I wasn't especially tired after lunch so decided to watch a movie. I had seen almost all the movies, so ended up deciding on Happy Feet Two. It was unbearable, so about halfway through I decided to turn it off and watch Abduction for the second time in two days. Slightly more pleasant of a movie!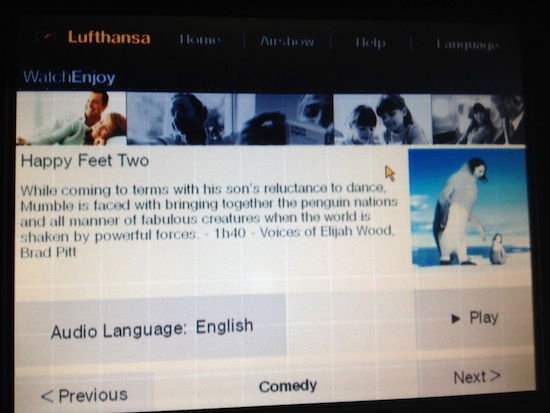 Happy Feet Two
During the movie I decided to order some iced coffee, which the flight attendant prepared rather creatively, in my opinion, so kudos to her.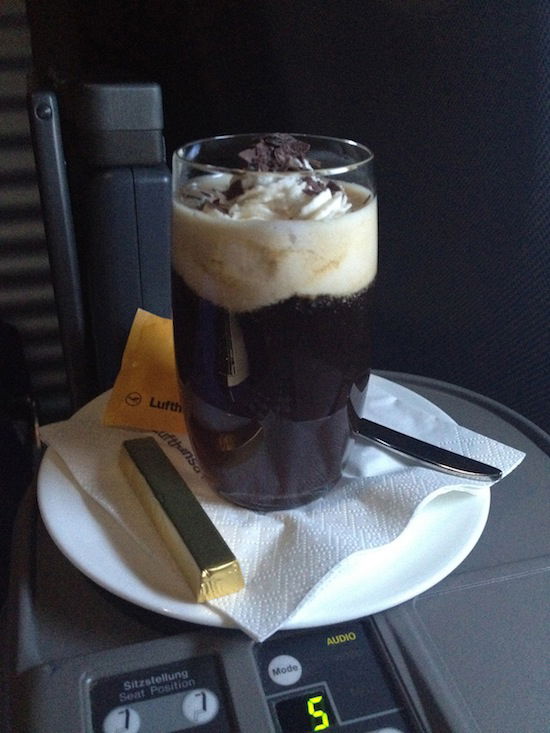 Iced coffee
After that we had about five hours to go till landing in Seattle, so I decided to take a nap. I woke up about 90 minutes out of Seattle, over Northern Canada, at which point the pre-arrival meal service began.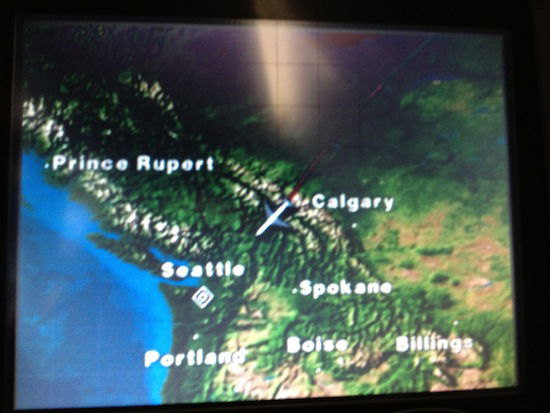 Airshow
The pre-arrival menu read as follows: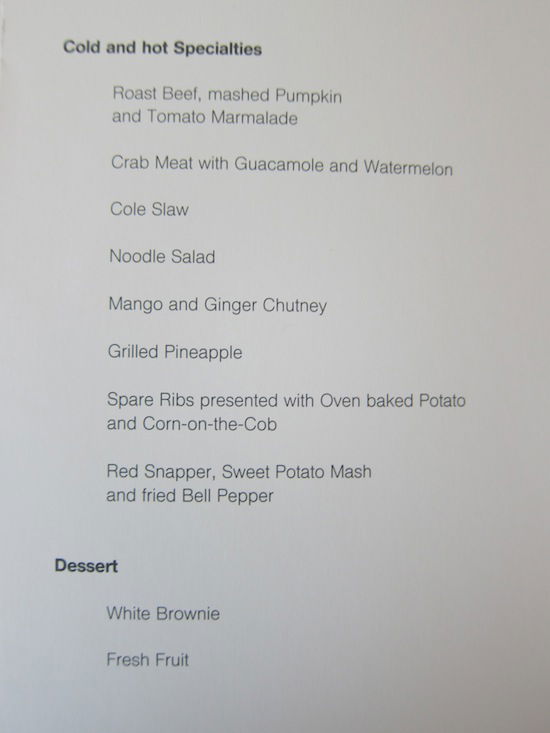 I really do like Lufthansa's pre-arrival meals thanks to the variety of options they offer in a "buffet" format.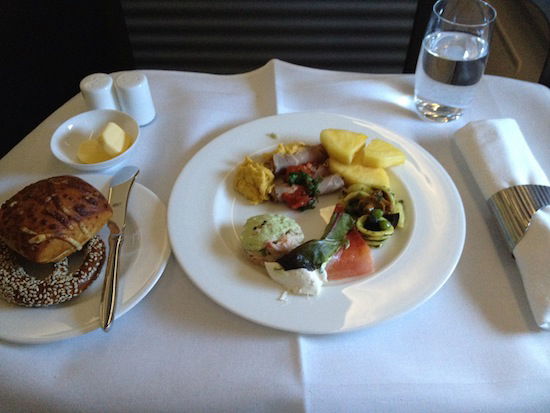 Pre-arrival meal
For dessert was a slice of white brownie cake.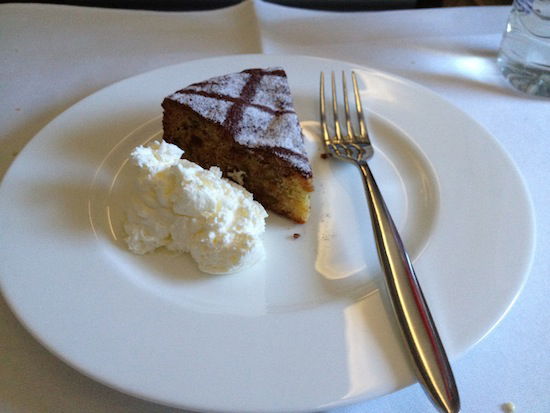 Dessert
About 30 minutes out of Seattle I changed back into jeans and a t-shirt, and restowed all my carry-ons. After flying past the airport we turned around and landed into the North.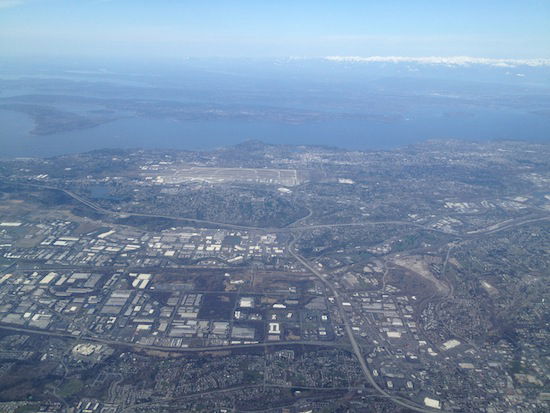 View on approach
We taxied past the Icelandair 757 and parked next to a Delta 767.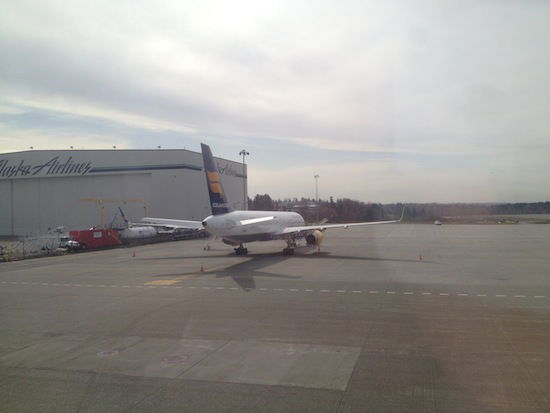 Icelandair 757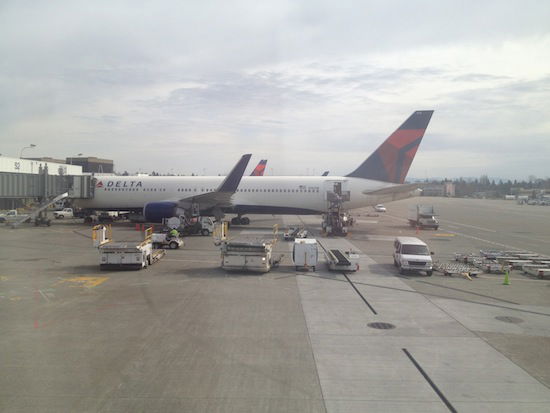 Delta 767
Thanks to Global Entry queues at immigration were non-existent, and my last Aeroplan round-the-world ticket came to an end.
Stay tuned, as there's one more bonus installment.