---
Lufthansa 710
Frankfurt (FRA) – Tokyo Narita (NRT)
Wednesday, December 28
Depart: 1:25PM
Arrive: 8:35AM (+1 day)
Duration: 11hr10min
Aircraft: Airbus A380
Seat: 2D (First Class)
Once aboard we headed left into the eight-seat first class cabin, which is in the nose on the upper deck (unlike Qantas, where it's on the lower deck). While there are definitely airlines with more glamorous first class suites on the A380, Lufthansa's cabin is remarkably elegant and understated, at least as a relative matter. There are no massive suites, but rather just an "open" cabin with just the right amount of privacy.
Anyway, as soon as we made it to our seats we were greeted by the first class flight attendant, who was spectacular. He was actually apparently a flight attendant trainer and only works about two trips a month. If this guy is training other flight attendants, then Lufthansa's new hires are in good hands.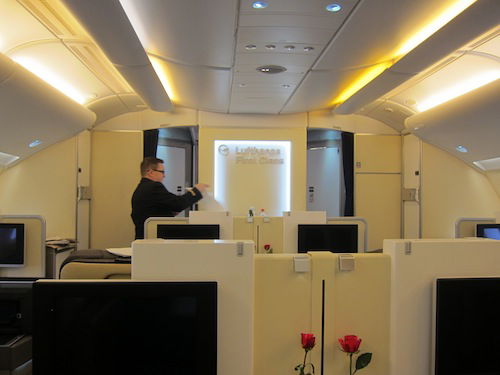 First Class cabin
Before I get into the service too much, let's discuss the seats. Like I said, they're not all that private, though they do have privacy shields on both sides if you're not traveling with someone. The seats have amazing padding, better than just about any other product I've flown. So in the upright position, the seat is as comfortable as they get.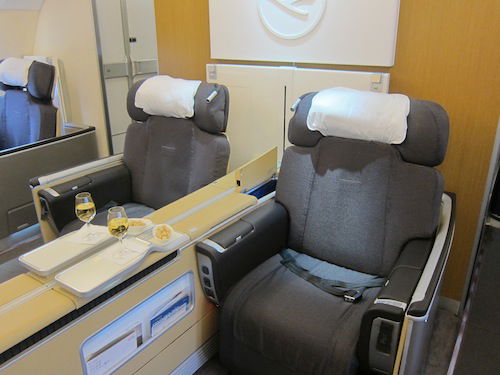 Seats 2D & 2G
Each seat has an ottoman which doubles as a storage compartment, given that there are no overhead bins in first class.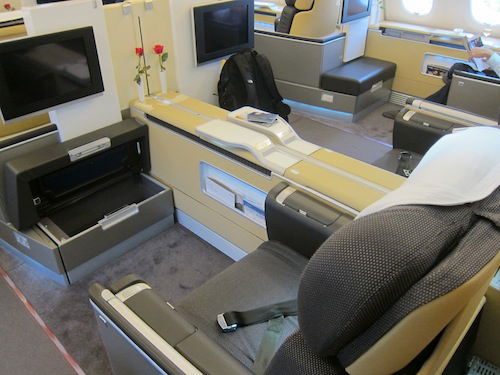 Seats 2D & 2G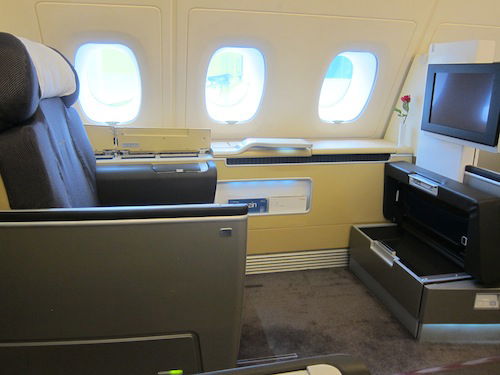 Seat 2A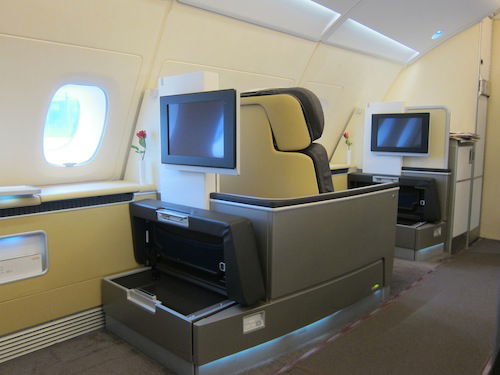 Seats 1A & 2A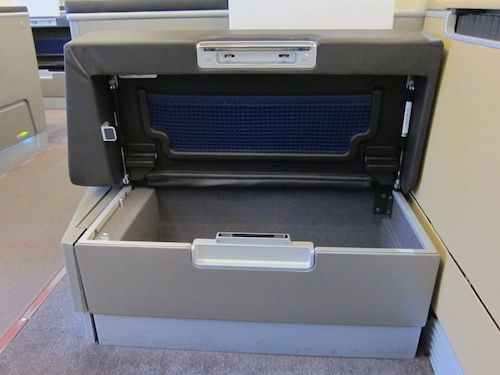 Ottoman/store compartment
Beyond the ottoman, the seat also has a storage compartment in the center section for glasses, headphones, etc.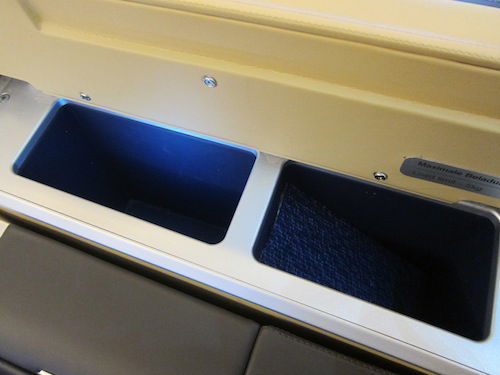 Seat storage
Then towards the back of the seat is a cup holder and a deeper storage compartment.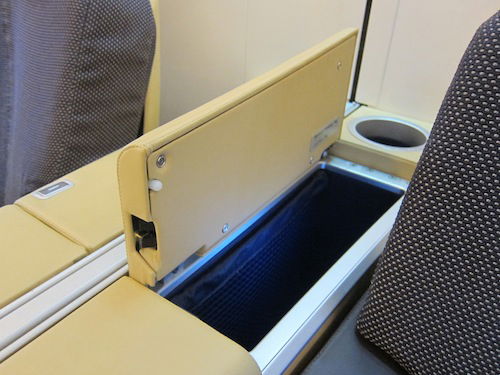 More storage
Here's something truly unique about Lufthansa's first class cabin on the A380. As I said earlier, there are no overhead bins in the first class cabin so that it feels a bit more spacious, which is a trend with many new first class products nowadays. Instead, each first class passengers gets their own private compartment behind the first class cabin which they can lock. Many airlines have small lockers, but these are actually massive and fit not only a 22″ carry-on, but have room for a laptop bag, clothes, etc. Really well done, Lufthansa.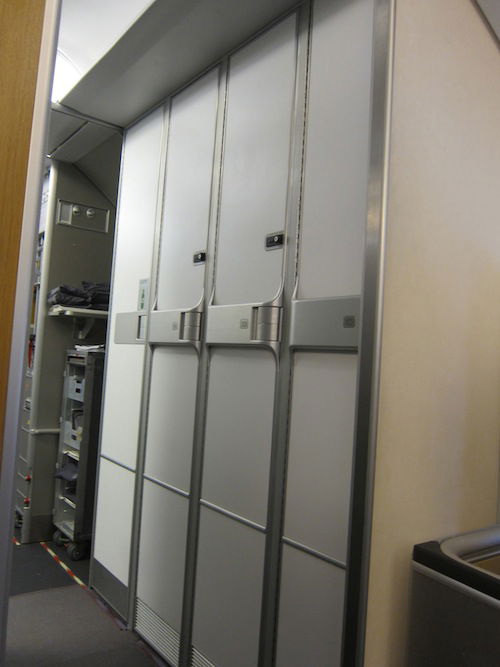 Storage compartments
Now back to the actual flight. As soon as we settled in the awesome first class flight attendant offered us drinks. We both ordered champagne, which was served with Lufthansa's signature macadamia nuts.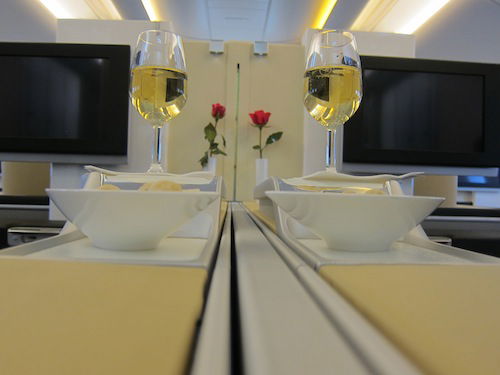 Pre-departure champagne and nuts
We were then offered amenity kits, slippers, and pajamas, which I changed into immediately.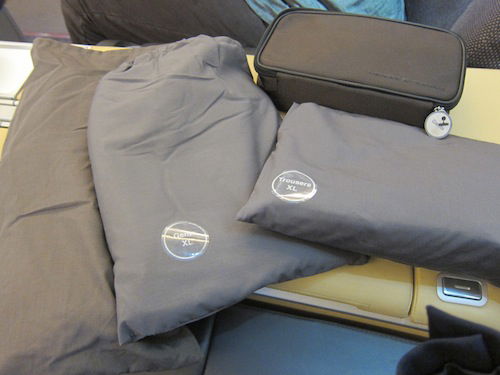 Amenity kit, slippers, and pajamas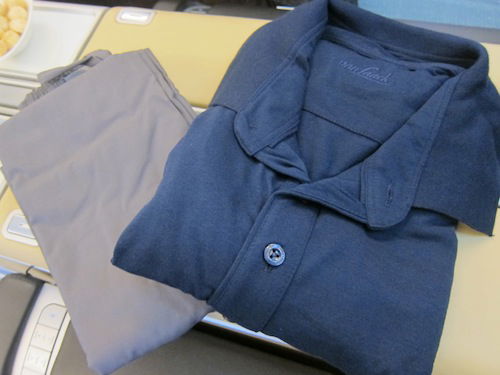 Pajamas
We were also offered Bose noise canceling headphones. This is a massive improvement over Lufthansa's previous cheap headphones (not that you can't use your own, but still).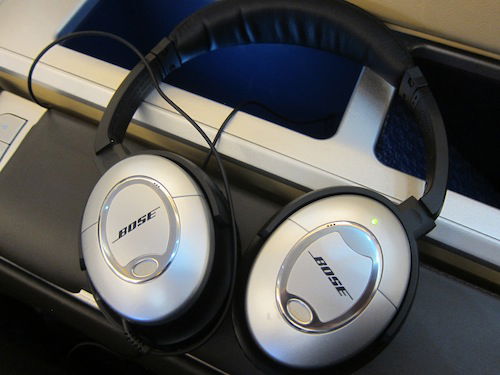 Headphones
As departure time rolled around the captain came on the PA to welcome us aboard and advise us of our flight time of 10hr20min, anticipating an on-time arrival in Tokyo.
As the door closed there were three other passengers in first class — a couple seated in 1D & 1G, and an older guy seated in 2K (he wasn't previously on the seatmap, so I suspect he may have upgraded at the airport). For takeoff I moved over to 2A.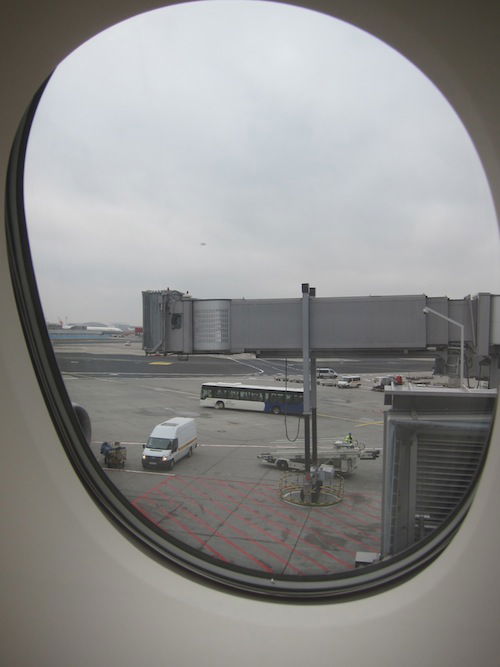 Jet bridge retracted
After a 10 minute taxi we made it to the runway, where we were almost immediately cleared for takeoff. Lufthansa has a tail camera on the Airbus 380, which is the coolest thing ever. The other amazing thing about the Airbus 380 is how quiet it is. Even during take off, you can't really tell the engines are even on.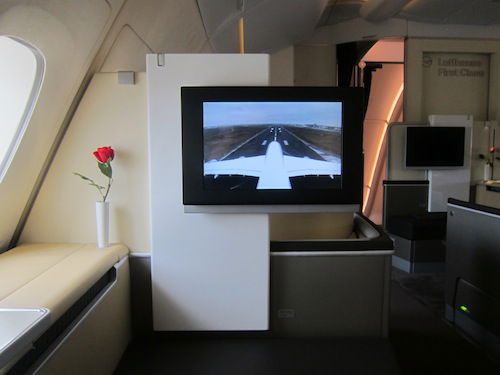 Taking off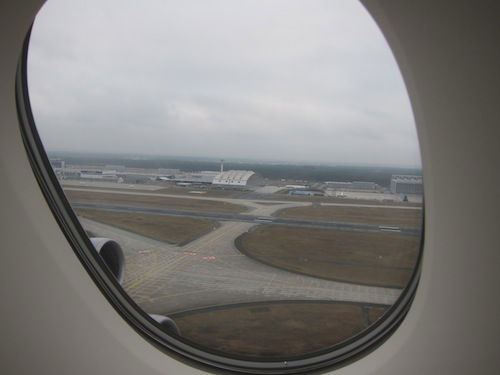 Shortly after takeoff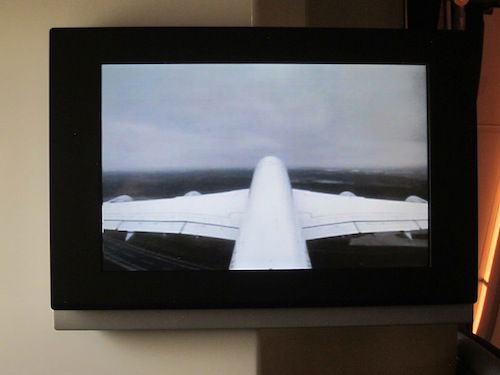 Rainy day
About 10 minutes after takeoff the seatbelt sign was turned off and I headed back to 2D, where I also turned on the tail camera. The weather was starting to look nicer a few miles up!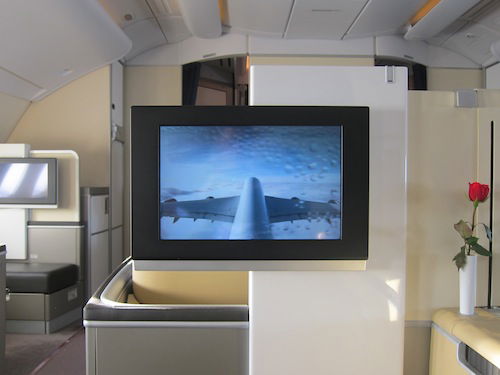 Tail camera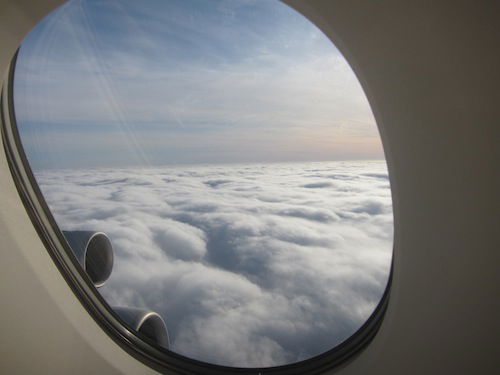 Beautiful day at last
The purser appeared within a few minutes of the seatbelt sign being turned off. As is usually the case on Lufthansa, she was engaging and reminded us that we could eat whenever we wanted to. She also presented us with the menu and briefly explained it, given that there's a Western and Japanese selection. She also emphasized the wine list and encouraged me to do a wine sampling if I wanted to.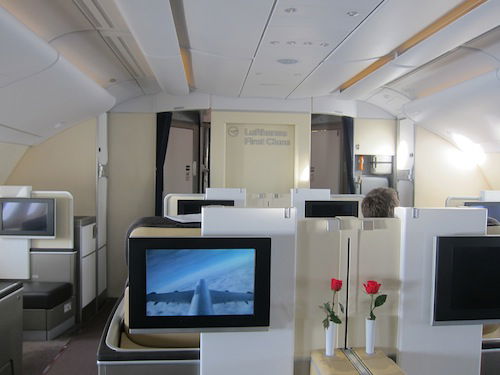 Cabin after takeoff
Our awesome flight attendant appeared within a few minutes to take our lunch orders. Seriously, this guy had first class service down to a science. He was the perfect combination of professional and personable at the same time, which many flight attendants lack. We asked to have lunch in two hours, and he advised us to let him know if we wanted anything in the meantime.
I took the opportunity to explore the cabin, starting with the two (identical) restrooms located in front of the first class cabin. Lufthansa's first class restrooms are massive, with a bench and even a urinal.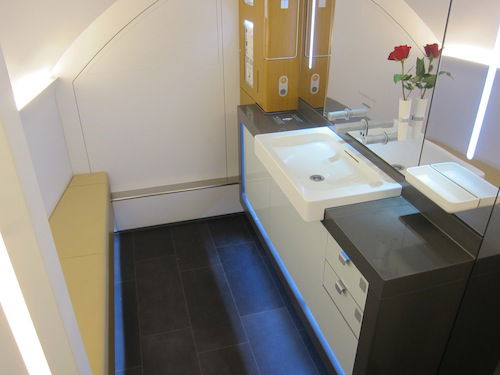 First class bathroom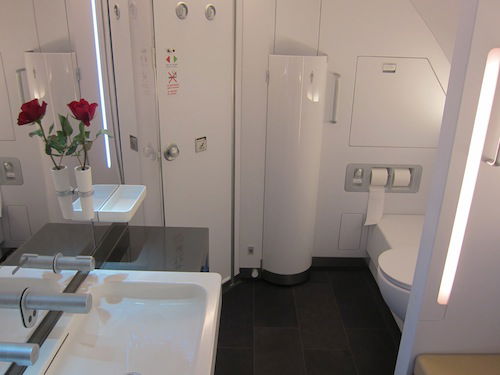 First class bathroom (urinal is what's covered in the distance)
Between the two lavatories are the stairs leading to the lower deck, though they're blocked off during flight (apparently to prevent drunk people from falling).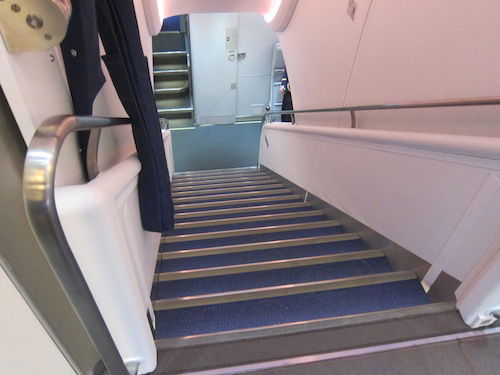 Stairs
I then headed back to business class, which was empty as I've ever seen before. There are 98 seats, though no more than a dozen were occupied. While the cabin was huge and featured Lufthansa's "old" business class product, I'd still fly it in a heartbeat given how much I love the Airbus 380.
The funny thing is that the cabin was still fully staffed, so there were about six or seven flight attendants taking care of 12 or so passengers. The crew to passenger ratio was higher than in first class!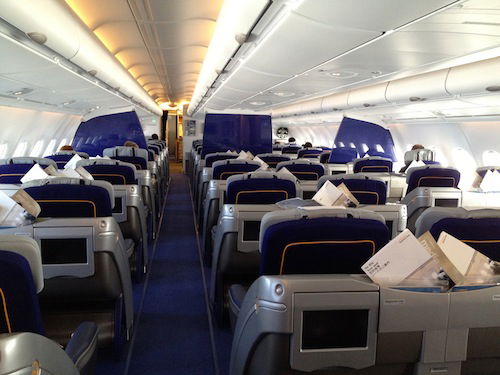 Business class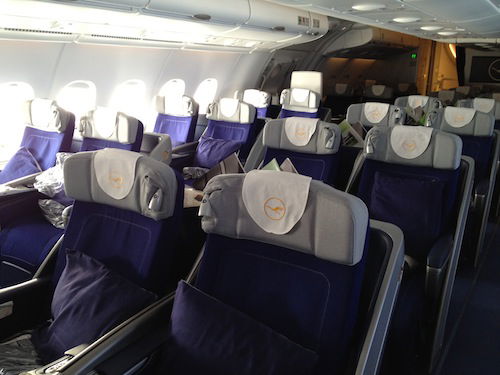 Yes, this is how empty the cabin was in-flight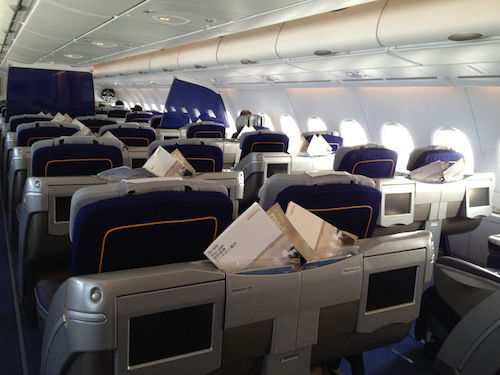 Empty cabin!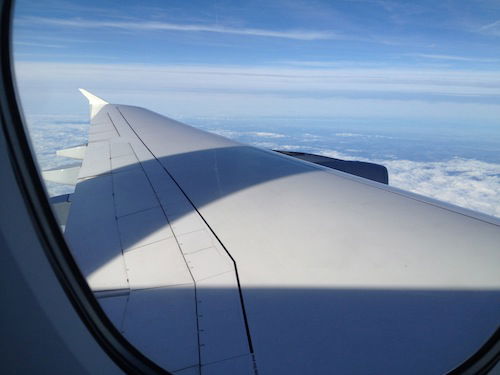 Wing view from business class
When I got back to my seat I watched a couple of sitcoms on the in-flight entertainment, and before I knew it our flight attendant approached with hot towels in preparation for lunch.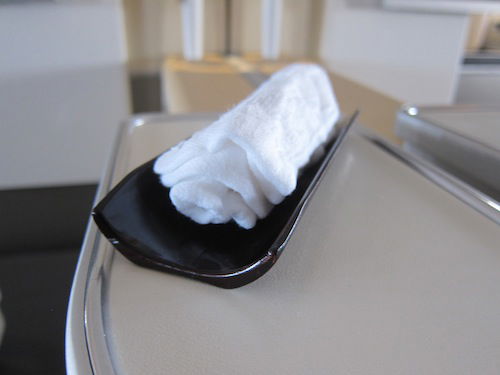 Hot towel
The lunch menu read as follows: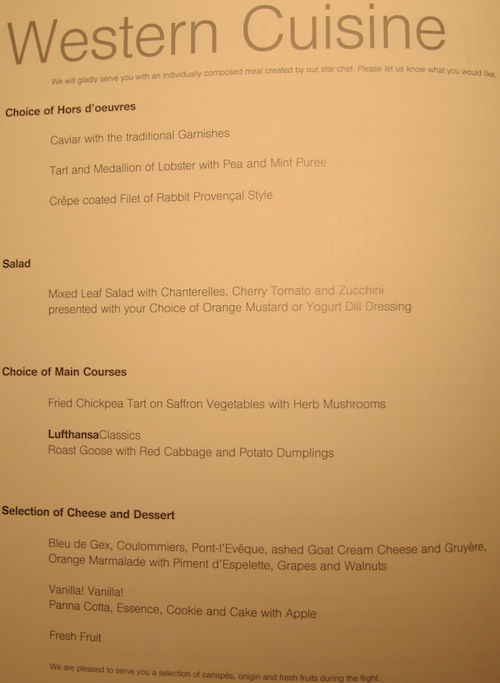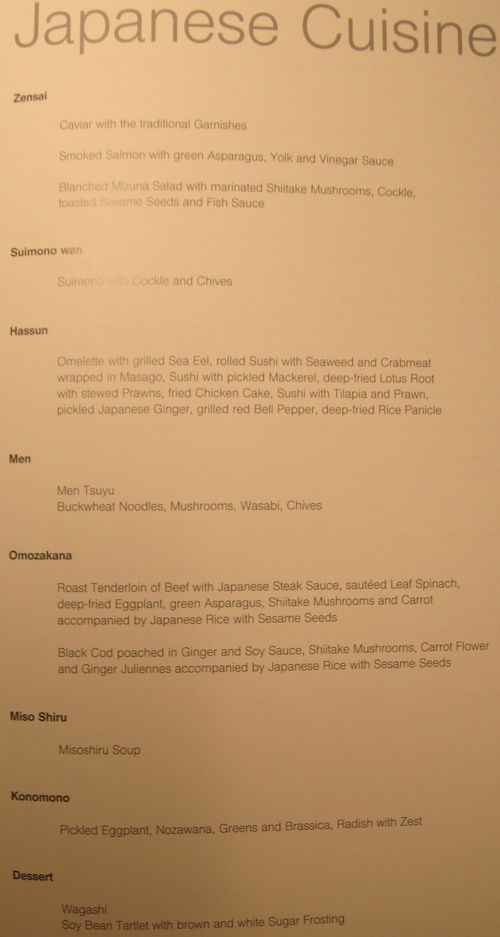 As tempting as the "cockle" and "men" sounded on the Japanese menu, I stuck with the western cuisine (sorry, I couldn't resist).
Service started with an amuse bouche. As usual on Lufthansa, I'm fairly certain they do everything in their power to make it as disgusting as possible (don't hate me, it's just my taste — or lack thereof).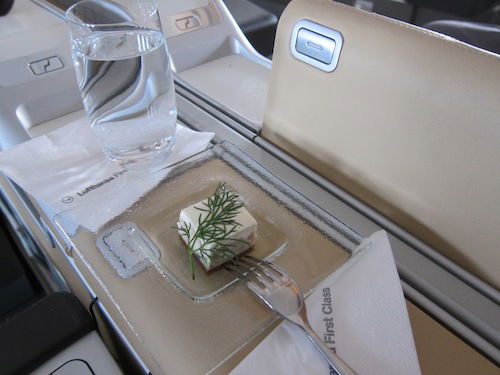 Amuse bouche
After my table was set the appetizer cart was brought through the aisle, and I ordered some caviar.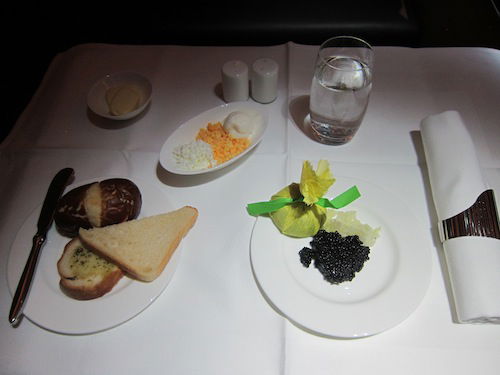 Starter
I also ordered the salad, which was quite delicious and served with an herb vinaigrette. Our flight attendant was sure to keep me well stocked on pretzel bread throughout the meal.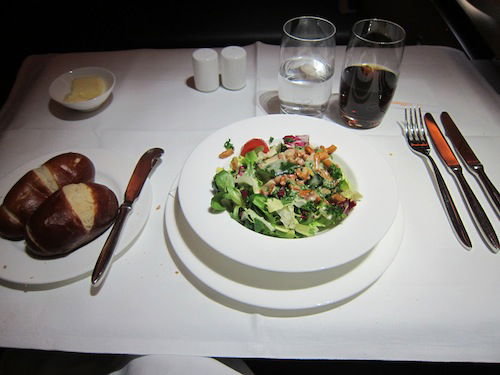 Salad
For the main course I actually ordered the tenderloin of beef off the Japanese menu. Since they have a Japanese menu on flights to Japan, they only have two western entrees, and neither interested me. So while I didn't think the beef was especially good, it was certainly edible.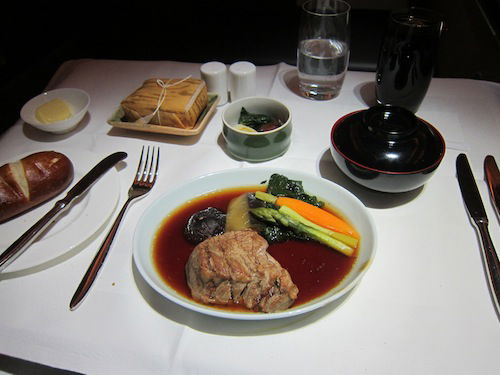 Tenderloin of beef
The main course was served with rice and miso soup.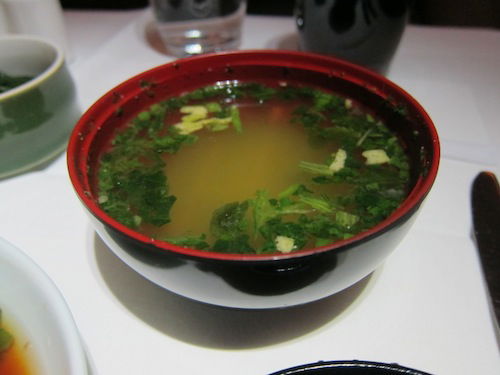 Miso soup
My friend ordered the roast goose off the Western menu, which he enjoyed.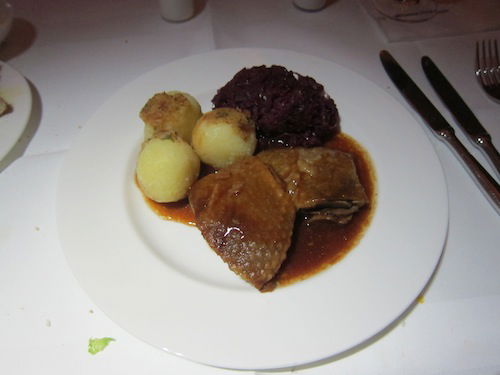 Roast goose
For dessert I had the "Vanilla! Vanilla!" option. My only question is who at Lufthansa is responsible for naming things on menus?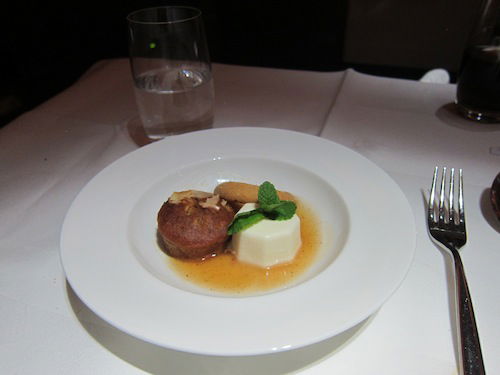 Dessert
I also had a fruit plate, which was tasty.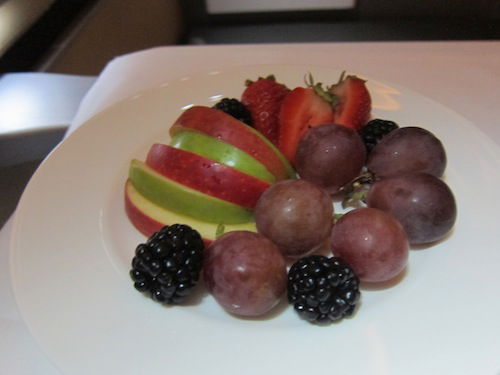 Fruit plate
For dessert I had a cappuccino, which was served with some pralines.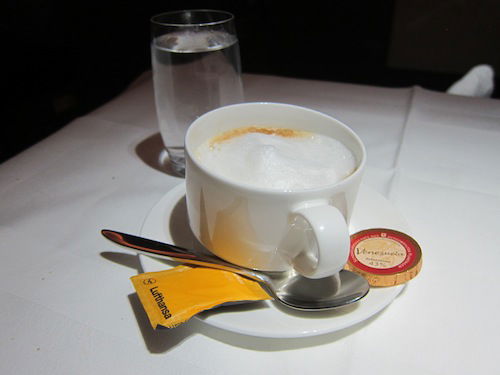 Cappuccino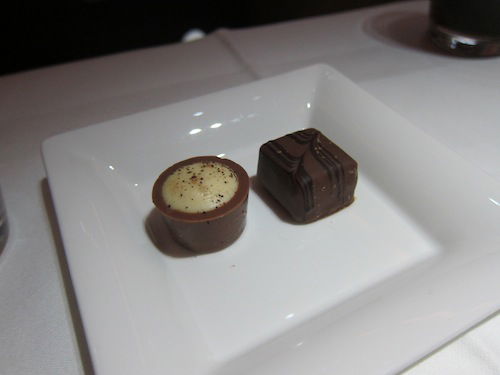 Pralines
After lunch, about four hours into the flight, the flight attendant offered turndown service, which I gladly accepted given that I was getting tired and I wanted to be fairly well rested for our morning arrival in Tokyo.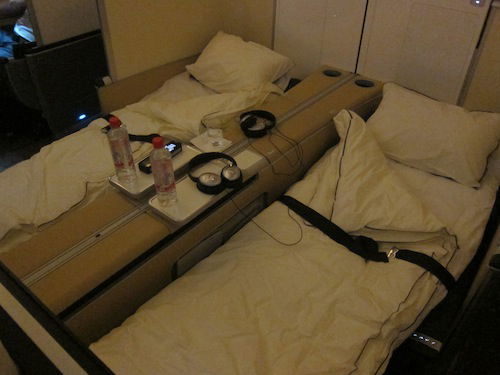 Turndown service
The mattress pad and duvet were among the best I've experienced, a huge improvement over the product they have on their 747 and Airbus 330/340 aircraft.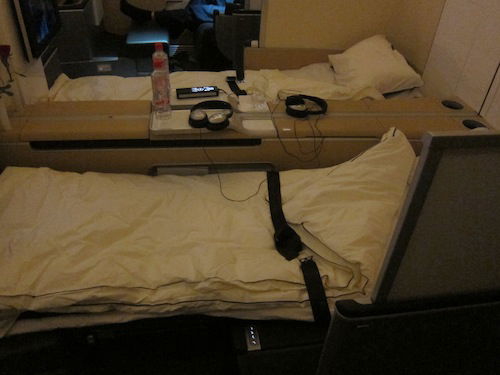 Turndown service
I wasn't quite as tried as I thought I was, so I watched "Friends With Benefits," which was pretty funny.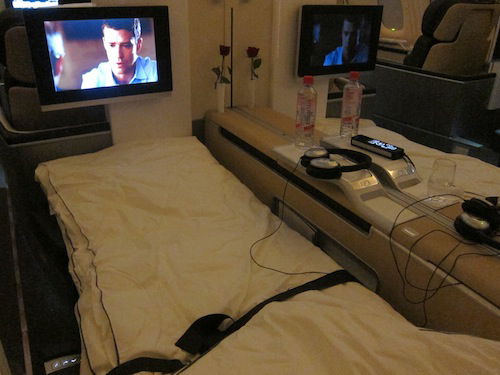 Movie time!
I ended up getting a couple of hours of sleep, and woke up about 90 minutes out of Tokyo, at which point breakfast service began, starting with the menu and hot towels being distributed.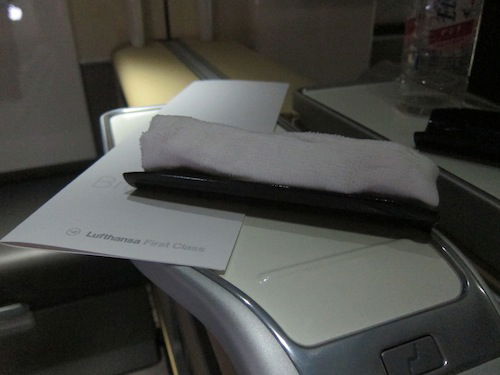 Menu and hot towel
The breakfast menu read as follows: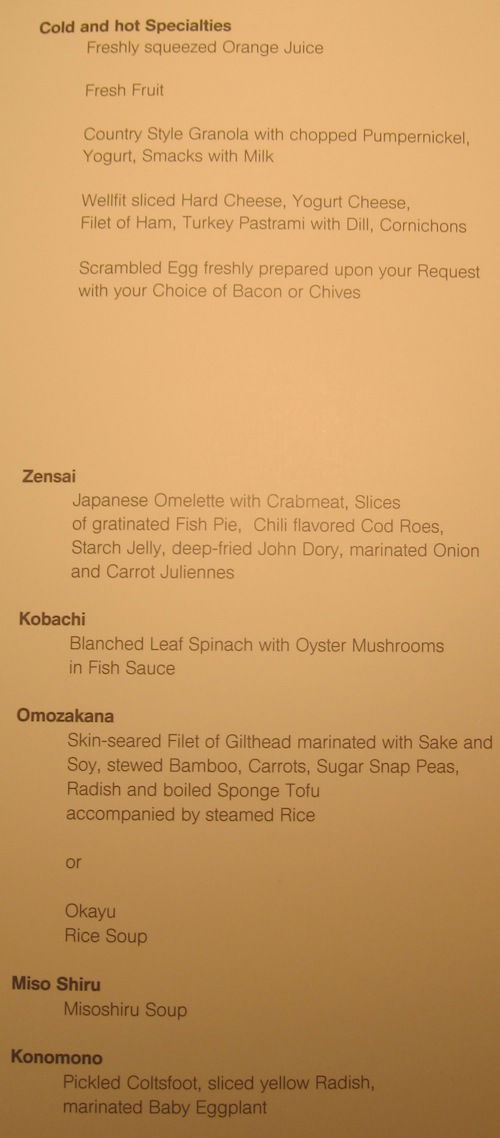 For breakfast I had some fresh squeezed orange juice, muesli and a croissant with Nutella to start.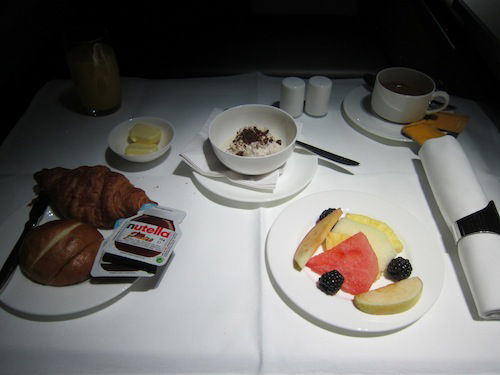 Breakfast
Then as the main I had eggs with chives, which was delicious. If only more airlines freshly prepare egg dishes aboard…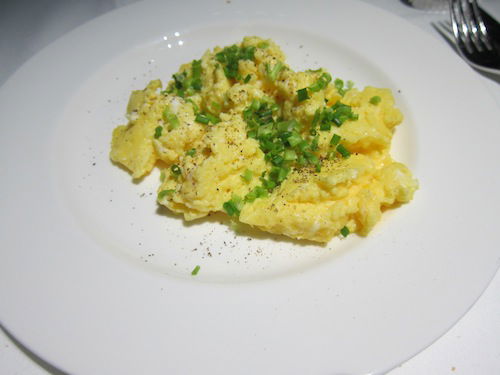 Scrambled eggs
At this point the sun was slowly starting to rise, and before we knew it the captain was on the PA to advise us that we were 30 minutes out of Tokyo and that the seatbelt sign would be turned on soon. At the same time the purser walked around the cabin once again to bid all the first class passengers farewell.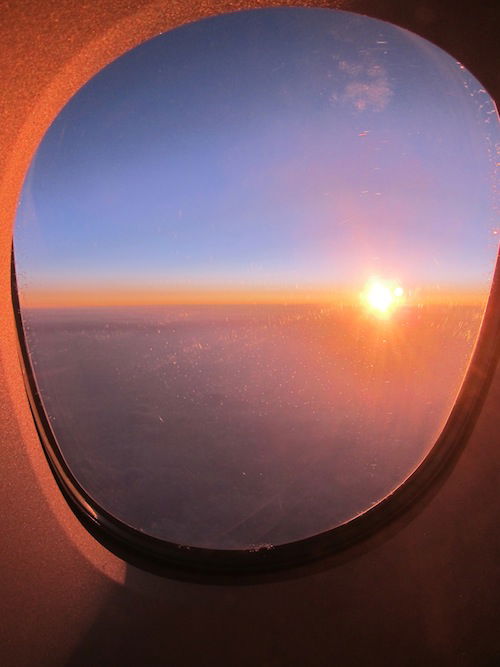 Sunrise
I changed out of my pajamas and stored my carry-ons in the locker, and once again took the window seat for landing, accompanied by the tail camera.
As usual, the tail camera views were awesome. We had a smooth touch down and about five minute taxi to the gate, where we said goodbye to the crew.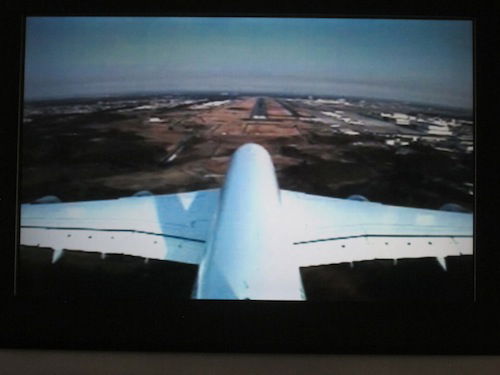 Tail camera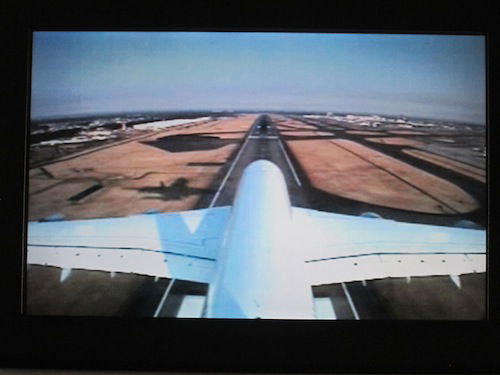 Tail camera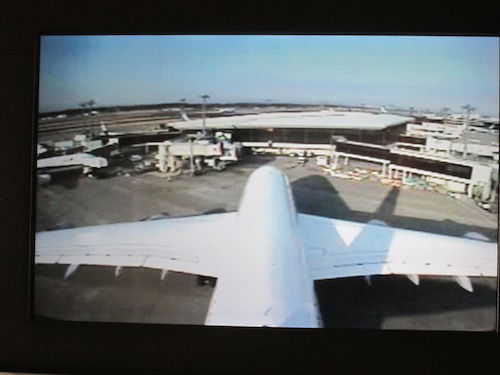 Tail camera
It took the ground crew a bit of time to get the upper deck jet bridge connected, though once it was we began our 15 minute walk to immigration.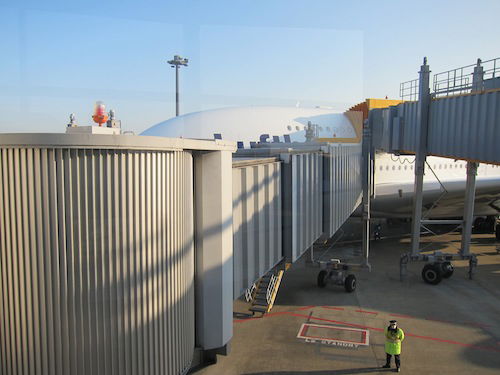 Our plane upon arrival
The wait at immigration was very short, and we found ourselves in the arrivals hall in no time. We went to the "Friendly Airport Limousine" counter, where we purchased tickets to the Park Hyatt Tokyo. Unfortunately the next bus was only in an hour, though we had no problem passing that time walking around Narita Airport.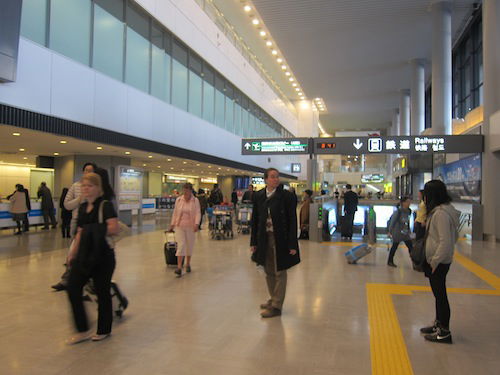 Arrivals hall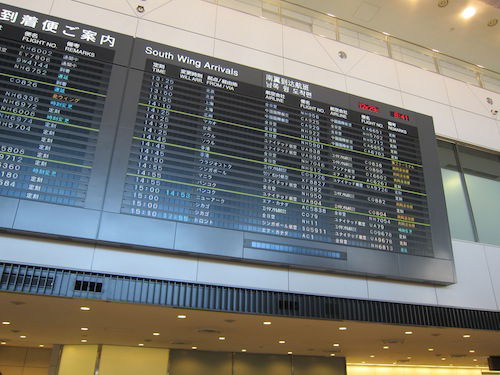 Arrivals board
As usual Lufthansa first class was spectacular. And the fact that this flight was on the Airbus 380 made it even more spectacularerer. While Lufthansa doesn't have the most cutting edge hard product, the cabin was as elegant as I've ever seen. As usual (always?), service was phenomenal. The best part was that we'd have the same fantastic crew returning two days later back to Frankfurt, so we had that to look forward to. But in the meantime it was off to the not-so-shabby Park Hyatt…