---
Lufthansa 782
Frankfurt (FRA) – Bangkok (BKK)
Wednesday, July 27
Depart: 10:45PM
Arrive: 2:10PM (+1 day)
Duration: 10hr25min
Aircraft: Boeing 747
Seat: 82C (First Class)
On the 747 Lufthansa has first class on the upper deck. They used to have 16 first class seats on the upper deck in a 2-2 configuration, but have recently started installing a new product which has only eight seats. In the meantime they're literally blocking every other seat in first class, meaning they're only selling eight first class seats. It's some of the most expensive seat blocking in the world, though it sure as hell makes for a nice flight.
Tonight we were flying the old configuration. While the hard product is far from modern, there's something classic about it that I love.
As soon as we got to the upper deck we were welcomed aboard by two smiling German flight attendants, addressing me in German and my friend in English.
We had seats 82C and 82H assigned, which are the two aisle seats in the second row of the upper deck. Since the window seats are blocked, we literally had the entire row of four seats to ourselves.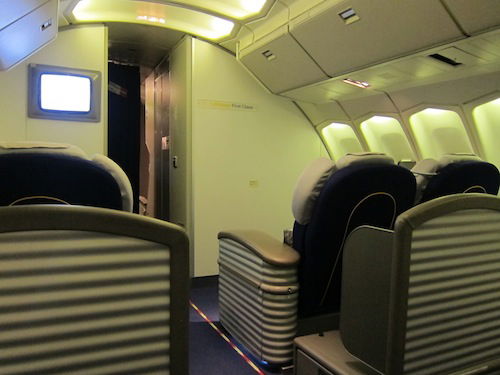 View from row 82
Lufthansa's idea with the seat blocking is that one seat acts as a bed while the other seat acts as a seat for lounging/dining, though when traveling with someone else it's quite nice to be able to sit next to one another and talk.
As soon as we settled in the super-cheery flight attendants introduced themselves and offered us pre-departure beverages of choice. I just went with a glass of water, which was served with macadamia nuts.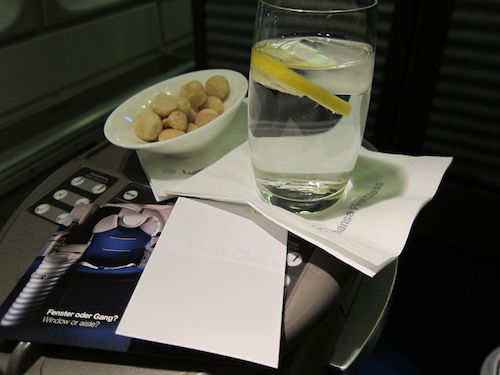 Pre-departure beverage
Shortly thereafter we were offered pajamas and amenity kits. I love the fact that Lufthansa switches up their pajamas every few months, making it easy to build up a diverse collection. In tonight's case the shirt was white while the pants were blue.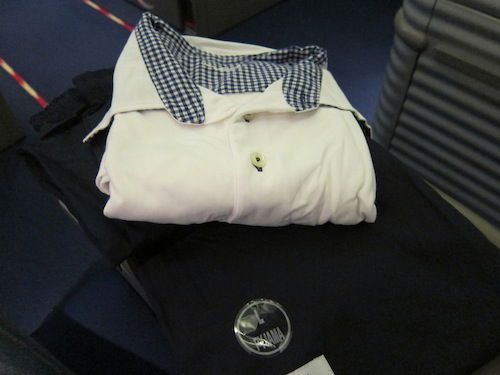 Pajamas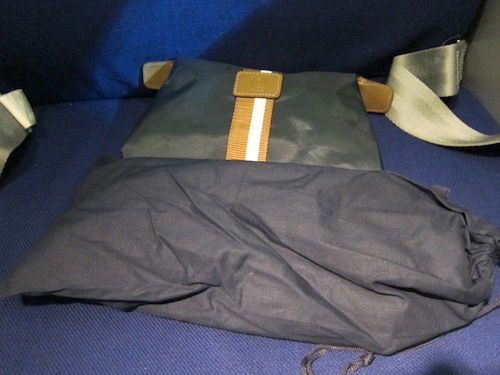 Amenity kit and slippers
I immediately changed into the pajamas given the late night departure.
The flight attendant also presented us with a card describing Lufthansa's first class seat blocking, asking us how we wanted our seats set up. She suggested we use the seats on the left for lounging, and she could already turn the seats on the right into beds, which she did while we were still on the ground.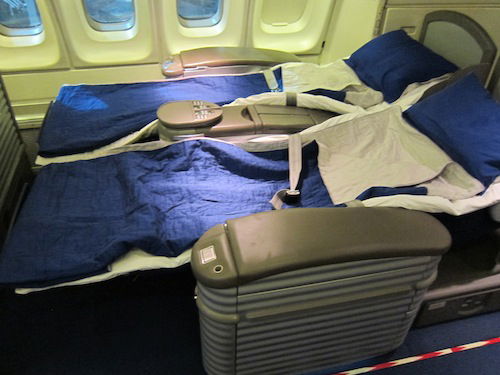 Seats in bed mode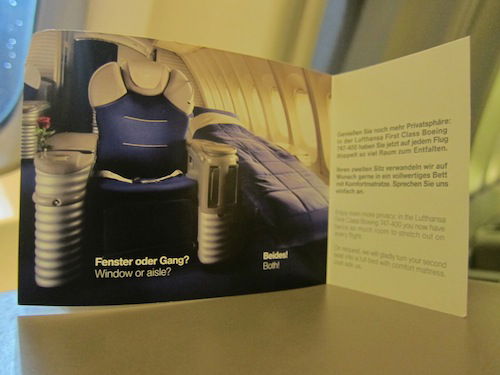 Card describing seat blocking
As departure time rolled around the captain announced a slight delay due to weather. Because of thunderstorms earlier in the evening they had to stop loading bags, so they were just finishing that up. He did however say that the flight time would only be 10 hours, meaning we should arrive on schedule.
We pushed back within about 15 minutes of our scheduled departure time with a full first class cabin and had a fairly quick taxi to the runway as the safety video played on the projector.
We had a long takeoff roll and hit quite a bit of chop on the climb out.
About 15 minutes after takeoff the seatbelt sign was turned off and the flight attendants sprung into action.
As should be the case with any quality airline, the purser made the rounds in first class to introduce herself and offer us dinner menus.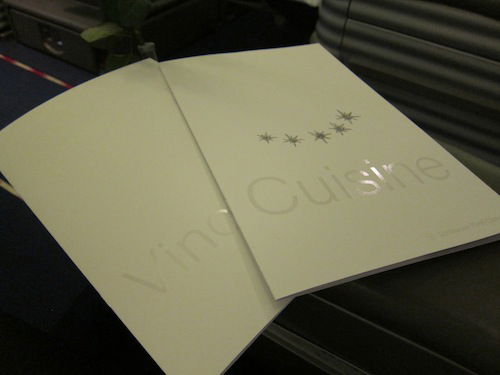 Menus
The menu read as follows: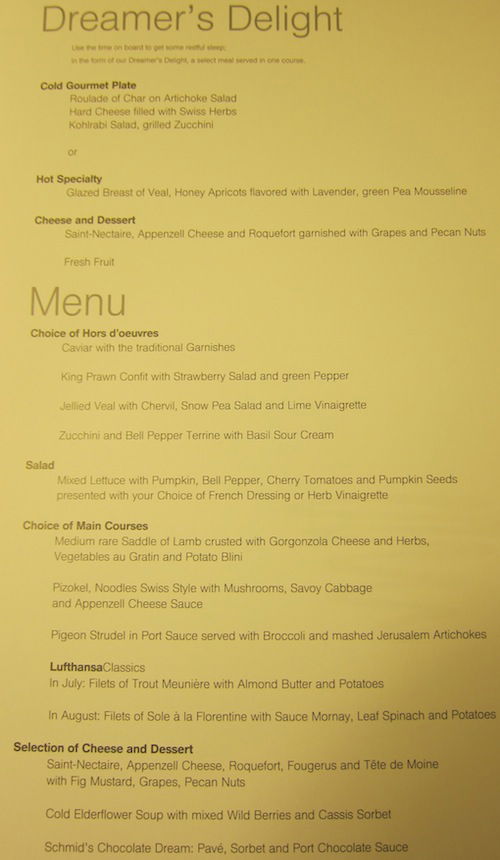 To start the service the flight attendants offered each of us a rose, followed by a hot towel and amuse bouche. Lufthansa's first class towels have by far the nicest aroma of towels offered by any airline.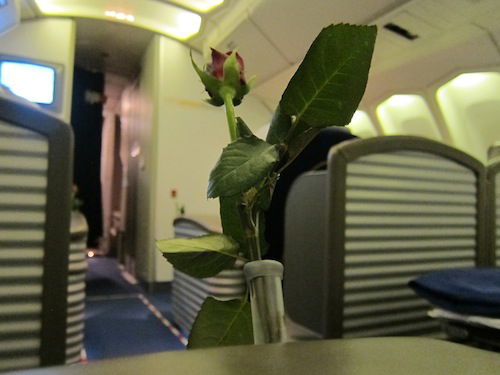 Rose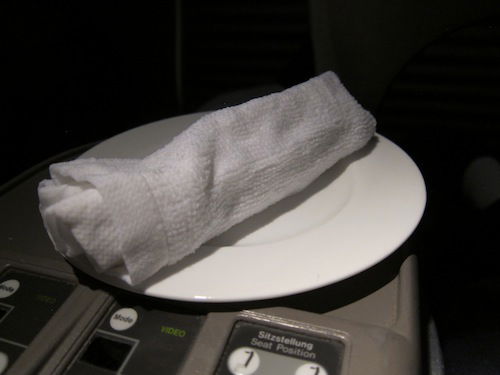 Hot towel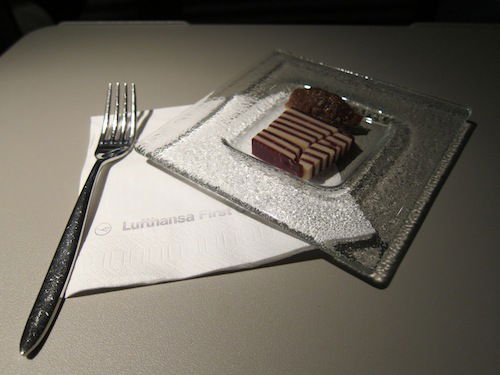 Amuse bouche
Now, as much as I love Lufthansa, I'm not a huge fan of their meal service. They're quite possibly my favorite airline in the sky in spite of their meal service, actually. Perhaps I'm not sophisticated enough, or perhaps this food doesn't translate well at 35,000, though the taste just isn't right sometimes.
The amuse bouche wasn't especially tasty (or aesthetically appealing, for that matter).
As our table was set up we were offered bread.
After that the appetizer cart was rolled around, and Lufthansa usually lets you choose the entire "tray" of them. The caviar was great, though the rest of it just wasn't very well executed.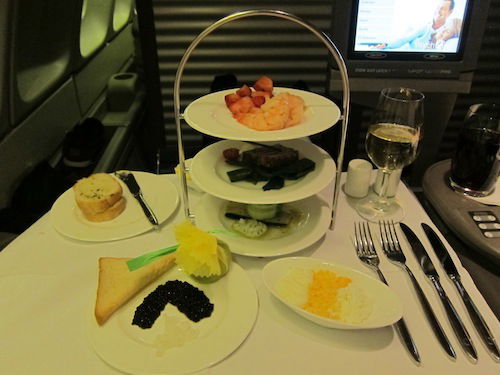 Appetizer setup
The next course was a salad, which you really can't screw up. It was very good.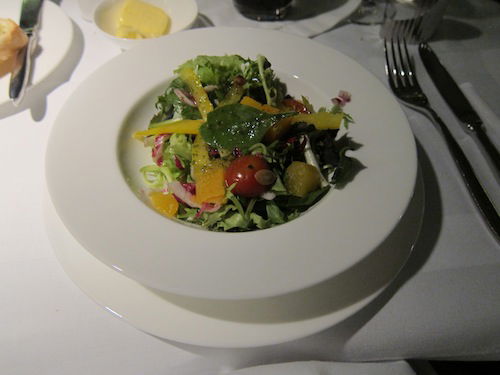 Salad
Then for the main course I had a Swiss noodle dish, which was phenomenal.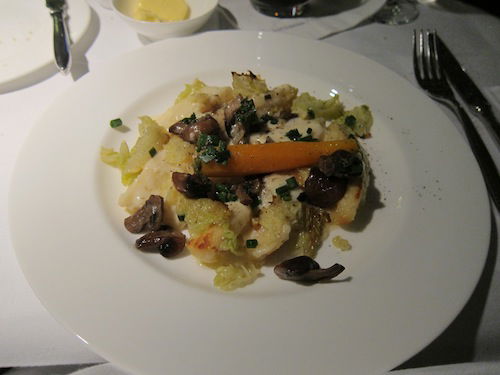 Main course
My friend had the lamb, which he really enjoyed.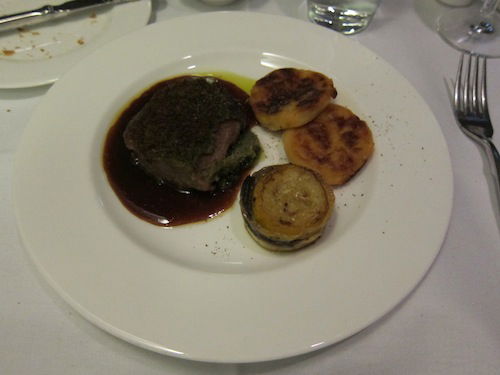 Lamb
For dessert I went with the "chocolate dream" dessert. It was good, though no wet dream.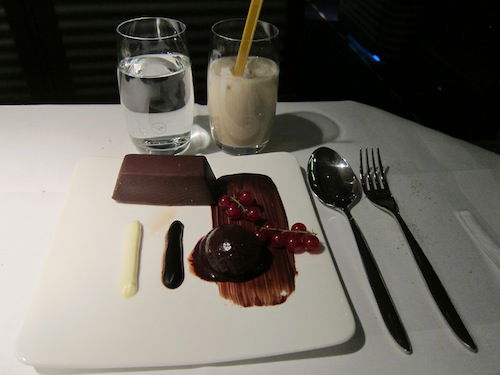 Chocolate dream
I ordered a White Russian with dessert.
At the flight attendants' insistence I also went with the cheese plate, and asked for a small sample of each cheese. I was quite full so barely touched it.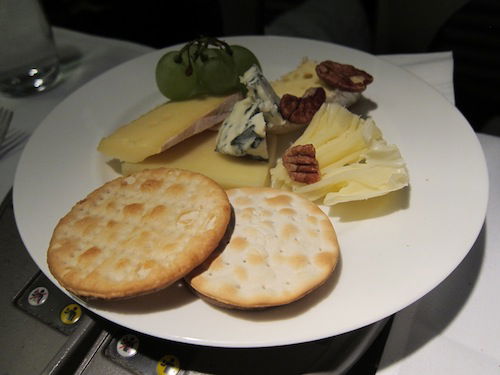 Cheese plate
Then to finish off the meal each passenger was offered three chocolate "tablets." I also ordered a cup of coffee.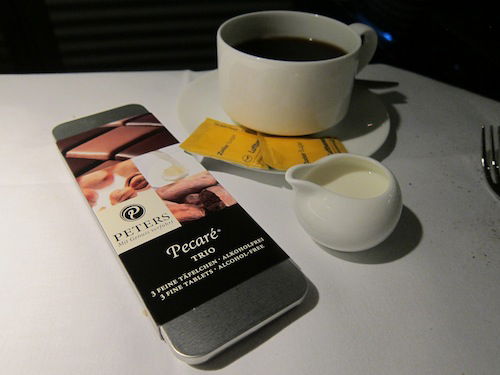 Coffee and chocolate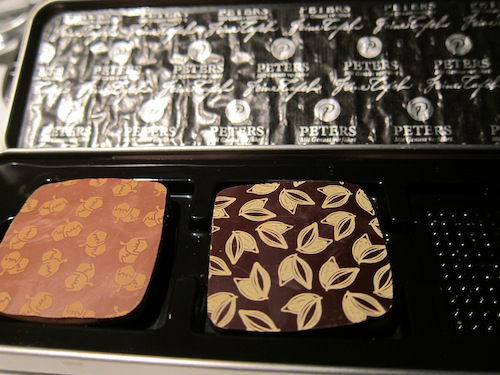 Chocolate
While the food was only okay, it was one of the most enjoyable meals I've had in the sky. Not only did I have good company, but the flight attendants also seemed genuinely happy to be there, and really couldn't have been more professional. After a rather disappointing flight on Singapore Airlines I realized that service on western airlines can be just as good, if not better, than service on Asian airlines.
At this point we were offered individual bottles of water.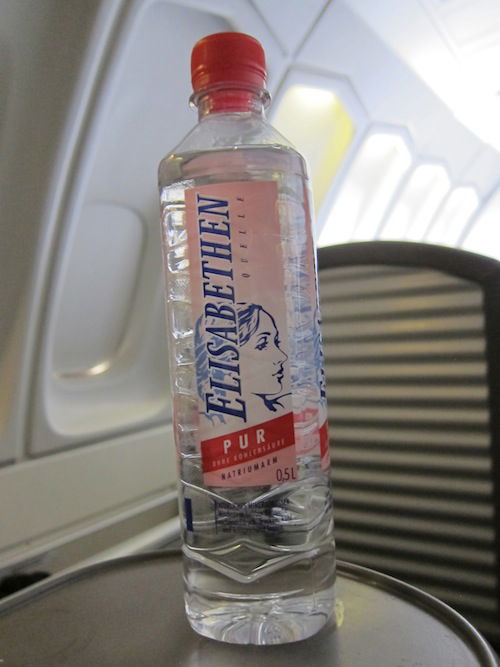 Water
My friend, being the lightweight he is, went straight to sleep, though I stayed up. I browsed the entertainment selection though it wasn't especially good, so I ended up just getting some work done on my laptop instead.
After a couple of hours I did go to sleep, and slept a solid three hours or so before being woken up about 90 minutes out of Bangkok.
The crew was once again smiling and started the service by offering us scented hot towels. Shortly thereafter we were presented with the breakfast menu and also landing card for Thailand.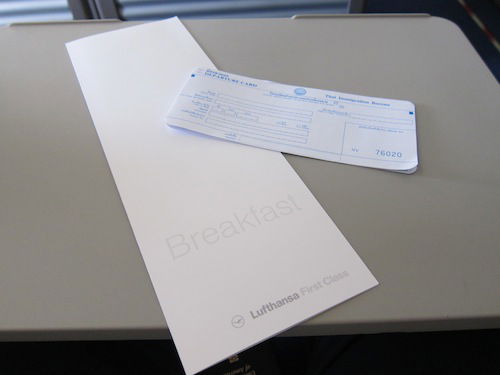 Breakfast menu and landing card
The breakfast menu read as follows: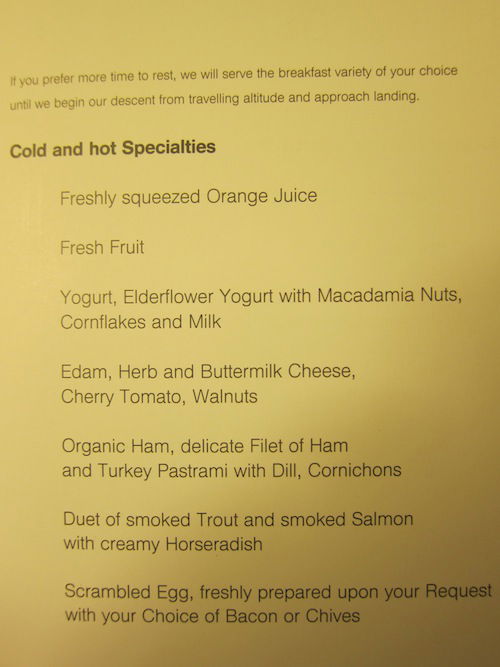 Service started with a glass of orange juice. Lufthansa also has excellent freshly squeezed orange juice, of which I had a couple of glasses.

Orange juice
For the breakfast I went with the fruit plate and muesli to start, along with a couple of things from the breadbasket (served with Nutella, of course!).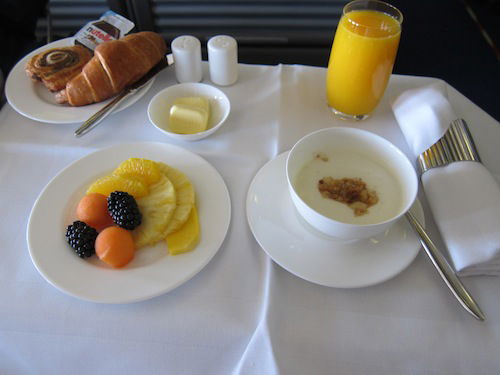 Breakfast
Then for the main course I went with scrambled eggs, which were prepared onboard.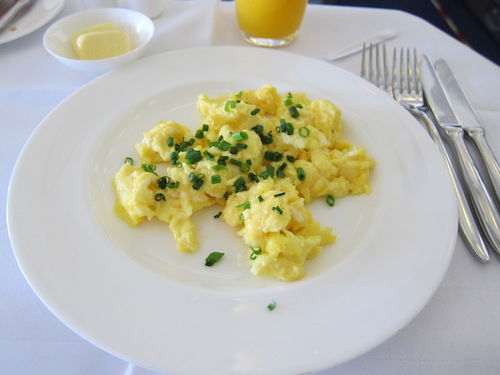 Scrambled eggs
By the time the meal service finished up we were 30 minutes out of Bangkok and I changed out of my pajamas and restowed everything I had taken out during the flight.
The purser came by once again to thank us for flying Lufthansa, and this time around we talked for about 15 minutes about the industry in general. I appreciated her honesty since she shared both the good and the bad in the industry, though despite that it was clear she still loved her job.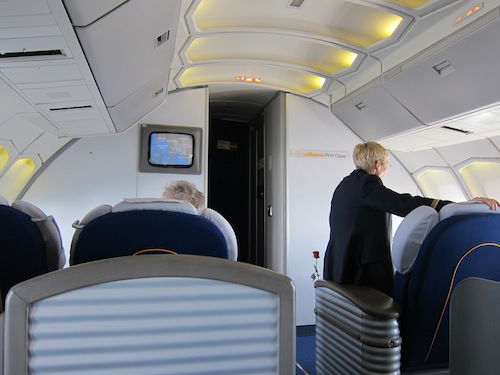 Purser saying goodbye to passengers
We picked up some chop as we descended into Bangkok, and as we descended lower it became clear that it was a fairly nice day.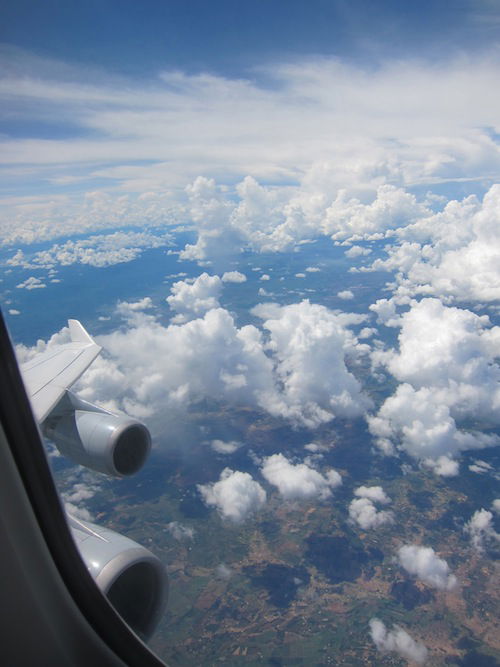 View as we began our descent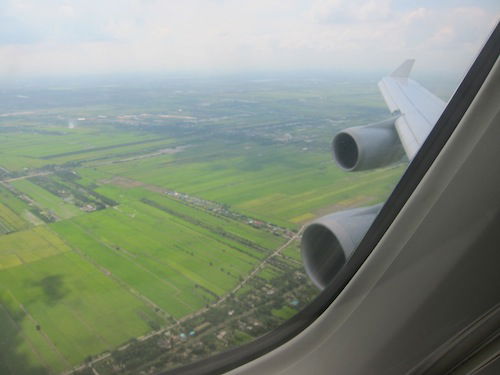 Final approach
After landing we had a 15 minute taxi to the gate past dozens of Thai aircraft, where we eventually parked next to a Swiss and Austrian plane.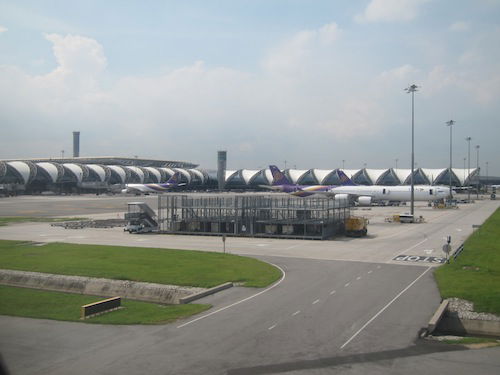 Taxiing to our gate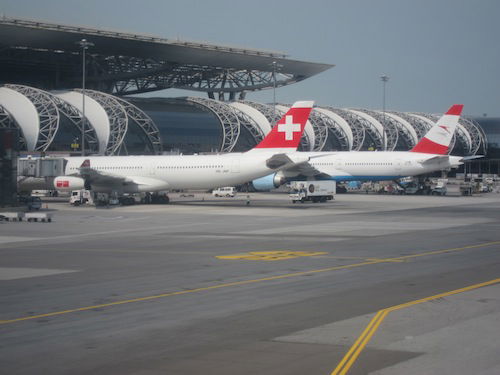 European neighbors

Upon deplaning we proceeded for immigration where there was no queue thanks to the premium line we were able to use. We then waited at baggage claim for about 15 minutes before our bags arrived.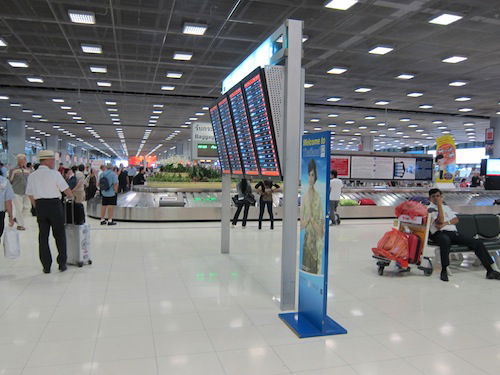 Baggage claim
Once we had our bags we hopped in a cab to Le Meridien Bangkok, where we would be spending the night before continuing to Phuket.
On the whole Lufthansa delivered once again. Perhaps I'm biased because I'm German, but I just love Lufthansa. There's something incredibly classy about them that I can't credit to any particular aspect of the experience, but rather the experience as a whole. I think they might just be my favorite airline…