Lufthansa 418
Frankfurt (FRA) – Washington Dulles (IAD)
Sunday, August 5
Depart: 1:00PM
Arrive: 3:45PM
Duration: 8hr45min
Aircraft: Boeing 747-8
Seat: 1A (First Class)
I can't even put into words how excited I was to fly the Lufthansa 747-8. Not only was it a new aircraft for me, but it's also the first time I've flown Lufthansa first class in the nose of a 747. The funny thing is that on a 747 I almost always associate first class with being in the nose of the aircraft, except for Lufthansa, as they have it on the upper deck on the 747-400.
Once aboard the friendly purser escorted us to our seats right in the nose. The first class cabin on this plane is stunning, possibly the most elegant of any airline. I'm sure part of it is that the plane is still brand new so it has the new plane smell and not many scratches, but there's just something so elegant yet simplistic about the design of Lufthansa's first class cabins.
There are eight first class seats in the nose of the 747 — three on each side by the windows, and two center seats. This is an extremely spacious layout, given that other airlines cram up to 14 first class seats in the nose.
First class on the 747-8 is very similar to first class on Lufthansa's Airbus 380s, and quite different from first class on Lufthansa's 747-400s, which feature both a seat and a separate bed.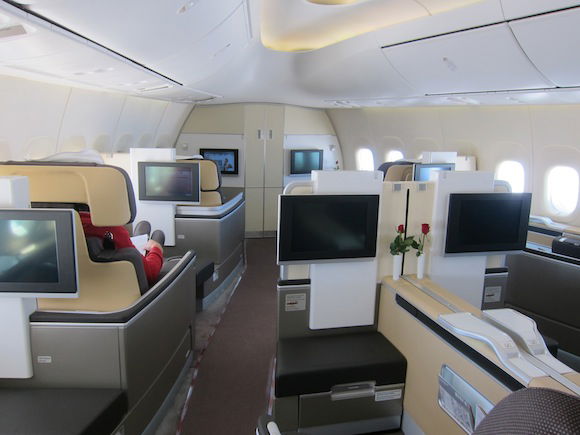 First class cabin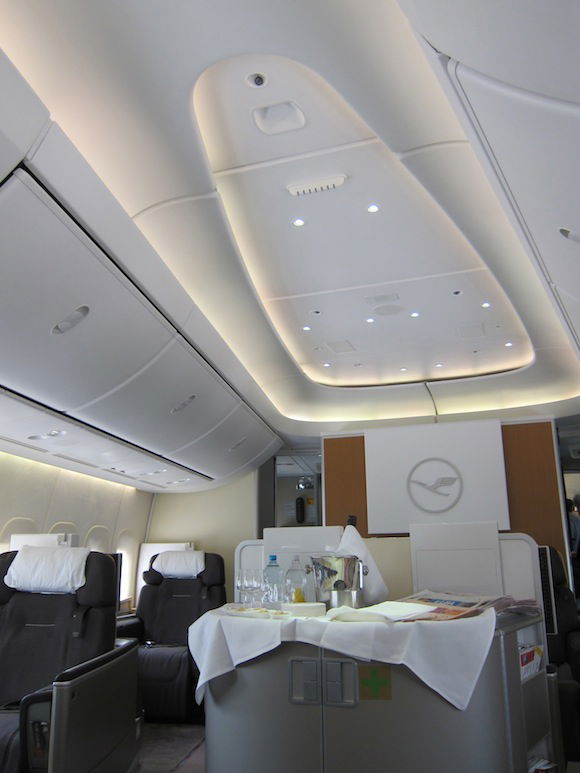 First class cabin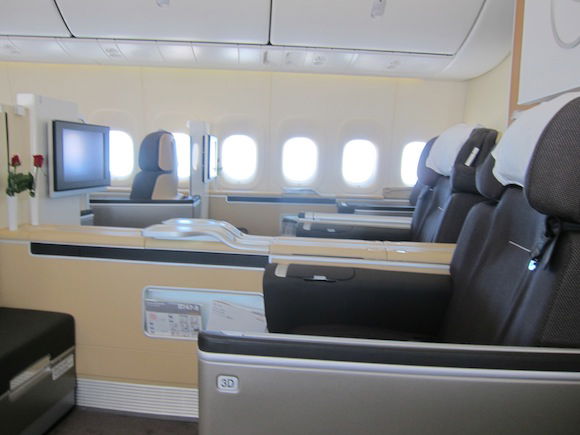 First class cabin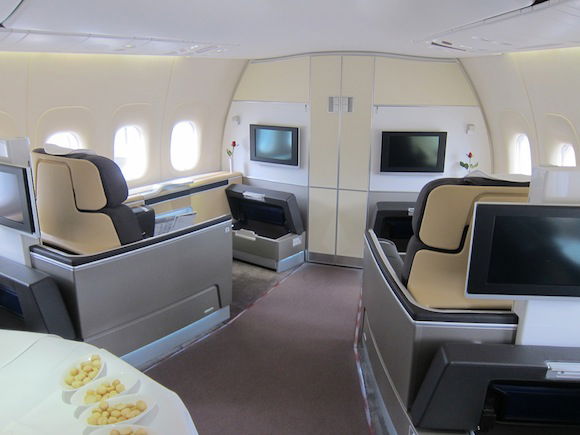 First class cabin
I was seated in 1A, which was surprisingly far from seat 1K, so was plenty private even if I were traveling alone.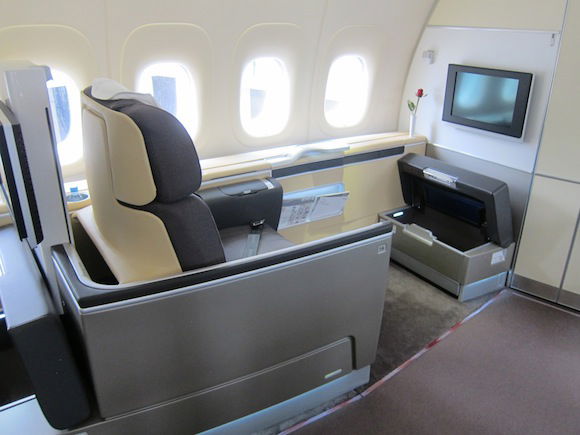 My seat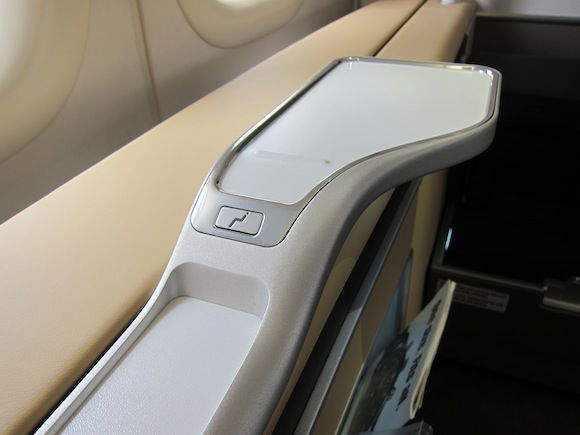 Seat console
The entertainment controls were in the left armrest and seat controls were in the right armrest.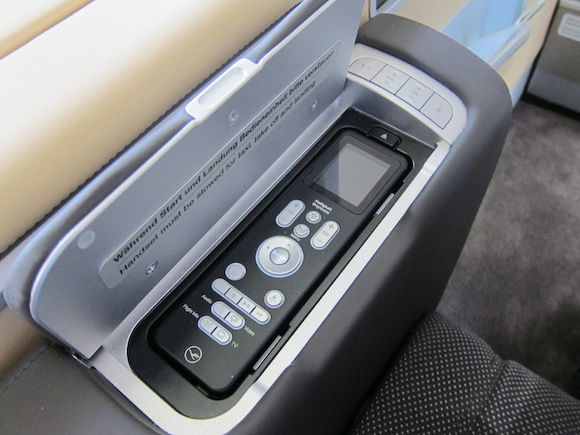 Entertainment controls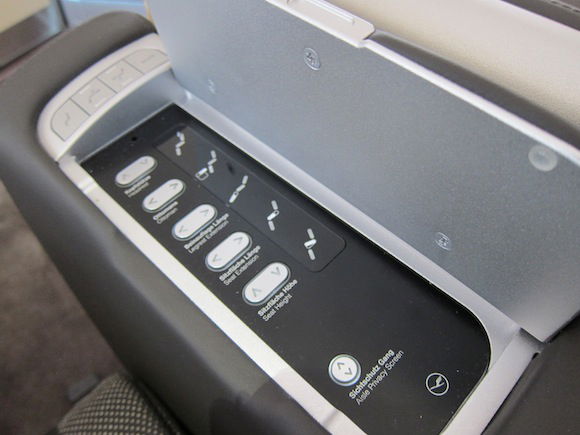 Seat controls
Much like on the Airbus 380 the window shades are automated, so you push the control button once to lower the blinds and twice to make them go completely dark.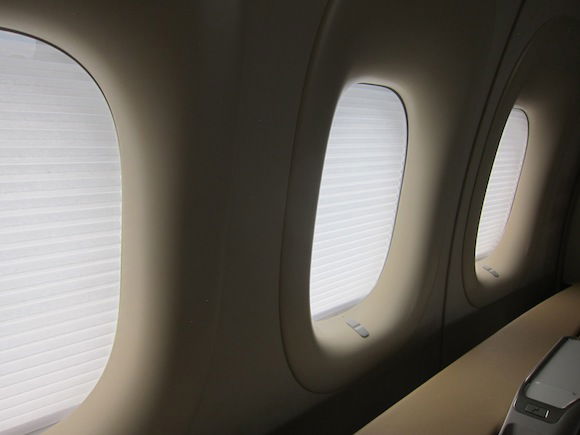 Window shades
It's worth noting that much like on the Airbus 380, Lufthansa has lockers for first class passengers on the 747-8, which is pretty awesome. They were plenty large to fit a standard 22″ carry-on. I was surprised there was even a need for the lockers, since there are overhead bins in first class, and they're actually quite spacious.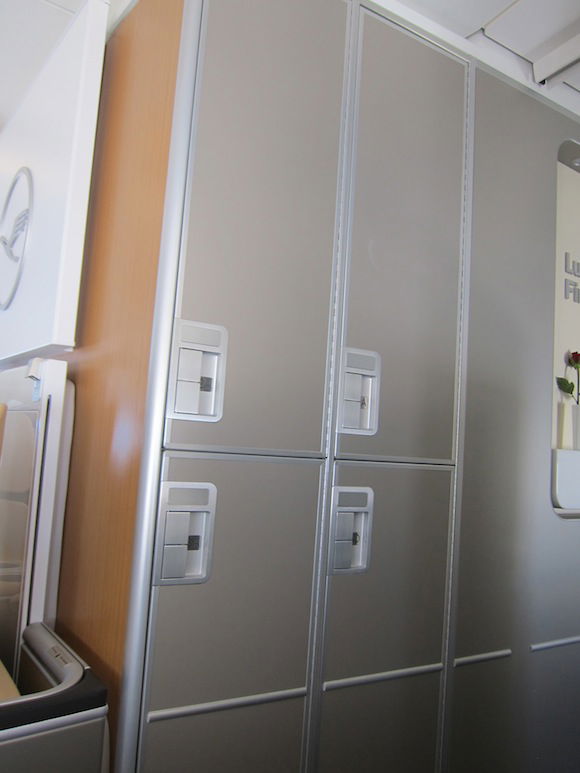 Lockers
Within five minutes of settling in one of the very friendly first class flight attendants offered me a pre-departure beverage. I ordered champagne, which was served with macadamia nuts.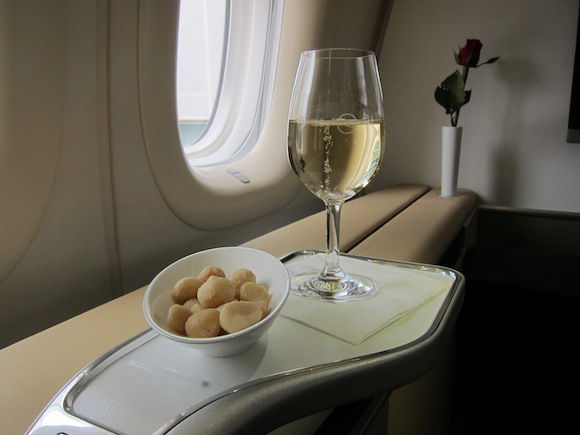 Pre-departure beverage
I was also offered pajamas, slippers, and an amenity kit. Along with Swiss, Lufthansa has my favorite pajamas of any airline, so kudos to them for that.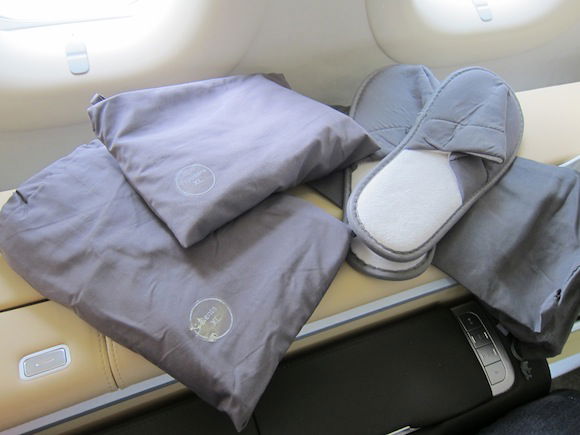 Pajamas and slippers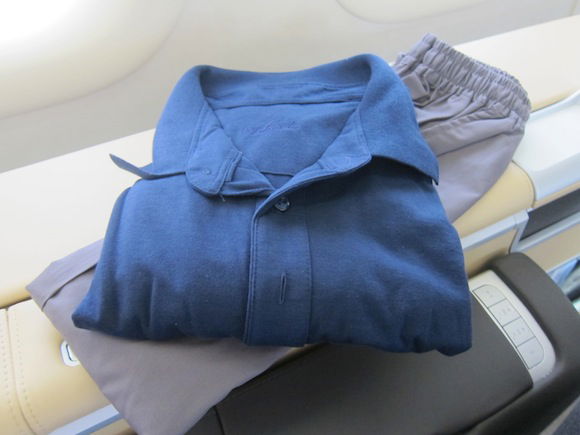 Pajamas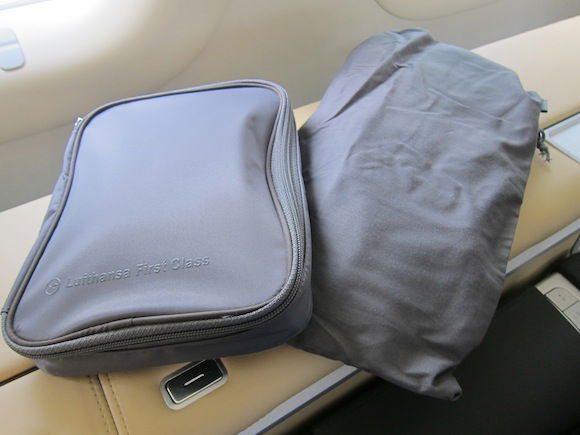 Amenity kit
While the Lufthansa kits themselves tend to be pretty high quality (sometimes they're Rimowa or Porsche branded, for example), I find the contents to be among the most basic out there.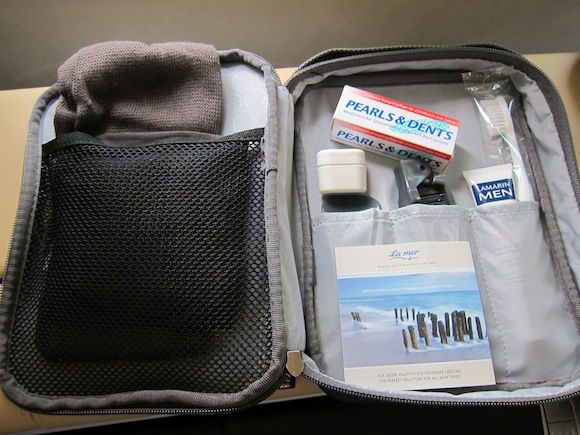 Amenity kit
After that we were also offered Bose headphones.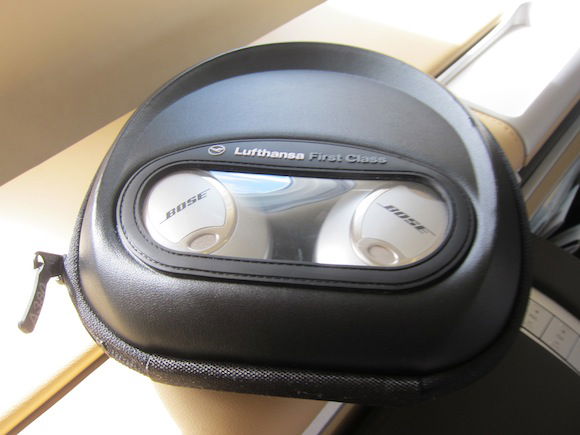 Bose headphones
Within about 15 minutes of boarding the cabin door was closed, and there was only one other passenger in the first class cabin. The captain made the welcome aboard announcement, and funny enough he referred to the aircraft as the 747-800 (while it's in fact the 747-8). Minor detail, but then again I kind of expect the captain of a million pound aircraft to know those kinds of things. 😀
As we pushed back the safety video played, and we began our taxi to runway 25C. You can't beat the excitement of taxiing around Frankfurt thanks to the huge variety of planes.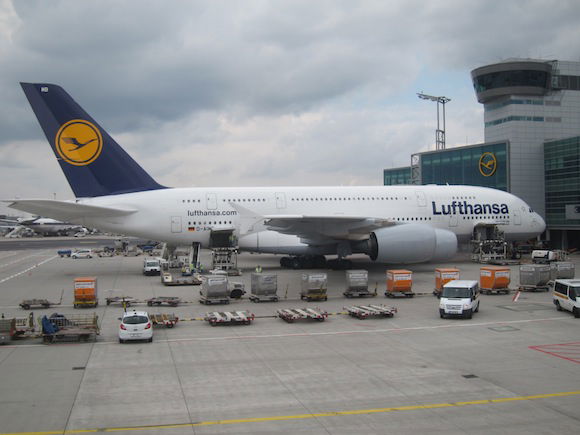 Lufthansa Airbus 380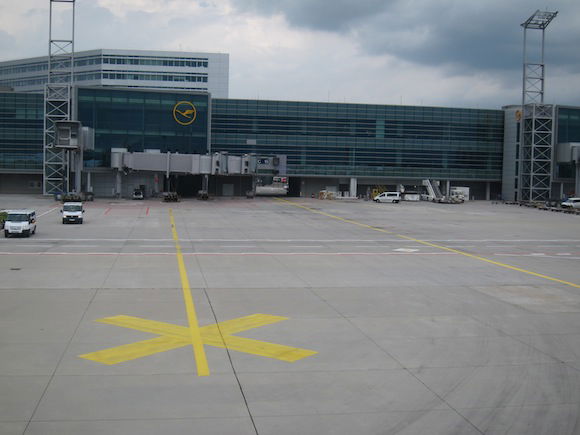 Pushing back from our gate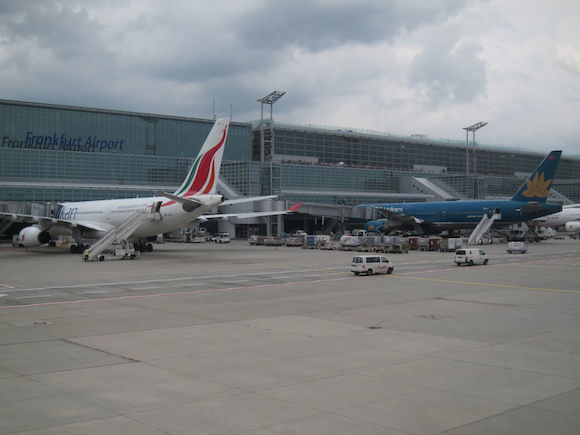 Sri Lankan and Vietnam Airlines planes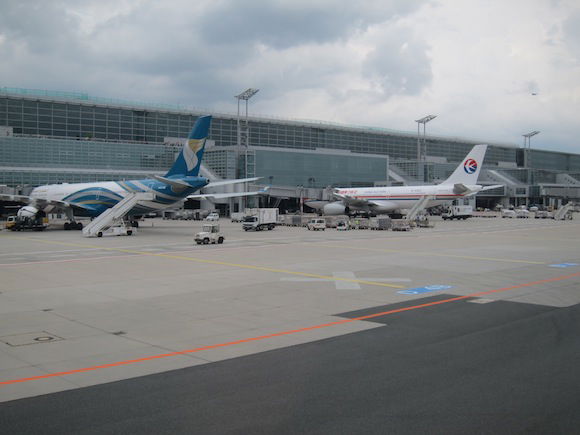 China Eastern in the back (anyone know what airline is in the front?)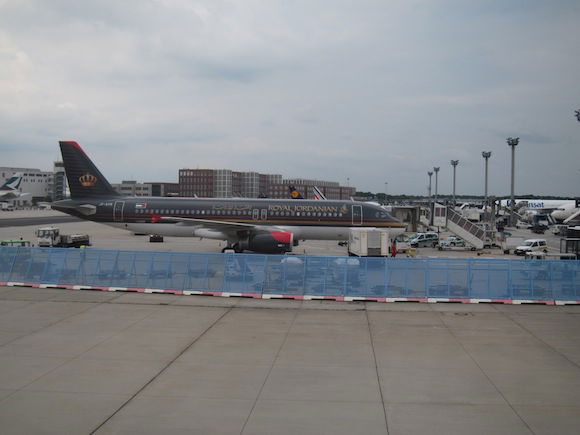 Royal Jordanian
After about a 10 minute taxi we made it to the runway, held position for about a minute, and rocketed off.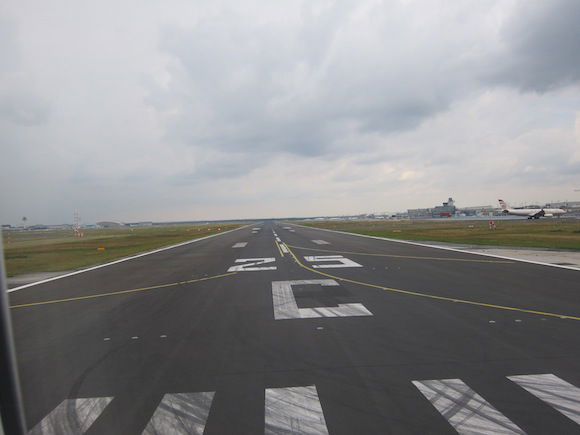 Taxiing into position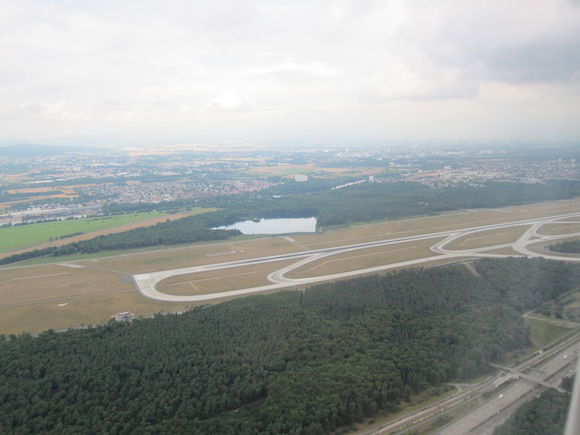 Shortly after takeoff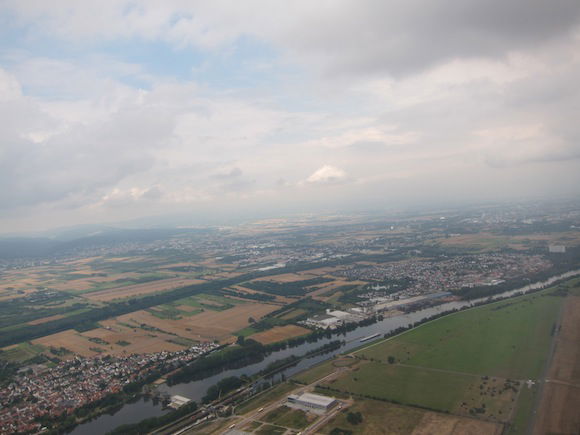 Shortly after takeoff
About 15 minutes after takeoff the purser made the rounds for a formal introduction, expressing great pride in their new 747-8. She explained she was supposed to work the inaugural flight though had union obligations, so couldn't make it. She presented me with the wine list and lunch menu, and encouraged me to try as much as I'd like.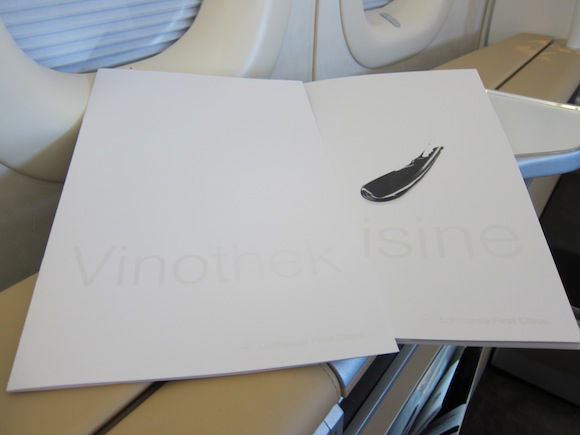 Menu and wine list

In the meantime the first class flight attendant offered me a hot towel. I know it's a minor detail, but Lufthansa has the best scented hot towels anywhere. Period.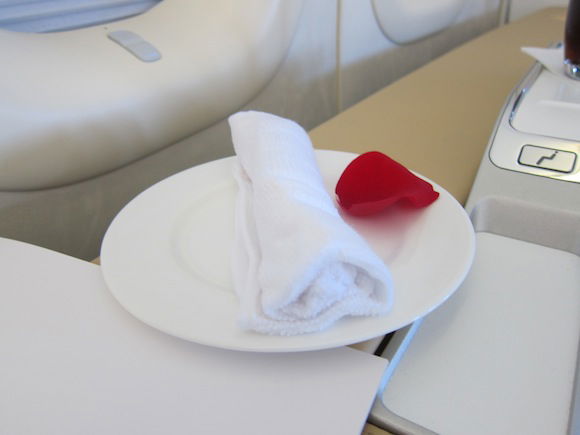 Hot towel
The lunch menu read as follows: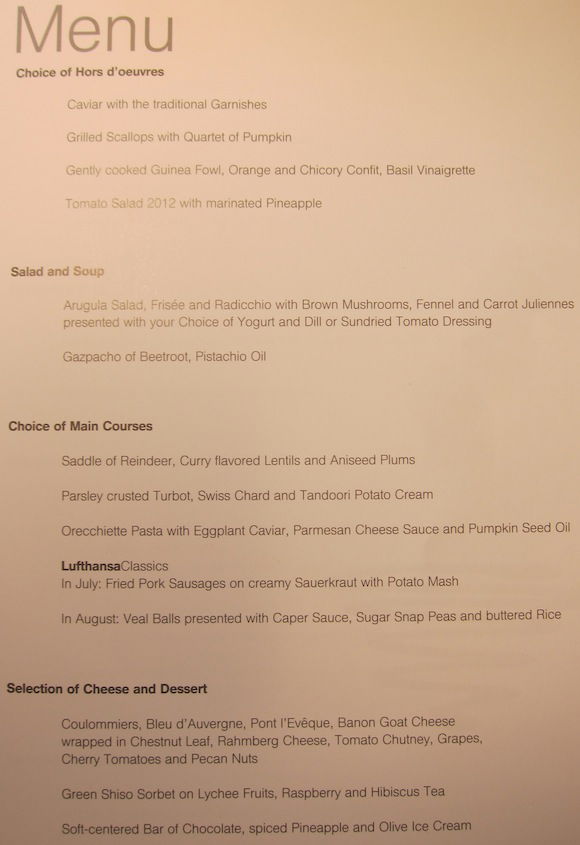 And the wine list read as follows: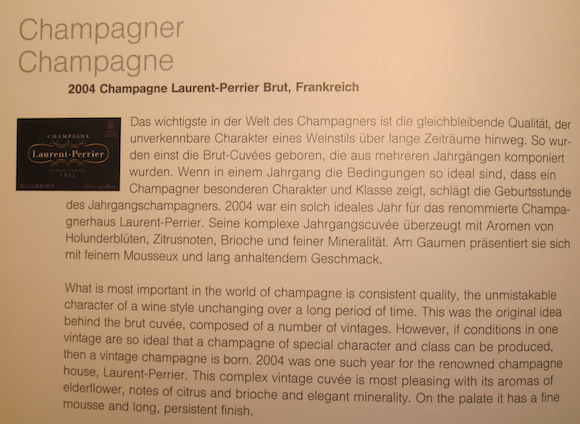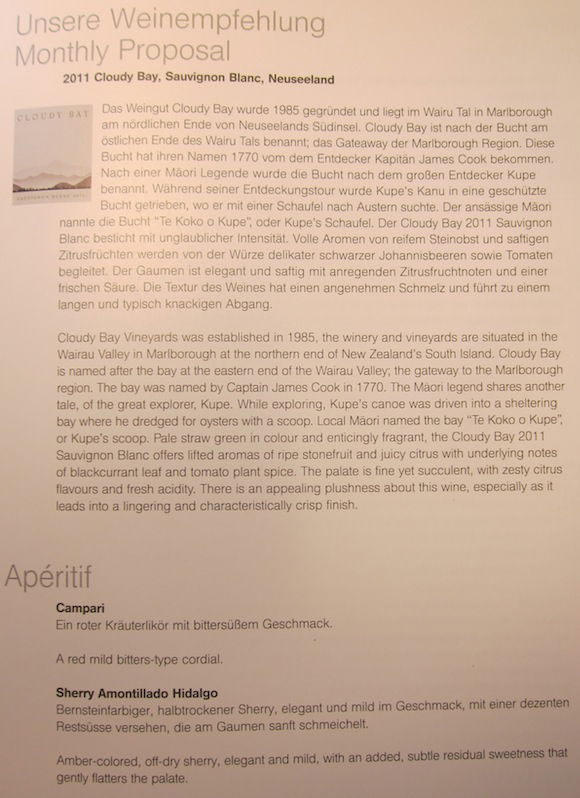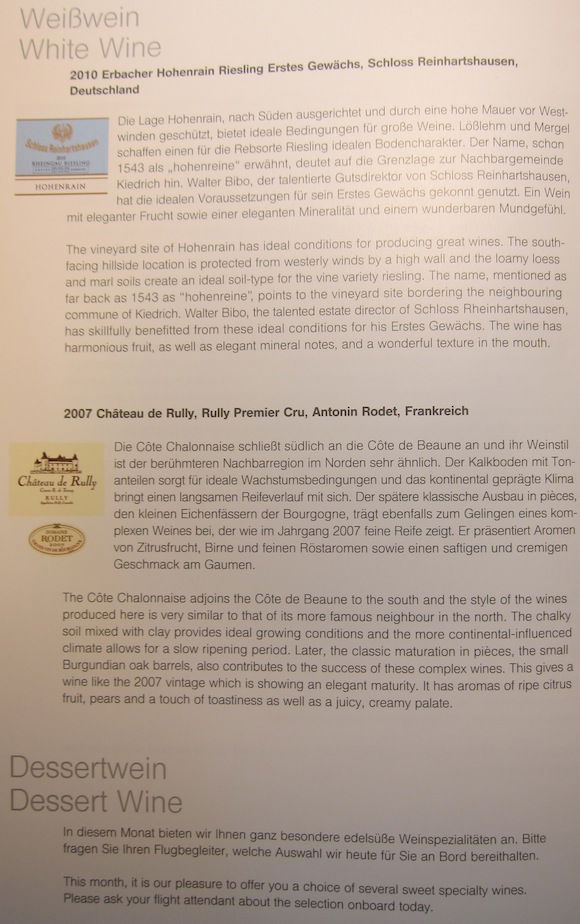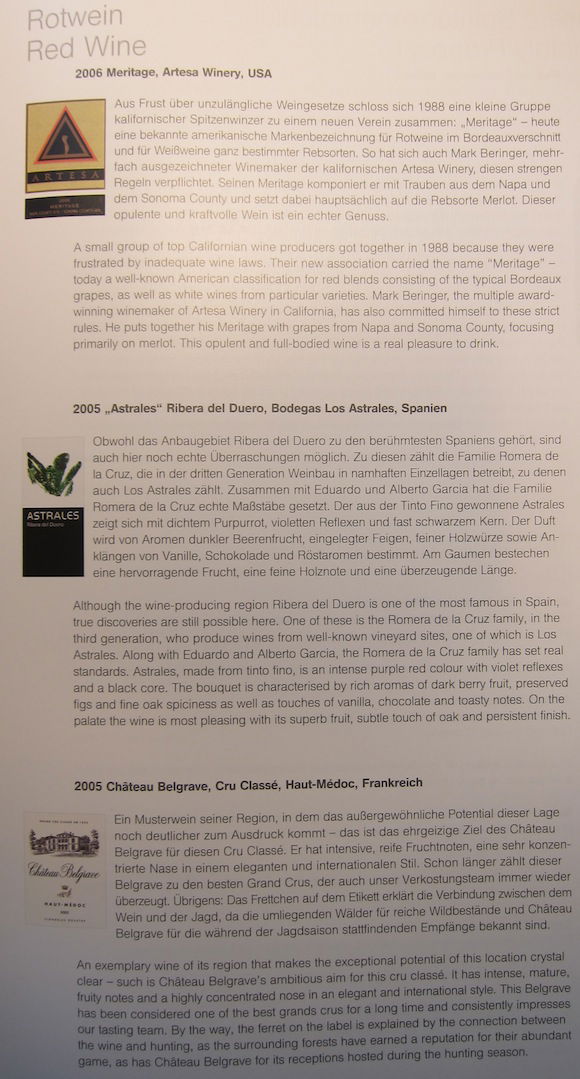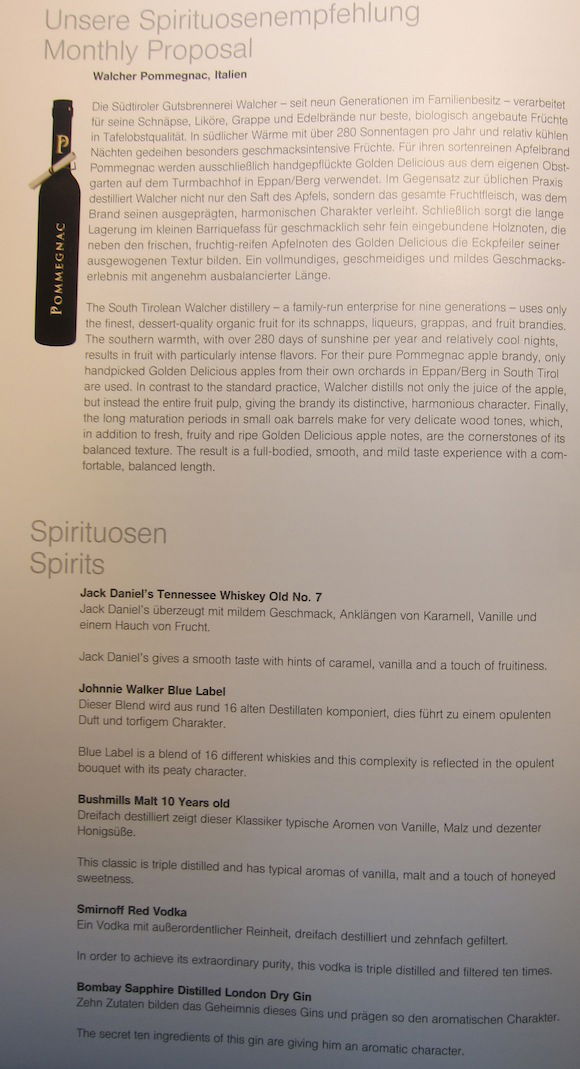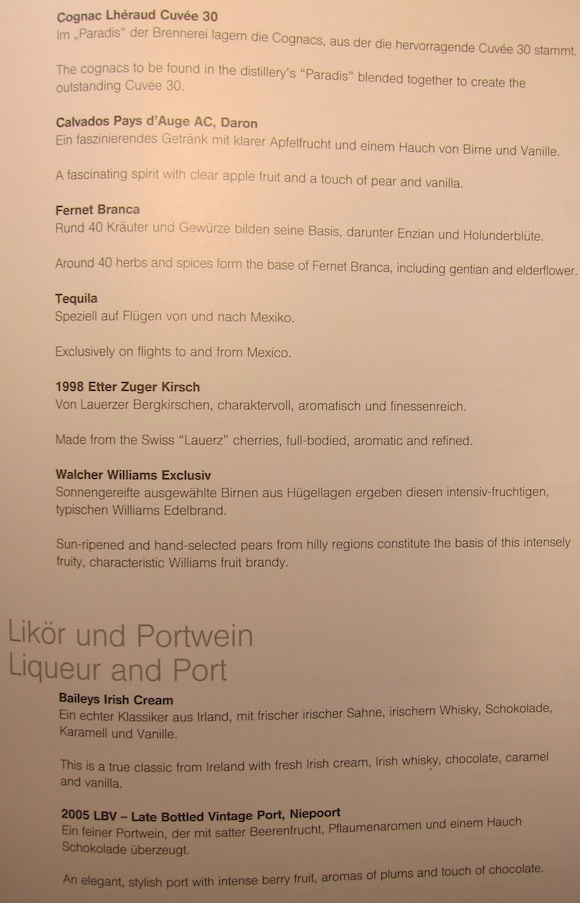 Service began with drinks. I ordered a Diet Coke with lemon, and was also talked into a glass of Riesling.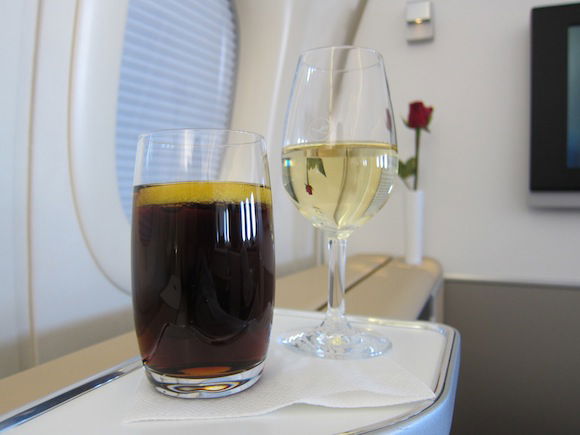 Drinks to start
At that point the amuse bouche was served. As usual on Lufthansa, it was something overly complicated that I couldn't quite figure out.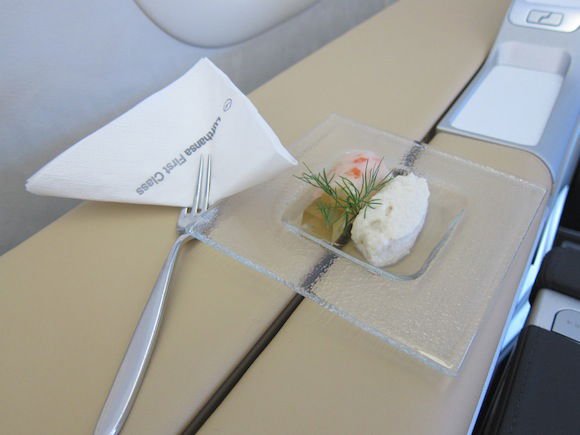 Amuse bouche
About 30 minutes into the flight the appetizer cart was rolled around. I just had the caviar and tomato salad, both of which were quite good.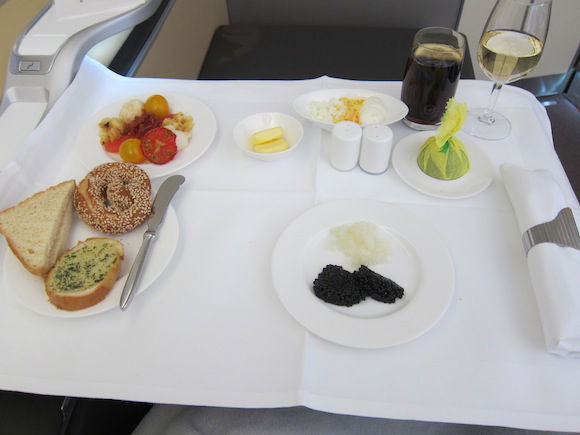 Caviar and tomato salad
Meanwhile my friend had the whole tower of goodies (I do love the tray presentation).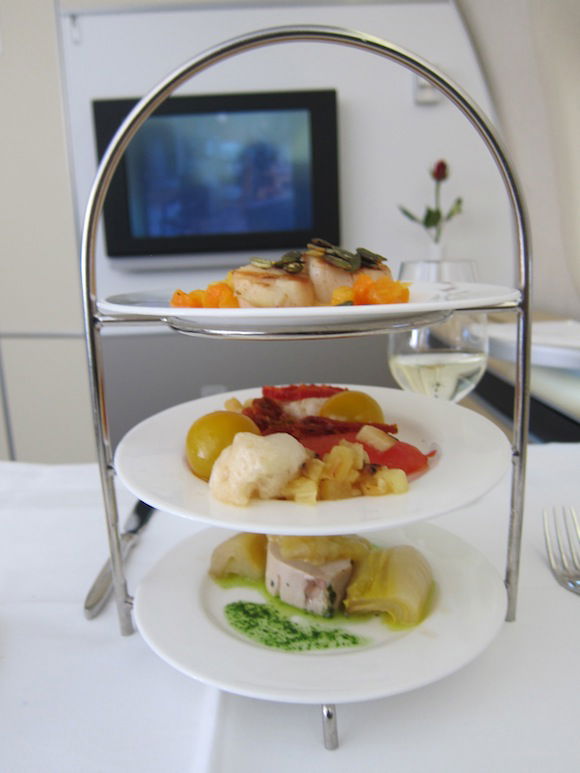 Tower of appetizers
The salad was also good, and I had it with sundried tomato dressing.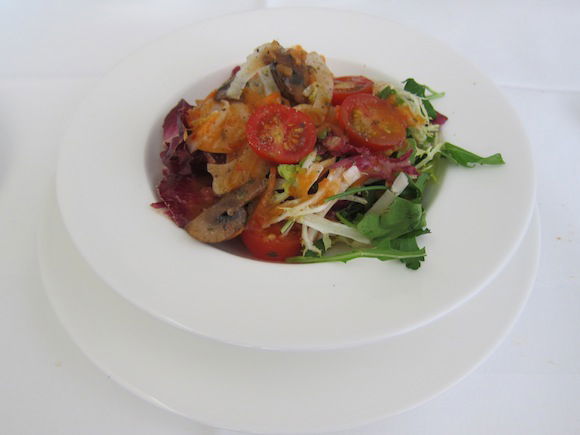 Salad
For the main course I opted for the pasta, which was actually amazing. I know people consider pasta to be the safe/crappy option on airplanes, but on my past several flights the pasta dishes have been excellent. and easily rivaled the Olive Garden (I kid, I kid).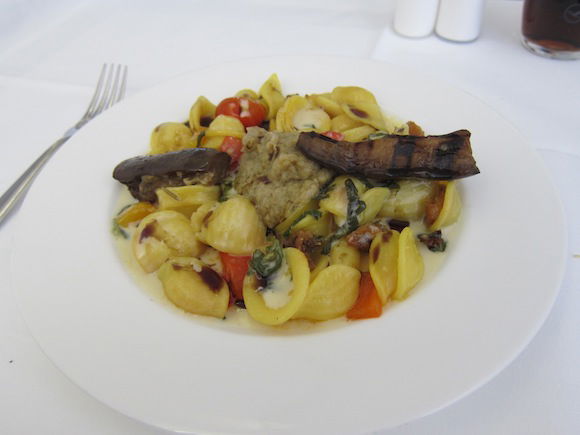 Main course
After the main course the dessert cart was rolled around.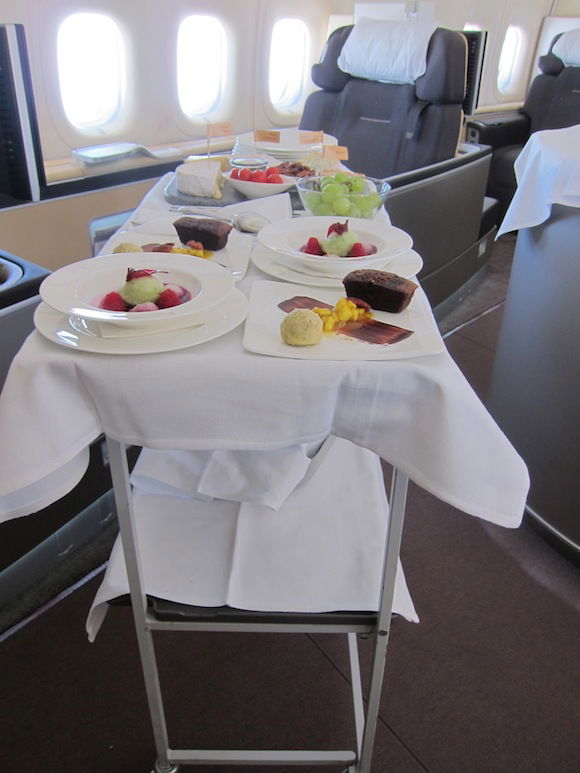 Dessert cart
For dessert I selected the soft centered chocolate bar with olive ice cream. I love chocolate, but did they really have to have olive ice cream? I know, I'm unsophisticated, I have an unrefined palate, blah blah blah. But I like sweet ice cream with dessert, thank you very much.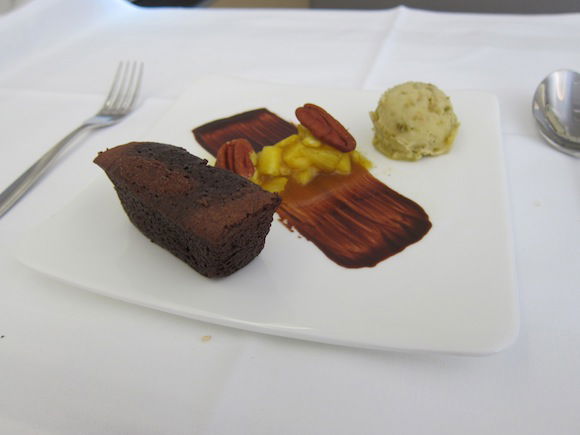 Soft centered chocolate bar
Meanwhile my friend had the sorbet.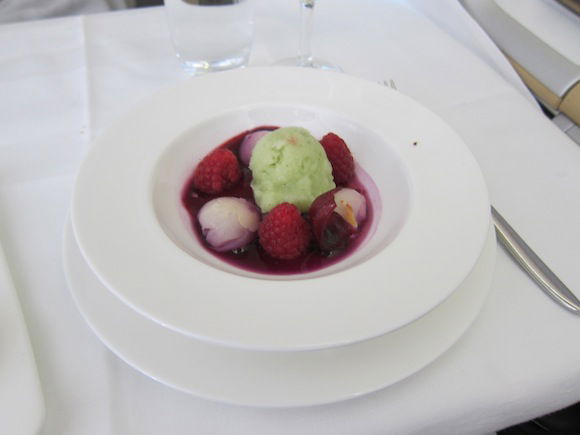 Sorbet
To round out the meal I had a glass of Baileys and some pralines. I was also offered a bottle of water.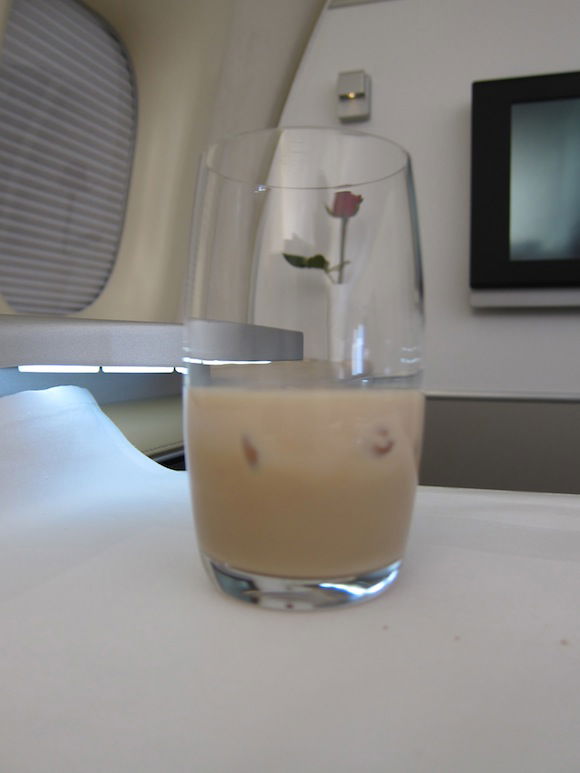 Baileys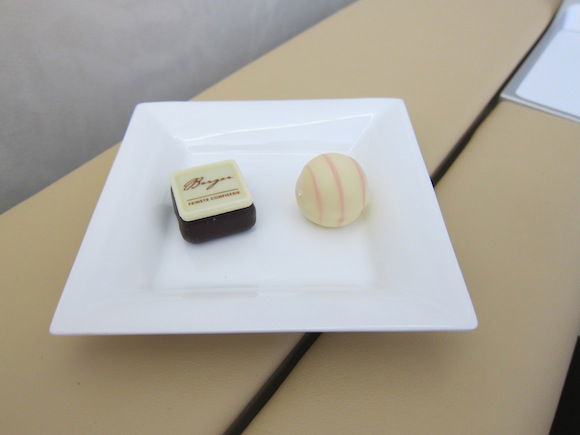 Pralines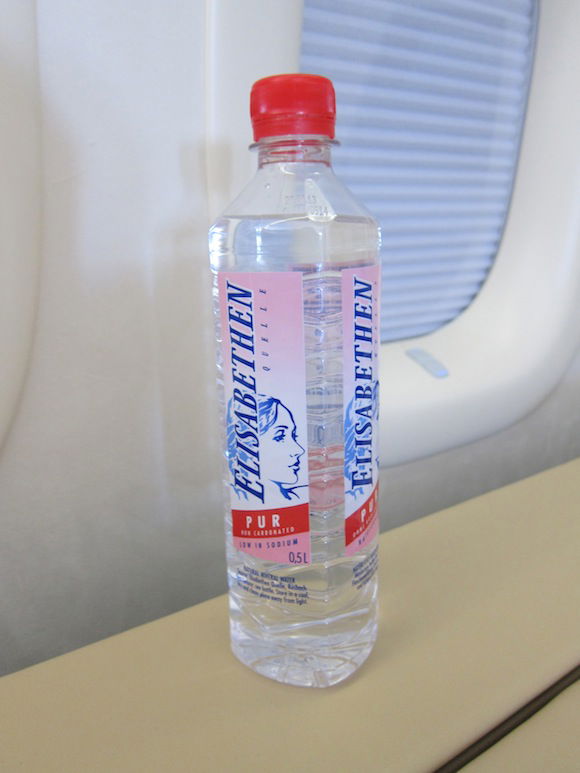 Water
The meal finished a little over two hours into the flight. While I thought the food could have been a bit simpler, the service was spectacular. It was attentive without being intrusive, and both flight attendants seemed genuinely interested in doing their job.
After the lunch service they set up a nice "display" in the cabin.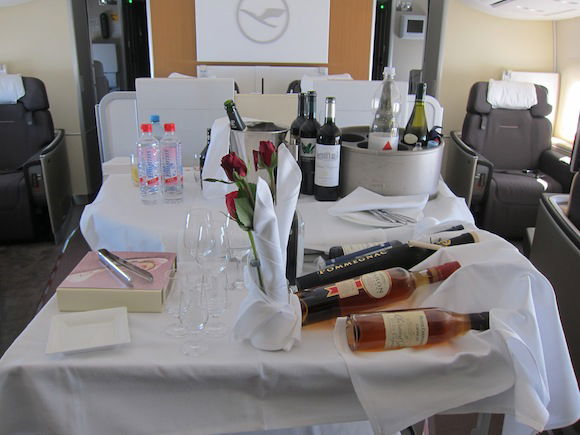 Nice presentation!
While Lufthansa's first class seats aren't suites like other airlines, I still quite like them. There's a nice partition that goes up between seats, so it feels private without feeling claustrophobic.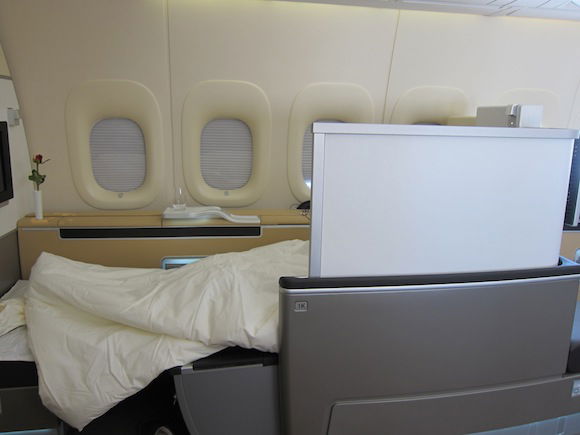 Partition
After lunch I requested turndown service and decided to quickly tour the plane, starting with the first class lavatory. While the first class lavatory isn't as spacious as the one on the Airbus 380, it's nice nonetheless.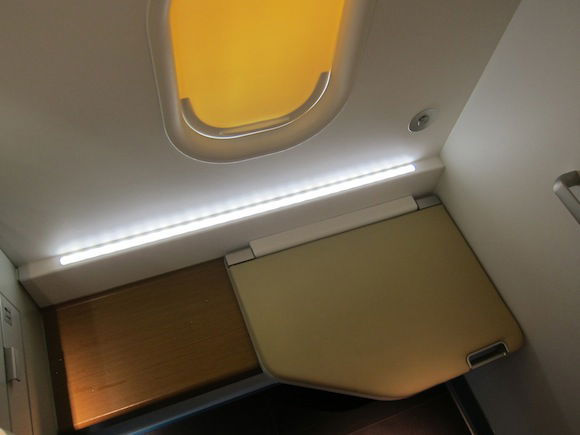 First class lavatory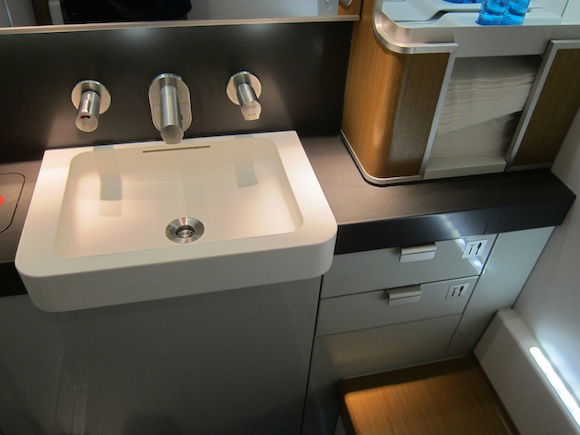 First class lavatory
I then headed back to business class, given that the 747-8 features Lufthansa's new business class product. Lufthansa has nearly 100 business class seats on the 747-8, split between two cabins on the main deck and a cabin on the upper deck.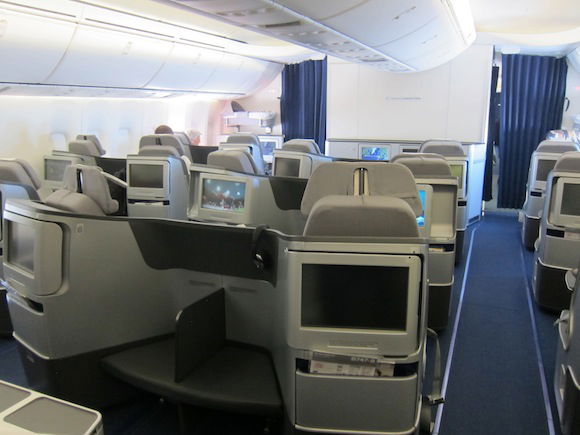 Lufthansa's new business class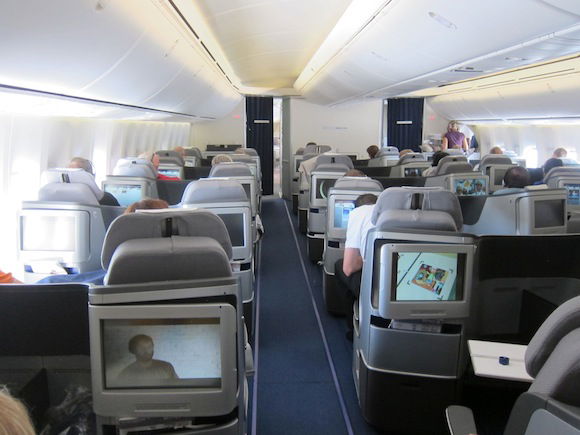 Lufthansa's new business class
Behind the first business class cabin are the stairs to the upper deck, where I also had a quick view at the wing.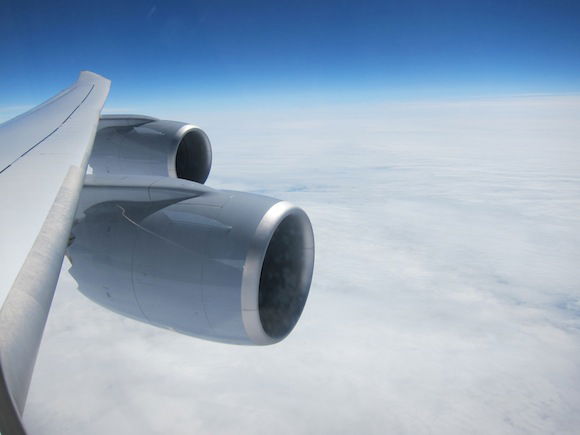 Wing view
The stairs to the upper deck are pretty cool in that it's in a pretty open area, so there are several windows allowing natural light into the cabin.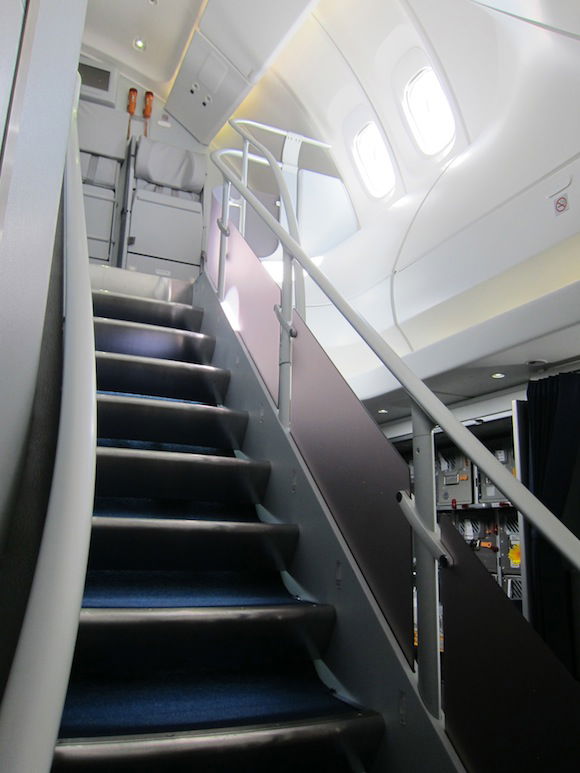 Stairs to the upper deck
When I returned to my seat my bed was made. Lufthansa has awesome duvets and comforters in first class, so I was excited to lay down, even though I didn't have any plans on sleeping just yet.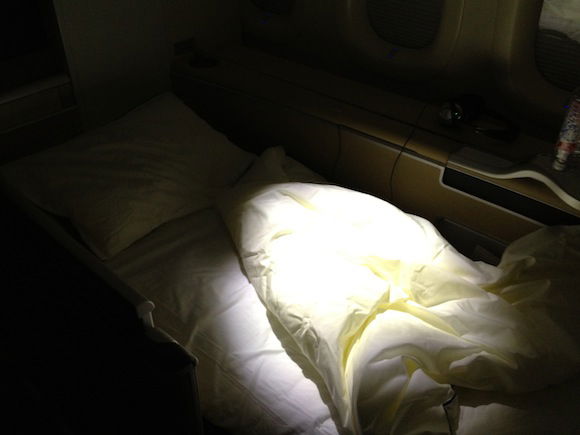 Turndown service
At this point we had just under five hours to go to Washington.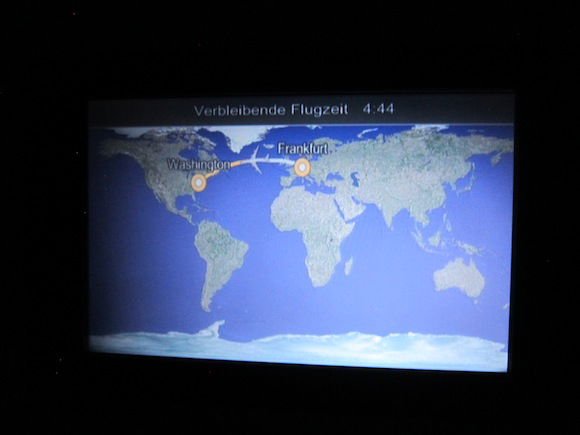 Airshow
I decided to watch a movie, and eventually settled on "Best Exotic Marigold Hotel." Nicely put, it was pretty bad. While Lufthansa has extensive entertainment options, they by no means rival those of Cathay Pacific or Singapore, for example.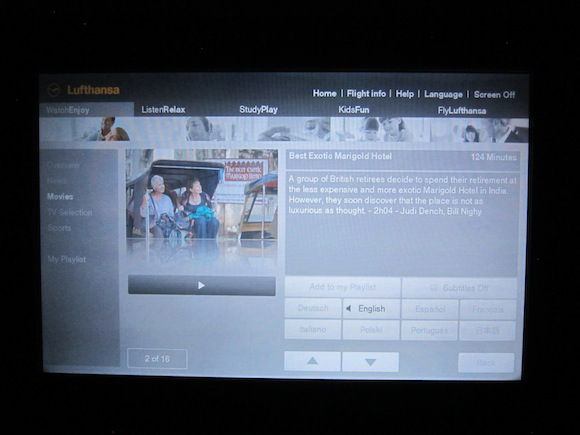 Entertainment system
After the movie I napped for about an hour, at which point we were less than two hours from Washington.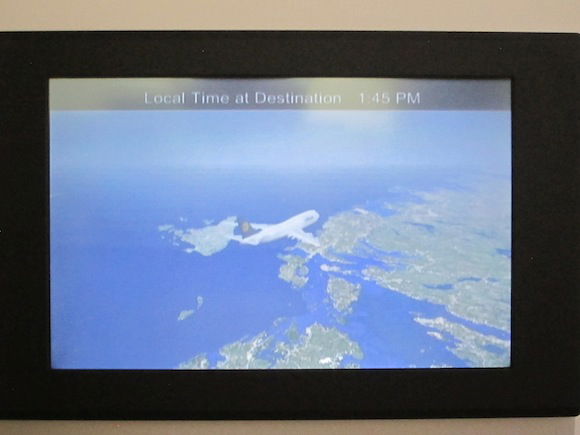 Airshow
With about 75 minutes to go to Washington, the pre-arrival meal service began, starting with hot towels and the menu being distributed.
The menu had an "Ocean Delights" theme.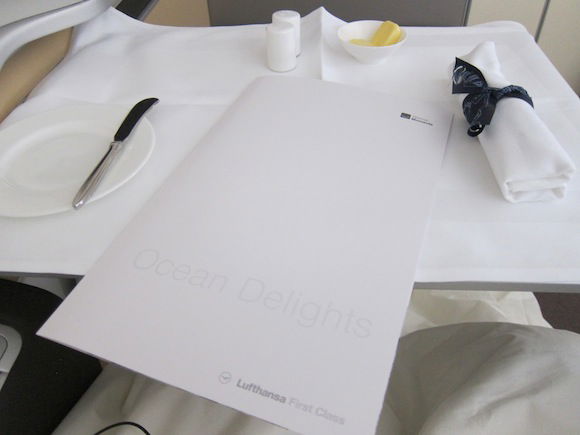 Menu
The menu read as follows: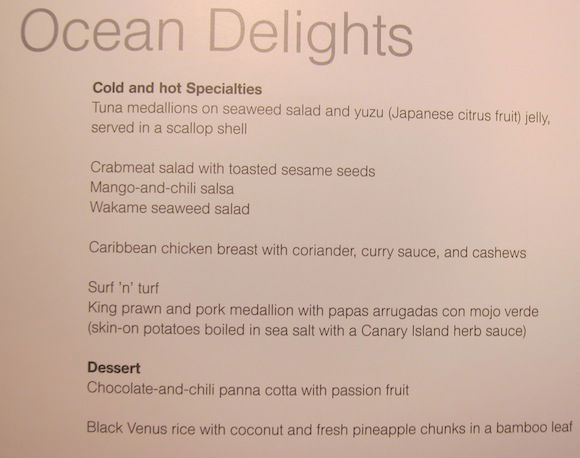 The service is all done by cart and you can select what you want at your seat. I chose a few things that looked good to me.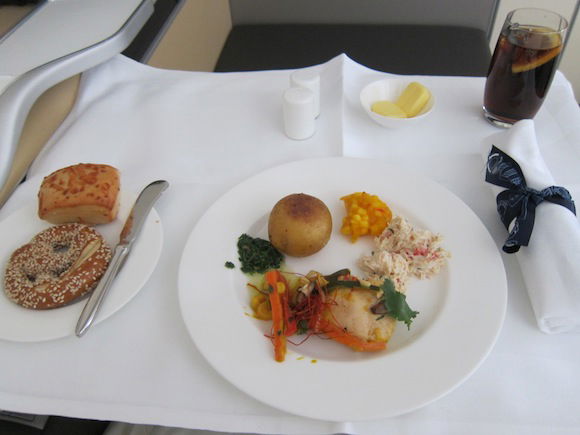 Pre-arrival meal
My friend chose some of the other stuff that I didn't, including the eyed prawns (long time readers know how I feel about prawns with eyes on them). 😉

Friend's meal
For dessert I had the panna cotta.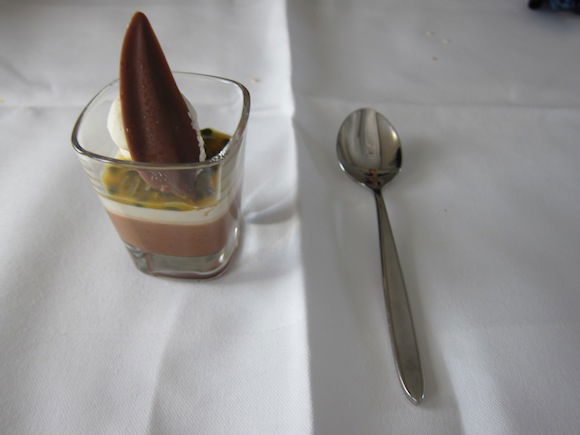 Panna cotta
About 30 minutes before landing the purser came back through the cabin to bid us farewell and ask us of our impressions of the 747-8. She was obviously quite proud of it, and appreciated the positive feedback.
After a long descent and smooth touchdown in Washington we taxied to our gate, timed perfectly with the Lufthansa Airbus 330 that was parked there pushing back. I was kind of sad to bid farewell to the 747-8, though knew it wouldn't be my last time.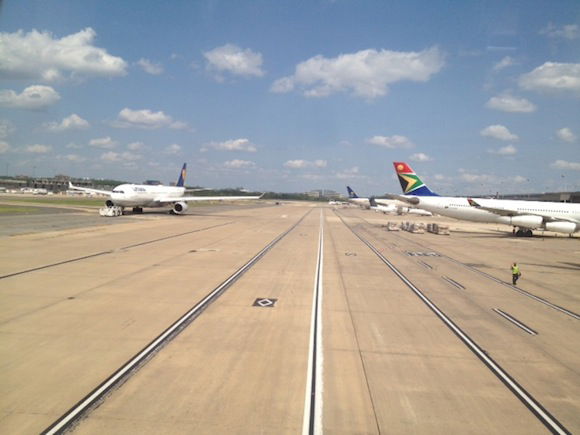 Lufthansa Airbus 330 pushing back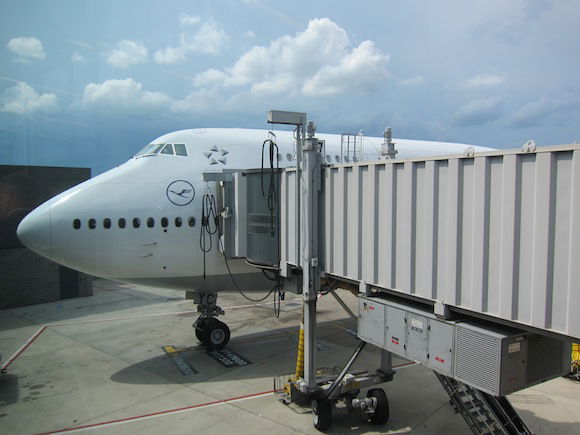 Lufthansa 747-8
Deplaning a comfortable first class flight always sucks, though it especially sucks when you're landing at Tijuana Washington Dulles International Airport, and have to board a 1960s style moon buggy to get to customs and immigration.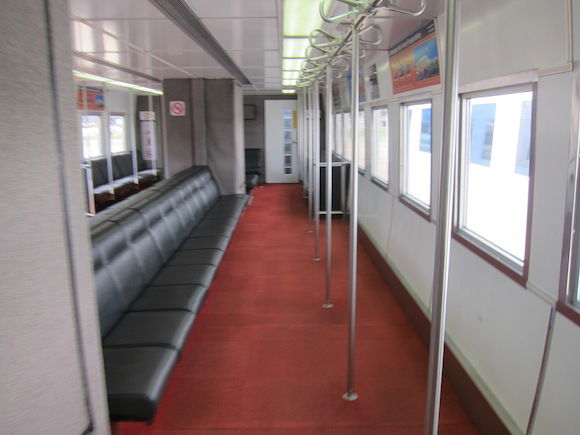 Moon buggy
Fortunately customs was pretty quick, and within about 15 minutes we were curbside and heading for the Westin Dulles.
If you want to fly the Lufthansa 747-8…
Lufthansa presently flies the 747-8 from Frankfurt to Washington Dulles, Delhi, and Bangalore. Lufthansa releases first class award space to partner airlines at most 14 days out, so if you're eying a first class award you'll have to wait till closer to departure to book.