Introduction
United Global First Lounge San Francisco
Lufthansa First Class San Francisco to Munich
Le Meridien Munich
Lufthansa First Class Lounge Munich, Swiss Business Class Munich to Zurich
Swiss First Class Lounge Zurich, Swiss First Class Zurich to Bangkok
St. Regis Bangkok
Thai Airways First Class Lounge & Spa Bangkok
Thai Airways First Class Bangkok to Hong Kong
Ritz Carlton Hong Kong
Exploring Hong Kong
United Club Hong Kong and Thai Airways Royal Orchid Lounge Hong Kong
Asiana Business Class Hong Kong to Seoul Incheon
Hyatt Regency Incheon Airport
Asiana First Class Lounge Seoul Incheon
Asiana First Class Seoul Incheon to Frankfurt
Sheraton Frankfurt Airport
Lufthansa First Class Terminal Frankfurt, Lufthansa First Class Frankfurt to Seattle
Four Seasons Seattle
---
Lufthansa 459
San Francisco (SFO) – Munich (MUC)
Friday, March 16
Depart: 10:05PM
Arrive: 5:25PM
Duration: 11hr20min
Aircraft: Airbus 340-600
Seat: 2G (First Class)
Once onboard we settled into 2D & 2G, the two center seats in row two. I was a bit sad to see this flight was being operated by Lufthansa's old first class product, since several of their A340-600s are now configured with the new first class (which is very similar to first class on the A380). On the other hand it's a product I've enjoyed over the years, so I saw it as one of the last opportunities to try it.
Once settled in the two lovely Munich based flight attendants working first class introduced themselves and offered us drinks. We both went with champagne, which was served with macadamia nuts.
We were also offered pajamas, slippers, and an amenity kit. The pajamas were the same ones I was offered on my Frankfurt to Bangkok flight last August, while the amenity kit was in a see through bag, one I hadn't seen before (and frankly, not one I need to see again). I immediately changed into the pajamas and requested a duvet to get a bit more comfortable.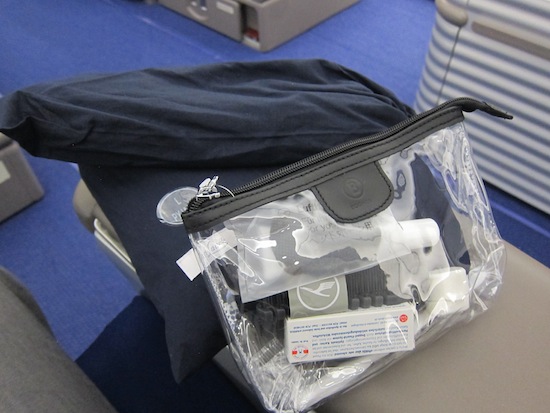 Amenity kit, slippers, and PJs
As departure time rolled around the captain came on the PA to advise us of our quick flight time of 10hr10min, anticipating an on-time arrival despite our delayed departure.
As the door closed it looked like every seat in business class was taken, while six of the eight first class seats were taken. We lucked out, since the two empty seats in first class were 2A and 2K, meaning we had the row to ourselves.
At that point the safety video began playing. While I love Lufthansa's branding, their super-low budget safety videos make me cringe. After a long taxi to runway 28R we were airborne and began our long and choppy climb to our cruising altitude. The seatbelt sign stayed on for about 30 minutes due to rough air, which delayed the service a bit.
During that time I decided on a movie with dinner, and went with "New Year's Eve." At the risk of being sent to a mental asylum, I'll say that I actually quite enjoyed the movie, especially for an airplane.
However, once the seatbelt sign was turned off the flight attendants were sure to speed up the service and maximize sleep time (for us, and I suspect for them as well).
The purser immediately welcomed us aboard and introduced herself. She also offered us the dinner menus and wine list.
Shortly thereafter one of the first class flight attendants offered us hot towels. Lufthansa has by far the nicest towels of any airline I've flown, in terms of thickness, wetness, and scent.
Service continued with drinks and an amuse bouche, which was some sort of a salmon cucumber starter. I don't think I've ever said this before about a Lufthansa amuse bouche, but it was tasty.
Then the dinner service began. The menu read as follows: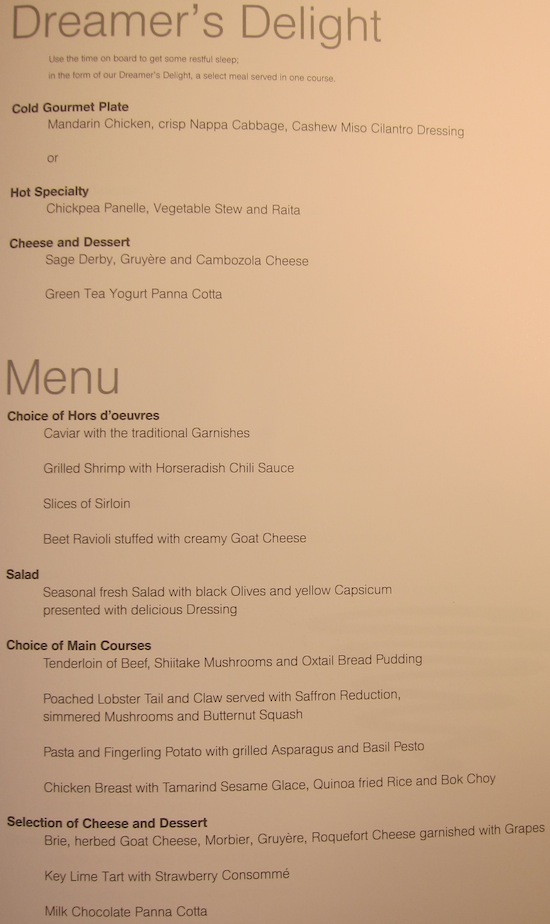 The table was quickly set along with the signature Lufthansa rose being offered. That was quickly followed by the breadbasket, from which I selected some garlic bread and pretzel bread.
Shortly thereafter the appetizer cart was rolled around, and I went all out, since everything looked great. I love Lufthansa's presentation, which consists of the appetizer "tower" and then caviar served separately.
With the exception of the beets (what was I thinking?!), I really enjoyed all of the appetizers.
That was quickly followed by the salad, which I ordered with balsamic vinaigrette.
For the main course I went with the steak, while my friend went with the lobster.
I thought the steak was a bit underwhelming in quality, similar to what I'd expect in domestic first class. I've had much better steaks on Asiana and Swiss. My friend enjoyed his lobster, though.
For dessert was a raspberry key lime tart served with vanilla ice cream, which was delicious.
To finish off the meal I ordered a glass of Baileys and was also offered a tray of chocolates, which I ended up putting in my bag and taking with me since I was stuffed. I was then also offered a bottle of water.
By the time the meal service was finished we were about eight hours from Munich, so I tried to get to sleep right away.
While Lufthansa has a nice duvet and blanket, I'm rather frustrated by their lack of a comforter. Their new first class features amazing bedding, so I find it a bit surprising that they don't offer the same amenities when you end up in their old cabin.
I slept for about six hours and woke up two hours out of Munich. There was quite a bit of turbulence over Northern Canada which woke me up for a bit, but I fell back asleep quickly. After freshening up a bit and watching an episode of "How I Met Your Mother" it was time for breakfast.
The menus and hot towels were distributed, followed by beverages. I ordered a glass of orange juice, which was delicious as it always is on Lufthansa.
The breakfast menu read as follows:
For breakfast they rolled around a cart consisting of fruit, cheese, muesli, cereal, etc. I decided on some muesli and a cheese and salmon plate. I also selected a croissant and roll from the breadbasket.
Then for the main course I ordered scrambled eggs with chives. Lufthansa prepares their eggs aboard, so I find them to be the tastiest in the sky (and best of all, they're never runny).
As we began our descent I changed back into my jeans and shirt and restowed all my belongings. The purser once again came around the cabin to bid farewell to everyone, and about 20 minutes before landing the seatbelt sign was turned on.

Beginning our descent as the sun sets
After a smooth descent and firm landing we taxied to our gate for about 10 minutes, past several smaller aircraft as well as an ANA 777 bound for Tokyo.
Once off the plane we headed towards immigration where there was virtually no queue, and hopped on the train bound for the Munich Hauptbahnhof.
As usual my flight on Lufthansa was spectacular. The food was better than normal, but more than anything else the service was phenomenal. The flight attendants were professional yet personable, a seemingly tough balance at many airlines.