---
After arriving at the airport train station I made the trek through the terminal and to the outside roadway towards the Lufthansa First Class Terminal. The First Class Terminal is maybe a ten minute walk from the train station, so it is a bit of a hike, but still worthwhile. The real value in the First Class Terminal is when you're being driven to the airport, as you can pull up right in front of it.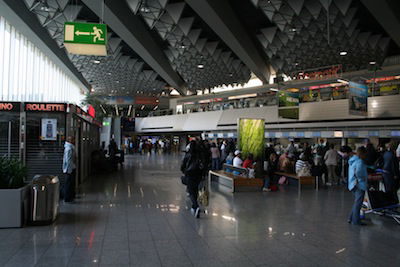 Terminal that I didn't have to use today!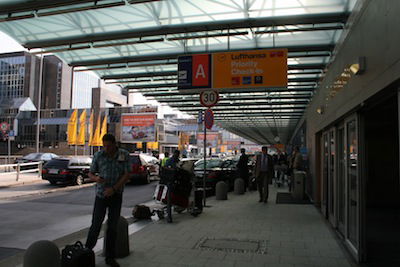 Outside roadway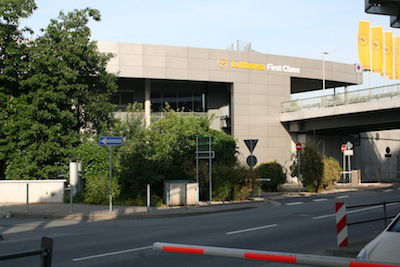 First Class Terminal
When I got to the First Class Terminal I entered through the main door, where I was immediately greeted by a personal assistant. I told her I was flying to Seattle, and she asked me to take a seat. After verifying the information, which took all of 20 seconds, she escorted me towards security. There are no lines or any of the usual hassle associated with airport security here. Instead, there are a couple of agents that conduct the security checks, dressed in suits.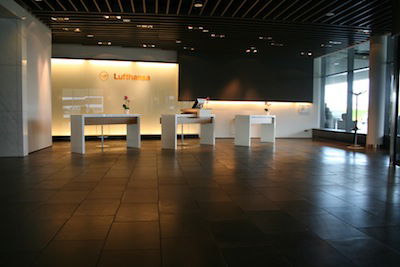 Check-in area/entrance
Less than 90 seconds after entering the First Class Terminal I was in a seat waiting for my flight. And this is precisely what makes the First Class Terminal phenomenal, assuming you're originating in Frankfurt. While I can appreciate all the amenities, I don't find much use in them. For example, they have an incredible sit-down restaurant with both buffet and a-la-carte options. But I don't see much value in that when I'm about to get on a flight in international first class where I'll be enjoying a five course meal. So in that way I prefer Thai ground services, where you get an hour-long massage as a first class passenger. But the convenience of the First Class Terminal is just unparalleled. For better or for worse, you never get the feeling that you're actually at an airport.
The First Class Terminal isn't huge and is often quite full, but it doesn't ever feel crowded. I settled down in a corner and asked for a Wi-Fi access code, as I wanted to catch up on email before my flight. A few minutes after settling down my personal assistant brought me my boarding pass and explained to me that my passport was waiting on the lower level with immigration, which is collected on departure.
The First Class Terminal has many separate areas – a general lounge area, a large smoking lounge, day rooms, huge shower rooms, work stations, and an incredible restaurant. In this particular case I only sat around catching up on my email for my 1.5 hour stay.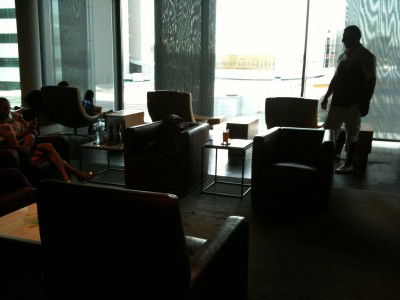 First Class Terminal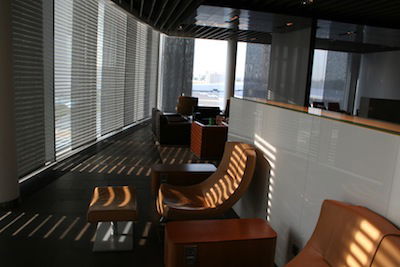 First Class Terminal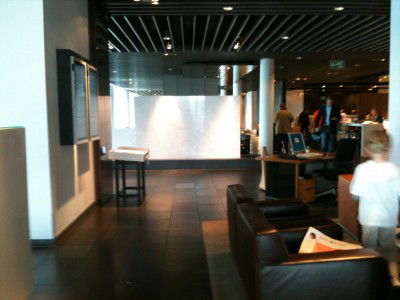 First Class Terminal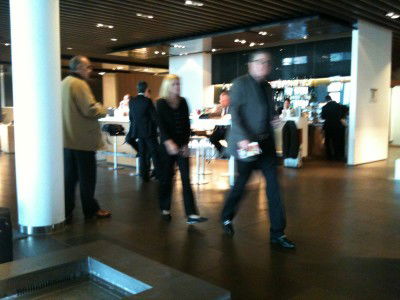 Bar area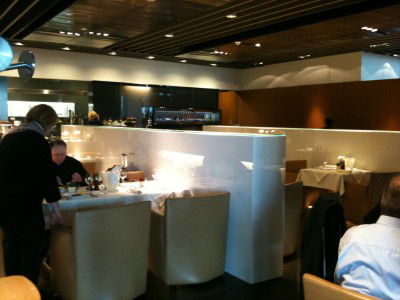 Restaurant area
Nonetheless the service is insanely attentive. They have waiters walking around the Terminal constantly for anyone that might be thirsty or hungry.
The other nice thing is you never have to worry about missing your flight. The personal assistant always fetches you when it's time to board. And typically they're pretty good at cutting it close, maximizing the amount of productive time in the lounge.
At around 9:35AM my personal assistant informed me that it was time for boarding, and she escorted me to the lower level. There the immigration officers stamped my passport and gave it back to me. The personal assistant then transferred me over to my driver, who would be taking me to the A330 bound for Seattle.
In this case I was escorted to a Porsche Panamera. As an airline nut, this is no doubt my favorite part about the First Class Terminal experience. Nothing beats driving a sports car all over the tarmac. And lucky for me today, we were leaving from a remote stand at the other side of the airport, so it was nearly a 10 minute ride.

Porsche on the tarmac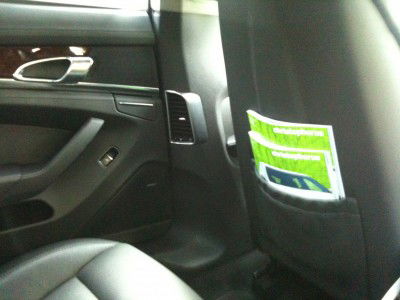 Porsche interior
Remote stands usually suck, but they're actually more convenient when being driven in your own car. And this is actually the part where the experience gets somewhat embarrassing. They were using two air stairs to board the plane, and the second one was quite full. It's somewhat embarrassing to be driven up to the plane in a Porsche as someone carries your bags up the stairs for you.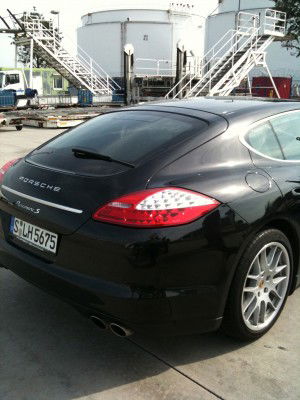 Porsche Panamera S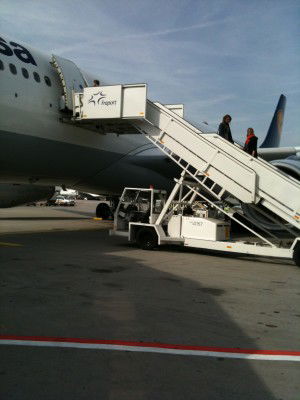 A330 bound for Seattle
Once aboard the driver introduced me to the purser, who escorted me to my seat.
Lufthansa 0490, FRA-SEA, 330-300
Wednesday, June 23
Depart: 10:005AM
Arrive: 11:25AM
Duration: 10hr20min
Seat: 2A (First Class)
Ah, Lufthansa! They really don't have the fanciest hard product. They really don't have the most spacious cabins either. But there's something remarkably elegant about them, more so than even some of the airlines with the most modern suites.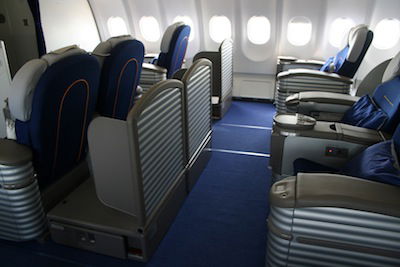 First class cabin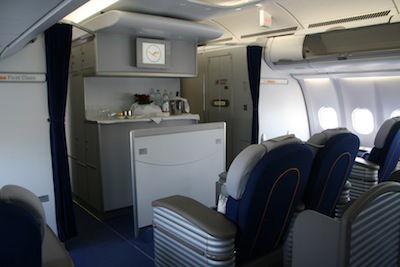 First class cabin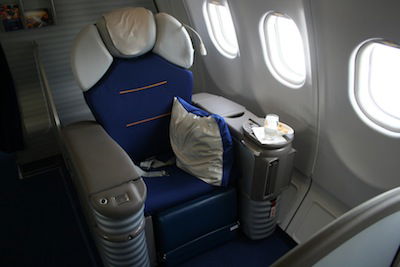 My seat, 2A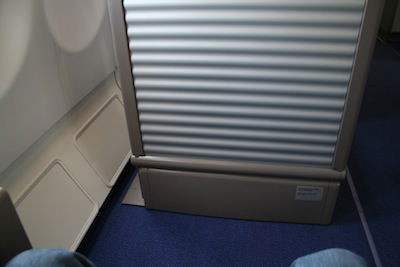 Legroom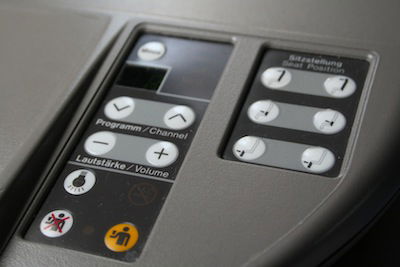 Seat controls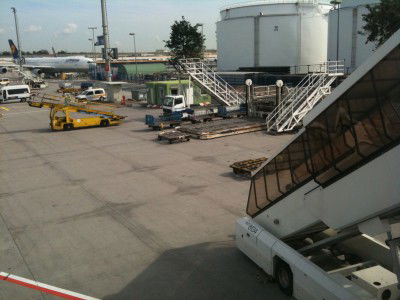 Remote stand view from my seat
As the purser showed me to my seat she immediately offered me a beverage. I just asked for a glass of still water, which was promptly served with a ramekin of macadamia nuts.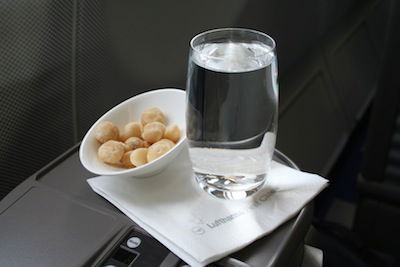 Pre-departure nuts and water
She also offered me magazines and newspapers, but I declined.
Shortly thereafter I was offered an amenity kit, sweatshirt, and slippers. I do love Lufthansa's amenities.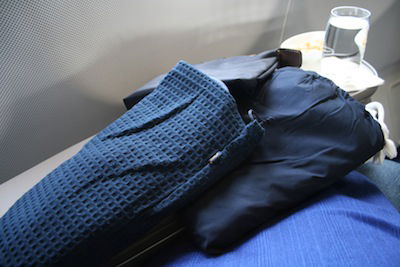 Lufthansa slippers, amenity kit, and sweatshirt
One more passenger joined me right before the door closed. Another flight with only two out of eight first class seats taken!
The captain came to both of us and introduced himself, wished us a pleasant flight, and informed us the flight time would be around 9hr35min. I of course wished him good luck in the World Cup game that I'm sure he was racing to Seattle to see.
My brother had given me a pair of Lufthansa pajamas from his flight from Frankfurt to Osaka earlier in the week, so I decided to change into those. When I asked the purser if I had enough time to change, she said "of course, we have all the time in the world."
As the door closed the safety video began to play. At that point we pushed back and began our rather long taxi to the runway. We had to give way to just about every plane at the airport, so it took a while. But soon enough we began our weak takeoff roll and eventually lifted off. There was a 747 taking off on the perpendicular runway.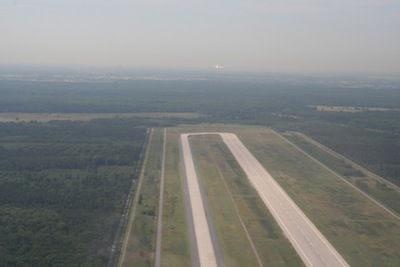 See if you can spot the 747 on upwind
As usual, the views were quite nice on the climb out, though the seatbelt sign didn't turn off till we climbed through about 20,000 feet.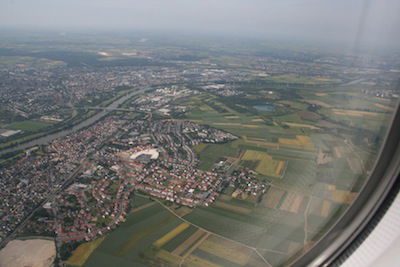 Views after departure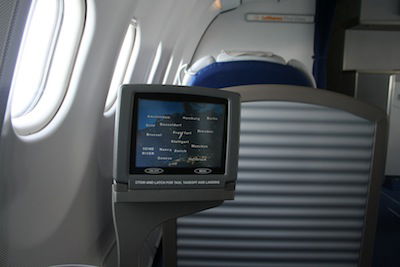 Airshow
As we leveled off, the purser came by to introduce herself. I always find Lufthansa pursers to be very personable, and this one was particularly good. She explained that I could dine whenever I wanted, and that if I wanted to wait a while before lunch, that's not a problem.
She also gave me the menu and wine list for the flight. Lufthansa provides separate menus for each meal service, so I just had the one for the main meal service.
The menu read as follows:
Menu

Choice of Hors d'oeuvres

Caviar with the traditional Garnishes

Potato Terrine with White Chocolate, North Sea Shrimps and Lettuce Jus with Parsley Oil

Breast of Quail on Mango and Peperonata Chutney

Mousse and Salad of green and white Asparagus

Salad or Soup

Frisee, Romain lettuce and Arugula with fried Oyster Mushrooms and Carrot Juliennes presented with your Choice of Macadamia Nut Oil or Yogurt and Dill Dressing

or

Chilled Melon and Buttermilk Soup

Choice of Main Courses

Saddle of Veal with Cocoa, Rhubarb Shallots and Compote and Potato Gnocchi

Olive and Brittle crusted Black Halibut, Orange and Peppercorn Sauce, Leaf Spinach and Parisienne Potatoes

White Asparagus served with Sauce Hollandaise, Black Forest Ham, boiled Ham and new Potatoes

Coq au Vin of Spring Chicken, Pearl Onions, Parsley Puree and Venus Rice

Selection of Cheese and Dessert

Gruyere, Murol, Reblochon, Brillat Savarin and Fourme d'Ambert Cheese garnished with Graphes and Walnuts

Strawberry and Coco Tartlet with Passion Fruit Coulis served with Vanilla Ice Cream

Woodruff and Prosecco Jelly with White Chocolate Mousse and fresh Berries

Specialty Dessert Wines
And the wine list read as follows:
Champagne:
2000 Champagne Laurent-Perrier Millesime

White Wine:
2008 Winkeler Jesuitengarten Riesling Erstes Gewaechs Prinz von Hessen
2009 "Pioneer Block" Sauvignon Blanc, Saint-Clair Vineyards

Red Wine:
2005 "Spiga" Ribera del Duero, Bodegas O. Fournier
2005 Cabarnet-Sauvignon, Montes Alpha
2001 Chateau Yon-Figeac, Saint-Emilion Grand Cru Classe

Dessert Wine:
2008 Weinheimer Hoelle Huxelrebe Beerenauslese, Weingut Gysler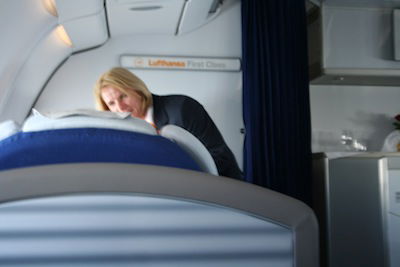 Purser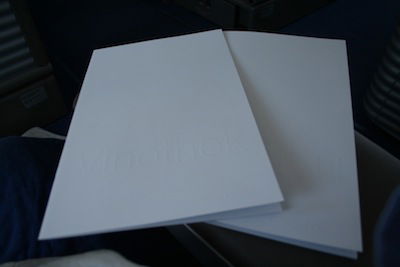 Menus
In the meantime, one of the first class flight attendants distributed a hot towel. Lufthansa has, by far, the best smelling hot towels.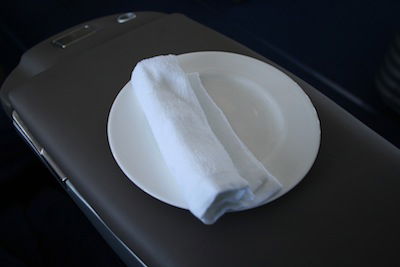 Hot towel
She then took my drink order, as she continued to set up the "bar area" in the front of the cabin.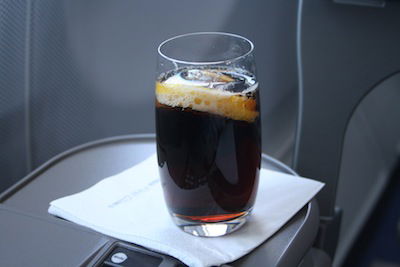 Diet Coke with lemon
Quickly following this was a mini-appetizer. Not exactly sure what it was (I'm guessing tuna with something), but it was good. At this point I was wondering where the signature rose was. Have they discontinued them, or what?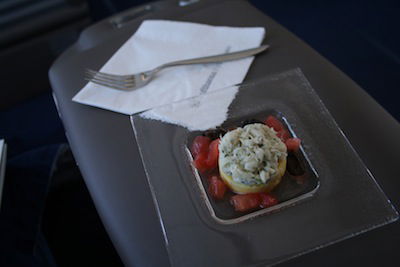 Pre-appetizer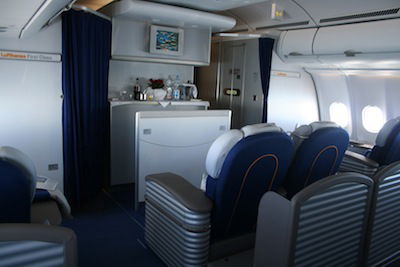 Cabin (bar setup in front)
Since the other passenger in 1A didn't feel like eating yet, I was the only one being served during lunch. First the flight attendant rolled out the appetizer cart, and offered me as many of the options as I wanted. I went with everything except for the breast of quail.
I certainly appreciate Lufthansa's creativity when it comes to meal service, but I've gotta say, I think they try a bit too hard. Now admittedly I'm no foodie, but the meals often just don't translate perfectly in the air. It's not that the food was bad. It's just that they try to make the food so complex, and maybe it's something about the altitude and time since the food was prepared, but the appetizers were all just very "bleh." They tasted fine (the caviar was good, though it's tough to screw that up), but they weren't anything special, despite their tantalizing descriptions.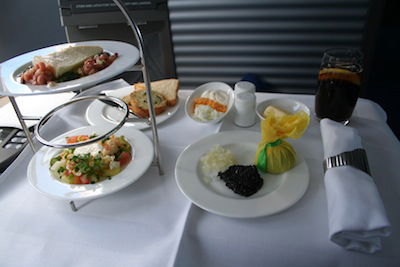 Appetizers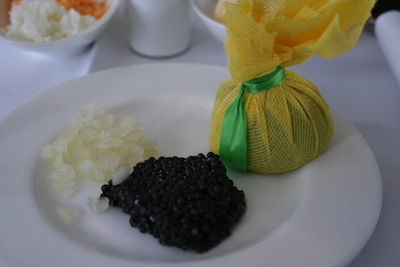 Caviar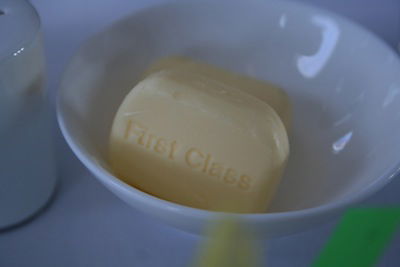 Even the butter has "First Class" on it!
Lufthansa's garlic bread, however, is fantastic. 😉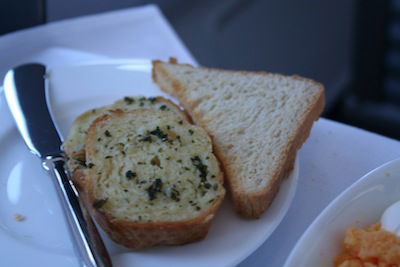 Bread
The soup course was next, and I went with the chilled melon and buttermilk soup. I guess I wasn't reading the menu very closely, because I hadn't realized it was chilled until I received it. Again, it was fine, though nothing special. It's hard (for me) to get excited over a big bowl of chilled soup.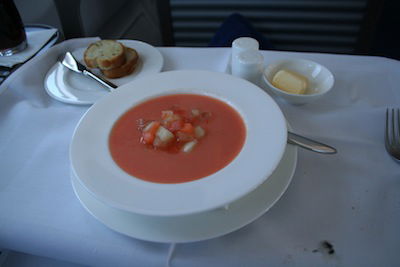 Chilled Melon and Buttermilk Soup
When I was younger, I was a vegetarian for eight years. Yeah, I saw one of those nasty slaughterhouse videos when I was a kid, and that did it for me. While I'm no longer a vegetarian, I don't like to get too creative with meat dishes. So I try to stick to a rather simple chicken or steak dish whenever possible. So of the main course options, I wasn't going to eat veal. The asparagus and ham option sounded decent, given that asparagus is "in season" in Germany right now. Then again, I'm not really a fan of ham, so I didn't go with it. For some reason or another, I went with the chicken course. I wasn't sure what exactly "coq au vin" is, but I don't think I've had very many chicken courses I didn't like.
I was served what looked to my (unsophisticated) eyes like something from KFC's menu. It was dark meat chicken and just looked very "rugged." I'm not really a fan of dark meat chicken, so I had a few bites and left it at that.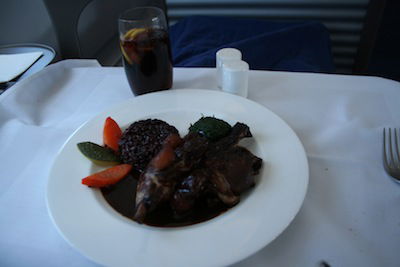 Coq au Vin of Spring Chicken, Pearl Onions, Parsley Puree and Venus Rice
For dessert I went with the tart with ice cream, which was quite good.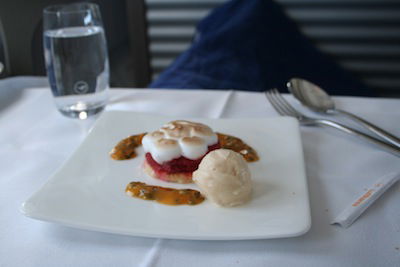 Strawberry and Coco Tartlet with Passion Fruit Coulis served with Vanilla Ice Cream
The whole meal service was done at a perfect pace, and the service was attentive as always. While the food wasn't great, I still enjoy the meal service experience on Lufthansa. The flight attendants do a great job, and the presentation is always top notch.
To finish off the meal I asked for a glass of water, which was served with some chocolates.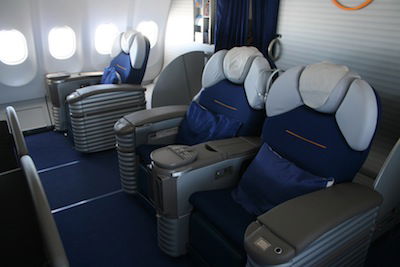 Cabin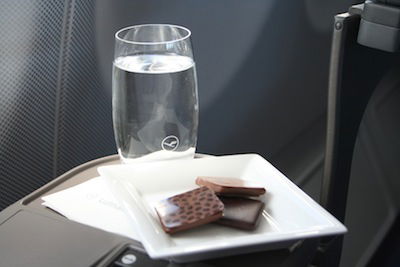 Chocolates
The flight attendant offered to make my bed, which I accepted, since I was getting a bit tired. Lufthansa has some of the most comfortable bedding in the sky, in my opinion. While the seat isn't the most spacious or comfortable, the great bedding makes up for it.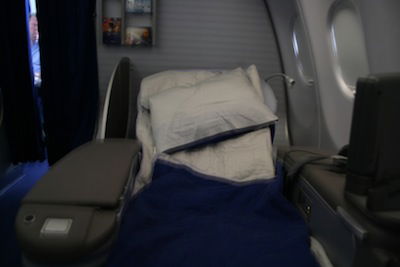 Bed
I decided to watch It's Complicated, which was quite funny. I then watched an episode of Two and a Half Men and Desperate Housewives, which also kept me entertained. While Lufthansa's screen is tiny, they have a decent number of sitcoms.
With about six hours to go to Seattle, the purser came to my seat and advised me we were over Greenland, and that the views were nice on the right side of the aircraft. The other passenger and me both got up to take a look out the right windows. The purser was right, the views were spectacular.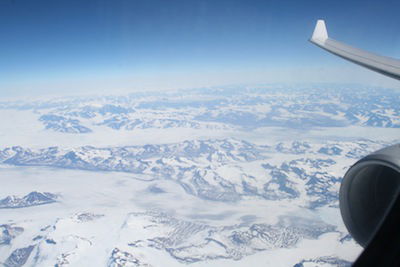 Greenland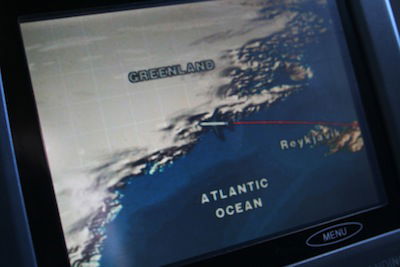 Coast of Greenland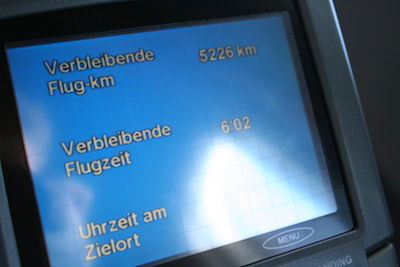 Distance to go…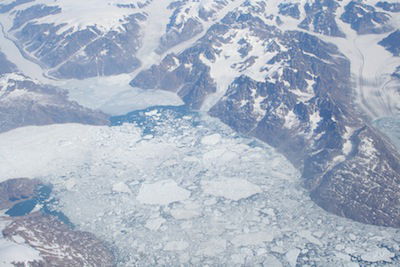 Quite the view
While snapping some pictures on the other side of the cabin, I started talking to the other first class passenger. She commented how good my English was. Well thanks, I'm American. 😉
I guess the fact that I communicated with the crew in German the whole flight made her think English wasn't my first language.
She mentioned how her son was really good with travel stuff. I figured I might know him, so I asked what his name was. Yep, I (sort of) knew him. Her son is a FlyerTalk member that I've had quite a few near run ins with. After talking for a while I decided it was time to sleep, but first got a cup of orange juice from the bar setup.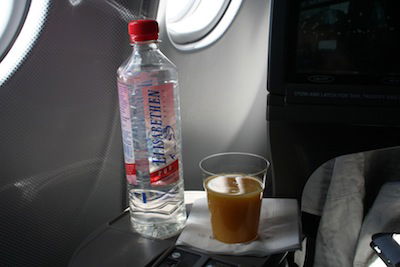 Water and juice
I napped for the better part of three hours, and within a few minutes was approached by the purser, who offered me a snack. Lufthansa is one of the few quality international airlines that doesn't have a snack menu, so the flight attendant simply presented me with several options on a tray.
I took a couple of finger sandwiches and some bite sized pieces of pound cake. I wish Lufthansa would have some packaged German chocolate, since the food (especially bread) was tasting pretty dry at this point.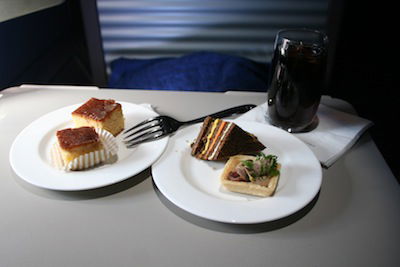 Snack
I watched an episode of Monk, which was entertaining as always, at which point the purser presented me with the pre-arrival menu, which read as follows:
Summertime

Cold and hot Specialties

Marinated Filet of Salmon with Mango Salad

Zucchini filled with Goat Cream Cheese served with Tomato Confit

Artichoke Hearts with herb-flavored Olive Oil

Salad and Penne and Arugula

Black and Green Olives

Cherry Peppers filled with Cream Cheese

Prime boiled Beef with Horseradish Sauce and Caraway Potatoes

Gratin and Zucchini, Tomatoes, Eggplants and Mediterranean Herbs au Gratin

Dessert

Strawberry and Yogurt Tart

Mango, Kiwi, Cantaloup Melon, Currant and Blackberries
Lufthansa's pre-arrival meals are always excellent, in my experience. They're light yet flavorful. I took a little bit of almost everything.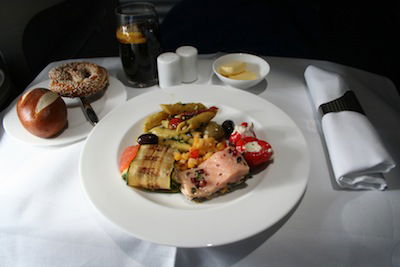 Pre-arrival snack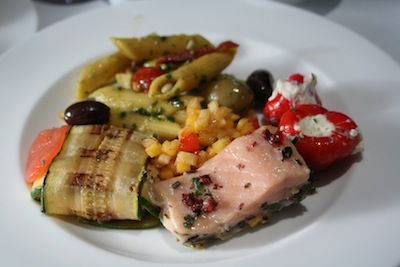 Pre-arrival snack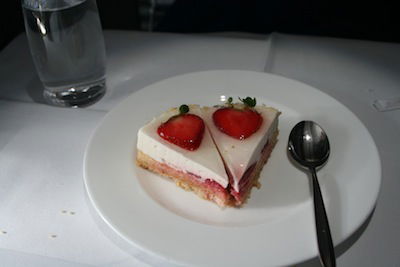 Strawberry and Yogurt Tart
About half an hour out of Seattle the captain made his pre-arrival announcement, explaining we'd be arriving a few minutes early. I changed out of my pajamas and packed up all my stuff. The purser thanked me for flying Lufthansa, and the seatbelt sign was soon turned on. We landed into the South, and quickly taxied to the gate.
They were only using door 2L for deplaning, so there was no way for the flight attendants to do the "curtain block." Immigration was super-speedy, and my checked back was among the first out.
While Lufthansa's food isn't my favorite, their service, amenities, and most importantly the First Class Terminal, are top notch.