---
We intentionally planned a long layover in Frankfurt so that we could visit the First Class Terminal. While the first class lounges in the terminal are almost as nice as the First Class Terminal, the major difference is the guaranteed car ride to the plane, the novelty of which hasn't worn off for me yet.
After a 15 minute walk through the terminal and then 10 minute walk along the outside roadway of the airport we made it to the First Class Terminal. Since we already had our boarding passes we were through security in no time.
The security process is one of my favorite parts of the First Class Terminal experience, given that there's never a wait. It's like having your private security lane with agents there just for you.
Our personal assistant invited us to sit down and took our boarding passes and passports. I asked her if our flight was going to be operated by the 747 with the new first class product, and she promised to check. Unfortunately we were eventually informed that we would have the old first class.
The Terminal was fairly empty, which was nice, so we had a whole set of couches to ourselves. Within a few minutes of settling in a waiter came by to offer us drinks. I went with VOSS water.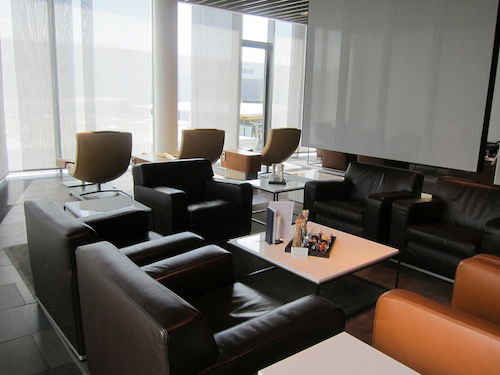 Seating area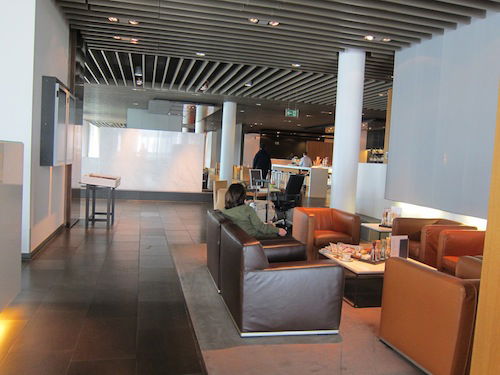 Terminal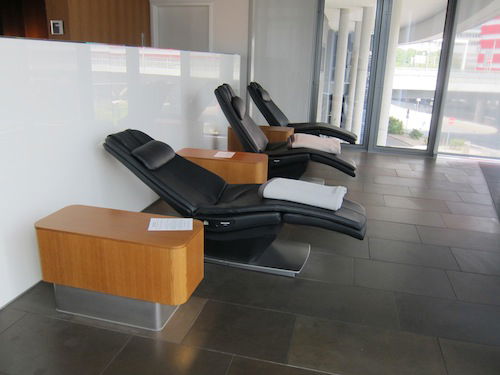 Comfy seats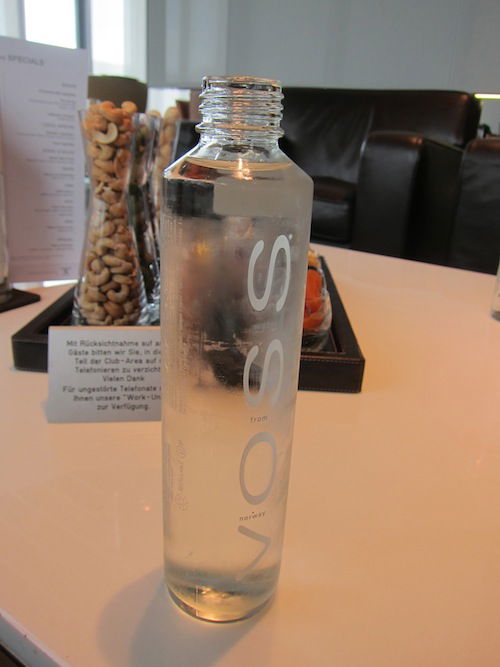 VOSS water
The novelty of the ice cream cooler in the First Class Terminal still hasn't warn off for me, so I had some ice cream in a waffle bowl with sprinkles and almonds. Yes, I'm like a five year old.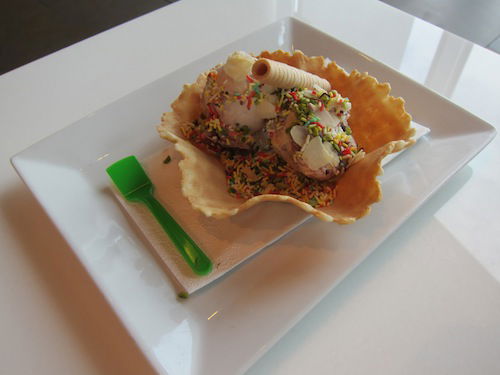 Ice cream
After getting some work done for about an hour we decided to have lunch in the restaurant.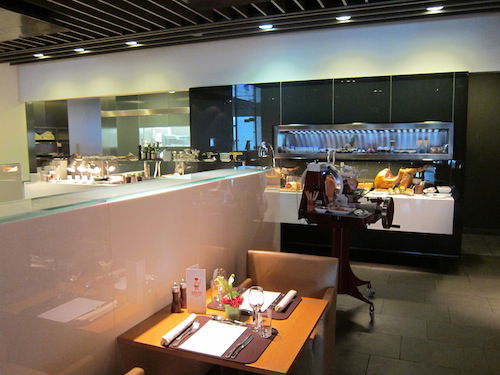 Dining area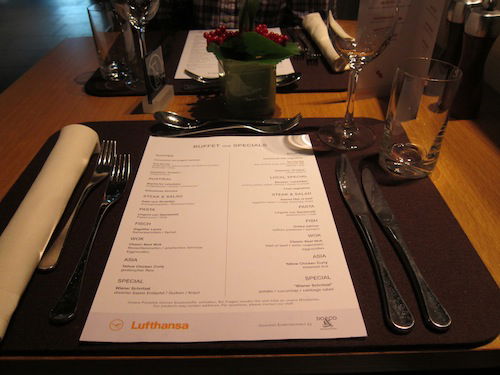 Menu
As usual the buffet had just about everything imaginable, so I took a little of (almost) everything. To drink I had Fanta, which would be my last one for a long while.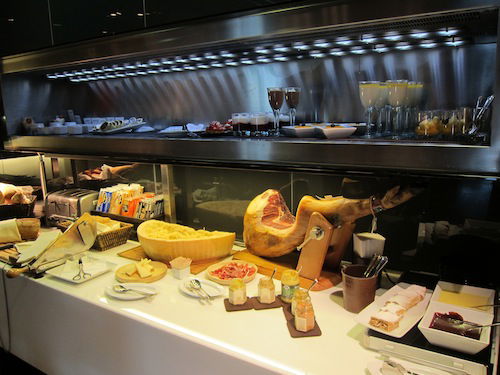 Buffet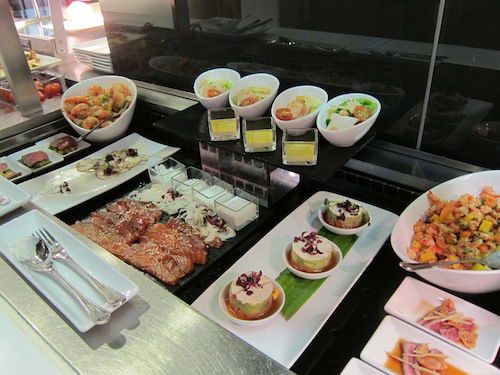 Buffet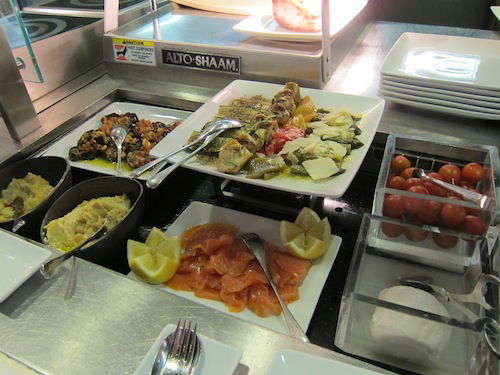 Buffet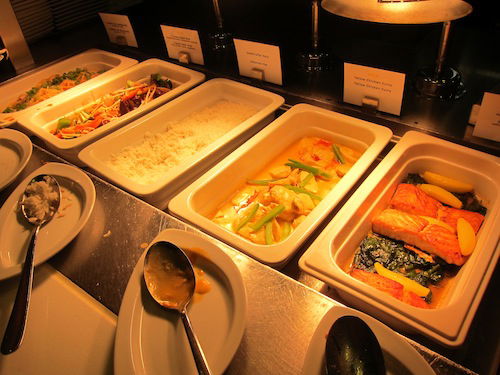 Buffet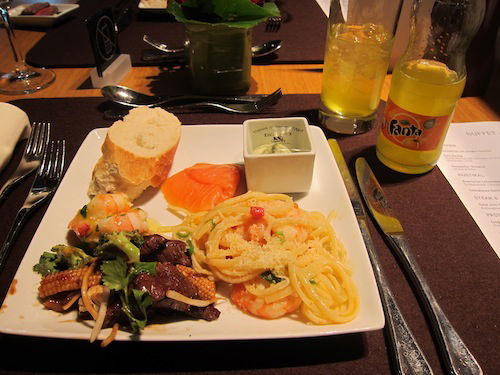 Lunch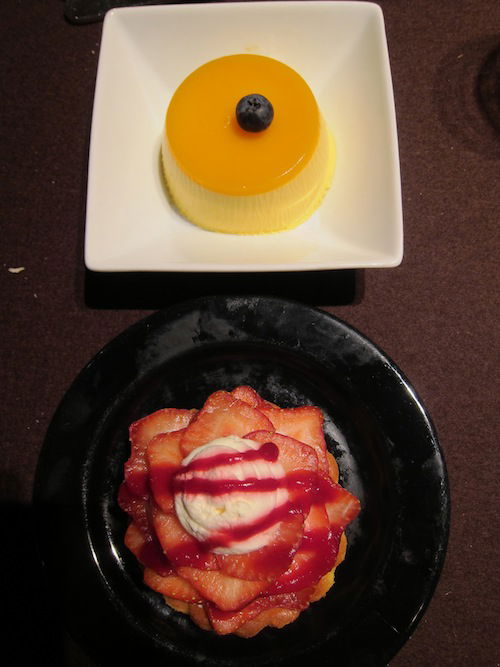 Dessert
After lunch I decided to take a shower. Lufthansa also has some really nice private rooms with bath tubs, though I didn't have quite enough time for that.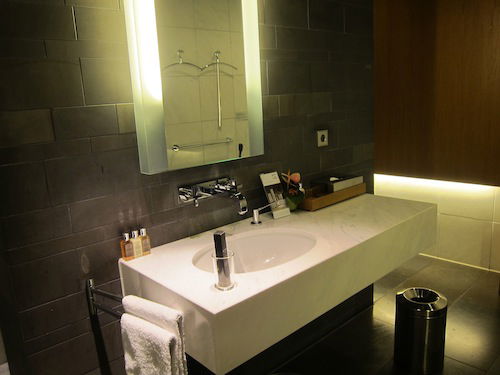 Shower room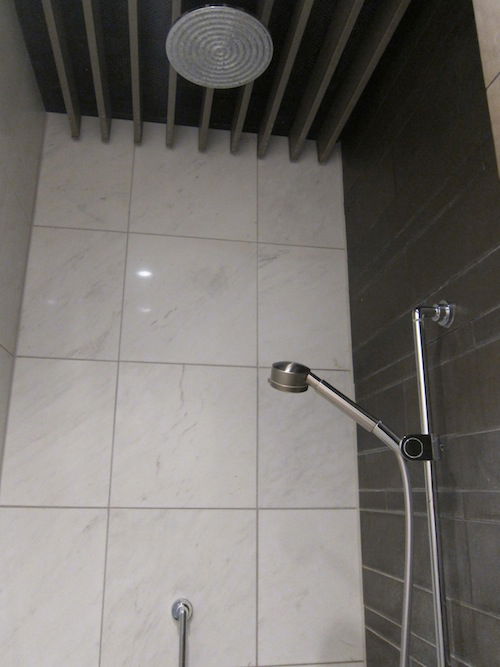 Shower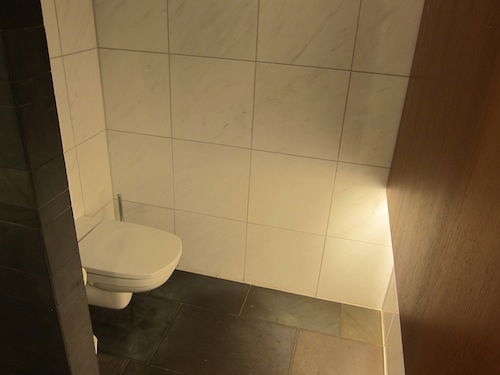 Shower room
Shortly before 5PM our personal assistant approached us and told us our flight was ready for boarding. After passport control she introduced us to our driver, who drove us to the plane in a Mercedes S500.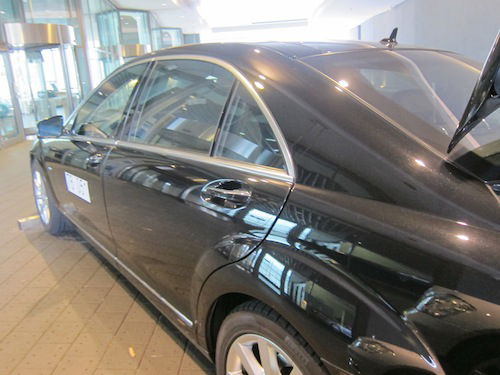 Car transfer
Even though I've probably been to the First Class Terminal a dozen times, the novelty of driving across the tarmac in a sports car still hasn't worn off for me. For those of you that are HON members (Lufthansa's top tier elites that get First Class Terminal access regardless of which cabin they're flying), does the novelty ever wear off? Please tell me it doesn't, because I would have nothing to live for. 😉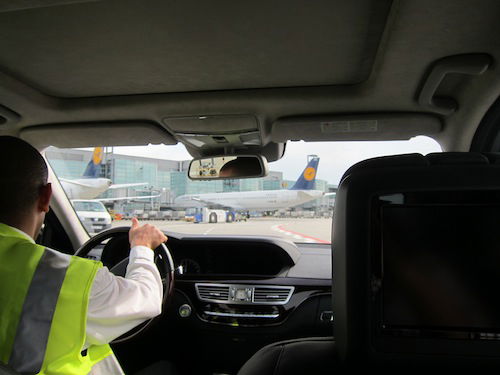 Car transfer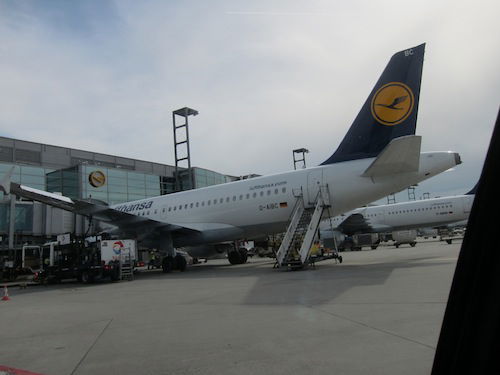 Nice views!
As we pulled up to the plane we were escorted through the elevator up to the jet bridge, where the driver introduced us to the crew, who directed us to the upper deck.
Lufthansa 432
Frankfurt (FRA) – Chicago (ORD)
Thursday, August 11
Depart: 5:35PM
Arrive: 7:30PM
Duration: 8hr55min
Aircraft: Boeing 747
Seat: 82C (First Class)
As we got to the upper deck we were greeted by two super-cheery flight attendants that directed us to our seats in row 82. I really can't say enough positive things about Lufthansa's first class flight attendants. In my experience they're professional yet personable, which is a balance that even many of the world's best airlines aren't able to achieve.
There was only one other passenger seated in first class, and as the flight attendant came to our seats she informed us it would just be three of us. In the process I confused her pretty bad, since we had been communicating in German the whole time. As a result she started speaking to my friend in German as well, though he doesn't speak a word of German so just stared at her puzzled. Once she understood why he wasn't responding she just laughed, and for a while proceeded to address me in German and him in English, till she realized it was easier to just address us both in English.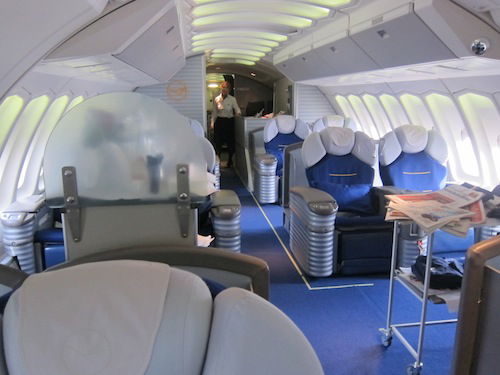 First class cabin
Once settled in we were both offered champagne with macadamia nuts.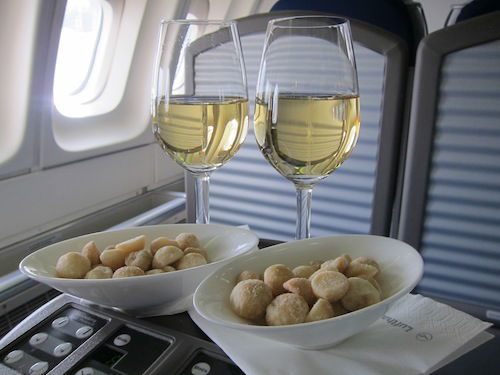 Pre-departure champagne
Following that we were offered an amenity kit, slippers, and sweater.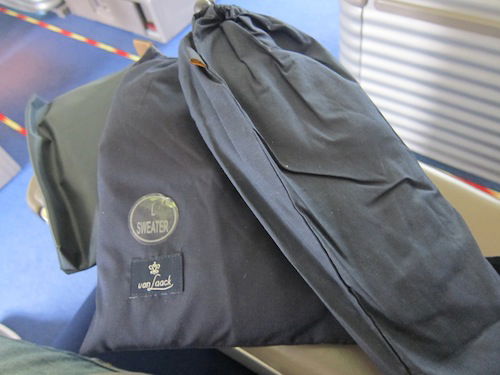 Slippers, sweater, and amenity kit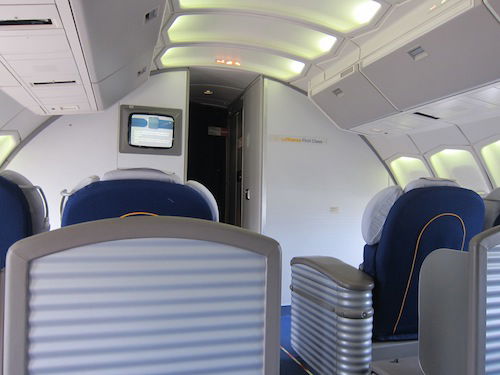 View from 82C
As was the case on the outbound segment from Frankfurt to Bangkok, Lufthansa blocks every other seat in first class on the 747, so the seats on the other side of the cabin were our "sleeping" seats.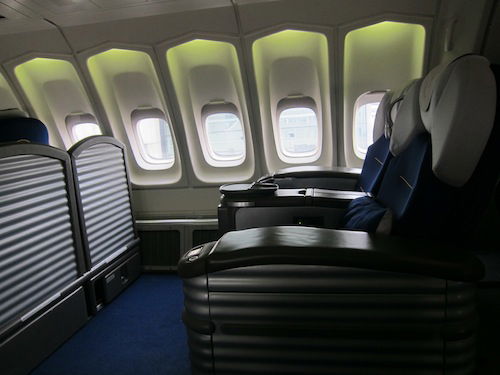 Seats for sleeping
Around our scheduled departure time the captain came on the PA to inform us of our flight time of 8hr30min, anticipating an on-time arrival in Chicago.
As we pushed back the safety video started playing, and after a fairly long taxi to the runway we were airborne.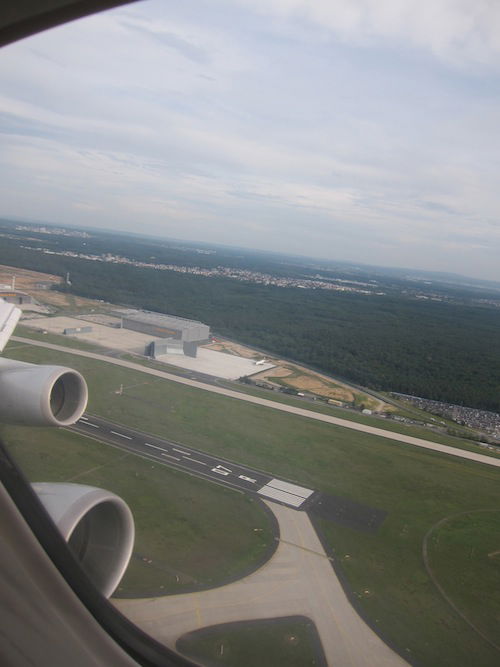 Taking off
About 10 minutes after takeoff the crew started the service with hot, scented towels. Lufthansa has the best towels of any airline, hands down (I dare anyone to disagree with me).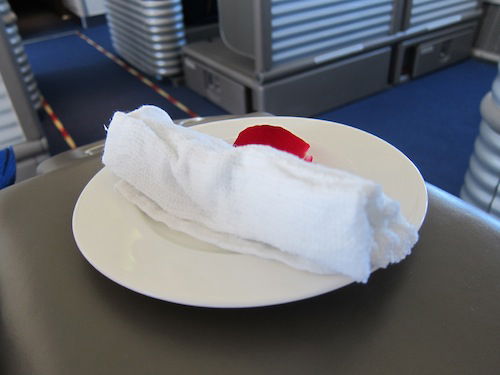 Hot towel
Shortly thereafter the purser came through the cabin to offer us the lunch menu and wine list.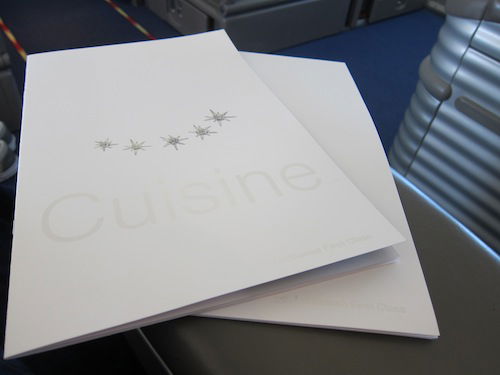 Menu
I was disappointed to see that the menu was identical to the one we had from Frankfurt to Bangkok, which I wasn't a huge fan of.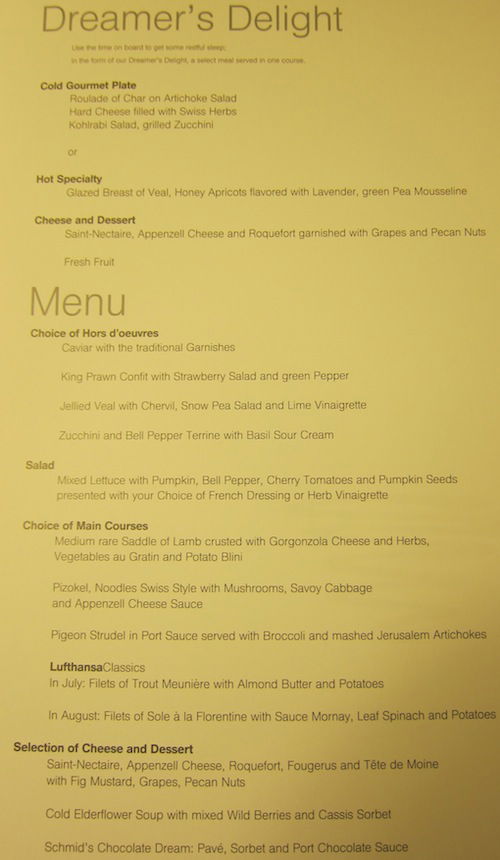 Menu
And the wine list read as follows:
Champagne
2000 Champagne Laurent-Perrier Millesime, Frankreich

Monthly Proposal
2010 Western Australia Sauvignon Blanc

White Wine
2008 Nies'chen Riesling Erste Lage
2008 Horse Heaven Hills Chardonnay

Red Wine
2002 Chateau Belgrave
2005 Redoma Tinto
2007 Mendoza Pasionado
Service started with the same not-so-aesthetically pleasing starter.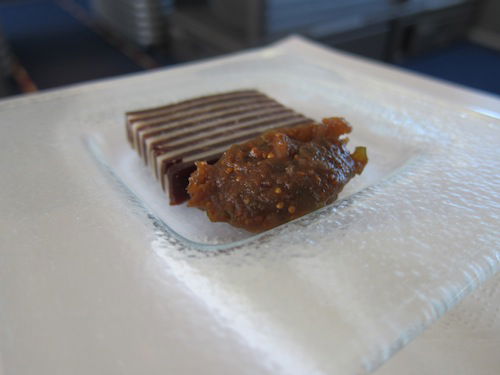 Amuse bouche
My friend just ate the center cheese layer of it, and made "art" of the rest of it. Surprisingly the flight attendants were amused.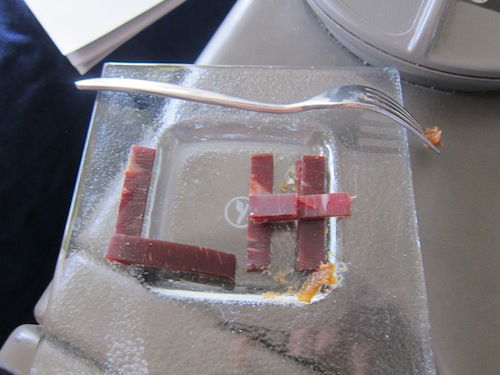 In it's most useful form
After that the signature Lufthansa roses were distributed.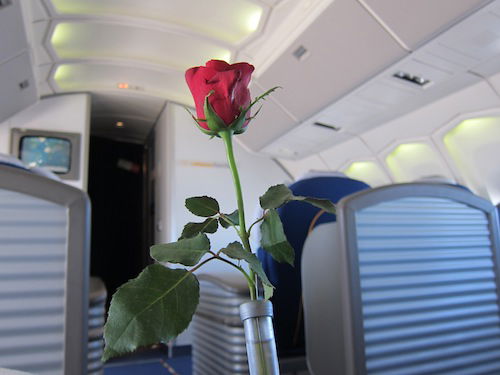 Signature rose
For the appetizer I went with caviar and also the prawn with strawberry dish.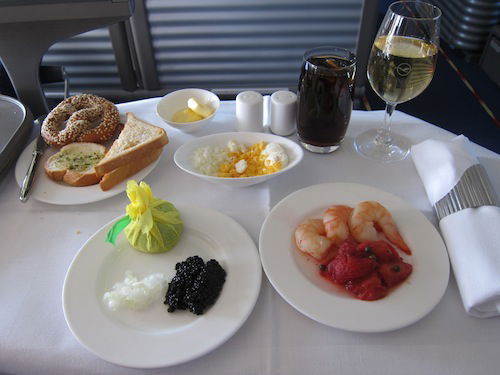 Appetizer
Then I went with the salad, which was fairly good.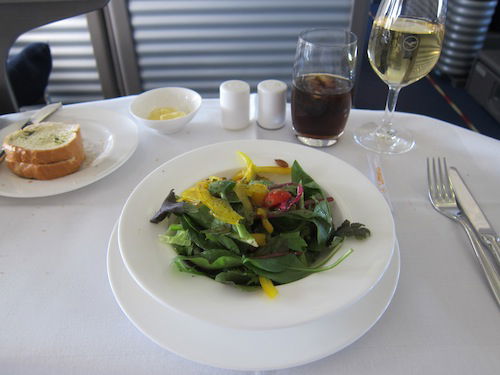 Salad
For the main course I went with the filet of sole. It wasn't especially good.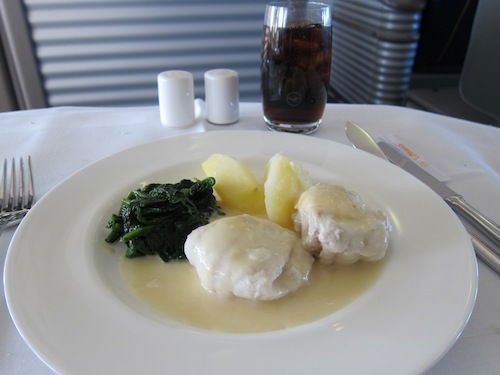 Filet of sole with sauce mornay, leaf spinach, and potatoes
Then for dessert I went with the elderflower soup with berries and sorbet. I prefer sweet desserts so wasn't a huge fan, aside from the Lufthansa logo being "stamped" onto the sorbet. I love the attention to detail!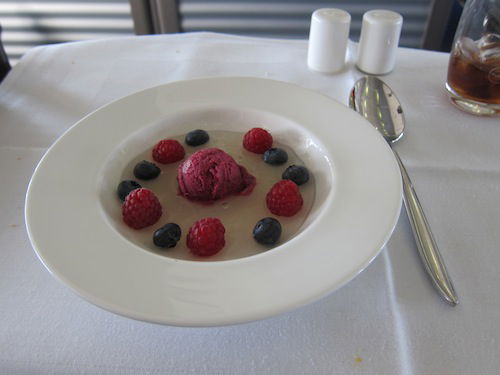 Cold Elderflower Soup with mixed Wild Berries and Cassis Sorbet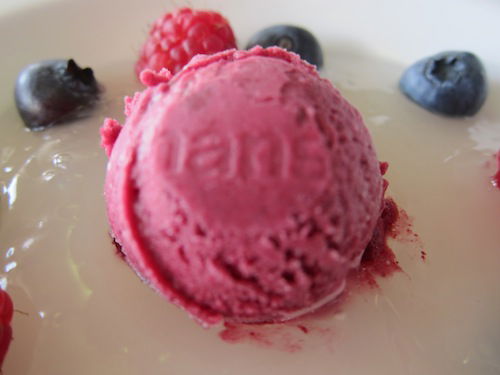 Love the logo!
Then to finish off the meal we were offered chocolates.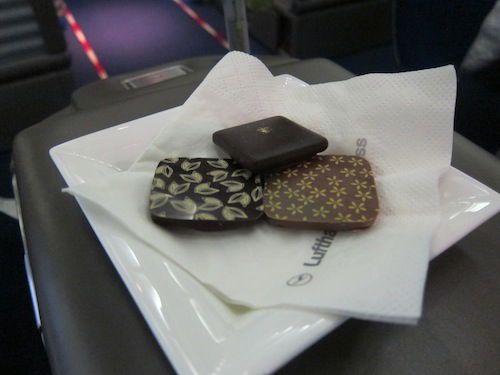 Chocolate
As is usually the case I'm not a huge fan of Lufthansa's meals. But nonetheless I find the actual meal service to be among the most enjoyable of any airline. I can't give the flight attendants enough credit for their charm, attention to detail, and genuine interest in taking care of passengers. It's what really sets Lufthansa apart, and this crew was especially good.
As we finished up our meals they offered to make our beds on the set of seats across from us.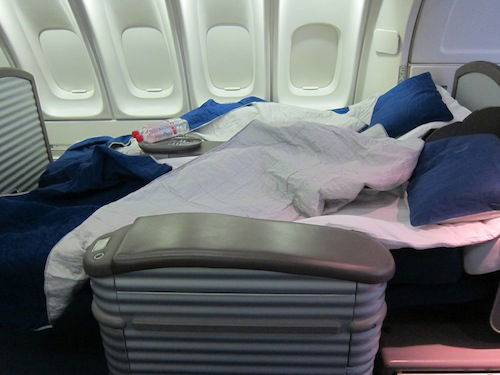 Bed
I slept for a few hours and woke up about three hours out of Chicago. At that point I made a quick round of the plane, though on the way back talked to one of the first class flight attendants for about 30 minutes. She was a lot of fun to talk to, and it was clear she loved her job.
About two hours out of Chicago we were served the pre-arrival meal. The service started with hot towels followed by the menus being distributed. I love that Lufthansa has separate menus for each meal service, as they're the only airline I know of where that's the case.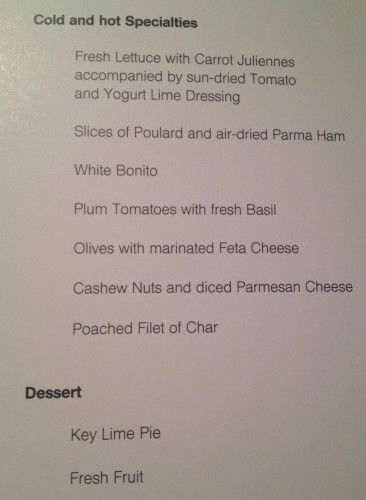 Pre-arrival menu
I also love that Lufthansa's pre-arrival meals to the US are usually salad "buffets." It's a bit lighter of an option than what most airlines serve, which in this case is a good thing.
The way it's served is that the flight attendants come around with a cart with each of the above options separately plated, and then they prepare the salad to your liking.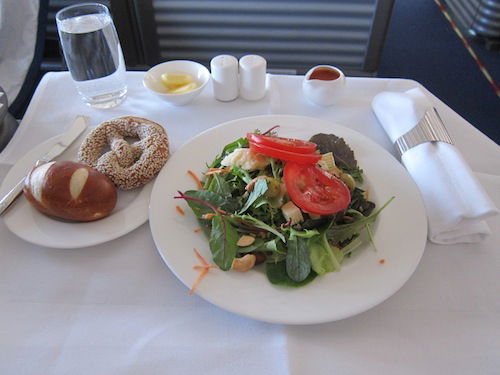 Pre-arrival meal
For dessert was key lime pie, and I had a cup of coffee to accompany it.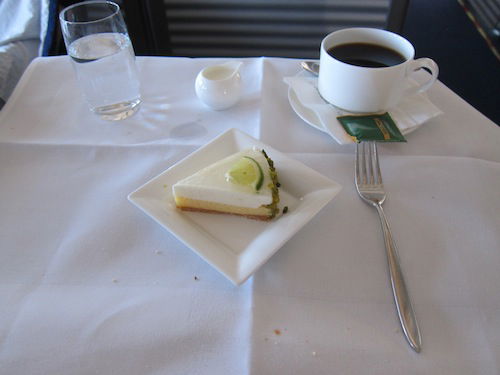 Dessert
About 30 minutes before landing the purser came around to bid us farewell and thank us for flying Lufthansa. Shortly thereafter both of the excellent flight attendants came by to thank us for flying Lufthansa, and also brought two glasses of champagne, saying "you guys started the bottle, and now you have to finish it." Love it!
As we initiated our final descent there were some great views of Chicago as we came in over Lake Michigan, and about ten minutes later we were on the ground.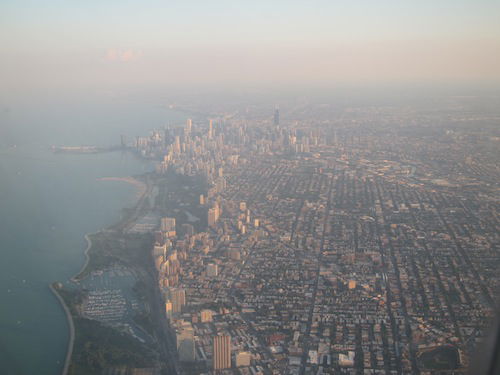 Descent into Chicago
This was my first trip as a Global Entry member, so naturally I was disappointed when there were no lines at immigration. It took a while for the bags to arrive, though within about 20 minutes of deplaning we were through customs and immigration.
And so ended a great trip…