---
I love the amount of nonstop international service that SeaTac Airport has. Living in Tampa I usually had to get up at the crack of down when traveling internationally and take a connecting flight or two to get to my international gateway. Now I can leave home less than two hours before my international flight.
We got to the airport at around 12:15PM for our 1:35PM departure. Lufthansa check-in is located at the far end of the terminal, with most of the foreign carriers.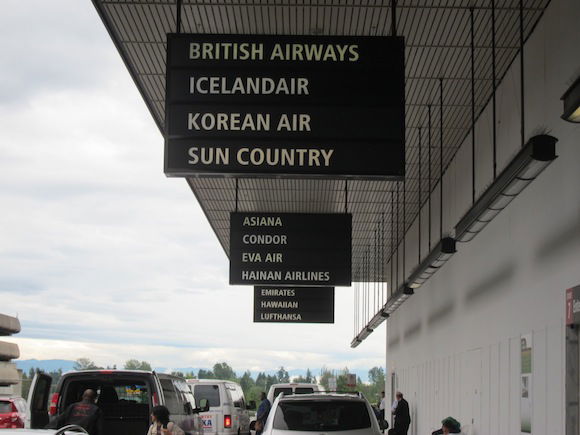 Check-in signs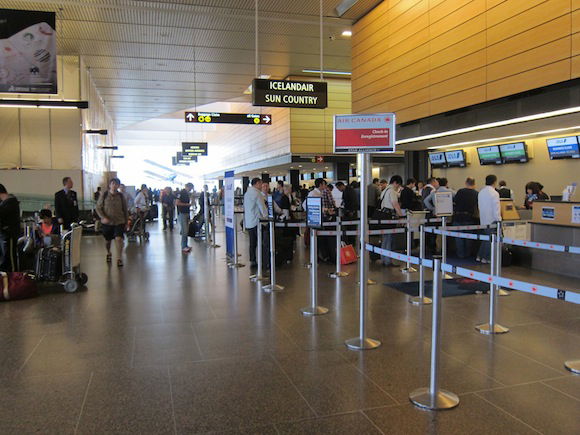 Terminal
Almost everyone had already checked in since we only arrived a bit over an hour before departure, so there were no queues at check-in.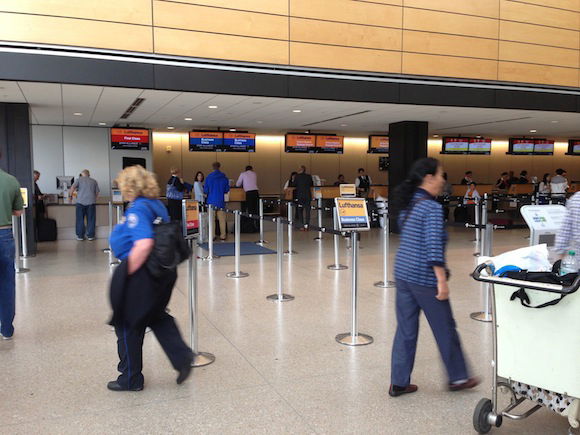 Lufthansa check-in counter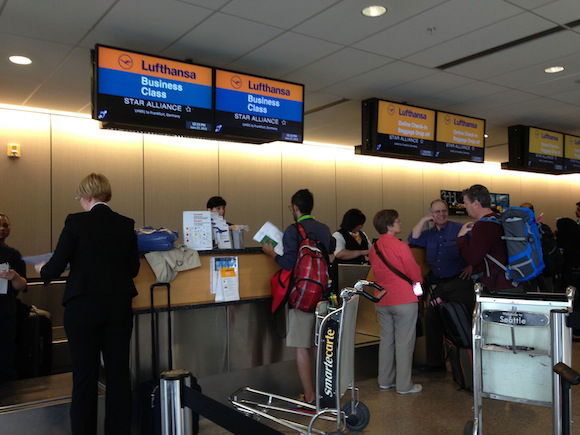 Lufthansa check-in counter
While I missed not having Pre-Check, the premium security line wasn't that bad, so we were through within about 10 minutes. Lufthansa leaves from the "S" gates in Seattle, so we took the train over there, which took another five minutes or so.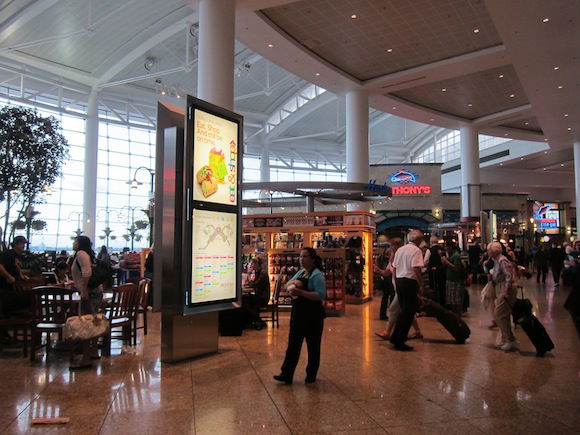 Central terminal in Seattle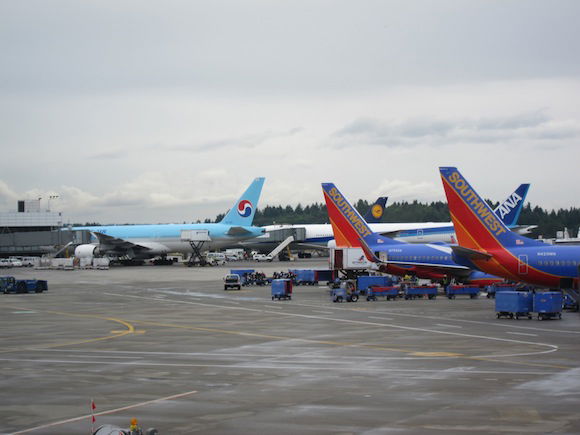 View of Lufthansa, ANA, and Korean planes from the central terminal
Once at the "S" gates we headed to "Club International," which is the contract lounge that Lufthansa and far too many other airlines use at the "S" gates.
As a reminder, Seattle has a handful of other options available to those with a credit card with lounge access, if you wouldn't otherwise be able to enter.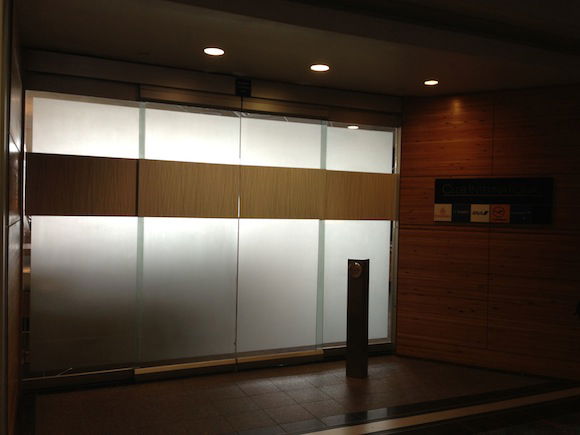 Lounge exterior
At the entrance we handed over our boarding passes and our flight information was written down and we were invited in. On the left side of the hallway was a door to the first class lounge, which was partitioned off from the rest of the lounge by glass.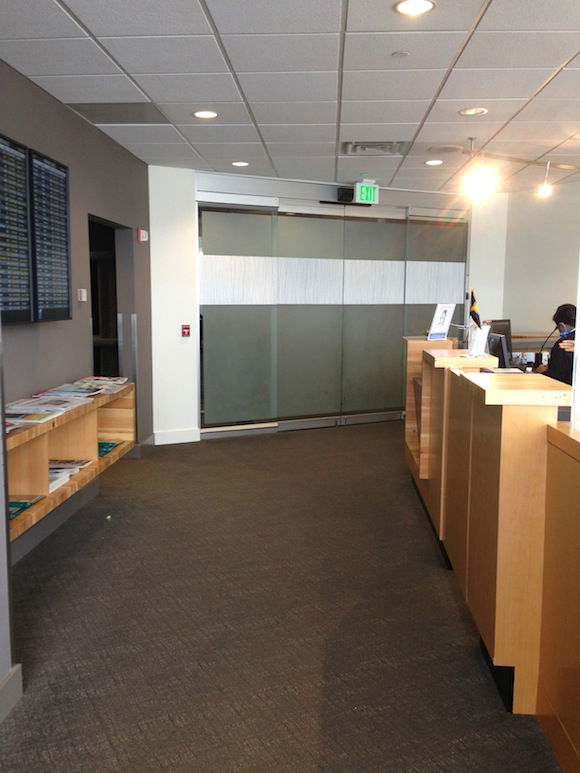 Lounge entrance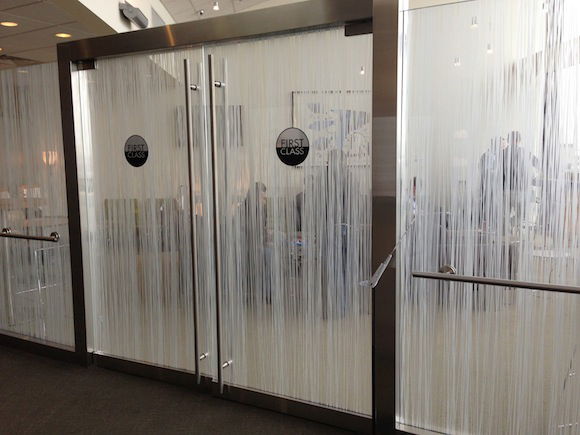 First class lounge
So there's no point in beating around the bush. The lounge was physically okay, but way, way, way too crowded. For me the most important characteristic of a business class lounge is that it's a quiet place to get some work done, and that wasn't the case here. Virtually every seat was taken.
Not only was it full, but there were several people pacing around the lounge closing billion dollar deals (in their own minds, at least) and using Skype without headphones.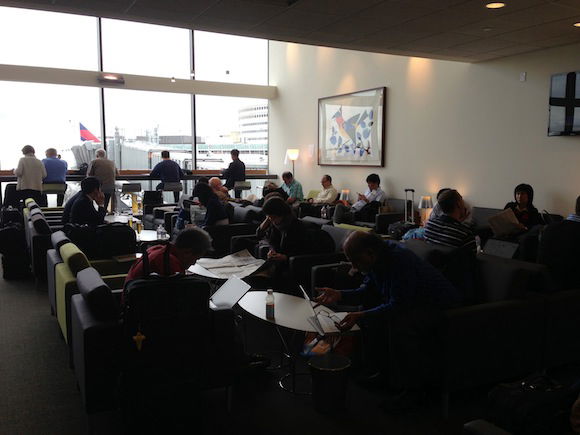 Lounge seating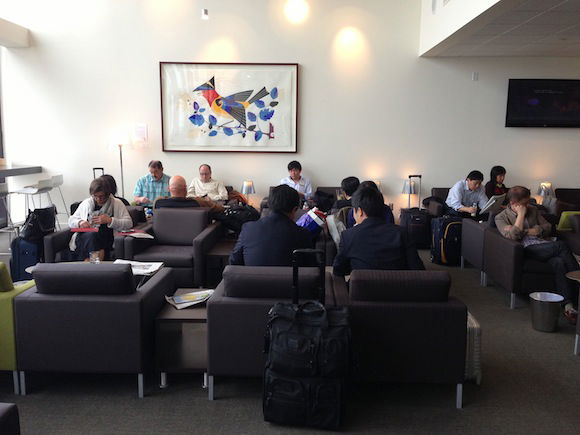 Lounge seating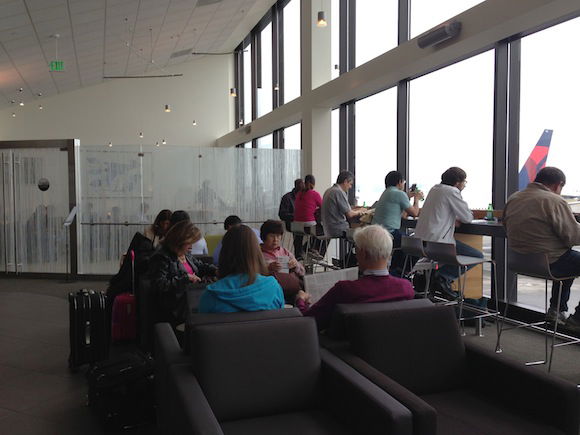 Lounge seating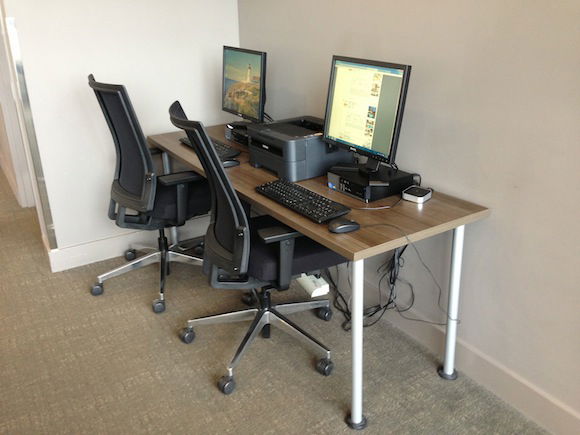 Workstations
The food spread was fine, and consisted of self serve soft drinks, soup, yogurt, packaged veggies and cheese, ramen noodles, chips, cookies, etc.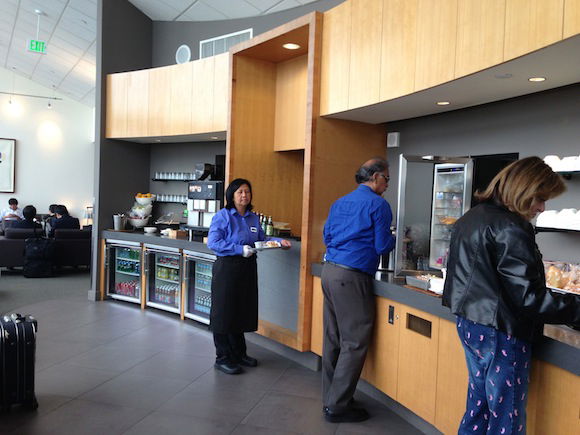 Buffet area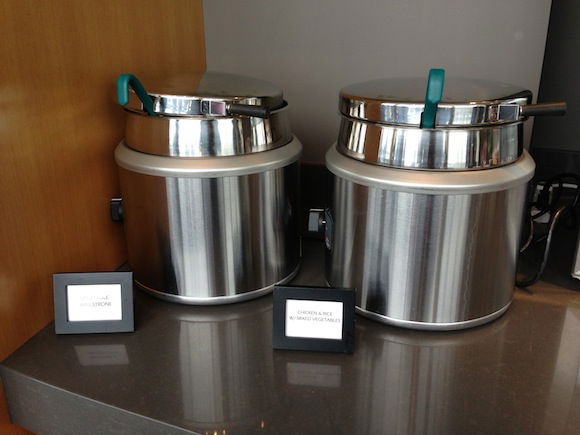 Soup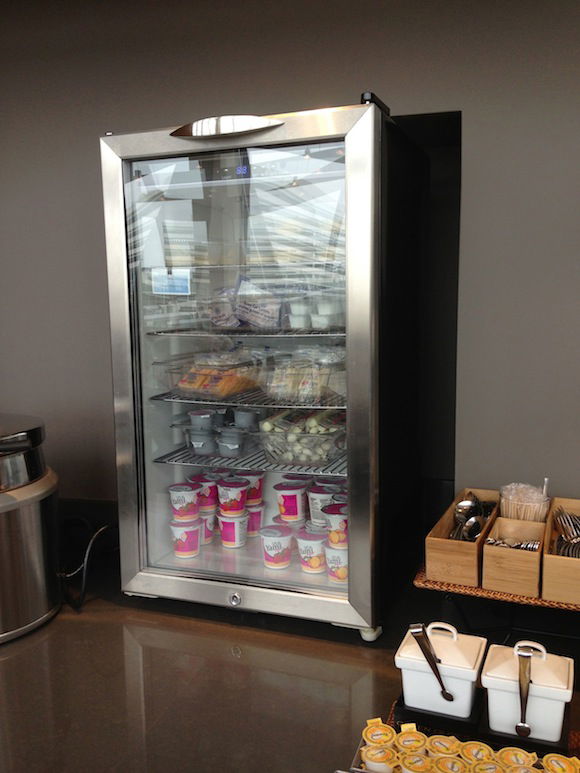 Yogurt, veggies, etc.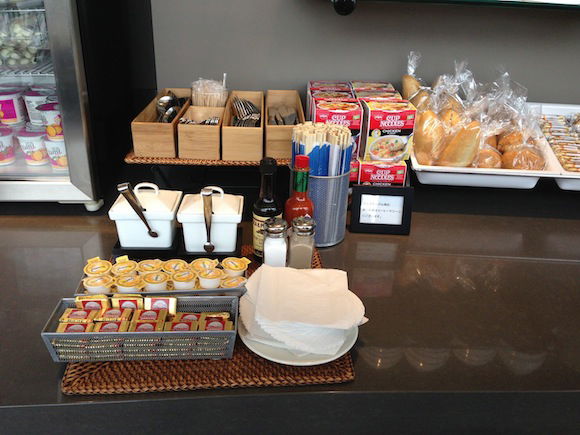 Ramen noodles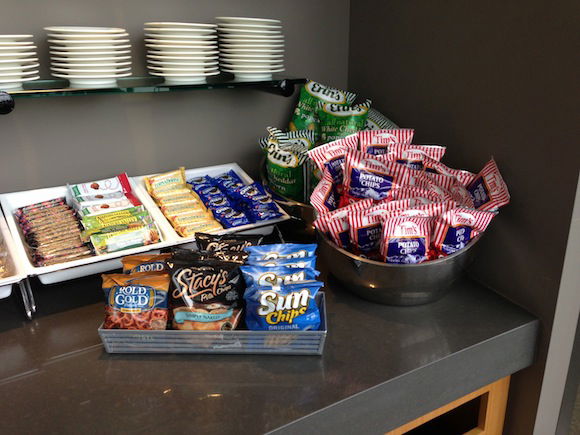 Packaged snacks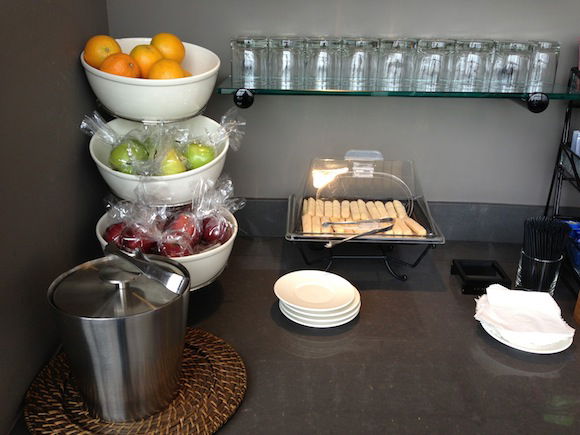 Snacks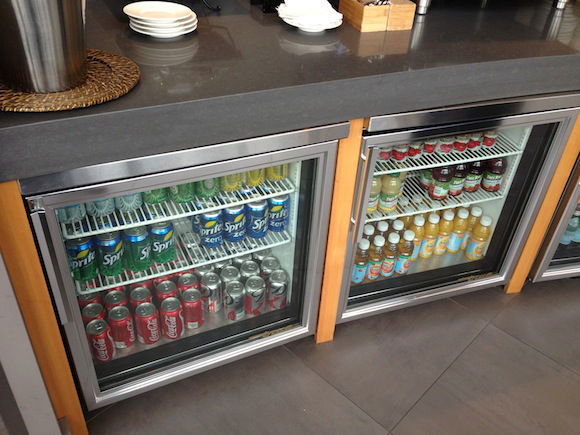 Fridge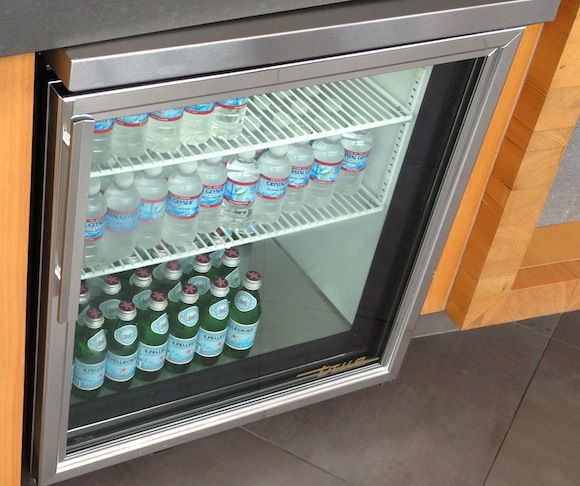 Fridge
There was also a manned bar with alcoholic drinks.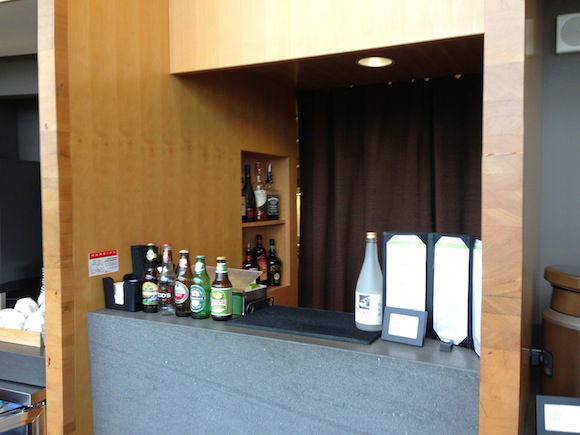 Alcoholic drinks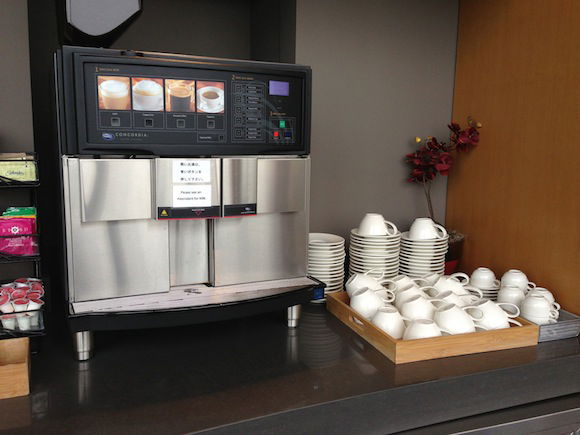 Coffee machine
The lounge was so ridiculously overcrowded that we decided to go sit in the food court instead. SeaTac Airport has free Wi-Fi so the food court was actually more comfortable to sit in than the lounge.
At about 1PM we headed over to the departure gate, which was S12. It's a bit ridiculous that they have two 777s and an A330 all leaving from the same tiny corner of the terminal at more or less the same time, since there were probably 500 people in an area that seats 100 people tops.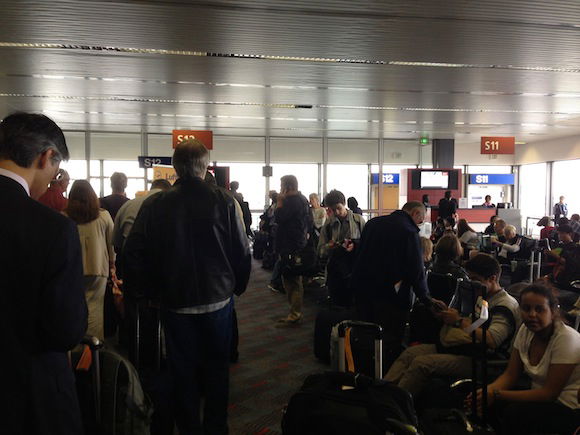 Gate area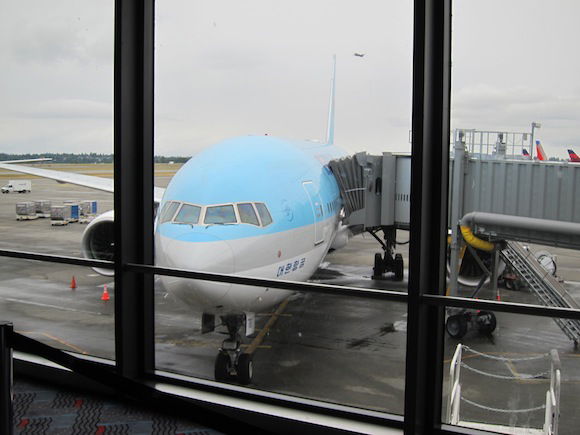 Korean Air 777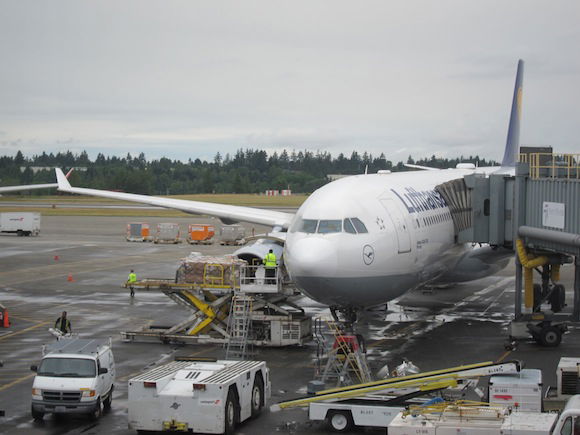 Our Lufthansa A330 to Frankfurt
At around 1:10PM boarding was announced, starting with first and business class.
So note to self: next time cut it even closer when departing out of Seattle on Lufthansa.