---
Zurich seemed like a great city in which to redeem the two free nights in a suite I had from the Chase Hyatt Visa card sign-up bonus. While everyone gets two free nights as a sign-up bonus for the card, if you're a Diamond member they're in a suite, so I was determined to redeem them at a category six Park Hyatt.
Since Zurich was in my travel plans I figured there was no better place to redeem those nights, given what an expensive city it is. The Park Hyatt Zurich is a category six property, making is 22,000 Gold Passport points per night (or 33,000 points per night in a suite, though you have to book a minimum of three nights for that).
The nightly rate for our dates would have been ~1,500CHF (~1,630USD) for the Park Suite. Upfront it's worth saying that we're talking about Zurich here, so a 1,600USD suite in Zurich is the equivalent of a 400USD (if that) suite in Tampa, probably. I mean, this is the city where a grande beverage at Starbucks runs you 9USD.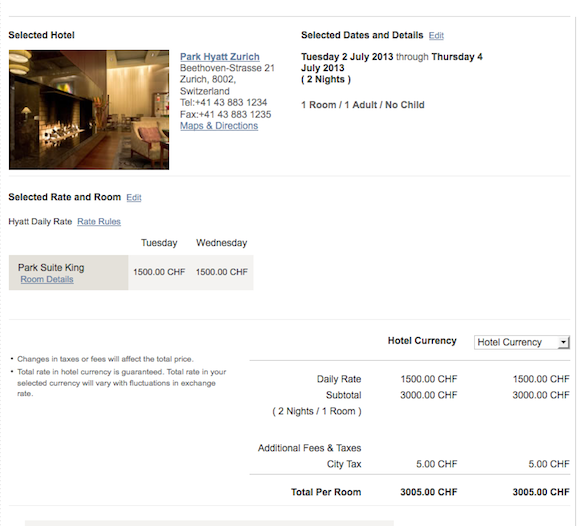 Anyway, after a quick flight on Swiss from Nice to Zurich we took the train into the city and then a cab for the short drive to the Park Hyatt. The exterior of the hotel is rather modern and understated, and it almost looks like an office building.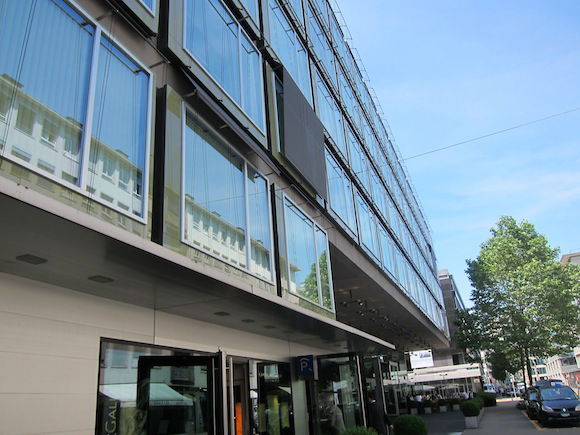 Exterior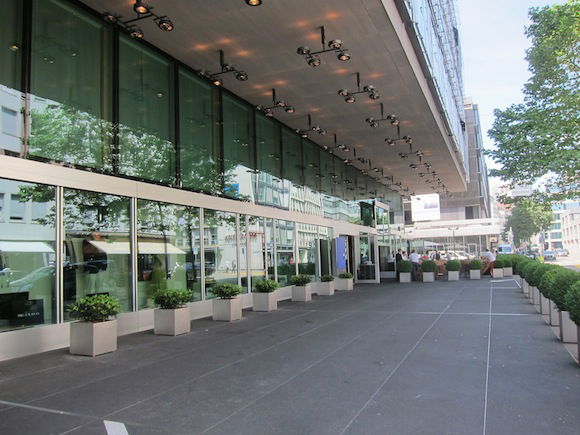 Exterior

Signage
We were promptly welcomed by the bellman and offered help with our bags. The reception is located inside the lobby to the left, where we were also welcomed with a smile. As soon as I gave them my name, one of the associates came around the desk to escort us to our suite on the 5th floor for in-room check-in.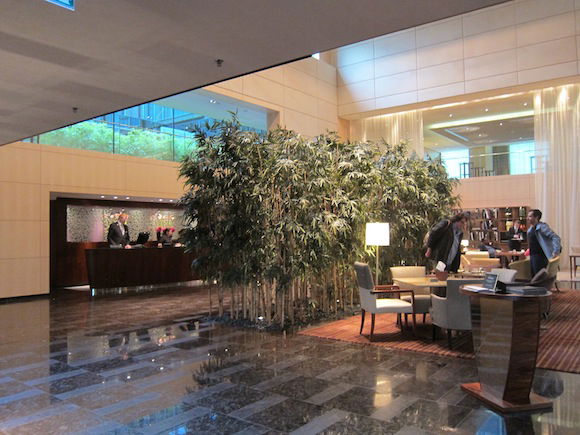 Lobby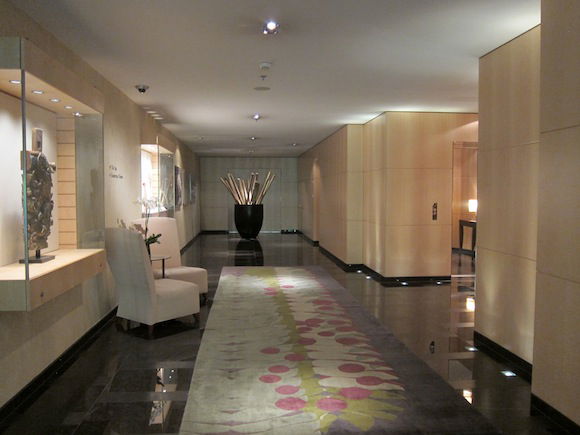 Lobby
On the elevator ride up he explained the features of the hotel, restaurant hours, etc.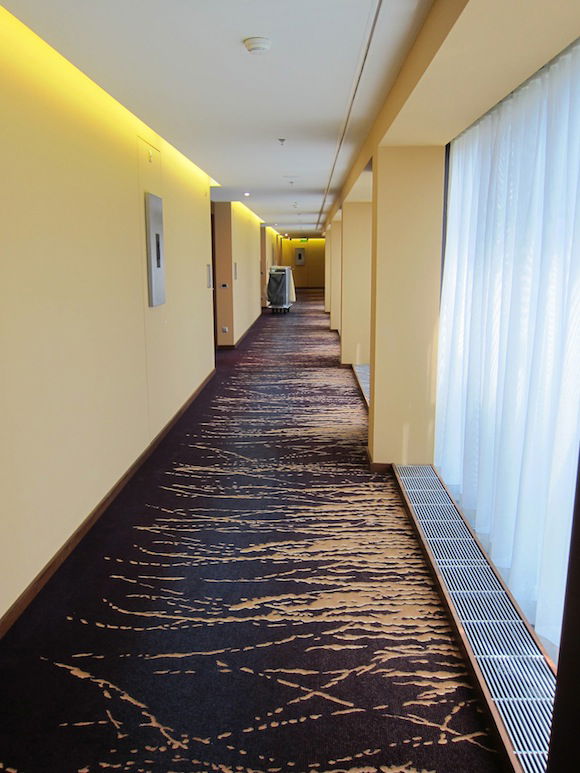 Hallway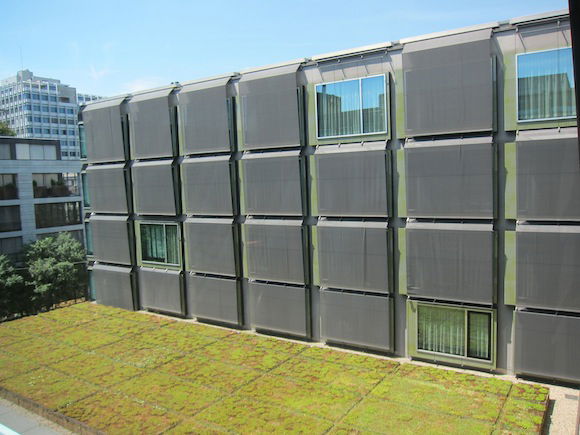 Courtyard view from the hallway
We were assigned suite 537, which was located at the very end of the rather long corridor, the furthest room from the elevator.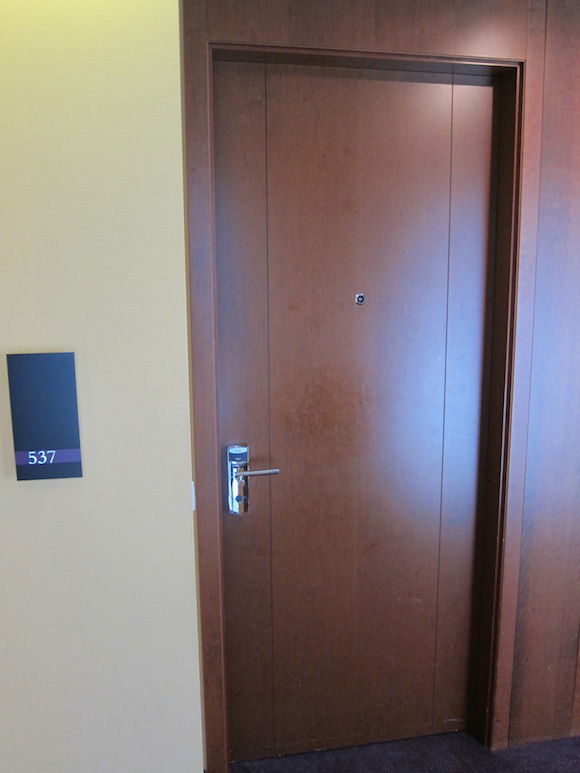 Our room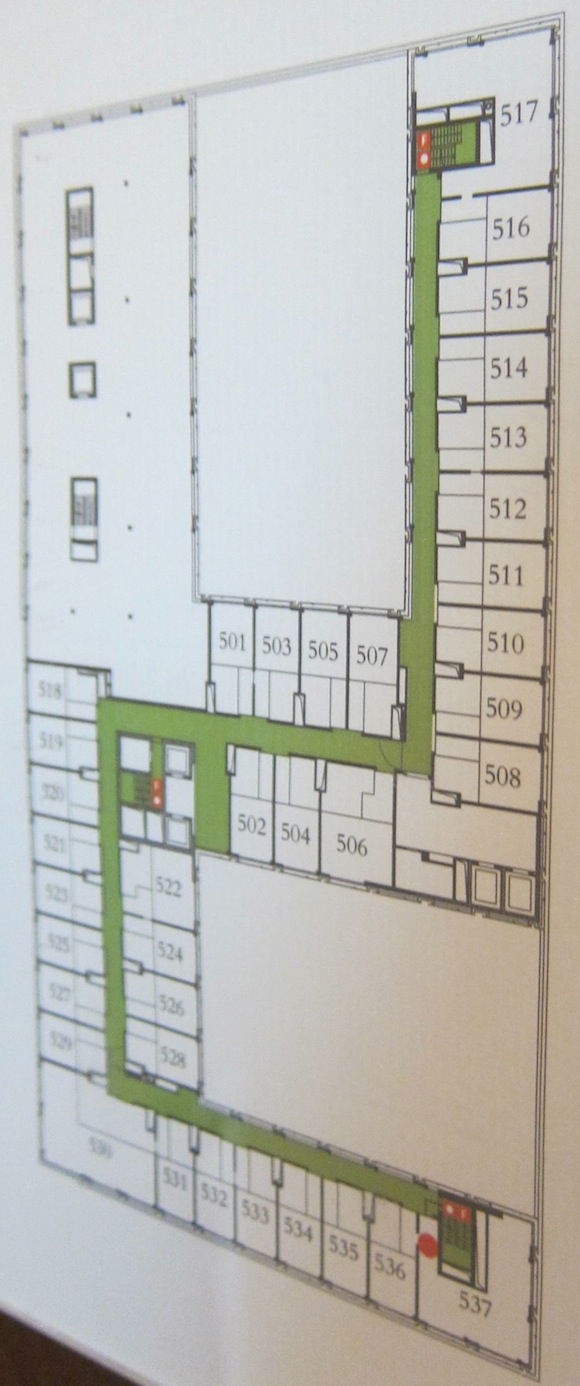 Floor plan
The suite was beautiful, and at the entrance was a hallway with a Nespresso coffee machine, minibar, and a plate of fruit.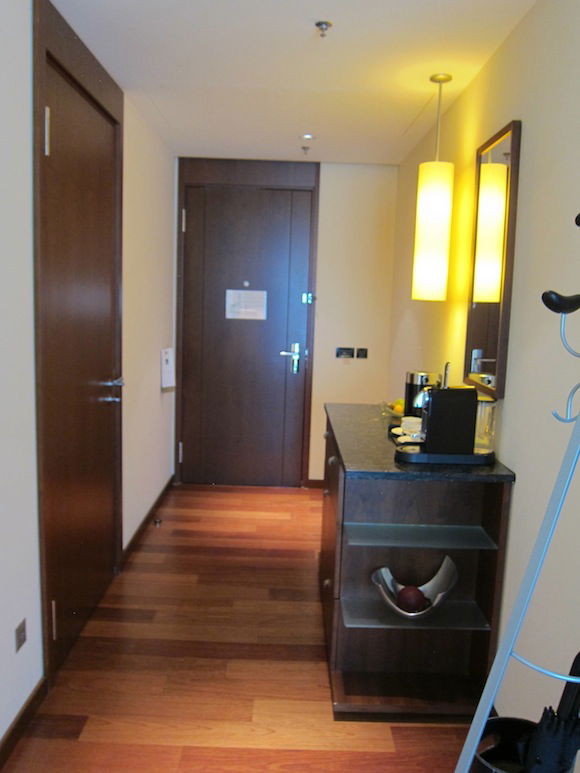 Entryway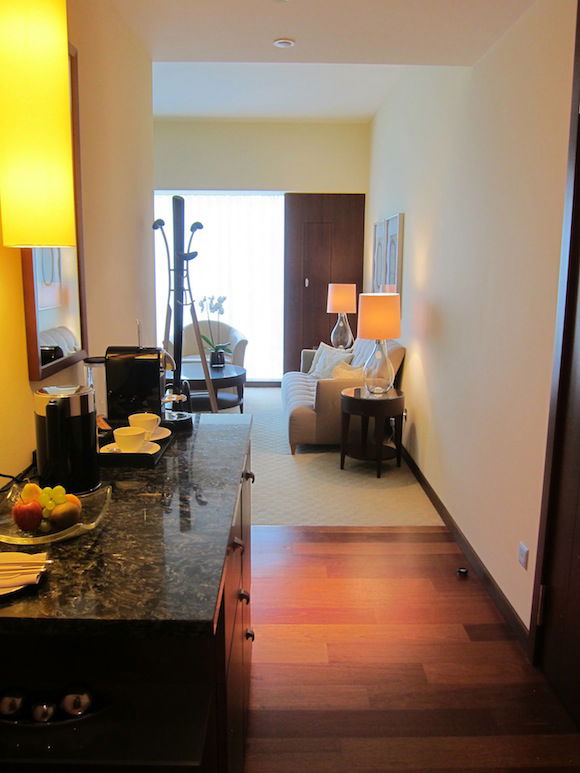 Entryway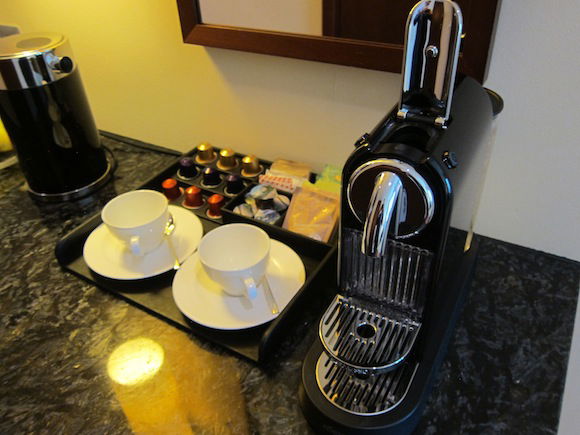 Nespresso coffee machine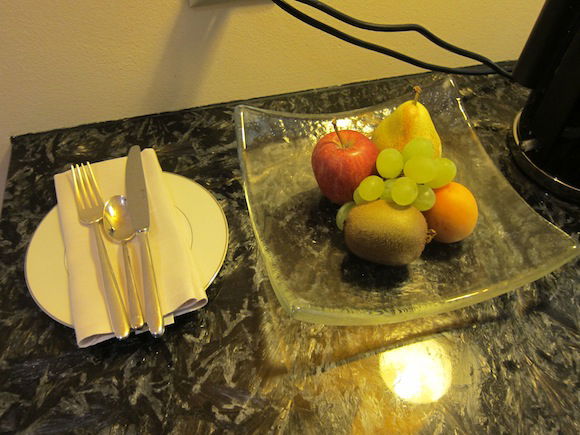 Fruit plate
That led into the living room, which featured a couch and chair with a coffee table.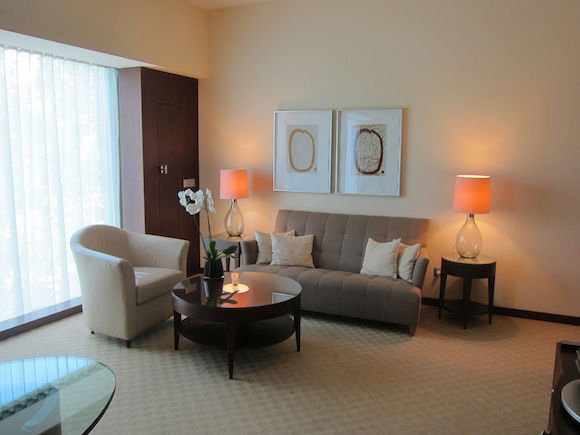 Living room
On the living room table was a welcome gift consisting of a bottle of wine and a card.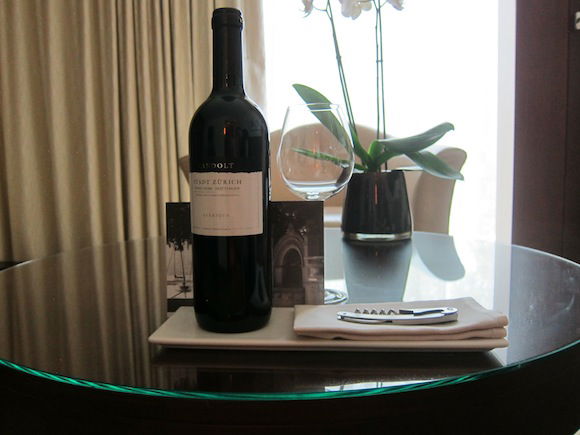 Welcome gift
The couch faced the partition between the living room and bedroom, which is also where the desk is located.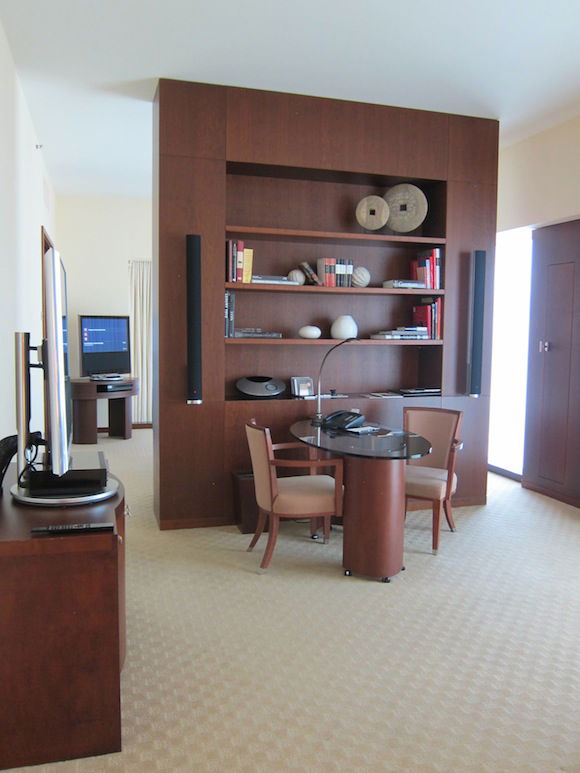 Desk
Between the living room and desk is a TV, which can swivel either way based on where you want to watch it from.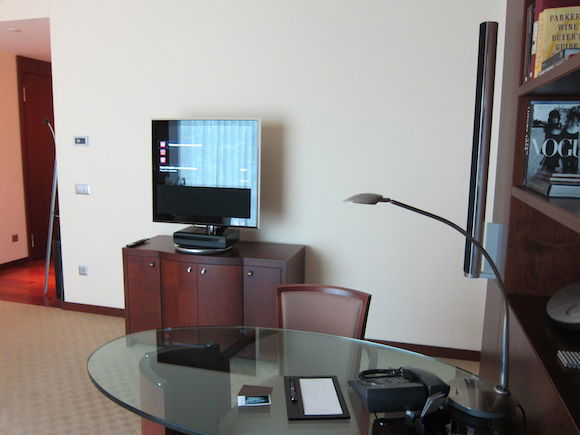 TV
On the other side of the partition was an extremely comfortable king bed, which faced a chair and the second TV.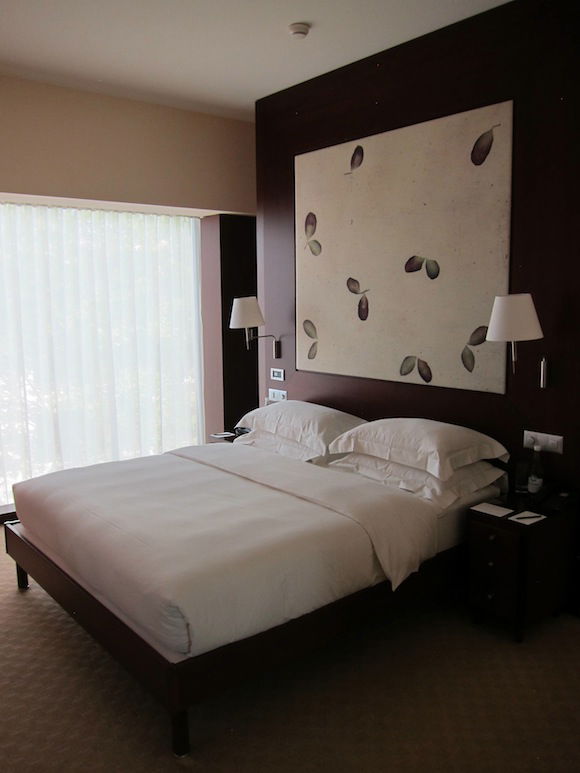 Bed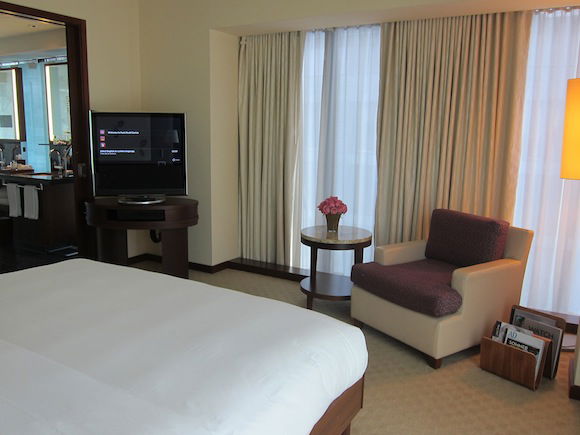 Desk and chair
The hotel is right in the heart of Zurich and isn't a high rise, so views are simply of the surrounding (immaculately clean) streets.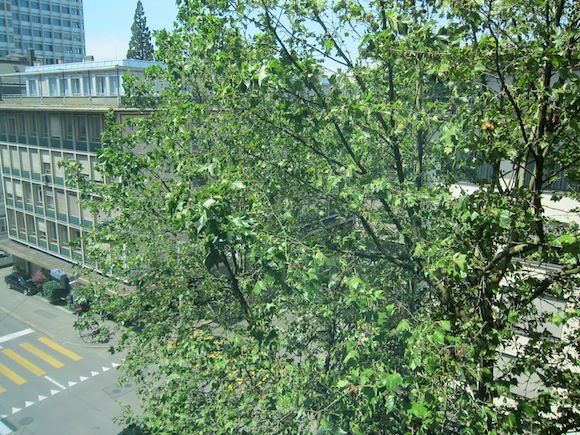 View from the room
The highlight of the room had to be the bathroom, which featured double sinks, an amazing soaking tub, a walk-in shower, and a toilet.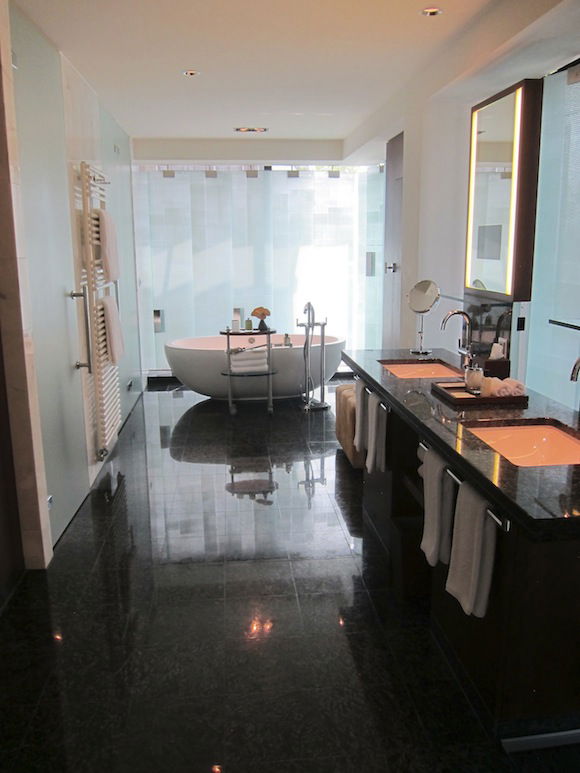 Bathroom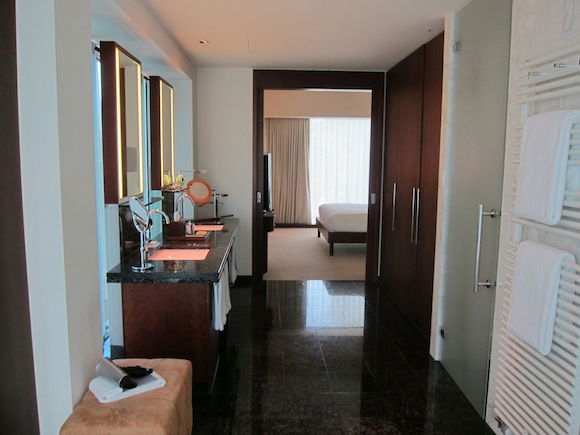 Bathroom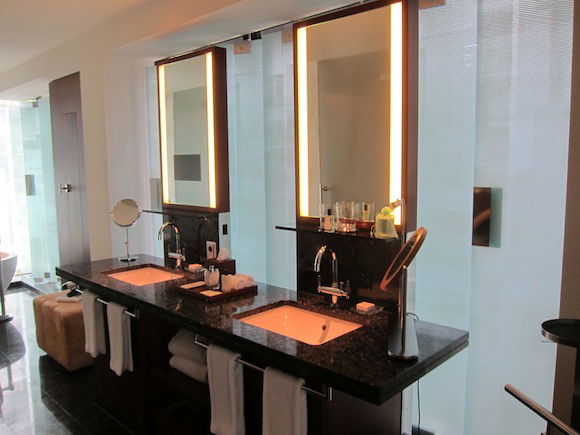 Double sinks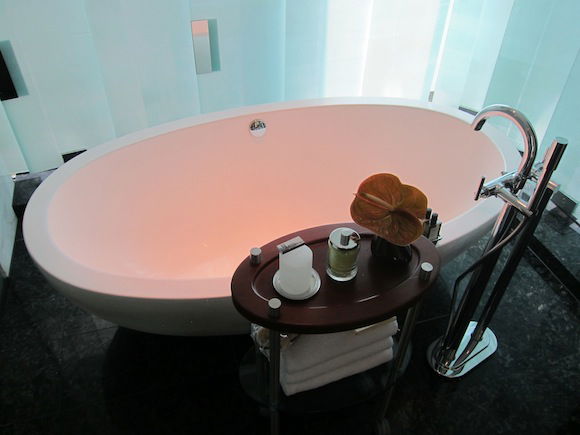 Bathtub
The shower featured two shower heads and a bench. What more could you ask for?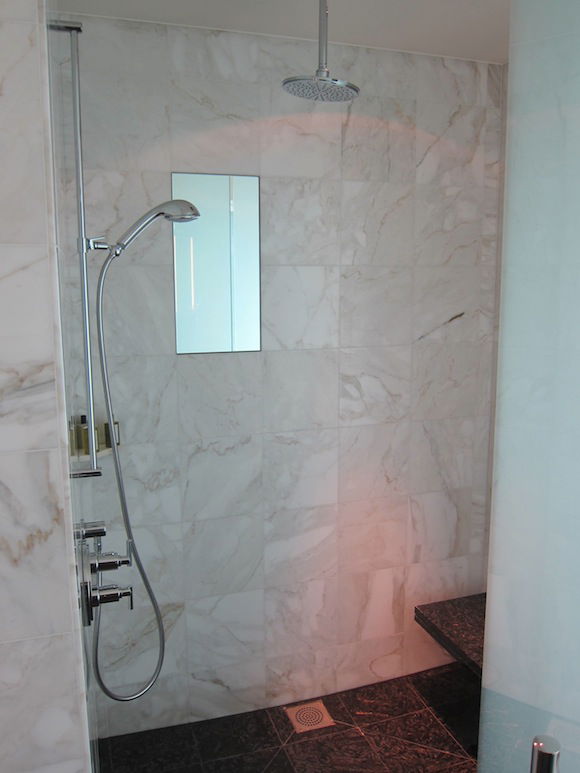 Shower
And the best part was that all the toiletries were Blaise Mautin branded. I'm not a huge toiletry snob, but I do admit that Bulgari and Blaise Mautin toiletries get me excited. Really excited.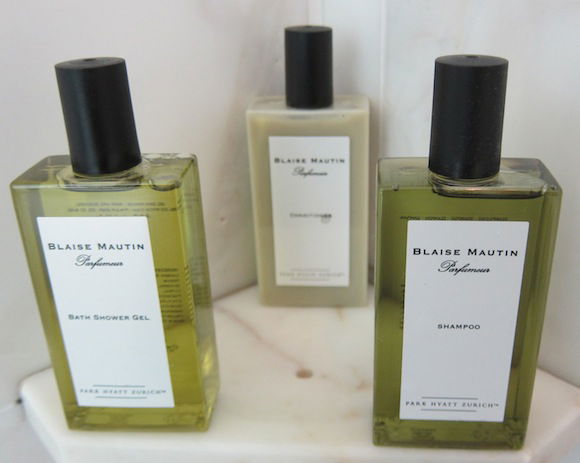 Toiletries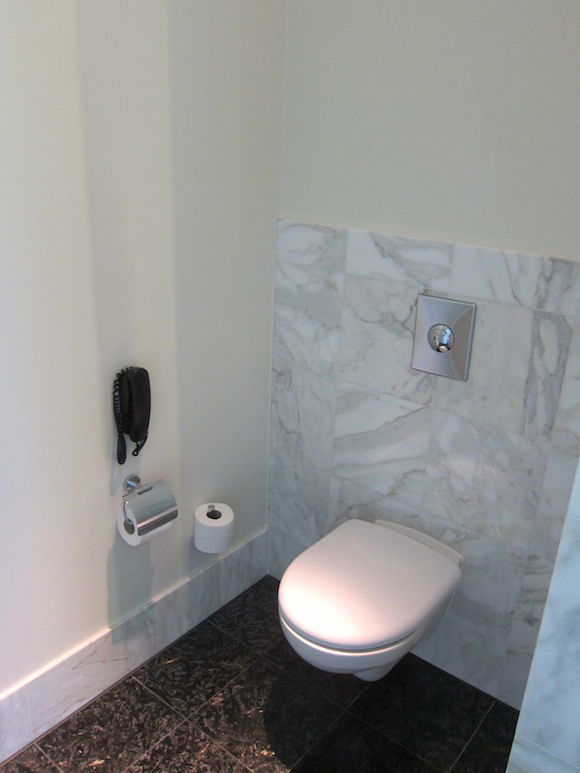 Toilet
Unlike the two Hyatts in France, I was thrilled to find that the Wi-Fi at this hotel was actually usable, but I'd expect no less from a Park Hyatt in a business city.
Since I'm a Diamond member we were entitled to complimentary breakfast, which was served in The Lounge. Breakfast is served from 6:30AM till 10:30AM on weekdays, and till 11AM on weekends.
The Lounge is located in the lobby just across from reception, and we had breakfast there the first morning. I don't think I've ever been to a restaurant that had as much of a business feel as this place. We were just about the only people not wearing suits, though that's not to say we felt uncomfortable or anything. Beyond that, I'm pretty sure they only hire supermodels as waitstaff here, which is mildly intimidating when you're ordering french toast.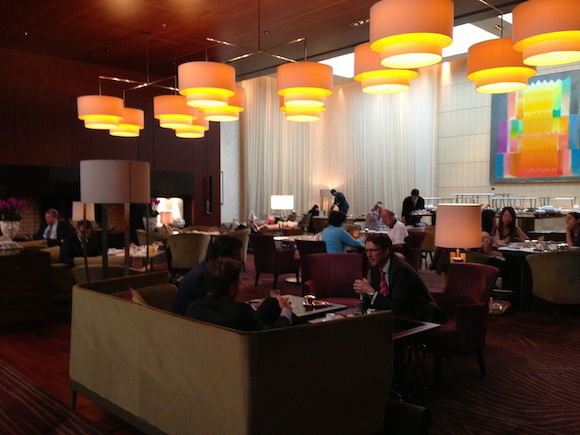 The Lounge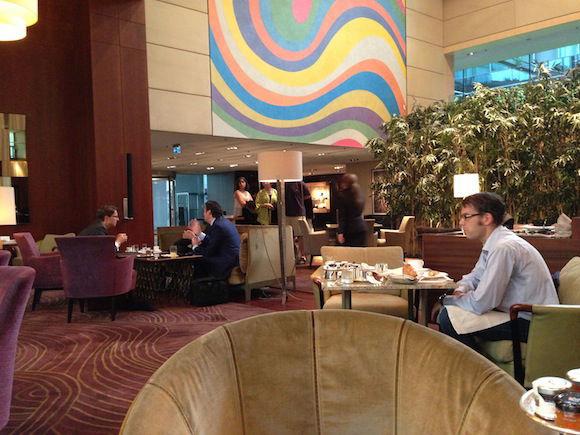 The Lounge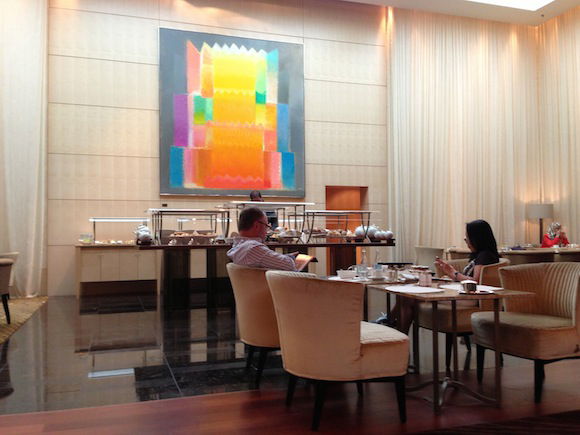 The Lounge
As a Diamond member we could eat from the cold buffet and then also order whatever we wanted from the menu.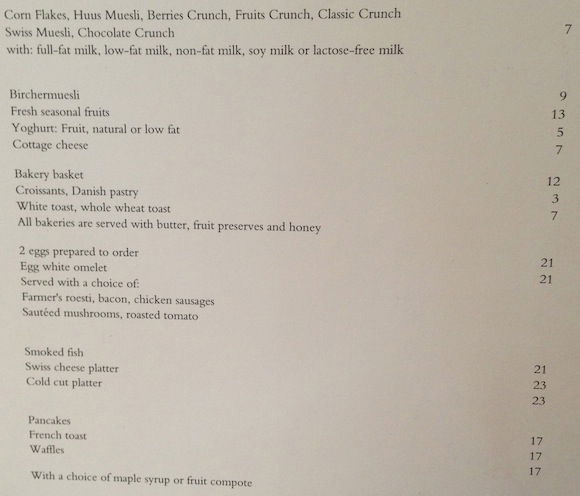 Menu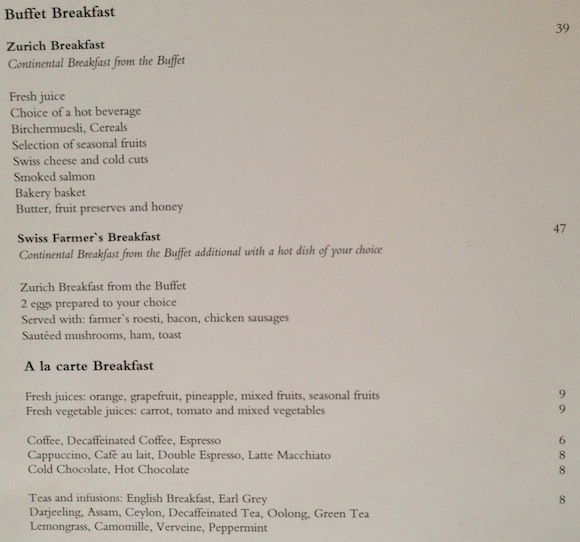 Menu
The buffet was somewhat basic (after all, it was just a cold buffet), though everything was incredibly fresh and of top notch quality.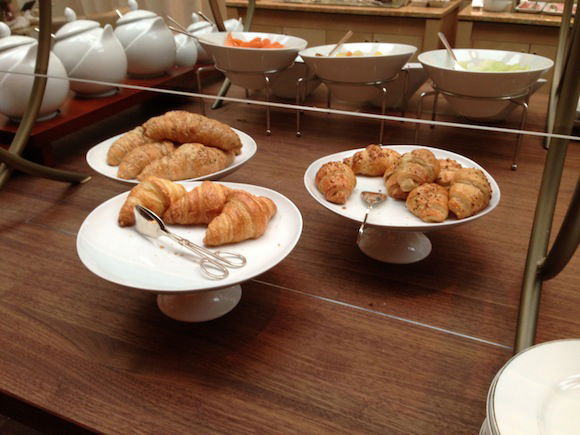 Buffet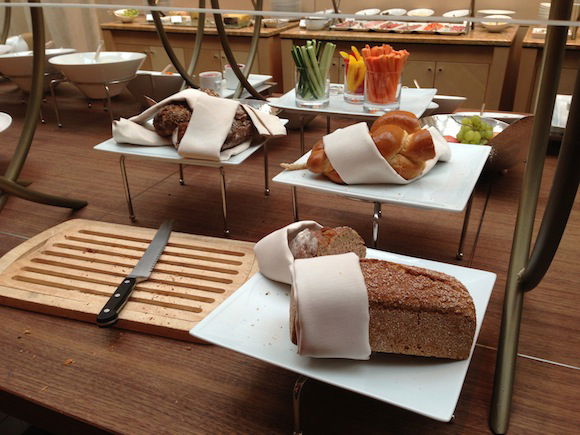 Buffet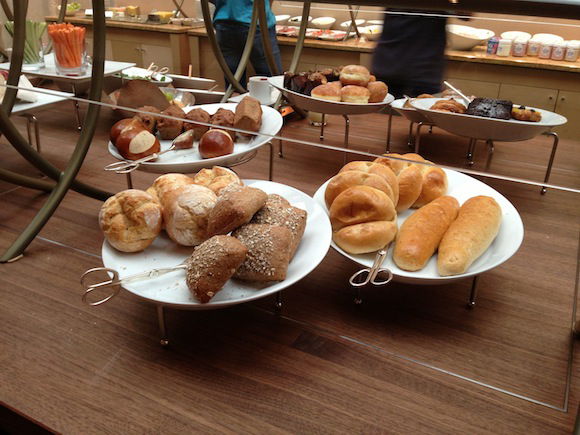 Buffet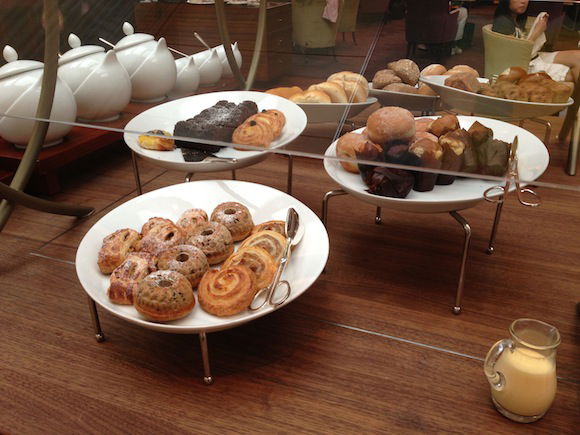 Buffet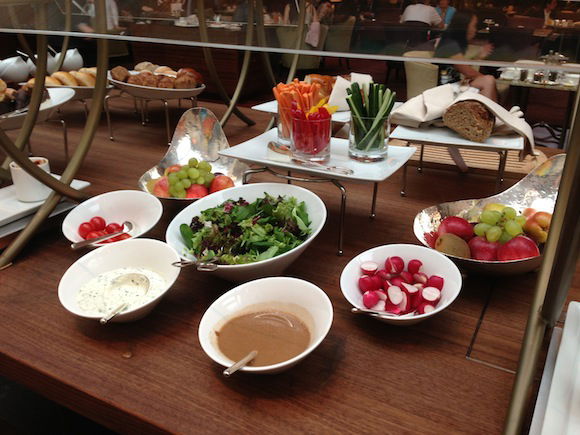 Buffet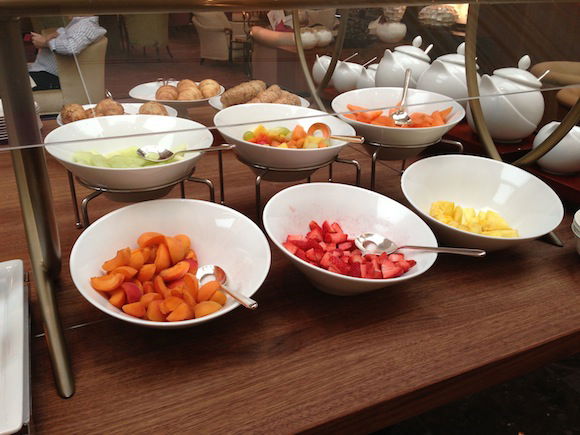 Buffet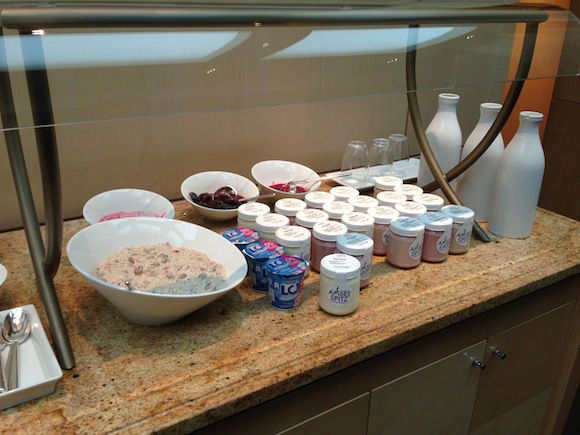 Buffet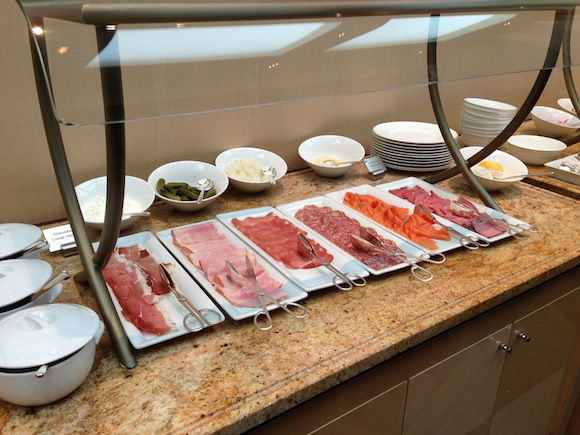 Buffet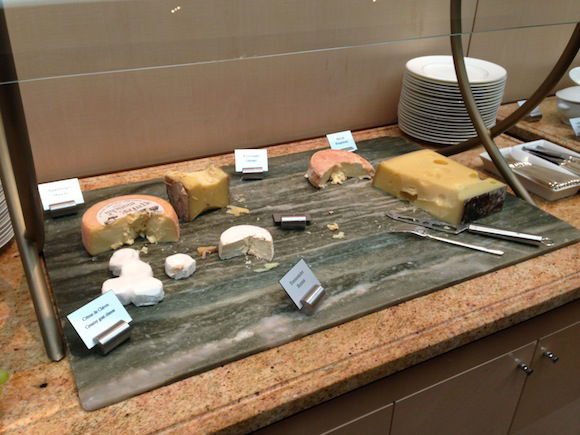 Buffet
In addition to the buffet I ordered french toast, which was probably the most amazing french toast I've ever had.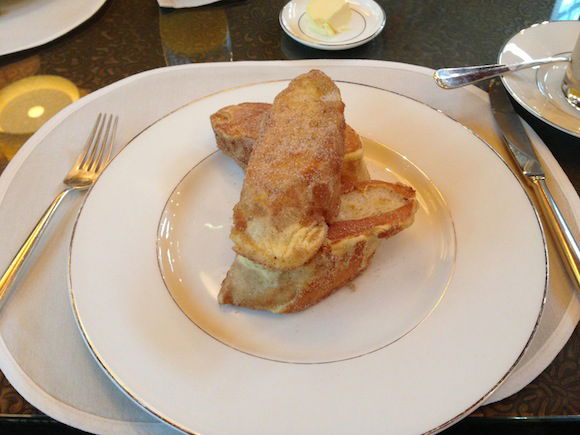 French toast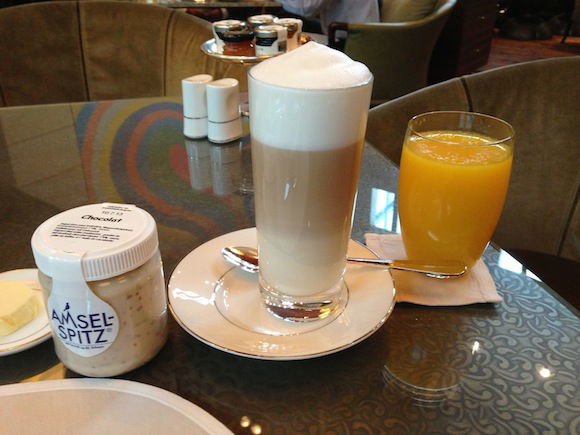 Cafe latte
The second morning the hotel generously let us order room service breakfast as part of our Diamond benefit since we were checking out early, and it was served right on time and still hot.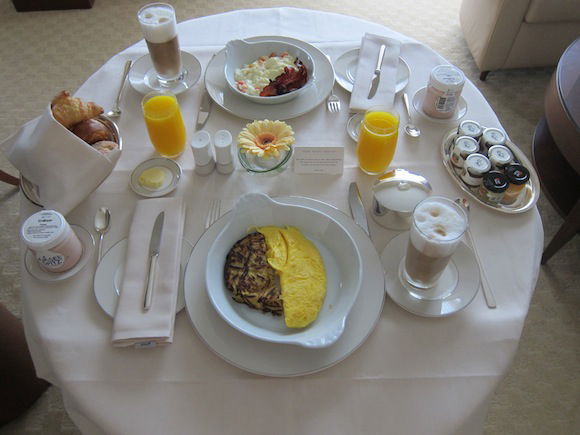 Room service breakfast
In terms of the hotel's other facilities, the hotel has a modern gym with tons of equipment.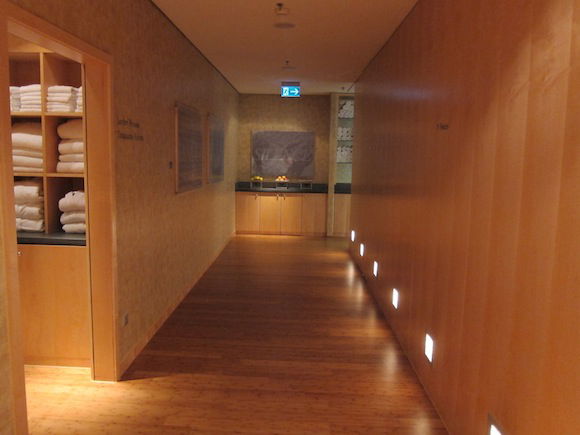 Gym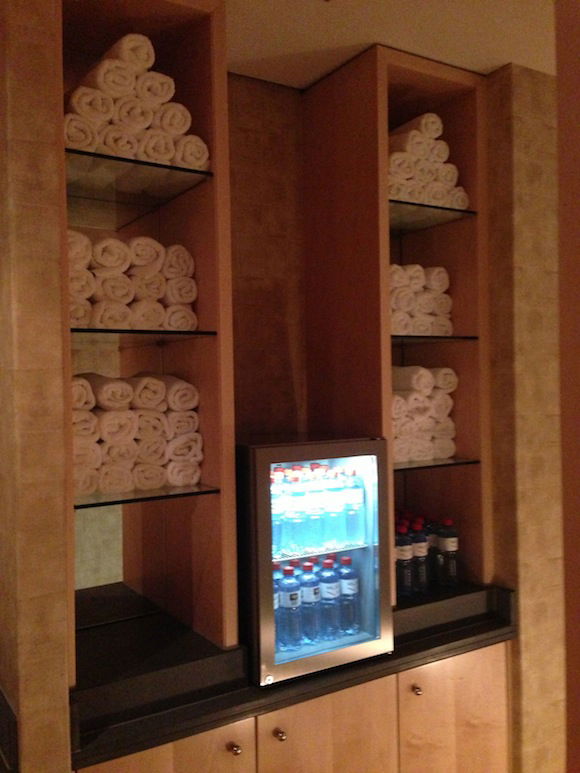 Gym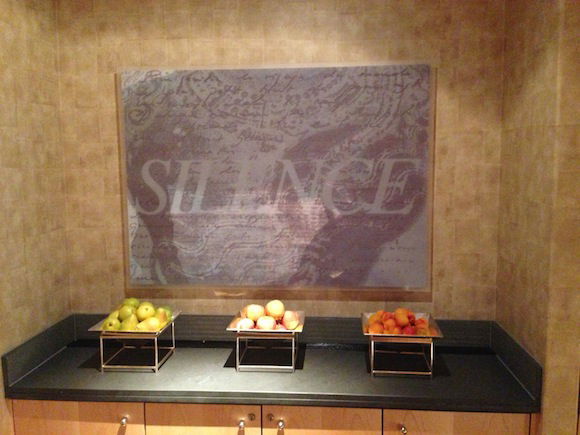 Gym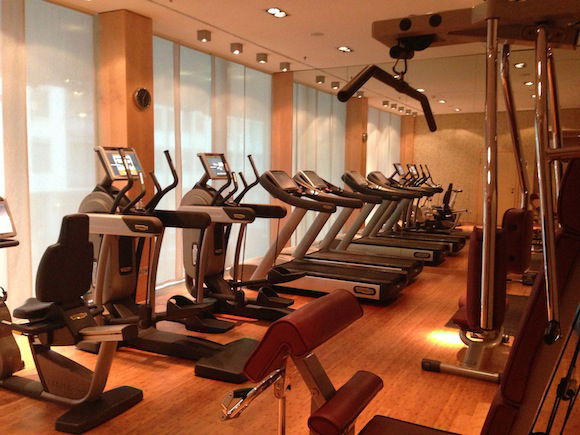 Gym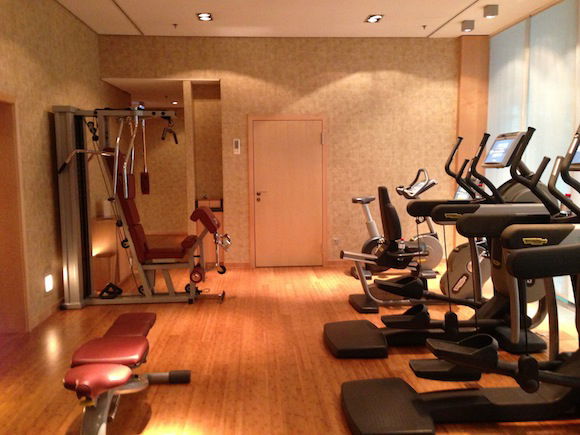 Gym
There's also a nice relaxation room in the locker room.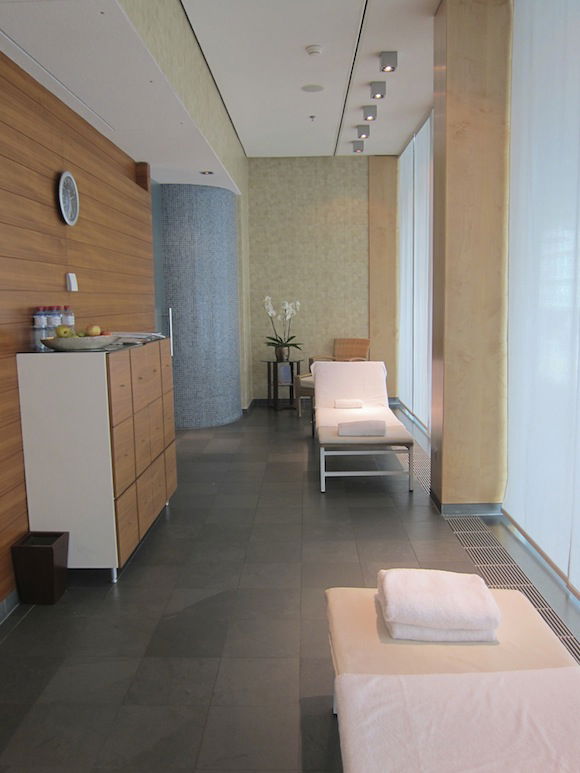 Relaxation room
Service at the hotel was uniformly friendly, professional, and a bit reserved. Nobody gave me a Texas-style bear hug, but within the realm of Swiss culture service was great. This is a total business hotel, but despite mostly wearing shorts and t-shirts I at no point was made to feel out of place, which I appreciate.
The location of the hotel is also great, just a couple of blocks from the old town, the lake, and all kinds of great restaurants. Is Zurich worth visiting? I'll cover that in the next installment, but I will say that physically Zurich is one of the most beautiful cities I've ever been to. On a nice day the view over the lake is simply unreal. But it is a business city, not really designed around tourists, so I didn't think there was a ton to do. Oh, and it's outrageously expensive.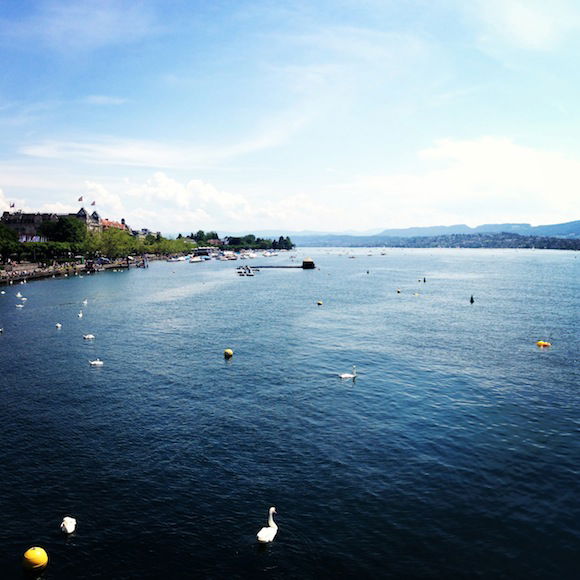 The Lake
I think the best way to sum up this hotel (and this may not come across right) is that it's a cookie cutter Park Hyatt. It's exactly what you should expect of a Park Hyatt in a business city. You won't be blown away (based on reasonable expectations — and you should have high expectations of a Park Hyatt), but there's no way you'll be disappointed either.
Totally great hotel and I'd return in a heartbeat!