Upon arrival at the airport train station we made the 15 minute trek on the outside corridor of the airport towards the First Class Terminal. It was once again a pleasant day, so the walk was enjoyable. Much like last week we rang the buzzer at the side door for someone to let us in, and within minutes a very friendly PA came to pick us up. While the one on our last layover was polite, this one was uber friendly. She took our passports, tickets, and escorted us through security. We spoke in German and as we finished up the security screening she told us that she had to look at where we were born since she was surprised by how good our German was despite having US passports. We explained why we spoke German, and she went on to tell us the story of a passenger she had last week that was going to Tel Aviv. He had a German passport, lived in Germany for a while, and now lived in Israel, yet didn't speak a word of German, or something like that.
She guided us towards an area with comfortable seats, only a block of couches away from where we sat exactly a week earlier. Since we had about 2.5 hours before the flight we asked for internet cards, which were promptly brought by. I spent a majority of my time on the web while my brother was still tired and decided to take a nap in one of the nap rooms, which was vacant.
While we initially planned on having a meal at the First Class Terminal, it's just such a waste to eat when there'll be a feast on the plane. Instead I went with a Laugenbretzel, which is one of my favorite things in the world. As usual, the service was top notch, so I won't spend much time on that since I think I covered the FCT enough on the report of our last layover.
Time flies in a place as peaceful as the FCT, and before we knew it our PA fetched us and told us they were ready for us to board. I woke up my brother who gave killer reviews to the sleeping rooms, and he grabbed his bags as well. She guided us down the elevator and to passport control, where there was once again no line. They loaded our bags into a Mercedes S-Class, which would be taking us to our plane. We really lucked out on this trip since we didn't end up with one of the notorious vans.
The ride down the tarmac was fun, and all too soon our jumbo was in sight. This time around we were let off on an interior service road which was totally covered, and were then brought up to the jet bridge by an elevator.
LH402, FRA-EWR, 1315-1540
Upon boarding the friendly flight attendant directed us towards the stairs to the upper deck, where we were once again greeted by several nice flight attendants. We proceeded to our seats, this time in row 83, and took out all of the stuff we wanted to use in-flight. We then brought our bags to the closet and settled in.
There were already three other people in F, a couple immediately in front of us and another guy in front of us and to the right. They all seemed to be American.
Since row 83 is the exit row there's a stationary table on the right side where the FA's set up the beverages throughout the flight, including before departure.
Within seconds of settling down we were offered drinks, amenity kits, magazines, and a collared shirt. We both chose water pre-departure, which was served with macadamia nuts.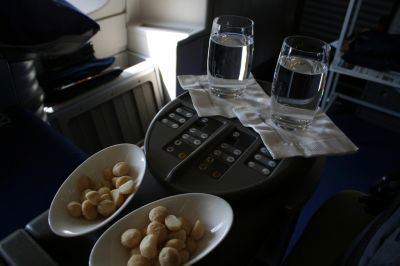 Pre-departure drinks and macadamia nuts
A few moments later the Captain walked down the aisle, with an abbreviated head bob to each F passenger, which was a nice gesture at least. Another ten minutes later the door closed and the Captain made a PA announcement, saying that our flight time to EWR would be 7hr45min.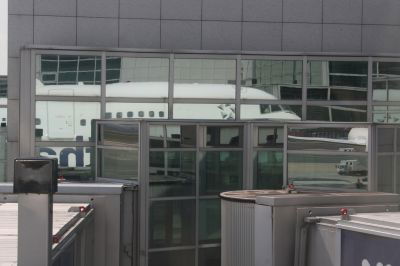 Reflection of our plane…. can you see us (last window)?
The professional sounding purser made all of her announcements in German, English, and French, which I found somewhat odd. Not sure if she did it just because she liked to hear herself talk or because there was maybe some French group aboard, but it took noticeably longer to complete the announcements than normal.
One of the awkward things about sitting in row 83 on the left is that one FA is sitting right across from you in the jumpseat, although it's no biggie.
Before I knew it we began our takeoff roll and rocketed off into the hazy afternoon. The seatbelt sign came off after about ten minutes and the flight attendants sprung into action, first setting up the drink station.
Within minutes hot towels were distributed, followed shortly by a small appetizer, which I believe was tuna, along with drinks.
At this point the purser made her way around the upper deck both introducing herself and handing out menus. She was extremely professional and friendly, and had a good two minute welcome spiel. She told us we could eat whenever we wanted, but we said we were hungry so would like to eat ASAP.
The lunch menu read as follows:
Menu

Choice of Hors d'oeuvres
Caviar with the traditional Garnishes

Tenderloin Tips of Beef served with Tamarind Sauce and marinated Vegetables

Tuna with Miso Sauce and Seaweed

Marinated Beetroot with Goat Cheese

Salad
Frisee, Romaine and Arugula with Bell Pepper, Celery, Tomato and Cucumber served with your Choice of Tomato Tarragon or Ginger Lime Dressing

or

Cold Cucumber Yogurt Soup with Mint Oil and Croutons

Choice of Main Courses
Grill marked Tenderloin of Beef with Espresso Sauce
served with mixed Vegetables and mashed Sweet Potatoes

Grilled Scallops in Caper Raisin Sauce with Leaf Spinach and Couscous

Fried Rice Cake with Nori Leaves and Cheese
served with mixed Vegetables and Herb Yogurt

Breast of Turkey filled with Rucola in Jus, Wok fried Vegetables and Jasmin Rice

Selection of Cheese and Dessert
Bleu d'Auvergne, Coulommiers, Savory Cream Cheese,
Reblochon and Crottin de Chavignol served with Celery and Grapes

Lemongrass Pannacotta with exotic Fruit Compote

Caramelized Rice Pudding with Orange and Grapefruit

Specialty Dessert Wines
As it turned out we were the only ones that wanted to eat right away, so suffice it to say that service was personalized. The other three passengers were virtually maintenance free for the time being, so we had at least two FA's to ourselves. As expected, the entire meal service was at a leisurely yet personalized pace, and everything was done with a smile.
As usual, the table was set up first, along with the signature rose. I was happy to see that they had pretzels of some sort.
Given that this flight was catered for eight people and there were only five of us (LH caters in units of four), there was an abundance of food. Accordingly, I went with all of the appetizers except for the tuna. Of course I merely nibbled at each one of them a bit, just enough to get a taste of each. Suffice it to say they were all incredible.
This is where it gets a bit funny. Years ago my dad frequently flew LH for business, usually in F. He always had wiener wuerstchen, which they generally loaded for kids. Sometimes I even got to go along with him on business trips, and one of my fondest memories has to be the weiner wuerstchen on LH. So my brother and I thought what the heck, we might as well see if they have them. My brother asked, starting with "This probably isn't a request you get very often, but…." Well, sure enough they had some, so we had those after our appetizers. They were as delicious as I remember them years ago!
After that came the salad, which was once again great.
Then came the beef, At this point I wasn't particularly hungry, but it was decent. It wasn't as great as the other stuff I had prior to this, as it was a bit dry and tasteless, but for an airline it wasn't too bad.
Next came the cheese cart, along with the other dessert items.
I went with the lemongrass pannacotta, which was delicious, although not nearly as sweet and rich as my dessert on the way out.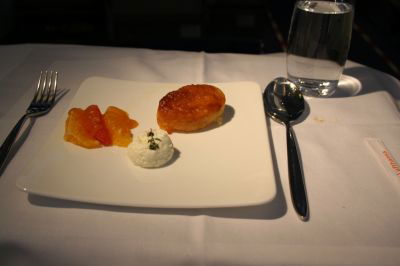 My dessert
My brother decided to go with cheese for dessert, and he asked for a little bit of everything.
Last, but most definitely not least, came the pralines, which were served from a box. I went with a few of the non-fruity ones, and they were incredible.
At this point the tablecloths were cleared and bottles of water were distributed. The entire meal service was once again perfect. The flight attendants couldn't have been any more friendly, professional, or attentive. As much as I love airlines like Singapore where you literally have an FA watching your every move, it doesn't feel private at times. It always seemed like the FA's on this flight appeared exactly when we needed something but never when we didn't…. talk about anticipating needs!
As soon as we reclined our seats the FA's were by to offer us blankets, which we gladly accepted. We reclined our seats and decided to watch Outsourced. While I had seen most of it on the outbound flight, I didn't finish it and loved it so much that I really wanted to see it again. I'm not really a movie fan in general, but this movie was great — both hilarious and it actually has a good message we don't often think about. I highly recommend checking it out. About halfway through the movie the lights were dimmed.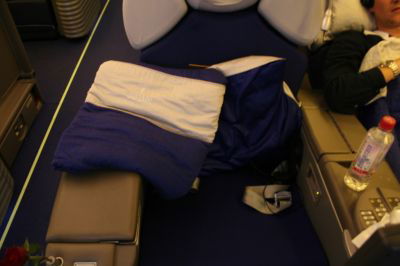 Reclined seat
After that I watched an episode of Desperate Housewives, which was as absurdly awful yet addictively entertaining as usual. Jeez, and what an episode this one was!
I was tired at this point, so decided to take a nap. We were about 3.5 hours out of EWR, so I figured I could take at least a 1.5 hour nap. I reclined my seat and before I knew it I had suite dreams, err, I mean sweet dreams. I woke about two hours out of EWR.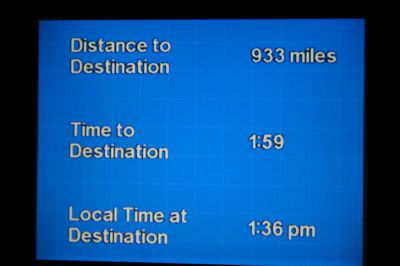 Time to destination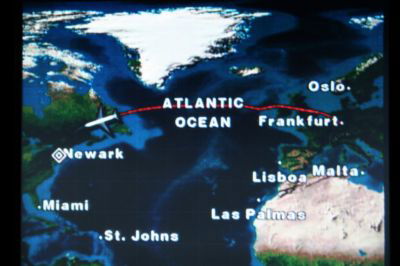 Airshow
I started playing around with my camera a bit to test out the different settings, and I even captured a ghost on camera! Check out the ghost FA in the picture below!
I realized I hadn't taken a picture of the lavatory yet, so decided to do that. One of the great things about the upper deck lavatory on the LH 747 is that it has a window. Can't beat that! There are also plenty of amenities on the counter from which to choose from.
Soon enough it was time for the pre-arrival snack, which was referred to as a "Salad Buffet." Last time I flew LH on this route it was referred to as "Imbiss," which brings images of German hot dog stands to my head. The menus were distributed and read as follows:
Salad Buffet
Cold and hot Specialties

Wild Herbs and Flower Salad,
served with Champagne Vinaigrette or Yogurt Herb Dressing

Scottish wild Salmon and smoked Tuna

Fried Oyster Mushrooms with Herbs

Cocktail Tomatoes and Mozzarella Balls with Pesto

Roasted Cashew Nuts

Marinated Bell Peppers

Parmesan Cheese

Grilled Tenderloin of Beef with Herb Butter

Saltimbocca,
Veal with Sage and Parma Ham

Dessert

Strawberry Yogurt Tart

Fresh Fruit
First drinks were served, and I went with an orange juice. While it was a weird choice considering the meal, I couldn't think of any other drink that I felt like. While I originally laughed at the concept of a "salad buffet" on an airplane, that's quite literally what it was. The FA's came around with a cart and we just pointed at what we wanted.
Let me tell you, this was the most tasteful, delicious, refreshing, light(ish), perfectly filling pre-arrival snack I've ever had. There was nothing I could fault about it, and I would call it restaurant quality, and a good restaurant at that. Really an incredible meal, there's no two ways about it. I think the picture even does the meal justice.
Shortly thereafter came dessert, which was a strawberry tart. Once again, it was awesome.
I probably sound like someone writing a review on Trip Advisor (we know what they're notorious for), but it's true! The meal was perfect for a pre-arrival meal, and the flight as a whole couldn't have been better. For all of the mediocre reviews I've given LH F in the past, this totally changes my opinion. Maybe they've changed recently or maybe I had a good experience, but I was truly blown away.
As we began our descent we restowed our carry-ons and made sure we had all our arrivals stuff in order. All of the window shades were opened and our trip was slowly coming to an end.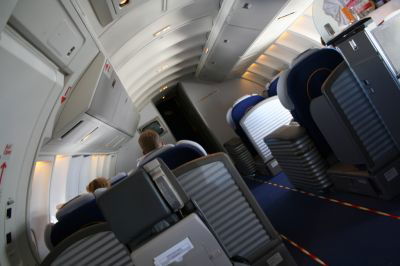 Cabin view as we begin our descent
Our descent was pretty quick and soon enough we had a great view of the NYC skyline. We had a smooth touchdown and a quick taxi to the gate. As soon as the seatbelt sign turned off we retrieved our bags, made sure we didn't leave anything behind, and proceeded down the stairs. The purser was standing there guarding the door closely, ensuring that she blocked off the business passengers until the first passengers were off, which I always find funny. After a bit of a struggle the door opened, the purser bid us farewell, and off we were!
The walk to immigration was pretty quick, and the line was quite short. The immigration officer flipped through my passport trying to find an empty page, only to realize I had just one page left. He asked me what I did for a living, I explained I was a student that loved to travel, and he said "more power to you, wish I could have traveled like that at your age." Very refreshing compared to the usual "how can you afford to travel at your age?" question, which is utter BS.
Surprisingly enough the line was at customs, where we had to hand in our form. The line didn't move for a few minutes, so I got to listen in on the conversation of two of the wheelchair pushers that were standing there doing nothing. I don't know if they didn't realize that they had passengers about two feet from them or what, but some of the stuff cracked me up. I won't quote it fully, but one guy said something along the lines of "As long as I got me two nice _______, I'm happy, you know what I mean dog?" I know there are a few ways to fill that blank in, but think of the "worst" possible one and you're probably right. True professionals!
Once we were through immigration we headed towards the AirTrain station, since I had to transfer to Terminal A to catch my US flight to CLT and then on to TPA, and my brother had to take the train back to the city. On one hand it was sad since it was the end of our week together, usually the one week a year we get to spend together, and we once again parted ways. We exchanged a few things (i.e. I was holding all the menus up until this point, so gave him one of each), and we bid farewell to each other
I got to Terminal A and tried to find the US check-in, only to realize my flight was cancelled! I blogged about what happened from there "live," and you can find the full report on that here. It was one of the most frustrating yet at the same time one of the funniest experiences I've had in a while.
I ended up spending the night at the Fairfield Inn & Suites EWR, since that was the only hotel available. There was one moment that stuck with me from the shuttle ride. As we were on the interstate and just passing the runway I saw the Lufthansa 747 take off, the same plane we just landed on. Somehow it was just an amazing moment to think that the same second I'd be driving by, the same plane would be taking off. It was so beautiful as it flew off on such a clear day, something which I couldn't do justice to in words. Beyond the mere beauty of the moment, it made me reflect for a moment on the "circle of travel," what really is where my fascination with travel comes from. I just got back from there other side of the globe (although not quite as far on the other side as, say, Singapore), and 350 people are going just the opposite direction on the same plane just a couple of hours later. On one hand I day dreamed for a moment of being on that flight, but at the same time I was happy to be off a plane for a while.
Anyway, reality hit all too soon when we got to the hotel. I'm not really a hotel snob, but when you're as fortunate as I've been recently with hotels, it's tough not to say "hrmph" at a place like this. It was mediocre, the rooms could really have used a renovation, and it was just so quiet and unexciting compared to what I've been used to lately.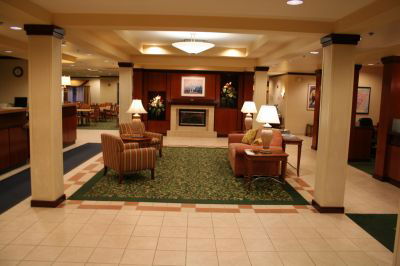 Lobby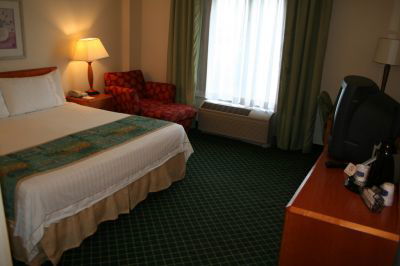 Room
By the time I got to the room and showered I was already hungry, although based on the shuttle ride to the hotel, it didn't look like the area had many dining options, let alone that it was safe to look outside. So I went downstairs to the vending machine and did something I would never otherwise do. As disgusting as it sounds (even to me!), I got a Diet Pepsi and Snickers bar, and called that a dinner. After premium international travel consisting of caviar and similarly fancy foods, there was no difference in my mind at that point between a Snickers bar and something from a nearby restaurant.
Eventually, I headed to bed, only to wake up ridiculously early the next morning, although it wasn't too bad considering I was on Europe time (somewhat).
The next morning I took a quick shower and headed downstairs to catch the shuttle to the airport. It was packed, not surprisingly, and we got to the airport within 15 minutes or so. The AirTrain was a total disaster because they were doing construction on it, so I had to wait nearly 40 minutes. I ended up making my flight, but just barely.
UA819, EWR-ORD, 0730-0900
The service on this flight was quite funny. One of the FA's in F was a guy, I believe from Bulgaria, who cracked me up. Since I hadn't had anything to eat or drink since the night before, I was thirsty as heck. I took an OJ pre-departure and asked for a refill, to which he responded "Let me go squeeze you some more." He had a smartass comment to everything throughout the flight, and while he wasn't particularly motivated, he sure kept me entertained.
We were departing from gate A17, which always makes me reflect for a few minutes. This is the same gate that UA93 left from on 9/11, and a flag flies on the jet bridge as a reminder.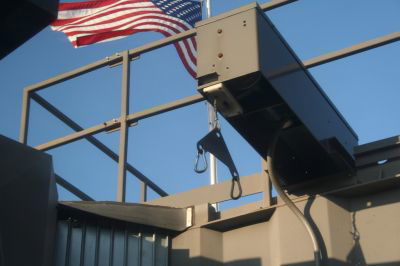 Flag flying over A17
The breakfast was quite good, basically the same thing that would be served on a transcontinental flight.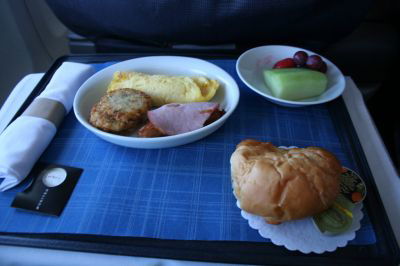 Breakfast
Considering that this is a relatively short flight and a meal is served, it really does fly by in no time. We landed at ORD a few minutes early, and I started my long ORD layover.
I split my time in ORD between the C16 RCC and the B17 RCC, making a stop at my favorite sandwich shop, where I had a great chicken sandwich, as I do on most of my ORD layovers.
My flight was scheduled for 2PM, so I got to the gate at around 1PM, hoping for a bump. As it turned out the flight was oversold and I ended up getting bumped, so got a free ticket and a seat on the later flight which also looked full.
I headed back to the B17 RCC for a couple of hours and then headed back to my new gate about an hour before departure. The GA was great, and we talked for a few minutes about UA and overselling. This guy really was awesome, although I won't go into what exactly he was saying so that he doesn't get into too much trouble. 😉
As it turned out the flight went out exactly even, so he didn't need me. He apologized profusely for me not getting bumped, which I loved.
UA1448, ORD-TPA, 1750-2130
Not much to be said about a Ted flight, other than that the crew was a blast. The purser on this flight was in his low twenties, without a doubt one of the youngest FA's I've seen, let alone that he was purser. He was a total aviation nut as well, and said how much he loved flying, so as he said "I love flying and with this job I even get paid for it, although not much. How much better could life be?" He dubbed me the best passenger ever (I don't blame him;)) upon talking a bit about UA and the management team, so that made the flight fly by, no pun intended.
We landed in TPA on time, and I was happy to be home after a long day.
So, long story short, I had an amazing trip. It was great to be able to spend some time with my brother, and Lufthansa truly can't be faulted. They were playing their "A" game, and I look forward to trying them again soon.
Also, I converted my brother to a complete mileage whore, and now he spends half of his days trying to figure out how to get into international F yet again. I'm not sure whether to be happy that he shares my hobby or feel bad for him considering how damn addictive it can be!
Thanks to everyone that has followed along and left comments, I appreciate it!