---
Upon arrival at Narita we headed to transit security, which was surprisingly deserted. From there we went to the ANA business class lounge, which is located at the far end of the concourse, about a 10 minute walk away.
I've reviewed the ANA business class lounge in the past, so I'll refrain from doing so again. As I usually do, I spent a couple of hours catching up on work in one of the massage chairs, which sure feels good after a longhaul flight.
Our flight was departing from gate 32 at 10:30AM, so at 9:45AM we headed to the gate for our departure.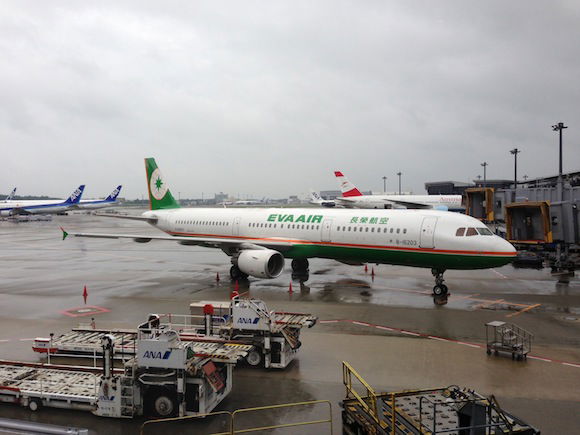 Our plane to Taipei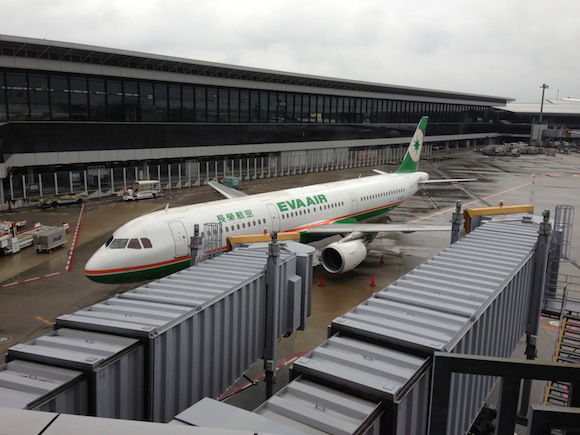 Our plane to Taipei
Boarding began on-time at 10AM, and in total I counted no fewer than seven gate agents… for a narrowbody aircraft! Surely there are some opportunities to improve efficiency there?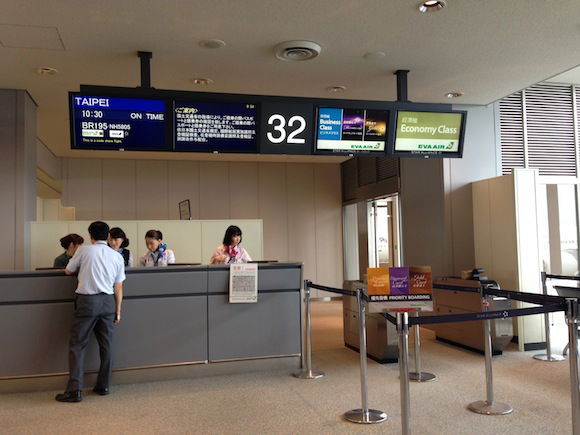 Departure gate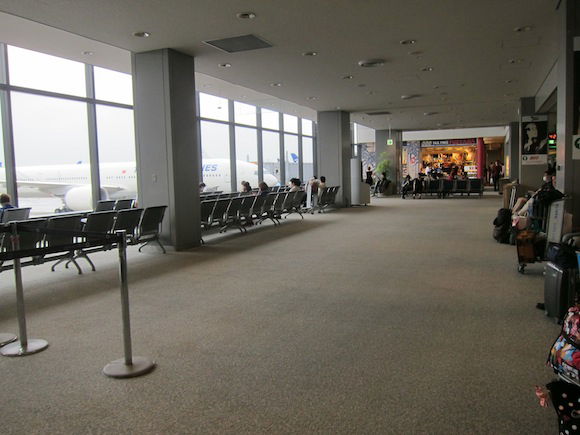 Departure gate
EVA 195
Tokyo Narita (NRT) – Taipei (TPE)
Friday, July 5
Depart: 10:30AM
Arrive: 1:05PM
Duration: 3hr35min
Aircraft: Airbus A321
Seat: 1C (Business Class)
EVA Air's A321s are brand new, as they just started taking delivery of them last year. This plane was no exception, and even had that new plane smell.
The plane was in immaculate condition, and had a small business class cabin consisting of just eight seats spread across two rows in a 2-2 configuration. Legroom was slightly better than you'd get in domestic first class in the US, though not as good as longhaul business class.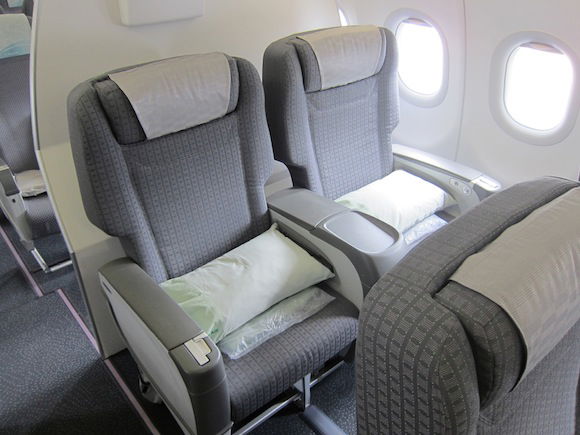 Business class cabin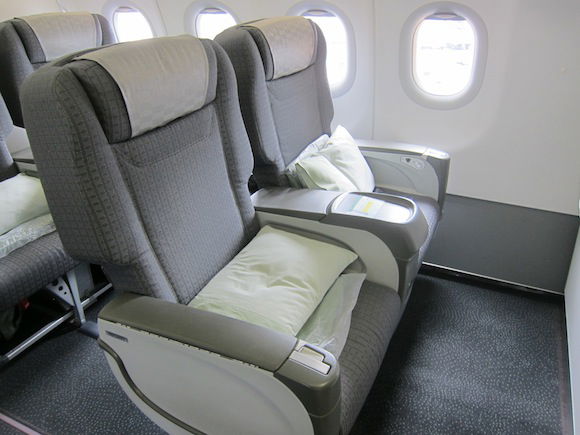 Business class cabin
At our bulkhead seats were a pillow and blanket, which were rather nice for a short-haul flight. There were also slippers in the seatback pocket, though no amenity kit.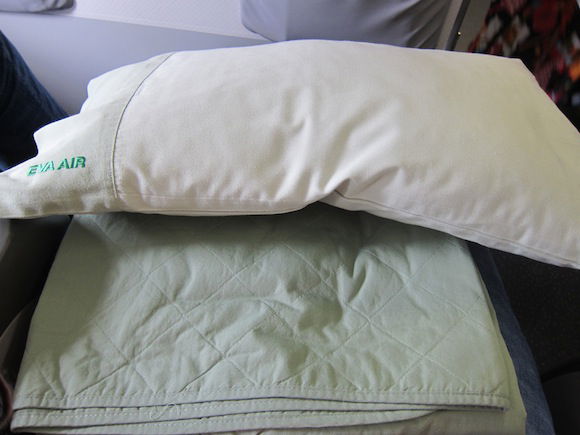 Pillow and blanket
The coach cabin looked rather comfortable as well, with personal televisions at each seat.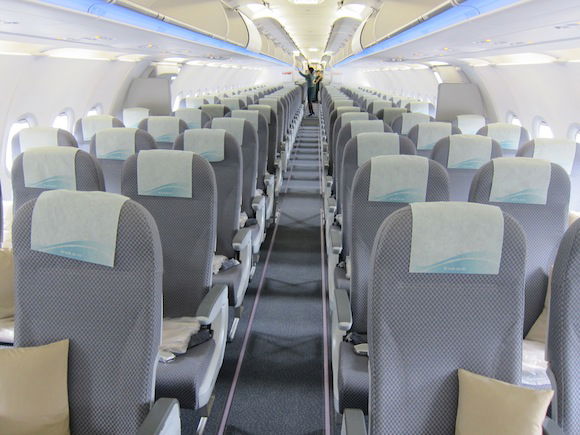 About 10 minutes after boarding started all eight business class seats were taken, and we were offered hot towels followed by pre-departure beverages.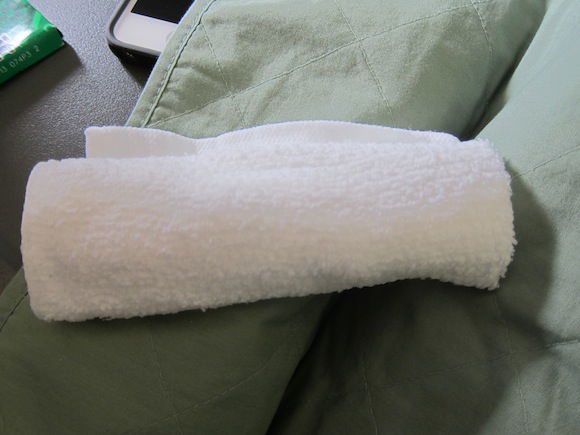 Hot towel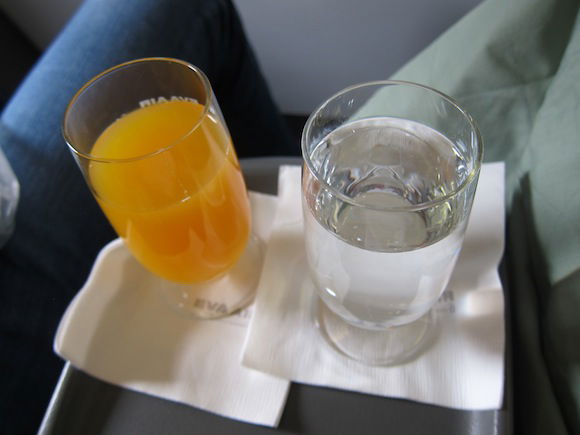 Pre-departure beverage
The purser came by to introduce herself and give us the menu and wine list for the flight.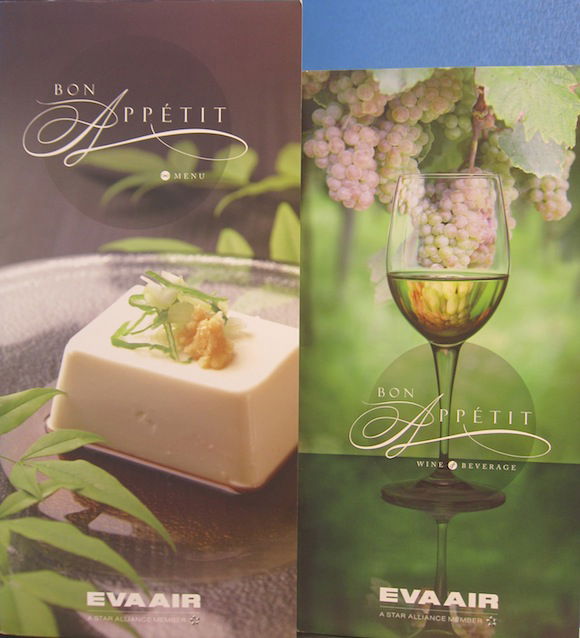 Menu and wine list
Within about 25 minutes boarding was complete, and right on schedule we began our pushback to the runway.
We taxied out to runway 16R, where there was quite a queue for takeoff. It's rather intimidating not being in a "heavy" aircraft at Narita, as there were nothing but 747s taking off ahead of us, including a Nippon Cargo 747-8 and KLM 747-400.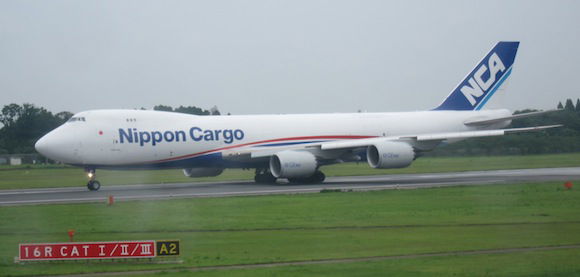 Nippon Cargo 747-8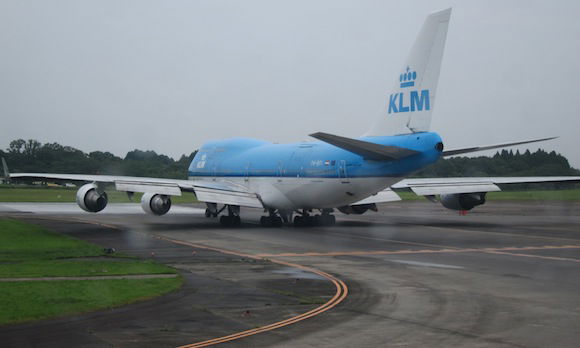 KLM 747-400
Eventually it was our turn for takeoff, and at that point there was quite a queue built up behind us as well.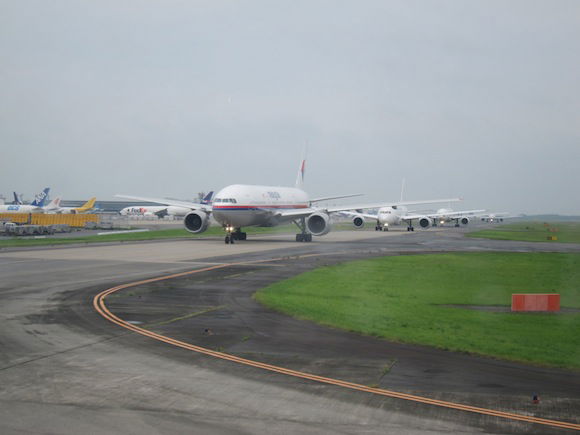 Queue for takeoff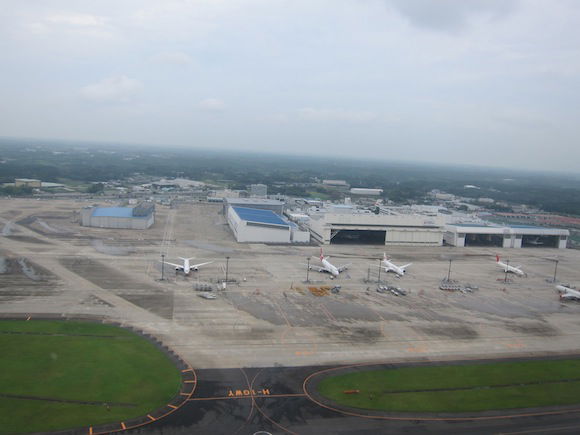 View after takeoff
Our climb out was rather choppy, though once we were through about 10,000 feet the ride smoothed out.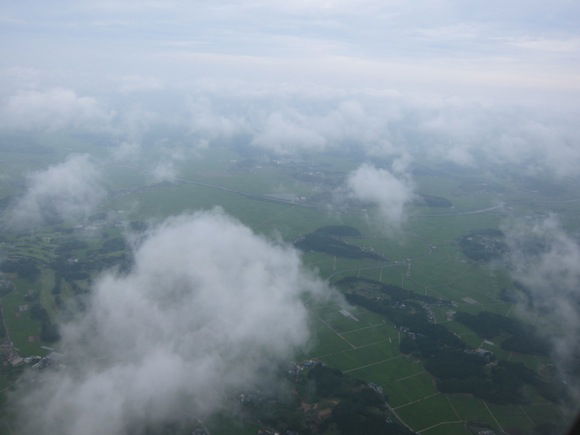 View on climb out
On the climb out I browsed the entertainment selection, which was one of the most extensive I've seen on a short-haul configured aircraft. I eventually decided to watch "To Catch a Smuggler: Cavity Courier," which seemed like a bit of an odd TV show for an airplane.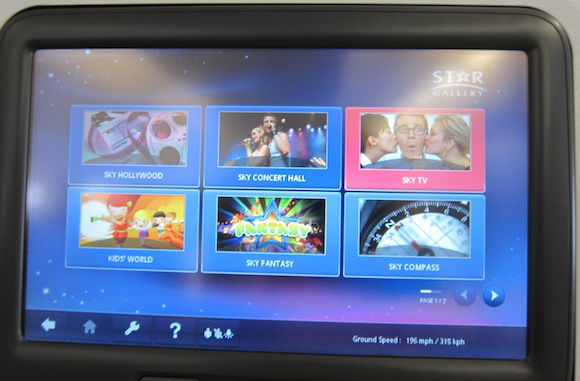 Entertainment selection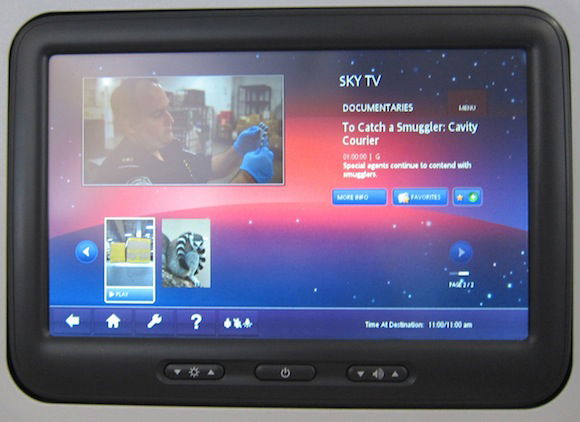 My selection
But it was a great show, and kept me entertained for about 45 minutes. The entertainment control was located to the left of the seat, and was the same that most airlines have on longhaul aircraft. The headphones were also in the seatback, and were standard on-ear headphones.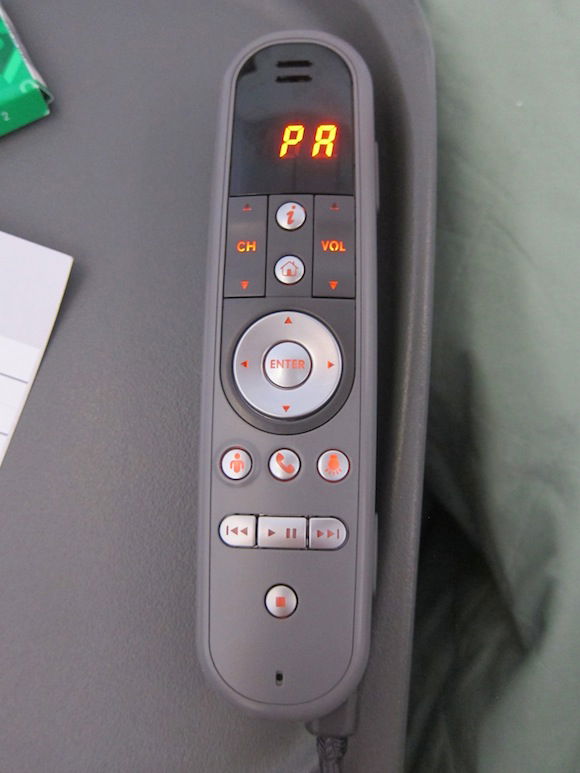 Entertainment control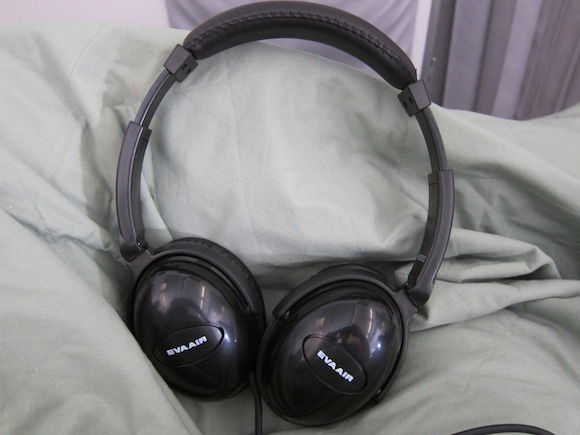 Headphones
As we leveled off the captain came on the PA to welcome us aboard and inform us of the flight time of 2hr54min, which would put us into Taipei on-time.
Shortly thereafter the purser came around the cabin to take meal orders. The menu read as follows: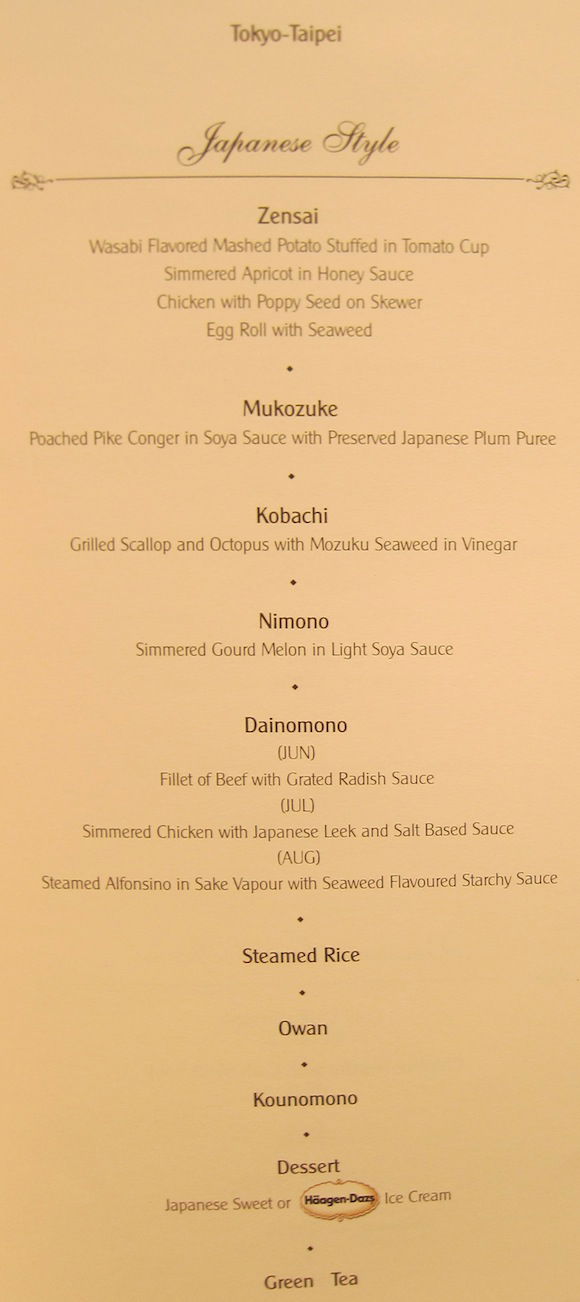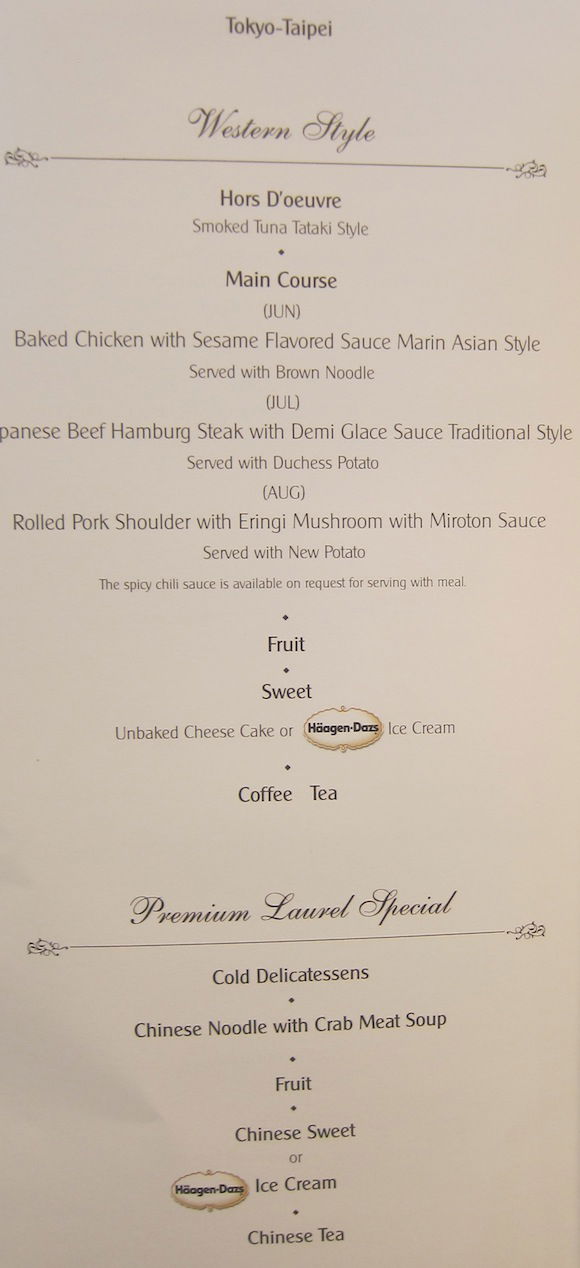 And the wine list read as follows: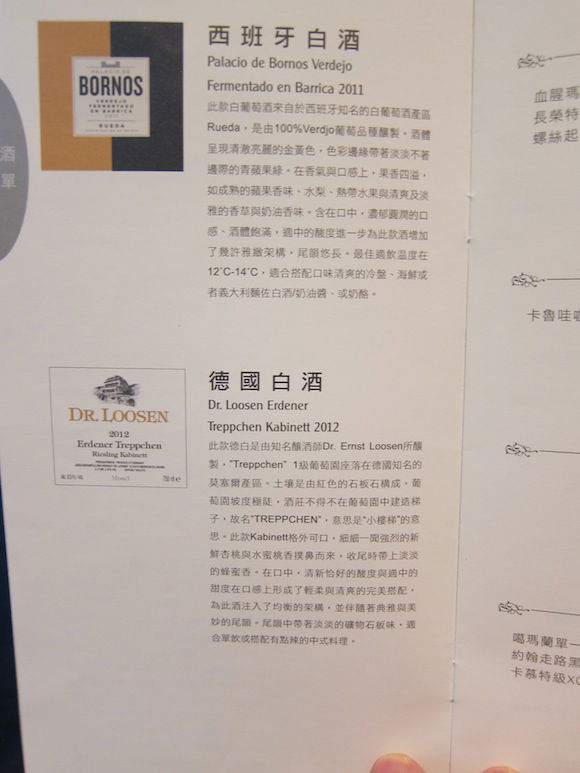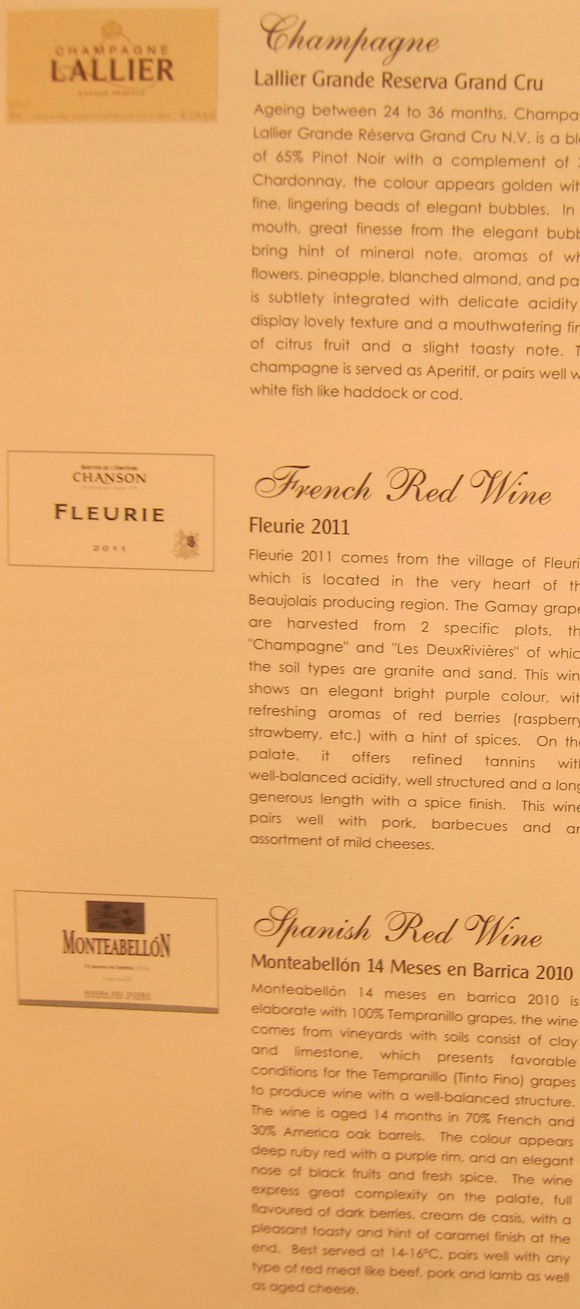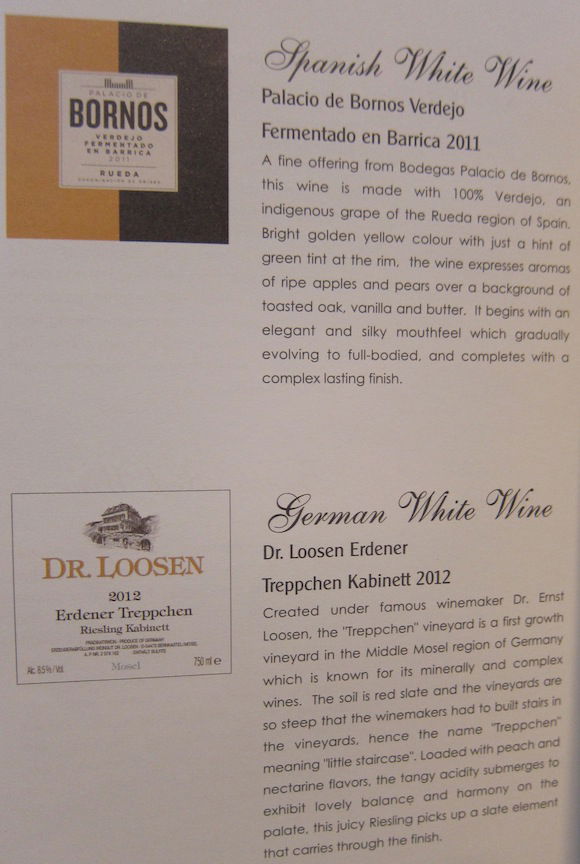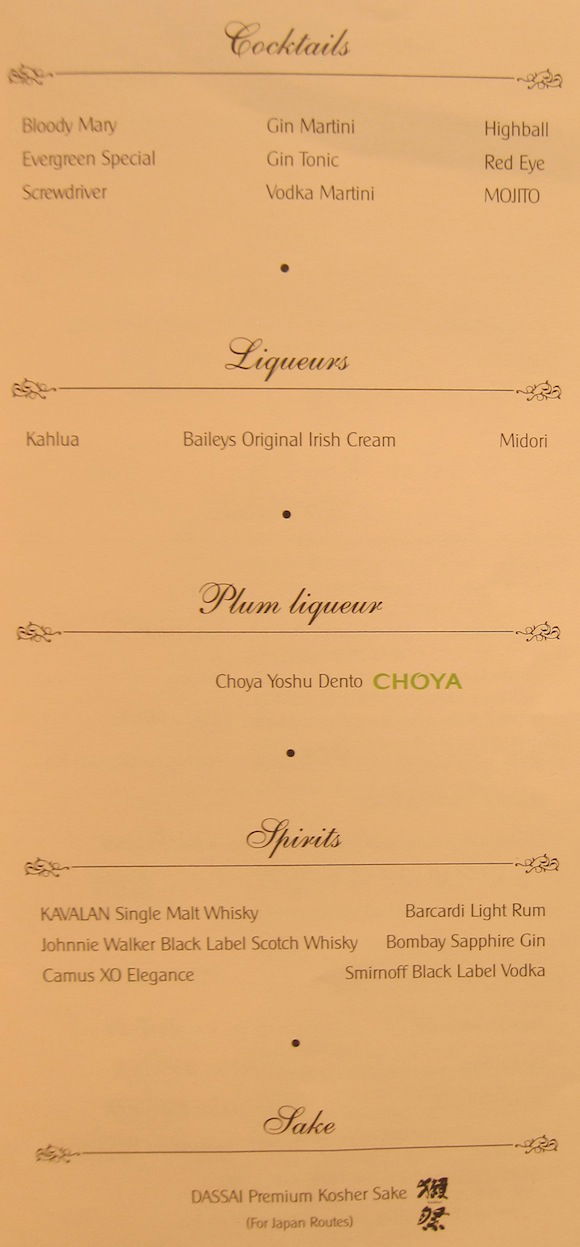 EVA's menus are interesting. They're simultaneously the most varied and least varied menus out there. They have three different types of menus you can choose from — Japanese, Western, or Premium Laurel — though within each menu there were no options.
I asked about the possibility of mixing and matching, and taking an appetizer from one menu and main from another, but that was met with a blank stare.
So I ordered the Premium Laurel option, which consisted of a Chinese noodle with crab meat soup, which was really good. That was served with some cold chicken and a side of some sort of mochi (or something like that), which was probably my favorite part, since I'm a mochi-holic.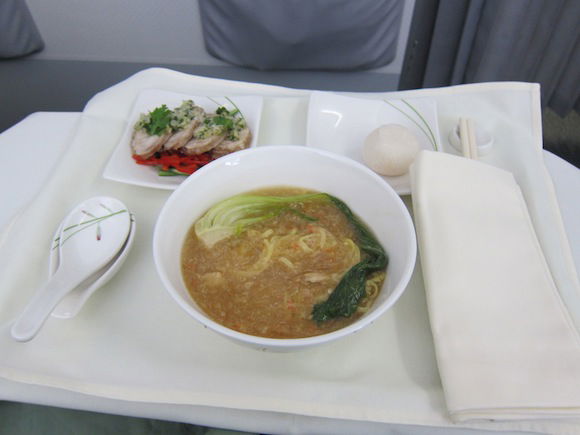 Chinese noodle and crab meat soup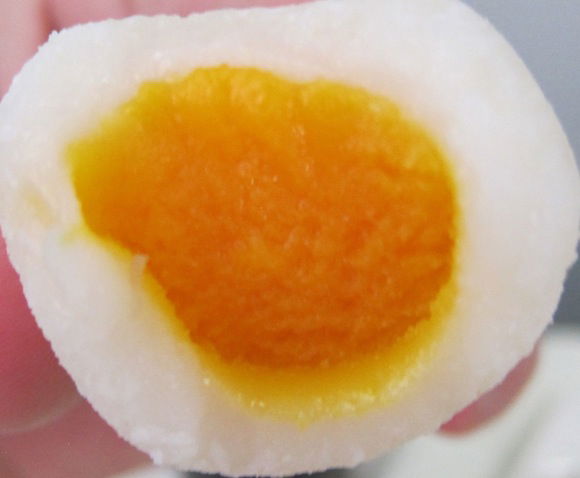 Mochi… I think?
Instead of selecting bread from a bread basket, I was served a plate with three types of bread.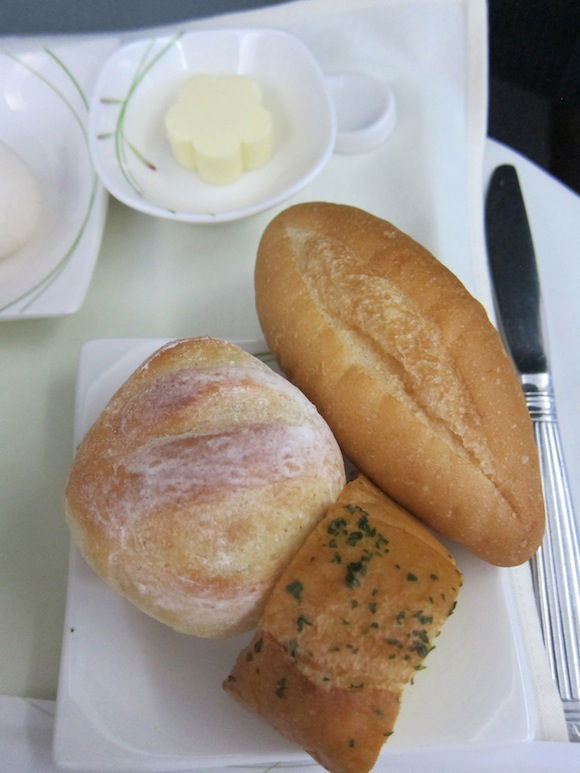 Bread
I found it a bit odd that they had the appetizer and main course on a single tray, and then three courses of dessert. The first course was a fruit plate.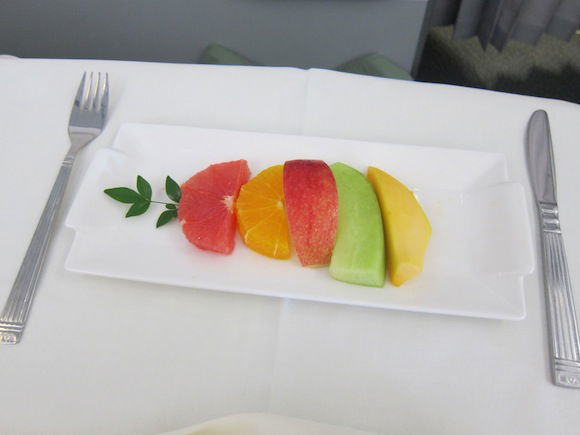 Fruit plate
Next was some cheesecake.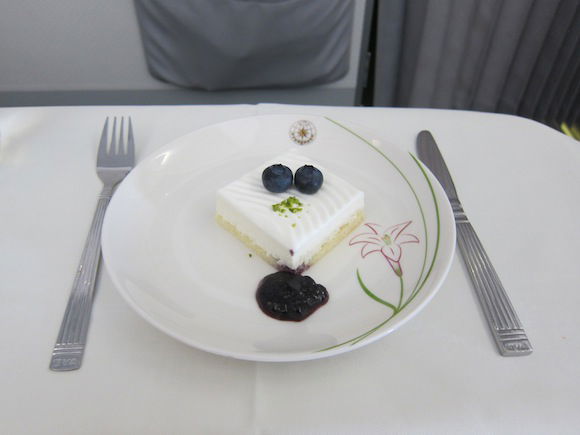 Cheesecake
And then lastly was some Haagen-Dazs ice cream.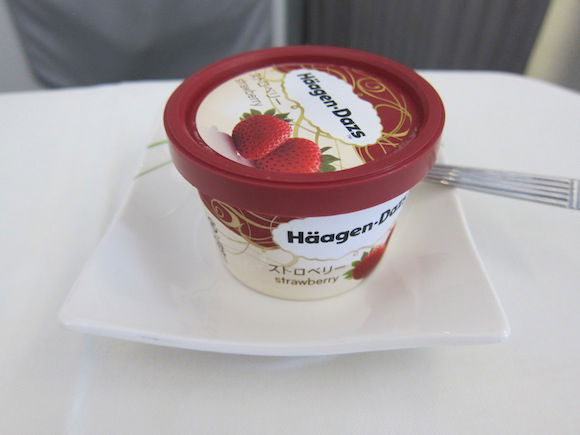 Ice cream
On the whole it was a good, though slightly odd, meal (due to the way the courses were served). Service throughout the flight was excellent, as there were two flight attendants plus the purser working an eight person cabin, which seemed like a total overkill. But the flight attendants were all smiles and were extremely attentive.
I dozed off for a bit after lunch, and woke up about 30 minutes out of Taipei, as one of the flight attendants was coming around the cabin with a basket of mints (and the like).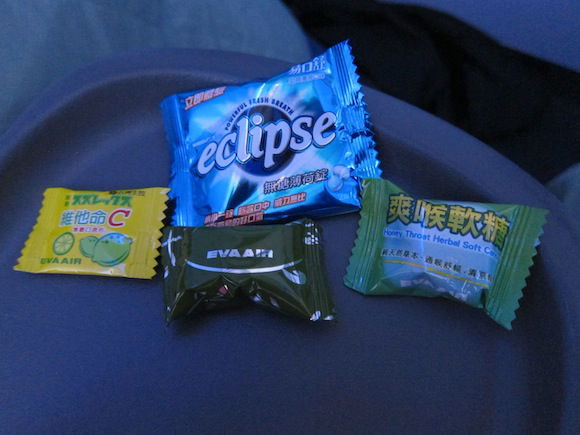 Mints
Shortly thereafter we began our descent, at which point I watched the airshow, which had an interesting flight deck like display option.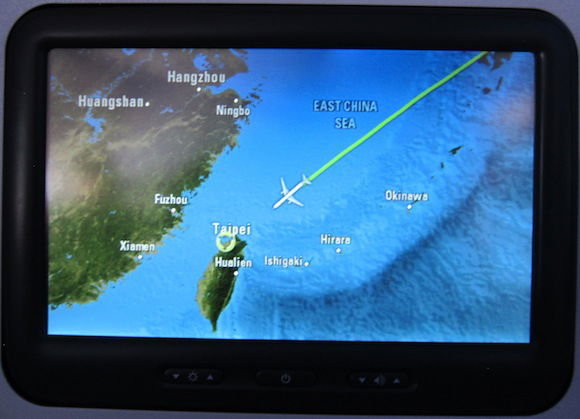 Airshow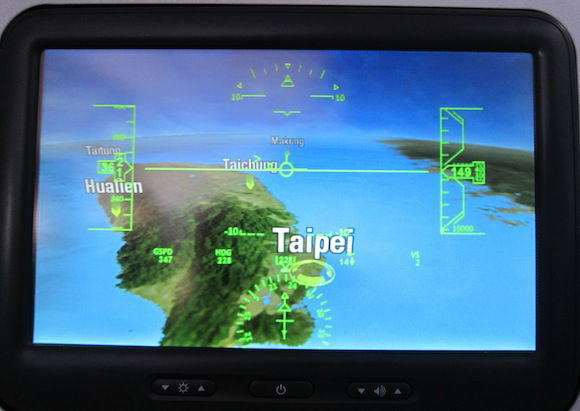 Cool display option
Despite looking like a nice day, the descent into Taipei was extremely turbulent, though in the end the landing was smooth.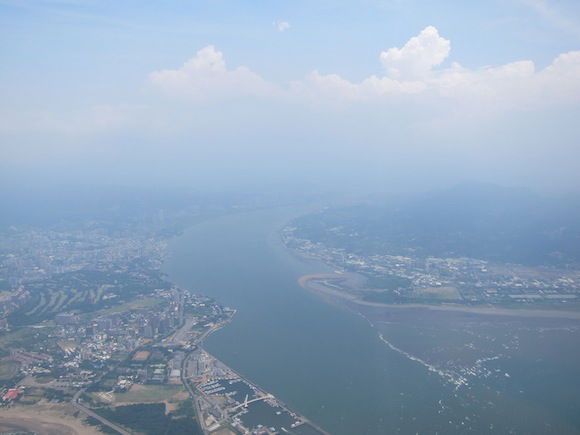 View on approach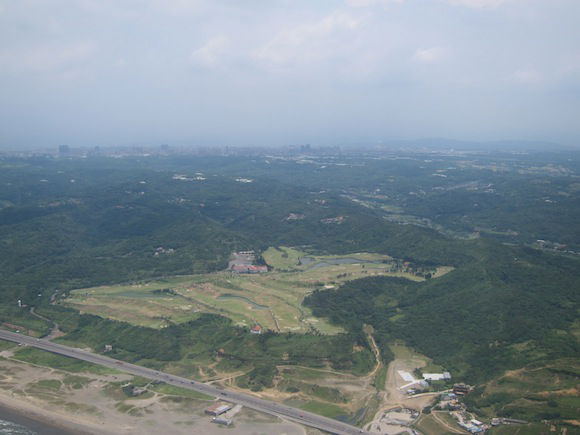 View on approach
We touched down in Taipei right on-time and had a fairly long taxi to the far end of the terminal, and from there it was about a 15 minute walk to immigration.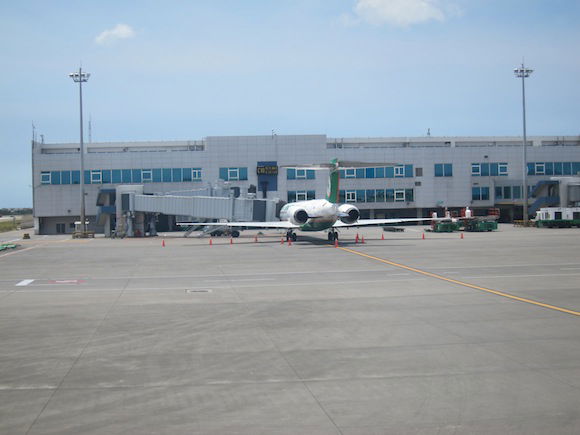 Taxiing to the gate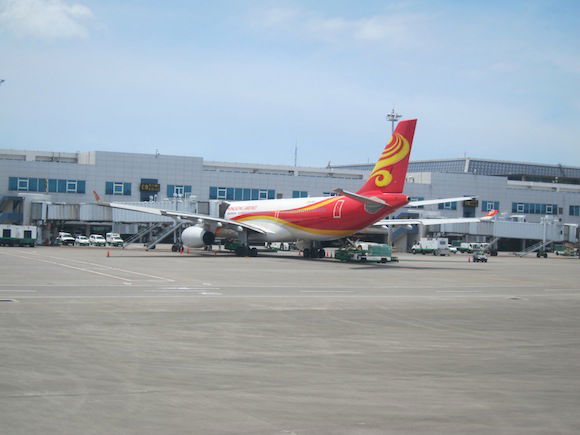 Taxiing to the gate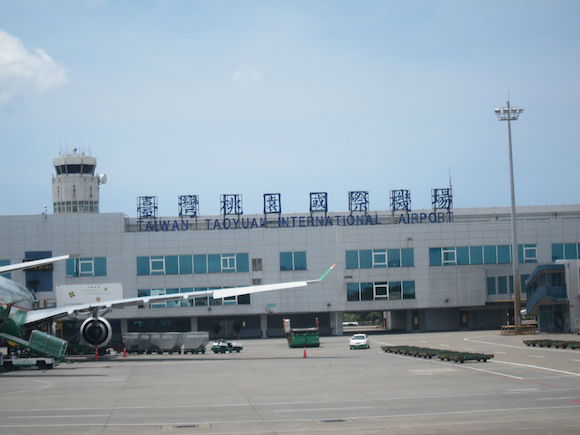 Taxiing to the gate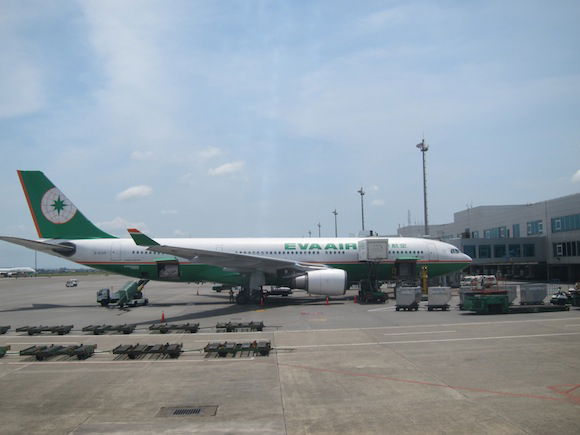 EVA Air A330 at gate next to us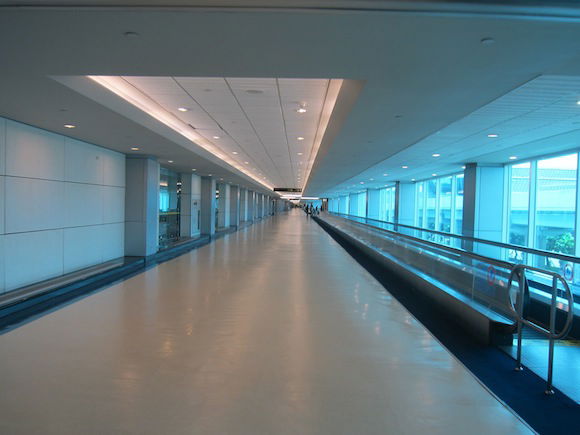 Walking to immigration
On the whole, EVA Air's short-haul narrowbody service impressed me. Ultimately the seats are a bit more comfortable when you're flying a longhaul configured aircraft, but for such a short flight the seats were perfectly adequate. The only thing I'd try to do differently next time is fly the Hello Kitty EVA Air service between Tokyo Narita and Taipei.