---
At around 9PM the personal assistant escorted me to immigration and to the transfer area, where I was directed to a Mercedes van along with four other passengers on the flight to Singapore (two of which were HON members, and two of which were first class passengers).
The ride to the plane took about 10 minutes, and on the way one of the other guys was on the phone with his wife saying goodnight, and I found the conversation pretty hilarious. He was telling her he was driving to the plane, and I could hear her panicking because she thought he was going to miss the flight, assuming he was driving to the airport. He quickly reassured her and said "no, I'm actually being driven to the plane," and proceeded to explain to her the service Lufthansa provides their first class passengers.
We pulled up right next to our Airbus 380, and parked next to us was another Airbus 380 headed for Johannesburg. Nothing is quite as impressive as two A380s next to one another.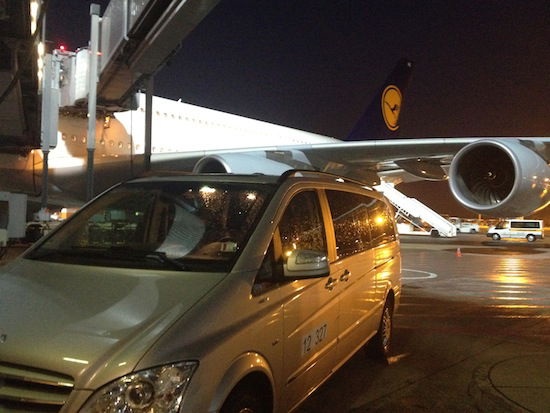 Our van and plane in the background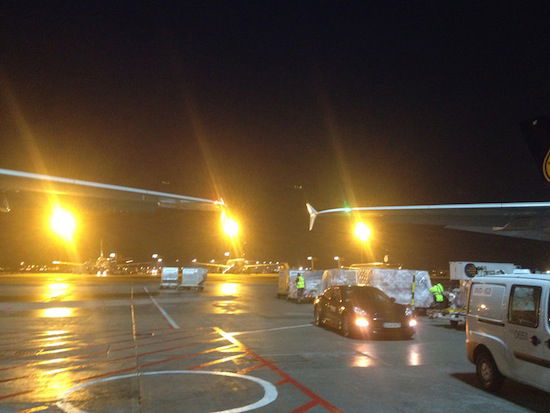 Wingtips of two Airbus 380s
The driver escorted us to the second floor jet bridge, where the flight attendants took over and directed us to our seats.
Lufthansa 778
Frankfurt (FRA) – Singapore (SIN)
Friday, April 27
Depart: 9:35PM
Arrive: 3:50PM (+1 day)
Duration: 12hr15min
Aircraft: Airbus 380
Seat: 1K (First Class)
I'll focus a bit less on the actual hard product with this post, since I reviewed it extensively in the review of my Airbus 380 flight from Frankfurt to Tokyo Narita a few months ago, which can be found here.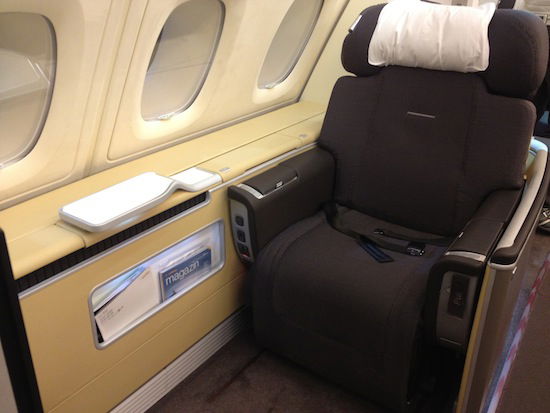 My seat, 1K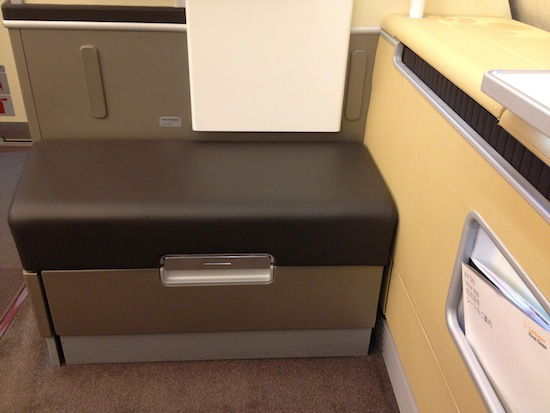 Seat console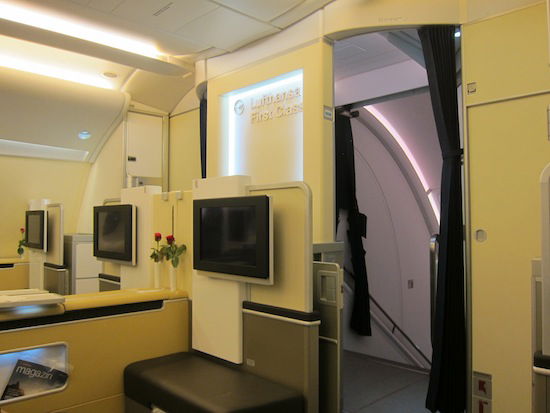 Cabin
As I settled in I was immediately offered a beverage, so went with champagne which was served with macadamia nuts. This was quickly followed by PJs and the amenity kit.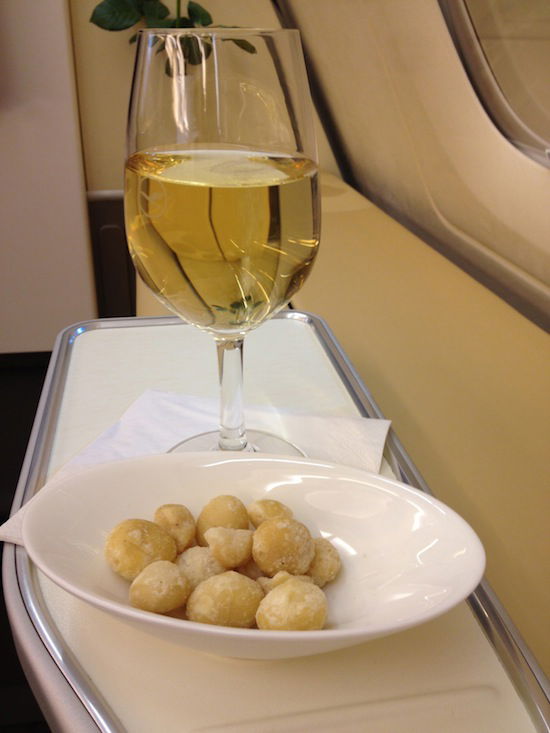 Pre-departure drink
I then placed all my belongings in my personal locker, which is located right in front of my seat (it's one of my favorite features of the Lufthansa Airbus 380). As I closed my locker the lady seated across from me in 1G (an American) said "wait don't close it, I want to put my stuff in there too." I explained to her that she had her own locker with a lock on it, at which point she commented "Yooooouuuuuurrr Engggggggliiiiish isssss verrrrryyyyyy goooooood." It always cracks me up when I communicate with the crew in German, and as a result American passengers assume I don't speak English (and speak really slowly to me, thinking it's the only way I'll comprehend what they're saying), so I always like to have a bit of fun with it.
So I responded to her with "thanks, I learned English in school." Naturally she asked "ohhhh wherrrreeeee diddd youuuuu goooo tooooo schooool?" I responded with "New York," at which point she had a mildly embarrassed look on her face.
Anyway, she was nice enough, so we ended up talking for a bit. She was a "foreign corruption lawyer" and traveling to Singapore for work after spending a week in Germany, so she asked me a lot of questions about why I was traveling and also about the Airbus 380. She told me about how she had booked business class but at check-in the agent said she had an expiring Senator upgrade voucher that she didn't even know about, and suggested she use it before it expires, so she upgraded.
She had never flown the Airbus 380 before and couldn't figure out where the bathrooms were, so I showed her. In the end I got stuck in the bathroom with her for about a minute, though that's a different story. It's certainly the last time in my life I hope that happens with a woman three times my age, though such is life.
At departure time the captain came on the PA and advised us of our flight time of 11hr30min, anticipating an on-time arrival in Singapore.
As we pushed back the safety video began to play and we had a 15 minute taxi to our departure runway before we were airborne.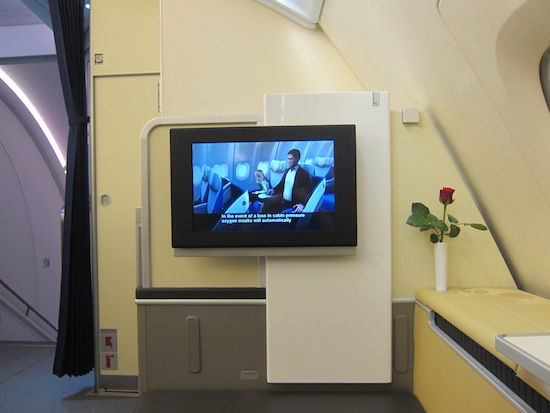 Safety video
About 20 minutes after takeoff the seatbelt sign was turned off and service commenced, starting with the purser distributing menus. The menu on this flight was identical to the menu on my Frankfurt to Seattle flight in March.
The dinner menu read as follows: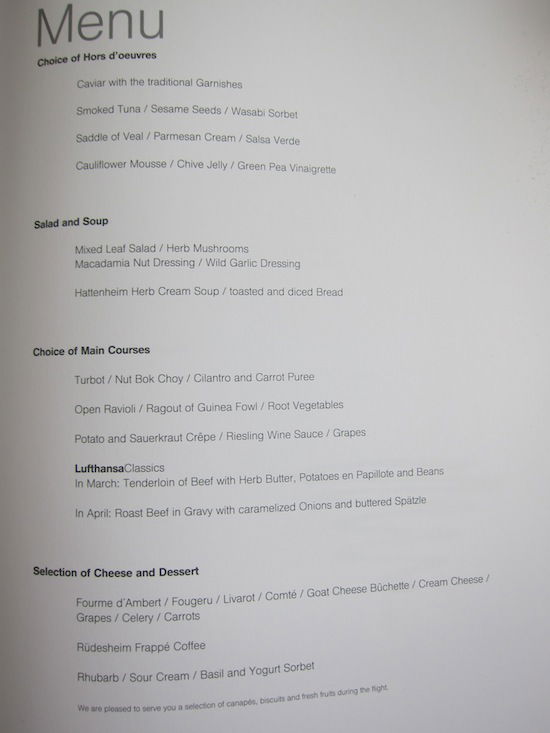 Menu
I wasn't a huge fan of any of the options and wasn't especially hungry, so ended up deciding to skip the main course.
Service started with hot towels followed by drinks and the amuse bouche, which consisted of feta cheese, fig, and sorbet.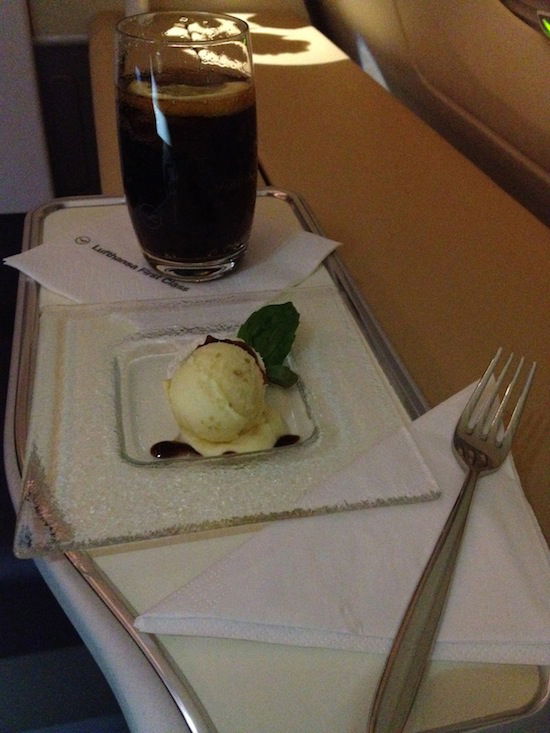 Drinks and amuse bouche
About an hour into the flight the appetizer cart was rolled through, and I chose both caviar and the tuna appetizer.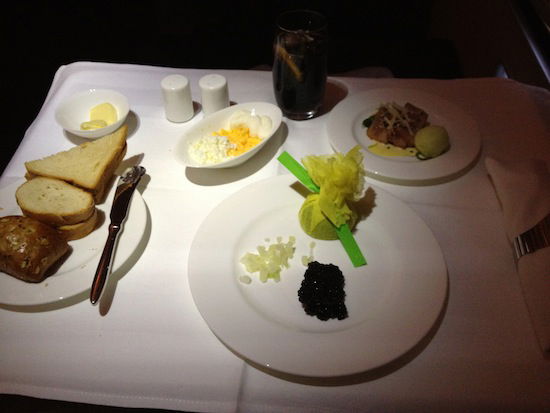 Appetizer
Then I had the salad with macadamia nut dressing.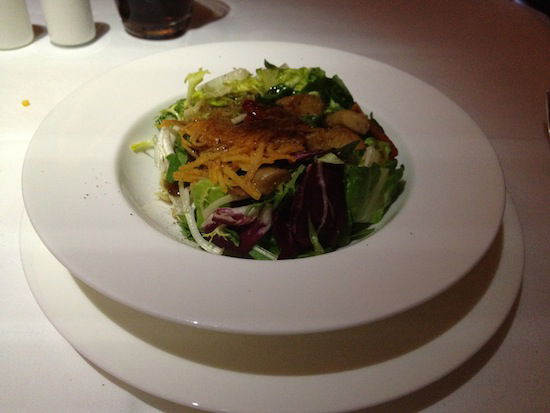 Salad
As I said I skipped the main course and went straight for the dessert, starting with a delicious cheese plate per the flight attendant's suggestion.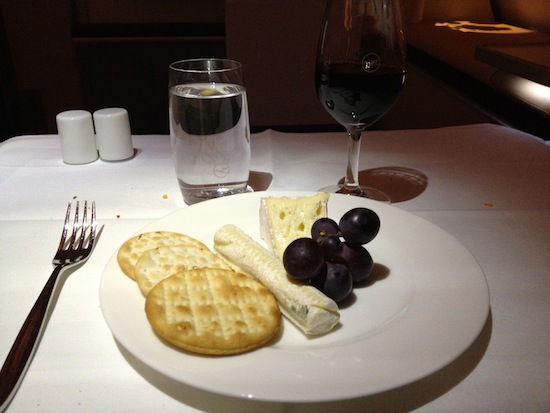 Dessert
I then had the coffee dessert, the same as on my last flight.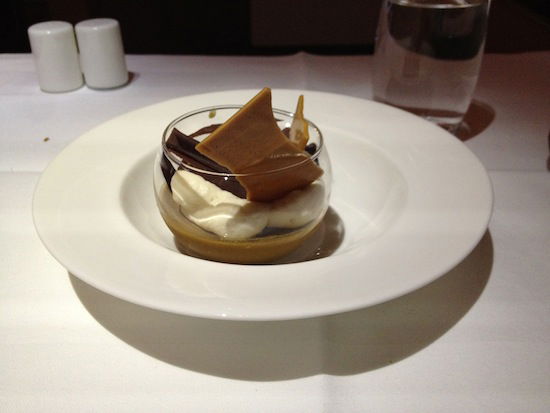 Dessert
Service finished with a tin of chocolates.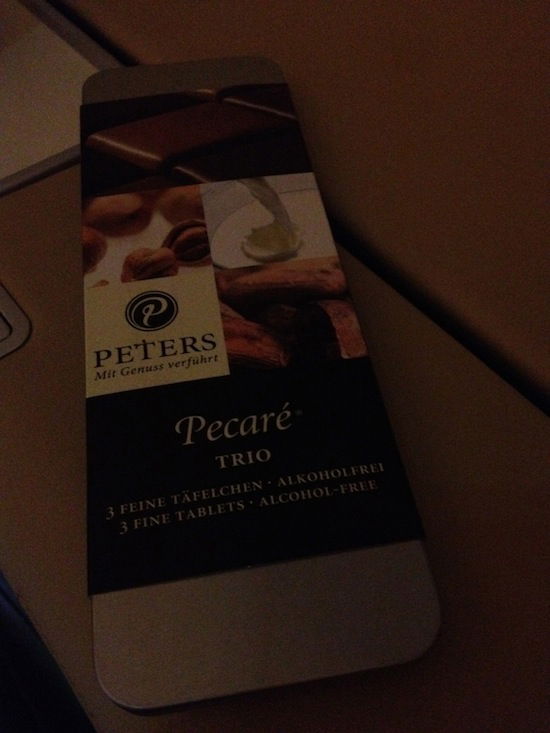 Chocolates
Service throughout the meal was phenomenal. The flight attendant working the aisle was young and motivated, and despite the late night departure was constantly smiling and very attentive. Then again that just about always matches my experiences on Lufthansa, though many seem to disagree.
The lovely flight attendant provided me with turndown service (both of my bed and my phone number… I'm kidding), and I was ready for a good night of sleep after one heckuva long travel day. Right as I got comfortable I heard a loud noise. Hmmm, Airbus 380 engine trouble? Unruly passengers in business class? Nope, just the lady in 1G snoring louder than Snufalufagus. Look, I can handle light and/or interrupted snoring, but that wasn't the case here. This lady was having a snoring symphony, and there was no way I was going to stop her.
I figured it would subside or I'd get used to it, but unfortunately after trying to sleep for an hour I decided that wasn't the case. I then figured if I put on either noise canceling headphones or in-ear headphones it would help with eliminating the noise. Despite blasting Justin Bieber's latest album at full volume, I had no such luck. Actually, it kept getting worse (both her snoring and Justin Bieber's album).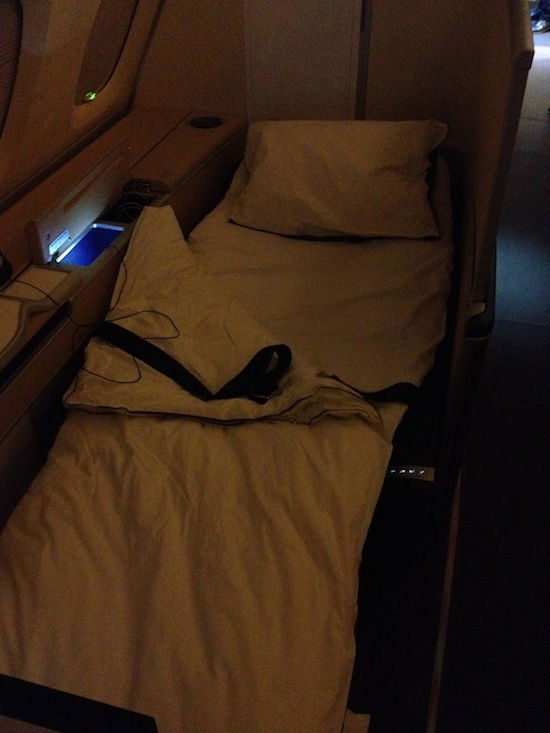 Bed
After trying to sleep for about two hours I called it quits and pressed the flight attendant call button to get an iced coffee so I could at least wake up and get a bit of work done. I've decided that the new standard as to whether or not a first class flight attendant is great at their job is whether or not they'll serve you an iced coffee. It's not explicitly on the menu, but it's easy to make and requires (very minimal) thinking outside the box. Sure enough the flight attendant was more than happy to cooperate, and even served it with chocolate and an apology for the noises the lady seated across from me was making.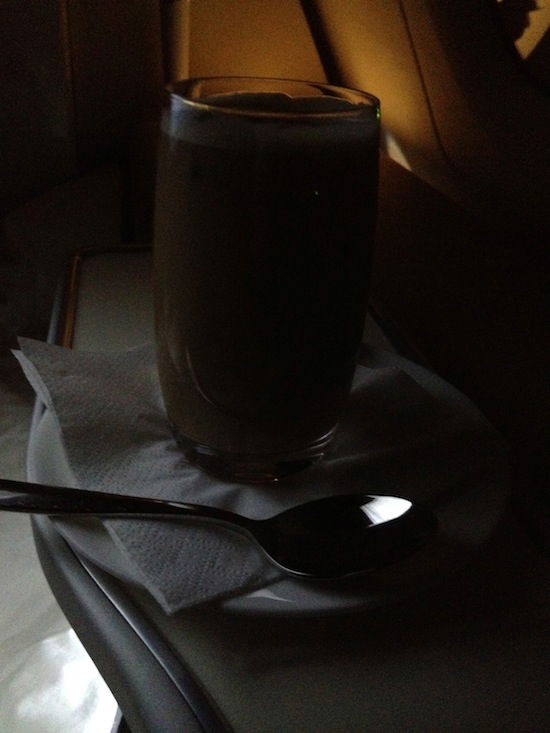 Iced coffee
After watching a couple of TV shows and getting some work done we were about four hours out of Singapore, and the lady seated across from me finally woke up. Seeing I was awake she said "boy you were right, these seats are comfortable. I slept really well. How did you sleep?" I simply smiled at her and said "oh, great." Fortunately the fact that she woke up meant I could finally sleep, and I got a solid two hours of sleep before breakfast service began.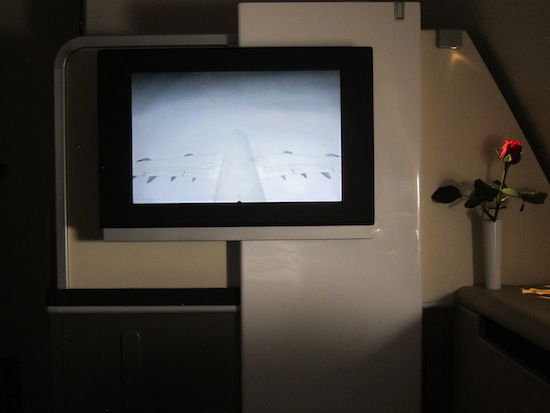 Tail camera
About 90 minutes out of Singapore immigration cards were distributed, followed by hot towels and breakfast menus.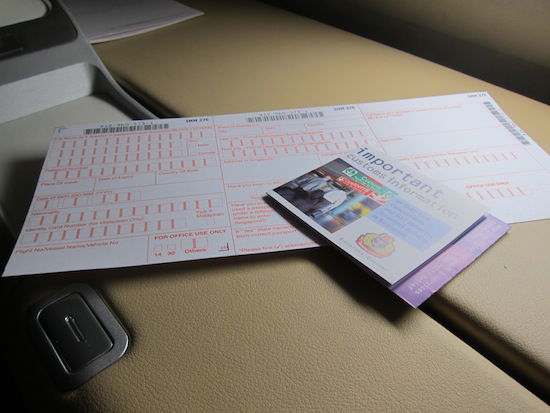 Immigration form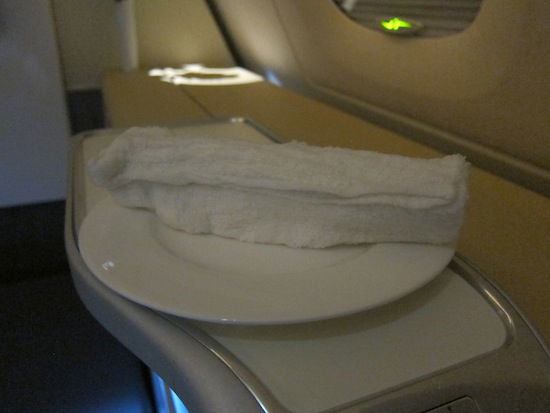 Hot towel
The breakfast menu read as follows: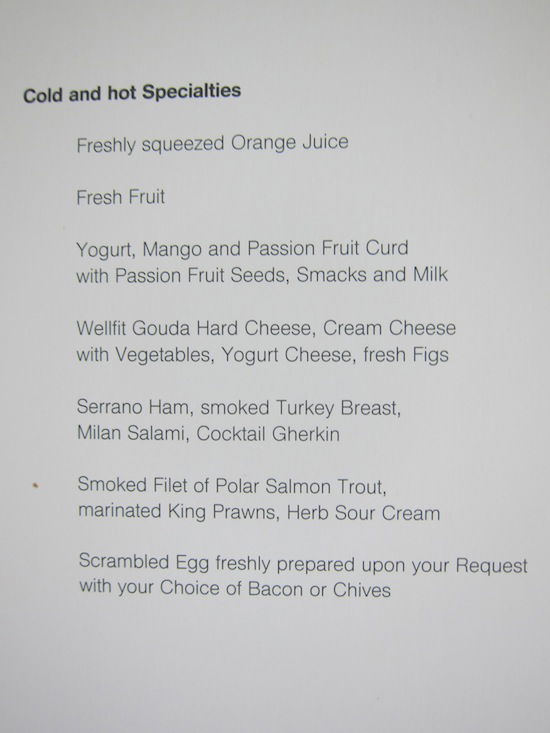 Once the menus were distributed fresh squeezed orange juice was served. Lufthansa serves the best of any airline, in my opinion, and it's the highlight of their breakfast service for me.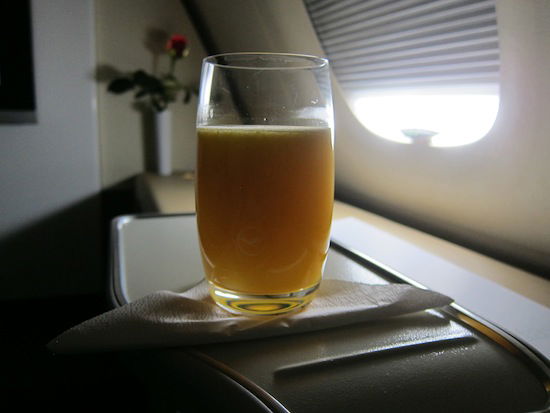 Orange juice
I ordered another iced coffee with breakfast, and also had some fruit and cereal.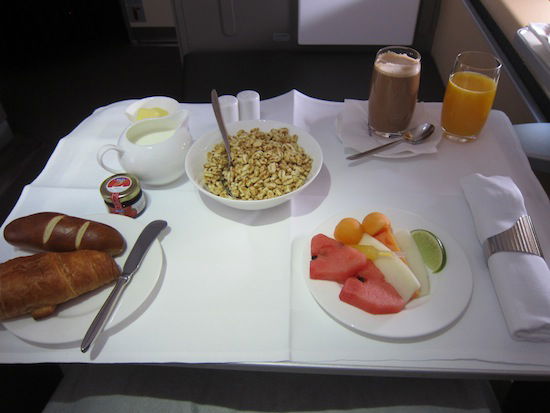 Breakfast
For the main course I had scrambled eggs with chives, which were delicious as always.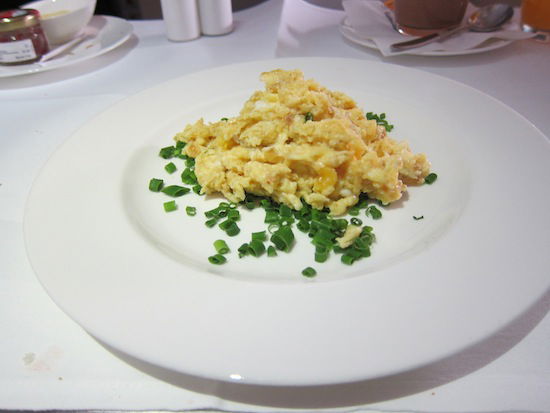 Scrambled eggs
30 minutes out of Singapore we began our descent and I changed out of the PJs.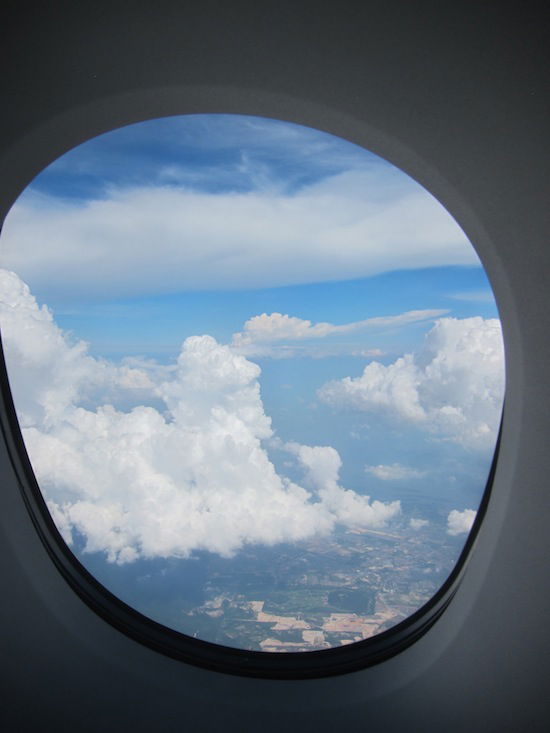 Beginning our descent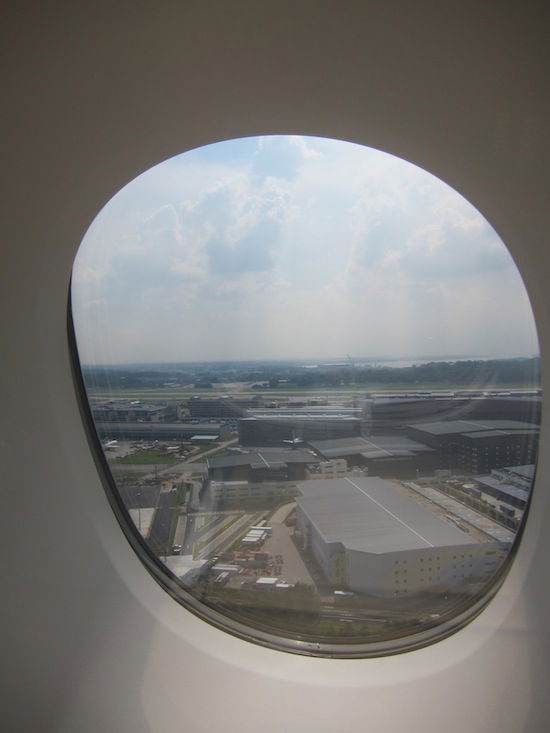 Final approach
After a beautiful touchdown we had a long taxi to our gate at the very end of the terminal.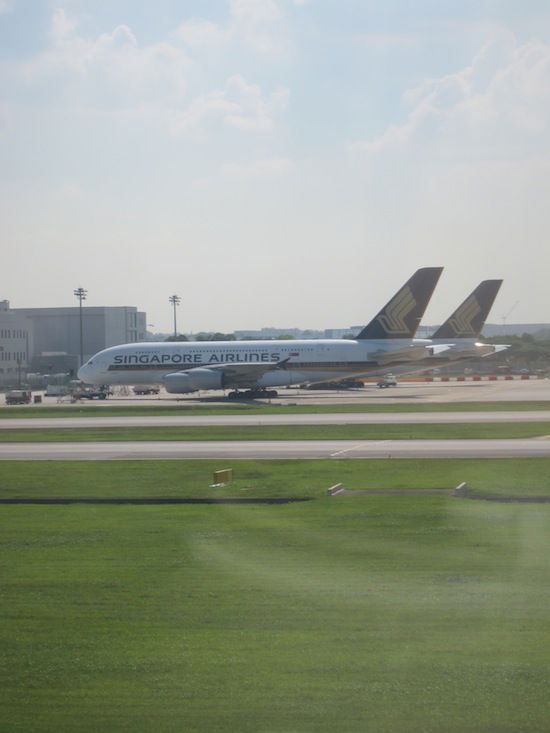 Singapore Airbus 380s
Fortunately there were no queues at immigration so I was at the InterContinental about 30 minutes after landing. Not too shabby!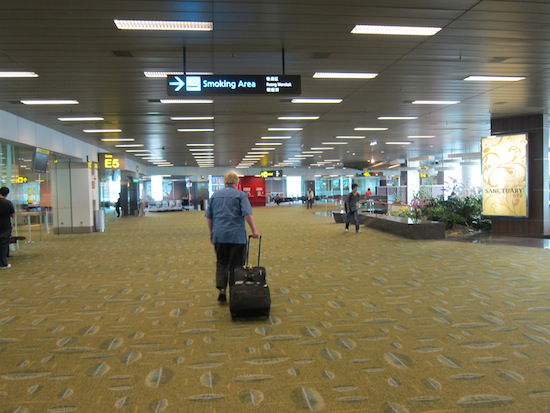 Terminal upon arrival
And like that another amazing Lufthansa flight came to an end. While I think their management team is starting to head in the wrong direction (and I'm not talking about them restricting award tickets to Star Alliance partners, which I can understand) their flight crews consistently deliver.