My morning was supposed to start just like any other on which I mileage run, at 4:30AM. Sadly my alarm didn't go off (well, that's what I'd like to think, as opposed to me just hitting the snooze button, convincing myself it was a good idea to lay there for just another minute), so I woke up closer to 5AM. I rushed and still made it to the airport by 6:15AM, plenty early for my flight.
UA1575, TPA-ORD, 0700-0850
The Ted flight was totally standard, and we got into Chicago on-time. Not a thing in the world to report.
Since I had a same day international first class flight I headed to the United International First Lounge (IFL) for about two hours, the extent of my layover. The agents were friendly and surprisingly enough I didn't have to fight for my right to access the lounge….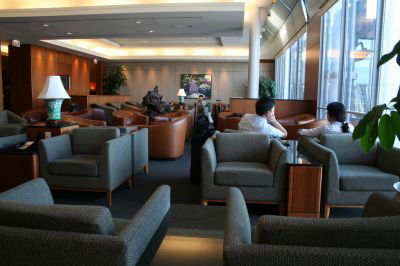 International First Lounge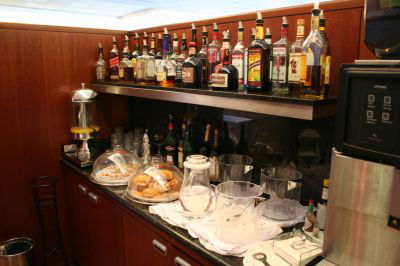 Drink selection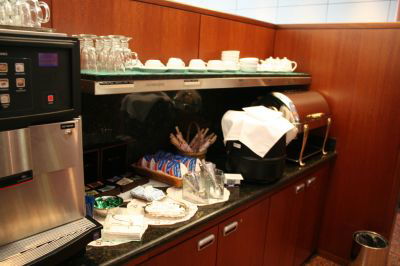 Noodles and coffee machine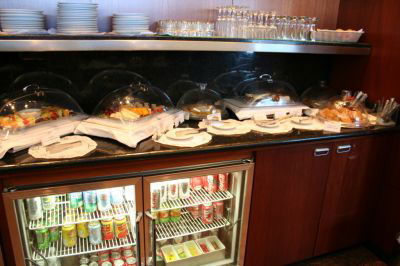 Snacks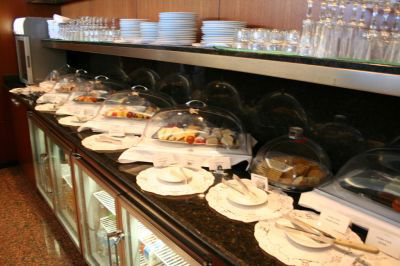 Snacks
Here's a pretty unpopular viewpoint: I actually like the IFL's! I'm sorry, but I never understood the concept of having five course meals in a lounge when you're about to get on an airplane that has more food than most restaurants. Don't get me wrong, I totally love great lounges, but I actually find the IFL's adequate. The three things I look for in a lounge are internet, peace and quiet, and a small selection of snacks, and the IFL has all three.
I headed to my gate right as boarding began.
UA0642, ORD-EWR, 1039-1350
This flight had a little more excitement than my last one. First of all we had a great flight attendant. She was hilarious, fun, and attentive. She laughed most of the flight, for a great reason: "If I weren't laughing about the industry I'd have to cry." We enjoyed discussing all of the latest industry cuts, or more specifically those that UA is making.
This flight even had a delicious, gourmet lunch!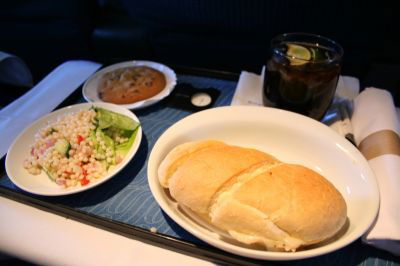 Lunch
Knowing exactly what was for lunch, I literally burst out in laughter when the FA came around taking orders and referred to the above as a "smoked turkey mesquite sandwich." It looks, taste, and would more correctly be referred to as a stale piece of bread with mystery meat and gooey, yucky, cheese. Neither of us could figure out what was on the side, so I just called it Ted caviar.
Since the captain had Channel 9 on, announced it, and looked like a nice guy, I wrote him what some call a love note, just a long note thanking him for the safe ride, Channel 9, and of course not letting out their obvious anger on the customers. I asked the FA to give it to him after the flight.
The excitement during this segment of the trip came in the form of the arrivals process. I blogged about that basically "live," so consider checking out this post for more details. Suffice it to say it was a first for me.
Upon arrival I headed to the RCC, since my brother would only be getting to the airport in about two hours. The EWR RCC is one of my favorites, and has some of the best agents out there. As usual it was quiet, so I spent a couple of hours on the web, finishing up various things.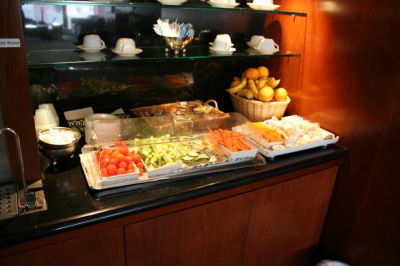 EWR RCC snacks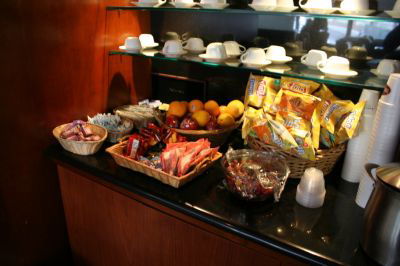 EWR RCC snacks
At around 4PM I headed to the AirTrain station to meet my brother, and we proceeded to LH check-in.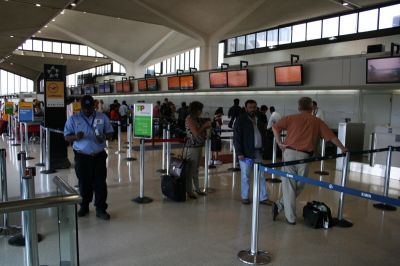 LH check-in (taken during previous trip)
There was one person in front of us in the first class line, and we were helped within seconds. The agent was polite although not particularly competent. Apparently our seat assignments were messed up and we were in separate rows, so we asked to be seated together. She made it seem like a challenging task and spent a few minutes trying to do it, saying "let me see if I can find two seats together, hmmm…" As it turned out there were only four people booked in F on this flight (including us) and there are 16 seats, so clearly she didn't know what she was doing.
She asked us if we wanted an escort through security, which we accepted, since we didn't know how long the line would be. Sadly we had to wait at least five minutes, but eventually the escort came. As it turned out the line was very short so it really wasn't necessary, but I guess it's a nice gesture nonetheless. She brought us up to the security checkpoint after whisking us through the side, and bid farewell there.
Security took all of two minutes and we proceeded to the lounge, which is a joint Senator and SAS lounge. Since we were in F we were entitled to use the SEN lounge, which is so small and crowded that it's worse than the SAS lounge. I was happy to have stayed in the RCC for longer, because frankly it was more peaceful than either of these lounges.

Entrance to the joint lounge (taken during previous trip)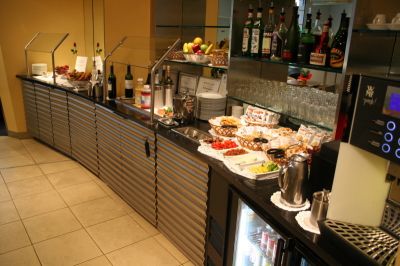 SEN snack selection (taken during previous trip)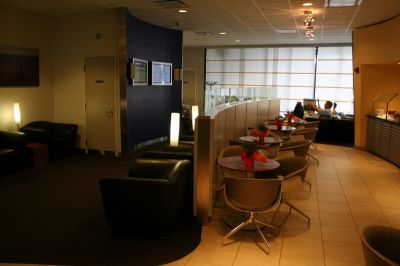 SEN lounge (taken during previous trip off-peak)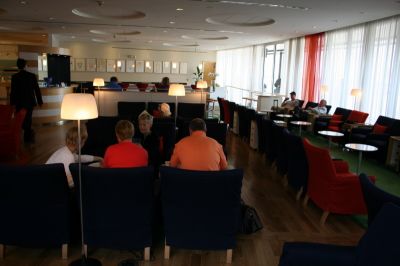 SAS lounge (taken during previous trip)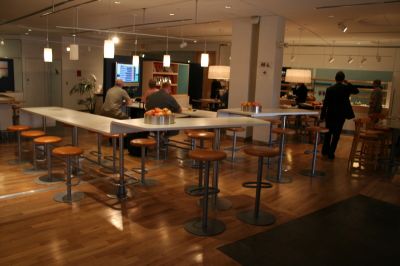 SAS lounge (taken during previous trip)
While the snacks are ok, it's definitely not a great lounge. It's not bad per se, it's just so crowded during the European departures that finding a seat can be a challenge. The above pictures were taken last time I was there during off-peak times. The SEN lounge attendant informed all passengers that the LH flight was 30 minutes late due to the late arriving aircraft, so we spent a bit more time in the lounge.
We headed to the gate about 45 minutes prior to departure, where we spotted the monster that'd be taking us to FRA.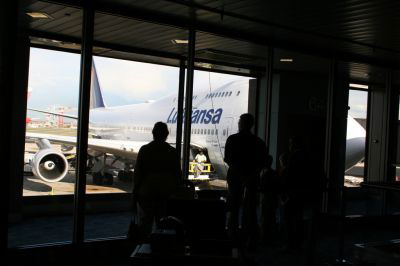 Bet you can't spot the plane!
Boarding was surprisingly calm for a Lufthansa flight, with F/C/Star Gold passengers actually being able to board first, without starting a world war.
LH0403, EWR-FRA, 1740-0705 (next day)
As we entered through door 2L we presented our boarding passes to the FA and were directed towards the staircase. We proceeded upstairs and were promptly greeted by the friendly flight attendants. We took out what we'd need during the flight and then put our carry-ons in the closet.
Within minutes of settling in we were offered pre-departure beverages. I went with water while my brother went with champagne. As usual they were served with macadamia nuts.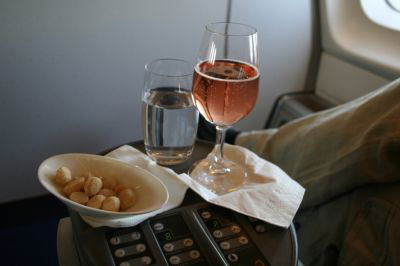 Pre-departure beverages and snacks
Shortly thereafter amenity kits, slippers, and PJ's were passed out.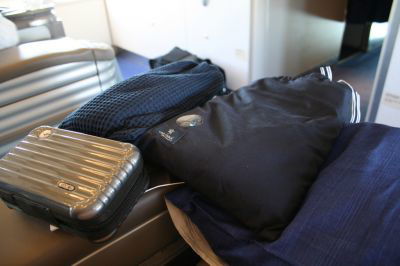 Amenities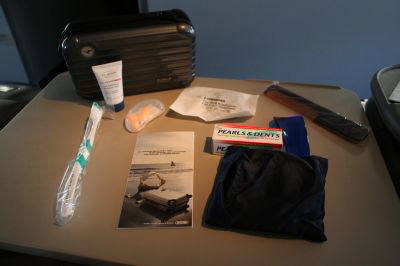 Contents of the amenity kit
Refills were also offered, along with newspapers, magazines, menus etc. The captain even made a round of the upper deck, awkwardly greeting all of the F passengers (although A+ for effort). He also made an announcement over the PA saying that our flight time would be 6hr20min, and that we would be on time despite the 30 minute delay out of EWR.
Before we knew it the door was closed and we were on our way. After a short taxi and waiting for a few planes ahead of us to take off, we were airborne after a 40 second roll and excited to be on our way.
The seatbelt sign was promptly switched off and I headed to the lavatory to change into PJ's.
Within just a few minutes service began, starting with a hot towel. Gotta love the rose pedal on the plate!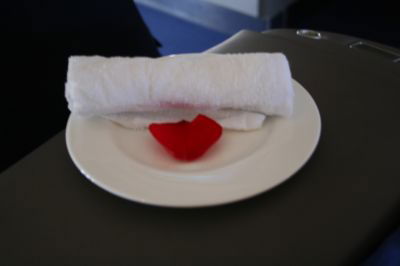 Hot towel!
Shortly thereafter drink orders were taken, and the pre-dinner snack was served.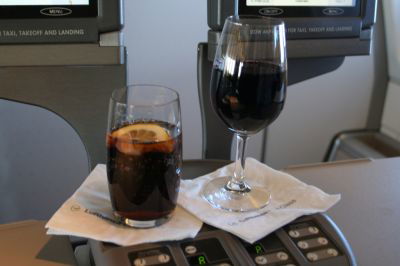 Drinks (gotta love the glassware!)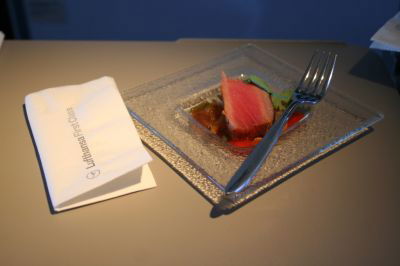 Tuna snack
Just a couple of minutes later the purser, who was friendly and professional, came around to introduce himself and take meal orders.
The dinner menu read as follows:
Dreamer's Delight
Use the time on board to get some restful sleep; in the form of our Dreamer's Delight, a select meal served in one course.

Cold Gourmet Plate
Gingered Lobster Salad with grilled Asparagus, Fennel and Lemon Vinaigrette

or

Hot Specialty
Chicken Bouillebaisse with Croutons

Cheese and Dessert
Gruyere, Crottin and Stilton Cheese

Fresh Fruit

Menu

Choice of Hors d'oeuvres
Caviar with the traditional Garnishes

Citrus Chicken Salad

Grilled Scallop with Quinoa Salad and Orange Vinaigrette

Grilled Asparagus Salad, Aceto Balsamico with white Tomato Gelee and red Tomato Jam

Salad
Seasonal Salad with shaved Parmesan Cheese
with your choice of Balsamico or Potato Dressing

Choice of Main Courses
Beef Tournedo with Cilantro Crust, Wasabi mashed Potatoes and Bok Choy

Juniper roasted Duck Breast with Cranberry Barley Risotto and braised Endive

Lemon glazed red Snapper, Basmati Rice with Picholine Olives

Penne Pasta with sautéed Spinach, wild Mushrooms and white Truffle Cream Sauce

Selection of Cheese and Dessert
Swiss Gruyére, Camembert, Stilton Blue, Crottin de Chevre and Manchego Cheese

garnished with Grapes

Five spiced roasted Pineapple with Coconut Tapioca

Lemon Thyme marinated Berries with Macadamia Nut Ice Cream

Specialty Dessert Wines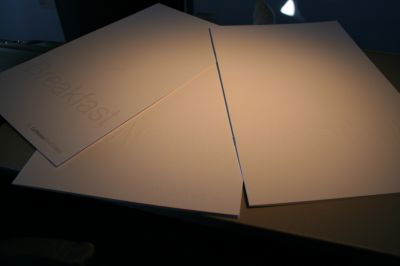 Menus (love how LH has a different menu for every meal!)
The tables were set, along with the signature rose. I went with "pretzel bread" (since I won't be writing this report in German and call it a "laugenbroetchen").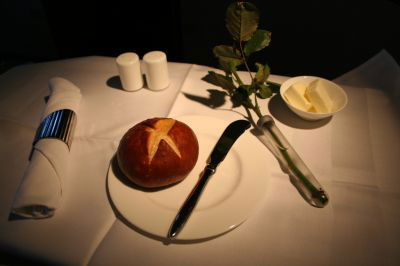 Table set
Within ten more minutes appetizers were served, and my brother took caviar and the grilled asparagus option, while I went with caviar, grilled asparagus, and citrus chicken salad. My brother ended up eating most of my caviar since I'm not really a fan, but I sure as heck wanted it on my plate for a picture!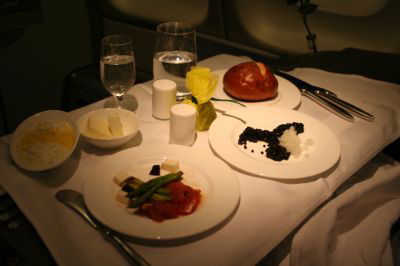 Brother's appetizers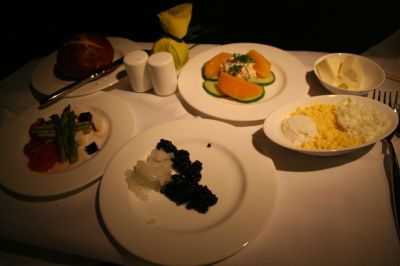 My appetizers
I should stop for a second to apologize. I've generally been a pretty big critic of LH, even in F, and even as a German. I must say that I have absolutely no clue what I was thinking at the time. Simply put, LH F has to be one of my favorite F products, probably my single favorite one when traveling with someone else.
The service on this flight was impeccable — meals were served at the perfect pace, the service was friendly, professional, and attentive, and it really felt like we had our own private jet. One of the passengers chose to sleep, so we had two FA's taking care of three people. Seriously, they couldn't have been any nicer.
While I'm at it, I have to say, LH must have the best meal presentation in the world. No other airline has a product even remotely as photogenic as LH F, from the rose, to the caviar, to the great glassware, to the car to the plane. While they might not have amazing suites, every other aspect of LH F was absolutely stunningly perfect.
OK, enough raving, back to the report!
Once the appetizer was served, the salad came. It too was delicious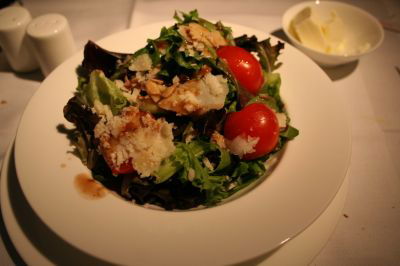 Salad
My brother took the steak as the main course and I chose the pasta, since it just sounded so good. The FA serving us had noticed that I was taking pictures throughout the meal service, so when she delivered my pasta she said (roughly translated), "I prepared it myself and made sure it looks extra nice just so you can get a good picture."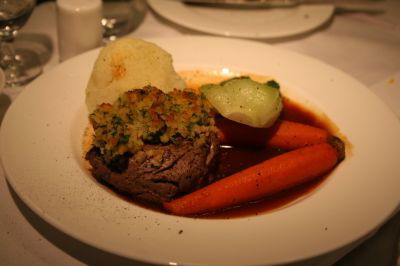 My brother's main course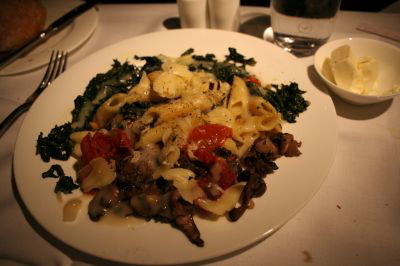 My main course
Usually I choose pasta on airplanes because I figure it's a choice that can't really be messed up, but at the same time it's rarely exceptional. Today was different, it was incredible. Never before have I had such a good pasta dish, be it in the air or on the ground. Incredible!
Lastly, and at the perfect pace, the dessert was served. I think the picture speaks for itself, do I really need to say how good it was?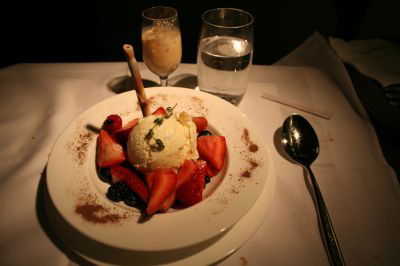 Dessert!
Last, but most definitely not least, we each got a box of chocolates with a moon face on the box.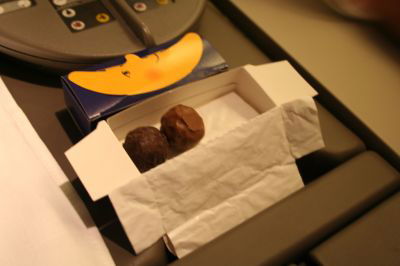 Chocolate
Seriously, this flight couldn't have been any better. It's simply not possible. The food and service were both abso-smurfing-lutely poifect!
After dinner the FA's got us comforters and blankets, which are great regardless of whether or not one wants to sleep, and also gave each passenger a bottle of water. My brother chose to sleep while I chose to watch some movies.
As a general rule, I don't sleep on transatlantic flights, at least from the east coast. Since the flight is so short and they usually leave too early for me, it's just not practical. If a flight left at midnight maybe I could sleep, but instead I just stay up, enjoy the service, and go to bed early the next night.
I started by watching "What Happens in Vegas…." which was ok. After that I started watching "Outsourced," which was hilarious, but I never actually finished it (but I did end up watching the whole thing on the return).
About 1.5 hours out of FRA I walked around the cabin a bit and the FA informed me breakfast would start in five minutes, suggesting I wake up my brother slowly. I went to try and wake up my brother, explaining breakfast was about to be served (which he said earlier he wanted to be woken up for), and he said something along the lines of "no, that can't be, it's not time for breakfast yet, I just fell alseep." I guess that's a testament to how comfortable the bed was!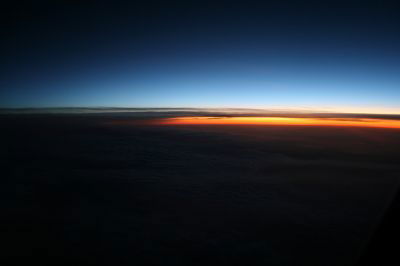 Sunrise as breakfast began
The breakfast menu read as follows:
Breakfast
If you prefer more time to rest, we will serve the breakfast variety of your choice until we begin our descent from traveling altitude and approach landing.

Fitness Breakfast

Coffee or Tea
Freshly squeezed Orange Juice
Fresh Fruit
Granola with Yogurt

Continental Breakfast

Coffee or Tea
Freshly squeezed Orange Juice
Peach Yogurt
Prosciutto, roasted Turkey Breast, Baby Mozzarella and Salzberg Cheese

American Breakfast

Coffee or Tea
Freshly squeezed Orange Juice
Fresh Fruit
Mushroom Omelette with Yukon Potato, grilled Zucchini and Bacon
Much like dinner, the breakfast service was at a great pace, since the other two passengers chose to sleep in. At a 1:1 crew:passenger ratio, it's hard not to feel good.
Service began with orange juice and a refreshing towel.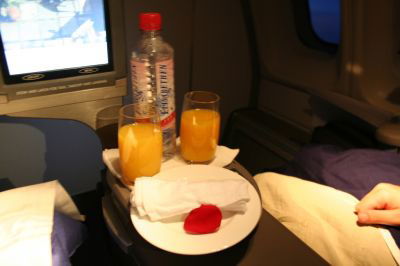 Orange juice and towel
Given how short the flight was and that we had dinner just a few hours ago, we went with the "fitness breakfast." It was delicious, exactly right for the pre-arrival meal on a flight this short.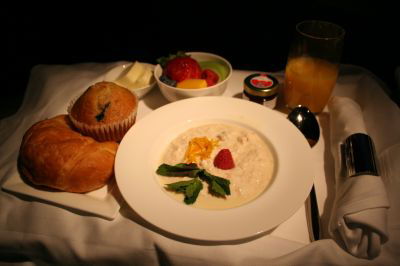 Breakfast
As our descent began we restowed our carry-ons (which were totally bulging at this point, thanks to all the amenities we got aboard), and I changed out of my PJ's.
The FA's asked us to complete a survey, which we were happy to do, mainly because they include a FREE LH pen! Love 'em!
Anyway, the flight was perfect, there's nothing I can fault. We touched down on-time, got to the gate, and as usual the FA's made sure that the F passengers were off before anyone from C could even look at the door (which I have to say is somewhat comical).
We headed towards immigration so that we could get to the First Class Terminal, which would be my brother's first time.
To be continued…