---
I headed over to gate three, which is a bit of a disappointment for any aviation geek, given that the aircraft parked at the gate isn't visible due to a structure blocking it.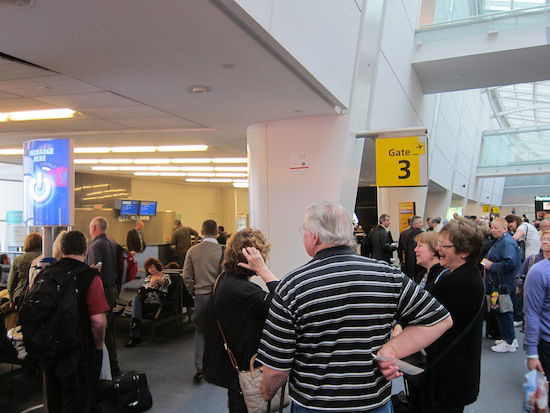 Departure gate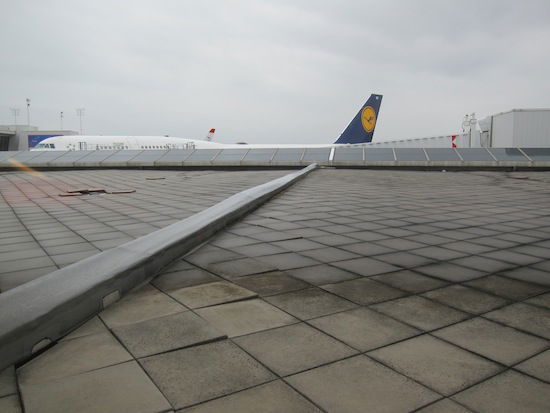 747 taking me to Frankfurt
At around 3:15PM boarding started for first class, business class, and Star Gold members, and I was among the first aboard.
Lufthansa 401
New York (JFK) – Frankfurt (FRA)
Thursday, April 26
Depart: 3:55PM
Arrive: 5:35AM (+1 day)
Duration: 7hr40min
Aircraft: Boeing 747-400
Seat: 82H (First Class)
At the door I was greeted by the purser, who directed me up the stairs. Once at the top of the stairs I was welcomed by two older male flight attendants that pointed me to my seat in row 82.
Rather than try to hide my excitement over the new product, I immediately asked if it would be alright if I snapped a few cabin pictures before the other passengers arrived, which they enthusiastically "approved."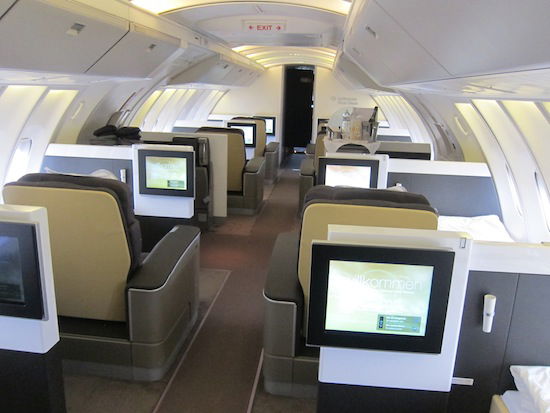 New first class cabin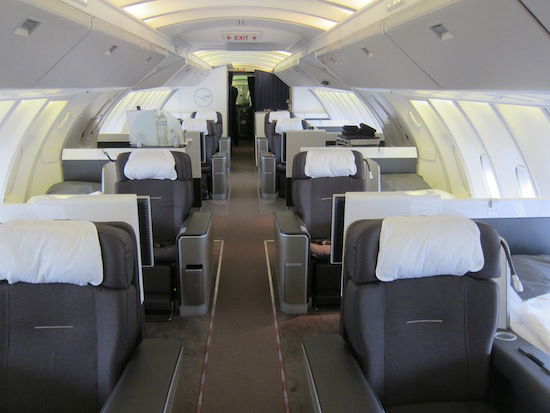 New first class cabin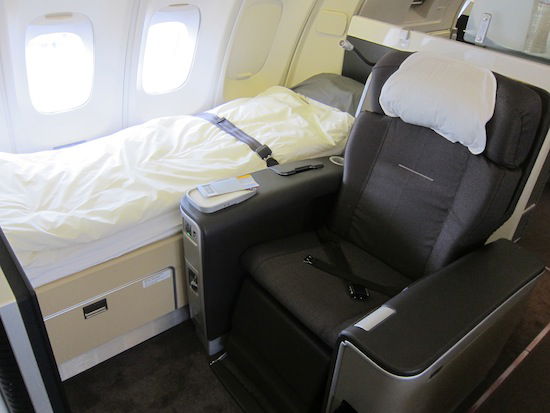 82H, my seat/bed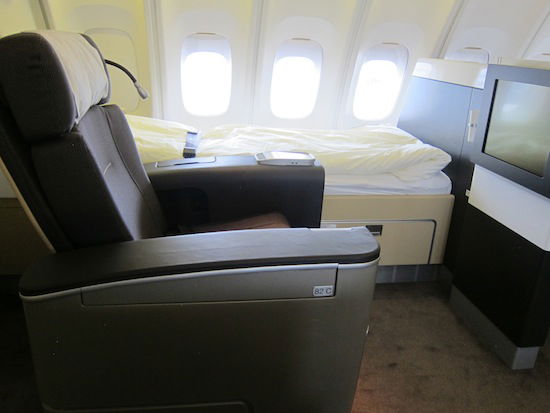 82C, seat/bed across from me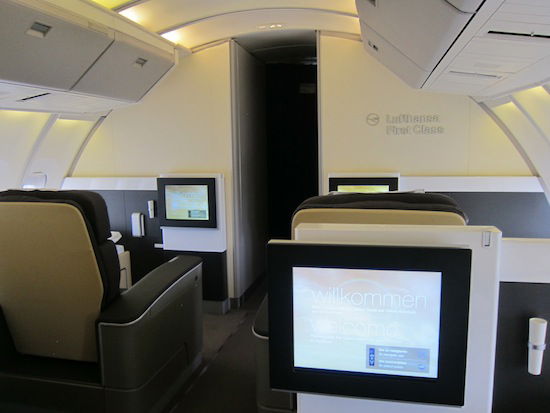 View from my seat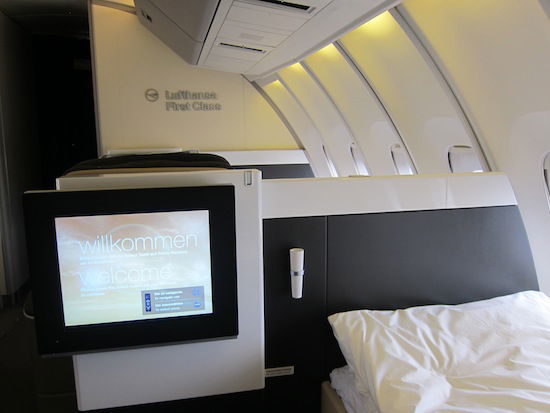 View from my seat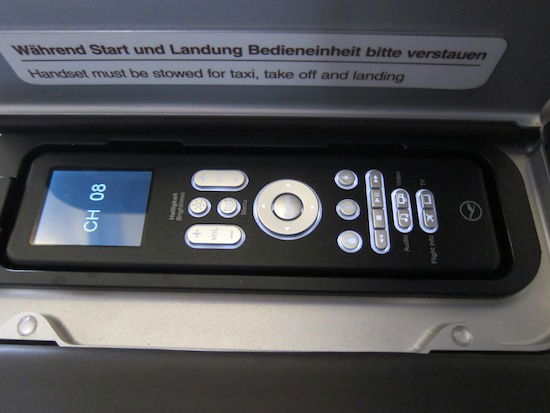 Entertainment system controls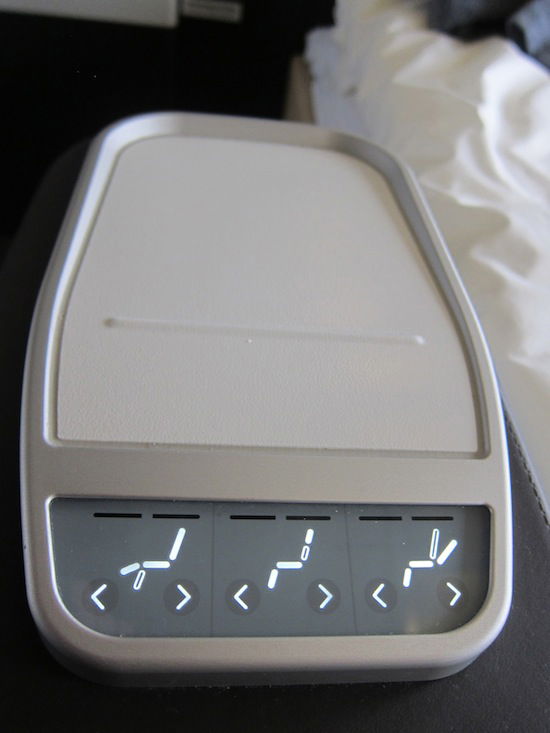 Seat controls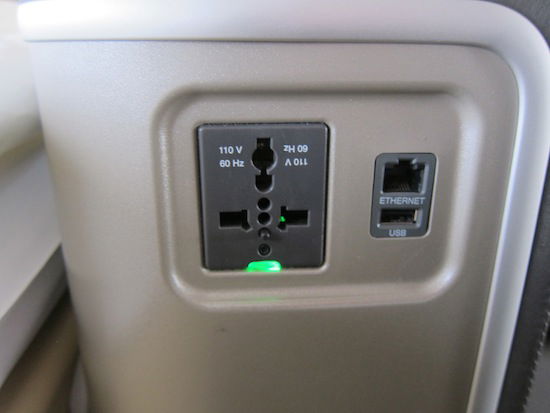 Power plus
As I mentioned in the introduction, the product on this 747 is pretty unique in that it's a separate seat and bed. So far 10 of Lufthansa's 28 747s are configured with this product (see this FlyerTalk post for full details on the reconfiguration progress). Meanwhile Lufthansa doesn't have plans to configure the rest of their fleet with this product (instead they're configuring it with the same first class product found on the Airbus 380).
While the upper deck was previously in a 2-2 configuration, they basically turned each set of two seats into both a seat and a fixed bed. We'll talk about the practicality of the product in a bit and whether the space could have been utilized more efficiently, though I have to say it'll be a while before the novelty of this product wears off for me. Other airlines have enclosed suites, but this is the first product where you have a separate seat and bed. And of course it's a huge upgrade over the old 747 first class (which I flew from Frankfurt to Bangkok last year, for example), in terms of seat comfort, entertainment, personal space, etc.
Anyway, back to the flight. As I settled in I was offered a pre-departure beverage, and ordered a glass of water, which was served with macadamia nuts. The flight attendant asked if I was a Lufthansa employee, which I found odd, given that I didn't think Lufthansa employees could easily get into first class (though maybe I'm wrong?).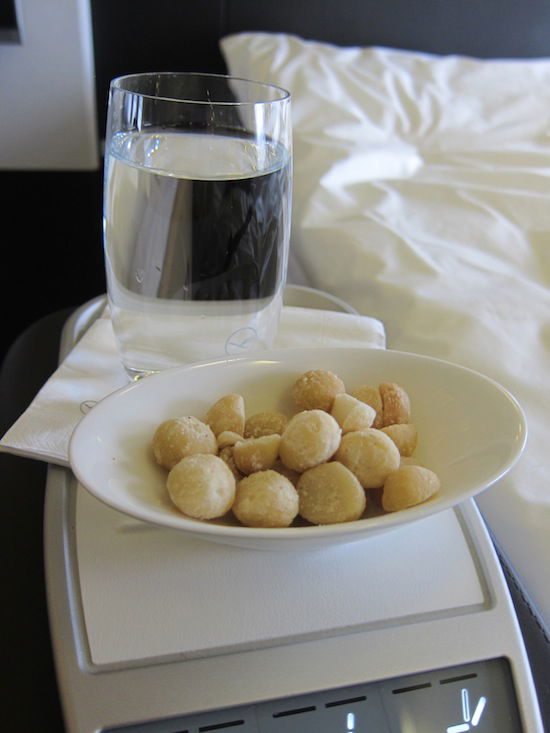 Pre-departure beverage and nuts
Moments later I was presented with pajamas, slippers, an amenity kit, duty free magazine, and lastly a service survey (the timing of which I found pretty tacky, frankly – that shouldn't be one of the first things they give a passenger, in my opinion).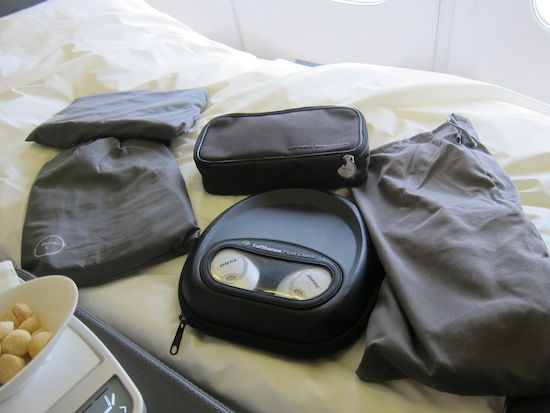 Amenities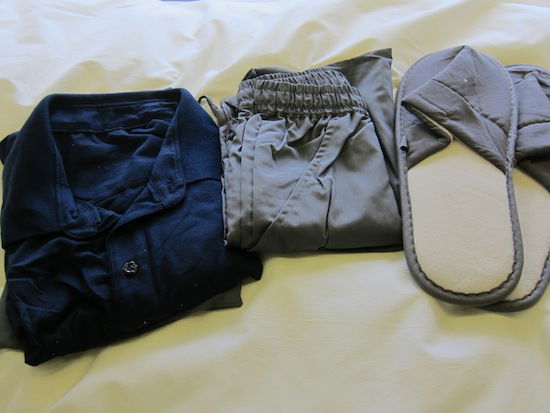 Pajamas and slippers
The upper deck continued to fill up, surprisingly enough mostly with Americans (in my experience most Lufthansa first class passengers are German). There were two other Germans, and everyone else was American, including two Lufthansa employees (which might explain why they assumed I was an employee, since maybe they knew two Lufthansa employees were aboard in first class).
Shortly before pushback I changed into pajamas. Moments later the captain made his welcome aboard announcement, advising us of our flight time of 6hr45min.
While we pushed back almost on time, we didn't move after our initial pushback for about 10 minutes. This was apparently because an Air China plane parked at the gate next to us had a broken APU and was still running their engines, and therefore it wasn't safe for us to pass.
At this point I decided to get started on a movie. This is one huge new improvement over Lufthansa's old first class product, since you can start watching movies on the ground. Previously the monitors had to be stowed for takeoff, so you couldn't watch any movies till after takeoff. And that doesn't even account for the fact that the new screen is triple the size of the old one, and the selection is more thorough.
I decided on "Carnage," which was actually reasonably entertaining. More than anything else I was amazed that the entire movie took place in one room and basically covered a time period the same length as the movie, so there was no skipping of time. Interesting.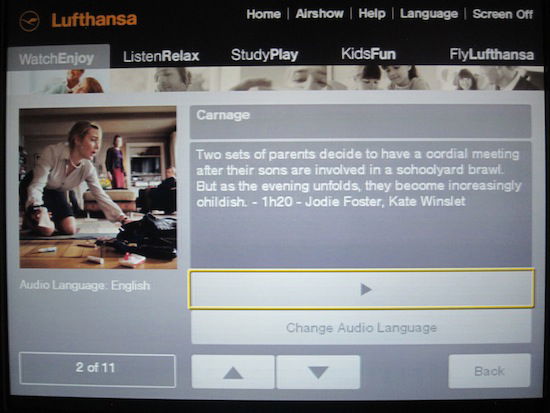 Carnage movie
After a roughly 10 minute delay and 15 minute taxi we took off into the north, where we had a pretty choppy climb out of JFK thanks to the weather.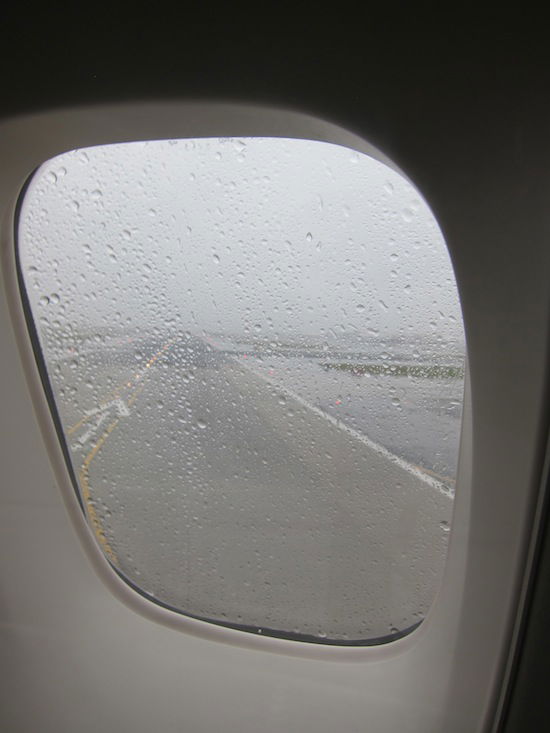 Lining up on the runway
About 20 minutes after takeoff the seatbelt sign was turned off and service commenced, starting with hot towels.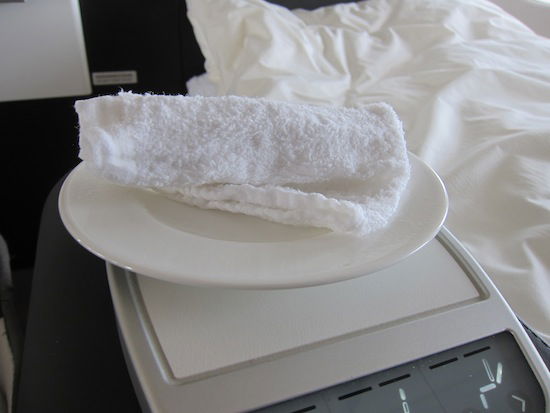 Hot towel
Simultaneously the purser came around the cabin to welcome the first class passengers aboard and distribute the menus and wine list.
The dinner menu read as follows: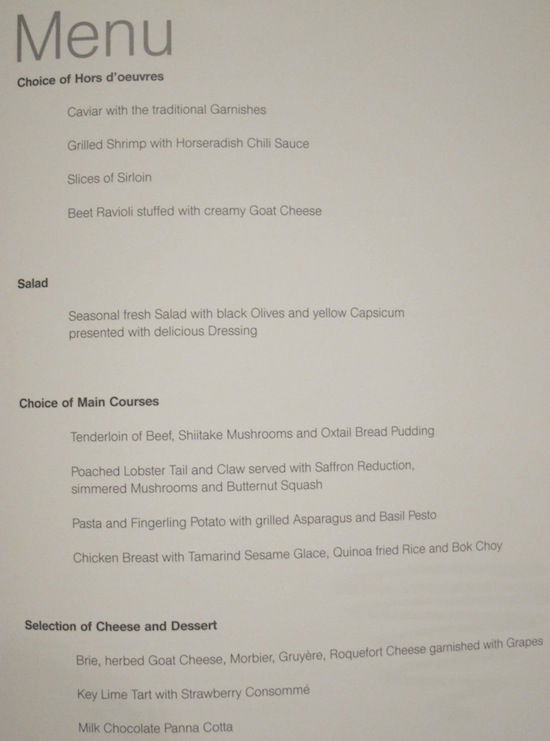 And the wine list read as follows:
Champagne
2009 "D" de Devaux Brut

White Wine
2009 Scharzhofberger Riesling
2009 Rully
2010 Heinrich Vollmer Grauer Burgunder

Red Wine
terra o. Cuvee
2003 Chateau Belgrave Cru Classe
2006 Kaiken Ultra Malbec

Dessert Wine
2008 Huxelrebe Beerenauslese

Monthly Proposal
Oban Single Malt 14 Years
Now, the only downside of the flight was that the menu was nearly identical to the one from my San Francisco to Munich flight in March. Fortunately that menu happened to be one of Lufthansa's better ones, so it wasn't all bad news.
The meal service began with the amuse bouche, which consisted of cucumber and salmon.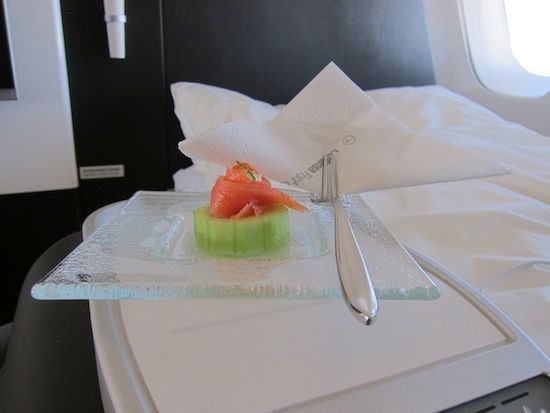 Amuse bouche
That was quickly followed by drinks.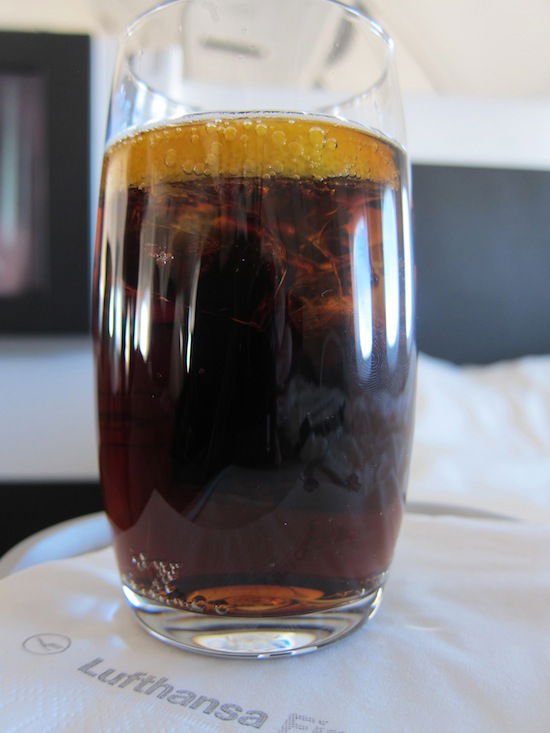 Diet Coke with lemon
After that the tables were set. I selected some pretzel bread from the breadbasket and also ordered a glass of champagne to accompany the appetizers. The only disappointment was that the flight attendant didn't distribute the signature Lufthansa rose.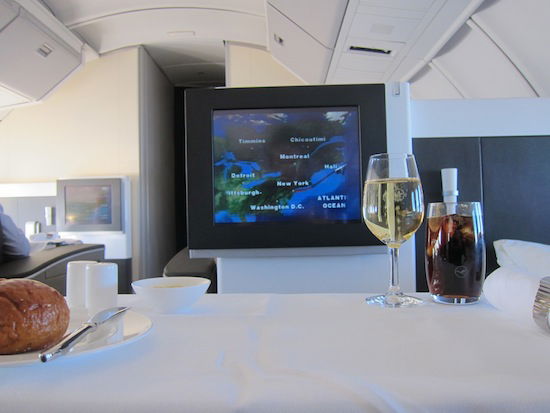 Table setup
At that point the flight attendant came through with the appetizer cart.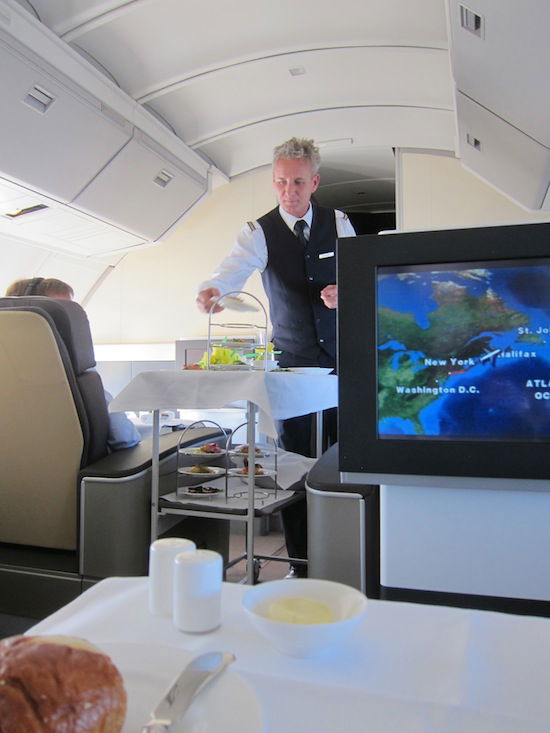 Appetizer cart
I selected the grilled shrimp and sirloin.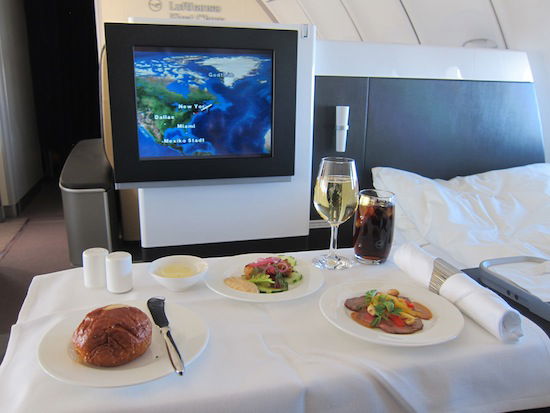 Appetizer
That was followed by the salad, which was served with "delicious Dressing," whatever the heck that is.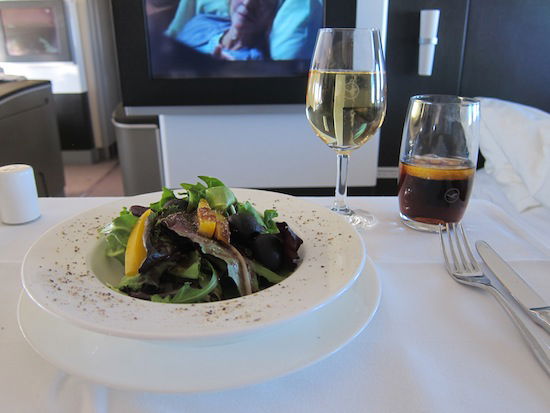 Salad
I wasn't especially hungry by the time the main course was served, and had the tenderloin of beef the last time I flew with the same menu, so went with the pasta with potatoes this time around., It was just alright.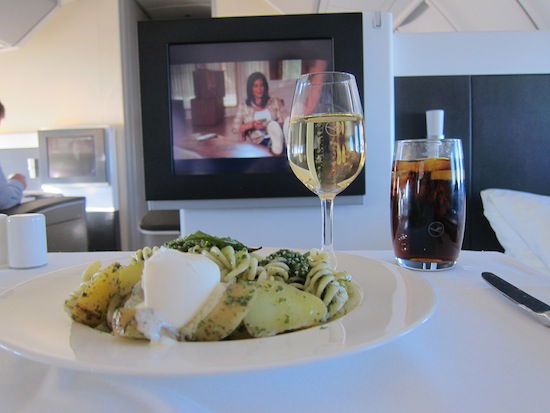 Main course
For dessert I went with the panna cotta. If I were as rich as it, I would have retired a long time ago.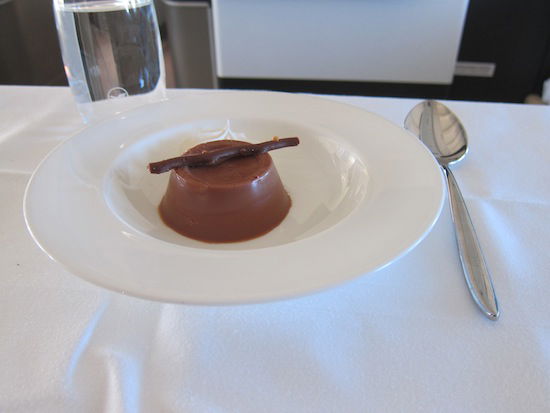 Dessert
To finish off the meal I ordered some Baileys, which was accompanied by a tin of chocolates (which I stuffed in my bag to enjoy at a later time).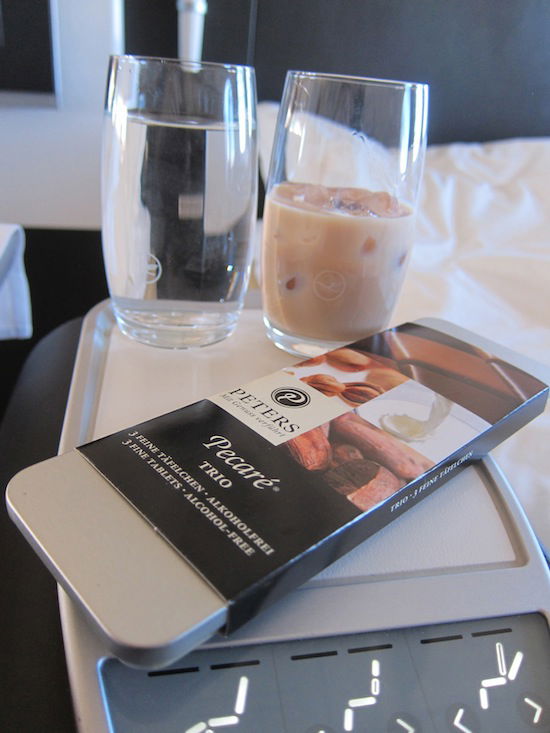 Baileys and chocolate
Lastly I was offered a bottle of water.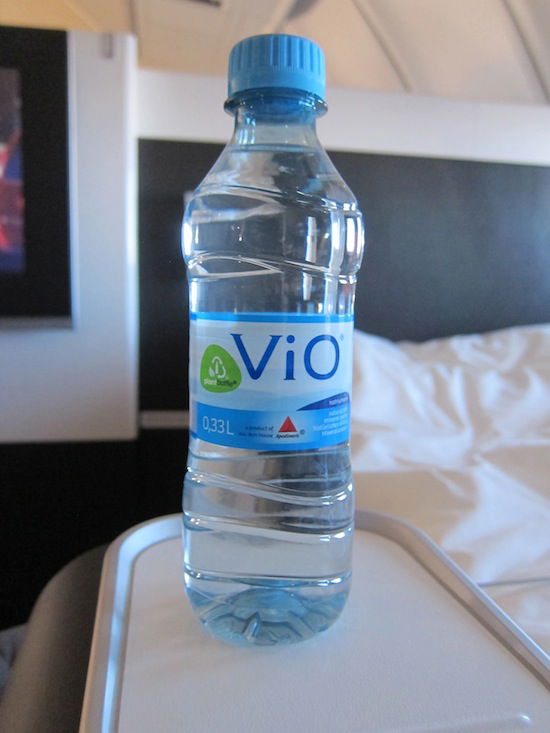 Water
One thing I was wondering about before trying the new product is just how far the seat reclines, given that there's no way to place the bed in an upright position. So for anyone else that was wondering, below is a picture of the seat fully reclined.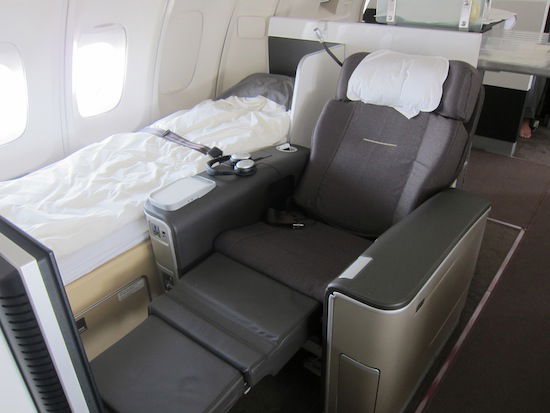 Seat fully reclined
As you can see the legrest goes all the way up, while the seat reclines maybe halfway back. It's perfect for lounging. If you want to recline more you can always just lay in bed and prop the pillow up, which works equally well (though I do wish they'd provide more than one pillow).
Now, in terms of the timing this flight sucks. I'm a night owl, so leaving in the afternoon means I can usually not get any sleep on such a short redeye. The flight lands in Frankfurt at 5:35AM, which is 11:35PM eastern time in the US, well before I usually go to bed. So in a way such a great first class product is really wasted on such a short, early redeye. But of course that wasn't going to stop me from at least trying to get some sleep. After dinner I headed over to the bed, which was really comfortable. It has a legitimate "mattress," and while it's not a Westin Heavenly Bed, it is considerably more comfortable than most first class mattress pads, in my opinion.
The only aspect of the seat that wasn't very well thought out, in my opinion, is that the TV screen doesn't swivel. It would be really nice if you could position it in such a way that it faces the bed, since the screen can be tough to view when laying down in bed.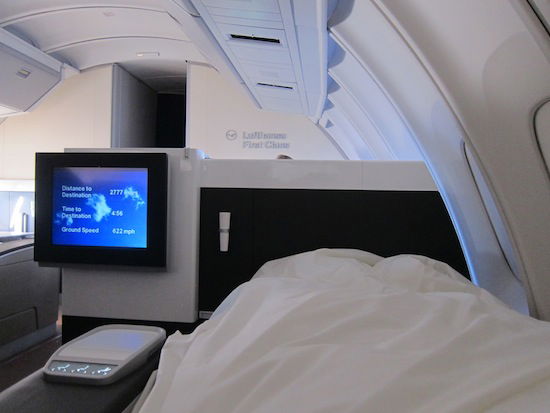 From bed
Either way, I told myself I'd sleep till an hour before landing, and I did exactly that. I slept surprisingly well, better than I usually do on a plane, and I'd attribute that at least in part to the bed.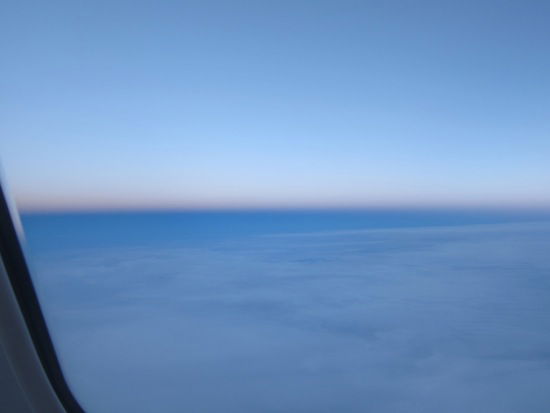 Sunset over the Atlantic
About an hour before landing the cabin lights were turned up a bit and breakfast service commenced, starting with hot towels, fresh squeezed orange juice, and menus being distributed.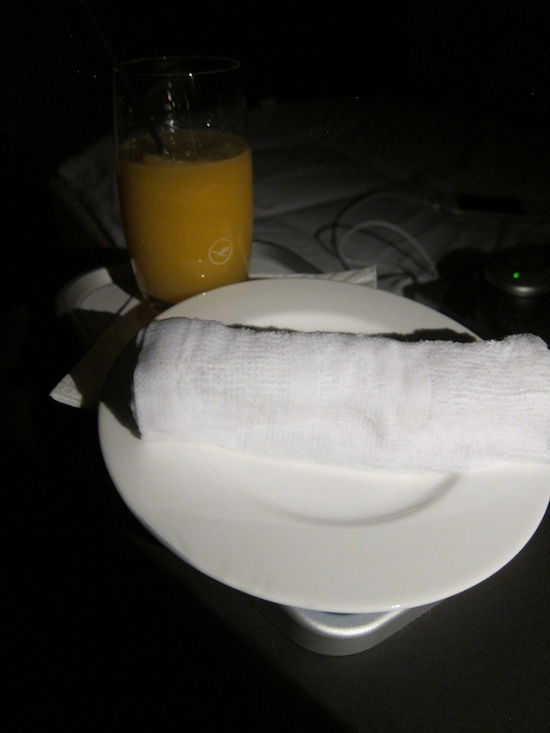 Hot towel and fresh squeezed orange juice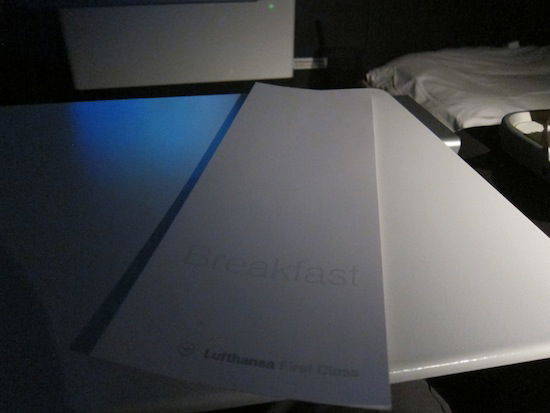 Menu
The breakfast menu read as follows: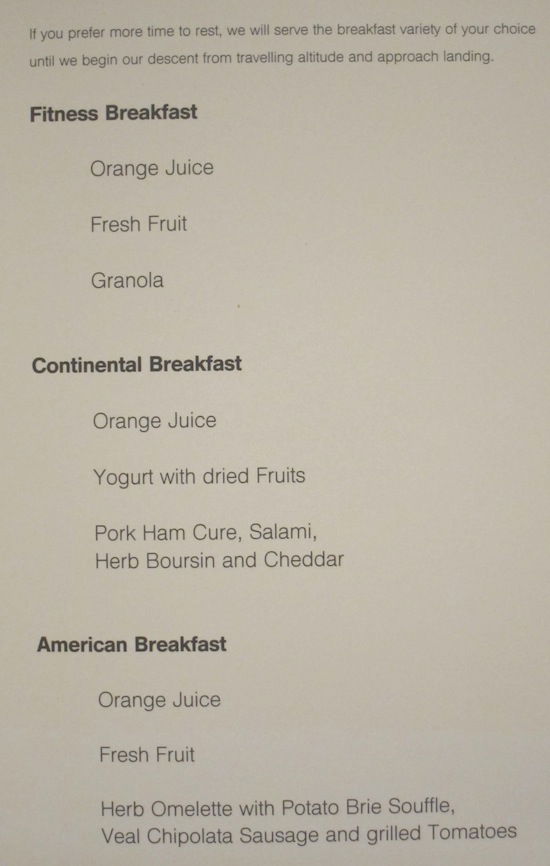 Given how short the transatlantic flights are from the east coast, the breakfast service is a bit more abbreviated than what they offer on the longer flights, with a choice of three options served on a single tray. I went with the "fitness breakfast," which consisted of muesli, fruit, and a croissant/roll.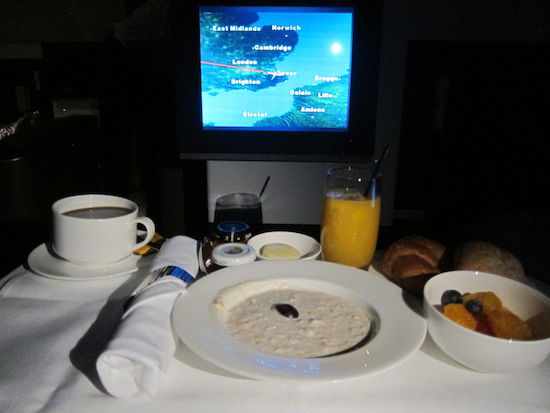 Fitness breakfast
About 30 minutes out we began our descent and I switched back into my normal clothes. The views were quite nice on approach into Frankfurt, and we had one of the most beautiful landings ever. Look, I've flown over 1,000 segments over the years, and this was hands down the most stunningly amazing landing ever. Yes, a "nice" landing is normal, but this took that to a whole new level. If the landing were any smoother the captain would've had to sing me a lullaby.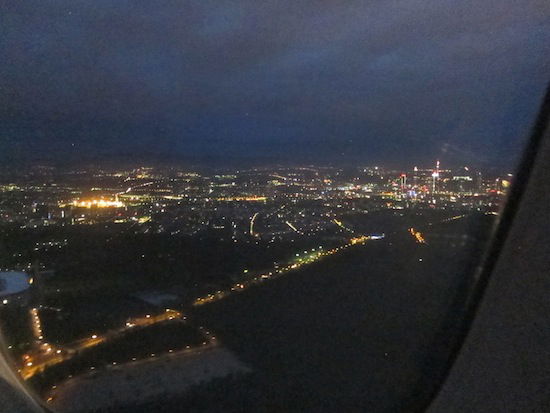 Final approach into Frankfurt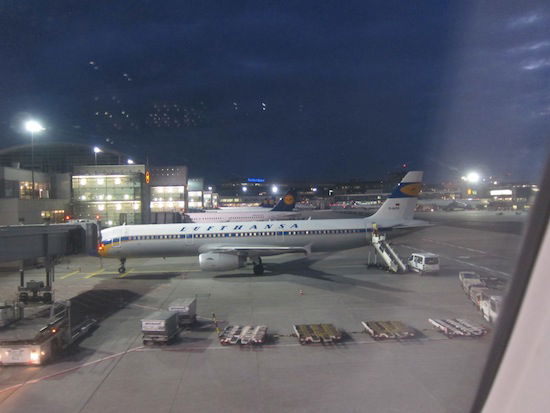 Pulling into our gate
With a 15 hour layover ahead of me I was in no rush to disembark, though headed straight for the first class lounge to shower.