Happy Saturday!
I'm back in the US after a great trip through the Middle East and Europe, including a stay at one of the most impressive hotels I've ever seen.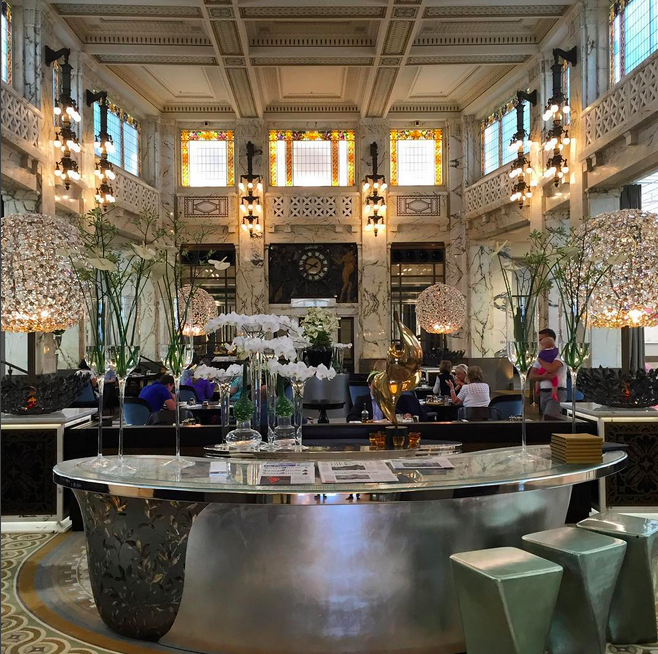 The overall trip was fantastic, and I'm looking forward to sharing the rest of it with you guys shortly.
Featured Stories
When trying to decide whether to pay for a hotel stay or use points, there are a four main things to consider:
The total cost if you paid for the stay in cash
Whether you'd earn elite qualifying stays/nights
How many points you'd be giving up by redeeming points rather than paying cash
How much you value a points currency at
In some cases, it's quite straightforward, but having a general formula for deciding whether to use points of pay for a stay can be quite helpful.
---
Travis became my first regular contributor last year, and we've both learned a great deal since then.
In this post he shares some insights on the challenges of blogging (which I can certainly relate to), along with some reflections on the year overall.
---
While I've been "live-blogging" my trip to Europe and the Middle East, Nick also has a quick trip report on his weekend away in New York.
It's a fun series, with coverage of two Delta transcons, along with tips on getting around New York, which I found quite helpful.
---

TIPS: Earning Miles & Promos
Should I Go For Status, Wait For Now, Or Wait Forever?
Which Amex OPEN Savings Benefit Should You Choose?
"SPG Stay For More" Promotion Details Announced
Apply For The SPG Amex Or EveryDay Preferred Amex?
Don't Forget About Citi Prestige 4th Night Free Benefit
Win Free Points With Starwood's Open The World Sweepstakes
Which Credit Cards Offer Global Entry Fee Credits?
Which Credit Card To Use For Non-US SPG Stays?
TRICKS: Redeeming Miles
Aeroplan Will Soon Require A Call Center PIN
Alaska Airlines Fall Award Sale — Starting At 5K Miles One-Way
Should You Redeem Points For A Hotel Stay?
New Amtrak Guest Rewards Program Revealed
Air France FlyingBlue Winter Promo Awards — Up To 50% Off
TRAVEL With Ben (Lucky)
When The Frankfurt Lufthansa First Class Ground Experience Underwhelms
Passport Psychology
What's The Most Obvious Tip You've Ever Shared With Someone?
My Useless 30 Minute Airline Phone Call
Hotel Branding Is A Complete Mystery
You'll Never Believe This Hotel's Drink Menu!
Broken WiFi And Broken People On American
Is British Airways Business Class Worth It Within Europe?
I Don't Understand European Hotel Twin Beds!
REVIEWS & Trip Reports
Review: Delta One 767 New York JFK to Los Angeles
The Park Hyatt Vienna Is Incredible!
Getting Around New York… In 2015
Flying Singapore Suites Class Frankfurt To New York: The 3 Downsides
Visiting The Starwood Preferred Guest Suite At The US Open
Review: Delta One 767 Los Angeles to New York JFK
Review: Delta ONE Lounge Los Angeles LAX
Arlanda Express: Speedy Transport For Dummies
Review: Emirates First Class Lounge Dubai B Concourse
Oh MAN…
EK17 To Manchester: Having The Best Time And Keeping It Green While Ben Goes Amber
Our Late Night Las Vegas Experience In Dubai
NEWS & Updates
Awesome DFW Airport Timelapse Video
3 Things I've Learned In My First Year Writing For OMAAT
Muslim Flight Attendant Suspended For Refusing To Serve Alcohol
New App Helps You Join Mile High Club… On The Ground?!
Hilton & Uber Announce A Partnership… Sort Of
Delta Puts Its Money Where Its Mouth Is On Performance (Sort Of…)
Flights No Longer Bookable On US Airways' Website
New Etihad First Class Lounge Opening In Early 2016?
JAL Launching Tokyo To Dallas Flights In November 2015
EasyJet Flight Diverts Over Champagne!
---
I'm looking forward to spending some time with my family this weekend. What is everyone else doing for the holiday?