I'm celebrating my one year anniversary here at One Mile at a Time today!
Yep, it's hard to believe, but one year ago today I introduced myself here on the blog. Maybe Ben is going to present me with a nice writing set or a paperweight to commemorate the occasion, but given that he's still tooling around Europe with Matt, I'm not going to hold my breath.
Instead, I figured it was as good a time as any to reflect on where I've been and share the inside scoop on what it's been like to be part of Team OMAAT. And what it's like to write for a big time blog.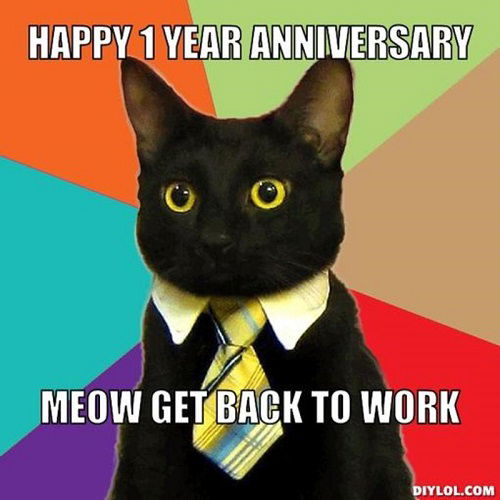 How DID I End Up Here?
Ben and I have been friends for a long time. He actually refers to me as "his oldest friend in the hobby" which seems downright disrespectful given that I'm only in my late 30's.
At any rate, I'd been a reader of OMAAT pretty much since the beginning, always liked where Ben was headed, and had supported him all along the way, just like any friend would. But it was still a shock when Ben called me up last summer and asked if I wanted to be his first regular contributor on the blog. I was like, well, I don't know what to say, but I don't see how I can turn that down…
We talked about what I should write about, and Ben suggested I brainstorm some ideas. I figured I should bring some diversity to the joint, kind of like Token on South Park.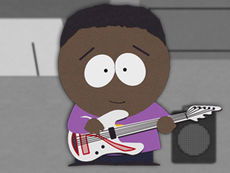 Maybe I'd write about traveling with kids, sitting in economy, flying United, staying at a Holiday Inn Express, going outdoors, you know, all that other stuff that Ben doesn't do. But at the end of the day, Ben just said write about whatever interests you. And that's pretty much what I've done ever since, for better or worse.
A Challenging Start
My first post appeared on September 3, 2014. Exactly 9 days later, I was involved in a life threatening mountaineering accident while climbing Mt. Sneffles, one of Colorado's 14,000 foot peaks. My climbing buddy and I were just below the summit at 13,900 feet when I stumbled over a rock and tumbled about 50 feet down a 35 degree slope.
I shattered my femur, severely bruised my elbow, and basically messed up the whole right side of my body. I spent a total of 16 hours on the side of the mountain wondering if I was ever going to see my family again, let alone write another blog post.
I did get a sweet ride in a BlackHawk helicopter off the mountain, and then another chopper ride over to the trauma center where I underwent a successful surgery. I ended up spending five days in the hospital and even when I came home, I was mostly confined to a bed or a recliner for several months.
How was I supposed to make my grand debut as a travel blogger when my world consisted of our guest room in the basement? Most days my travel involved moving from the bed to the chair to the toilet, and then since I'd need a nap, it would just start all over again.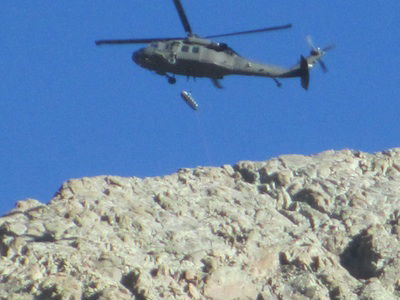 Lesson #1: It's really hard to write about travel when you have no idea when you'll get to travel again
Yet somehow I think I only missed my weekly blog submission once. Ben, of course, was incredibly supportive, and told me to take care of myself first and not worry about it. But I had made a commitment and wanted to do my best to honor it. I also figured it would help get my mind off the daily routine.
My hiatus from travel ended abruptly nearly three months after my accident when my doctor didn't ban me from cleared me to go on our previously scheduled month-long Southeast Asian Adventure. Traveling with two kids under 3 is never easy, but doing it while on crutches, it turns out, is harder…. especially for my wife who ended up being the sherpa on this trip and several others.
But it was still an awesome trip, and served to reignite my travel passion, which in turn made writing about travel and miles and points a heck of a lot easier and more enjoyable.
Whoa! People Actually Read What I Write?
I'm a research engineer by trade and I work in a quasi-academic setting. That means that I write a lot. A whole lot. Papers and proposals, proposals and papers. But you see, nobody ever actually reads any of it.
It's not uncommon for us to spend days and weeks working on a publication. We'll go over every single sentence of a paper to make sure it conveys the facts in a noncontroversial way and that it won't ruffle anyone's feathers. We'll circulate it around our coworkers — the vaunted peer review process — who of course are too busy to actually read it, and even if they do, they are too nice to actually tell us that it stinks. Then it goes to our communications department where our "professional" technical writers try their best to completely muck it up. After I reject most of their suggestions, it goes to our legal department to make sure we're not releasing state secrets, and then finally to the publisher of the journal.
Perhaps six months after that — if we're lucky — the paper comes out in print and we all pat ourselves on our backs before updating our CV's to reflect a new publication. Oh and maybe 10 people read it. Ever.
OMAAT Is The Exact Opposite
Instead of spending days and weeks writing something that 10 people will read next year, here at OMAAT we spend a couple hours writing something that thousands of people will read the same day. It's taken me a long time to deal with that paradigm shift as it really is a different thought process.
A year later and I'm still giddy every time Ben publishes one of my posts. I'm actually cheering a bit right now with"What's the most obvious tip you've ever shared with someone?" as I see just how many folks didn't know that the little arrow on your fuel gauge tells you which side of the car the gas cap is on. (Tiffany was absolutely convinced that this was so obvious it wasn't worth blogging about. I feel instantly vindicated.)
Lesson #2: Instant gratification is surprisingly motivating
Working on a paper that won't see the light of day until next year is sort of like eating your veggies — you know it's good for you, but you really don't feel like doing it. The beauty of blogging is that you can hit publish and see the results immediately, which then gets you all excited and motivated to write more.
The immediate review process is great too; when I make a mistake — yes it does happen unfortunately — there's a comment within minutes telling me what I need to correct. And unlike a print publication, I can go back and actually fix something before the cement dries.
Blogging Is A Lot Of Work
Don't get me wrong, this wasn't a surprise, but you don't really appreciate it until you do it. And I don't even do it every day!
It takes me a good amount of time to write something that I think is coherent, entertaining, and hopefully useful to someone. (OK, let's be clear, I'm usually only shooting for two out of three.)
Ben, on the other hand, is a machine.
The rate at which he can crank out blog posts is nothing short of amazing. And his ability to do that day in and day out for years on end, is ridiculous. I dare you to name the last time you saw a day go by on OMAAT without a "By Lucky" article on the blog.
Trip Reports Are Even More Work
Every time my family goes on a trip, I have these great intentions of writing this comprehensive multi-part trip report. I know that y'all love them, and as I get older, I appreciate being able to look back and read about my adventures.
But man, they are a lot of work.
Especially since I have two kids, ages 4 and 3 (with one more on the way any day now), and we almost always travel as a family. You know all those pristine hotel room pictures that Ben takes? Yeah, think about trying to take those in the midst of a tornado. That's what it's like as we enter a hotel room.
I had all these great intentions about writing up our Southeast Asian Adventure, because we went to a lot of cool places and stayed at some interesting hotels that don't see a lot of reviews. Heck, I even flew Kuwait Airways on that trip, perhaps the only airline that I've flown that Ben hasn't. Actually, I bet SkyBus is in that category too.
Anyway, I figured I could share a lot of insights, tell a cool story, maybe convince a few folks that it is possible to have crazy adventures in far off lands while raising a family. But then I got home, and life kind of took back over.
All those great ideas are right where I left them, in my head. Helping no one.
Lesson #3: Don't let perfect be the enemy of the good
Rather than wait until I can publish a 20-part series on a trip — which will never happen — I'm trying to pick a few interesting features of a bigger trip and maybe publish those first. Like flying in first class on a propeller plane.
So feel free to nag me until I get that Kuwait Airways review up. I've got to do it soon before Ben scoops me.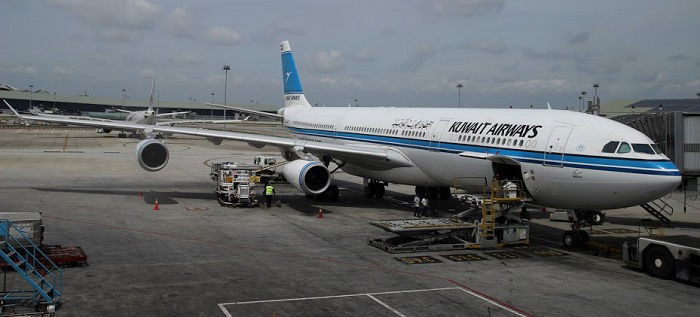 Dealing With Adversity
I'm not really known for having a thick skin, and in fact, at times in my life I'm sure that people have wondered if I have a skin at all. (OK, that's gross.)
One of the things that I've most respected about Ben is his ability to tune out the trolls, even as a teenager. That's really one of the hallmarks of OMAAT in my mind — for the most part, it's a bastion of free speech. You can generally say what you want, even about Ben, or me, or Nick, and the comment will stand. I respect that.
(I've also learned that nobody ever says anything bad about Tiffany, and the mere mention of her in a post almost always guarantees a favorable reception. Scroll down to the comments and see for yourself if you don't believe me.)
At the end of the day, Ben is one of the most supportive people I know. He always knows what to say to make you forget about it and move on. Some days I honestly think he must have Taylor Swift's Shake It Off playing on loop in his head.
Overall
The past year has been quite an adventure.
Some days I still find it hard to believe that I get to write for one of the top miles and points blog on the internet. It's really really cool, and working with Ben and the rest of the OMAAT team is a blast as well.
I've also really enjoyed interacting with you guys, and appreciate how much you've taught me about writing in general. It's experience that I don't think I could get anywhere else.
And I'm really looking forward to the future.