As I mentioned previously, I'm currently on a trip with one of my best friends, Matt. We're planning the trip day-by-day, which means I'll be writing the trip report more or less live. Matt will be sharing his thoughts as we go along as well — here's his third installment.
After indulging in seven-course tea at the Burj al Arab, Ben and I headed back to the Park Hyatt Dubai to try to get some sleep before our relatively early 7:20 am departure on EK17 to Manchester. That started off swimmingly, but we were both wide awake about two hours later. Fortunately, Ben had also just received good news from his family, which meant our trip could continue for the duration initially planned.
We proceeded to spout off potential destinations and airlines for a few hours until we ultimately decided on our post-Manchester destinations (which will remain nameless for now). At this point, it was around midnight. The morning call to prayer was happening in under five hours and we had barely slept. Any self-respecting person would have gone to bed. We had a better idea. The Emirates lounges at Dubai Airport are operated around the clock, so it only made sense to go straight to DXB and enjoy the Dubai Mall @ DXB EK lounges!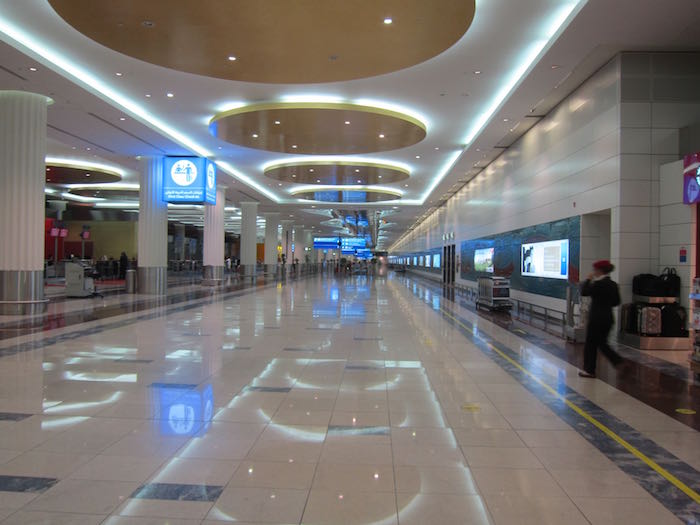 The Business/First check-in hall is massive, and it was totally devoid of any human life except a handful of Emirates agents. After rolling our 75 pound Tumi Alpha Internationals all the way to immigration — which is in all honesty at least a quarter-mile, I was a little concerned when the immigration agent noticed I had no entry stamp in my passport. Who knows why. I went through customs on arrival — scout's honor! He flipped through it at least 4 times, page by page, looking for the stamp. Then proceeded to say something (to himself, I guess), and then stamped my passport with an exit stamp. Crisis averted, thankfully. An efficient and unobtrusive pass-through security was next, and then a tram ride to Terminal A. We were actually departing from the Terminal B concourse, but Ben assured me the Terminal A lounge was not to be missed. It was certainly something!
It looks an awful lot like the high-limit area of a Las Vegas casino. Right???
This is not even a lounge; it's actually an entire floor of the terminal. It even has its own duty-free. It was like a visit to Aria or Mirage in Las Vegas. I haven't been to Las Vegas in a while, and I was in Dubai, so I was fairly happy with the Vegas-style bling. And the fact that it was like Aria was fine — you can use and earn Hyatt Gold Passport points there. To be sure, the Cathay Pacific Wing in Hong Kong is definitely more intimate and well-appointed, but the lounge was nice and new, so I had no complaints.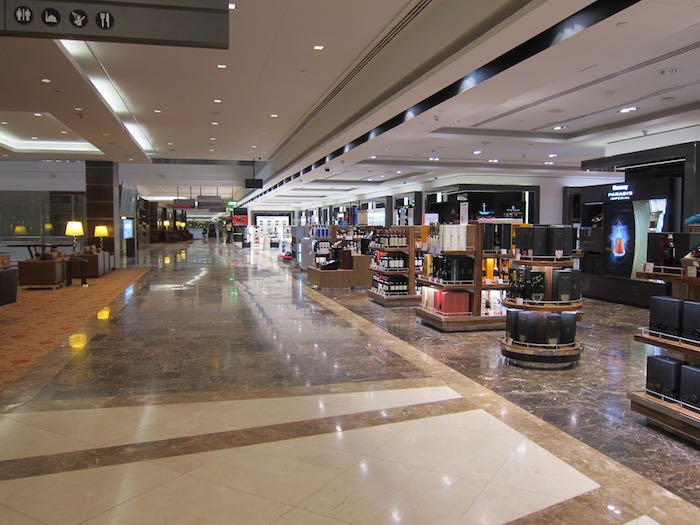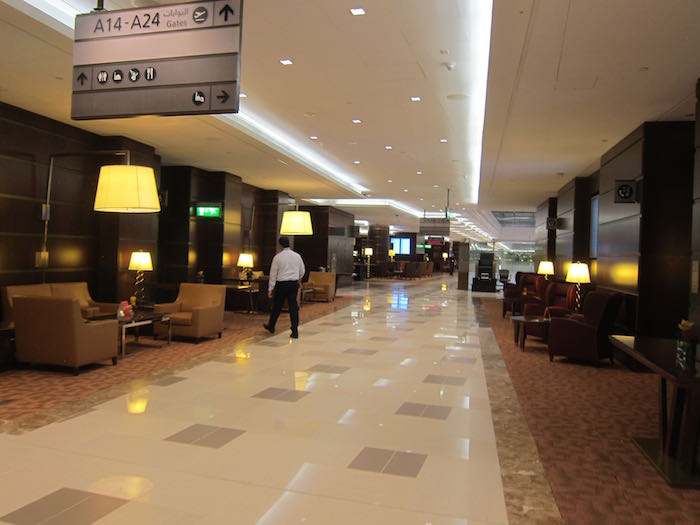 Where the lounge really excelled was the food. There is quite literally unlimited seating in the lounge. I would guess there are greater than 2,000 seats for what I imagine is never more than 200-300 passengers (and that's being liberal). We decided to dine in one of the larger restaurants, which offers a full buffet as well as a very expansive menu. There were less than a handful of people there, staff, aside.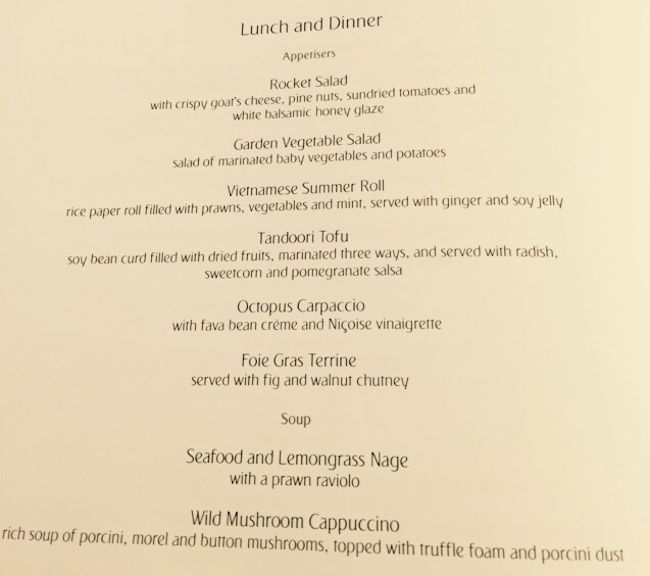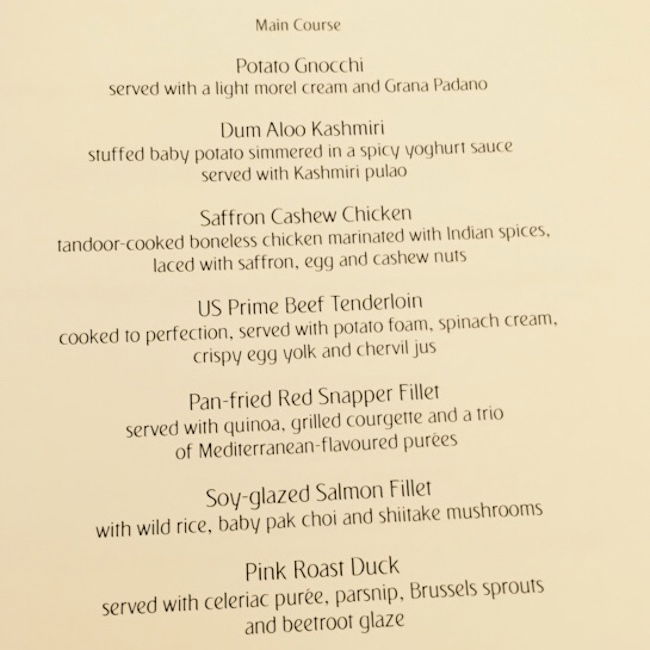 We started with flat (for me) and sparkling (for Ben) water as well as a glass of the white Bordeaux they were pouring. The wine was excellent. Emirates serves Voss water on the ground and in the air. It was so refreshing both because I was parched and because the bottle was one sleekest things in the entire airport.
To start, I had the octopus carpaccio. It was absolutely as good as other octopus dishes I've had at many of my favorite restaurants. And the presentation was excellent as well.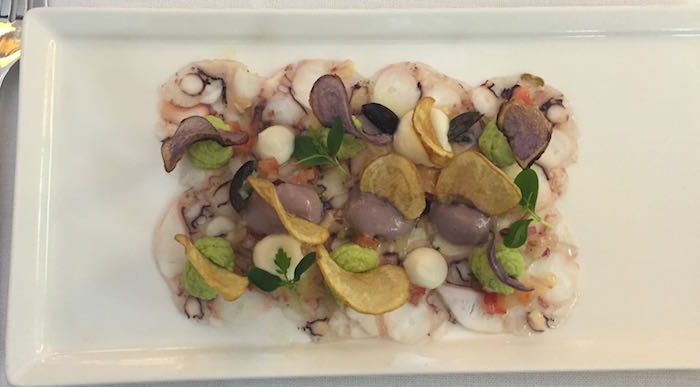 Ben and I both had the curry cashew chicken next. The presentation was wonderful. Sadly, it was a look but don't touch type of thing. The dish was flavorless. Both the chicken and the naan it was served with had a slightly odd, almost sterile smell too. Major fail, for lack of better description. And I love curry. We both tried our hardest to make it look like we ate a little. Playing the old move it around on the plate trick seemed to work. Or maybe they just don't say anything to first-class customers when they don't finish their meals? Hmm…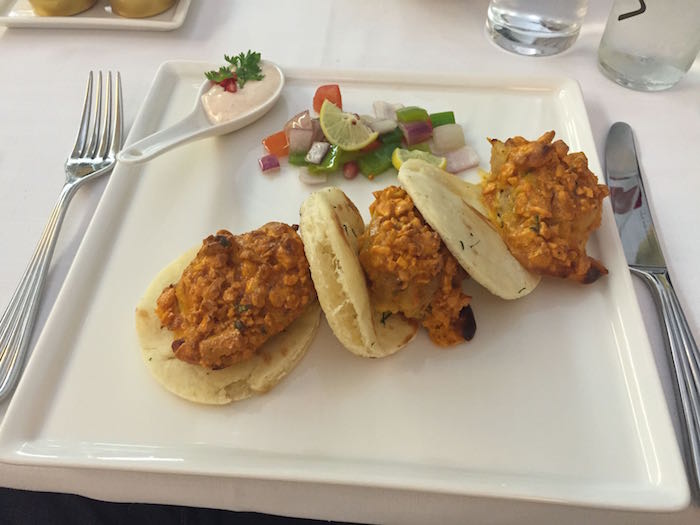 Worry not. After a turbulent main course, Emirates was back on track with dessert. I ordered a sesame nougatine with jasmine rice sorbet and strawberry compote. It was one of the best desserts I have ever enjoyed. Anywhere. And I highly doubt my feelings were sleep-induced. Overall, the Terminal A first mall lounge lacks intimacy and certainly has a Las Vegas feel, but it's new and the food offerings are quite excellent. Not my favorite lounge ever, I don't think, but I would say that it has some of the best food of any lounge I've visited.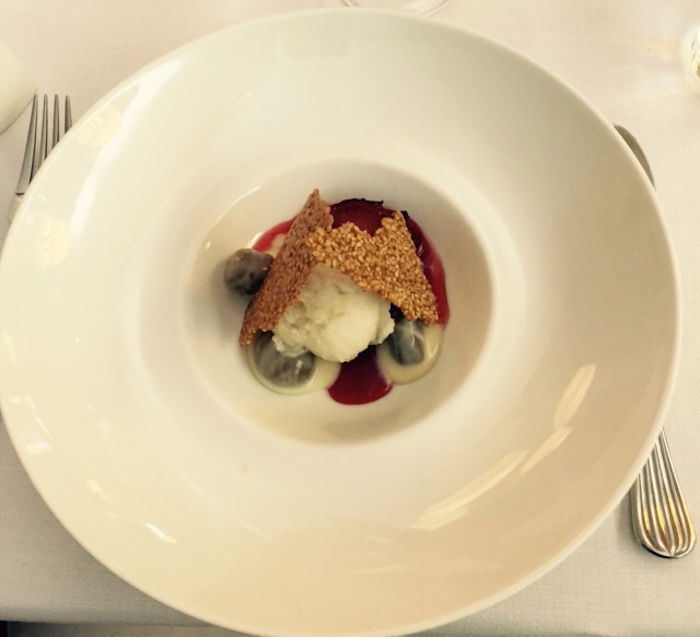 Just so that everyone is aware, Ben and I were of course paid full fare Z class passengers. We parted with a full $28.20 plus $12.50 partner booking fee for our flight experience, so we were obviously balling on the same budget like most people that frequent the first-class mall-terminal-lounge. Just like them, we drink Chivas Regal Royal Salute Tribute to Honour. This is apparently such an attraction that the security guard in the duty-free section of the lounge called us over to see it.
Apparently named after the oldest of the crown jewels from Scotland, the bottle on display and for purchase was number 15 of only 21 bottles. None of the scotch blended into it is less than 45 years old — which is a little older than me but not really all that old for scotch. Anyway, it only costs $200,000, so if you need a gift for your niece or housekeeper it's probably the way to go. Just don't try to take it through airport security or else you'll end up like this woman. Not even I would go there. #alcoholic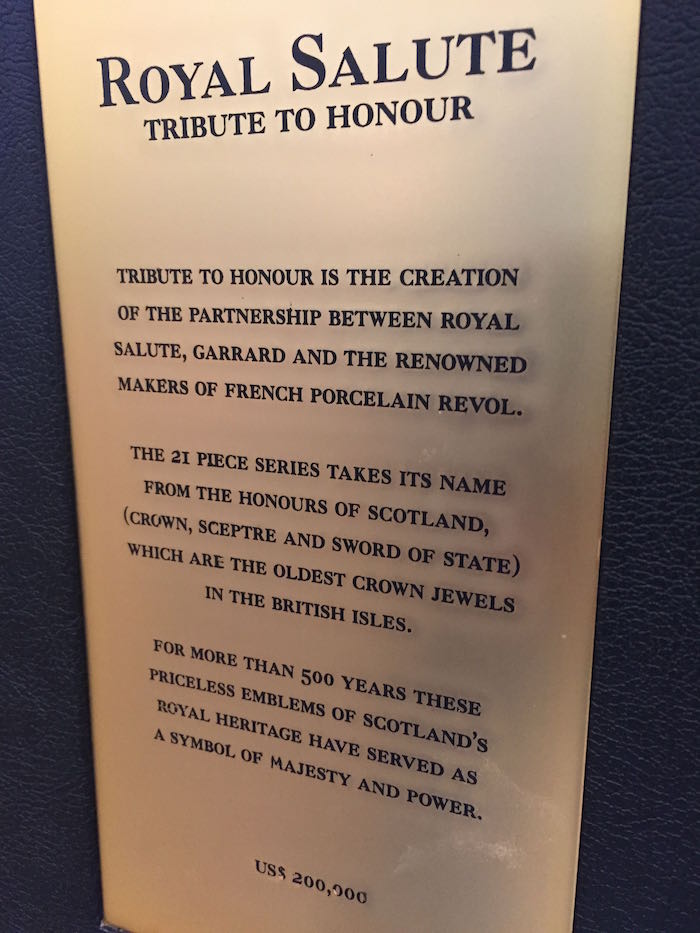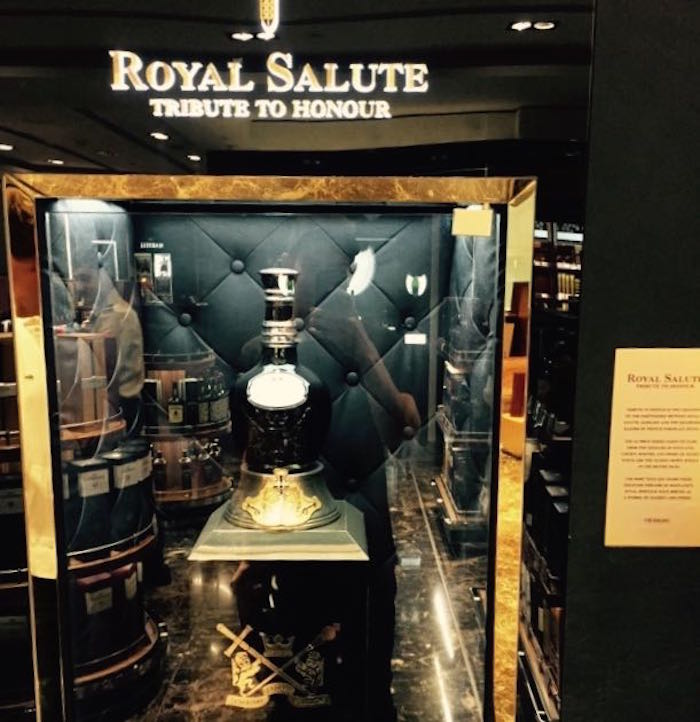 Having been sufficiently humbled, we took the train to Terminal B. The lounge in this terminal had the appearance of a more traditional lounge. Inside, it was basically a terminal again. But unlike the Terminal A lounge, it showed signs of age.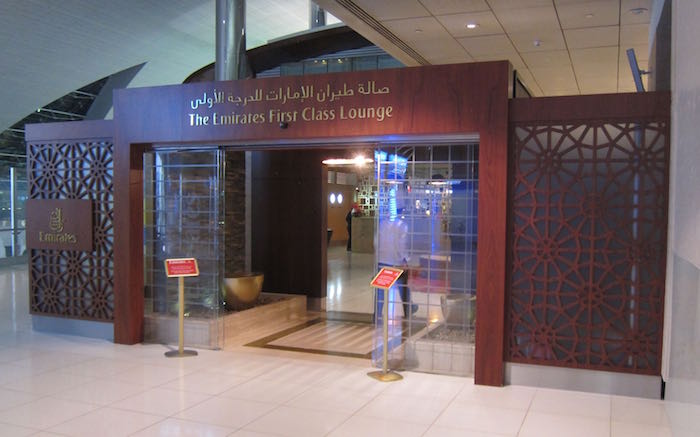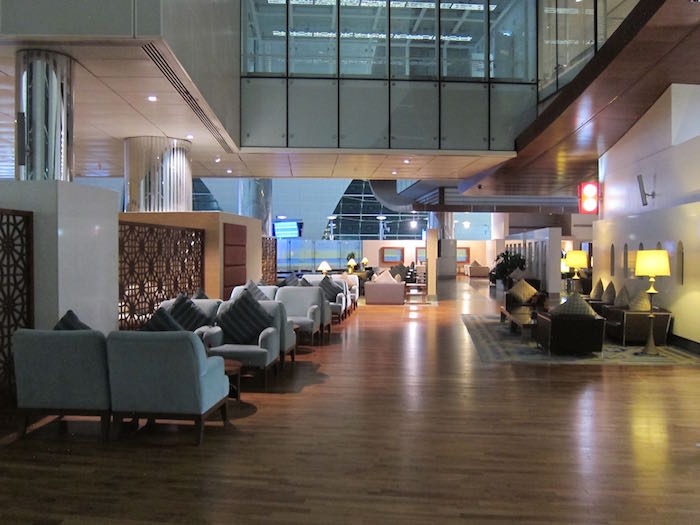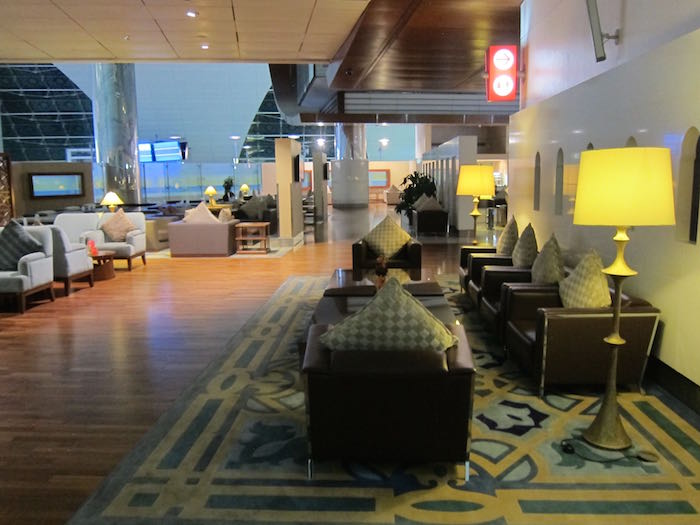 If the Terminal A first lounge was Aria or the Mirage, we had just arrived at the Tropicana. The lounge was just tired, more so than us even. Having had only two hours of sleep, it's unclear how that was possible, but it was.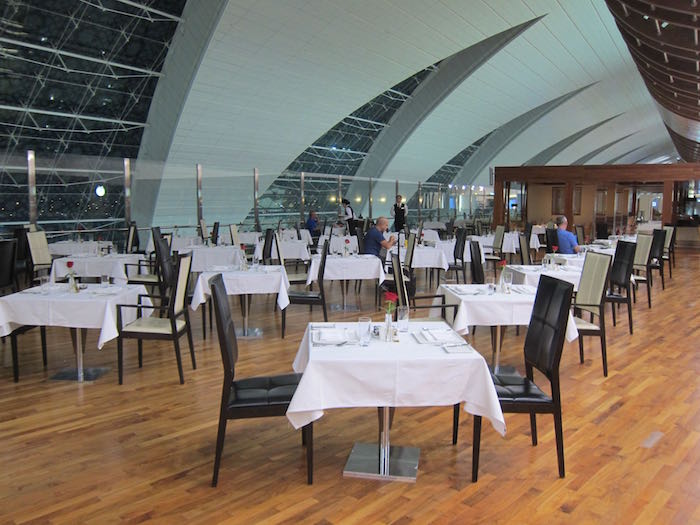 The food offerings, however, were once again incredible. The buffet setups included a number of cheese, terrines of foie gras, smoked Balik salmon, charcuterie, sandwiches, cheeses, and my favorite offering — a proper sushi bar! Yum!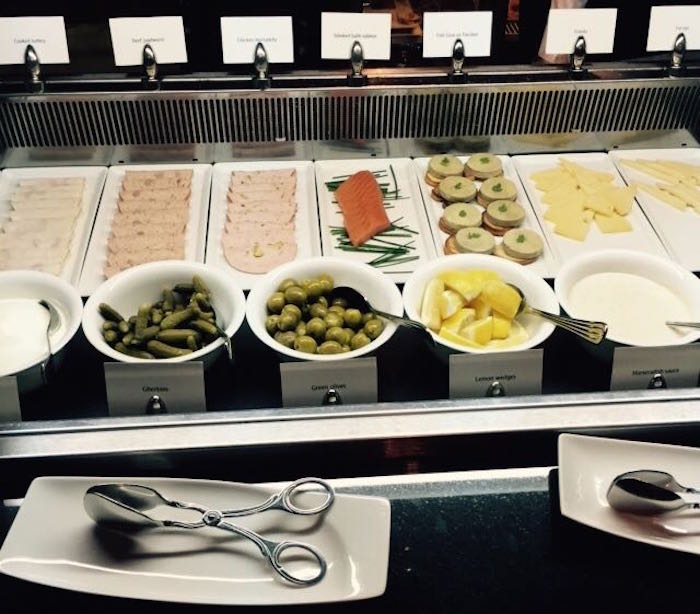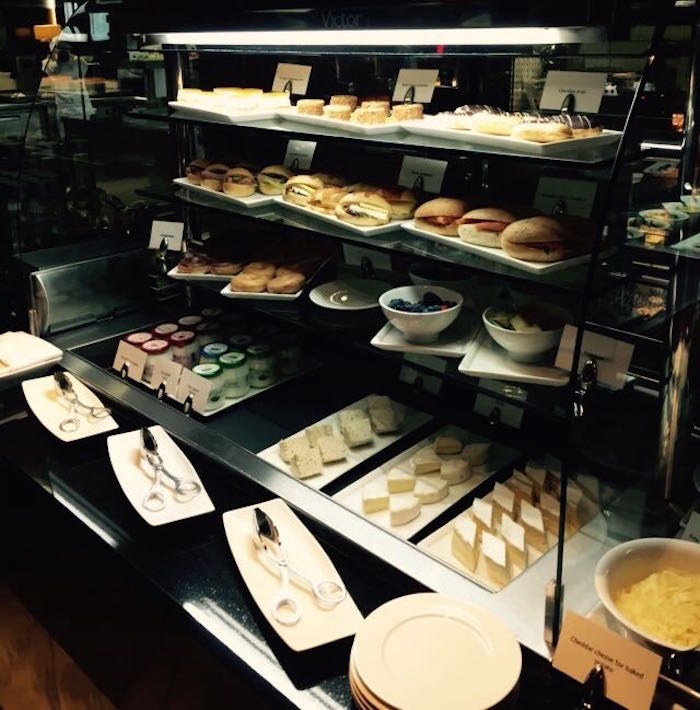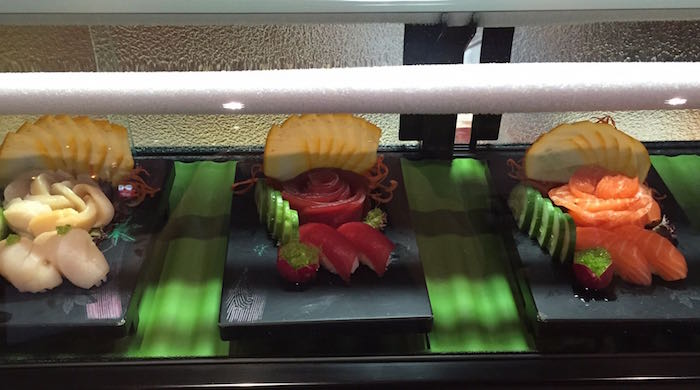 The lounge also had a number of showers. The shower facilities were fine. But only fine. And that isn't really what airlines ought to go for when it comes to their hub international first-class ground products.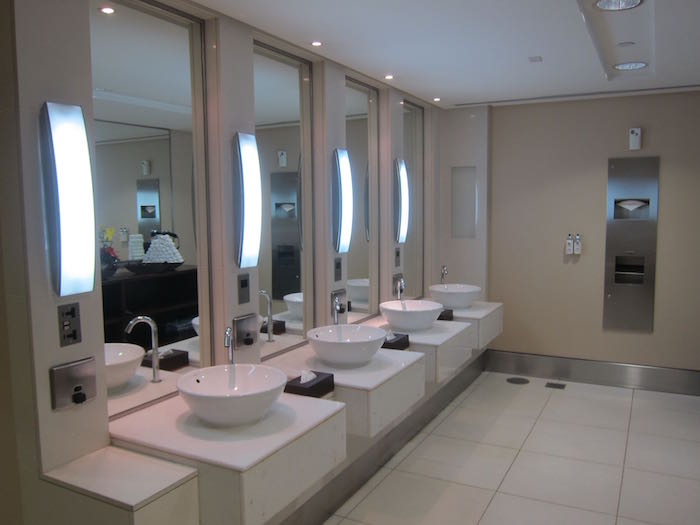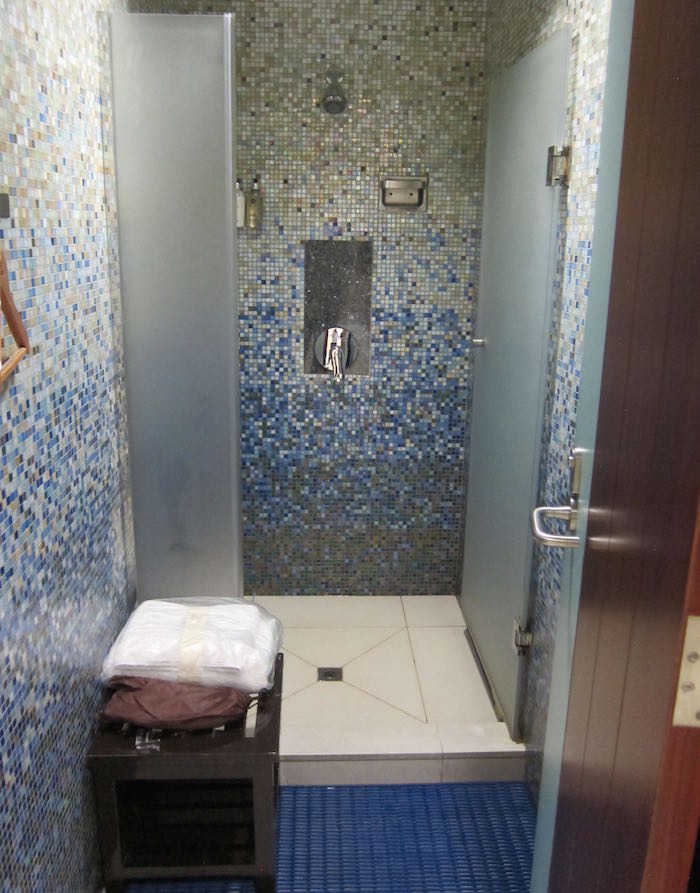 The biggest problem was that the shower rooms were only made to shower in. There was no sink or mirror that would allow one to really get ready in the showers. Thus, you have to finish showering, towel off in a steamy (and not in a sexual way) shower room, dress (while in the sauna), and use the sinks and mirror in the common area (pictured above). This isn't actually a huge problem in my opinion, but it's a nuisance, and one shouldn't be annoyed when flying first class.
For the kids whose parents book them Emirates first. Congratulations! You will probably never need to work. Also exciting is the fact that you can play Sonic All-Stars Racing in the lounge. Ben and I may or may not have played a round, and Ben may or may not have beaten me.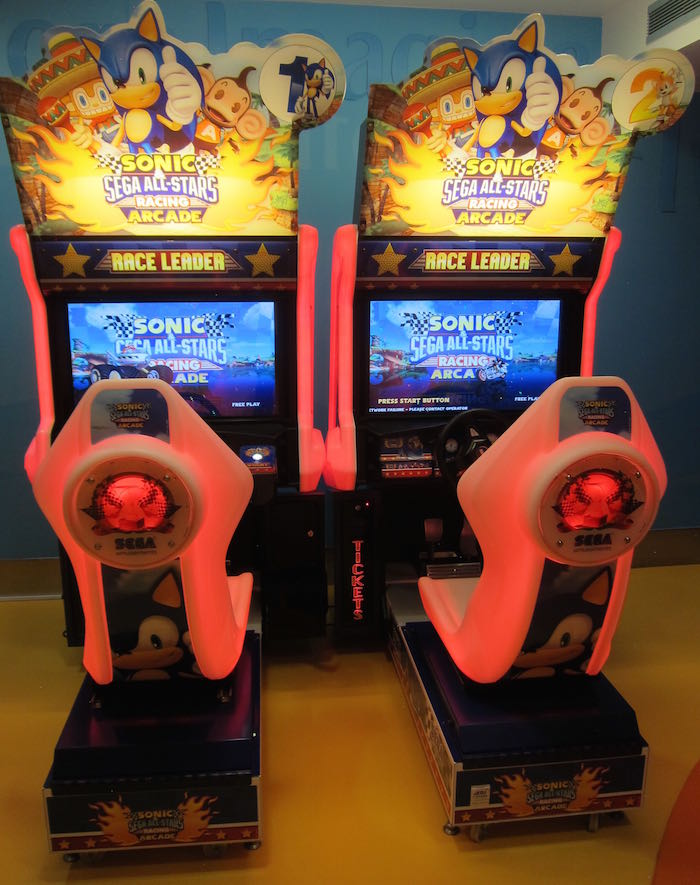 Both Terminal A and B have a Timeless Spa. Emirates offers its first-class customers a free 15-minute chair massage, acupressure foot massage, Indian head massage, and Thai massage/stretch. In Terminal A, Ben and I had chair massages. We figured they would let us get a second treatment in Terminal B. Not so. After telling the agent we'd like the acupressure foot massage, we were told that we had used our free treatment and were invited to pay for the service if we still wished to have it. We decided to go for it because feet need loving too.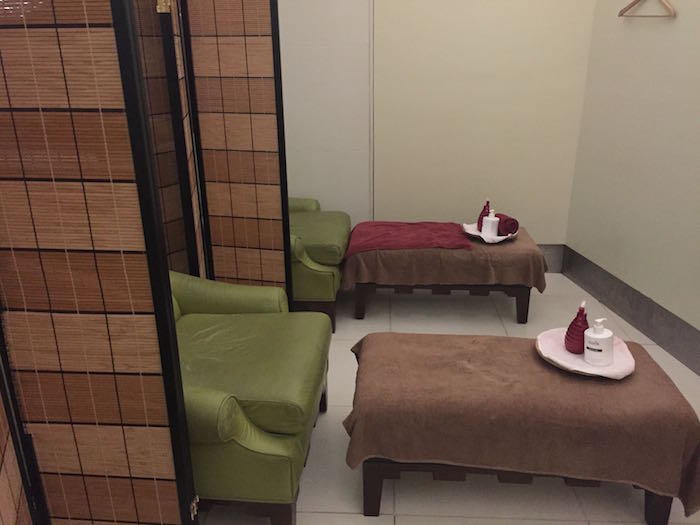 The massage was very good, and well worth the ~$28 charge. After the massage, we decided to head to the gate for boarding, because my Emirates iPhone app indicated it was time to do so. We were then told at the Business / First upstairs gate that boarding had not yet commenced, but that it was scheduled to go out on time in approximately 20 minutes. After some confusion, which resulted in us being called off the jet bridge when we had just thought we were walking on, we boarded and were greeted by the very warm staff from the UK and Slovakia. We had endured the worst of it. The Tropicana was finally behind us. Emirates round two! My review of EK17 is coming soon.