Today was a travel day for me, as I'm on my way to an SPG event at the US Open (which I'm excited to share with y'all a bit later).
I tend to be a pretty easy passenger, and as long as I have water and space to work I'll throw my headphones in and be happy for a flight of any length. Ideally, I like to have WiFi as well, and when booking domestically I'll choose routes with Gogo on all segments over those with the highest upgrade potential.
That might seem counterintuitive to those who love the trappings of elite status, but ten times out of ten I would rather sit in economy with a stable internet connection than sit in domestic first without it.
You can likely guess where this is going.
Despite an early push from the gate, we held on the taxiway for about 25 minutes (not uncommon for early morning flights from San Diego), so it was over an hour after boarding before we were at altitude, and I was anxious to get online.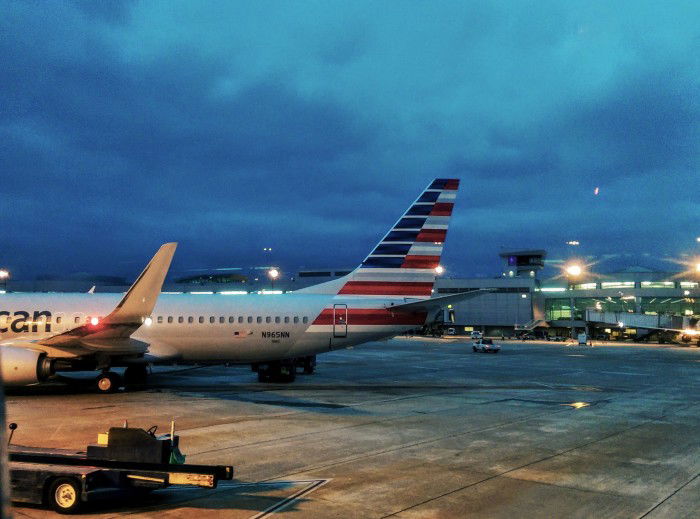 Sometimes it can take a few minutes for Gogo to connect, but after being at altitude for a good 15 minutes, there was still no signal.
In the meantime, the flight attendant working the first class cabin came through and started taking meal orders in the most dispassionate way possible (which I would have thought would be a good use of a 25 minute hold, but that's just me). I'm familiar enough with the breakfast options on American to know I'm best off avoiding anything but the oatmeal, so I just asked for water, please, but listening to the ordering process throughout the cabin was cringe-inducing:
"Do you wanna blinz or quike?"
"Pardon?"
"Those words are hard to say. We have a cheese blintz or a breakfast quiche."

"Blintz or quiche?"
"What's a blintz?"
"I guess like a pancake? But with cheese, apparently."

"Blintz or quiche?"
"Is either option vegetarian?"
"Probably."

"Blintz or quiche?"
"Can I just have the fruit?"
::heavy sigh:: "I guess."
So that was obviously going well, and was quite entertaining, but the WiFi still wasn't working. As one of the other flight attendants passed through the cabin I mentioned that the GoGo connection seemed to be down, and asked if she could please take a look at the system when she had a chance.
The decidedly apathetic crew member responded with:
Someone else already asked. It's just not working.
Alrighty then!
After the breakfast service, wherein most people eventually received what they'd ordered, I queried the lead flight attendant (who to her credit had made a few passes through the cabin to check on drinks, and was otherwise obviously not busy:
If you ladies have time at some point, would it be possible to try resetting the Gogo connection please? It's still not working.
Which was met with a roll of the eyes and a brisk:
No. It's either on or off, and I already checked, and it's on.
Now, I am not an expert on the mechanics of in-flight WiFi, nor am I particularly tech-savvy, but I am very familiar with two approaches that would have, in my opinion, been a bit better:
Turn [______] off and on until it works
Smile and pretend to care
So I have no idea if resetting the in-flight WiFi system is possible or practical. The flight attendant may have been correct. She may also have been poorly trained, and unaware of troubleshooting options. And the same could be said for her colleagues.
But if that's the case, is it really that hard to tilt your head a bit, look sympathetic, and respond with something along the lines of "Gosh, I'm sorry, and I wish we could get that fixed. I've tried everything I know how to do, and it's still not working. I wrote up a support ticket just in case, but we'll keep trying." ?
Of course, that would take even more time away from blending three different lipsticks in the galley to get that perfect shade of nude than checking to see which of your two meal options is vegetarian, and thus was clearly an unreasonable request on my part.
A lack of WiFi on a flight when you'd planned on it is annoying — I'll have to make up the four hours of connected time elsewhere in my day, but is it the end of the world? Of course not.
But watching people who so obviously dislike their jobs to the point where they can't even muster the graciousness to pretend they are interested is difficult, and actively diminishes the flight experience.
Not like there's a lot of "experience" to take away from on a domestic flight in the US, but at some level there's little point investing in your hard product or marketing of your brand image if you can't spend similar attention on your people.
And I realize this is my bias as a younger and relatively privileged person, but I don't understand why people stay in flight attendant roles in the US if they actively hate the gig. It's not like being a domestic flight attendant is a particularly lucrative or glamorous job, but it's also not a highly skilled or specialized position, so there should be alternative employment options for folks who are this unhappy.
So I'm not complaining – other than the WiFi situation the flight was fine. But it does make for an interesting start to the morning when you're interacting with miserable people.
And the morose crew made me feel a bit sad for them, that's all.
And I'm curious:
[poll id="76″]
How do you feel when your flight attendants don't seem engaged? And does anyone know if it is in fact possible to reset the Gogo connection on a 737?