New York, New York
---
Delta 420
New York (JFK) – Los Angeles (LAX)
Sunday, August 23
Depart: 5:05PM
Arrive: 8:35PM
Duration: 6h30min
Aircraft: Boeing 767-300ER
Seat: 4A (Delta One)
Given that I'd done some shopping in New York and my bags were substantially heavier than they were leaving Los Angeles, and given that I had to drop off my friend's apartment keys at a location a few blocks away from where I was staying, I decided to ignore my own advice about the A train to the AirTrain to JFK, and so I instead took an Uber to the airport — which I figured would be easy enough on a Sunday afternoon.
As it turns out, of course, the Van Wyck Expressway is probably possessed by evil spirits, because it's always congested, and Uber's navigation system had my driver exit in Queens and drive on surface streets partway there, so in fact while I gave myself an hour to get to the airport, I used just about every minute of it.
I've mentioned before that Delta's JFK Terminal 4 is gigantic, and indeed even though I was TSA PreCheck and I rushed from curbside to my gate, I still got to the gate well in the middle of boarding (I know people have their opinions about this, but I like to be among the first to board so I can settle in my seat).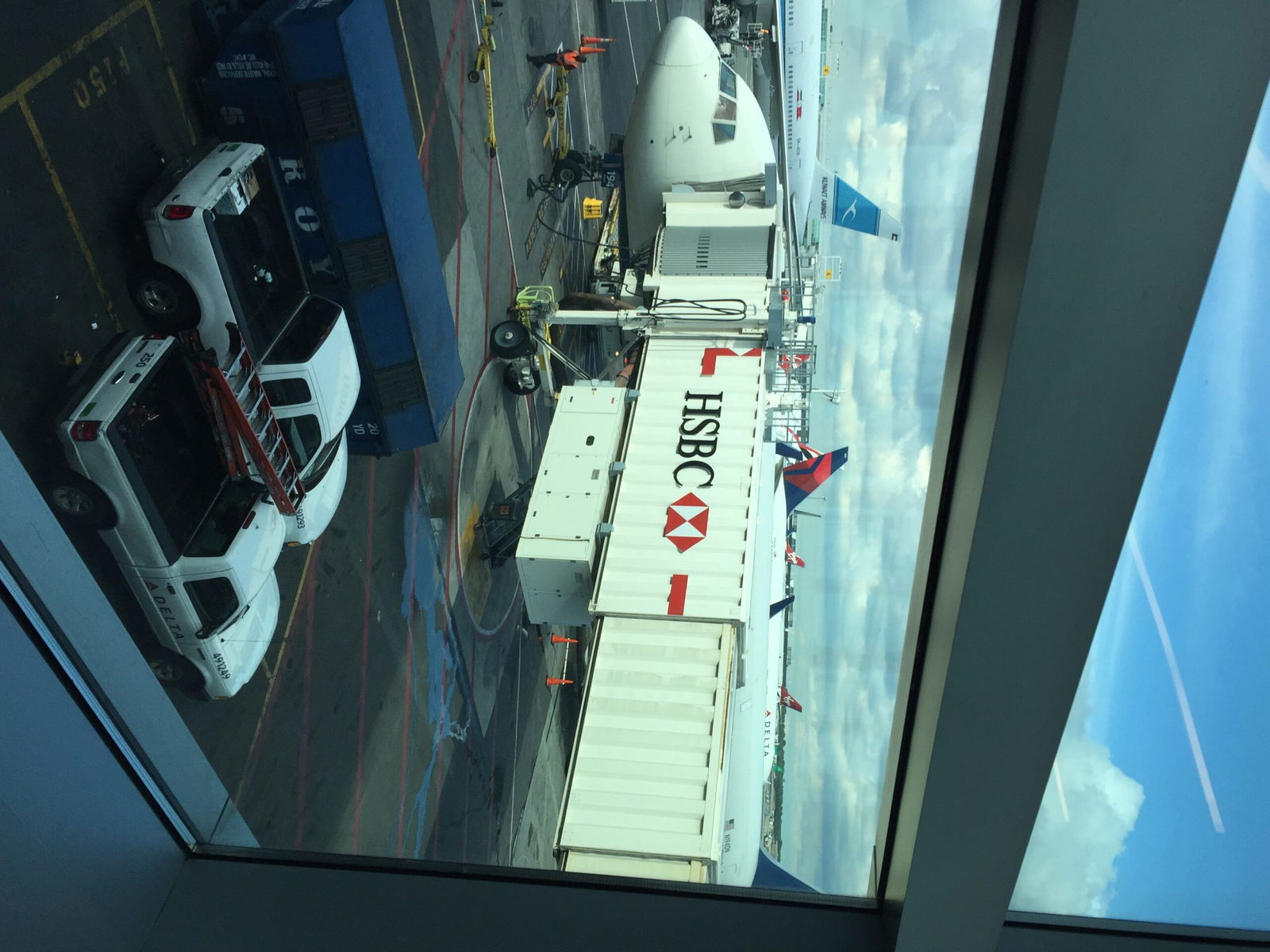 I settled in to my seat, which was a window seat with the seat adjacent the aisle and the console by the window (as opposed to every alternate window seat, where the seats are more "private" and the console separates the seat from the aisle). In actuality, I didn't mind this setup, since the console ends up being much deeper.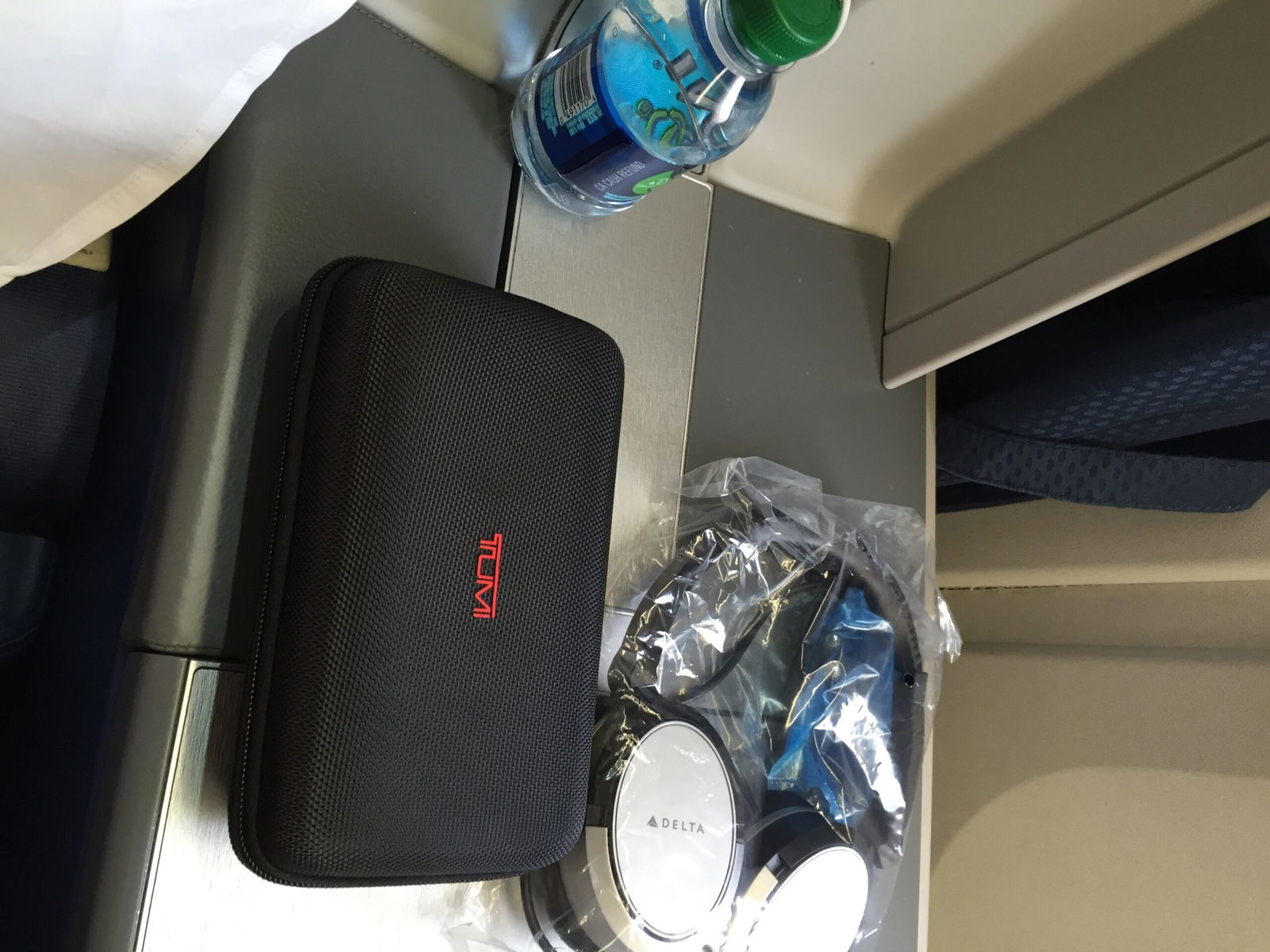 As always, there was a Tumi amenity kit along with a mini-bottle of water and a pair of noise cancelling headphones.
Because Delta alternates between a soft-sided amenity kit on eastbound routes and a hard-sided one on westbound routes, I got the hard-cased black Tumi kit, which I prefer.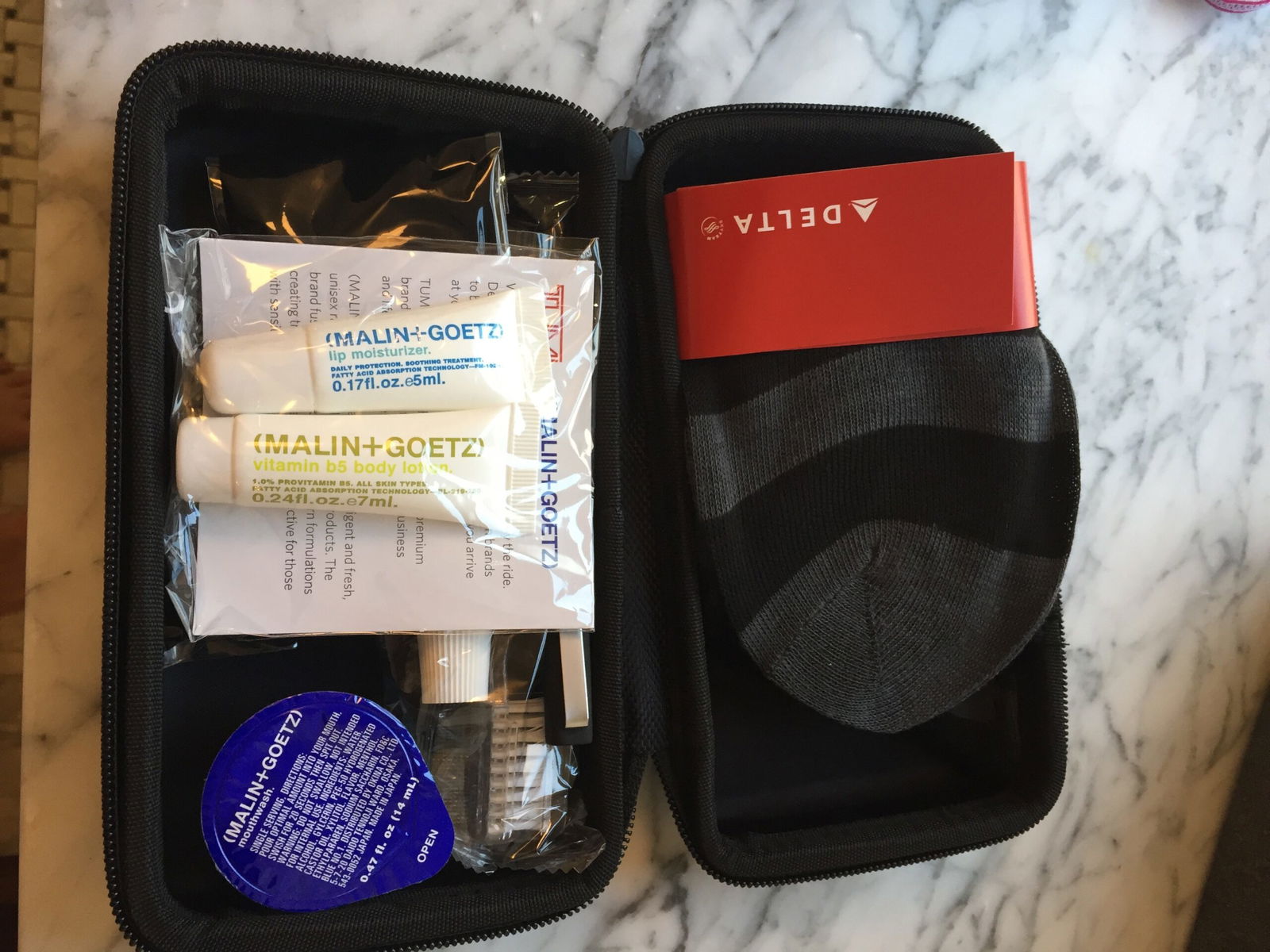 The amenity kit contained Malin + Goetz hand cream, lip balm and mouthwash; Crest toothpaste and a toothbrush, facial tissues, earplugs, a Tumi-branded pen, a Tumi-branded eye mask, as well as a pair of striped socks which were certainly more fashionable than typical airline-issued ones.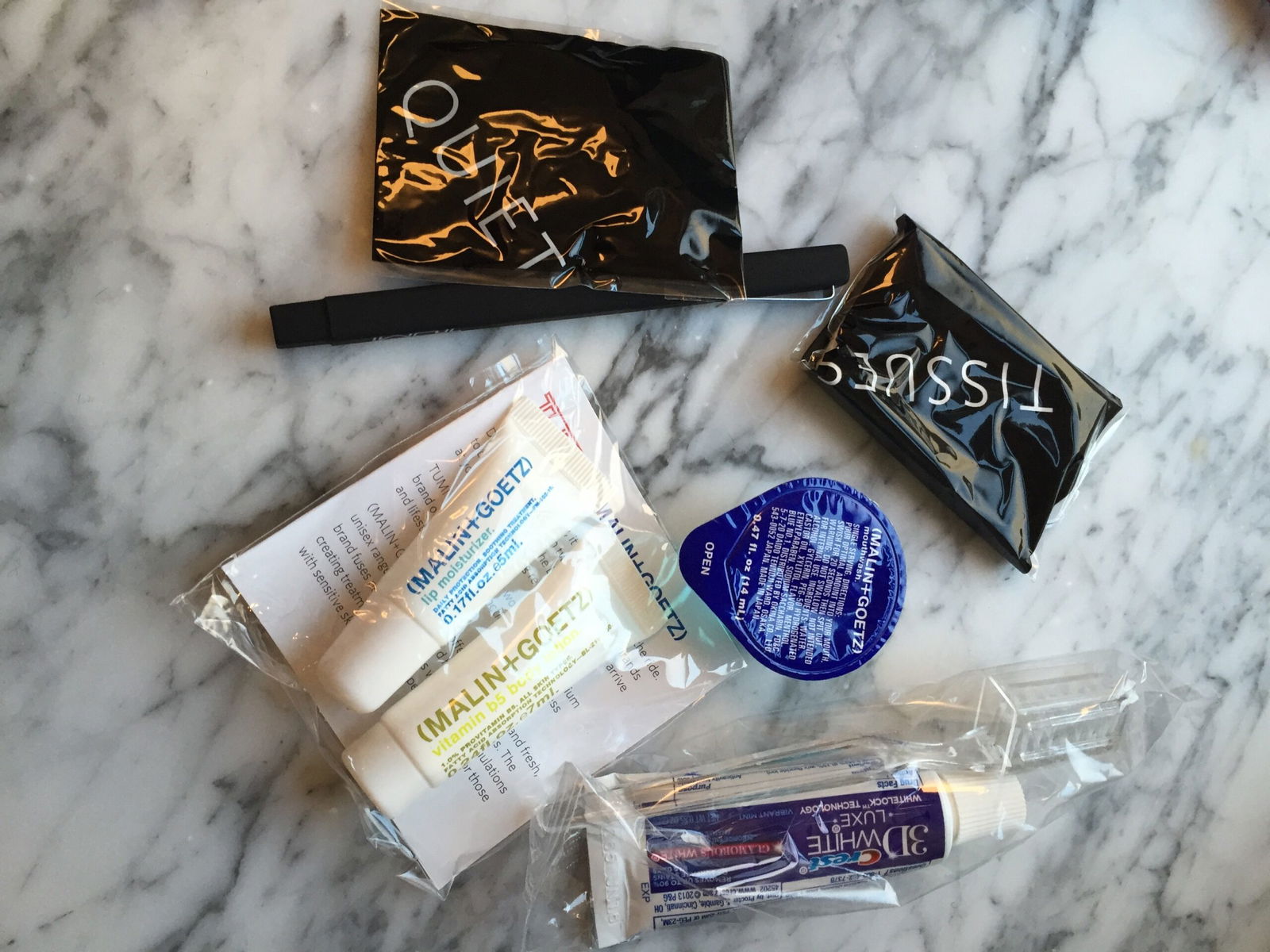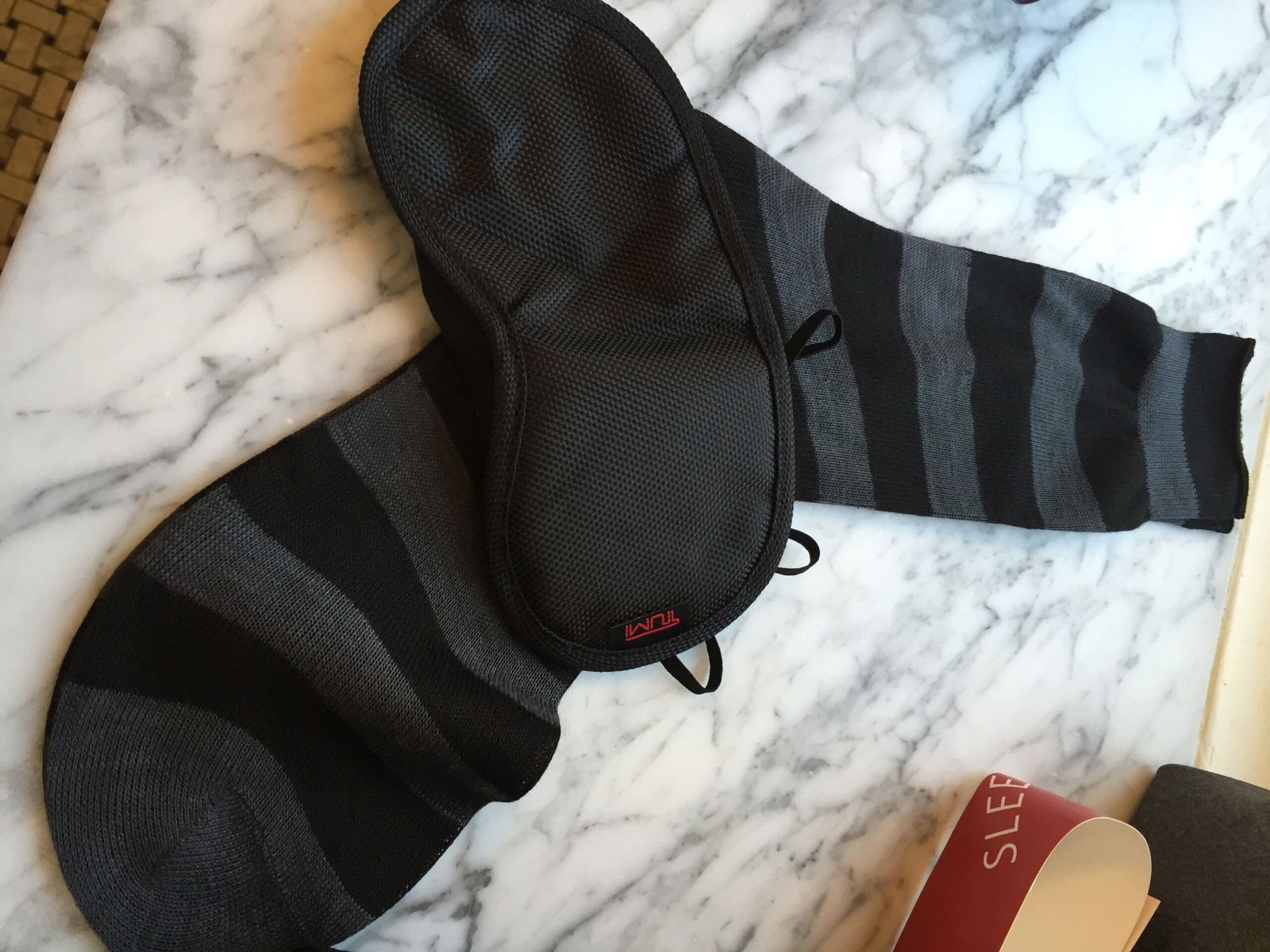 My flight attendant, Brian, quickly came by to offer me "champagne" (nice try, Delta, we know it's cava), and I gladly took a glass while settling in.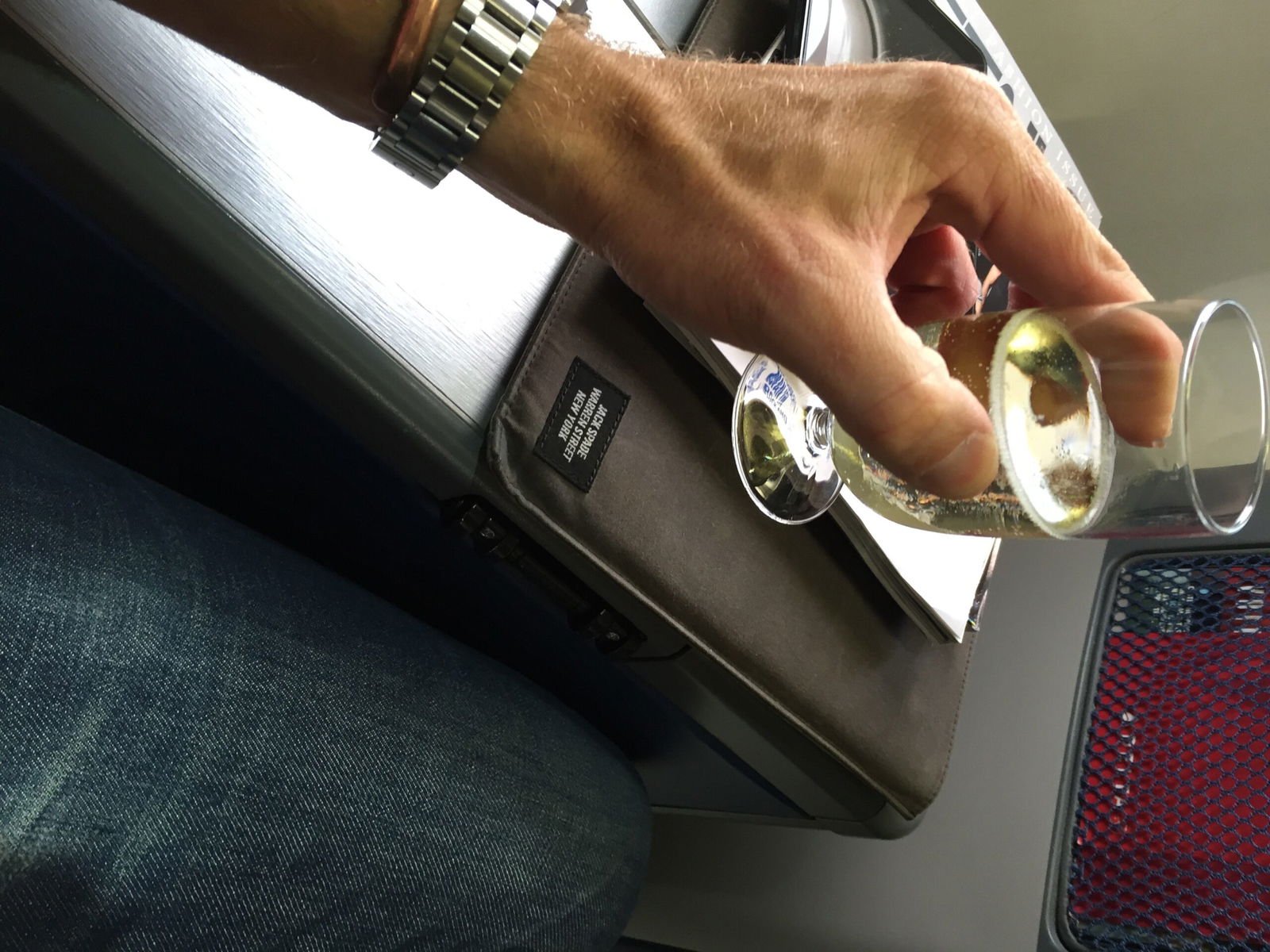 The cava is served with a package of Sahale glazed almonds, which Delta has been serving for awhile now in lieu of a bowl of mixed nuts. While the nuts are reasonably tasty despite them being "glazed" (and a much more healthy serving size), I have to say they really are no substitute for a bowl of warm mixed nuts.
I'm telling you this because I love you, Delta, but: it's time to serve some real champagne and mixed nuts on these flights. Cava and packaged almonds aren't cutting it anymore.
Anyway, around 5:00, the captain made a short announcement that we'd be "just another 10 minutes" before pushback because they were still loading cargo onto the plane. He assured us that we'd still land early.
Cut to 5:30. No update, and by now the captain was whispering to the flight attendants, they'd opened the cabin door again, and an attendant stepped off the plane. My flight attendant told me they were going to check on the cargo, which was still being loaded.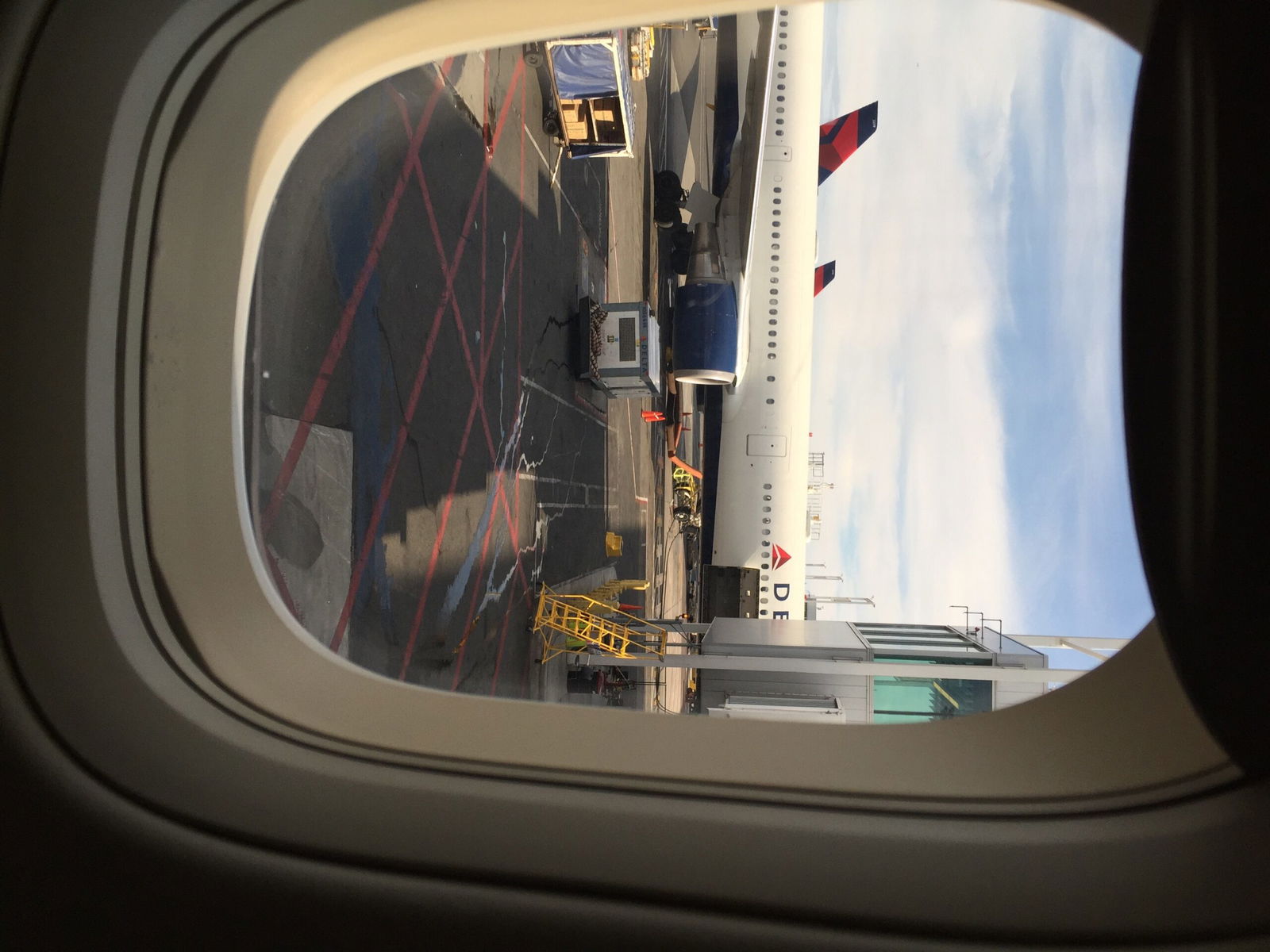 Finally, by 5:45, the captain announced that due to a shortage of ground crew at JFK, there was only one person loading cargo onto the plane, and that he was only "10 minutes from being done." Mercifully, less than 10 minutes later, the cabin door closed and we were able to push back from the gate. I'm not sure I've ever had a delay because an airline had an understaffed cargo-loading crew, but it irked me a bit since the passengers, cabin crew, and passengers' luggage was all loaded in a timely manner, but we were delayed because of third party cargo.
Once airborne, I got out my laptop to do a little bit of work, and swallowed the truly outrageous $34 Gogo Wifi fee for this particular flight. Brian came by to pass out menus.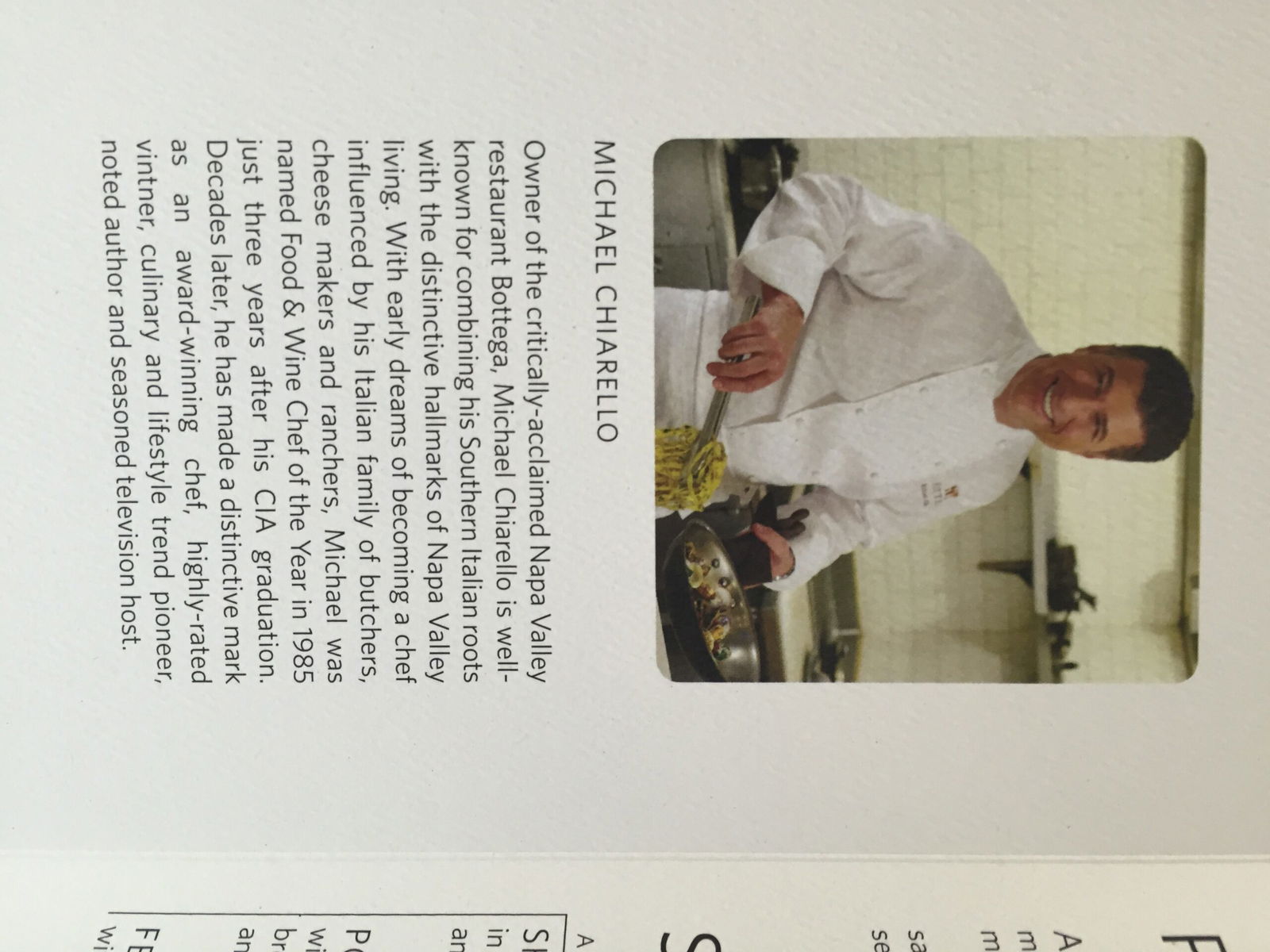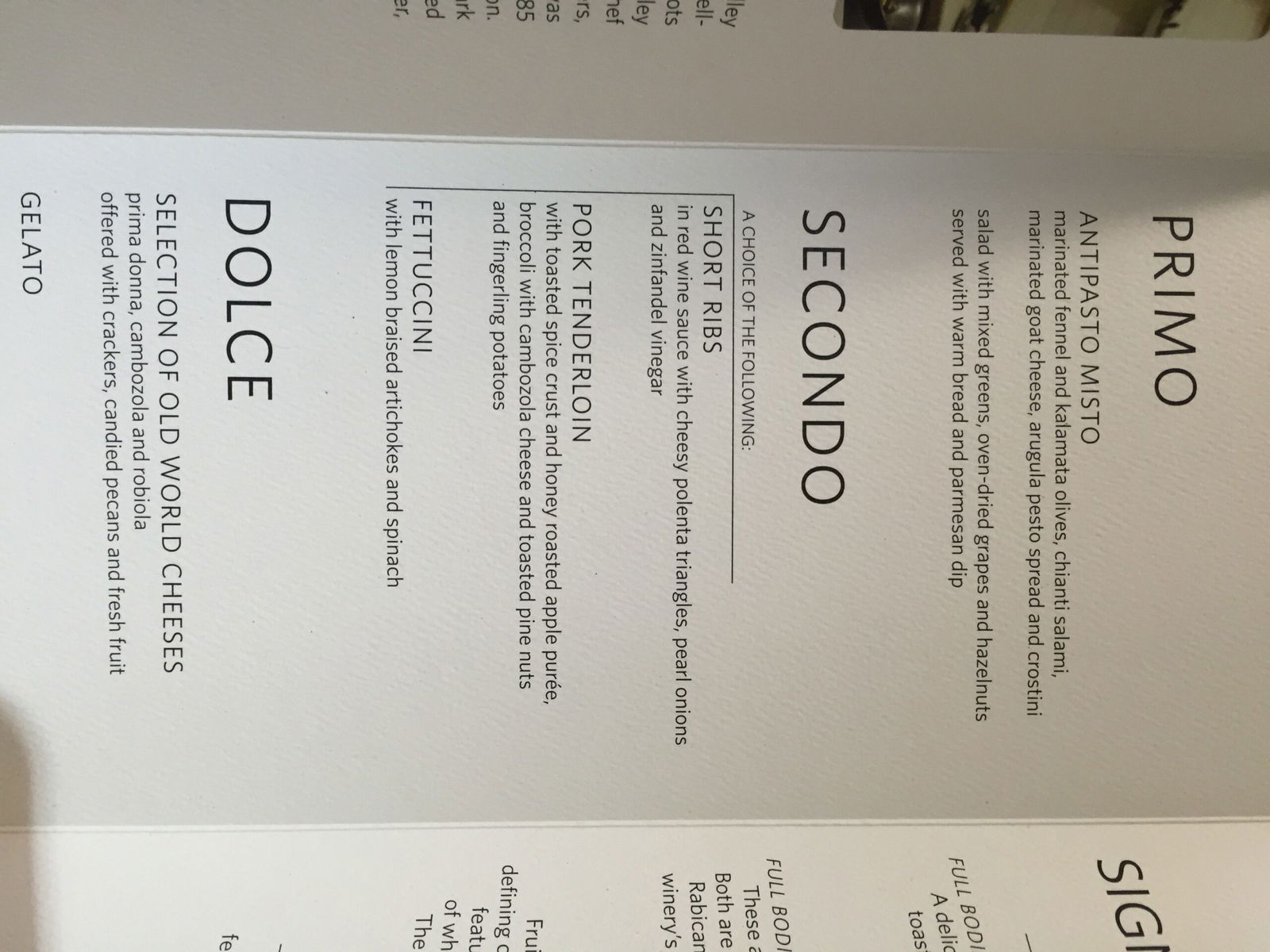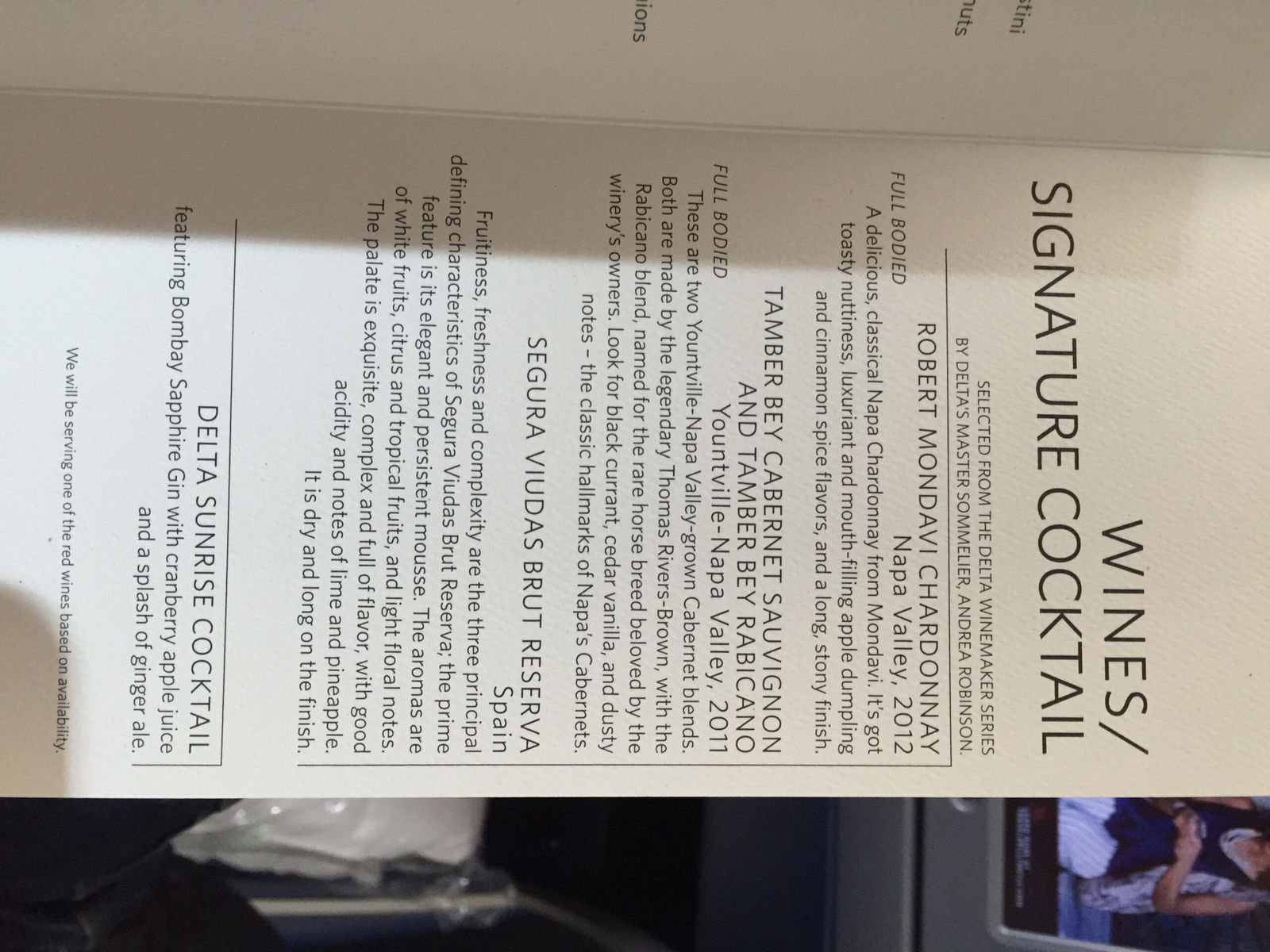 I ordered a Bloody Mary to start, which he brought me just before appetizer service. I decided to watch a classic movie, "Annie Hall," which seemed appropriate for a New York-Los Angeles flight. As I've mentioned before, Delta's in flight entertainment system, Delta Studio, is terrific, and easily the best of any domestic airline.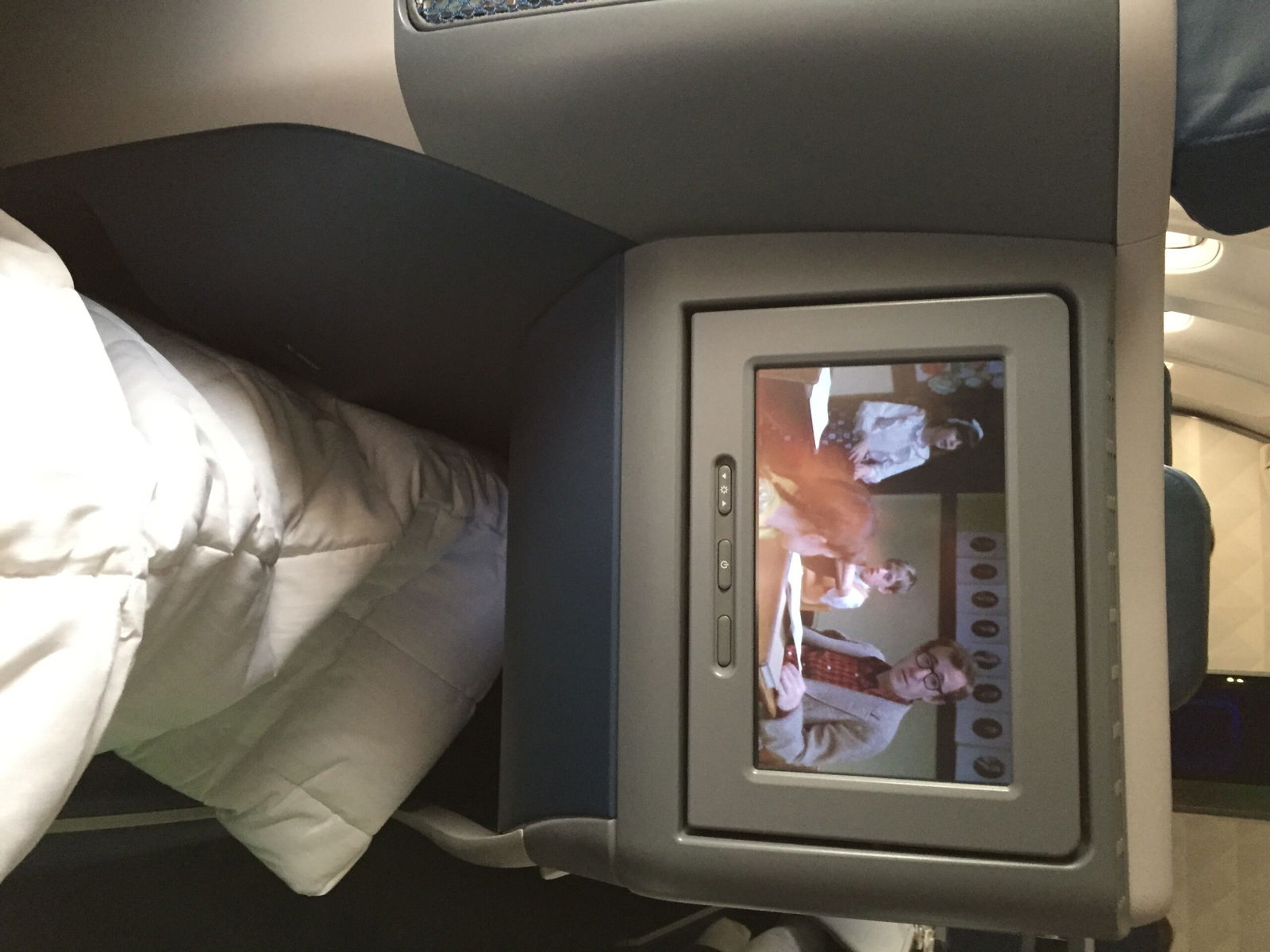 The first course consisted of an antipasto plate, a hazelnut salad, and a bread roll with parmesan dip. I enjoyed nearly everything, though I thought that the marinated fennel was a bit strange, as it was both rather pungent and rather physically hard to eat.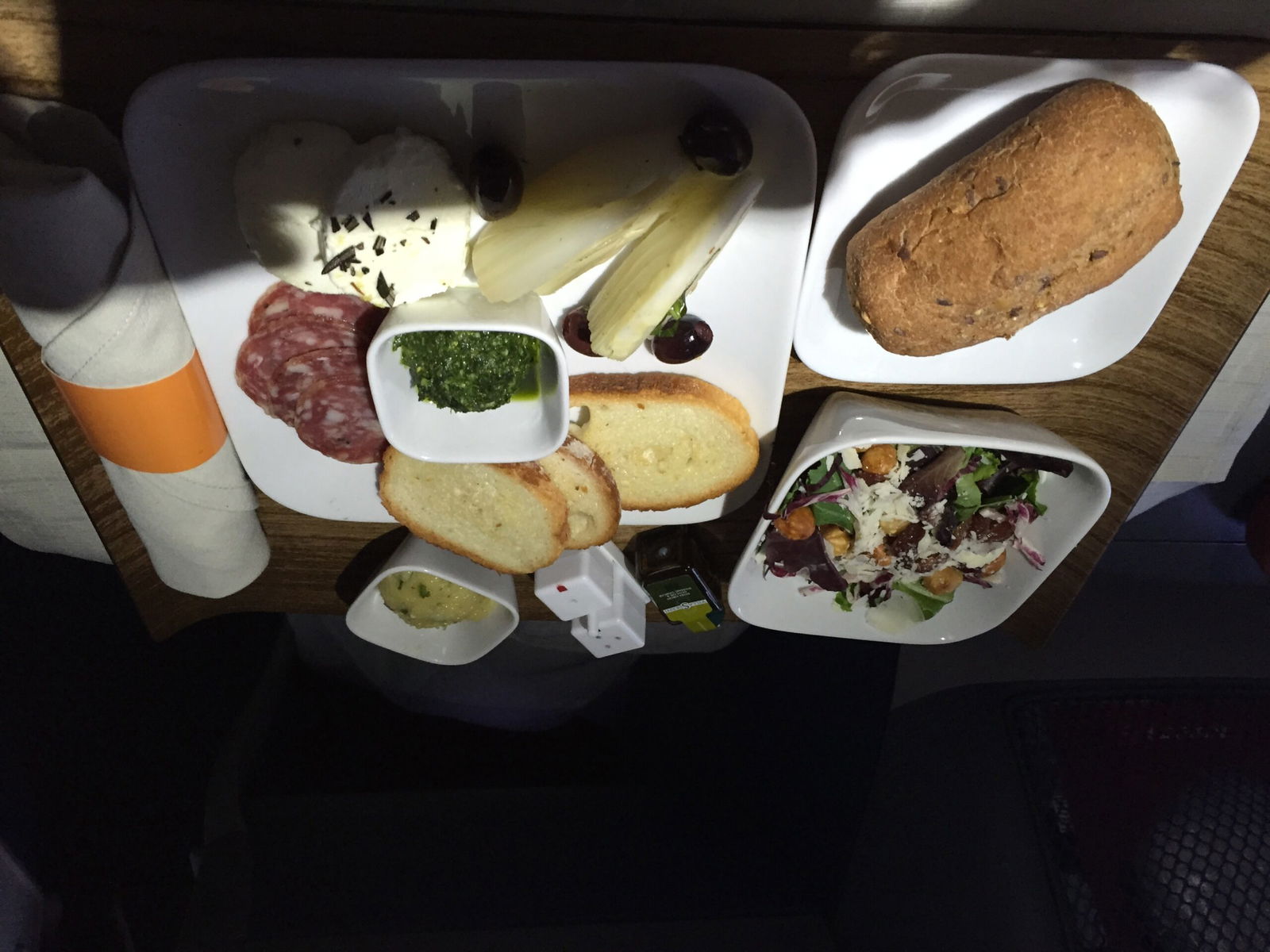 Still, the parmesan dip was spectacular in an artery-clogging sort of way.
At this point, I decided to ask for a glass of red. Though the menu stated that they'd be serving one of the cabernets or Rabicanos based on availability, in fact Brian mentioned they'd had both in stock. I'm not a huge fan of cabernet sauvignon, but I knew that "full bodied" was exactly the sort of red wine to be appreciated in flight, so I decided to take my chances with the Rabicano, which is in fact not a grape but the proprietary blend offered by this particular winery.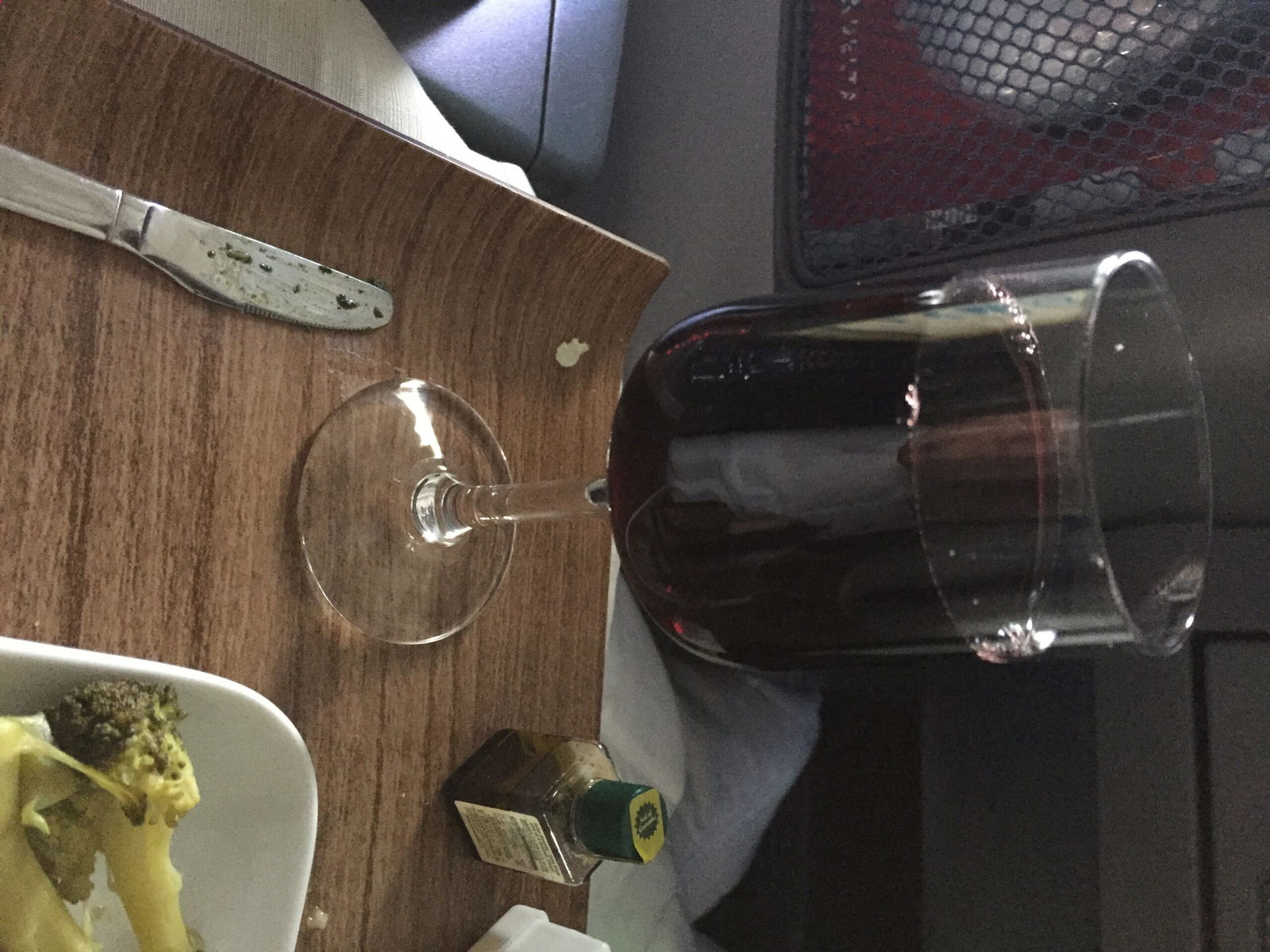 The wine was really quite delicious. The Tamber Bey Rabicano retails for $55 a bottle, while the 2011 Tamber Bey Cabernet Sauvignon (the other wine on offer) retails for $45 a bottle, so while Delta might not be offering Lanson Black Label champagne like American does, at least Delta wasn't f@*ing around with the reds.
For my main course, because I'd stuffed my face with all sorts of rich, fatty foods in New York I tried to be reasonably healthy and select the pork tenderloin in lieu of the short ribs or fettucine. Generally speaking the short ribs are knock-'em-out-of-the-park entrees on Delta, but I figured the pork was worth a try.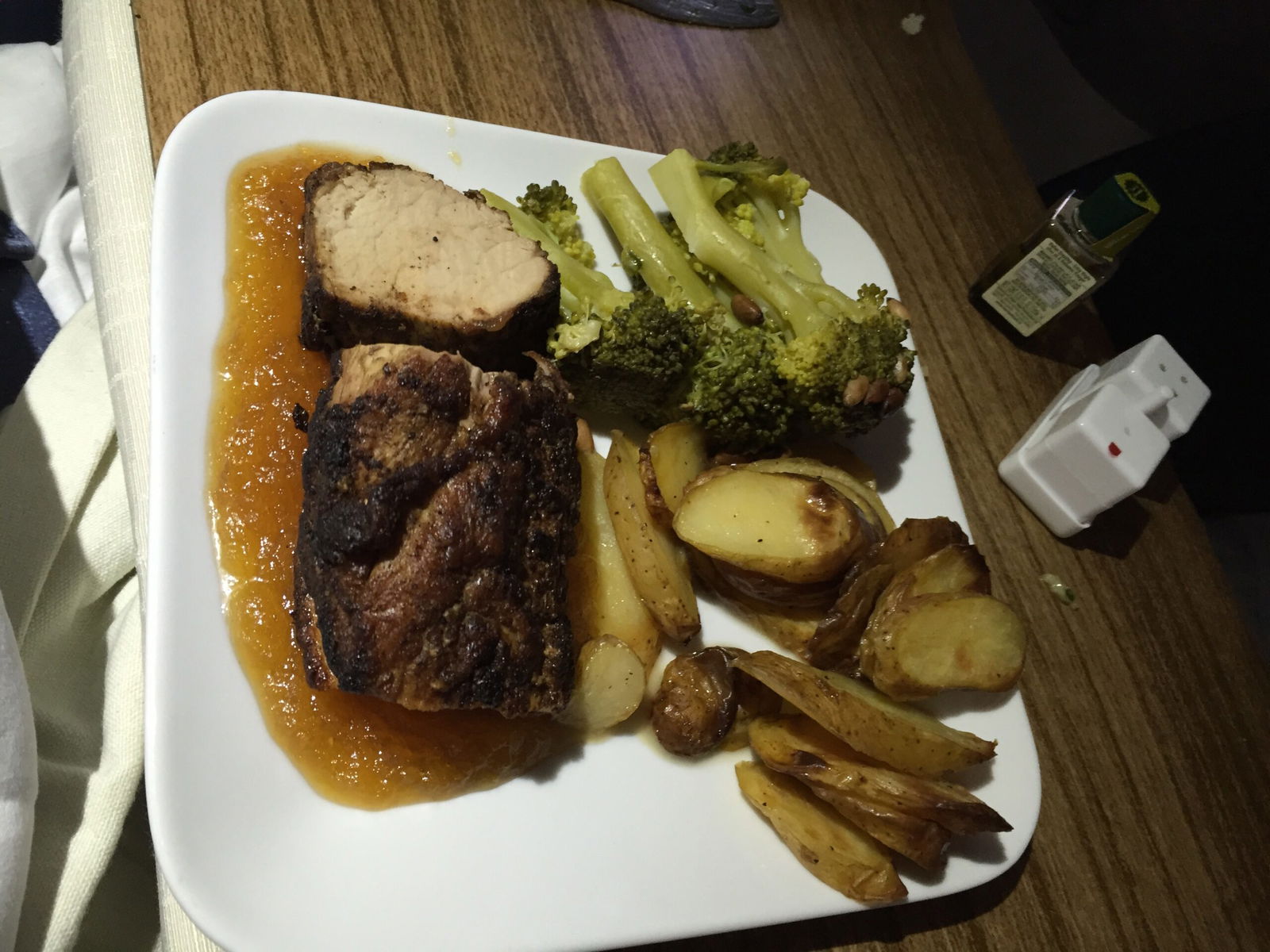 The pork was decent, but fairly overwhelmed by the sugary-sweet honey roasted apple purée. The broccoli was disappointing as well, since it was limp and more of a green-brown color, and I didn't see the accompanying cambozola cheese anywhere. The fingerling potatoes were delicious, at least.
I had both the cheese course and the gelato for my dessert. The cheeses were delicious (what can go wrong with cheese, really?), and the gelato was, I think, a salted caramel flavor that hit the spot, and was served at the perfect temperature (i.e., not rock solid).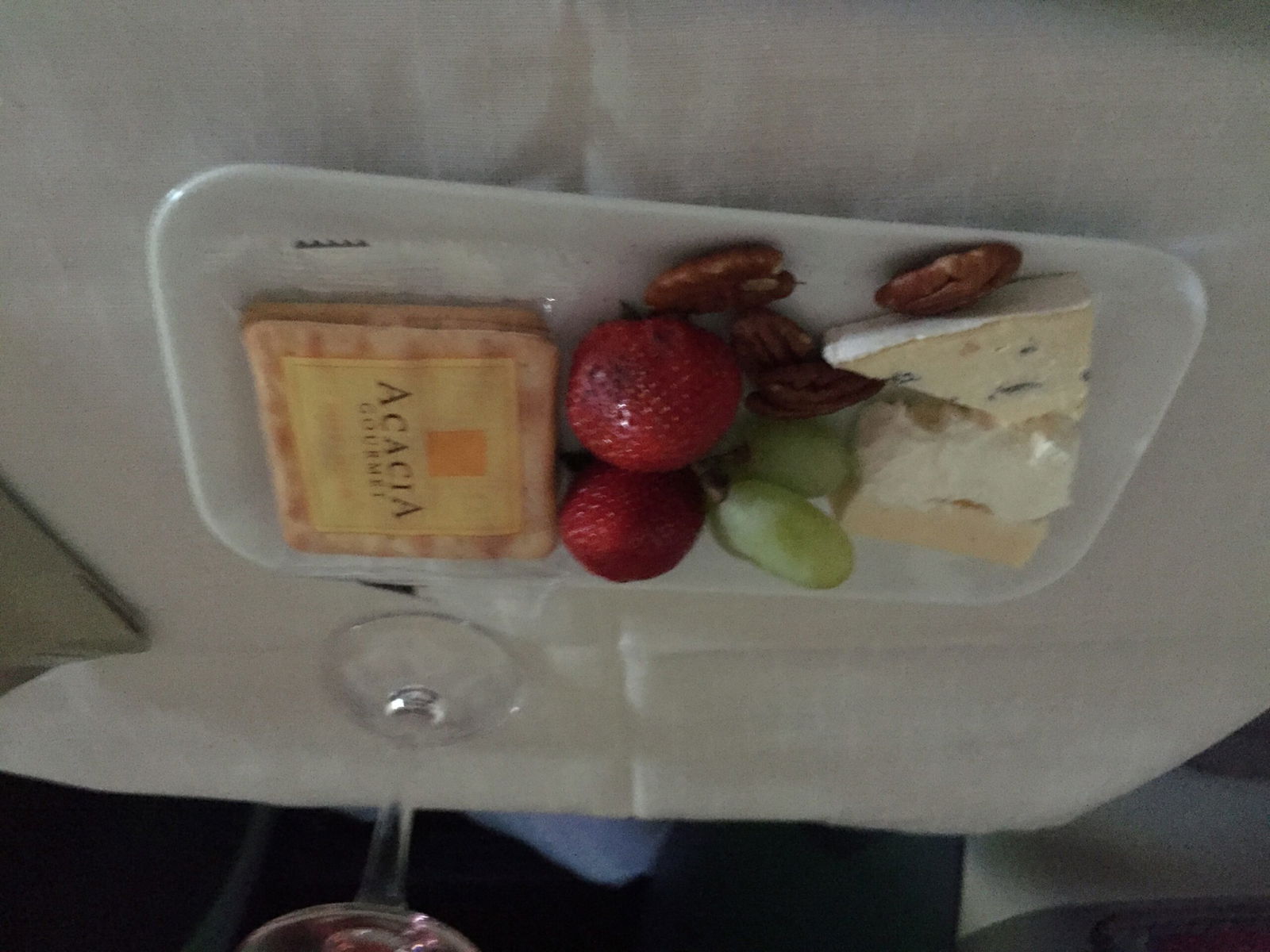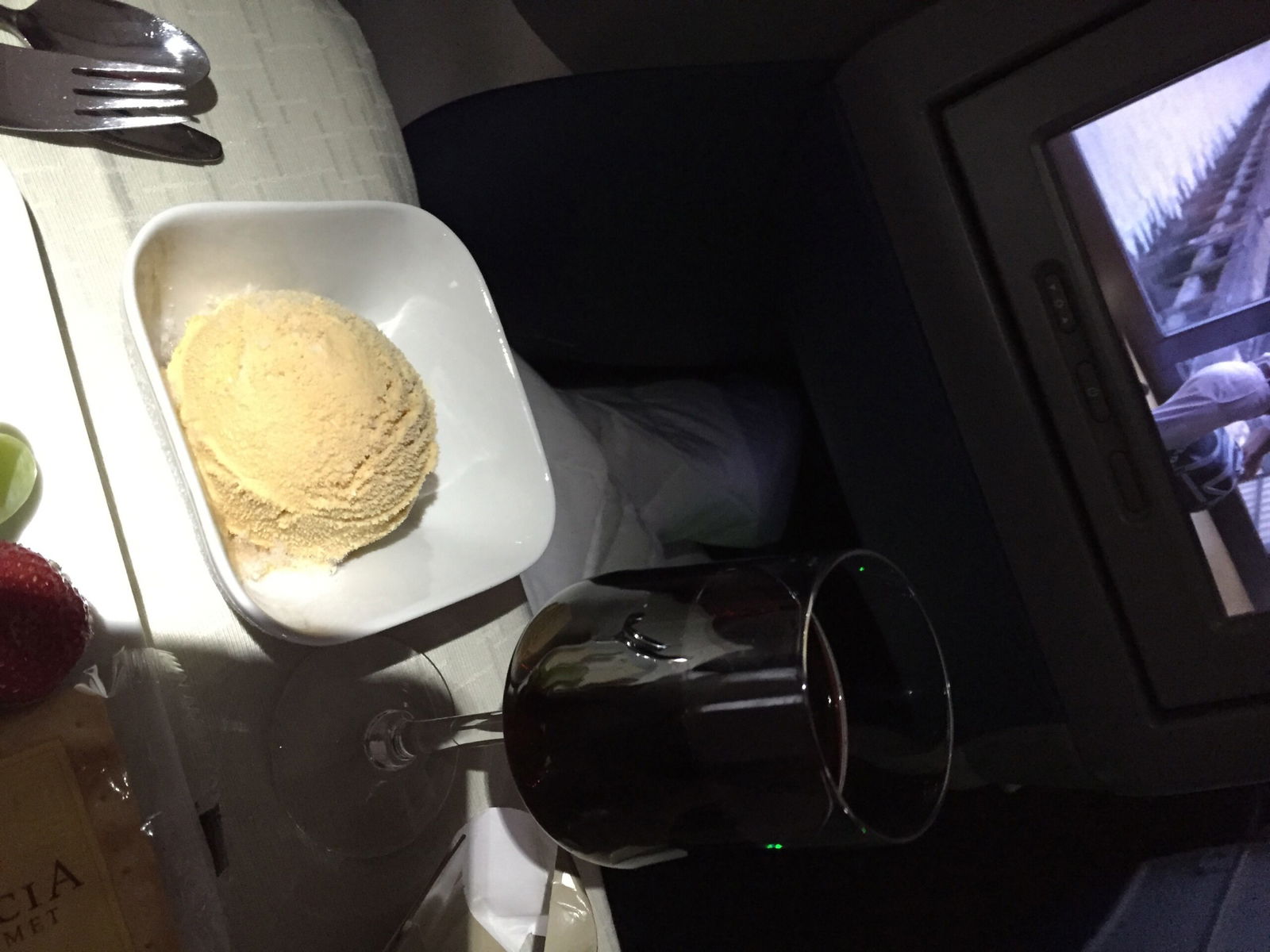 Overall, the meal was not nearly as good as my last JFK-LAX flight, where my cedar plank salmon main course was exceptional. I chatted with the flight attendants a little and they acknowledged that the pork was not getting a lot of raves that month.
Throughout the flight, however, service was truly excellent, in a way that stood a notch or two above my LAX-JFK flight a few days before. The service felt personal and intimate, despite the large size of the 767 cabin.
About an hour and a half before landing, flight attendants came by with warm chocolate chip cookies (which, due to the dark cabin, I couldn't photograph very well). Unlike the whole-wheat cookies on the LAX-JFK leg, these cookies were classic chocolate chip, and gooey and warm, epitomizing fresh-baked deliciousness. I basically wanted to eat six of them.
Despite our late takeoff, we made up quite a bit of time in the air, and were able to land just a few minutes behind schedule. The descent into the L.A. basin was stunning, just at the edge of twilight. On final approach, the flight attendants came by with trays of mints, in spearmint and green tea flavor.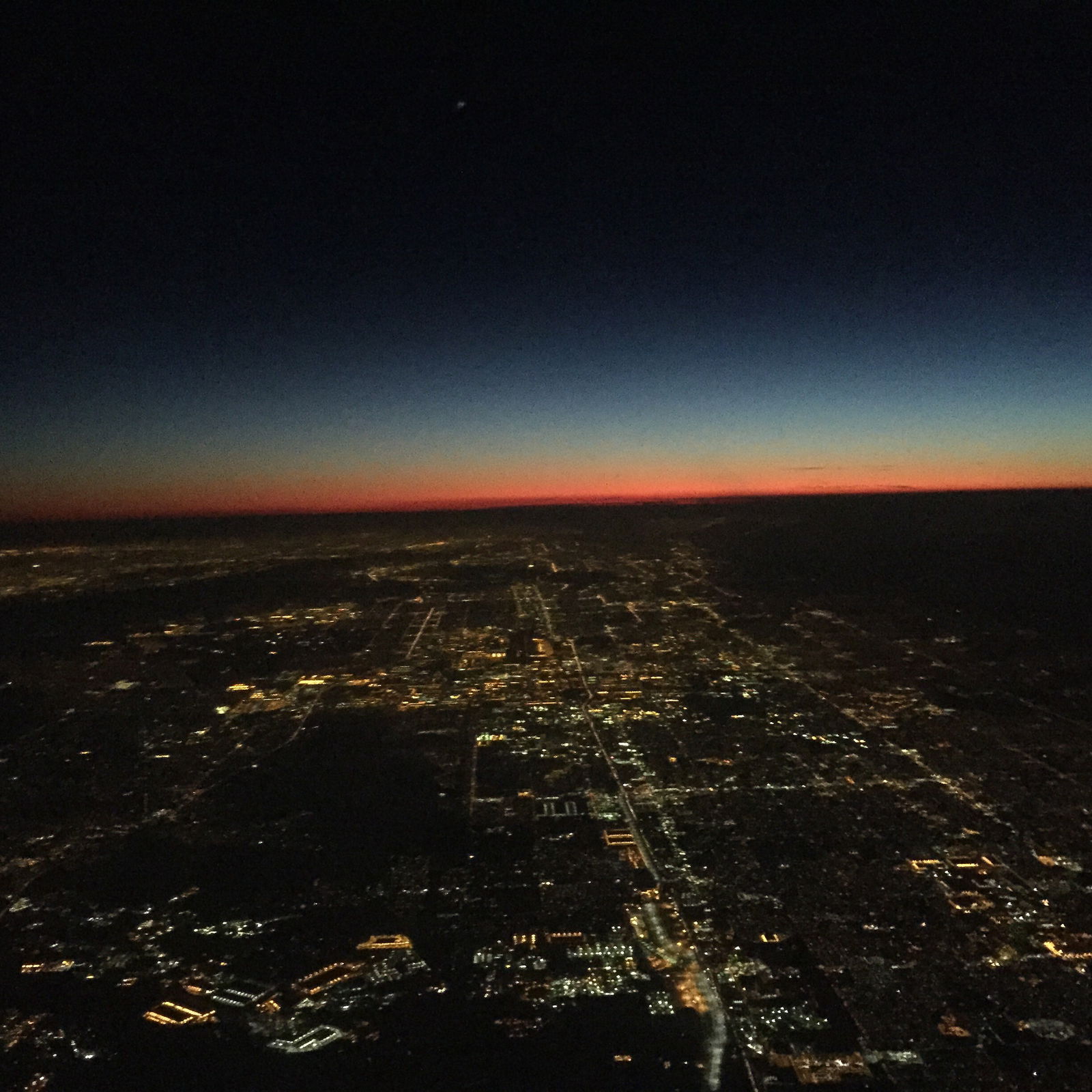 Annoyingly, on landing at LAX we taxied to the gate, and had to be towed to the jetbridge by a tow that couldn't quite align to where we needed to be. It took about 4 or 5 tries before we finally hooked up with the jetbridge and the doors opened.
Even more frustratingly, it turns out we didn't pull into Delta's Terminal 5, but were instead in the godawful mess that is LAX's Terminal 6 (shared by Delta and Alaska). It's hard to overstate just how horrendous Terminal 6 is, but it's a very sour introduction to Los Angeles. Quite frankly, it shocked me that Delta allows its Delta One transcon flights to use Terminal 6 gates. With all the money Delta has spent making Terminal 5 lovely, and accentuating the Delta One "lux" experience at LAX Terminal 5, it seemed silly and just all-around stupid to end a Delta One flight by pulling into a third-world terminal.
Bottom Line
I've had better Delta One flights, no doubt. I've had better flights than this one, with better food, between LAX and JFK on rival airlines — United, even! — in business class. I still do think that Delta knocked it out of the park with service on this leg, and that Delta Studio and the Tumi amenity kits, among other things, remain in a class above, but the food and beverage options totally underwhelmed on this flight.
I still suspect the Delta One transcon experience is best manifested on the more intimate 757, and I remain a bit underwhelmed with the 767 hard product as well, and the somewhat dated seats and small seatback televisions.
There are some ways Delta could make some small tweaks to make its JFK-LAX Delta One service feel more "special," and they're easy: serve real champagne and nuts out of a bowl instead of a package, for instance. I can't speak as to airport operations at LAX and as to why we pulled into a gate in Terminal 6, but if that's at all under Delta's control it is shameful that their premium JFK-LAX route concluded at a hellhole of a terminal.
All in all, Delta One remains a solid product and most of these criticisms are nitpicks compared to a heavenly Delta 757 flight I had in April, but it's worth noting that — as with most any flight — your mileage may vary. (And with Delta, your earned mileage literally may vary.)