New York, New York
---
Delta 2182
Los Angeles (LAX) – New York (JFK)
Wednesday, August 19
Depart: 7:30AM
Arrive: 4:05PM
Duration: 5h35min
Aircraft: Boeing 767-300ER
Seat: 3D (Delta One)
Delta operates about eight nonstop flights each day out of Los Angeles to New York. Half of them are on its narrow-body 757s, which have been newly and specifically updated for Delta One transcontinental service, and the other half are on its widebody 767-300ERs, which are interchangeable with its international fleet.
With On its 767s, Delta can advertise that every one of its business class seats between New York and Los Angeles/San Francisco boast direct aisle access, which neither American nor United can claim.
At the same time, the 767 Delta One cabin is substantially larger than its 757 cabin, with 26 seats to the 757's 16 seats.
I had arrived at the gate just in time for Delta One boarding, and in fact ended up being among the first in the cabin.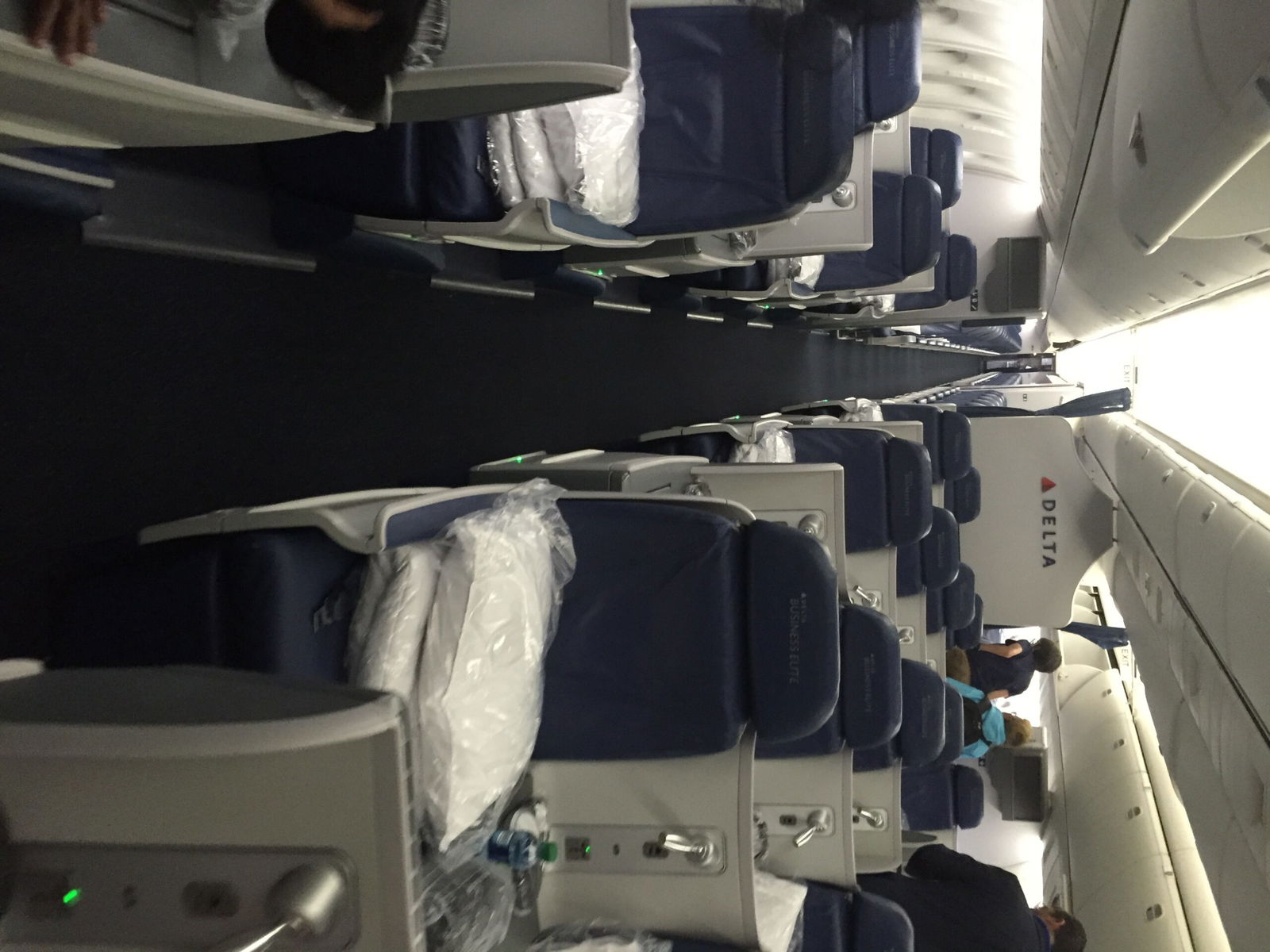 I took my seat, 3D, which was on the left side of the plane as you board.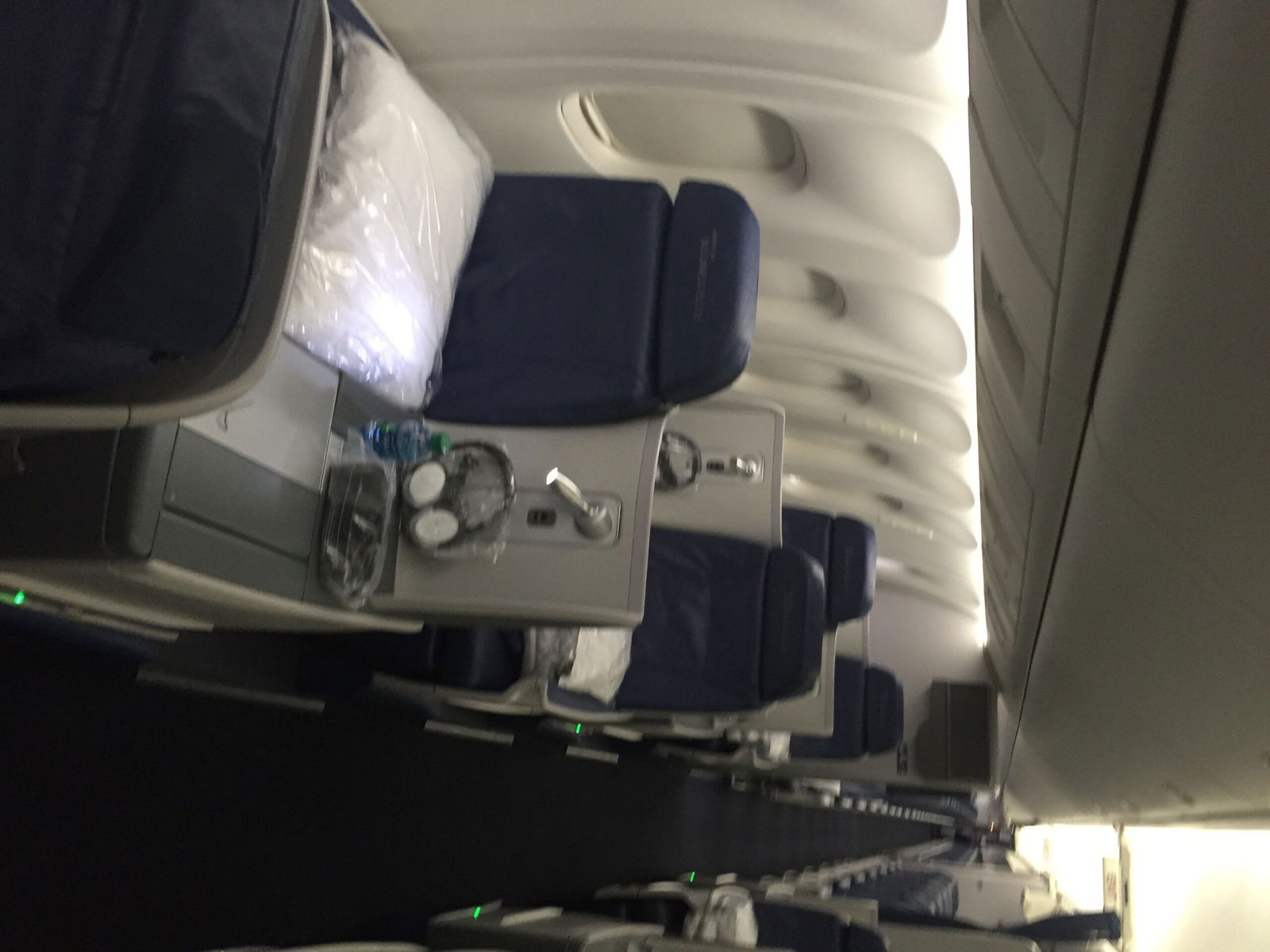 At my seat were a Westin Heavenly pillow and a Westin Heavenly comforter, a Tumi amenity kit, a small bottle of Dasani water and some noise-canceling headphones.
The Tumi amenity kits are actually different eastbound and westbound so that a roundtrip traveler can "collect" one of each. The eastbound Tumi kit was soft-sided and light gray.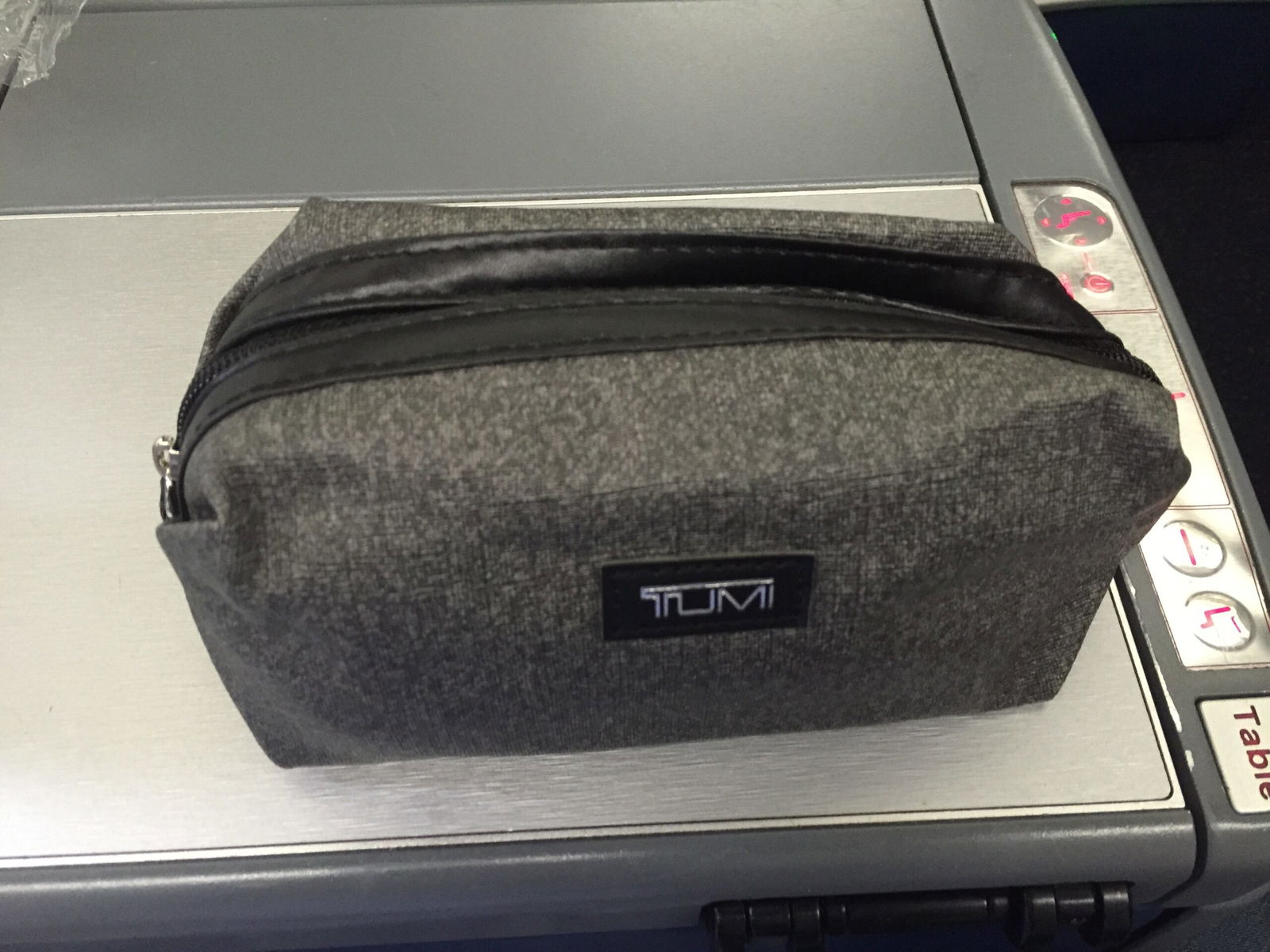 As for the seat itself, it has its pluses and minuses compared to the 757 as far as I'm concerned. You certainly get a bit more personal space on the 767, with a very wide console which served as an easy place to store a laptop computer. In fact, it was large enough to use as an alternative to a tray table when I was in the fully-flat bed mode.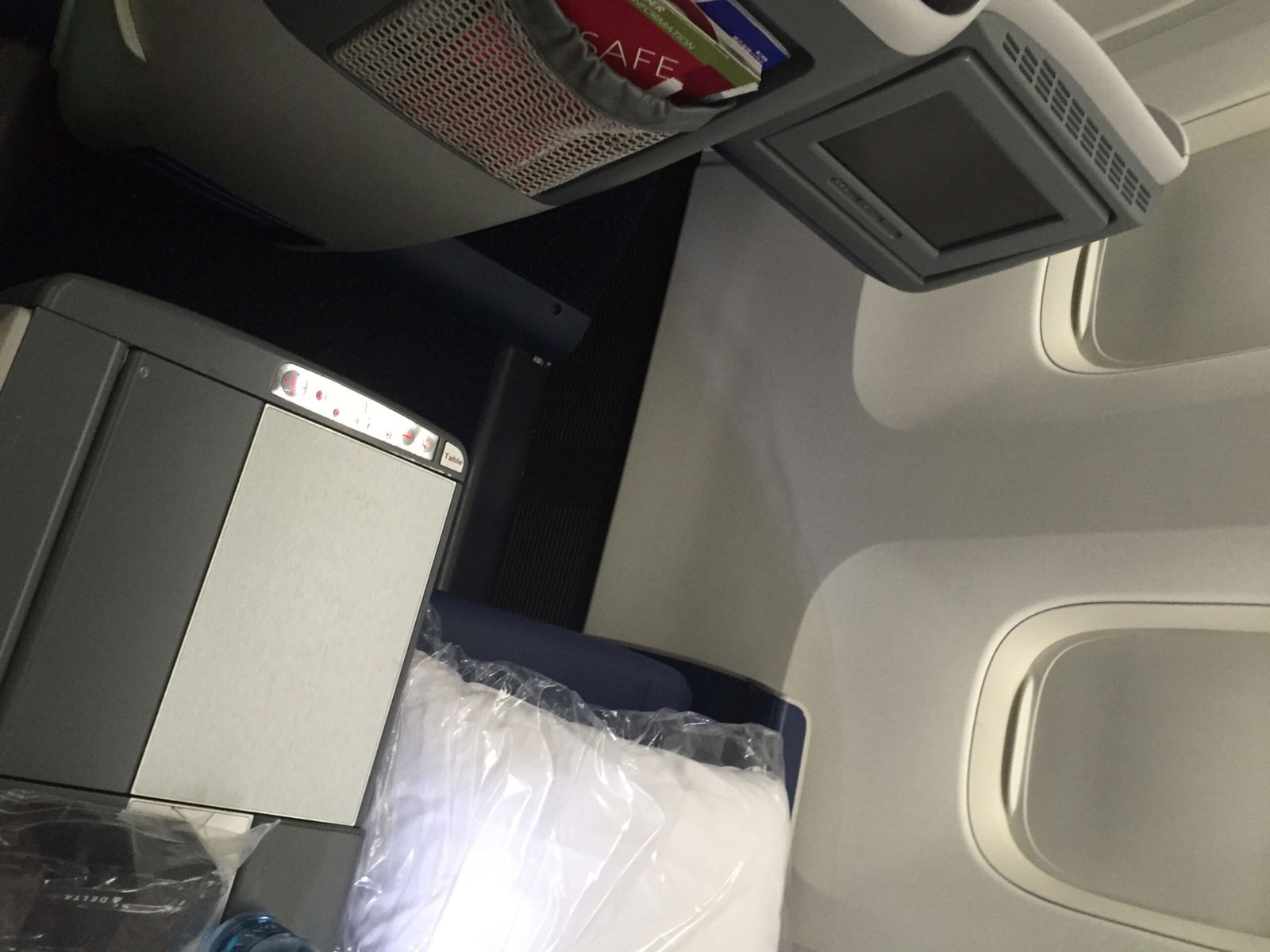 However, to me the 767 Delta One seat — at least the ones that haven't got the "Delta One" refresh, which these seats hadn't — seems fairly dated, and the small TV screen feels clunky and plastic.
While the seats were comfortable and had a massage function, I actually recall feeling that the 757 seats were a touch wider and had more footwell space, not to mention a much "brighter, newer" feeling with substantially larger and more modern TVs. The finishes in the 757 cabin, too, felt newer and more luxurious (even if the "wood" is merely plastic) than the puke-blue 767 cabin.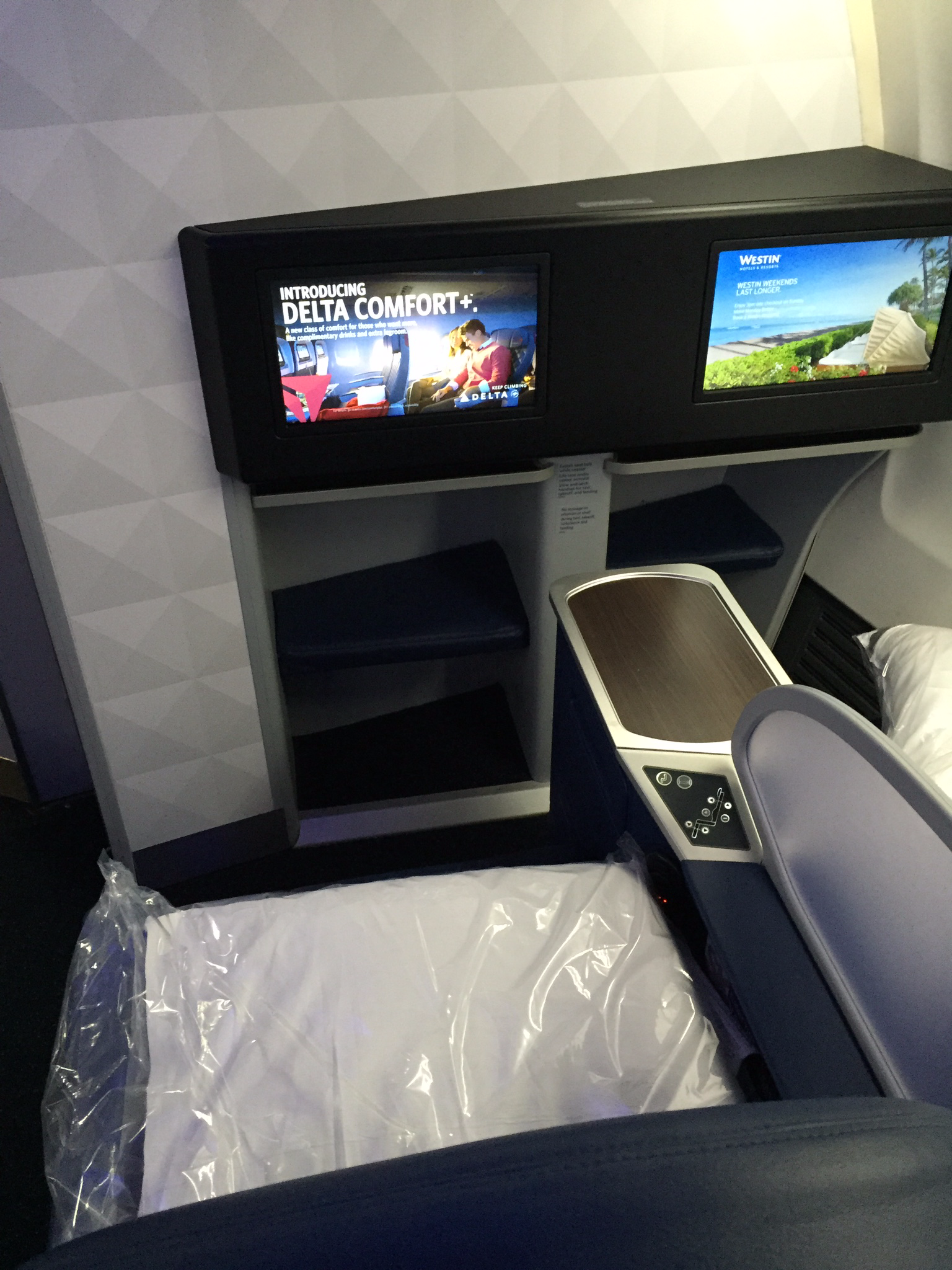 In any event, shortly after being seated the flight attendant came by to offer passengers their choice of orange juice or mimosa.
A certain celebrity passenger was not quite up to speed on her mimosas, and asked the flight attendant to explain to her what, exactly, a mimosa was.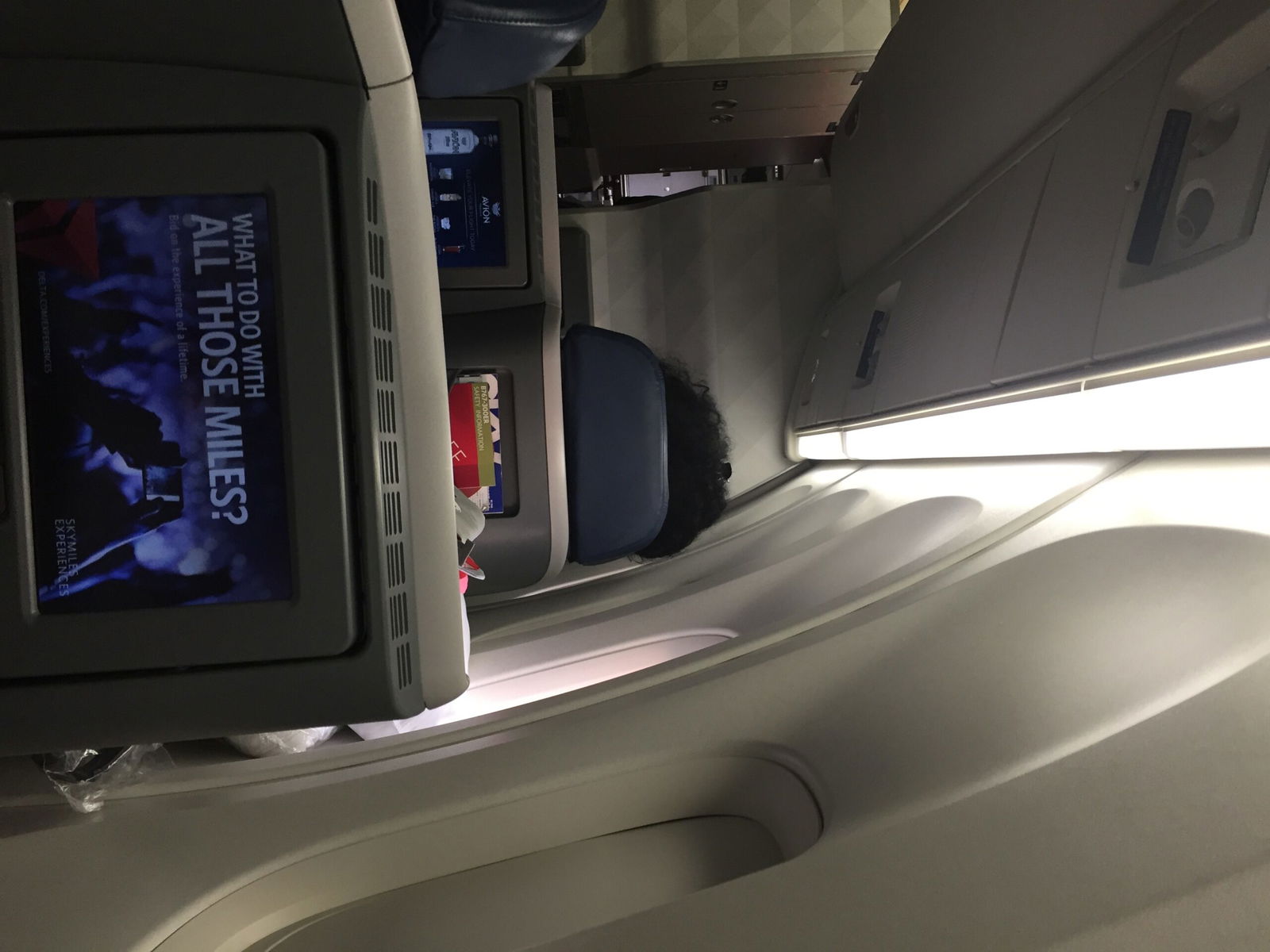 I had a mimosa, myself.
We boarded and taxied from the gate relatively quickly, and were up in the air in no time. Shortly after takeoff, the flight attendant came by again to distribute "brunch" menus.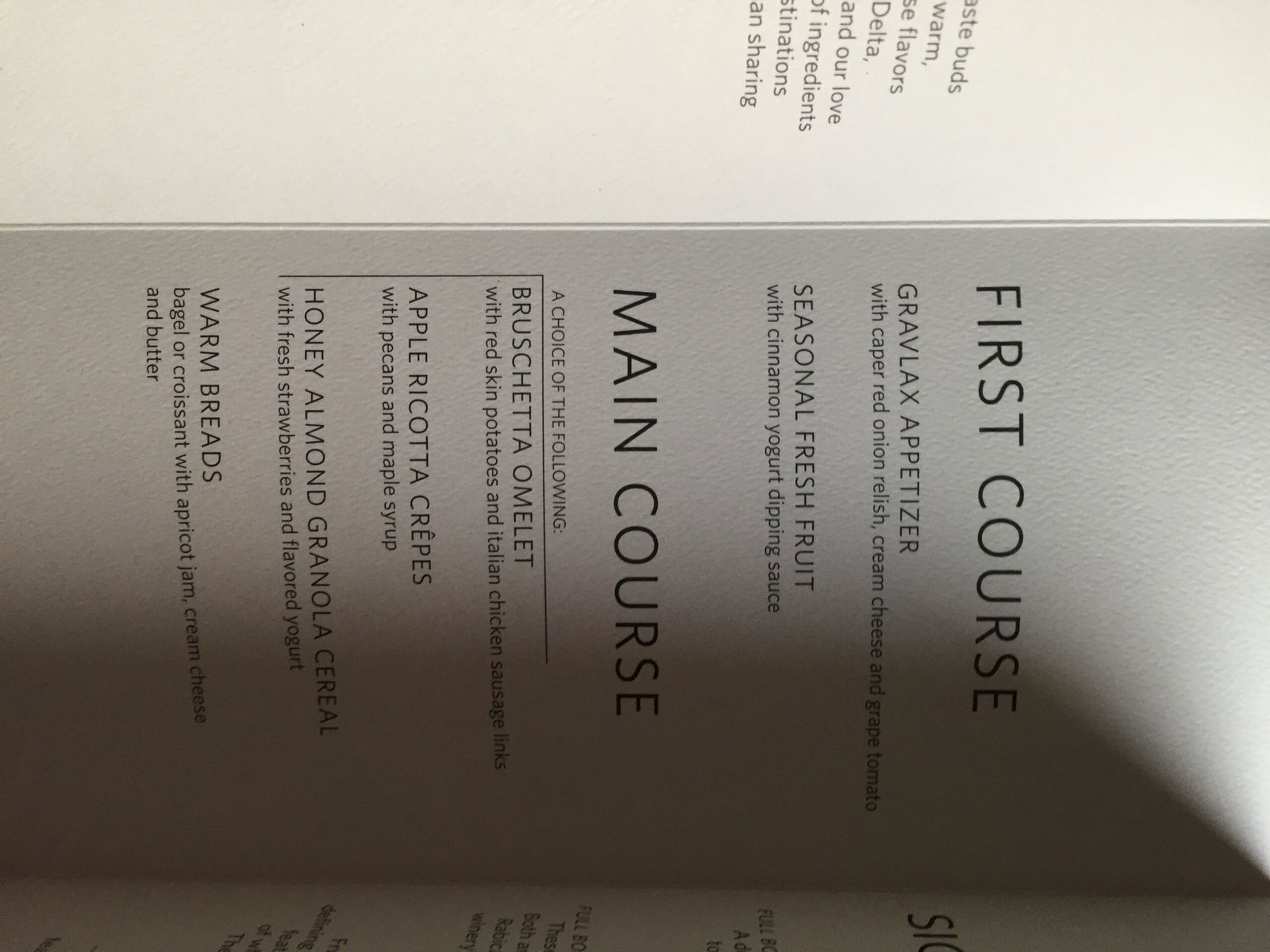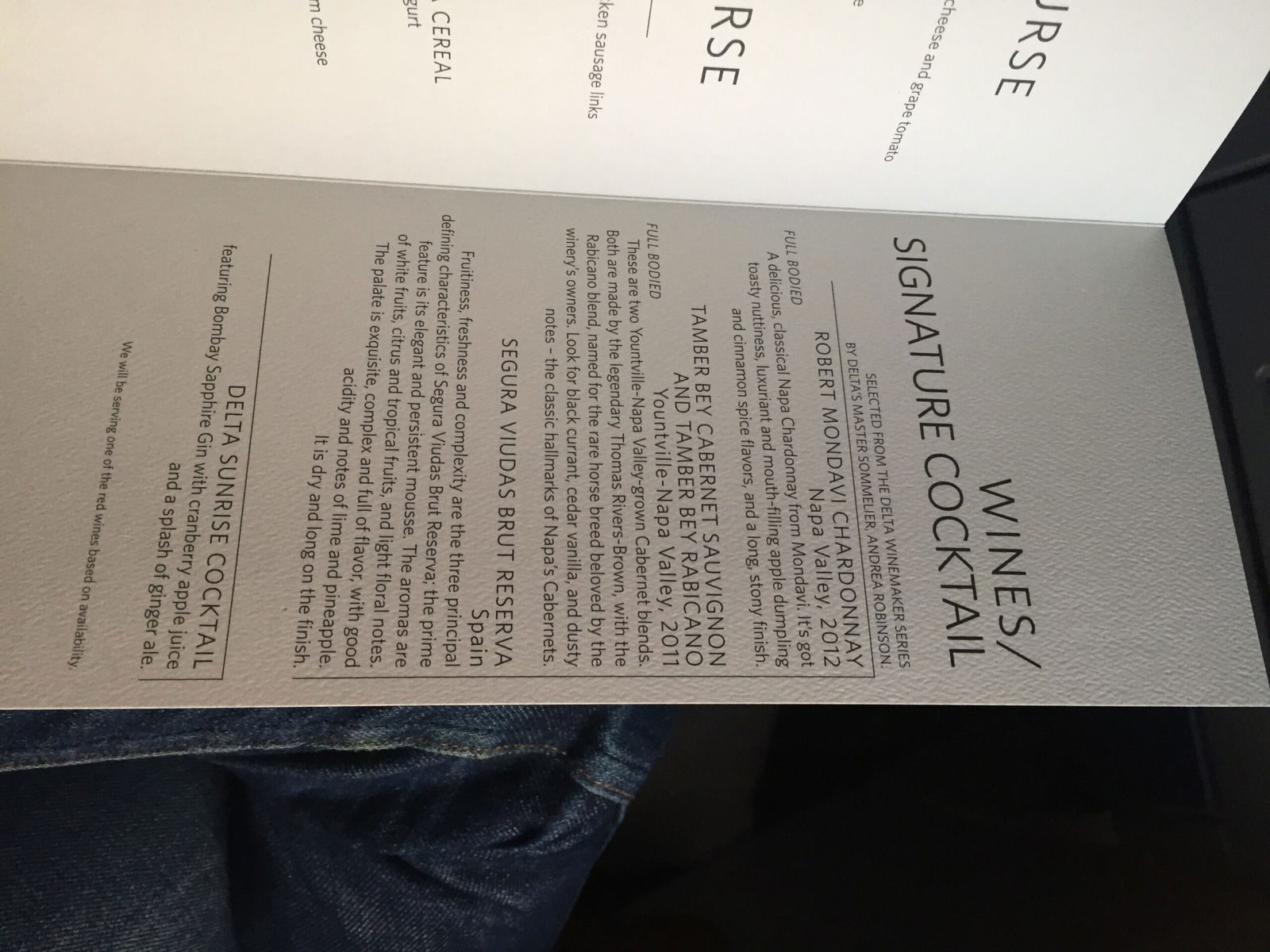 It's worth noting that where once Delta One led the pack with innovative and upscale wine choices on its transcontinental routes, Delta still serves Segura Viudas Brut Reserva sparkling wine, whereas American has moved on to serve Lanson Black Label in its transcon business class. The cava, while good, isn't nearly as good as Lanson, so to the Delta PR execs reading this, consider the gauntlet thrown and divert a few hundred bottles of Jacquard onto the transcon routes — how about it?
I ordered a Bloody Mary to start, which was served with packaged almonds. Delta also stocks Delta One with Smart Water and San Pellegrino. I ordered a Smart Water, as well (though the flight attendant mistakenly poured me a Pellegrino).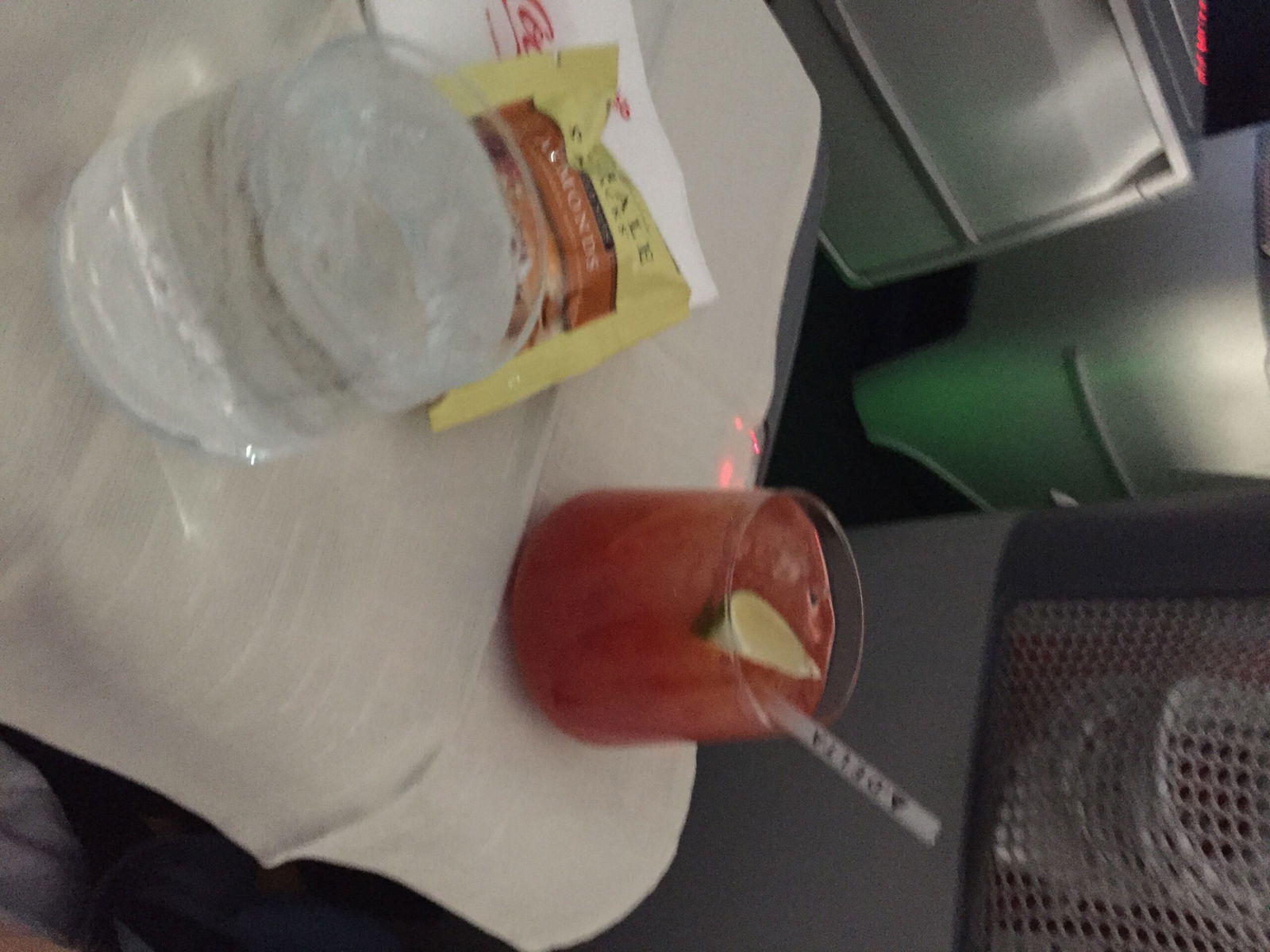 For my appetizer, I found the gravlax to be quite good, and I ate it on half of a bagel (which wasn't bad, though can't really compare to a true "New York bagel"), along with some of the fruit. The honeyed yogurt was a bit sweet for my tastes.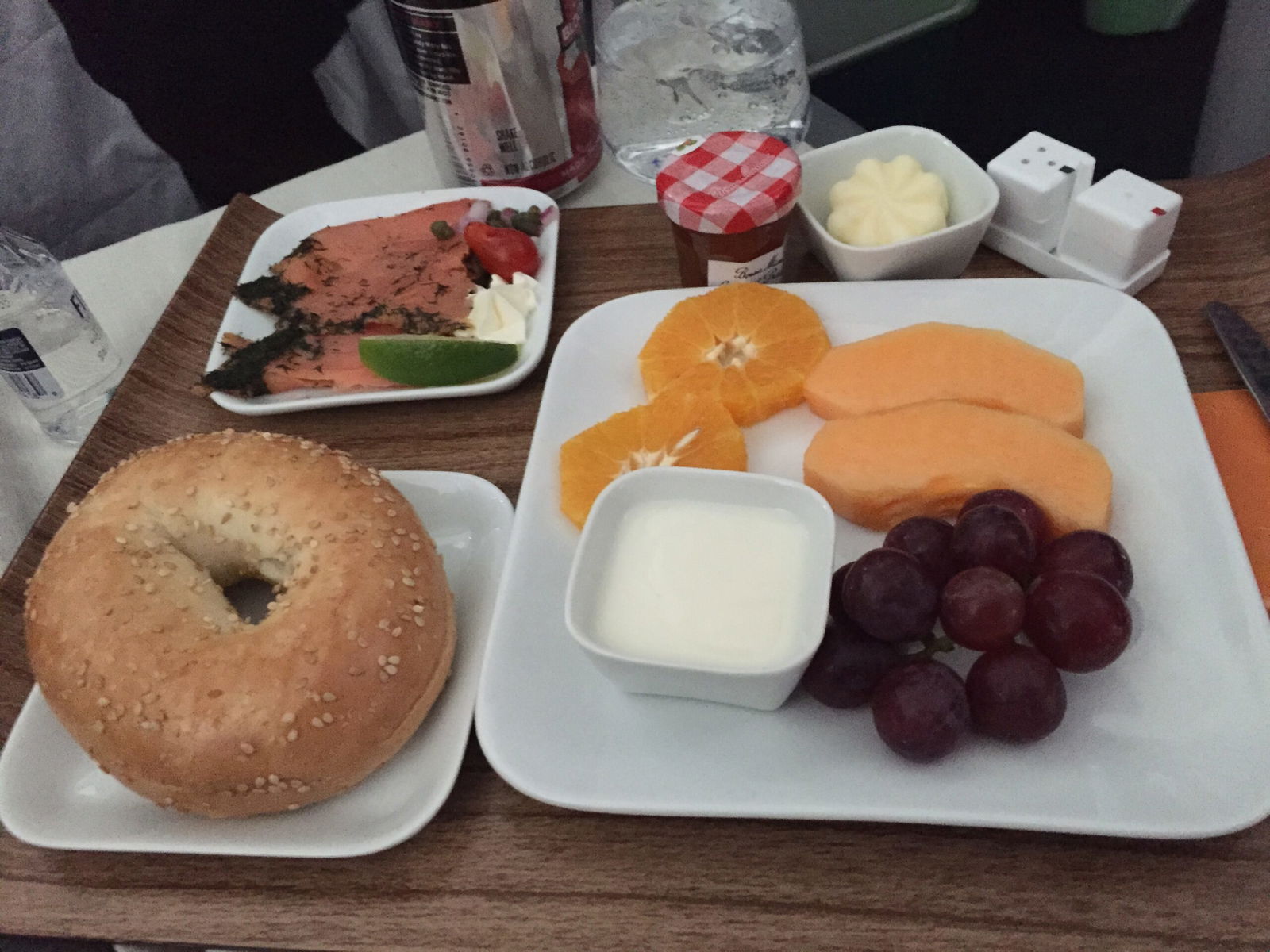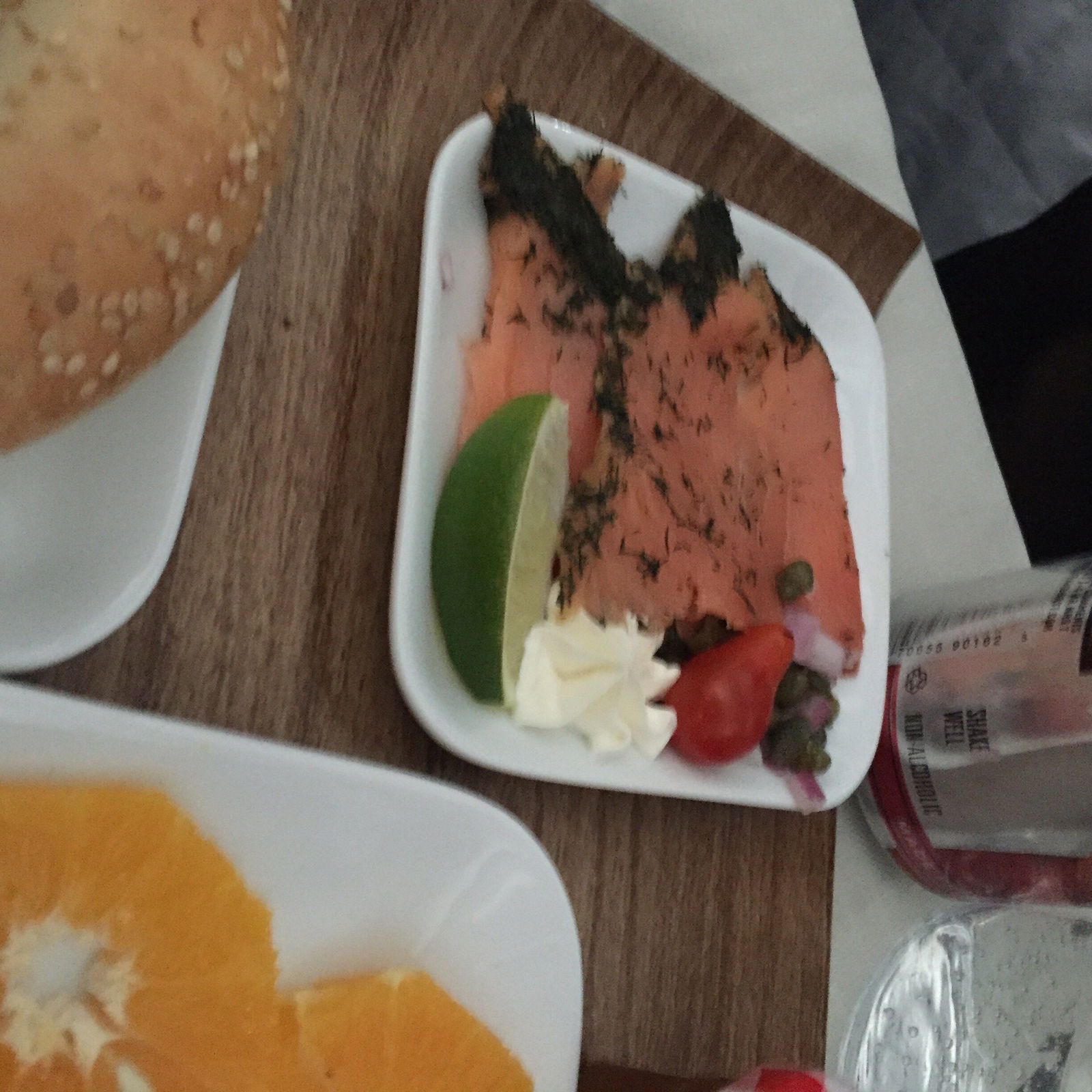 As for my main course, I'd chosen the "bruschetta omelette." What, you ask, is a bruschetta omelette?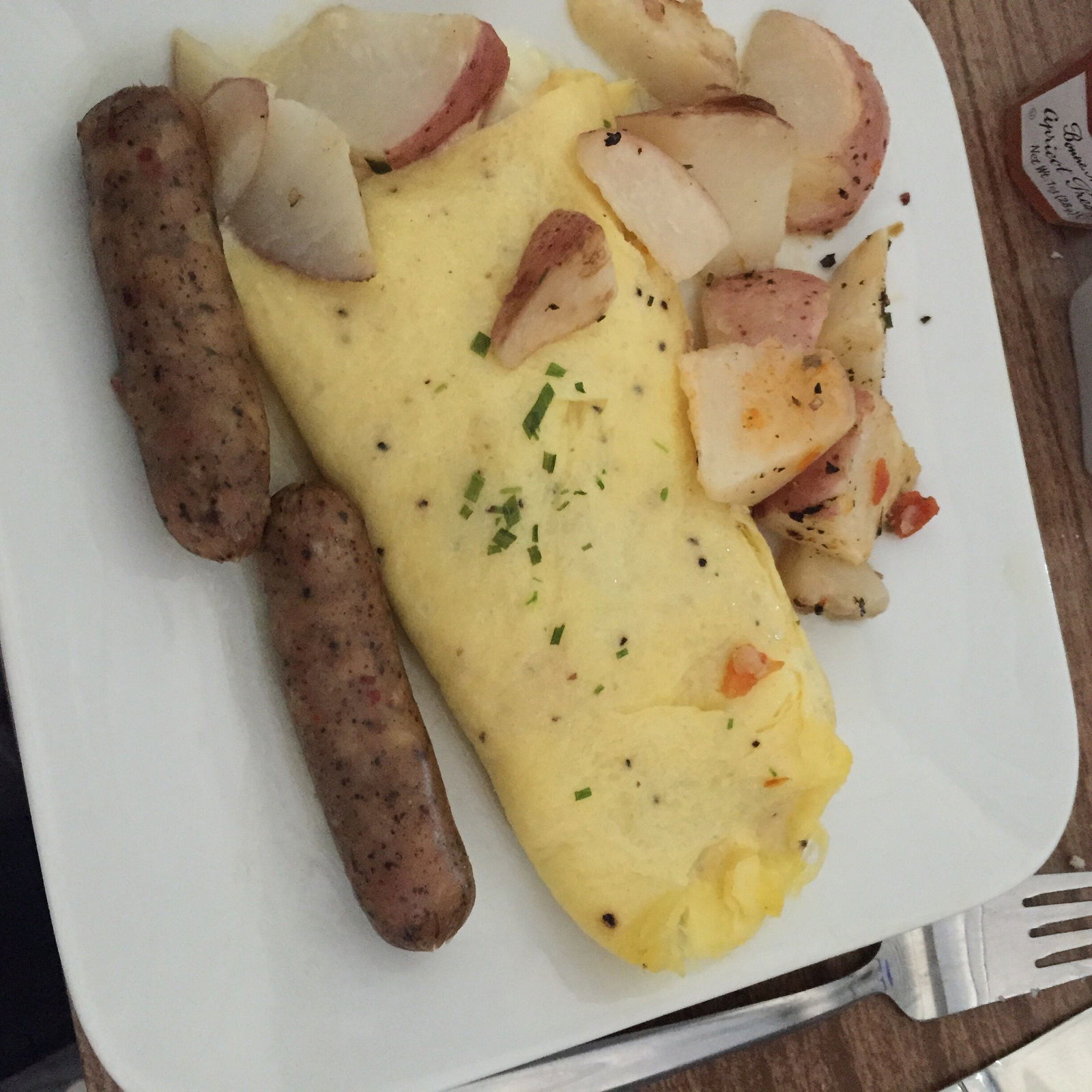 It's not bad at all, but… different. It's essentially an omelette stuffed with mozzarella cheese and accented with oregano and tomatoes. Since bruschetta is typically toast with tomatoes and olive oil and perhaps a shaving of parmesan, I thought the naming of the dish was totally misleading, since it tasted far more like a pizza than anything else. Either way, it was tasty enough for a domestic airline breakfast.
Following breakfast, I settled in and turned on Delta's inflight Delta Studio entertainment system, which is quite extensive and stocked with great shows and movies both old and new.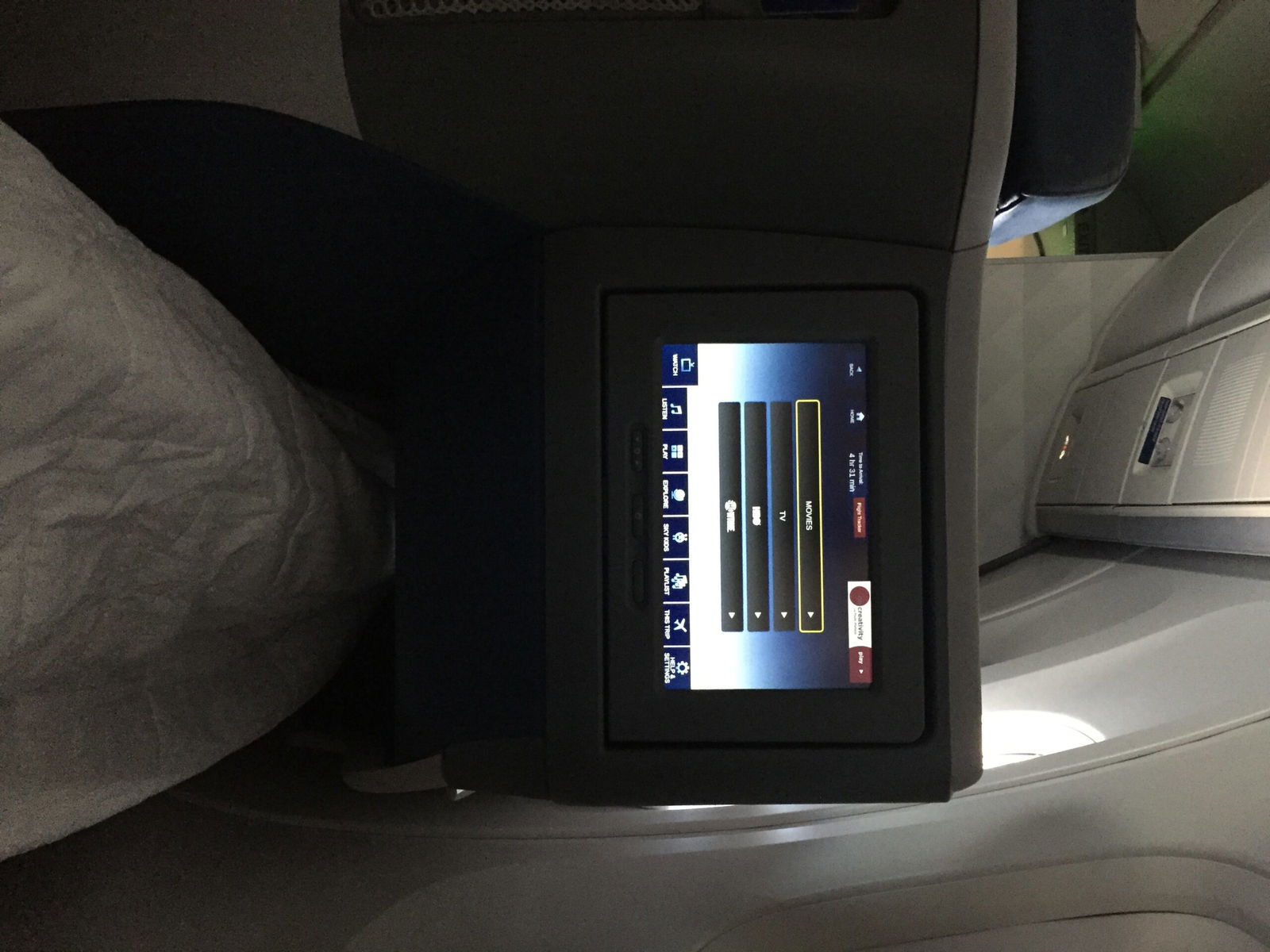 Indeed, Delta offered a pretty good sitcom that happened to star a close relative of the celebrity in front of me, which was a bit meta.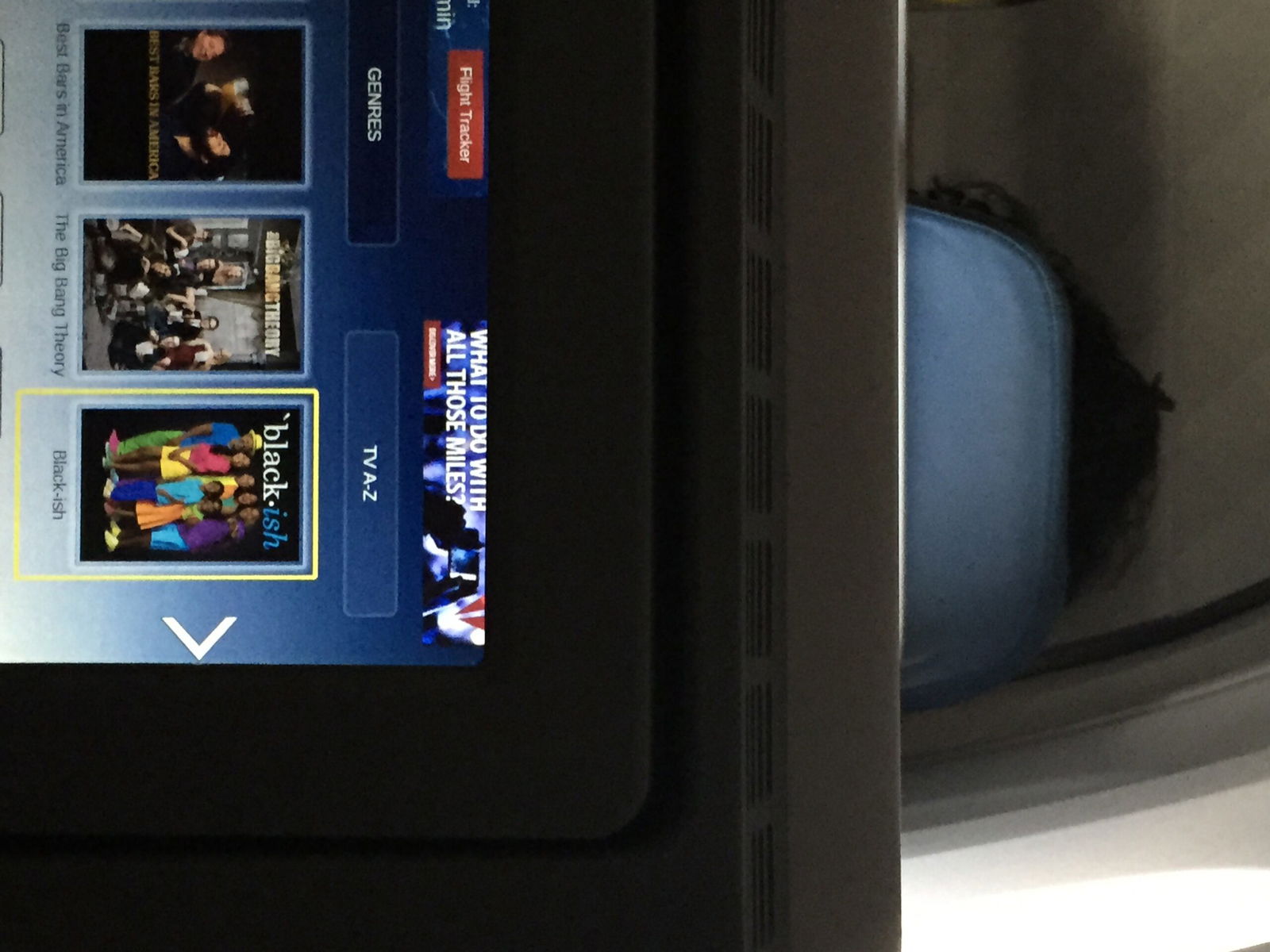 Anyway, I settled into a movie but given the early flight and my lack of sleep the night before, I decided to take a nap, and got in a good three hours of shuteye.
When I did wake up, I was a bit frustrated at the pricing system of the inflight Wifi, which is — I think — a matter of Gogo's control, not Delta's. Anyway, the 30-minute passes at $3.95 each seemed less daunting than the $26.95 pass for the entire flight. Doing the math, it actually makes sense to buy Wifi in 30-minute increments, since the first and last few minutes of the flight are Wifi-less, anyway.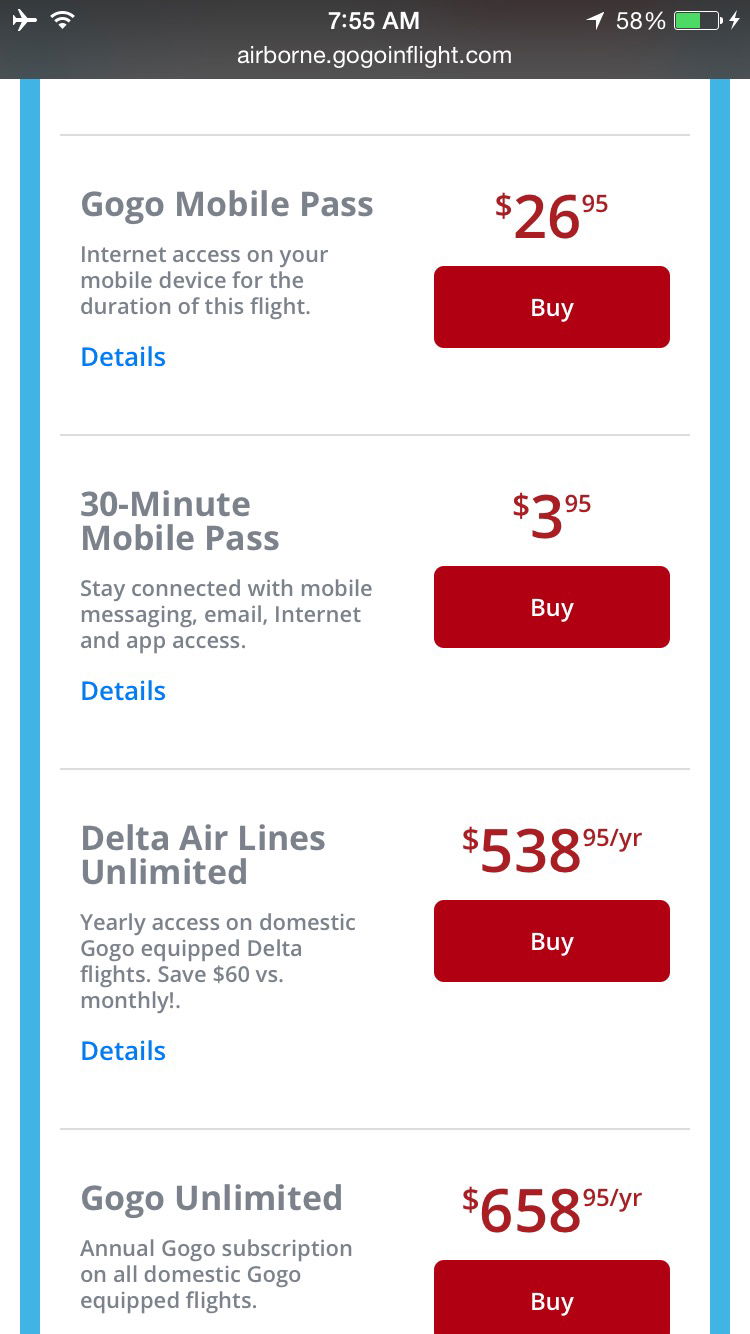 An hour and a half or so before landing, the flight attendants came by with a snack service, which was a warm and gooey chocolate chip cookie that was oh-so-good. This one seemed to have some oatmeal or whole wheat to it, which was not unwelcome.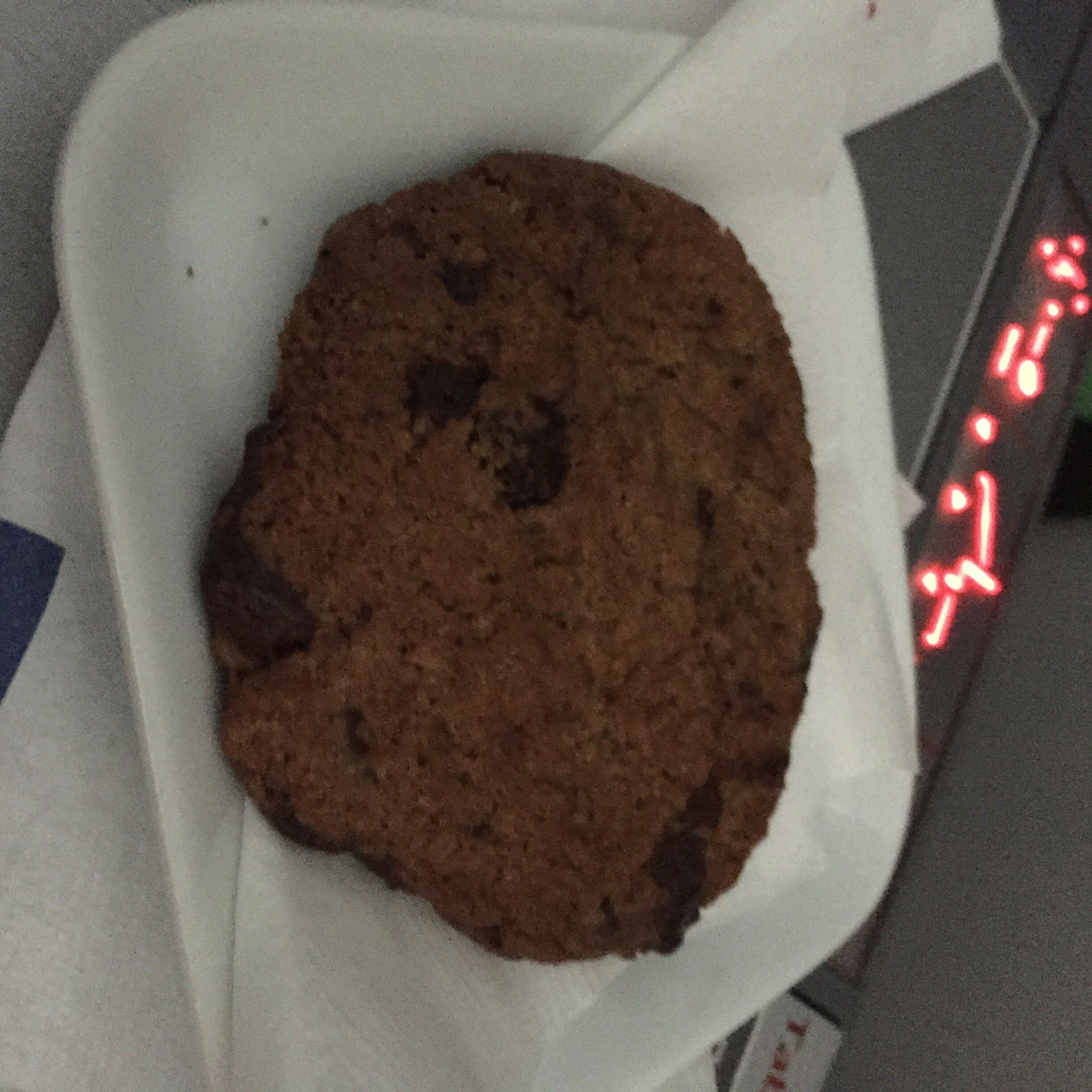 I felt like a drink, but neither a glass of wine nor a cocktail. I asked about their beers and the flight attendant told me they had Stella Artois, which was a bit surprising since it's an "upscale" brand in the United States, and Heineken almost always fills that role inflight.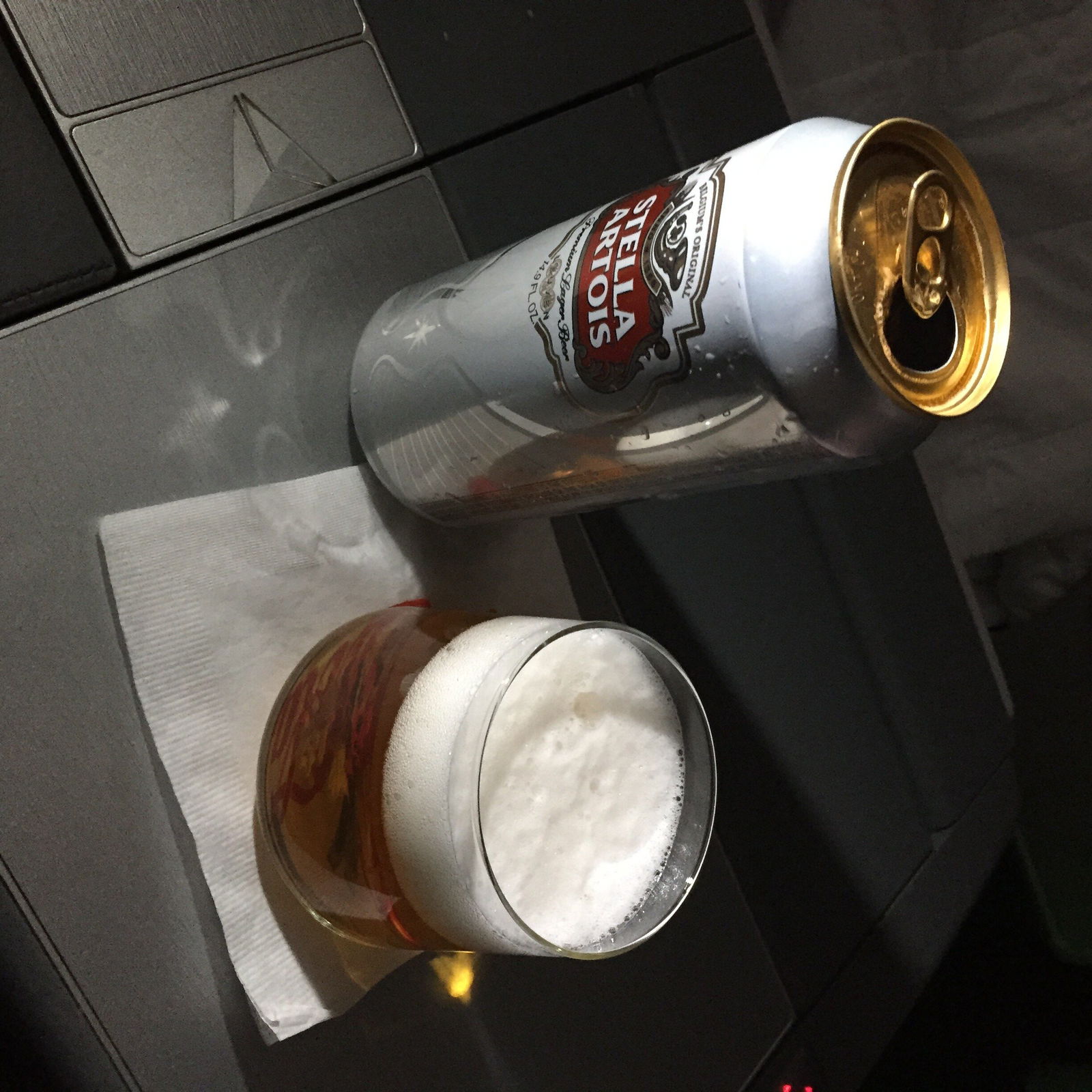 Anyway, I had about half my Stella tallboy but didn't really feel like getting my buzz on as we were landing in the mid-afternoon and I wanted to actually go about my day.
Our descent into New York was memorable for sensational views over Manhattan on a lovely, not-too-hot-and-hazy summer's day.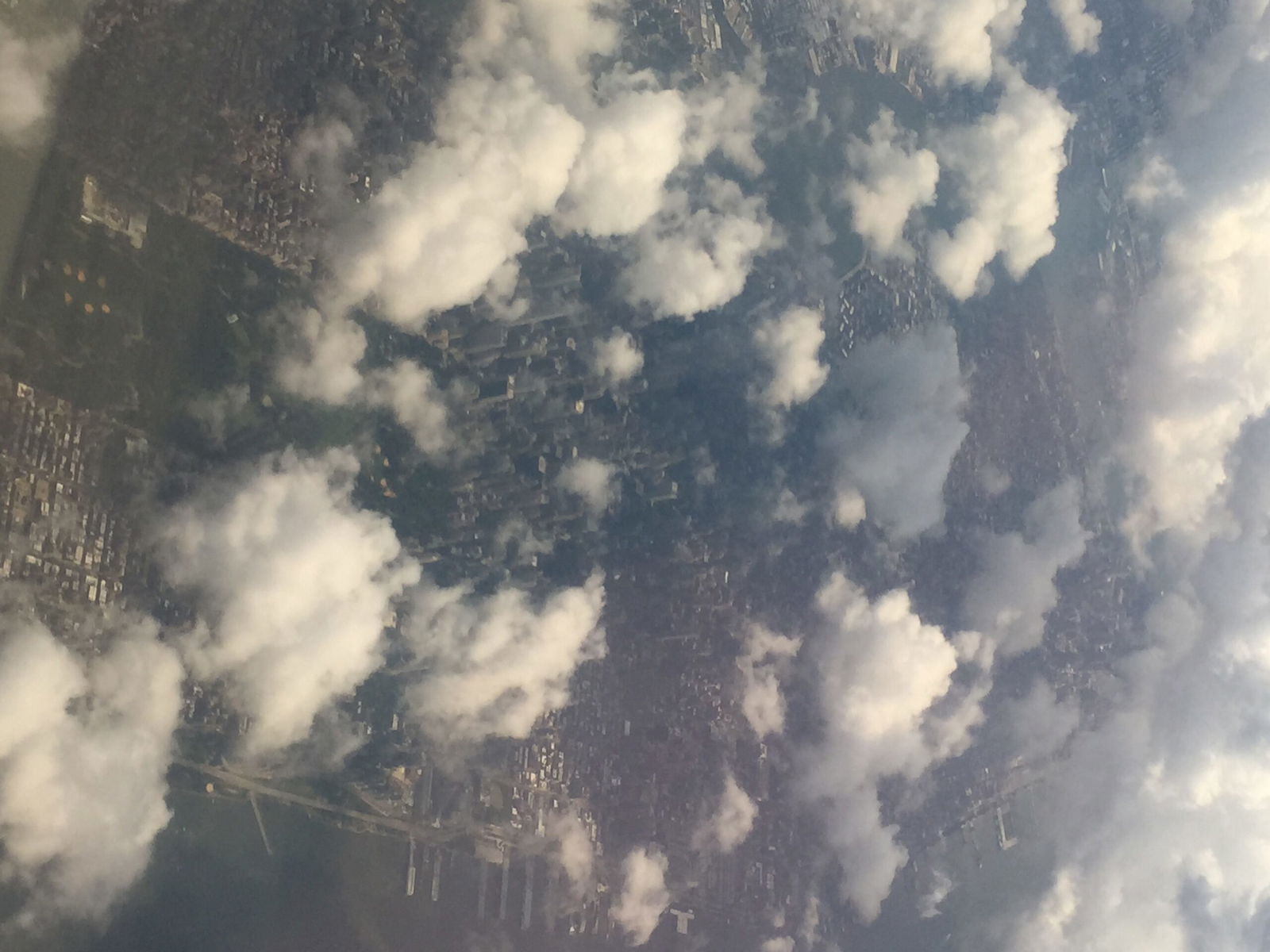 We actually landed about 20 minutes early and had a quick-for-JFK taxi to our gate in Terminal 4.
Bottom Line
I don't think a 7:30am flight is ever going to be as enjoyable as an evening flight when you account for a few factors (sleep deprivation among them), including the fact that an inflight breakfast is never going to be as good as an inflight dinner service.
That being said, I still felt like my Delta One experience to New York from Los Angeles was in a way less warm-and-fuzzy than my 757 experience in April. In part, I think it's because the two cabins have such different feels. The 757 is an intimate, modern and "luxurious" cabin that feels special, for lack of a better term, and has been updated with nicer finishes and larger TV screens.
Meanwhile, the 767 cabin feels much larger and less private, and while the seats are all-aisle-access and demonstrably have more personal space, they also feel more dated and less "luxurious," at least to me.
I also feel like there's a perceptible service difference between the 757 and 767 cabins. On the 757, I felt like my service was deeply and warmly personal, whereas on the 767 I felt it was a bit more like an assembly line, since the attendants had another 10 seats to deal with. The service on the whole was perfectly nice, of course, but just felt a tad more like "domestic First" than an "enhanced Delta One product" to me.
I still think Delta One is a fabulous option for transcontinental travel, but for me, I see no appreciable benefit in flying the widebody to New York versus the narrow body, given that the wider the plane, the more "diluted" the experience in my opinion.