---
As I mentioned previously, I'm currently on a trip with one of my best friends, Matt. We're planning the trip day-by-day, which means I'll be writing the trip report more or less live. Matt will be sharing his thoughts as we go along as well — here's his fifth installment.
Guten tag from Berlin. After an amazing stay in Stockholm we jumped on an airberlin flight to Berlin for a few days. But as far as my review goes, we're still in Manchester! We stayed in the Hilton Manchester Deansgate, which is the tallest and most iconic building in the city. Ben will be reviewing it very shortly, so I won't go into much detail on the hotel experience and instead will focus on Manchester itself and the MAN airport experience, which was a painful yet comedic experience, or something like that.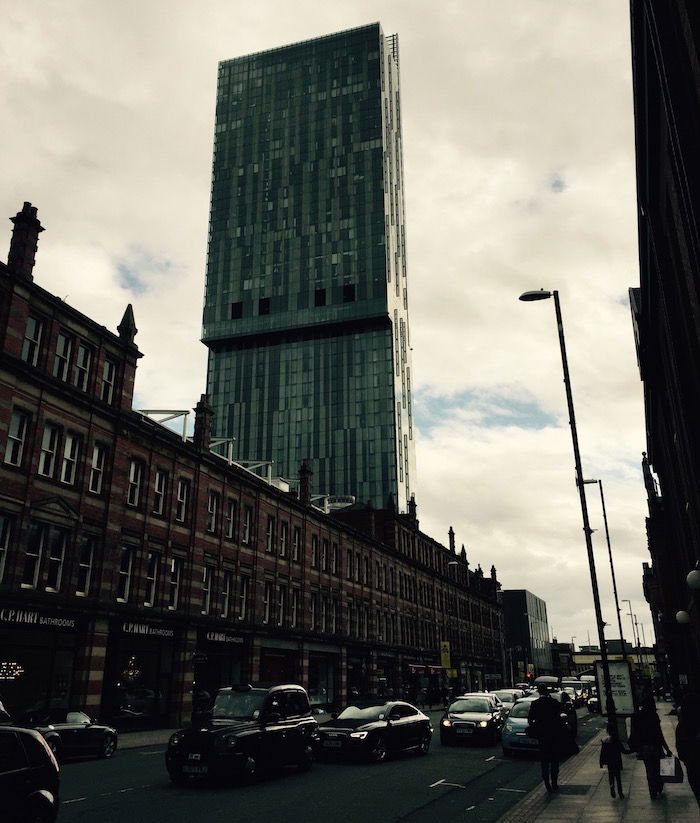 Manchester itself is a very cute city that has a somewhat "small town" feel. Given that Emirates has thrice daily service (two on an A380), and that Etihad and Qatar have two daily flights, I have to wonder where all the people go! One of the nicest aspects of Manchester was the weather! After Dubai, there was nothing I wanted more than to walk outside without feeling like I was three inches from the sun. You might think of the UK as being dreary, but the slight bit of rain and 65 degree weather was very very welcomed after the 110+ degree weather in Dubai. It's also very easy to walk around the Deansgate area, which was also a pleasant change of pace after sprawling Dubai.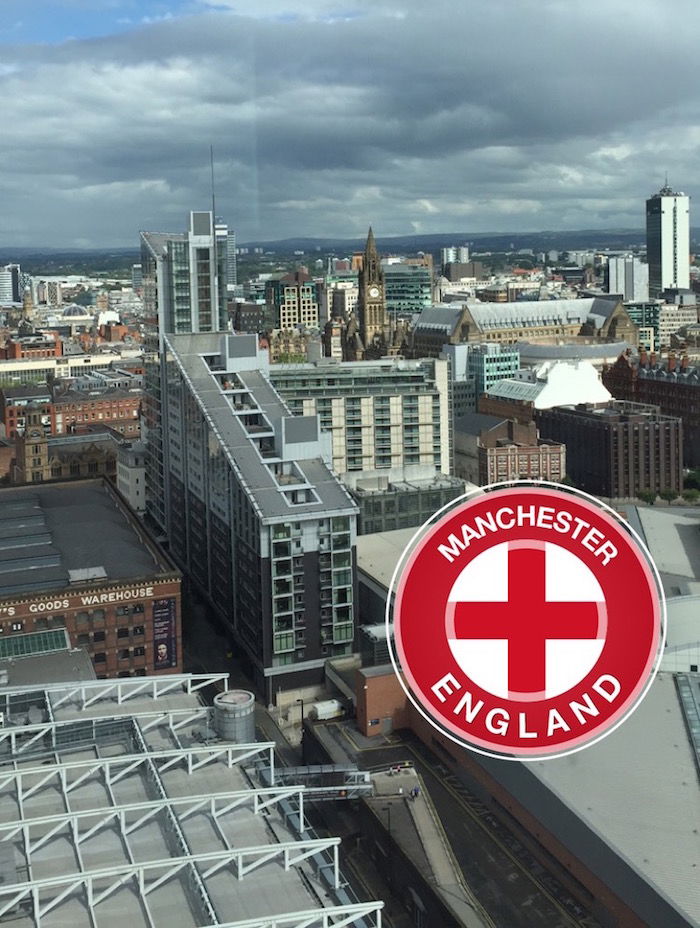 We had lounge access the second day at the Hilton, and the views were quite nice.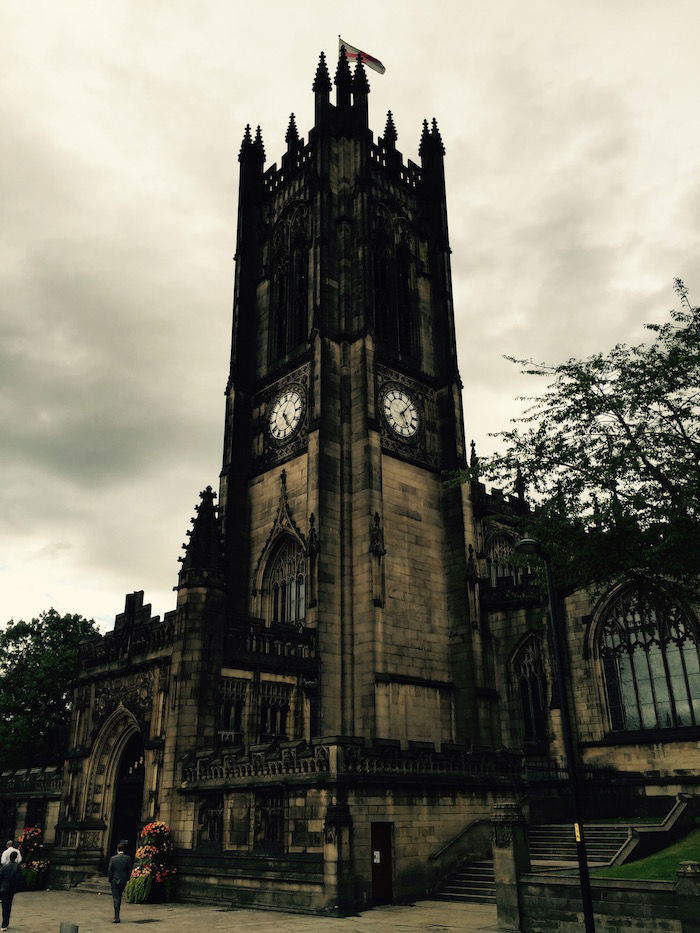 Manchester Cathedral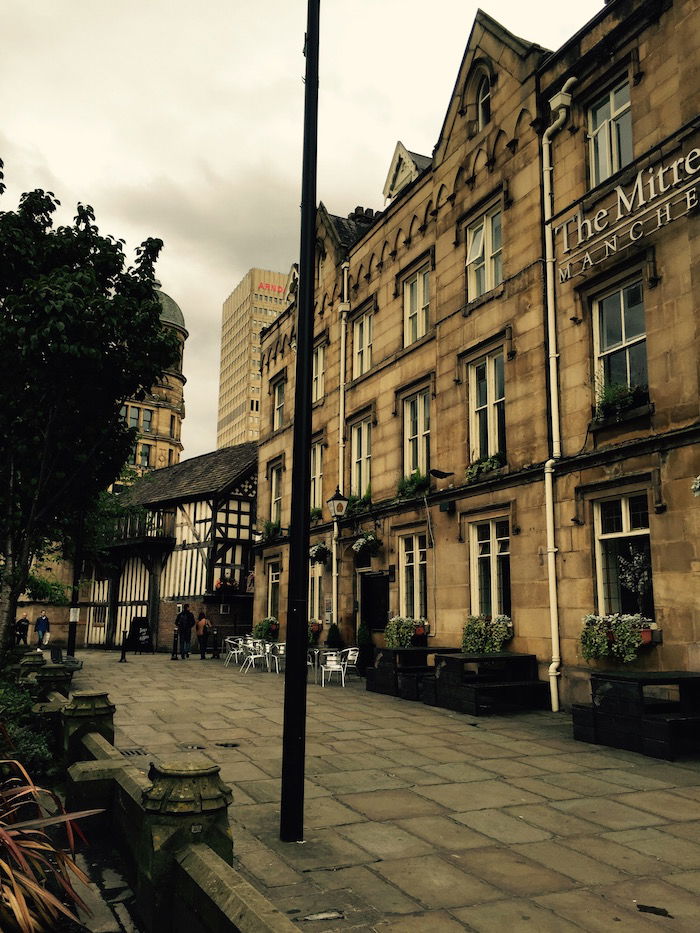 Manchester also has a number of scenic canals running through it. I tried to capture a few of them, but I'm not a very good photographer so you'll have to forgive me and visit the city yourself to understand what I am really talking about.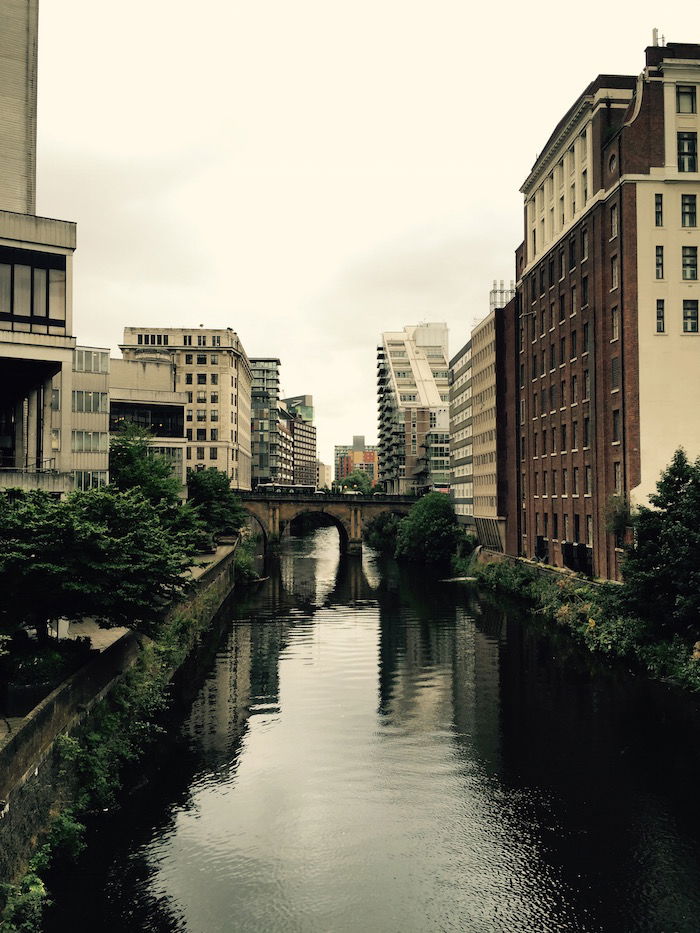 Canals in Manchester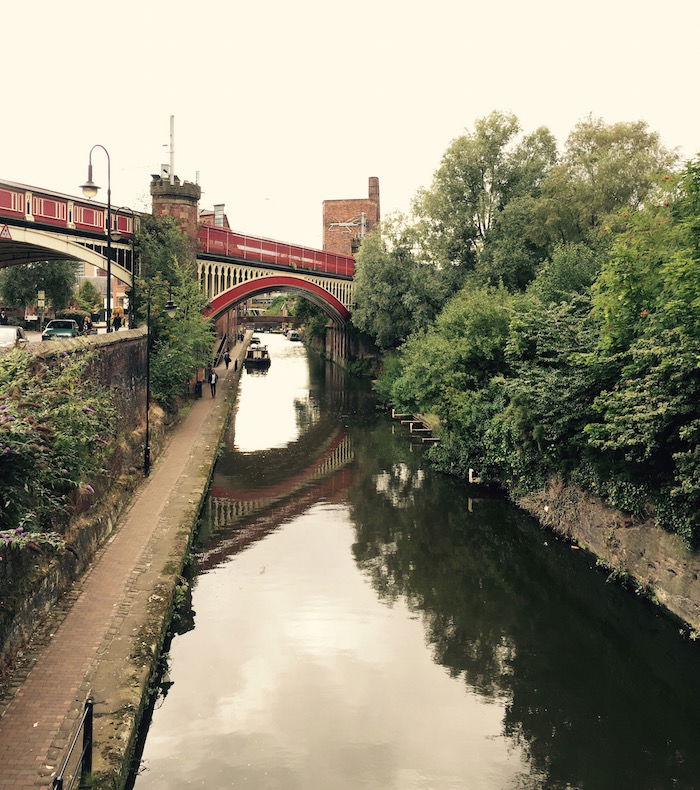 Canals in Manchester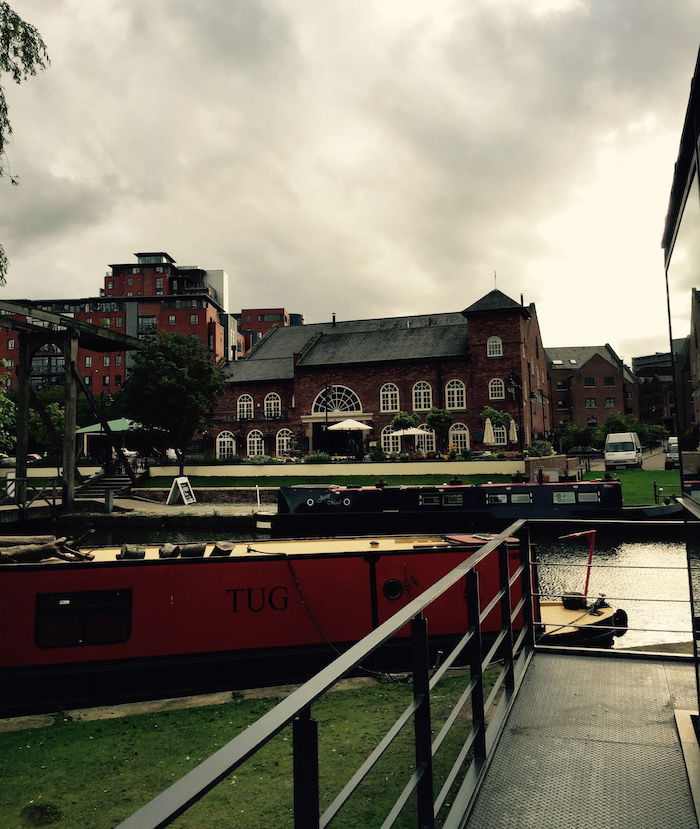 A boat named Tug!
Because we had just arrived on EK17 and were a bit tired still from having been up for what felt like a week, we slept for a good amount of time upon arrival. Worry not, however. We had classic UK cuisine — Indian. And we went out to a bar. A proper bar. The Cock!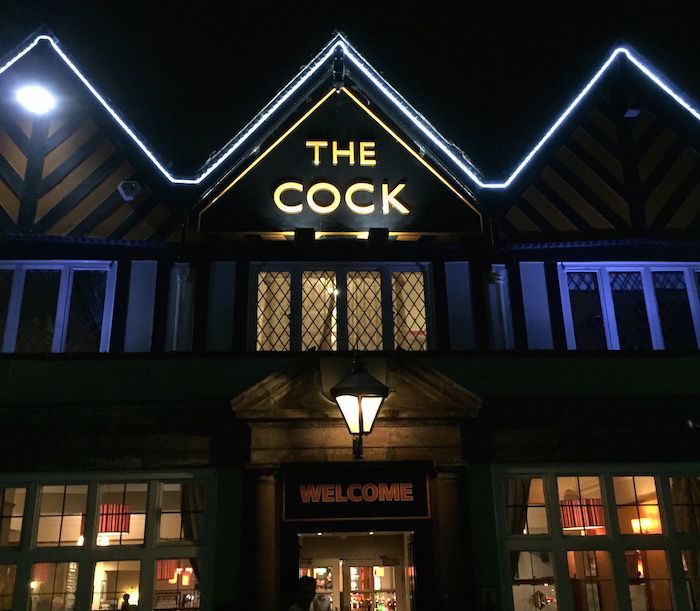 Only in the UK would this be appropriate
Overall, I enjoyed my brief stay in Manchester. It's a charming city. I would return not so much to see Manchester proper, but to go to the lakes district nearby, which I've heard is absolutely amazing. So far this review has been nothing but complimentary, so I've got to change that by discussing my Manchester airport security experience. Three letters: W. T. F.
At this point in the trip I had been through security at LAX, SAV (visiting my parents in Hilton Head, SC), DFW, and DXB. With the exception of SAV, each of these airports is substantially larger than MAN. I had no issue going through security in any of the cities. (In fairness, I had TSA PreCheck at each of the US cities.) Manchester, however, takes the whole only 100 ml or less liquids in a one quart (or something like that) size clear bag laughably seriously. I had my toiletries in Swiss and Singapore first class amenity kits, as one does, but that of course wouldn't do. They needed to be separately placed in a single clear bag that had to seal completely. I don't fly as much as Ben, but I put in a substantial amount of flying both domestically and internationally every year, and I haven't been asked to do this anywhere in at least the past five years. I did it, leaving some things out because they wouldn't fit, assuming, as is the case, that they wouldn't really care. Oops. They cared.
My personal item got flagged, and the agent called me over for a search of my bag. He took out my moisturizer and said that it was too big. 125 ml. Surely that .25 liter excess was enough to raise serious safety flags. I was also forced to throw away sunscreen, shampoo, conditioner, and hair styling products. Not because the bottles were too big, but because they wouldn't fit in the bag. Funny enough, in the bag with everything else was my 150 ml face cleanser. That was no big deal though, apparently. Go figure. I also had to purge the contents of my Emirates amenity kits. Those were going to be part of a contest on the blog, but instead some dude in Manchester is walking around with what would have been a blog reader's amenities. And to think, America declared independence centuries ago! The best part, however, was that my other bag went through with oversize hand cream, cologne that wouldn't have fit into my clear bag, toothpaste, and shaving cream. It's one thing to be a stickler and get things right. It's another thing to be comically strict with respect to some things but then fail to actually screen adequately overall. I wonder if I had just left all the toiletries in my bag if they'd have even noticed. And listening to other peoples' experiences, I was no exception. There should be a "Come Fly With Me" episode dedicated to MAN security. It was a joke.
I did eventually make it, and our quick BA flight to LHR went as expected. About 20 minutes in the air to London, and 25-30 minutes in a holding pattern waiting to land at LHR. The best part, however, was the Galleries First Lounge at LHR. I was impressed by the fact that they served 2006 Taittinger and Taittinger NV rose (which I prefer to the brut, even vintage). It's somewhat common to see Taittinger in BA lounges, but that makes me wonder why the serve Grand Siecle over Taittinger's tete de cuvee Comtes de Champagne. There's some things in life that are simply inexplicable, I guess!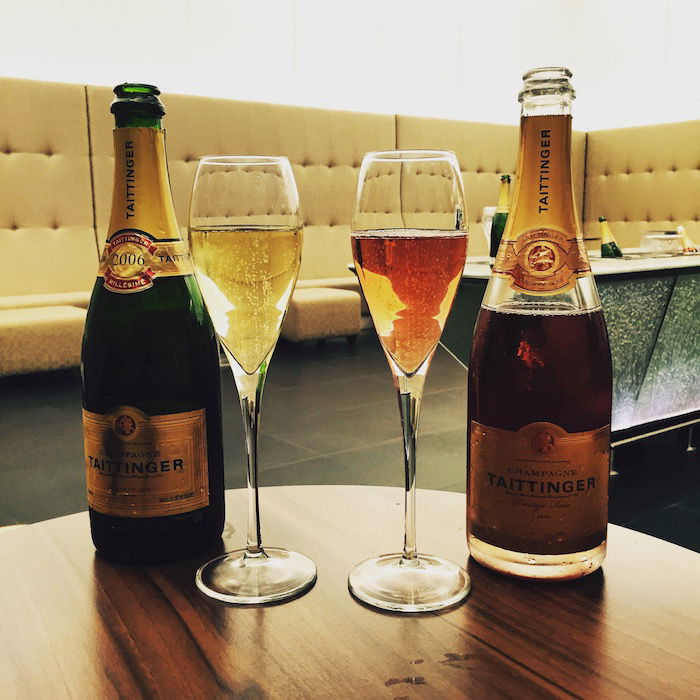 British Airways Galleries First Champagne — Taittinger
The lounge attendant told us that our flight to Stockholm was "on time, which [was] remarkable." (Gotta love his confidence in LHR Terminal 5 / BA.) He was a little wrong, however, as the aircraft boarded slightly late. I adored Stockholm, and have a great story to share regarding the Arlanda Express train (from the airport to Stockholm).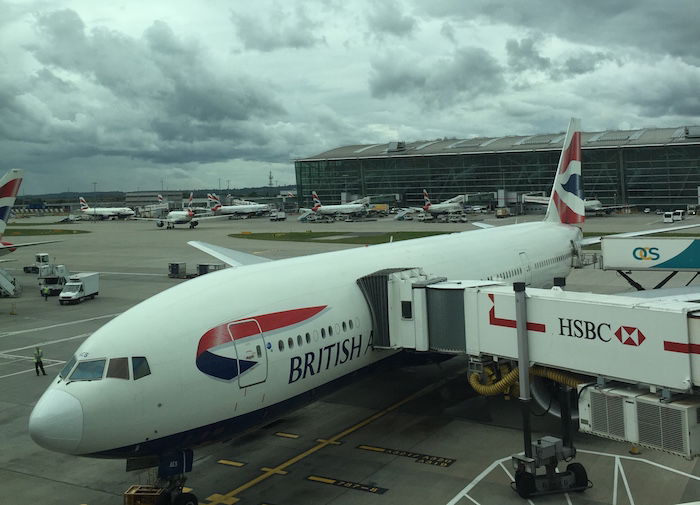 BA 777
Stay tuned!