Singapore Airlines offers one of the best onboard products in the world, in particular in Suites Class, available exclusively on their A380s. Singapore tries to maintain the "integrity" of their premium cabins by only making most premium cabin award seats available to members of their own KrisFlyer program.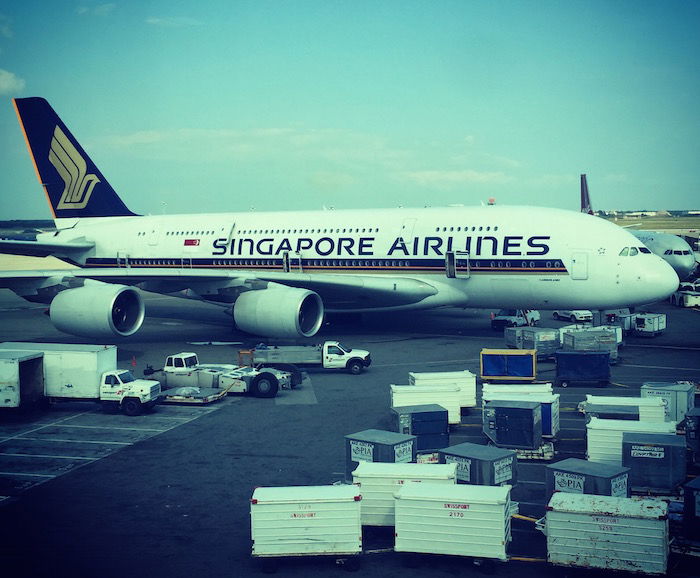 The great news is that KrisFlyer is transfer partners with all four major flexible points currencies — American Express Membership Rewards, Chase Ultimate Rewards, Citi ThankYou, and Starwood Preferred Guest. So while they limit most premium cabin redemptions to members of their own program, there are tons of ways to rack up those points.
Given the distance of Singapore from the US, Singapore Airlines no longer operates a nonstop flight between the two countries. Instead they have several fifth freedom routes, meaning they operate their flights via a third country. Out of the US they operate flights to Singapore via Frankfurt, Hong Kong, Moscow, Seoul Incheon, and Tokyo Narita.
To me that New York to Frankfurt flight is especially useful, given that my family lives in Germany. It's also a fantastic use of KrisFlyer miles, at a cost of just 57,375 miles one-way in Suites Class (that factors in the 15% online booking discount).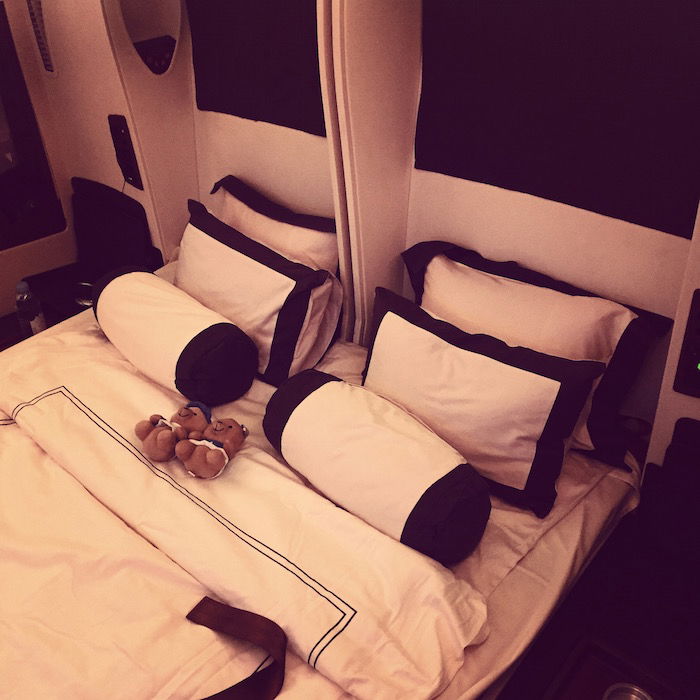 I've reviewed this route before, in both directions:
In many ways it's my preferred flight regardless of where in Europe I'm going. And Singapore Airlines is fantastic about making Suites Class space available on this flight, in particular last minute. Within a few days of departure it's almost always possible to snag a saver level Suites Class seat.
As you might expect, it's the flight I most recommend to people traveling to Europe, which is why I figure it's worth a separate post. There are three potential downsides about this flight, though, or at least things to be aware of.
These include the following:
Early departure out of Frankfurt
As far as I'm concerned, the flight from New York to Frankfurt is timed perfectly. It leaves New York at around 9PM and gets into Frankfurt at around 11AM. That departure is late enough so that it's possible to get some "real" sleep, unlike those early transatlantic flights, where I'm just never tired.
The same isn't true in the other direction. The flight leaves Frankfurt at around 8:30AM and gets into New York at around 11AM. The flight leaves Frankfurt so early that it's impossible to connect from most places in Europe the same day — instead you'd have to actually spend the night in Frankfurt.
Otherwise I actually quite like the morning departure out of Frankfurt, weird as it might sound. For reasons I can't explain, I usually get quite a bit of sleep on the sector, and then still have most of the day ahead of me in New York. It's also nice to avoid rush hour if heading into the city.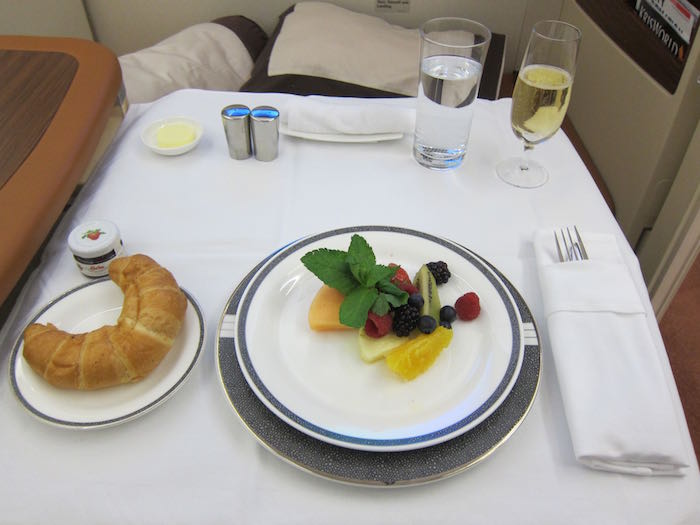 The Frankfurt Suites Class ground experience is underwhelming
Frankfurt is a terrible airport, though as luck would have it, Lufthansa offers an all around amazing ground experience for their first class passengers, in particular with the First Class Terminal.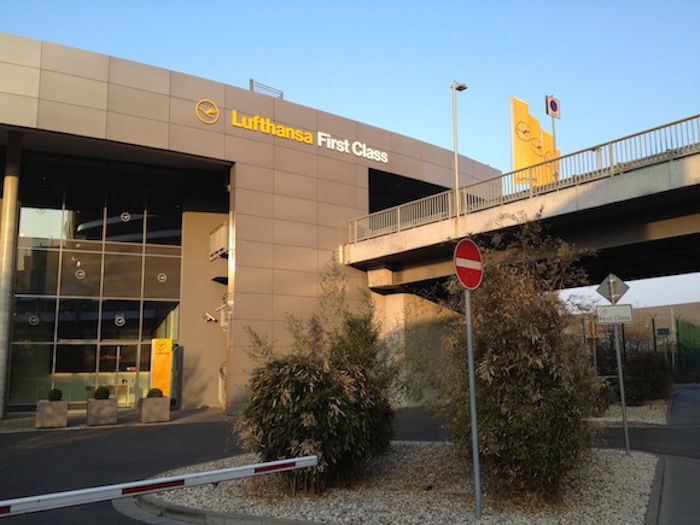 The problem is, Lufthansa's first class ground services are available exclusively to their own first class passengers. They don't give Star Alliance first class passengers access to the same services. Instead Singapore Airlines Suites Class passengers can only use the Lufthansa Senator Lounge or the Air Canada Maple Leaf Lounge, which are basically business class lounges.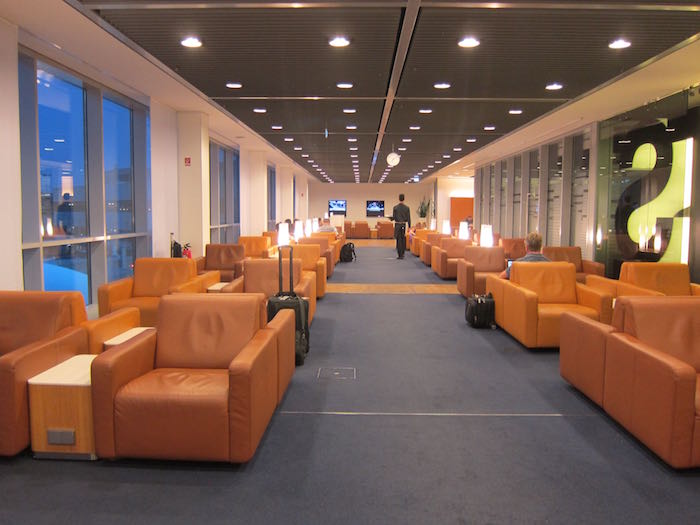 It's no big deal in the grand scheme of things, but is something to be aware of, since you likely won't be impressed till you actually get on the flight. And it's certainly something which makes it worthwhile to consider flying Lufthansa first class when departing Germany.
Connecting flights cost extra
I'm often asked whether connecting flights within Europe can be included on the same 57,375 mile one-way Suites Class award. And the answer is that they can't be.
Singapore KrisFlyer publishes separate award charts for travel on Singapore Airlines and for travel on Star Alliance partners (if you fly Star partners and Singapore on one award, you'd be charged per the Star Alliance chart):
Furthermore, KrisFlyer offers a 15% discount for booking online, and you can only book Singapore Airlines awards online (partner awards have to be booked by phone).
While a one-way Suites Class award between New York and Frankfurt would cost you 57,375 KrisFlyer miles, a one-way Star Alliance first class award between the US and Europe would cost you 80,000 miles. In other words, you'd be paying a premium of 22,625 KrisFlyer miles for the connecting flight within Europe in business class.
Under most circumstances that's not a good deal:
The cost of airfare within Europe can vary substantially, though if booking in advance there are many markets which are quite cheap
British Airways has a distance based award chart, so if you're flying a route out of Frankfurt operated by a oneworld carrier, that can be a great way to "complete" the award
If neither is practical, I might consider redeeming Air Canada Aeroplan miles between Europe and the US instead, as you can fly Lufthansa first class and the award would cost you 62,500 miles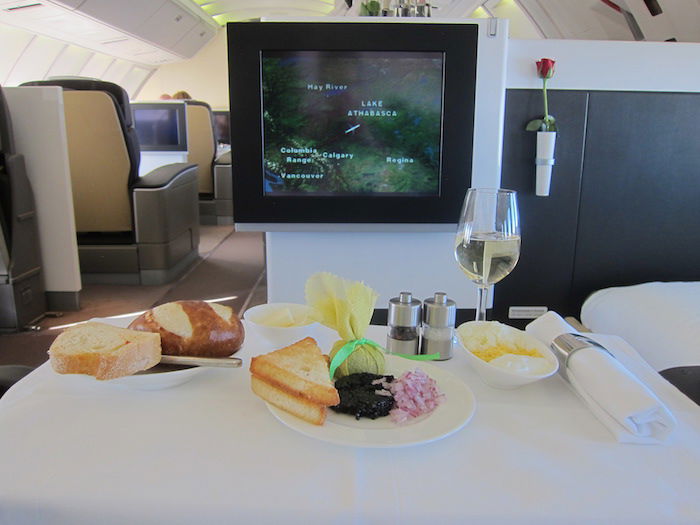 Bottom line
Singapore Airlines A380 Suites Class is one of my favorite ways to travel between the US and Europe. And on the eastbound flights I'd say it's one of the all around best transatlantic experiences out there. However, there are a couple of things to be aware of regarding the westbound flight.
Beyond that, it's important to understand that connecting flights within Europe on Star Alliance carriers aren't included at the same rate, though there are several decent alternatives.
Does anyone like the SQ25/26 flights between New York and Frankfurt as much as I do?