---
As I mentioned previously, I'm currently on a trip with one of my best friends, Matt. We're planning the trip day-by-day, which means I'll be writing the trip report more or less live. Matt will be sharing his thoughts as we go along as well — here's his fourth installment.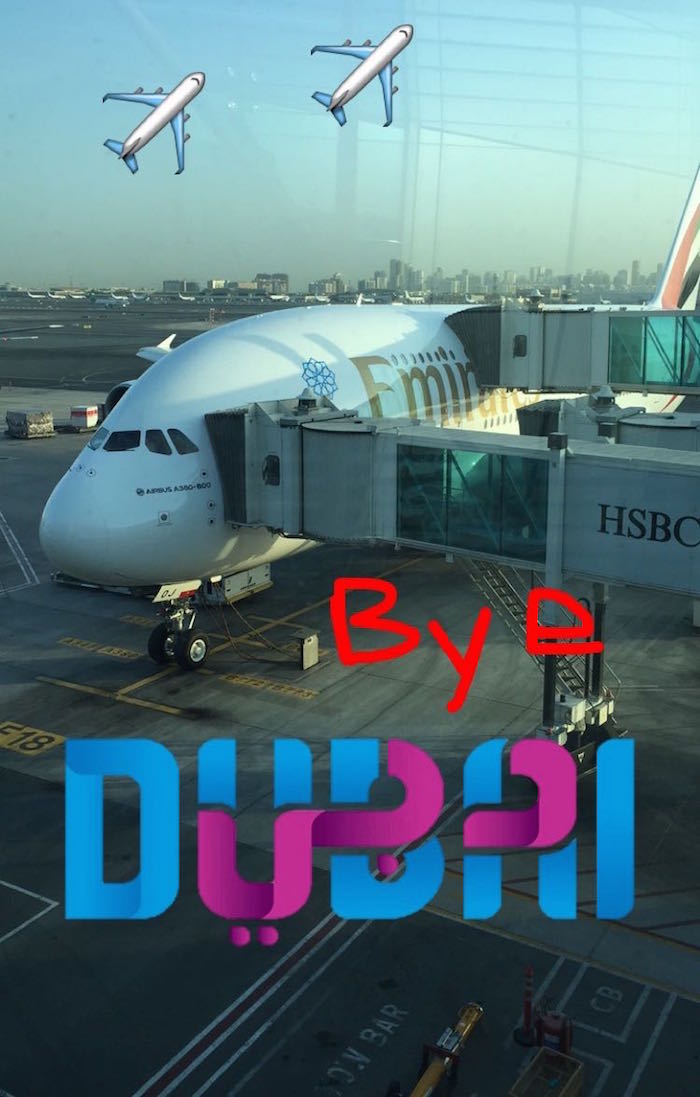 Greetings from Stockholm. But lets not get too far ahead. In terms of my review, we have only just escaped the Tropicana mostly unscathed. We hadn't even lost any money, unlike last time Ben and I were in Las Vegas (fortunately not at the Tropicana), where Ben made generous donations to the Cosmopolitan foundation.
Upon boarding, I was taken to my seat by Patricia, the flight attendant that worked my aisle for the flight. It was slightly before 7:00 am, and I had been up for around 9 hours already. Patricia's welcome was warm but professional. She escorted me to my seat (2F) and inquired as to whether I had flown Emirates first before. Of course I had! A few days earlier. Since I had already flown Emirates first, she said she wouldn't give me a tour of the cabin, unless I wanted another one. I decided not to have a second tour, but thanked her for the offer. She invited me to make myself comfortable and assured me she would be back shortly to offer me drinks.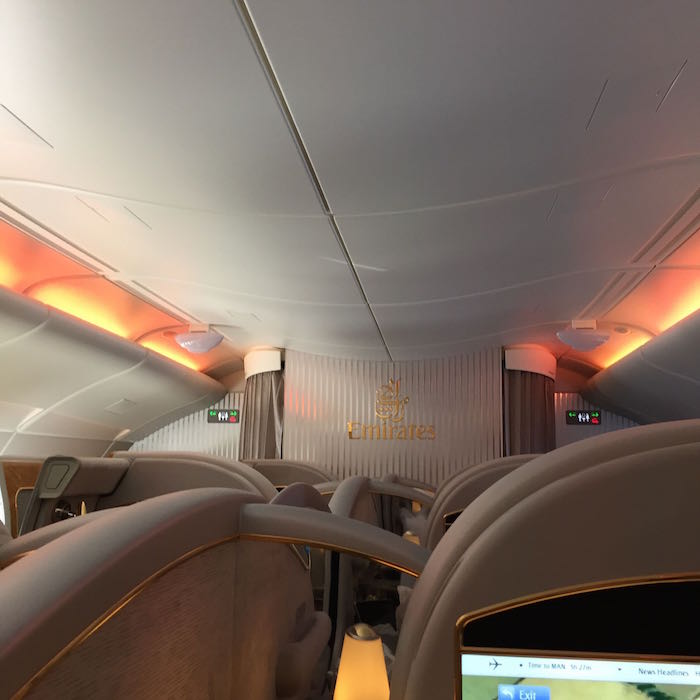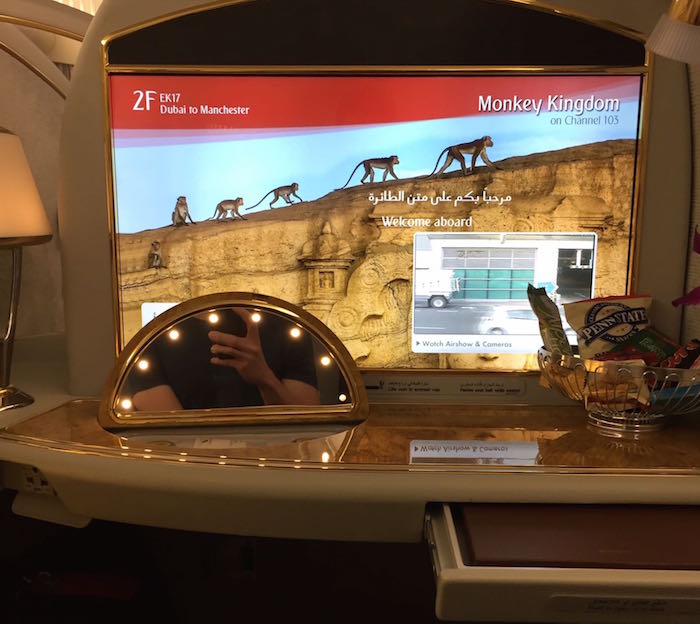 Moments later the purser, Toby, came over. After he introduced himself to us, he advised us that the only other passengers in first class were sitting directly in front of us in seats 1E and 1F. For that reason, he told us we were welcome to move to 3E and 3F if we wished. We decided that made the most sense. Not only would we achieve added privacy, but our neighbors to the north would appreciate not having to hear our drunken banter.
Toby asked if we wanted anything to drink while awaiting departure. He ought to have known we wanted a glass of 2005 Dom Perignon, but I cannot fault him for asking. Ben and I both indicated our preference. Toby said that the champagne was on its way. As promised, Patricia almost instantly returned carrying a tray with orange juice, champagne, and the Emirates "cocktail" of the month (which is apparently non-alcoholic — a/k/a a mocktail). There's a time and a place for a mocktail; it's not the first class cabin of an Emirates A380, at 7:00 am or otherwise. Bubbles only!
On a positive note, we were being served 2005 Dom Perignon on the ground, unlike the Moet that is offered on the ground when flying out of the United States. This is a result of duties collected by the US on the ground (which are of course not collected when the bottles are opened in the air). The same is true on flights that depart from Switzerland, along with other countries, I am sure. The downside to our flight, however, is that it was a mere seven hours. How on earth would I be able to fully enjoy all that Emirates first has to offer in such a short period of time. I had my work cut out for me, to say the least.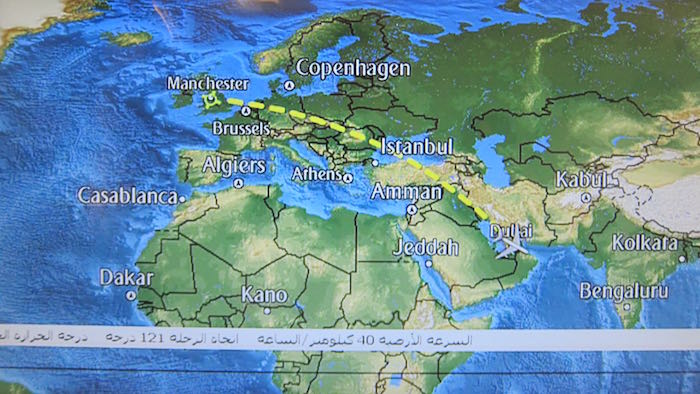 After the champagne was offered, Emily, the flight attendant working Ben's aisle came over and inquired as to whether I would like pajamas and/or slippers and an amenity kit. I hadn't even opened my previous amenity kit, and I had my pajamas from the DFW flight, but I figured I would give both the amenity kits to Ben along with the PJs to do some type of giveaway on the blog. (Manchester airport security completely f!*ked that idea, however, as I'll explain later.)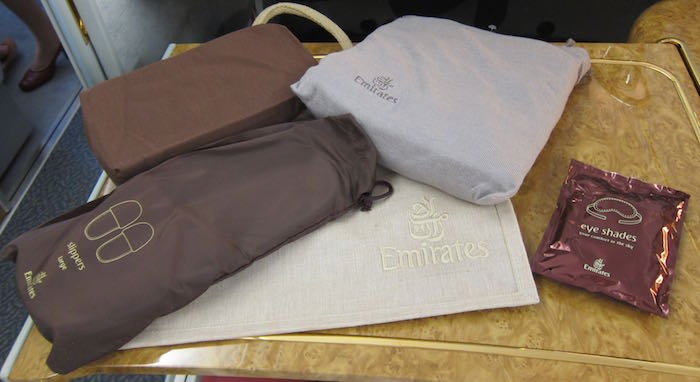 Emily happily brought me all of the requested items in a very practical Emirates tote bag. Shortly thereafter, Emily came around with dates and arabic coffee; I love both, so I couldn't say no. Fairly shortly thereafter, Patricia came over and asked if I wanted a refill. I wish I had gotten a video, because her pour was impeccable! The coffee stream must have been at least 18 inches. I knew she was going to be GWTW fabulous (by now you've committed this acronym to memory, but it's defined here).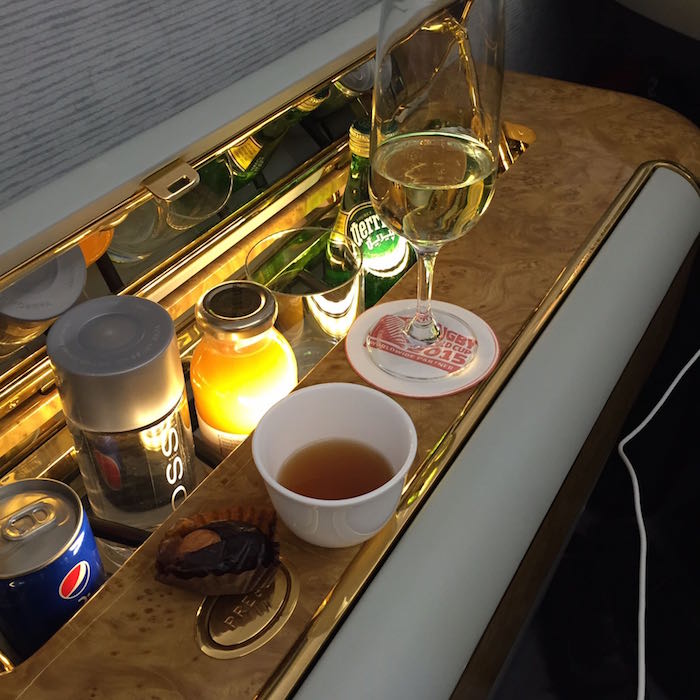 While I was sipping my single glass of champagne and arabic coffee, and taking it all in, Ben was chugging sipping away on his champagne. He's a pro at this, after all, I suppose. Not to be outdone, when Toby asked if I'd like a refill, I took him up on the offer.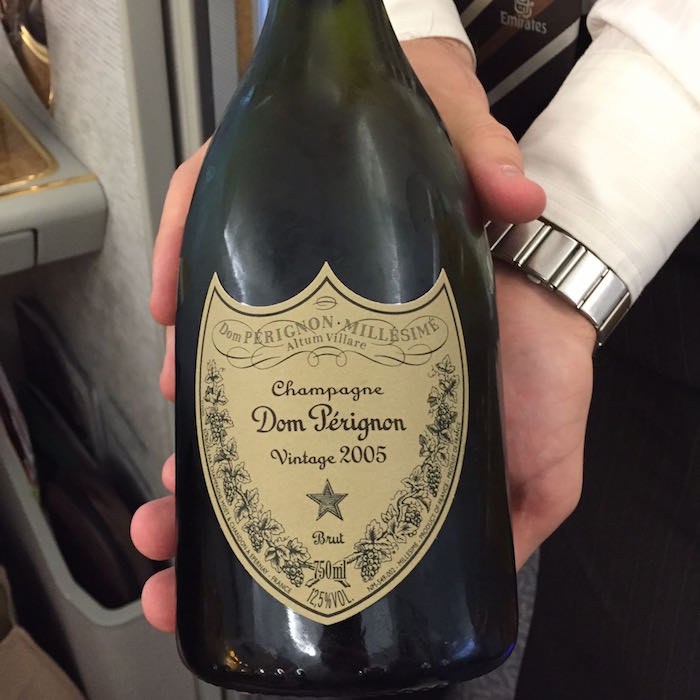 Now that's the proper way to present a bottle
There were not many planes ahead of us and we had a very smooth take off. I decided to change into my PJs as soon as we got above 10,000 feet. The lovely spa attendant, Chienee, insisted that she help me hang up my shirt and pants. I'll end up needing to re-wear some clothing on my extended travels, so her excellent foresight was and is much appreciated.
As soon as I was seated, Toby offered Ben and I menus, and asked if we would like to continue drinking champagne or try something else. It was before 8:00 am. Champagne, of course. Patricia then greeted me with a smile and asked if I knew what I wanted to eat, if anything, and reminded me that I was free to dine whenever I wanted. Ben and I decided we would do the caviar to start, and then go to the bar for some drinks before having anything else. Patricia was surprised that I didn't want breakfast, but little did she know I had been up long enough that it was — at a minimum — time for a late lunch.
Before any of that came, we were served warm nuts as well as hot and cold canapés. As far as I know, Emirates is the only non-US carrier that serves warm nuts. It's a nice touch that I appreciate. The canapés were also excellent, especially the warm ones, which I devoured without even taking a picture of.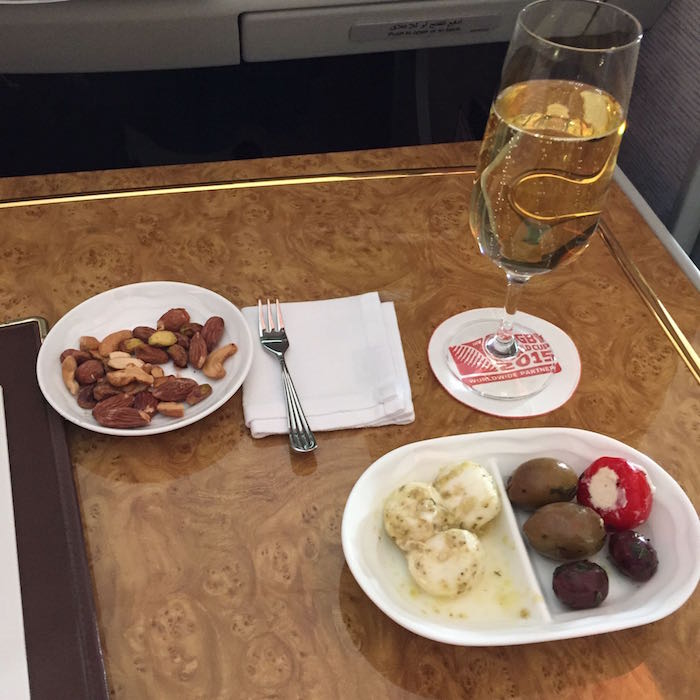 Because this was a UAE to UK flight, i.e., because the flight did not originate or terminate in the United States, the caviar served onboard is Iranian, as opposed to who-knows-what on the US flights. It's more of a novelty thing, I think. At least for me. I would be lying if I said I could taste the difference. Maybe side-by-side, but not days apart between thirty-five and forty thousand feet in the air. The presentation was impeccable, and my glass of champagne was never below half full. (For those of you that are astute, this is Ben's picture from 2E. I didn't take a picture of the caviar. I'm a novice, sorry!)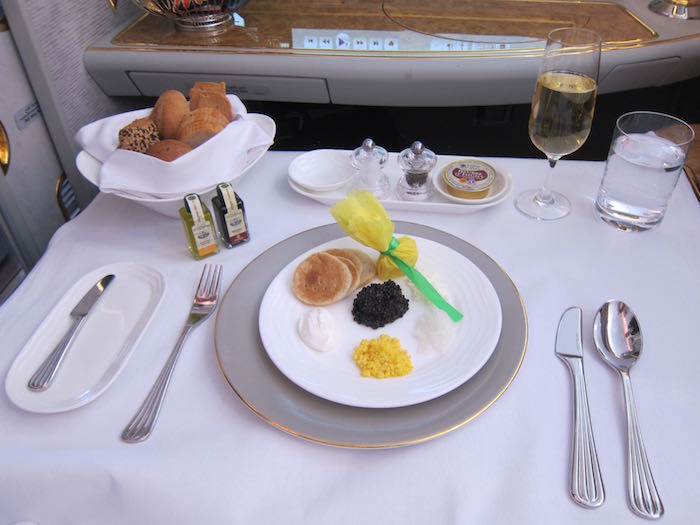 Yum!
After the caviar, we were on to the main event. The bar. As I said in my prior review, I was skeptical at first that the bar was as great as Benji had been leading on. It really is quite nice though. The A380 is so quiet and spacious that it's basically not even like flying. To put it in perspective, we flew a 767 from LHR to Stockholm a few days later, and wow is the 767 a cramped and noisy plane. As Ben would say, Lord have mercy! Or maybe the Queen ought to have had mercy on us, since that was a British Airways flight.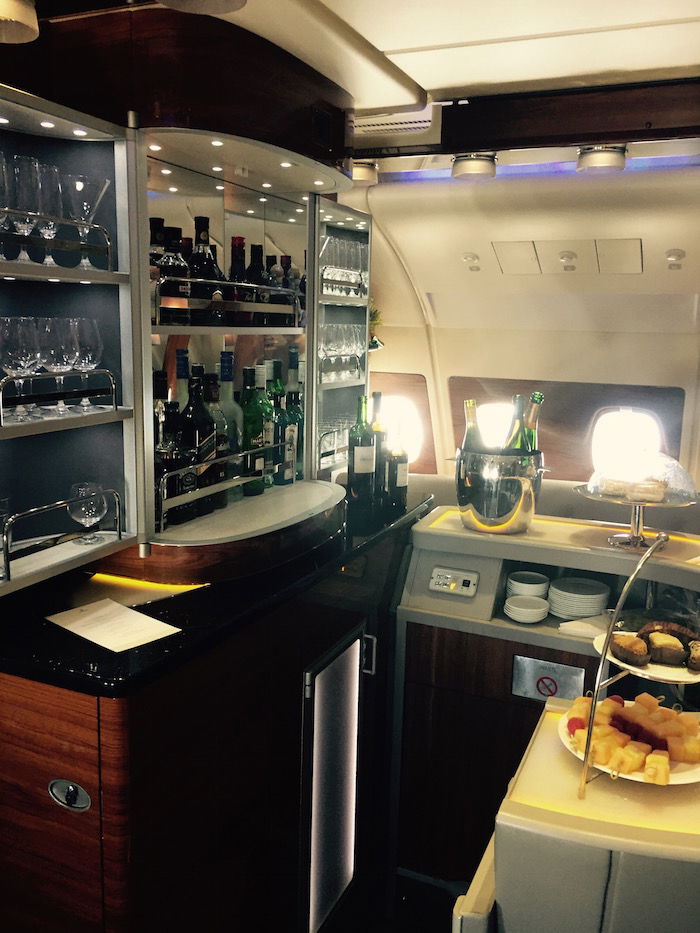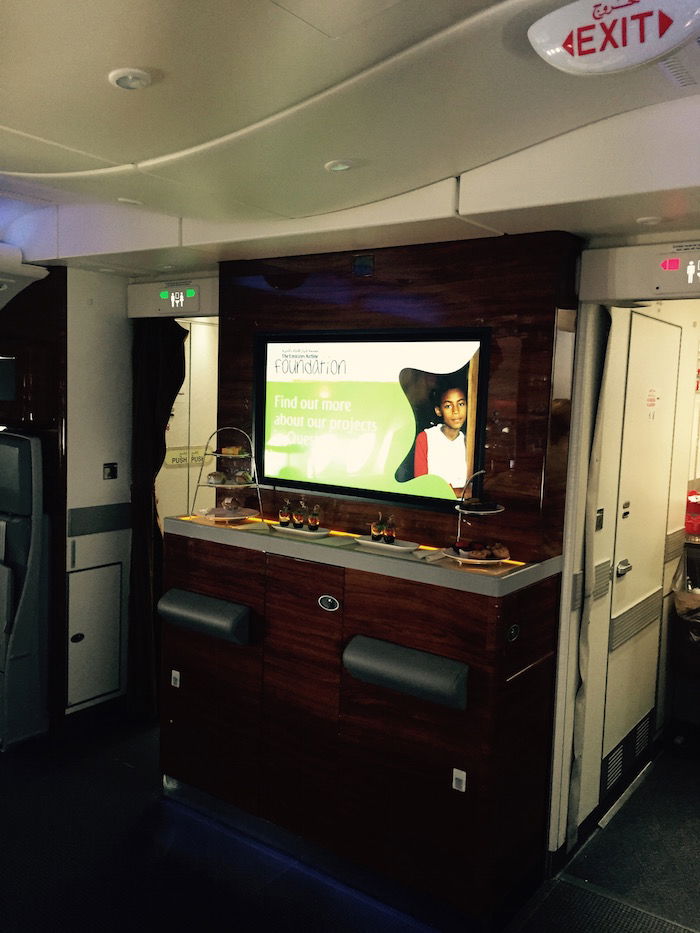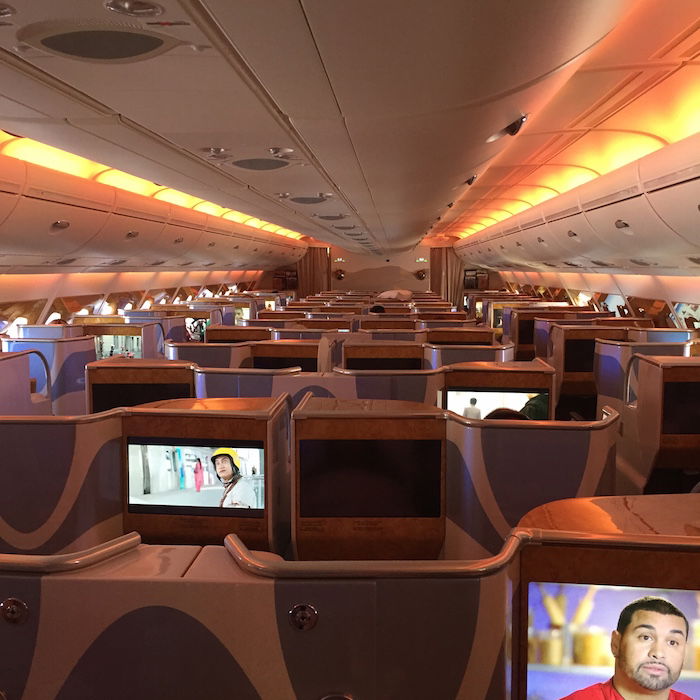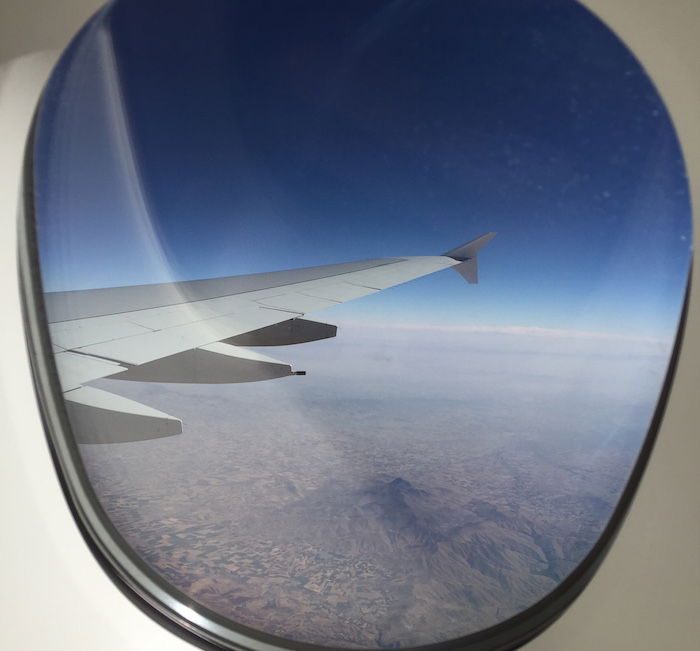 Oh hey, Syria!
Anyway, I adore the bar. And I LOVED the crew on this flight. Ben and I kept ourselves hydrated with a steady flow of Dom Perignon while chatting with the Senior Flight Steward (SFS) Ali. We bonded initially over Ben's attempt to guess his nationality. Hang on. Before you think Ben is racist, all Emirates crew wear their country's flags, so this is more or less invited. Ben correctly guessed that he was from Lebanon, because the evergreen tree on the country's flag is displayed on the tail of MEA aircraft. Flying teaches us all sorts of things, eh? That was just the beginning, however.
We also talked about his labrador retriever puppy, whose name I unfortunately cannot remember. He also does crossfit. I'm scared to death of the idea of it, but more power to him! Then we discovered that Ali is among the reasons Emirates crews are so great. He is a cabin crew trainer at Emirates Aviation College. (Yes, that's a real thing.) He also flies when his schedule permits, and has been trying to fly a bit more recently so that he can be upgraded from SFS to purser. I have no doubt he'll be upgraded in no time!
I also chatted with Patricia, who was kind enough to continually come back and check on me to see if I needed anything throughout my time in the bar. I suppose this was in part because the bar is located in the business class cabin, which means that the service is otherwise business service. Toby and Patricia, however, ensured that we were only served first class champagne. Patricia is Slovakian, and we discussed Bratislava, a city I have never visited but would like to visit, as well as other nearby cities, including Vienna, where we are may or may not be going on this trip. But that's not the next destination!
A couple bottles of champagne and two vanilla macarons later, Ben and I were curious as to whether or not we were pushing the limit of sobriety. Would they continue serving us? Hmm. From our prior flight, we learned that Emirates has a green, amber (we US Americans call it yellow), and red light system for gauging whether to serve a drunkard passenger. Ben asked one of the business class crew (whose name we were too drunk to unfortunately forgot to get) whether he was still green, and the crew member smiled a bit, laughed, and said that he was "probably amber" but that he would not stop serving him. Ben then asked another crew member, who agreed that he was amber. Poor Ben — what a light weight! Now we know why Ben's nickname is lucky — he's lucky he's never been restrained on a flight for being so bad at holding his liquor. And I'm not even throwing shade. To prove my point, I'll explain what the crew thought of me. He then asked about me. Surely I was amber too; right? Apparently I didn't look it. Both crew members said that I was green! And I was like: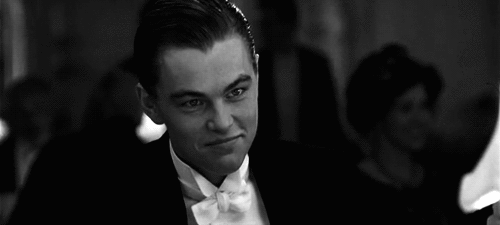 At some point I mentioned I had never been to the lower deck of an A380, and Toby — mortified by my lack of knowledge — insisted that he provide a proper tour of the entire lower deck. I certainly appreciated flying first, and am not about to willingly sign up for flying economy, but the economy class cabin was quite nice. The TV screens were large; the leg room not unreasonably restricted, and the cabin — being the lower deck of an A380 — felt spacious.
After the tour, I was seated for my next meal service. The theme at this point of the trip had been lots of eating. Fortunately that has started to slow down quite a bit since Manchester and now Stockholm. I decided to watch "Kingsman: The Secret Service" for about the fourth time. I highly recommend it to those of you that haven't seen it yet. Just watch, you'll understand.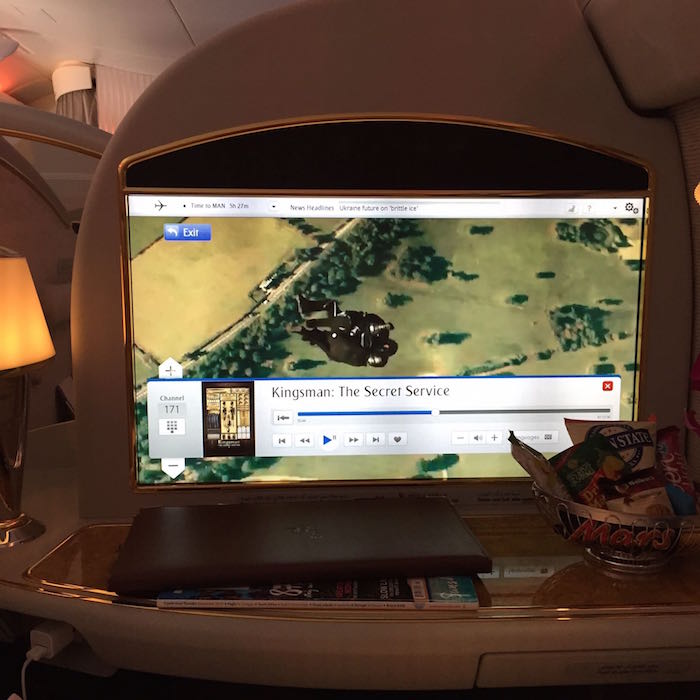 The mezze was fabulous, as it was the first time I tried it ex-DXB.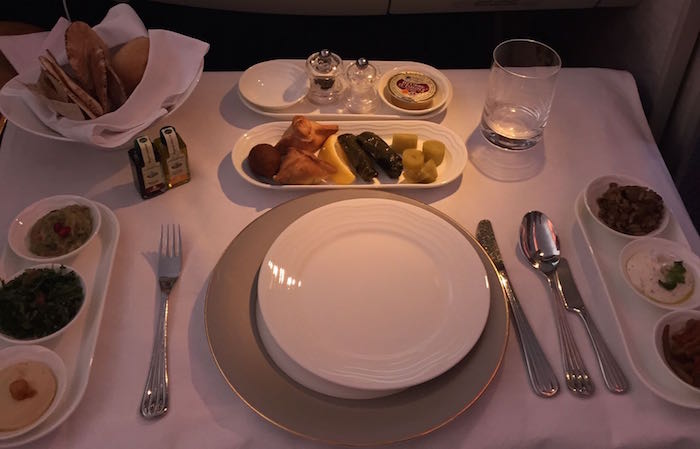 Next I tried an amazing herb crusted tuna loin. It was purportedly served on a bed of edamame and green beans. I'm delighted to say that was false advertising. As you can see from the picture below, those are English peas. I prefer English peas, so I was tickled pinker than the perfectly cooked rare tuna! This was among the best dishes I have ever had in the sky.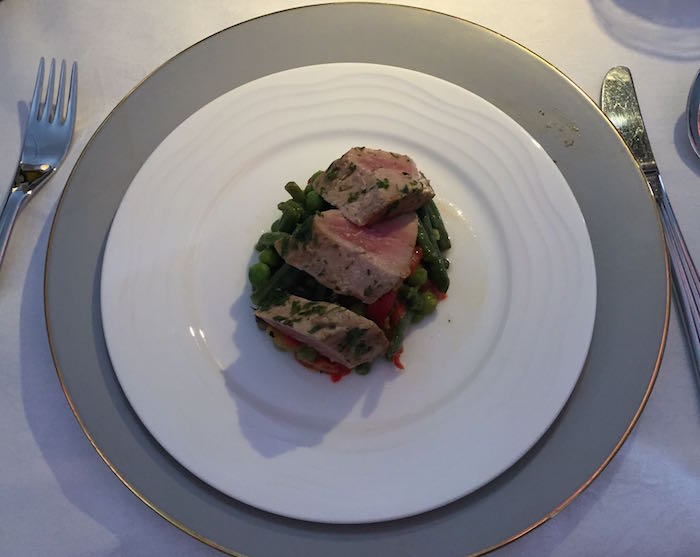 For my main, I had the cod à l'Armoricaine. The picture was taken by Benny boy when he was 50 shades past amber, so excuse the horrendous photography. The cod was prepared perfectly and served with a shellfish reduction, carrots, broccoli, and roasted garlic potatoes. This was the best dish I have ever had in the air. And an excellent dish irrespective of the altitude of consumption.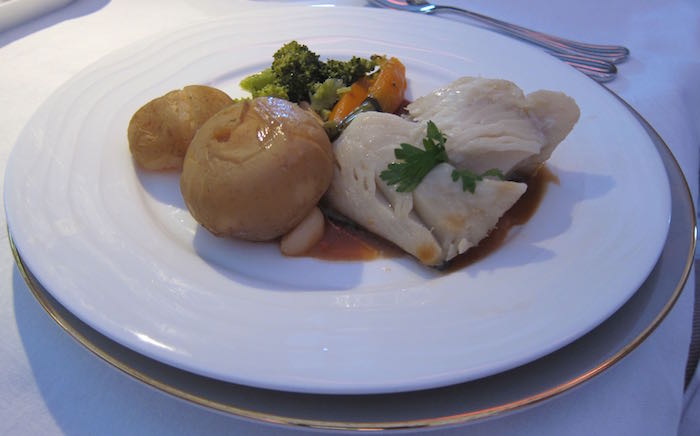 Best First Class Meal Ever
After a force feeding to rival tea at the Burj al Arab, it was time for a long nap! Or more like a cat nap. The crew set me up to sleep in a window seat, which was much appreciated.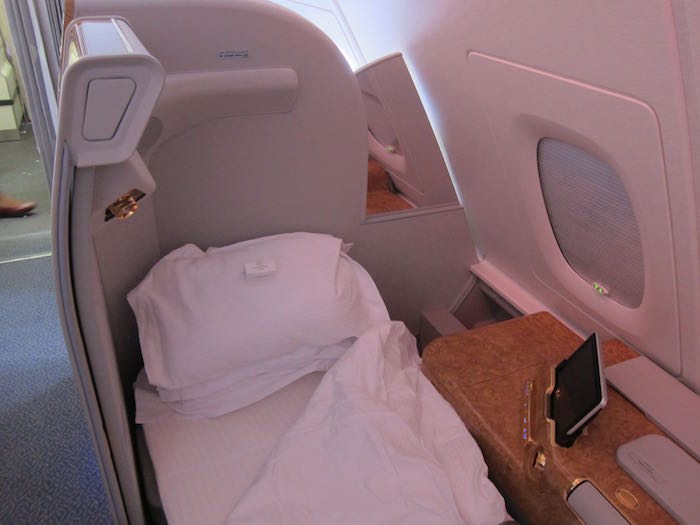 There's nothing like waking up to a smiling face and a reminder to shower at 40,000 feet. That is exactly what Patricia did. Woke me and reminded me that I wanted to shower before landing. I don't want you to think I wasn't operating at 100% green light, but I was probably more like greenish hue of amber, if I'm being honest. I decided to shower to sober freshen up. Who even knows what state Ben was in at this time. He needed a bucket of ice cold water and few slaps to the face to sober up, methinks. (Maybe Emily was able to help him — we'll have to wait for his review to find out.)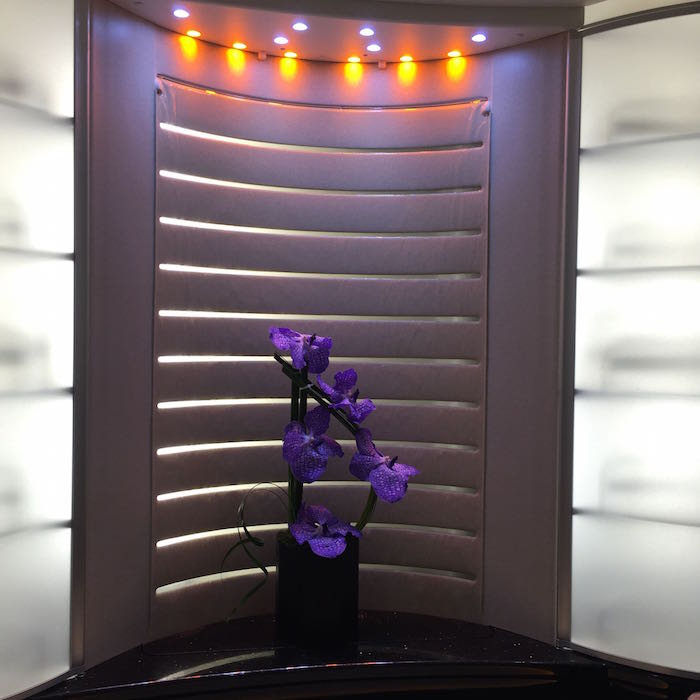 I had some water after the shower, and gathered my belongings before landing. Ben was able to grab a picture of the purser and first class cabin crew. I must say that they — and Ali — all deserve a round of applause for what was unquestionably the best service I have ever received aboard a flight, including on Cathay and ANA, who are known for being the best of the best in terms of service. If any of your are wise enough to read Ben's blog, thank you very much for such a lovely flight. And Emirates, give them all raises!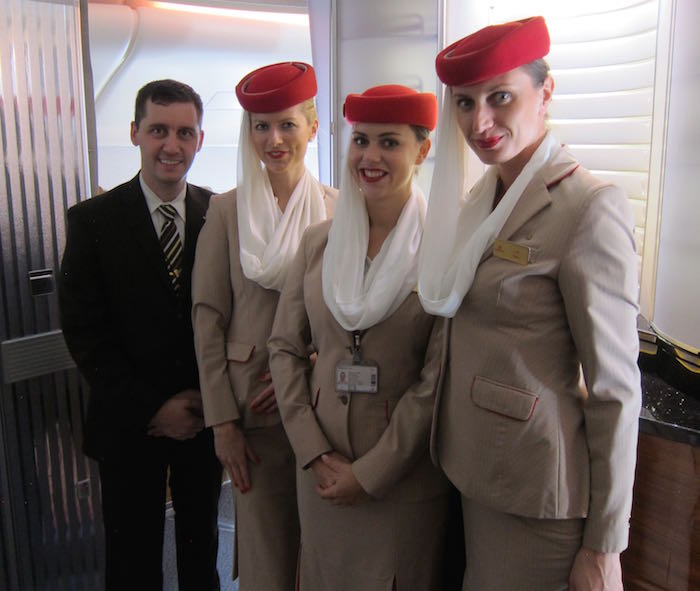 From the left: Toby, Patricia, Emily, and Verica
As those who follow Ben on Instagram know, we went from the UK to Sweden. Stay tuned for more!