New York, New York
---
Once upon a time not too long ago, there were only a few ways to navigate around New York as a tourist:
The subway (and bus system)
Taxicabs
Walking
What's more, as recently as 11 years ago, your practical options getting to and from JFK Airport were really limited to taxis, since there was no possible way of getting to the terminals via train from the city. Since 2003, there's now AirTrain, which connects JFK with the Jamaica and Howard Beach subway/train stations in Queens.
Though my past experiences in New York largely relied on the reliable subway/cab/walking paradigm, on this trip I ended up not only using AirTrain in conjunction with the subway to get from JFK to Manhattan, but also two much more recent game-changers for getting around the city: Uber and Citi Bike.
AirTrain From JFK
Typically when I fly from California to New York, I either take a mid-afternoon flight, which puts me at Kennedy in the very late evening, or I take a redeye, which gets me to New York in the very early morning. In either case, JFK is relatively uncrowded.
However, this past trip I timed my flight to arrive around 4pm. I toyed with the idea of taking the AirTrain to the subway right off the bat, but ultimately decided that, with my bags in tow, a taxi was too tempting to pass up. Ultimately, as I emerged into the arrivals area I saw that the taxi line was insane. Like, I don't know how to properly describe it, other than to say it snaked into the terminal and around a holding pen area and must have been — no exaggeration — 300 people deep at least.
So, AirTrain it was! The AirTrain is not too far a walk at all from the arrivals area of the terminal, and I waited about 5 minutes for a Howard Beach-bound train (when I'd arrived, there was a train just about to depart for Jamaica, which is in the opposite direction). You don't need to pay for the AirTrain at entry, but when you exit at the Howard Beach station about 10 minutes later, you'll need to either pay to exit, or pay for a combination MetroCard / AirTrain pass (under $8) which would get you onto the subway and into Manhattan.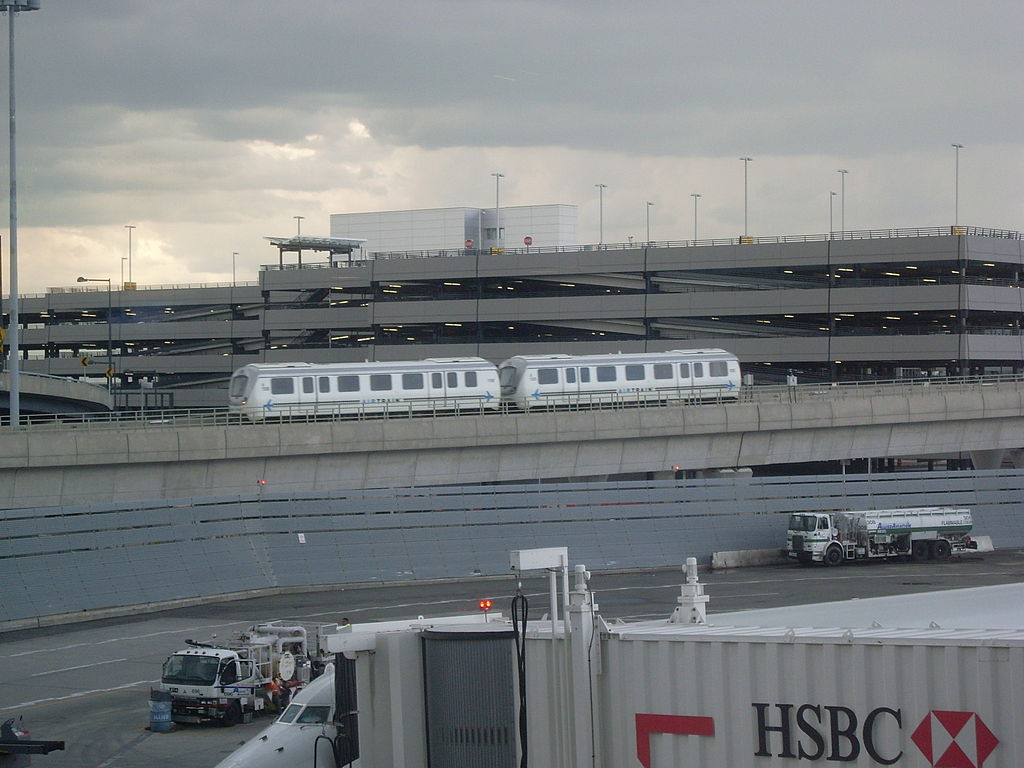 The transfer from the AirTrain to the subway merely involves a walk downstairs to the platform for the Manhattan-bound A train. While in my head I'd conjured visions of a sweaty, hot underground station filled with miserable travelers loaded with suitcases, in fact the Howard Beach subway platform is outdoors and subject to a refreshing, briny sea breeze from Jamaica Bay, so I couldn't complain about that. 🙂
I took the A train several stops (about 15 minutes) and transferred to the L at Broadway Junction, and rode the L train into Manhattan, which took another 20 minutes or so. My friend's apartment was only a few blocks from the 1st Avenue stop on the L train, so ultimately my door-to-door journey from JFK to the apartment took a little over an hour, with transfers and walking time included.
Was it better than the alternative? In this case, yes, because not only was the taxi line insurmountable, but I'd have hit rush hour on the way into the city (despite the journey technically being against the rush hour flow, it's always seemingly rush hour on the Van Wyck Expressway). At 4:15pm on a Wednesday, there's no doubt that I got into the city quicker using the AirTrain and subway combo than I would have by car — even if there had been no taxi line at all.
Now, in other cases I could see how a taxi would be "better": carrying a lot of bags in inclement, cold or hot weather might make the more expensive, potentially longer point-to-point option vastly more comfortable, which is worth taking into consideration.
Was it cheaper than the alternative? Oh god, yes. This is the no-brainer. It cost me maybe $8 to get into the city, versus $65+ by car.
Citi Bike
Somehow, in the last five years New York has morphed from being one of the most inconceivably dangerous places in the world to ride a bicycle, to being miraculously one of the most bike-friendly cities in the country.
When Citi Bike, the nation's largest bike-sharing program, first rolled out in 2013 I couldn't fathom the idea of actually biking in New York. But the truth is that under the Bloomberg administration, the city's infrastructure was radically altered to make it more bike- and pedestrian-friendly, reducing traffic speeds and creating dedicated bike lanes on most of the major avenues and several dozen cross streets.
Anyway, there happened to be a Citi Bike docking station on the same block as the apartment where I was staying, which was useful, though it's worth noting there are Citi Bike docking stations — 400 of them! — nearly everywhere you turn in Midtown and Lower Manhattan, as well as in parts of Brooklyn and Queens. As of now, there are no Citi Bike locations north of 59th Street, so you can bike uptown, but you can't really do anything while you're up there other than bike back (as you can't really lock a Citi Bike — they're just meant to be ridden from station to station).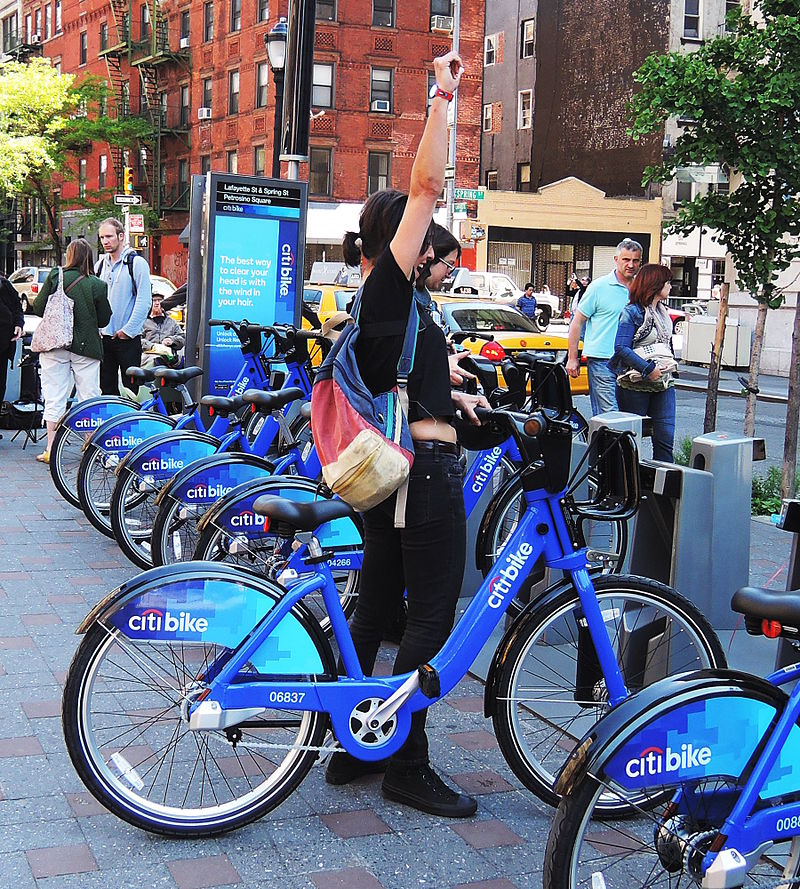 You can download the Citi Bike app, as I did, to see the nearest docking station to you at any given time, and to check out the nearest bike routes in any given location.
It costs $9.95 a day for a 24-hour unlimited use pass, and $25.00 for a 7-day unlimited use pass, and the system is shockingly easy to use. As for the bikes, while they're not the prettiest in the world, they are sturdy, and easy to get the hang of.
The first day I used Citi Bikes, I did so at the suggestion of a friend (with his own bike) for recreational purposes, to bike up and down the Hudson River Park (which I'd highly recommend, as it was beautiful).
But once I got the hang of the Citi Bike, I started to use it as a mode of getting from Point A to Point B. And that's where Citi Bike is absolutely brilliant.
Especially in rush hour.
Why hop on a subway, for instance, when you can get from Midtown to the West Village in 15 minutes by bike? Or, let's say you feel lazy and just want to go maybe 10 blocks or so — it's the perfect excuse for a quick bike ride.
I ended up using Citi Bike fairly religiously over a three-day period, and found it preferable to taxis and to the subway, at least for short- to medium-haul distances. I might not, for instance, decide to bike from the Financial District to Columbus Circle for dinner (that's a long enough distance where the subway would be the smarter option), but when I needed to get from Gramercy Park to the Lower East Side for dinner, Citi Bike got me there in 10 minutes flat.
While riding in the city, I felt far safer than I feel when biking in, say, Los Angeles (which is unsurprising) but I really can't stress how easy it was to bike in Manhattan, where there are separate traffic signals for bike lanes, and a coordinated, well-connected network of lanes and routes that make the entire city accessible.
Was it better than the alternative? I had delightful weather for New York in August — sunny, breezy, no hotter than 82 degrees. It's perfect Citi Bike weather, and for me, the opportunity to be outside, getting exercise, and enjoying the city was one of the highlights of my trip. In inclement weather, I might have been a little more hesitant to ride Citi Bike as often as I did.
That said, Citi Bike consistently got me point-to-point faster, cheaper and far more pleasantly than either the subway or a taxicab, and I burned calories while doing it. For me, I put this in the "win" column.
Now, the thing is that I like to bike. Obviously, if you hate to ride bikes, Citi Bike isn't for you.
Was it cheaper than the alternative? If you're doing a lot of little trips in a 24-hour period, yes. $10 is the cost of one short-distance cab ride, really, when you factor in a tip. As for the subway, you'll spend $1 on a Metrocard plus $2.75 per ride, so if you take more than three rides in a day on the MTA that you could otherwise treat as a Citi Bike journey, the Citi Bike is the cheaper option. And on the 7-day unlimited fare, the MTA charges $31 while Citi Bike charges $25 — so yes, Citi Bike is largely cheaper than the alternative.
Uber
To me as an Angeleno, the benefit of Uber is that it's relatively instantly available in a city where hailing cabs is all but impossible. I had never really understood New Yorkers' obsession with Uber, since in most cases it's actually much faster to walk outside and hail a taxi.
And for the most part when I did need to get somewhere in a car, it was very simple to walk over to an avenue and catch a cab in the direction I was going, but at some point I was at a friend's apartment in the West Village and needed to get up to the Columbia University area, and there weren't any taxis going up his particular street, so I figured it was as good an excuse as any to use Uber X.
I waited about 4 to 5 minutes for my Uber to show up (about the same as I'd wait in LA), though, to be fair, in this case no taxis had gone by in the meantime (it was a Saturday morning — and no, not a walk of shame type situation, thanks). My Uber was clean and quick, as Ubers generally are, and got me up to Columbia as requested in 20 minutes.
However, I felt a bit of sticker shock, as the total bill ended up being just a little under $25 for a quick 6-mile ride. I realize it was probably cheaper — a little cheaper, at least — than a yellow cab, but substantially more expensive than Uber X is in LA.
Indeed: in Los Angeles, Uber X is $0.18 a minute plus $1 per mile, while in New York, Uber X is $0.40 a minute plus $2.15 per mile. Uber X still may be a value proposition in NYC, but for those accustomed to dirt-cheap Uber pricing in other cities, you should know in advance that Uber is not a "bargain" in the New York area.
I used Uber once more, on my way back to JFK Airport on a Sunday afternoon. I had heavier bags than on my way into the city, and I had to drop my set of keys off at a second location, so I thought an Uber might be the most practical way to take me to two locations and get me to the airport quickly.
My Uber driver, Naveed, was phenomenal — he bypassed heavy traffic on the L.I.E. and on the Van Wyck, and made sure I got to the airport in time for boarding (I was running a little late) by driving aggressively (but safely!) in a way that made me proud.
However, my Uber receipt was also more expensive than I'd imagined: $65.54 (this is essentially a flat $60 rate charged by Uber, plus $5.54 in tolls). Given that the NYC Taxi and Limousine Commission mandates a $52.80 flat rate plus tolls in yellow taxis, it's a bit of a wash here.
Was it better than the alternative? Uber is definitely better than taxicabs in Los Angeles. But I'm agnostic about the issue in New York. Uber doesn't seem to be appreciably cheaper than cabs, at least for long distances (and certainly not to JFK) and it's usually much quicker to simply hail a cab on the street, when they're available, than to wait 5 minutes for an Uber to arrive. Yes, the cars are a bit nicer than a standard cab, but on a short trip I'm not sure I care. Plus, all cabs in New York are required to accept credit cards through a fairly quick and painless system, so the "cashless" advantage Uber has over many cities' cash-only cab systems is a wash here as well.
I'm going to go ahead and say that in most circumstances, unless taking an Uber X would be demonstrably and significantly less expensive, I would hail a taxi in New York. But if the weather weren't great and cabs were in shortage, I'd probably use Uber (and undoubtedly deal with surge pricing).
Was it cheaper than the alternative? In my experience, not remarkably cheaper than a taxicab, and definitely not cheaper for airport rides.
Bottom Line
Visitors to New York — not to mention New Yorkers — have never had more options as far as navigating the city is concerned.
In this visitor's opinion, AirTrain is preferable in a rush hour period when cab lines are long and traffic is a nightmare, but I might still choose a taxi or car service in an off-peak period, especially if I had a lot of luggage. Citi Bike is, in my opinion, a game-changing addition to New York and something every bike-aware visitor should try. As for Uber in NYC, I just don't get it — it fills an incredible role in taxicab-poor cities like San Francisco, LA and Washington, D.C. but I don't see the value-added benefit in New York.
Have you taken the subway to JFK Airport, Citi Bike, or Uber in New York? What did you think?
And New Yorkers, what am I missing?! Why is Uber so popular in your city?!