Per Bloomberg, Delta is convinced of its proven operational superiority — so much so that Delta is now offering to refund business customers if on-time performance ever lags behind United's and American's.
Now, let's unpack this, because while it is the sort of gimmicky soundbite that will grab the attention of travelers and journalists, you've got to peel back the layers to get to the reality here.
Bloomberg notes that:
If American and United beat Delta's on-time and completion rates for a year, Delta would award travel credits of $1,000 to $250,000 to businesses with a contract. Those who suffer the most delays and cancellations get the biggest payouts.
So, first things first, Delta is not going to pay the average casual traveler if a flight takes off late.
Delta is not even offering to pay Diamond Medallions if their flights are late.
Delta's offer appears to be targeted towards corporate customers in Delta's SkyBonus program. And even in that case, Delta's not paying a penalty each time a flight is late; rather, Delta is only offering to reimburse its corporate clients if American Airlines and United Airlines beat Delta's on-time and completion rates over a full year.
As the article also points out, this methodology applies only to Delta's domestic mainline flights.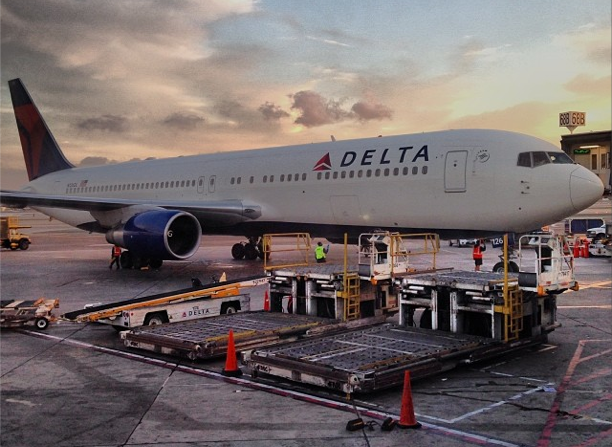 So while your ears may have perked up upon the news of a Delta "on-time guarantee," they should probably remain unperked, for now, at least.
What this seems to be, to me, is a bit of territory-marking on Delta's part to call attention to its exceptional operational performance, and to essentially challenge American and United to even come close. The truth is, American and especially United lag far behind Delta on these statistics, and likely will for the foreseeable future unless there are some dramatic paradigm shifts in Chicago and Dallas.
Basically, taken at its most sincere, Delta's move is, if anything, a pledge to its best corporate customers that Delta won't let up slack and will continue to focus on maintaining its leadership as the best domestic airline from an operations standpoint.
From a cynical view, it's an empty offer that Delta can confidently announce with 99% certainty it will never have to pay up, but that will generate goodwill and press coverage nonetheless.
Either way, it's not bad news coming out of Atlanta, and on this blog I celebrate any little news item that takes away from Ben's delightfully myopic "American Good, Delta Bad" narrative. 🙂