There's no denying I'm a huge Lufthansa fanboy. At least when it comes to their first class product. As far as European airlines go, I do think they offer the all around best first class product, perhaps along with their "Lufthansa Group" partner, Swiss. Onboard I think they offer a far superior product to British Airways, and for the most part a superior product to Air France (Air France's new first class product looks great, though is only available on a few planes so far).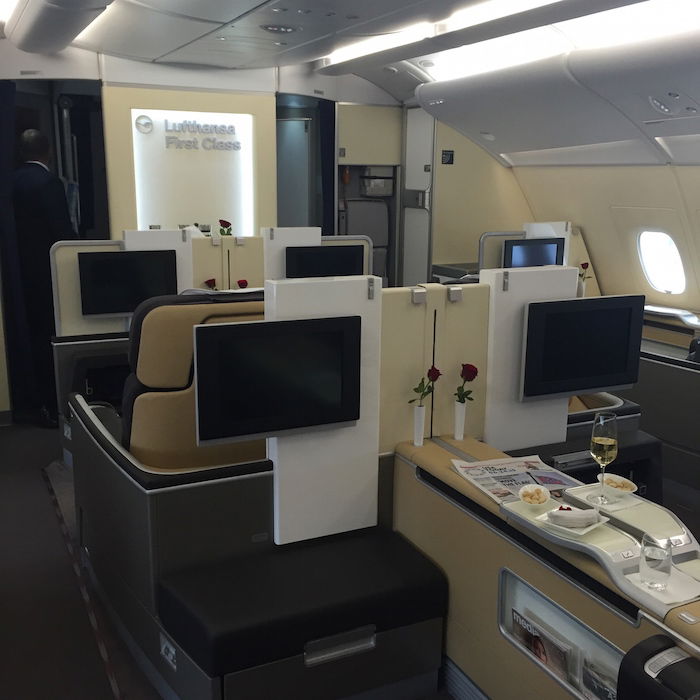 Another area where Lufthansa shines is when it comes to their ground experience for first class passengers. Most of you have probably heard of the Lufthansa First Class Terminal, which is one of the most well known ultra-luxe lounges out there.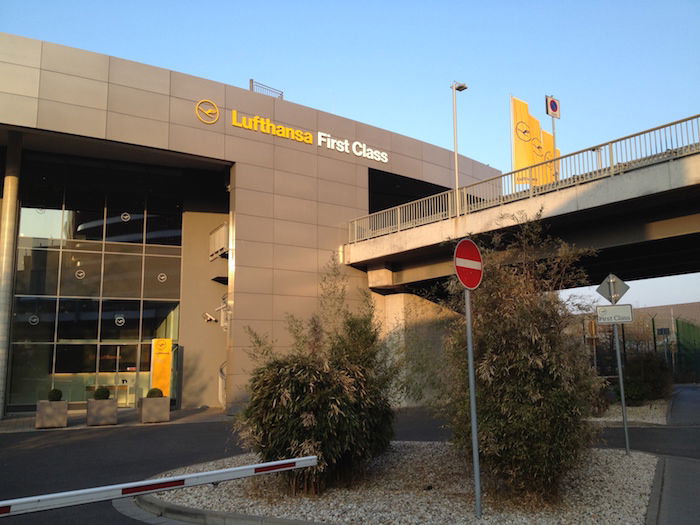 There are also a couple of Lufthansa First Class Lounges in the terminal itself (rather than the First Class Terminal, which is separate from the rest of the terminal), which are more or less the same in terms of the actual lounge design.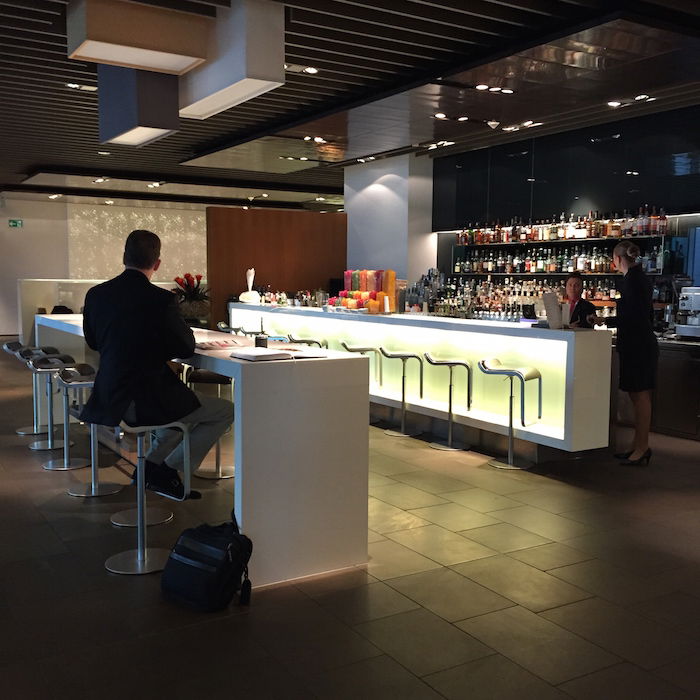 The catch is that the Lufthansa first class ground experience in Frankfurt can be extremely inconsistent depending on the circumstances of your transit:
If your travels originate in Frankfurt, you can go straight to the First Class Terminal and be driven to your plane, which is the best case scenario
If you're connecting and arrive at a remote stand, you get picked up at the plane and driven to the First Class Lounge closest to your departure gate
While you're always driven from the First Class Terminal to the gate (given that the FCT is otherwise disconnected from the terminal), you only get driven from the First Class Lounge to your gate when the lounge is in a different terminal than the departure gate
You can always visit the First Class Terminal during a connection, though it's a bit of a haul and requires clearing immigration, so I don't recommend it for a short connection; visiting the FCT is one way to "force" a tarmac transfer
Every time I've flown Lufthansa first class out of Frankfurt I've had some sort of car transfer. Either because I walked myself to the First Class Terminal, or because I arrived at a remote stand, or because I was departing from a different terminal than the lounge I was in.
Well, yesterday I flew Lufthansa from Vienna to Frankfurt to Newark, and was positively underwhelmed by the ground experience. I know it's a bit backwards, but Frankfurt is just about the only airport in the world where you don't want a reasonably convenient connection (well, at least as convenient as connections get at one of the world's most poorly designed airports).
We arrived at a gate in the A Concourse, and from there I followed the signage towards the Lufthansa Lounges…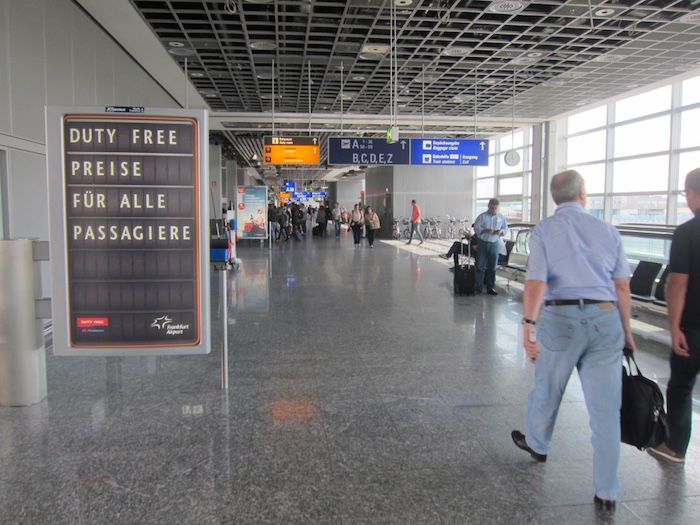 …which was quite a haul…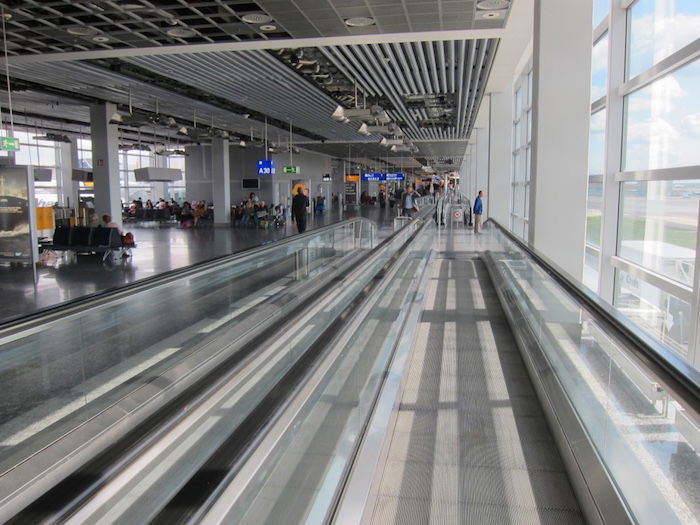 …like, really…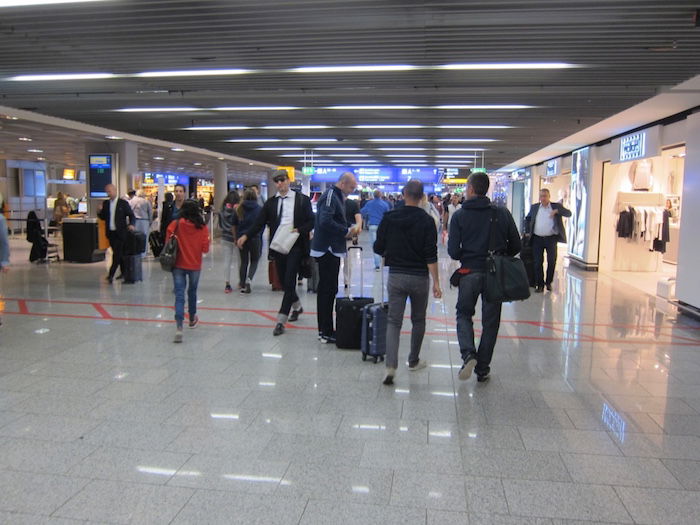 …no guys, seriously…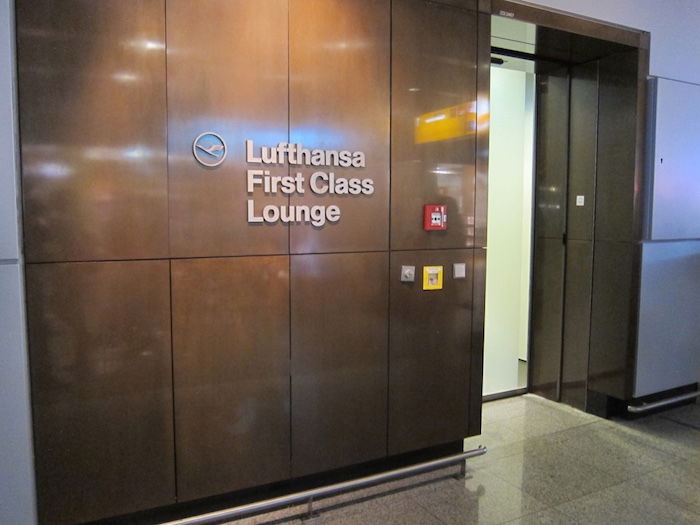 The Lufthansa First Class Lounge was great, really just about as nice as the First Class Terminal, in my opinion.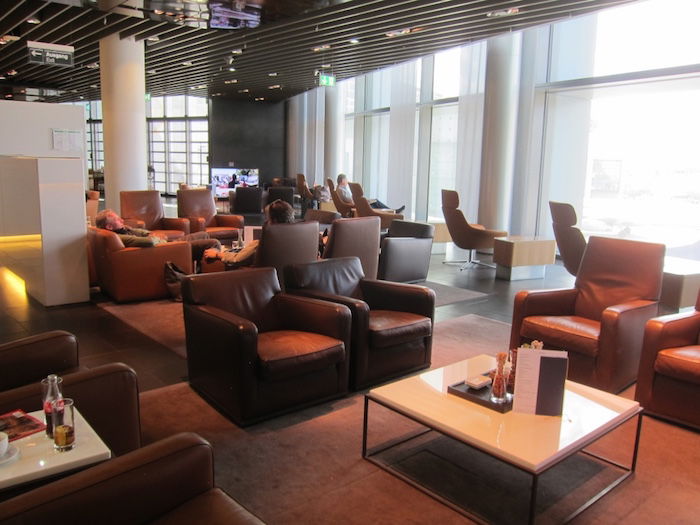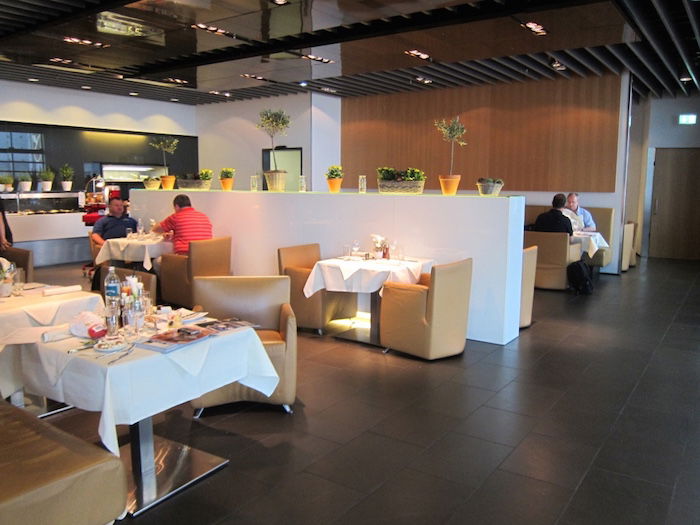 But then when it came time for departure, I had to walk to gate Z54, which again, is quite a haul. That required going through passport control, where there was no premium queue (in the First Class Terminal they handle passport control for you).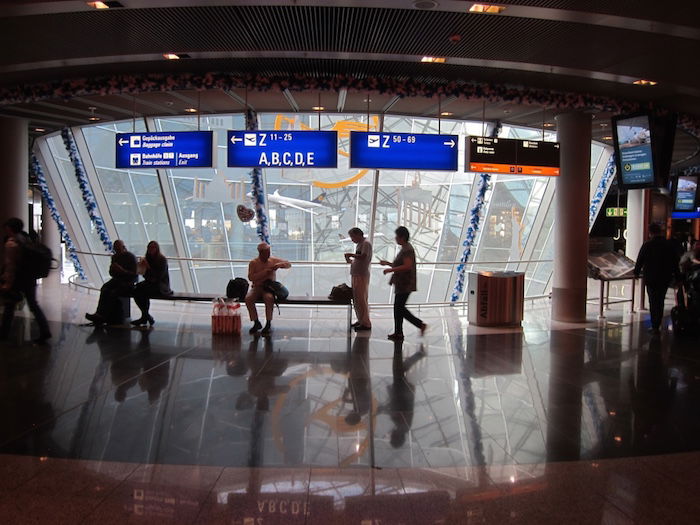 I had to queue for a long time, and then arrived at the gate, where the premium boarding lane must have had 100 people in it, since they board first & business class all at once.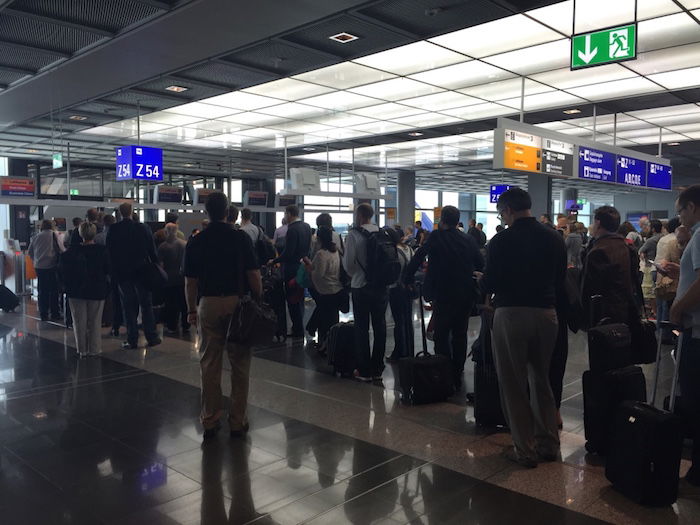 Then there was a long queue on the jet bridge, and ironically one of the other first class passengers was pushed ahead of me on the jet bridge. That's because he had the personal assistant service, which is a standard offering when being driven to the plane.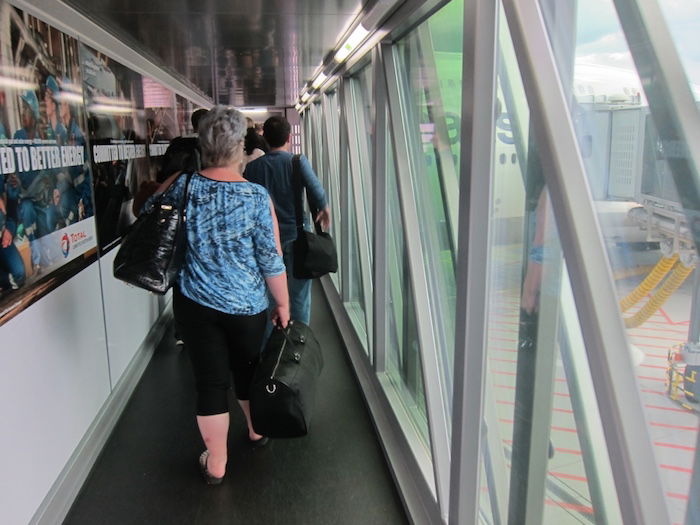 On the plus side I was flying the gorgeous 747-8, and the Siegerflieger Fanhansa one no less (which is the same plane that took the German soccer team home from Brazil last year after they won the World Cup).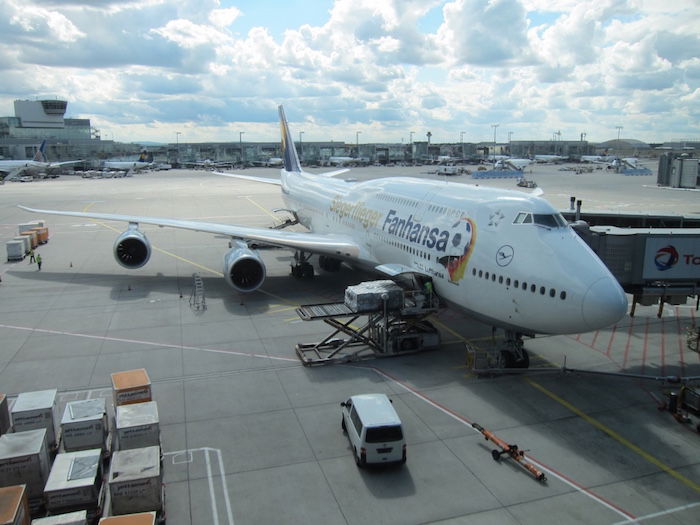 And once you're onboard and have a glass of champagne, who can complain, really?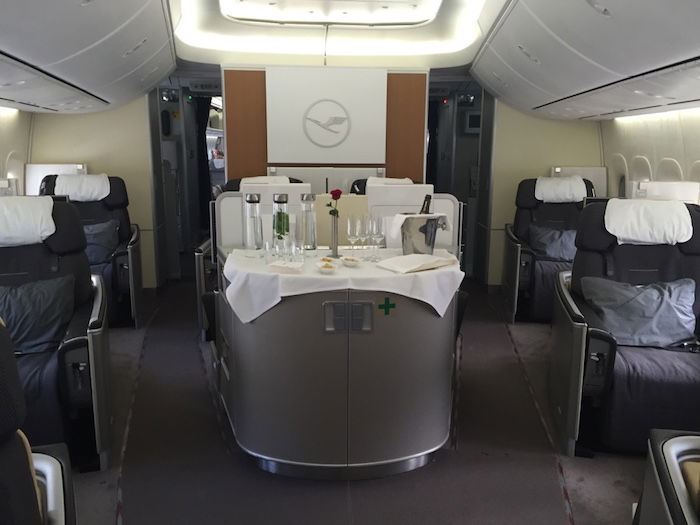 Of course this is a total #FirstWorldProblem, but any commentary on premium cabin international airline products will be. Having this experience for the first time really made me realize that Lufthansa's first class ground services are at times sort of backwards:
The only time you should ever hope to arrive at a remote stand is when flying Lufthansa first class
You're already penalized by not getting the car transfer to the plane when you're connecting within a similar terminal area, though on top of that you end up boarding behind all of business class, queueing in standard lines, etc.; it's a bit funny that I was literally cut by another passenger being escorted down the jet bridge, simply because I was coming from a closer connecting gate
To me it would make sense to offer the same personal assistant service they offer with the chauffeur when connecting within a terminal, whereby they walk you to the gate, escort you aboard, etc.
In the end I had a two hour connection, yet I spent only about 20 minutes in the lounge, as the rest was spent queuing, walking, etc.; if we had arrived at a remote stand I would have likely had much more time in the lounge
All a minor point in the grand scheme of things, though Lufthansa's ground experience in Frankfurt is one of the things which makes their product so special, and it's worth knowing that it won't always be so great. This is an area where Air France really shines in Paris, as they offer full gate-to-gate escorts in Paris regardless of where you arrive or departure.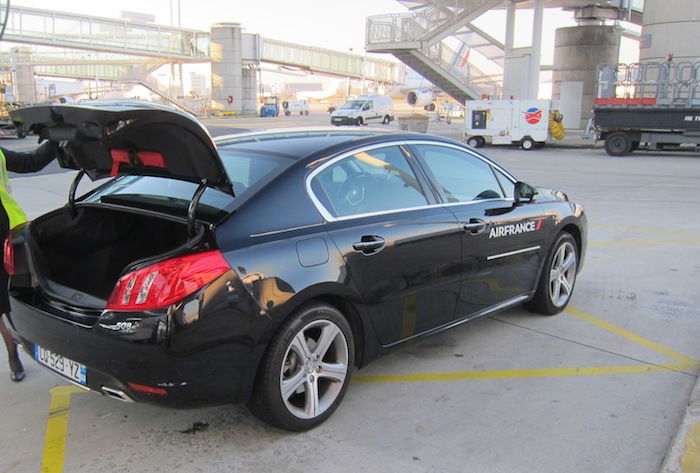 What do you think — am I off base for being disappointed in Lufthansa offering zero ground services for passengers not connecting between far away terminals, even though the experience can be just as time consuming? I'm curious if anyone has had a similar experience!