Back in February I wrote a post sharing what I consider to be the five best first class hard products out there. Recently someone emailed me asking what I consider to be the five best first class beds, which, believe it or not, is substantially different than my list of five best overall hard products.
With that in mind, here are my top five first class beds, mostly in order:
5. Japan Airlines First Class Suite
Japan Airlines has Tempur-Pedic mattresses in first class, so they offer among the best padding in the sky. While there are other aspects of the Japan Airlines experience I don't love (including how small the pillows are), their beds are phenomenal.
4. Cathay Pacific First Class
Cathay Pacific may not have the newest or fanciest first class hard product out there nowadays, but their seats are damn comfortable for sleeping. Both the mattress, pillows, and bedding are top notch, and I find there aren't many airlines on which I get a better night of sleep than on Cathay Pacific.
3. Lufthansa First Class
On the 747-8s, A380s, many A330s, and some A340s, Lufthansa has a new first class product which is basically just a modernized version of the old seat. Much like Cathay Pacific, while it's not a cutting edge product, the padding and bedding are phenomenal. As long as the cabin isn't too hot, it's tough to beat the comfort of this seat in the bed position.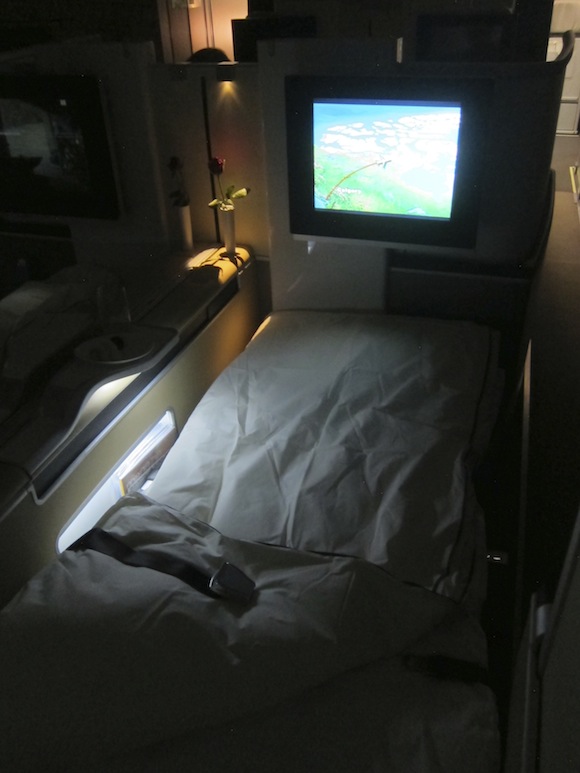 2. Qantas First Class
I've said the above products have comfortable duvets and mattress pads. And while that's true, none of them are as comfortable as those offered by Qantas, in my opinion. The Qantas A380 bed might as well be in a hotel, because it's phenomenally comfortable. The bedding couldn't be softer, and the seat is private without being claustrophobic.
1. Singapore Airlines Suites Class
I think number one on the list isn't any surprise. Who wants one bed when you can have two? I actually don't find the bedding to be that comfortable, or for that matter find the bed to be that well padded. But if I can do the chicken dance while trying to sleep, I think it deserves the number one spot.
Products that (perhaps) surprisingly didn't make the list:
Emirates First Class

I love Emirates first class, from the onboard shower, to the bar, to the phone from which you can order "room service." But the bed simply isn't the most comfortable in the sky. It's certainly fine, but it's a bit claustrophobic and I don't find the bedding to be amazing.
Lufthansa 747-400 First Class
Lufthansa has a different style of first class on the 747-400 than the rest of their fleet. Instead of a seat that converts into a flat bed, they have a separate seat and bed. The novelty of having both a seat and a bed on a plane is pretty cool, though there's something I don't totally love about the bed. For one it's fully flat, while the aircraft nose is always pitched up a bit. I always prefer reclining my seat the whole way and then pushing the "upright seat" button for a couple of seconds, so the bed is at a slight upwards angle. You really can't do that in this first class product.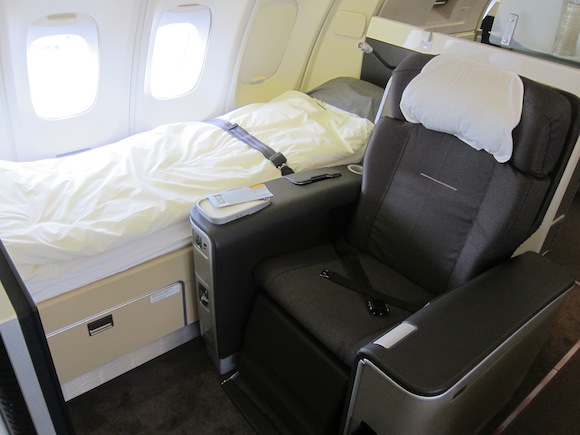 Singapore Airlines First Class
I love almost everything about the Singapore Airlines first class experience, including the food and especially the service, but the bed comfort on the 777-300ERs leaves a bit to be desired. The bed isn't especially long, and the seat is a bit firm. Don't get me wrong, you won't lose sleep because of the bed comfort, but there are better ones out there, in my opinion.
Those are my top five — what are your favorite first class hard products?