---
Singapore is one of those hotel markets I really struggle with, as I outlined in this post. I've stayed at the Conrad, Crowne Plaza, Grand Hyatt, InterContinental, Marina Bay Sands, and Shangri-La, though have wanted to try the St. Regis since it opened about five years ago. Rates have always been outrageous when I looked, though for this stay the St. Regis was about $290USD. For a one night stay that seemed worthwhile for the sake of reviewing the property.
The St. Regis is a category six Starwood property, making it 20,000 Starpoints per night, or 10,000 Starpoints plus $180 using "cash & points." I considered outright paying for the stay a better choice than either of the points options. I even applied one of my suite night awards to the reservation (Platinum members with at least 50 nights per year earn 10 of them), and five days out was confirmed into a St. Regis Suite, which I was pleased with.
We got to the St. Regis before 1PM after taking a taxi from the airport.
The exterior of the hotel was beautiful, and we were assisted by two bellman as we pulled up.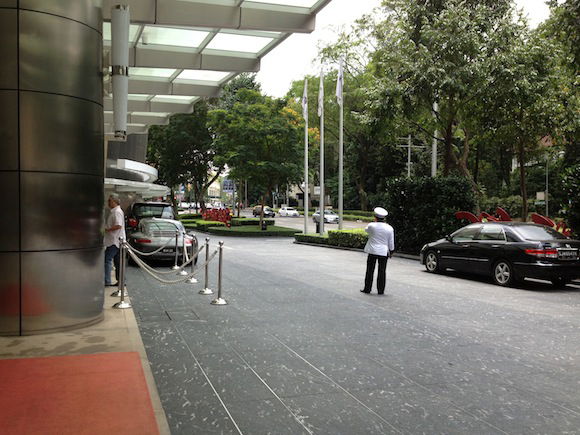 Hotel exterior
We were escorted to the lobby, and invited to take a seat at one of the check-in desks on the left. I do love how most St. Regis properties let you "sit down" while checking in, though far too often it's not well executed with long queues. That wasn't the case here.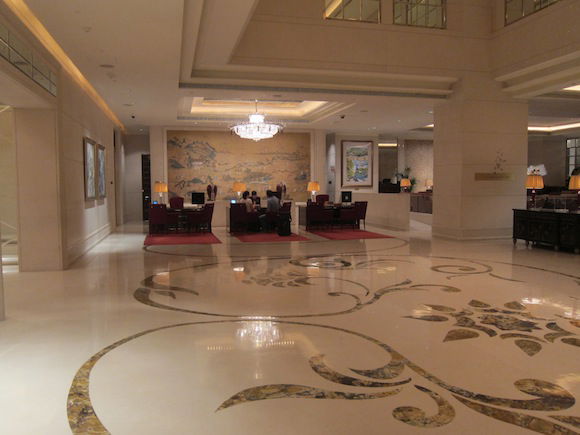 Lobby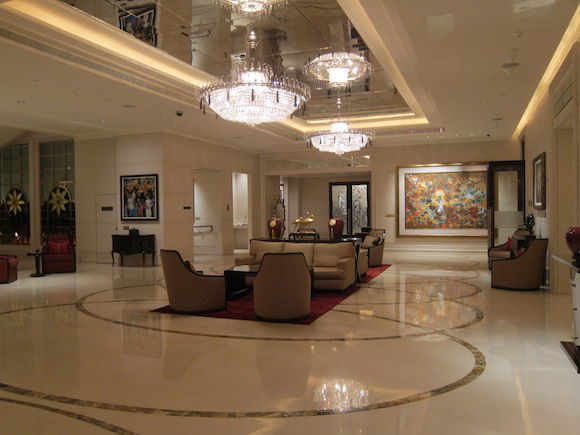 Lobby
The agent checking us in was friendly, though informed us our St. Regis Suite wasn't ready yet (I had emailed the hotel in advance to inform them of our early arrival time, though of course they have no way of guaranteeing that). They suggested we leave our bags there and come back at around 3PM when our room would hopefully be ready. Given that we were leaving very early the following morning and didn't care that much about the type of room, I asked about the possibility of downgrading to a standard room, which they said they could do, though after calling Starwood they said my suite upgrade couldn't be redeposited.
As an alternative the agent offered a further upgrade to a Caroline Astor Suite for 150SGD. Fair enough offer, though since we were leaving early the following morning and planned on spending most of our time outside the hotel, I wasn't planning on spending even more money on the stay.
So I asked when a suite would realistically be available. She said both St. Regis Suites were still occupied and they both had 4PM check-out, so we'd get whichever opened up first.
Okay, check-in time is 3PM, and realistically it could have very well been 5PM before we had our room. So I asked about the possibility of getting a temporary room until the suite was ready. After checking with the duty manager the agent offered us the Caroline Astor Suite at no extra cost. I appreciated the fact that the agent was able to apply logic to the situation rather than just "going by the rules." I would have been really ticked if we could only check in at 5PM due to Platinums checking out late, so I'm happy they were proactive.
We were escorted up to our room on the 10th floor (1001). I was mildly entertained by the fact that the elevator had a small bench. Totally necessary, right?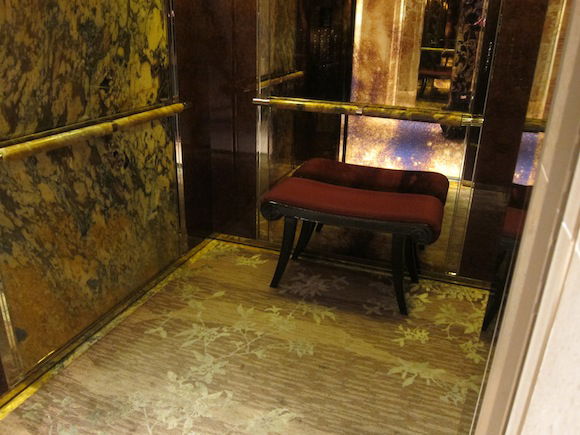 Elevator
The hallways were modern and nicely decorated.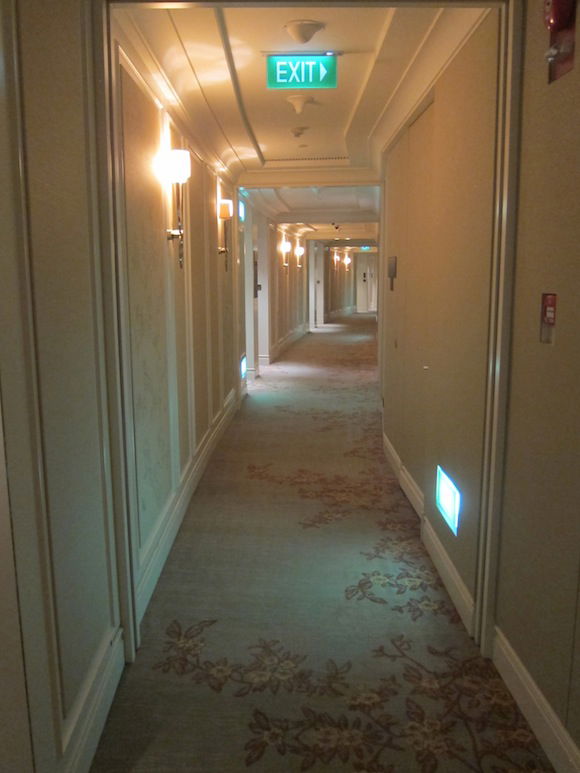 Hallway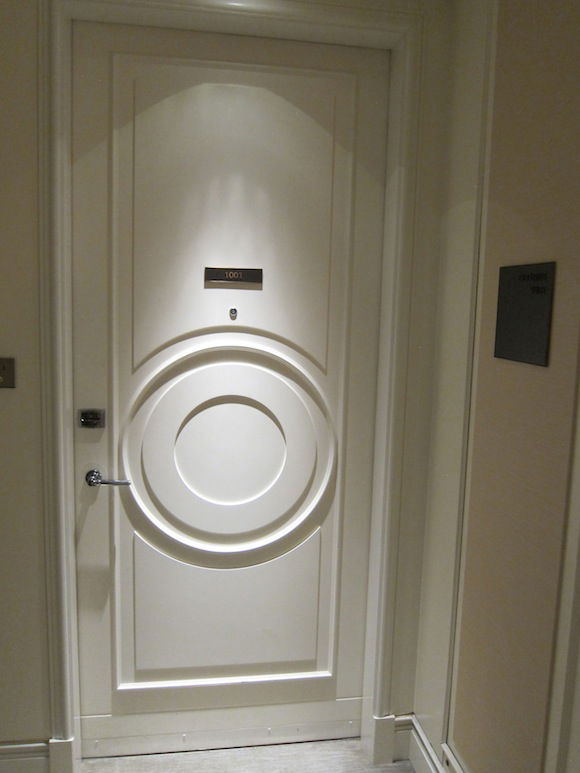 Room entrance
At the entrance was a large living room with a couch and two chairs, all facing a flat screen TV. Next to the TV was a work desk. The setup probably isn't ideal if you want to work from a desk and watch TV at the same time, but that's not a good work ethic anyway. 😉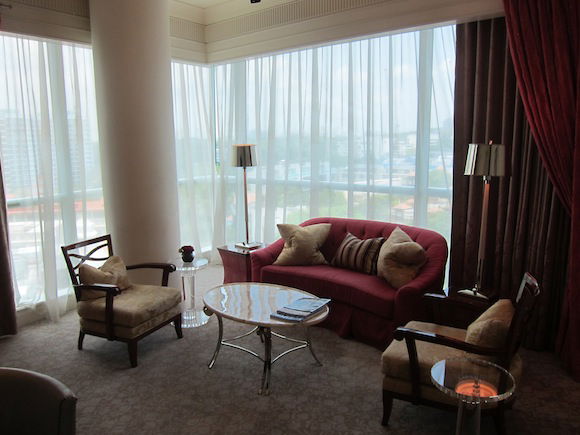 Living room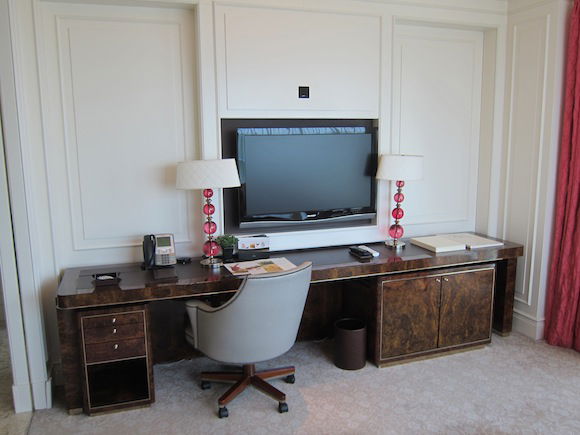 Desk/TV
The living room featured decent views of the surrounding area, including of the Regent and Traders. In terms of views I'd much rather be near the Marina than on Orchard Road, but then again you don't stay on Orchard Road for the views.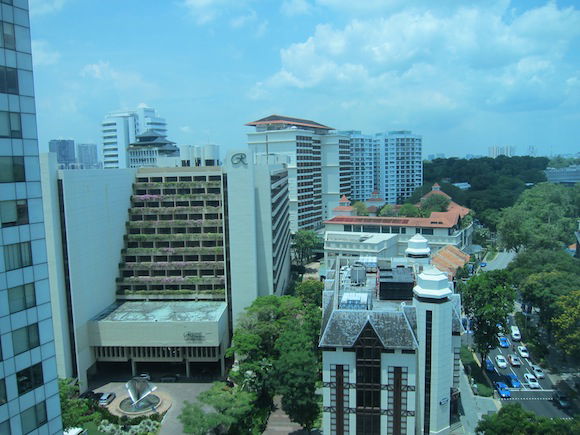 View from living room
Next to the living room was the bedroom, which featured a comfortable king bed.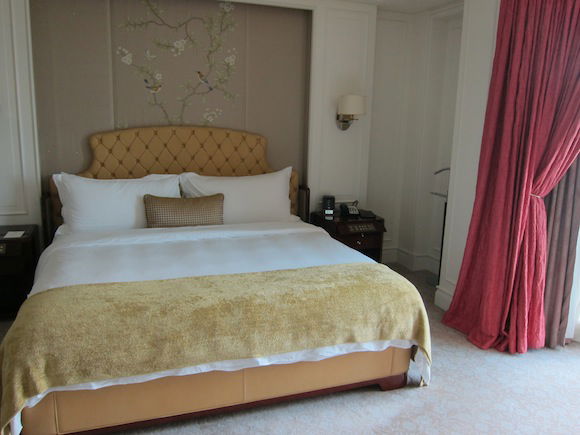 Bedroom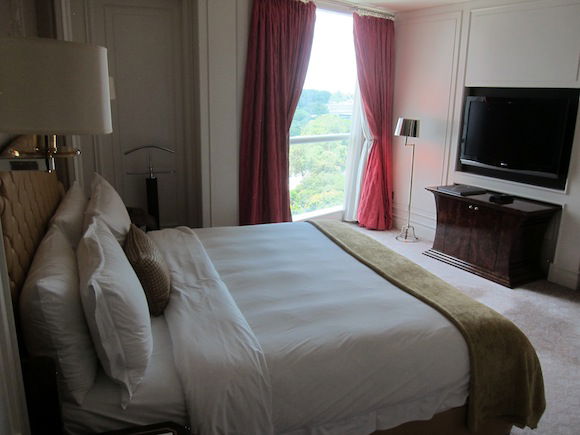 Bedroom
Next to the bed was a control panel to control the lighting and drapes in the room.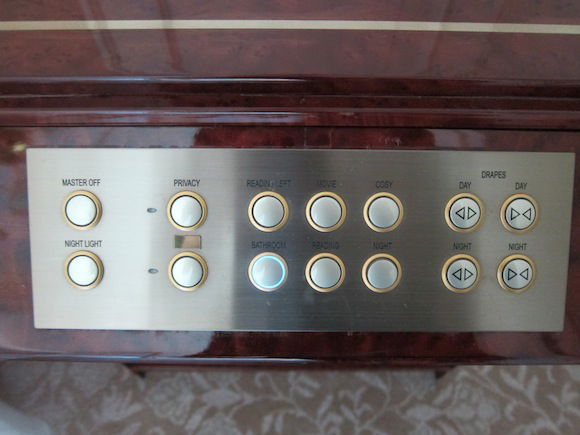 Control panel
There was also a small desk with a vanity mirror, with a glass panel facing the bathroom (though for privacy the shades could be lowered between the bedroom and bathroom).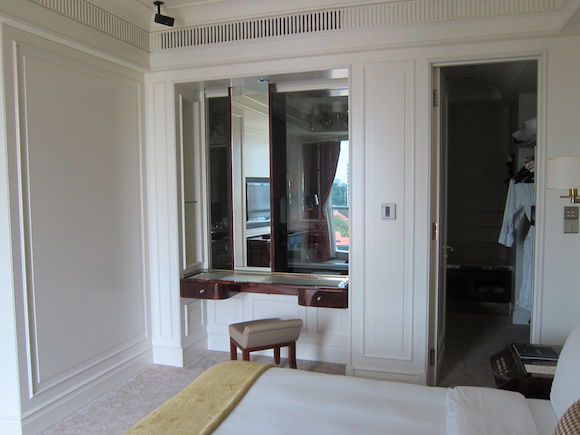 Bedroom facing bathroom
The views from the bedroom were much "greener" than from the living room.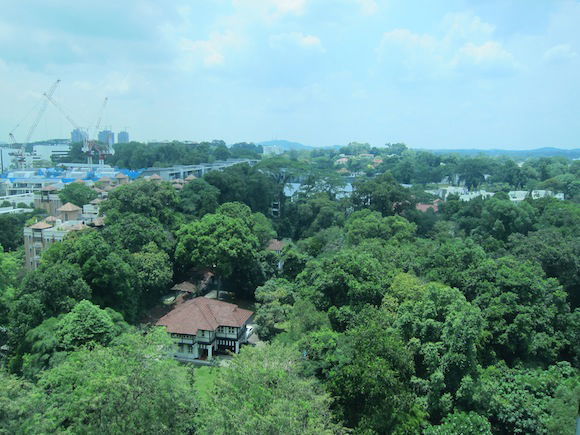 View from the bedroom
The bathroom could be accessed from both the bedroom and the living room. Near the bedroom entrance were double sinks and the soaking tub.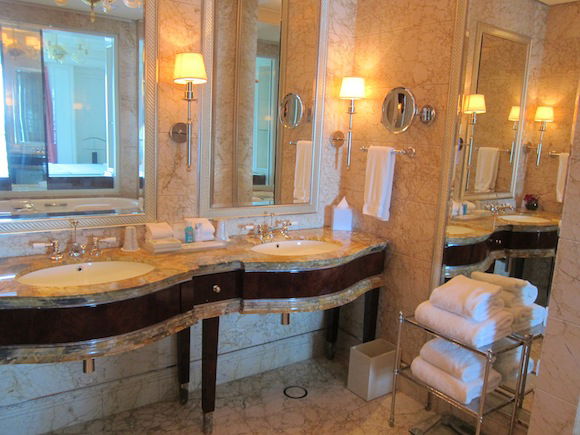 Double sinks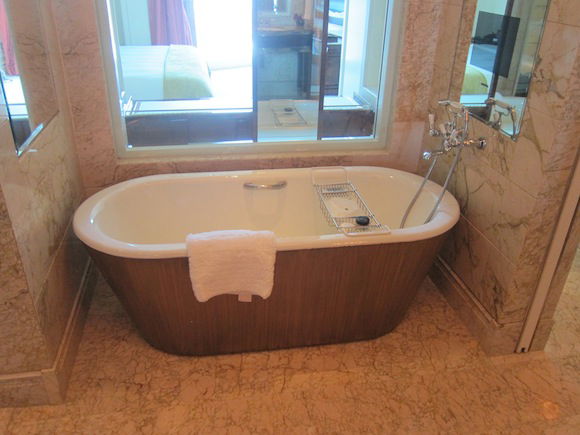 Soaking tub
Then there was a large walk-in shower with excellent temperature control, water pressure, and multiple "heads" out of which water was dispensed. So the shower gets a gold star from me.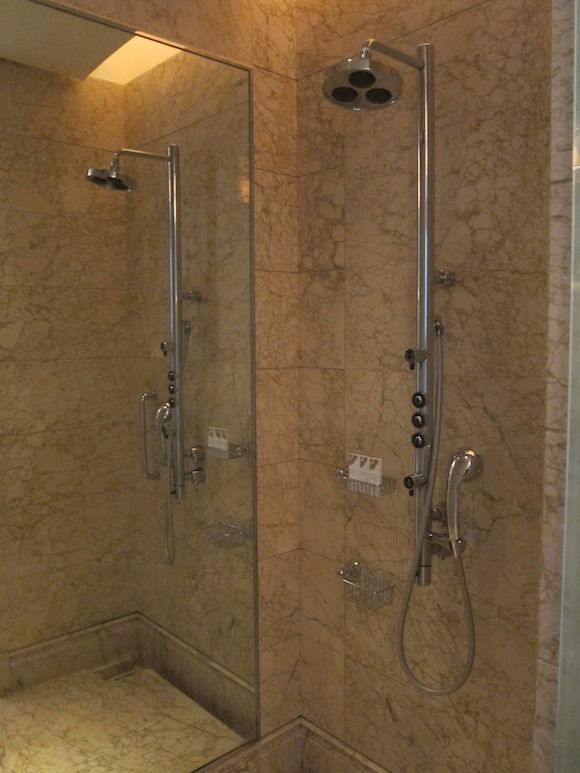 Shower
Lastly there was yet another sink on the other side of the shower by the toilet.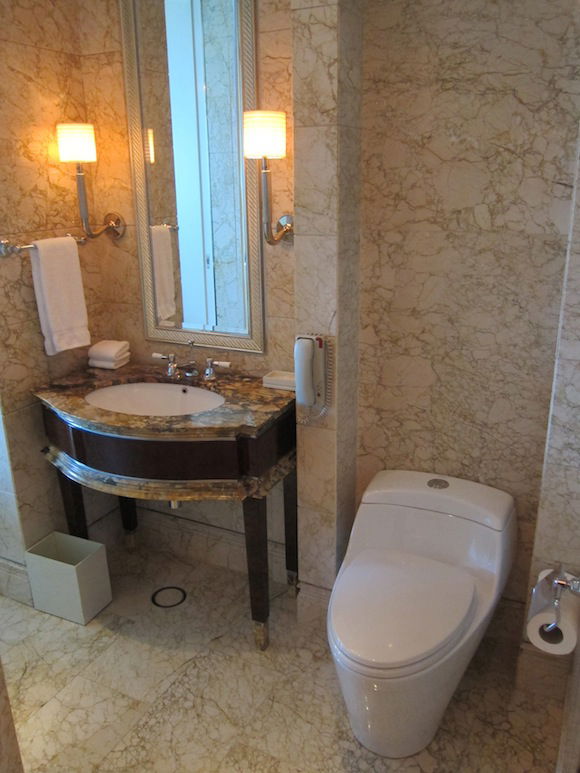 Toilet
The entire bathroom featured Remede amenities and felt really "marbley."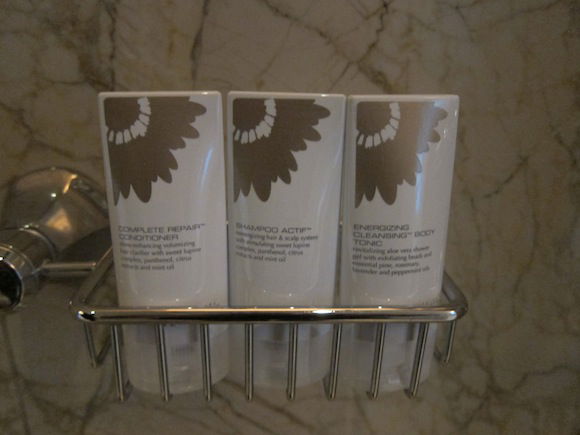 Remede amenities
Given we had been traveling for so long and wanted to explore Singapore a bit I ordered some tea, which is complimentary at all St. Regis hotels. It was promptly delivered. The same "butler" also brought a fruit plate, which I guess was a welcome amenity.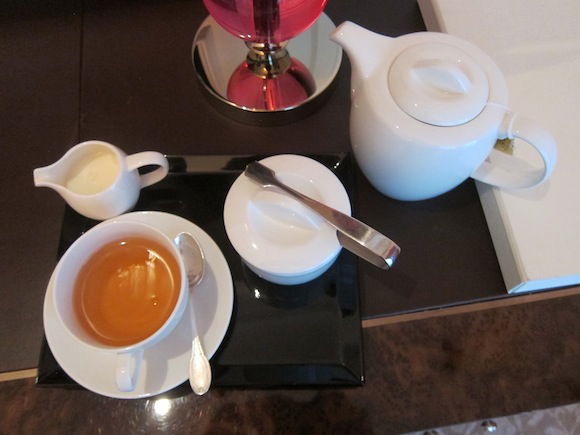 Complimentary tea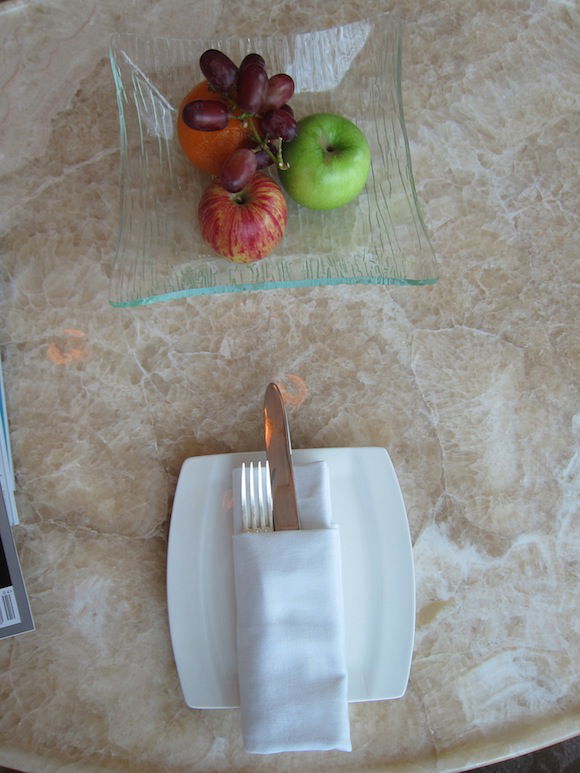 Fruit plate
After briefly catching up on email we spent several hours of the afternoon exploring Singapore, and took a ride on the Singapore Flyer, visited Lau Pa Sat (the "famous" hawker center in Singapore) for an afternoon snack, walked around the Marina, and then walked through the Marina Bay Sands shopping area. Singapore really is my favorite place for a one day layover given how easy the city is to explore. Not only is transportation easy and cheap, but almost everyone speaks English (or some variation thereof), and you can visit a lot of attractions in a short period of time.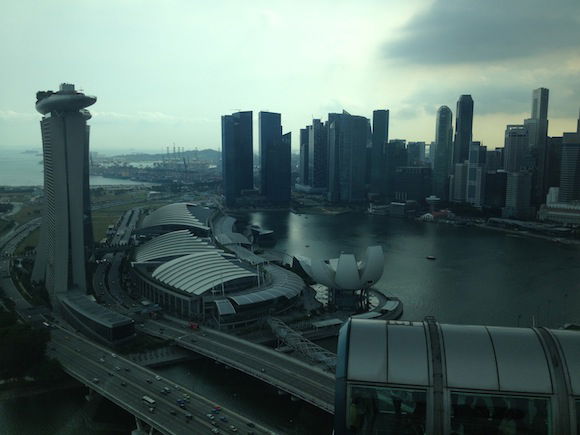 View from Singapore Flyer
We returned to the hotel in the early evening, and I was happy to see that the St. Regis has a complimentary evening happy hour for Platinum guests at the pool bar, LaBrezza. This is entirely unnecessary and generous on the part of the hotel, so big kudos to them for that.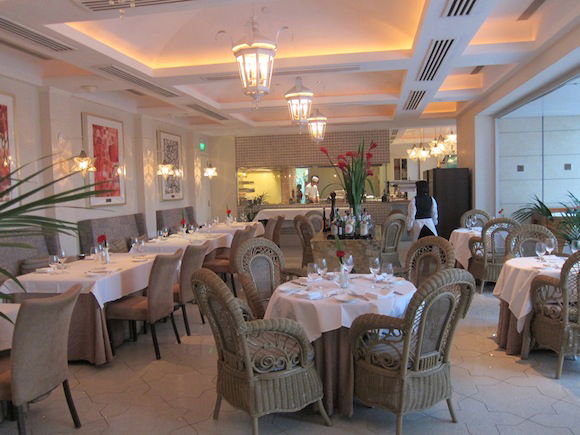 LaBrezza
There was a special drink menu which consisted of cocktails, beer, wine, and soft drinks.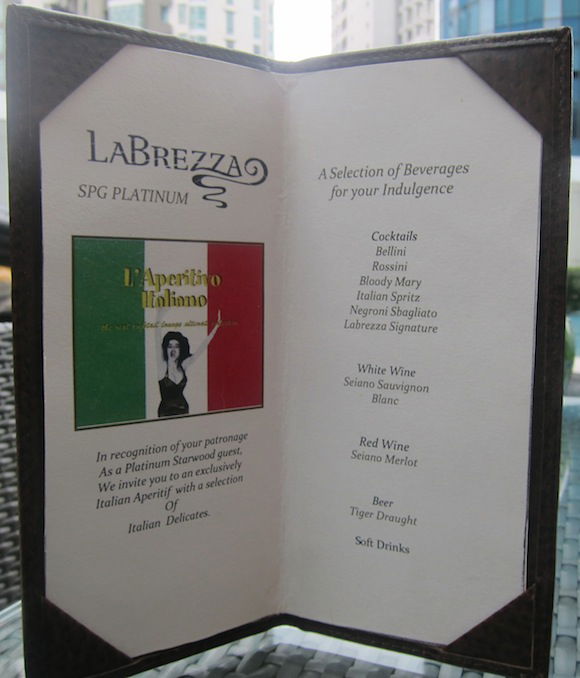 Platinum menu
There was also a small buffet set up with all kinds of canapés.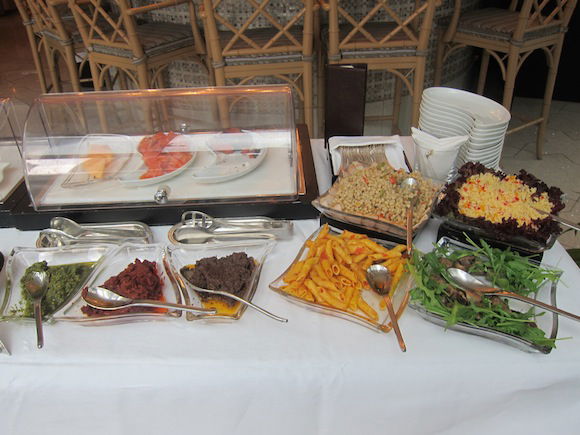 Platinum buffet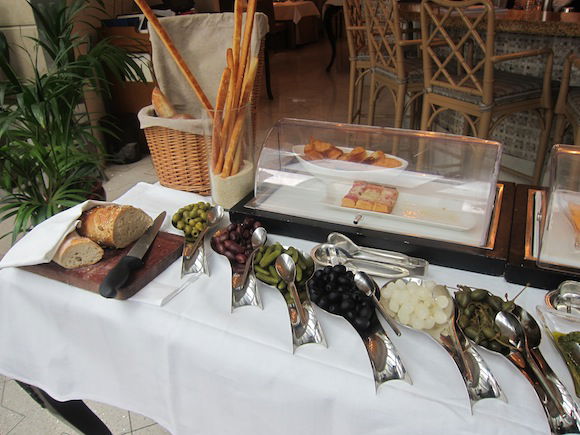 Platinum buffet
The one (potential) downside is that the happy hour is outside, and Singapore isn't exactly the coolest of climates.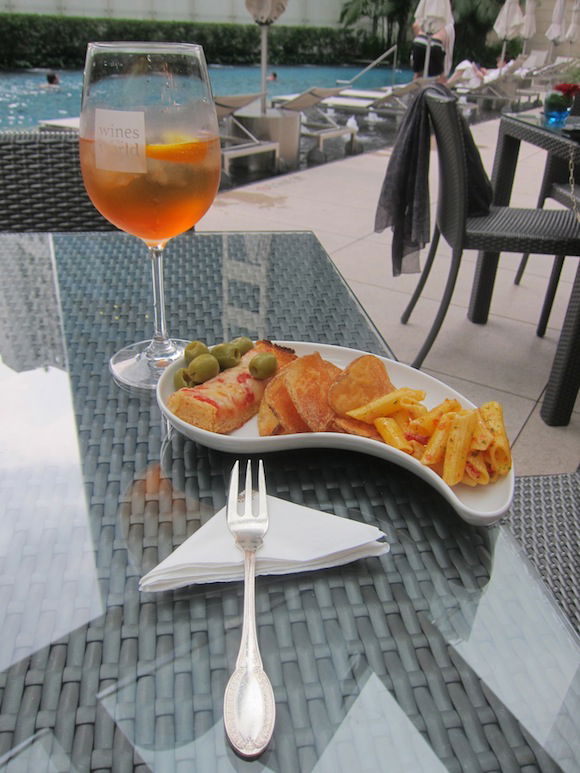 Platinum happy hour
While I didn't have a chance to use the pool it looked quite nice and I especially liked the lounge chairs they had in shallow water.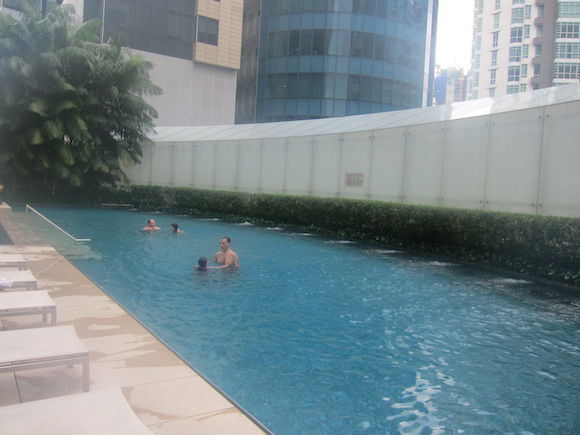 Pool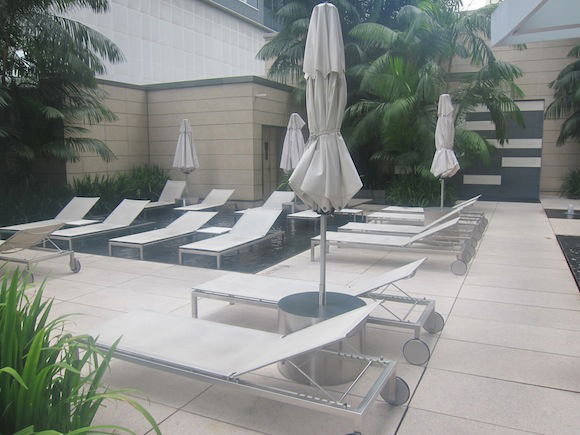 Pool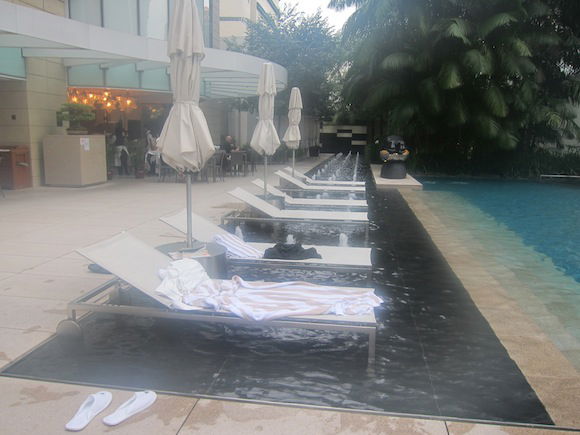 Pool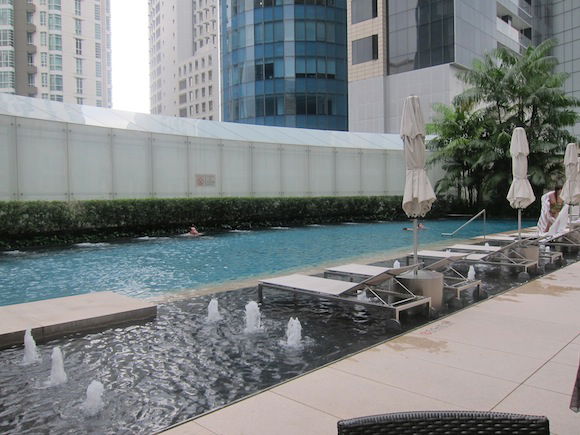 Pool
Overlooking the pool was the gym, which had a decent variety of good equipment.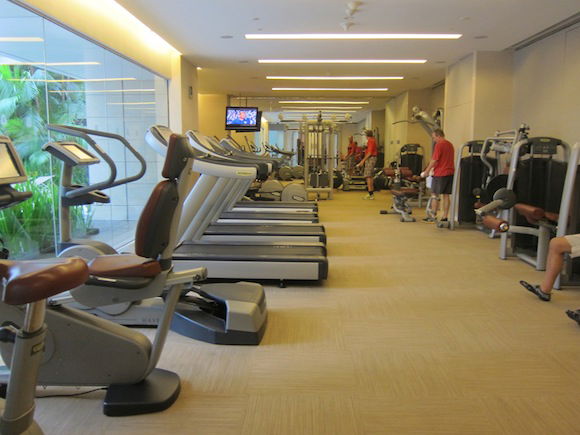 Gym
The following morning we had breakfast at the hotel's main restaurant, Brasserie Les Saveurs. Breakfast is served from 6:30AM till 10:30AM. Since our flight was early we were at the restaurant right as it opened. As a Platinum member we could partake in the buffet for free, and it's worth noting that this isn't even in lieu of the welcome amenity of 500 Starpoints – you could do both.
Not only was the restaurant extremely elegant, but the food spread was phenomenal. For me it's third to only the St. Regis Saaidyat Island Abu Dhabi and Le Meridien Bangkok. But it simply had everything, both western and Asian. The only glaring omission was an ice cream sundae station. 😉
The service was great as well, and we didn't even have to sign a check.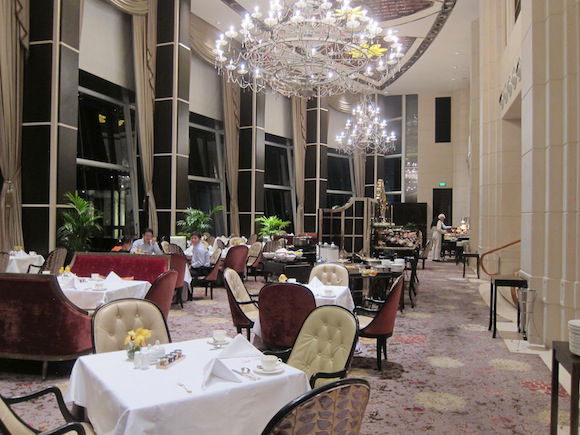 Restaurant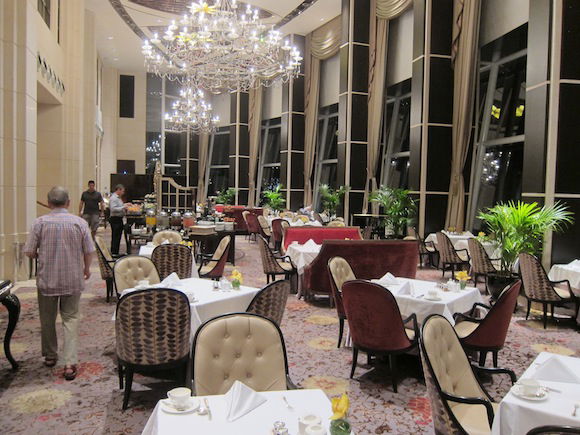 Restaurant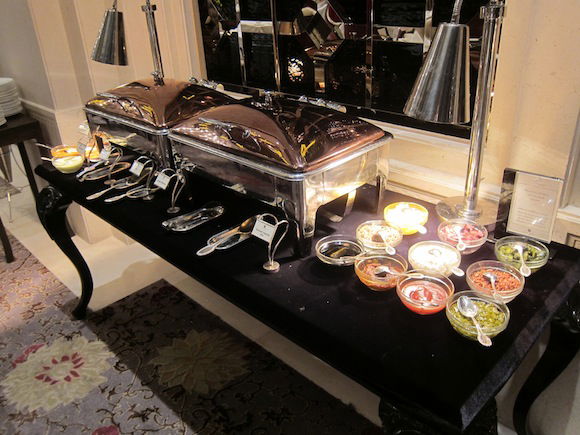 Buffet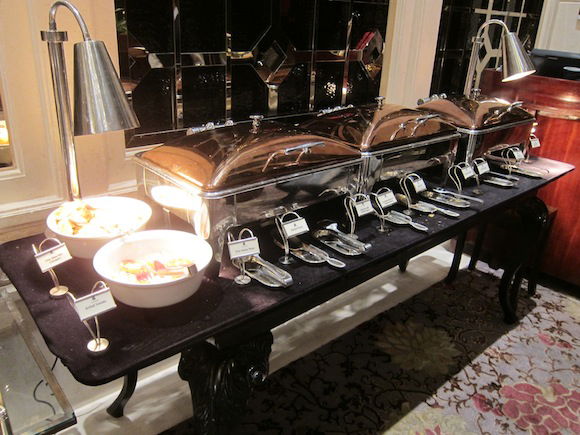 Buffet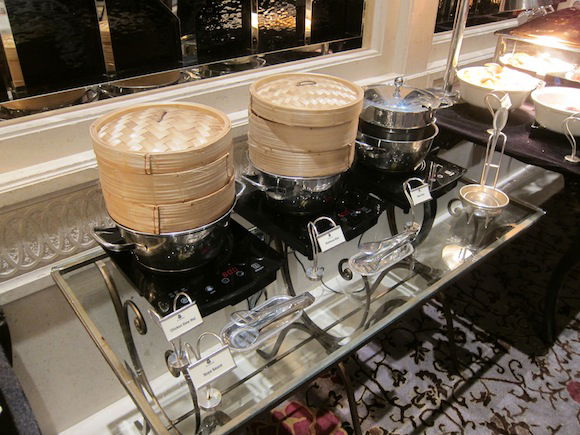 Buffet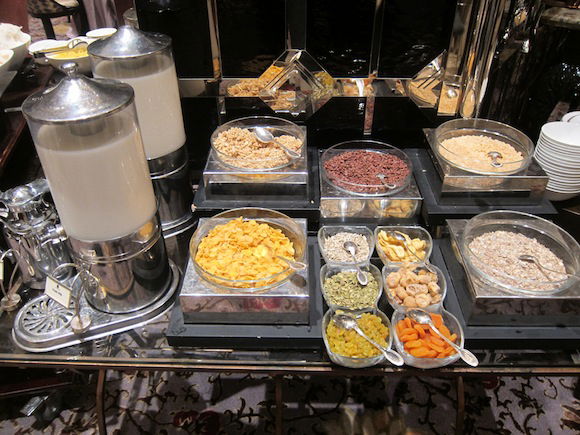 Buffet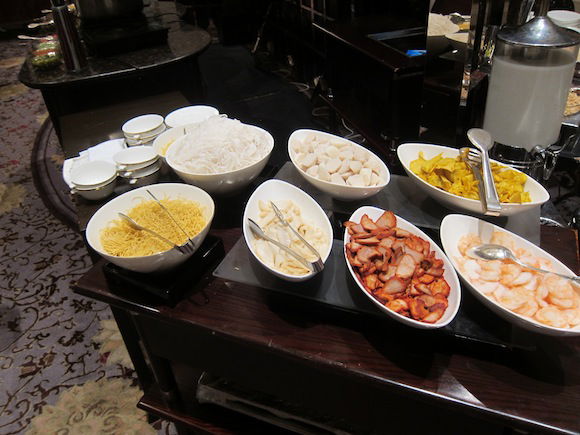 Buffet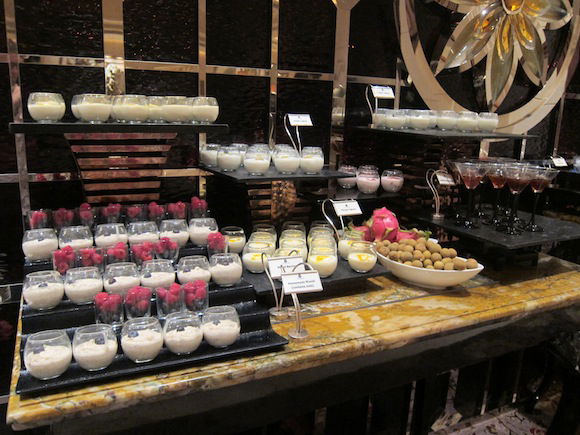 Buffet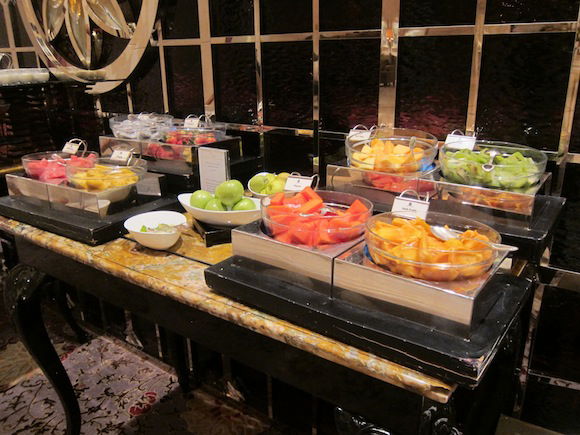 Buffet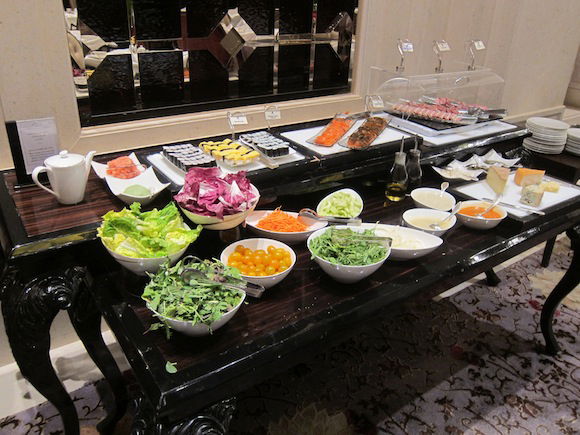 Buffet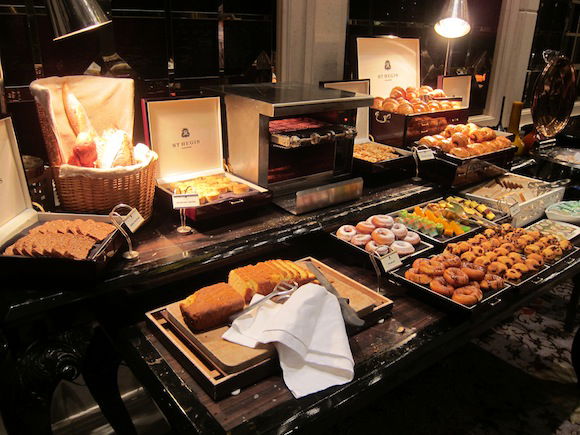 Buffet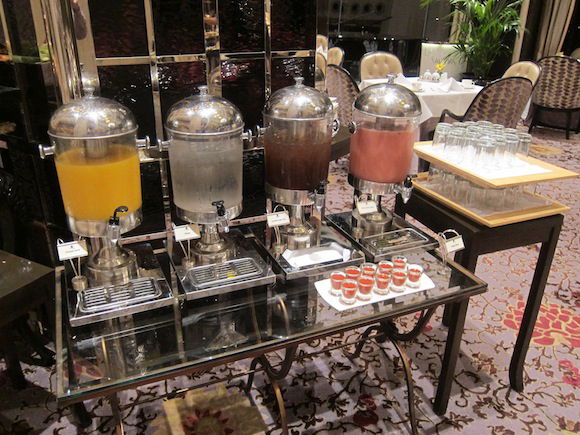 Buffet
After breakfast we grabbed our bags and went to the lobby for check-out. As I emerged from the elevator the same lady that checked me in the previous day was standing at the elevator and addressed by name to ask me how my stay was. It's the small touches you remember at luxury hotels, and that really impressed me.
By 7AM we were in a cab to Changi Airport.
I really liked the St. Regis. It's a beautiful hotel, and frankly more than anything else it's modern, which is tough to find in Singapore. It's not super-modern and feels a bit older than it is, so I'd say it's a middle of the pack St. Regis (I certainly prefer the décor of this property to the St. Regis Saadiyat Island Abu Dhabi, though I prefer the décor at the St. Regis Bal Harbour and St. Regis Bangkok.
If the price is right I'd definitely return. It's worth noting that the St. Regis belongs to American Express Fine Hotels & Resorts and Virtuoso, both of which offer added amenities for stays. In my case it didn't make sense to book through them since my pre-paid rate gave me a 30% discount over the flexible rate (which is the rate you'd get through Fine Hotels & Resorts and Virtuoso). The only added amenity I would have gotten is a $100 food and beverage credit, and I would have basically been paying $80 for that. Given the amazing food options in Singapore, that's not worth it to me.
I should note one last thing – the St. Regis is located near Orchard Road, which is basically the 5th Avenue of Singapore. While this is where most people want to be, I far prefer being down near the Marina. So in terms of location I prefer properties like the Conrad, though I'm probably alone in my location preference.