---
The hotel situation for my second night in Singapore was pretty unique. I was flying straight to Colombo and back that night, departing at 10PM and arriving back in Singapore at 7AM. Then that evening I had a flight to Dubai on Emirates at 9PM. So I knew I wanted a hotel room (for the afternoon before my Colombo flight and for the whole day before my Dubai flight), but didn't know where to stay.
The remainder of my Jetsetter credit was nearing expiration, so I decided to book the Shangri-La. I booked a Horizon Premier Room since I was curious to see how the club lounge there compared to club lounges I've experienced at other hotel chains. The rate would have been about $400, though I had enough credit so paid nothing out of pocket.
The Shangri-La is located near Orchard Road, which many consider the "place to be" in Singapore. I'm not a huge fan of the area as I don't really like shopping, though I do see the lure of the area.
Upon arrival I was promptly assisted by the bellman, who was perhaps a bit too assertive about helping me. He took my bag out of the taxi's trunk, and I thanked him and said I could take it from there. He said "please, allow me, sir." I thanked him again and said it was really fine. He said "it would be my pleasure." At that point I just grabbed it and went!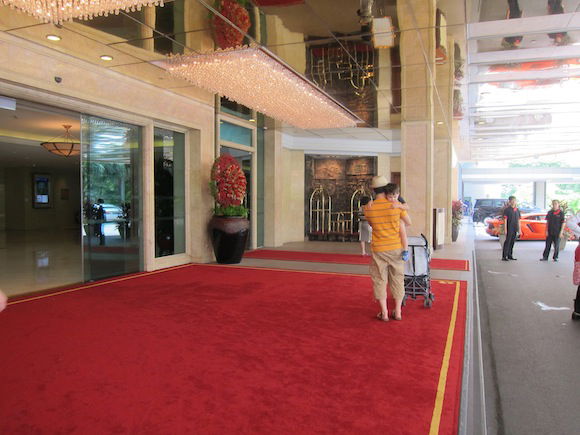 Hotel exterior
Though speaking of the bellmen, their hats are probably the highlight of this hotel. Check those monsters out! I don't think anyone can fully appreciate how badly I want one. Could you imagine walking into a Walmart wearing one of those bad boys?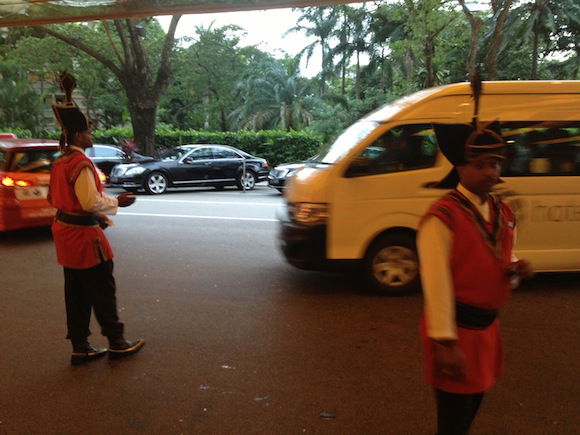 Coolest. Hats. Ever.
The lobby of the Shangri-La is stunning. It's classic without being shabby.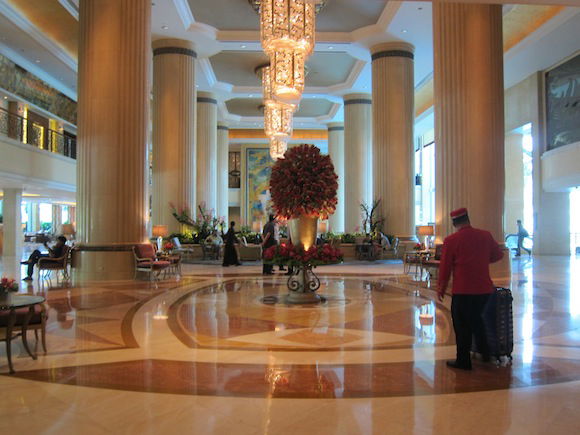 Lobby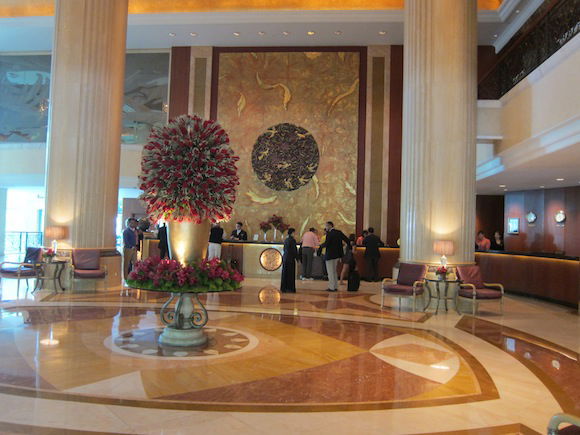 Lobby
Just inside the doors I was welcomed by a "host," who escorted me to the check-in desk. Once they realized I had booked a Horizon Club room I was escorted up to the Horizon Club for check-in formalities.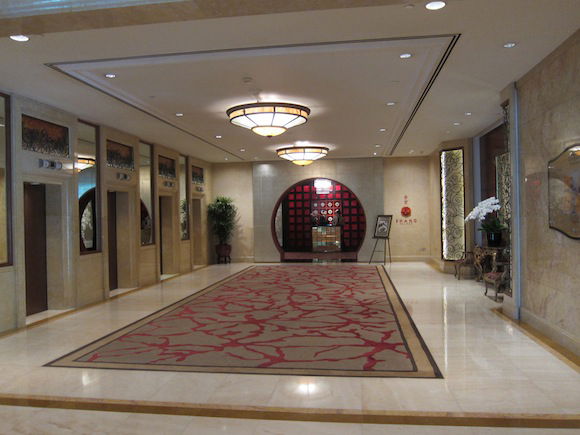 Elevators in lobby
The Horizon Club agent informed the "host" that check-in formalities could be completed in-room, so at that point I was escorted to my room. I couldn't help but feel like the whole process was a bit unnecessarily complicated. In my opinion the hosts should have a list with guest information so that at least one step of the check-in process can be eliminated.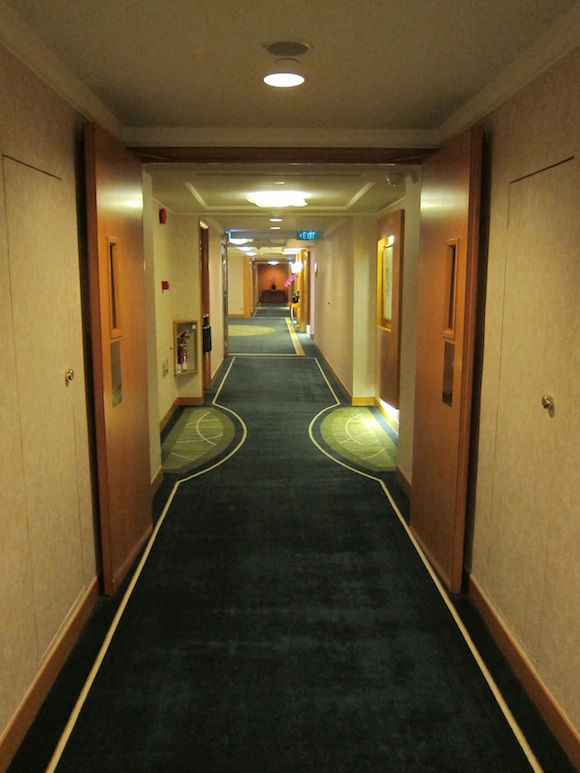 Hallway to room
Anyway, the room was massive at 775 square feet, as large as suites at most hotels. It was triangular, however, so just a large open space.
Near the entrance of the room was a couch with a coffee table, leading to a desk by the window.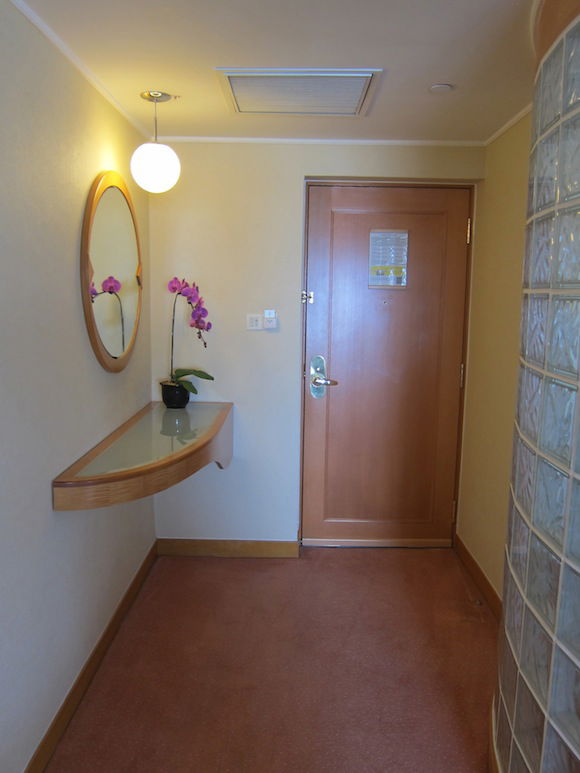 Room entrance

Couch and desk near entrance
On the coffee table was a bowl of fruit.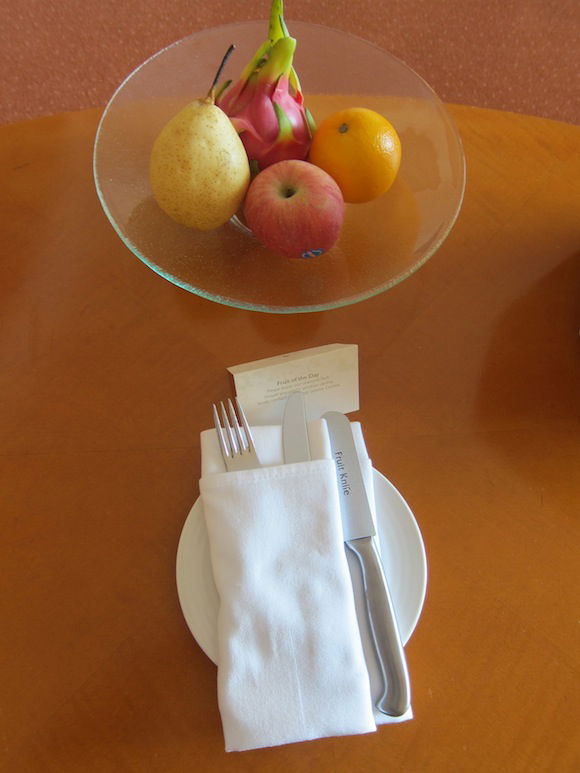 Fruit plate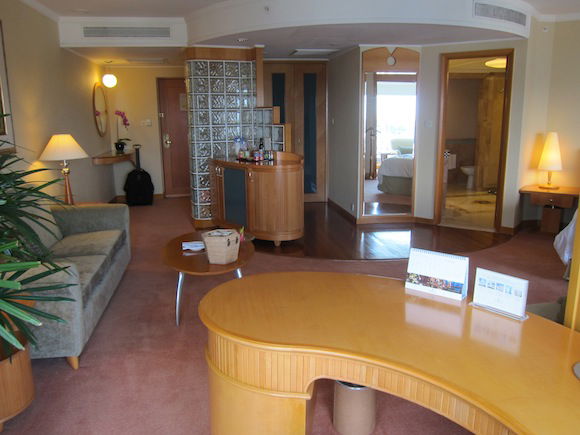 Room from other side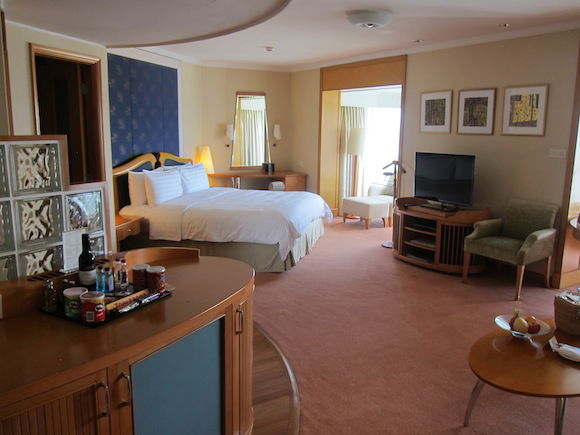 Bed, TV, and more seating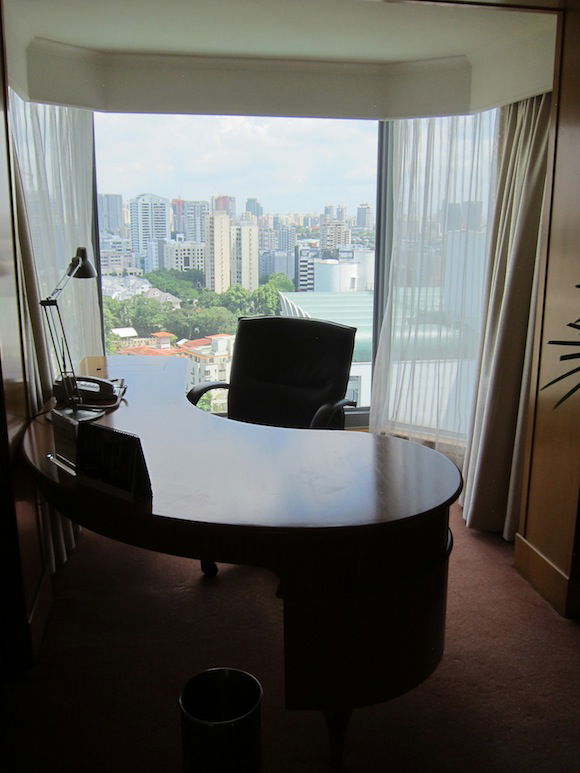 Desk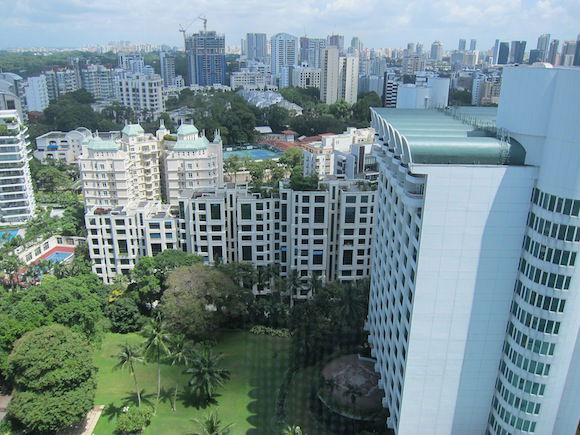 View from the room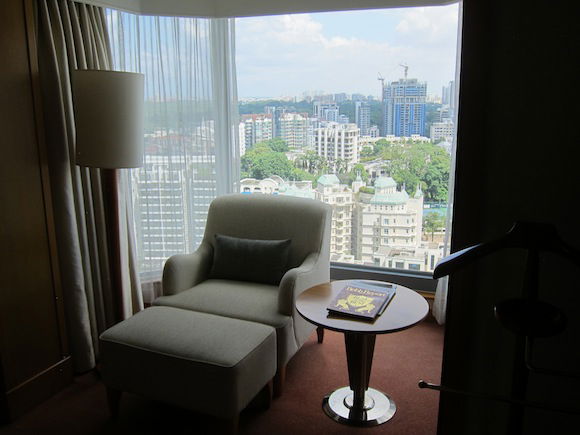 Chair by other window
The bathroom was next to the bed, though between the two was an oddly placed, well, I don't even know how you describe this?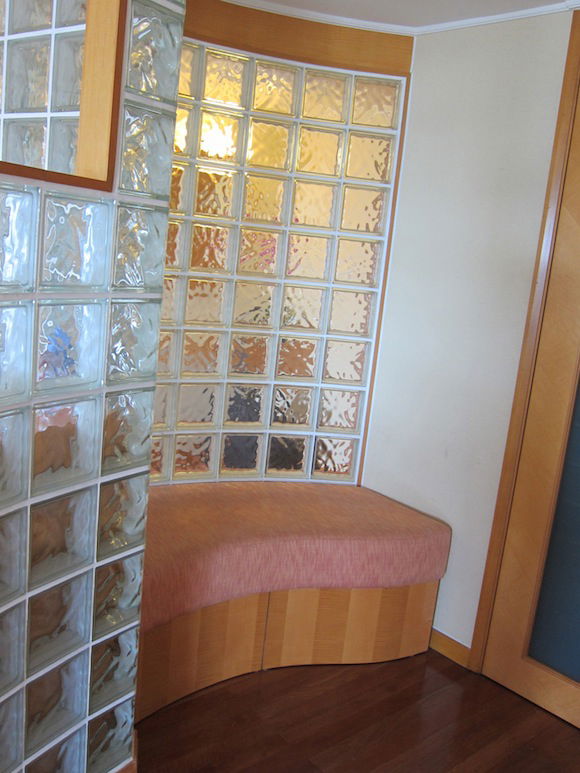 Hmmm
The bathroom was awesome(ish). It featured a tub, walk-in shower, double sinks, and toilet. I say awesome(ish) because the shower wasn't fully enclosed, but instead only the door closed, while the other side of the shower just opened up towards the bathtub.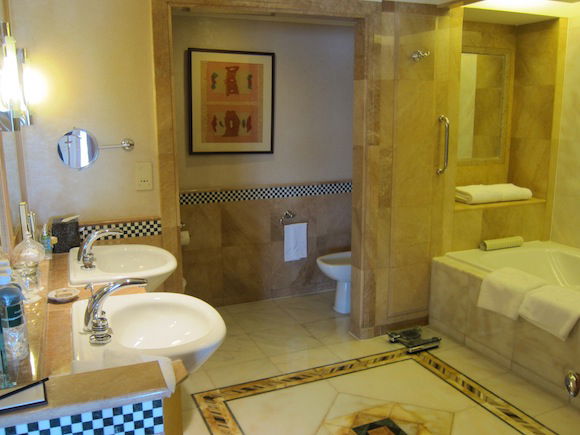 Bathroom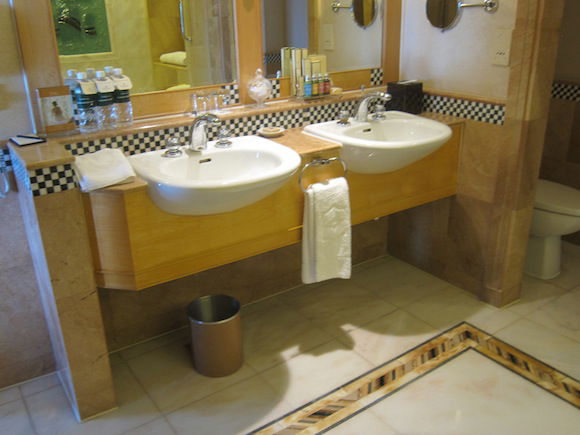 Double sinks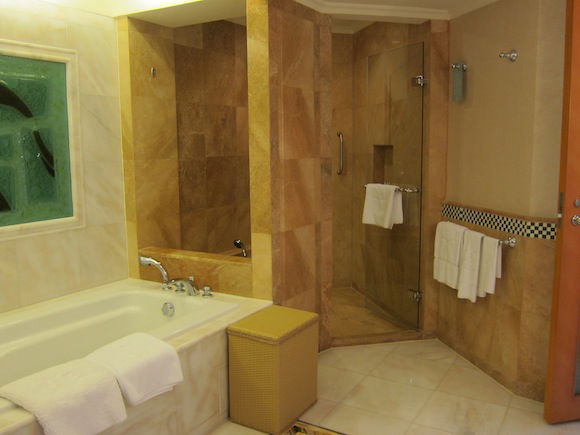 Shower and bathtub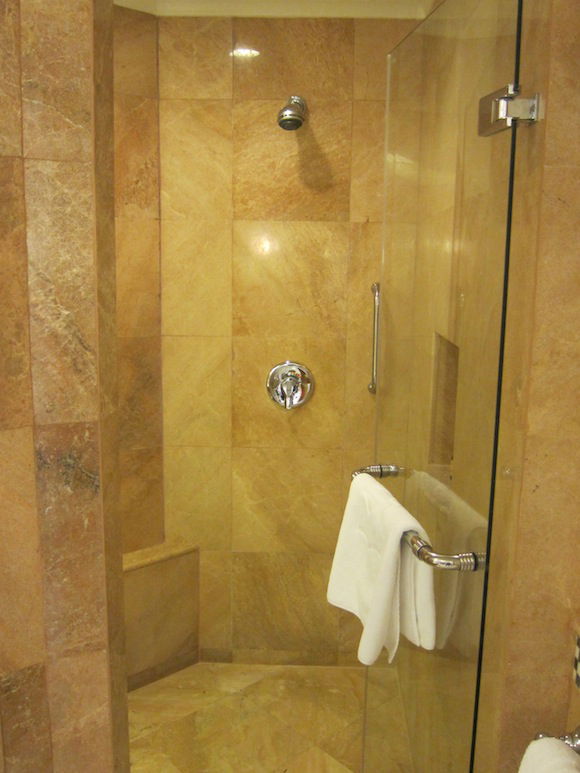 Shower
The bathroom was stocked with L'Occitane toiletries, probably my second favorite only behind Bulgari.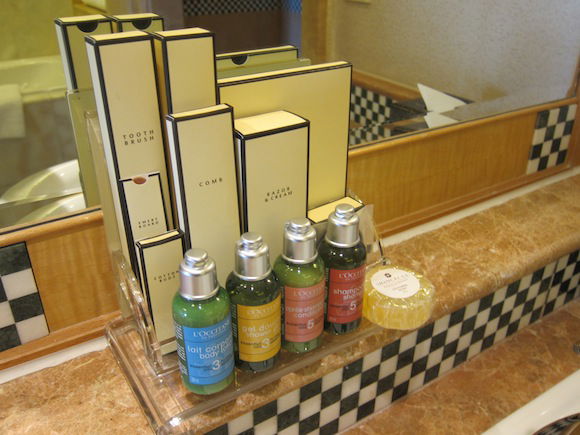 Toiletries
On the whole I loved the size of the room, though couldn't help but feel like it was decorated similar to a dull cruise ship. Fortunately Wi-Fi was fast and free. You know how consuming alcohol makes people more attractive? I find that free Wi-Fi at hotels has the same effect on my impression of hotels.
The Horizon Club serves evening drinks from 6PM till 8PM, and I had the chance to pop in there and check out the spread prior to my flight to Colombo.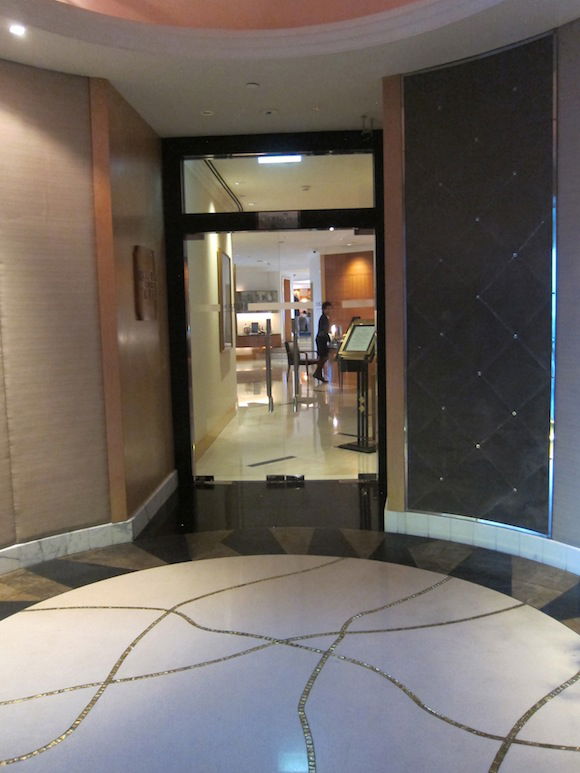 Horizon Club entrance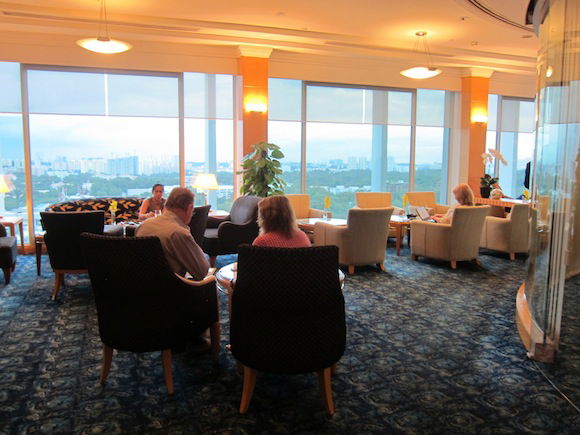 Horizon Club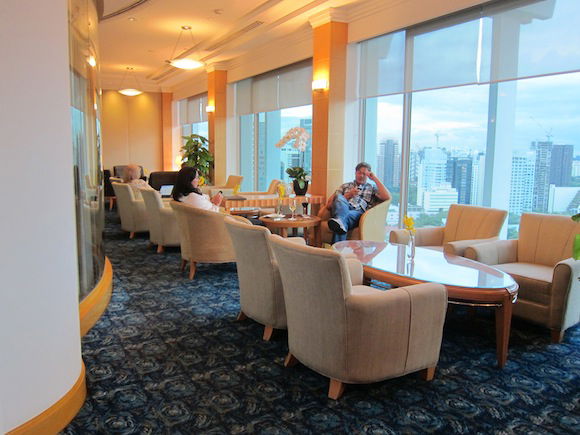 Horizon Club
While the spread had a good variety of items, they were all super-gourmet (in other words, I had no clue what they were, even with the descriptions) and in tiny portions. Certainly no substitute for dinner as you'll sometimes see in club lounges. I hate to say it, but I thought the spread at the Conrad was better.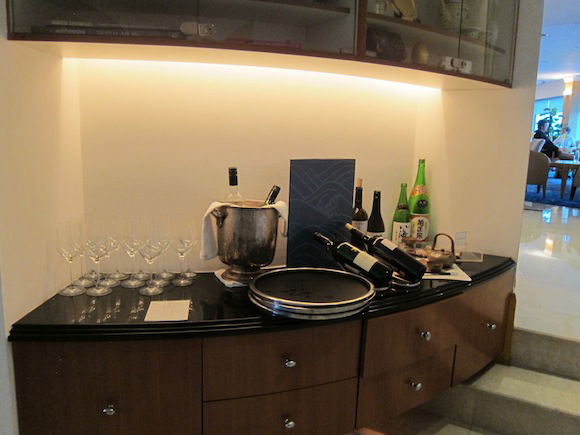 Wine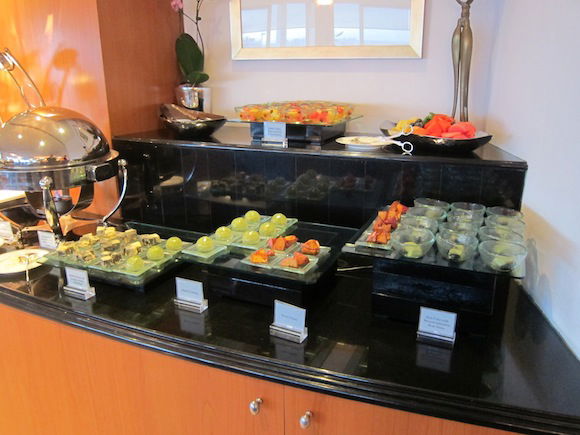 Evening spread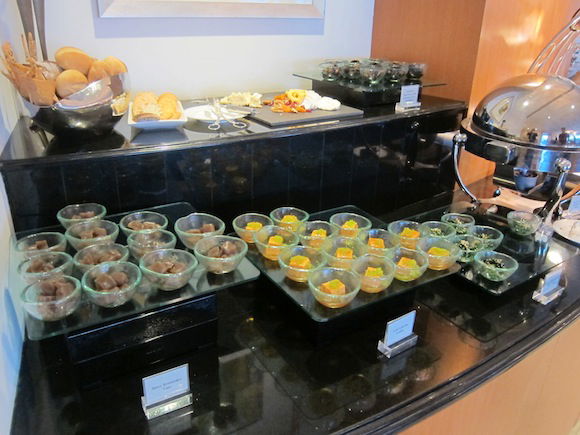 Evening spread
The following morning I returned after my Colombo turn to check out the breakfast spread.
Interestingly breakfast isn't served in the club lounge, but rather the private dining area located next to the club lounge. The spread was excellent for a club breakfast, with several hot dishes as well as an a la carte menu. I didn't actually eat anything but rather just had an iced coffee after flying all night and wanting to catch up on a bit of email.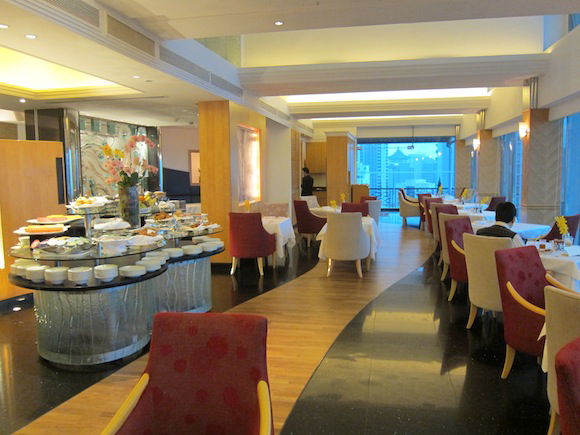 Breakfast venue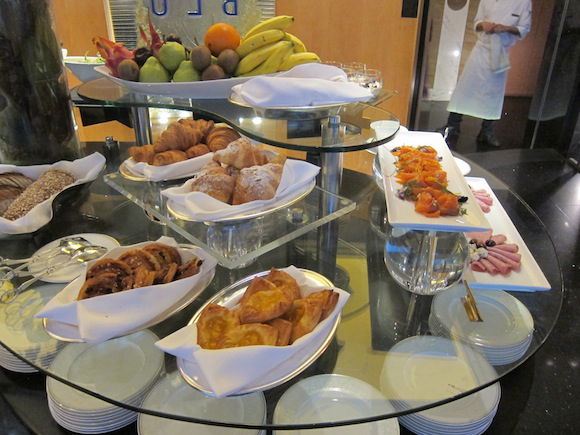 Breakfast spread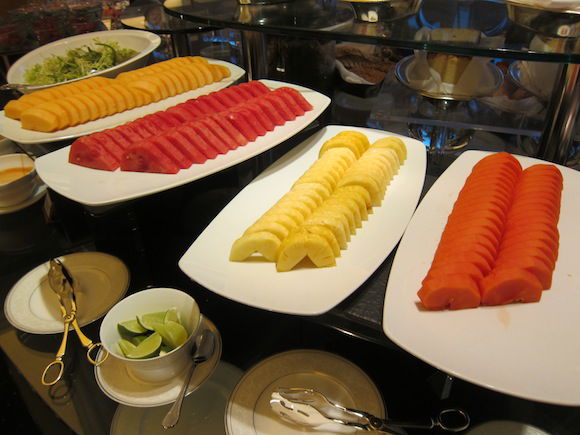 Breakfast spread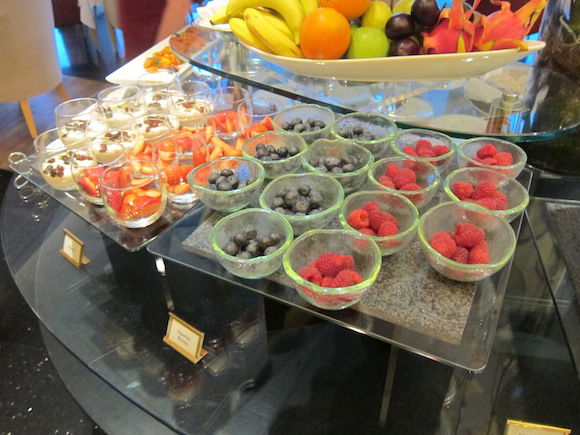 Breakfast spread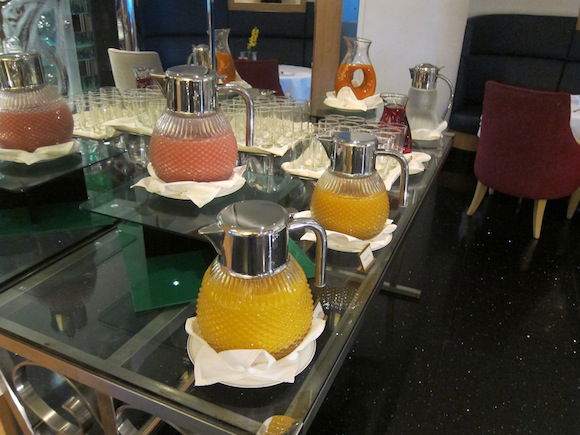 Breakfast spread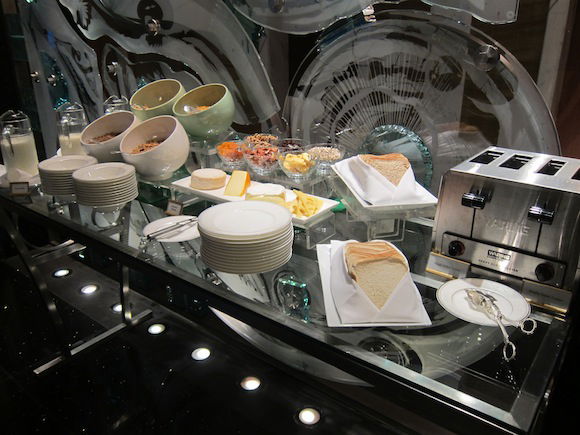 Breakfast spread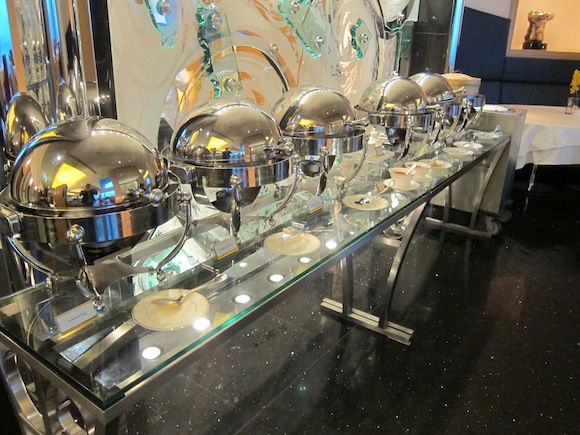 Breakfast spread
I napped for much of the rest of the day, though briefly checked out the hotel's other facilities.
The hotel has a gym with modern (and plentiful!) equipment.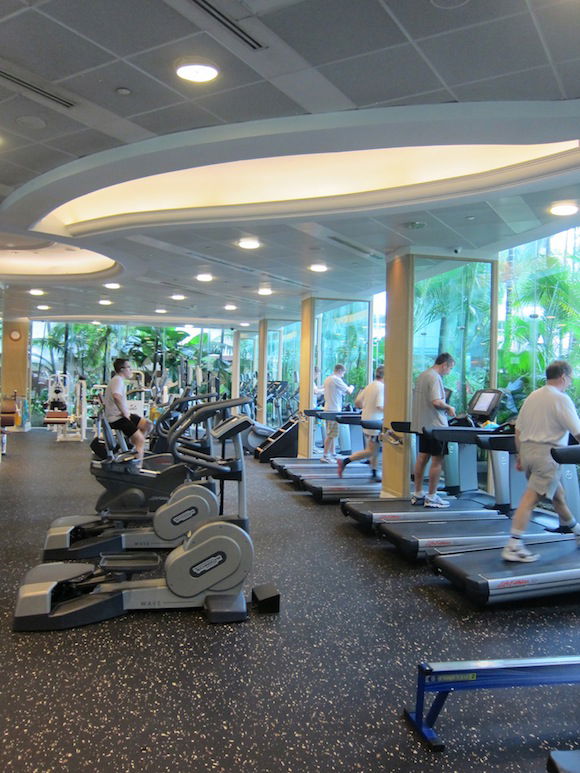 Gym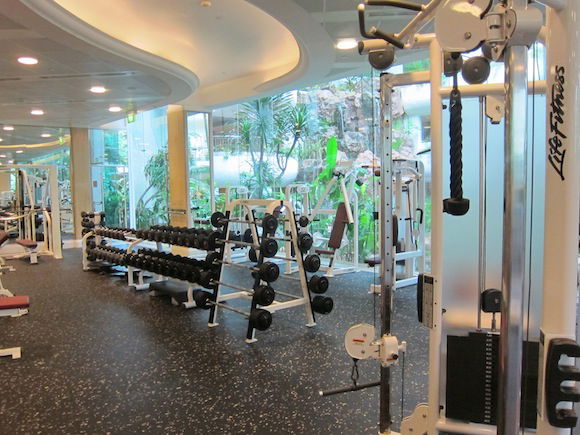 Gym
There's also an outdoor pool, though it was raining the whole time I was there, so I didn't use it either.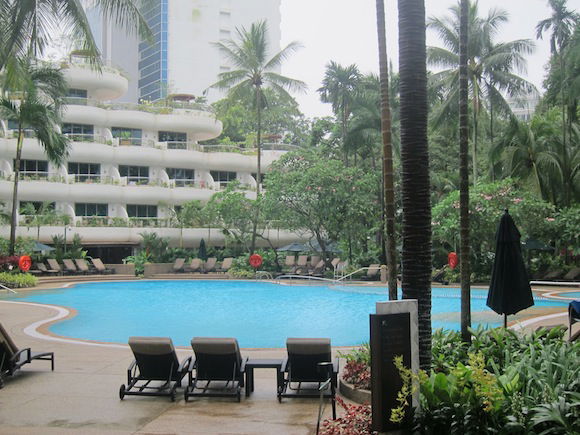 Pool
I was curious to see whether Shangri-La offered an experience substantially different from the "mass market" chains like Hyatt and Westin. If this hotel is any indication, the answer is "no."
The service at the hotel was reasonably good, though not great, and I thought the rooms were outdated. The club lounge spread was nothing that sets a Horizon Club apart from a club at a Westin or Hyatt, where you receive complimentary access as an elite member.
I can't imagine actually paying the rates they charge out of pocket, though as they say, "your mileage may vary."