---
Due to award availability our flight was arriving from Seattle at 4PM and leaving for Hong Kong at midnight, so we had an eight hour layover in San Francisco. When I have a layover that long I prefer to just book a reasonably priced room at an airport hotel. I value a stay credit (towards top tier status with Hyatt or Starwood) at about $60, and in this case the brand new Aloft San Francisco Airport was $100 with tax. So I was basically paying an additional $40 above what I value a stay credit at to have a place to rest for the afternoon. For that matter I've actually wanted to try out Aloft hotels since I've yet to stay at one, and I was curious what they were like given that they are "a vision of W Hotels" (which isn't something to aspire to, in my opinion).
If nothing else, having a hotel room to relax in for an eight hour layover saves me at least 2,000 calories worth of snack mix that I'd otherwise be munching on in an airport lounge, as opposed to a hotel room, where I have a quiet place to work.
We took the shuttle from the airport, which is shared with the Westin. It took about 10 minutes to get to the hotel, and we were the only ones to exit at the Aloft.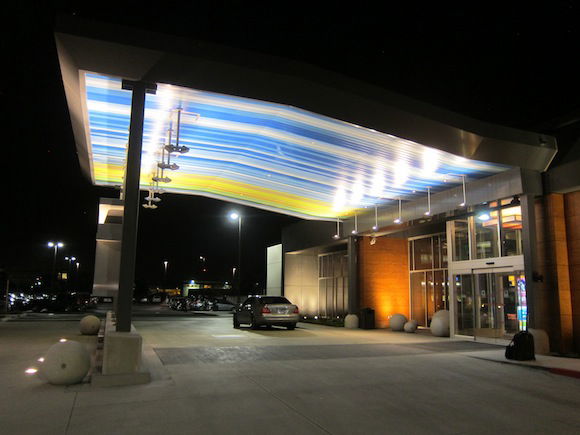 Hotel exterior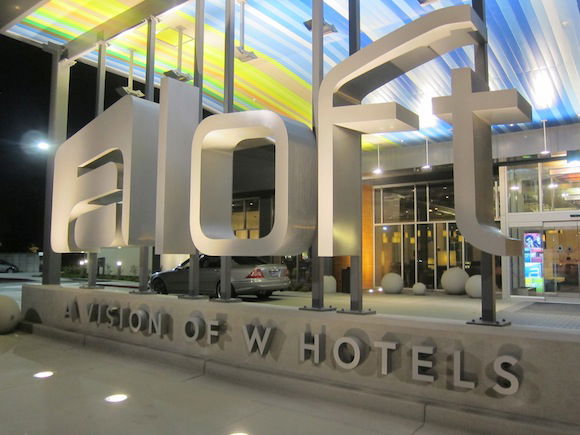 Hotel exterior
Once inside the hotel I found the circular check-in desk to the right, where a cheery agent checked us in in less than a minute. She was extremely professional and thanked me for being a Platinum member and offered us two vouchers for complimentary hot beverages. I also requested an airport view room, which she laughed at, though gladly complied with.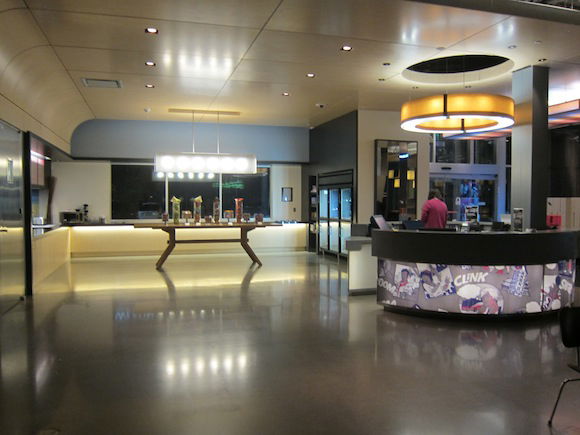 Lobby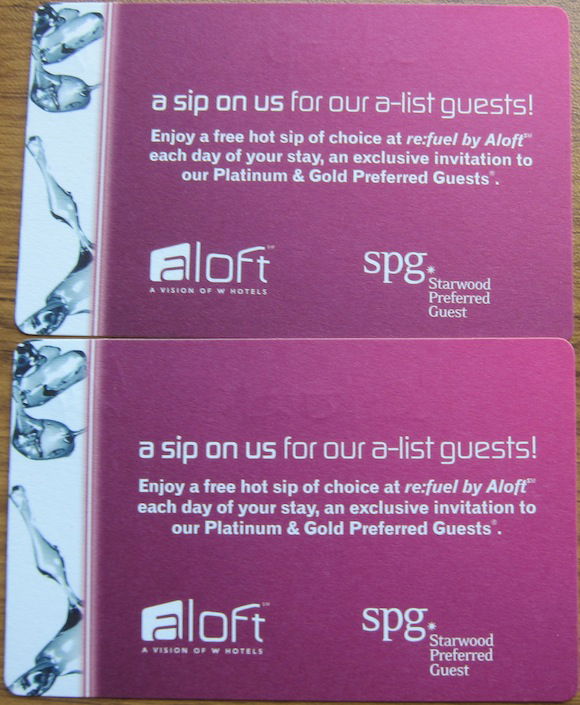 Drink vouchers
The lobby had a communal area with a pool table, as well as a huge bar, called "WXYZ Bar."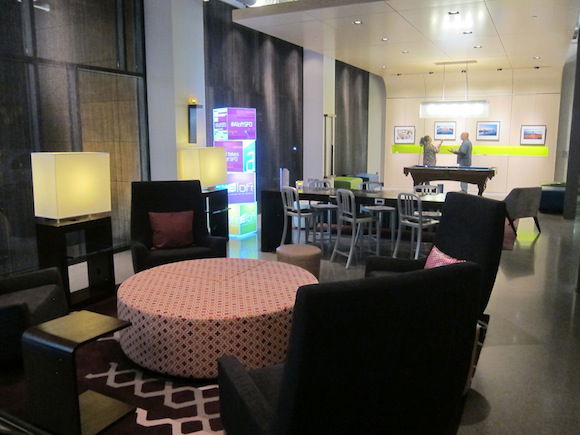 Lobby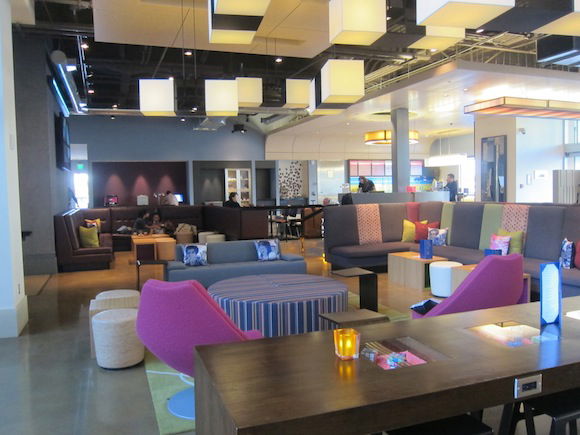 WXYZ Bar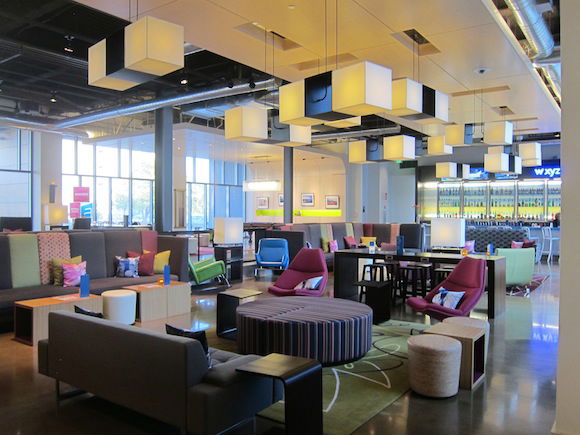 WXYZ Bar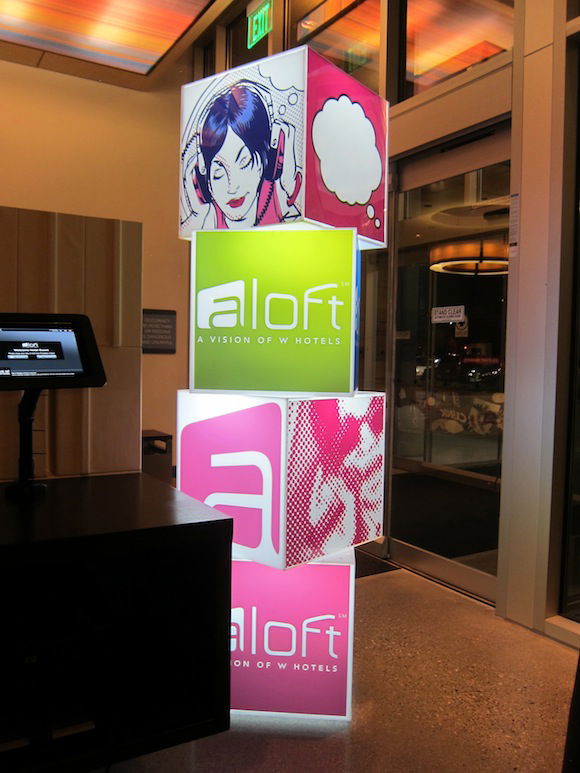 Aloft branding
We took the elevator up to the sixth floor, where our room was located. It had a funky colored lava-like floor that gushed around as you stepped on it.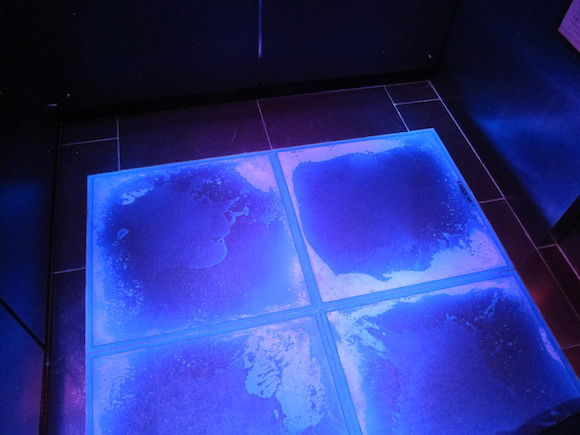 Elevator floor
The hallway looked and smelled "fresh" given that the hotel is still new. Our room was about halfway down on the right.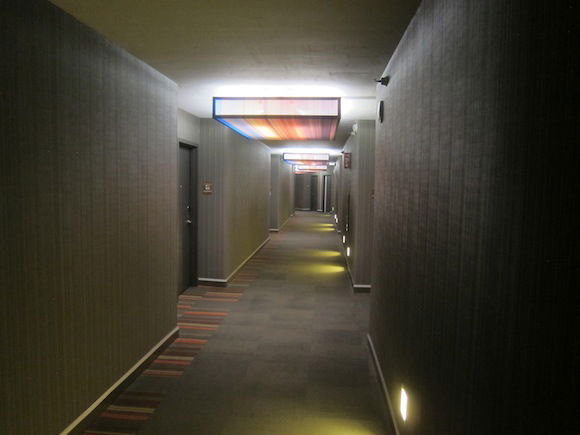 Hallway
The rooms are basic and all identical (there are no suites). There was a fairly comfortable king size bed, and by the window a desk and a counter. I found the outlets throughout the room to be conveniently located, which sadly can't be said for some $500+ per night hotels I've stayed at.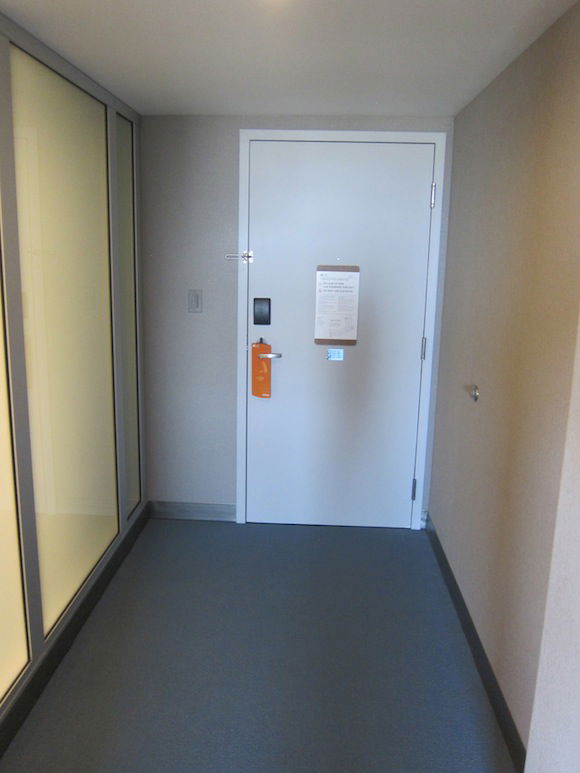 Room entrance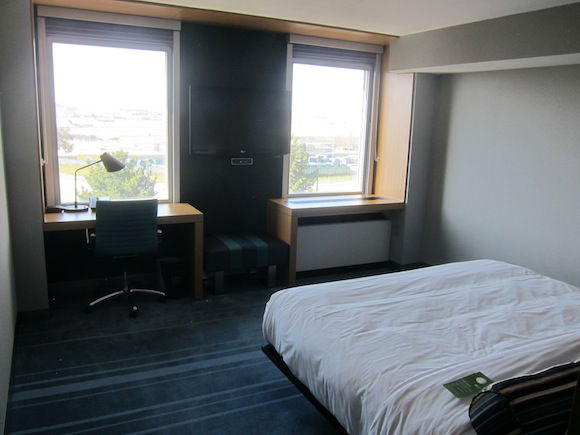 Room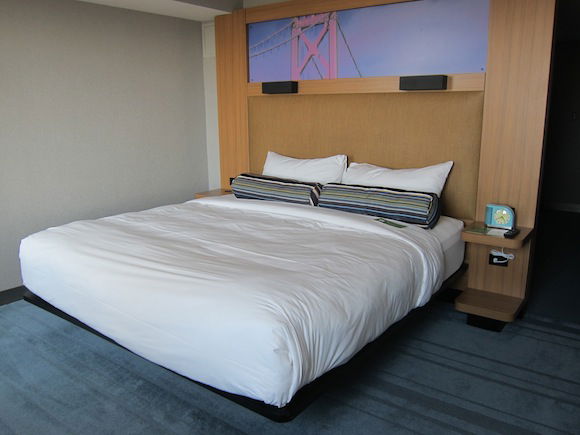 Bed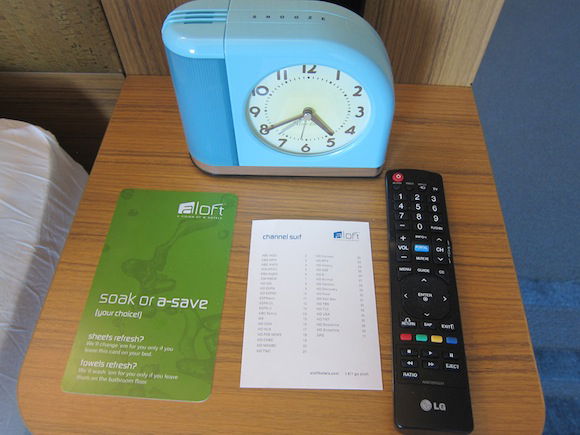 Night stand
The highlight of the room had to be the stunning views of the terminal and runways 1L and 1R.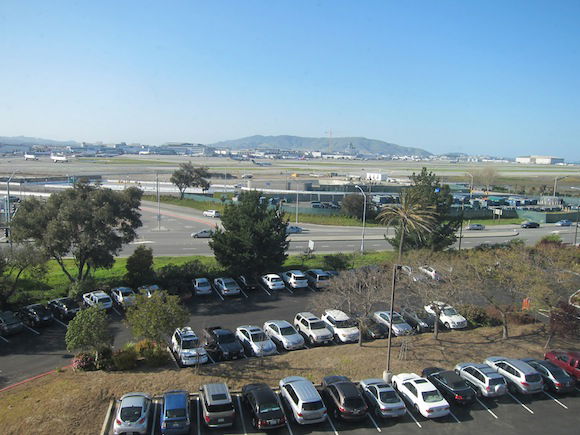 Airport view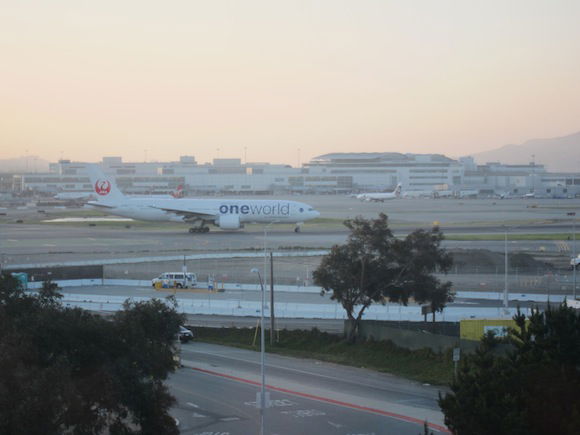 Airport view
By the entrance was a dorm-style closet and the bathroom.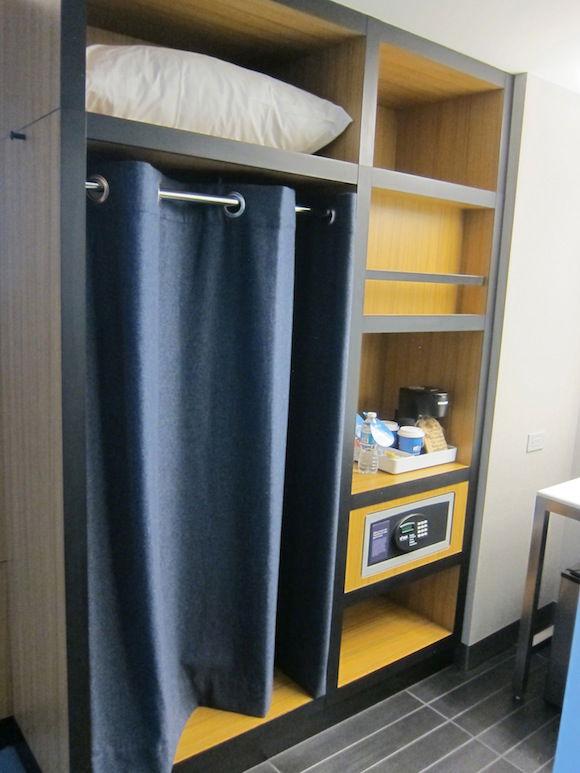 Closet
The bathroom featured a sink with Bliss amenities.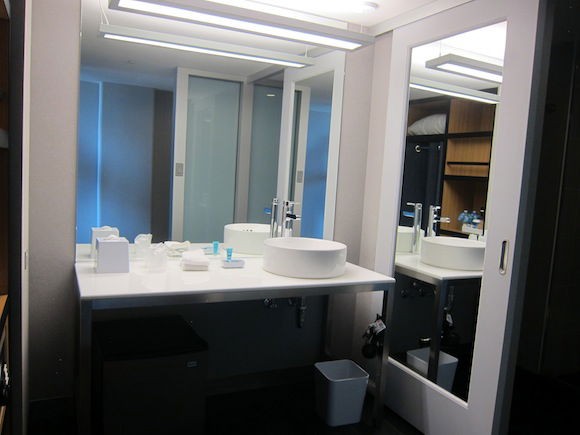 Bathroom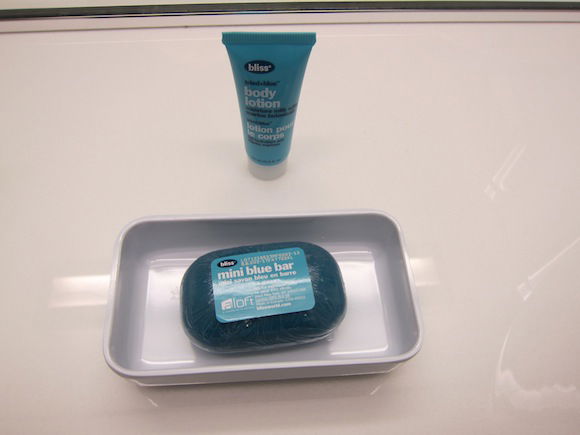 Bliss amenities
In a room next to it were a toilet and shower which was partitioned off by a glass shield.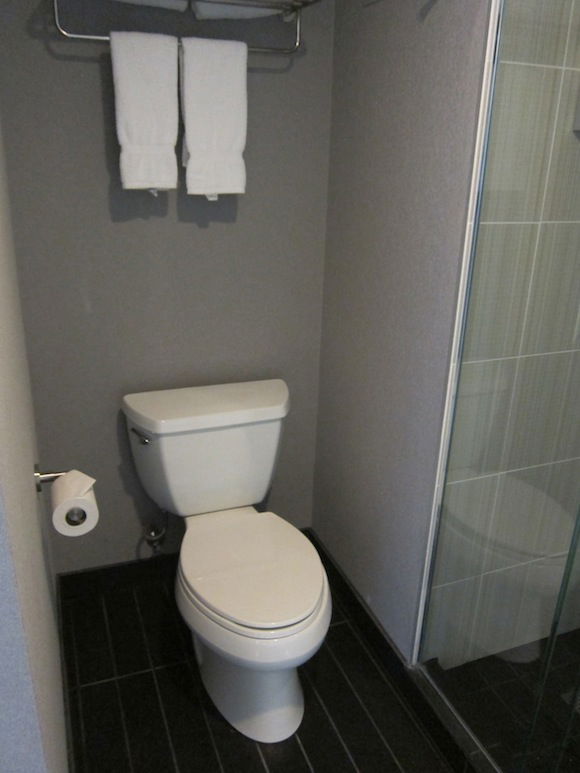 Toilet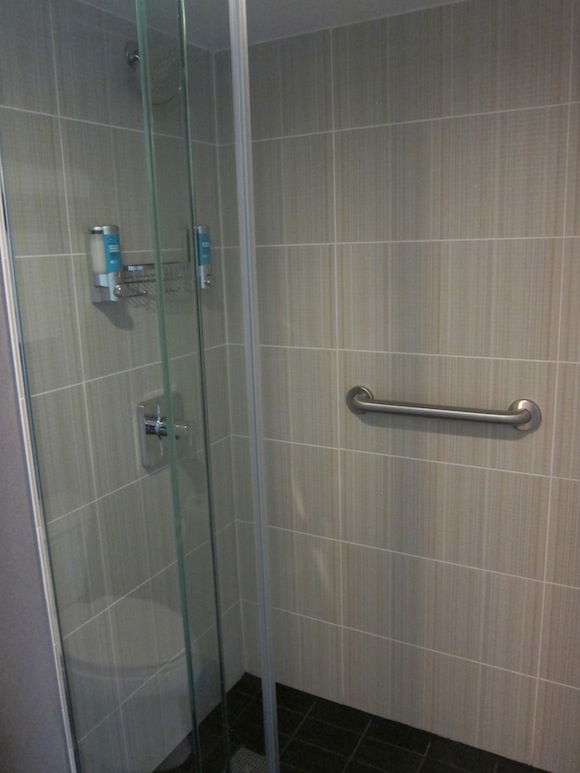 Shower
The shower had shampoo and body wash dispensers. In most cases dispensers drive me nuts for two reasons. One is that they don't seem to work or dispense anything half of the time. The other is that they're usually filled with crap products. In this case the dispensers worked perfectly and were filled with Bliss products, so I actually appreciated them.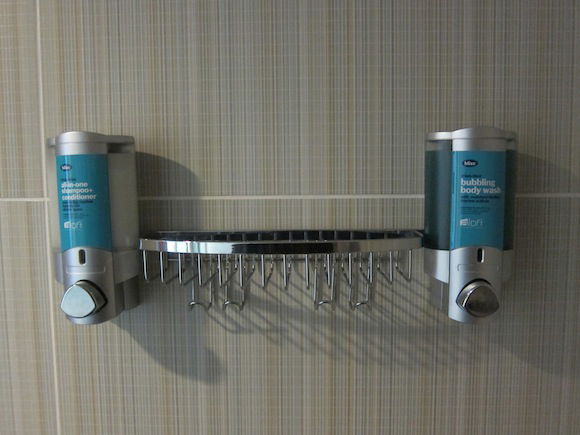 Dispensers
Wifi in the hotel (both in the rooms and in the lobby) was fast and free.
In terms of the public facilities, the hotel has a decent size indoor pool and gym with modern equipment.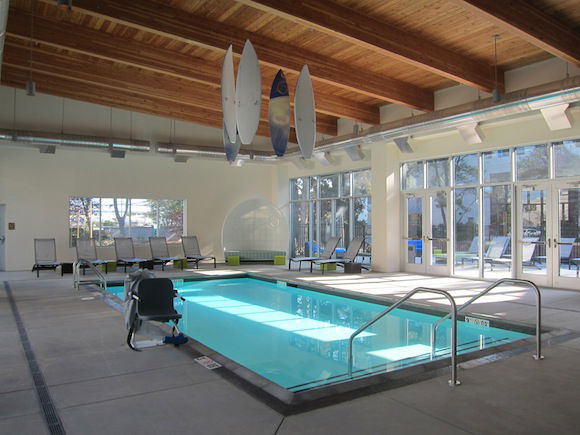 Pool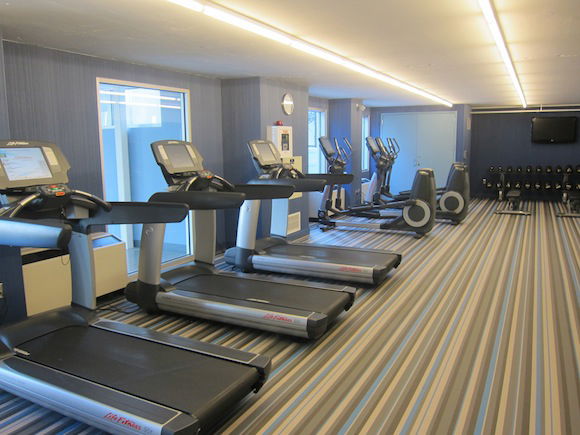 Gym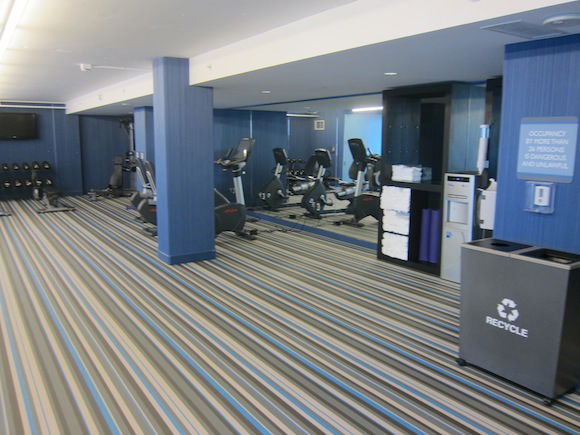 Gym
There was also a really nice outdoor courtyard.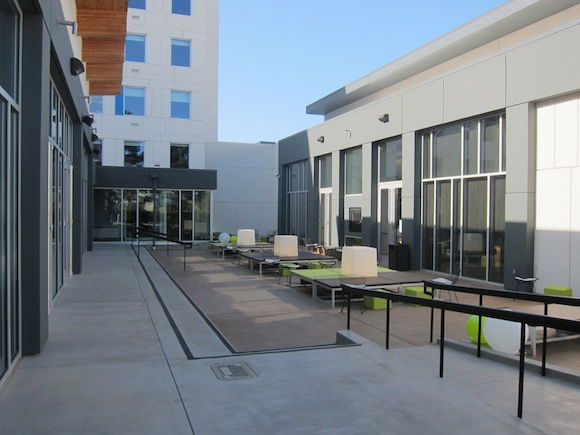 Courtyard
My opinions confuse even me sometimes. I've flown international first class products that leave me feeling indifferent, though oddly I was literally overjoyed by my first Aloft stay. It's even more confusing because Alofts are "a vision of W Hotels," and I don't really like W Hotels.
But every employee at this place was super-friendly and cheery, and I found the rooms to be extremely functional. I think in a way the fact that there are no "premium" rooms made my stay more enjoyable as a Platinum member — it's fantastic for managing expectations because I knew there was no shot at a suite upgrade, and the room was exactly as advertised. And the simplicity of rooms was also great in managing expectations. The fewer "moving parts" there are to a room, the less there is to not be functioning or to be disappointing.
So while I previously intentionally avoided Aloft hotels, I'll actually seek them out in the future. They're like Ws minus the pretentiousness, which is my biggest complaint about Ws.