---
Perhaps it's one of the more irrational things I'll ever do, but I decided to arrange a car transfer with the hotel. Bangkok cabs are inexpensive so on one hand it's a waste, but I figured we'd give the hotel transfer service a try in one direction. The cost was about $90USD, and the transfer was in a pimped out Mercedes S500. I will say that while it was expensive, it was really nice to arrive at a hotel in Bangkok not drenched in sweat, as cabs in Bangkok tend to cheap out on the air conditioning.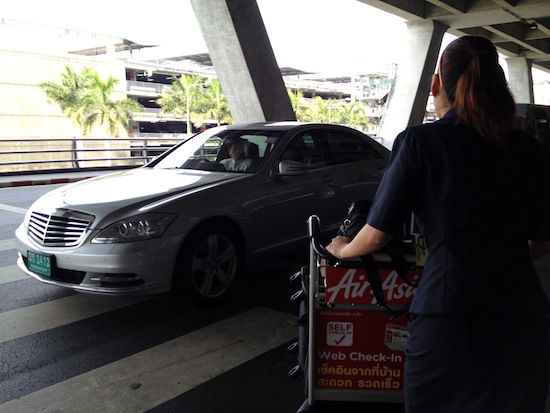 Car transfer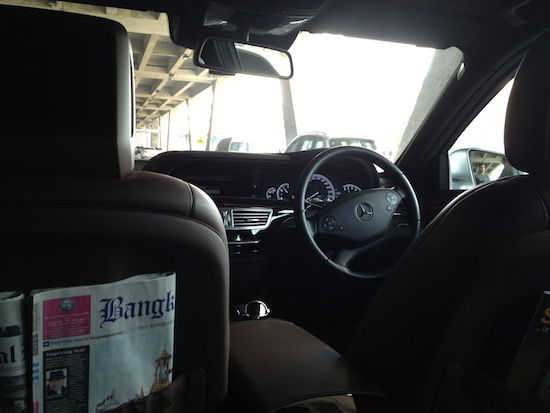 Car transfer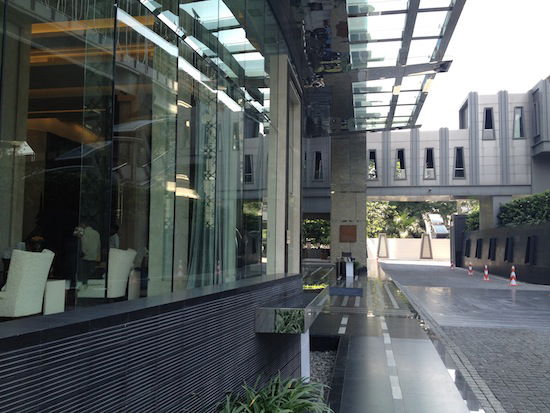 Hotel exterior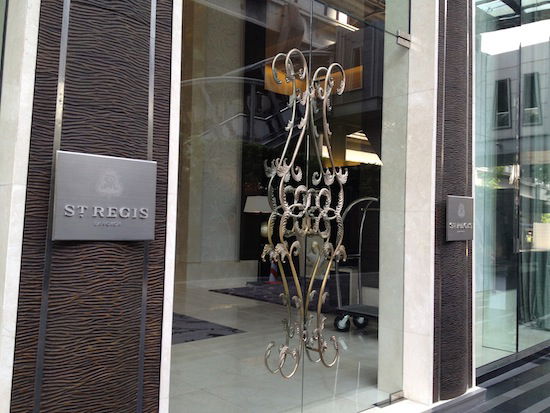 Hotel entrance
The hotel's lobby is actually on the 12th floor, though there's still a fairly grand entrance on the 1st floor including plenty of seating.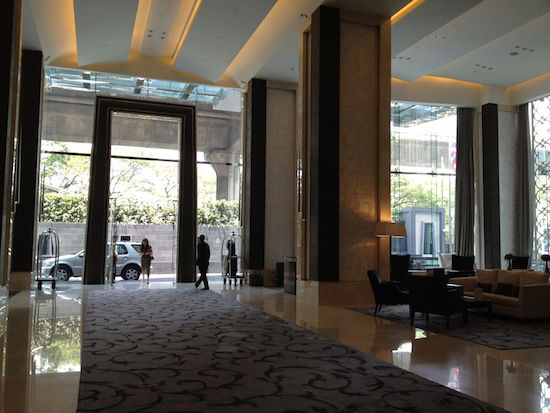 1st floor entrance
We were escorted up to check-in on the 12th floor, which consisted of individual tables instead of one long check-in desk, which I always find to be a nice touch at luxury hotels (the Park Hyatt Tokyo has the same).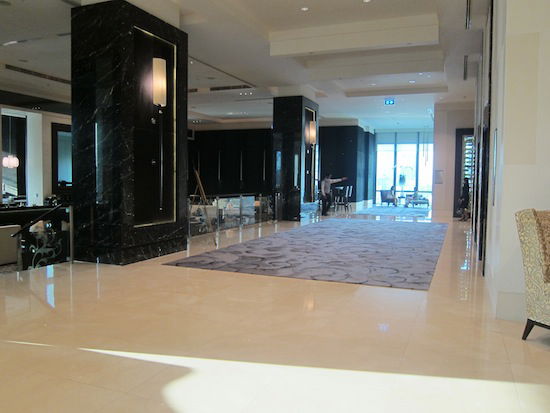 12th floor lobby
I had booked our stay through American Express Fine Hotels & Resorts (the hotel hasn't yet joined Virtuoso). The rate was identical to the best available rate, which was around $200USD per night. By booking through Fine Hotels & Resorts we received complimentary breakfast and one complimentary afternoon tea once during our stay in addition to the Platinum benefits.
While Starwood Platinum members have always received free breakfast at this hotel, they now have to select it in lieu of the 500 point welcome amenity. This is due to the SPG program revamp that happened on March 1. So by booking through Fine Hotels & Resorts I essentially "earned" an extra 500 points and got free afternoon tea.
It's worth noting that the alternative was to book cash and points for $90USD plus 4,800 SPG points per night. After crunching the numbers I didn't think that was worth it. It's rather crazy that the hotel has since gone up to a category six hotel, meaning cash and points would now be $150 plus 8,000 points per night. That's outrageous given how inexpensive luxury hotels are in Bangkok.
The agent at check-in was very friendly and informed us of all our benefits. She informed us we had been upgraded to a Grande Deluxe room with a nice view. I was a bit surprised not to get a Metropolitan Suite which Platinum members seem to report getting about 90% of the time at this hotel, though after looking at availability she informed us that we could move the second night if we wanted to.
I was impressed that the GM was "hovering" around the lobby, and as each party checked in he introduced himself and handed out his business card, mentioning that he appreciates any feedback. I thought that was a nice gesture.
Our room was located on the 22nd floor, room 2227. It was easily one of the most beautifully decorated rooms I've ever seen, and in the end we decided not to even move the second night, since apparently the Metropolitan Suites at this hotel don't have nearly as nice views.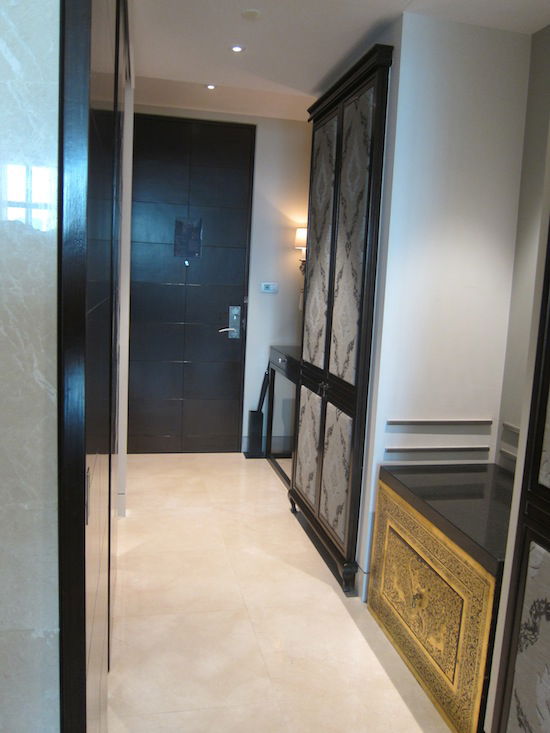 Room entrance
By the entrance was the closet and bathroom equipped with a walk in shower and separate tub, as well as double sinks.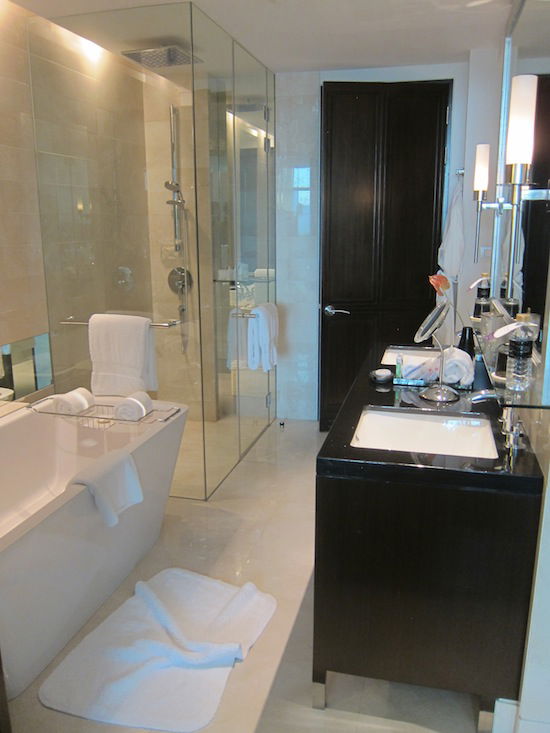 Bathroom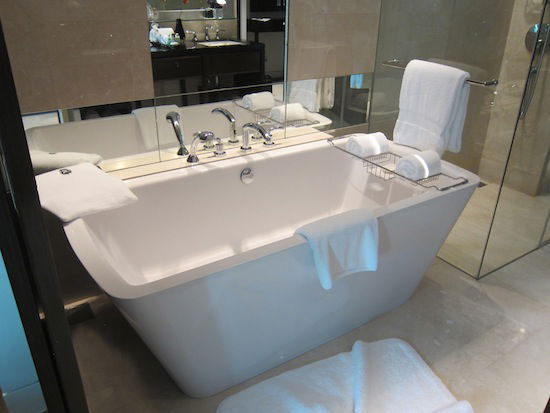 Tub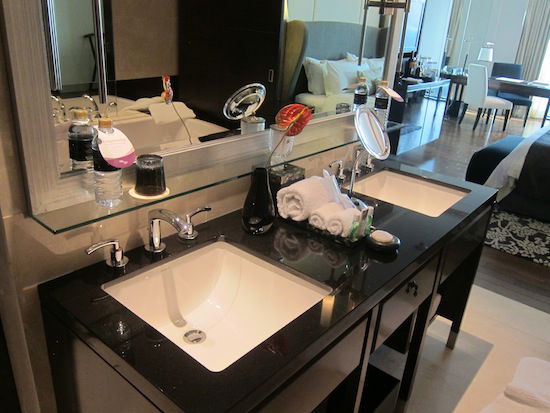 Sinks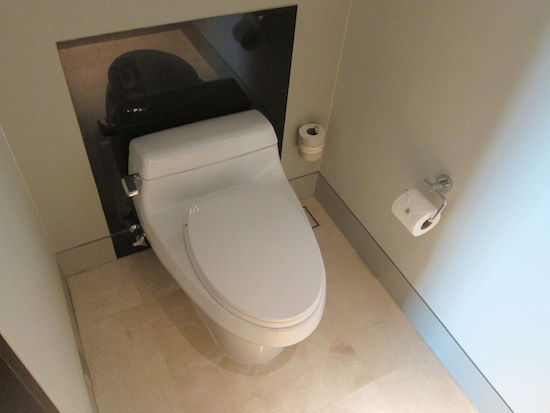 Toilet
Then sliding doors led to the bedroom, which featured a soft bed facing a flat screen TV, as well as a couch and desk with comfortable chair.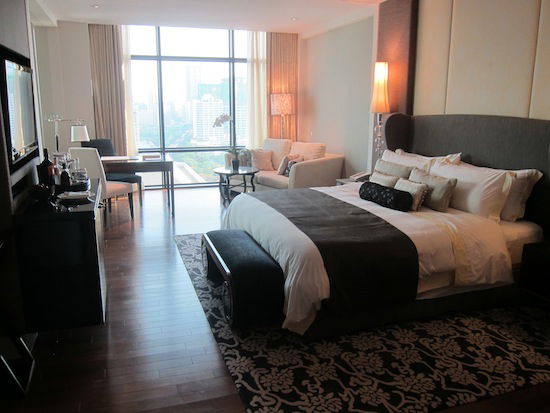 Bedroom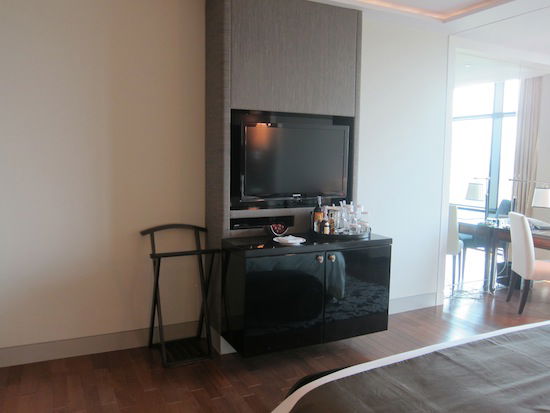 TV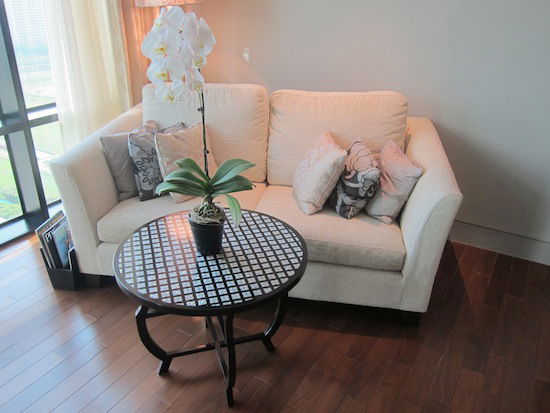 Couch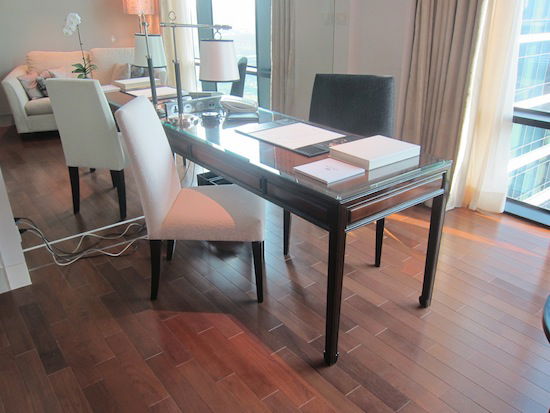 Desk
The room featured views of the pool and in the distance the racetrack and city. While I love Bangkok as a city, it's not one I usually associate with nice views. This was definitely the nicest view I've ever had in a Bangkok hotel.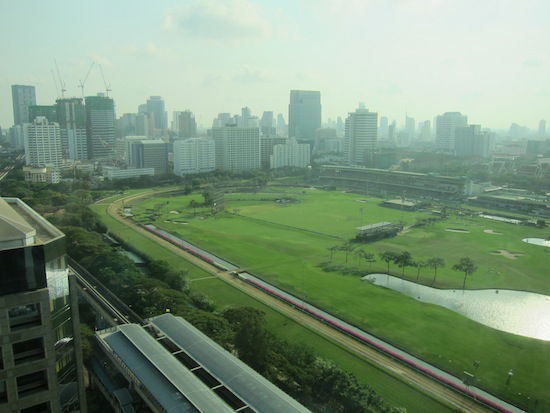 Awesome views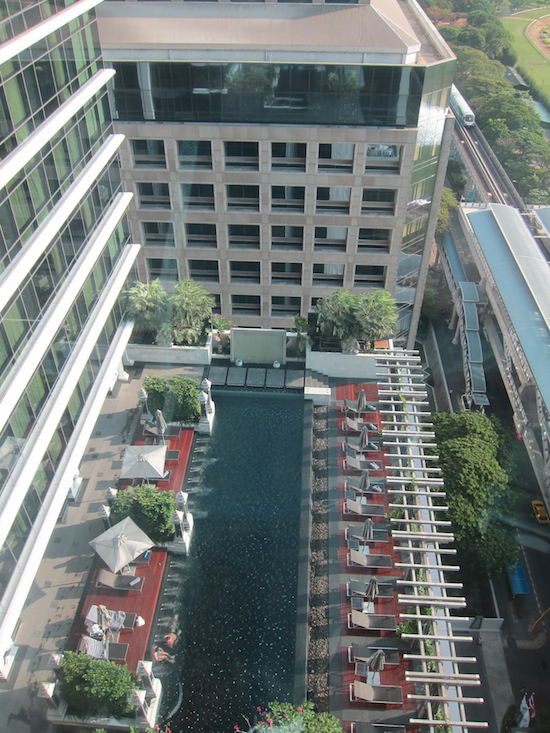 View of pool
Since this is a St. Regis they have the signature butler service. I'll never quite understand what purpose the butlers serve. Our butler introduced herself to us at the beginning of the stay, though if you need anything you call the "central" butler phone number, and then they dispatch a butler to help. So it's not quite as personalized (or useful) as the one I had at Aman-i-Khas, for example (not that I was expecting that level of service).
The two things they seem to always suggest doing is helping with packing and unpacking, and also bringing complimentary tea or coffee. The latter is useful, I guess, but does anyone really want a stranger packing and unpacking their clothes? I sure don't…
It's worth noting that as a Platinum member you get access to a complimentary evening cocktail reception at the hotel's bar, Decanter, between 5:30PM and 7:30PM. It's almost like a mini club lounge with a nice little spread consisting of cheese, meat, bread, olives, etc. They also have a wine list from which you can order whatever you'd like, including champagne. It's a nice little bonus for Platinum members given that the hotel doesn't have a club lounge.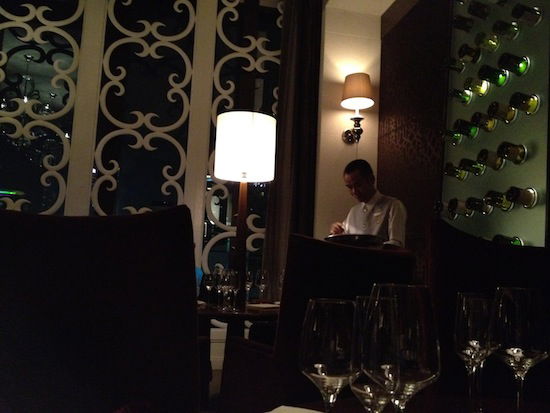 Decanter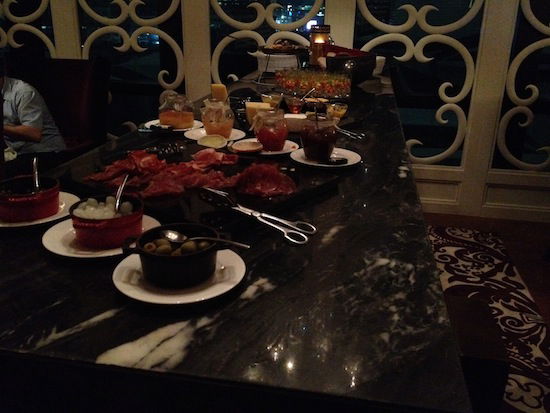 Buffet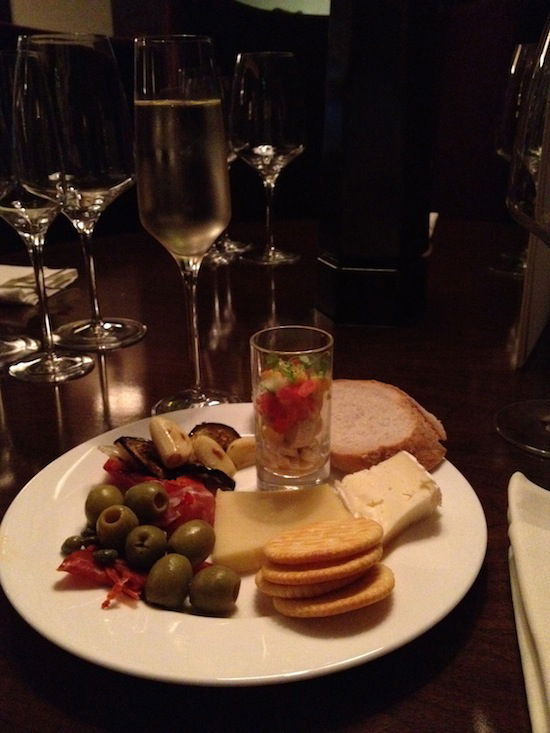 Not too shabby
Breakfast is served daily in Viu Restaurant from 7AM to 11AM, so we took advantage of that both mornings. As is the case in most Thai hotels, the spread was very, very good. It wasn't quite as good as Le Meridien Bangkok, which is easily the best spread I've ever seen, though it was still very good. They had everything imaginable, from Western to Chinese to Japanese to Thai.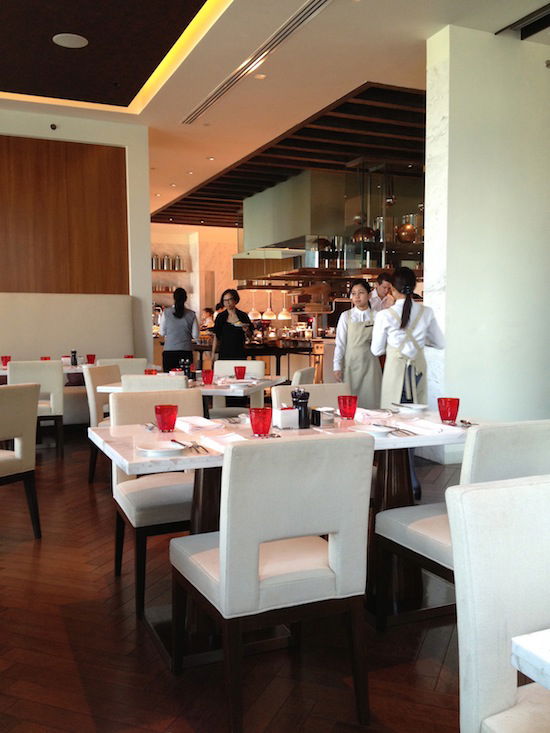 Breakfast restaurant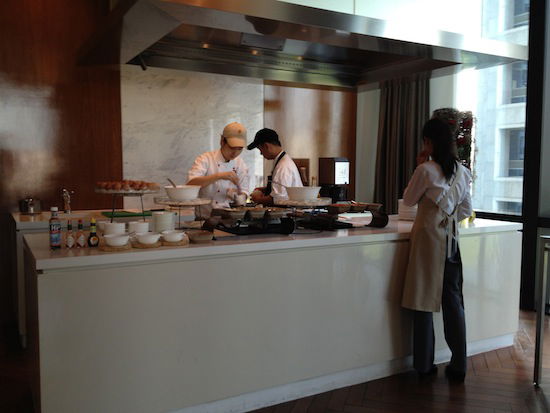 Omelet station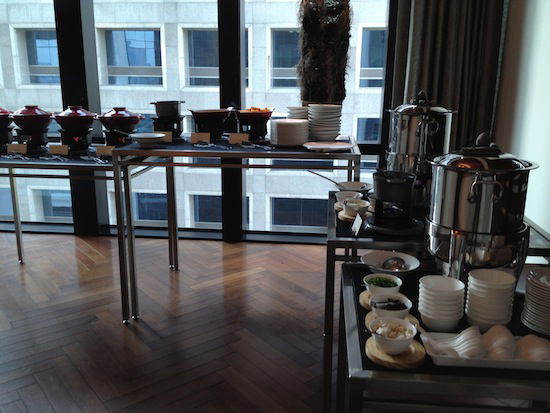 More food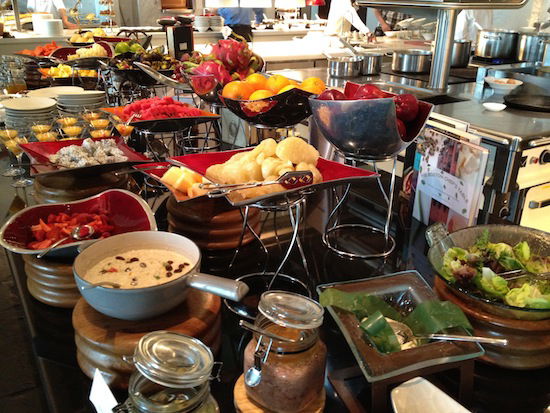 Fresh fruit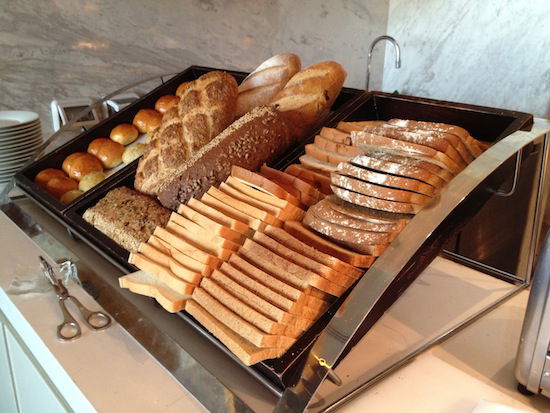 Breads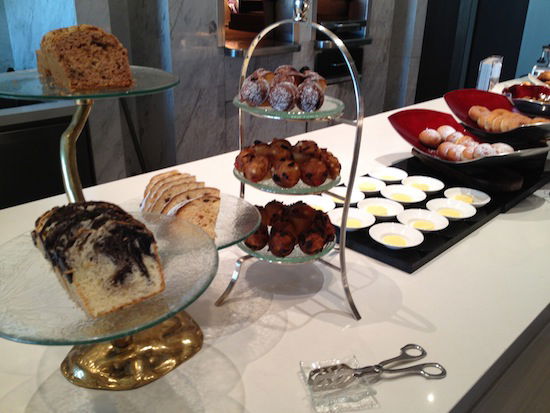 The good stuff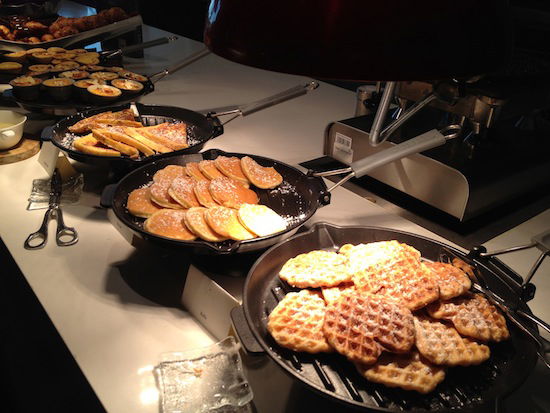 Lukewarm waffles, pancakes, and french toast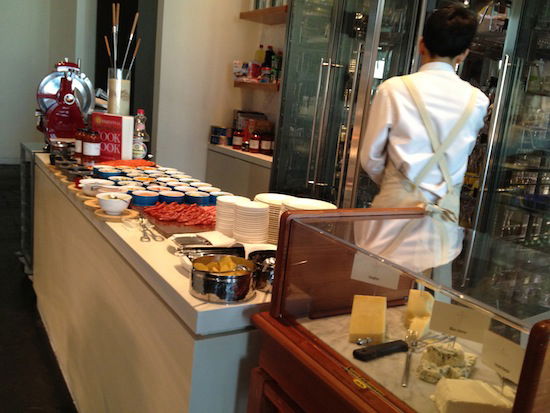 More food!
My only complaint is that the service was a bit lackluster. While I found the service around the hotel to otherwise be great, unfortunately the restaurant staff were lacking a bit with efficiency and accuracy. I should also note that a lot of the hot options were lukewarm at best, so I'm not sure if they weren't replacing them often enough, or if their heating mechanism was no good.
While we're talking about Platinum benefits, it's also worth noting that Platinum members get five free pieces of laundry dry cleaned during their stay. They seem to do it overnight, though not faster.
As I mentioned at the beginning of the report we also received complimentary afternoon tea once during our stay, which we took advantage of in the lobby bar. While it wasn't the seven course afternoon tea I had at the Burj Al Arab, it was excellent nonetheless.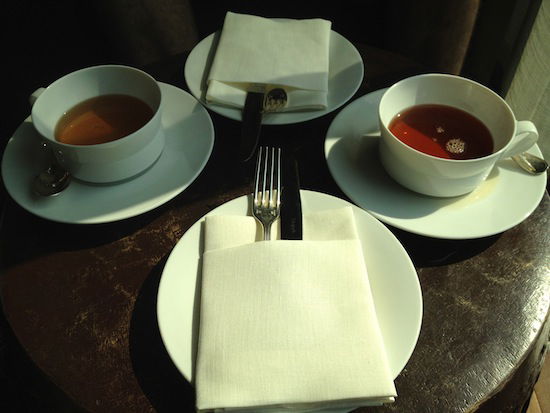 Afternoon tea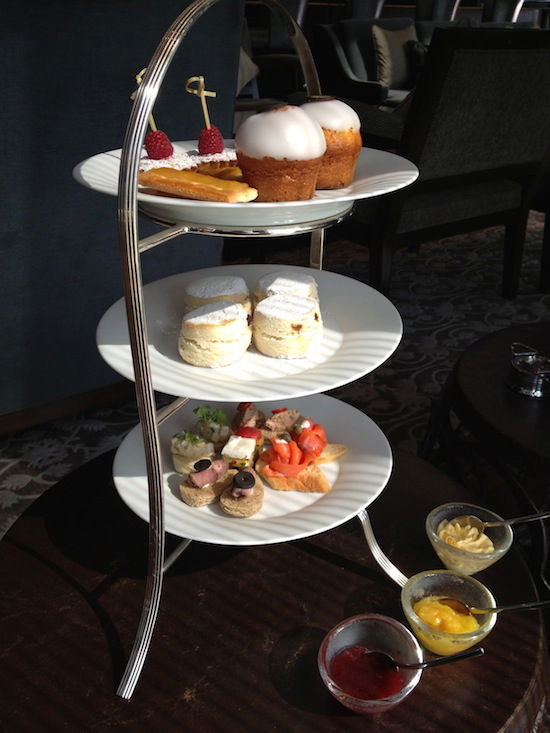 Afternoon tea
As far as the hotel's facilities go, the pool, spa, and gym are all on the 14th floor. The pool is especially nice, including two (cold) jacuzzis.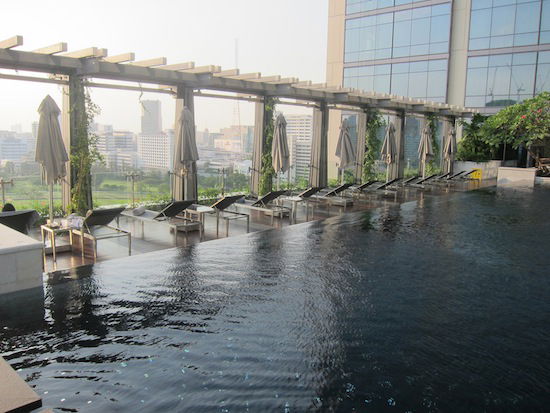 Pool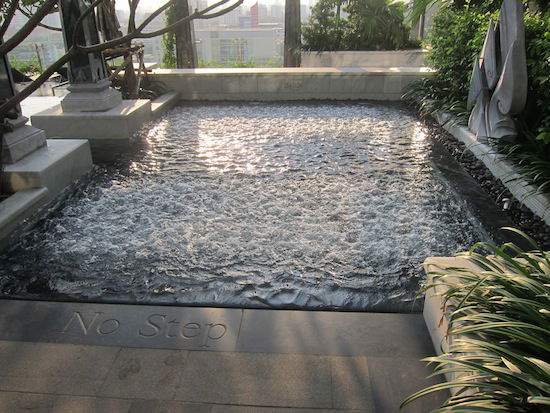 Jacuzzi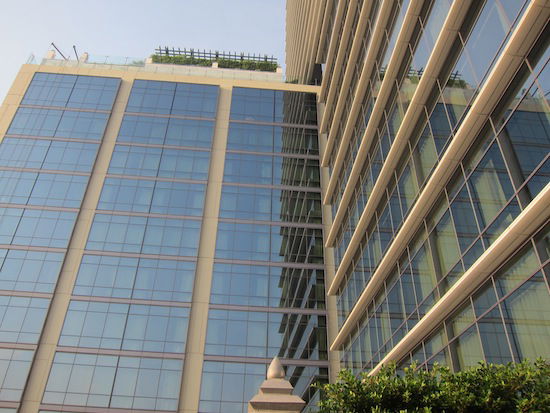 Hotel from pool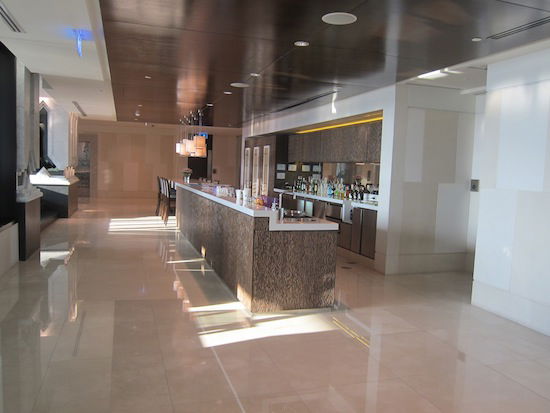 Bar by pool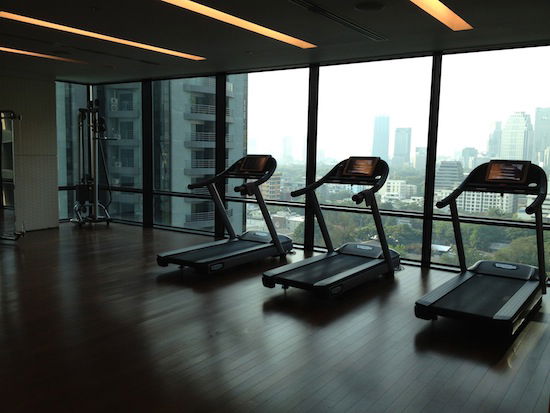 Gym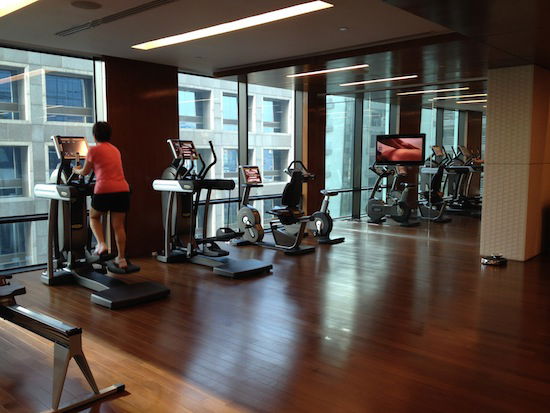 Gym
The Elemis Spa was also fantastic, easily one of the nicest I've ever seen. The spa was considerably more expensive than Le Meridien Bangkok, though well worth the price. I was especially impressed by the (hot) jacuzzis they have for before or after treatments.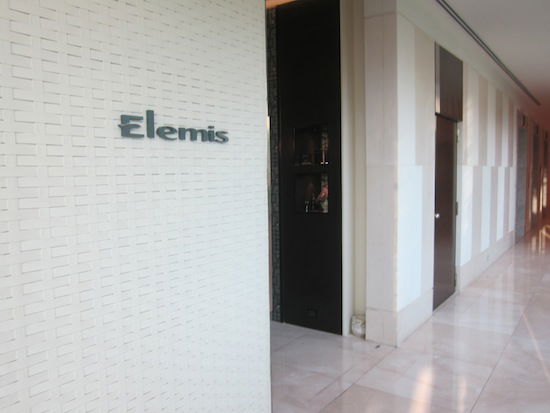 Spa entrance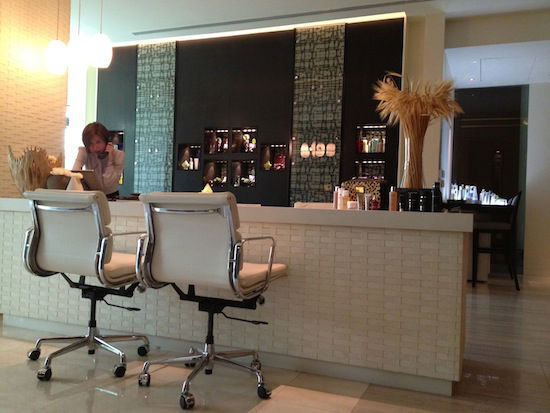 Spa reception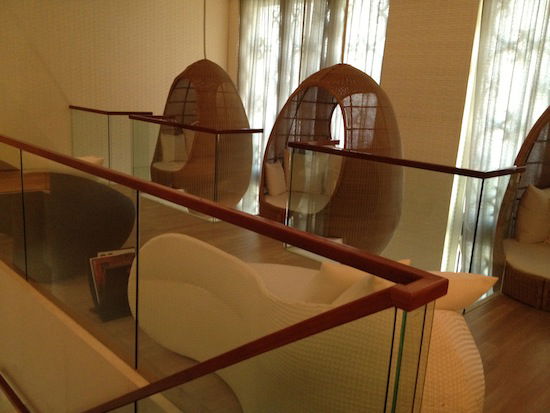 Post-treatment area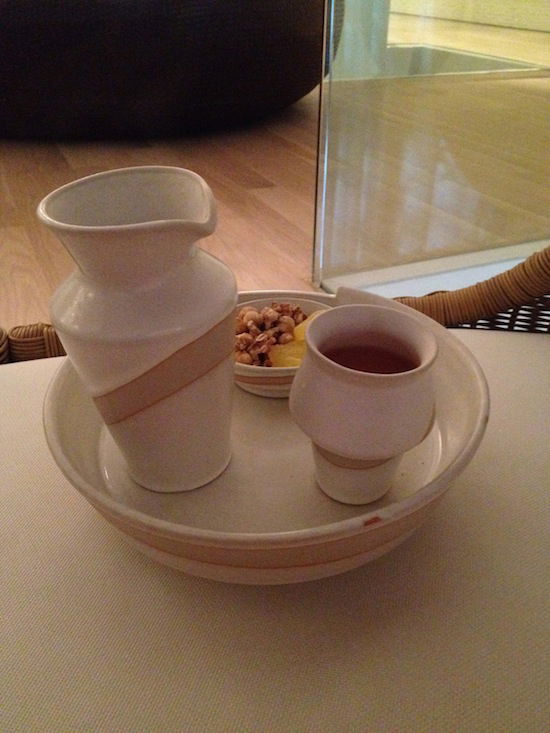 Post-treatment tea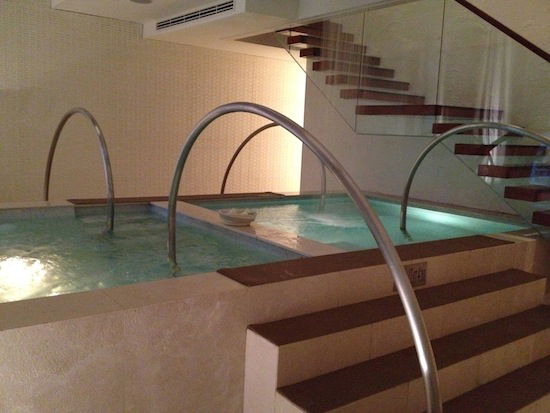 Elemis Spa hot and cold
On the whole I'd say the St. Regis is probably now my favorite hotel in Bangkok. Bangkok has lots of great luxury hotels, though many of them are starting to show their age. The St. Regis has both great service and brand new facilities, so I'd return in a heartbeat. If you're looking for a cheaper option, Le Meridien is very good as well and possibly has even better Platinum recognition.