---
While a coach flight within Thailand is hardly an aspirational travel experience worth writing about, I have to say that Bangkok Airways is one of the most unique airlines I've flown. They market themselves as "Asia's boutique airline," as they offer some pretty elaborate meal services on short flights and also have lounges for all passengers. And for that matter Koh Samui Airport is an equally unique airport, so hopefully you guys find this interesting.
As I said in the introduction, our coach tickets cost a bit over $100USD per person, which was reasonable. Business class is only a mild premium, though for our date unfortunately the only flight with availability was one of their single cabin A319s, not featuring a business class cabin.
The first thing to note is that just for joining Bangkok Airways' frequent flyer program, FlyerBonus, you get an extra 10kg baggage allowance. So before flying with them be sure you join if you intend to check a bag. Their normal baggage allowance is 20kg (~44 pounds), so just for being a member you get a 30kg (~66 pounds) baggage allowance. If you're connecting off an international premium cabin itinerary with heavy bags, that will save you a lot of money.
We were able to check out of the Conrad at 4PM, and made it to the airport by 4:45PM for our 6:50PM flight. The airport is entirely "open air," so originally I was dreading the time we'd have to spend outside, given that it was close 100 degrees. We were dropped off right in front of the Bangkok Airways check-in counter.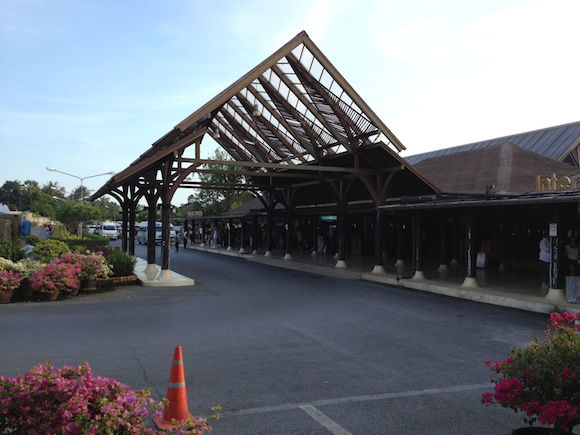 Check-in
The check-in queues were crazy. I mean, literally the longest airport queues I've ever seen anywhere. It's not really surprising, given just how many flights Bangkok Airways has out of Koh Samui. Heck, between 6PM and 7PM they had three flights to Bangkok alone, not factoring in their other destinations.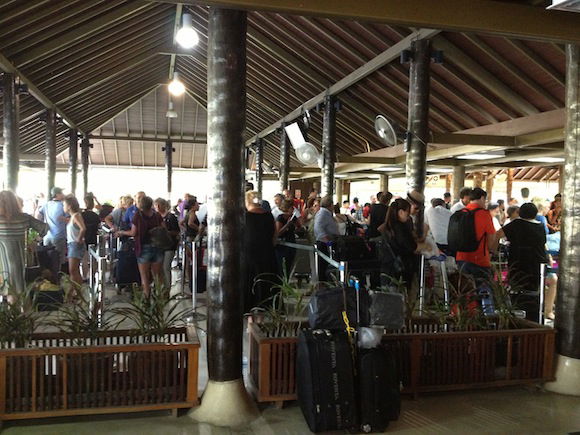 Check-in queues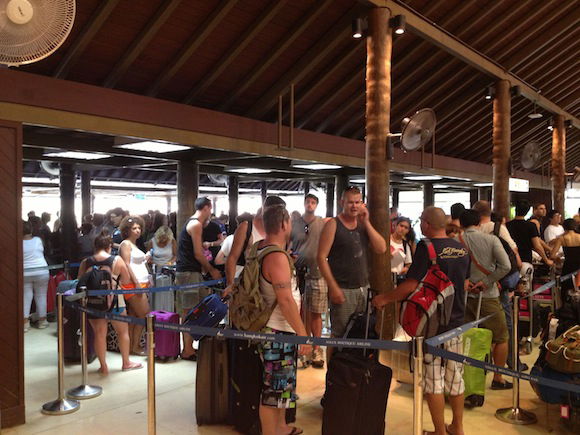 Check-in queues
And this is where the next tip comes into play — just for doing online check-in you get access to their business class check-in queue. The main queue must have been over an hour long, while there were only two parties ahead of us in the business class line. So be sure to do online check-in.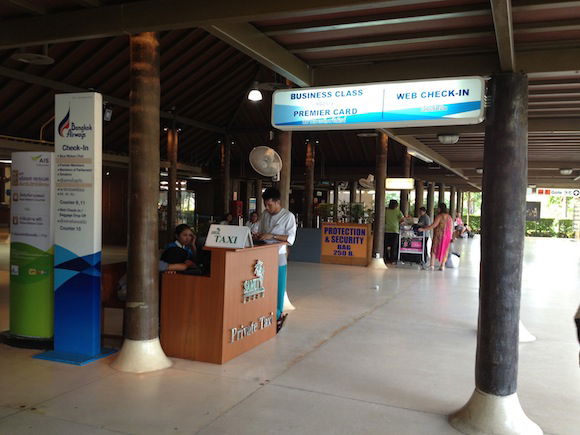 Web check-in queues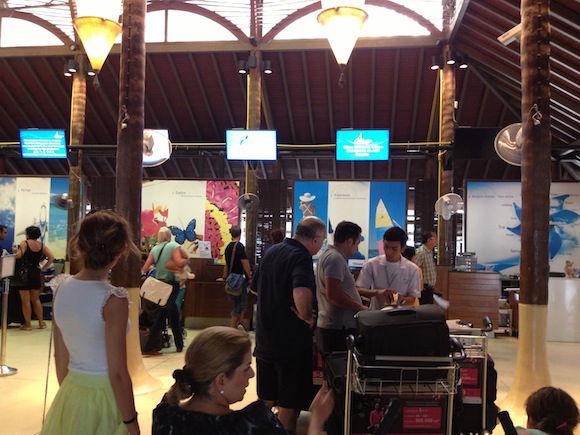 Web check-in queues
So we had done online check-in not realizing that it would actually save us probably an hour of time. We were checked in within five minutes, and now had almost two hours to kill before our flight. We started walking towards the departure area (the airport doesn't have gates so I can't really use that term), which is on the other side of the airport.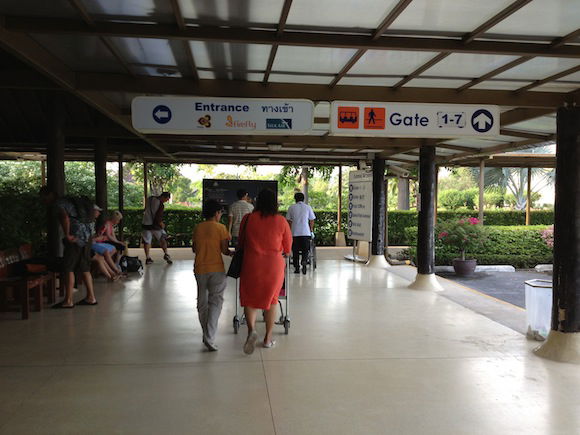 Walkway to departure area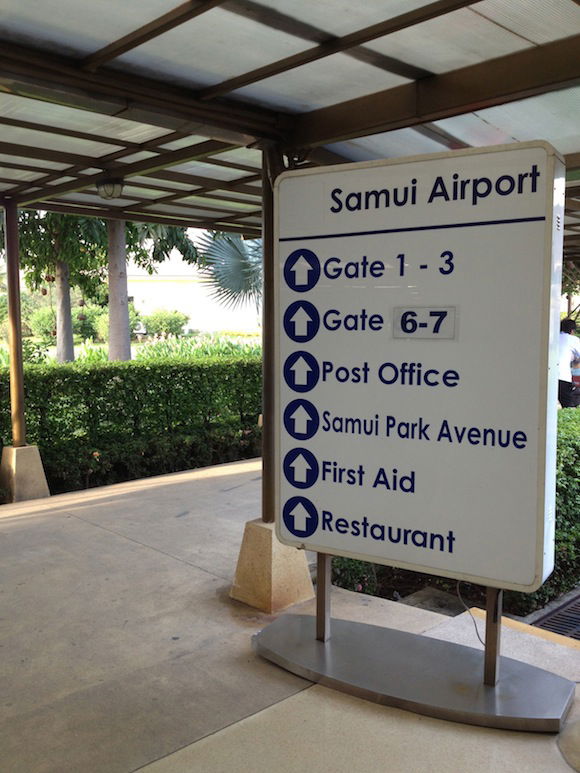 Walkway to departure area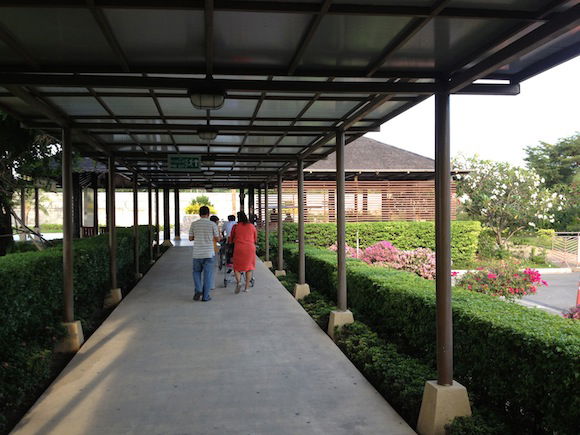 Walkway to departure area
I've gotta say the grounds of the airport are beautiful, possibly the greenest I've seen anywhere.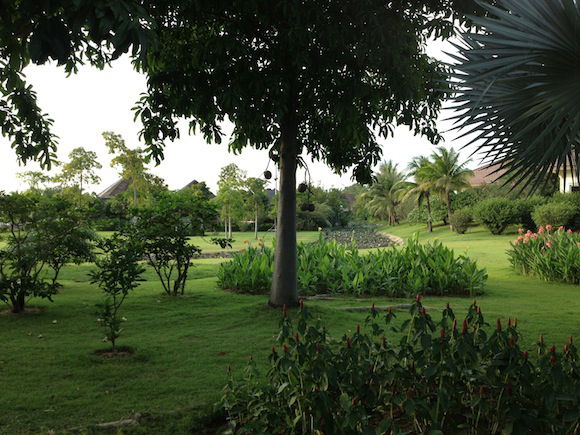 Walking to departure area
Funny enough the walkway between check-in and the departure area is a bit like an outlet mall in Orlando, with tons of seemingly misplaced shops. Not something you'd usually associate with a Thai airport.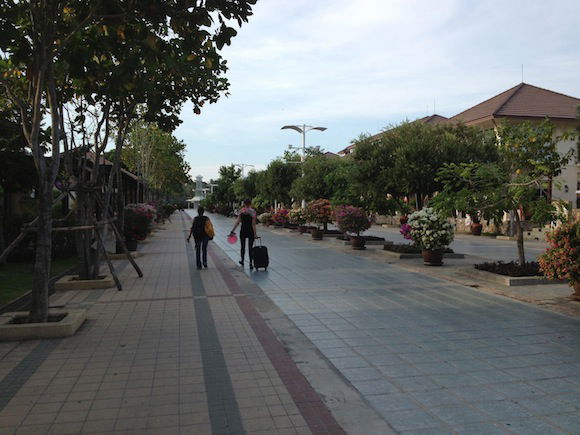 Walkway to departure area
Since we had nearly two hours before our flight and fancied air conditioning, we stopped at the first place we saw, a Swensen's ice cream shop.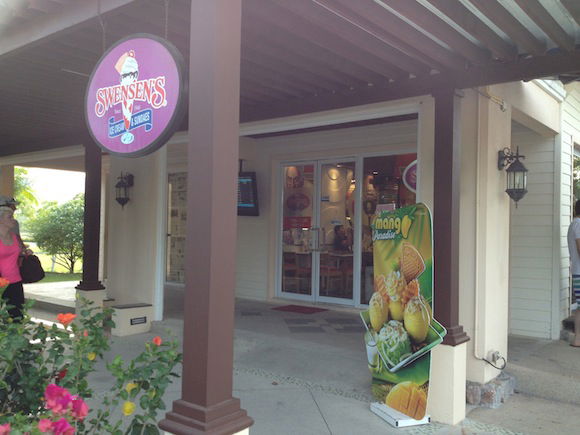 Ice cream
I find Thai service to be friendly across the board. Yes, some people are more polished and sincere than others, though I don't think I've ever run into rude service… except here. The funny thing is the place was staffed by maybe 18-25 year old Thai girls, typically the friendliest demographic, in my experience. However, they couldn't crack a smile, and seemed pissed off every time someone walked in the door.
On the plus side, the ice cream was good. 😉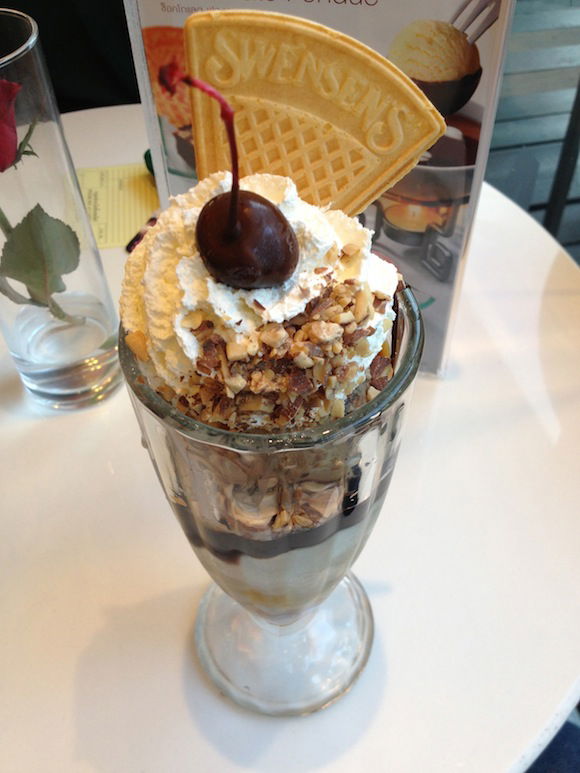 Ice cream sundae
At that point we had about 90 minutes left before our flight, so we kept walking towards the departure area. Go figure there was a foot massage place.
A foot massage in air conditioning or waiting in the heat? I think you know which we chose. The massage was by no means great, though I was impressed by the masseuse's multi-tasking skills — she managed to be on her cell phone the entire time while still using both hands to rub my feet. But since the prices were reasonable and there was air conditioning, I'd do it in again in a heartbeat.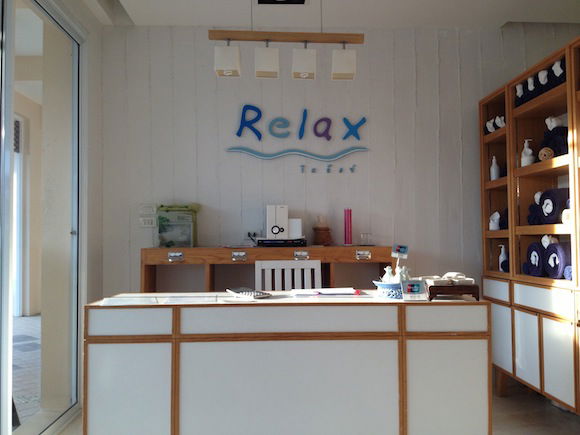 Massage place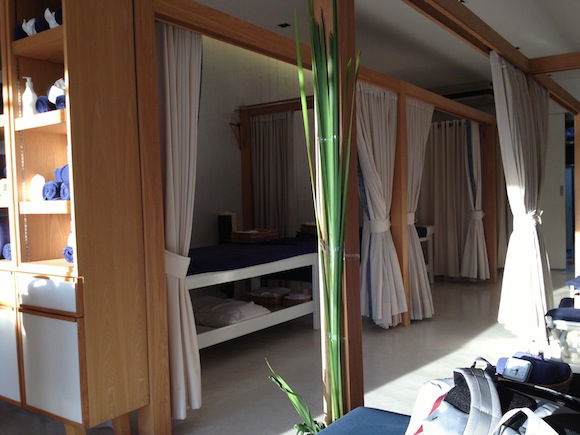 Massage place
At this point we had less than an hour till departure, and for a moment even panicked. We completely forgot we hadn't cleared security, and given the check-in queues, figured there was another hour-long queue to clear security. So we more or less sprinted to the security checkpoint, only to find that there was no one in line, and we cleared in less than five minutes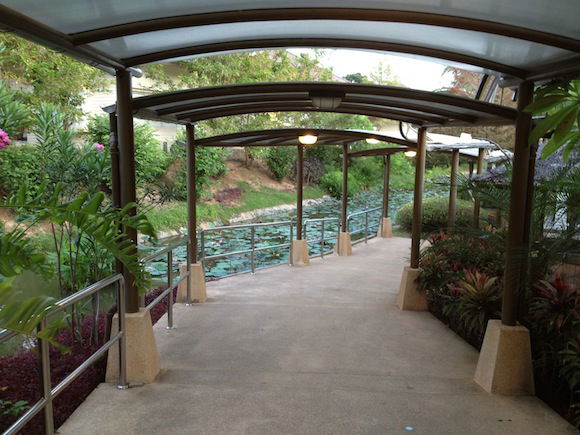 Walkway to security
Once past security there were a few more outdoor shops and eateries, though we headed to our departure area.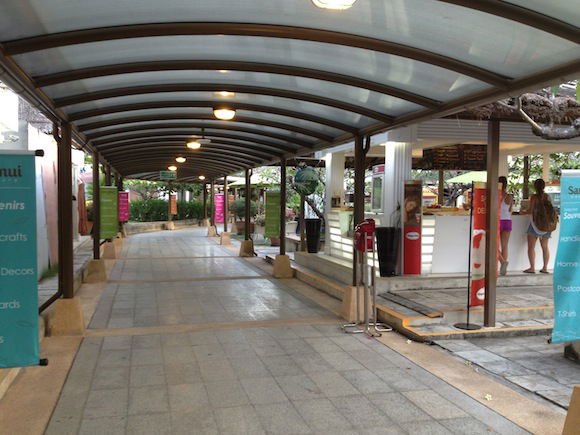 Walkway past security
The actual gate area was beautiful, and felt sort of Tahitian.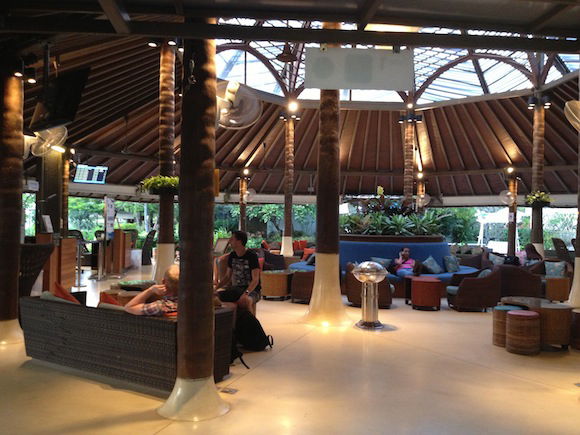 Departure area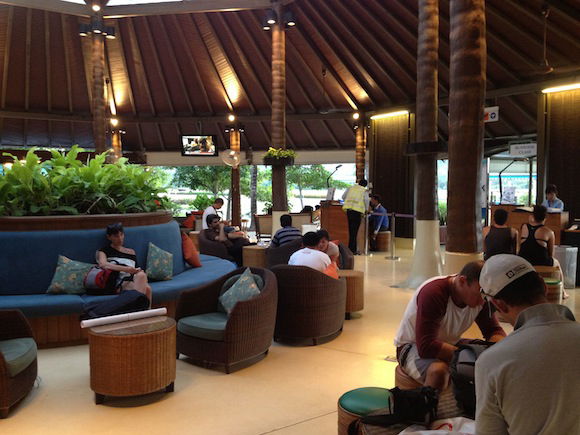 Departure area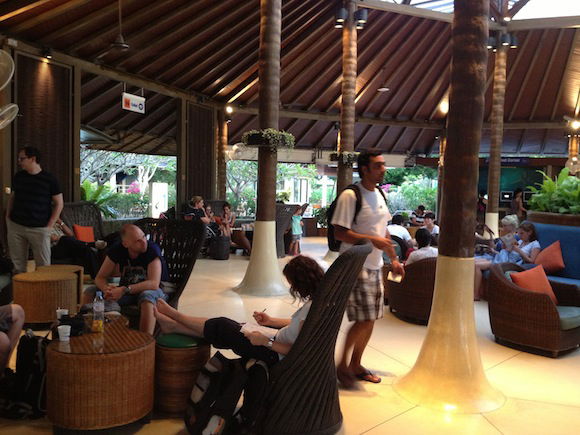 Departure area
Right next to the gate was the "Courtesy Counter," which offers free snacks and drinks. Like I said, Bangkok Airways has a "lounge" even for coach passengers, which is impressive.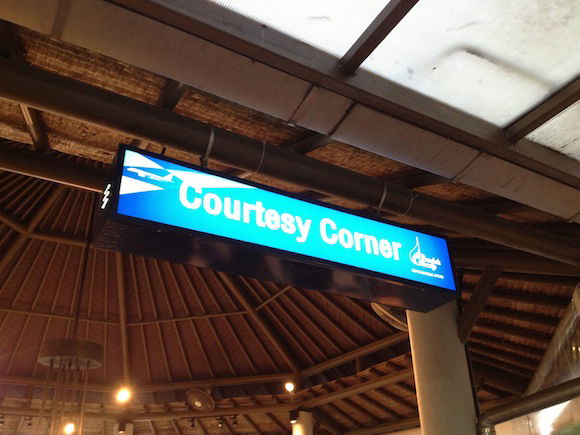 Courtesy Counter signage
While I didn't eat anything, the spread was fairly good — there were finger sandwiches, popcorn, pizza, etc. Kind of what you'd expect for a middle school birthday party at a bowling alley.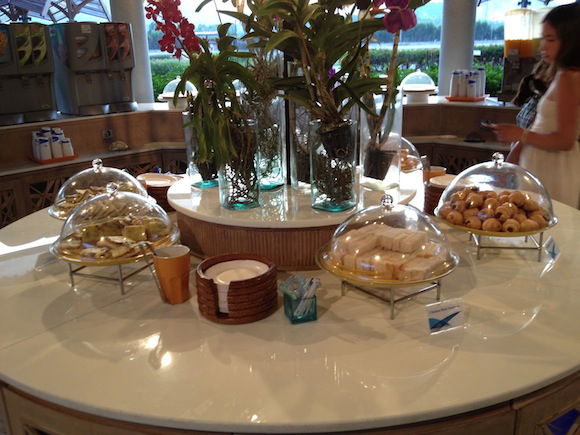 Food spread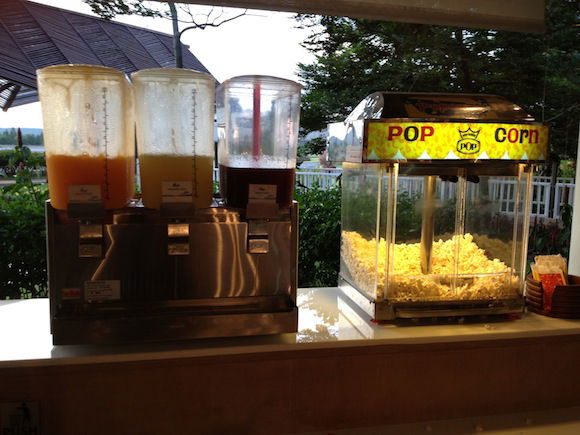 Popcorn and drinks
There was also free Wi-Fi. You just had to give the agent your boarding pass and they'd issue you a Wi-Fi code.
At around 6:30PM boarding began. It was mildly chaotic since they were trying to board three Bangkok Airways flights to Bangkok nearly simultaneously, so naturally that led to quite a bit of confusion.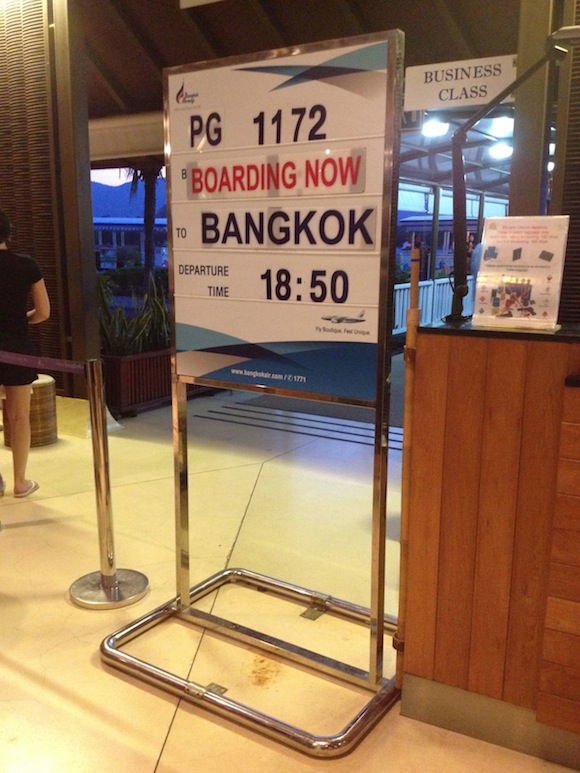 Flight signage
Bangkok Airways 1172
Koh Samui (USM) – Bangkok (BKK)
Friday, March 29
Depart: 6:50PM
Arrive: 7:55PM
Duration: 1hr5min
Aircraft: Airbus A319
Seat: 6E (Economy Class)
Since there are no gates, there were a few Disney-world-style-parking-lot-trams waiting to take us to the plane. Unlike at Disney, though, they definitely used the "there's always room for one more" approach to loading them.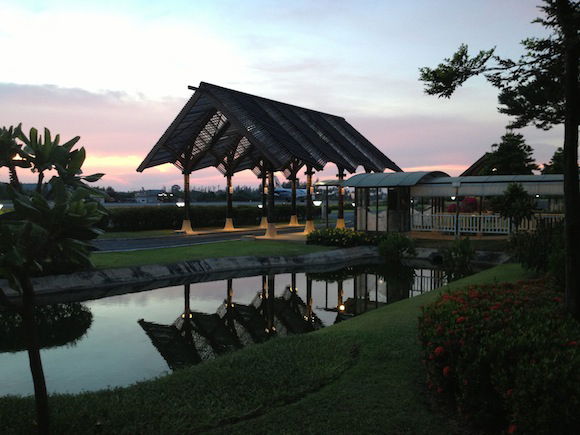 Driveway to planes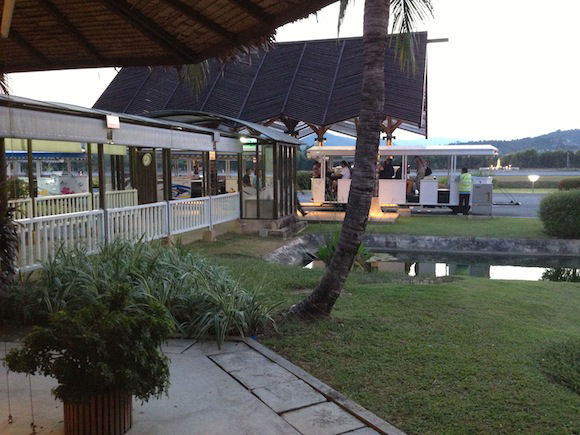 Trams to planes
The sun was setting as we were driven to the plane, which made for some beautiful views.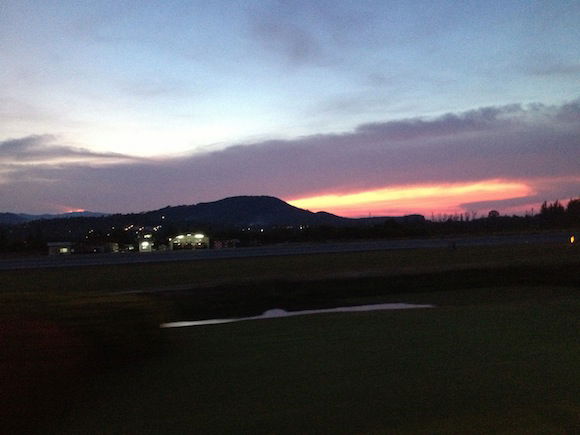 Sunset
We drove past a bunch of Bangkok Airways planes, as our plane was parked at the very end of the tarmac.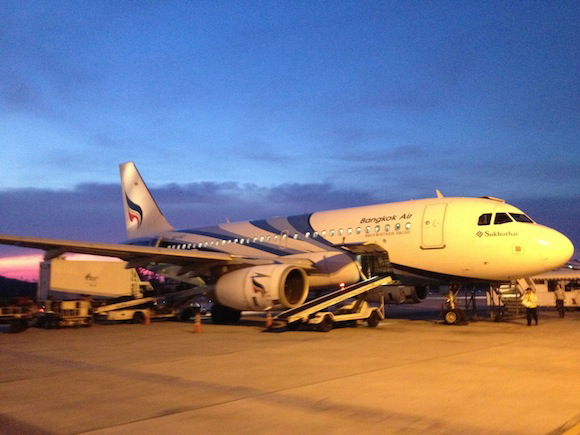 Bangkok Airways A319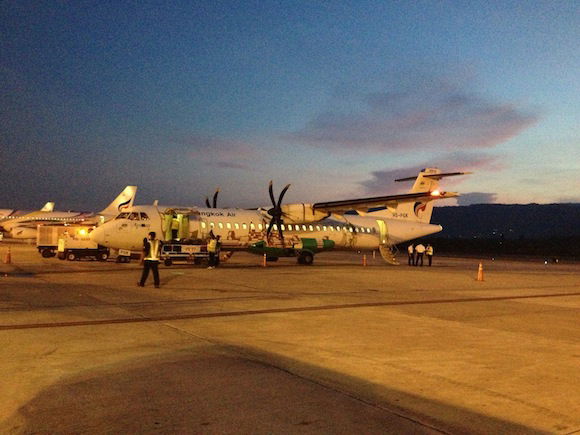 Bangkok Airways ATR 72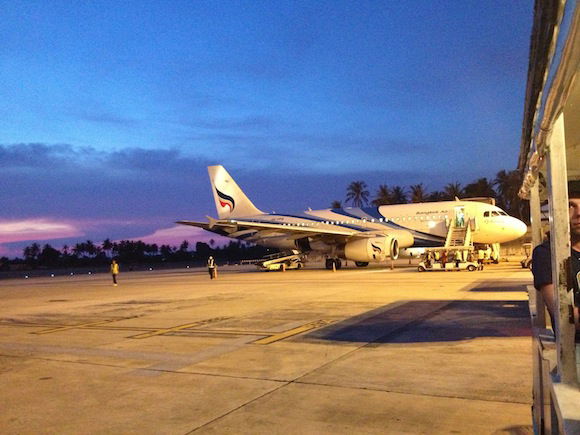 Our A319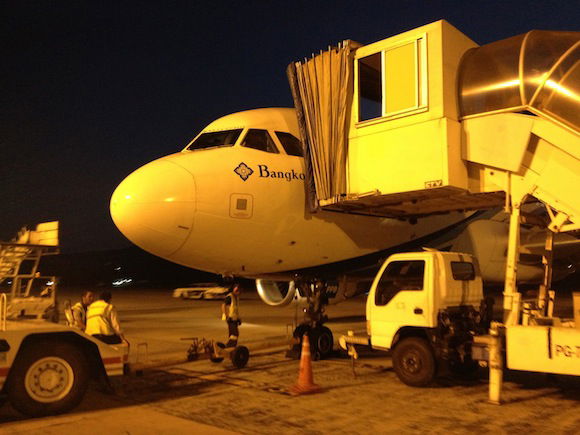 Our A319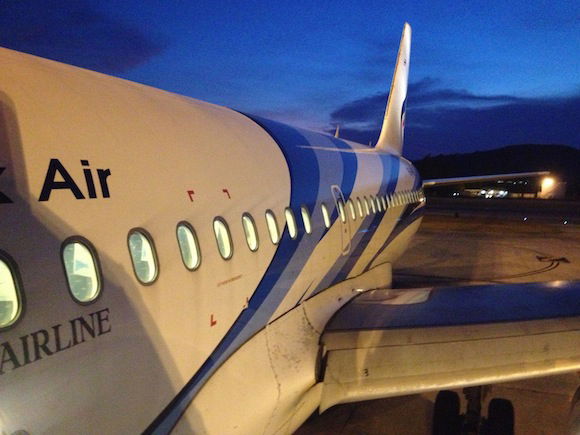 Our A319
While Bangkok Airways has a fairly modern fleet for the most part, our A319 had a really tired interior. I never made the connection that the aircraft without business class are generally the older ones, so the interior was definitely a bit underwhelming for what's a "premium" airline.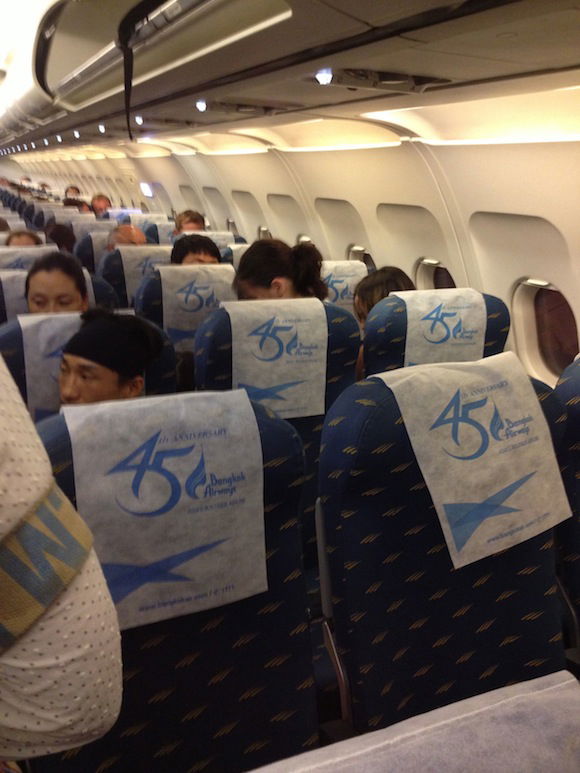 Aircraft interior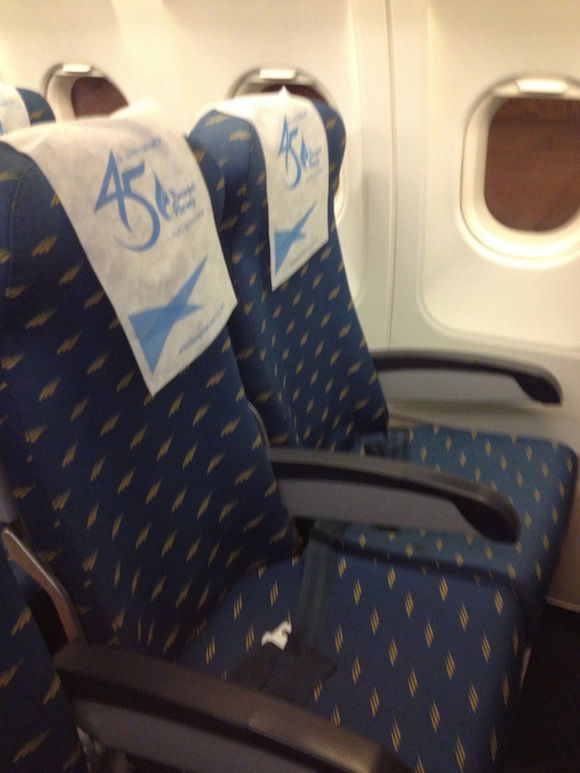 Aircraft interior
We were in seats 6D & 6E, and I took the middle seat. Boarding was extremely efficient, and within about 15 minutes everyone was seated. As soon as boarding was complete one of the crew members came around with refreshment towels.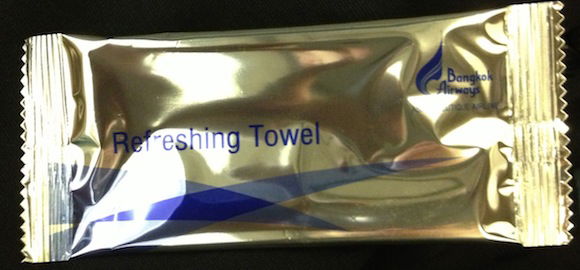 Towels
I have to be honest, the part of the Bangkok Airways experience I was most looking forward to was their safety video. I mean, take a look at this gem (I don't know whether I prefer the epic dance routine or the pilot voice over):
If it's not the greatest thing ever, I don't know what it is. And while I may have already seen it 162 times on repeat on YouTube, I was most looking forward to seeing the reactions of fellow passengers. What I failed to realize is that the older A319s don't have video monitors, so there was a manual safety demo.
As we began our taxi the captain informed us of our flight time of 50 minutes, which would put us into Bangkok on-time. The purser, Rosita, also welcomed us aboard, though I couldn't really understand anything she said. As we taxied out the cabin lights were dimmed, and I was impressed that the crew walked around the cabin to turn on the individual reading lights for anyone that looked like they were reading.
Our taxi took only a couple of minutes given how small the airport is, and we rocketed off pretty quickly.
Less than five minutes after takeoff the crew closed the curtains to the galley to prepare for the meal service.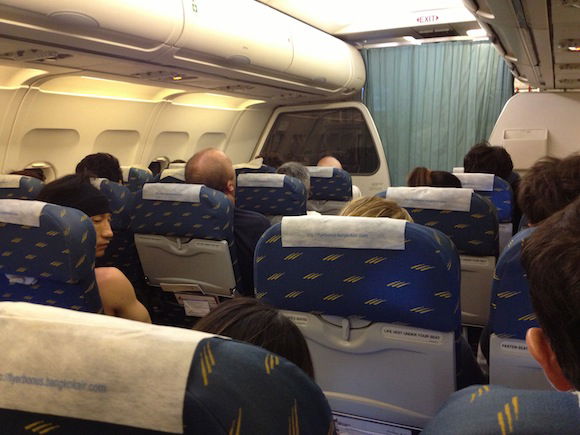 Cabin view after takeoff
They quickly came around and plopped down something on everyone's tray, which for a 50 minute flight is a complete overkill.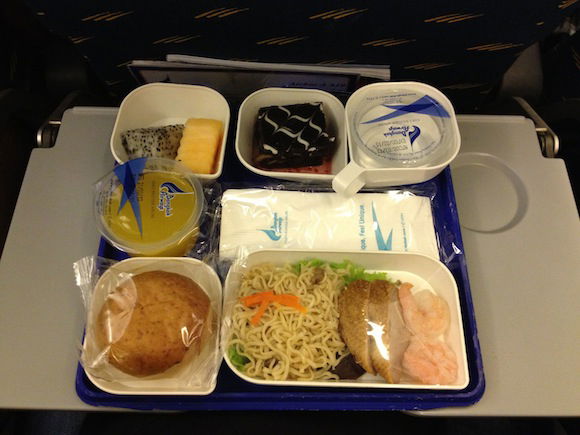 Meal service
15 minutes before landing the seatbelt sign was turned on and we began our descent into Bangkok.
We had a smooth touch down and quick taxi to the gate, and made it there a couple of minutes ahead of schedule.
The walk to baggage claim took at least 15 minutes, and once there it was another 30 minutes before checked bags began rolling out.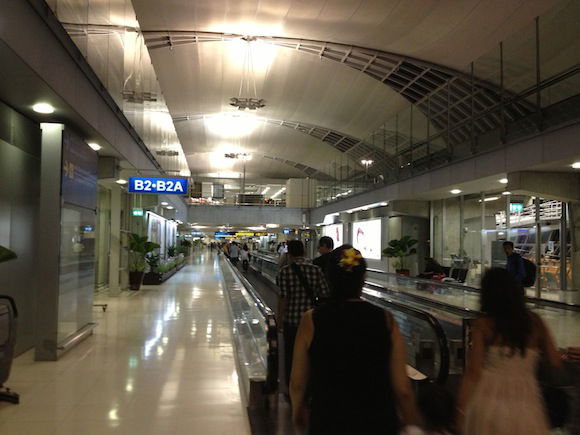 Walk to baggage claim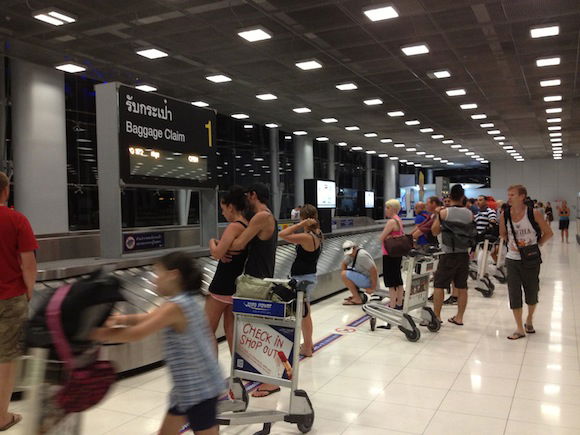 Baggage claim
From there we got in a taxi to the Le Meridien (or is it just Le Meridien?), which took close to an hour due to traffic. Fortunately the cabbie had some very entertaining affiliate marketing materials to share with us, including this one (I cropped out the top of the pamphlet for a reason):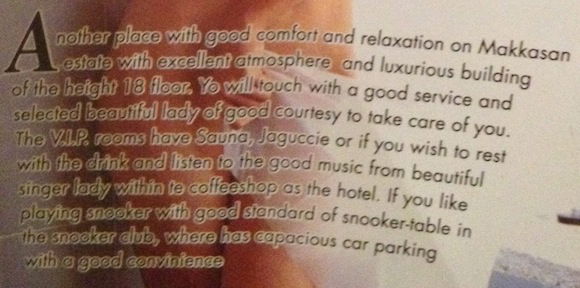 Ah, the joys of Bangkok!
On the whole Bangkok Airways was a great way to fly. For a coach flight within Asia can it really get better than them? I doubt it. Their old planes are by no means luxurious, but it's tough to beat what they offer on the ground. Oh, and Koh Samui Airport is pretty damn nifty as well!