---
The St. Regis is basically right next door to the Park Hyatt and while I was ideally only planning on spending two nights on Saadiyat Island, I figured it was worth spending an extra night to experience the St. Regis. The St. Regis is a category five Starwood property, and cash & points was available, so my stay cost just 4,800 Starpoints plus $90USD for the night.
We took a taxi from the Park Hyatt, which took all of two minutes. We would have walked though the area isn't really walkable with luggage, but a taxi was cheap enough.
The design of the St. Regis is much different than that of the Park Hyatt. While the Park Hyatt felt very "Arabian," the St. Regis looked a bit more conventional, like a nice resort in Hawaii. I also noticed just how massive the St. Regis compound is. While the hotel is already huge at 377 rooms, it felt even bigger, in my opinion.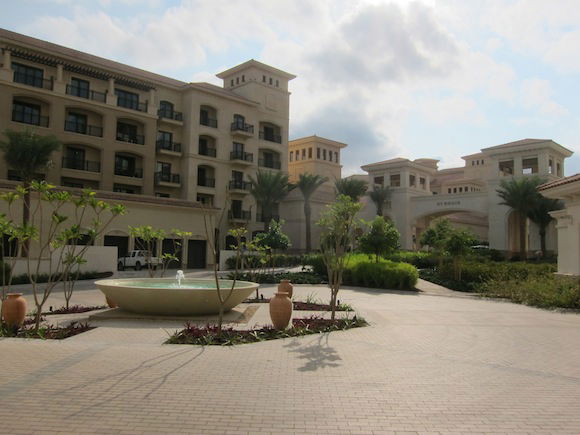 St. Regis exterior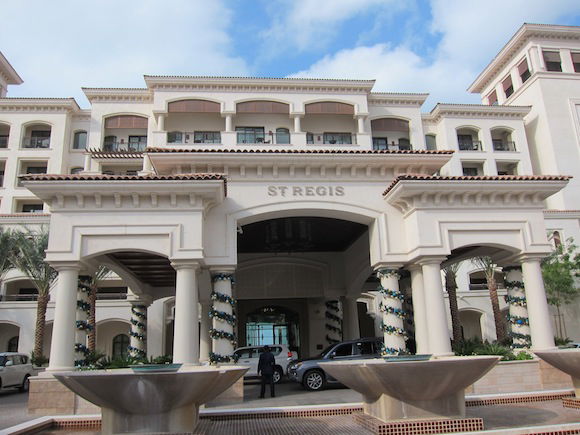 St. Regis exterior
Once at the hotel we turned right towards check-in. Much like the outside of the hotel, the lobby felt much more conventional than the Park Hyatt.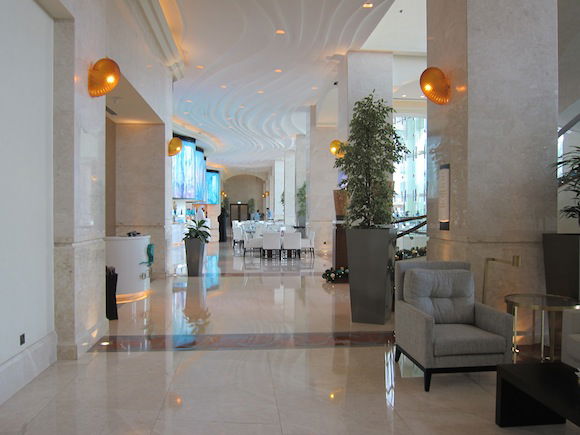 Lobby
As is the case at many St. Regis properties, check-in formalities are taken care of while sitting down, and we were offered cold towels by a butler during the process. The agent claimed no suite upgrades were available, so we were offered a seaview room. I won't get into this in too much detail as I covered it in a previous post, so instead I'll just share a summary.
Platinum members are entitled to the best available "standard" suite, which is defined by each hotel. Before my stay I was considering using a Platinum suite night award, and noticed it would allow me to confirm into a St. Regis Suite or Ocean Suite. My interpretation of the T&Cs suggested that if a hotel offered a room through a suite night award then it falls within the categorization of a "standard suite."
I decided not to use a suite night award, since there were lots (9+) of Ocean Suites left for sale, and I figured I'd save a suite night award for when an upgrade otherwise looked unlikely. Basically the hotel said that they were out of St. Regis Suites and only had Ocean Suites, except those were only available when using a suite night award. Guess I learned that the hard way, since I would have used a suite night award if I knew a Platinum upgrade couldn't have otherwise gotten me into the suite. So while I can appreciate that hotels are actually making better than standard suites available to Platinum members using suite night awards, I do wish they'd clarify which suites are standard upfront.
Anyway, we were allocated a sea view room on the 6th floor. I felt like the hallways and rooms were decorated kind of like a slightly-past-its-prime Hawaii hotel (which is odd since the hotel just opened) or even a bit like a cruise ship.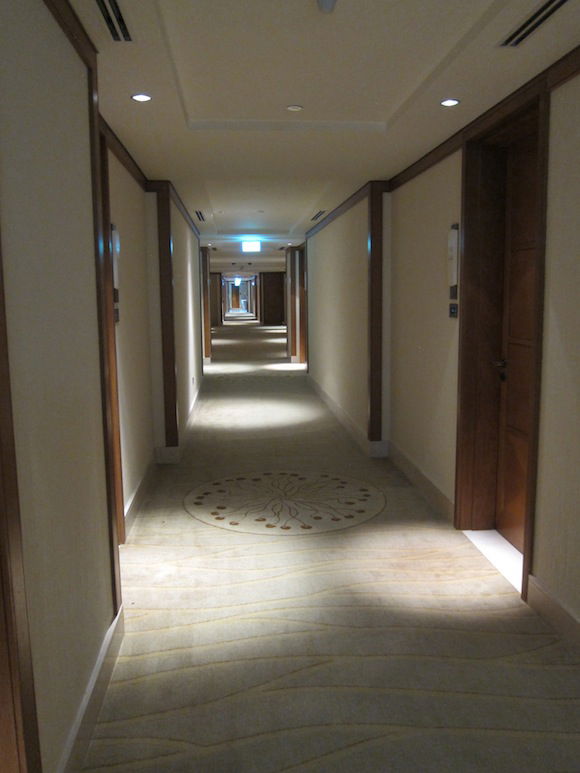 Hallway
Maybe I'm just not a huge fan of wood finishings, but the room just felt a bit "bleh" for a brand new, glitzy property in the UAE. The room was a decent size with a small table near the entrance, king size bed (which was extremely comfortable, by the way), and day bed.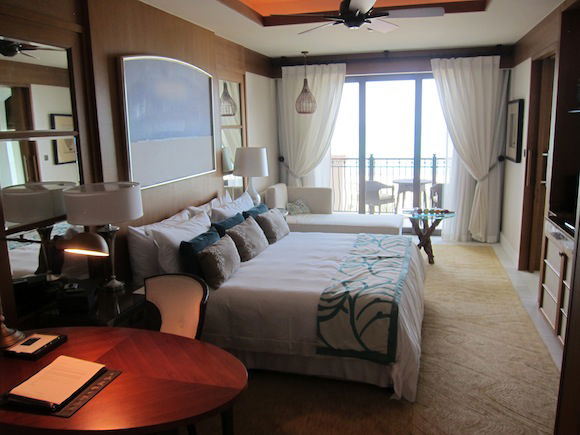 Sea view room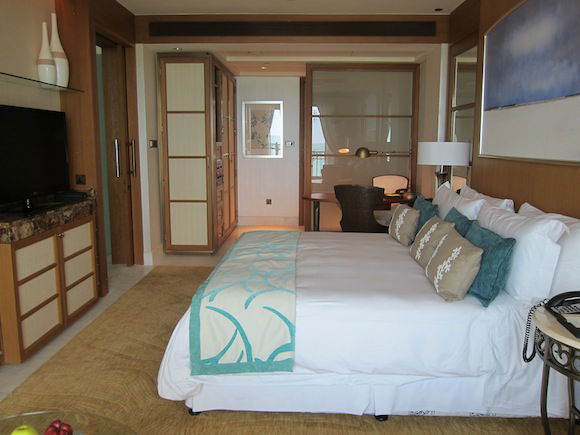 Sea view room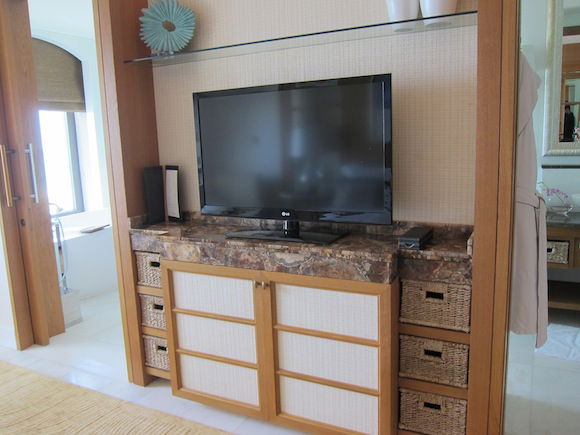 Flat screen TV
On the table was a welcome amenity of fruit.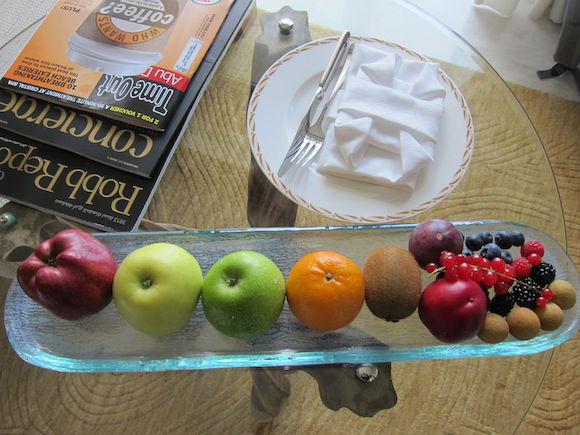 Welcome amenity
Just past the day bed was a small balcony with two chairs and a view of the hotel's pools and the Gulf.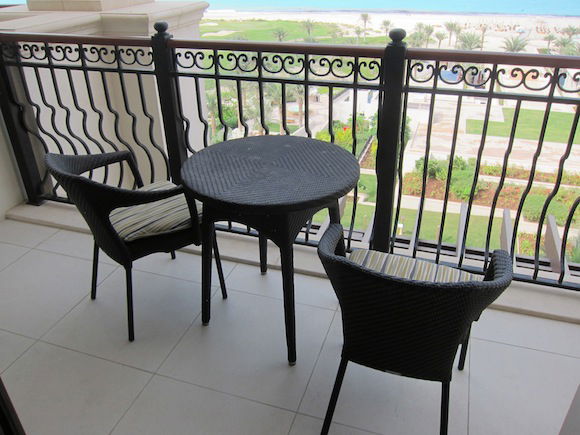 Balcony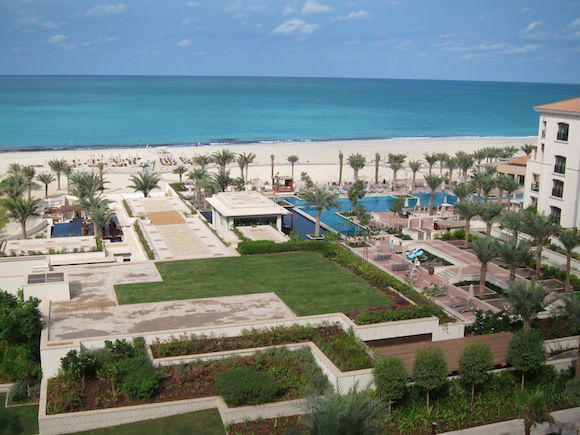 View from the balcony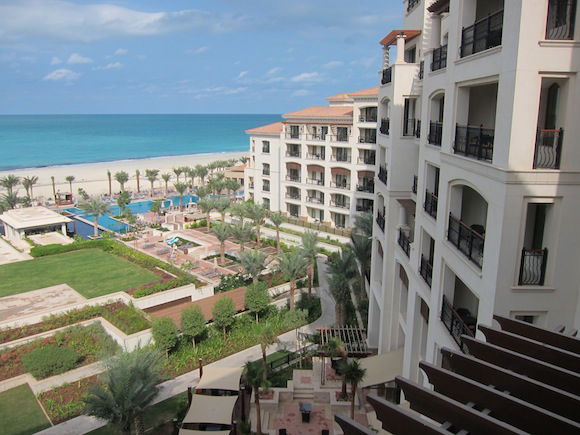 View from the balcony
Both the highlight and most puzzling part of the room had to be the bathroom, which was as long as the rest of the room. At the very end of the bathroom was a tub, then a sink, then the walk-in shower, then a sink, then the toilet/bidet.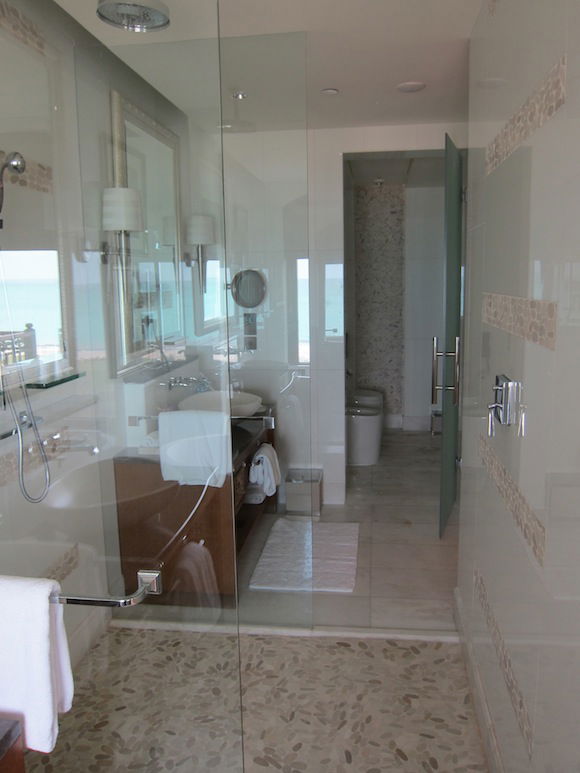 Bathroom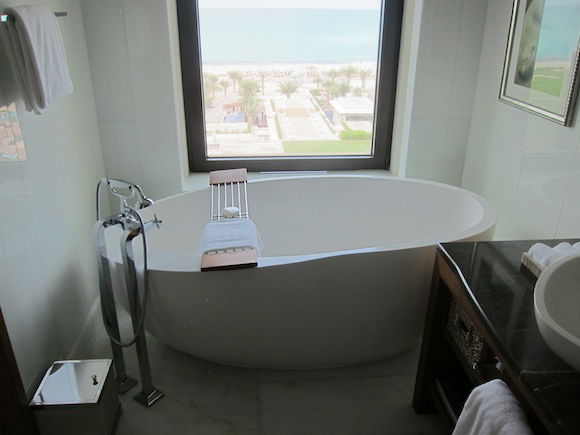 Tub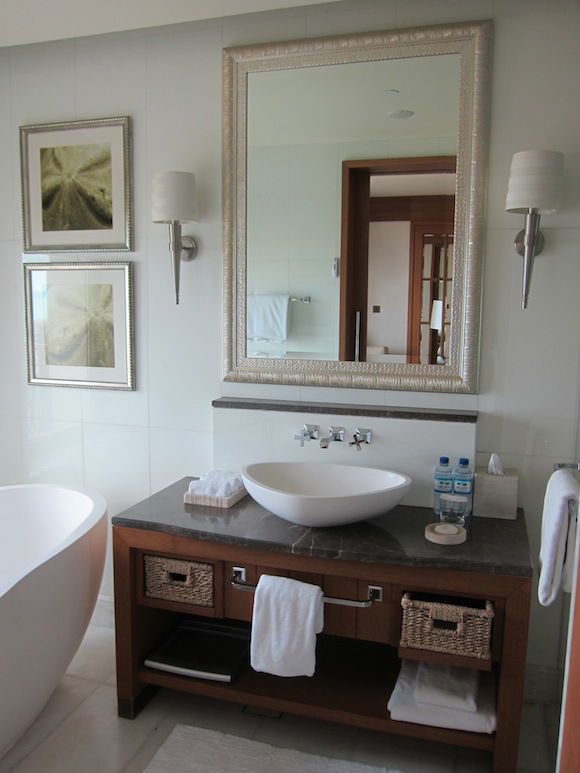 Sink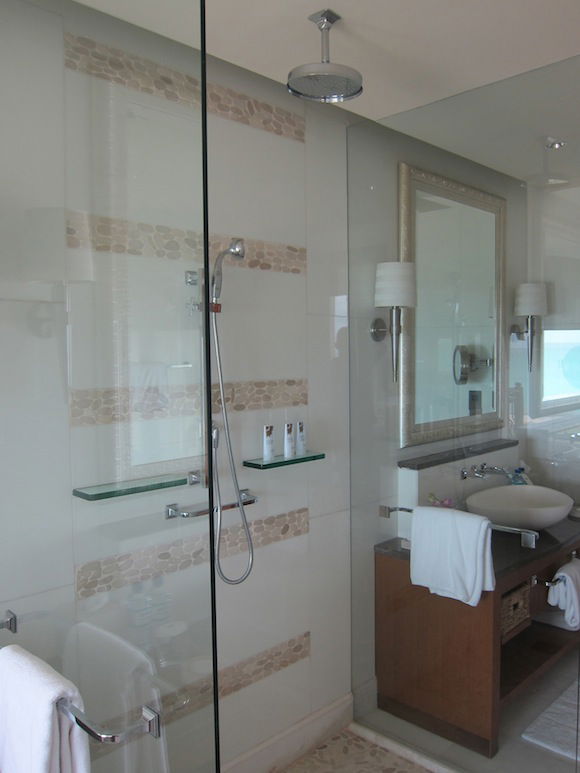 Shower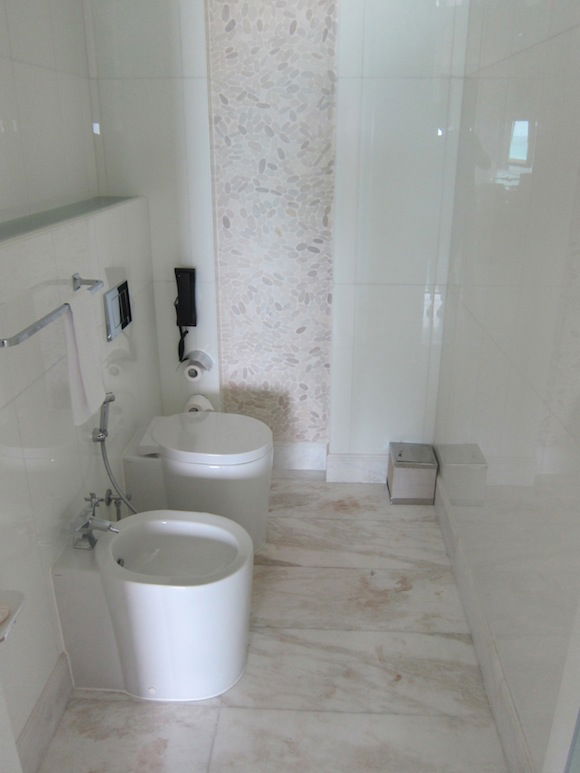 Toilet/bidet
A few minutes after arriving we ordered some tea, which is complimentary at St. Regis hotels 24/7. It was late afternoon which meant jetlag was getting the best of me, so it was a great caffeine source.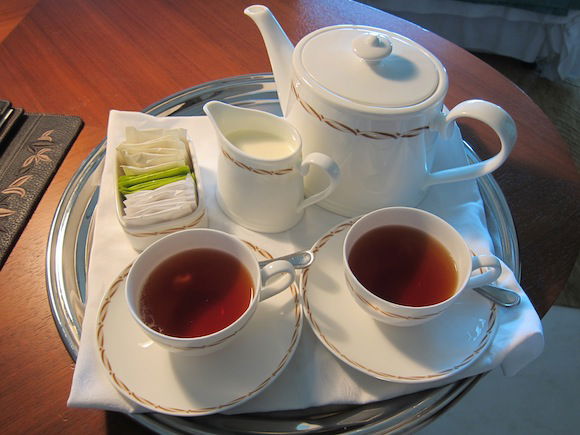 Complimentary tea
I eventually got a call from the assistant front office manager who had heard I wasn't happy with my room. I explained my interpretation of the rules, and while she indicated that this hotel only offers Ocean Suites to those using suite night awards (wish I had known that before), she offered to move us nonetheless. I usually wouldn't move for a one night stay, though for the sake of reviewing different room types I figured it was worthwhile.
The Ocean Suite was on the other side of the sixth floor.
The suite was big and decorated in a similar way to the previous room.
At the entrance was the living room with a desk, sofa, and dining room table.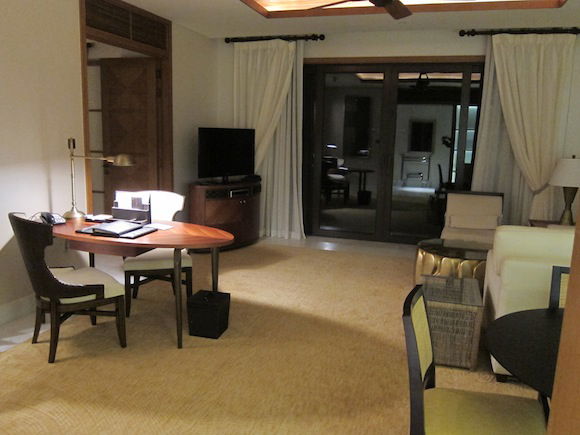 Living room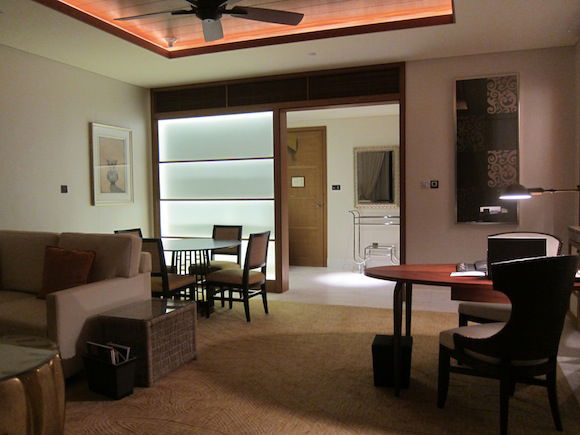 Living room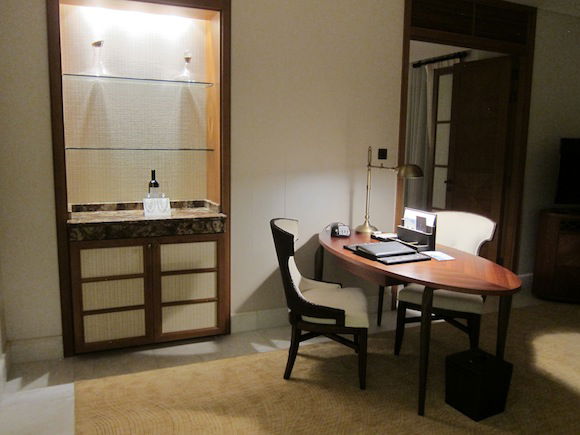 Desk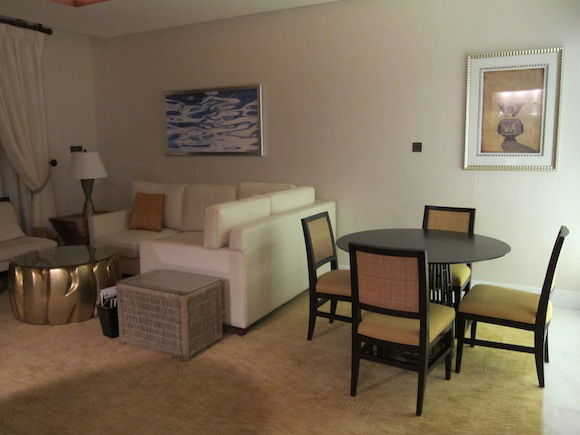 Dining table/couch
The living room connected to the bedroom via a set of doors, though there was also a vanity mirror blocking a direct view of the bed.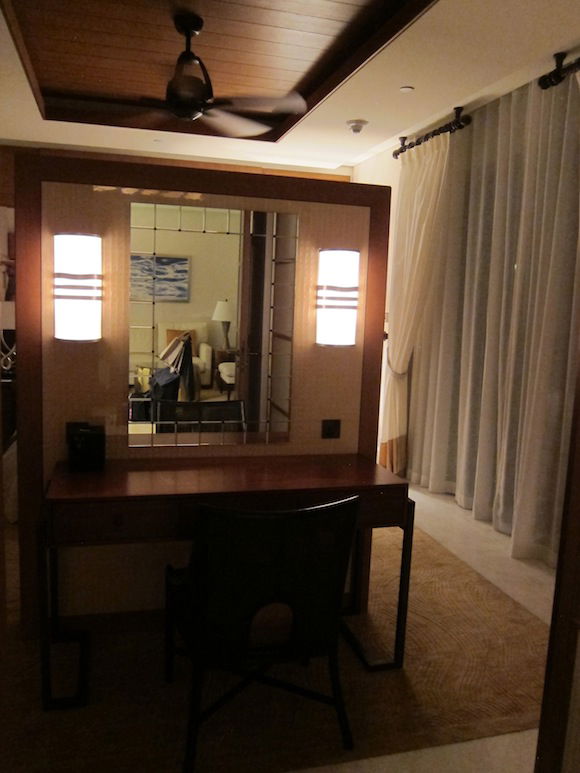 Entrance to bedroom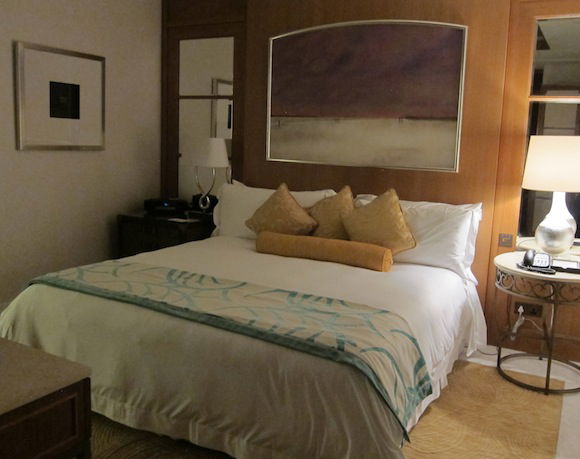 Bedroom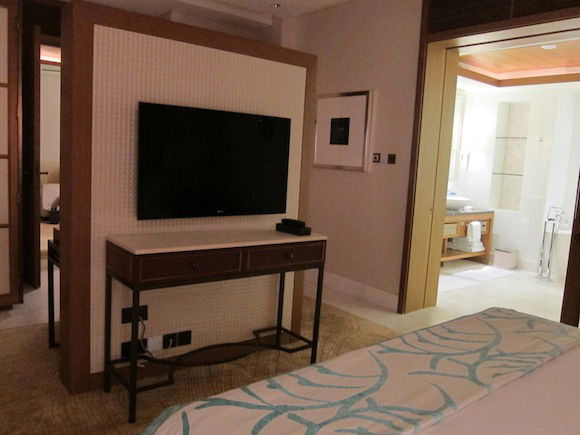 Bedroom looking towards living room
Oddly I kind of preferred the bathroom in the standard room, since it had windows and a tub facing the sea, while this one didn't have any windows. It was spacious nonetheless, with double sinks, a tub, shower, and toilet/bidet.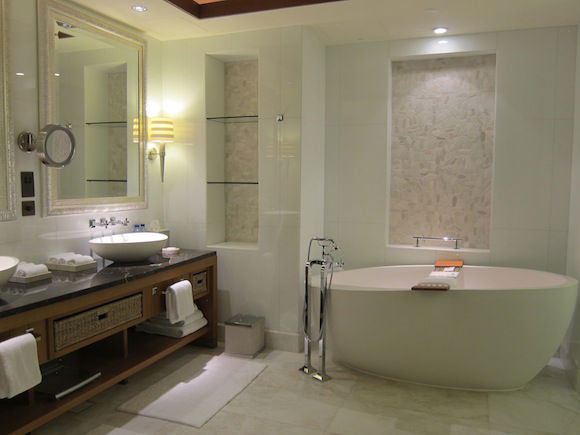 Bathroom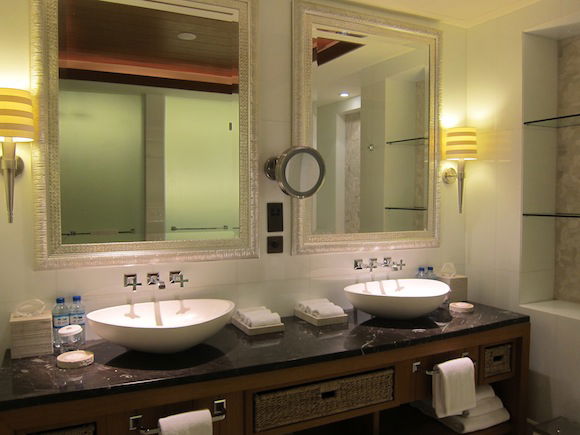 Double sinks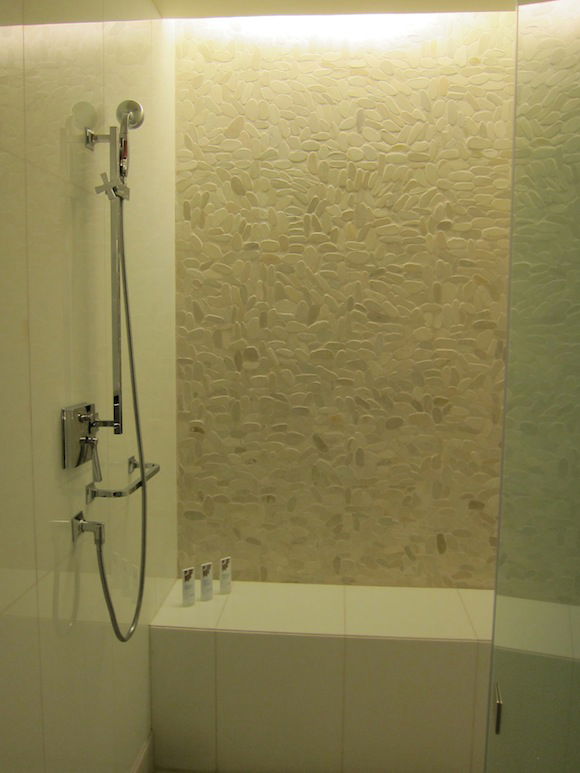 Shower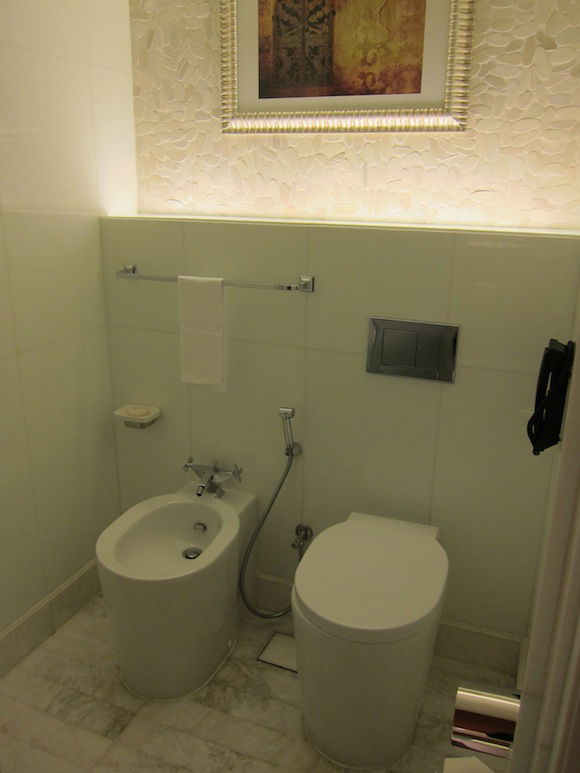 Toilet/bidet
The highlight of the room was probably the double balconies overlooking the Gulf.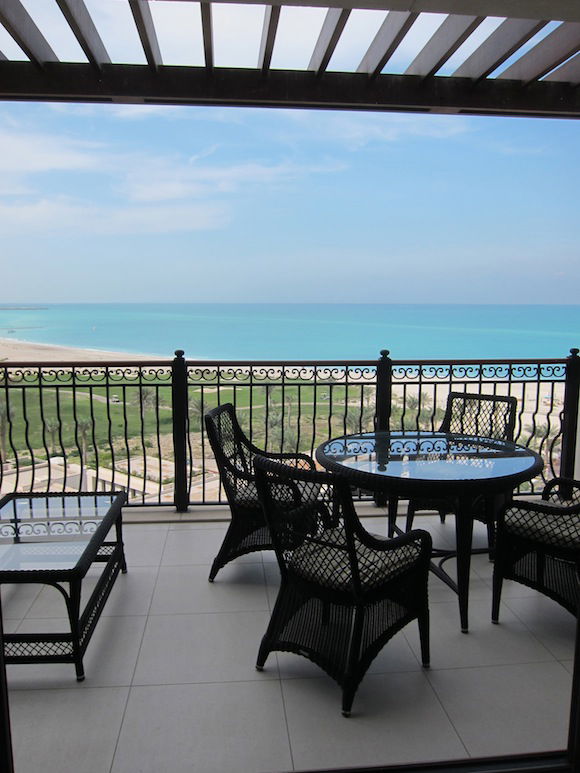 Main balcony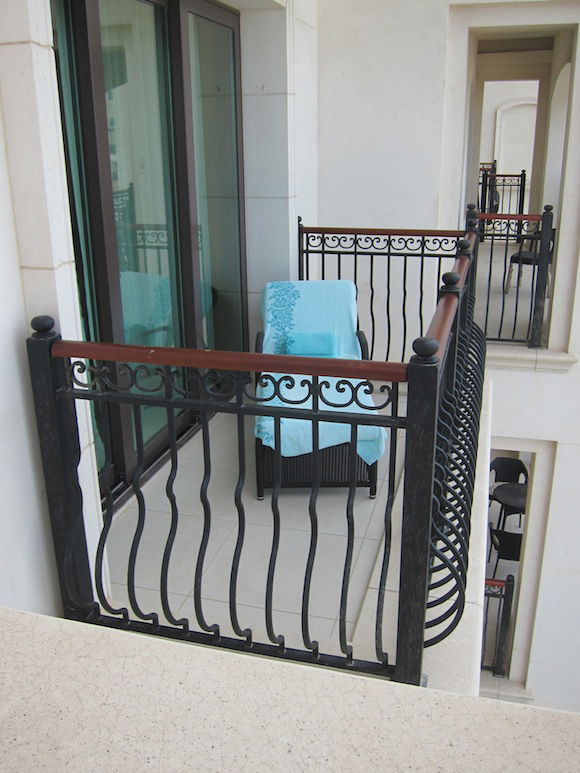 Bedroom balcony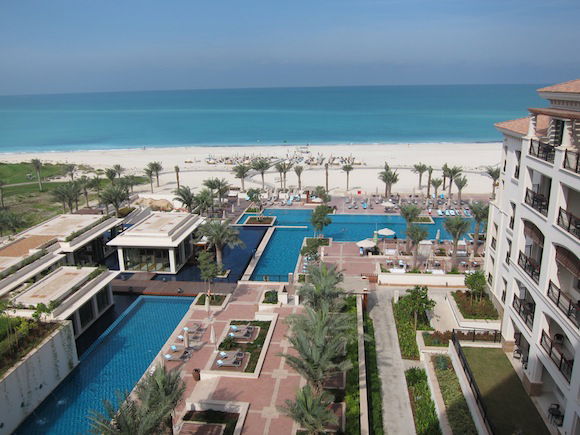 View from balcony
Maybe I'm off base, but given that this is a St. Regis (a generally glitzy brand) in the UAE (probably the world's glitziest country), I thought the room was remarkably blank. Would be curious to hear what you guys think.
After that it was off to go exploring the hotel. Like I said, it was massive, so that took a while!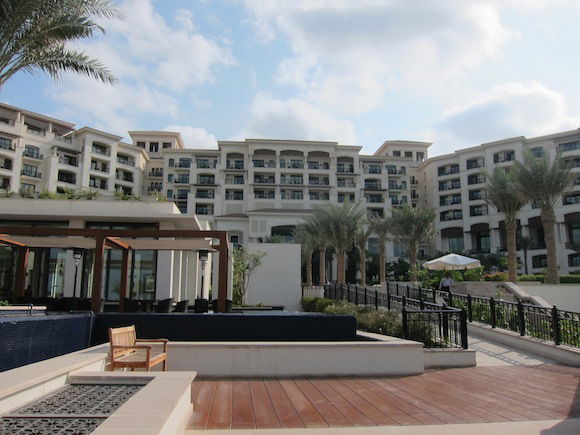 Hotel from near beach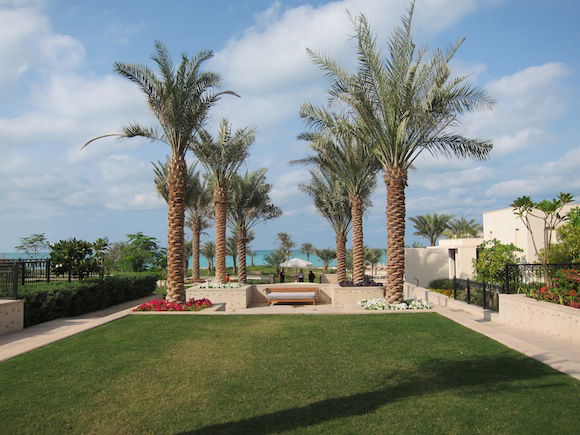 View of Gulf from hotel
I'm fascinated by the number of decorative bodies of water between here and the Park Hyatt, as one of the hotel's restaurants was surrounded by something that apparently wasn't a pool. Who knew?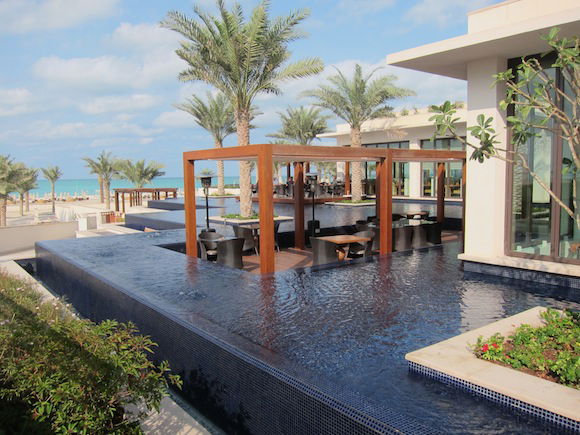 Decorative pond
The pool was large and quite busy in the afternoon, though I didn't actually end up swimming, as we instead opted to go into Abu Dhabi.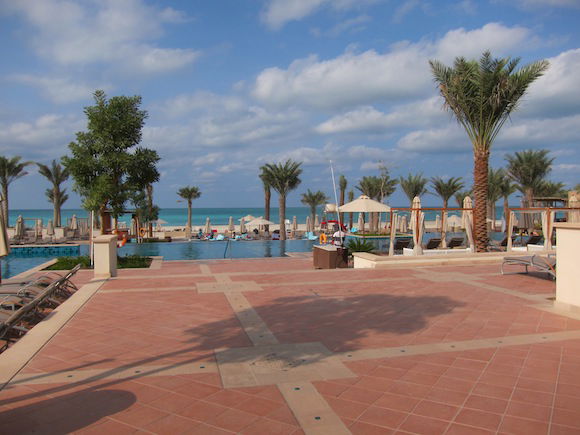 Pool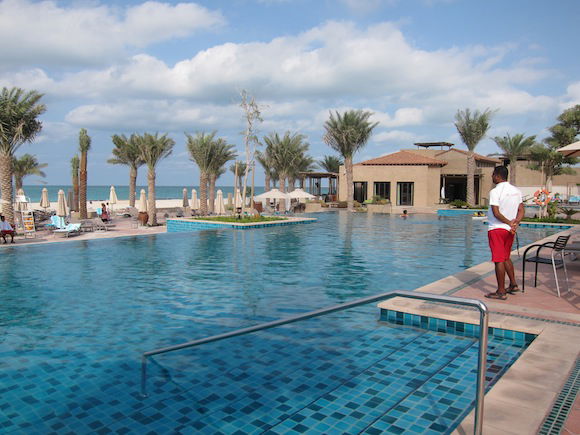 Pool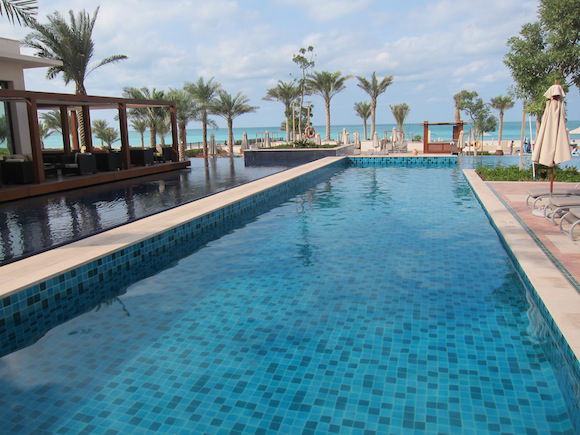 Pool… I think. Or another decorative body of water?
The hotel also has one of the most amazing gyms I've seen, though it's located in a separate building which I think is actually connected to the residences.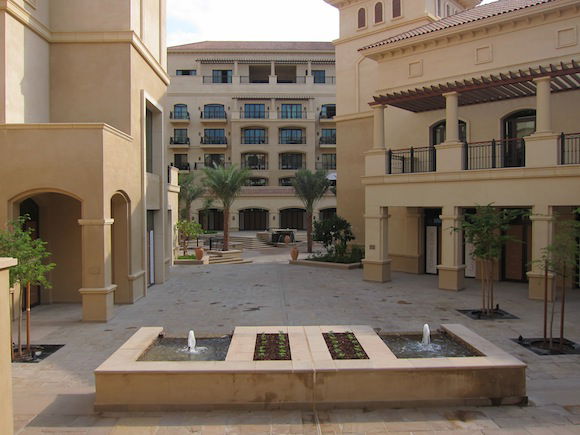 Walk to gym
The gym was huge, and featured an indoor lap pool, racquetball courts, and as much equipment as a membership gym back home.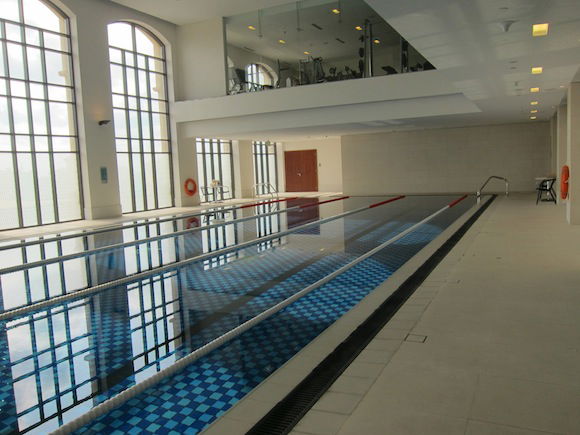 Lap pool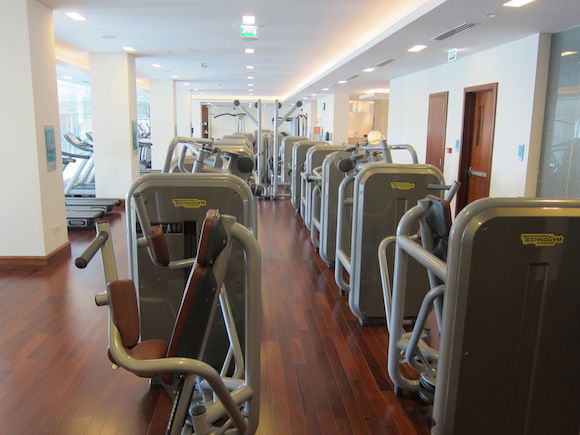 Gym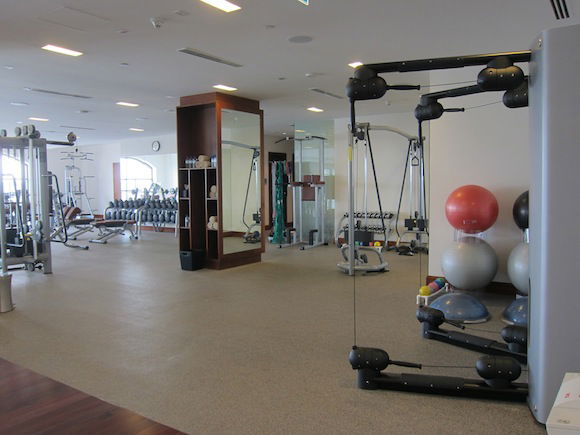 Gym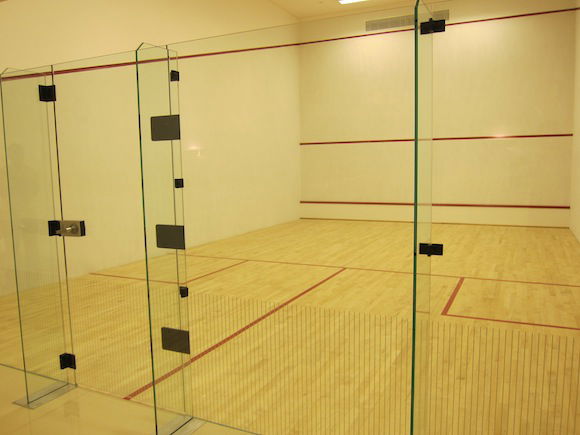 Racquetball court
There was also a really spacious jacuzzi.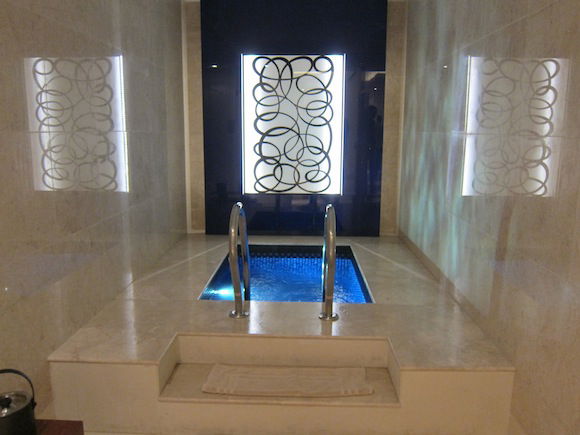 Jacuzzi
As a Platinum member breakfast was included (or rather an option as a welcome amenity) at Turquoiz, the hotel's main restaurant. We decided to eat outside, given that it was a beautiful morning.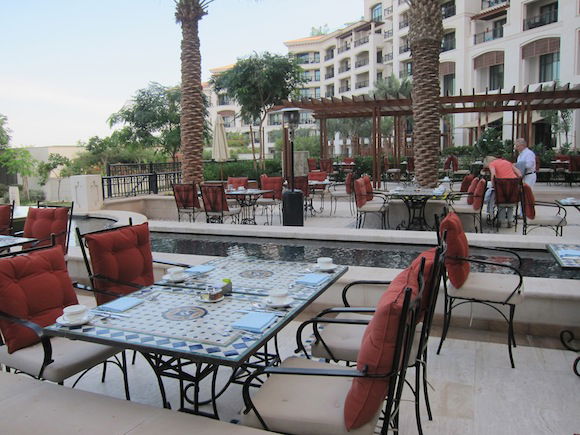 Turquoiz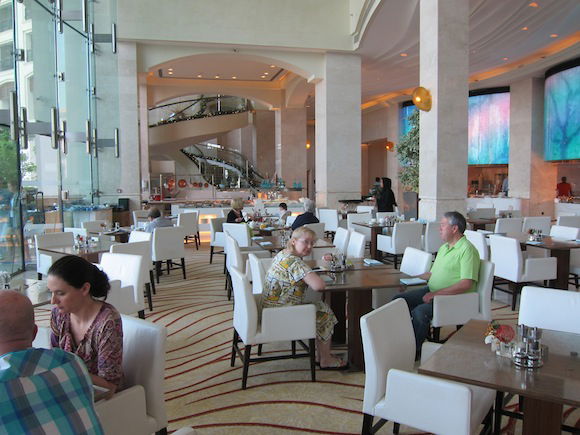 Turquoiz
No words can do the breakfast spread justice. I've experienced some amazing hotel breakfast spreads in my life. But this spread was downright ridiculous.
It was so outrageously massive that I nearly had a panic attack. As I usually do, I first toured the entire buffet (this one should have had mile markers, in my opinion, as it was easy to get lost), and then as usual selected some stuff for my first plate. However, I did something for the first time ever — I only returned with a couple of pieces of fruit, because I simply couldn't decide where to start. I was flustered. I was frustrated. I was about to lose it.
This buffet makes the menu at the Cheesecake Factory look like the menu at In-N-Out (worry not, I'll keep my day job!).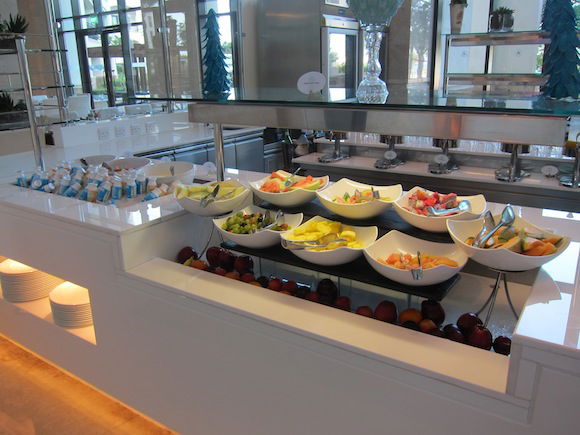 Breakfast buffet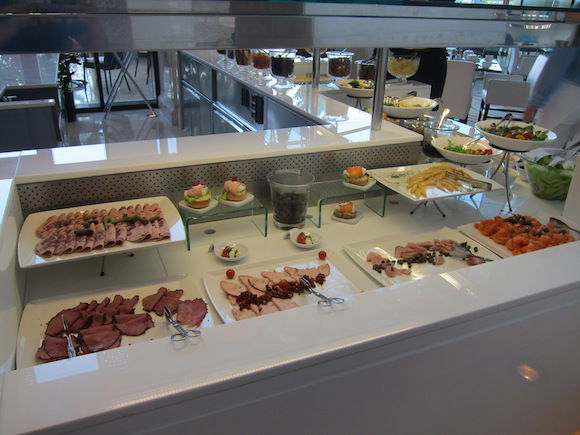 Breakfast buffet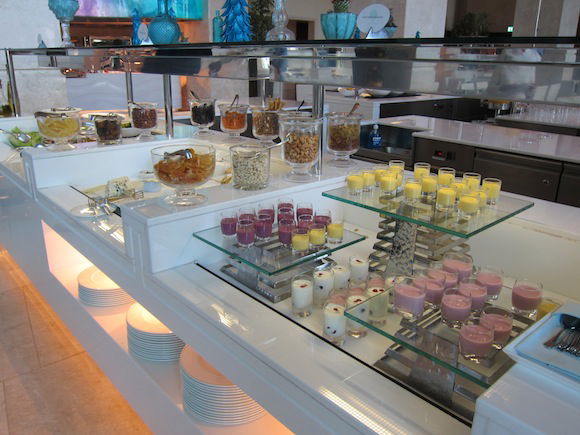 Breakfast buffet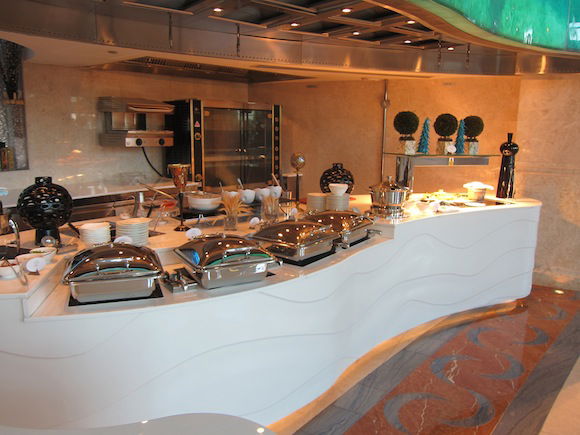 Breakfast buffet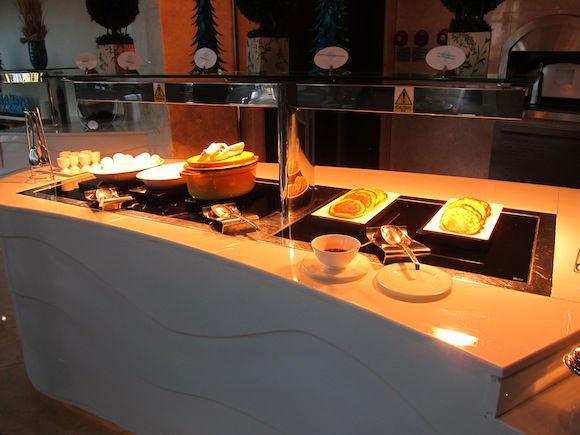 Breakfast buffet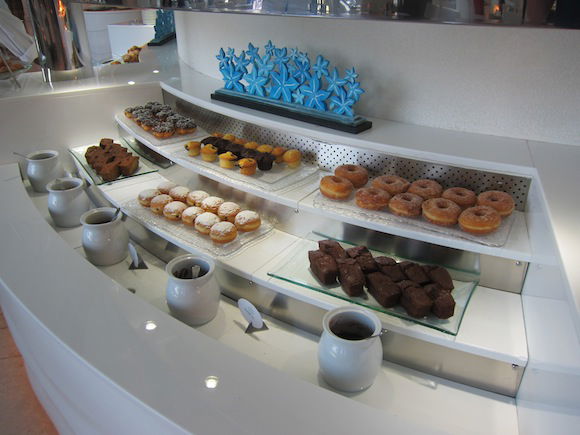 Breakfast buffet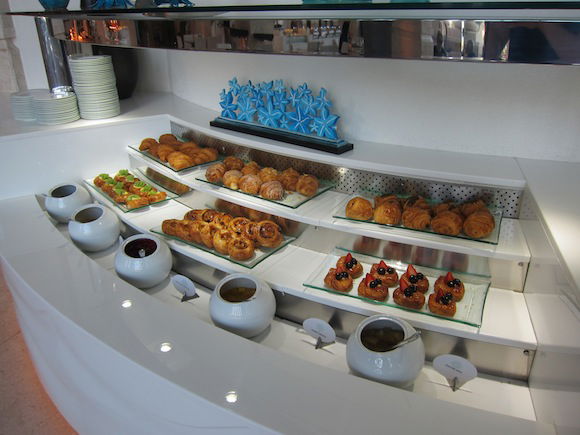 Breakfast buffet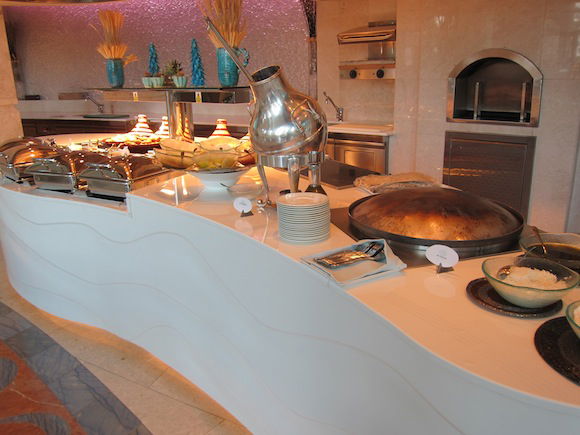 Breakfast buffet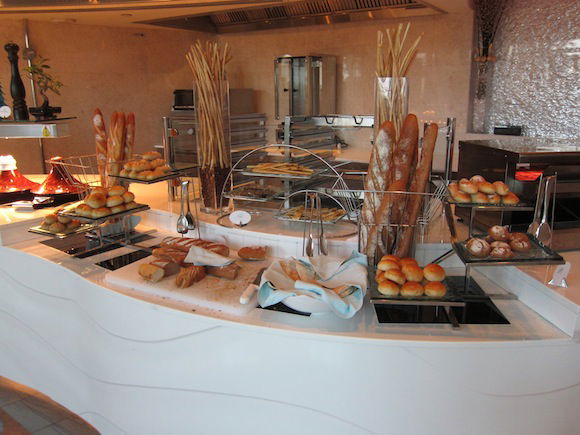 Breakfast buffet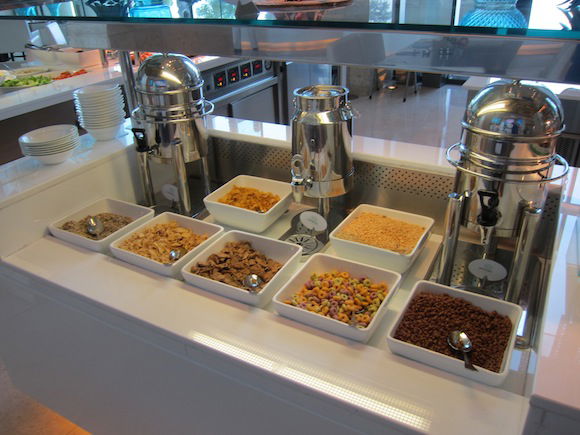 Breakfast buffet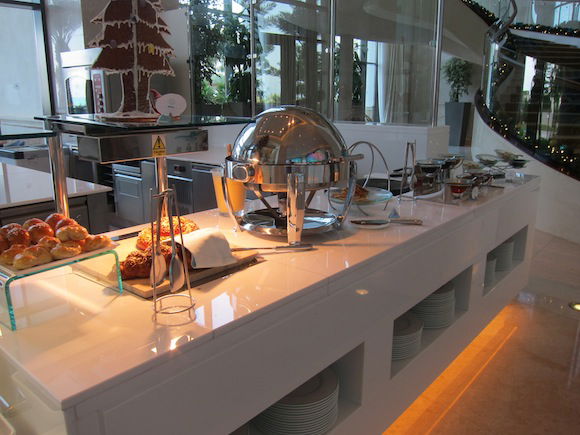 Breakfast buffet
Anyway, on the whole this is a nice resort, though I think I prefer the Park Hyatt. The breakfast buffet here was amazing, though I just wish it felt a bit less Hawaiian and a bit more Arabian.