Disclosure: My one-night stay at the Marina Bay Sands was comped by the hotel
If you haven't heard of the Marina Bay Sands, it's an $8 billion, 2,500+ room integrated resort built by the Las Vegas Sands Company. It opened about a year ago, so I was thrilled to have the opportunity to test out the hotel. While the hotel has a million different attractions, what I was most excited about seeing was the 57th story SkyPark featuring a very cool infinity pool, that I had seen so many pictures of.
One of the nice things about the Marina Bay Sands is that they have a shuttle from the airport, which is pretty rare in Singapore. The bus runs frequently and picks up at dock nine. I managed to catch it just a couple of minutes before it was leaving. It's a massive, luxury bus, and during the 20 or so minute ride to the Marina Bay Sands they play a video which only builds up the excitement for finally getting there, showcasing the various hotel features.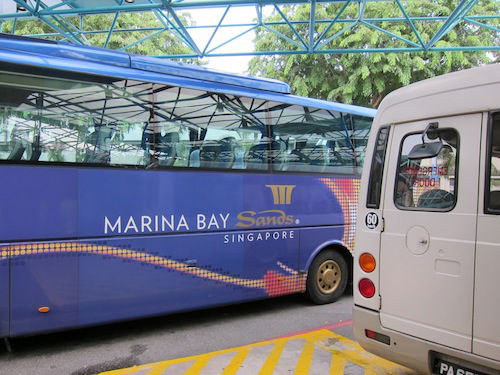 Marina Bay Sands bus
As we drove up to the hotel I realized just how impressive the building is. It's really three towers connected by the massive SkyPark on the roof, which even extends beyond the side of the building so it almost looks like there's a ship on the roof. Apparently it's the length of four and a half Airbus 380s.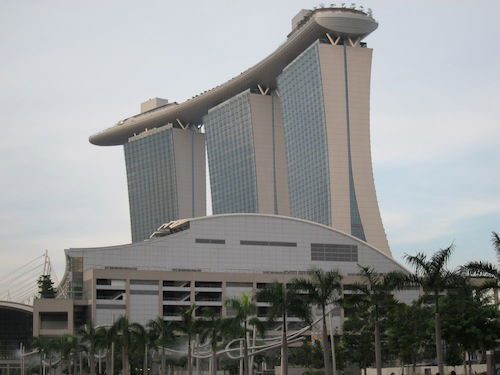 Marina Bay Sands exterior
The bus arrives on the lower level, so I had to take an escalator up to the main level, where the atrium starts. The building is damn impressive, there's not really any other way to describe it, though I don't think any pictures could do it justice.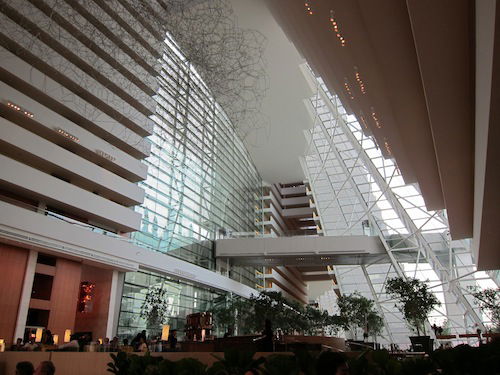 Atrium
Now, one of the challenges with a 2,500 room hotel is that there's going to be a line for just about everything from check-in to getting in a cab to getting a table at breakfast. You're not going to get the intimate experience you would at a boutique hotel, but then again, I haven't seen a boutique hotel with this many features or that's this grand.
At check-in there was a line of maybe a dozen people, though the line moved quickly enough so it only took about ten minutes to be welcomed by an agent. They certainly do everything they can to make the wait as pleasant as possible, from offering drinks while in line to having a band playing live music in the lobby. And that's a theme I noticed, whenever there was a line — they have something there to keep people entertained/happy.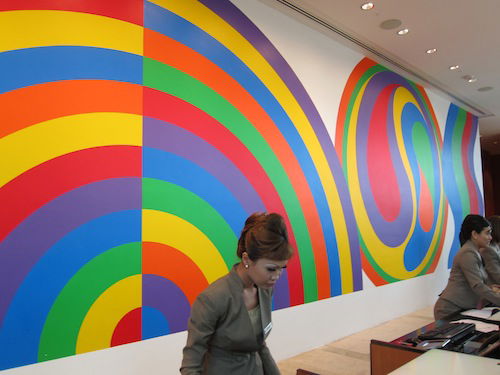 Colorful check-in desk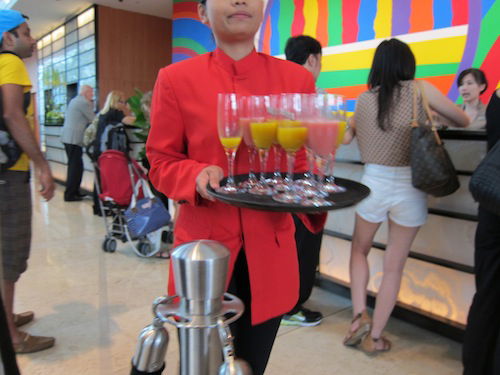 Drinks being offered while waiting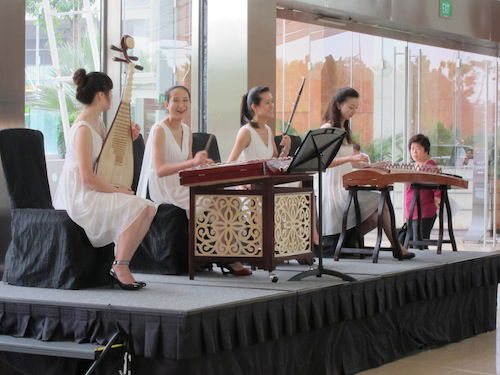 Live music
The check-in agent was very professional, though after scrolling down a screen in her computer for what seemed like the better part of ten minutes, informed me that my room wouldn't be ready until 7:30PM, which was about three hours from when I first arrived. That was rather unfortunate given that I literally had 12 hours in the hotel. I was surprised they couldn't find *some* available room, given that this is a 2,500 room hotel, though I suppose it worked out fine since I would be meeting friends for the evening.
This is one of those cases where I'm a bit torn about how to report my stay. On one hand since I was on a comped stay I really should be flexible and thankful for whatever I can get, though at the same time a lot of people believe that those being comped stays get better treatment than "normal" guests, so what does that mean for the rest of you? In this case everyone being checked in before or after me walked away with a key, so it seemed to be just me. That at least makes me confident that this wasn't the norm, which is a good thing.
They have a business center with free internet right next to the lobby, so that was convenient for helping me catch up on emails a bit. I also headed to the 57th floor SkyPark, which for me is the biggest attraction at the resort. The SkyPark is broken up into two areas, one for the general public (though tickets must be purchased) which is mostly an observation deck, and then the rest of the top level, which has the impressive infinity pool. To prevent non-guests from using the pool you have to show your key in order to enter that part of the SkyPark, which is no doubt nice for hotel guests, since you probably don't want a million people walking by and gazing in amazement as you're lounging by the pool.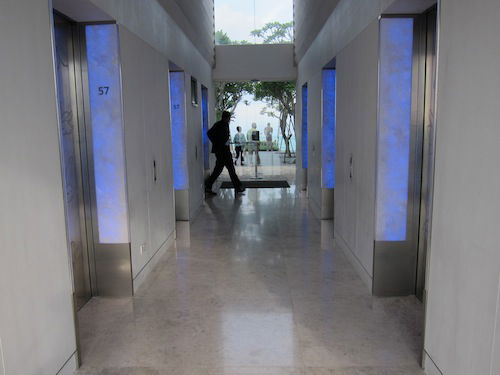 Elevator on the 57th floor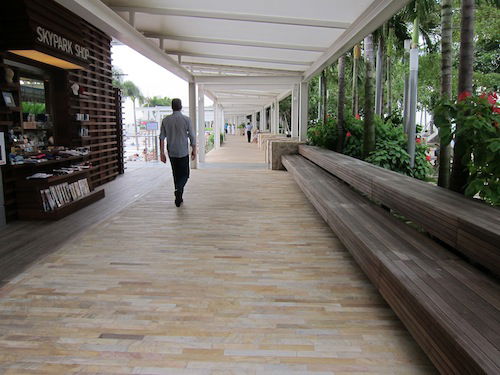 SkyPark
There's something undeniably breathtaking about an infinity pool on the 57th floor of a hotel overlooking the Singapore skyline. I was surprised that the pool actually wasn't all that crowded, given how huge the resort is.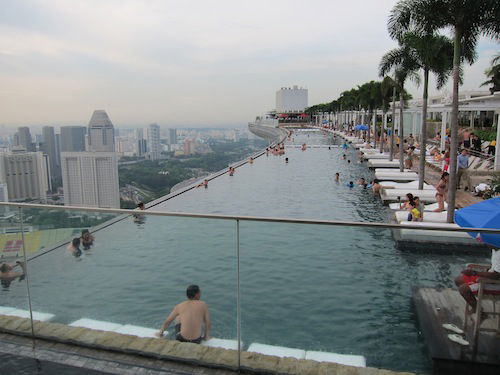 Coolest pool ever?
Since I'm sure many of you are wondering, no, the pool doesn't literally flow over the edge and down 57 floors. While it appears to be an infinity pool with scary views from the side, there's actually something along the border of the pool a few feet below to catch water (and potentially anyone that falls over… God forbid).
The SkyPark faces the Singapore skyline on one side and construction and the bay on the other side.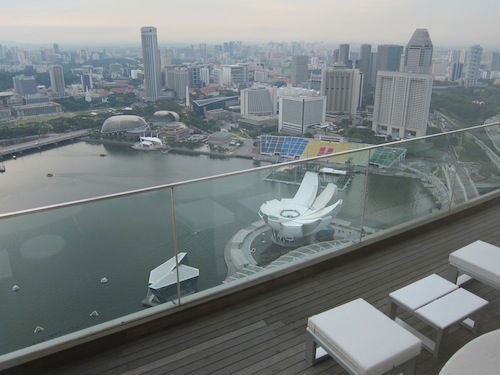 View from the SkyPark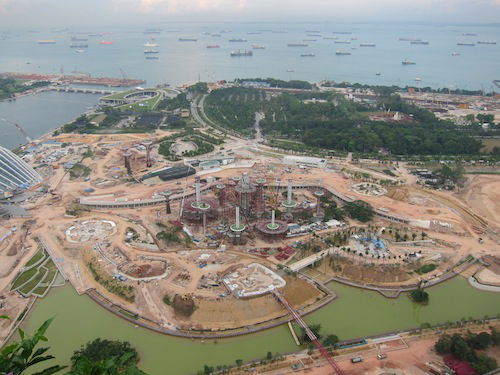 View from the SkyPark
After spending a bit of time upstairs I headed to the lobby to meet some friends, determined to return at the crack of dawn the following morning at 6:30AM to visit the pool.
My friends had stayed at the Marina Bay Sands before, so gave me a tour of the shopping area and casino entrance.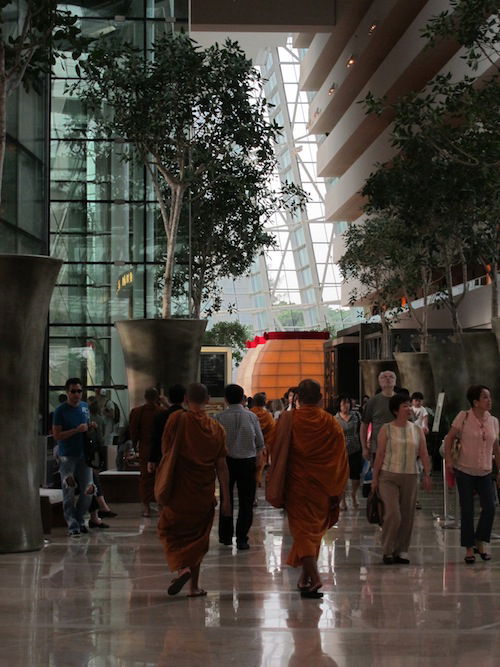 Back in the lobby
The interesting thing about casinos in Singapore is that admission is free for foreigners, but Singaporeans have to pay a $100 entrance fee. Apparently it's to prevent people from becoming addicted to gambling, which does seem very Singapore-esque. It's also pretty interesting that they have an exclusion list, whereby you can request self exclusion or exclusion for a friend or family member.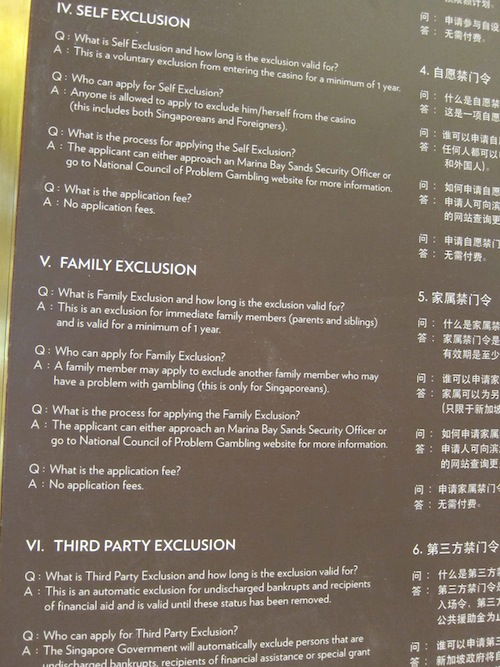 Exclusion list
The shopping mall is very impressive, with just about every high end store you could imagine. Much like the Venetian in Las Vegas they have little boats (though to reflect the local culture, not gondolas like at the Venetian). That being said, the "river" didn't seem quite as busy as the one Ive seen at the Venetian.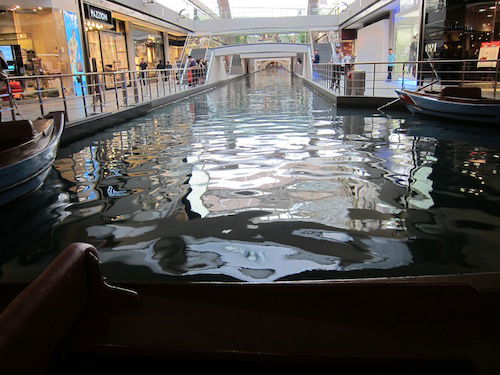 Venetian-esque river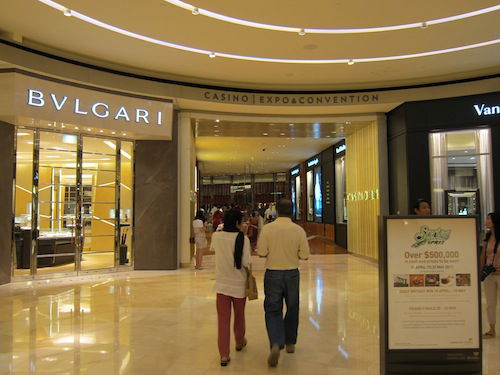 Shopping and casino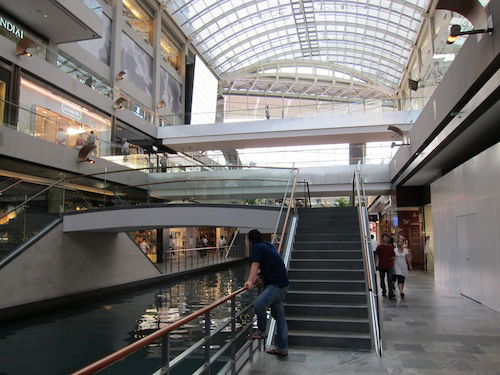 Shopping complex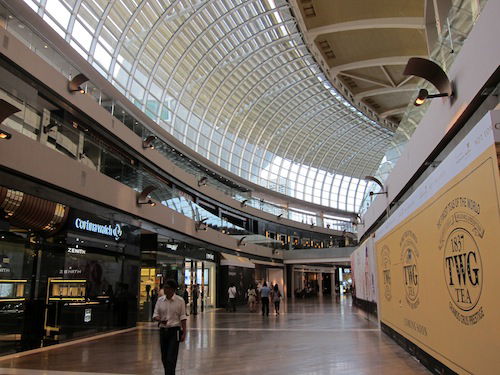 More shopping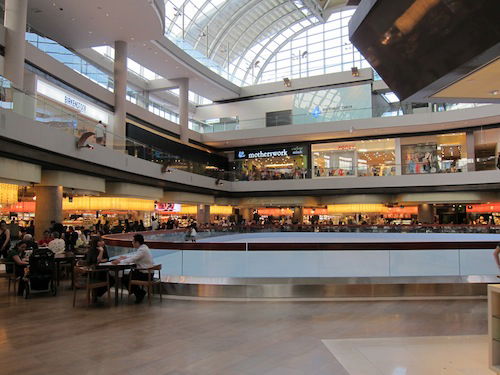 Even more shopping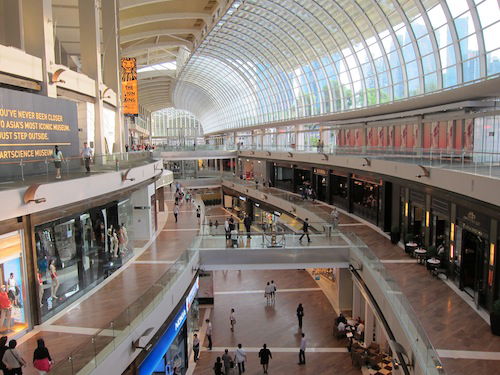 And even more shopping
After a fun evening in Singapore I returned at around 11PM, at which point my room was ready.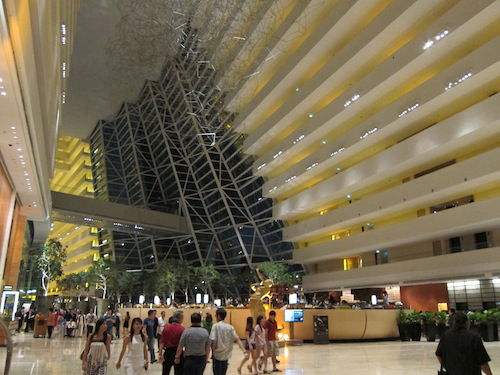 Atrium at night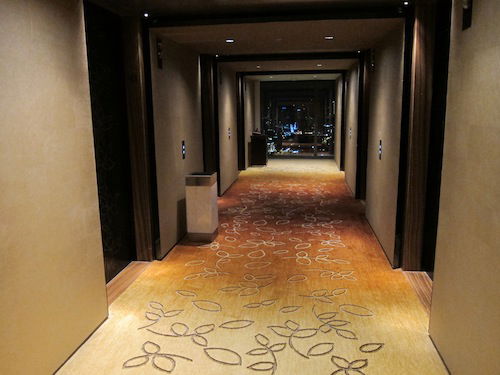 Elevator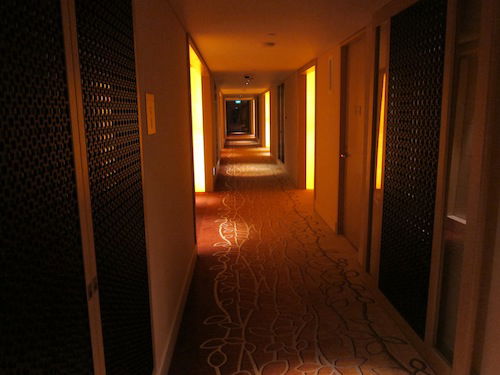 Hallway
My room was in the Horizon tower and faced the harbor. The room itself was spacious and very nicely appointed.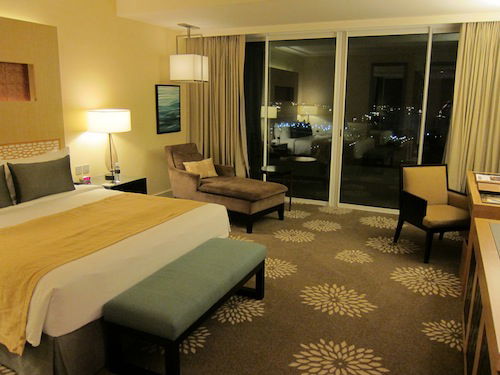 Room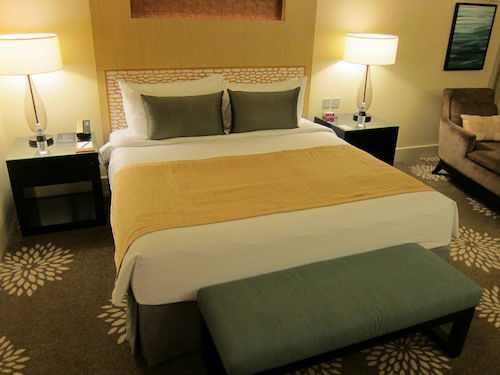 Bed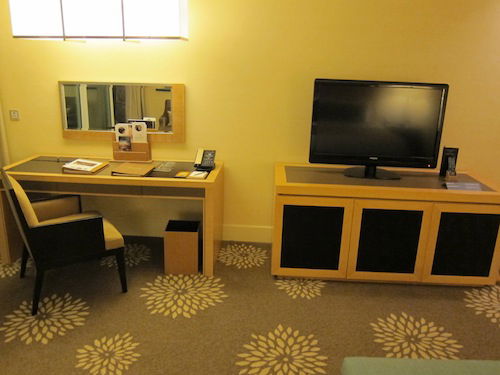 TV and desk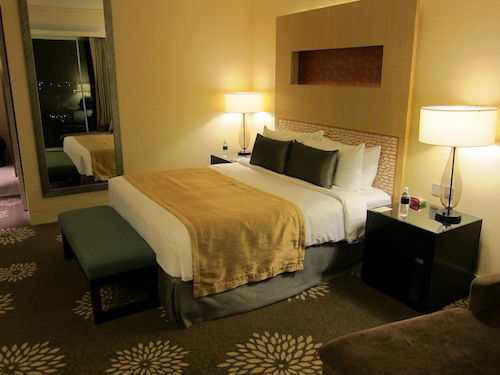 Room from other side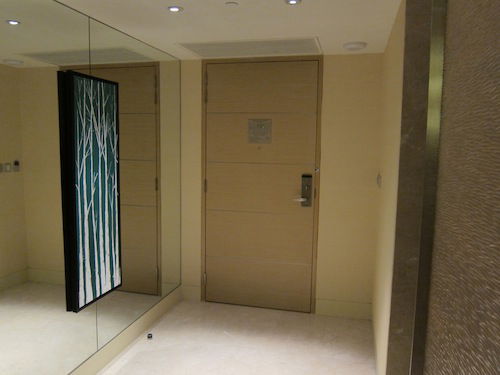 Hallway/door
Right at the entrance was a large bathroom featuring double sinks, and both a tub and shower.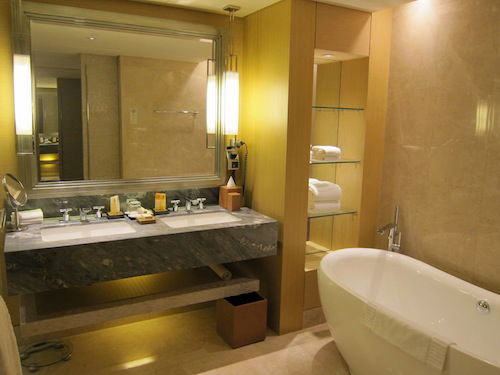 Bathroom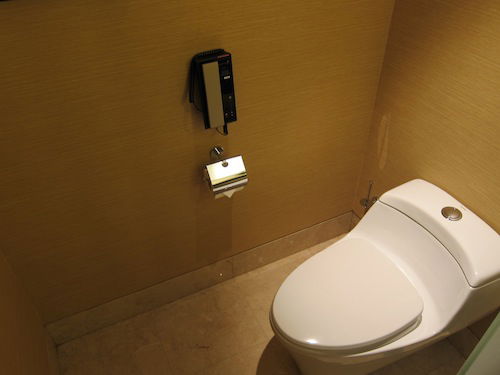 Toilet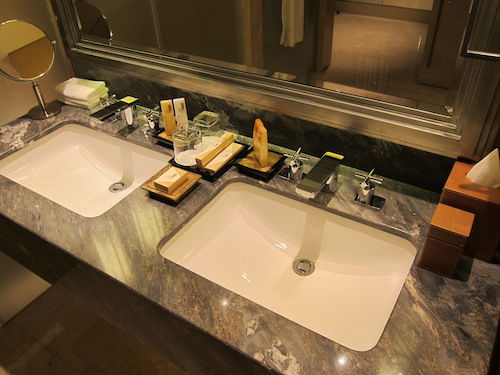 Sinks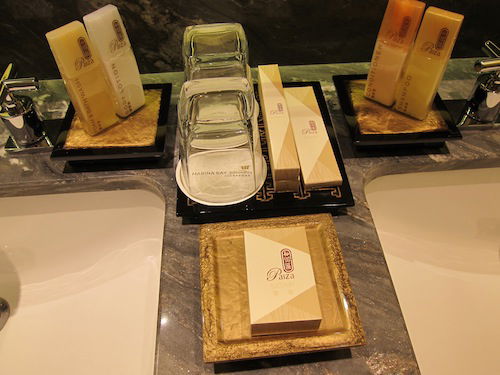 Bath amenities
Given that this is the world's most expensive integrated resort, it goes without saying that everything in the rooms is of the highest quality imaginable.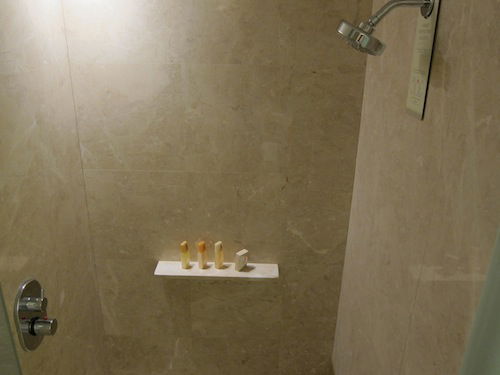 Shower
The room also featured a fairly large patio, though there was no furniture. I'm not sure if that was a fluke or the norm.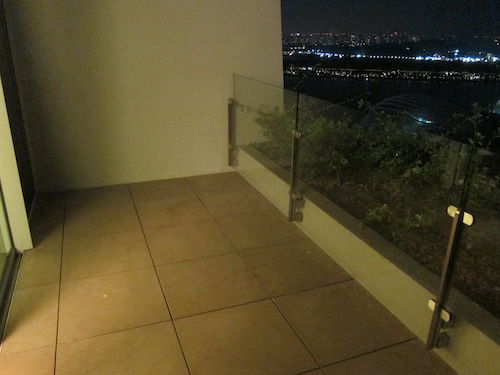 Patio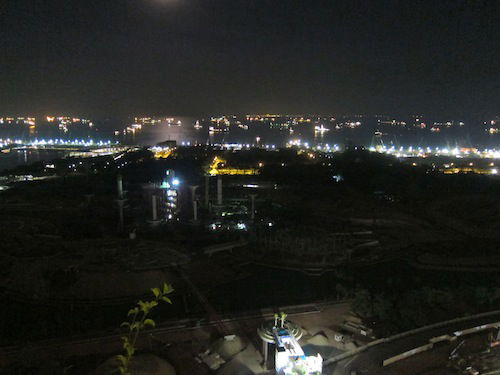 View from the patio
I slept incredibly well as the bed was very comfortable, and struggled to get up at 6:15AM, though knew it would be worthwhile given the infinity pool waiting for me on the 57th floor.
I changed and headed upstairs, though checked out the gym on the way, which also featured amazing views. It had top of the line equipment, and lots of it too.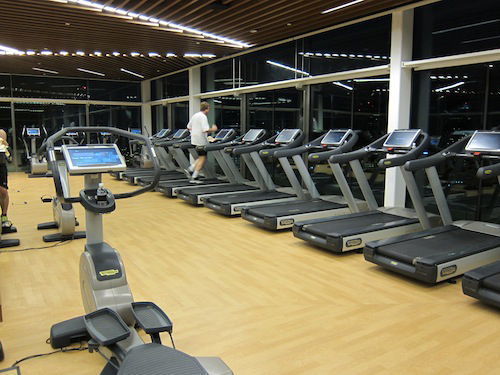 Gym

Weights
And then came the highlight of my stay, having the SkyPark nearly to myself at 6:30AM with a beautiful sunrise over Singapore. The only downside was that I had such limited time, since I had a flight at 9AM. So I literally had all of 10 minutes to enjoy it, so I did as good of a job as I could to document it. The issue is that it took at least five minutes for my camera to adjust to the heat of Singapore, so my apologies in advance for the picture quality.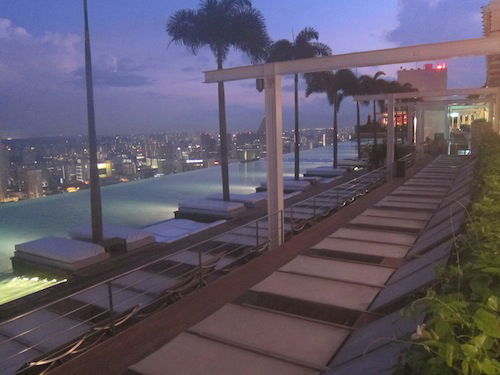 Infinity pool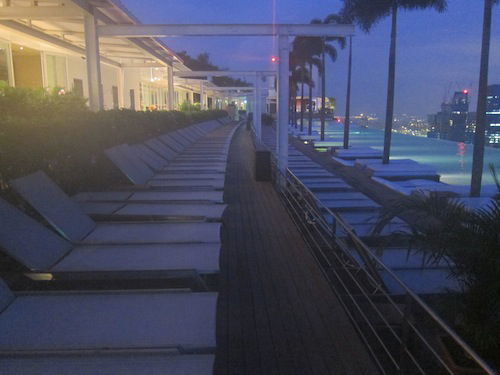 Infinity pool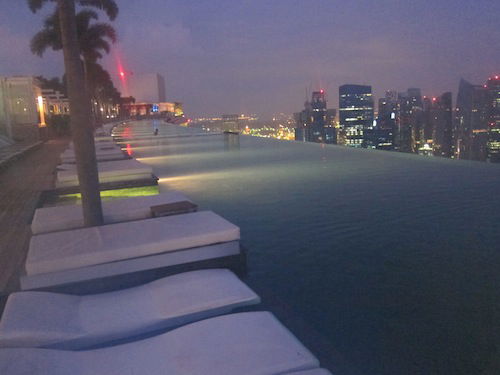 Infinity pool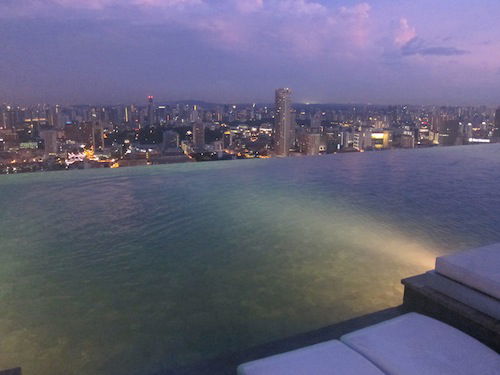 Infinity pool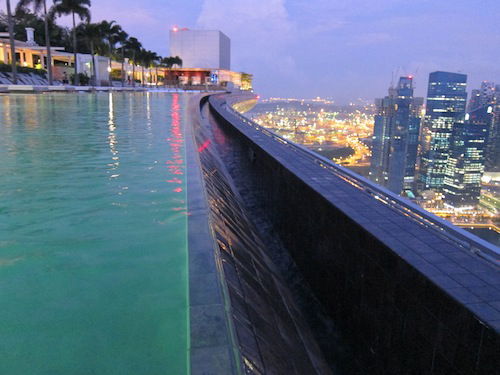 Edge of the infinity pool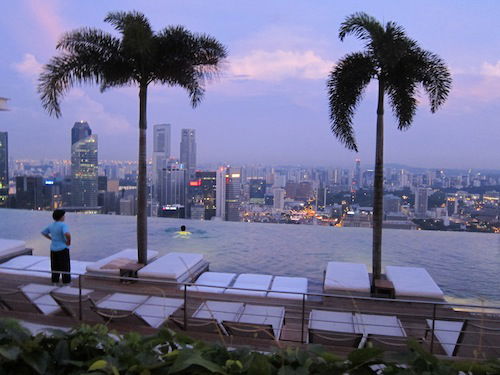 Infinity pool
After a quick swim and shower I was downstairs by 7:30AM for the shuttle back to the airport. Unfortunately the queue at check-out was so long that I just had to high tail it out of there.
All of the employees I came across were eager to help, which is rare at a resort of this size. That being said, at times execution wasn't as good as it could have been. For example, I called at night to ask at what intervals the shuttle to the airport runs. I was told it runs at 15 minutes and 45 minutes past the hour. As it turns out, it ran on the hour and half hour.
Summing it up, I had an enjoyable stay. Should you stay here if this is your first time in Singapore? I'd say not, at least not for the entirety of your stay. This hotel isn't "authentic" Singapore, and frankly isn't ideal if you're just a tourist that wants to see the city, since you'll spend a lot of time waiting, be it to check-in, for a taxi, or whatever else. You're also certainly missing out on the personalized service you could receive at a comparably priced hotel elsewhere (cause let's be clear, this place isn't cheap, typically $340SGD++).
However, this hotel is a destination in and of itself. Regardless of whether you've been to Singapore before or not, I would say it's worth spending a night or two at this place. During your stay don't leave the resort. Enjoy the pool, casino, amazing restaurants and shopping, etc. This hotel is a resort, and an amazing one at that. It's Las Vegas with a bit of class restored.
Lastly, at the very least, if you're a tourist, the SkyPark is most definitely worth a visit (the cost is $19SGD). The views are incomparable. Simple as that.