---
SilkAir 772
Singapore (SIN) – Koh Samui (USM)
Monday, March 25
Depart: 9:00AM
Arrive: 9:50AM
Duration: 1hr50min
Aircraft: Airbus A319
Seat: 2C (Business Class)
Upon boarding we were welcomed by two flight attendants dressed in bright orange and green uniforms. They directed us to our seats in row two.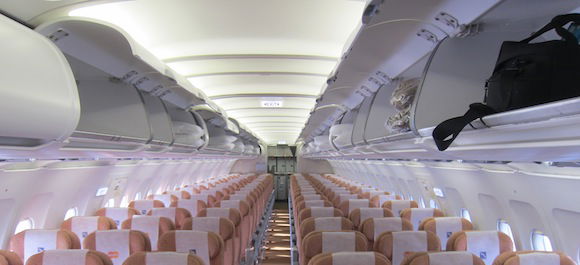 View of the coach cabin from business class
The SilkAir A319s have eight business class seats, each with about 40 inches of pitch (slightly more than domestic first class in the US). At each seat was a pillow and blanket.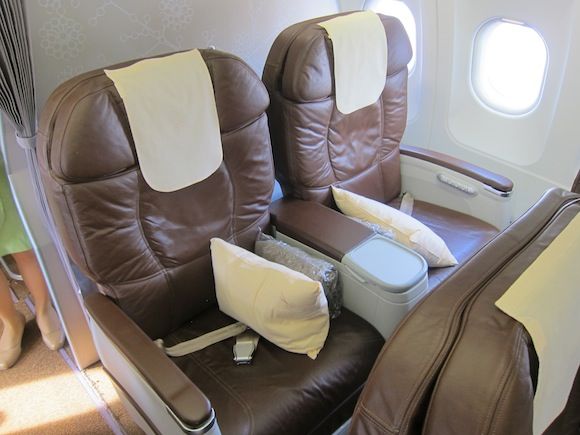 Our seats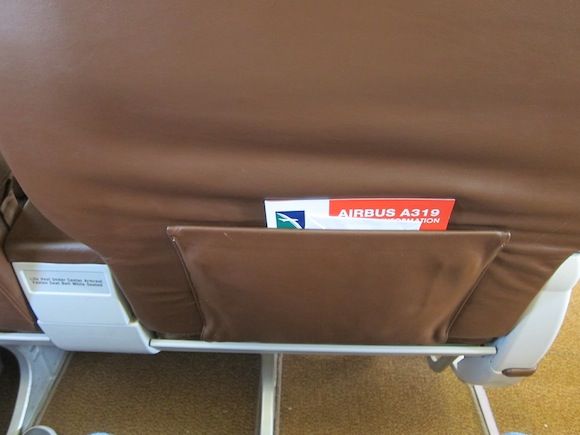 Legroom
Each seat had a legrest which wasn't especially useful with only 40″ of pitch, and three manual control levers on the right side of the seat.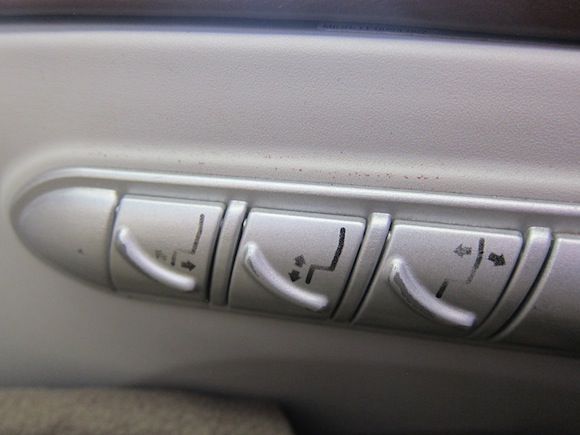 Seat controls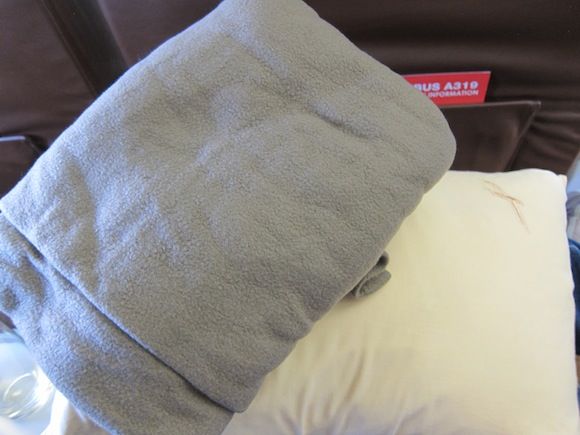 Pillow and blanket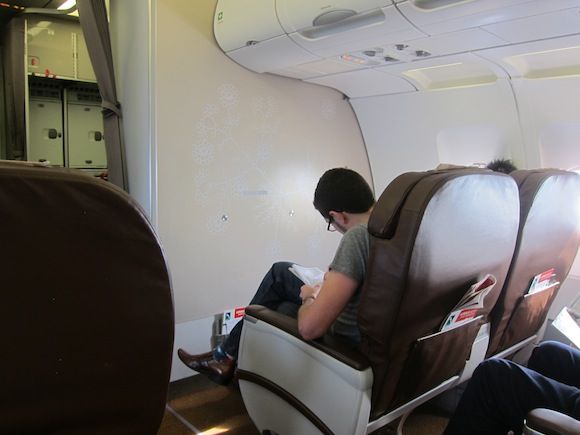 Business class cabin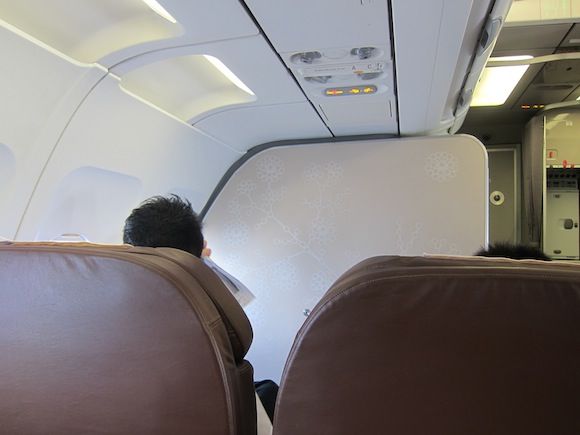 Business class cabin
As soon as we settled in one of the friendly flight attendants offered us pre-departure beverages from a tray. We both had apple juice.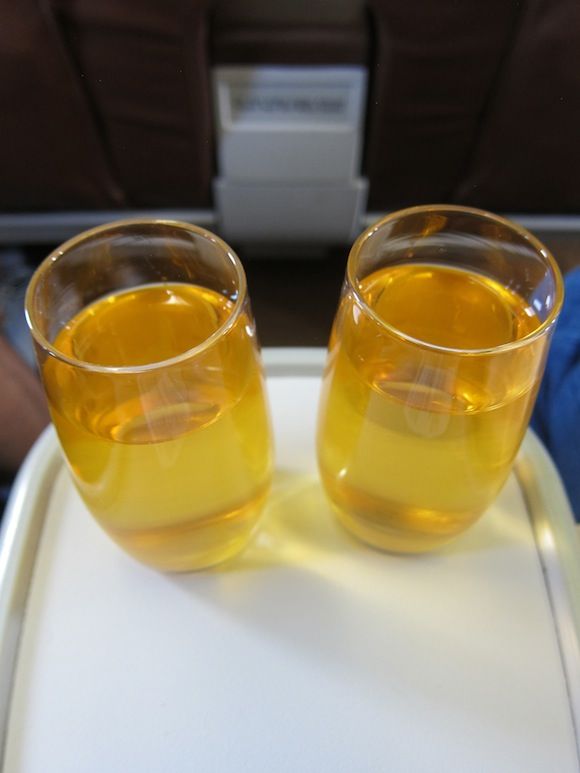 Pre-departure apple juice
The flight was packed, though they still managed to board the plane in about 15 minutes. It was interesting to watch the boarding process, and in particular the way the crew interacted with passengers.
I was kind of curious how different SilkAir crews would be from Singapore crews. After all, it's Singapore's regional airline, so you kind of assume service will be similar. And just from watching boarding it was clear that the crew was exactly as I expected — extremely friendly and full of smiles, though to some degree weren't as polished and lacked the confidence of your typical Singapore Airlines flight attendant. The exception was the "senior stewardess," who had a much more poised demeanor.
Around departure time the captain came on the PA to inform us of our flight time of 1hr25min. Shortly thereafter push back commenced and the safety video began to play.
We taxied out to runway 2C which took about 10 minutes. During that time one of the flight attendants came around the cabin with a single menu to take meal orders. The choice was between Malay fried rice and blueberry pancakes — I ordered the latter.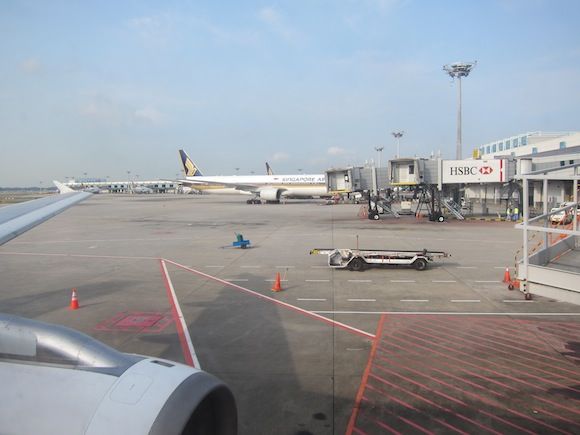 View on push back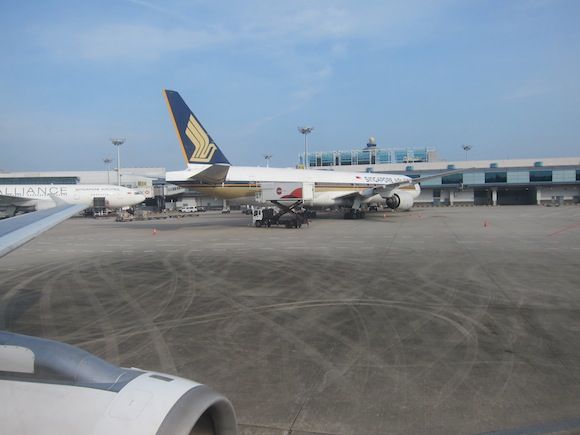 View during taxi
Once at runway 2C we were immediately cleared for takeoff and had a smooth climb out of Changi.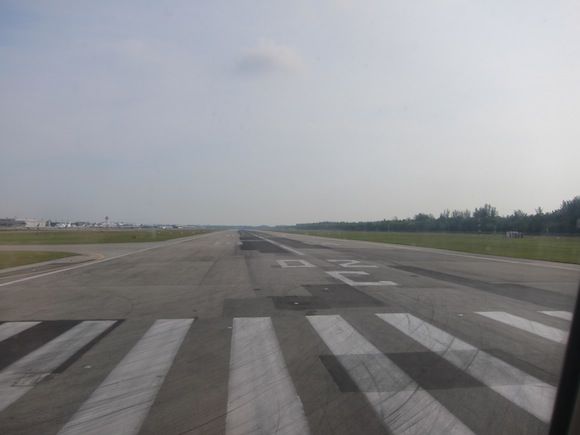 Taking off runway 2C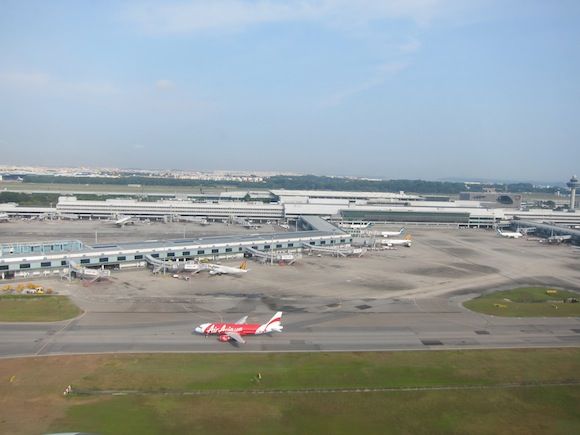 View after takeoff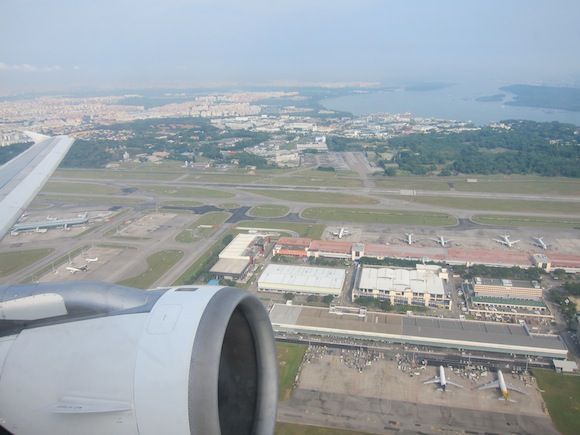 View after takeoff
About five minutes after takeoff the seatbelt sign was turned off and service began. Within about 10 minutes breakfast was served. I was kind of surprised they didn't do drinks first and then breakfast, but rather everything was served on a single tray at once (not that this is any sort of a travesty for an 85 minute flight, but Asian airlines do operate on a different level, so…).
The breakfast was okay. The blueberry pancakes didn't have a whole lot of blueberry, and came with chicken sausage, sweetened apple chunks, and a tomato. There was a side of fruit, and the flight attendant also came around with a bread basket, consisting of croissants and rolls.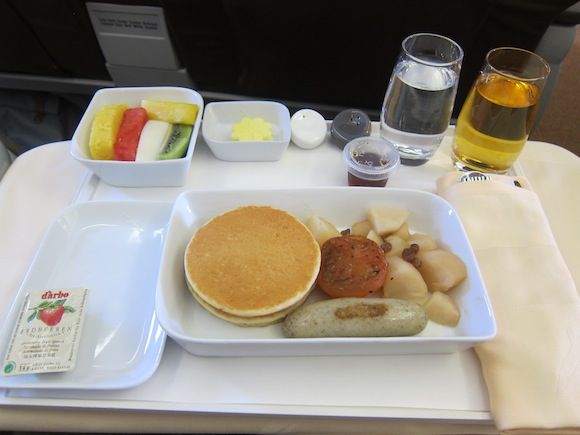 Breakfast
This was only an 85min flight, so after breakfast I watched a sitcom and a half on my laptop before we were already descending for Koh Samui.
The views on the approach were beautiful.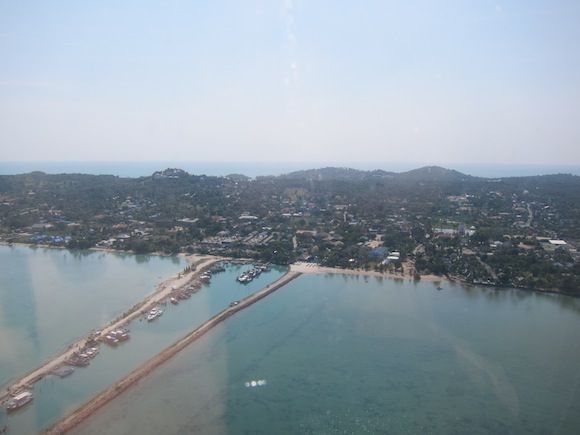 View on approach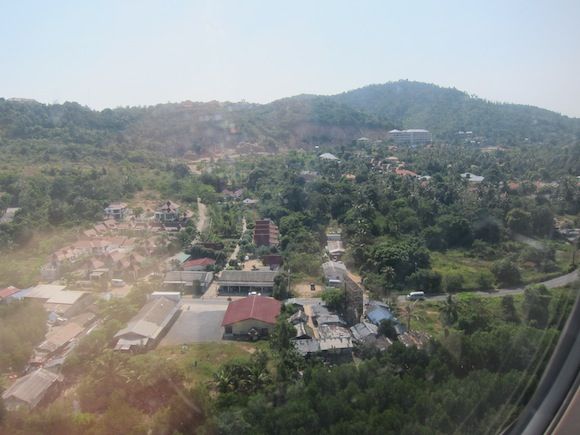 View on approach
About 15 minutes ahead of schedule we had a firm touch down with some strong braking.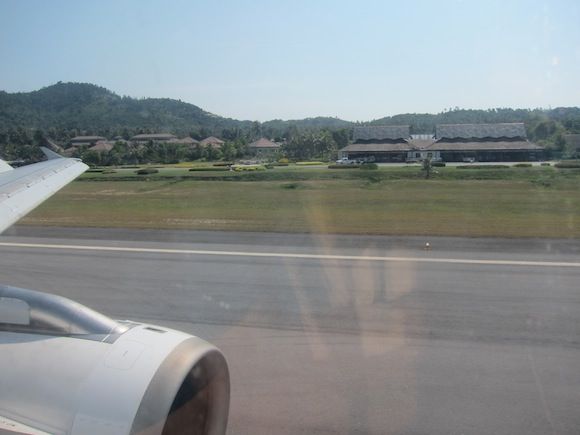 Touchdown
Koh Samui Airport is fascinating for many reasons, probably the least of which is that they have a single runway with taxiways only at the center of the runway, meaning a back taxi was required.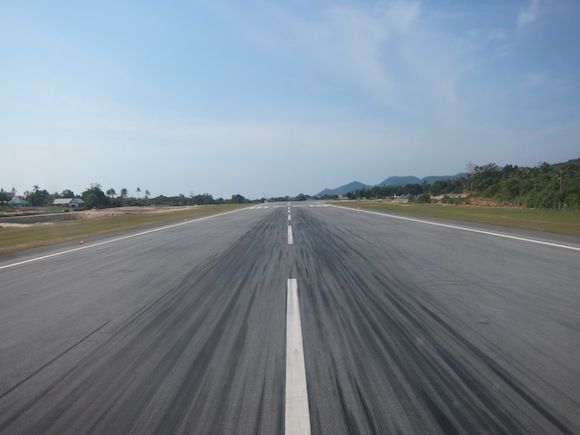 Back taxiing
Near the center of the runway was the fire station, where the dozen or so firefighters seemed to be standing to watch our landing.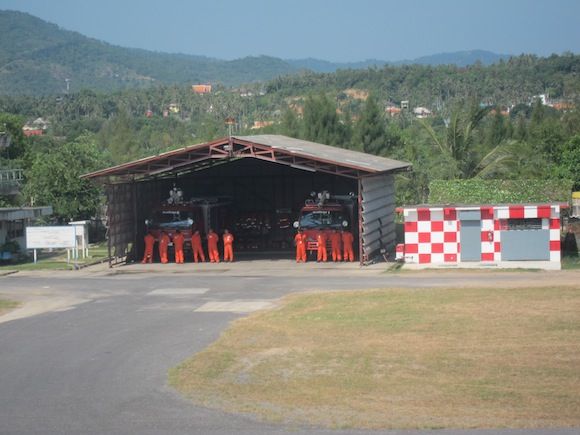 Airport fire station
At the time we arrived the airport was fairly empty and we parked next to a Bangkok Airways A320.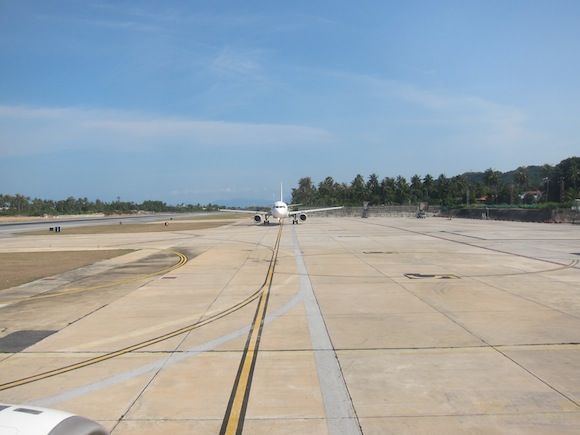 Taxiing in
Since the airport doesn't have any gates, there were air stairs and "buggies" waiting to transport us to the terminal.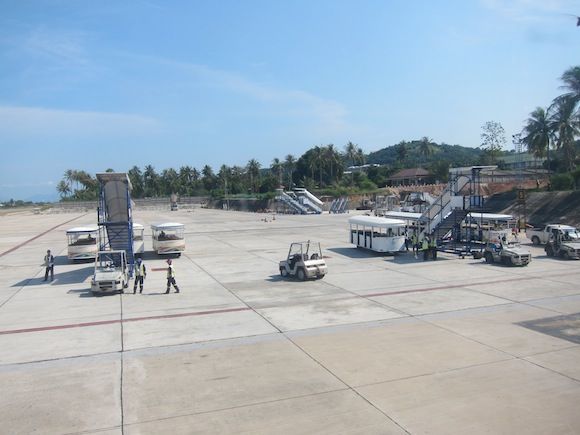 Taxiing in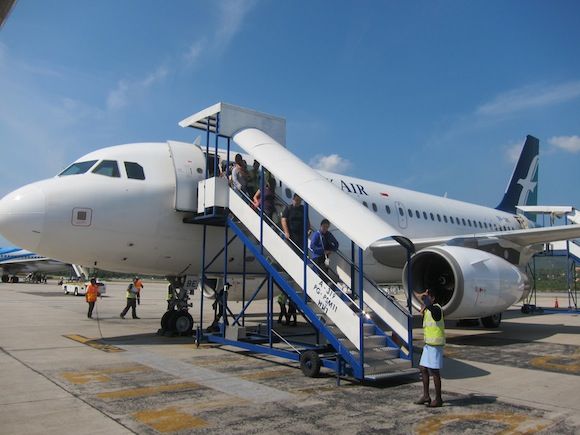 Our aircraft
I find the buggies at Koh Samui Airport to be only a small step behind the ground transport offered by Lufthansa in the First Class Terminal. An open air vehicle with great plane views? Yes please. 😉
Best of all they had a buggy exclusively for business class passengers, so there were only eight of us on it, and we got to the terminal before everyone else.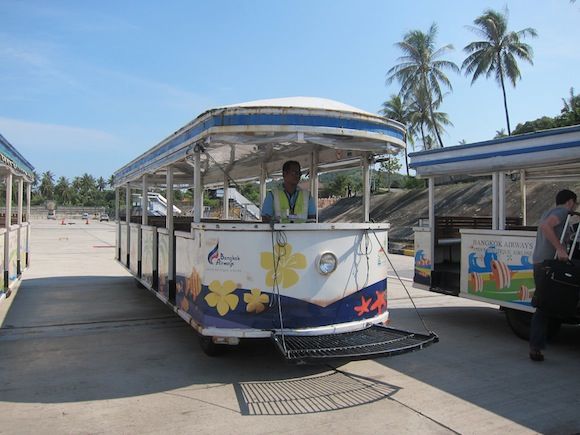 Transport to terminal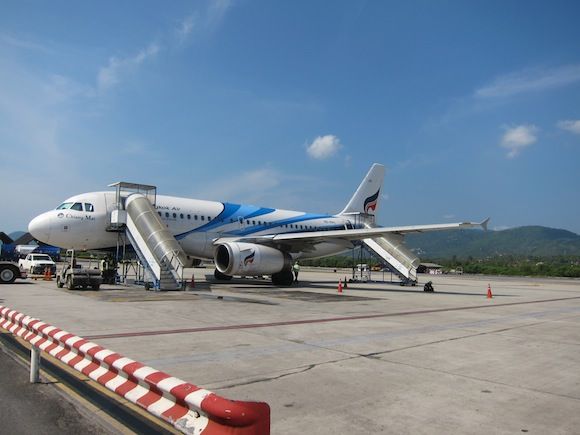 View driving to the terminal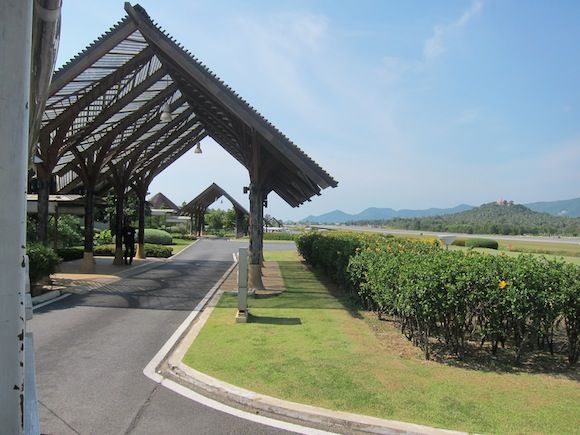 Approaching the terminal
The drive took maybe two minutes, and once there we found ourselves at the immigration desk, where there was no queue.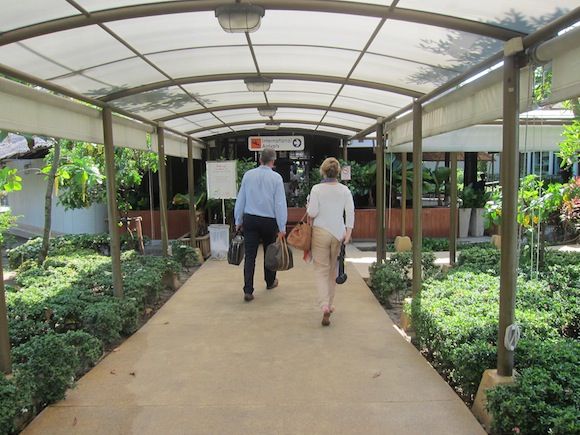 Walking to immigration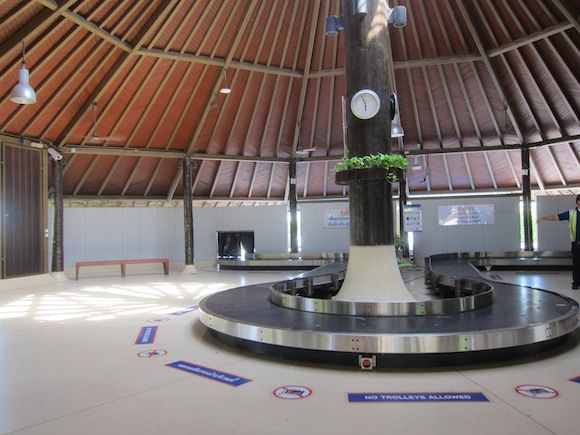 Baggage claim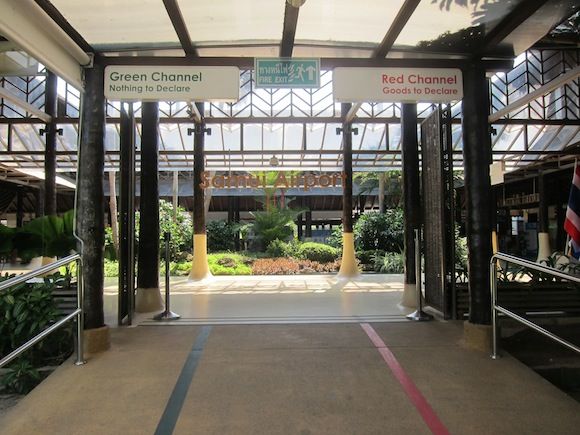 Exiting the terminal
We had arranged transportation to the resort in advance, so there was someone in the arrivals area waiting for us with a sign from the Conrad Koh Samui. He helped us with our bags and took us on the hour or so drive to the Conrad, which is located on the other side of the island.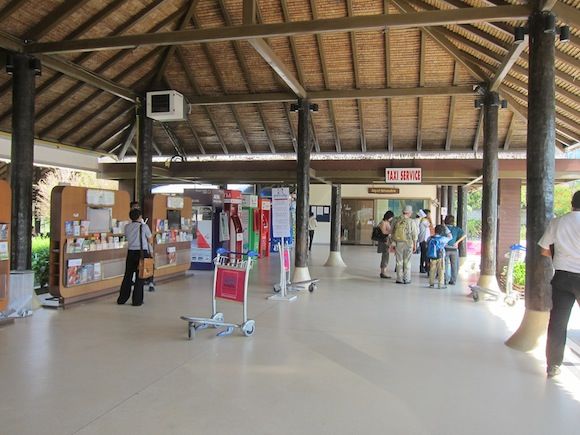 Arrivals area
I enjoyed my flight on SilkAir, and the experience was actually exactly how I expected it to be. The flight attendants were friendly, the seats comfortable, the aircraft clean, and the food perfectly edible. I also loved Koh Samui Airport, though it's even awesomer on departure, so stay tuned for that.