Up front I'd like to disclose that my room was paid for by the Starwood Preferred Guest® Credit Card from American Express as part of the AmEx Stars program that I'm participating in this year.
Not only does it give me a lot of great opportunities, but for each experience I have, a reader gets an equally awesome one. Tomorrow I'll be launching a contest (courtesy of the Starwood American Express) for 60,000 SPG points, enough for two nights at the St. Regis Bal Harbour.
The St. Regis Bal Harbour opened earlier this year and was named Forbes' most anticipated hotel opening of 2012, so there's no doubt that they had big shoes to fill and that my expectations were high.
One of the butlers from the hotel emailed me about a week before my stay to see if I had any special requests, which I thought was a nice touch. I responded with my anticipated arrival time, along with a request for late check-out and a room upgrade (due to Starwood Platinum status). They responded within hours acknowledging the request for both, saying my reservation had been notated.
We pulled up to the St. Regis at around 1PM and were immediately welcomed by the valet and bellmen. The hotel is part of a larger three building complex. The two buildings on the sides are both luxury condos, and in the center is the St. Regis. As you can see from the view from the front of the hotel, the exterior of the St. Regis is just a blank wall, given that all the rooms have an ocean view, so the front side is really the "back side" of the hotel.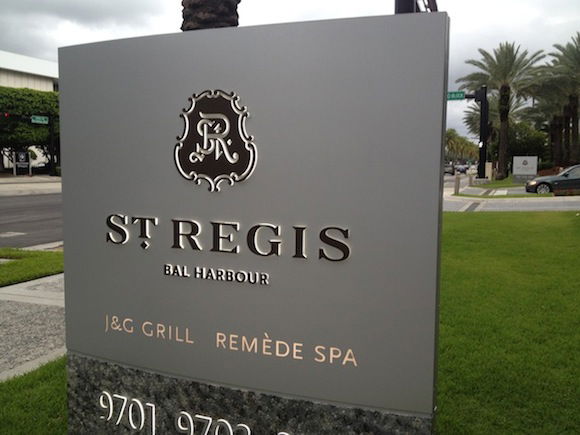 Hotel entrance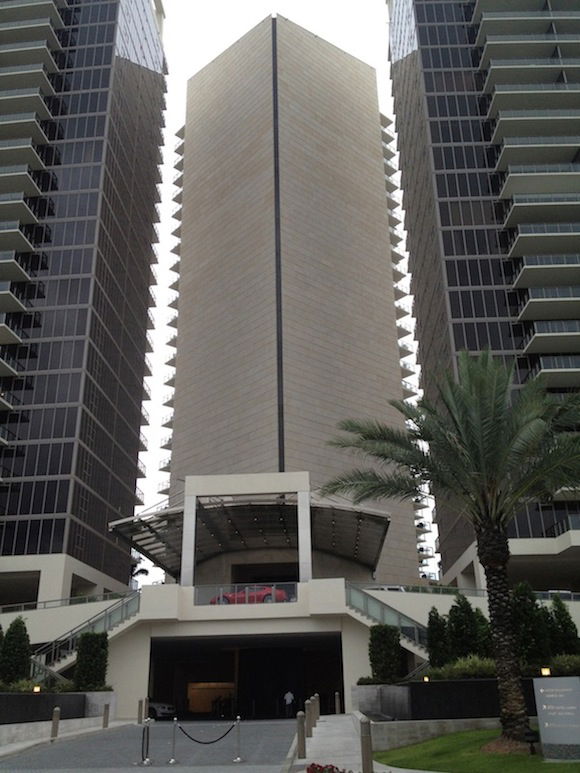 Hotel exterior
Once inside the stunning lobby we were directed to check-in, which wasn't the traditional counter you stand at, but rather individual desks for a more personalized experience.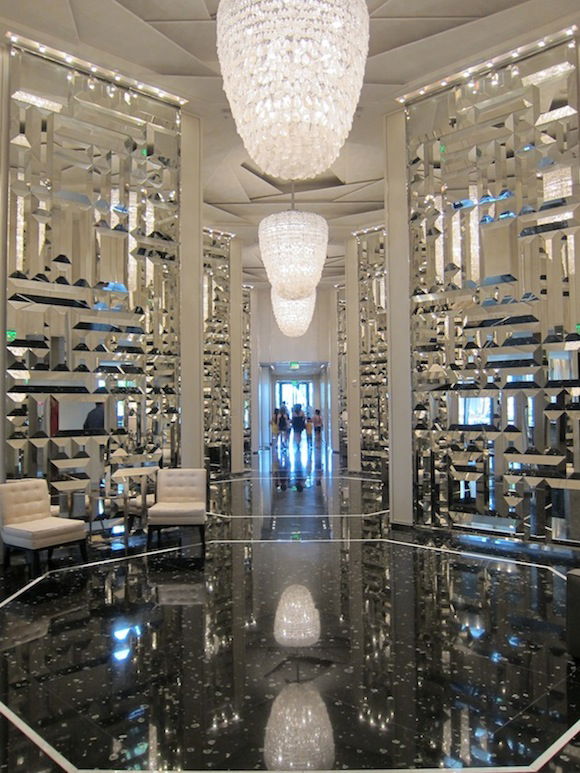 Lobby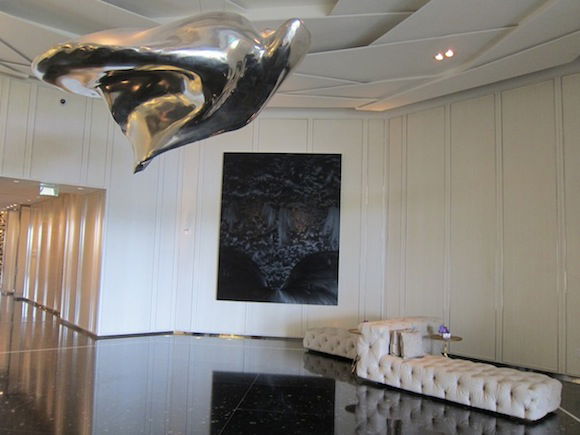 Lobby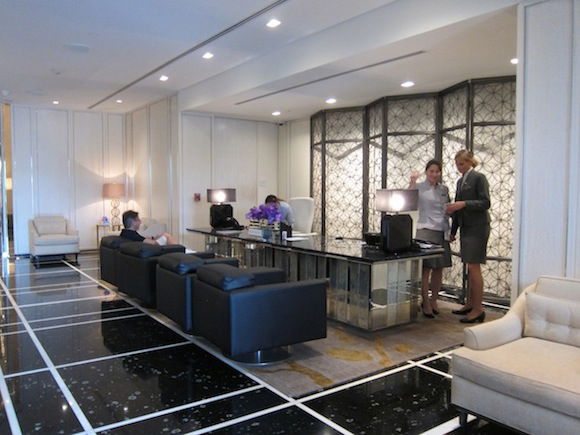 Check-in area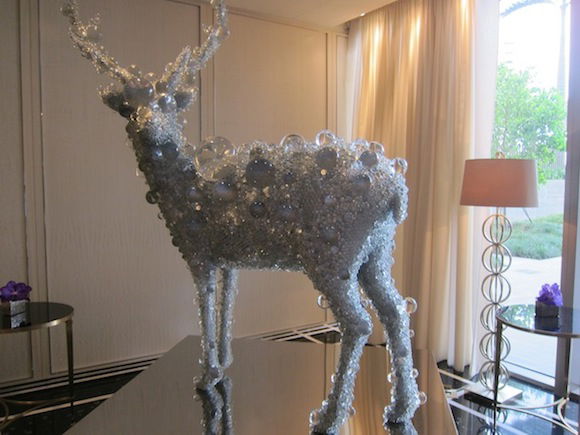 Art in check-in area
The associate that helped us was exceedingly professional and friendly, and spent a few minutes looking at upgrade options for us. She said she found a Grand Luxe Oceanfront Suite that was available, though it would be about an hour before it was ready, which worked for us.
During the check-in process we were offered champagne and cold towels from our butler, who introduced herself to us at that point.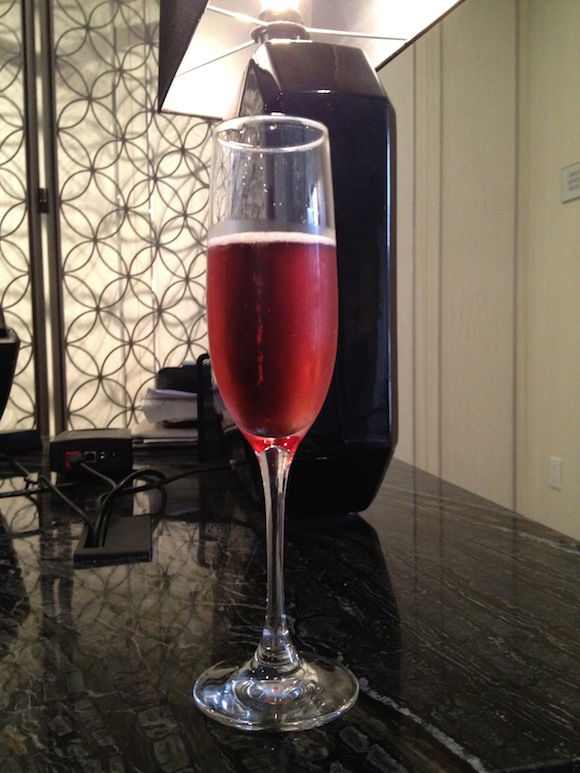 Welcome drink
After check-in was complete the associate suggested we have lunch in the restaurant, which we agreed to since we hadn't eaten. Instead of merely pointing us to the restaurant she walked us there, and introduced us to the host at the restaurant by name.
I've gotta stop right here for a second and say that the first 15 minutes of the stay absolutely blew me away. I've experienced this level of service in Asia, but never, ever in the US. Every single employee I interacted with referred to me by my last name, "sir," or "gentlemen." Furthermore, while it's tough to describe, all of the employees I had interacted with at the hotel were not only extremely polished in their interactions, but at the same time personable and sincere, which can be a very tough balance to strike.
We had lunch at J&G Grill, where the great service continued. I initially had a bit of "sticker shock" at the prices – the bottle of tap water was $5 and a Diet Coke was $6, but the views and service were amazing. I had a short rib calzone for lunch (it was a special), while my friend had a shrimp salad, both of which were very good.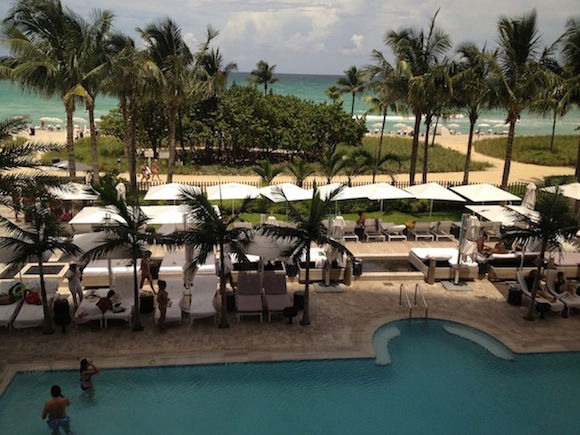 View from J &G Grill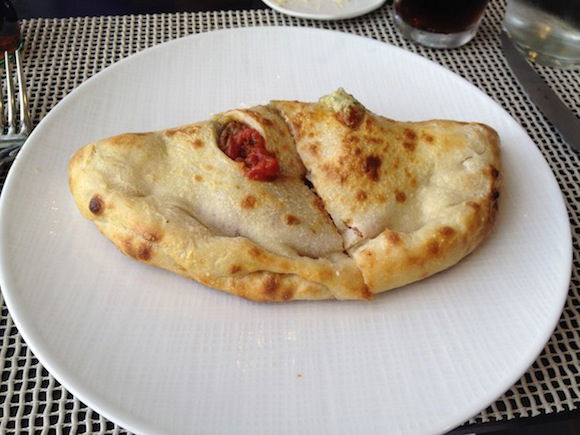 Calzone

Shrimp salad
As we finished lunch the associate from the front desk called me to advise us our room was ready.
We headed back to the check-in area, where our butler, Marine, was waiting for us.
Marine showed us how the elevators work, which are pretty high tech. You never push a floor number, but instead just scan your key when you want to enter the elevator and it takes you to your floor.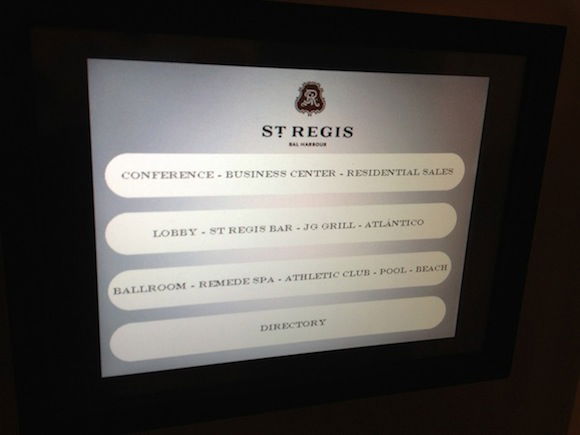 Elevator controls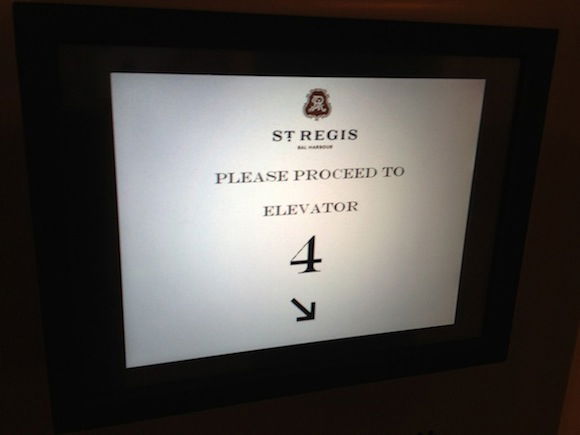 Elevator controls
The other interesting touch about suites is that the elevator door opens right in front of your suite. The elevators all have doors on both sides. If you have a standard room the elevator opens to the hallway, while if you have a suite the other door opens, which leads to a small room with the entrance to the two suites on each floor. Even though it doesn't have any practical implications, it's still totally awesome.
Marina gave us a tour of the suite and explained all the features. All I can say is "WOW!"
I've been fortunate enough to stay at a lot of great hotels, but this had to be one of the most stunning rooms ever.
Upon entering was the living and dining room. First was the dining room, which featured a large table as well as a pretty extensive kitchen with a huge fridge, stove, sink, and enough silverware to last a month.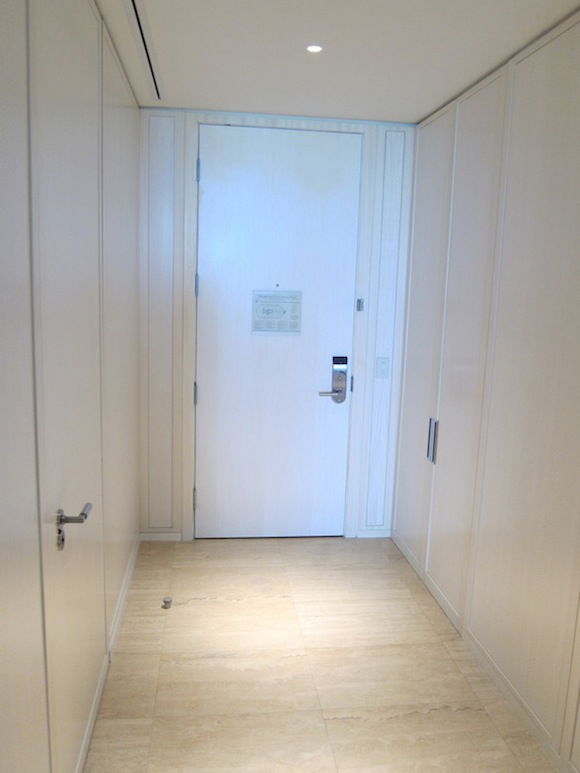 Suite entrance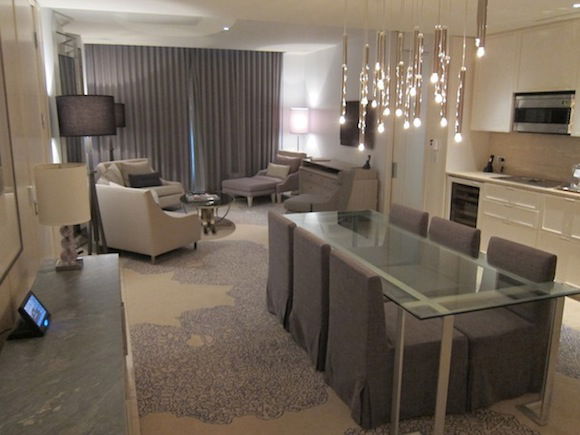 Living and dining room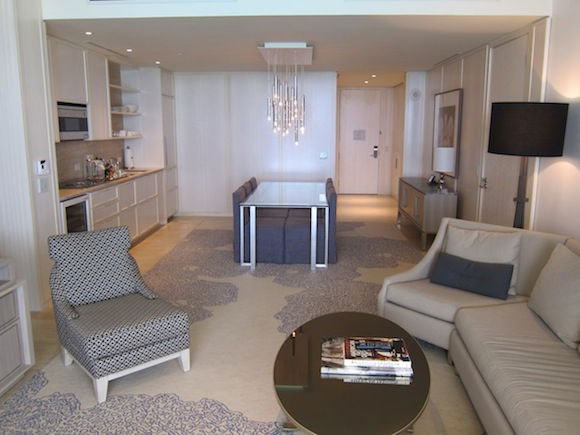 Living and dining room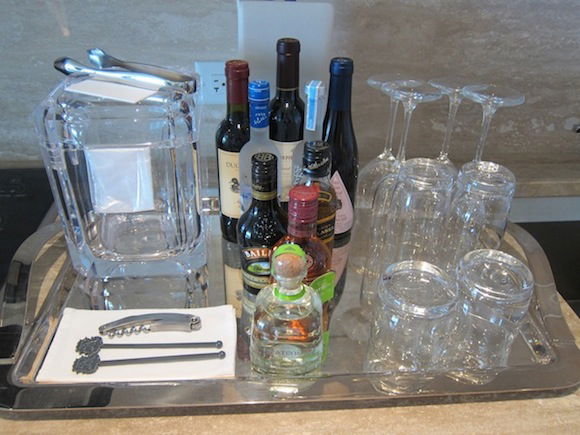 Minibar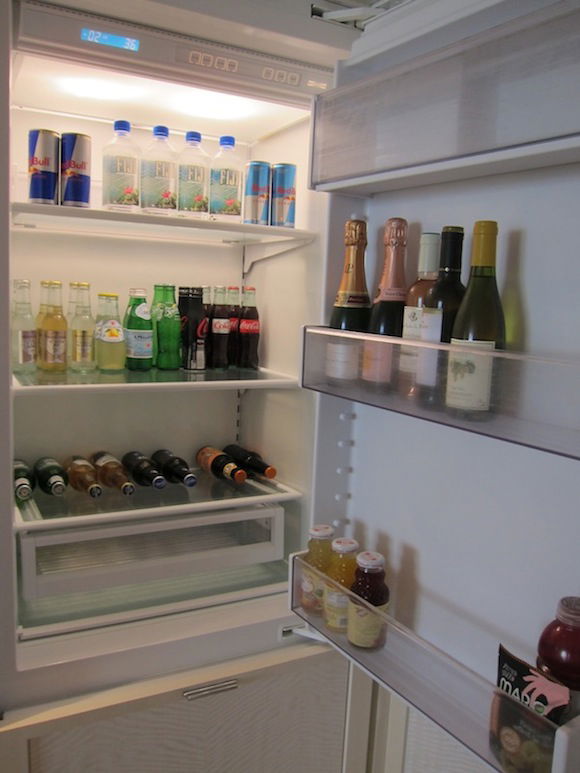 Fridge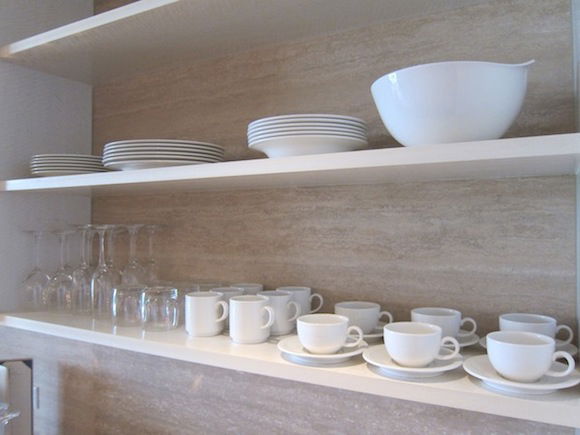 Silverware and cutlery
That led to the living room, which featured a comfortable couch facing a flat screen TV along with two chairs and ottomans.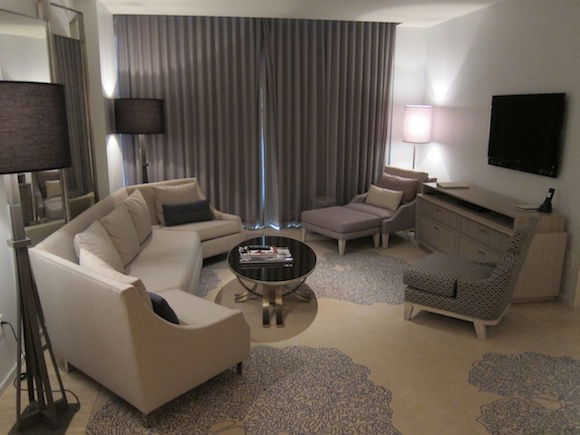 Living room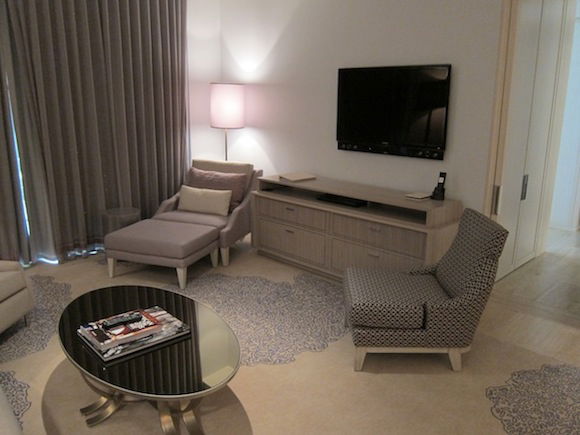 Living room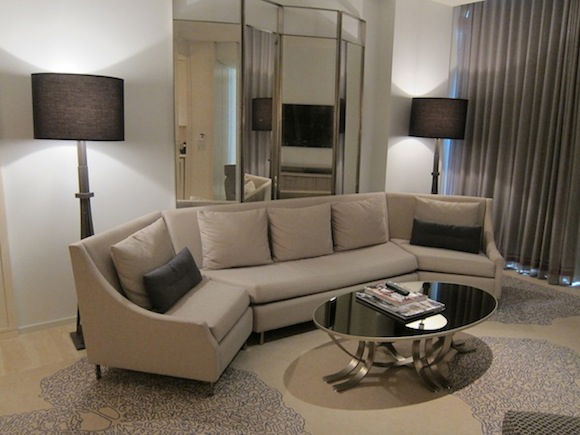 Living room
Just past that was the balcony, which was huge. That has to be the most stunning aspect of the hotel – every room has a balcony, and they're all huge and face the Atlantic Ocean. The one downside due to the design is that they have very little privacy, though that wasn't a huge issue for me, and it's a small price to pay for every room having a huge balcony facing the ocean.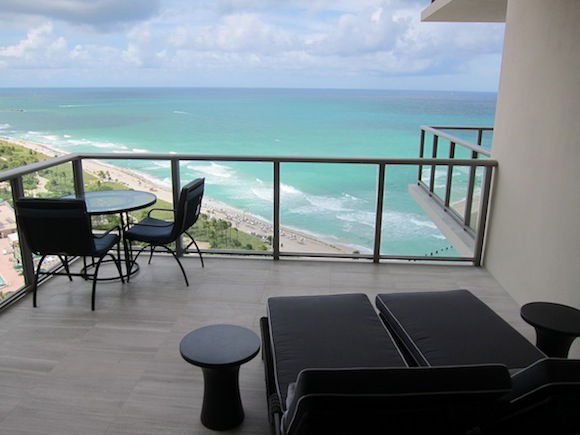 Living room balcony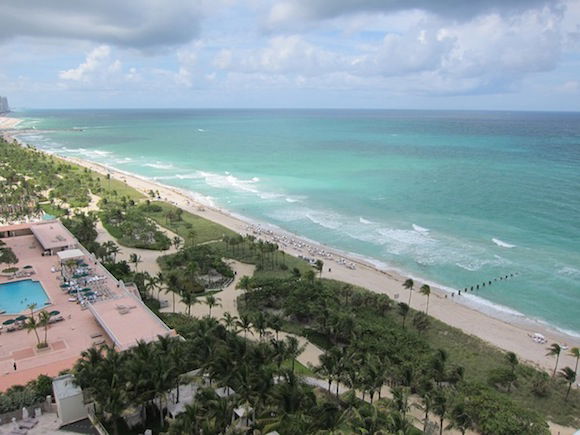 View from living room balcony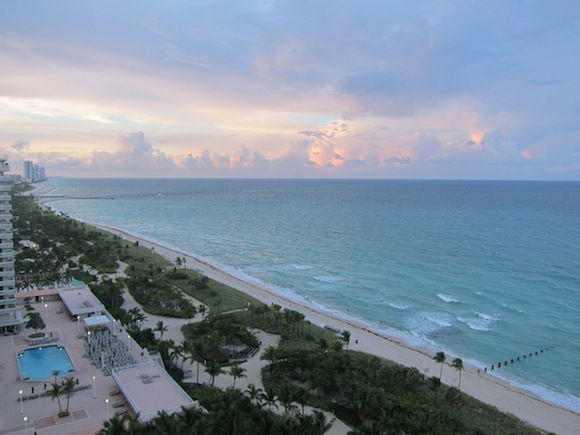 View from living room balcony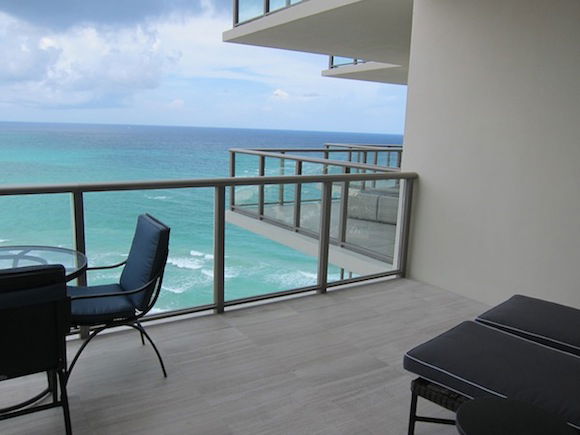 View from living room balcony
Going back to the living and dining room, there was also a second bathroom with a huge shower right by the entrance.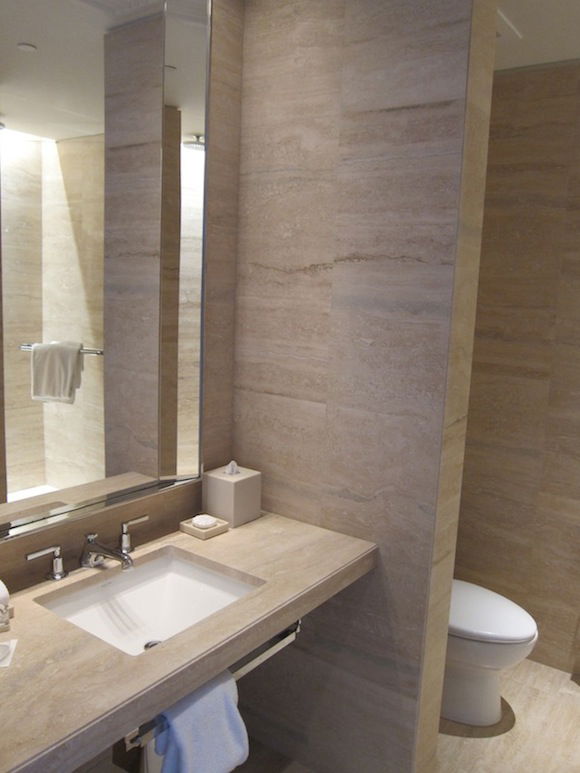 Second bathroom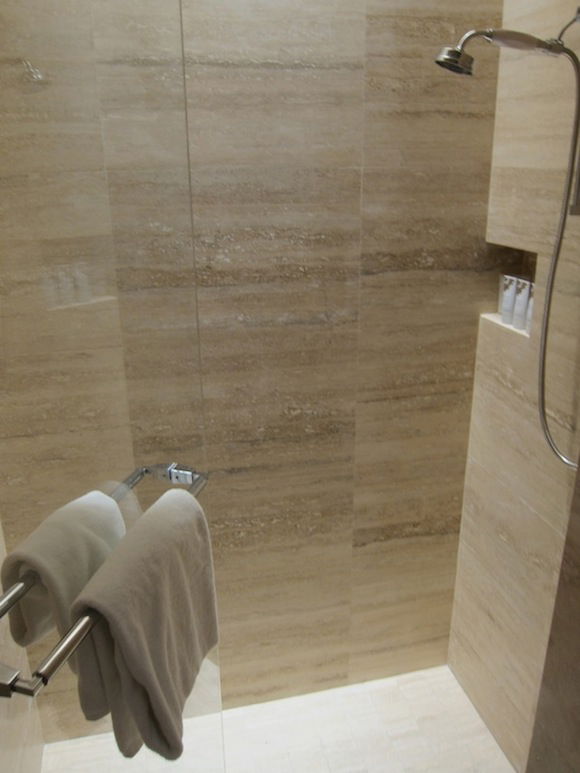 Second bathroom
The bedroom was equally stunning, with a comfortable bed, nice seating area, and an equally spacious balcony.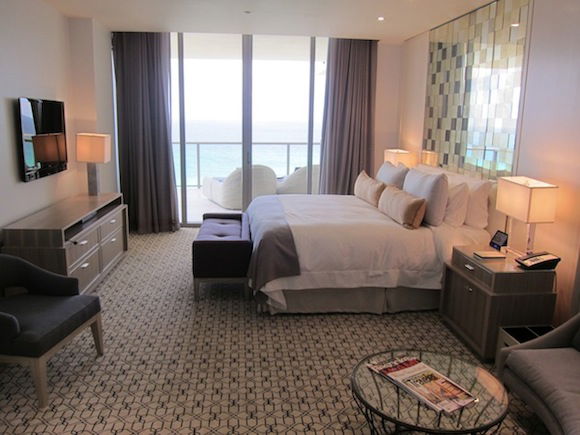 Bedroom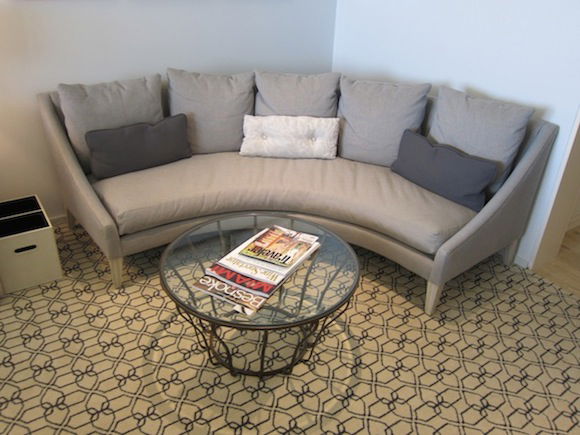 Bedroom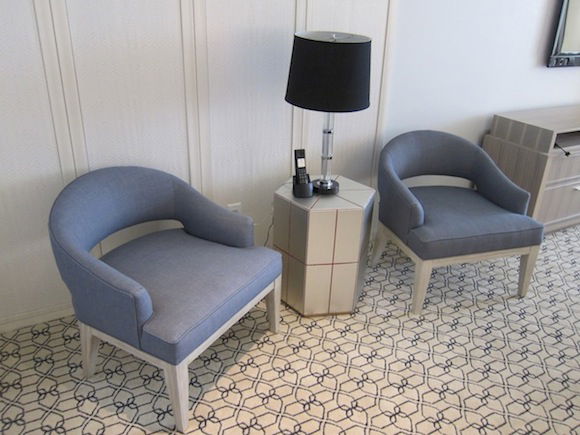 Bedroom
The room controls were also high tech, as everything could be controlled from the remote the next to the bed.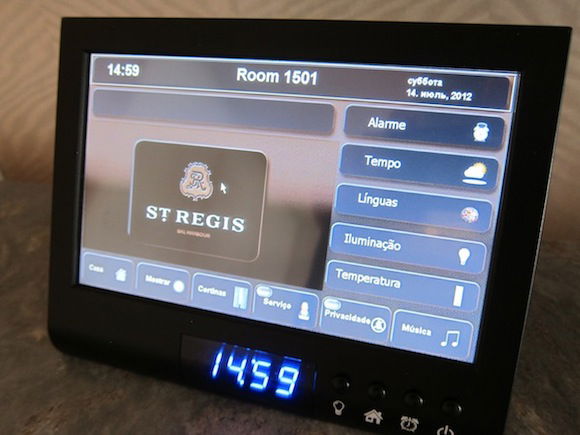 Room controls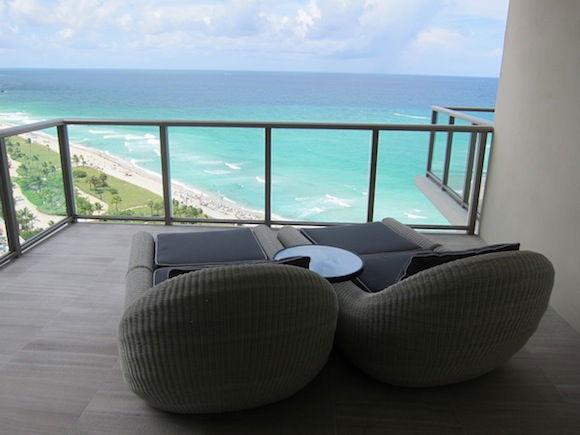 Bedroom balcony
Between the bedroom and master bathroom was plenty of storage space and closets.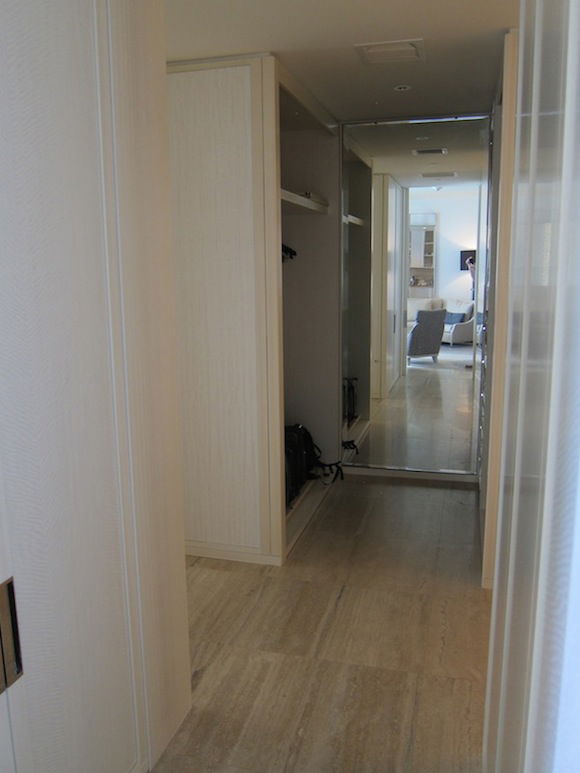 Closets and storage space
I also loved the bathroom, which featured double sinks, a huge tub, and a large shower with a rainforest shower head. All of the toiletries were Remede branded.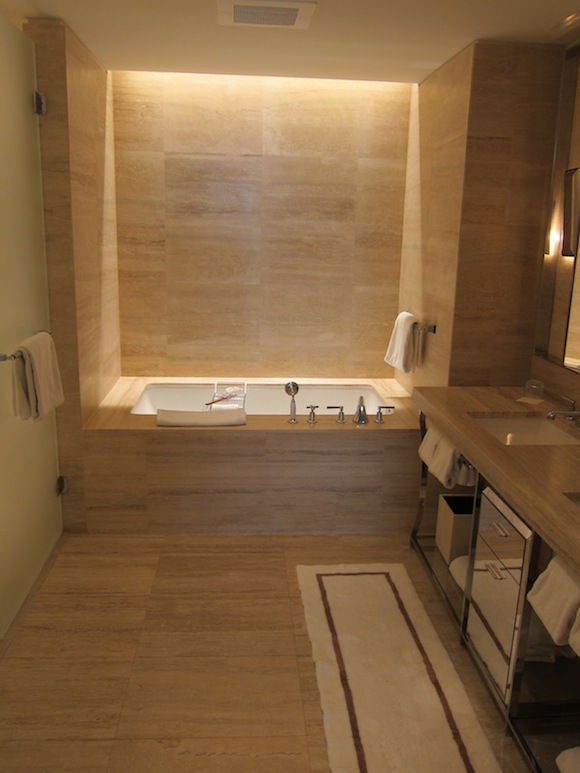 Master bathroom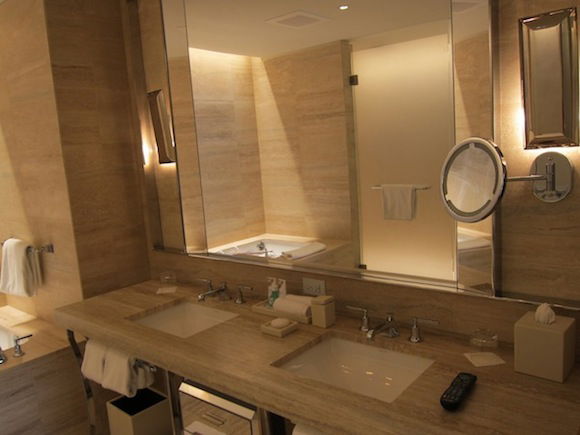 Master bathroom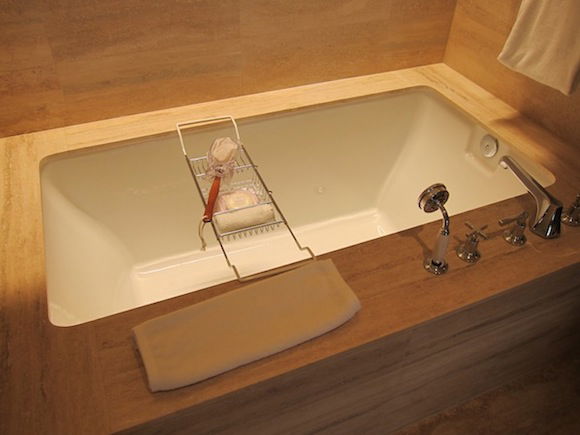 Bathtub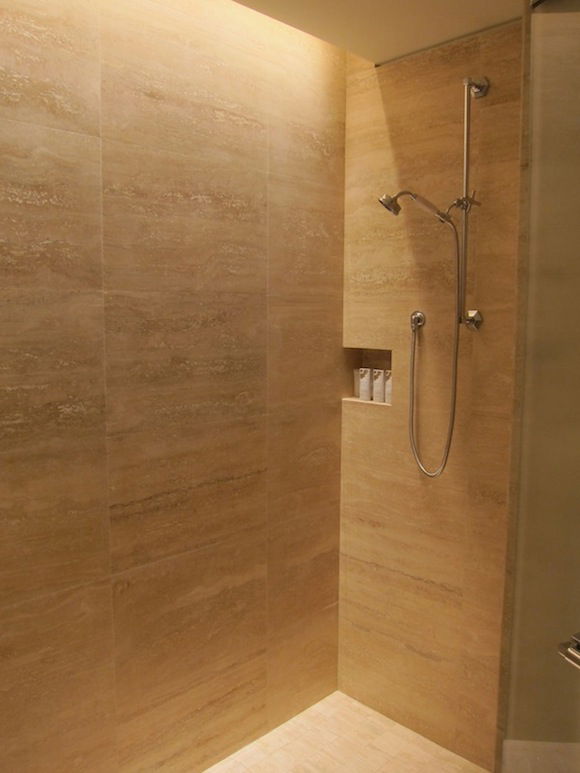 Shower
The mirror even had a built in TV.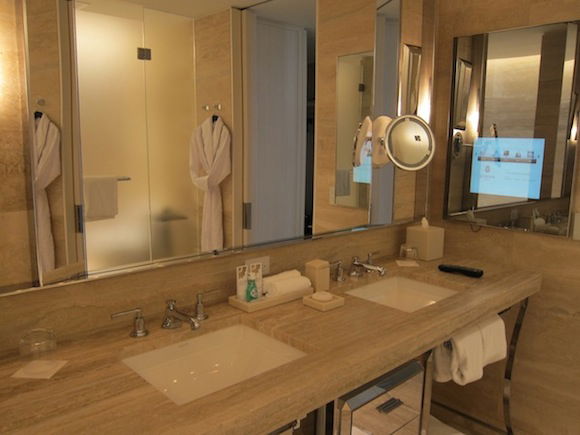 Master bathroom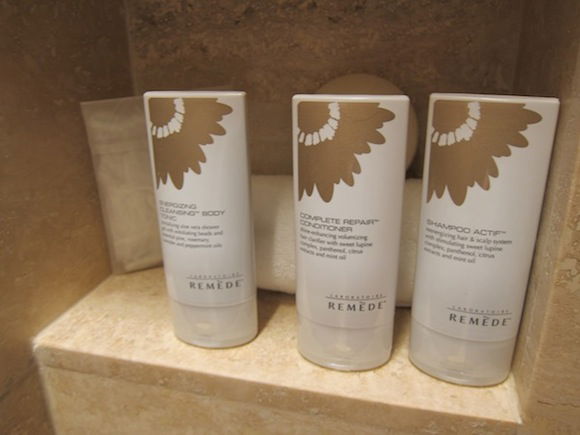 Toiletries
Impressively enough the suite also featured a washer and dryer, which is not something you see often in hotel suites (it would have been more useful if my stay was more than two nights!).
After settling into the room I decided to tour the hotel a bit, starting on the ballroom floor, which is where the pool, spa, and gym are located.
The gym is open 24 hours/day and is separated into a cardio and weights section which can be accessed separately. The hotel is brand new, so as you'd expect they had top of the line equipment. The gym overlooks the pool and ocean, so it's not all that bad of a place to get some exercise.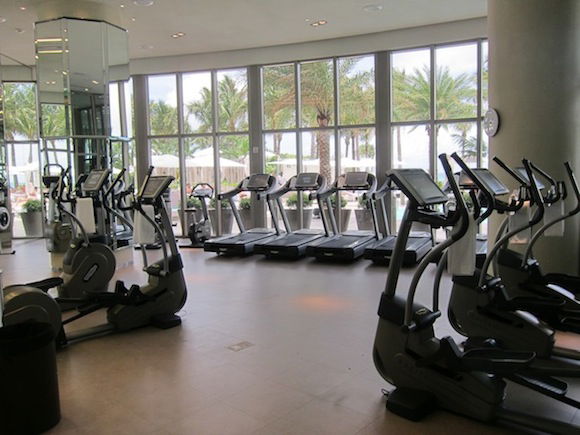 Gym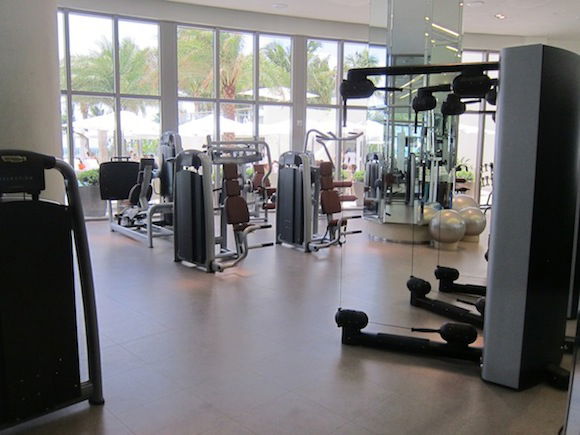 Gym
The pool itself is nothing special and I feel they could have done a bit more with the design, though I thought the area surround the pool was beautifully designed. Finding seating near the pool was never an issue, and there are several employees roaming to assist, be it with towels or any other service items (they provide free water and sunscreen at the pool).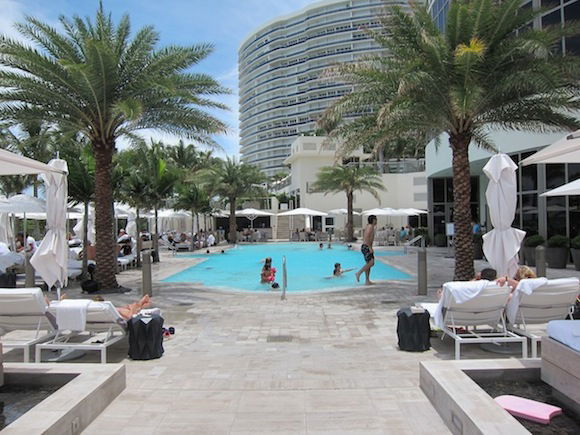 Main pool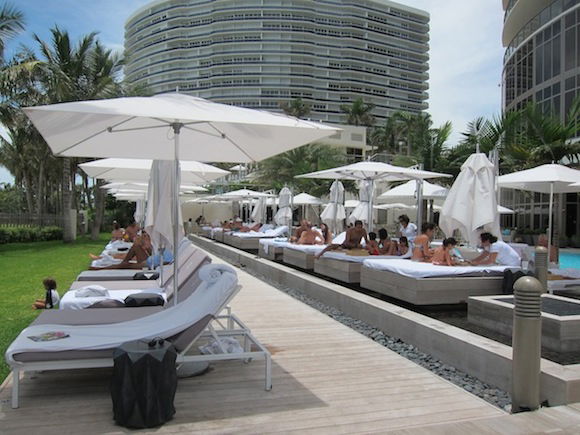 Main pool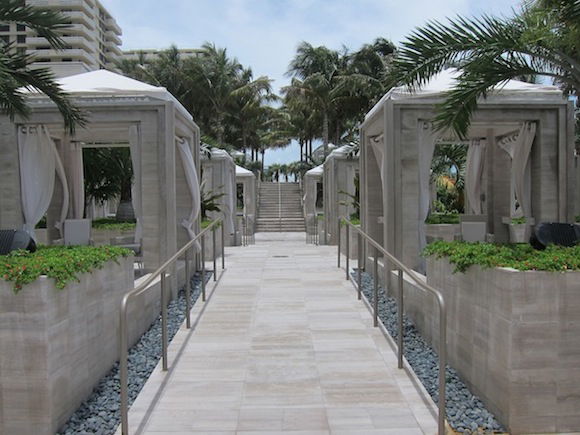 Main pool
While the main pool is reasonably well visited there's also a tranquility pool for adults, which has virtually the same design though was empty each time I visited. There's also a hot tub there. I don't care how hot it is outside, I love hot tubs.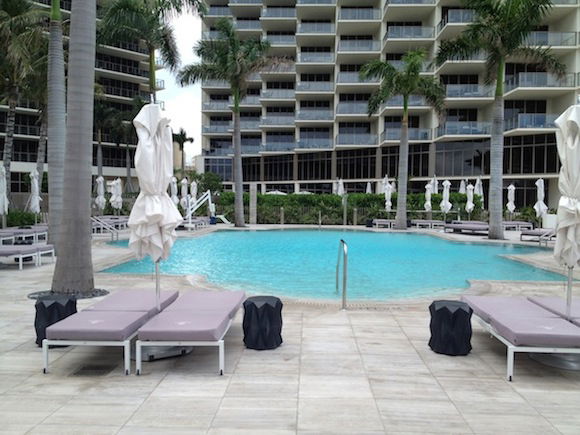 Tranquility pool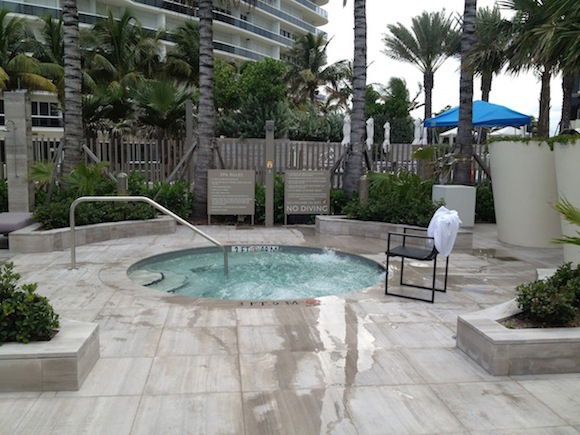 Hot tub
Just past the pool was the beach. As you approach the beach you're asked for your room number and name, and the staff there set up lounge chairs based on your preferences.
I'm not usually a beach person, but I was out there both days till I looked like the mascot of my favorite chain seafood restaurant (anyone want to guess). 😉
The beach itself was beautiful, and the water was nice and warm, so it was a great place to disconnect.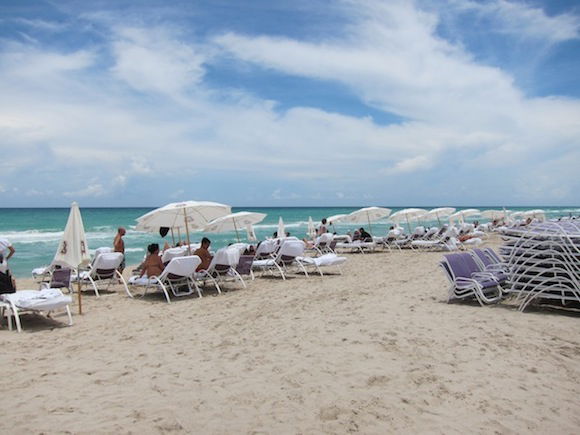 Beach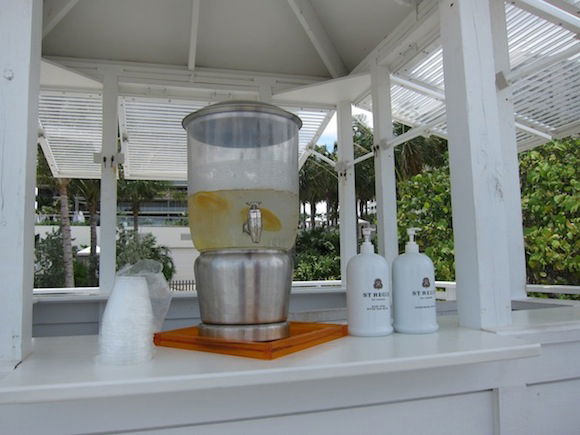 Water and sunscreen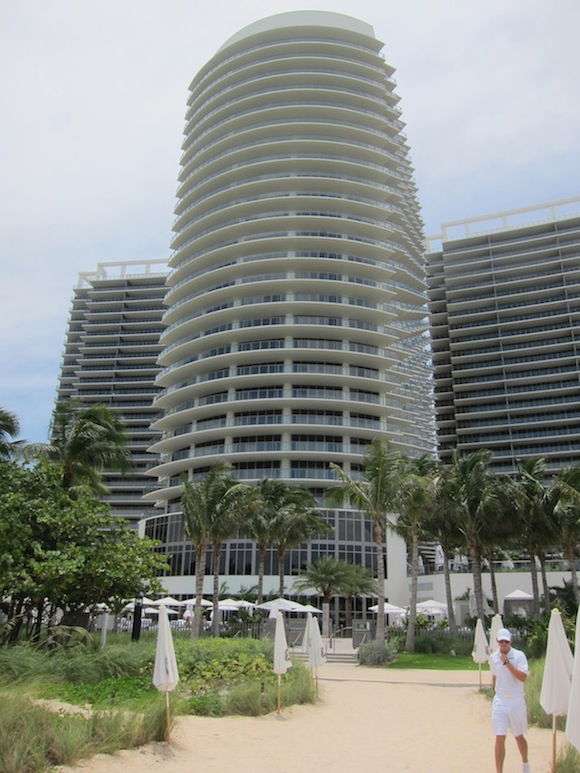 Hotel from beach
It's interesting to note that the crowd at the hotel was extremely international. I'd say less than 10% of the guests were actually American, while 30% were Russian, 30% were Brazilian, and the rest were from Mexico, Europe, etc.
As a Starwood Platinum member I had chosen breakfast as the Platinum amenity, which is served daily at Atlantico from 7AM to 11AM. The restaurant was a bit on the small side, and one morning we had to wait about 15 minutes for a table.
On the plus side the spread and service were very good. Platinum status gets you a continental breakfast, which was more than adequate, between the fruit, pastries, bagels, lox, etc.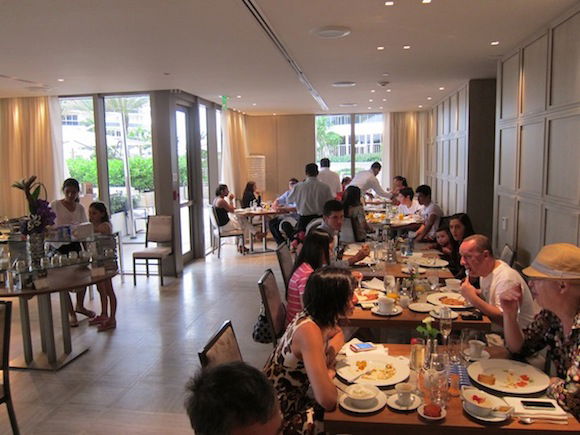 Atlantico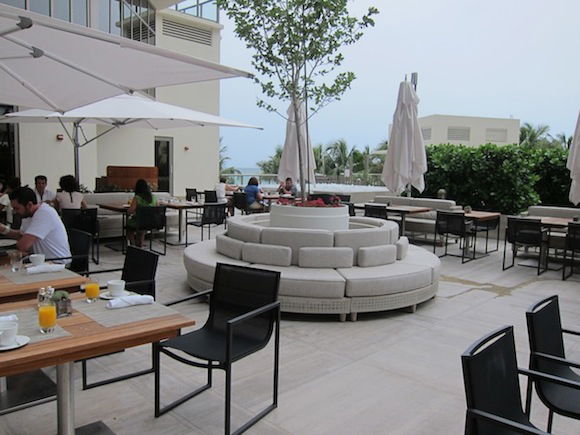 Atlantico outdoor seating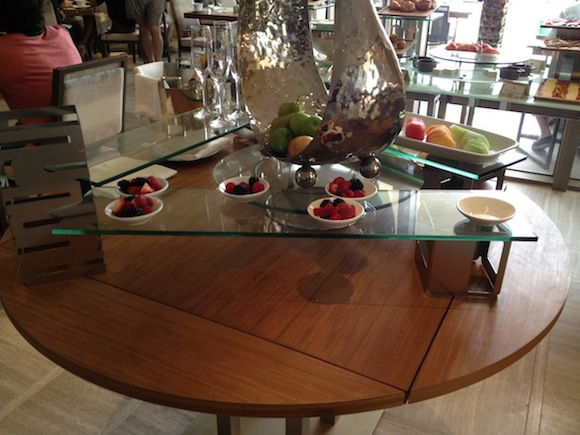 Buffet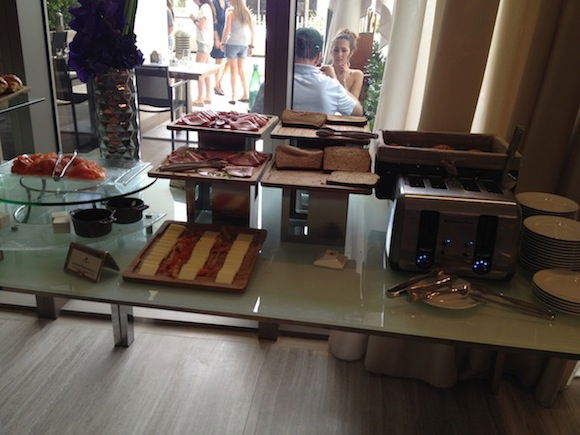 Buffet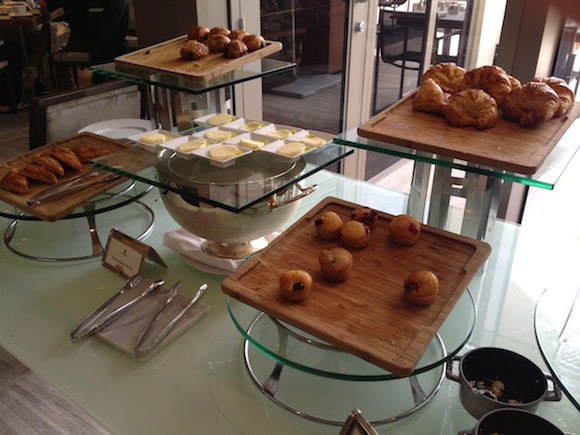 Buffet
St. Regis also offers butler service, which I've never really found a use for. I don't want someone else packing and unpacking my bags, and I'm not sure what else they're supposed to do. The one value I do find in the service is the complimentary coffee and tea, which I ordered both afternoons. The service was quick and setup nice.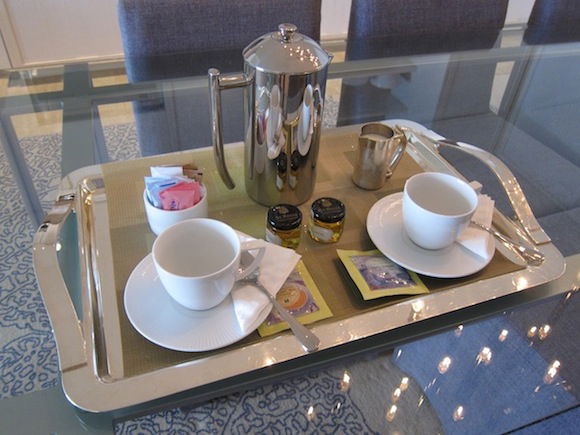 Complimentary tea service
It's also worth noting that the hotel is across the street from the Bal Harbour Shops, which has plenty of dining options and, you guessed it, shops.
The hotel doesn't have self parking and valet parking is $38 per day, which seems pretty steep to me since this isn't really a "city" location, but I guess it's in line with the rest of the prices. This is the one complaint I had about the hotel. The valets were pretty slow, which I'm fine with, but I was more concerned with how they drove, which I'd say was borderline reckless. They drove around the driveway to the hotel at speeds that were far too fast for an area with pedestrians, and also accelerated and decelerated at unnecessary rates. I certainly wouldn't treat my car that way, and I expect other people not to either. I brought it up with the front desk staff at about midnight on a Saturday night when I returned to the hotel, and immediately received a call from the manager on duty who promised to look into it. The next day the director of parking contacted me to thank me for my feedback and apologize, which I appreciated.
No hotel is perfect, but it's the way they handled the situation that impressed me.
At check-out there was a short wait for an associate, and as I was waiting I was approached by the concierge who asked if I needed any directions, dining suggestions, or a boarding pass print, which really impressed me.
So yeah, the St. Regis Bal Harbour is a stunning property. Physically it's one of the most beautiful properties I've ever stayed at, but more than anything else it was the service that set the hotel apart. With the exception of my issue with the valet, every single employee gave me the impression that they genuinely wanted to exceed expectations. And it wasn't just that they were friendly, but they were confident, personable, and extremely professional, to a degree I've never before experienced at a hotel in the US.
This hotel is a winner, and most definitely deserves it's position on Forbes' list of most anticipated hotel openings 2012.
Stay tuned till tomorrow for your chance to win 60,000 SPG points courtesy of the Starwood American Express, enough for a two-night stay at the St. Regis Bal Harbour (or stays at just about any Starwood property worldwide).