---
We landed at around 6:40AM, and by the time we cleared transit security and found ourselves at The Wing it was 7:10AM, meaning we had less than 20 minutes in the lounge before we needed to head to the gate for our 8AM departure. This was actually my first visit to The Wing since it was renovated, though I'll share most of my impressions of the lounge with my return trip report, where I had a much longer (and more eventful) layover than on the outbound.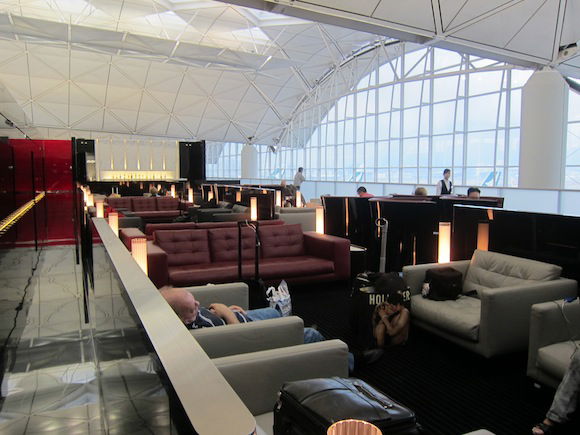 The Wing seating
Once in The Wing I requested a cabana so I could grab a quick shower. My gosh, these are probably the nicest shower rooms in any airport, and that includes those in the Lufthansa First Class Terminal in Frankfurt.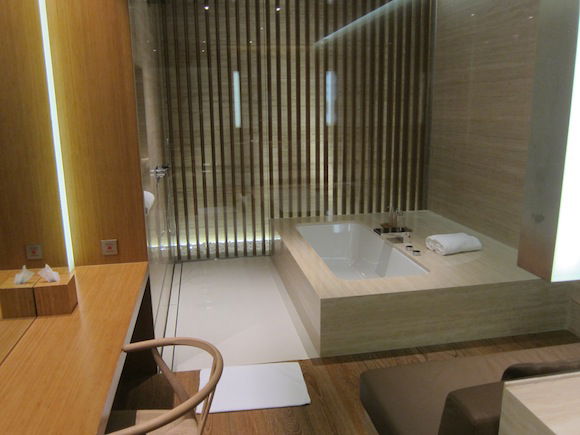 Cabana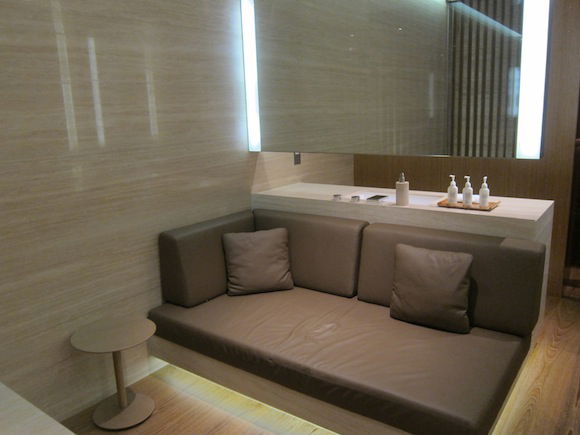 Cabana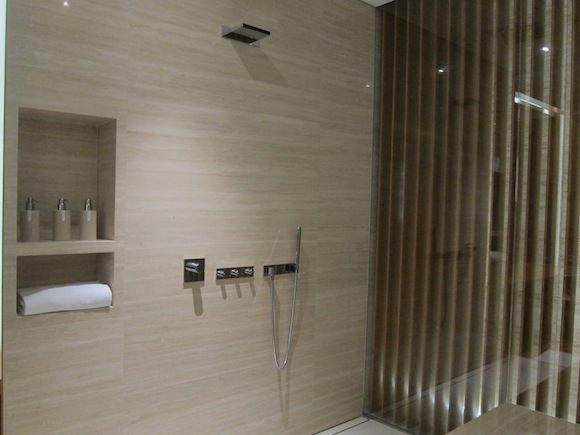 Cabana
At around 7:30AM we left the lounge for gate 23, where we'd be departing from. It's only about a five minute walk away, and after flying for so long it was certainly nice to get a bit of movement.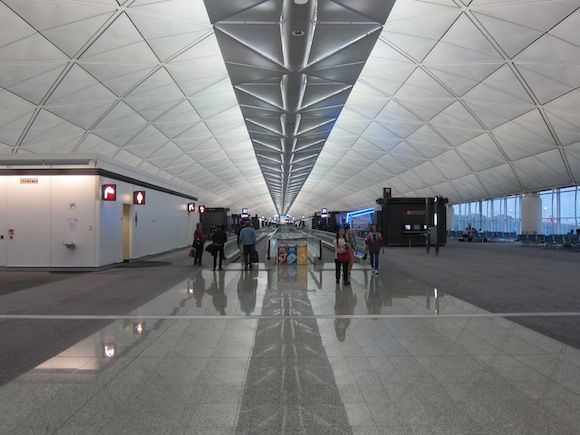 Hong Kong terminal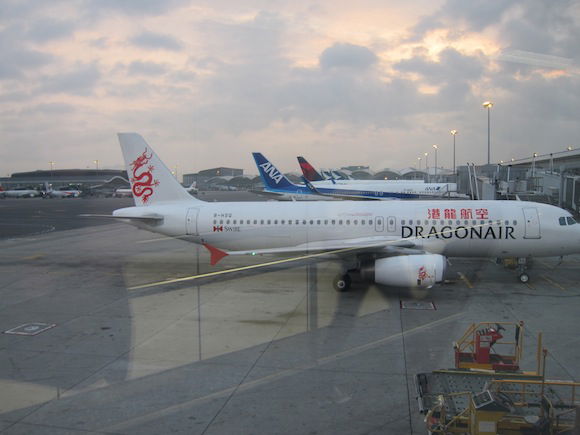 Nice morning lineup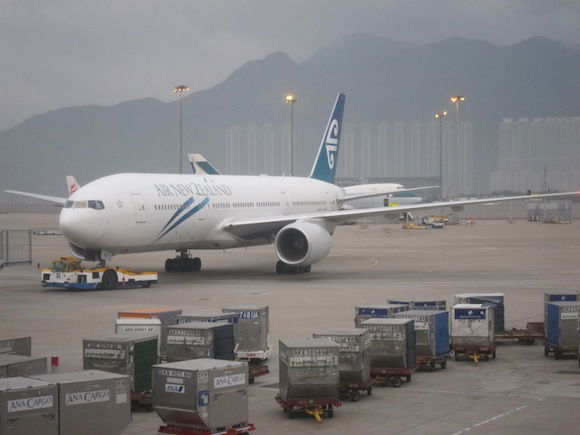 Wouldn't mind going to New Zealand instead…
By the time we got to gate 23 boarding was just beginning, starting with first and business class.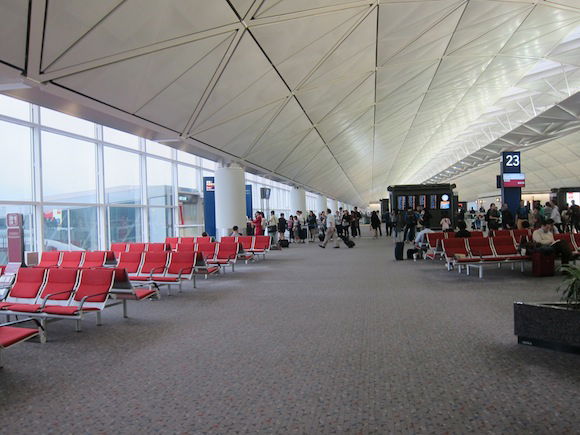 Gate 23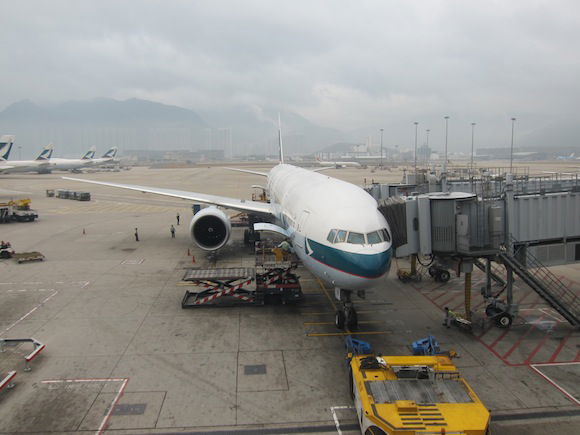 Our plane to Singapore
Cathay Pacific 691
Hong Kong (HKG) – Singapore (SIN)
Sunday, March 24
Depart: 8:00AM
Arrive: 11:50AM
Duration: 3hr50min
Aircraft: Boeing 777-300ER
Seat: 1D (First Class)
Upon boarding the two first class flight attendants, Karen and Wannaporn, warmly welcomed us and directed us to our seats. Karen was Chinese and Wannaporn was Thai, and both were extremely enthusiastic and friendly, much more so than the last crew.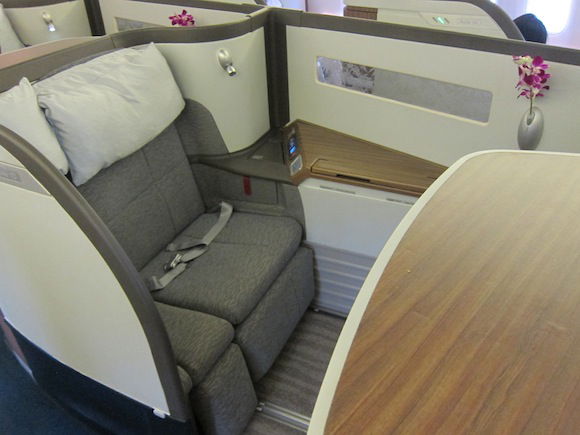 Seat 1D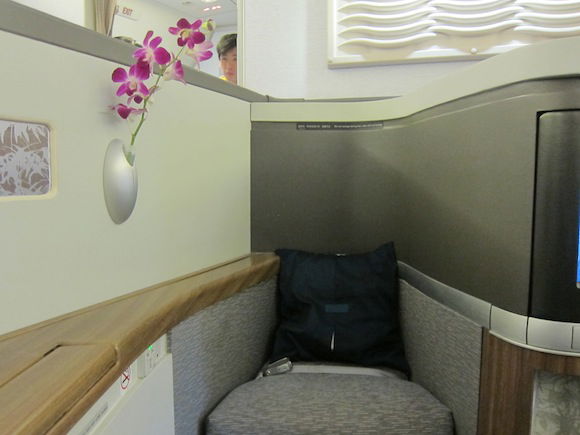 Seat 1D
I quickly settled into 1D and before I could even sit down was offered a beverage by Wannaporn. I ordered a mimosa — I know, I'm totally classless for "watering down" Krug, but I figured that was better than straight champagne the whole flight, given that I had aspirations of doing things in Singapore.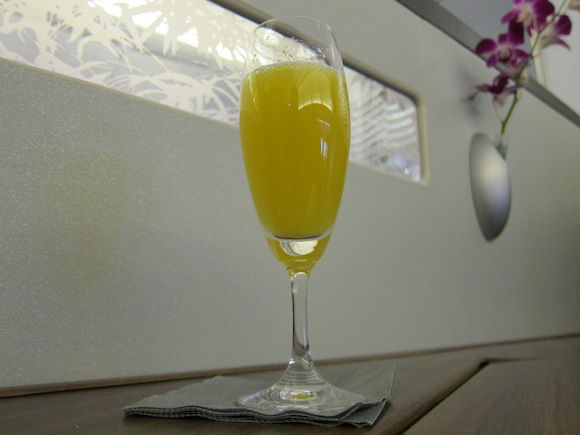 Mimosa
I was also offered a hot towel.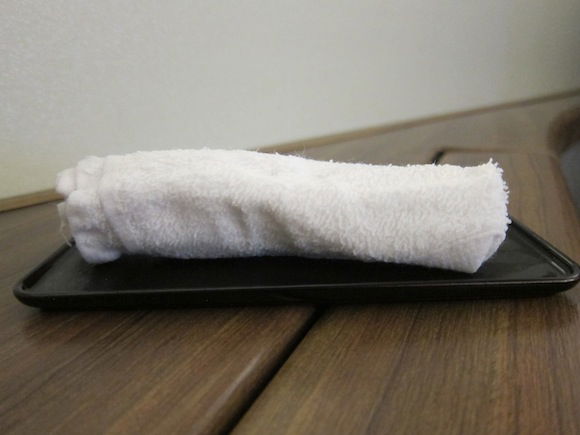 Hot towel
While the first class cabin stayed empty for most of boarding, all six seats were taken by departure time. The captain came on the PA to inform us of our flight time of 3hr11min, which he anticipated would put us into Singapore early.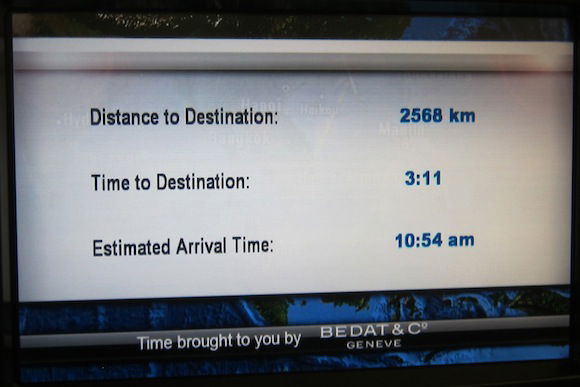 Flight time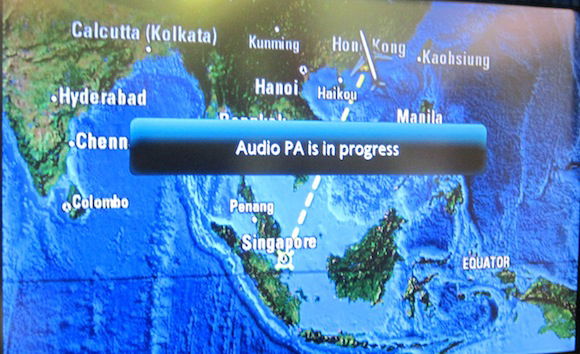 Airshow

For our departure we taxied to runway 7R, which took maybe 10-15 minutes. Since it was a daytime flight I was able to watch the nose camera, which certainly makes taxiing a bit more interesting.

Nose camera
Once at 7R we were immediately cleared for takeoff and rocketed off.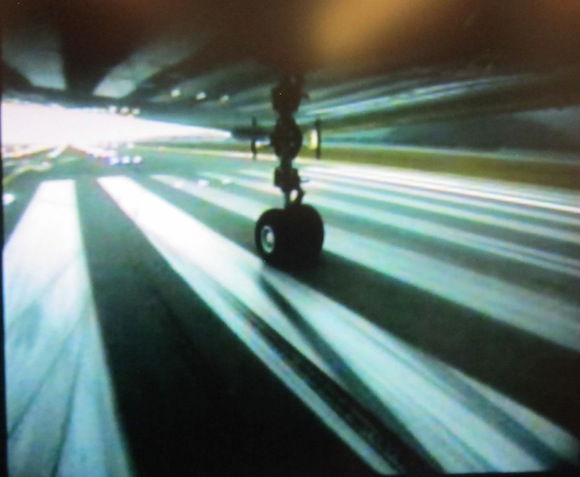 Nose camera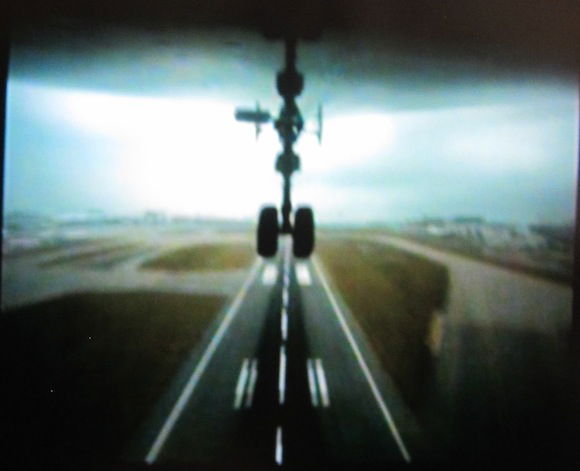 Nose camera
On the climb out I played around with the entertainment system, and eventually ended up in the "documentary" section. I watched a show called "The Boy Who Can't Forget," about, well… a boy who remembers everything. It was fascinating/bizarre/odd/awesome/creepy.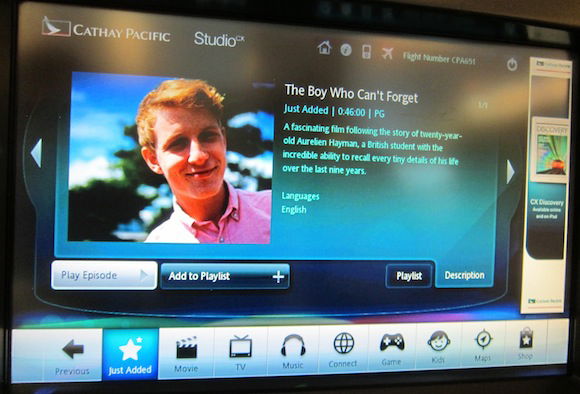 StudioCX
As we climbed out the menu and wine list were distributed, in addition to the Singapore landing card.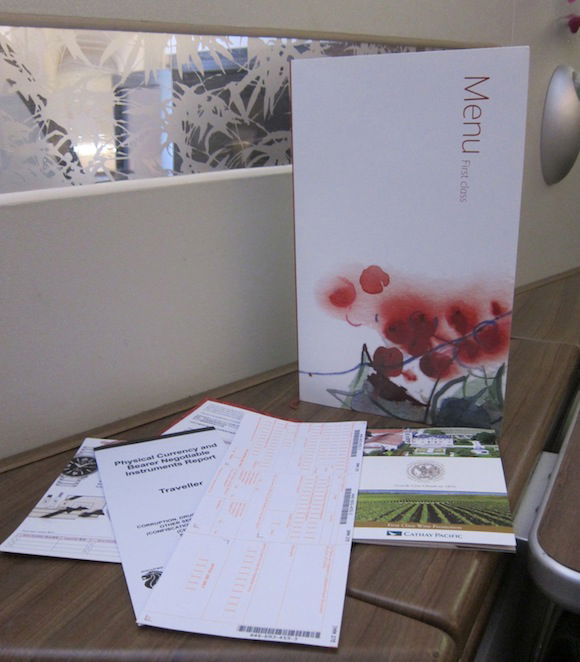 Menu, wine list, and landing card
To start I had a glass of freshly squeezed orange juice and Hong Kong style milk tea, which I was so cruelly deprived of for the second half of my flight from San Francisco. 😉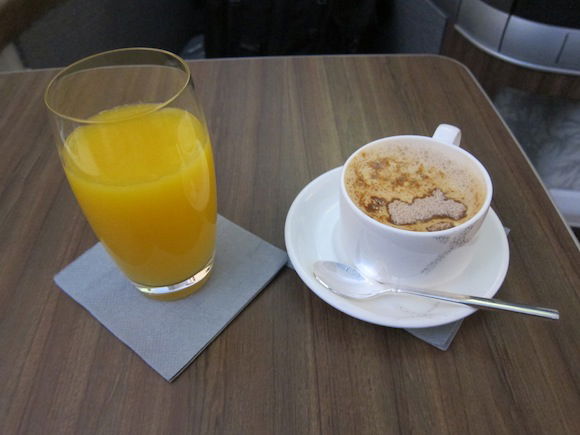 Orange juice and Hong Kong style milk tea
At that point the table was set and breakfast service began. The menu read as follows (and the wine list was the same as on the flight from San Francisco, so you can find that here):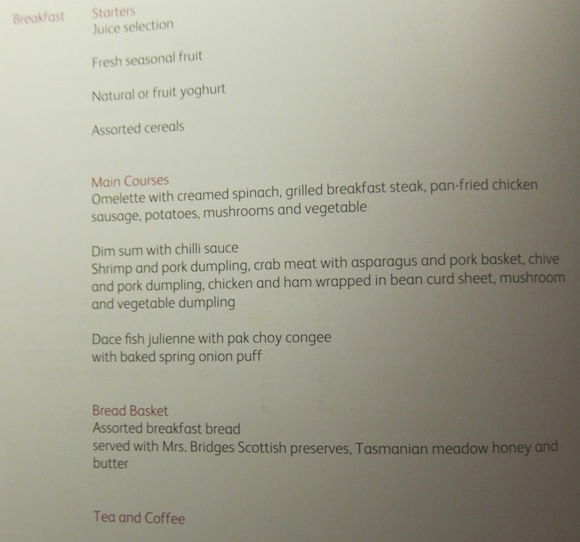 I wasn't very hungry given that this was my second breakfast, so decided to stick to a continental selection. To start I had a fruit plate with fresh squeezed orange juice and a bread basket, which consisted of a muffin, danish, and croissant.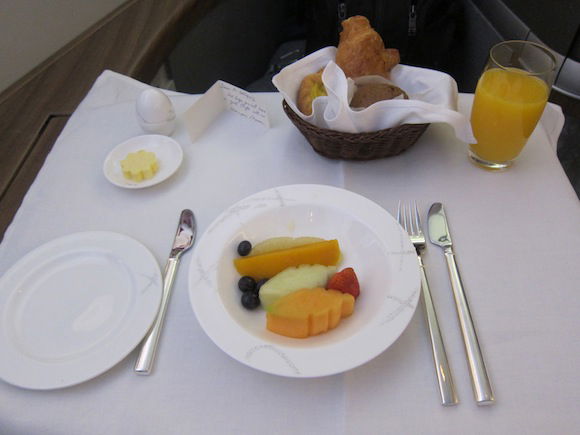 Fresh seasonal fruit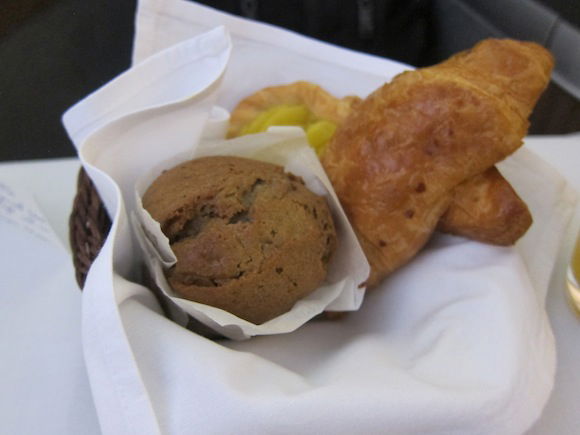 Bread basket
The table was set with the standard handwritten note.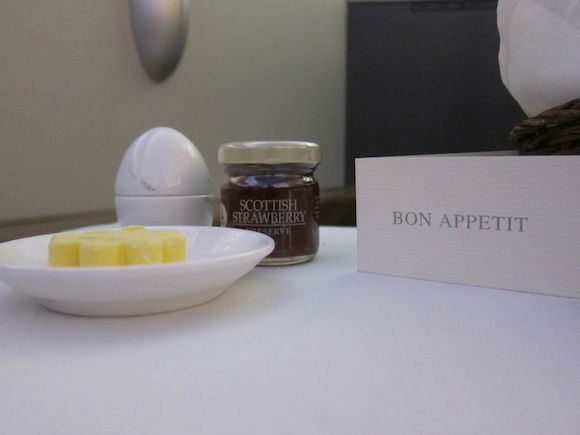 Handwritten note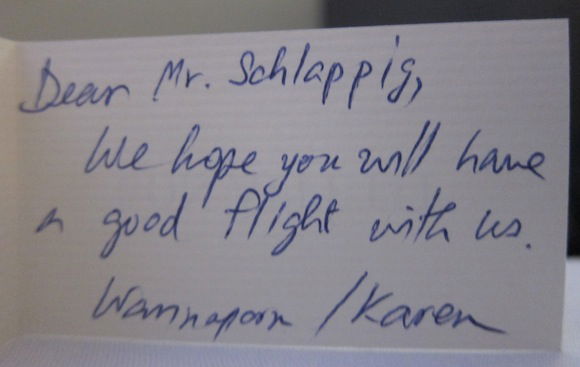 Handwritten note
I then had some strawberry yogurt.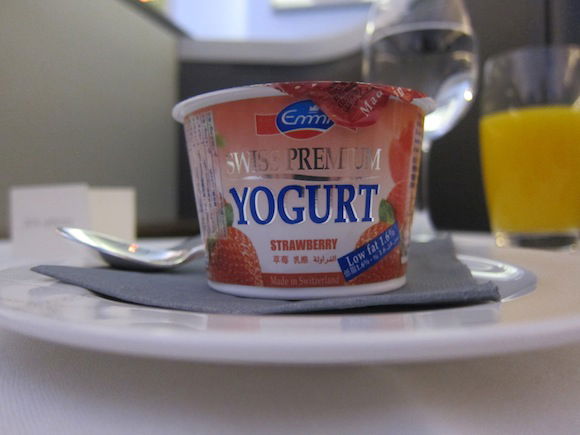 Strawberry yogurt
And then finally some corn flakes.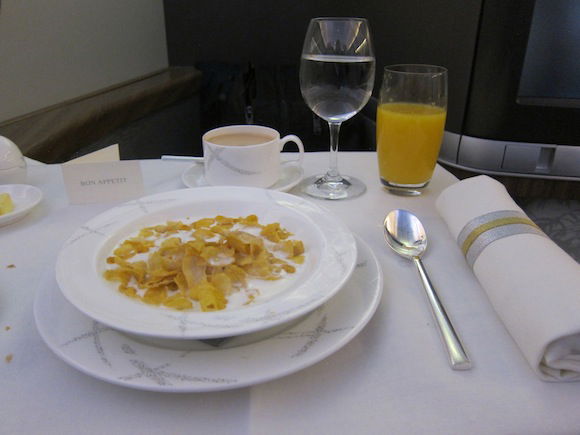 Corn flakes
While I had a fairly simple breakfast, I have to say the service was phenomenal. Both Karen and Wannaporn were extremely attentive, friendly, constantly smiling, and always looking to engage in small talk.
After breakfast there were about 90 minutes left in the flight, so I watched an epsiode of "Undercover Boss."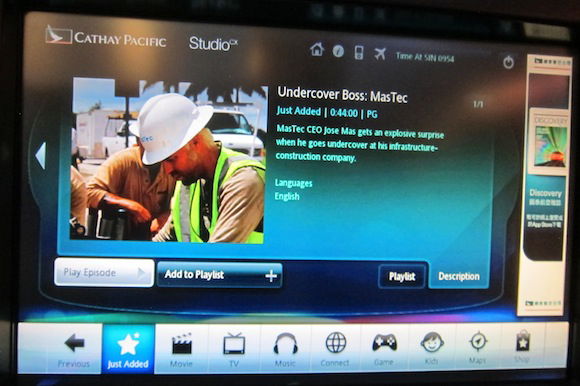 StudioCX

And then lastly I watched a show called "The Hollywood Complex," about kids that move to Hollywood in hopes of getting discovered.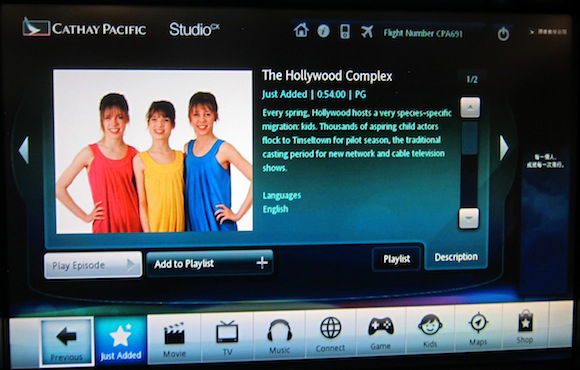 StudioCX
Our descent was smooth and there were nice views of the bay as we approached the airport.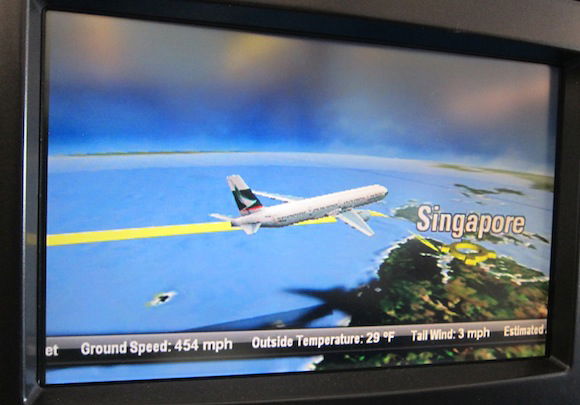 Airshow on approach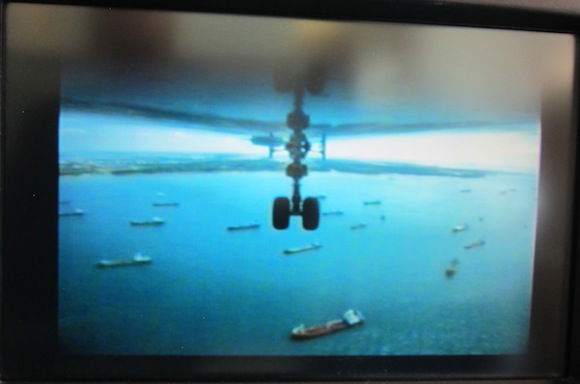 Nose camera on approach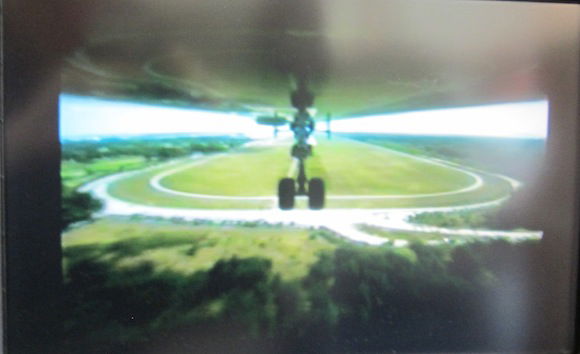 Nose camera on approach
We touched down on runway 2C about 20 minutes early, and had a quick taxi to our gate at terminal one.
As usual in Singapore, clearing customs and immigration was a delight, with no queues and friendly agents.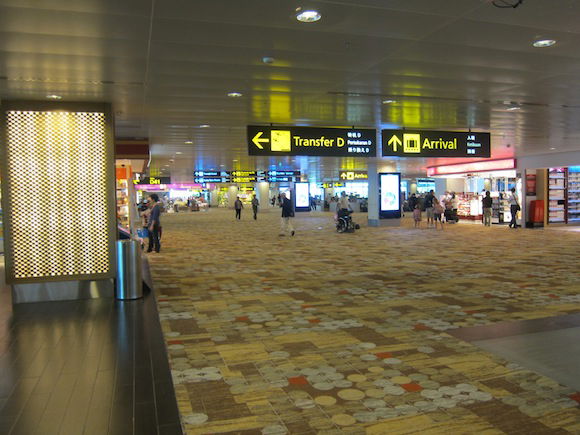 Terminal two airside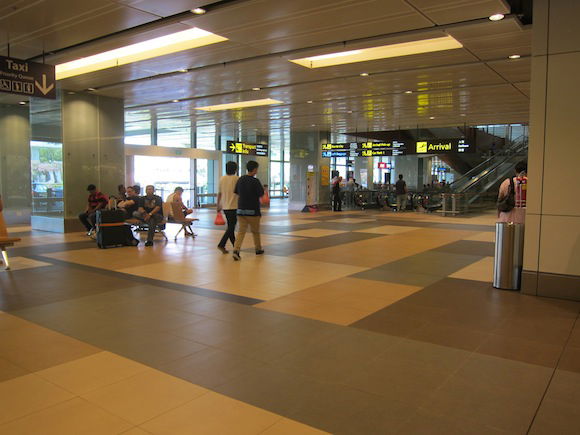 Terminal two landside
We hopped in a taxi to the St. Regis, reasonably well rested given we had traveled almost 10,000 miles, and ready to explore the city for the afternoon.
As far as the flight goes, it was a typical Cathay Pacific flight, which is to say it was excellent. Do three hour flights get any awesomer than this one?