---
Cathay Pacific 872
Hong Kong (HKG) – San Francisco (SFO)
Sunday, March 31
Depart: 12:30AM
Arrive: 10:10PM (-1 day)
Duration: 12hr40min
Aircraft: Boeing 777-300ER
Seat: 2K (First Class)
Once in a while you have one of those crews where you know within ten seconds of boarding that they'll be phenomenal — this was one of those. We were greeted at the door by Patrick and Veronica, the Hong Kong based first class flight attendants for this flight. They were nothing short of amazing.
I quickly settled into 2K, and within moments was offered a pre-departure beverage by Patrick.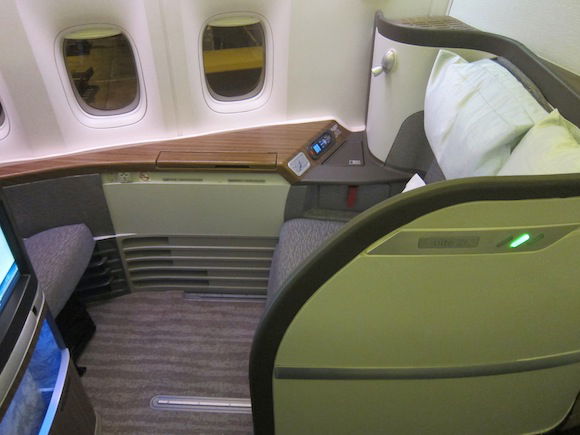 Seat 2K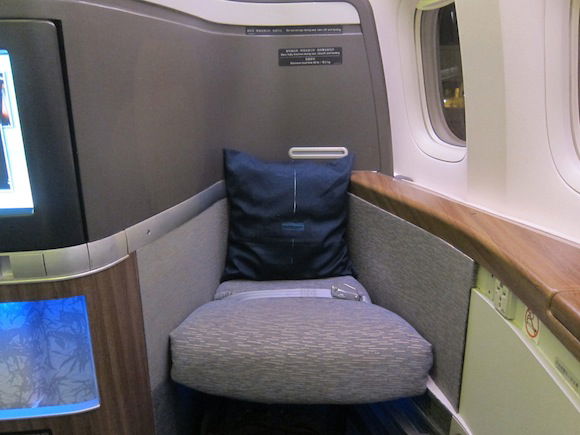 Seat 2K ottoman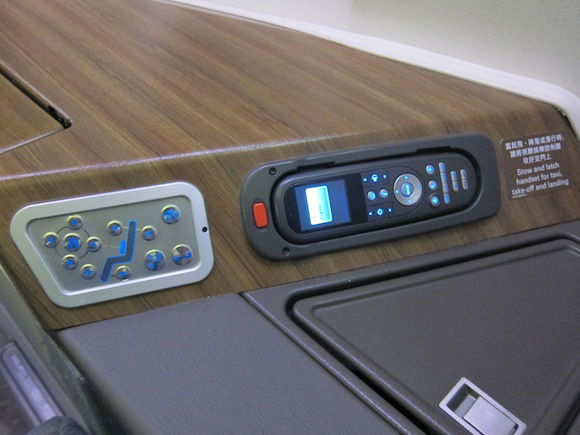 Seat/entertainment controls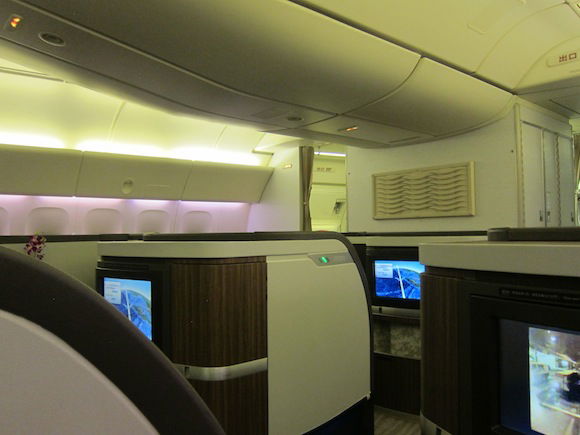 Cabin view from 2K
Much to his disappointment I ordered still water ("Mr. Lucky, you do realize we have Krug, right?"), which was promptly served.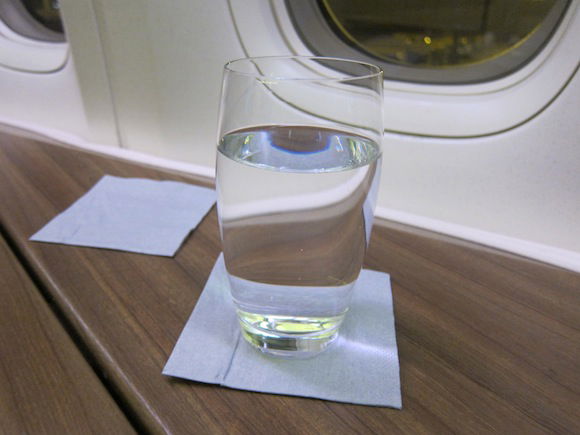 Pre-departure water
Moments later I was offered Shanghai Tang pajamas, slippers, and an amenity kit.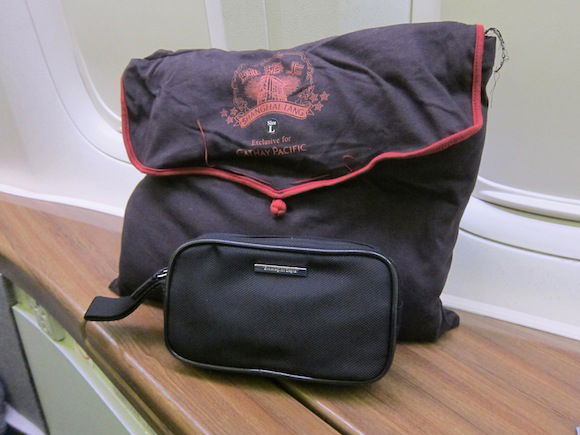 Amenities
I was also offered a hot towel.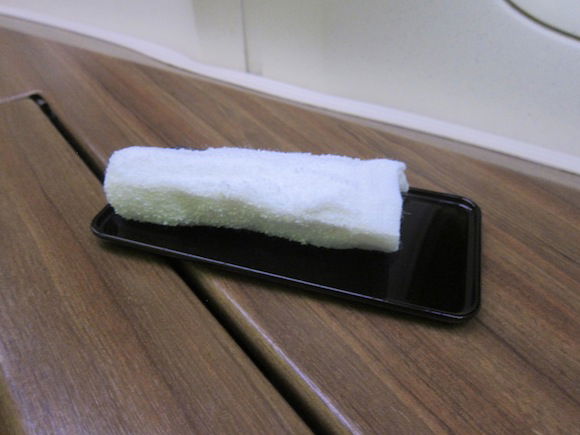 Hot towel
By 12:30AM boarding was complete, and four of the six first class seats were taken — the two middle seats stayed empty. It was around this time that the captain (who I later found out was Canadian — I love the diversity of Cathay's pilots) welcomed us aboard and informed us of our flight time of 11hr52min. He explained that there was a bit of congestion in the alleyway so we would be a few minutes late pushing back, but wasn't expecting a substantial delay.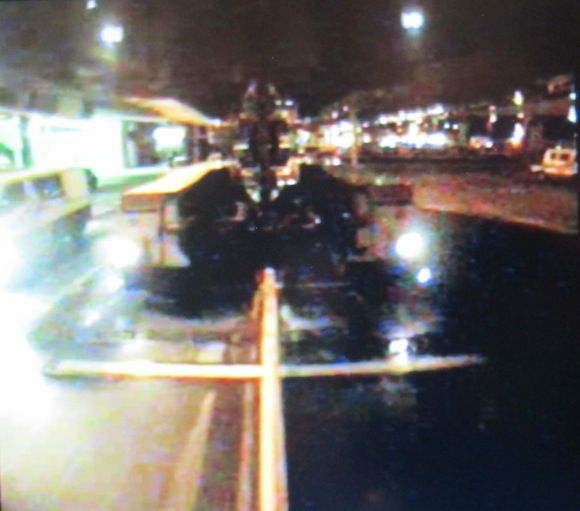 Nose camera
We were about 40 minutes late pushing back and had a really slow taxi to runway 7R, and at around 1:20AM began our takeoff roll, which was almost immediately aborted. While I've had several go arounds, this was my first aborted takeoff ever. It was a complete non-event, though in the back of my mind I couldn't help but cringe/chuckle a bit at my luck. Before we even vacated the runway the captain was on the PA to update us in a calming voice – "ladies and gentlemen, as we began our takeoff roll we encountered a minor technical issue, and we're just pulling off the runway to see what's going on. We'll update you shortly."
Five minutes later he was back on the PA to let us know that the technical issue had been resolved and that we'd be taking off shortly. We once again lined up on the runway and the engines spooled up. This time a bit more power was applied before we stopped, though the takeoff was once again aborted. Instead of going straight to the taxiway we had a fast taxi down the runway towards the terminal. Again, the captain immediately came on the PA and said "ladies and gentlemen, we had the same technical fault once again, so we will be taxiing back to the gate so the engineers can look at it. We'll update you as soon as we can."
As soon as we got to the gate and the engines were off the captain was again on the PA to explain what went wrong. He explained that when we were taking off an indicator light was going off saying that a cargo door was open, and that it was probably just a faulty alarm. He said we'd be getting a bit more fuel as well and that he'd update us as soon as he can.
In the meantime Patrick and Veronica offered us some drinks. I had a Diet Coke, which was served with almonds.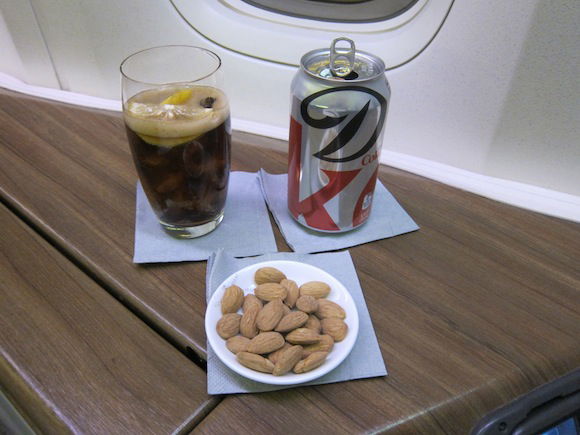 Diet Coke and almonds
30 minutes later the captain was back on the PA to inform us that we were all ready to go and that we just had a short air traffic control delay, and that we'd be underway shortly. Once we started taxiing he updated us yet again to let us know we'd be taking off shortly. After my Royal Jordanian flight, the professionalism of the captain made me want to give him a hug.
Sure enough this time our takeoff roll on runway 7L was smooth, though we hit a lot of chop on the climb out. Actually, we didn't hit chop just on the climb out, but for the first seven hours of the flight. None of the turbulence was horrible, though it was the most consistent turbulence I've experienced in my life, and made the meal service pretty difficult. As we climbed out I decided to watch some sitcoms, starting with Two and a Half Men.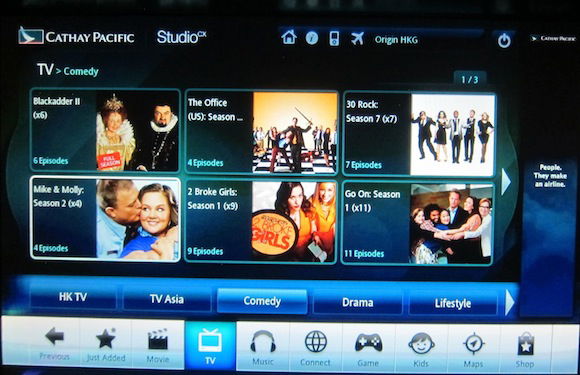 Entertainment selection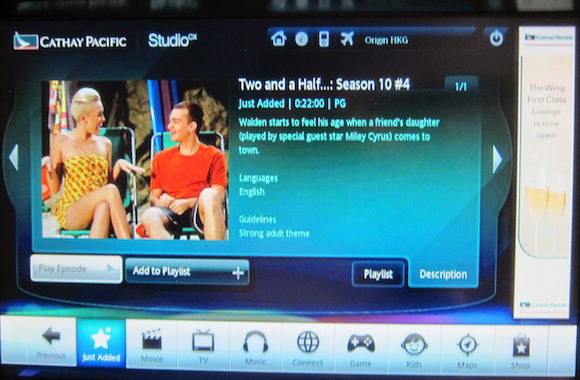 Two and a Half Men
The inflight service manager came around at this point to apologize for the delay and to welcome us each aboard and offer us the menu and wine lists.
The menu read as follows: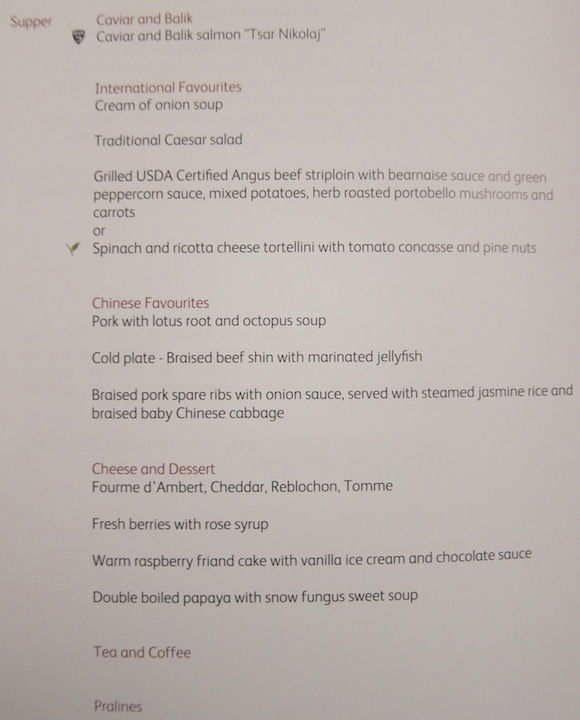 And the wine list read as follows: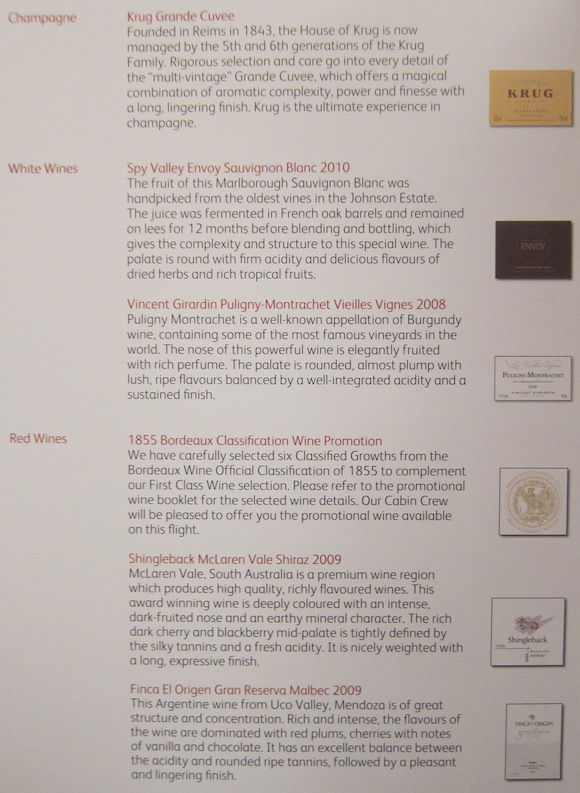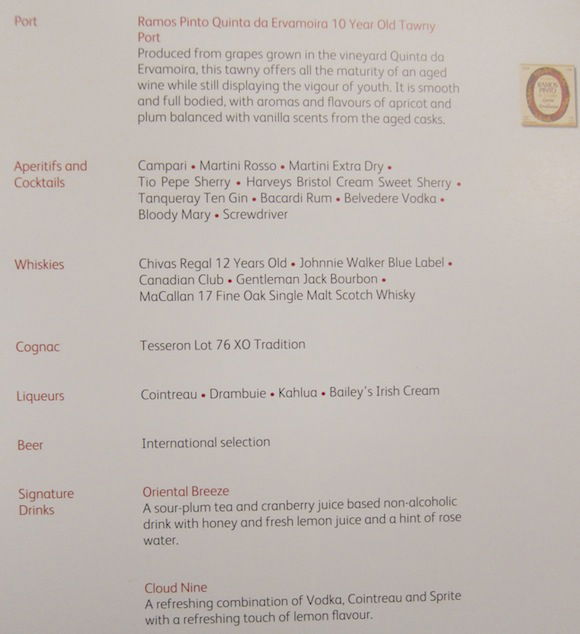 Despite the turbulence, Patrick and Veronica were troopers and executed the meal service with grace. They set the tables with great precision, and also presented me with a nice "welcome aboard" note.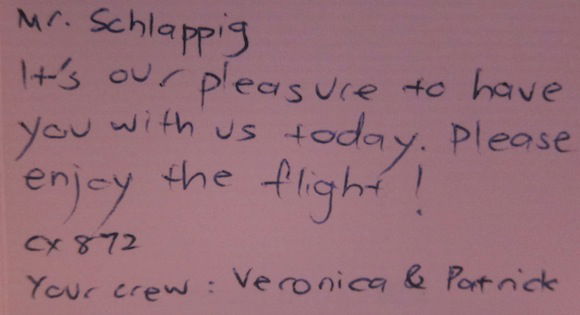 Welcome note
To start I had the salmon and caviar. The presentation wasn't all that great because the potatoes were rolling around due to the turbulence, though it's still a great starter, in my opinion.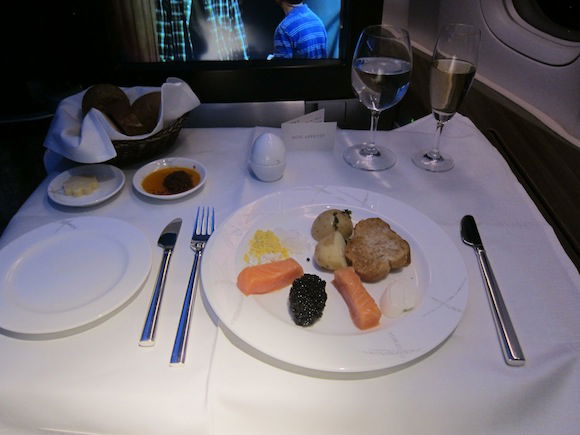 Salmon and caviar
Next I had the caesar salad, which was very good as well.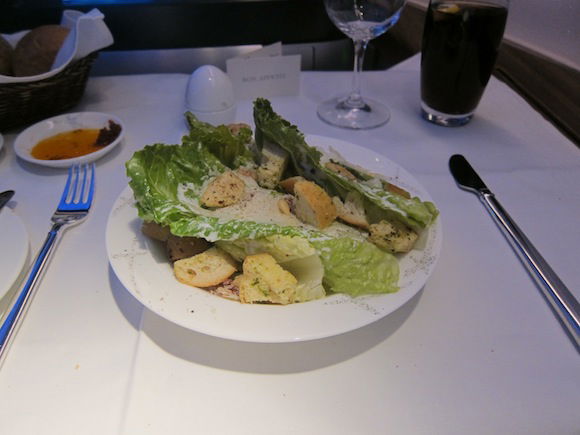 Caesar salad
For the main course I had the tortellini, which was good as far as pasta dishes go.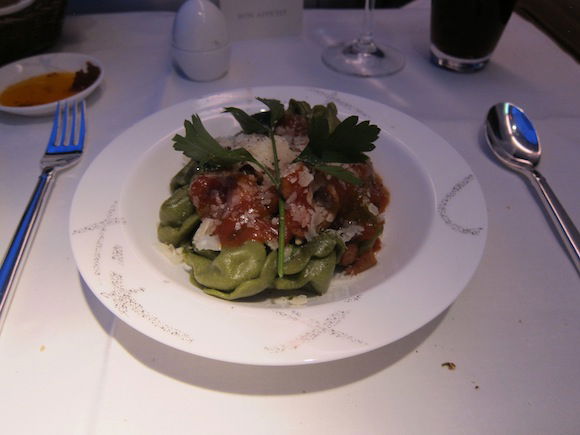 Spinach and ricotta cheese tortellini
Meanwhile my friend had the braised pork spare ribs.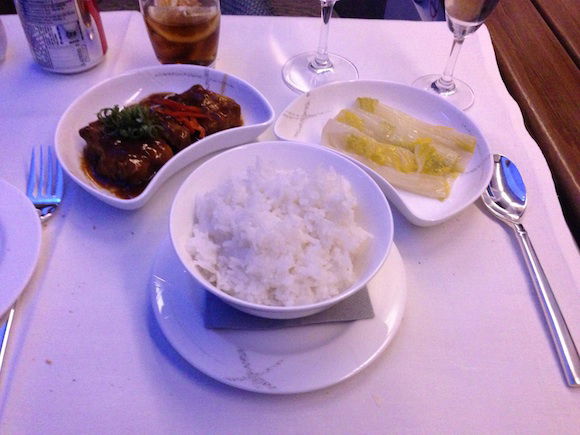 Braised pork spare ribs
For dessert I had the warm raspberry friand cake with vanilla ice cream and chocolate sauce. It was great, though my one complaint is that the chocolate sauce is definitely Hershey's, which really is a sin if you're a chocoholic like me.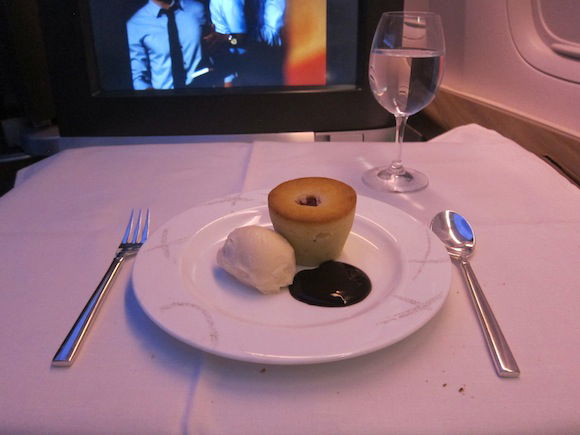 Warm raspberry friand cake with vanilla ice cream and chocolate sauce
While I would've loved a Hong Kong style milk tea to finish off the meal, due to turbulence they couldn't serve hot beverages, so I was instead offered pralines, a hot towel, and water. Throughout the meal service Patrick and Veronica were simply amazing. They were engaging, friendly, charming, and extremely attentive.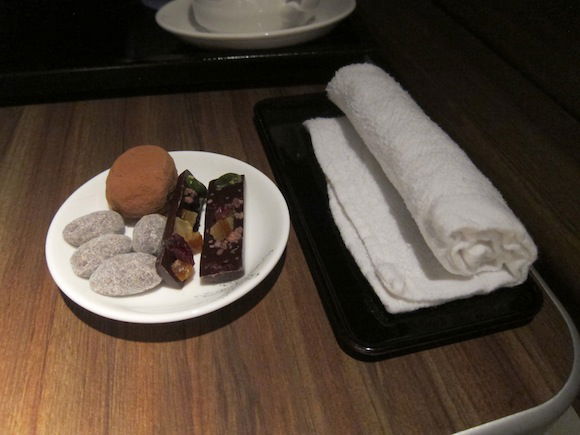 Pralines and hot towel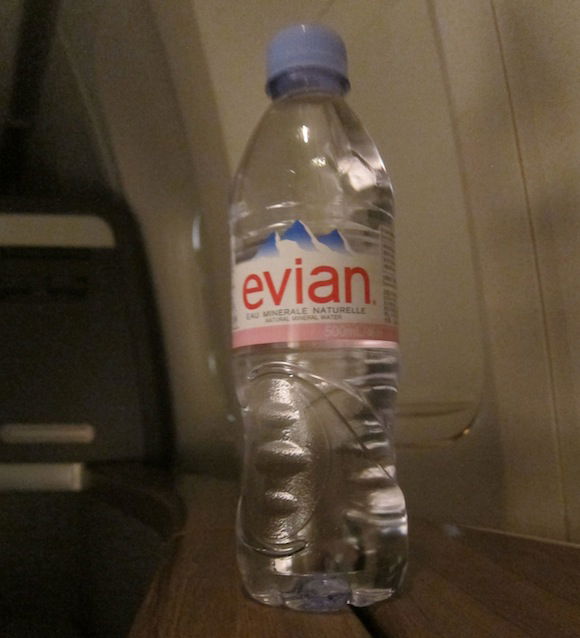 Water
Patrick proactively offered turndown service, which I gladly accepted, wanting to get some shut eye. Cathay Pacific's beds are among the most comfortable in the sky. I was looking forward to sleeping, though the turbulence prevented me from doing so. It was literally the most consistent turbulence I've ever experienced, as we rocked and rolled for seven hours, well past the international dateline. Interestingly it was light outside for most of the flight, from a couple of hours after takeoff till an hour before landing.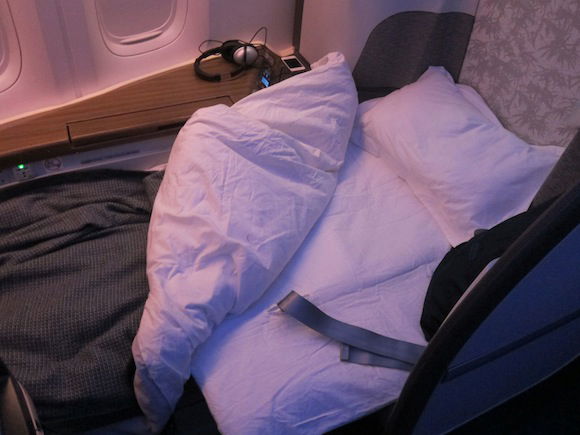 Turndown service
Ironically once the ride was smooth enough to actually sleep I wasn't tired anymore. As I went to the lavatory I ran into the captain in the galley, who was begging the flight attendant for some ice cream and a muffin. We had a nice conversation for a bit. I'm always fascinated by Cathay Pacific pilots, so anytime I get the chance to talk to one I'm oddly giddy.
Once I returned to my seat I looked at the snack menu, which read as follows:

I wasn't really hungry, so just had some strawberry ice cream and Hong Kong style milk tea.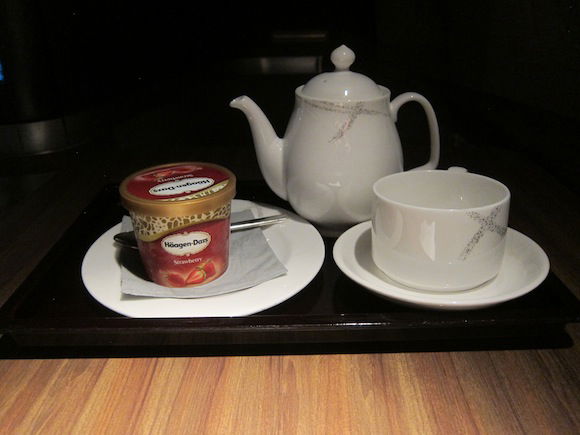 Ice cream and milk tea
I decided to watch Silver Linings Playbook, which was mildly tolerable. I'll be the first to admit I'm not much of a movie critic, as I really enjoyed Abduction.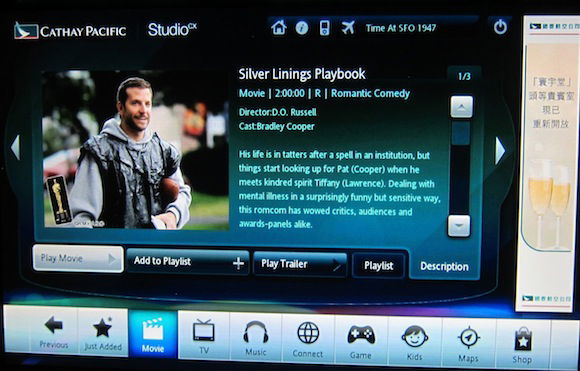 Silver Linings Playbook
About 90 minutes out of San Francisco breakfast was served. While it was morning in Hong Kong it was 10:30PM in San Francisco at this point, not usually a time at which I'd have breakfast, so the service is a bit odd.
The breakfast menu read as follows: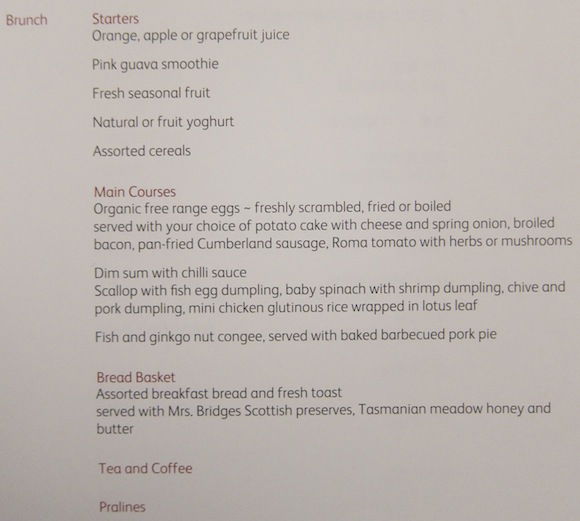 At Patrick's insistence I had some champagne with breakfast, which seemed perfectly justifiable given that it was evening in San Francisco.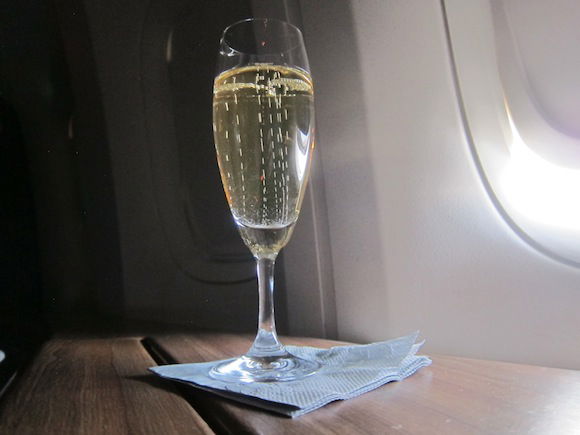 Krug
To start I had fruit, orange juice, and a pink guava smoothie.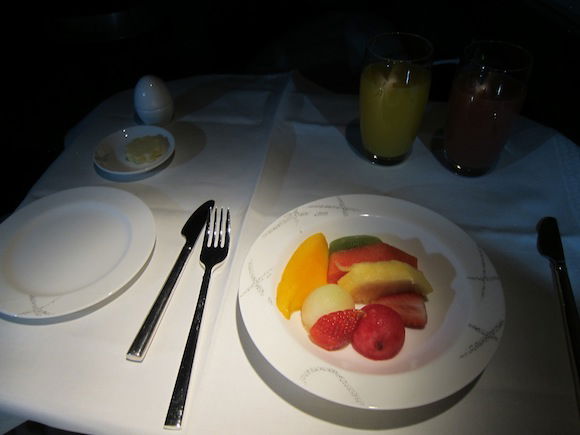 Fresh fruit
I then had some corn flakes and wheat toast.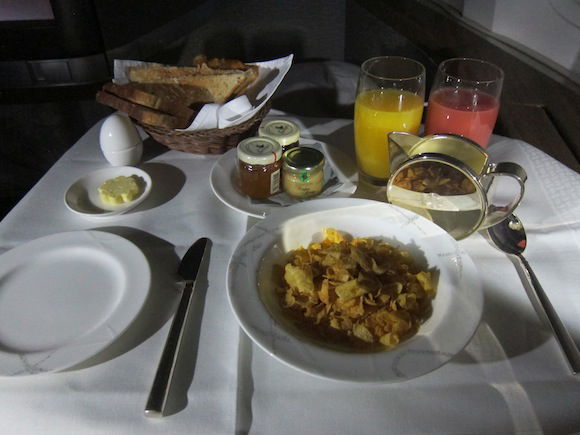 Corn flakes and wheat toast
Then some strawberry yogurt.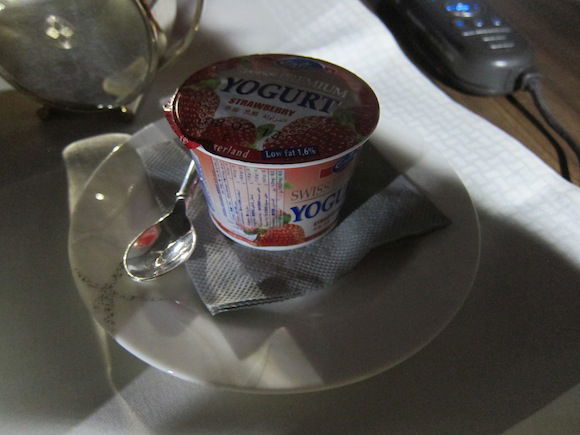 Strawberry yogurt
And finally some scrambled eggs with a potato cake. I requested that the eggs not be runny, and they were indeed served just the way I like them.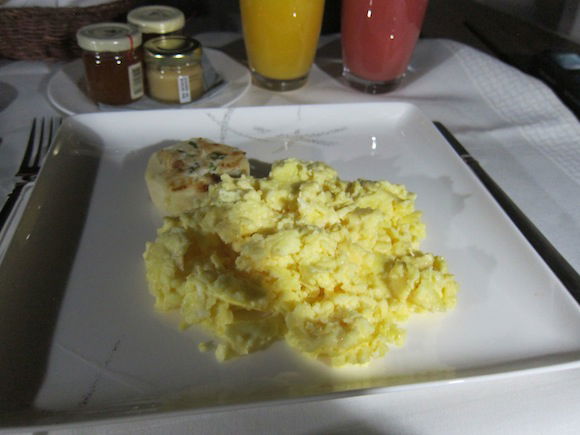 Scrambled eggs
About 30 minutes out we began our descent, and the captain informed us of our updated arrival time of midnight and apologized for the delay. He also apologized for the consistent turbulence for the first half of the flight, and said he hadn't seen such consistent turbulence in years.

Airshow approaching San Francisco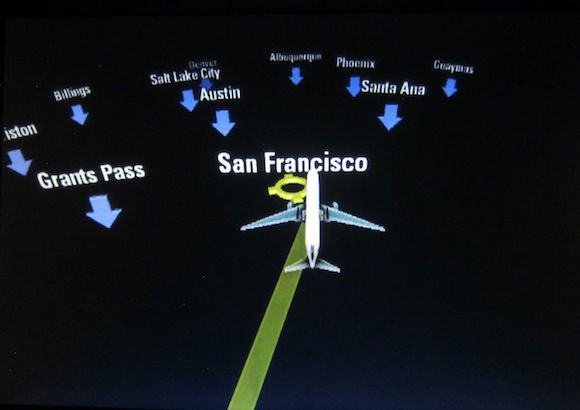 Airshow approaching San Francisco
We had a smooth touchdown in San Francisco and quick taxi to the gate. From there we cleared customs and immigration in no time thanks to Global Entry, and hopped in the shuttle to the Aloft, where we were spending the night. The next morning we flew Alaska from San Francisco to Seattle, and I couldn't be happier to be home.
On the whole this was the most memorable trip I've ever had. Not because of any destination, necessarily, but because it reminded me of what's important in life and how fragile life can be.
Safe travels, and I'll be starting my next trip report shortly. Thanks for reading.