---
We took a shuttle from the Aloft to the airport at around 10:30PM, and made it there about 10 minutes later. I've gotta say as far as US airports go, I don't think there are many that are nicer than San Francisco's Airport, especially the international terminal.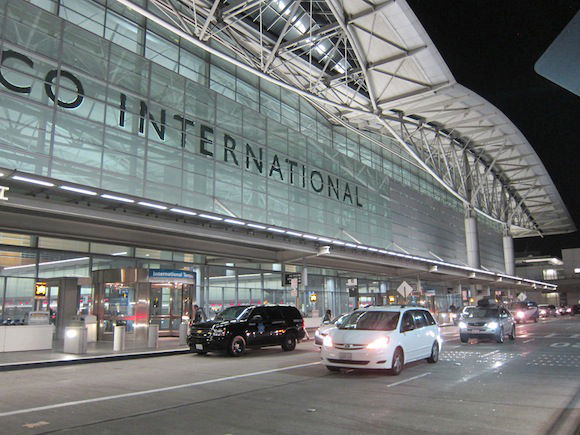 Terminal exterior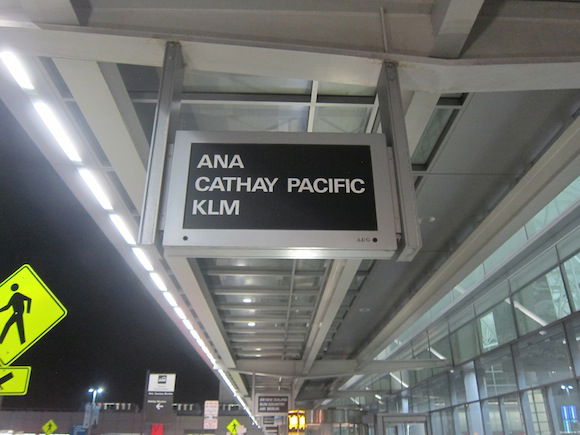 Airline signage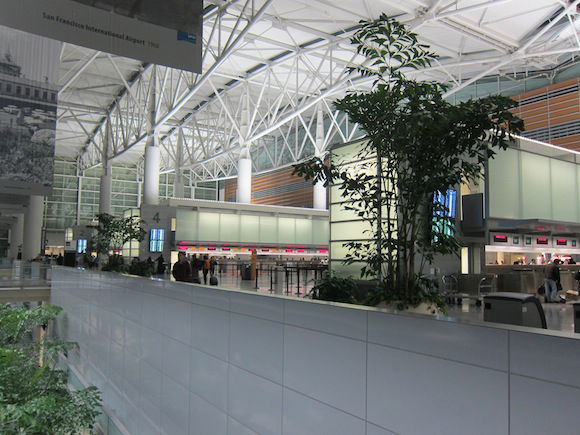 Terminal interior
We easily found the Cathay Pacific check-in area, which was fairly empty given that most people had already checked in.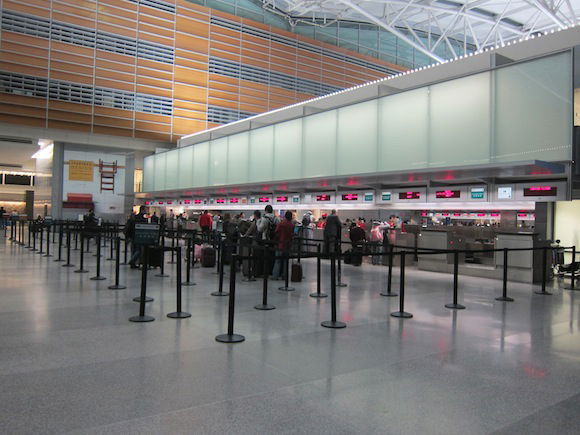 Cathay Pacific check-in
There was no one ahead of us in the first class queue, and we were helped in a matter of seconds.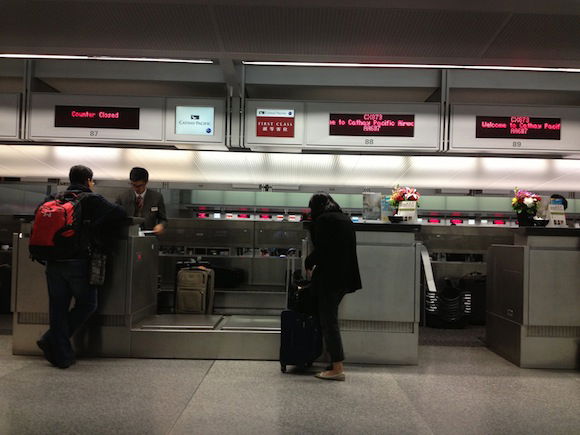 Cathay Pacific first class check-in
Cathay Pacific has among the smallest first class cabins on their 777s, with only six seats. When the cabin is full I've found it's like musical chairs to ensure everyone sits together. There are two rows of seating with three seats per row. The two center seats open towards the right aisle, meaning if you're traveling together you want to sit in either 1D & 1K or 2D & 2K (or if you prefer windows you can do 1A & 2A or 1K & 2K).
In this case we had seats 1A and 2D given how late we booked, and the cabin was full. I wasn't even going to ask for them to swap our seats, though there was a couple traveling in first class and the check-in agent asked if we would mind swapping seat 2D for 1D, as the couple in first class had seats 2K and 1D assigned. Of course we didn't mind since that would give us seats 1A & 1D, and at that point I inquired if it would be possible to ask the person seated in 1K whether they'd be willing to switch to 1A. If you're traveling alone 1A & 2A are the best seats since you don't have anyone else sharing the aisle with you, so it seemed like it would be a win-win. He said they'd work on it, and that I should check-in again at the gate.
We headed towards security, and while it wasn't very busy on the surface, they only had a single lane open.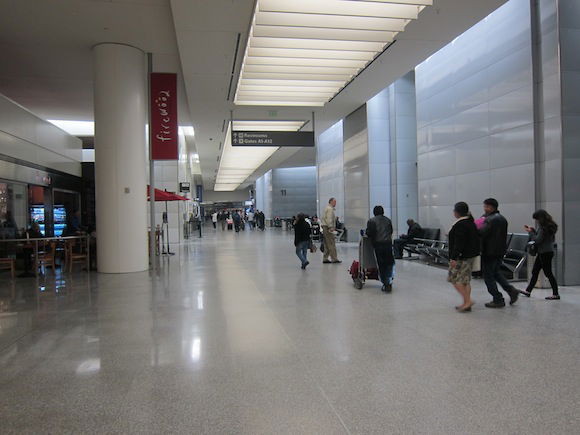 Heading towards security
Below is a picture of how my boarding pass looked after the security agent (it's not TSA in San Francisco, but rather "Team SFO") checked it. I'm not trying to be an ass, but can someone please explain to me how that's even remotely necessary? Seriously, what is this, kindergarten? And are those testicles?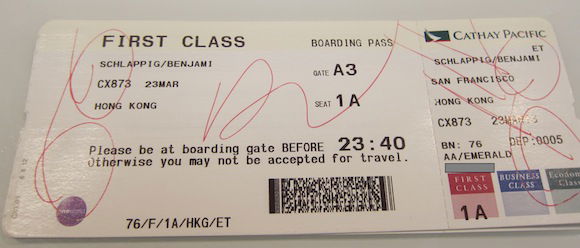 Boarding pass after the check
I find "Team SFO" to be among the rudest security "team" in the US, and today was no exception. They were only using the full body scanners and not the metal detectors, which I suppose is fine, except the queue for entering the full body scanner was about 20 people deep. The agent working the line kept yelling "don't get in line until all your items are inside the x-ray."
That's great, though there's a slight problem. You're not allowed to leave your items unattended, but you're also not allowed to get in the line for the full body scanner until your items are in the x-ray. The line for the full body scanner was about five minutes long, and from the full body scanner line you couldn't see the other side of the x-ray belt, where your belongings are. So I asked the agent "excuse me, how am I supposed to be able to keep an eye on my belongings when I can't see them from here?" He gave me a blank stare, mumbled a bit, and said, "they'll be fine, we'll make sure other passengers don't touch them." I responded with "it's not other passengers I'm concerned about," but that seemed to go over his head. Good thing I wasn't transiting Heathrow, where the standard security question is "have you been in possession of your bags the whole time?"
Anyway, once through security we turned left towards the area with the lounges and took the elevator up to the second level, where the Cathay Pacific lounge is located.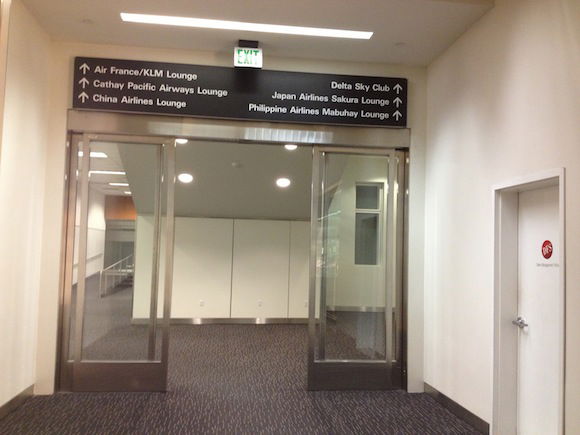 Lounges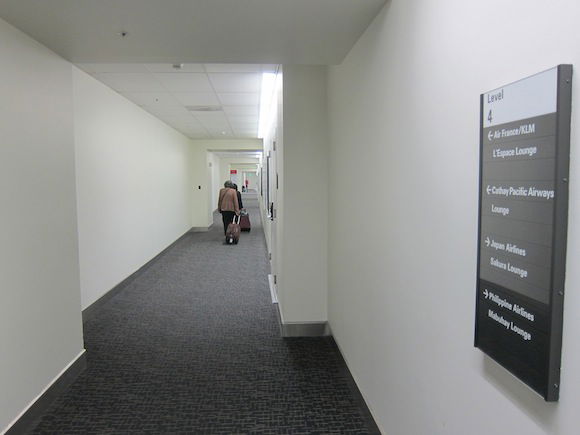 Second level lounge corridor
Cathay Pacific opened their new lounge in San Francisco a little over a year ago, so I was curious what it was like. Last time I took this flight they used the British Airways lounge, which was pretty mediocre.
From the moment I spotted the lounge it felt like a generic Cathay Pacific lounge at one of their outstations, which they seem to be pretty consistent with.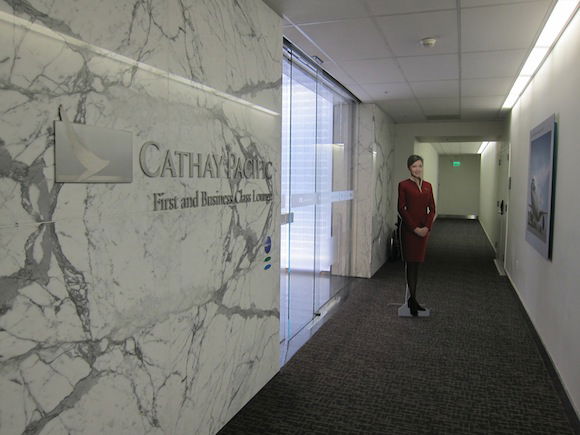 Lounge exterior
Upon entering the lounge we were welcomed and informed there would be a boarding call for our flight.
Near the entrance was a business center with a handful of Mac computers.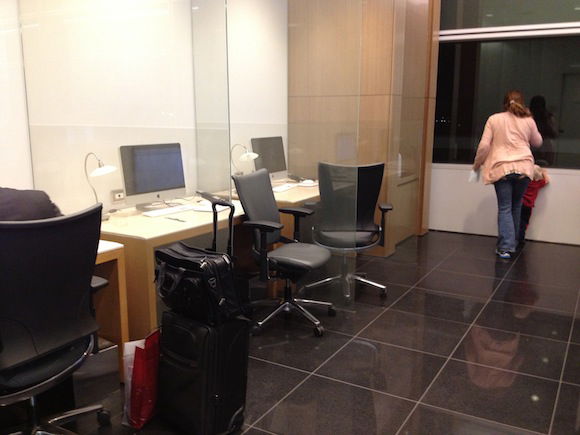 Business center
While the lounge is a good size, it was packed. There was hardly an empty seat, and there's not a separate first class section, so it really doesn't feel like all that premium of a lounge. It basically has four partitioned off seating areas, each with maybe a dozen seats, as well as a bar area.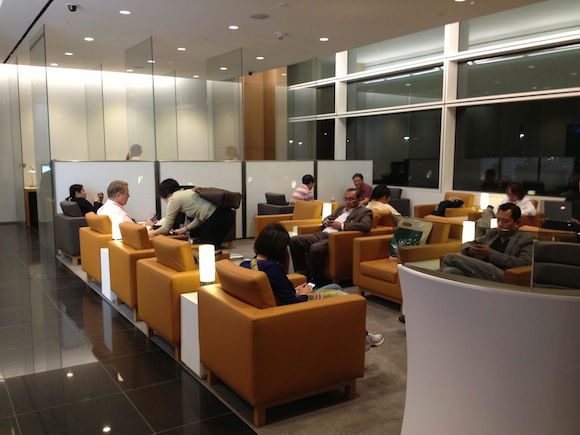 Lounge seating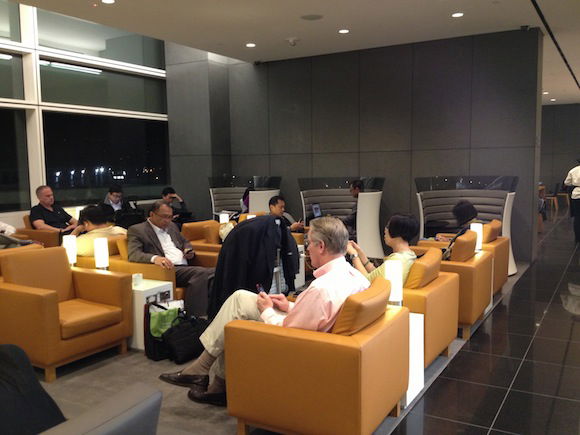 Lounge seating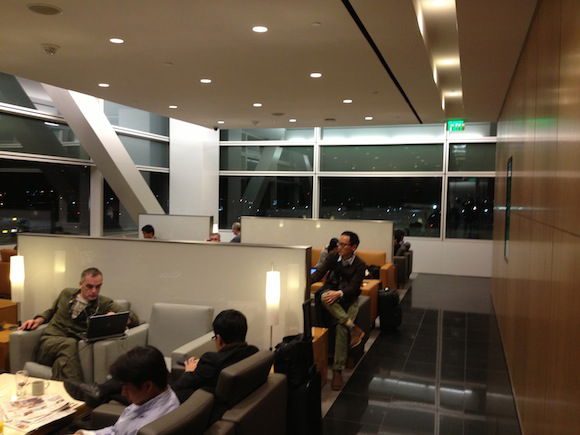 Lounge seating
The bar area consisted of several communal tables.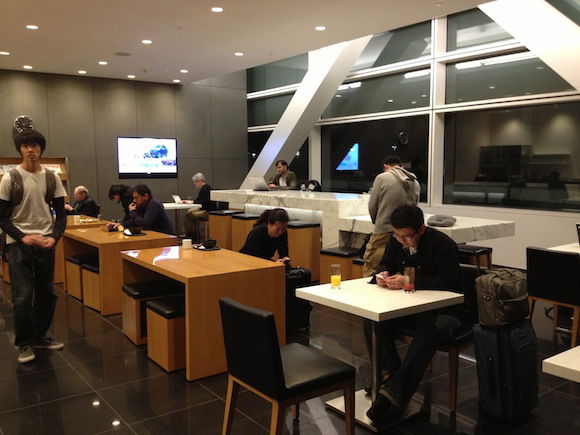 Bar area
There was a self serve buffet which was okay. It consisted of four hot dishes, salad, finger sandwiches, and packaged snacks.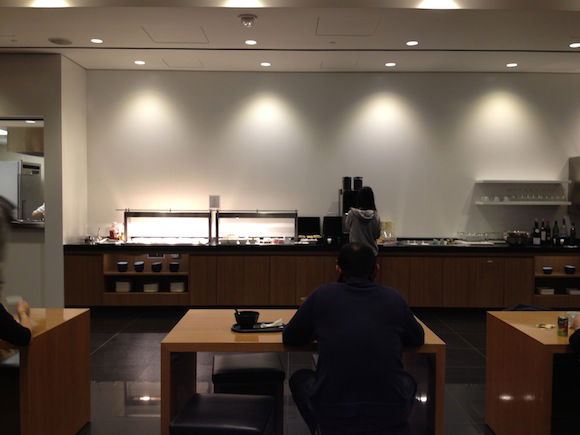 Buffet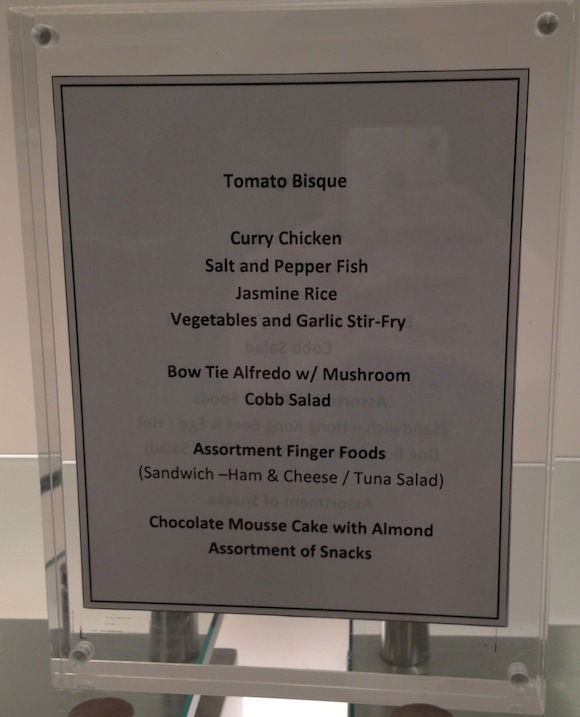 Buffet menu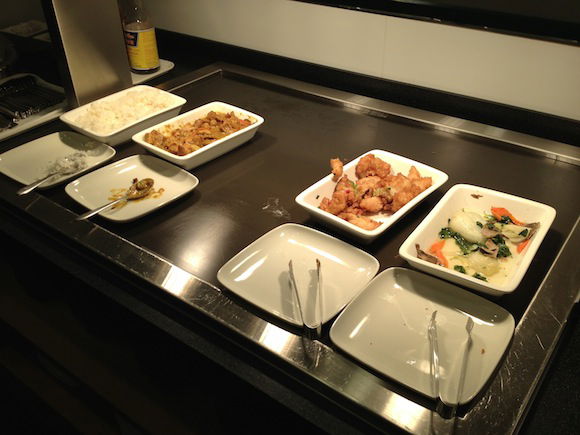 Hot options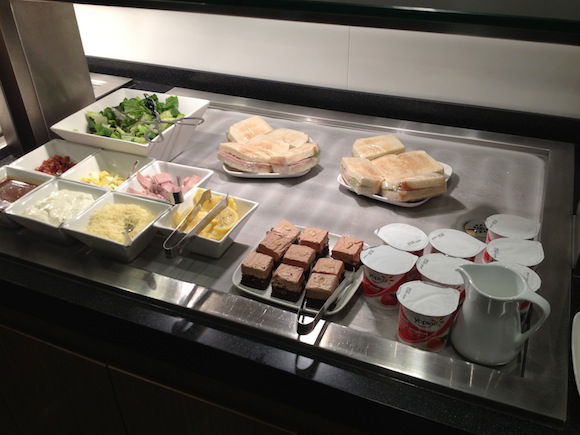 Cold options
There was also a modest open bar.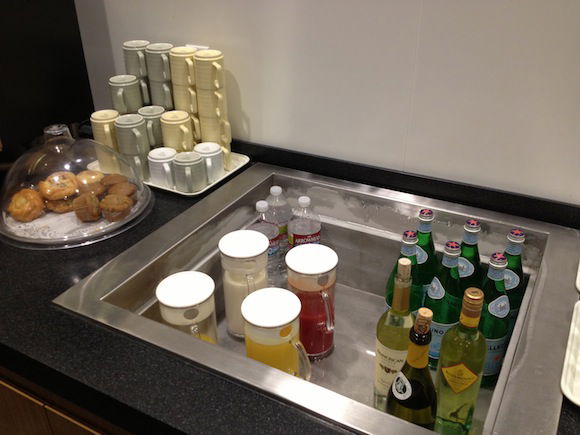 Self serve bar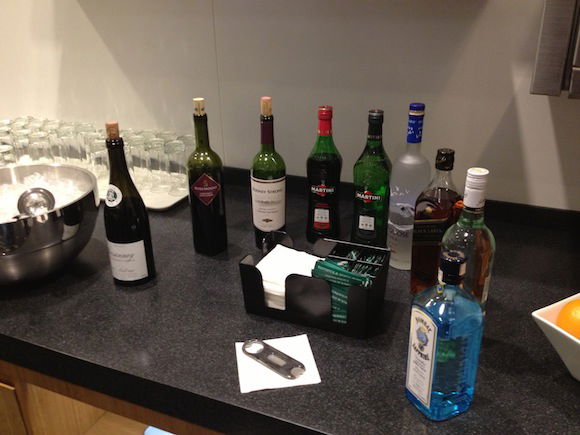 Self serve bar
As is pretty standard in Cathay Pacific lounges, there was also a made-to-order noodle station. If you're going to eat in the lounge, that's probably the place to do so.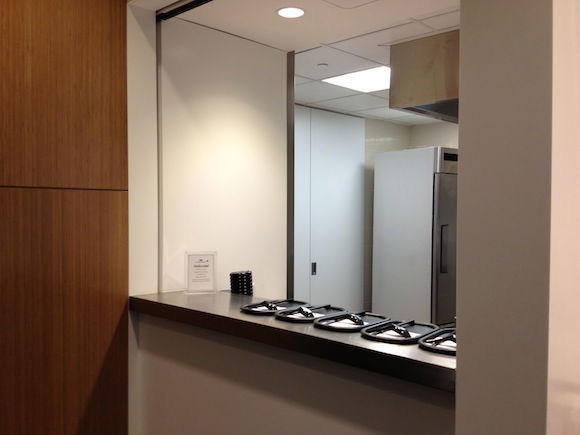 Noodle station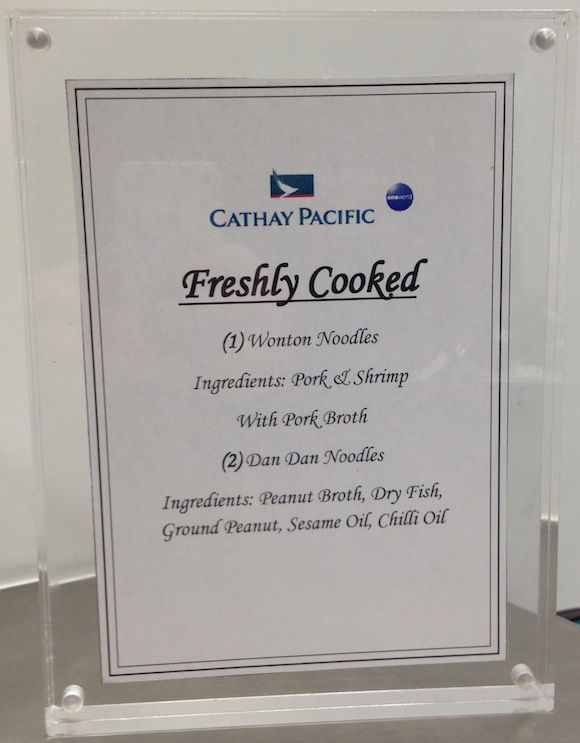 Noodle station menu
Since I hadn't eaten all evening I had the wonton noodles, which were quite good.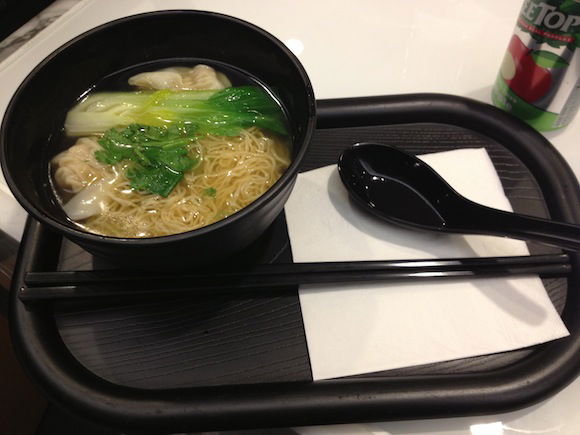 Wonton noodles
It's worth noting the Wi-Fi in the lounge was excruciatingly slow. I realize the lounge was full and usage was probably high, but I still think this is unacceptable in a brand new lounge in the US.
Wanting to check on the status of my seat swap, I headed to the gate about 10 minutes before boarding was called, at around 11:20PM.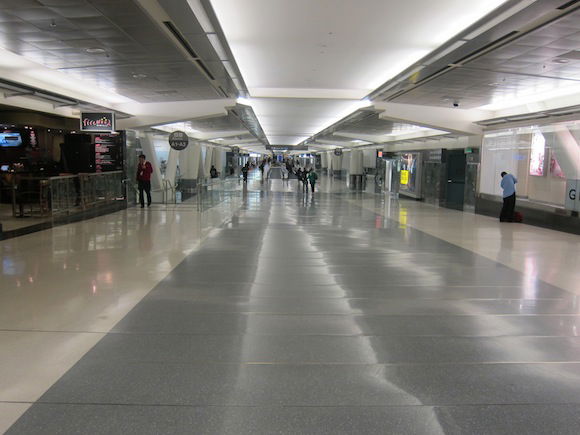 Walking to gate
Our departure gate was A3, which is located down the escalator from the main concourse.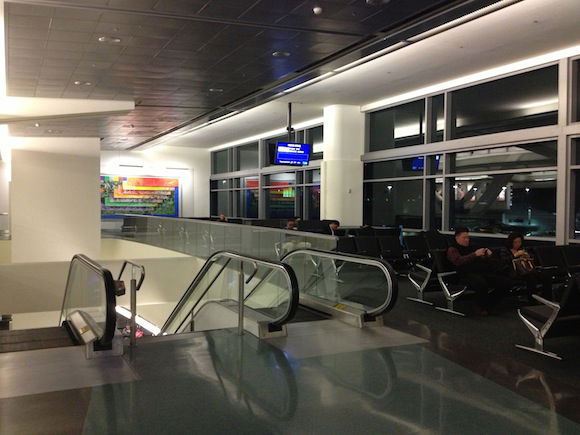 Escalator to departure gate
While the flight was completely booked, the gate area was surprisingly empty. I'm guessing everyone was in the lounge based on how full it was.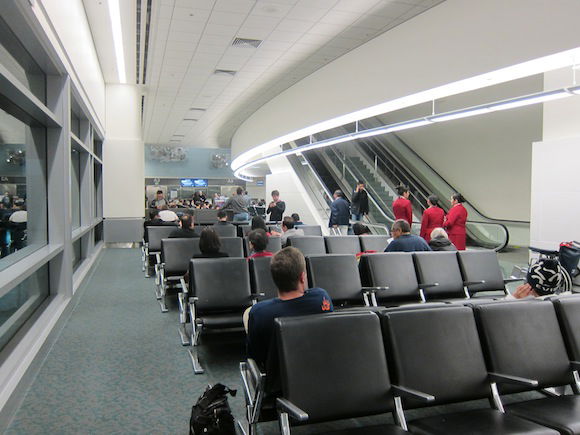 Departure gate
I headed up to the podium to see if they were able to switch my seat, and before I could finish my sentence they handed me a new boarding pass for 1K. Cool.
At around 11:45PM boarding was called, starting with first and business class.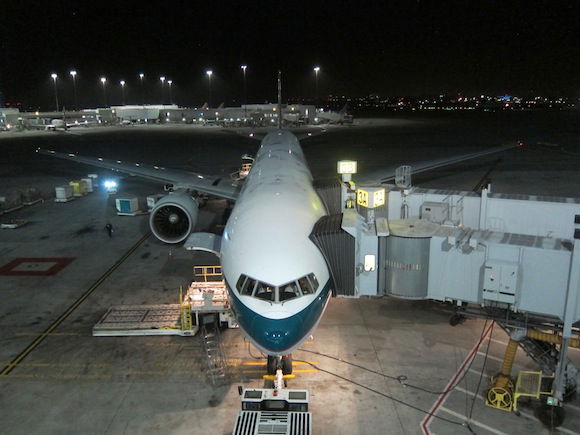 777 taking us to Hong Kong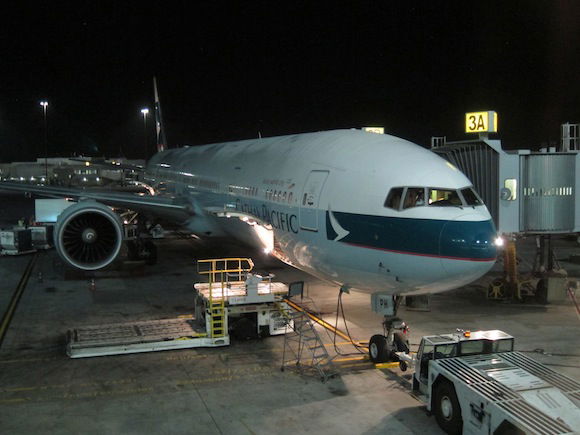 777 taking us to Hong Kong