---
One of the things I've been looking forward to most as a newly minted Starwood Platinum member is stays at Starwood hotels in Asia, since they're apparently very generous with elite benefits. I had read good things about Le Meridien so booked it using cash and points for 2,800 points plus $45.
Upon arrival at Le Meridien we proceeded straight through the modern lobby to check-in, where there was no line.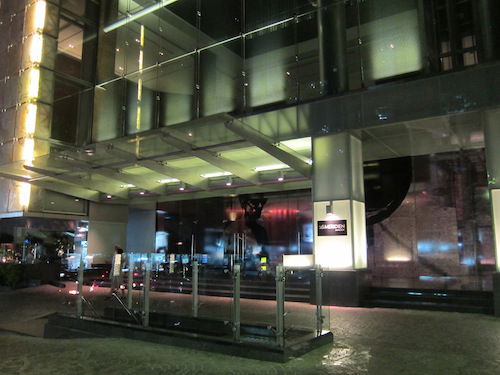 Hotel exterior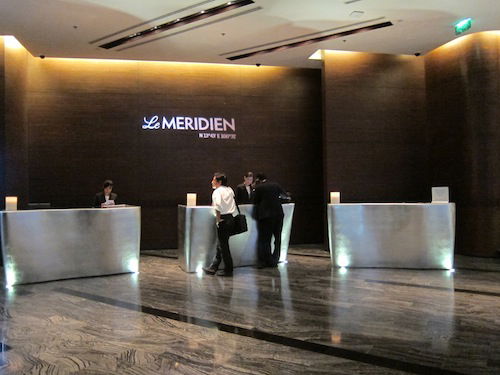 Lobby
They informed me that as a Platinum member I had been upgraded to a suite, and that we could have complimentary breakfast in the restaurant (Latest Recipe) and drinks in the bar (Bamboo Chic) in the evening between 5:30PM and 7:30PM. We were also offered some sort of a frappuchino-tasting welcome drink. One of the issues with suite upgrades and traveling with a friend is that most suites have just one bed. So when traveling with a friend you have the option of either sticking to a close to standard room and getting two beds, or going for a suite with a king bed and a pull out sofa (usually). I'd much rather have the latter.
Our suite was on the 12th floor at the end of the hallway, room 1223.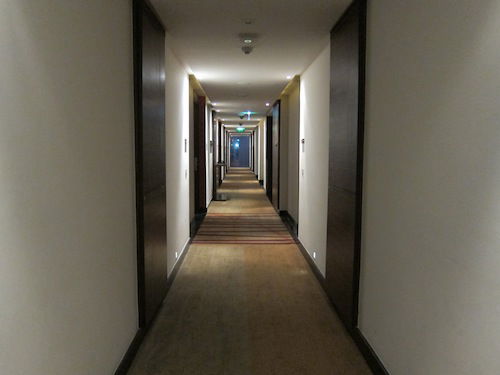 Hallway
The suite was modern, with a living room at the entrance featuring a desk, guest bathroom, and comfortable couch and daybed facing a large flat screen TV.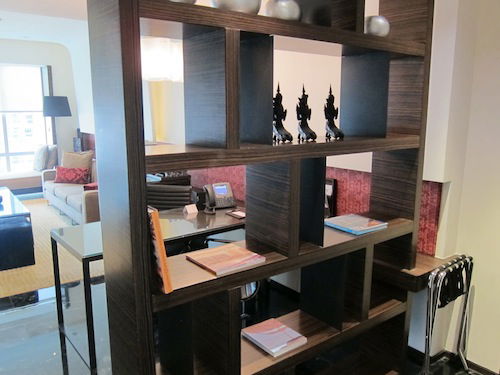 Bookshelf at entrance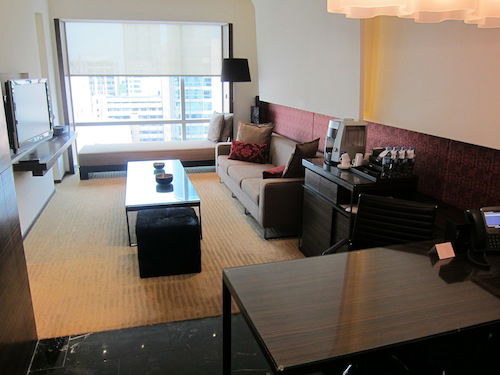 Living room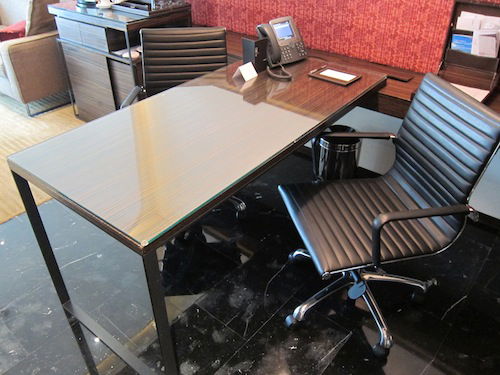 Desk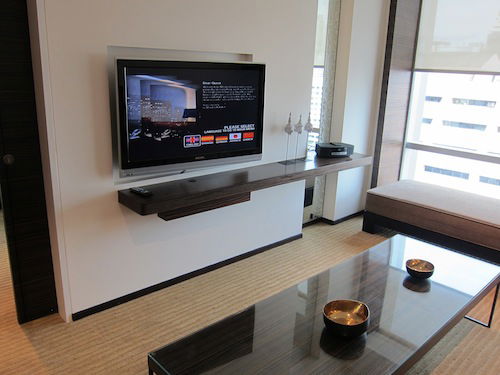 Flat screen TV
Waiting for me on the desk was a welcome amenity consisting of teriyaki spiced almonds and raspberry chocolate, along with a handwritten welcome note.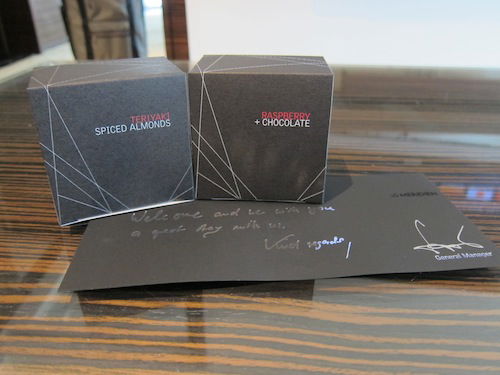 Welcome amenity
The bedroom was also large, featuring a king size bed and desk.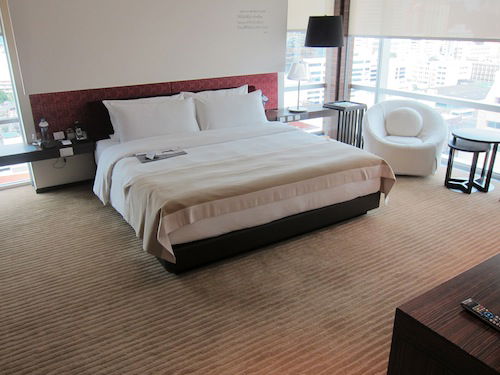 Bedroom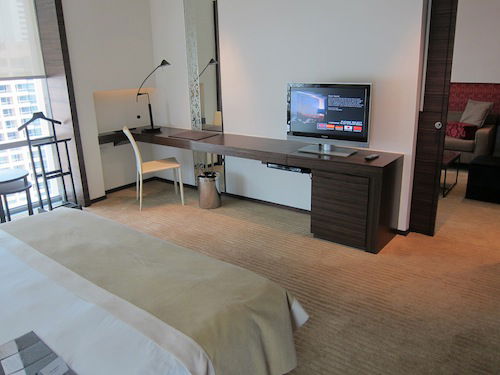 Bedroom
The bedroom led to the bathroom, which featured double sinks, a tub and shower, and separate toilet.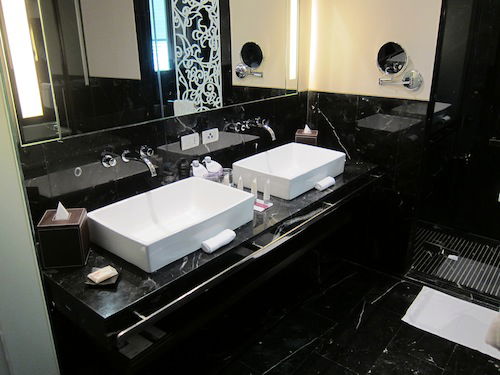 Sinks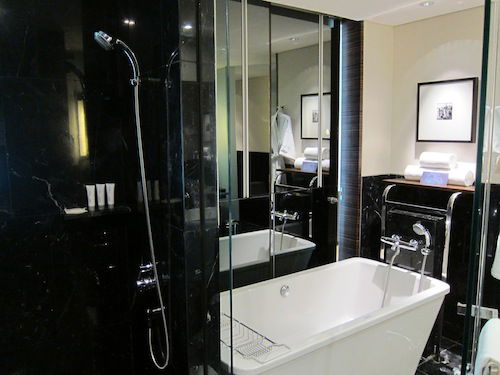 Shower and tub

Bathroom
The view from the room wasn't especially nice. I prefer the location of the InterContinental or Peninsula, though Le Meridien is very close to public transportation.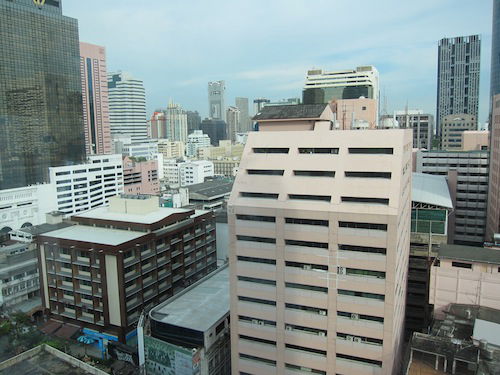 View from the room
My favorite part about the room has to be the number of bottles of complimentary bottled water it had. I counted at least a dozen bottles.
By the time we showered and caught up on email a bit it was 6PM, so we headed down to Bamboo Chic to see what the drink selection was like.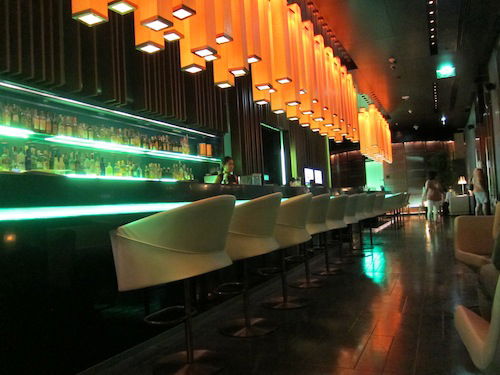 Bamboo Chic
Upon asking the host that seated us about the Platinum happy hour she told us we could order any drinks off the menu. I'm not much of a drinker but at the same time didn't want a Diet Coke with lime, so went with the only blended drink I saw on the menu. The drinks were served with a small appetizer consisting of octopus and something else, which I passed on.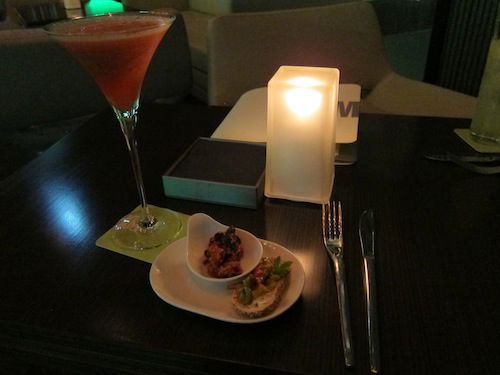 Happy hour
We were offered further drinks though declined since we wanted to walk around a bit outside.
The pool also looked quite nice and was located just outside the door by Bamboo Chic.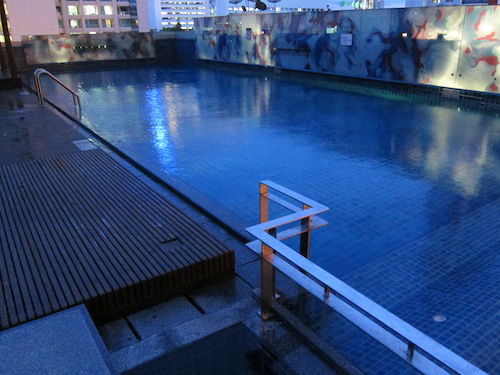 Pool
Le Meridien is especially well located for the night market, where you can buy anything from a Happy Gilmore t-shirt to a happy ending.
The night market is always very entertaining on many levels. If you haven't been, it's mostly stalls consisting of fake t-shirts/handbags, etc. Sprinkled in are strip clubs every few feet with strippers very visible on the polls dancing to Lady Gaga songs. And if that's not enough, as a male tourist you're approached every two feet to see if they can interest you in a "good time." No thanks.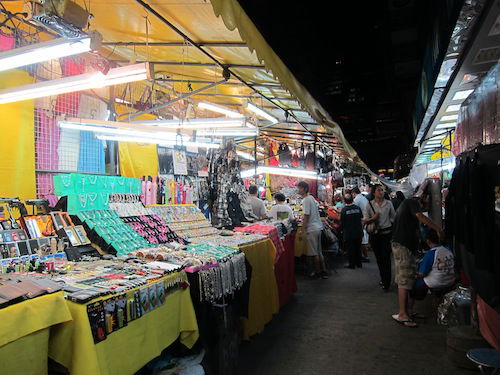 Night market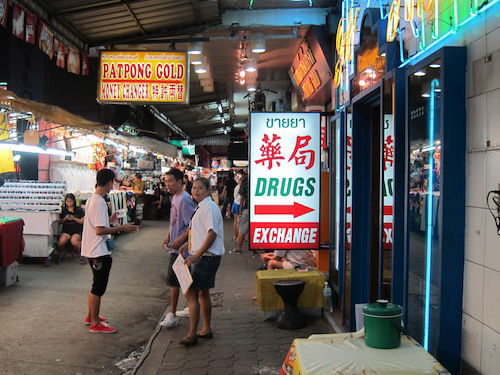 Night market
My friend had never been to Asia before, so perhaps I scarred him a bit by having his first exposure to the continent be a Bangkok night market, but I guess in comparison everything else will seem "normal."
After walking around for a couple of hours we headed back to the hotel dead tired after one long journey around the world (the long way).
The next morning at around 8AM we went to Latest Recipe for breakfast.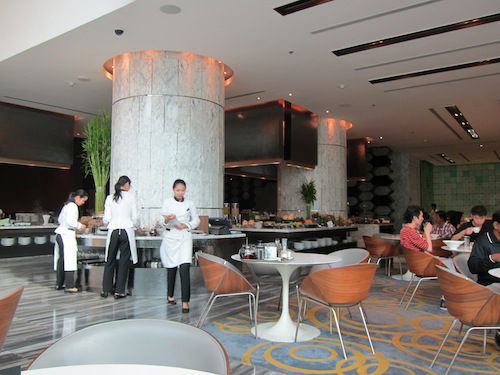 Latest Recipe
I'm not sure whether I love or hate Asian breakfast buffets. They have so much food from so many places that it could reasonably comprise breakfast, lunch, and dinner. Hell, they even have a dessert spread… for breakfast!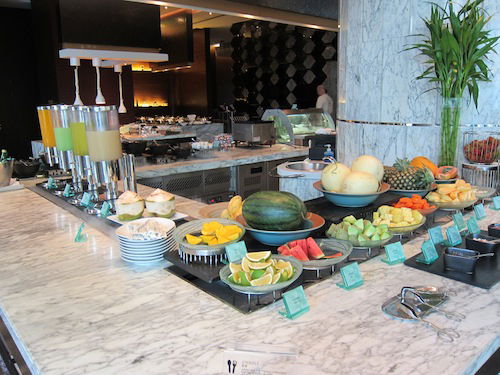 Buffet spread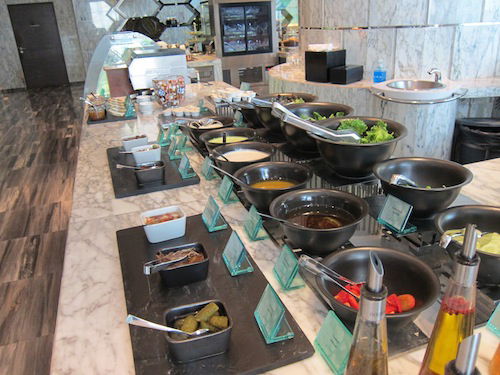 Buffet spread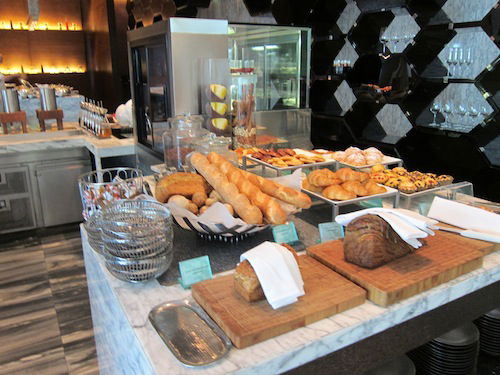 Buffet spread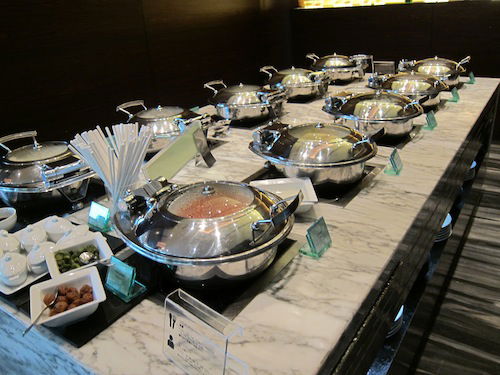 Buffet spread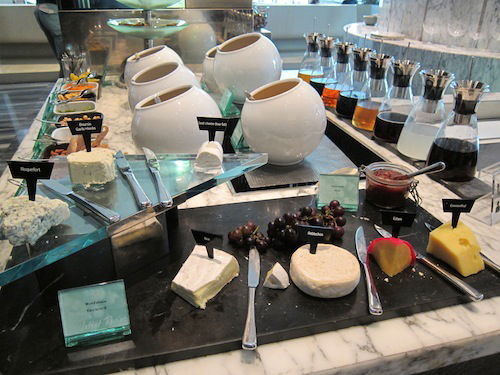 Buffet spread
At the same time, I hate them with a passion because I just have no self control at breakfast buffets in Asia. I just have to have everything every time. I'm full? Who the hell cares. If the world comes to an end I'll be better off having eaten two pounds of fried rice and 16 croissants.
Anyway, at around 9:30AM we headed to the airport for our 12:25PM flight. Check-out took forever. In the US checking out of hotels is so efficient. Heck, you don't have to check out of hotels, you can just leave. After about 10 minutes at check-out we were in a cab on our way back to the airport.
On the whole I had a great stay at the Le Meridien. It's a great hotel with great elite recognition. The thing about Bangkok is that there are so many great luxury hotels at reasonable prices, that I have a hard time returning to any particular hotel, no matter how great a stay is. But I do highly recommend this hotel.