Full disclosure: This post relates to a first world problem
Quick trivia question: what do Singapore and Waikiki have in common? They're both overrun with past-their-prime, mediocre, overpriced hotels… at least in my opinion.
I enjoy spending time in Singapore. It may somewhat be "Asia light," but that's not necessarily a bad thing. It's extremely clean, public transportation is phenomenal, everyone speaks English, and Singapore has great food (and I'm no foodie). But it's also a destination I hate traveling to as a points junkie, simply because hotel rates are neither cheap enough so I want to pay for them, nor are they expensive enough so that I want to use points. Let me explain.
I love cities like London, Paris, Sydney, and Tokyo, because using points is usually a no brainer. Hotel rates are through the roof, and all those cities have spectacular hotels at which points can be redeemed. Even if you're redeeming at the highest level, you feel great about redeeming points for a hotel that would be $600+ per night.
Then there are cities with reasonably priced chain hotels where it usually makes sense to pay, like Kuala Lumpur. Nice chain hotels can be had for well under $150 per night, and in those cases it doesn't make sense to use points.
Singapore is just one of those markets that's somewhere between the two. The issue is that rates are fairly high, consistently around $300USD or so per night for many chain hotels, and there's a 17% tax/service charge on top of that, which only makes things more expensive. But the issue is that Singapore doesn't really have any great chain hotels that are a good use of points.
I'll be in Singapore later in the week and am trying to decide where to stay. Let's compare the options:
Grand Hyatt Singapore
Paid cost per night: 390SGD + 17% = $372USD
Points cost per night: 18,000 Gold Passport points
Thoughts: I've stayed at the Grand Hyatt and thought it was fine, definitely nothing special in my opinion. I can't imagine shelling out nearly $400 per night here, or for that matter redeeming 18,000 points per night.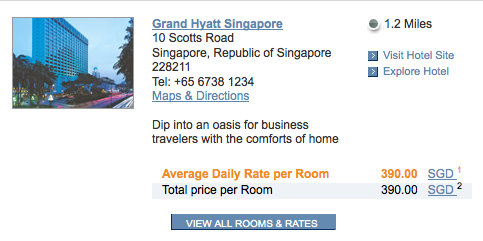 St. Regis Singapore
Paid cost per night: 360SGD + 17% = $343USD
Points cost per night: 20,000 Starpoints
Thoughts: I'd actually really like to try out the St. Regis, though if I stay here it would have to be a paid stay, because I'm not redeeming 20,000 Starpoints for a stay that would cost $343.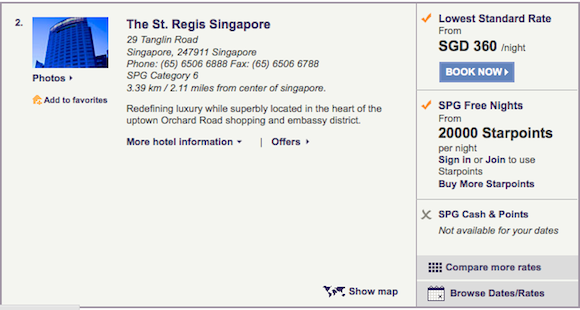 W Singapore — Sentosa Cove
Paid cost per night: 368SGD + 17% = $351USD
Points cost per night: 8,000 Starpoints + $175USD
Thoughts: While I'd never pay the revenue rate, cash & points isn't horrible (even factoring in the 17% tax/service charge levied on the $150 co-pay). Still, paying that many points for staying at a W on Sentosa Island seems like a bit of a waste. Then again it is a brand new hotel, so I would like to review it.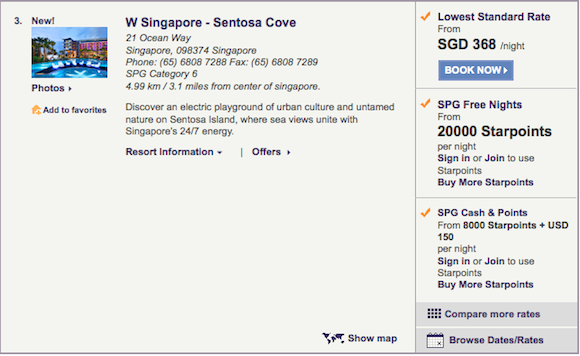 Sheraton Towers Singapore
Paid cost per night: 255SGD + 17% = $243USD
Points cost per night: 4,800 Starpoints + $105USD
As a backup this isn't a bad option, though I really haven't heard good things about this place. The St. Regis would be $343 on a paid stay, while here I'm paying 4,800 Starpoints plus $105.
So valuing the 4,800 Starpoints at 2.2 cents each, they're worth ~$105, plus the $105 co-pay, for a total of $210. That's $133 less than the St. Regis, and at the St. Regis I'd earn points for my stay, which are worth at least $40 factoring in the first quarter promotion. So that makes the difference in room cost between this and the St. Regis less than $100…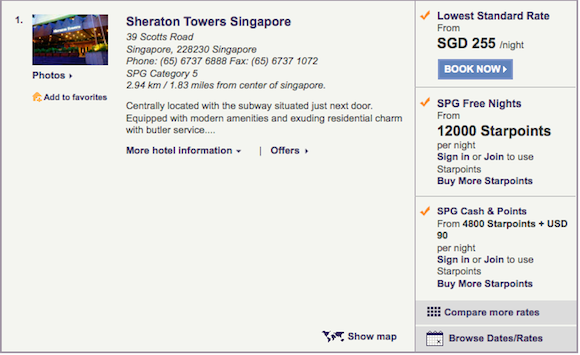 Conrad Singapore
Paid cost per night: 375SGD + 17% = $358USD
Points cost per night: 20,000 Honors points + $106USD
Thoughts: I haven't heard great things about the Conrad, at least in comparison to those in Tokyo and Hong Kong, but the points and money rate isn't bad. The issue is that I don't really need Hilton stay credits, while I do need Hyatt and Starwood stay credits.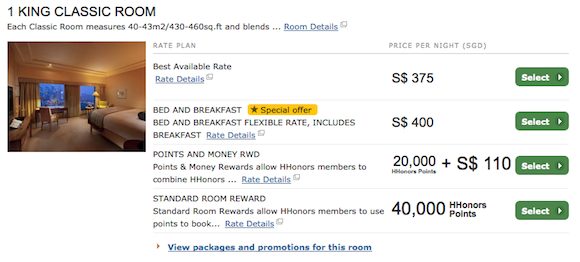 Hilton Singapore
Paid cost per night: 310SGD + 17% = $286USD
Points cost per night: 20,000 Honors points + $106USD
Thoughts: Much like the Conrad I'd do the points and money rate, though between this and the Conrad I'd probably go with the latter.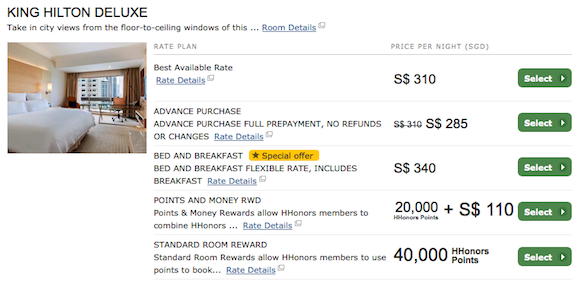 As you can see the issue here isn't that there aren't any "reasonable" options. Rather it's that there aren't hotels that seem like they're good values, be it a paid or award stay. If there were a Park Hyatt quality hotel that regularly sold for $600+ per night I'd be delighted to use points. Or for that matter if there was a reasonably priced hotel I'd pay cash for it. But it seems like the only decent values here are the Hilton Singapore or the Conrad Singapore, and neither seem like great hotels based on what I've read.
So what is the points obsessed person to do?! What would you do? Anyone else struggle with Singapore as a hotel market? Which hotel markets frustrate you?